Looking to escape the grey skies and clammy cold of winter? Plan a vacation in one of many spectacular warm places to visit in December in the USA!
Although you likely won't have a white Christmas in these gorgeous warm weather winter destinations in the US, what you will almost certainly have are daytime temperatures that range from balmy (perfect for exploring outdoors!) to downright warm (perfect for the beach!).
From islands in the Caribbean that don't require a passport to the perennially popular lush isles of Hawaii, and from sunshine states like Florida and California to curated small towns in other states that you'll love exploring without the crowds of summer, we have an epic list of warm weather December getaways for you.
Excited? Let's get started discovering the best warm weather destinations in the US in December!

Warm Weather December Vacations in Hawaii
Oahu, Hawaii
The island of Oahu, Hawaii is one of the most stunningly beautiful islands in the United States, and December is a great month to visit!
The weather in December is warm and nice (without being too hot). Temperatures range from a high of 79 degrees Fahrenheit (26 degrees Celsius) to a low of 66 degrees Fahrenheit (19 degrees Celsius), and the island is still not too busy compared to June and July, the busiest months for Hawaii.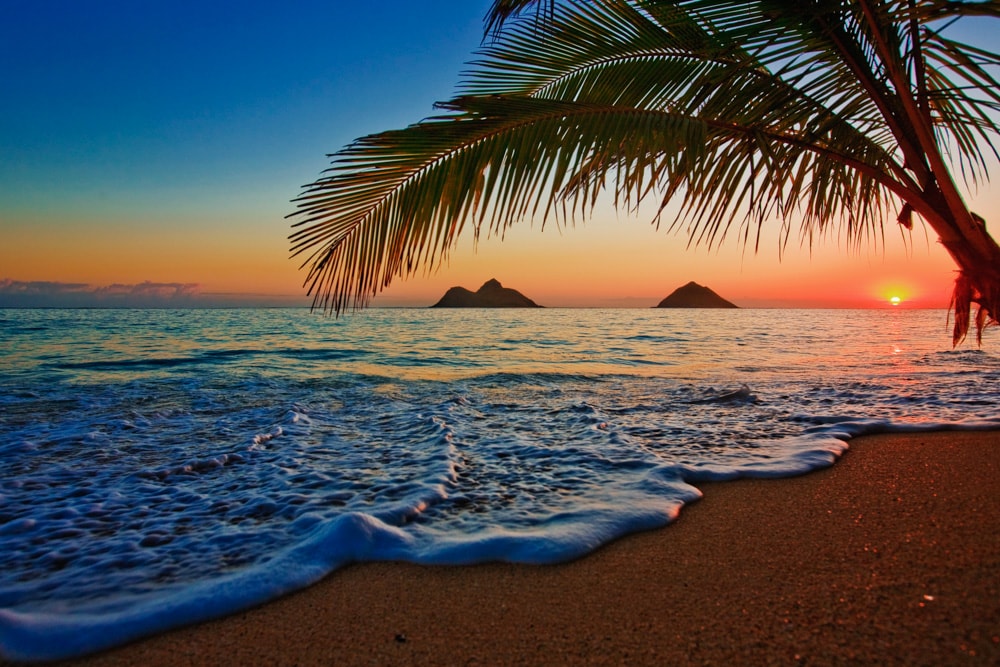 There are lots of amazing hikes and sightseeing activities to enjoy in Oahu. The island has nice white sand beaches all over, with two of the very best being Lanikai Beach and Sunset Beach.
There are also numerous scenic hiking trails in Oahu, including family friendly hikes like the Diamond Head Hike near Waikiki, or the Lanikai Pillbox Hike near Kailua. The Diamond Head hike is considered one of the top things to do in Hawaii!
If you want more of a challenge, you can attempt the strenuous Koko Head Hike (also known as the Koko Crater Trail).
In December, you can often spot whales, Hawaiian monk seals, or sea turtles in Oahu! The whale watching season generally runs from December to May, as this is when the whales like to come to the warm waters of Hawaii. You can sometimes see whales from shore, or you can try to get a closer look with a whale watching tour or boat charter.
If you enjoy holiday-related activities, look for beautiful light displays in different parts of the island, from City Lights in Honolulu to the Kapolei City Lights.
Suggested by David of The World Travel Guy
Planning a January getaway to escape the cold? Check out our round-up of the best warm places to visit in January in the USA!
Maui, Hawaii
December is a wonderful time to visit Maui! Daytime highs are generally in the low 70s, perfect for exploring outdoors, and water temperatures in the high 70s, ideal for swimming, snorkeling at Molokini, and other water activities.
Winter is whale-watching season in Maui. These majestic mammals migrate to the warm waters of the ʻAuʻau Channel, between Maui and Lanai, to breed. Join a whale-watching cruise or kayak tour to see the humpback whales up close.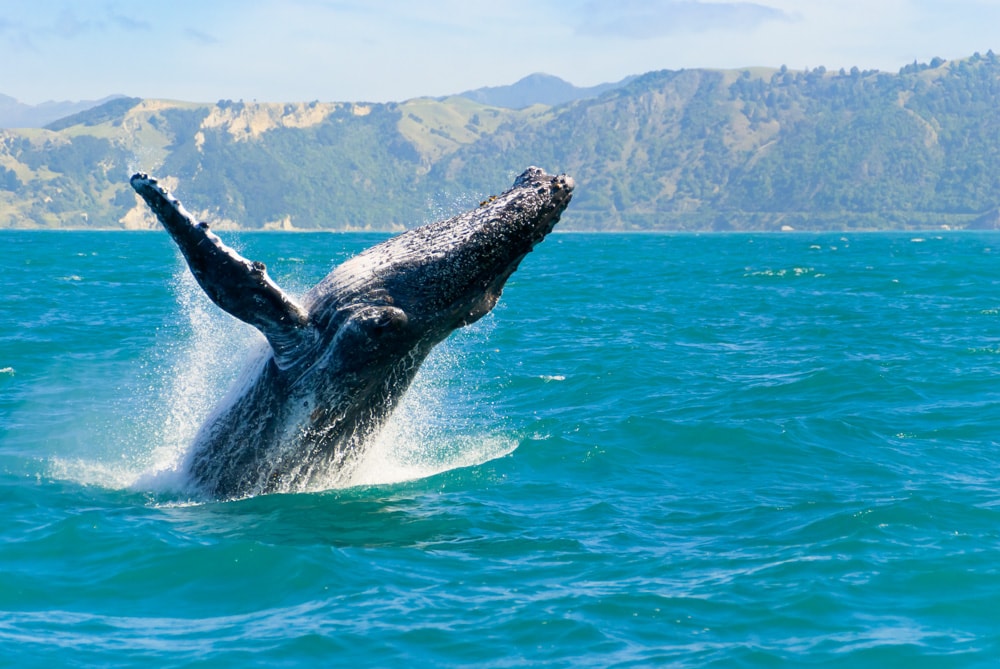 Another highlight in December is the annual lighting of the Banyan Tree. This gigantic tree is located at Banyan Tree Park at the heart of former whaling village Lahaina. At the beginning of December, the Maui Banyan is decorated with thousands of lights, creating the most mesmerizing spectacle.
Another advantage of visiting Maui in December is that the waterfalls can be admired in their full glory. Drive the Road to Hana to enjoy the lush vegetation and see the many waterfalls! It's one of the best things to do in Maui.
You won't have to get up too early in December to experience the sunrise atop Haleakala, but if you do plan to visit higher elevations, pack warm clothing. The summit of Haleakala has been known to get snow in the winter!
Do try to plan your vacation in the first half of December, when prices for accommodation and rental cars on Maui are much more reasonable than during the winter holiday rush.
Suggested by Sarah of CosmopoliClan
Planning a Christmas getaway? Check out our round-up of the best destinations for Christmas vacations in the USA!
Big Island, Hawaii
If you're planning a Hawaiian vacation in December, the Big Island will be your best bet, thanks to its clear and sunny skies as compared to its neighboring islands.
Plus, between the warm ocean water and pleasant weather, December is the perfect time to bust out your swimsuit and celebrate the holidays on one of the island's stunning beaches.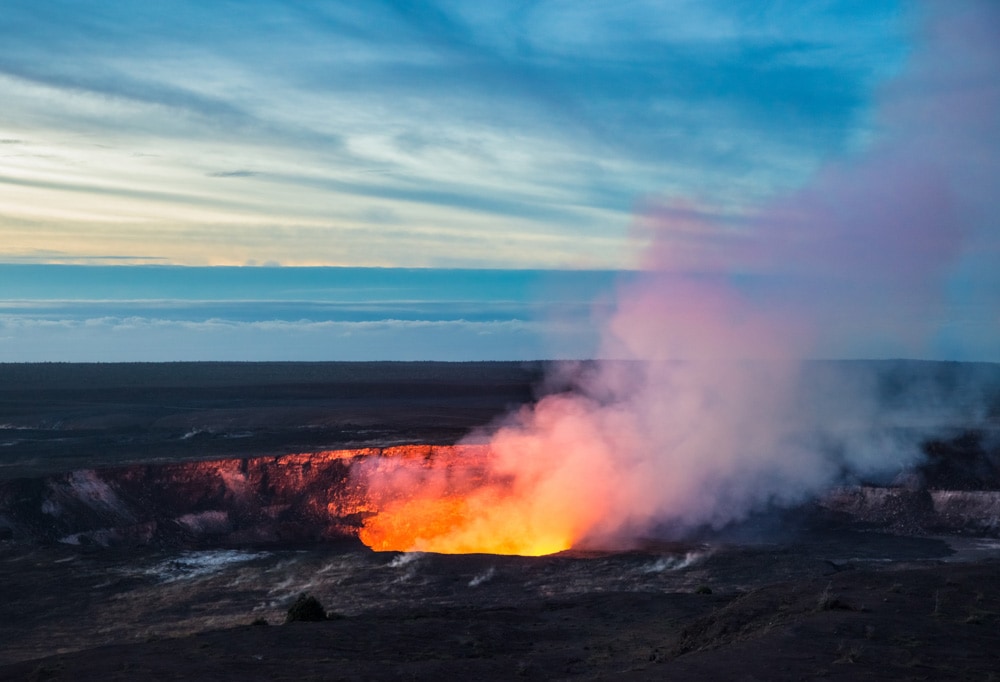 While many travelers make their way to Hawaii just for its beaches, the Big Island offers so much more. For example, consider manta ray snorkeling in Kona, the popular resort city on the west side of the island.
You'll get to swim (at night!) offshore and observe the fifth largest species of fish on the planet glide and somersault sometimes inches beneath you.
For a different kind of adrenaline rush, check out Hawai'i Volcanoes National Park, home to one of the most active volcanoes on the planet.
Even if you're not lucky enough to time your visit with an active lava flow, check out the Kīlauea Iki trail, where you'll hike through an incredibly lush rainforest down to a massive solidified lava lake, from an eruption over 50 years ago.
Be sure to carve out some time to stop by the Punaluʻu Beach along the southern end of the island. Not only are its black sand and towering palm trees gorgeous, but it's a great spot to see Hawaiian sea turtles!
Suggested by Jessica of Uprooted Traveler
Looking to book a car rental for your winter getaway? We have found great deals on Discover Cars. They compares rates and rental requirements across many car rental agencies and get you the best deal.
Compare car rental rates and find your car here.
December Getaways to US Islands in the Caribbean
San Juan, Puerto Rico
The capital of Puerto Rico, San Juan is a wonderful December getaway for all types of travelers, from foodies to beach-lovers and history buffs to photographers. The island itself is one of the best Caribbean islands you can visit.
With lots of things to do, San Juan is the perfect winter break for families, but it's also fun for solo jaunts or couples' escapes. Daytime highs are in the low 80s, so bring your beach gear!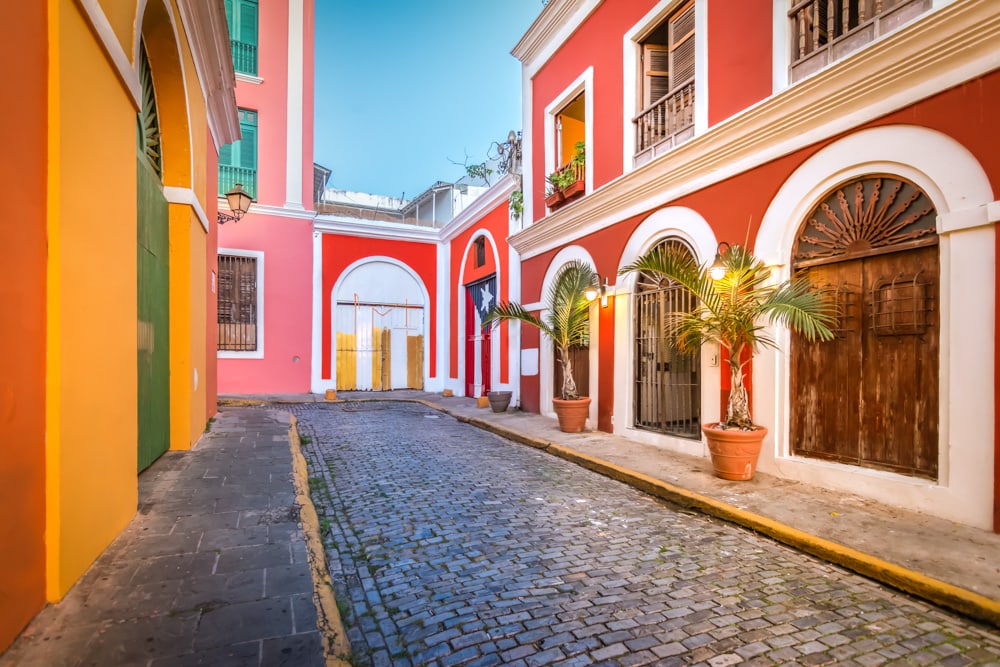 Old San Juan is made for wandering, with its cobblestone streets and colorful facades. Take a peek into San Juan's past by visiting its old forts, El Morro and Castillo San Cristobal, now a UNESCO World Heritage Site.
In early December, Old San Juan celebrates its White Christmas Festival, with window displays and musical performances in stores. The Lighting of the Town of Bethlehem sees a dazzling lights display go on, said to the best in the Caribbean. Enjoy sweet Puerto Rican eggnog, with rum and coconut milk!
If you want beach time, check out the beautiful beaches in Isla Verde, or Condado Beach. A little out of the city, Luquillo Beach is famous for its turquoise waters and crescent stretch of sand.
Exploring the tropical rainforest of El Yunque is fun for both kids and adults, with waterfalls, lush vegetation, and an observation tower for stunning views. Also be sure to take a day trip to a smaller Puerto Rican island like Culebra or Vieques! Culebra's Flamenco Beach is renowned for its beauty.
And if you are planning a longer getaway, consider exploring Puerto Rico outside of San Juan! Historic Ponce, Puerto Rico's second city, also hosts many holiday events. Our Puerto Rico itinerary is a detailed guide for visitors to this magical island.
Suggested by us
St. Thomas, US Virgin Islands
There's a reason that December is the peak season for visiting St. Thomas in the U.S. Virgin Islands: the weather is perfect! If you're looking to soak in some sun without the blistering heat, while enjoying breezy evenings, then St. Thomas is the ideal warm destination in the USA for December.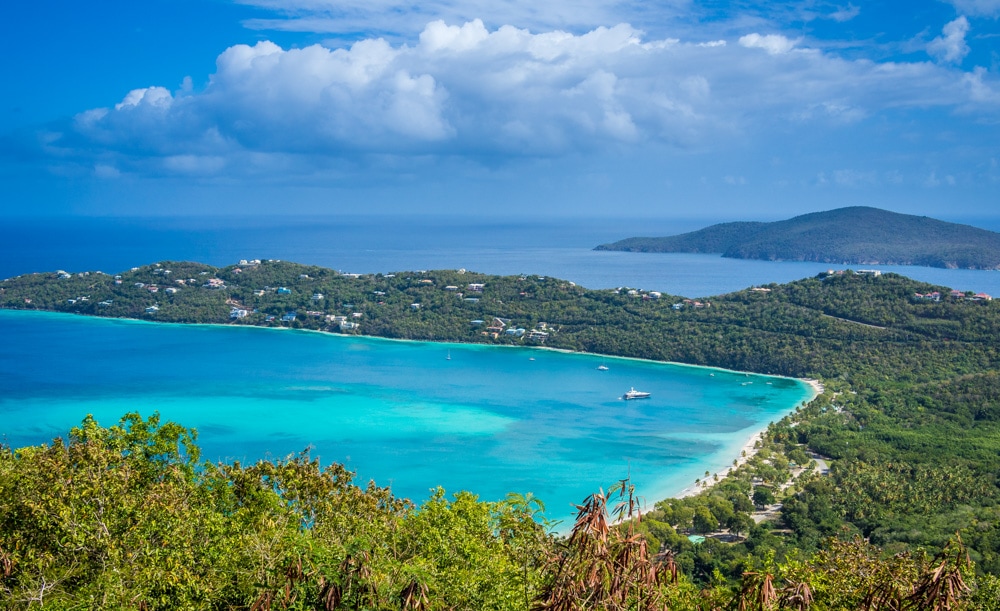 Beach lovers will delight in visiting some of the best beaches in the US. Relax at Sapphire Beach, which is secluded and more private. Join the locals at Coki Beach with its crushed seashell sand. Or visit world famous Magens Bay Beach, unspoiled due to its location in a park.
Spend a day in Charlotte Amalie, home to some of the best things to do in St. Thomas. Climb the 99 steps to enjoy a beautiful view of the Charlotte Amalie harbor. End your day by riding the Skyride to Paradise Point, where you'll sip a Bushwacker on the patio while enjoying the sunset.
December in St. Thomas is even more special. The sailing season starts with a kick-off invitational regatta where you'll see some of the world's best sailors. Or delight in the Miracle on Main Street, a full-day event of shopping, food, and art, with steel-band carolers, and concluding with a lighted boat parade in the harbor.
St. Thomas is a hugely popular December destination, and a cruise port as well. If you prefer a quieter vacation, you may want to steer clear of the most popular spots during the day when cruise ships are docked in port.
Suggested by Annick of The Common Traveler
St. Croix, US Virgin Islands
St. Croix is the largest island in the US Virgin Islands. December is the beginning of the on-season in St. Croix, with great weather and very little rainfall.
During the day, the sun is bright enough to spend swimming through the calm waters and hanging out on the white-sand beaches. At night, you can enjoy dining, shopping, and open-air bars in the two cities of St. Croix, Frederiksted and Christiansted.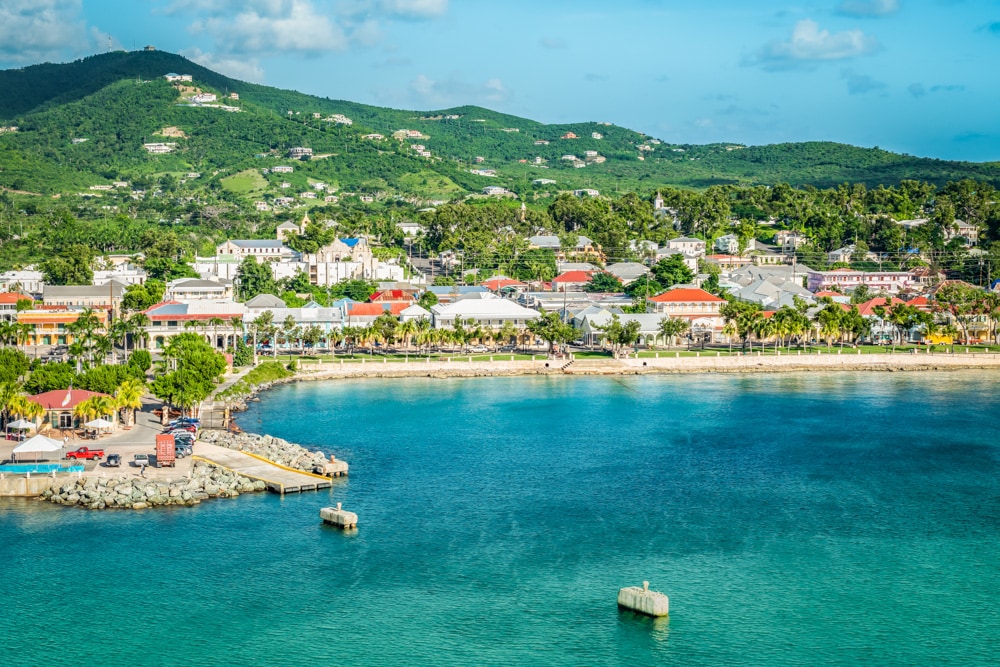 There are many things to do in and around St. Croix, the most notable being an excursion to the famous Buck Island Reef National Monument!
The untouched land is home to Turtle Beach, one of the most beautiful beaches in the world, and an exquisite, protected reef. If you are looking for some of the best snorkeling in the Caribbean, look no further than Buck Island.
In December, you can experience the Crucian Christmas Festival with a famous carnival, food, live music, and more. Locals from all over the Virgin Islands will make their way to these celebrations. This festival is a great way to experience the traditions and culture of St. Croix.
When you're done with the celebrations, make your way to Point Udall, the easternmost part of the United States. You can guess that this is the place to be to watch the sunrise! There are also a few hikes around the monument to start your morning. The views from this lookout are sure to make for a great beginning to any vacation day.
With the incredible beaches, hiking, history, and excitement on St. Croix, you won't regret spending your December on this US Virgin Island.
Suggested by Rachel of Caribbean Uncovered
St. John, US Virgin Islands
St. John is the smallest, least developed island of the three main US Virgin Island territories.
USVI hurricane season ends in November, so December is the perfect time to head to St. John if you are looking to escape the chilly winter months!
Two-thirds of St. John is protected land as part of the Virgin Islands National Park. With the weather in the mid-80s during the days, and dropping to perfect sweater weather in the evening, December is the best time to explore this National Park.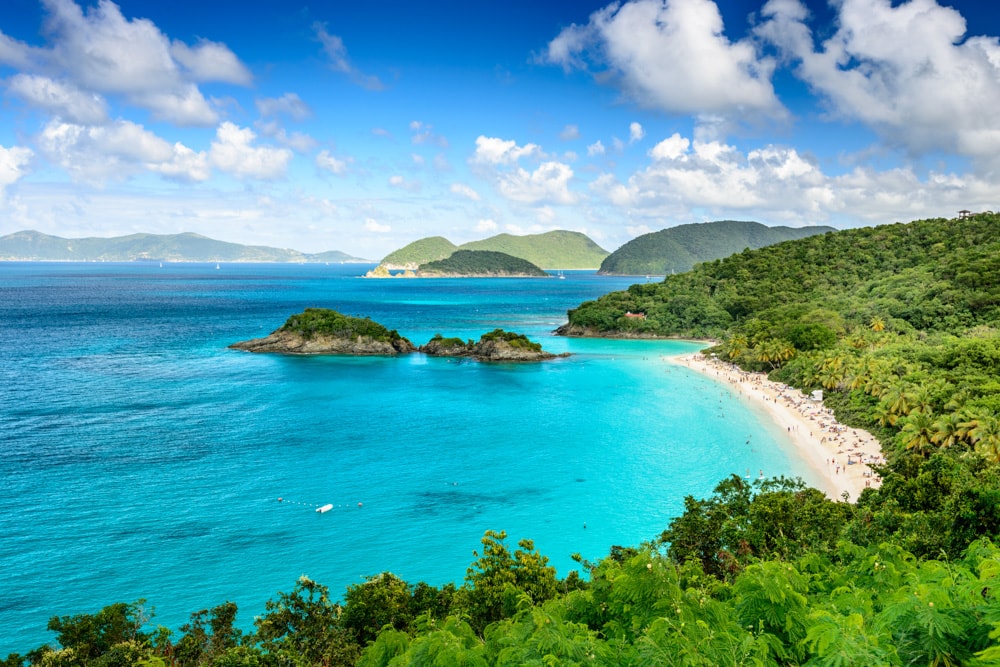 Virgin Islands National Park offers hiking that will lead you to some of the most beautiful beaches in the Caribbean for world-class snorkeling through calm, crystal clear waters. You can also see the many historic sites around the park, including the Sugar Mill Ruins and the Petroglyphs of Reef Bay.
Because of its size and few accommodation options, St. John makes for a secluded getaway. However, if you want to really live on island time, head to the east side of the island, to Coral Bay. This is a great spot to watch the sunrise on a breezy morning: you'll likely run into some of the island's friendly donkeys around here.
Coral Bay is also home to the popular Lime Out, Floating Taco Bar, a must-do when you're in St John! You can only get to this lunch spot by boat, so plan accordingly!
There's so much adventure and history in St John, there's no doubt it's worth visiting in December!
Suggested by Rachel of Caribbean Uncovered
Where to Vacation in California in December
Solvang, California
Known as one of the Most Christmassy towns in America, Solvang makes for a fabulous December vacation in California. With daytime temperatures in the 60s, Solvang is a fun December getaway even if you aren't especially into holiday events.
Solvang and the other little towns of the Santa Ynez Valley are located a short distance from Santa Barbara, and they are known for their charming ambience and excellent food and wine.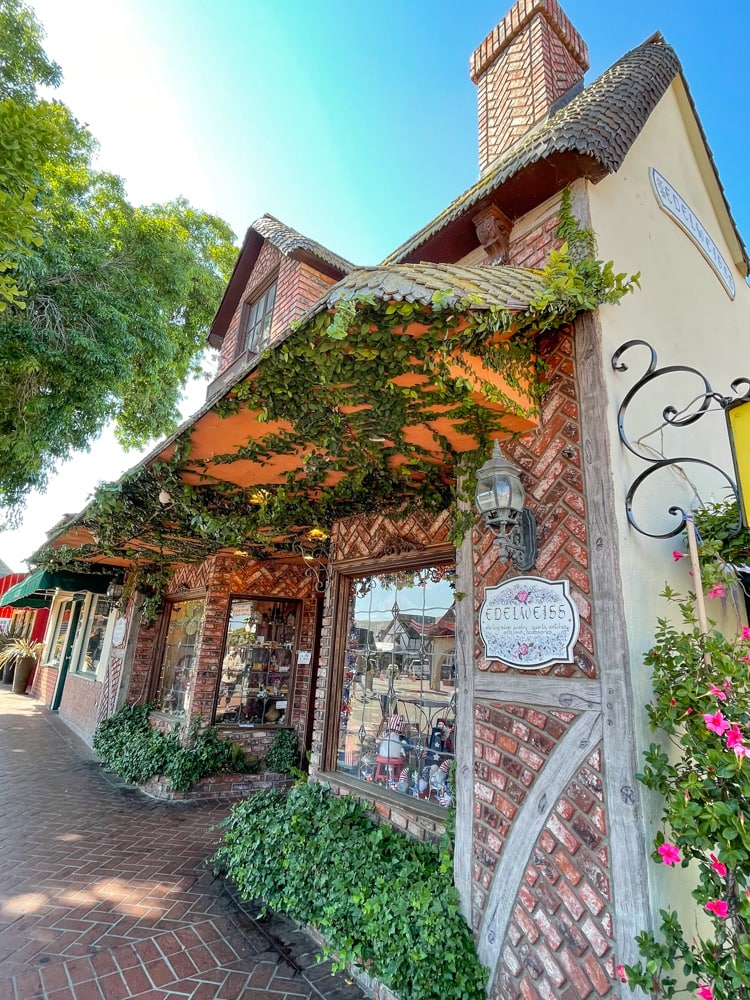 In Solvang, wander the pretty streets of downtown both by day and by night. The Danish-themed buildings sport holiday decor and twinkling lights. In early December, Solvang hosts its annual tree lighting and a Julefest parade, with horses, marching bands, and floats.
There are holiday themed events throughout the month, from the Nisse Adventure, where you join a city-wide hunt for gnomes, meetings with Santa for kids, and after-dark candlelight tours with caroling. Special holiday food tours may also be on offer.
Step into Jule Hus to pick up a unique Christmas ornament, and enjoy seasonal treats at Solvang Danish bakeries, from gingerbread people to iced cookies. Look for risalamande, a rice pudding with almonds and whipped cream, served with cherry sauce.
Apart from holiday-themed events and activities, plan on winery tours in the Santa Ynez Valley if you enjoy wine, and definitely make reservations for meals at some of the excellent restaurants in the area.
Suggested by Dhara of Roadtripping California
San Diego, california
San Diego is a great place to visit in December. The weather is warm, but not too hot, with daytime highs in the upper 60s. It's a great time of year to enjoy sightseeing around town. Plus the city is bustling with holiday cheer.
The holidays are a magical time of year, but they can also be overwhelming. If you're looking for an escape from the hustle and bustle of the season, San Diego is the place to be.
Balboa Park is one of San Diego's most popular attractions year-round, but it becomes especially magical during the winter months. Admire its Festival of Lights where the beautiful architecture is lit up with holiday lights.
If you're traveling with kids, head to Sesame Street Christmas Village at Sesame Place San Diego, a theme park with rides and water attractions.
The San Diego Bay Parade of Lights is a much-anticipated December San Diego event. More than 80 decorated boats sail by the shore, making for a festive spectacle. Each year the boats follow a theme.
If you rent a wetsuit, you can take surfing lessons or enjoy other water activities in December in San Diego. Enjoy the spectacular winter sunsets by the water!
If you're planning a vacation to San Diego in December, plan ahead. Make sure you book your hotel or Airbnb well in advance. It's not uncommon for hotels and other accommodations in the area to book up months before the holiday season kicks into high gear.
Suggested by Rasika of Bae Area and Beyond
Death Valley National Park, california
If you are looking for warm places to visit in December in the USA, consider a few days in Death Valley National Park in Southern California!
Daytime temperatures in the high 60s and low 70s make it the perfect time to year to enjoy the majestic landscapes in comfort.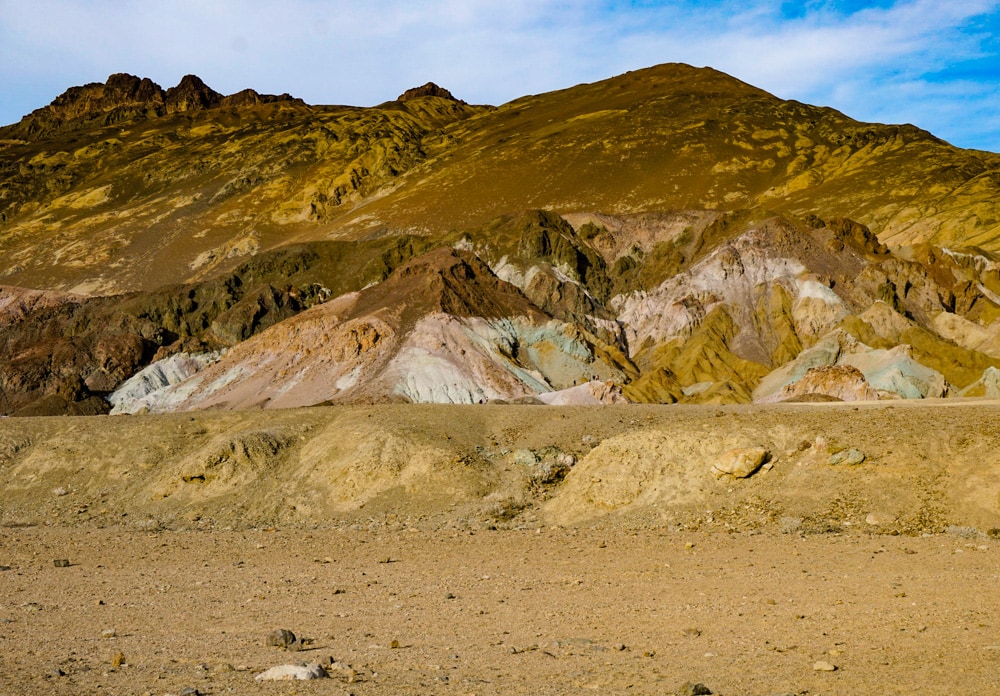 Enjoy sightseeing in the park, from taking in sunrise at Zabriskie Point to panoramas of the valley from Dante's View. Walk the sandy dunes at Mesquite Flats and admire the vast salt flat at Badwater Basin.
Do the scenic Artist's Drive loop at Badwater Basin, and stop at the Artist's Palette viewpoint to take in the amazing colors in the rock, from yellow to orange, green, blue, rust, and lavender.
Go hiking! Winter is the ideal time to hike at lower elevations in Death Valley National Park. The scenery is fabulous, with clear skies and plenty of sunshine.
The Golden Canyon and Mosaic Canyon hikes are both spectacular. Or explore the badlands around Zabriskie Point. Allow lots of time, because you'll be stopping often for photos!
It does get cold in the desert at night though, so bundle up if you plan to be out stargazing.
Stargazing hotspots within the park include Harmony Borax Works and Ubehebe Crater, but you can find a quiet spot anywhere to park your car, and just look up to see plenty of stars on cloudless moonless nights.
Suggested by us
Palm Springs, california
Looking for fabulous warm weather destinations in the US for a December vacation? Consider Palm Springs in Southern California! Considered the gateway to the great desert parks of the region, Palm Springs offers a wealth of outdoor activities plus a festive holiday spirit in December.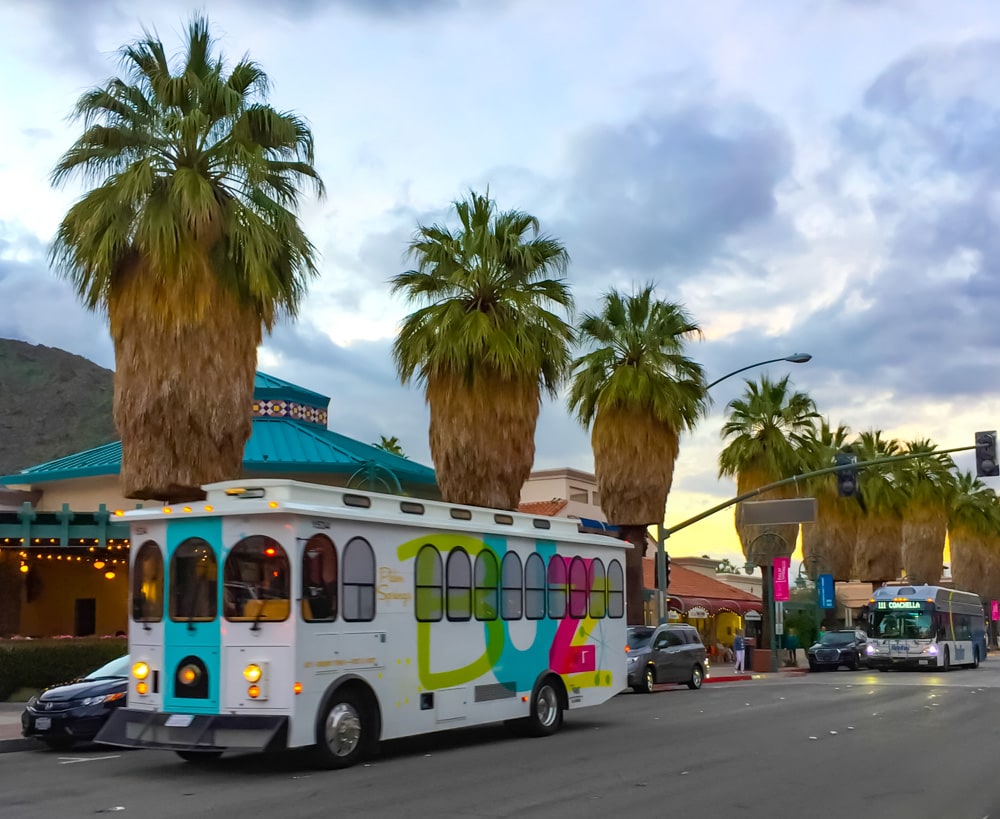 Daytime highs in Palm Springs in December are in the high 60s or low 70s, perfect for wandering outdoors. Whether you choose to stroll Palm Canyon Drive in downtown Palm Springs or hike in nearby oases, you'll find bright sunshine and pleasant weather.
For unique Palm Springs experiences, consider a bike tour to admire the beautiful mid-century modern architecture, or take a tour of a wind farm.
And yes, December weather in Palm Springs is perfect for the pool, so plan on spending some time lazing on a lounger or drifting on a floatie in the afternoons.
If you plan to visit Palm Springs in early December, you won't want to miss the dazzling Festival of Lights parade in downtown Palm Springs. Find a good spot along Palm Canyon Drive and enjoy the lights, performers, marching bands, and more!
Many area resorts have festive holiday lights, trees, and decorations, and put on special events for the season. So check to see what's going on for the dates of your visit.
If you are really missing the snow, you may find it at the top of Mount Jacinto! Take the scenic Palm Springs Aerial Tramway to the upper station, where you can potentially enjoy winter activities like snowshoeing or cross-country skiing. Make sure you bundle up, though!
Suggested by us
Los Angeles, california
With daytime temperatures in the high 60s and low 70s, Los Angeles makes for a wonderful warm weather US destination for a December getaway.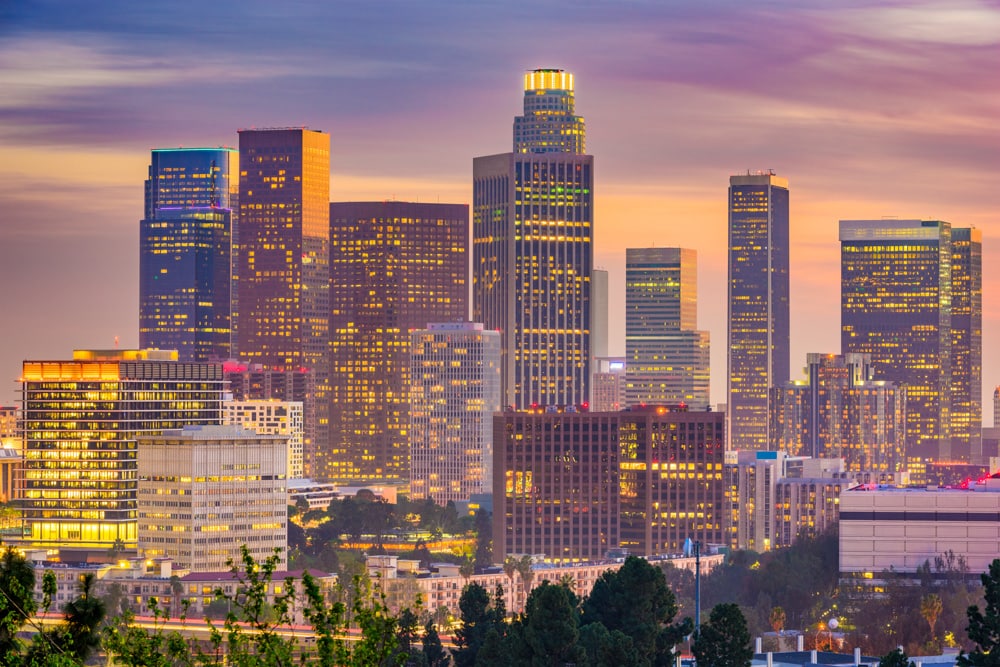 If you are traveling with kids, you'll definitely want to spend time in Disneyland, where you'll find magical events throughout the month. Lights, special performances, and holiday-themed fireworks make it a great time of year to visit, but plan on going early in the month to avoid the worst of the crowds.
Universal Studios has an equally entertaining holiday events line-up for December, including "snowfall" each night, dazzling light displays, and colorful holiday decor.
Descanso Gardens hosts the stunning Enchanted Forest of Light, a one-mile walk through some of the best areas of the gardens, to enjoy unique lighting experiences. It's a must-visit, and not just for garden lovers!
Other than holiday-themed festivities, you'll want to take in some of the famous sights and landmarks in the iconic city, especially if it's your first visit. Snap a photo of the Hollywood sign, go shopping on Rodeo Drive, tour Hollywood, and enjoy the pier at Santa Monica.
You'll find holiday-themed entertainment options a-plenty in LA, so book tickets in advance if you want to catch a show while you are visiting. Many neighborhoods host art and craft fairs, some of which have food and entertainment as well.
Whatever you choose to do in LA in December, you're guaranteed to have a fabulous vacation!
Suggested by us
Joshua Tree National Park, california
Joshua Tree National Park is one of the best places to visit in December. While most of the United States is cold this time of year, the desert of Southern California is warm and comfortable.
The weather in the national park will be much cooler than it is the rest of the year, which is ideal when you're walking around in the desert. Definitely be prepared for chilly nights – the temperature can drop dramatically!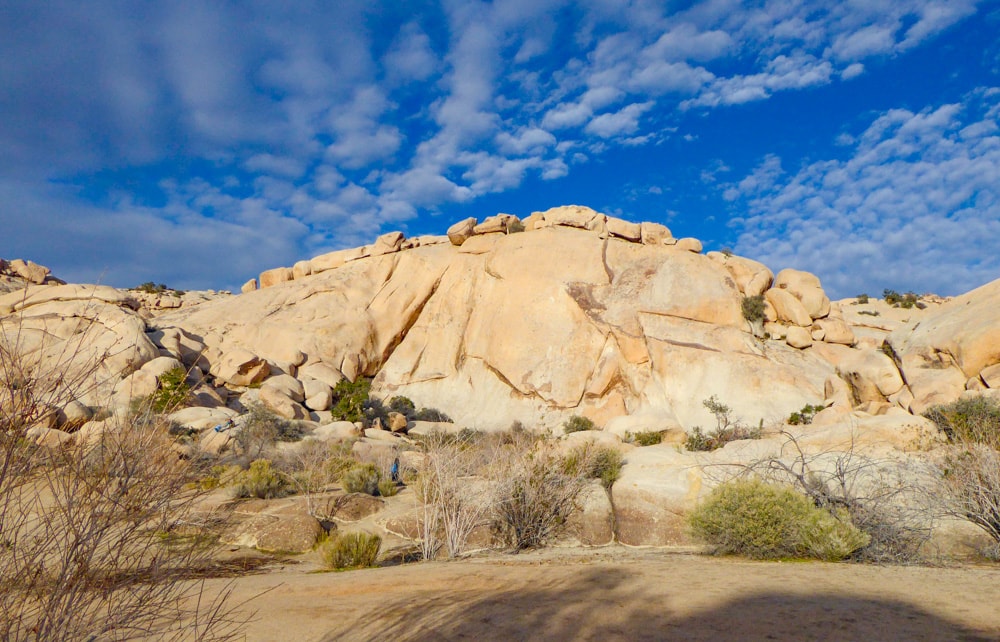 But, during the day it's usually sunny and warm, with temperatures in the low 60s. Snow is rare in Joshua Tree, but it has happened!
December is a wonderful time to hike in Joshua Tree, because you can explore outdoors without overheating. Joshua Tree's hikes will take you along boulder piles and through the unique trees, and you can spot birds and reptiles, and if you're lucky, foxes and bighorn sheep.
Some of the best hikes in Joshua Tree include the Hidden Valley Nature Trail and the Barker Dam Nature Trail. Try going up Ryan Mountain if you're looking for something more challenging.
Another reason that Joshua Tree is amazing in December is the stargazing. Though the remote desert is a great place for stargazing all year, the early sunsets in December mean you don't have to stay up late to see the Milky Way! After the sun sets, stay in the park to stargaze.
One of the best things about visiting Joshua Tree in December is that it's close to the holidays, which means you can see some amazing light displays in nearby cities. Palm Springs is close to the park, and you can go up the Palm Springs Aerial Tramway to see the annual Tree Lighting.
Suggested by Anna of AnnaTee.co
Warm Places to Visit in Florida in December
Miami, Florida
Miami is a great destination to visit in December. The weather is warm, with average highs of 75 degrees Fahrenheit (24℃) and lows of 66 degrees Fahrenheit (19℃) and there are loads of things to do in Miami.
Stroll down Ocean Drive. This iconic Miami street is lined with art deco buildings, restaurants, and cafes. It's the perfect place for people to watch and enjoy the Miami atmosphere.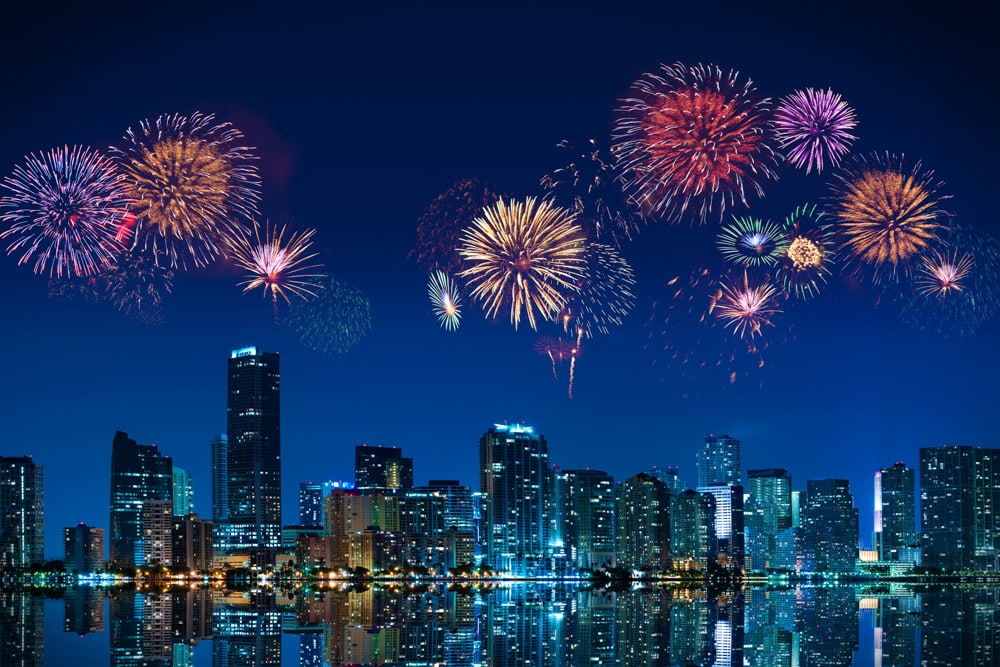 If the art deco district interests you, it is best to visit at night, as then you'll see all the neon signs and colorful canopies giving it that electric vibe.
A walking tour is a great way to go sightseeing in Miami, especially if it is your first visit to the city. Consider this highly-rated food and walking tour of Little Havana, or this art deco walking tour!
A night bus tour is another great option, to see the city lit up at night.
Go for a swim at Miami Beach. December is the perfect time to enjoy the beautiful warm waters and white sand beaches of Miami Beach. You can sunbathe, swim, or just relax on the beach and soak up the Miami sun (remember your sunscreen though!).
NightGarden is a wonderful holiday experience at the Fairchild Botanical Garden, with lights and special effects. Pinecrest Gardens has its Nights of Lights, with large illuminated installations: a must-see!
Also be sure to catch the holiday decor at the Deering Estate, and if you are in Miami on New Year's Eve, enjoy the festive fireworks in downtown Miami!
There are lots of holiday-themed entertainment options you can enjoy in Miami in December. Book tickets ahead of time for a concert, the ballet, or the theater.
Suggested by Alice of Adventures of Alice
The Lower Keys and Key West, Florida
The Florida Keys are a long stretch of tropical islands located off the southern tip of Florida. They make for a fantastic vacation in the winter, with daytime highs in the low 70s and a plethora of activities, both water- and land-based.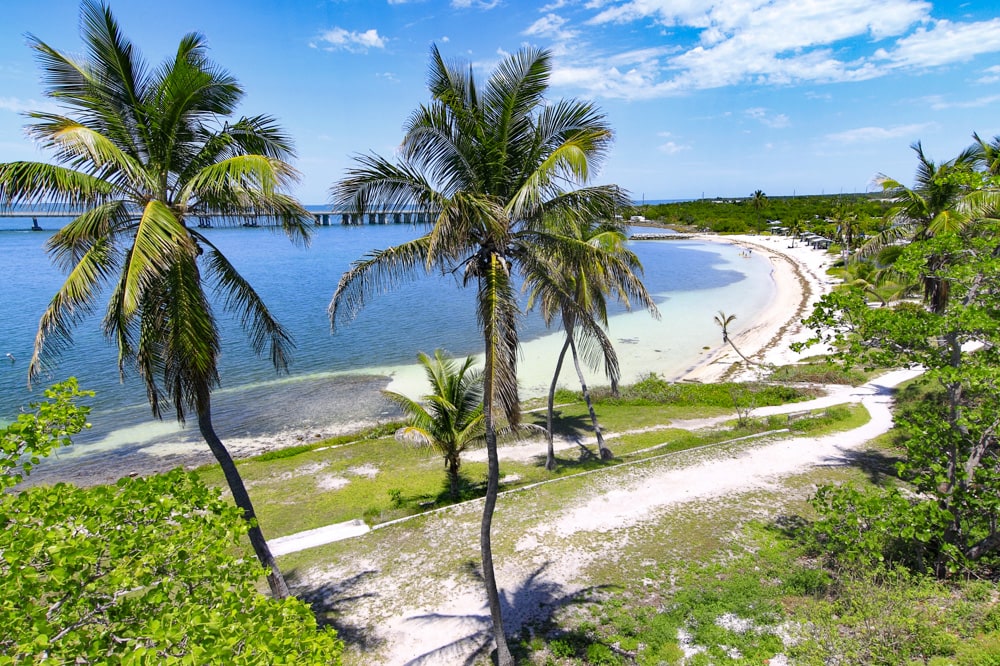 Key West is a must-include on your Florida Keys itinerary, but because it's an extremely popular winter vacation destination, it is also extremely crowded (and expensive), so you'll also want to spend a part of your vacation in the Lower Keys, which are beautiful and a little more relaxing.
In Key West, visit the southernmost point in the USA marker, take the ferry to Dry Tortugas National Park (which features a pristine beach!). Snorkel in the crystal clear waters, and take a sunset cruise!
Spend time at Mallory Square in the evenings, to watch musicians and other performers display their skills. Afterwards, enjoy the pulsing vibrant ambience of Duval Street, where you'll find many quality eateries.
Bahia Honda State Park, located in the Lower Florida Keys, is a must-visit on your vacation. The snorkeling is excellent, and there are scenic walking trails and beautiful water views to enjoy.
The Looe Key National Marine Sanctuary is another wonderful spot to include in your itinerary if you enjoy underwater exploring. Snorkelers and divers can see many species of coral here, along with numerous species of fish.
The Lower Keys offer other popular activities, such as boat tours, and are a great wildlife viewing and birding destination. Look for the endangered key deer!
Suggested by us
Orlando, Florida
Orlando's warm weather is what makes it so alluring in December. Through the winter, daily average temperatures range from 70 to 84 degrees Fahrenheit.
It's a great time of year to visit Orlando's famous theme parks with your family and friends, because it's not as hot and the humidity levels are significantly lower than in the summer.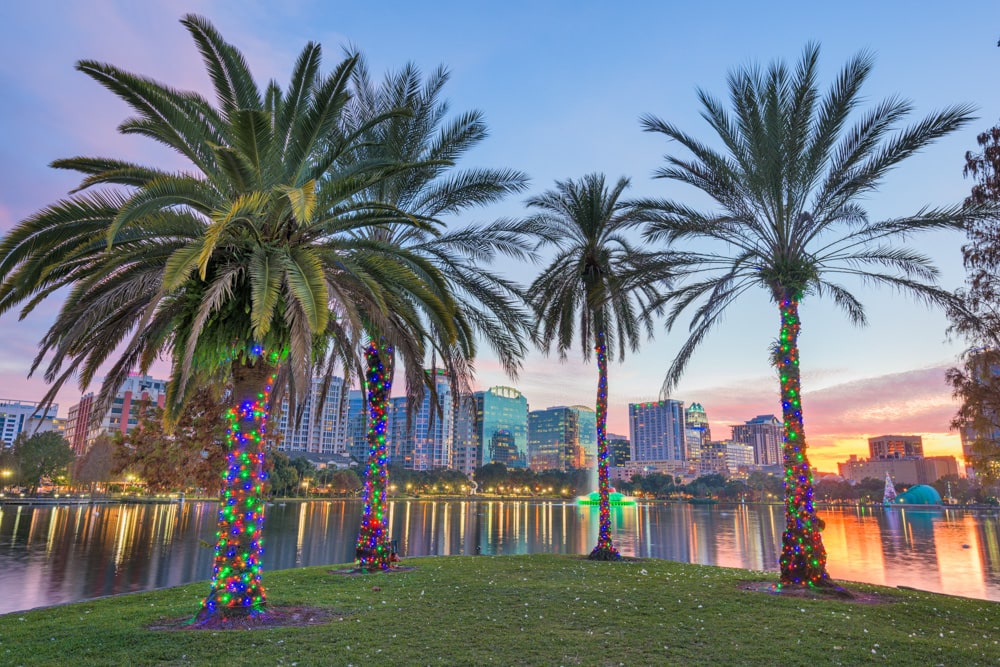 Orlando offers a festive atmosphere in December, with everything from Christmas parties at the Magic Kingdom to breathtaking ice sculpture exhibits at the Gaylord Palms.
You can enjoy exhilarating events and rides at the theme parks whenever you visit Orlando, regardless of the season. However, both Disney World and Universal Resort have a significant wow factor if you visit during the winter.
It is not necessary to be at a Walt Disney World theme park to enjoy the fireworks display. From the pier of the Grand Floridian, you can watch the Electrical Water Pageant and the fireworks over the lake that are part of the Magic Kingdom. It is one of the best free things to do in Orlando.
Although Orlando doesn't get snow in the winter, you can still enjoy winter activities here! Go indoor ice skating at RDV Sportsplex, where you will find an Olympic-sized ice rink and lots of enjoyable public skate sessions you can join, or enjoy outdoor ice skating on I-drive.
Suggested by Trijit of Budget Travel Buff
Sanibel Island, Florida
Southwest Florida is one of the premier places to visit in December when the weather up north turns cold, and the island of Sanibel and Captiva is perfect for a laid-back beach holiday. Daytime temperatures here tend to be in the mid 70s in December!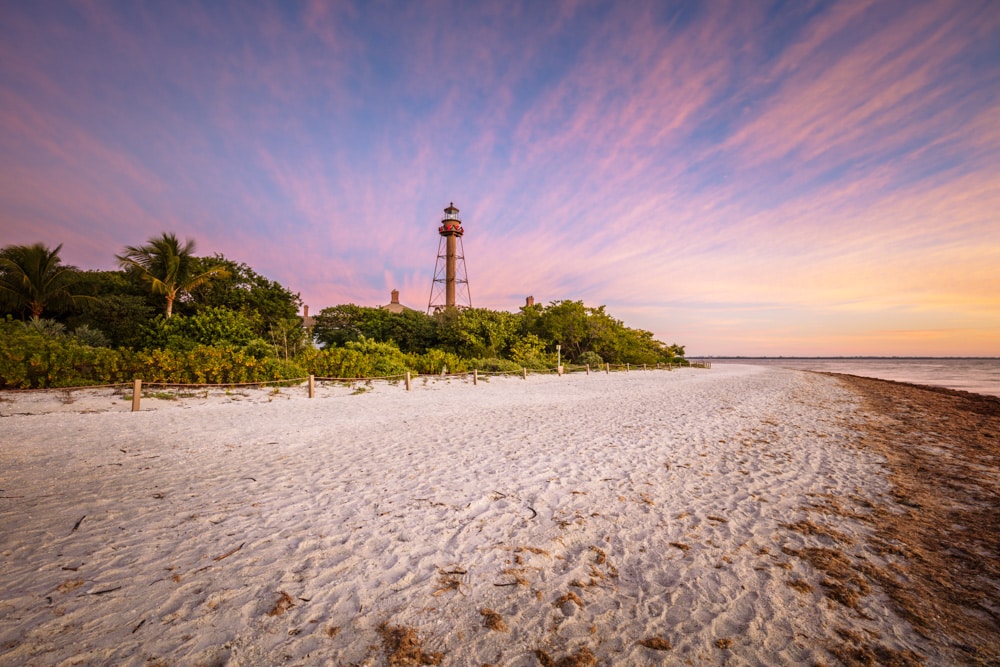 Sanibel Island lies just off the coast of Ft. Myers on the gentle slope of the Gulf Coast. The barrier island was cut in two by a hurricane in 1921, separating it from Captiva Island across a small bridge over a narrow inlet.
When it comes to things to do, Sanibel Island is best known for shelling — thousands of beautiful seashells wash up on the shore every minute and they're the perfect souvenir of your Florida vacation.
But December is filled with lots of fun events leading up to the Christmas and New Year holidays.
The Sanibel Boat parade features boats of all shapes and sizes representing local businesses and boat owners decked out in lights and playing music.
The Sanibel Luminary lights up the streets with holiday cheer. And the famous sand sculpting championships are always well-attended at nearby Ft. Myers Beach.
If you're looking for a quieter and more simple family vacation spot around the holidays, Sanibel Island may become your new favorite Florida destination.
Suggested by Lori of Naples Florida Travel Guide
Naples, Florida
If you are looking for one of the best warm destinations in the USA for December, look no further than Naples, Florida!
While there are many things to do in Naples all year round, December is particularly a wonderful time to visit, with daytime temperatures in the mid 70s.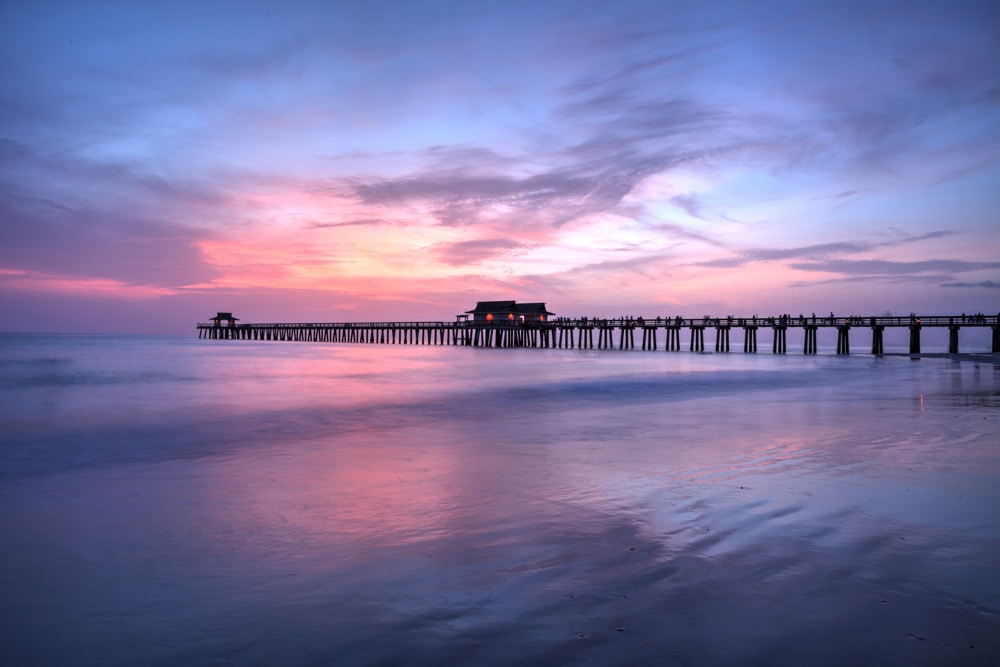 Take in the sunset at the iconic Naples pier, and look for dolphins in the water. Wander the lovely Naples Botanical Garden, which features numerous varieties of tropical plants. For beach time, head to Delnor-Wiggins Pass State Park for its sandy beaches and crystal waters.
Make sure to take a day trip to beautiful Marco Island, or the Everglades, which are wonderful to visit in December for weather and wildlife spotting opportunities.
The Naples Bay Boat Parade, which generally takes place in early December, is a fun holiday attraction in Naples. The nighttime parade features beautifully illuminated boats.
Many Naples attractions are decked out in lights and holiday decor, making it a great time to explore. Enjoy Night Lights at the Naples Botanical Garden, Christmas at Historic Palm Cottage, or the tree lighting at Fifth Avenue South.
Suggested by Victoria of Florida Trippers
Tampa, Florida
There is no better place to enjoy the sunshine and the fun of the holidays than Tampa! December is the perfect time to visit for picture-perfect weather (averages in the 70s). It's an excellent spot for those trying to escape the cold!
Of course, one of the best things to do in Tampa is to visit one of the many gorgeous beaches — Ben T. Davis and Clearwater, two top spots for visitors.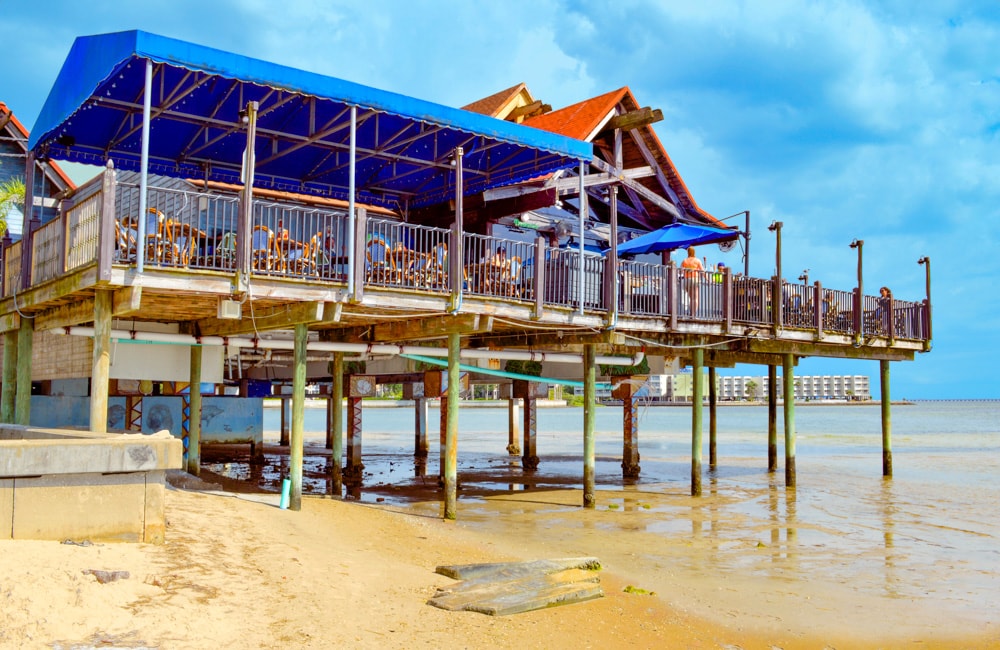 But, aside from soaking in the rays, December also ushers in many holiday activities. Although Tampa doesn't have typical holiday weather, it's a great place to enjoy them without a parka!
Visitors can ice skate at the Winter Village in downtown Tampa or Winter Beach in St. Pete. The Winter Village also features a small holiday market — the perfect spot for last-minute gifts!
Aside from skating and shopping, make sure you wander around downtown Tampa after dark to enjoy all of the beautiful holiday light displays.
One other great place to check out in Tampa is Armature Works. This historic building is home to various restaurants, shops, and activities. Make sure you don't miss one of the best spots for vegan comfort food in Tampa at Dharma Southern Kitchen.
Suggested by Rebecca of Veggies Abroad
Clearwater Beach, Florida
Clearwater Beach is perfect in December because the weather in Florida is still nice and warm, but the crowds are significantly less.
In December, Clearwater Beach temperatures consistently stay between 70 to 80 degrees Fahrenheit and rarely drop below 60 degrees, making it the perfect place to comfortably enjoy the ocean without becoming exhausted by the overwhelming heat of the summer months.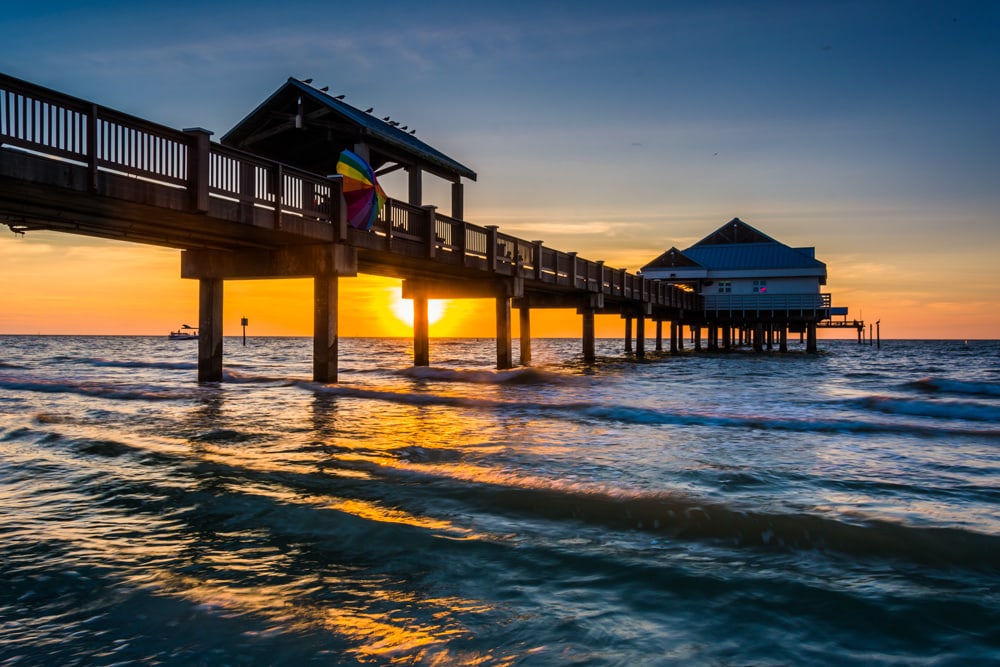 Unlike most beaches in the United States, the water in Clearwater Beach is a pretty turquoise blue, and the sand is soft, powdery white. It's one of the most beautiful places to watch the sunset, and the town has even created a special festival just to honor the sunsets here.
Known as the Sunsets at Pier 60 Festival, this event occurs every single night starting two hours before dark. There are beachfront hotels by Pier 60 that will give you the best views of the sunset from your balcony.
Boat tours are a popular activity in Clearwater Beach in December. If you have children, you can take a pirate cruise where you'll search for treasure. For adults, dolphin-watching cruises are incredibly popular.
During December, the Clearwater Marine Aquarium also becomes festive for the holidays. Habitats are decorated with Christmas lights, and even the tank divers wear costumes to look like Santa and his elves. There are also many photo spots for your kids to take memorable pictures of the event.
If you're looking for a warm weather destination for December in the USA, then definitely consider Clearwater Beach for your next trip!
Suggested by Jillian of Adventure Dragon
Destin, Florida
Destin, Florida is a must-visit in December since there is so much to do in the area and the cost of accommodations is much cheaper than during the peak season.
It's also much less crowded and you won't have the long waits for restaurants and activities like in the summer.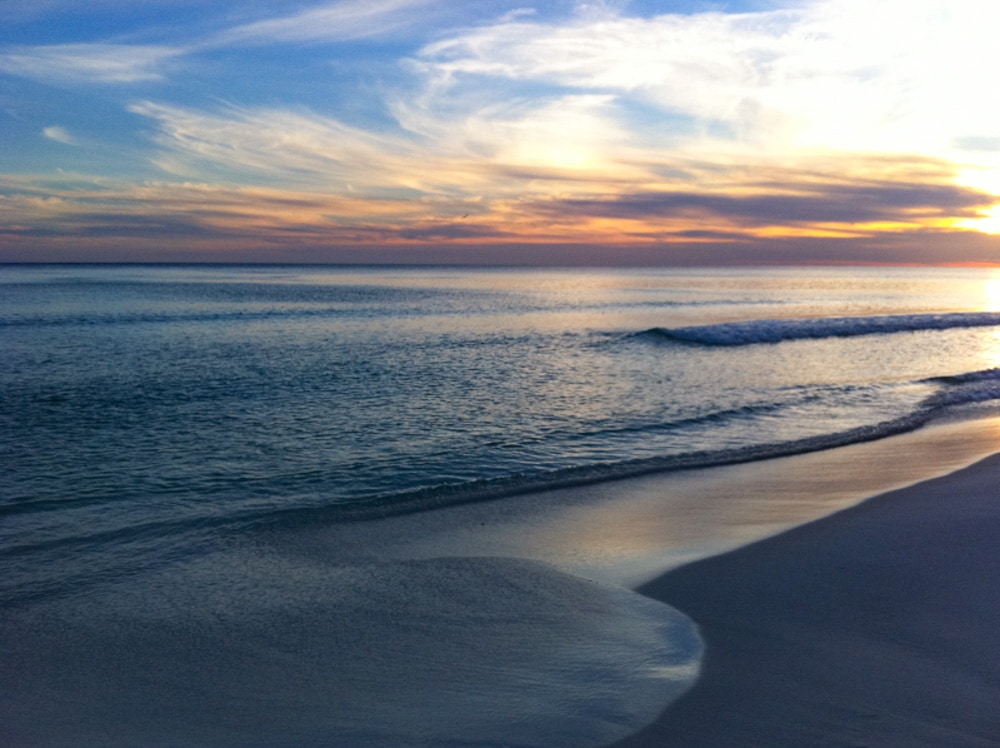 One of the most popular things to do in Destin in December, the Destin Boat Parade features boats of all sizes and shapes decorated with lights and holiday décor, as well as activities for everyone.
Spectators can watch the parade from various locations along HarborWalk Village. The best places include restaurants such as AJ's, Margaritaville, and The Boathouse.
HarborWalk Village and Destin Commons both have several holiday events throughout the month of December, as well as farmers markets, karaoke, trivia, and other activities at the restaurants. Destin Commons also has a tree lighting ceremony and fireworks.
The Village of Baytowne Wharf in nearby Miramar Beach offers live music, visits with Santa, light shows, ice skating, and a New Year's Eve Countdown, all in December.
You can't mention Destin without talking about its fishing since it's known as The World's Luckiest Fishing Village! Fishing charters are popular (and less expensive) in Destin in December.
The winters here are generally mild, with daytime highs in the 60s, and there are many spots in the area that are optimal for fishing, particularly near the Gulf of Mexico and Choctawhatchee Bay.
Suggested by Wayne of Always on the Shore
St. Petersburg, Florida
It is hard to imagine a Florida city nestled on the Gulf Coast as a destination for Santa Claus, but St. Petersburg, Florida turns itself into the Florida transportation depot for the jolly old man who travels around the world on Christmas Eve.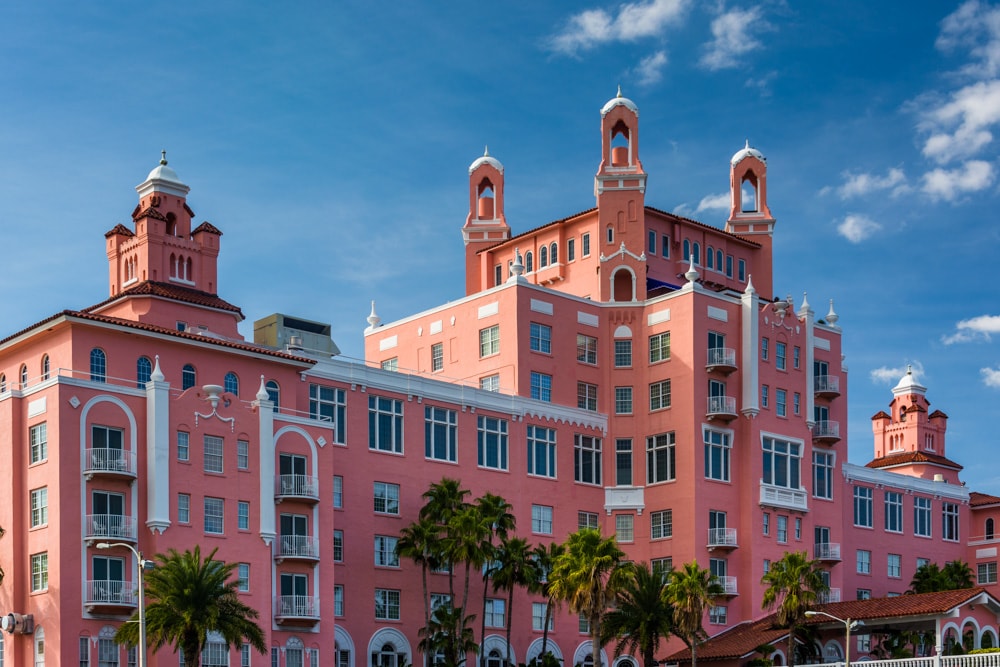 In December, you'll discover a city gift-wrapped like a big present along with "35 miles of beach bliss." The number one thing to do is experience Enchant, a light maze and village that turns St. Pete into a winter wonderland.
In the past, this festival has featured an Ice Skating Trail, an artisan Christmas Market, a visit with Santa and Mrs. Claus, and holiday art installations. Plan to stay up late so you can enjoy the Magical Night Sky. The synchronized lights recreate a North Pole night.
In the morning, get up to walk your 10,000 steps by heading down to the waterfront along the pedestrian walkway to admire all the holiday displays set up. The palm trees, wrapped in garlands of red and green, look like peppermint sticks.
The final must-do is shopping for presents, as St. Pete offers numerous local businesses selling arts, crafts, books, and one-of-a-kind clothes.
Typically, the Florida Botanical Gardens (located in nearby Largo) also feature holiday decorations in a natural setting.
If your budget permits, splurge on a stay at The Don CeSar or the Vinoy Renaissance St. Petersburg Resort & Golf.
Suggested by Terri of Female Solo Trek
Panama City Beach, Florida
Located along the Northwest coast of Florida, near Louisiana, Georgia and Alabama, is the Florida Panhandle. It is one of the warmest winter destinations in the US, yet the coastline is relatively quiet during the off peak months.
It is made up of several beach towns and cities, but one of the best places to visit and explore is Panama City Beach. There are plenty of things to do in Panama City Beach in December, including sailing to Shell Island (without the summer crowds) and exploring the protected and undeveloped barrier island.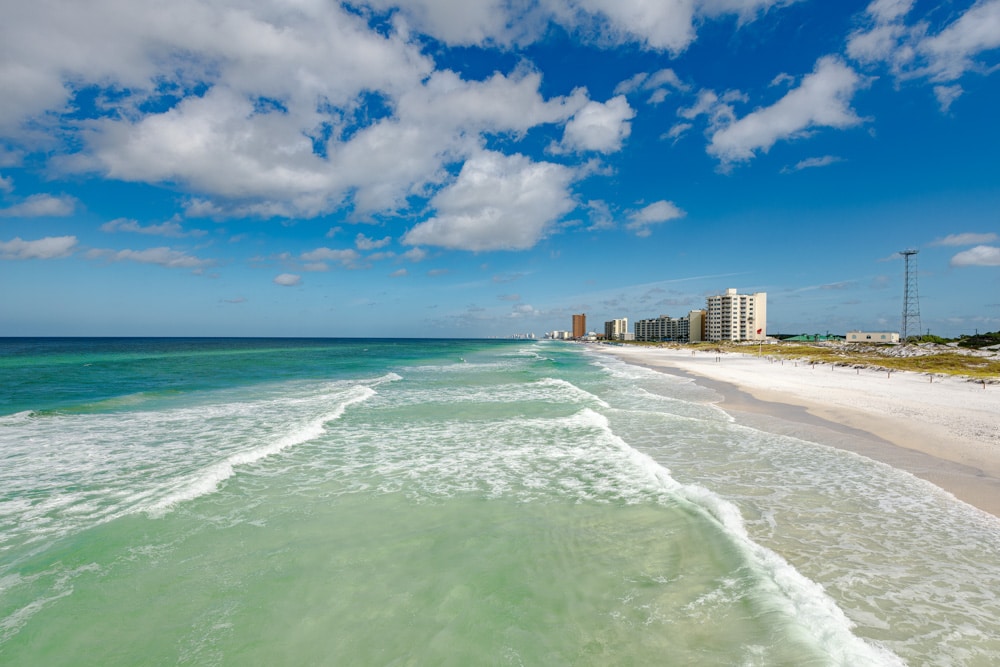 Visit Pier Park and enjoy all the rides, restaurants, and shopping without lining up, and visit the beautiful state parks of Camp Helen and St Andrews, where you can kayak and hike in peace.
December is also a great time to experience the top-rated restaurants in the area for reservations are usually a challenge in the summer, like Firefly, Runway Island, and The Grand Marlin.
For visitors during the festive period it is worth heading to City Hall to check out the illuminated Christmas tree, and the Grand Lagoon Farmers market, to try some Christmas treats.
Suggested by Roshni of The Wanderlust Within
Other Must-Visit Warm Places in December in the USA
Las Vegas, Nevada
Like everything else, Vegas celebrates the holidays on a large scale, so December is a particularly exciting time to visit the Nevada city. Daytime highs in Vegas in December tend to be in the low to mid 60s, but bring a warm jacket for late evening and night.
There are countless things to do in Vegas all year long, but December is a magical time if you enjoy lights, the performing arts, and food.
Many resorts are decorated in holiday-themed decorations and lights. Especially worth visiting are the Bellagio Conservatory, where we saw a miniature railway and magnificent red, green, and gold decor, and the Wynn display.
Strolling the Conservatory at the Bellagio is one of the best things to do on the Strip!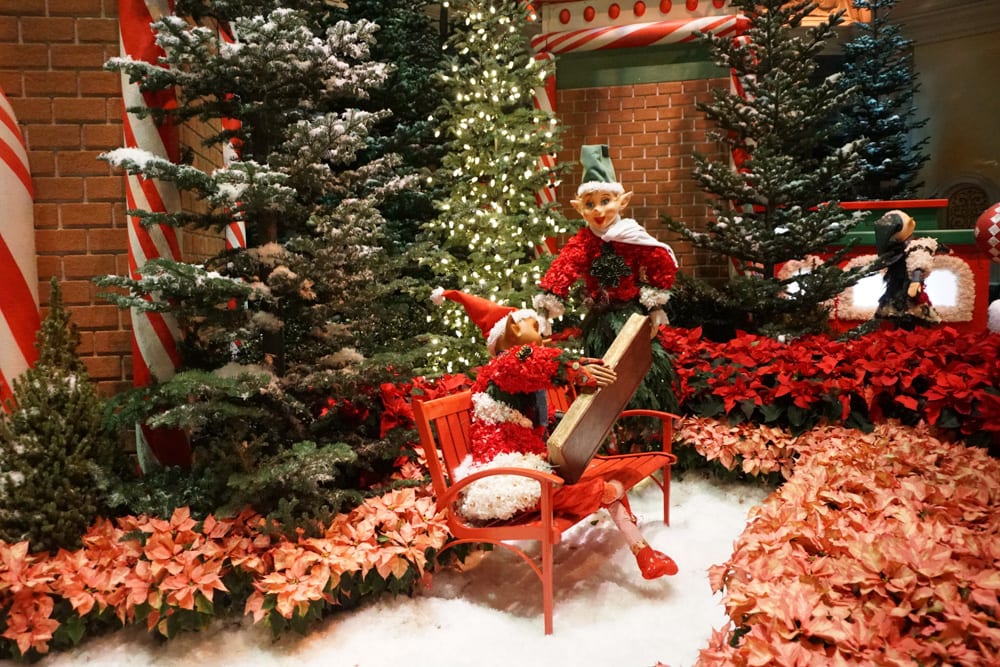 The Wynn is also known for the quality of its holiday displays. The December we visited, the theme was white and gold, with multiple miniature panoramas with moving pieces like trains. A colorful carousel added to the festive look.
Shoppers will want to allow plenty of time to look for holiday deals. And a free but delightful after-dark holiday activity is taking in the Bellagio fountain show, with the lit water undulating in time to the accompaniment of popular holiday music.
Many Vegas restaurants offer special holiday menus in December, and the buffets are sumptuous, so bring your appetite!
If you want to work off some of those calories, December is the perfect time to explore outdoors in and around Vegas. Popular day trips from Las Vegas include the nearby Red Rock National Conservation Area, Lake Mead, and the incredibly stunning Valley of Fire State Park.
If you enjoy road trips, there are numerous national parks near Vegas that you can visit in December, from Death Valley National Park in California to Zion National Park in Utah and Grand Canyon National Park in Arizona. You'll encounter fewer crowds at popular spots in the parks in December.
Suggested by us
Myrtle Beach, South Carolina
Myrtle Beach is the perfect getaway for a December vacation when trying to escape the cold weather. With highs often in the 60s, you are sure to spend your holidays in flip-flops and sipping tropical drinks.
There are many unique things to do in Myrtle Beach, and visiting in December can make the trip even more special.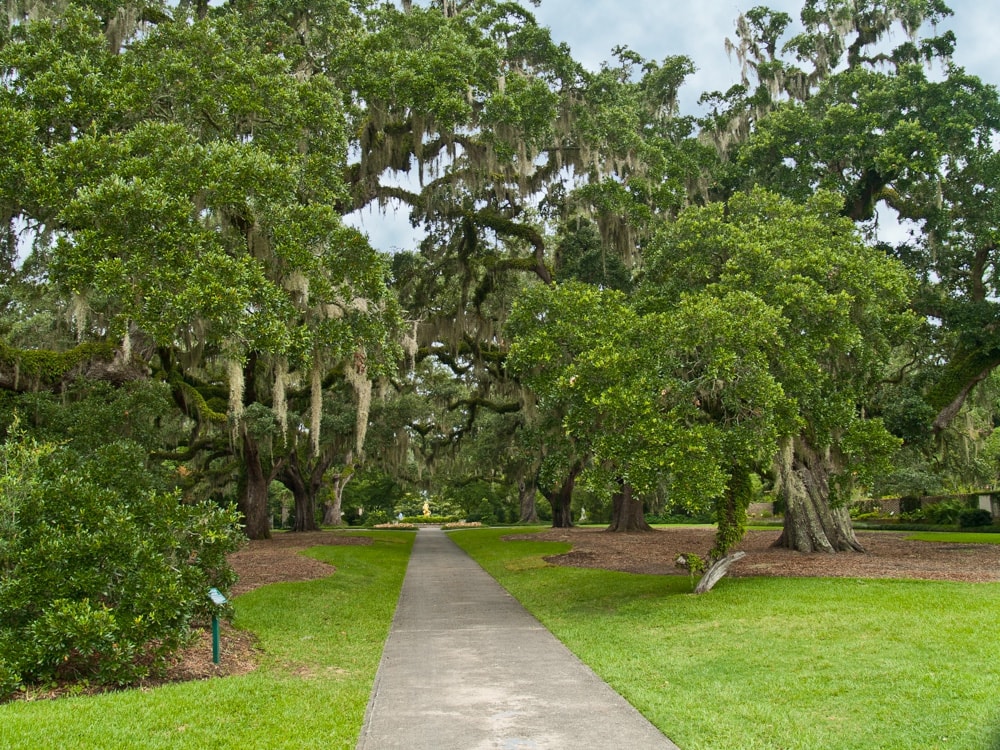 The best thing to do in Myrtle Beach this time of year is to visit Brookgreen Gardens. Located about 30 minutes outside of town, this botanical garden is beautiful to visit any time of the year, but during December they hold the Nights of a Thousand Candles.
The whole property is lit up with over 2,700 candles and millions of lights. You can stroll the glowing pathways sipping apple cider and listening to the holiday music.
Myrtle Beach is known for its numerous shows, and since you'll be there during the holiday season, you'll want to take advantage of the unique spin they put on them this month.
Pirates Voyage changes over to a holiday version of their usual show, which is especially fun for families. They serve a four-course feast and have an interactive performance.
The Alabama Theater puts on "The South's Grandest Christmas Show" during December which is fun for kids and adults alike, with a variety of acts including singing, dancing, juggling and more!
Since you'll be at the ocean, you must set foot on the beach even if it's not quite bathing suit weather. Instead, visit Cherry Grove Pier to hunt for shark's teeth: they are so much easier to find here than you may think.
Suggested by Tori of Tori Pines Travels
San Antonio, Texas
San Antonio is a unique city known for its riverwalk, historic sites and Hispanic culture. The city is especially wonderful to visit in December because you'll see the Riverwalk lit up in holiday lights.
December is also a great time to enjoy holiday tamales at events around the city. Plus, you will get to enjoy the mild winter weather that is common in Texas.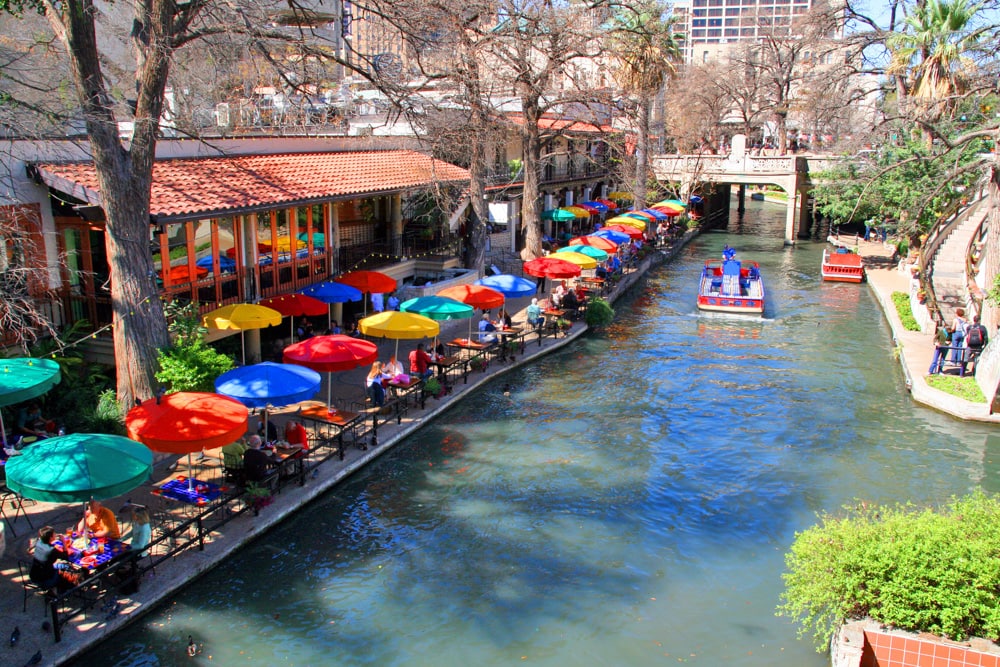 One of the best things to do in San Antonio is to visit The Alamo Mission, an important historic site that was a pivotal location in the Texas Revolution.
While The Alamo is the most famous of the missions, there are other historic missions that make up the San Antonio Missions National Historical Park. It's worth spending a day biking or driving to tour all five historic missions.
Another iconic thing to do in San Antonio is to take a stroll along the Riverwalk. The Riverwalk is essentially a canal that runs right through the middle of the city.
You can walk along the water or take a boat ride to learn about the city along the way. Plus, there are restaurants along the water that offer waterfront views!
Finally, be sure to visit Historic Market Square! This is the largest Mexican market in the United States and is a great place to shop. The market is colorful year round, but is especially beautiful around the holidays.
Suggested by Lydia of Lost with Lydia
Sedona, Arizona
If you want to have a truly relaxing vacation among the spectacular red rocks of Sedona, consider a December visit. Daytime highs are in the mid to upper 50s, and it's blissfully uncrowded.
You can still hike, because there's usually lots of sunshine: just don a light warm jacket early and late in the day.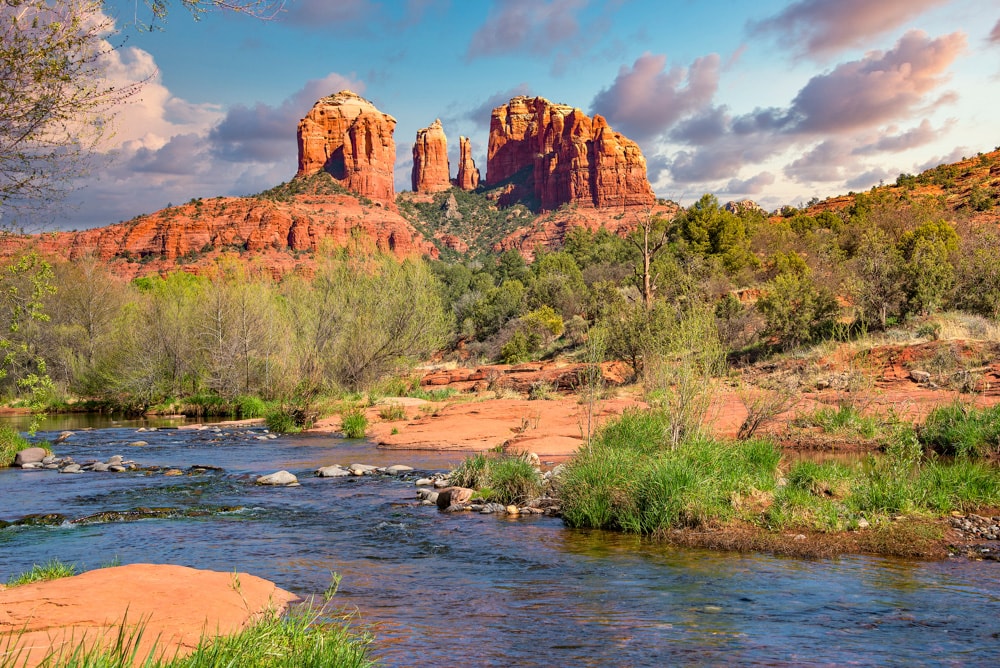 While it doesn't usually snow in Sedona, you may happen to visit when there's a light dusting of white on the red rocks, making for stunning photo ops.
Another reason to consider a December trip to Sedona is the chance of scoring a really good deal on accommodation. You'll be able to get a vacation rental or resort room that's normally in the splurge category, for reasonable prices.
Family-friendly hikes in Sedona include Bell Rock Trail, Fay Canyon Trail, and Sedona View Trail. A little more challenging but doable with older kids are Cathedral Rock Trail and Devil's Bridge Trail.
Other than hiking, you can enjoy a wide variety of activities in Sedona through the winter, from hot air balloon rides and helicopter rides to jeep tours and kayaking.
Sedona's tree lighting occurs in early December, and many area resorts are decorated with lights and holiday-themed decorations through the month. Verde Canyon Railroad hosts The Magical Christmas Journey, with the excursion train traveling to the North Pole and back.
You'll also find holiday-themed performances to attend, so check out the calendar ahead of your visit to reserve your spot.
Suggested by us
South Padre Island, Texas
If you are looking for a fabulous beach getaway in Texas in December, consider South Padre Island!
With daytime highs in the low 70s, and water temperatures in the high 60s and low 70s, you can swim or laze on the beach at South Padre Island in December, without the crowds of spring break or summer.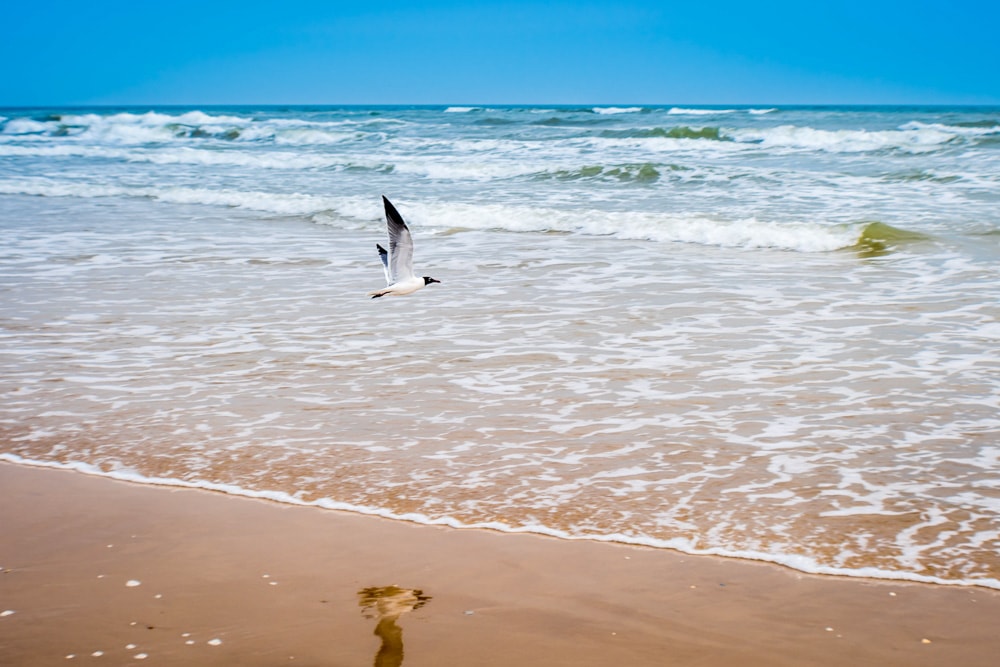 There are numerous activities to enjoy in South Padre Island, from birdwatching and wildlife viewing to deep sea fishing, kiteboarding, parasailing, and boating.
The large sandy beaches of South Padre Island are wonderful for strolling. Building sandcastles is a hugely popular activity, as are collecting shells, and just enjoying the bright sunshine and balmy weather. You can also go on a horseback ride on the beach.
Look for the largest outdoor sandcastle in the US on Padre Boulevard. The sandcastle was built partially in 2013 and partially in 2015. You can also take a sandcastle building lesson while you are here!
If you enjoy hiking, be sure to check out the Laguna Madre Nature Trail, an excellent birding trail where you can spot coastal birds as well as migrants. Visit Sea Turtle Inc., a rehabilitation center for turtles, to see marine turtles up close.
In December, enjoy the annual tree lighting ceremony, and the annual Christmas parade. On New Year's Eve, you can also catch fireworks displays.
Suggested by us
Phoenix, Arizona
Phoenix is probably best known for its unbearably hot summers, but the temperature drops in the winter to an idyllic range in the 60s and 70s, making it one of the best places to visit in the USA for anyone seeking to escape the cold.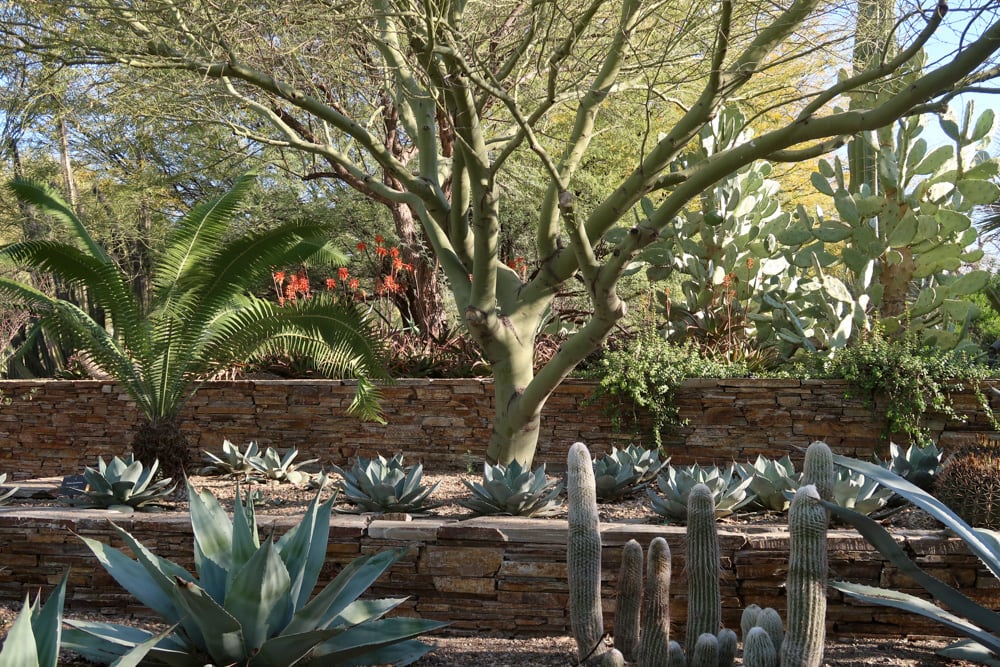 There is no shortage of exciting things to do in Phoenix, from its famous Desert Botanical Garden, with its impressive collection of desert plants, to the Heard Museum, where you can learn about Native American culture and art.
On some nights in December, the Desert Botanical Garden usually hosts Las Noches de las Luminarias, when thousands of holiday luminarias light up the garden pathways after dark. Food, cider, and music are on tap as well.
You'll find lots of performing arts events in Phoenix in December, from Handel's Messiah at the Phoenix Symphony to Alice Cooper's Annual Christmas Pudding, a rock and roll event.
The surrounding areas have plenty to offer as well. Scottsdale is well-known for its five-star resorts and golf courses. Places like the Fairmont Scottsdale Princess get festive during Christmas and New Year's with ice skating and light displays, in case you still want your winter fix.
No visit to the Phoenix area is complete without seeing the famous symbol of the Arizona desert – the huge saguaro cactus. Hole-in-the-Rock in Tempe and Usery Mountain Regional Park in Mesa are the best places for cool-weather desert hikes to see the saguaro in the wild.
Suggested by JJ of The Minivan Bucket List
New Orleans, Louisiana
December is one of the best months to visit New Orleans! With daytime highs of 65 degrees Fahrenheit, December is arguably the most comfortable time to go to the Big Easy.
Visiting the historic French Quarter is fun any time of the year, as is walking Bourbon Street, but in December you can also join in on New Orleans's fantastic holiday activities.
Known for putting on a big show during its annual Mardi Gras festival in February, New Orleans also celebrates the holiday season in its own unique way.
All through the month, the oaks in City Park are dressed in holiday-themed decor, making it a magical place for an evening stroll. And many NOLA restaurants offer special prix-fixe featuring traditional New Orleans holiday dishes to foods with an international flair.
In the first week of December, be sure to attend the Krewe of Jingle Holiday Parade, where you can see a festive version of the famous Mardi Gras Parade.
In mid-December NOLA hosts the LUNA Fête in Lafayette Square. It's a festival dedicated to lights, art, and technology, free to the public.
If you're there on Christmas Eve, you can join in for the famous "Christmas Bonfires on the Levee" in St. James Parish. Papa Noël, the Cajun Santa Claus, leads his troops to light bonfire cones along the Mississippi river.
Submitted by Katie of KatieCafTravel.com
Savannah, Georgia
Savannah, Georgia is an enchanting place to visit during the month of December. Temperatures tend to be mild, so the weather is comfortable for shopping and long strolls through the Historic District to see the festive holiday décor.
The Savannah Christmas Market runs from Thanksgiving through the first week in January. It's held in the Plant Riverside District and is Savannah's own version of European-style Christmas markets. It's a great place to purchase gifts from local vendors, take photos with Santa, or catch some live entertainment.
For a family-friendly event, try the December Nights & Lights Drive-Thru at the Botanical Gardens. Kids always enjoy seeing the millions of lights on display throughout its grounds!
One of the best ways to experience Christmas in Savannah is by taking a leisurely stroll through the Historic District to enjoy the seasonal décor. The streets directly north of Forsyth Park feature grand mansions, while Jones Street is generally considered one of the prettiest streets in the entire city.
The Cathedral Basilica of St. John the Baptist is a must-see spot during the holiday season. The interior is filled with thousands of poinsettias and has a nativity scene that takes volunteers days to assemble.
A few of the most popular events during the month of December include the city's annual tree lighting ceremony, the Holiday Boat Parade of Lights, and the Holiday Tour of Homes.
Insider Tip: The Holiday Tour of Homes usually sells out before the end of September, so purchase your tickets early!
Suggested by Erin of Savannah First-Timer's Guide
Dauphin Island, Alabama
Visiting Dauphin Island in December is the perfect way to enjoy a winter holiday! The beach town is quiet and festive, and there are plenty of fun things to do.
The barrier island sits off the coast of Alabama, roughly 45 minutes south of Mobile. You can drive your own vehicle and access the island by passing over a 3-mile bridge.
Visit the beach, go shopping, or explore the nature trails. And don't forget to check out the annual Christmas parade! It's a wonderful place to spend quality time with family and friends.
Dauphin Island is known for its miles of white sand beaches, and there are lots of beach houses and condos to rent. During December, average temperatures are in the 50s and 60s Fahrenheit, making it perfect for walking the beaches and nature trails.
There are seven miles of public beaches accessible from multiple locations along the island. Visitors can also explore the aquarium and sea lab, home to over 100 species of wildlife.
In addition, you'll want to take a tour of the island's historic fort, Fort Gaines, which overlooks the Gulf of Mexico and is the site of the Battle of Mobile Bay.
If you're looking for a fun, festive, and affordable way to spend your holiday season, consider traveling to Dauphin Island!
Suggested by Ashlee of The Happiness Function
Charleston, South Carolina
The historic city of Charleston in South Carolina is one of the best places to visit in the USA in December because there is a lot happening here in the holiday season.
Events, musicals, wine festivals, oyster roasts, and Christmas specials – Charleston in December is full of exciting things to do and see.
Attend a jazz orchestra at the Charleston Musical Hall, join a candlelight tour at Drayton Hall, and shop at the Holiday Market in Marion Square.
Christmas time in Charleston is magical with parades and light displays adorning each and every part of the town and surrounding beaches. The Charleston Holiday Festival of Lights at James Island County Park is one of the most iconic.
Apart from festivals and shopping, you can always take a walk through Charleston's historic French Quarter, click pictures at the Rainbow Row, learn all about America's slave history at the Old Slave Mart, enjoy a carriage tour of the old town, and visit a fascinating antebellum house museum.
The best part about Charleston in winter is that it is not freezing cold here. Daytime highs are usually in the high 50s or low 60s, and chances of snow are slim. It is a great time to be walking down the Battery!
Since December is officially off-season in Charleston, it is also the best time to get some good deals on accommodation and tours.
Suggested by Soumya of Stories by Soumya
Orange Beach, Alabama
Orange Beach, Alabama is one of the best warm destinations in December in the United States. With average highs in the mid-60s and lows in the upper 40s, it's the perfect winter escape! Oh, and the beaches are amazing!
In early December, you'll find low prices on accommodations and very few crowds. As the month goes on and holiday travel starts to increase, so do prices and crowds.
In December, you'll be able to sit by the Gulf and enjoy an outdoor lunch or dinner with awesome views of the water. A boat tour is a must when you visit Orange Beach. Go on a dolphin-spotting cruise or a sunset cruise, or enjoy a sail.
Head down to The Wharf at Orange Beach for some shopping or entertainment. Take a ride on one of the largest Ferris wheels in the south, cruise along Main Street on a train, and enjoy the SPECTRA Laser Light Experience. The amphitheater is huge if you want to catch a show.
Nearby Gulf Shores is known for its warm waters and beautiful beaches. The Bon Secour National Wildlife Refuge offers trails through different habitats with opportunities for wildlife viewing and birdwatching.
Also enjoy nature on trails in the Gulf State Park. Some boardwalk trails lead right to the ocean! Go hiking, biking or fishing. Make sure to check out the Gulf State Park Pier, one of the largest fishing piers on the Gulf.
Suggested by Nikki of Inspired Routes
*****
We hope you enjoyed this round-up of the most exciting warm weather destinations to visit in December in the USA. Which one will you pick for your December vacation?
MORE INSPIRATION FOR TRAVELS IN THE USA
Did you find this article informative? Pin it for later reference!