The best places to visit in Florida are as beautiful as they are diverse. From national and state parks to idyllic beach towns and vibrant cities to exciting theme parks, there are Florida destinations to suit every type of traveler.
While travelers flock to the Sunshine State for sun, sea, and sand, the state also boasts a rich history, a vibrant arts and culture scene, and fabulous food and drink.
Some links on this page may be affiliate links. If you click an affiliate link and make a purchase, we may receive a small commission, at no extra cost to you. For more details, refer to our disclosure.
We called Florida home for a couple of years and have explored many of its epic destinations, but for this round-up, we invited suggestions from colleagues in the travel blogging community.
After reading their suggestions, we are tempted to pack our bags and explore some of the amazing places in Florida we haven't yet visited!
Considering a Sunshine State vacation? Let's get started discovering the most exciting places to visit in Florida!
Walt Disney World, Orlando
Walt Disney World is the most popular theme park in the world, and it is a must-visit attraction in Florida.
With four vastly different theme parks to choose from, a shopping area, and 25 different hotels, it is an experience you can't find anywhere else in the world.
Trill to magical experiences in the Disney Magic Kingdom. Travel around the world at the Disney Epcot Center. Enjoy nature at Disney Animal Kingdom. And step into the world of movies at Disney Hollywood Studios.
Even if theme parks and rides aren't your thing, there are countless other things to do at Walt Disney World.
There are world class golf courses, cooking classes, spas, and horse-drawn carriage rides. The possibilities are truly endless.
If you're more interested in visiting the theme parks rather than everything else Disney World has to offer, you should consider purchasing an add-on event like the Behind the Seeds tour at Epcot or buying tickets to an After Hours Party at Magic Kingdom.
The special experiences take your trip to a whole new level and are well worth the splurge.
You can ask a hundred people when the best time to visit Disney World is and get a hundred different answers. But in general, you want to avoid the busiest times of year like spring break, Fourth of July, and Christmas/New Year's.
If avoiding crowds is your main goal, mid-September and mid- to late April are your best choices.
Text and photo by Erica from Travels with Erica
South Beach, Miami Beach
While South Beach is arguably one of the most touristy parts of Florida, its beaches are still beautiful and the activities make this neighborhood in Miami Beach a must visit!
Known for its spring break crowd, South Beach actually draws many other travelers.
For example there are many unique things to do in South Beach for couples, like taking a romantic stroll on the sand, or having a professionally set up picnic on the beach.

Other fun activities in South Beach include visiting Gianni's, the lavish restaurant inside the (former) Versace Mansion, riding free bikes through either Lummus Park or South Pointe Park, or grabbing brunch at one of the plentiful outdoor patios.
Try Bacon Bitch where they mix a party atmosphere with delicious brunch. They serve items like fluffy pancakes and stacked breakfast sandwiches.
Foodies will definitely want to experience a food tour with a local guide! This popular food tour offers tastings of American, Cuban, French, Haitian, Italian, Mediterranean and Peruvian dishes!
When you visit the beach, take some memorable photos at the colorful lifeguard towers, which are symbols of Miami beaches!

At night, catch a show along Ocean Drive like the iconic drag show at Palace Bar & Restaurant or classic Cuban music at 1957 Havana.

Because South Beach is so popular for spring break, the best time to visit is early fall or in May, right between spring break and summertime, which sees more families.
Winter is also a nice time to visit, but it's considered peak season as many travelers are escaping cold winters for the sunny beaches at one of the best beach vacation spots in the US.
Suggested by Alanna from Periodic Adventures
Universal Orlando
Universal Orlando is Florida's second most popular theme park destination, particularly with families with older kids.
With two theme parks, a water park, and a shopping and dining district for nightlife, it's a great spot to spend a few days.
There are special events year-round at Universal Orlando, so you can't go wrong with a visit any time, but the parks are especially fun when they're decorated for Christmas and during CityWalk's Mardi Gras celebrations.
For the last several years, Harry Potter has been one of the biggest draws to the parks with Diagon Alley represented at Universal Studios and Hogwarts and Hogsmeade at Islands of Adventure.
Richly-themed rides, shops, and dining are available in these two areas and they're a must-visit for all fans of the books. You can even try the famous butterbeer in a variety of different presentations and hop on the Hogwarts Express.
Islands of Adventure is also home to Universal's latest roller coaster. Called the VelociCoaster, this roller coaster is themed to Jurassic World.
It's opened to rave reviews and pairs well with the River Adventure raft ride that features animatronic dinosaurs and a big drop that's sure to get you wet.
If you're looking to make more of a splash, head over to Volcano Bay, Universal's state-of-the-art water park. Here you'll find fast water slides, a lazy river, a wave pool, and a water coaster. There is also plenty of fun for smaller kids.
For a taste of nightlife, visit CityWalk, which is admission-free. This entertainment district is loaded with shops and restaurants and comes to life in the evenings. It's also home to a movie theater and entertainment venues.
Text and photo by Kris from Nomad by Trade
Crystal River
When it comes to swimming with manatees, everyone agrees on one thing: the best place to go is Crystal River.
While the water in Crystal River itself is sparkling and clear, to swim with manatees, you'll need to head to the murkier, muddier areas of water.
You'll also need to go with a guide. Crystal River insists on a code that considers the well-being of the manatees, and the experience is all the better for it.
After years of declining numbers, authorities brought in speed limits for local boats and education for tourists. After a short video demonstration, you'll head on to the boat and start looking for manatees.
These huge sea cows move slowly and gently but are easily startled away. Once in the water, you need to float with a snorkel and stay as still and quiet as you can. Do this part right and the manatees will swim right up to you, nudging and nuzzling as they go.
This popular and highly-rated tour offers snorkeling with an in-water divemaster and photographer, for a once-in-a-lifetime experience.
Beyond the manatees, Crystal River is a quiet, laid back place. You'll find a few hiking routes beside the river and the Homosassa Spring Wildlife State Park is a pleasant spot to spend the afternoon, taking in the flamingos and American Bald Eagles.
The low-key Crystal River Archaeological State Park and museum traces the ruins from the people who lived here thousands of years ago.
And, it's Florida. So, you can always head to the beach.
For the best chance of spotting manatees, however, travel to Crystal River between November and April.
Suggested by Abigail from Inside the Travel Lab
Destin
If you are looking for a laid-back beach town for a relaxing Florida vacation, consider Destin! Located on the stunning Emerald Coast of Florida, Destin boasts the white sugar-sand beaches and turquoise waters characteristic of the Gulf Coast region.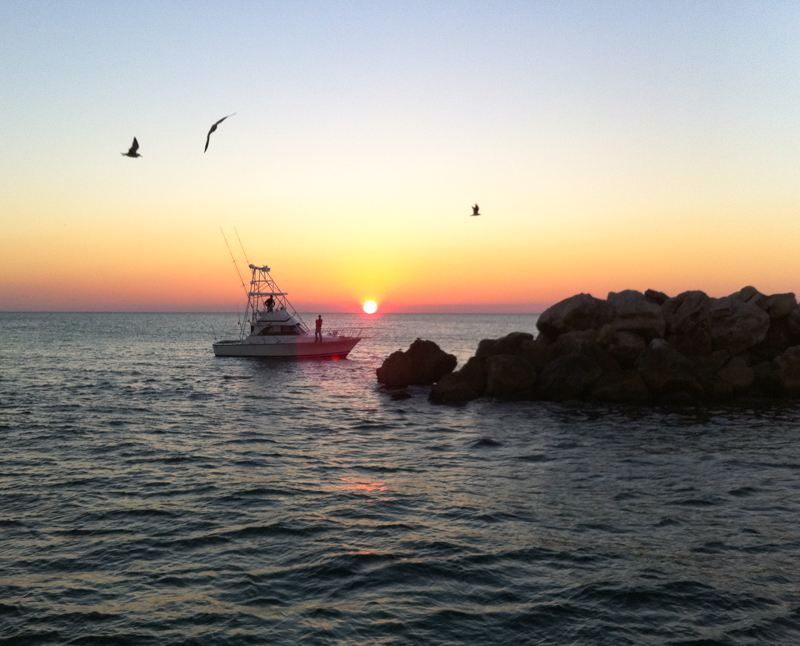 There are many fun things to do in Destin, both in and out of the water. A harbor cruise, especially at sunset, is spectacular, and you may see dolphins.
On land, Henderson Beach State Park offers a fantastic public beach as well as dune trails.
Hanging out on a boat at Crab Island (which is a sand bar, not an island!) is one of the must-do activities in Destin. You can rent inflatables, or browse the many water shops, or just relax on the water.
Consider this popular tiki bar excursion: you can swim, snorkel, visit one of the floating restaurants, or just chill. The 3-hour adventure is family-friendly and great for photos.
Book this Crab Island sandbar adventure on a tiki bar excursion now!
If you enjoy wildlife viewing, make sure to stop by Okaloosa Island Pier, a great spot from which to look for sea turtles, sharks, and lots of fish in the water.
You will also likely see lots of sea and shore birds at various places in Destin, so bring your binoculars if you enjoy birding!
The HarborWalk Village is a fun place to stroll, with souvenir shops and lots of eateries.
Destin is known for its many quality restaurants, and many restaurants will clean and cook your catch for you if you enjoy fishing.
Spring and fall are ideal times to visit Destin for lower crowds and great weather. Summer offers long days and lots of sunshine, but expect to share the beach town with many other visitors.
Suggested by us
Everglades National Park
Everglades National Park is one of the best places to visit in Florida, and one of the best national parks to visit in winter.
The variety of wildlife, especially birds, is breathtaking. The mangroves and marshes here are home to numerous wildlife species.
Keep your eyes open for hidden trails off the beaten path.
The Christian Point Trail is perfect if you like a long walk to fully discover the park. Keep in mind that this trail in not maintained and therefore a bit more difficult to walk.
Other than hiking, you can go bicycling in Everglades National Park, or canoeing or kayaking. You can also join a slough slog, an off trial hike, if you aren't afraid of getting your feet wet.
With a large alligator population in the park, you can rest assured that you will spot multiple gators along the way, even up close. Bring bug spray or be prepared to be attacked by swarms of mosquitos.
Everglades National Park is best visited in the morning on foot and at the pace of nature itself.
Avoid the touristic boat tours that are advertised everywhere. They are not ideal for spotting wildlife as the noise of the boats will likely scare most of the animals away.
Suggested by Stephanie from Bey of Travel
Cocoa Beach
Cocoa Beach is a fun beach town in East-Central Florida. It's about a one-hour drive from Orlando, making it easily accessible from the airport, or even as a day trip from the city.
Cocoa Beach is a must-visit while in Florida, because while it does have beautiful beaches, there are plenty of other unique and fun things to do there, too.
Cocoa Beach is known for its world-famous Westgate Cocoa Beach Pier, originally built in 1962. It stretches 800 feet out over the Atlantic Ocean, making it the perfect spot for a leisurely stroll.
On the pier, there are several restaurants, bars, and gift shops, so be sure to stop in for a drink or a meal with a view of the ocean.
Aside from lounging on the beaches of Cocoa Beach, enjoy the ocean by going deep sea fishing, kayaking, or taking an airboat ride. These ocean activities will give you the opportunity to discover some of Florida's coastal wildlife.
Cocoa Beach is also unique because it's part of the Space Coast. This stretch of the US coastline is filled with space-themed attractions, and Cocoa Beach is home to the best one: The Kennedy Space Center.
Visit the center to learn about the history of the race to space, and discover who the pioneers of NASA's early space programs were. You can even see the Saturn V moon rocket!
If your timing is right, you'll be able to view the launch of a rocket into space from the Space Center. You can see the schedule for rocket launches here.
Suggested by Erin from Pina Travels
Kennedy Space Center
If you are a space lover, exploring the gateway to space at NASA's Kennedy Space Center is a bucket-list destination that will blow you away. Located 35 miles east of Orlando, a visit makes a great day trip option.
Visiting the Apollo/Saturn V Visitor center is one of the biggest highlights. To get there, you must ride the Kennedy Space Center Tour bus. Plan the bus ride close to the start of your visit so you do not miss out.
Also impressive is the Space Shuttle Atlantis, suspended from the ceiling with its cargo bay open for viewing. There are also simulators, a rocket garden, a children's play place, two IMAX theaters, an Astronaut Memorial, Astronaut Hall of Fame, and much more.
The exhibits are split into mission zones by chronological eras. No detail is too small, from the dawn of space explorations to the present-day exploration facts, hopes, and dreams.
Also, you can time your visit around special events. You may be able to meet a real astronaut or witness a rocket launch.
If you would like to avoid some of the crowds, it is best to visit during the week and avoid school breaks. There is so much to experience at the Kennedy Space Center that you may want a second day to explore more!
Suggested by Debbie from World Adventurists
Dry Tortugas National Park
Dry Tortugas National Park is a collection of open water and seven small islands that are located about 70 miles off the southern tip of the Florida Keys.
The park is not exactly easy to get to, making it one of the least visited parks in the US National Park System. But travelers that make the effort will find Dry Tortugas NP a stunning area to visit.
The turquoise water surrounding the islands is full of colorful coral reef and schools of fish, making snorkeling a popular activity for visitors .
The largest island in Dry Tortugas is home to the historic Fort Jefferson, which was built in the 19th century to protect the shipping channel between the Atlantic Ocean and the Gulf of Mexico.
The fortress is now abandoned so visitors can wander around at their own pace, soaking in the views of the beach and the ocean.
Bring your swimsuit and plan on spending a few hours wandering around the fort, swimming or snorkeling in the sea, and possibly even doing some bird watching!
There are no dining options in the park, so be sure to bring snacks and plenty of water for your visit. The ferry provides breakfast and lunch for their passengers.
The park is only accessible by seaplane or boat. The easiest way to get there is on the daily ferry that runs between Dry Tortugas and Key West. There are no accommodations in the park so most people just go for the day.
Camping is allowed on the largest island, but you'll need to make a reservation well in advance as there are only eight campsites in total.
The weather in Florida is quite pleasant year-round making it possible to visit Dry Tortugas any time of year. However, the sea tends to be rougher and the winds stronger from October to January, which makes for a very bumpy boat ride.
Key West is quite busy from February to April so if you visit during these months be sure to book your ferry ticket well in advance.
Suggested by Val and Nick from The Wandering Wheatleys
Anna Maria Island
Visitors to Anna Maria Island (AMI) love the soft, clean, and white Florida Gulf Coast beach sugar sand, epic sunsets, fresh seafood, and island vibe.
Commercial development restrictions in AMI mean that giant condo and hotel buildings dominating the coastline in nearby places (like Clearwater and Naples) do not exist here.
Favorite things to do in Anna Maria Island include beach activities, watching sunsets, morning beach walks, water activities (like kayaking, boating, and SUP), fishing, and dining at amazing restaurants.
Bean Point covers the northern tip of Anna Maria Island and its beach is the widest and most rugged on the island and perfect for sunset and sunrise views.
At the other end of AMI, Coquina Beach features the second widest beach, pine trees, and the most convenient parking options.
Twenty miles of beach areas in between include Anna Maria Beach, Manatee Beach, Holmes Beach, Bradenton Beach, and Cortez Beach.
South of Coquina Beach, just across Longboat Pass, is Beer Can Island, a local favorite spot where you can swim with wild dolphins, manatees, and even small sharks.
Several shops and outfitters offer tours (dolphin watching is popular), sailing and charter fishing excursions, or rent boats, kayaks, paddleboards, and jetskis.
Other fun activities include segway tours and rentals, bicycle and golf cart rentals, wonderful stores and shops, and piers.
If you are looking for great places to eat and drink, check out Beach Bistro, Sandbar, Ginny's and Jane E's (perhaps the quirkiest eatery in all of Florida), Doctor's Office, and Star Fish in nearby Cortez. Wherever you eat, order fresh local blackened grouper.
Anna Maria Island is most popular during winter months and spring break, and the closest airports are Sarasota, St. Pete, and Tampa.
Suggested by Charles from McCool Travel
Sarasota
Sarasota is a quintessential beach town on the west coast of Florida. It has powdery, white sand beaches, a laid back vibe, an amazing art museum, plus a huge state park where one can see lots of gators.
There are lots of fun things to do in Sarasota, whether you are visiting solo, as a couple, or as a family.
The best beach in the city is Siesta Key Beach. While there are many beaches in the Sarasota area like Lido and Longboat, Siesta Key is the most developed and the most popular.
The powdery white sand does not feel hot when one walks on it, and the gradual slope of the beach to the water makes it ideal to bring young children. Head on over to Siesta Key Village for lunch or dinner as well!
If you are looking for culture, head on over to the Ringling Museum. The art and circus museum is a must see, but pay a little extra and include entrance to Ca' D'Zan, an impressive house museum overlooking the water.
A bit inland is Myakka State Park. You can take a trolley ride that takes you all around the park but the absolute must-do is a boat tour, where you can see alligators lounging or swimming in their native habitat. Gator sightings are guaranteed!
Finally, Mote Marine Aquarium is a top rated aquarium also located near the beach. See the giant squid exhibit, as we'll as a few friendly critters like otters!

The best time to visit is spring, fall, or winter. If you do visit during the winter, expect busier roads and more expensive rooms. Winter is the peak season of travel for snowbirds who flock here for better weather.
Suggested by Ruby from Voyage Florida
Biscayne National Park
One of the best places to visit in Florida is Biscayne National Park. There are so many adventurous things to do in Biscayne National Park!
Biscayne National Park is unique in that 95% of the park is water. It is also the third-largest offshore reef in the world. It is located in South Florida, about 55 minutes from downtown Miami.
If you do not have a boat, the best way to see the park is on a tour with the Biscayne National Park Institute. They offer a variety of different tours ranging from kayaking to scuba diving.
Snorkeling and scuba diving in the park is some of the best in the United States. The reefs and water are beautiful.
If you don't want to get in the water, you can go on the Heritage of Biscayne Cruise. This tour will take you to see some of the keys in the park and give you the opportunity to disembark at one.
The tour is a great introduction to the rich history of the park and a great opportunity to spend time out on the beautiful water.
The park does offer canoe, paddleboard, and kayak rentals Wednesday through Sunday. The rentals are first come first serve. Rentals can be obtained at the Dante Fascell Visitor Center.
Suggested by Candice from CS Ginger
Honeymoon Island
Honeymoon Island is a must-visit place in Florida. Located only 20 minutes from Clearwater Beach, it is considered one of the best kept-secrets and among the prettiest islands to visit in the Sunshine State.
A less touristy island, Honeymoon Island offers a large variety of things to do, besides the amazing beaches.
Here you can go hiking on the Osprey Trail, a 2.5-mile stretch of local nature. Observe the virgin slash pine, and look for raccoons, turtles and coyotes.
Another popular activity in Honeymoon island is to go paddleboarding. You can bring your own board, or you can rent one on the island.
Yet another fun option is to take a ferry or rent a kayak and visit Caladesi Island, located across Honeymoon Island. Caladesi Island is a wild oasis with incredible pristine beaches and a very tranquil shoreline, where you can see dolphins and hundreds of migratory birds.
Honeymoon Island is open from 8 a.m. until sunset, 365 days a year, and it is a great destination to visit any time of the year.
The temperature of the water is cooler during winter time, but it is still a great destination to explore and relax while you enjoy the stunning views of the nature that surrounds the island.
Suggested by Paula from Paula Pins the Planet
Naples
Located on the west coast of Florida, Naples is a must-visit for anyone that is looking for amazing beaches, swimming, shelling, and sunsets in Florida.
What makes Naples so special is its proximity to some of the most beautiful beaches in Florida.
Be sure to check out Barefoot Beach Preserve. Barefoot Beach is one of the last undeveloped barrier islands on Florida's southwest coast. And what you get is a mile and a half of pristine untouched beach.
Another great place to visit is Tigertail Beach, located on Marco Island. Visitors come from all over to visit Tigertail because it is one of the best shelling beaches in Florida. But make sure you read up on the rules and best practices before you decide to take any shells with you.
Finally, Naples is also known as one of the best places for fine dining and shopping in Florida. After the sun sets head over to 5th avenue where you can have an amazing meal and also peruse some of the many shops.
The best time to visit Naples is in the spring when the weather is dry, the temperatures are just warm enough and the sun is setting later. This is a great time of year to enjoy the beach comfortably and also take advantage of the longer days.
Suggested by Taima from Poor in a Private Plane
St. Augustine
There are many amazing places to visit in Florida and St. Augustine is definitely a city you will want to place on your itinerary for the Sunshine State.
St. Augustine is the oldest city in the United States, with a rich history. It's also a relaxed beach town with over forty miles of beaches.
Also, St. Augustine is filled with beautiful Spanish, colonial architecture that you'll fall in love with. Finally, the food scene is incredible, with fresh seafood cooked to perfection.
When in St. Augustine, visiting Castillo de San Marcos National Monument is a must. It was built between 1672 and 1695 by the Spanish and served as a fort for over 200 years.
Then, head over to the downtown area and explore Lightener Museum. Afterward, work your way to the picturesque George Street. It's a pedestrian area that has several shops, restaurants, and bars.
You can also spend the evening watching the sunset at St. Augustine Beach. End the day with a ghost tour learning about St. Augustine's spooky past.
St. Augustine is a beautiful destination all year round. But the best time to visit is between March and May. The weather is perfect and there will be fewer crowds.
And if you are planning to visit around the holidays, St. Augustine ranks up there as one of the best Christmas towns in Florida!
Suggested by Disha from Disha Discovers
Marco Island
Located in southwest Florida, Marco Island is a paradise for nature lovers, water sports enthusiasts, boaters, and anglers. The largest of Florida's Ten Thousand Islands, Marco is uniquely situated on Florida's southwest Paradise Coast.
The island boasts beautiful soft white sand beaches and calm warm water, and there's lots to see and do in Marco Island. Take a cruise to Keewaydin Island for incredible shelling or rent a kayak and paddle the Ten Thousand Islands.
You can rent a boat to sightsee on your own, or book a private charter for amazing fishing. On a dolphin cruise you'll see plenty of dolphins and often manatees up close, a big hit with kids.
After a day of fun in the sun, enjoy dinner at one of Marco Island's many great restaurants. And when you need a break from the sun and sea, Marco has a full range of shopping options.
Being sub-tropical southwest Florida has only two main seasons: dry and wet, also known as the green season. November to May is winter, when humidity is the lowest, with moderate temperatures. This is also the time when it's the most crowded.
June to October is the summer wet season with high humidity and higher temps, but the crowds vanish. It's also hurricane season (though not likely) when the Gulf is the warmest, and wildlife sightings are abundant.
Suggested by Lori from Naples Florida Travel Guide
Tampa
One of the best places to visit in Florida is the city of Tampa. Tampa is located on Tampa Bay, on the Gulf Coast of Florida. You will find lots of fun things to do here!
Busch Gardens Tampa Bay should be at the top of your list of places to explore in Tampa. This is a wonderful theme park with lots of rides and an Africa-focused theme.
Another interesting sight in the city is the Museum of Science & Industry. Here you will find a very interesting collection of items that includes dinosaurs, fossils, and more!
Also, you will find a butterfly garden at the museum, where you can see the prettiest species of butterflies!
The Tampa Museum of Art is very interesting as well. You will find both classical and contemporary artworks here.
There are many Instagrammable places in Tampa, so make sure you bring your camera!
Also, when you are in Tampa, you should definitely go to the beach. There are lots of beaches that are amazing for a relaxing day. One of the best beaches in the area is Ben T. Davis Beach.
Tampa is a year-round destination, but you will want to visit between September and December to avoid the summer crowds and the muggy weather.
The months from January through April also offer good weather, but accommodations tend to be more expensive during this time.
Suggested by Dymphe from Dymabroad
Looking for warm weather destinations for a winter getaway? Check out our round-up of the most exciting warm places to visit in December in the USA!
Virginia Key
Virginia Key is an island close to Miami, Florida. The place is perfect for would-be adventurers looking for something to do outdoors, away from city life.
The island is only a 20-25 minute drive away from downtown Miami. It's not too well-known, which makes it perfect if you want to avoid the crowds. If you visit it during spring or fall, you might even have it all to yourself.

The island is quite popular among bicyclists due to the bicycle trails and few number of tourists on the trails. You can rent a bicycle from the Virginia Key Outdoor Center. Virginia Key Trail is a popular 4-mile mountain biking loop.

You can also go kayaking or paddleboarding in the area. You can rent a kayak at the Virginia Key Outdoor Center and launch off its small dock into Lamar Lake. The area is renowned for the abundance of manatees that live in it.
If you go up the lake and then turn right, you can go into the ocean where you might see other marine life like loggerhead sea turtles and bottlenose dolphins if you're lucky.
Close by is the historic Virginia Key Beach Park. It has quite the historical significance due to it being one of the few beaches where people of color were allowed to go to in times of segregation.
The beach itself is a great place for families as it has calm waters. You can also ride the miniature train, and kids will enjoy the carousel.
Suggested by Martin from Travel Explorator
Sanibel Island
Renowned for beautiful beaches and world-class shelling, the small coastal town of Sanibel Island is one of the most charming places to visit in southwest Florida.
There are plenty of fun activities on Sanibel. You can rent a bike and pedal the five miles from one end of the island to the other. Stop along the way at the Shell Museum, with lots of interactive displays that kids will love.
Or spend the day shelling at Sanibel Lighthouse Beach and stay for the sunset celebration.
Rent a kayak or canoe and paddle through mangrove tunnels at J. N. Ding Darling National Wildlife Refuge. There are also boat rentals available for sightseeing, snorkeling, and fishing on your own.
As with all of southwest Florida, there are only two seasons. November to May is the dry season when humidity is low and temperatures are moderate. This is also when Sanibel is the most crowded.
June to October is the wet season, when the humidity and temperatures soar and most of the tourist crowds have gone.
But during the wet season the Gulf of Mexico is the warmest, and dolphins and manatees make daily appearances. You may even see a sea turtle swimming just off the beach in the early morning.
Suggested by Lori from Travlinmad
Ocala
One of the best places to visit in Florida is the city of Ocala. It is located in Central Florida, about 80 miles northwest of Orlando. Where many parts of Florida are known for their beaches, Ocala is known for its equestrian history and natural beauty.
Because Ocala/Marion County is home to more horses and ponies than any other county in the US, Ocala has become known as the "Horse Capital of the World." It's a great place to visit a breeding or training farm and to go horseback riding.
Ocala also has many beautiful parks and natural springs nearby that are the perfect way to experience the great outdoors.
You can go for a day hike or take a swim in crystal clear water! You can even enjoy one of Florida's best zipline courses in Ocala.
History and art lovers will also appreciate the many museums in Ocala. Its historic downtown square is popular as well. It is surrounded by restaurants and bars and events are held on the square throughout the year.
Of course, Ocala is great to visit year-round, but there are extra activities during the winter season. The annual Christmas Parade is truly a local favorite and not to be missed!
Suggested by Vicky from Buddy the Traveling Monkey
Legoland, Winter Haven
Legoland Florida, located in Winter Haven, is a great amusement park for families with younger kids.
The park offers interactive amusement park rides such as Driving School, where kids can drive vehicles through LEGO City, and Boating School, where they drive real boats on the water.
Kids can train to be firefighters at Rescue Academy and practice their Ninja moves on the Ninjago Ride.
There are several roller coasters at Legoland, including The Great Lego Race which can include a 4D experience while racing around the roller coaster track.
Legoland Florida also provides an opportunity for kids to get creative at the Imagination Zone. Here they can build and fly a plane or race cars down a race track.
Also don't forget to check out Miniland USA for amazing LEGO builds depicting US destinations.
Legoland Florida is great to visit any time of year but late spring or early fall is best. The water park is open during this time and crowds tend to be lower.
Legoland offers several casual dining options as well as the Fun Town Pizza and Pasta Buffet.
Adjacent to the LEGOLAND Florida Park is the LEGOLAND Hotel, which is the best place to stay when visiting LEGOLAND Florida. It offers the best themed rooms in Florida including the recently added LEGOLAND Pirate Hotel.
Text and photo by Nicole from Affordable Family Travel
Key West
The island of Key West, located to the south of Miami, is one of the most popular getaway locations in the southeast of the USA.
For people in search of water-based activities, Key West has a plethora of activities on offer, ranging from snorkeling (to see the marine life on offer here) to diving (to see shipwrecks).
Or you could spend the day relaxing on the numerous stunning beaches here. For those looking for once-in-a-lifetime experiences, you could also swim with dolphins here in their natural habitat.
Visitors assuming that Key West is all about the sea will find that it isn't! There are art galleries, museums, and antique shops here, such as Ernest Hemingway's home, which is also a museum, the Mel Fisher Maritime Museum and Audubon House and Gallery.
In addition, Key West Aquarium and the Key West butterfly and nature conservatory are excellent spots for families, as the variety of exotic birds and butterflies here are mesmerizing to observe.
It takes about four hours to get to Key West from Miami, and, along the way, you will find many islands where you can stop to rest or to explore!
Suggested by Lavinia from Continent Hop
Fort Lauderdale Beach
When looking for the best places to visit in Florida you can't miss out on Fort Lauderdale Beach. You can expect the same white sands as Miami Beach, but with much fewer crowds.
Also, with a thriving art and entertainment scene relatively close by, there's a lot to see and do besides the beach as well. Explore the unique neighborhoods, visit a nature center or botanical garden, or go antiquing.
The beach area itself is well maintained with clean sand, ultra-wide walking spaces, and next to zero litter floating around. The boardwalk area is safe and offers some upbeat nightlife options for those seeking things to do at night.
If spending the whole day, remember to bring some travel bug spray along with you if you're usually a target for those pesky mosquitos.
Another great thing about this area is that you can find available parking spaces right outside the beach. You'll need to pay for a spot but it's well worth the convenience as you do not have to walk more than a few steps.
The months between December and April are a great time to visit for travelers looking to get some winter sun.
Suggested by Daniel from Layer Culture
*****
We hope you enjoyed this round-up of the most exciting destinations in Florida. Which one will you pick for your next trip?
MORE INSPIRATION FOR TRAVELS IN THE USA
Did you find this article informative? Pin it for later reference!