Considering a getaway at Christmas this year? Our round-up of the best destinations for Christmas vacations in the USA will definitely have you excited about spending the holidays away from home!
Festive cities bedecked with Christmas decorations and bustling with holiday events. Fairytale towns twinkling with lights after dark. Snowy wonderlands and warm desert parks. Beachy islands with tropical vibes. At Christmas, you'll find all these and more in the USA!
Whether you are dreaming of a white Christmas away from home, or you'd rather laze on a beach on the holiday, and whether you enjoy all the trappings of the holidays (lights, decorations, carols, The Nutcracker, Christmas markets, more!) or you just want to spend the holiday in the serenity of nature, you'll find a destination on our list to suit.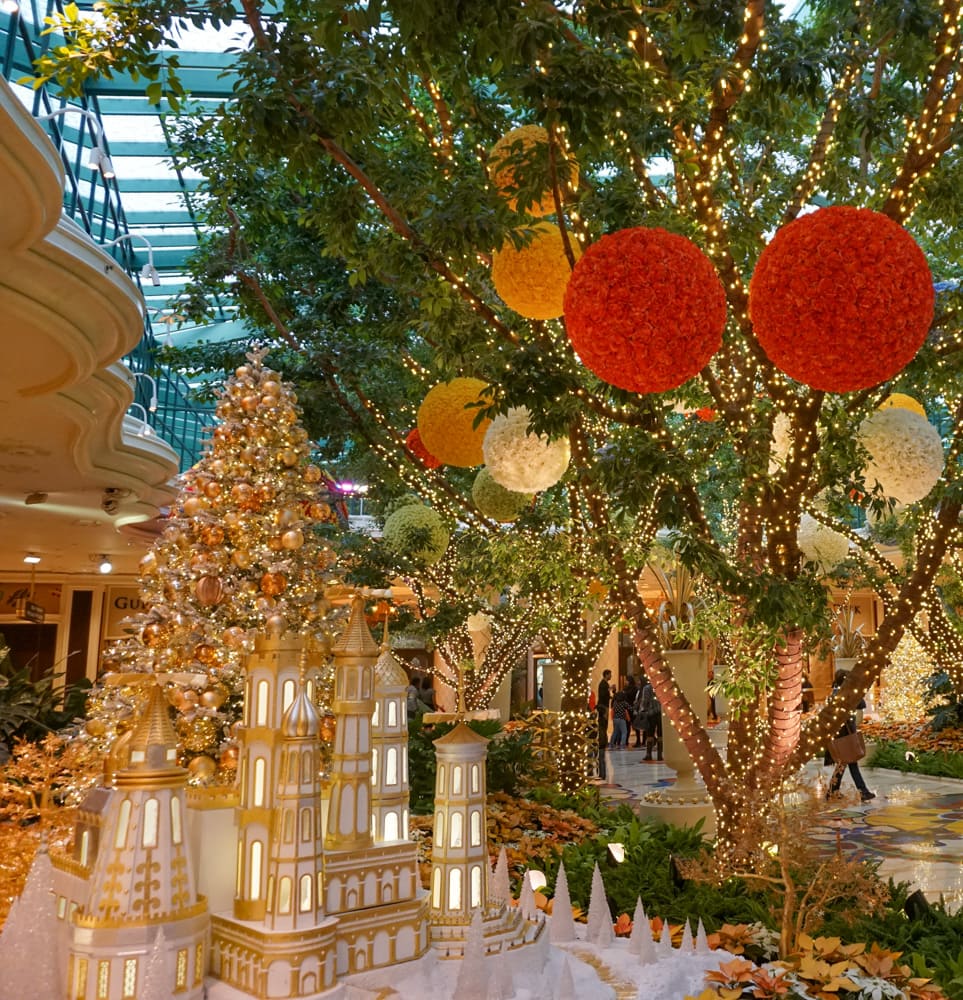 Some links on this page may be affiliate links. If you click an affiliate link and make a purchase, we may receive a small commission, at no extra cost to you. For more details, refer to our disclosure.
The destinations on our list are great for families seeking a fun Christmas vacation, couples looking for a romantic holiday escape, and solo travelers hoping for that perfect holiday getaway.
Ready to celebrate the most wonderful time of the year away from home? Let's get started discovering the best places to celebrate Christmas in the USA!
Las Vegas, Nevada
From extravagant holiday decor to snowfall on demand, Las Vegas celebrates Christmas with style.
With daytime temperatures in the low 60s Fahrenheit, perfect for walking around, Vegas is one of the best places to spend Christmas in the USA.
Many Vegas resorts are decked out with holiday-themed decorations at Christmas, so allow time to wander the resorts along the Strip.
By far one of the best displays is at the Bellagio Conservatory & Botanical Gardens, where poinsettias, candy canes, lights, and meticulously-created holiday scenes create an enchanting experience. The display changes each year, so if you routinely visit Vegas over Christmas, you'll be thrilled anew each time!
Also look for elegant holiday decor at The Venetian and The Wynn. The year we visited, we found Wynn's gorgeous white-and-gold holiday displays breathtaking.
The Bellagio fountain show is another wonderful (and free!) Las Vegas holiday experience. Get a cup of hot chocolate to go and find a spot around the lake after dark. Then take in the mesmerizing dance of water and light to the tune of holiday-themed music!
The LINQ promenade generally has a tall Christmas tree, lots of shopping, and seasonal food and drink. Be sure to take a ride on the High Roller, the giant observation wheel, to watch the light show, set to holiday music: it's one of the best activities on the Strip.
Love ice skating? Head to the ice rink at The Cosmopolitan, considered one of the top rinks in the US. It's a great family-friendly activity to enjoy in Vegas at Christmas! Of course, you'll find food, hot chocolate, s'mores and more by the rink.
For more family fun in Vegas at Christmas, check out the lights at the Ethel M's Chocolate Factory Holiday Cactus Garden, or enjoy the made-to-order snow and the holiday train at the Springs Preserve.
Of course, no Las Vegas vacation is complete without gorging on great food, and you'll find holiday menus at many Vegas restaurants, and a surfeit of holiday-inspired dishes at Las Vegas buffets.
Where to stay: To be close to sights, shows, shopping, and dining, you can't go wrong booking a stay at one of the resorts along the Strip. Opt for a fountain view room at the Bellagio, or stay at the upscale Venetian!
If your vacation spans a few days, why not add in a couple of day trips from Vegas to your late December itinerary? You'll also find several national parks near Vegas that are perfect for visiting during the winter months.
New York City, New York
New York City is easily one of the most magical destinations for Christmas vacations in the USA.
From extravagant window displays and the Rockefeller Center Christmas Tree to Christmas markets and winter villages, New York has so much to offer during Christmas time.
One of the most famous and best things to do when visiting NYC during Christmas is to stand under the Rockefeller Center Christmas Tree. The tree usually goes up right after Thanksgiving and is open 24 hours.
Aside from seeing the tree, you can also ice skate under the Christmas Tree!
Another must-do in the Big Apple during the holidays is admiring the best Christmas Decorations in NYC.
Not to be missed decorations include the Saks 5th Avenue light show, the Cartier Display, the Radio City Christmas Ornaments, and the decorations on the Upper West Side. They all change slightly each year, but are fantastic nonetheless.
Christmas window displays are also a really big thing in New York City during the holidays.
Macy's Herald Square, Bloomingdales on 5th Avenue, and Bergdorf Goodman, also on Fifth Avenue, are always top contenders to visit.
Of course you can't visit Manhattan during Christmas without stopping by a Christmas market.
One of the best markets is at Bryant Park. They have an ice rink, a Christmas tree, dozens of food vendors, and even those cozy clear pop-up igloos you can rent!
Where to stay: For the perfect stay in NYC during Christmas time, consider the Plaza Hotel, one of the most iconic hotels in the city. Featured in Home Alone 2 (during Christmas time), the hotel is right next to Central Park and 5th Avenue, where you will find most of the best Christmas decorations.
Suggested by Sam of Find Love and Travel
San Francisco, California
Nothing is more magical than strolling around San Francisco during the holidays.
Every year, the famous Christmas tree in Union Square comes to life at 83 feet tall, with 1,000+ ornaments and 33,000 LED lights. Love ice skating? Skate to your heart's content at the ice rink right next to the Christmas tree!
Head over to Macy's across the street for some window shopping or scoping out more holiday decor.
Or better yet, go outside to see some cute animals on the window display. Macy's partners with San Francisco SPCA and SF Animal Care & Control to showcase adoptable pets in the store windows every holiday season. They prioritize the animals' comfort and well-being while helping them find their forever home.
Up the steep hill lies Fairmont Hotel, which hosts the life-sized Gingerbread House inside. Standing at two stories and 25 feet tall, the Gingerbread House is made with real gingerbread bricks with 1,650 pounds of candy and 3,000 pounds of ice cream. And it smells amazing.
Once you enter the Gingerbread House, you can walk over to the bars and rooftop garden, and if you are traveling with little ones, they will love Santa's Playroom, which has a lavish hot chocolate bar.
Speaking of hot chocolate, you must visit Ghirardelli Square! They offer specialty holiday drinks made with peppermint or sea salt caramel. It's just so comforting to sit and sip on a chilly day, whilst enjoying a spot of people watching.
If you want that magical experience NYC has to offer, but without the frigid temperatures, San Francisco is the place to be for the holidays!
Where to stay: Stay at The Westin St. Francis, right on Union Square, in the heart of all the holiday festivities. The hotel usually has an intricately-designed rotating Enchanted Sugar Castle in the lobby you can admire, as well as festive decorations.
Suggested by Hannah of Hannah on Horizon
Boston, Massachusetts
Boston is one of the most magical places to visit for Christmas vacations in the USA.
Twinkling lights hang from historic brownstone buildings, velvet bows and evergreen branches adorn street lamps, and live holiday music fills the air.
One of the best things to do during the Christmas season in Boston is explore the small boutiques along Charles Street in Beacon Hill. Here you can find one-of-a-kind gifts, toys, chocolates, and more.
Be sure to walk over to Rouvalis Flowers, a flower shop favored by locals, to see their seasonal arrangements with evergreen boughs, holly, and poinsettias.
Not far from Beacon Hill is Boston Common, where you can go ice skating on the Frog Pond.
Stop by after dark to see the Boston Common Christmas tree, which has been lit every year for over 80 years. Other trees throughout the Common are also illuminated, making for the perfect festive stroll.
Don't miss the famous Make Way for Ducklings statues in the Boston Public Garden next to Boston Common, which locals like to dress in knit scarves and hats this time of year.
On the Seaport side of Boston is the Holiday Market at Snowport, which is essentially Boston's adaptation of the European Christmas market.
Browse the booths of dozens of local vendors selling everything from outerwear to Christmas ornaments to seasonal treats.
Where to stay: Stay at the historic Omni Parker House Hotel in Boston, which has been in operation since 1855. At Christmas time, they have been known to host dramatic readings of Charles Dickens' beloved A Christmas Carol.
Suggested by Amanda of My Vintage Map
Washington, D.C.
Washington, D.C., the nation's capital, is one of the best places in the US to visit for a Christmas vacation. Daytime highs are in the low to mid 40s, so bundle up and enjoy the beautiful city.
The single biggest reason to visit Washington, D.C., at Christmas is of course to admire the National Christmas Tree exhibit just south of the White House! The lighting of the tree by the President of the USA is an annual tradition since way back in 1923.
The current tree is a live Colorado blue spruce over 30 feet tall, and it gets decorated with ornaments made by artists from across the country.
Many trees around the National Christmas Tree, representing the US states and territories, are also illuminated, making for a truly festive spectacle.
To continue basking in the holiday spirit, head to the Downtown Holiday Market, where several dozen vendors offer arts and crafts, gifts, and more. With lights, holiday decor, and holiday music, the market is a must-visit!
Go skating at the National Gallery of Art's Sculpture Garden ice skating rink, enjoy ZooLights at the Smithsonian's National Zoo, and go shopping at CityCenter DC (or just wander to see the ice sculptures, lights, and decor!).
Watch a performance of A Christmas Carol at the historic Ford's Theatre, or be enthralled by Handel's Messiah at The National Cathedral.
Just outside Washington, D.C. you'll want to visit Mount Vernon, the former estate of George Washington, for an evening walking tour. Close to Christmas, the property also features illuminations.
Where to stay: The Watergate Hotel has a rooftop bar with fabulous views of the Potomac River and cool pop-up winter igloos.
Suggested by us
Oahu, Hawaii
One of the most exotic places to spend Christmas in the USA is Oahu, Hawaii.
Here, you'll find an island twist on your favorite holiday traditions, like Christmas carols. You might also spot Santa Claus wearing an Aloha shirt or even surfing in the ocean!
Plus, it's one of the few places where you can spend Christmas in your swimsuit!
There are tons of Waikiki Christmas activities, such as visiting Santa, shopping at the Waikiki Christmas Store, and checking out the Sheraton Waikiki Sand Sculptures.
Ala Moana Center is the largest outdoor shopping mall in the world, and they have tons of holiday entertainment, a Santa village, and Christmas shopping deals.
However, the main event is Honolulu City Lights. This is a month-long Oahu Christmas event with thousands of lights, entertainment, and huge Christmas decorations.
There's also the Waikiki Christmas Trolley that goes around Honolulu, taking you past all kinds of beautiful light displays.
Many restaurants offer fancy Christmas dinners, but it's worth booking tickets for the Rock-a-Hula Christmas Luau. This is one of Waikiki's biggest shows, and they have several ticket packages available so you can celebrate the season in style.
All the major Oahu resorts and hotels get decked out for the holidays.
Where to stay: The Moana Surfrider is one of the best places to stay on Oahu for Christmas, because they offer breakfast with Santa Claus as well as an afternoon Christmas-themed tea. They also feature incredible Hawaiian Christmas decorations!
Suggested by Marcie of Hawaii Travel with Kids
Solvang, California
Solvang styles itself "the most Christmassy town in the USA," so you know you are in for a sensory treat if you visit the charming Danish-themed town over the holidays!
The little California town celebrates Julefest through the month of December.
Located in the picturesque Santa Ynez Valley a few miles outside Santa Barbara, Solvang makes for a fun vacation on its own, or in combination with the other charming towns in the valley: Los Olivos, Santa Ynez, Los Alamos, Ballard, and Buellton.
Downtown Solvang, known for its windmills and Danish architecture, is also a shopping mecca, and many stores are dressed up for Christmas, with individual Christmas trees, wreaths, poinsettias and more.
Many of the buildings are lit up at night, making for a super festive ambience. And Solvang boasts a number of authentic Danish bakeries, so be sure to pop in for holiday-themed sweet treats and the wafting scent of gingerbread!
The town tree lighting occurs in early December, so you can see it fully lit up when you visit at Christmas.
You'll also want to participate in the hunt for the nisse (Danish for elves). They are hidden all over downtown, and kids and adults alike will have fun looking for them!
If you enjoy shopping for unique Christmas-themed ornaments, decor, and gifts, Solvang is the perfect place to visit. Even if you do not buy, just browsing the beautiful window displays is a treat.
Together, the towns of the valley boast an impressive collection of wine tasting rooms, wineries, and restaurants serving delectable farm-to-table cuisine. Most of them have stroll-worthy downtowns as well!
Where to stay: The Hotel Corque is a boutique hotel located close to shopping and dining in downtown Solvang. Rooms are well-appointed, and some rooms come with views of Solvang Village, which looks pretty lit up after dark!
Suggested by us
New Orleans, Louisiana
Christmas time is the perfect time of year to visit New Orleans. An amazing city to visit any time of the year, New Orleans is wonderfully festive and decorated beautifully for the holidays.
If you are looking to escape the cold, the mild winters of the US Gulf Coast make New Orleans the perfect winter destination.
The beautiful architecture and history of the city will enthrall history lovers. Foodies will love the rich and varied culinary traditions of New Orleans.
High temperatures in December typically hover around 64 degrees Fahrenheit and lows in the 40s. The odd cold front can, however, blow in unexpectedly, so it's best to pack some warm layers just in case!
View the elaborate decorations at the Roosevelt Hotel. The hotel's lobby becomes a winter wonderland filled with beautiful light displays. Grab a drink in the Sazerac Bar while you're there. Opt for a festive cocktail, or a New Orleans classic like the Sazerac.
Stroll through the Garden District to admire the Christmas decorations on all the historic homes.
The most beautiful neighborhoods in the city can be found uptown in the garden district. The architecture here is stunning any time of year, but the neighborhood is especially beautiful with the festive Christmas decorations.
Watch the lighting of the bonfires on the levee. A Cajun tradition, rows of bonfires are set up along the levees of the Mississippi River. At dusk on Christmas Eve, the bonfires are lit to light the way for Papa Noel.
Though not in the city of New Orleans, it's just a short drive to St. James Parish to view this magical sight.
Have Reveillon dinner! Another French tradition that lives on into today, Reveillon dinner is a celebratory meal served Christmas Eve.
Many restaurants throughout the city put out a special Reveillon menu for the event. Once the holidays approach, check out the menus as they are released, and be sure to make a reservation.
Where to stay: Book a stay at the Windsor Court Hotel, located close to the French Quarter. The hotel lobby features fabulous holiday decorations, with a dramatic Christmas tree, lots of twinkling white lights, and poinsettias everywhere: gorgeous!
Suggested by Jackie of Bon Voyage Jackie
Leavenworth, Washington
Leavenworth, nestled in Washington State's Cascade Mountains, comes alive each Christmas, with its downtown area festooned with over half a million Christmas lights.
But what makes Christmas in Leavenworth so special is the Bavarian architecture that's found throughout its downtown, from its gas station to its street signs and Starbucks, that looks more like something you'd see on the alpine slopes setting of The Sound of Music, as opposed to the Pacific Northwest.
In fact, Leavenworth does not have any Germanic roots. Instead, it was a dying logging town in the 1960s, whose leadership decided to take a chance and make the town over as a Bavarian wonderland in hopes of driving tourism.
Their plan was a wild success, with over 200,000 visitors enjoying its annual Christmas festivities each year!
From the weekend after Thanksgiving through Christmas, Leavenworth turns into a snowy Christmas wonderland, with carolers strolling the streets, chestnuts literally being roasted over an open fire, and even some appearances from Santa himself.
Spend the day wandering around Leavenworth's downtown.
There are plenty of wineries to stop by, for a mug of glühwein by a roaring fire. And places to pick up some hearty food, like sausages (with lots of sauerkraut!) at München Haus.
Don't miss the Nutcracker Museum, a family-run enterprise with a jaw-dropping 7,000 nutcrackers on display.
If you want to enjoy Leavenworth's winter wonderland even more, there are several snowshoeing and Nordic ski trails nearby to burn off that glühwein.
Where to stay: Book a stay at the Bavarian Lodge, where you can relax in one of the two outdoor tubs, while drinking in the views of the surrounding Cascade Mountains.
Suggested by Jessica of Uprooted Traveler
San Antonio, Texas
San Antonio is one of the best places to visit in Texas, no matter the time of year. But with daytime temperatures in the mid-60s, and a festive holiday atmosphere, San Antonio makes for an extra delightful Christmas getaway.
San Antonio's stunning Riverwalk, always a big draw, is spectacular during the holidays, with thousands of twinkling lights and magical holiday decor. You'll love the many luminarias — Mexican Christmas lanterns — that line the Riverwalk this time of year.
Take a boat ride — the boats are illuminated as well! — and shop for holiday gifts, ornaments, and arts and crafts at shops along the Riverwalk.
And since the Riverwalk is lined with topnotch eateries, you'll want to enjoy a meal (or three!) here, soaking in the decor and the ambience as you eat.
For another unique San Antonio Christmas experience, head to the Natural Bridge Caverns, where Christmas carols sung by live choirs echo through the underground cavern during the holidays. Add in a Christmas tree and lights for even more festivity.
Lightscape at the San Antonio Botanical Garden is a relatively new but dazzling holiday event in the city. Light displays unique to Texas are showcased along a one-mile illuminated path. There is seasonal food and drink to enjoy as well!
If you are traveling with kids, you'll want to head to the Texas Transportation Museum for Santa's Railroad Wonderland, where kids can ride a decorated train and travel to "the North Pole" to meet Santa Claus.
The holidays are a great time to sample tamales in San Antonio, so bring your appetite!
Where to stay: Consider the historic Crockett Hotel, located close to The Alamo and to the Riverwalk for easy sightseeing, shopping, and dining.
Suggested by us
Prescott, Arizona
Prescott boasts a charming downtown, a white-columned courthouse and a small-town feel that have earned it the nickname of "Arizona's Christmas City."
With quaint streets and Victorian homes straight out of It's A Wonderful Life, Prescott really puts you in the holiday spirit.
Stroll through Prescott's old-fashioned downtown for historic buildings, independent bookstores, antique shops, and quirky boutiques strewn with fairy lights. It's the perfect place to shop for one-of-a-kind Christmas gifts.
Stop for lunch at the historic Whiskey Row, lined with old-time saloons straight out of the Wild West. Or indulge in some caramel popcorn or handmade chocolate as you browse. A stroll down this historic street is definitely one of the best things to do in Prescott.
Head to the tree-lined courthouse plaza for a dose of small-town American life. The plaza is filled with twinkling lights and there's a gigantic tree in front of the courthouse that adds to the festivities.
The Christmas Lights Parade is a must-see for families, with events like live music, caroling, and a reading of The Night Before Christmas.
The Annual Christmas Parade and Courthouse Lighting is a real spectacle usually held on the first Saturday of December. It really brings the local community together. And there are colorful floats and holiday cheer that delight visitors.
And don't miss The World's Largest Gingerbread Village event, with its hundreds of handcrafted gingerbread creations on show inside a sugary village. It smells amazing and makes for a great wintertime getaway!
Where to stay: Check into Hassayampa Inn for some historic charm. Known as the Grand Dame of Prescott, this inn was built in 1927. And it features a restored 1920s style lobby along with all the modern amenities.
Suggested by Dee of Vanilla Papers
Asheville, North Carolina
If you're looking for one of the top places to visit in the US during Christmas time, be sure to consider a trip to beautiful Asheville, North Carolina!
The city comes alive during the holiday season and offers plenty of events and festivities to celebrate the holidays!
Daytime temperatures tend to be around 50 degrees Fahrenheit during this time of the year, so visiting some of the waterfalls and nature trails nearby is a must!
If you happen to get lucky and snow has arrived in the mountains and areas outside of Asheville, you can take a snowshoeing tour with Hike Bike Kayak Asheville. You'll get to explore the high country with a certified Blue Ridge naturalist.
Asheville is home to an annual Gingerbread competition that dates all the way back to 1992! From the end of November until early January, you can see the displays from all of the bakers who entered the November competition.
Around 40 miles outside of Asheville is the Cataloochee Ski Area, where 50 acres of skiable landscapes await. You can rent gear and enjoy one of their ski slopes. Don't worry if the snow has not arrived: the ski resort has one of the most advanced snowmaking systems on the east coast.
The North Carolina Arboretum hosts a famous winter lights show, where you can see over a million glowing LED lights throughout its gardens. This is a must for families during the holidays in Asheville!
And of course, one of the most popular things to do in Asheville in winter is to visit the world-famous Biltmore.
The mansion puts up over 25,000 decorations (and 100,000 lights!) to lure in visitors from all over the country. It is truly one of the best places to celebrate Christmas in the country.
Where to stay: Consider the Foundry Hotel, a cool hotel housed in a former steel factory, and located just 5 minutes from downtown Asheville.
Suggested by Megan of Virginia Travel Tips
Helen, Georgia
The incredibly unique Bavarian-style village of Helen is one of the pest places to spend Christmas in the USA.
Every building in Helen, located in northern Georgia, is built in Bavarian style, so it looks like you just set foot into a fairy tale. But when you visit Helen, Georgia at Christmas, it's that much more enchanting.
Year round, you can take a ride on the Georgia Mountain Coaster, sitting on the edge of the mountain in the center of town. The coaster goes up to 28 miles per hour, and you control the brakes. During the holidays, ride it at night to admire the Christmas lights covering the town below.
Helen offers some incredible Christmas events throughout the season! The day after Thanksgiving you'll find the entire town in celebration as they hold their annual lighting of the village.
Watch the town come to life all while listening to Christmas music, drinking hot cocoa, and meeting Santa and his elves.
Two select weekends they hold the Christkindlmarkt, where the town streets are lined with stalls of vendors selling local goods, Christmas decor, and handmade gifts to buy for loved ones.
The final event of the holiday season is their Christmas Parade. Usually held in mid December, the parade features local performers and unveils the big man himself, Santa Claus.
You can't visit Helen without appreciating some of the beautiful mountains and nature around you.
Go for a hike up Mount Yonah for views, or hike Duke's Creek Trail to see waterfalls.
If you prefer not to do longer hikes, choose Anna Ruby Falls, which is only a short walk to a waterfall. Or visit the highest point in Georgia, Brasstown Bald, where you can get to the top via a shuttle.
Where to stay: For the best place to stay in Helen, rent a room at the Valhalla Resort Hotel, just a few minutes outside of downtown.
Suggested by Tori of Tori Pines Travels
Orlando, Florida
Orlando is one of the best places to spend Christmas in the USA. If you're looking for mild winter weather combined with the best theme parks in the world, Orlando is your destination.
Nothing puts you in the Christmas spirit like spending Christmas in the most magical place on Earth, Walt Disney World. During the Christmas season, all the parks at Walt Disney World are decorated festively for the holidays.
At Magic Kingdom, Cinderella's Castle lights up with holiday projections. Also here at Magic Kingdom, you can join in for Mickey's Very Merry Christmas Party, which includes a special Christmas parade and firework show.
At EPCOT, you can experience the International Festival of the Holidays, where you can indulge in holiday foods from around the world and learn how other countries celebrate the holiday season.
Walt Disney World is not the only theme park in Orlando to do it up big for Christmas.
Universal Orlando Resort is another great option. Head to Seuss Landing to experience the fun of Grinchmas and meet the Grinch himself.
Nightly during the holiday season, you can watch Universal's Holiday Parade Featuring Macy's famous balloons!
And Harry Potter fans, there's no better time to visit Hogwart's Castle than at Christmas to see it all lit up.
Downtown Orlando gets dressed up for the holidays as well. Take a walk along the shore of Lake Eola, where you will find a tall Christmas tree and lots of holiday decor.
Where to stay: Signia by Hilton Orlando Bonnet Creek is an amazing Orlando resort, set in the midst of a peaceful nature preserve, yet very near the theme parks.
Suggested by Kim of Traveling Swansons
San Diego, California
If you're in search of a warm-weather getaway at Christmas, consider San Diego, California. Here, the weather always hovers around 65 degrees, even during the wintertime!
Plus, there are all kinds of wonderful family-friendly activities to fill up your holiday itinerary.
For example, the Southern California beach town is world-renowned for its incredible waves that are ideal for surfing. Even a complete beginner can enjoy these popular waves as there are tons of beaches that offer easy-to-catch waves!
Winter is an especially wonderful time to surf in San Diego. Although it's cold, swells create large waves this time of year.

However, if you'd rather just stroll the beach, head over to La Jolla Cove, where you can take in the coastal scenery and view hundreds of sea lions and seals lounging on the rocks. They will often bark at pedestrians, so don't be alarmed if they talk back at you!

And if you're looking to get into the holiday spirit, head to Balboa Park. At the beginning of December, they hang Christmas lights all over the park and even host a Christmas light festival called December Nights!
On two Sundays in December, you can view the San Diego Bay Parade of Lights, when illuminated and decorated boats parade through San Diego Bay, creating a festive spectacle.

Lastly, don't forget to eat your way through San Diego. There are all kinds of delicious hidden food spots scattered throughout the city, especially in downtown San Diego!
Visit the holiday market at Petco Park (it's San Diego's version of a European Christmas market), admire the super tall Christmas tree at Liberty Station, or go skating at the Rady Children's Ice Rink.
Where to stay: Pendry San Diego is a cool getaway in San Diego for Christmas. Located in the Gaslamp Quarter, the hotel's Nason's Beer Hall is festooned with holiday decor, creating a winter wonderland, and the hotel puts on events for kids during the holiday season.
Suggested by Kristin of Global Travel Escapades
St. Croix, US Virgin Islands
There's no better place to spend Christmas than the Caribbean islands! The St. Croix Crucian Christmas Carnival is one of the largest events on the island, and visitors from around the world join in on the festivities.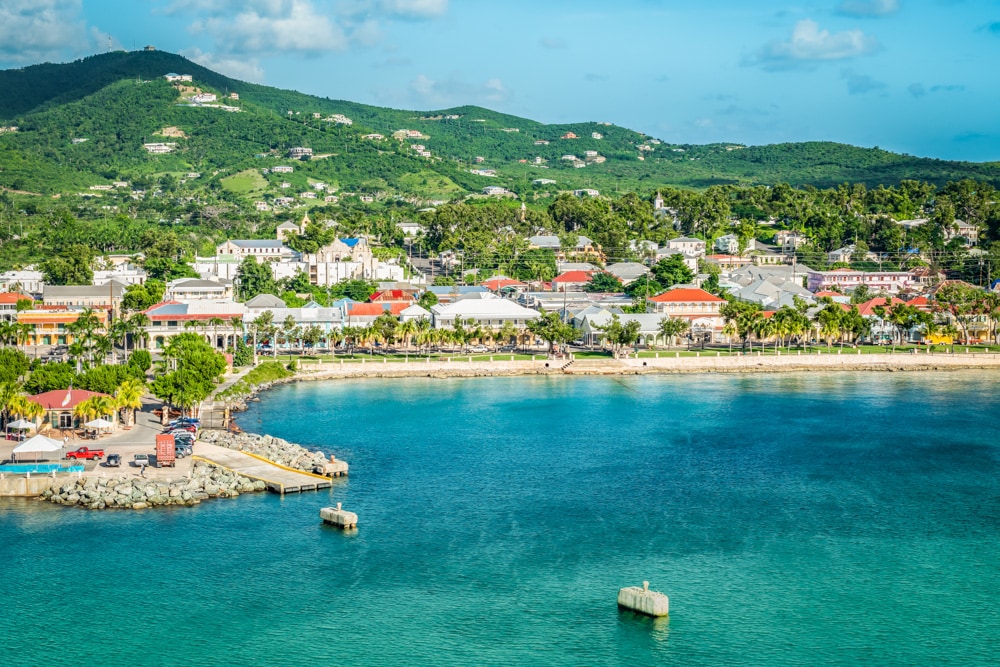 Crucian Christmas doesn't just last one day, it lasts all month! St. Croix is known for its rich history, and this festival is no different. Dating back to 1912, Crucian Christmas is a time to relax and celebrate the culture with parades, art fairs, local cuisine, and more.
The main celebrations are in Frederiksted, on the west side of the island. Opening night is known as J'ouvert. This is the day to try local food vendors and check out the art from the local artists.
The two largest celebrations on the island are the Children's Parade and the Adult Parade, both extravagant celebrations with cultural costumes, dancing in the street, drinks, and fun.
Additionally, December is the beginning of the tourist season in the US Virgin Islands. The weather is perfect for outdoor celebrations and excursions.
The most popular excursion on the island is Buck Island National Reef National Monument. You'll visit the uninhabited Buck Island, home to Turtle Beach, one of the most beautiful beaches in the world.
You'll snorkel through breathtaking coral reefs, colorful fish, and marine wildlife in the Caribbean.
Lastly, you can't leave St. Croix without hiking the Carambola Trumbull Trail to the natural tide pools located in the northwest of the island.
Christmas is a unique and beautiful time to visit St Croix to enjoy not only all of its natural beauty but its endless history and culture as well.
Where to stay: For a wonderful stay in St. Croix, check out the Sand Castle on the Beach, located right in Frederiksted near all of the Christmas activities.
Suggested by Rachel of Caribbean Uncovered
Pigeon Forge, Tennessee
For anyone looking to experience an East Coast mountain vacation for the holidays, Pigeon Forge is the perfect place to spend Christmas in the USA.
Known as a gateway to the Great Smoky Mountains, this tiny town covers just thirteen square miles but offers a unique southern charm that you can't find anywhere else.
There's so much to do during Christmas in Pigeon Forge.
The 200-foot-tall Great Smoky Mountain Wheel is the best place to experience aerial views of the surrounding mountains. During Christmas, it is illuminated in vibrant colors of red and green to celebrate the festive season.
You can also view over five million Christmas lights at the local amusement park–Dollywood–as a part of its annual Smoky Mountain Christmas celebration. The event features holiday shows, beloved theme park rides, and even a Christmas-themed menu.
If you'd rather stay on a budget for the holidays, Pigeon Forge hosts its own Christmas lights drive experience, where you can stay in your car and visit over twenty different lighted scenes scattered throughout the town, all completely for free.
When you get hungry, there are multiple Christmas dinner shows that have become popular attractions in Pigeon Forge.
You can watch a horse-themed, stunt show while you eat a four course meal at Christmas at Dolly Parton's Stampede, or you can head over to the Hatfield & McCoy Christmas Disaster Dinner Feud to watch two rival families sing, dance, and perform comedic stunts.
Where to stay: To complete your holiday-themed vacation, stay at the only Christmas-themed hotel in town–the Inn at Christmas Place!
Suggested by Jillian Michelle of Adventure Dragon
Chicago, Illinois
Christmas is one of the best times to visit Chicago, because the city takes the holiday seriously.
You'll see decorations in nearly every storefront, beautiful lights and tinsel strung over popular pedestrian streets, and plenty of indoor and outdoor public events.
There's a palpable Christmas spirit in Chicago, so throw on your warmest coat and boots and wander around the town.
Navy Pier is a highlight for families, with an indoor ice rink, light garden, and gift market, and Santa is usually available for a few photos.
If it's not too chilly outside or you're properly bundled, you can visit the outdoor skating rink and free zoo in Lincoln Park.
For a more culture-centric experience, visit the expansive Art Institute of Chicago, a beautiful art museum that was founded in the period following the Great Fire of 1871 and has grown to be one of the city's greatest attractions.
For a local experience, try a hot dog from Portillo's or a deep dish pizza from Pequod's.
In Logan Square, you can visit The Logan Theater, a vintage movie theater that was built in 1915.
Swing by Gaslight Coffee Roasters for a delicious espresso drink in their hip cafe. Their space is warm and rustic, perfect for spending a few hours reading or journaling if you need a self-care break to ward off the post-vacation blues.
Where to stay: If you're looking to stay in the city, guests report that Christmas is the absolute best time to stay at The Peninsula Chicago, an upscale hotel located along the Magnificent Mile.
Suggested by Amber of Amber Everywhere
St. Augustine, Florida
Although it doesn't snow in St. Augustine, FL, Christmas time in the historic city will make you feel like you are in a winter wonderland.
In addition to the many historic landmarks and natural attractions, St. Augustine offers a host of spectacular activities during the holiday season.
From mid-November to the end of January, the historic district of downtown St. Augustine is set aglow with millions of sparkling white lights.
The Night of Lights festivities begin with the official tree lighting. Throughout December, there are parades and live nativities, Christmas markets, and glittering boat regattas that will immerse you in the Christmas spirit.
Soak in the history of the Oldest City in the US by exploring the Castillo de San Marco and the Colonial Quarter, where costumed rangers and volunteers reenact life from the 18th century.
The St. Augustine Lighthouse offers spectacular views of the city, especially lit up at night, and the Maritime Museum hosts Luminary Night, where Santa is sure to visit, and Lighthouse Illuminations, where you can enjoy a twinkling collection of themed Christmas trees on the property.
In addition to strolling through the lit-up historic district, you can also view the lights from the comfort of the Old Town Trolley, which includes magical glasses, warm cookies, and cider.
Another way to view the lights is from the water. There are boat tours that fit every personal style from luxury schooners to the Black Raven pirate ship.
Where to stay: Situated in the heart of the historic district, St. George Inn is the perfect place to experience the Christmas celebrations in St. Augustine.
Suggested by Kyleen of The Bonnie Traveler
Jackson Hole, Wyoming
If you're looking for one of the best places in the western United States to spend Christmas, look no further than Jackson Hole, Wyoming. This town turns into a magical wonderland in the winter and it is the perfect place to spend the holidays.
You can reach Jackson Hole by flying in directly (airport code: JAC). This airport is unique as it is the only airport in the United States that is located within a national park (Grand Teton National Park).
If flying into Jackson Hole is too complicated or expensive, you can also fly into Salt Lake City and make the 4.5 hour drive.
One of the main reasons to visit Jackson Hole, Wyoming around Christmas is for downhill skiing. Most people associate skiing with Jackson Hole Mountain Resort (JHMR), as this is the most popular option.
JHMR is on both the Mountain Collective Pass as well as the IKON pass, reservations required. In addition to JHMR, there are two other smaller ski areas as well.
If you aren't into downhill skiing, there are still plenty of other things to do in Jackson Hole, Wyoming in the winter.
Jackson Hole's close proximity to Grand Teton National Park allows for tons of exploration. If you enjoy the outdoors, you can hike, snowshoe, or cross-country ski in the national park or surrounding area.
If you are worried about the cold but still want to explore the park, you could also take a scenic drive.
Looking for something a little more adventurous? Consider booking a snowmobiling trip. There are many places to which you can snowmobile, including deeper into the national park on the unplowed roads as well as to local hot springs. Bookings are even available on Christmas Day.
Where to stay: If you're planning to ski at JHMR, you should certainly stay at Continuum Hotel, at the base of the slopes in Teton Village. This hotel has an outdoor heated pool and jacuzzi, which will certainly be a highlight of your stay.
Suggested by Andrea of BeaUTAHful World
Woodstock, Vermont
If you are looking for an amazing destination in the USA to visit during Christmas time, you should add Woodstock to your bucket list.
Woodstock is a great place to visit all year long, but it turns into a magical place in December because of the holiday decorations. Visiting Woodstock at Christmas is definitely one of the best things to do in Vermont in winter.
One of the best things to do in Woodstock is to stroll down the main street and just get lost admiring the stunning array of buildings, with their 18th and 19th century architectural styles. They look even better when they are covered in snow.
Another thing you may want to do is to visit the iconic covered bridges. The Middle Covered Bridge and the Taftsville Covered Bridge, located in the Woodstock area, are a couple of Vermont's most beautiful covered bridges.
If you love the festive holiday ambience, Woodstock offers several events from which to choose.
One of the most popular is the Wassail Weekend, a weekend event held at the Billings Farm, a dairy farm and museum. The event, which recreates the historic New England Christmas charm, normally happens during the second week of December.
Enjoy a horse-drawn wagon ride or a sleigh ride, fun for kids and adults alike. Also enjoy the fire pits and Christmas movie nights and get into the holiday spirit!
Where to stay: One of the best places to stay in Woodstock at Christmas is the Woodstock Inn & Resort, a classic New England hotel located on the Village Green. Be sure not to miss their Christmas buffet!
Suggested by Paula of Paula Pins the Planet
Park City, Utah
If you're dreaming of a white Christmas, one of the best places to spend Christmas in the USA is Park City, Utah.
If you're a skier or snowboarder, you no doubt remember that Park City hosted many of the events for the 2002 Winter Olympics.
You can actually still visit the Utah Olympic Park and marvel at the athletes training there or even take a ride down the bobsled track yourself, if you dare!
Christmas is an especially great time to visit Park City, because there are lots of holiday festivities, from Snowfest at Park City Mountain where Santa comes to town via ski lift, to the torchlight parade down the mountain and the New Year's Eve fireworks show.
Park City's Main Street is dotted with giant snow globes and holiday decorations and is a popular place to go for après-ski bars, restaurants, art galleries, and holiday entertainment.
If you have kids, they'll love going for a ride on the North Pole Express on the nearby Heber Valley Railroad.
If you've never been to Park City, now is the time to add it to your Utah bucket list!
Where to stay: The Condos at Canyons Resort by White Pine offer ski-in/ski-out access and a full-service spa. Relax in your spacious unit after a day of outdoor adventures!
Suggested by JJ Haglund of The Minivan Bucket List
North Pole, Alaska
Do you want to go somewhere magical for Christmas? How about the North Pole? Who doesn't want to visit Santa? Right?!!
In North Pole, Alaska, your dreams can come true. It is one of the best places to spend Christmas in the USA!
North Pole, Alaska is located about 20 minutes from Fairbanks, Alaska. The town features Christmas-themed street names and candy cane striped light poles, getting you into the holiday spirit as soon as you arrive.
In North Pole, you can visit the Santa Claus house, where you will find Santa and Mrs. Claus.
You can also eat delicious homemade fudge and shop for all your Christmas needs. The reindeer are pretty busy during the Christmas season, so you won't be able to feed them like you can during their time off in the summer.
The best time to visit is early December before Santa gets too busy. There is a Winter Fest with over 60 vendors that offer hand-made Alaska products. There is also a candlelight processional where a king and queen are chosen. Fireworks light up the night sky.
One of the best things to see at the North Pole during winter is all of the ice sculptures. If you love them, head to Fairbanks where an entire city block is a dedicated outdoor winter wonderland, with ice slides and sculptures.
Where to stay: After you explore North Pole, head to the Aurora Borealis Lodge, twenty miles north of Fairbanks, to watch for the Northern Lights and to enjoy a pleasant stay in the area.
Suggested by Lisa of Planning Away
Frankenmuth, Michigan
Michigan belongs on your radar as a magical Christmas destination, especially for families. There are two cities in particular around which to base your White Christmas celebration: Frankenmuth and Owosso.
Owosso is home to the very steam engine that inspired the sounds and sights in the 2004 blockbuster "The Polar Express."
If you're traveling with kids, give the gift of Christmas magic by taking them on a themed ride to the "North Pole." The journey is complete with car hosts serving hot chocolate, a conductor punching tickets, and the elusive hobo.
Upon arrival to a small town gussied up to appear as the North Pole, kids will meet with Santa, build a toy at Santa's Workshop, watch magic shows, and more.
Before returning to Owosso, Santa gives out the first gift of Christmas, carols are sung, and each child will find a silver bell from Santa on their train seat. It is truly a heartwarming and memorable experience.
Next, head to Frankenmuth, Michigan, less than one hour away. The city has certainly been discovered, however, its allure is usually divulged by word of mouth rather than plastered all over Instagram and the web.
Downtown shines brightly each evening as the streets are plastered in lights and glowing trees, including one towering tree that will dazzle you with its choreographed light show. Shop and dine, immersed in German-inspired holiday trimmings and hospitality.
No trip is complete to Frankenmuth without a stop at Bronners, the world's largest Christmas store spanning 5 acres and 50,000+ products.
Where to stay: Immerse yourself in the Bavarian charm of the city and stay at the Bavarian Inn Lodge in downtown Frankenmuth.
Suggested by Catherine of Postcard Narrative
Sun Valley, Idaho
With snow capped mountains and log cabin homes, Idaho's Sun Valley is the very definition of a winter wonderland.
The area became America's first destination ski resort when it was chosen by Swiss developers in the early 1900s due to its resemblance to the alpine villages they grew up visiting.
The town today remains a favorite destination for snow sports lovers of every age and ability.
Aside from the usual skiing and snowboarding, Sun Valley is host to a ton of other winter sports.
Take a trip just outside town to Smiley Creek to go snowmobiling or fat-biking in the woods, or join a local outfitter to go paragliding over the Sawtooth Mountains.
Or rent a pair of skates to experience ice skating at one of the largest natural rinks in the country.
Each year, Sun Valley hosts an annual Christmas Tree Lighting ceremony, carols at the library, horse-drawn sleigh rides, and a European-style open-air winter market.
On Christmas Eve, families gather round the slopes to watch the annual Ice Show & Torch Parade, where hundreds of skiers descend down the mountainside carrying torches for a spectacle that culminates in a fireworks show.
Where to stay: The best place to stay in Sun Valley to experience its Christmastime splendor is the storied Sun Valley Lodge, which will have its timber frame decked out in garlands and twinkling lights over the holidays.
Suggested by Rose of Rose Camapu
*****
We hope you enjoyed this round-up of the best places to visit for Christmas in the USA. Which one will you pick for your Christmas vacation?
MORE INSPIRATION FOR TRAVELS IN THE USA
Did you find this article informative? Pin it for future reference!