Located in the tropical paradise of the Caribbean, the United States territory of Puerto Rico makes for a wonderful sun, sea, and sand vacation. But Puerto Rico also offers a wealth of history, culture, art, and architecture, and fabulous food and drink. Read on to discover the perfect Puerto Rico itinerary for your first visit to the island!
Scenic landscapes. Colorful facades in every color you can imagine. The sound of music floating in the air. Lush tropical plants dressing up homes and gardens. Mofongo and tostones: two terrific ways to eat plantains. Rum in delicious flavors. What's not to like?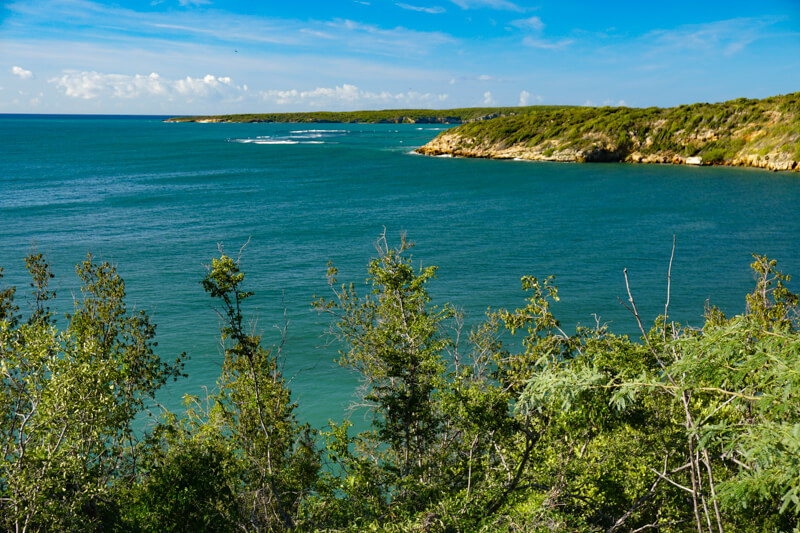 Puerto Rico is actually an archipelago that includes more than just the island of the same name. Smaller islands such as Culebra and Vieques in Puerto Rico are renowned for their pristine beaches, and if you plan to spend a few days in Puerto Rico, a visit to one of these small islands is a must!
Colonized by Spain towards the end of the 15th century, Puerto Rico was coveted by other European powers but remained under Spanish rule for many centuries. It was only in 1898 that the United States acquired Puerto Rico, as part of the treaty after the Spanish American War.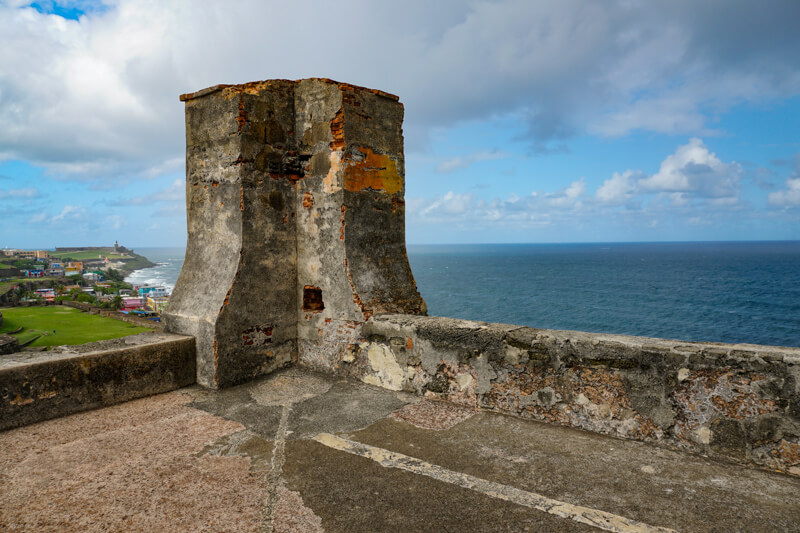 Puerto Rico's beautiful landscapes, tropical weather, vibrant culture, and to-die-for cuisine make it the perfect destination for every type of traveler. So if you haven't yet visited, it's time to get planning your first visit to Puerto Rico!
Puerto Rico Itinerary
We spent 7 days in Puerto Rico on our first visit, and this itinerary is written in detail for a 7-day visit. If you plan to visit for a shorter time, I describe how to modify the itinerary for the number of days you have on the island. I suggest planning on at least 3 days in Puerto Rico, because there is just so much to see and do!
This itinerary includes a little bit of everything Puerto Rico has to offer, from historic sights to beautiful beaches and scenic drives to sensational food and drink. You will walk historic centers, hike, enjoy the water, and do some exciting excursions.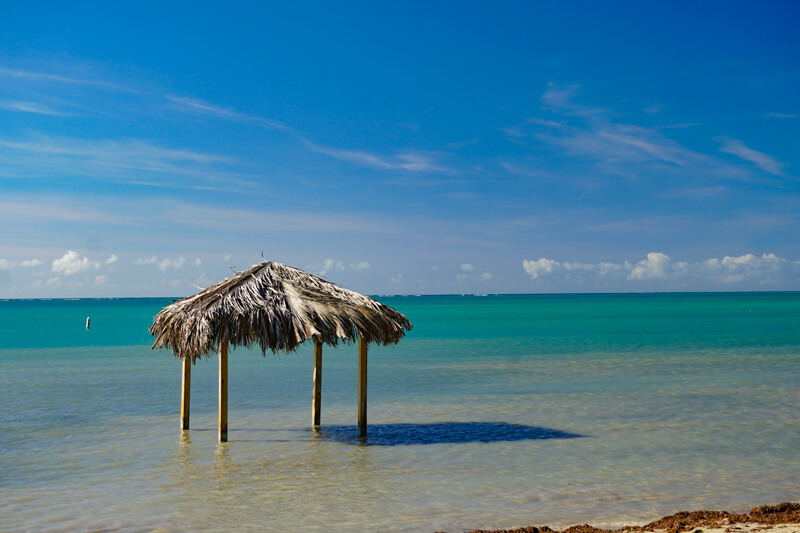 Plan on arriving in San Juan, the capital city, the evening before. Settle into your accommodations and get a good night's sleep, because you have some fun active days ahead!
Here is the perfect 7-day Puerto Rico itinerary:
Day 1: Explore Old San Juan
Day 2: See more of Old San Juan, bioluminescent bay excursion
Day 3: Tour El Yunque, Luquillo Beach, Santurce, and Condado
Day 4: Experience the magic of Culebra or Vieques
Day 5: Discover historic Ponce
Day 6: Enjoy beautiful Rincon
Day 7: Drive back to San Juan and fly home or to your next destination
Day 1: Explore Old San Juan
Home to a National Historic site that's also on the list of UNESCO World Heritage sites, Old San Juan, the historic district of the Puerto Rican capital, is fun to explore.
Morning
Wake up early and walk the streets of the old city, making sure to pass by the San Juan Gate, the old wall along the water and the Paseo de la Princesa, and the Raices Fountain. You'll see lots of beautiful buildings and sculptures as you stroll!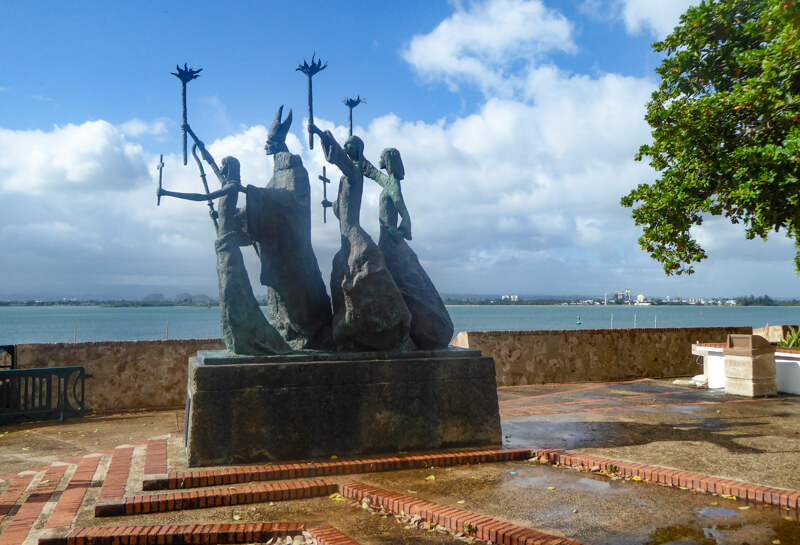 You'll want to take zillions of photos of the fabulous facades of Old San Juan, and maybe even pose in front of a few! Admire the beautiful doors, windows, and balconies. Early in the day, when the streets are still relatively quiet, is your best shot at getting fabulous photos.
Be sure to end up at the Castillo San Felipe del Morro by 9 a.m., when it opens. Known simply as El Morro, this fort is perhaps the most iconic of all the forts built by the Spanish in the New World. Here you will find the first lighthouse built in Puerto Rico, and sweeping views of the water from the ramparts and terraces.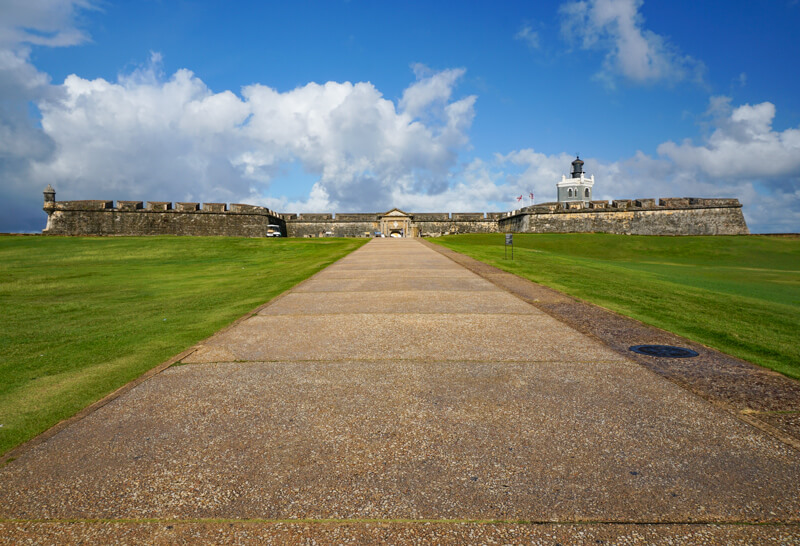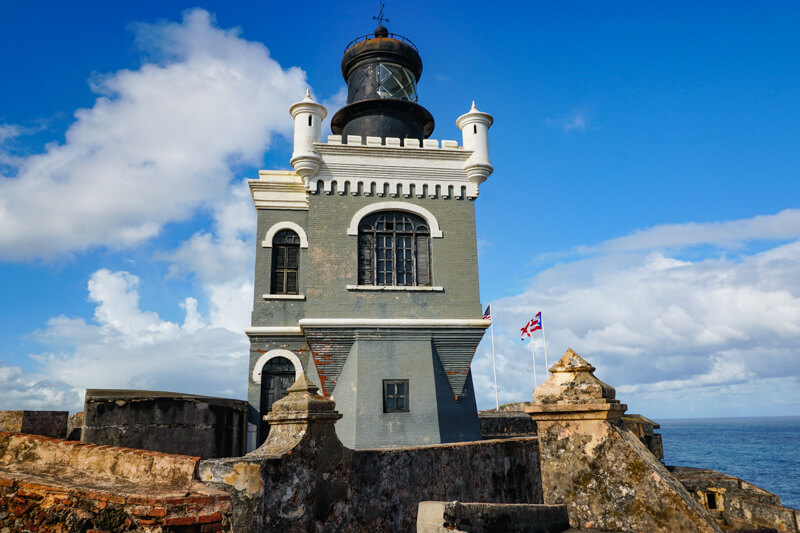 Castillo San Cristobal, just a few minutes walk along the waterfront promenade, is also gorgeous. The textured walls, the tunnel with the old mural, and the sentry boxes with their outstanding views will all hold you spellbound.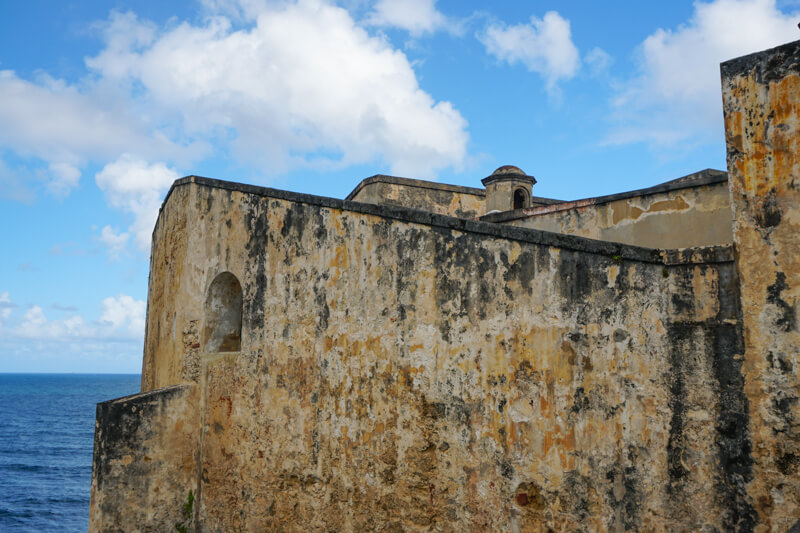 Afternoon
When in Puerto Rico, you have to learn how rum is made. Rum making was an offshoot of the sugar industry, which drove the economy of Puerto Rico for centuries.
Although the last sugar mill in Puerto Rico shut down in 2000, rum making continues to be an important activity on the island, and you can visit Casa Bacardi, one of the most renowned rum distilleries in Puerto Rico, to learn more.
You can choose from a variety of experiences at the distillery: enjoy a historical tour of the property, which lasts 45 minutes. Or do a rum tasting tour, which includes a tasting of six rums along with the historical tour, and lasts 75 minutes. Or do a mixology class lasting 75 minutes, where you will learn how to make three different cocktails plus take a tour of the distillery.
Casa Bacardi is located in Cataño, just across the bay from Old San Juan. If you have a car, you can drive to the distillery, or you can take an Uber or a taxi. Guided tours are a great option as well.
You can also take the ferry from the San Juan pier: ferries generally leave every 30 minutes. Once you get off the ferry, take an Uber or a taxi to the distillery, which is about two miles away.
Book a combined guided experience of the Casa Bacardi Rum Distillery (with a mixology class!) and a tour of Old San Juan.
Evening
In the evening, if you want a relaxing excursion, enjoy a sunset sail of San Juan Bay. Enjoying the views of the Old San Juan shoreline and the El Morro Fort from San Juan Bay during the magical sunset hour is one of my favorite memories from our first trip to Puerto Rico.
Alternatively, join an evening guided walking tour of the old city, to learn more about the history and culture of San Juan and Puerto Rico as you stroll the lively plazas and narrow cobblestone alleys.
Old San Juan has a magical ambience after dark, when the monuments and the city walls are lit up and bars and cafes overflow with people out having a good time. If you choose not to do a guided tour, plan to walk around for a bit on your own to savor the atmosphere.
READ NEXT: The Best Things to Do in Old San Juan
You can also choose to do a food tasting and walking tour in the evening, if you do not wish to do the sunset sail. The cuisine of Puerto Rico is fabulous, and a food tour with a local is a great way to experience the best bites and sips. This highly rated 3-hour tour includes several tastings, along with a walking tour of the streets of Old San Juan.
Check availability and book your food tour now!
Where to stay in Old San Juan
We stayed in the historic Hotel El Convento. A former convent, the building is gorgeous, and located in the heart of the historic district, convenient walking distance to most sights in the old city.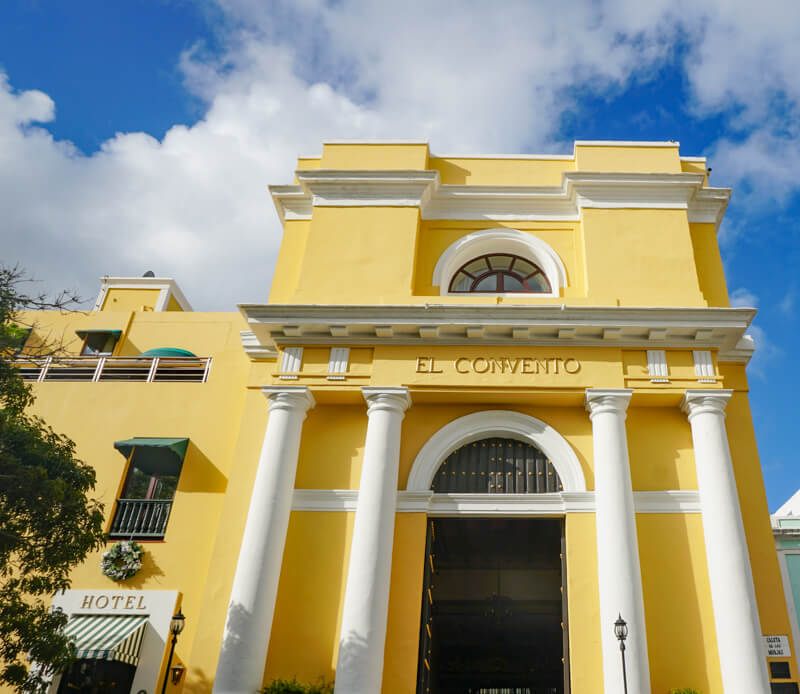 Rooms are spacious and elegantly furnished. The warm tile floors and iron headstands are in keeping with its history as a convent, and you will enjoy the turndown service and evening wine and cheese reception. The rooftop pool has beautiful views, and the courtyard restaurant, serving local cuisine, is lively in the evening.
Book a stay here
Day 2: See more of Old San Juan, visit a bioluminescent bay
Today you'll see a few more of Old San Juan's historic sights, do some souvenir shopping, and end your day with an exciting excursion to a bioluminescent bay.
Morning
Start with Casa Blanca, the one museum in San Juan I think is a must-visit. Built as a residence for the famous Spanish explorer Juan Ponce de Leon, the simple home doesn't take too long to walk through.
But you'll want to linger in the beautiful grounds and gardens! Tastefully landscaped with palms and other mature trees and a mix of tropical plants, the gardens invite silent strolling. Enjoy the spectacular water views from the gardens in the back.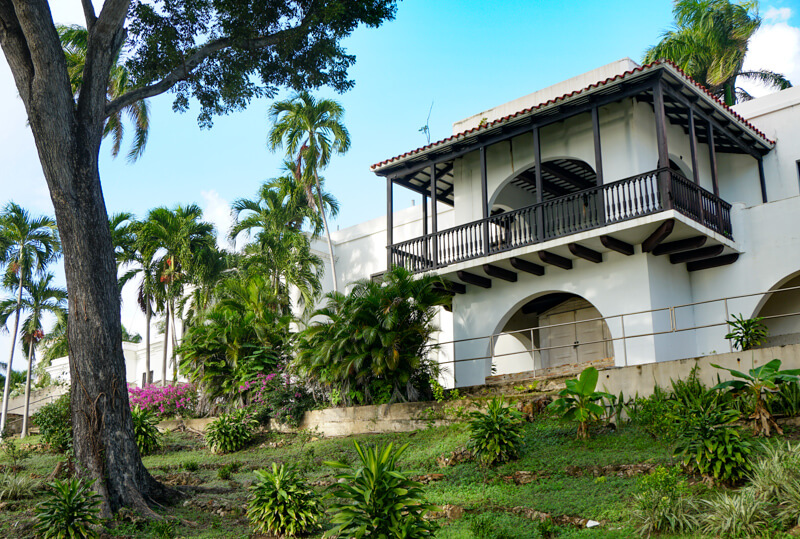 Next, visit the San Juan Cathedral, the second oldest church in the Americas. With a beautiful pale yellow facade accented with white, and a serene interior, the cathedral was the first stop for visitors and returning residents in colonial times. They arrived by boat, entered through the San Juan Gate, and stopped in to offer thanks for a safe voyage.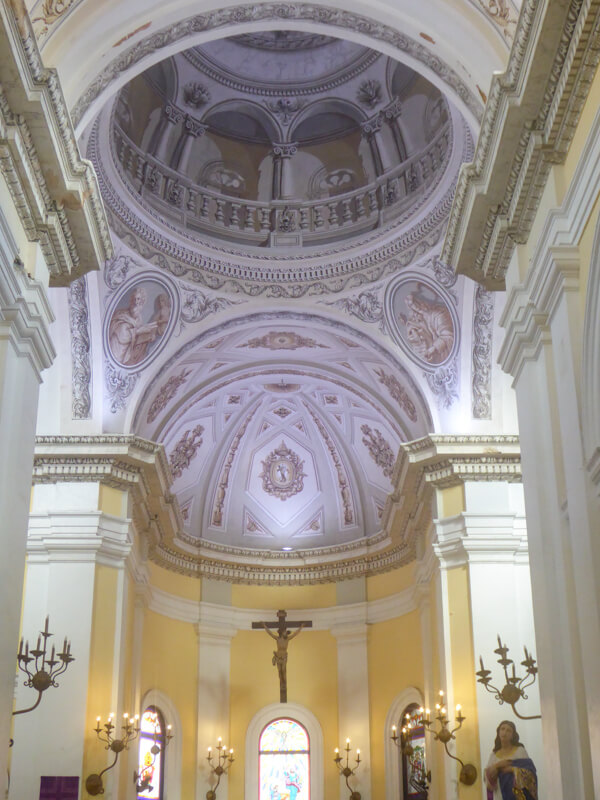 Your next stop is La Fortaleza, the beautiful blue clifftop palace that currently serves as the residence for Puerto Rico's Governor. If you visit on a week day, you can join a guided tour of the interior.
Afternoon
Walk to the Puerto Rico Capitol building, about a 20-minute walk from La Fortaleza. We were shown around by a staff member, who told us a little bit about the beautiful main hall and dome. Totally worth the walk! The art exhibits are worth viewing as well.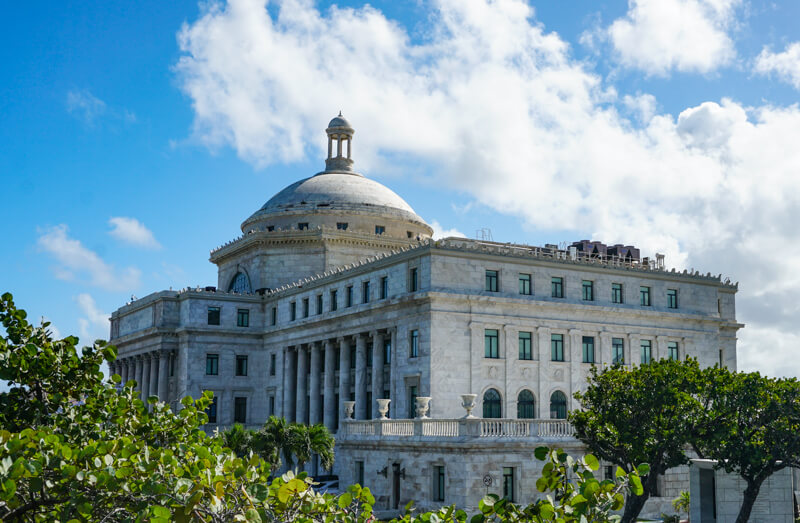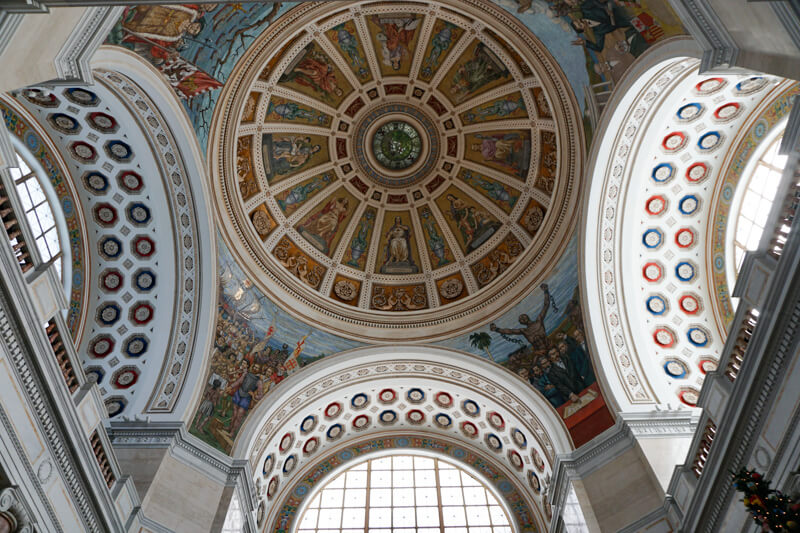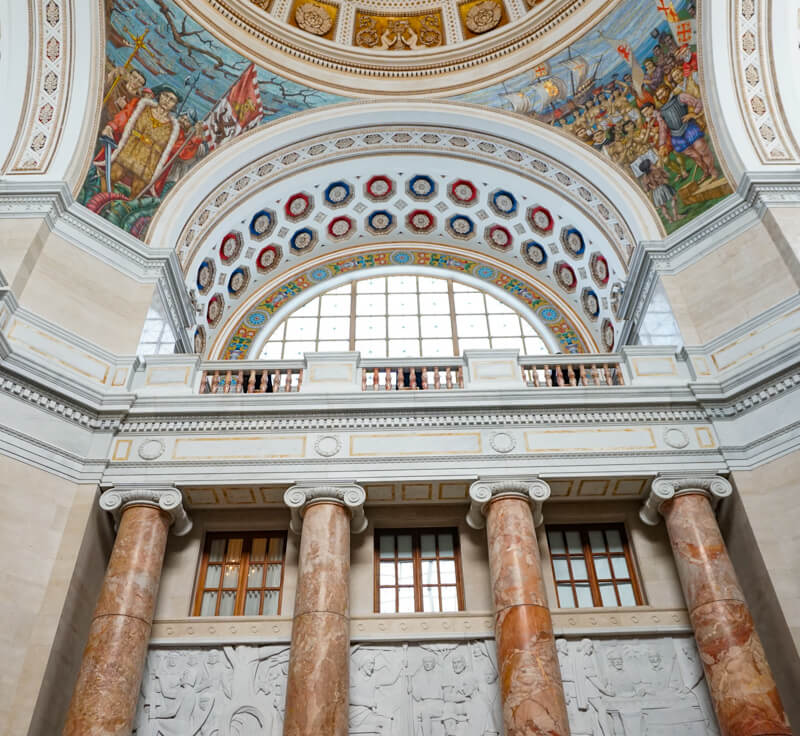 Alternatively, stay in the historic center and shop for unique Puerto Rican souvenirs, from jewelry to masks, coffee, and rum. You'll find local boutiques and art galleries as well as high end brand names to browse, if you enjoy retail therapy.
Evening
For a truly magical, one-of-a-kind experience, book a tour of a bioluminescent bay. There are only five such bays on the planet, and Puerto Rico is home to three out of the five.
The surreal glow is caused by movement of the water in which microorganisms called dinoflagellates live. When you stir the water, with paddles, for example, you'll see the blue-green glow light up the water.
Laguna Grande, in Fajardo, about 37 miles from San Juan, is part of Las Cabezas Natural Reserves, fascinating for its multiple ecosystems. It's a popular place to do the bioluminescent bay excursion, since it's close to the capital.
The other two bays in Puerto Rico are La Parguera, Lajas, in the southwest corner of the island, and Mosquito Bay on the island of Vieques.
While kayak tours are the most popular excursions, you can also opt for an electric boat tour, or watch the glow from the shore, depending on conditions on the night you visit.
For the best experience, go when there is little or no moonlight. If you pick the early evening tour, you can enjoy the mangrove forests and try to spot wildlife until it gets dark. You'll definitely hear the coqui frogs!
Check availability and book your bioluminescent bay tour now!
Where to stay in Condado
We stayed at the gorgeous Hotel Condado Vanderbilt, located on the waterfront. Housed in a Spanish Revival building, the luxury hotel boasts superbly furnished rooms, some with water views.
Set aside some time to laze on the sun terrace at the hotel. With unobstructed views of the water, the terrace is a relaxing place to catch some rays. Public areas in the hotel are opulent, with solid furnishings and art.
In house dining options include the renowned 1919 Restaurant, helmed by Michelin starred chef Juan José Cuevas. Reserve in advance. We dined at the casual Ola Oceanfront Bistro, and thought our meals were delicious.
Book a stay here
Day 3: Tour El Yunque National Forest, Luquillo Beach, Santurce

Today you will enjoy an excursion to a spectacular tropical rainforest and some beach time. Once back in San Juan, you'll have time to explore other neighborhoods in Puerto Rico's capital.
Morning: El Yunque National Forest
Puerto Rico is home to the only tropical rainforest that is part of the United States National Forest system. While Hurricane Maria caused massive damage that is still being addressed, a visit is still very worthwhile.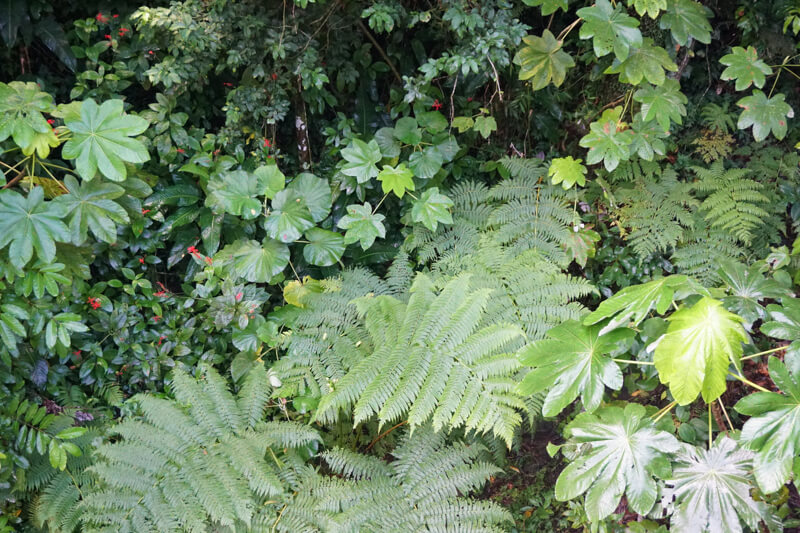 We weren't able to hike when we visited at the end of 2019, but we were able to drive through the forest, see some waterfalls and streams, and take in the fantastic views from the top of the Yokahu Observation Tower.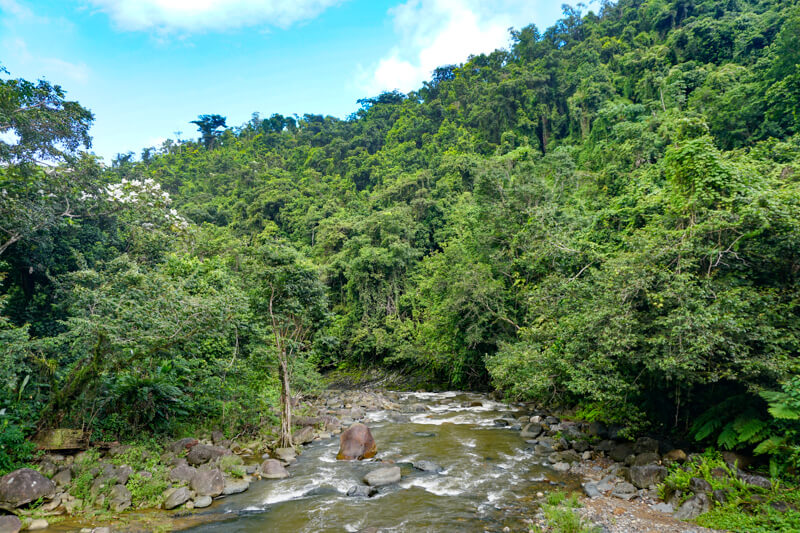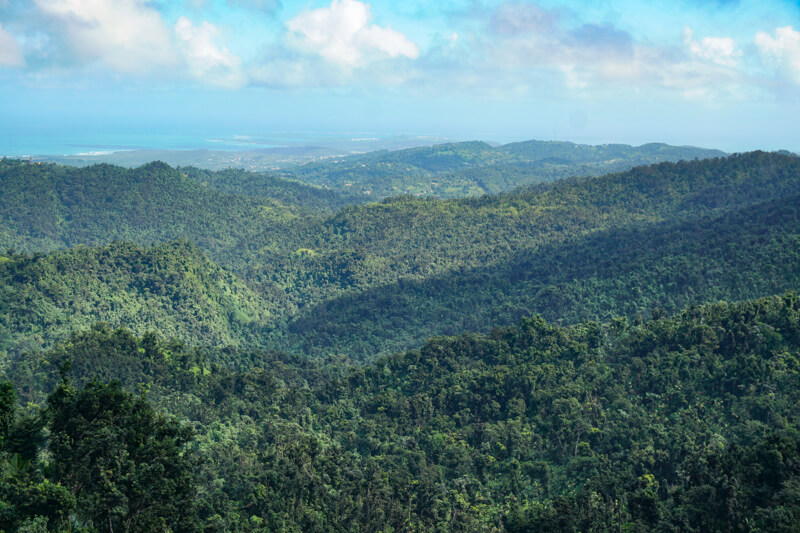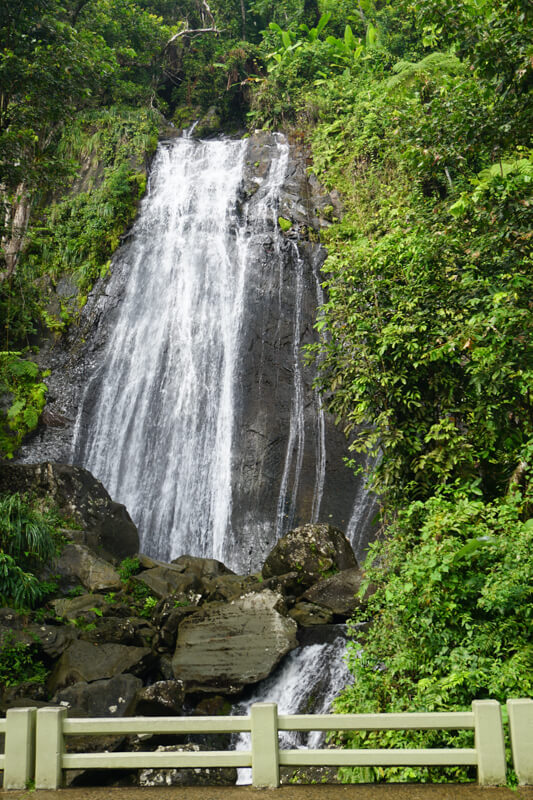 At El Yunque, you may be lucky and spot some local wildlife, and you can get up close to tropical plants, flowers, and trees. Stop by the visitor center to watch the short film about the forest and to learn about the flora and fauna.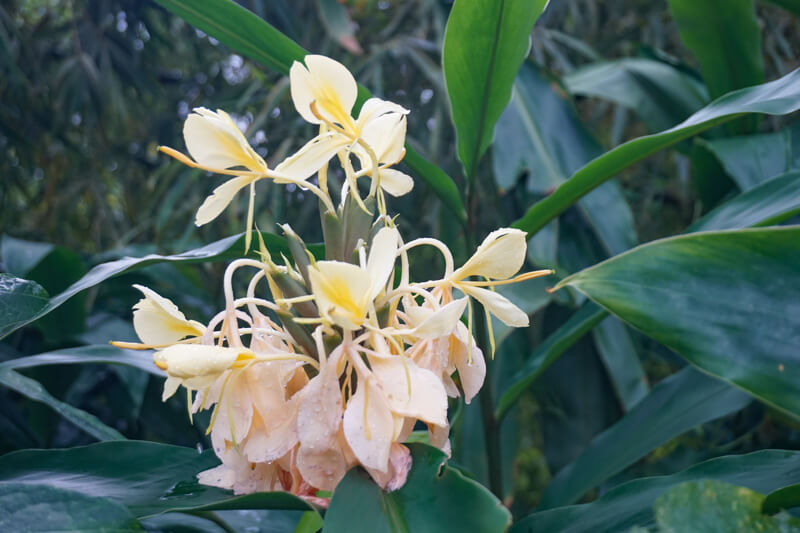 For an off the beaten track El Yunque experience, consider this tour that takes you to less visited spots and includes walking a trail through the forest and a chance to visit some lesser known waterfalls. You will get wet and muddy, so appropriate attire and a dry pack are musts. But it's a great experience for the adventurous outdoor enthusiast!
Early afternoon: Luquillo Beach
Luquillo Beach is lovely! It's not too far from El Yunque, and definitely worth driving there if you have a car, or opting for a guided tour that combines both El Yunque and Luquillo Beach.
Luquillo Beach is crescent-shaped, with fine silver sand, and has amenities. Walk along the beautiful beach, take photos of the palm-fringed blue water, or change into your swimsuit and get into the water. Finish up with a drink served in a pineapple at the food stand next to the beach.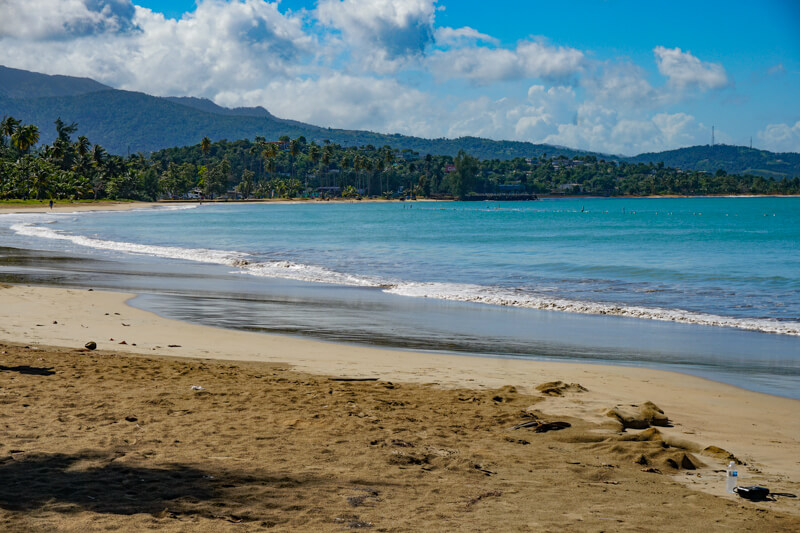 Late afternoon and evening: Santurce
Somewhat gritty (but full of character) in parts, the neighborhood of Santurce is a must visit if you want a taste of local culture. The Condado area boasts fabulous shopping and waterfront resorts.
While it's still daylight, walk the streets to view the incredible murals. Bold, bright, and beautiful, Santurce's street art will wow you. Calle Cerra and Calle Loíza are definite must-strolls.
If you prefer museums, visit the Museo de Arte de Puerto Rico: the exhibits are beautiful and you will learn a lot about Puerto Rican art, history, and culture. Or browse the many art galleries in the neighborhood.
Don't miss La Placita del Santurce, which is a market by day, but a super lively happening place at night, with many good restaurants and bars, and lots of live music and dancing, especially on the weekends.
If you do not enjoy partying, you can still dine at a good restaurant at La Placita del Santurce before heading back to your hotel. Jose Enrique is casual and you can't reserve ahead, but you won't regret eating here even if you have to wait.
Condado
If retail therapy and a Miami-style beach appeal to you more than street art or museums, head to the Condado area, the upscale part of Santurce. Spend your afternoon catching the rays at Condado Beach (or on the sun terrace of your resort if you choose to stay in Condado).
Or make your way to Ashford Avenue, where you can browse high-end name brands like Louis Vuitton and Cartier, or local boutiques like Nono Maldonado.
End your evening with dinner at a fine dining place in one of the beachfront resorts. Reserve in advance if you want to dine at Restaurante 1919, Michelin-starred chef Juan José Cuevas' restaurant at the Condado Vanderbilt. We dined at the casual Ola Oceanfront Bistro in the Vanderbilt and both my husband and I enjoyed it immensely.
Day 4: Take a day trip to Culebra or Vieques
If you want your Puerto Rico itinerary to include an idyllic day by the beach on a sun-kissed, away-from-civilization island, consider a day trip to one of the smaller islands. Culebra and Vieques are the most well-known getaway islands nearby, and you can't go wrong with either.
Culebra
Just a little over 10 square miles in size, Culebra is home to Flamenco Beach, considered one of the most beautiful beaches on the planet. The horseshoe-shaped silver beach is indeed picture postcard pretty, but it can get crowded on the weekends. It does have amenities though: the only beach on Culebra that does.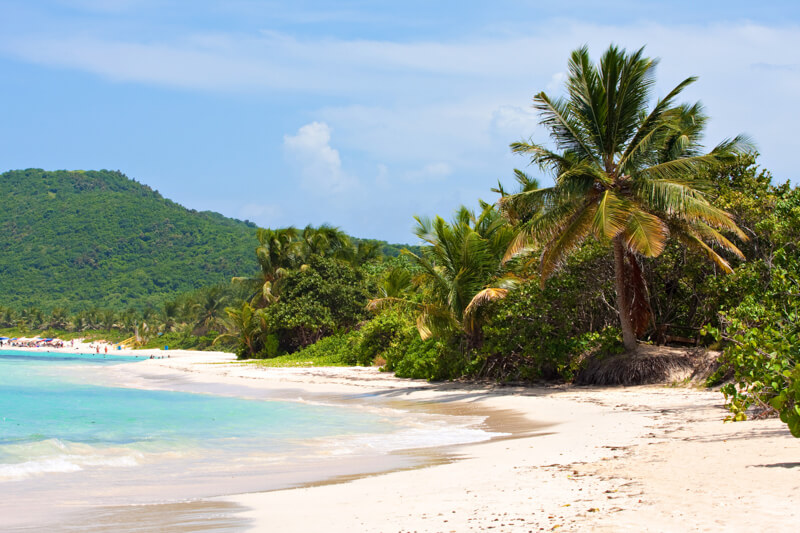 If you enjoy looking for wildlife, head to the Culebra National Wildlife Refuge, where you'll see lots of sea birds and possibly sea turtles. Other beaches on the island offer great snorkeling, and are often less crowded than Playa Flamenco.
For a special treat, take a water taxi to Isla Culebrita, an even smaller island off the coast of Culebra. Here you can look for wildlife, including sea turtles, snorkel, swim, or walk on the beach. You can also walk to Faro Culebrita, an old lighthouse currently in ruins.
Book a full day tour to Culebra by catamaran from Fajardo. Visit one of the top beaches for a fun day of swimming, sunbathing, and snorkeling! Includes a buffet lunch.
Vieques
The island of Vieques is much bigger than Culebra, and is much more inhabited. It boasts several beautiful beaches, but it also offers some sightseeing, many opportunities for a variety of land and water adventures, and wildlife viewing.
Mosquito Bay in Vieques is one of the best bioluminescent bays in the world, so if you plan to spend a night on the island, be sure to reserve a tour ahead of time.
Horses roam freely on the island and make for great photo ops. Vieques also has a National Wildlife Refuge, which contains some of the best beaches on the island.
There are two towns on Vieques: Isabel Segunda and Esperanza. You can visit the lovely lighthouse in Isabel Segunda, and stroll the two towns. Esperanza offers good dining options.
Getting to Culebra and Vieques
You can get to Culebra or Vieques independently by air or by ferry, or via guided tour. If you visit by air, you can rent a jeep (or a scooter) on either island to get around.
Ferries for Culebra or Vieques leave from Fajardo, which is about 37 miles (or an hour's drive from San Juan. Ferries are super popular, especially on the weekends, and if you plan to travel on a weekend, reserve your tickets ahead of time. Also, know that ferries have been known to be canceled or delayed.
A guided tour is a hassle-free way of visiting one of the smaller islands off the coast of Puerto Rico. This highly rated tour takes you to the idyllic island of Icacos, with swimming, sightseeing, and snorkeling, with a buffet lunch afterwards.
Day 5: Discover historic Ponce
Puerto Rico's second city, Ponce, is both historic and charming. Located on the southern coast of the island, Ponce is known as La Perla del Sur, the Pearl of the South. With its rich history and beautiful architecture, Ponce is a joy to explore.
Ponce is about 73 miles from San Juan. It takes about an hour and 30 minutes to drive to Ponce from San Juan in normal traffic, and the drive is very scenic. Get an early start so you can see the major sights in Ponce in your one day here.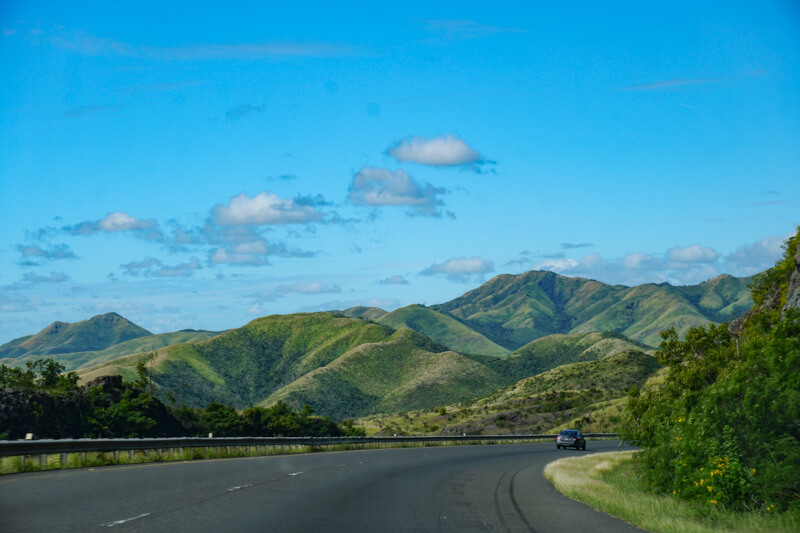 Morning
Once you arrive, make your way up the Cerro del Vigia hill to La Cruceta del Vigia, the giant cross that marks the location where early inhabitants stood watch, to alert the city about incoming merchant ships or enemy ships.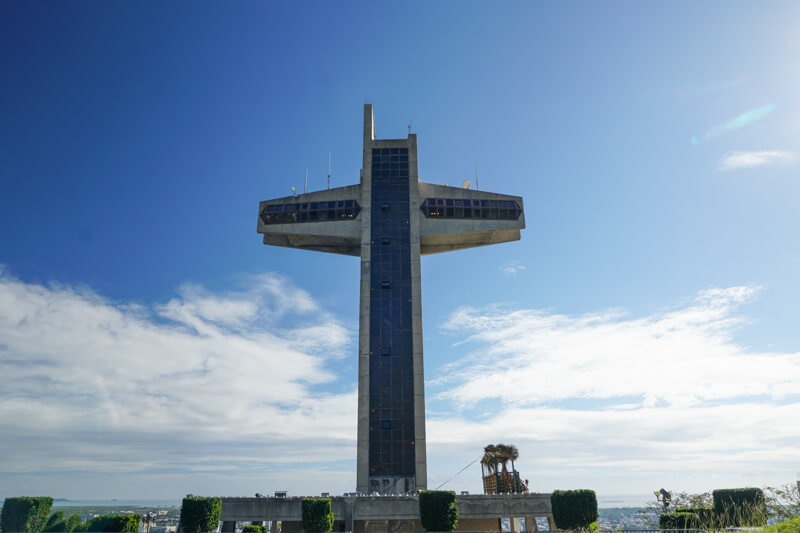 The skybridge of the tower offers panoramic views of the city of Ponce and the surrounding countryside, and is a fabulous place to start your exploration of Ponce.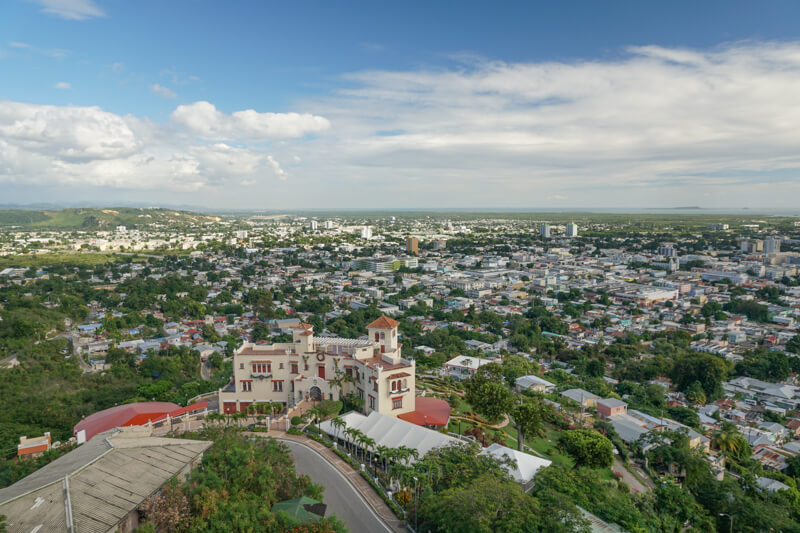 Next, stroll the nearby Japanese Garden. It's a small garden, but contains a beautiful pavilion, some bonsai, a few bridges, and a koi pond, where we saw a couple of turtles in addition to many colorful fish.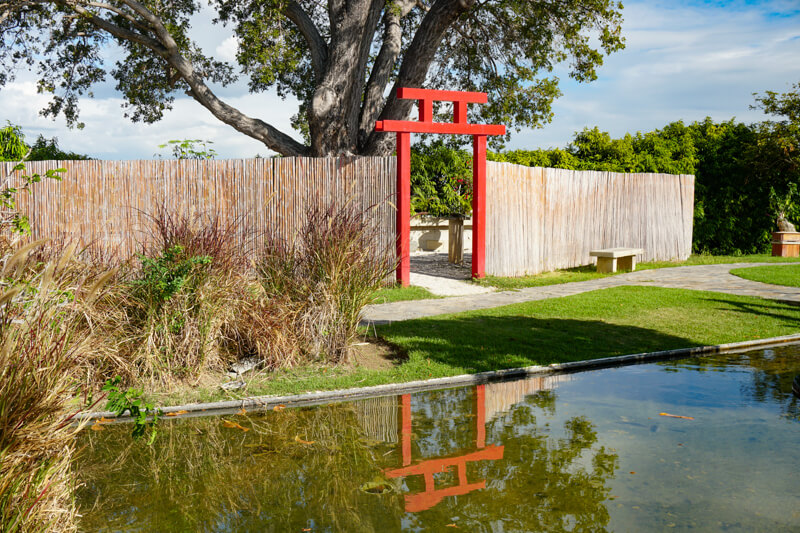 A tour of El Museo Castillo Serralles, just down the road from the tower, is a must. The estate was built in 1930 for the Serrallés family, owners of the famous Don Q rum distillery, and is now a museum.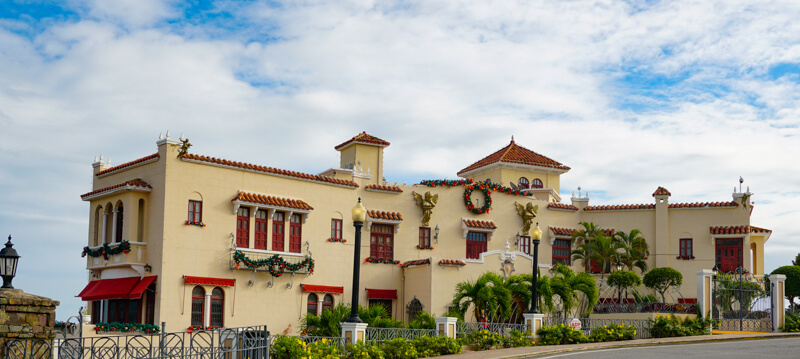 A guided tour of the estate offers insights into the history of the family, the sugar and rum industries on the island. You can tour the gardens, which are beautiful, on your own, and finish your visit with a complimentary rum tasting.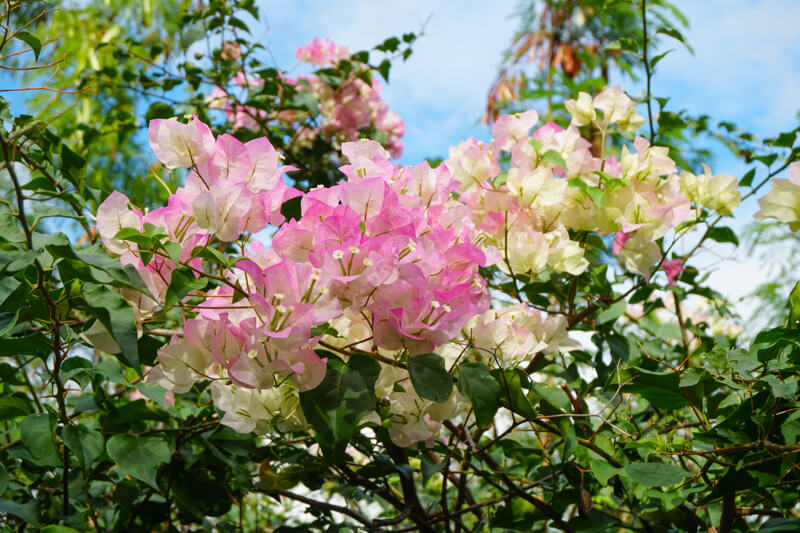 Afternoon
Back down in the city, visit the Museo de Arte de Ponce, which is home to European masterpieces as well as Puerto Rican art. Join a docent-led tour for the best experience. This museum was one of the highlights of our visit to Ponce.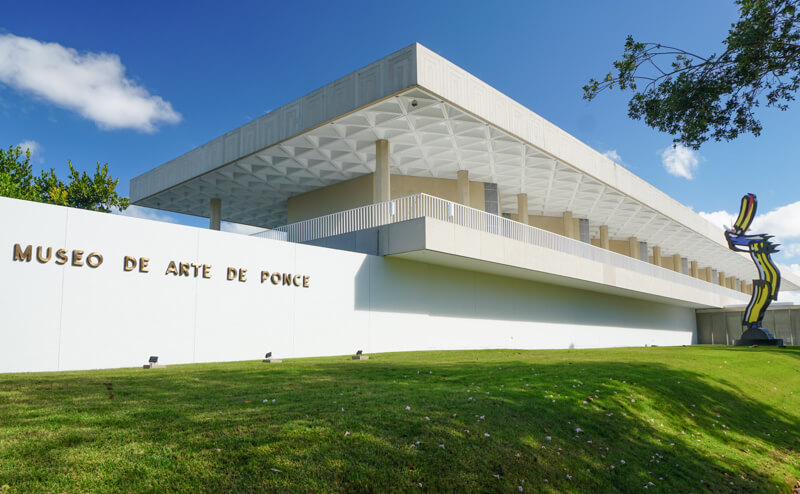 Next, stroll the historic center of Ponce. The architecture is lovely. Step inside the Ponce Cathedral. Tour the Parque de Bombas, the bright red former fire station in the center of town.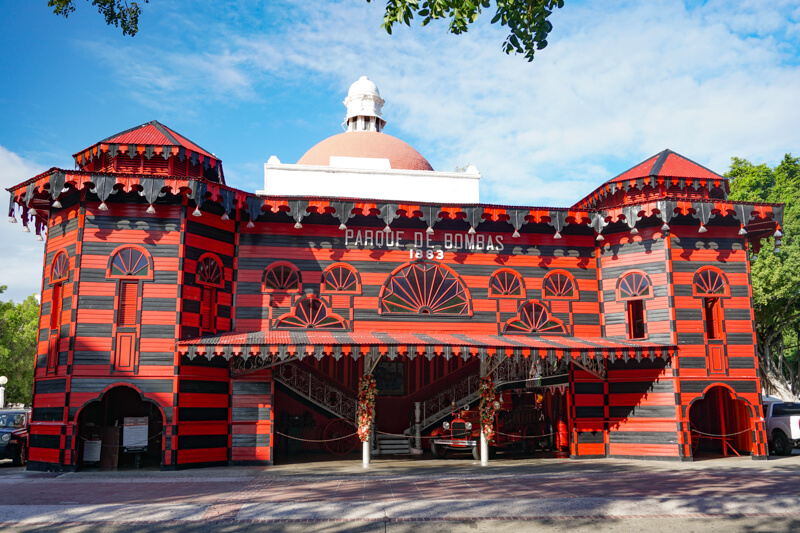 Evening
Stroll the La Guancha boardwalk at sunset. Watch the pelicans perched on the railing or swooping over the water. Enjoy a drink at one of the food kiosks along the walkway. When we visited, a live band was playing.
Take photos of the picturesque Isla Caja de Muertos, just off the coast of Ponce. It does look like a coffin! Enjoy the wildlife: we saw lots of green parrots, iguanas, and a couple of sea turtles at the resort where we spent the night. Dawn and dusk are the best times of day to spot wildlife.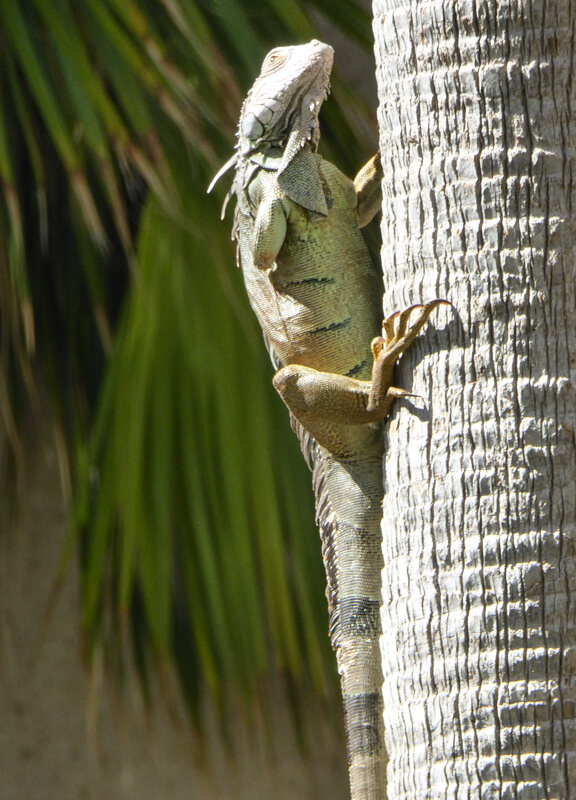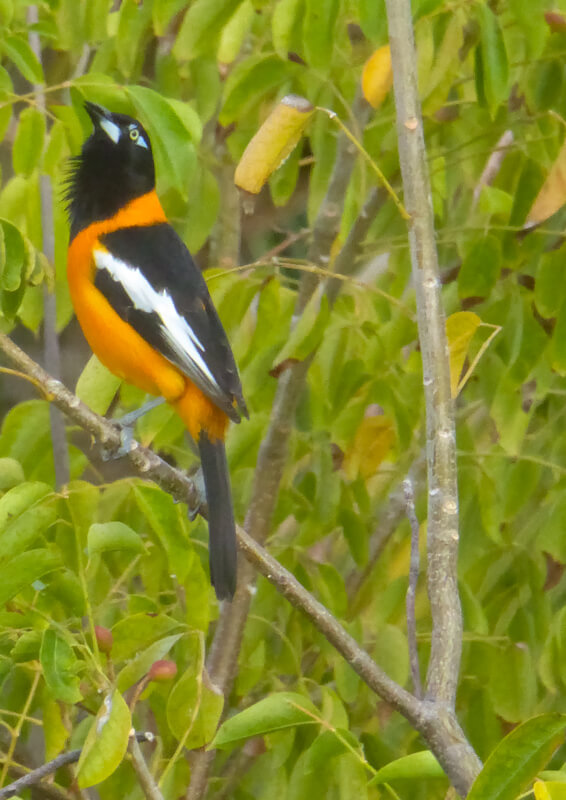 Where to stay in Ponce
We stayed at the Hilton Ponce Golf & Casino Resort. The property is set a few miles outside the historic center of Ponce, right on the water, with a beach just out the back. On the grounds, you can spot lots of birds and wildlife, and it's a great place to just walk outside.
Our room was spacious and comfortable, with a balcony from which we enjoyed a fabulous sunrise. There is a large pool area, and several in-house dining options, including a buffet and a fine dining restaurant.
Book a stay here
Day 6: Enjoy beautiful Rincon
Today you will tour the beautiful west coast of Puerto Rico, famed for its beaches and spectacular sunsets. If you get an early start from Ponce, you'll even have the time to stop at a couple of places along the way.
Morning
Start out early in the morning. At Guánica, make a detour to the coast, where you can take a quick look at the Bosque Seco, the dry forest that's totally the opposite of El Yunque's lush wet vegetation.
In the dry forest, you can view cactii and an arid landscape that still has a stark beauty. You'll see lots of birds here, so keep your binoculars handy. The coastal road offers beautiful views of the water.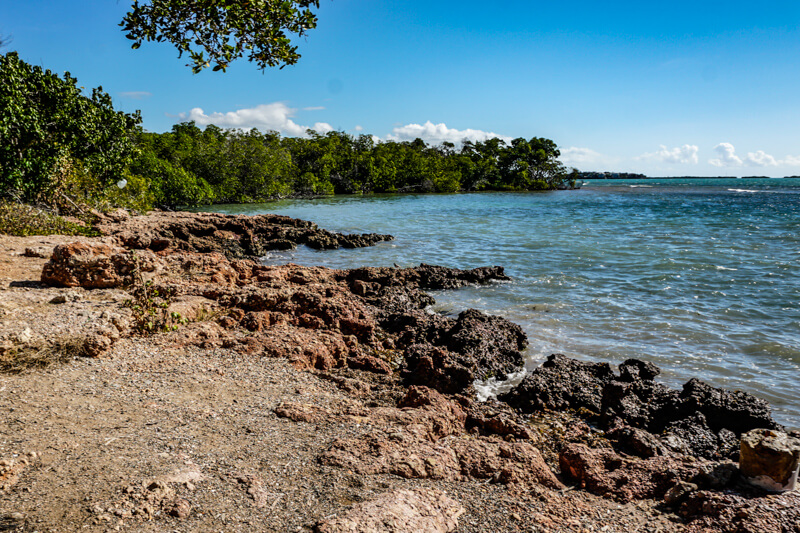 Take a break at the historic old town of San German, where you can visit the Convento de Porta Coeli, one of the oldest church-convents in the New World and now a museum. Stroll the quaint historical center of San German before you continue your drive.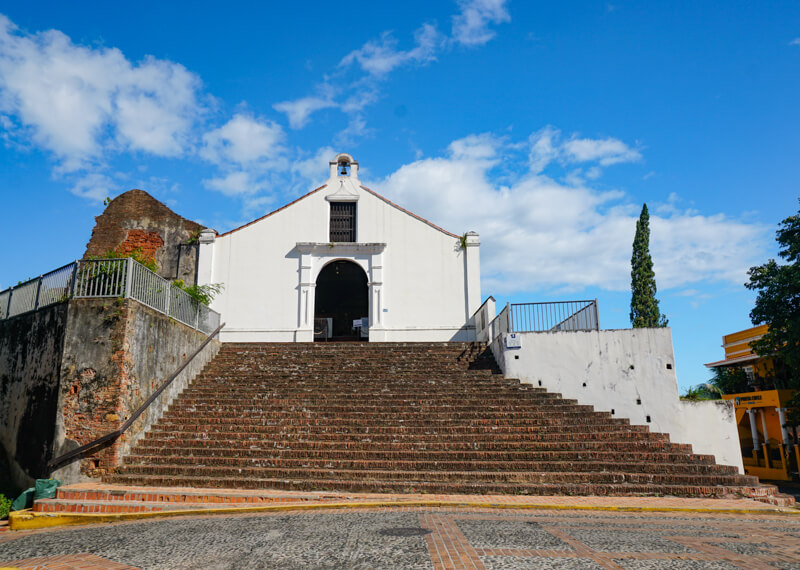 Afternoon
If you didn't stop at Guánica, you can take a break at Cabo Rojo, in the southwest part of the island. Visit the historic Cabo Rojo lighthouse or the salt flats, and walk the historic town. The area feels wild and remote, much different than San Juan and the east coast.
Stop for lunch in Mayaguez, and then drive on to Rincón, your destination for today. Rincón, located in the Porta del Sol on the west coast of Puerto Rico, is known for its beautiful sunsets.
Your first stop in Rincon is the Punta Higuera Lighthouse Park, where you can see the stunning lighthouse up close, stroll the park, and take in the beautiful views of the water and the old nuclear power plant.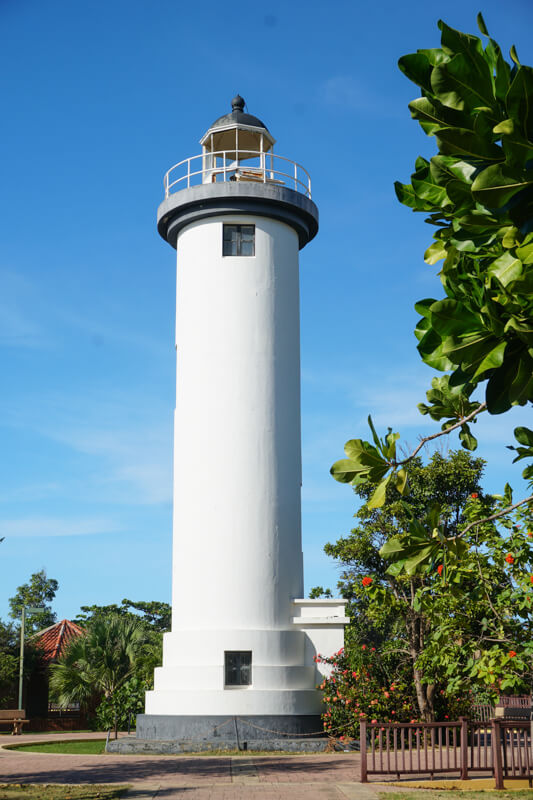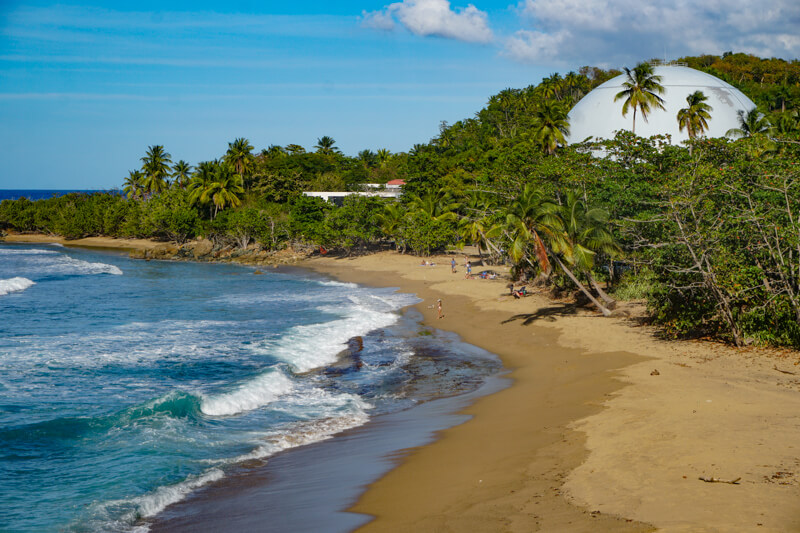 Spend the rest of the afternoon at one of the many beautiful beaches in the area. Domes Beach is nearby, but there are several other beaches from which to choose.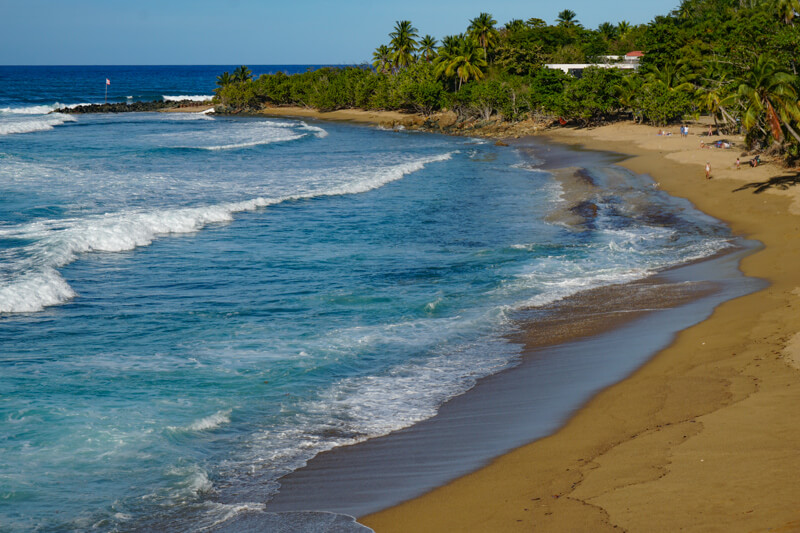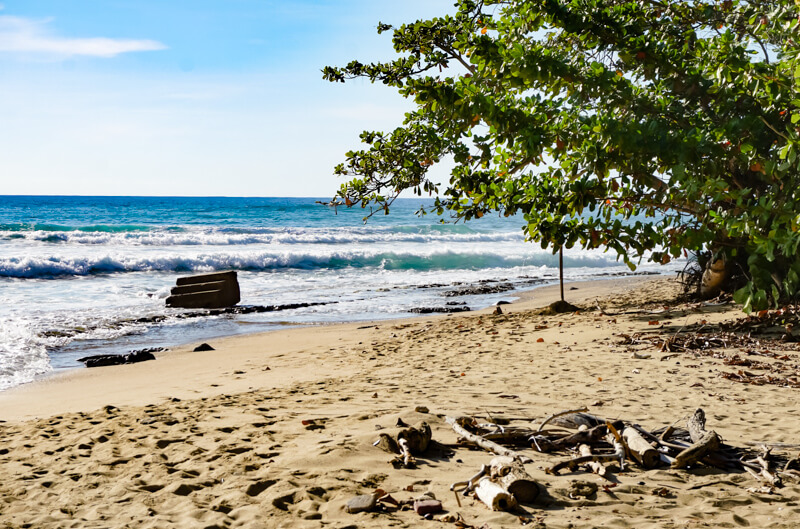 Evening
Make sure you are by the water at sunset to take photos of the colorful skies. Afterwards, stroll the town, which features lots of art galleries and souvenir shops.
The town's square is lively in the evenings, and often has live music. On Thursday evenings, the square hosts a festival of local arts and crafts. It's a great day of week to be in Rincon!
Where to stay in Rincon
We stayed at the Casa Verde Hotel, just a short walk from Sandy Beach in Rincon. Opt for a superior room, which comes with a king bed and a balcony with a partial view of the ocean.
Furnishings are contemporary, and the onsite Kahuna Bar is a lively popular hangout in the evening. The hotel offers beach gear, and is convenient to stores and other restaurants.
Book a stay here
Day 7: Drive back to San Juan and fly home
From Rincon, it's about 93 miles to San Juan. The drive, along the northern coast of the island, takes a little over 2 hours in normal traffic.
From San Juan, you can fly home or continue on to your next travel destination. If you are flying to the United States, allow for time for your bags to go through the USDA check at the airport.
Structuring your Puerto Rico trip
The best way to experience the island is to rent a car and road trip through it, with stays in Old San Juan, Condado, Ponce, and Rincon. Each of these places has a different feel to it, and on a Puerto Rico road trip, you'll get to experience each of them early and late in the day.
Most international visitors will fly into San Juan, the capital city. From here, you can do a clockwise loop, as we did, or do the road trip in the reverse direction.
If you dislike moving often, with the packing and unpacking it entails, you could base yourself in San Juan and do day trips to most places on my itinerary. Rincon is worth an overnight stay though, because of the drive time and the fact that if you go, you should definitely stay for the sunset. I would not advise driving on Puerto Rican roads after dark if you are not local.
Renting a car for your Puerto Rico trip
The easiest way to get around the island is to drive. We rented a car that we picked up and dropped off at the Luis Muñoz Marín International Airport in San Juan.
Discover Cars offers you the ability to compare availability and prices across many major car-hire companies. Pick the car that best meets your needs!
If your visit is limited to San Juan, you could use a mix of Ubers or taxis, guided tours, and walking. You can pretty much walk anywhere within Old San Juan, and in fact, it's far better to explore the old district on foot.
Elsewhere, a car will prove mighty useful if you are comfortable driving in Puerto Rico. You do have to keep a few things in mind when driving on the island.
While distances are posted in kilometers, speed limits are indicated in miles per hour. Many signs are in Spanish, but the symbols are easily recognized. Download maps or print backup copies in case you do not have cell reception.
Major highways have tolls. We bought a one-time pass at the time of renting our car that allowed us to use the highways an unlimited number of times. The pass-only lanes are on the left and you must use those lanes if you have one.
Even on main highways, we came across huge potholes, so be wary and try not to drive too much in the dark. You will see other drivers not following the rules, so defensive driving skills are a must.
On curvy rural roads, such as on the coast, be extra careful around bends. A short warning honk will alert oncoming drivers to your presence.
Book your car for Puerto Rico at Discover Cars now!
Planning a shorter Puerto Rico visit?
While 7 days is a good amount of time to explore the island, you can enjoy shorter visits to Puerto Rico as well. If you are visiting for the first time, I suggest at least 3 days. Below I have described sample itineraries to help you structure shorter visits to the island.
3 days in Puerto Rico
If you are planning a weekend trip to Puerto Rico, you can have a fabulous time in and around San Juan. There is plenty to keep you engaged in Puerto Rico's vibrant capital city. Arrive on Friday evening, and plan to depart late Sunday evening or Monday morning.
Spend your first full day visiting the historical sights, and strolling the alleys and plazas. End your day with a sunset sail around San Juan Bay. Based on your interests, you can pick from many different things to do in Old San Juan.
On day two, visit the El Yunque National Forest in the morning. Then spend some time at Luquillo Beach, or check out the street art and marketplace in Santurce. If you plan to leave Monday morning, you can also do the evening tour of the bioluminescent bay from Fajardo.
4 days in Puerto Rico
If you have four days in Puerto Rico, follow the 3-day itinerary above, and on the last full day of your stay, add in a day trip to Culebra or Vieques.
Or you can stay in San Juan for the entire time and spend more than just one day in the historical district. We spent two full days enjoying everything on offer in Old San Juan, and could easily have spent another day or two.
5 days in Puerto Rico
If you are planning a five-day visit to Puerto Rico, follow the two day itinerary above, then add in day trips to Culebra or Vieques and to Ponce.
The best time to visit Puerto Rico
Hurricane season runs from June to November, and from a weather perspective, it is best to visit outside of these months. April and May are great times to visit, because high season is over and the rains not yet begun. Accommodations tend to be cheaper during these months.
Winter months are dry, with pleasant to warm daytime temperatures, but this is also high season on the island, so expect it to be more crowded and expensive between December and March.
Don't forget to pack these items for Puerto Rico!
You'll want to pack sun protection, swimsuits and cover-ups, of course, but here are a few more items to include when you pack for your Puerto Rican vacation!
Travel Insurance: We never travel without travel insurance. It's not very expensive, and the peace of mind that comes from knowing that you are covered if a mishap does occur is immeasurable. If you are looking for travel insurance, check out World Nomads!
Reusable Water Bottle: Carry a reusable insulated water bottle: it's the perfect way to stay hydrated while traveling responsibly! This sleek bottle, available on Amazon, is BPA free, suitable for hot and cold drinks, and comes with a lifetime guarantee!
A dry bag can help keep your things protected while you enjoy water activities like kayaking, splashing around on the beach or under a waterfall, or even when you are walking around in the rain (which we have done many times on our travels!). This dry bag, available on Amazon, comes in many bright colors and can be carried cross body or over the shoulder.
Water Shoes: A pair of water shoes is a great way to keep your feet protected from sharp shells or other objects, even on sandy beaches. Check out this lightweight pair with great grip, available on Amazon!
Rain Gear: Hope for bright sunshine every single day of your vacation, but always be prepared for rain. This jacket, available on Amazon, is lightweight, extra long, packs well, and looks stylish!
Binoculars: We wished we had taken our binoculars along to Puerto Rico, because we saw so many beautiful birds! Available on Amazon, this compact pair is great for travel.
*****
So there you have it: my suggestions for the perfect Puerto Rican itinerary. Have you visited this beautiful island? I would love to know your thoughts, if you have! Comment below to respond.
If you haven't yet visited, I do hope you will put Puerto Rico on your radar for that incredible island getaway vacation…with its mix of great beaches, natural beauty, great cuisine, and historical sights, Puerto Rico makes for a wonderful holiday.
Note: This post contains affiliate links. If you click through and make a purchase, we receive a small commission, at no extra cost to you.
READY TO BOOK YOUR TRIP?
Check out the products and services we use for our own travel!
Find the best flight deals on Kayak
or compare prices on Skyscanner
.
Find the perfect hotel room on booking.com.
Get travel insurance at World Nomads.
Find great day tours on Viator and GetYourGuide.
Buy hard copy guide books at the Lonely Planet online store.

Other Great Destinations in North America
California: The Best Things to Do on a Weekend Trip to San Diego
Nevada: What to Do in Las Vegas if You Don't Gamble
Alberta: The Best Lakes in Canada (in and around Banff)
British Columbia: The Best Things to Do on Your First Visit to Vancouver
California: The Most Incredible Weekend Getaways in California
Did you like this article? Pin it!