The best spring break destinations in the USA are spread across the country, so no matter where you want to go for your spring vacation, you'll find places to suit.
The US is a vast country, and from national parks to beaches, cities, little towns, and even islands, there are lots of options for where to go on spring break.
In March and April, when spring break usually occurs, you can find a wide range of weather across the US, from snow to cool and brisk to downright warm and sunny.
So no matter what type of vacation you are looking for, you will likely find a place (or three!) to suit.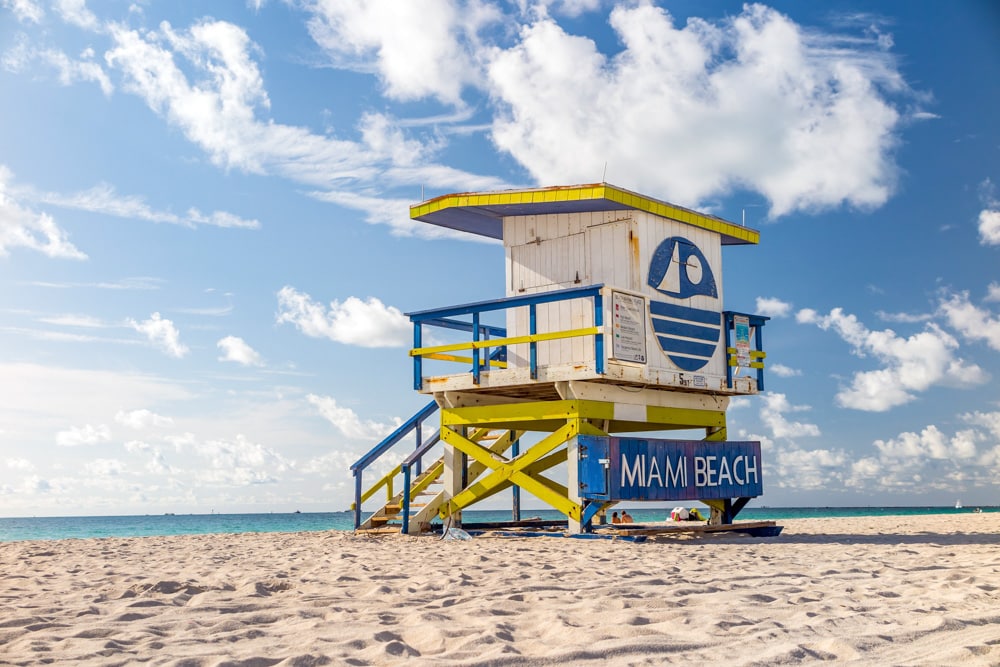 Some links on this page may be affiliate links. If you click an affiliate link and make a purchase, we may receive a small commission, at no extra cost to you. For more details, refer to our disclosure.
From ski trips to beach getaways, and culture and gardens in big cities to national park holidays, we have many spring break destination choices for you!
Many of the spring break destinations in our round-up are oriented towards families, and we even have some less obvious choices, from a road trip in Utah to an escape to a historic Caribbean city.
We've listed some of our favorite spring break destinations in the USA in this article, but we also invited other travelers to chime in with their top spring break spots, for a wide variety.
We've included some of the best things to do in each destination during spring break, to start you off on planning your spring adventure.
Excited? Let's get started discovering the best places for spring break in the US!
1. San Juan, Puerto Rico
For a super fun spring break destination, consider San Juan, the colorful and lively capital of Puerto Rico!
With great places to eat and drink, and numerous gorgeous beaches, San Juan is a dream Caribbean getaway for all types of travelers and one of the best places to go for spring break.
Daytime highs are in the mid 80s Fahrenheit, and lows in the low 70s, perfect for enjoying beaches and wandering outdoors.
In Old San Juan, wander the cobblestone streets, relax in the many squares, take photos of the bright facades, and admire the architecture.
At sunset, head to Castillo San Felipe del Morro, one of the historic forts you can tour, to enjoy sunset and take in stunning views of San Juan Bay.
Whether you are looking to shop for unique gifts, eat delicious Puerto Rican cuisine, or enjoy a piña colada in the place where it was invented, Old San Juan delivers. The historic district is also famous for its nightlife.
Condado has numerous waterfront resorts, where you can lounge by the pool while soaking in views of the bay. Head to Luquillo Beach, a lovely crescent-shaped beach fringed with palms, for more sun and sand.
Spring break visitors looking for adventure can book a visit to El Yunque National Forest. You can hike, swim, and admire waterfalls in the only tropical rainforest in the US National Forest system.
Ready to explore beyond San Juan? Book a tour to the island of Culebra, where the white sand and turquoise waters of Flamenco Beach will take your breath away, or spend a couple of days exploring the island of Vieques.
Suggested by us
Read more: The Perfect Puerto Rico Itinerary for First-Time Visitors!
2. Monterey, California
Monterey is one of the most fun spring break destinations in the US. Whether you are traveling solo, as a family, or a group of friends, you will be spoiled for choices on things to do here on vacation.
Daytime temperatures in March and April are generally in the mid 60s, and you will generally have fog-free days in the spring.
Monterey, the city, is famous for Cannery Row and Old Fisherman's Wharf, where you will find lots of shops and restaurants. Enjoy ice cream at Ghirardelli, hike the coastal recreation trail, and enjoy watching the marine life.
Monterey is also one of the best places in the world to go whale watching, so be sure to book a whale-watching trip. March and April are the best months to see killer whales in the bay.
Also visit the world-famous Monterey Bay Aquarium: kids and adults alike will enjoy observing the numerous marine life and birds.
The towns of the Monterey peninsula are clustered close together, so visit Carmel-by-the-Sea for its charming European-feel village with topnotch eateries, and the beautiful white sand Carmel Beach, perfect for sunset.
In Pacific Grove, you can hike among the coastal dunes or enjoy water activities at Lovers Point Park.
For more scenic hiking, visit Point Lobos State Park on California Highway 1 just south of Carmel. Take a drive along the scenic Big Sur coast: even if you go just up to Bixby Creek Bridge, it is a beautiful drive.
Or do the picturesque 17-Mile Drive through Pebble Beach!
Dhara from Roadtripping California
3. Miami, Florida
Miami is one of the best spring break destinations in the US, especially if you are looking for a beachy, party vibe for your getaway.
But Miami can also work for families, if you opt for beaches a bit farther out and add in outdoor adventures like a trip to Everglades National Park.
With a wide variety of accommodation options to suit any pocketbook and an event-packed spring break calendar, It's no wonder Miami Beach is such a popular spring break destination.
In fact, Miami is one of the best beach vacation spots in the US any time of the year!
South Beach in Miami is known not only for its stunning sandy beach, perfect for soaking up the sun, but also for its all-night beach parties.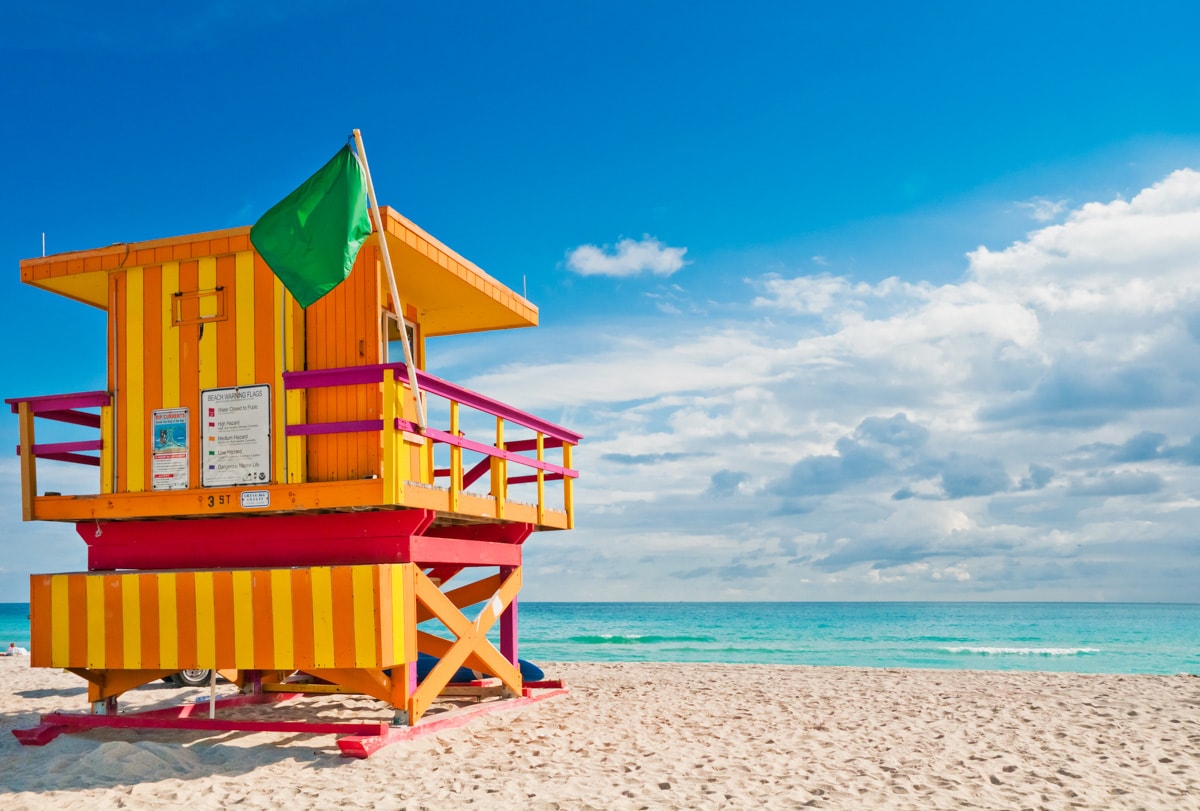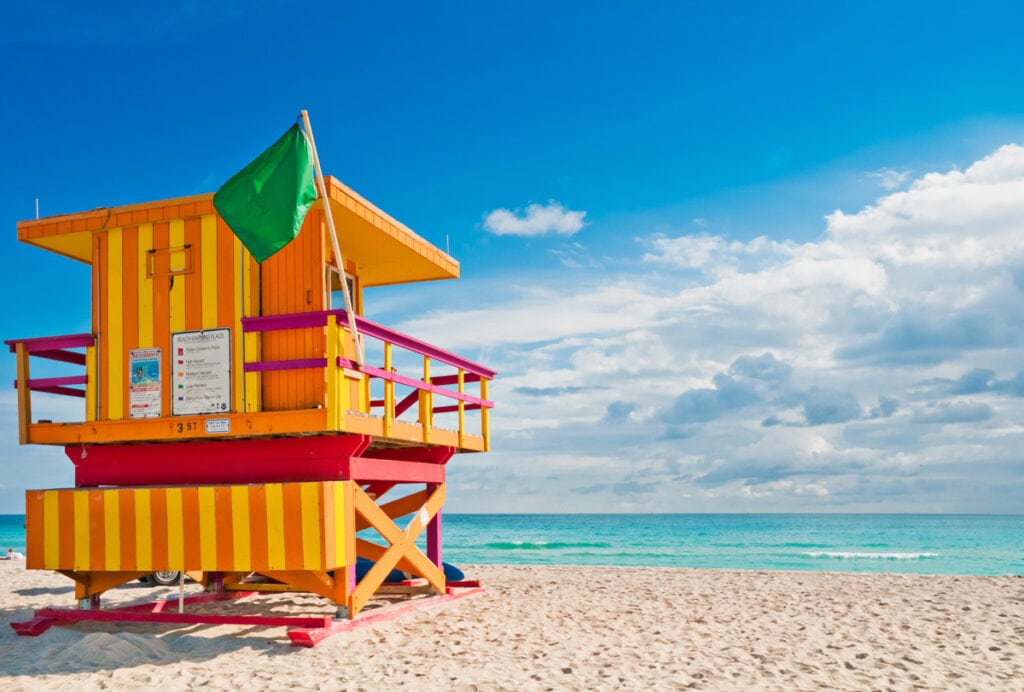 From rooftop pool parties to pubs and cocktail lounges, there are scores of venues from which to pick. Numerous concerts and shows crowd the event calendar.
But beyond the beaches and parties, you'll also find world-class art deco architecture and topnotch museums to explore in Miami.
The Bass Museum of Art is a museum of contemporary art in Collins Park in Miami Beach. It is housed in an Art Deco building, and outside is Miami Mountain, a colorful sculpture by Ugo Rondinone.
The Institute of Contemporary Art has a sleek exterior, and several galleries and a sculpture garden to explore. It's free to enter!
In Wynwood, you can visit the Museum of Graffiti and kids can take graffiti lessons! You must also tour Wynwood Walls, where you will find giant murals to admire. Book a small group golf cart tour!
Families with kids can enjoy beach time at North Shore Beach or Bar Harbour Beach. South Beach is actually usually quiet at least until noon!
If you want to enjoy an outdoor adventure on your Miami spring break, spend a day exploring Everglades National Park. It's just a short drive from the city, and you can look for alligators and a variety of birds!
And foodies definitely have to book a food tour of Little Havana!
Suggested by us
4. Maui, Hawaii
If you're looking for an awesome spring break getaway in a tropical location, head to the beautiful Hawaiian island of Maui. It's got a little something for everyone and it's perfect for families, solo travelers, or friends.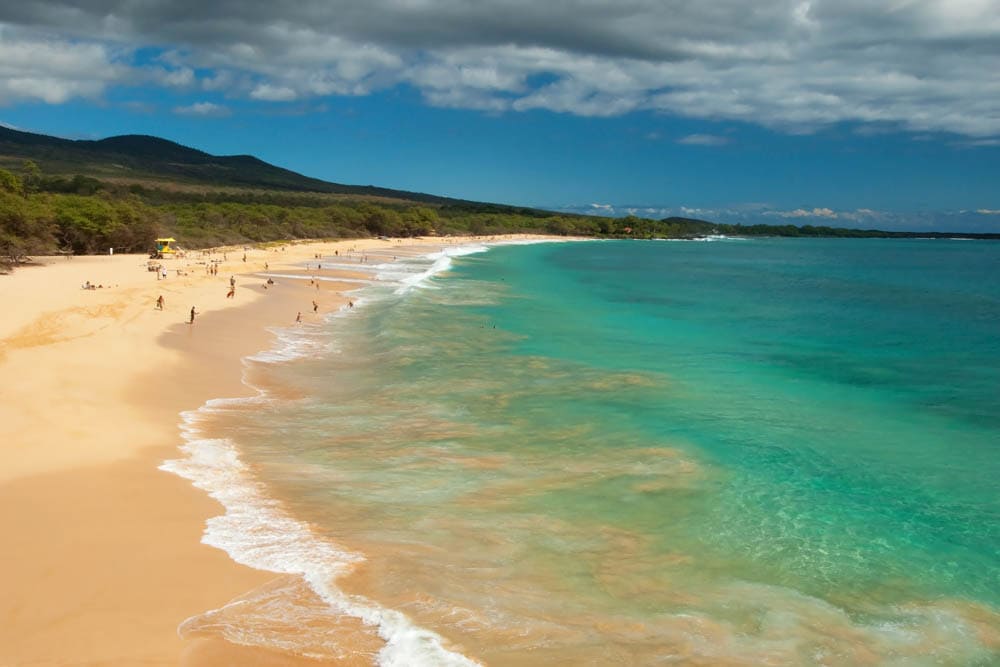 If you love national parks, head to Haleakala Crater for an unbelievable sunrise or sunset experience as well as epic hiking trails.
There's also the famous Road to Hana where you can see some of the most beautiful waterfalls on Maui, hit up roadside fruit stands, and take lots of Instagrammable photos. This is one of the most popular things to do in Maui. Go on your own or join a tour.
Of course, you can't go to Maui without relaxing at the beach. A few awesome beaches include Kapalua Bay, Ka'anapali Beach, the Kamaole Beaches in Kihei, and Wailea Beach. You can even go cliff jumping at Black Rock.
And after all that beach time, you'll want to grab some shave ice! There are also tons of Maui luaus that offer hands-on cultural experiences, tasty food, and stunning shows.
You will find lots of accommodation options on Maui, from luxury resorts to vacation rental homes and even hostels or campgrounds. Whatever you're looking for in a spring break vacation, Maui has you covered!
Suggested by Marcie from Hawaii with Kids
5. Orlando, Florida
One of the best spring break destinations in the US is Orlando, for kids and adults alike.
There are lots of fun things to do in Orlando that everyone will enjoy. Whether you're looking to visit the theme parks or spend some time exploring the city, there is something for everyone here.
One of the top things to do in Orlando is of course a visit to the Walt Disney World Resort, home to Magic Kingdom, Epcot Center, Animal Kingdom, and Hollywood Studios. Enjoy thrilling rides, parades, fireworks, and great shopping and dining.
The weather in Florida during spring break is beautiful and it isn't too hot there. Temperatures are warming up, making it a perfect time to start enjoying the outdoor pools and hit up one of the many water parks in the area.
If you're looking to visit the coast, check out the Kennedy Space Center and nearby Cocoa Beach. The Kennedy Space Center is about an hour away, making it a perfect way to spend the day.
Some other adventurous things to do in the area are an Everglades airboat tour and kayaking in the springs.
Blue Springs State Park is about 45 minutes outside of town and is a beautiful place for kayaking, tubing, and swimming. You may just even spot a manatee there!
If you're looking for some ideas on things to do at night, consider visiting Old Town in Kissimmee. It is an area of town filled with delicious restaurants, live music, entertainment, and rides. Friday and Saturday nights they have car shows that are a lot of fun to see.
Suggested by Candice from CS Ginger
6. San Diego, California
San Diego is located at the southern tip of California, so the weather alone would be good reason to visit during spring break. But San Diego is more than your typical beach town.
It's a destination filled with fun that goes beyond the shoreline, and there are plenty of unique things to do in San Diego.
For a colorful escape, visit Queen Califia's Magical Circle. Created as a love letter to the people of San Diego by artist Niki de Saint Phalle, it's a sculpture garden unlike any you've seen before.
Another unique art installation is in nearby Borrego Springs. The metal artist Ricardo Breceda has populated the valley with giant metal sculptures, and you can see more of them, and maybe catch the artist at work, in Aguanga.
Balboa Park is one of the most popular places to go in San Diego. In addition to the famous zoo, among other well-known institutions, the Museum of Us (formerly the Museum of Man) is an anthropology museum that showcases humanity's developments in a gorgeously ornate building.
If you enjoy the outdoors, put the Cabrillo National Monument on your San Diego spring break itinerary. With a couple of easy hiking trails, expansive ocean and skyline views, a historic monument, and tidepooling, the park is fun for kids and adults alike.
One of the best ways to explore San Diego any time of year is to take a trolley tour. These hop-on hop-off excursions highlight several of the city's top attractions, and include a visit to Coronado Island, where the white sand beach is gorgeous.
Suggested by Theresa from The Local Tourist
Read more: The Perfect San Diego Weekend Itinerary
7. New Orleans, Louisiana
New Orleans in Louisiana is a fantastic US spring break destination. The average high temperature is in the 70s, making it an ideal time to explore.
A trip to New Orleans would not be complete without exploring the French Quarter. You can stroll the narrow cobblestone streets, shop, eat, and watch fantastic street performers.
Consider taking one of the many walking tours to learn the amazing history of New Orleans, which blends French, Spanish, and African influences.
There are many foods for which New Orleans is known. Make sure you try a beignet, a cross between a french pastry and a doughnut, which will delight your sweet tooth and have you begging for more.
Book a food and history walking tour for an enriching epxerience!
If you are looking for something indoors, spend time at the National WWII Museum. This is one of the best museums in the USA. It is all interactive, suitable for people of all ages, and focuses on the role of the US in Asia and Europe during WWII. Even if you have no interest in history or WWII, this museum will grab your attention.
For something a little different, take a swamp tour on the bayou. There are many tour companies that offer transfers to and from New Orleans.
For a couple of hours, you are transported into the middle of rivers and swamps, surrounded by feral hogs, alligators, and beautiful birds. It is spectacular and lots of fun.
When you plan your trip to New Orleans, make sure you double check the date of Mardi Gras, which is normally during March. New Orleans becomes very busy and more expensive during Mardi Gras. In addition, accommodation becomes more difficult to find so you should book far in advance.
Suggested by Nicole from Go Far Grow Close
Read more: The Best USA Weekend Trips
8. Sedona, Arizona
Mother Nature's red rock country is a great destination to visit for spring break. With comfortable weather full of sunshine and warmth, spring is the best time to explore Sedona's majestic sandstone scenery and towering cliffs.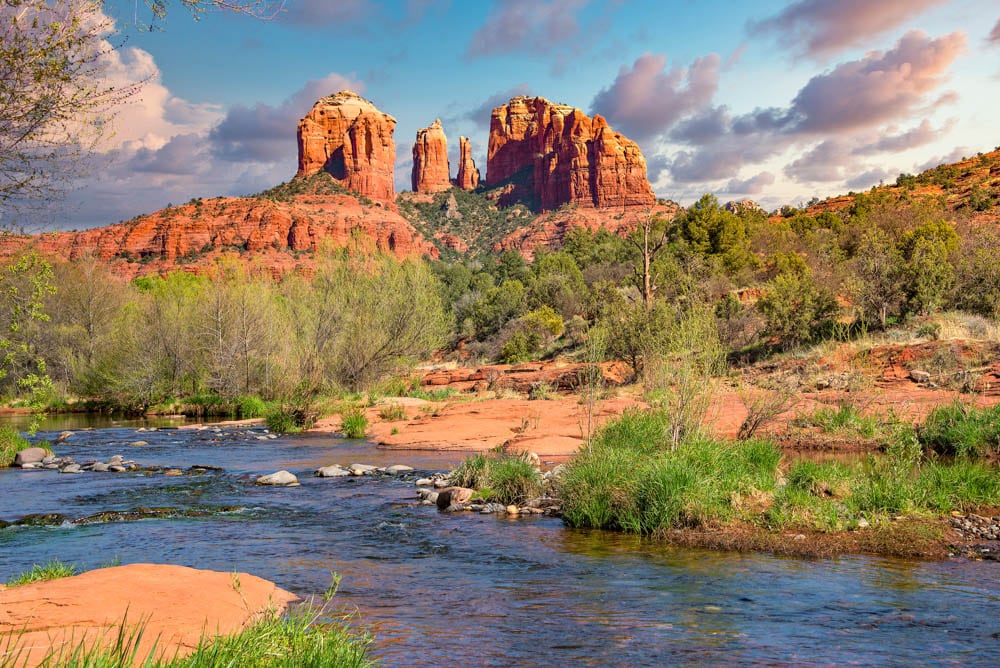 If you are looking for a spring destination with endless outdoor fun, Sedona's red rock formations are a fabulous backdrop to its activities.
There are hiking trails for all skill levels, including family-friendly trails, that will take you to stunning vistas. An easier hike is Devil's Bridge (4 miles) but it is also one of the busiest and most famous.
Bell Rock trail (1 mile) offers views of Courthouse Butte and Bell Rock. Sedona View Trail (1.2 miles) has great views of Chimney Rock, Coffee Pot Rock, and Thunder Mountain.
There are also plenty of thrilling adventures to be had, from an off-road adventure jeep tour to a hot air balloon flight. Do not forget to take a drive along the gorgeous Red Rock Scenic Byway.
A ten-minute drive north of Sedona is Slide Rock State Park where you will find a fun natural rock formation that is nature's "water slide."
Sedona is known as a place of healing and has some exceptional spas. Also known for its strong energy vortices, Sedona is said to have four different energies located at Airport Mesa, Cathedral Rock, Bell Rock, and Boynton Canyon.
The Verde Canyon Railroad is a wonderful half-day excursion if you are looking for a break from hiking!

Suggested by Debbie Fettback from World Adventurists
9. Big Island, Hawaii
The Big Island of Hawaii is an ideal spring break destination, with average spring temperatures in the 70s and low 80s and minimal rainfall.
The Big Island offers plenty of options for families and spring break travelers, including beaches, volcanoes, waterfalls, hiking, water sports, and wildlife. Most visitors stay around Kona, which has one of the island's two main airports.
Since Kona is on the west side of the island, nearly everywhere has a great view of the sun setting over the Pacific Ocean. You can likely catch a glimpse from your accommodations or take a stroll out to Kailua Pier in town.
On the east side, around Hilo, there are beautiful lush valleys and waterfalls. Visiting Hilo's gorgeous black sand beaches is one of the best things to do in Hawaii!
Akaka Falls, Rainbow Falls, Waipio Valley (Valley of the Kings), and Hi'ilawe Waterfall are great destinations to visit on the east side. You can hike, zip-line, or simply take a road trip to explore.
Thanks to the diversity of landscapes, the island has an interesting variety of beaches, including white sand, pebble beaches, and even volcanic black sand beaches.
Hawaii has banned reef-damaging sunscreens, so be sure to add a reef-safe SPF to your Hawaii packing list.
Suggested by Michelle from Intentional Travelers
10. Las Vegas, Nevada
Las Vegas is the city that never sleeps, and while you can party your spring break away in Vegas, there are many things to do in Vegas other than gambling and partying, from exploring outdoor recreational areas to museums, shows, dining, and shopping.
Besides, Las Vegas offers great photography locations.
The best time to visit Las Vegas is from March to May because in spring the weather is mild and pleasant, with daytime highs generally in the 70s Fahrenheit. However, you should pack a few light layers, as temperatures in the desert cool down significantly after sunset.
There are also a number of special events that take place in March and April. The most popular and best spring events are NASCAR weekend, Viva Las Vegas Rockabilly Weekend, Academy of Country Music Awards, St. Patrick's Day, March Madness, and pool parties. Lots of options from which to pick!
if you enjoy shows, you will find an array of offerings catering to different tastes, from Cirque Du Soleil's O at the Bellagio Hotel to David Copperfield at the MGM Grand Hotel and Casino, V – The Ultimate Variety Show at Planet Hollywood, or Blue Man Group at the Luxor Hotel .
Another attraction you should definitely try is the gondola ride at the Venetian Hotel and Casino. For a moment, you will feel like you are in Venice. It's one of the top experiences on the Las Vegas Strip!
If you like thrills, buy tickets for one of the great roller coasters or rides. You can choose between The High Roller at The LINQ, STRAT Tower – Thrill Rides, or Big Apple Coaster at the New York-New York.
Las Vegas is also a great base for trips to the Southwest. You can do day trips from Vegas to the Grand Canyon (helicopter rides are exhilarating), Hoover Dam, Valley of Fire State Park, Antelope Canyon, Death Valley National Park, and more.
Suggested by Agnes from The Van Escape
Read more: National Parks to Visit from Vegas
11. South Padre Island, Texas
A trip to South Padre Island is one of the great weekend getaways in Texas, and is especially fun during spring break, when the party vibe is on!
Located at the southernmost tip of the great state of Texas, Padre Island boasts over 260 miles of Texas coastline. Combine the miles of coastline with the laid-back, small town feel of Padre, and you have the makings for a great spring break getaway.
Of course, spending time at the beach is one of the most popular things to do on South Padre Island. The vast stretches of sandy beaches are great for building sand castles, searching for an amazing seashell, or just lounging around listening to the waves.
Exploring the beaches on horseback is another fun activity that is perfect this time of year as the temperatures are still mild.
South Padre Island also offers numerous tours to enjoy during your spring break adventure. You can book the Black Dragon Cruise and learn how to be a pirate, or head out to spot dolphins in their natural habitat on one of the many dolphin cruises available.
Of course, the island is also home to some fabulous restaurants, fun shopping areas, and great spas! Honestly, there is so much to do on South Padre Island, you might just make it your spring break destination from now on!
Suggested by Michelle from Totally Texas Travel
12. Moab, Utah
A fantastic spot to take a spring break getaway, whether you're traveling by yourself or with your family, is the stunning city of Moab, Utah.
The town is primarily known for its red rock canyons and other formations, which can be enjoyed at a variety of national and state parks right outside of town.
For example, a must-stop destination is Arches National Park, where you can hike to (and, for some, even under!) some 2,000 sandstone arches that have been eroded over millennia, including the famed Delicate Arch.
The hike to Delicate Arch is very popular, so visit early or late: you can also catch sunrise or sunset at the arch!
While Arches is often visitors' first stop in town, Canyonlands National Park is just as spectacular, where you can hike along the rim of canyons that are thousands of feet deep, carved by the Green and Colorado Rivers.
After your trip to Canyonlands, be sure to stop by its neighbor, Dead Horse State Park, which provides some of the most jaw-dropping sunsets in the United States.
And while Moab is on the map because of its famous red rock walls, the quirky town itself is absolutely worth exploring, with an interesting mix of art galleries, rock shops, and charming cafes.
Spring is the perfect time to visit Moab and its beautiful landscapes. The weather is cool, but pleasant (perfect for hiking!) and the city is less crowded than during its busy summer months (meaning you may get to score better deals on flights and accommodations!).
Suggested by Jessica from Uprooted Traveler
13. New York City, New York
While the majority of people flock to the south to chase the warm weather during spring break, I think the real fun lies in the north. New York City is the ultimate spring break destination, especially if you're taking a trip with the girls.
There's no better place to forget all your stress than in the Big Apple.
NYC, contrary to popular belief, can easily be done on a budget. There are countless free activities and you can find reasonably-priced accommodation, freeing you up to splurge on a few nicer restaurants and experiences.
New York City has hundreds of things to do. Walk the Brooklyn bridge for incredible photo ops, take a trip to the Top of the Rock for some epic views, get lost in a Broadway show, and eat your way through some of the best restaurants in the world.
Spend a day in the Metropolitan Museum of Art and pack a picnic to eat in Central Park. Walk the Highline at sunset and soak in twilight views from The Edge observation deck.
While you may not be able to hit a beach like on a typical spring break, the glamor of a week in New York City more than makes up for it. Your Instagram will thank you for all the photos of rooftop bars, glitzy events, and the gorgeous architecture of the city.
Suggested by Emma from Emma's Daydream
14. Savannah, Georgia
If you are looking for a fun spring break destination in the USA, head to Savannah, Georgia. While summers can be quite hot and humid in Savannah, spring daytime temperatures usually hover in the 70s—perfect for walking and seeing the sights.
Stay at one of the boutique hotels in historic downtown Savannah, and you'll be able to explore a good portion of the city by foot. Visit the lively four-block area of City Market and nearby Broughton Street for shopping, sipping, or grabbing a bite.
Savannah is one of America's top foodie destinations, so eating the local fare is a must! Check out one of the city's hottest restaurants, The Grey, that's in an old refurbished Greyhound Bus station. Reserve ASAP!
The Old Pink House is also quite popular, and for a little more casual, try the low-country seafood at the Savannah Seafood Shack.
Foodies can also enjoy the many restaurants, bars, and places to snack at the Plant Riverside District. Stroll along the waterfront or sail on the Georgia Queen river boat to see this historic city from the Savannah River.
No trip to Savannah would be complete without a visit to Forsyth Park to see its iconic fountain and the Spanish moss covered trees. If a two-mile walk sounds too ambitious, try one of the hop-on-hop-off Savannah Trolley Tours.
Savannah's architecture is stunning, and the area around the park is particularly beautiful. Don't miss Jones Street, which claims to be the prettiest street in Savannah.
Of course, Savannah has an energetic nightlife too. What would spring break be without a visit to a rooftop bar, like the one at the Alida Hotel?
Suggested by Denise from Chef Denise
Read more: East Coast Weekend Getaways
15. Austin, Texas
If you're looking for a great spring break destination, it's hard to beat Austin, Texas. Known as the live music capital of the world, Austin is a vibrant city with a thriving nightlife and an impressive art scene.
Temperatures are mild in the spring, making it a perfect time to visit Texas' capital city.
Austin is particularly famous for its eclectic music scene. Venues are located across the city and cater to music lovers of all types. Country, blues and rock music are especially prevalent in Austin.
If you like honkey-tonk music or dive bars – or simply enjoy going out at night – the city has got you covered.
There are lots of other fun things to do in Austin besides partying, however. One of Austin's most eye-catching characteristics is the city's street art. Colorful murals cover the sides of many buildings and come in all shapes and sizes.
While you're exploring Austin, be sure to grab a bite at a food truck. Or better yet – go on a food truck crawl. Little pop-up restaurants are located all over Austin and serve some of the city's best (and cheapest) food.
Look for a group of trucks clustered together in a food truck park for the widest selection of culinary delights.
Text and photo by Katy from A Rambling Unicorn
16. Charleston, South Carolina
Charleston, South Carolina comes alive in the spring with gorgeous gardens blooming and amazing beach weather for all to enjoy. Typical weather in the spring is around 70 to 80 (with lows in the 60s).
Because of this prime weather, Charleston is a very popular destination in the springtime, so be sure to plan your trip early and avoid holiday weekends like Easter.
In terms of things to do in Charleston during the spring, the gardens and plantations are absolutely breathtaking and a must-see. In fact, the USA's oldest landscaped garden is located here in Charleston at the Middleton Place!
Another great option is the Magnolia Plantation one of the oldest public gardens in the USA!
Spend afternoons at the beach, soaking in the sun! Charleston has a few nearby beaches that are certainly worth a visit. Some of the best beaches around Charleston are Isle of Palms, Sullivans Island, and Folly Beach.
Each of these beaches is different and provides a unique experience, and all three are close to downtown Charleston.
Another reason to visit Charleston in the spring is to enjoy the various annual events! Each spring, Charleston has three staple events that draw people from all over the country: Festival of Houses and Gardens (March-April), Charleston Food & Wine Festival (March) and Spoleto Festival (May-June).
17. Outer Banks, North Carolina
One of the best family spring break destinations in the US is the breathtakingly beautiful Outer Banks. Located on the coast of North Carolina, the Outer Banks is actually 175 miles of barrier islands.
While most people visit the Outer Banks during the summer months, it's a great destination all year long. In the spring, you'll find a lot less crowds meaning you get more time to explore.
One of the best towns for families is Corolla, located at the northern tip of the Outer Banks. There are plenty of things to do in Corolla for families.
If the weather is too chilly for the beach, head over to Historic Corolla Park. This beautiful park is more than just a pretty place. It is also home to the Currituck Lighthouse with beautiful panoramic views.
Across the street, you'll find the new Maritime Museum which gives visitors a glimpse into the local culture and history of the Outer Banks.
Next door is the Outer Banks Center for Wildlife Education for nature lovers. You can go fishing or crabbing in the water in the park as well.
On the other side is the historic Whalehead Club, which offers daily tours and showcases life in the Outer Banks over the decades.
A visit to the Outer Banks isn't complete without visiting the wild horses. Families can take a tour with Corolla Wild Horse tours to learn more about these peaceful animals.
No matter what you decide to do in the Outer Banks, you won't be disappointed!
Suggested by Pamela from The Directionally Challenged Traveler
18. Lake Tahoe, California
One of the best spring break destinations in the US is Lake Tahoe. After all, this picturesque alpine lake is situated high in the Sierra Nevada Mountains, making it a true outdoor lovers' paradise.
During your trip, you can enjoy a bit of spring skiing in Squaw Valley. Not only is it perfect for skiers of all levels, but it's one of the best ski resorts in Lake Tahoe that was also home to the 1960 Winter Olympics.
Next, take a quick day trip to the Donner Party Museum at nearby Donner Lake to learn all about their incredible journey through the Sierra Nevadas. Or, enjoy a relaxing soak in the nearby David Walley's Hot Springs with its five exceptional mineral pools.
And if you don't mind hiking with a bit of snow still on the ground, grab a pair of snowshoes and uncover some of the best hikes in Lake Tahoe, like Mt. Rose, Fallen Leaf Lake, and Cave Rock.
Or, if you'd prefer a more relaxing trip, enjoy a refreshing sunset cruise on the Hyatt Regency's catamaran in Incline Village. Afterward, grab some delicious rotisserie chicken from legendary T's Rotisserie and enjoy a craft beer at Alibi Ale Works.
Suggested by Meg from Fox in the Forest
19. Gulf Islands National Seashore Fort Pickens, Florida
When it comes to a spring break vacation, you can find many wonderful ideas. But if you want a place where all ages can have fun and adventure, consider Gulf Islands National Seashore Fort Pickens, located near Pensacola, Florida!
The panhandle of Florida is known for its emerald blue water and sugar-white sand beaches, making it a perfect destination to get outside, escape the cold, soak up some sun, and enjoy water sport activities along the coast.
Gulf Islands National Seashore is part of the National Park Service. Plan to use the annual America the Beautiful National Park pass. If you don't have the annual pass, the fee is $25 per vehicle for the week.
Stay at the Fort Pickens Campground, located roughly 30 minutes from Pensacola, for a fun outdoorsy spring break plan. Fort Pickens Campground is located inside the National Park.
The campground is within walking distance of the beaches of Pensacola Bay, with trails connecting along the beautiful barrier island and historic Fort Pickens.
Spend the holiday walking the nature trails, exploring the old fort, and soaking up the sun along the beach. Visitors can even watch a Blue Angel practice show depending on the Blue Angels practice schedule!
There are other enjoyable activities such as kayaking, birdwatching, fishing, and star-gazing.
If planning to camp, be sure to bring all your food, water, and beach essentials since you'll be staying on one of the Gulf's famous barrier islands. Also, be sure to bring layers to accommodate temperatures between the 60s to low 80s (Fahrenheit).
Text and photo by Ashlee from The Happiness Function
20. Road Trip through Zion and Bryce National Parks, Utah
Utah is one of the best destinations to visit on spring break.
There are so many great outdoor options, and the desert doesn't yet reach the extreme heat of summer. Zion National Park and Bryce Canyon National Park are two of the top stops in Utah.
Bryce Canyon National Park is at a higher elevation and it is colder than much of Utah in spring. This means it will be less crowded though!
There is still much to do in one day in Bryce in spring, including hiking the Navajo Loop and Queens Garden Trail or Peekaboo Loop when the conditions are right.
These are two of the best trails in Bryce that take you down into the canyon and among the hoodoos. Spring is a great time to visit because there will still be snow in the canyon, making the hoodoos really stand out, which leads to some great photos.
After visiting Bryce, drive the 72 miles to Zion National Park. Zion is incredibly scenic and great to visit any time of year. You can stay in the town of Springdale or in the park and take the shuttle to one of the many stops in the canyon.
The Riverwalk Trail is an easy trail at the end of the shuttle stops and follows the Virgin River. Lower Emerald Pools is another great hike in Zion that leads to a waterfall, and it is the best in the spring after rain.
After taking the shuttle through the canyon, drive through the Zion-Mount Carmel Tunnel to Canyon Overlook Trail.
Suggested by Val from Voyages with Val
21. Key West, Florida
The Florida Keys are an archipelago that stretches for more than 100 miles at the southern end of Florida, leading to the end of Mile 0 at the tip. Here you will find Key West, a small island that is a famous spring break destination.
Key West is a great spring break location because of its wonderful weather in March and April. Plus, Key West has so many exciting and adventurous activities to offer!
Drive from Miami to Key West in about four hours, or opt for one of the shuttle services connecting Key West to the Miami Airport.
Key West is only about seven square miles in area, but the small island packs a powerful punch when it comes to vacationing. A wonderful way to explore the island is to rent a bike or scooter.
There are a couple of shops around Mallory Square or Duval Street where you will find bike rentals, and if you choose to stay in a vacation rental, your hosts may provide bikes to use during your stay.
Duval Street is the main tourist area and shopping street. Stroll the streets, chill at bars, or have a taste of the famous key lime pie.
Catch a movie at the historic movie theatre, take pictures of the iconic Goods Store and Joe's Bar, and admire the glorious sunset at Mallory Square.
Admire the famous conch style houses in pastels in downtown Key West. Snap a photo of the "Southernmost Point in the USA" marker.
Head to one of the pristine beaches in the area to soak in the sun. Sign up for a snorkeling or diving tour, go fishing, or plan a visit to the stunning but less visited Dry Tortugas National Park.
However you choose to spend your time in Key West, you will enjoy a memorable spring break here!
Suggested by Kenny from Knycx Journeying
22. St. Louis, Missouri
St. Louis is a really fun destination to visit over spring break, especially if you are visiting with kids. There are so many family-friendly things to do in St. Louis.
Aside from a visit to the iconic and famous Gateway Arch, there are many fun places to explore in town.
A true highlight of St. Louis is the City Museum. The building is an old industrial warehouse that has been transformed into a playground.
There are lots of opportunities to explore and expand your creativity along the way. Inside, you can find the world's largest jungle gym that is five stories tall.
Another charming part of town is Historic St. Charles Main Street. It is a quaint and charming district loaded with history. Historically, St. Charles was the shopping area for pioneers and explorers.
Today, you will find lots of specialty boutiques, clothing stores, and more.
Be sure to swing by the Lewis and Clark Boat House and Nature Center, which is just a few streets over.
While in town, be sure to check out the St. Louis Zoo. It is free to visit, which is a huge bonus. There are lots of exhibits featuring animals from around the world. Take a ride on the carousel and the railroad that goes throughout the zoo.
Some of the other fun things to do around town are visiting Six Flags St. Louis, the Magic House, Laumeier Sculpture Park, and Forest Park.
Suggested by Candice from CS Ginger
23. Gulf Shores, Alabama
The perfect spring break vacation is waiting for you in Gulf Shores, Alabama. The 32 miles of pristine beaches will win you over as soon as your toes hit the sand.
Spend your days strolling the beach, shelling, building a sandcastle, or lounging in your own comfy beach chair. For the ultimate sandcastle building experience, book a class through Sandcastle University.

Outdoor adventure awaits you on the Jeff Friend Trail, where you can experience birding, hiking, and picnicking. Gulf Shores also offers incredible kayaking. If you are lucky, a dolphin will roll right under your kayak as you paddle your way around.
A fun way to experience the biking trail in Gulf Shores State Park is to hop on a Segway. If biking is your thing, you can ride more than 15 miles of the Hugh S. Branyon Backcountry Trail complex.

There's not a bad meal to be found in Gulf Shores. Lulu's Gulf Shores offers a meal with a view of the water. Dress casual and indulge in the food (specifically bread pudding), family, and fun. You will become part of the family at Lulu's after your first visit.
This small beach town knows how to play big and once you visit, you will be planning a return visit for next spring break.
Suggested by Sara from Travel With Sara
24. Chicago, Illinois
Spring break is one of the best times to visit Chicago. Because the tourist crowds are lower in the spring, visitors can enjoy sightseeing without the long lines you'll encounter at popular Chicago attractions from June through August.
One unusual benefit of traveling to Chicago is its two international airports. Both are connected by public transit to the downtown area. O'Hare is connected to the Loop by the Blue Line and Midway is connected by the Orange Line.
From visiting the Lincoln Park Zoo, which allows free entry to all visitors, to checking out some of the many world-class museums, there is a large variety of things to do in Chicago on spring break.
The Museum Campus is a peninsula jutting out into Lake Michigan that holds the Field Museum of Natural History, the Shedd Aquarium, and the Adler Planetarium all just a few hundred yards from each other.
The Willis Tower gives the best view of the city. Lines can get long, so go right when it opens. While over that way, have breakfast at the start of Route 66! Visitors can easily walk to the tower's after eating, for 360-degree views of the city and lake.
The Hampton Inn is a budget-friendly hotel in Chicago's Theater District. This area is centrally located to most tourist attractions.
Public transit is also located right nearby, to save visitors on overpriced cabs or rideshares. It's also only a 10-15 minute walk from the Willis Tower and Lou Mitchell's.
Suggested by Brodi of Our Offbeat Life
*****
We hope you enjoyed this round-up of the most exciting spring break destinations in the USA. Which one will you pick for your spring break?
MORE INSPIRATION FOR TRAVELS IN THE USA
Did you find this article informative? Pin it for later reference!