Palm Springs is hands down a fabulous California destination, whether you visit as a quick day trip or spend a leisurely week here. Read on to discover the best things to do in Palm Springs, California!
From Hollywood stars to former US presidents, celebrities have long known that the Palm Springs area is the perfect place for a get-away-from-it-all vacation.
With a stunning location at the foot of the San Jacinto mountains, and a dazzling array of activities and attractions, Palm Springs sparkles in the Southern California desert.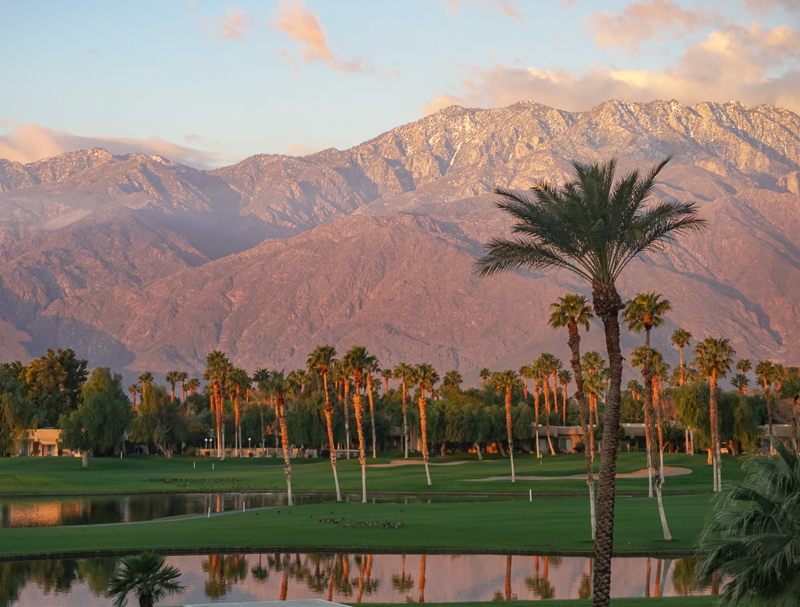 The ideal launch pad from which to explore the wonders of the desert that surrounds it, Palm Springs is also great for vacationers just looking to laze by the pool.
We've visited several times already, and I am currently making plans for our next Palm Springs weekend getaway!
THE BEST THINGS TO DO IN PALM SPRINGS
The best things to do in Palm Springs are a happy mix of indoor and outdoor activities.
Whether you enjoy exploring the desert, soaking in mineral pools, visiting museums and gardens, or lounging by a resort pool soaking in the sun, you'll find fun activities in and around Palm Springs to keep you engaged, no matter your travel style!
The Greater Palm Springs area is made up of nine beautiful desert communities: Palm Springs, Desert Hot Springs, Cathedral City, Rancho Mirage, Palm Desert, Indian Wells, La Quinta, Indio, and Coachella.
We haven't yet been to all of the cities, but we have visited quite a few. Each one has lots of fun things to do, and we plan to cover the rest on future trips to the area!
The cities aren't too far apart so it's easy to zip from one to another during the course of your day if you have a car.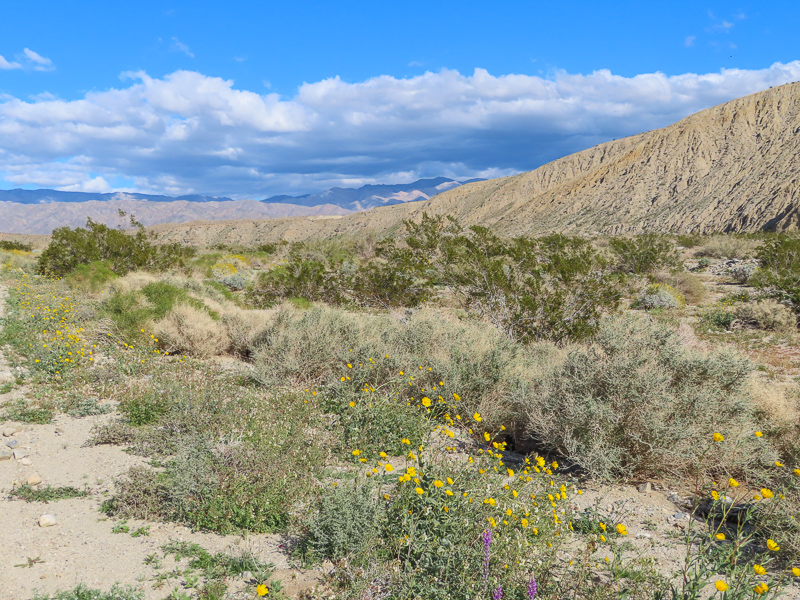 From murals to music and hiking to hot springs, there's plenty here to excite every type of traveler. Whether you come to explore or to relax, you'll have a fabulous time in the Palm Springs area.
Here, then, are the most awesome things to do in and around Palm Springs!
#1 Stroll Palm Canyon Drive in Palm Springs
Palm Canyon Drive is the main street that runs through the heart of the city. Strolling Palm Canyon Drive is fun any time of day. It's especially nice at sunset, and after the lights come on in the evening.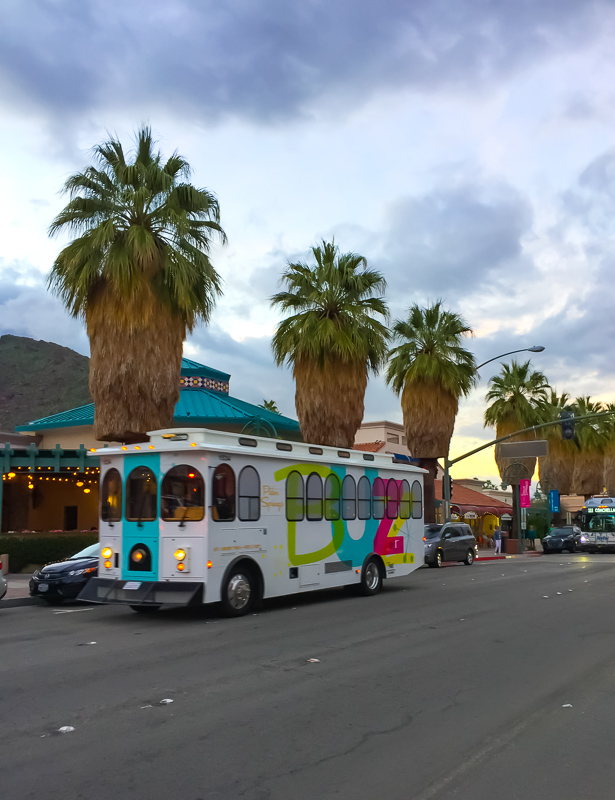 Lined with palm trees on both sides, Palm Canyon Drive is the classic California shopping street. You'll find lots of stores, restaurants and cafes, and art galleries to browse as you walk.
From antiques and apparel to home decor and gifts, you'll find a variety of boutiques along the street.
Palm Springs Fudge offers fudge, brittle, chocolate truffles, toffees and more: we cannot help but pop in every time we visit the city! Flow Modern makes for a great browse if you like shopping for home decor.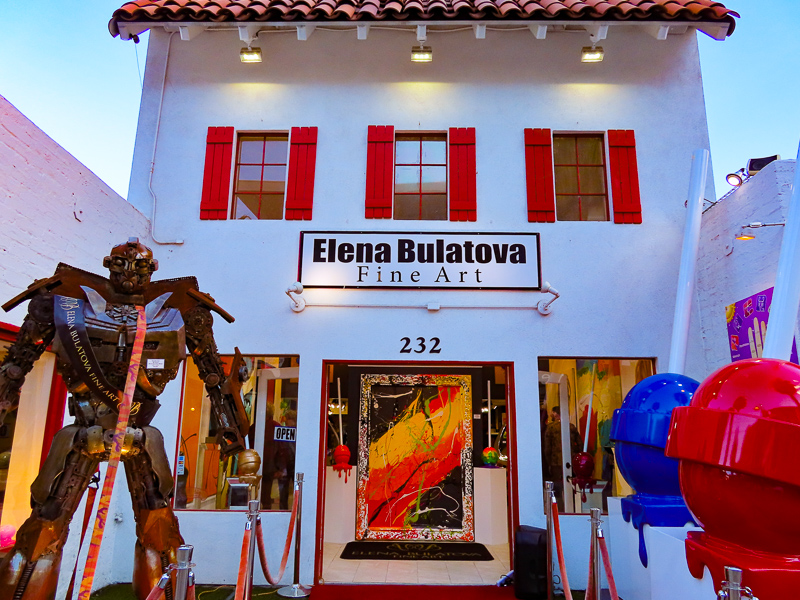 Pop into the Palm Springs Visitor Center, located in a stunning mid-century modern building. Relax over a drink at a cafe and people watch.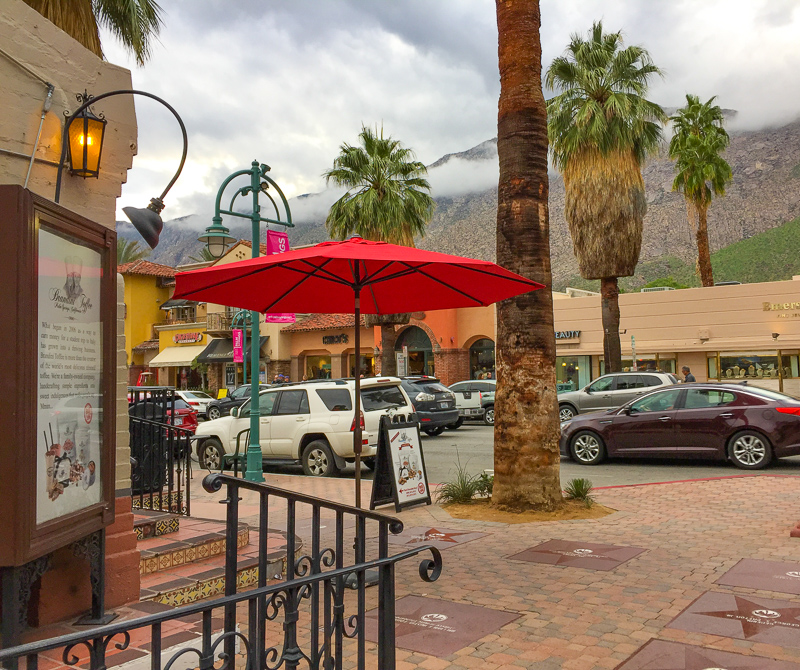 Visiting on a Thursday evening? Check out VillageFest on Palm Canyon Drive! With artists and entertainers, crafts and produce, the street gets transformed into a lively village fair.
#2 Do a day trip to Joshua Tree National Park
One of the most awesome things to do in the Palm Springs area is a day trip to Joshua Tree National Park.
Just about an hour's drive from Palm Springs, Joshua Tree NP is a stunning desert park that sits on not one but two deserts: the Colorado Desert and the Mojave Desert.
With mammoth rocks strewn about the landscape, masses of the namesake Joshua trees, and dark skies at night, the park will captivate you if you enjoy natural wonderlands.
In just one day in Joshua Tree National Park, you can go rock scrambling, do a short hike or two, see some gorgeous rock formations, and view the flora in the park from up close.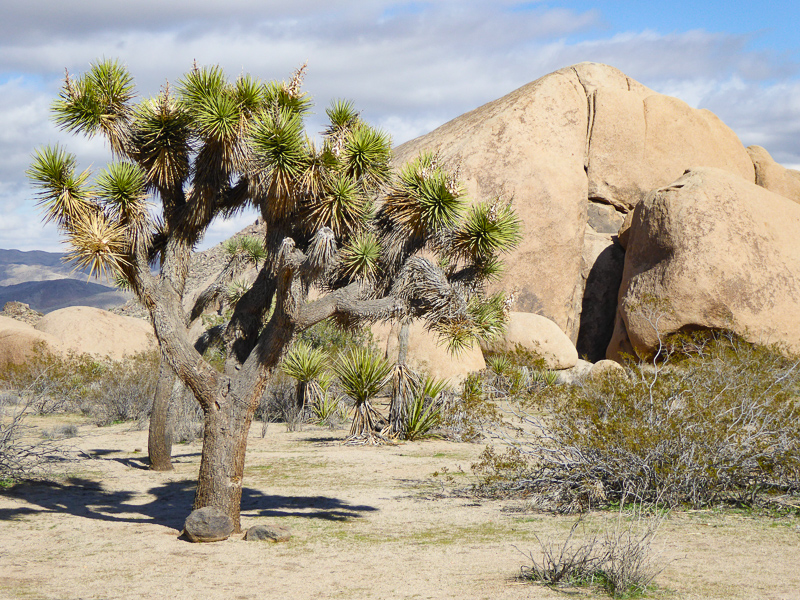 And if you time your visit right in a wildflower superbloom year, you'll be blown away by the purple and yellow carpets of flowers by the south entrance to the park. You'll find wildflowers in other parts of the park as well.
If you prefer not to drive, this 5-hour van tour from Palm Desert is a great way to explore the park.
Want to do a thrilling offroad tour through the back roads in the desert? Consider this tour, which takes you on a 4X4 track through Joshua Tree National Park for a wilder and more unique perspective of the desert.
Book this tour now!
We love desert landscapes and iconic African deserts like the South African Karoo are on our bucket list. But closer to home, we love visiting the desert parks of southern California.
#3 Ride the Palm Springs aerial tramway
Riding the aerial tramway is one of the best things to do in Palm Springs!
You can see the San Jacinto peak from almost anywhere in Palm Springs. And if you ride the Palm Springs aerial tramway, you can go up almost all the way to the top.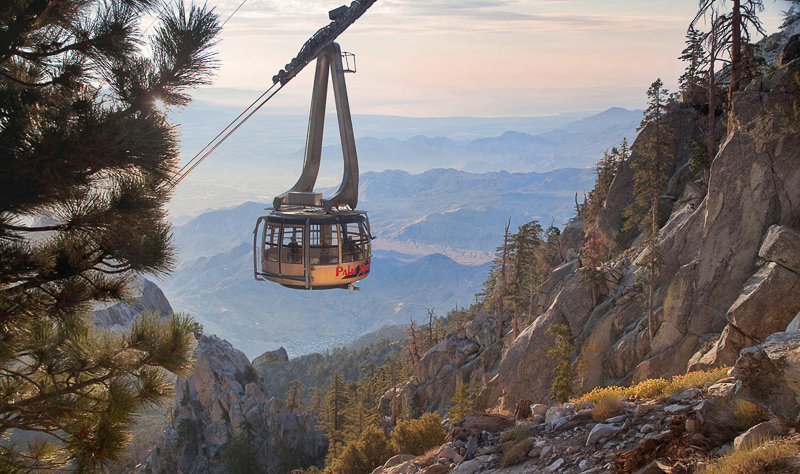 The upper station of the aerial tramway is in the Mt. San Jacinto State Park, about 8,500 feet above sea level. And the tram car rotates as it climbs up the cliffs, so you can take in true 360-degree views on the 10-minute ride!
At the top, you can enjoy a snack or a meal at one of two restaurants, take photos from the viewing decks, or hike one of the many trails in the park.
The temperature at the top is 30-40 degrees cooler than on the desert floor, so dress accordingly.
#4 Tour mid-century modern homes in Palm Springs
Touring the city's famed mid-century modern architecture is a must-do if it's your first visit to Palm Springs. We've been to Palm Springs several times, and I still love gawking at the architecture every time we visit.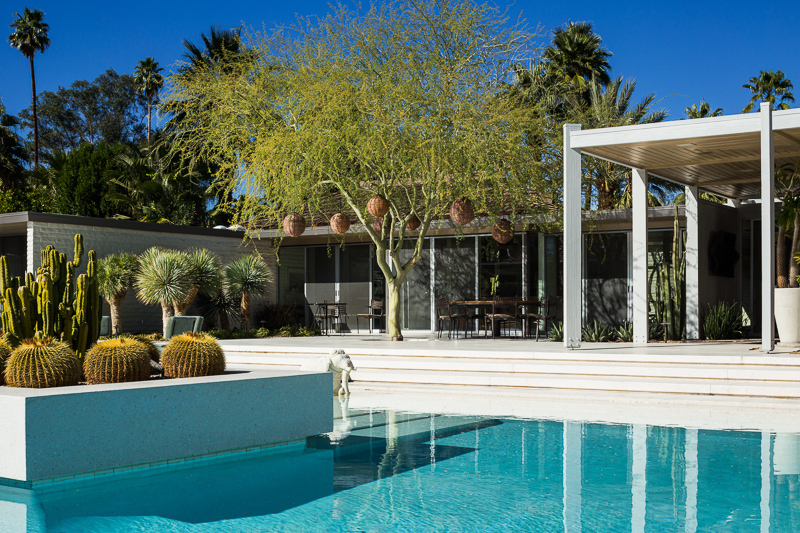 Clean sleek lines and oodles of glass are hallmarks of the mid-century modern style.
Many of the homes were built for Hollywood stars, for whom Palm Springs was the getaway destination of choice, because their contracts stated they had to be available within two hours of being summoned to the set.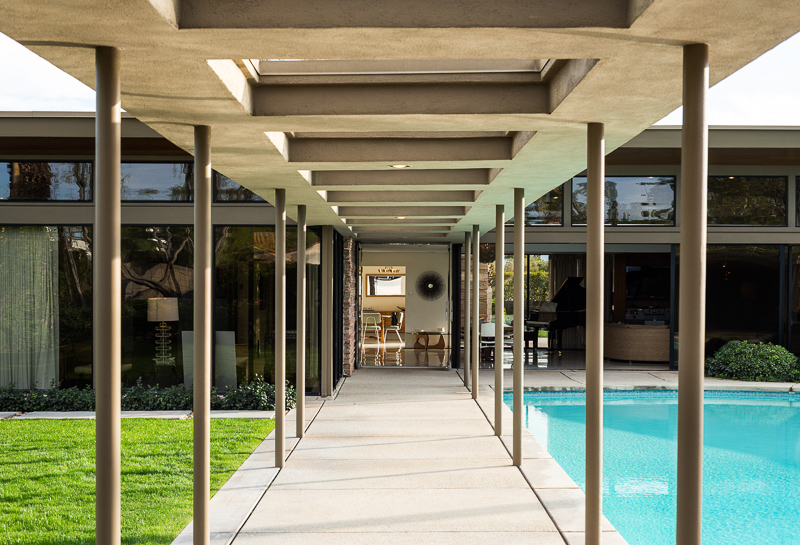 You have to be content with seeing many of the homes from the street, but some can be toured. The Elvis Honeymoon Hideway used to be a popular touring destination, but it's sadly not open for tours any longer.
Pick up a map at the Visitor Center to do your self-guide tour. The visitor center itself is a mid-century modern classic! Or join a guided tour.
This biking tour on level roads takes you through three Palm Springs neighborhoods and offers lots of information on the architectural style and the homes. Book this tour now!
For a serious foray into mid-century modernism, visit in February, during Modernism Week, or in October, during the Modernism Week's Fall Preview. Both events celebrate mid-century modern architecture, design, and culture.
#5 Hike the Indian Canyons near Palm Springs
If you love hiking, you'll be spoiled for choice in Palm Springs. The Indian Canyons are a group of canyons with beautiful desert flora and fauna, located just a few miles from downtown Palm Springs.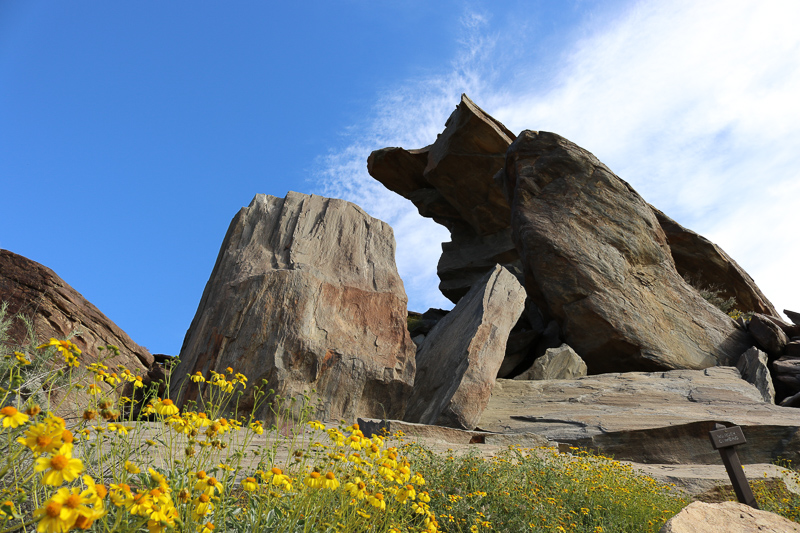 Home to the Agua Caliente Band of Cahuilla Indians, the Indian Canyons are listed in the National Register of Historic Places. You can still see remnants of their early life in the area.
Palm Canyon, Andreas Canyon, and Murray Canyon feature several dozen walking trails ranging from easy to difficult. Between October and June, you can join ranger-led hikes to learn as you walk.
Visit the official website for hours and current entrance fees.
This highly-rated bike and hike guided tour is a great way to visit the Indian Canyons! You'll bike through Palm Springs and then hike in the canyons, a hike suited for most active people.
#6 Visit the Palm Springs Art Museum
Founded way back in 1938, the Palm Springs Art Museum is a fun place to visit. It features over two dozen galleries and two sculpture gardens.
The modern and contemporary art collection is a must-see. And apart from art exhibitions, you can attend a performance in the Annenberg Theater. Or take a class!
The Art Museum also owns the Palm Springs Architecture and Design Center, housed in a beautiful mid-century modern building. It is a tiny museum in what used to be a bank, and the gift shop is now housed in the bank vault.
Visit the official museum website for hours and entrance fees. Entry is free every Thursday from 4-8 p.m.
There's also a branch of the museum in Palm Desert, which features a lovely sculpture garden year round.
The Faye Sarkowsky Sculpture Garden contains fourteen sculptures and many desert plants, and you can tour it between sunrise and sunset.
#7 Visit the Moorten Botanical Garden in Palm Springs
Desert gardens are a fun way to learn more about the flora that thrive in the environment. The Moorten Botanical Garden showcases cacti and succulents from around the world.
The garden is not very large: just about one acre, so all you need is an hour or so. Walk through the several different desert environments represented in the garden, from Baja California to the South African Karoo.
Apart from the beautiful plant specimens that range from tiny to gigantic, you'll love the rocks and fossils that create interest in the landscape. Look for the desert tortoises that call Moorten home!
If you visit in the spring, you'll see many specimens in bloom. Guided tours are available with advance notice. There is an entrance fee.
#8 Tour the Sunnylands Desert Garden in Rancho Mirage
A visit to the Sunnylands Center & Gardens is a must when you are in Palm Springs.
Located in the nearby town of Rancho Mirage, the historic estate is the former winter home of philanthropists Walter and Leonore Annenberg and now a meeting place for international leaders.
You can only tour the inside of the home as part of a guided tour, and booking way in advance is a must, because tickets typically sell out as soon as they become available.
But the Visitor Center and the gardens are free to tour on your own, and they are a delight to visit. The desert gardens feature an amazing variety of succulents, arranged in masses like flower beds.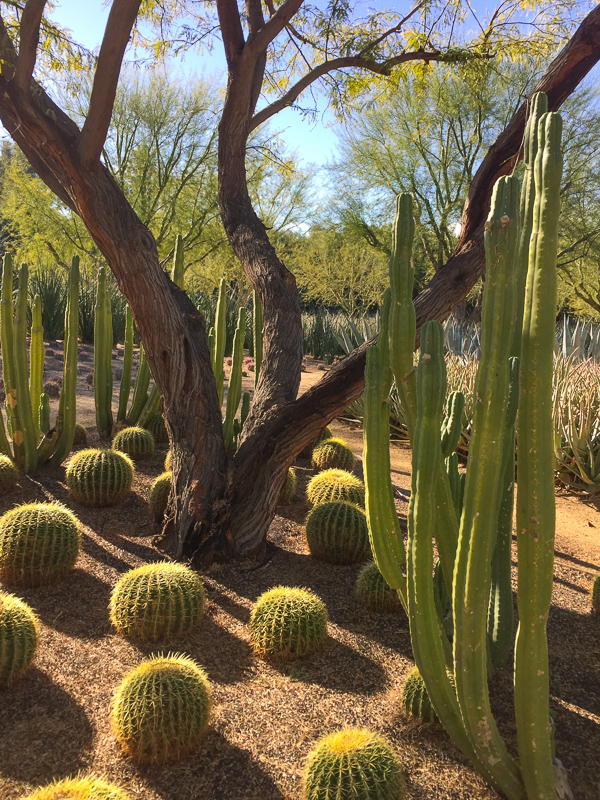 Meandering pathways lead you around the property. Keep an eye out for birds, especially around the many feeders located through the gardens.
The Center is a mid-century modern structure, and stepping inside feels like you are stepping into a beautiful living room. With huge glass windows, the space leads your eyes to the vista behind.
Sunnylands is one of my favorite places to visit in Greater Palm Springs, and you must add it to your Palm Springs itinerary if you haven't been yet.
#9 Admire the palms at the Thousand Palms Oasis
Exploring the desert is de rigueur when you visit the Greater Palm Springs area. The landscapes of the California desert are infinitely fascinating, and Palm Springs is the perfect place to enjoy their beauty.
The Coachella Valley Preserve is an easy 20-minute drive from downtown Palm Springs. With dozens of hiking trails, wildflowers in season, and beautiful oases, the preserve is a must-visit if you love hiking and nature.
The palm trees at the Thousand Palms Oasis are unbelievably gorgeous. Walk the short boardwalk trail to appreciate their beauty. Entrance is free but donations go towards maintaining facilities in the preserve.
Pick up a trail map at the Visitor Center if you plan to hike. The McCallum Trail is easy and suitable for families. It ends at beautiful McCallum Pond.
Take drinking water and use sunscreen, bug spray, and a sun hat. Watch for reptiles and desert animals.
#10 Explore the California desert on a jeep tour from Palm Desert
Exploring the desert is a breathtaking experience, whether you do in during the day or at night. And here in the Palm Springs area, you can actually drive to the San Andreas Fault, which runs through much of California.
Consider this half-day offroad tour that allows you to experience the desert landscape at close quarters! You'll get lots of information on the desert, and a walk through canyons at the fault.
The stark landscape of the canyons makes for amazing photos, and your tour ends with a date milkshake!
Or check out this guided downhill mountain bike tour through the desert. Bike a paved road along the San Andreas Fault where the Mojave Desert meets the Colorado Desert.
The tour ends at a date farm, where you can try a date shake.
Book this tour now!
#11 Enjoy retail therapy at El Paseo in Palm Desert
Reminiscent of Rodeo Drive in Beverly Hills, El Paseo is a lovely place to shop or just to window shop and stroll. It's about one mile from end to end, and they offer a free shuttle if you don't want to walk.
You'll see lots of high end stores, from Bottega Veneta to Saks Fifth Avenue, as well as unique boutique stores. You'll also find lots of great dining in the area, so plan to visit around lunch or dinner.
I love the art galleries that are everywhere in El Paseo. Just like at charming Carmel-by-the-Sea, you can not only view the art up close, you can sometimes meet and chat with the artists as well.
Don't miss all the public art exhibits along El Paseo. And from November through May, on the first Friday of each month, you can join the El Paseo Art Walk.
#12 Do a day trip to Anza-Borrego State Park
There are several amazing day trips from Palm Springs you can do if you are in the area for a few days. Anza-Borrego State Park is about a 90-minute drive from Palm Springs, but on the way you get to experience the Salton Sea as well.
If you start early, you may want to stop at Slab City on your way to Anza-Borrego or back, to tour Salvation Mountain and take photos of the art. The enormous art display is the work of one local resident, Leonard Knight.
Anza-Borrego State Park is worth putting on your Palm Springs itinerary especially if you visit in the spring, because it's one of the desert parks where you can see spectacular wildflower bloom in a good year.
At other times of the year, enjoy the beautiful desert vistas, the gigantic metal sculptures that dot the park, and hike the Slot Canyon, one of the most stunning trails in the park.
The Salton Sea is a saltwater lake you'll see on the way to Anza-Borrego. It is a huge lake and seems to go on forever. If you enjoy birding, you must stop: the Salton Sea National Wildlife Refuge is one of the best places to see birds in all of North America.
#13 Have lunch at The Farm in Palm Springs
Farm Palm Springs is one of the nicest lunch (and breakfast!) spots in Palm Springs. There's a patio where you can dine al fresco. The garden setting, with its white picket fence and bistro chairs, is charming.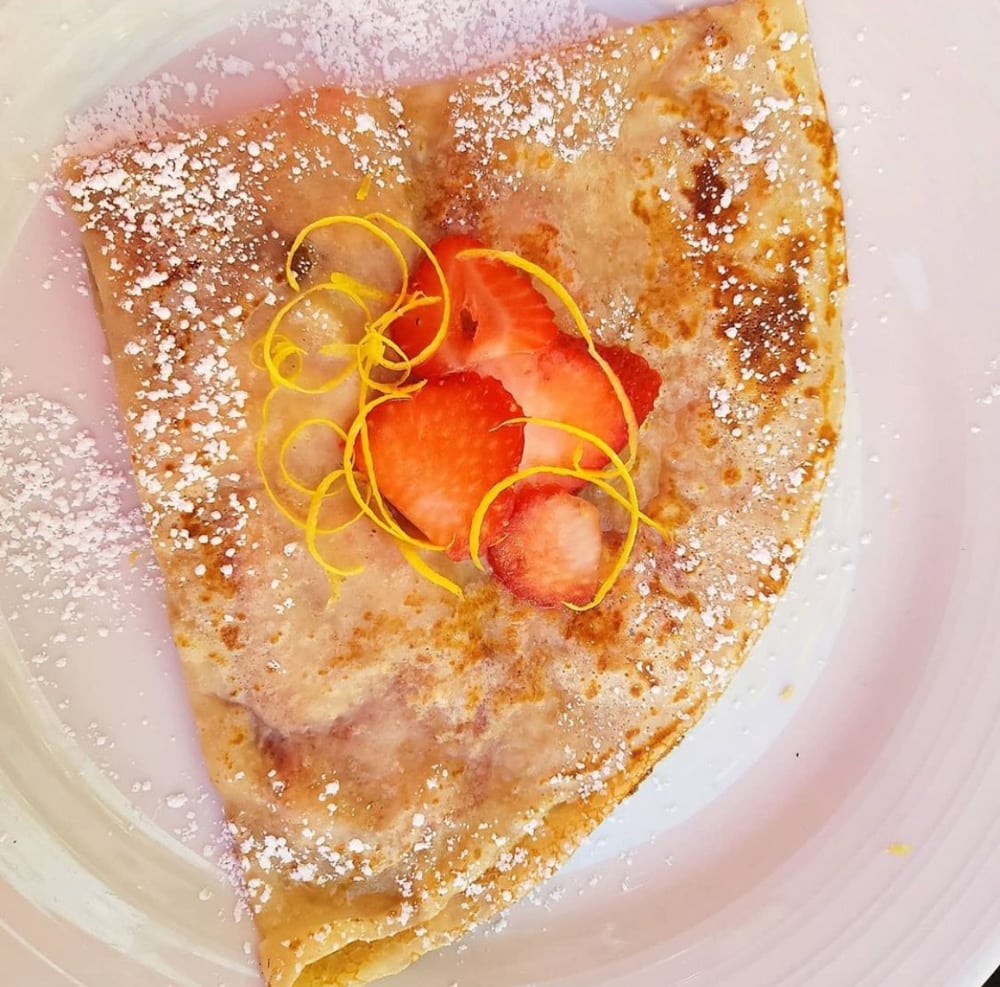 The crepes are so delicious that you'll want to order more than one! We love the Nutella and banana crepe and the lemon and strawberry crepe. The savory mushroom crepe is also one you'll want to try.
Love sandwiches? Their Brie sandwich, with pear, arugula, and date jam, is yum.
And the drinks are delicious as well, whether you order a specialty cocktail, beer, or wine.
#14 Tour a windmill farm near Palm Springs
One of the first things you notice as you near Palm Springs is the rows of windmills marching across the arid desert. Originally felt to be an eyesore, they are now an iconic part of the local landscape.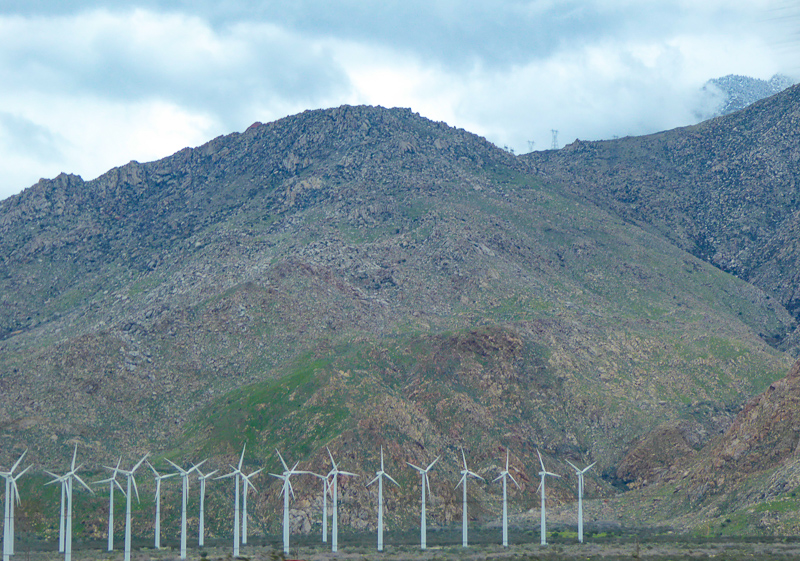 The windmills are located in the natural wind tunnel formed between Southern California's two highest mountain ranges: the San Bernadino Mountains in the north and the San Jacinto Mountains in the south.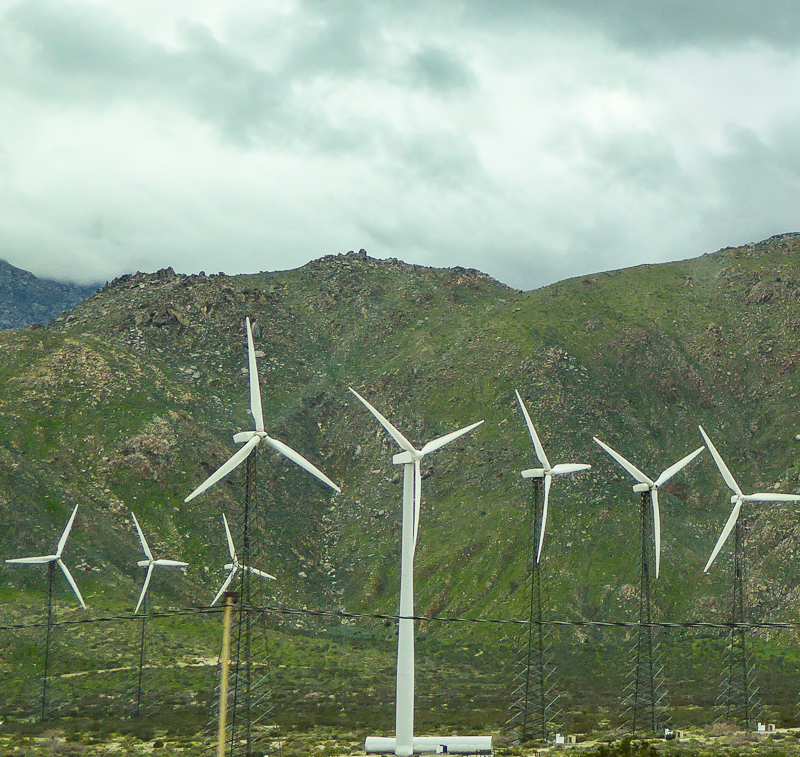 You can do wind farm tours if you want to learn more about how they work and get close enough to the windmills to pose for photos beside them. Plan on going when it isn't too hot.
#15 Have dinner at Ristorante Mamma Gina in Palm Desert
On El Paseo in Palm Desert is one of our favorite places to eat in the Greater Palm Springs area. Ristorante Mamma Gina serves up yum Italian favorites, with vegetarian and vegan options.
We love to start with the zucchini friti. Crisp and lightly battered, they are a perfect appetizer. I've tried several of their vegetarian pastas and loved every single one.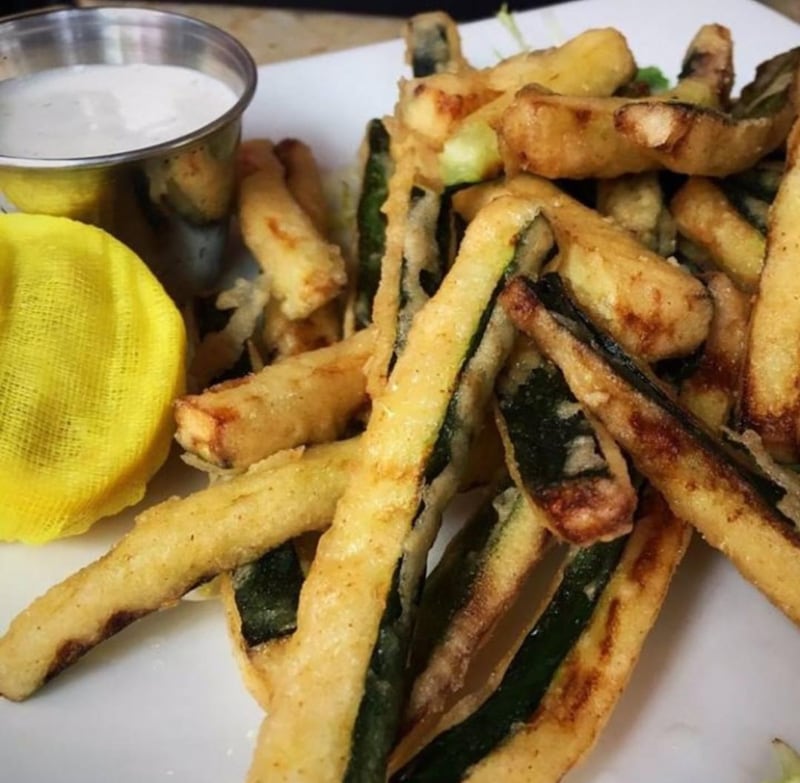 My husband loves their cioppino, stuffed with lots and lots of seafood, and their osso buco as well. You really can't go wrong with whatever you fancy from their menu!
#16 Drive the Palms to Pines Highway
The gorgeous drive from Palm Desert to Idyllwild along California Highway 74 takes you from palms to pines in just one hour. If you continue on to Banning and then return to Palm Springs via Interstate 10, you can make it a day trip.
While the entire drive is a must-do if you are in Palm Springs for a few days,you can do a shorter excursion if your time in Palm Springs is limited.
Drive up Highway 74 from Palm Desert to the Santa Rosa and San Jacinto Mountains National Monument Visitor Center. Walk the short 0.2-mile Ed Hastey Garden Trail at the Center, or do the 2.5-mile Randall Henderson Trail.
Then continue up Highway 74 to the Coachella Valley Vista Point, from where you'll get fabulous views of the desert floor and the surrounding mountains.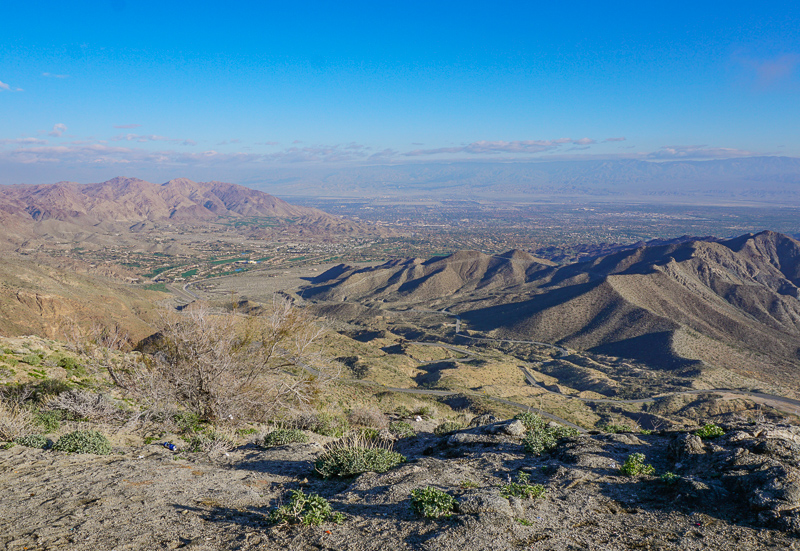 It's just a 10-mile drive from Palm Desert to the viewpoint, but what a beautiful winding road! This drive is one of my top Palm Springs experiences.
#17 Check out the Palm Springs Walk of Stars
As the getaway of choice for Hollywood celebrities, Palm Springs has its own Walk of Stars! The walk of fame features Golden Palm Stars on parts of Palm Canyon Drive, Tahquitz Canyon Way, La Plaza Court, and Museum Drive, all in downtown Palm Springs.
From former US Presidents to show business stars and literary personalities to civic leaders, the Palm Springs Walk of Stars contains over 400 stars.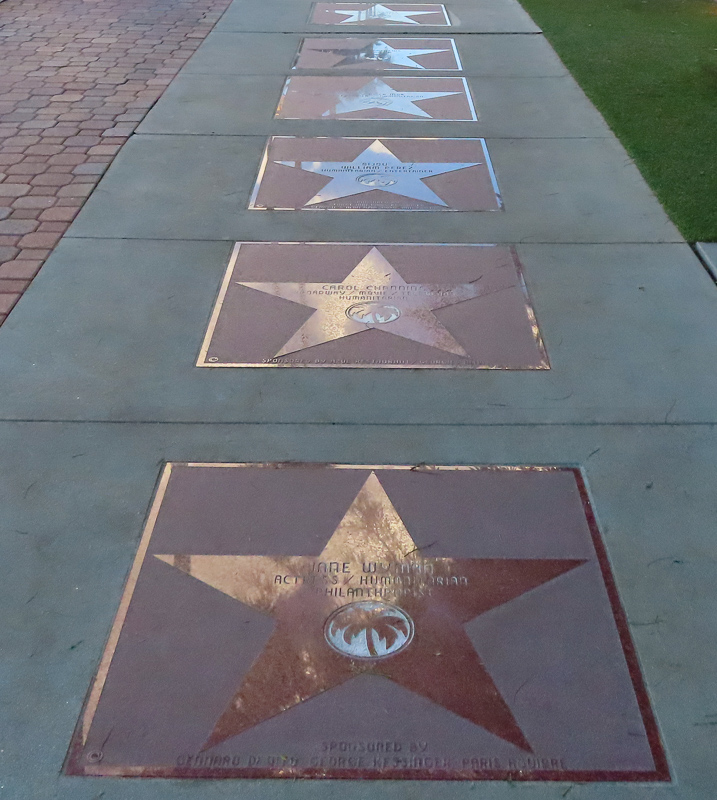 Elvis Presley, Elizabeth Taylor, Clark Gable, and Frank Sinatra are among the honorees, as are Presidents Ronald Reagan and Gerald Ford.
#18 Do takeout from Chef Tanya's Kitchen in Palm Springs
An all-vegetarian quick service deli style eatery, Chef Tanya's Kitchen will wow you even if you are not vegetarian. With lots of colorful veggies and tons of flavor, her recipes are addictive.
Try the Moroccan Roasted Cauliflower, a large meal-sized salad that hits just the right sweet, tangy, and salty notes. Or the signature El Cubano sandwich: in one word, delicious!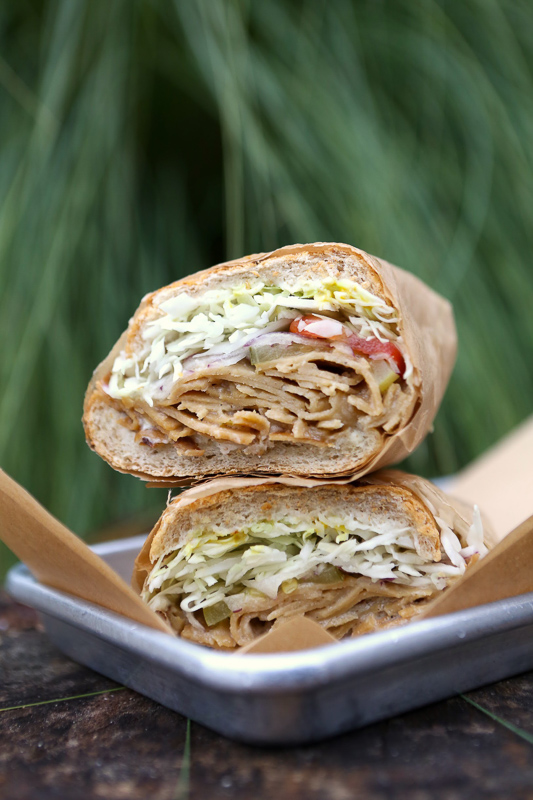 The portions are generous and the ingredients fresh and flavorful. Chef Tanya's Kitchen is one of our favorite places to eat in the Palm Springs area, especially if we want to do takeout and enjoy dinner in our room.
#19 Tour the Observatory at the Rancho Mirage Library
Touring the Observatory at the Rancho Mirage Public Library is one of the coolest things to do in Greater Palm Springs. With a space age exterior and a PlaneWave Telescope inside, the Observatory will leave you awestruck.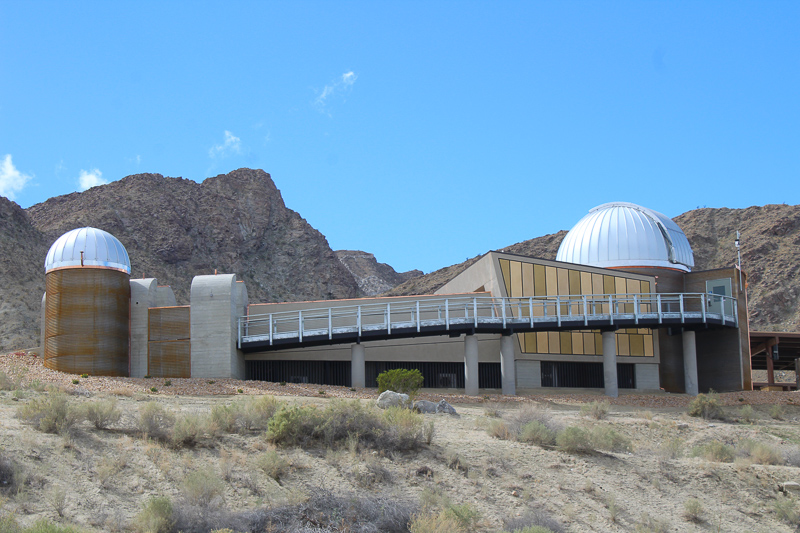 With the PlaneWave Telescope, you can see objects that are 50 million light years away. That's more than 3 trillion times the distance between the earth and the sun!
In addition to twice-daily tours from Tuesdays to Saturdays, the Observatory offers opportunities to attend events such as group stargazing. Tours and events are free to attend.
#20 Hike to the waterfall at Tahquitz Canyon
With a beautiful 60-foot seasonal waterfall, ancient rock art, and stunning desert flora, Tahquitz Canyon should be on every outdoor enthusiast's list of things to do in Palm Springs.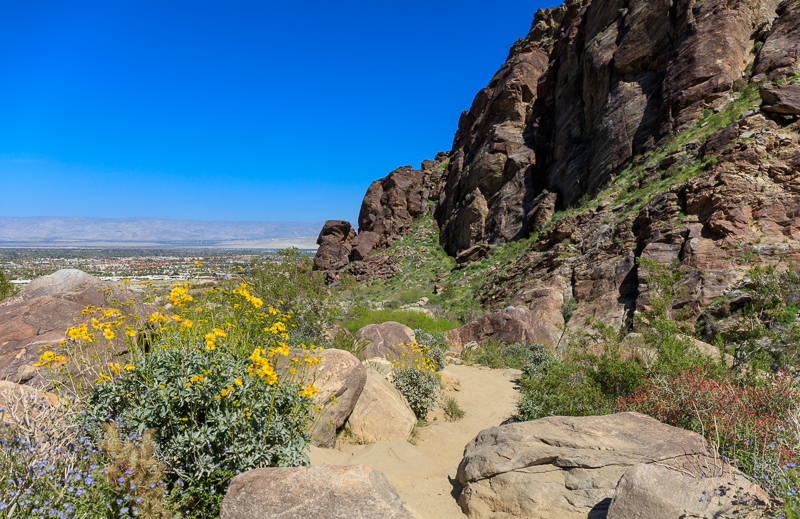 The hike to the waterfalls is rated strenuous but it is very rewarding. In the spring, you'll see wildflowers along the way. You may be lucky and spot mountain sheep or other desert fauna. The trail is very well maintained.
The trail is a 1.8 mile loop, steep, with lots of steps. Some of the steps are 1 foot high. Wear walking or hiking shoes with good grip, use sun protection, and carry plenty of water to drink.
Don't want to hike? At the Visitor Center, you can view a variety of exhibits and visit the observation deck. You can also view a film on the Legend of Tahquitz Canyon.
Visit the official website for hours and entrance fees.
#21 Soak in the mineral waters at Desert Hot Springs
The landscape around Palm Springs is endlessly fascinating. At Desert Hot Springs, the Mission Creek Fault, an offshoot of the San Andreas Fault, runs through the town.
East of the fault, water at 140-180 degrees Fahrenheit gushes up from the ground to form the town's famous mineral springs. West of the fault, cold water aquifers produce incredibly tasty drinking water.
Your visit to the area won't be complete unless you've soaked in the therapeutic waters of the mineral springs at Desert Hot Springs! You'll find any number of spas and resorts here with pools fed by the mineral springs.
For a seriously luxurious adults only spa resort experience, consider Two Bunch Palms. At the Grotto in this resort, soaking pools are designed so you feel like you are in a forest. The mineral water here is sourced from one of the oldest springs in the area.
#22 Visit the Living Desert Zoo and Gardens
The Living Desert Zoo and Gardens in Palm Desert is another wonderful place to go hiking in the Greater Palm Springs area. We don't have young children and prefer seeing animals in the wild, so we focused on the aspects here that really spoke to us.
Visit the Butterfly Pavilion to see a host of butterflies and hummingbirds in action. At the Discovery Center, you can learn about how the Coachella Valley landscape was formed.
The hiking trails here take you through the untouched environment of the Colorado Desert. There is a nature preserve, as well as three hiking trails to explore. Trails are open from October 1 through May 30. Check in with the Visitor Center for a map and safety guidelines.
From an easy 0.25-mile Discovery Loop trail that takes you through the grounds to the 5-mile Wilderness Loop with an elevation gain of 1,000 feet, you can hike as much or as little as you like.
You can get your admission ticket to the Living Desert in advance.
#23 Admire the public art
You'll find public art to admire in many of the cities in the Greater Palm Springs area. So drive around, enjoy the art, and take lots to photos for your Instagram account!
In Indio you'll see colorful murals: the city has an ongoing Mural Project. Don't miss the vibrant Rebirth mural on Miles Avenue, or the mural depicting Indio's past, present, and future on Smurr Street.
In Coachella you'll see lots of unique street art but the piece you must not miss is the transparent Etherea sculpture in downtown Coachella.
Palm Desert features a number of sculptures, some of them fun and quirky, like the What the Nose Knows piece on El Paseo. In Palm Springs you can find a variety of public art, from fountains and sculptures to colorful murals.
Stop by the Greater Palm Springs Visitors Bureau in Rancho Mirage for more information if you want to do a self-guided public art tour.
#24 Visit the Shields Date Garden in Indio
You can't visit the desert and not visit a date grove! The Shields Date Garden in Indio has been operating for almost a century. Here you can have a delicious date shake, and sample the many varieties of dates produced at the farm.
Watch a movie to learn all about dates, and then tour the date grove and botanical garden. Spread over 17 acres, the garden features many beautiful species of flora along with 23 statues that depict the life of Jesus Christ.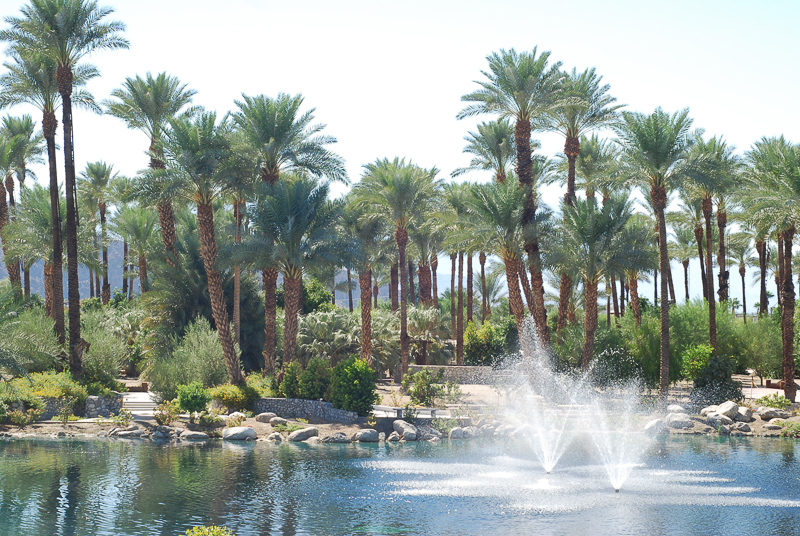 Visit the garden website for hours and entrance fees to the walking tour.
#25 Enjoy a pampering spa treatment
A visit to a spa for a pampering treatment is a must-do when you're in Palm Springs. With loads of spas to pick from, you're spoiled for choice in the Greater Palm Springs area.
The Palm Springs Yacht Club is the spa at the upscale Parker Palm Springs. With a nautical blue and white theme in keeping with its name, the Yacht Club is the place to go if you want to treat yourself. You can choose a individual treatment or pick a package if you are visiting Monday-Thursday.
The Spa at the Ritz-Carlton in Rancho Mirage is just flat out gorgeous. Featuring lots of stone and wood and warm colors, the spa is located on a hill, with views of the mountains. You can choose from a menu of massages, facials, and body treatments, in one of 16 treatment rooms with private terraces!
Getting to Palm Springs
Palm Springs is located in the Colorado Desert in Southern California. Palm Springs has an international airport with flights from major US hub cities via multiple airlines.
There's also an international airport in Ontario, about an hour's drive away. Sometimes you'll find better fares for flights to Ontario.
You can also drive to Palm Springs. From LA, for example, the drive time is around one hour and 45 minutes, and from San Diego, it is about 2 hours and 15 minutes.
Note that this estimated travel time is based on Google maps, and will vary considerably depending on your exact departure point and the time and day of your drive. Traffic can be very heavy on Friday afternoons, the most popular time to get away from the city, so allow plenty of time.
Looking for ground public transport options? Consider FlixBus, which offers affordable bus travel on the US West Coast.
Getting around in Palm Springs
If you aren't driving into Palm Springs in your own vehicle, consider renting a car, unless you plan to limit yourself to downtown Palm Springs.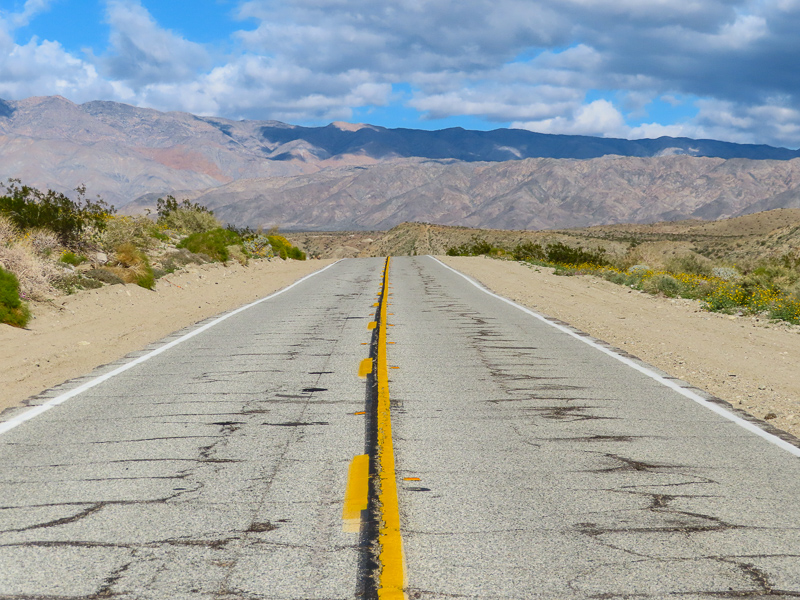 A car gives you the flexibility to explore a few of the Greater Palm Springs cities and do day trips to desert parks nearby.
Looking to book a rental car for your visit? Compare car rental prices on the Discover Cars website! They partner with multiple well-known car rental agencies from brand to budget, to get you the best deal on your rental.

Check availability and book your rental car now!
Where to stay in GREATER Palm Springs
We've visited Palm Springs three times so far, staying in a different place each time. We enjoyed every one of our stays, so I am listing them all!
At our most recent visit we stayed in a one-bedroom unit at the Westin Desert Willow Villas in Palm Desert. With a full kitchen and a separate bedroom, we had lots of room. The washer and dryer in the unit was super helpful for washing our hiking clothes at the end of the day.
Our unit, and in fact the entire property, was impeccable. Featuring a quiet pool, hiking trails right by the property, and well-appointed, super comfortable accommodations, the Westin Desert Willow Villas is a great choice for a Palm Springs area stay.
Book a stay here!
The Kimpton Rowan Palm Springs Hotel makes for a cool and elegant stay in the heart of town. Relax at the rooftop pool and bar. Rooms feature stunning modern decor.
Book a stay here!
On our very first visit to Palm Springs, we stayed at the Doubletree by Hilton Hotel Golf Resort Palm Springs, in Cathedral City. With a beautiful green golf course, gorgeous views of the mountains, a huge pool, and lots of room to wander around, this is a lovely resort experience.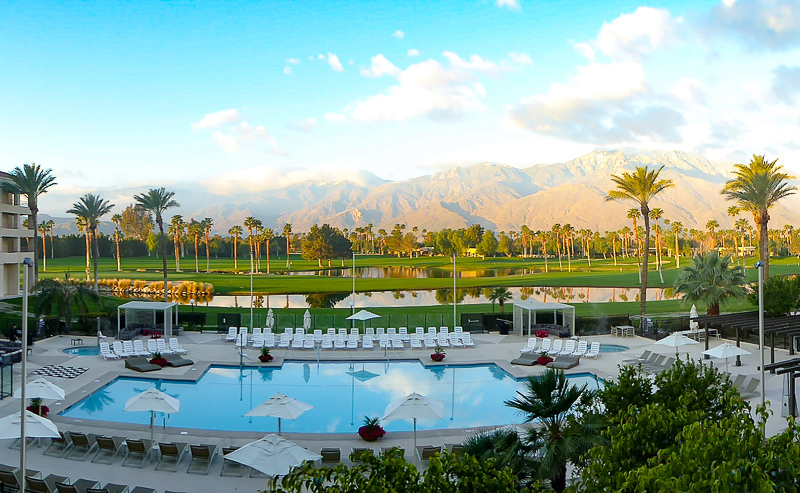 Our room was very spacious and the bed amazing. While it is not one of the tony resorts in the area, we thought it was a great value for the price! You have a little bit of a drive into downtown Palm Springs.
Book a stay here!
THE BEST TIME TO VISIT PALM SPRINGS
Most attractions are open between October and April. While any time during this period is a good time to visit Palm Springs, my personal favorite time to visit is from December to late February or early March.
If you visit in the spring (mid to late March and early April), you'll see the desert bloom, and in a good year, that's an awesome spectacle.
Temperatures in Palm Springs hit triple digits routinely in the summer, so I would not recommend visiting during the summer months.
The Coachella Valley Music & Arts Festival generally happens in April, and Modernism Week in February. In December you can see the Festival of Lights Parade in downtown Palm Springs. Also during the holidays, you'll see amazing light displays in many neighborhoods.
*****
So there you have it: my suggestions for the best things to do in the Greater Palm Springs area! Have you been? What was your favorite experience in Palm Springs, California? Comment below to respond!
If you haven't yet visited, I hope I have inspired you to start planning a trip soon!
You may also like:
The Best Things to Do in Ponce, Puerto Rico
The Most Exciting West Coast Weekend Getaways
Where to Go in Colorado
MORE WONDERFUL DESTINATIONS IN CALIFORNIA
San Diego: What to Do on a San Diego Weekend Trip
Lake Tahoe: What to See at Lake Tahoe in the Fall
Eastern Sierra: Lakes of the Eastern Sierra
Death Valley: The Best Things to Do at Death Valley National Park
Carmel: Why You Should Visit Point Lobos State Reserve
OTHER FUN DESTINATIONS TO EXPLORE
Montenegro: The Best Things to Do in Montenegro
Slovenia: The Best Days Trips from Ljubljana
Italy: Visiting the Borghese Gallery in Rome
Stockholm: Touring Stockholm's Subway Art
Spain: The Ultimate 3-Day Seville Itinerary
Canada: Things to Do in Lake Louise in the Canadian Rockies
Did you find this article informative? Pin it for later reference!