California is so overflowing with bucket list destinations that it is ridiculously easy to find that perfect weekend retreat, no matter what you are looking for. Read on to discover the best California weekend getaways!
For folks that love the great outdoors, California offers every type of landscape imaginable, from pristine mountain lakes to the blue Pacific Ocean, and from dry (but majestic!) desert landscapes to cool towering redwood forests.
A wealth of museums, art galleries, gardens, and vibrant neighborhoods await the urban-oriented visitor, along with world-class theme parks and entertainment options for families with kids.
Food and wine lovers will find topnotch restaurants and numerous wine regions to explore all over the Golden State. Enjoy farm to table fare featuring local produce and fruit!
Some links on this page may be affiliate links. If you click an affiliate link and make a purchase, we may receive a small commission, at no extra cost to you. For more details, refer to our disclosure.
THE BEST CALIFORNIA WEEKEND GETAWAYS
We've done several dozen weekend trips in our home state, and still feel like we have many more jaunts we could do.
If you love weekend trips as much as we do, California offers so much choice!
You can choose to laze your weekend away in one of Central or Southern California's charming beach towns.
Nature lover? Explore California's many national or state parks, which span the gamut from ocean to mountains to desert.
Love art and culture? You can have a lively weekend in one of several vibrant cities.
If you love food, take your pick of destinations that are known for farm-to-table cuisine.
Wine lover? You have lots of wine country options in the Golden State!
Let's get started discovering the most amazing California weekend getaways, so you can get planning your next escape!
#1 Napa Valley
Northern California's premier wine country destination, Napa Valley makes for a fabulous weekend trip any time of year.
Visit Napa Valley in October for the harvest, November for beautiful fall colors, or early spring for the lovely mustard bloom in the vineyards.
Summer is a great time to enjoy farm fresh produce at Napa Valley restaurants. The holiday season is another fun time to visit for special menus and shopping.
WHAT TO DO
While wine tasting is naturally on the itinerary, there are so many things to do in Napa Valley that do not involve wine!
Enjoy the fabulous farm-to-table offerings at renowned Napa Valley restaurants.
A table at the French Laundry requires reservations several weeks in advance, but you can get by with booking a few days ahead for many places.
We love Farmstead at Long Meadow Ranch in St. Helena for lunch!
Do a self guided tour of Napa Valley's most beautiful wineries: you'll find fabulous architecture and art, and gorgeous gardens and grounds to explore.
Stroll downtown Napa to enjoy the riverfront architecture and browse the shops and public art. Enjoy the Art Walk in downtown Yountville and stop in for a sweet treat at Bouchon Bakery.
Adventurous visitors can choose a hot air balloon ride over the vineyards: it is magical drifting over the valley in the light of early morning.
Reserve a session of pampering at one of the many area spas: relax in a geothermal mineral spring in Calistoga, or enjoy mud baths and couples massages: doesn't that sound incredibly relaxing?
Where to stay
Archer Hotel Napa is located in the heart of downtown Napa, walking distance to shopping, dining, and wine tasting. The hotel offers a spa and a rooftop bar. Rooms include sitting areas, and some rooms offer balconies. Furnishings are upscale and contemporary.
Book a stay here!
Check pricing and availability on the Napa Valley wine tasting tour we recommend!
#2 Santa Barbara
Known as the American Riviera because of its red-tiled Mediterranean roofs, Santa Barbara is an extremely scenic California beach town.
Santa Barbara is nestled between the Santa Ynez mountains and the Pacific Ocean, a setting that makes you think "vacation" as soon as you get here.
Visit any time of year for a fun weekend trip!
WHAT TO DO
Santa Barbara's beaches are an undeniable draw, but don't overlook the history, art, gardens, and good eats!
Go up to the viewing gallery at the top of the Clock Tower at the County Courthouse for panoramic 360-degree views. The Mural Room inside is a great photo spot!
Visit Lotusland in Montecito if you enjoy gardens.
With multiple themed gardens designed for drama, the displays will captivate you.
The Santa Barbara Museum of Art is a must for art lovers, and history buffs should head to Mission Santa Barbara and the Presidio.
Funk Zone is a must visit for foodies and wine lovers.
For swimming, head to Summerland Beach or El Capitán Beach. Stroll Butterfly Beach in the evening to enjoy a dazzling Santa Barbara sunset.
And spend some time in downtown Santa Barbara, with its very walkable streets and lively vibe: this food plus wine tasting tour is a great way to enjoy downtown Santa Barbara!
Check price and availability on this Santa Barbara food and wine tour now!

Where to stay
Surrounded by beautiful gardens, the Simpson House Inn is a romantic Victorian bed-and-breakfast just a 5-minute walk from downtown Santa Barbara. Rooms are individually styled, with charming furnishings and comfortable beds. For a special treat, book one of the adorable cottages.
Book a stay here
The Spanish Garden Inn is a gem of a boutique hotel, with a Mediterranean design and elegantly appointed rooms. It is located near the Santa Barbara County Courthouse and State Street. Rooms are spacious and bathrooms are lovely, with separate tubs and showers.
Read reviews on TripAdvisor | Book a stay here
Looking for a rental car for your California weekend escape? Compare prices, find your car, and book on Discover Cars! They search numerous car rental agencies, from brand to budget, to offer you the best choices for your trip.

Check availability and book your car now!
#3 San Diego
With several historic neighborhoods, beautiful beaches, and a thriving gastronomy scene, San Diego offers something for everyone.
This trolley tour is a great way to get acquainted, if it's your first visit to San Diego!
Visit in the spring if you wish to view the flower fields of Carlsbad nearby.
But otherwise, San Diego is fun any time of year!
WHAT TO DO
Visit Cabrillo National Monument for gorgeous water views, tidepooling, and a view of Ballast Point, the site where the first European expedition came ashore.
For history buffs, San Diego is home to the very first California Mission and Old Town San Diego State Historic Park, which documents the early days of San Diego.
And to see the skyline from the water, do a harbor cruise!
Spend some time in upscale La Jolla, browsing the boutiques and galleries, or watching the seals and birds at La Jolla Cove.
Closer to downtown, Little Italy and the Gaslamp Quarter are wonderful for walking (and great eats!).
Balboa Park, in the heart of downtown, is fun for everyone!
There are lots of museums and gardens at Balboa Park to choose from, but make sure you stop by the Botanical Building with its beautiful reflection.
If you are visiting as a family, you will want to consider these beautiful family-friendly San Diego beaches: we strolled Ocean Beach and spent some time in Torrey Pines, and both beaches are fabulous.

WHERE TO STAY
The US Grant Hotel, housed in a historic building in the Gaslamp Quarter, is a fabulous place to stay on that special weekend trip. The service is highly rated: they have a nightly turn down service! Rooms are spacious, with elegant furnishings and super comfortable beds, and the bathrooms are beautiful.
Read reviews on TripAdvisor | Book a stay here
If you enjoy the seclusion and space of a vacation rental, there are many fabulous Airbnbs in San Diego from which to choose.
#4 South Lake Tahoe
For a fun weekend getaway in California at a spectacularly scenic spot, head to South Lake Tahoe in the eastern part of the state.
You can visit this paradise any time of year, depending on the activities you wish to enjoy.
WHAT TO DO
In late spring, summer, and fall, you can do the scenic drive around the lake, go hiking or biking, or enjoy a cruise on the lake.
Adventurous visitors can enjoy aerial views with this exciting helicopter tour.
Lake Tahoe in the fall is beautiful. You can admire beautiful leaf colors in the area and see the Kokanee salmon run.
And in the winter, you have your choice of winter sports, with many ski resorts all around the shore.
Base yourself in South Lake Tahoe so you can explore both the west shore, in California, and the east shore, in Nevada.
South Lake Tahoe offers dining options as well as other amenities like grocery stores and gas.
Along the west shore, Emerald Bay State Park offers kayaking and paddle boarding opportunities, and a scenic viewpoint overlooking Fannette Island and the bay.
Along the east shore, you have access to many beaches (note that some of them are clothing optional), and the Sand Harbor State Park, with a beautiful beach and a boardwalk trail that leads to views of boulders under the crystal clear water.
Where to Stay
The Landing Resort & Spa is located right on the lakefront! The boutique hotel features spacious rooms with fireplaces that work, flanked by bookcases with books! Some rooms feature balconies looking out on to the lake. The bathrooms are lovely. The onsite restaurant is highly rated. You can borrow bikes, or use the hotel shuttle, to get to Heavenly Village.
Read reviews on TripAdvisor | Book a stay here
#5 Pasadena
Pasadena is a beautiful city to the northeast of downtown Los Angeles, perfect for that exciting weekend trip any time of year.
With lots of lovely architecture, museums, shops, and galleries to browse, you'll be spoiled for choice on what to do in Pasadena!
WHAT TO DO
If you enjoy museums, you will love the fabulous collection of Asian and European art at the Norton Museum.
Nearby is the Gamble House, a fine example of Craftsman architecture from the early 20th century.
If you are willing to drive a little bit, Hollywood and the Griffith Observatory are not too far away.
A must on any Pasadena itinerary is a visit to the Huntington Library, Art Collections, and Botanical Gardens in nearby San Marino.
The beautiful themed gardens (more than a dozen!) are a joy to wander.
The Art Collections include Blue Boy by Gainsborough, and the Library contains a Gutenberg Bible.
There are lots of choices for the evening if you enjoy the performing arts: a play at the Pasadena Playhouse or a free concert (in the summer) by the California Philharmonic Orchestra, for example.
Or you can just stroll Colorado Boulevard, Old Town Pasadena's Main Street!
This highly rated small group walking tour of Old Pasadena with a local guide is a great way to enjoy the architecture, art, and culture!
Where to Stay
The Langham Huntington makes for the perfect romantic retreat, with its location at the foot of the San Gabriel Mountains, its gorgeous gardens, and beautiful ballrooms. Rooms are very spacious and well appointed. Some rooms come with patios leading out into the gardens. The hotel is convenient to most Pasadena attractions.
Book a stay here
#6 Santa Monica
An iconic year-round Southern California destination, Santa Monica is the quintessential beach escape.
While Santa Monica Pier, with its much-Instagrammed Ferris wheel, is a must-visit, also make room in your itinerary for some biking, relaxing on the beach, shopping, and just wandering.
What to Do
Santa Monica is known for its farmers' markets, and you have a choice of three markets on the weekends.
With stalls overflowing with colorful produce from local farms and goodies from area restaurants, a walk through a farmers' market is a great way to kick off the day!
Santa Monica Beach is more than 3 miles long, with lovely clean silver sand. Walking the beach is one of the most fun things to do in Los Angeles.
Walk, sunbathe, play, surf, or paddleboard: the choice is yours!
The Pier is in the middle of the beach, so it's easy to visit after the beach.
You can also rent a bike and do a part of the Marvin Braude Beach Trail.
If you enjoy retail therapy, browse some of the great shopping areas in Santa Monica: the Third Street Promenade features brands and boutiques, along with street musicians and great people watching, while Main Street has clothing and design stores, and art galleries to browse.
Where to stay
For a luxurious escape right on the waterfront, consider Hotel Casa del Mar. Many rooms feature sweeping views of the Pacific Ocean. Book a pampering treatment at the highly rated spa or relax with a drink in the beautiful Terrazza Lounge. Rooms feature elegant furnishings with very comfy beds.
Read reviews on TripAdvisor | Book a stay here
The Santa Monica Proper Hotel features a rooftop pool deck (for Pacific Coast sunset viewing!), gorgeous gardens, and beautiful breezy interiors with lots of light and earth tones. Rooms are spacious, with lovely bed linens and elegant decor.
Book a stay here
#7 San Francisco
The iconic Golden Gate Bridge, Fisherman's Wharf, and the most crooked street in the world await you in San Francisco.
Known for its brunch spots, the City by the Bay is one of the best weekend getaways in California.
What to Do
If it's your first time in the city, consider the San Francisco Love Tour for an overview!
Walk or bike the Golden Gate Bridge. If you enjoy gardens, you will enjoy strolling the San Francisco Botanical Garden, especially if you visit when the magnificent magnolias are in bloom.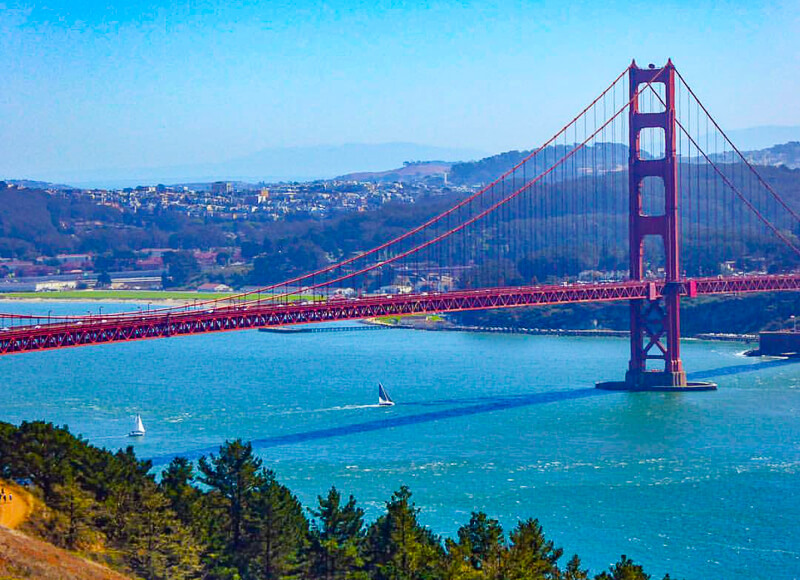 Explore the infamous prison on Alcatraz Island. Ride a San Francisco cable car: they have been operating in the city since 1873!
Take a photo of the beautiful Palace of Fine Arts.
Walk around Union Square.
Wander some of San Francisco's beautiful neighborhoods.
Reserve your table well ahead of your visit if you want to have brunch at one of the top spots in the city: Nopa, for example, with its legendary French toast, or Zuni Cafe, with its yum thin crust pizzas.
Where to stay
The St. Regis San Francisco is located in the heart of downtown, right next to the famous Museum of Modern Art, and walking distance to Union Square and the waterfront. Rooms are spacious and elegantly appointed with contemporary decor and luxurious bedding.
Book a stay here
The Four Seasons Hotel San Francisco is another great choice in downtown San Francisco. The hotel boasts super comfy beds and spacious rooms with chic furnishings. The onsite dining is rated highly.
Read reviews on TripAdvisor | Book a stay here
Read more: The Best Places to Stop on the Pacific Coast Highway
#8 Palm Springs
Palm Springs is the perfect Southern California winter weekend getaway, with daytime temperatures in the 70s and plenty of sunshine.
Late fall and early spring are great times to visit as well. If you visit in the summer, plan to lounge by the pool during the day and explore in the early morning and late evening.
What to do
Stroll Palm Canyon Drive, the main street in downtown Palm Springs: you'll find many boutiques and galleries to browse.
Take the Palm Springs aerial tramway to the upper station on Mount San Jacinto, and take in the panoramas of the valley from the top.
Enjoy the public arts installations in the desert communities of Greater Palm Springs: from murals to sculptures, you'll see a lot to admire.
Lounge by the pool, soak in a mineral hot spring at an area resort, and enjoy a pampering treatment at a local spa.
Take a tour of mid-century modern architecture in Palm Springs. This bike tour is an excellent option.
Look through the super powerful telescope at the Observatory in Rancho Mirage.
And visiting Joshua Tree National Park for the day is a must: the park is just a one hour drive from Palm Springs.
The unique desert park is famous for its massive rock formations and its namesake Joshua trees, and a fun place to explore.
If you enjoy hiking, you'll have a great time in Joshua Tree NP. The park has a plethora of hikes of varying lengths and difficulty, and you can pick the hikes that appeal to you the most.

Where to stay
The Alcazar in downtown Palm Springs offers an outdoor pool and hot tub. Rooms offer mountain or pool views, and are well-appointed. The hotels offers bikes for hire for guests.
Book a stay here
In Palm Desert, just 30 minutes away, consider the Westin Desert Willow Villas. The property is impeccable, with views of the mountains in the distance, walking trails, and two pools, one designated a quiet pool. Units are very spacious, with full kitchens and comfy beds.
Book a stay here
#9 Paso Robles
California has no shortage of wine destinations, and Paso Robles, in the central part of the state, is one of the prettiest.
Visit any time of year for a laid back weekend escape. The fall harvest is a popular time, and I love visiting in the spring.
What to do
A tour of area wineries is, of course, a great idea if you enjoy wine tasting.
Try Vina Robles, which features beautiful art in its tasting room along with quality wines, or Sculpterra Winery, where sculptures adorn the beautiful gardens and the Bordeaux blends are top-notch.
Downtown Paso Robles is a great place to stroll. Apart from wine tasting rooms, the lively downtown features boutique stores and galleries.
And if you like scenic drives, California State Route 46 is a very pretty drive, especially when wildflowers are in bloom in the spring.
Bring your appetite, because Paso Robles has fabulous restaurants that take advantage of the bounty from area farms and orchards to offer delicious farm to table cuisine. Thomas Hill Organics is one of our favorites.
Check out dining rooms at wineries as well: many of them feature fine dining options.
Where to stay
If you are looking for a charming place right among the vines, olives, and fruit trees, consider the Allegretto Vineyard Resort. The Mediterranean style building is gorgeous, and the onsite restaurant excellent. The courtyard is lovely. The rooms are spacious and very comfortable.
Book a stay here
#10 Carmel-by-the-Sea
The adorable little village of Carmel-by-the-Sea offers lots of atmospheric charm along with loads of things to do. Visit any time of year for a romantic getaway in California!
What to do
In the village, stroll the streets to admire the Spanish architecture. Or do a self-guided tour of the famous Carmel fairy tale cottages: the visitor center offers a map you can follow.
Enjoy wine, cheese, or olive oil tasting and fabulous dining.
Browse the boutique stores and many art galleries.
Walk down to Carmel Beach, where you can swim or sunbathe. Take some cheese and wine and a blanket and enjoy a brilliant West Coast sunset.
Or walk the Scenic Bluff Path along the water from Carmel Beach to Carmel River Beach.
Just outside town, the Point Lobos California State Reserve is a must visit. This gem of a park offers a network of hiking trails, many of them with beautiful water views.
Admire the old Monterey cypress trees that are protected in the park, and wildflowers in the spring.
Be sure to drive the scenic 17-Mile Road, with its views of the ocean.
Where to stay
In the village, L'Auberge Carmel has a great location with easy access to Carmel Beach as well as to restaurants, shops, and galleries. It's a romantic European style hotel, with canopied beds and luxurious linens, for the perfect couples stay.
Read reviews on TripAdvisor | Book a stay here
If you are willing to drive a few miles out to Carmel Valley, the Bernardus Lodge & Spa is a fabulous option. The gardens and grounds are beautiful, and the resort overlooks vineyards. Onsite dining is excellent.
Book a stay here
#11 Mammoth Lakes
Mammoth Lakes is best known as a skiing and snowboarding mecca in the Eastern Sierra.
While it is definitely a fun winter weekend getaway, it is also lovely in other seasons if you enjoy the outdoors and beautiful scenery.
What to do
In the winter, Mammoth Lakes offers an array of sports to try, from cross-country skiing to ice skating and snowmobiling.
Try an easy snowshoe trail and enjoy walking among the pine trees and along the shores of frozen lakes.
Then return to your room to a cup of hot cocoa and a warm fire!
In late spring, summer, and fall, you can enjoy hiking mountain trails, biking, or boating on one of the lovely lakes of the Eastern Sierra.
The June Lake Loop, just a few miles north from Mammoth Lakes, is a beautiful drive with boats available for rental.
Fall colors in the Eastern Sierra offer some of the most spectacular leaf peeping opportunities in the USA.
And just a 30-minute drive north is Mono Lake, where you can walk a beautiful boardwalk trail or drive down to the shore to view the limestone tufas in the water.
And about one hour north of Mammoth Lakes is the ghost town of Brodie, a fascinating look into the time of the gold rush.
Where to stay
The Westin Monache Resort has a beautiful quiet location with views of the mountains. It is not too far from dining options in town, and the onsite restaurant is very good as well. The rooms are spacious, with fireplaces and small kitchenettes, and the beds very comfortable.
Book a stay here
#12 Cambria
Cambria is a tiny central California beach town perfect for a weekend visit, because there's just the right amount to do, great restaurants to enjoy, and a lovely laid back vibe to savor.
You can visit Cambria any time of year.
What to do
If you enjoy walking along the ocean, try the Bluff Trail walk at the Fiscalini Ranch Preserve, or the Moonstone Beach Boardwalk from the north end of Cambria to Leffingwell Landing and back.
Both walks are beautiful, and we've easily fit both into our weekends in Cambria.
Just 10 miles north of Cambria is Hearst Castle, a National Historic Landmark and now a California State Historic Park.
Built by architect Julia Morgan for publishing magnate William Randolph Hearst, the estate and gardens are beautiful, so include a tour in your weekend itinerary if you haven't visited before.
Cambria's downtown is delightful, with one-of-a-kind stores (buy some lingonberry preserve to take home!) and a number of lovely art galleries to browse.
If you visit in the spring or summer, stroll the pretty gardens of the Cambria Historical Society.

Where to stay
The J. Patrick House B&B Inn makes for the perfect cozy escape! Rooms are lovely and comfortable. The breakfast is very highly rated, and the hosts also throw a happy hour wine and cheese get together.
Read reviews on TripAdvisor | Book a stay here
#13 Mendocino
Mendocino is a northern California charmer, located on a headland by the Pacific Ocean and close to redwood forests.
Any time of year is good for a getaway to Mendocino, other than avoiding rainstorms that are most likely to occur in December and January.
What to do
If you find that Mendocino reminds you of a village in New England, it's because many of the Mendocino's first settlers came from Maine.
Mendocino the town is a National Historic Landmark and it's fun to stroll around and admire the architecture.
Visit Point Arena Lighthouse, built in 1908 after the 1906 earthquake destroyed the prior structure. You can climb to the top for panoramic views.
The Point Cabrillo Light Station State Historic Park is also super scenic, if you enjoy photographing lighthouses.
A visit to Glass Beach, just north of Mendocino, and a drive through the Avenue of the Giants in Humboldt Redwoods State Park, about 70 miles north, are must-dos.
Closer to town, you can hike the cliff trail in Mendocino Headlands State Park, or stroll the beautiful Mendocino Coast Botanical Gardens.
Where to stay
The boutique Brewery Gulch Inn has a fabulous location on a bluff overlooking the Pacific Ocean. The rooms all feature water views, and come with fireplaces and decks to enjoy the views. Rooms are luxuriously appointed with very comfortable beds. The breakfast is highly rated. There are only 10 rooms, so reserve early!
Book a stay here
#14 San Luis Obispo
With a vibrant downtown, vineyards close by, and easy access to beautiful beaches in nearby coastal areas, San Luis Obispo has all the ingredients for a fabulous weekend escape.
Oprah once stated that San Luis Obispo is the happiest city in America, and when you visit, you will see why!
What to do
Strolling the streets in vibrant downtown SLO is fun. There are lots of galleries and shops to browse.
Visit the restored Mission San Luis Obispo de Tolosa: you can join a docent-led tour if you want to learn while you explore.
Drive to Montaña de Oro State Park on the coast if you enjoy hiking. The Bluff Trail is an easy stroll and extremely scenic.
If you are looking to laze on a sandy beach, choose from Morro Strand Beach, Avila Beach or Pismo Beach, all just about a 15-minute drive away.
At Edna Valley, you have a choice of over two dozen wine tasting rooms, set in the midst of beautiful vineyards.
Downtown San Luis Obispo if full of restaurants, featuring a variety of cuisines. Start your day with breakfast at Big Sky Cafe. For dinner, if you enjoy Italian cuisine, try Giuseppe's Cucina Rustica.
Where to stay
The Granada Hotel and Bistro is located in a 1920s building in downtown San Luis Obispo. Rooms in the small boutique hotel feature exposed brick walls and quality linens. Rooms aren't large, but they are well appointed.
Read reviews on TripAdvisor | Book a stay here
#15 Catalina Island
California's only island escape, Catalina Island is just a short ferry ride from Los Angeles, and an incredibly romantic place to spend a weekend.
Visit in the spring, summer, or fall. A calm dry weekend in winter can be fun as well.
What to do
There are tons of activities on Catalina Island from which to choose.
Walk the beautiful waterfront: it's a scenic walk any time of the day.
Visit the Botanical Garden: it's an uphill walk, a little over one mile. Admire the beautiful views from Wrigley Memorial and then walk back.
If you enjoy long bike rides, you can bike the Trans-Catalina Trail across the island.
Take a watercraft out on to the water, or do a boat cruise. You can choose a glass-bottomed boat or a semi-submersible sub tour if you want to look under the water. You can also swim, snorkel, or dive.
Tour the Catalina Casino (there's no gambling here!), with its beautiful theater and vintage pipe organ.
Take a helicopter tour over the island for breathtaking views.
Come evening, relax with a drink at the Descanso Beach Club.
Where to stay
The Avalon Hotel is situated in the heart of the island. The boutique hotel features elegant rooms with super comfy bedding. Choose a room with a balcony and beautiful view over the harbor. The rooftop patio is great for lounging.
Book a stay here
#16 Big Sur
Breathtakingly beautiful Big Sur is perfect for an escape to nature.
Do nothing but savor the beauty of your surroundings, and you will still have a magical weekend.
Visit in the spring, summer, or fall, or during dry spells in winter. You may encounter fog in the summer, especially before noon.
What to do
Driving Highway 1 from Carmel to Ragged Point is one of the top things to do when you visit Big Sur. There are several pullouts along the drive where you can stop to stretch your legs and take in the awesome views over the water.
Admire the redwoods at Pfeiffer Big Sur State Park. Swim in the Big Sur River, hike one of the many trails in the park, and keep an eye out for wildlife.
Visit the Point Sur Lighthouse, a few miles north of Pfeiffer Big Sur, or Pfeiffer Beach, just south of the park.
Further south, the Julia Pfeiffer Burns State Park contains the trail that leads to a view of McWay Falls, the gorgeous waterfall that tumbles onto the beach or into the Pacific Ocean. You may also see California condors, here, so keep your eyes peeled!
Where to stay
The Ventana Big Sur Resort features well-appointed rooms with wood interiors and fireplaces. Some rooms have views of the water. So cozy are the accommodations that you may have a hard time leaving to explore the beautiful coast outside! This is a pricey resport but worth the splurge for a special occasion!
Read reviews on TripAdvisor | Book a stay here
#17 Death Valley National Park
For a true get-away-from-it-all weekend in the wilderness, pick Death Valley National Park for your getaway.
The biggest national park in the contiguous United States, Death Valley is a great place to recharge.
Visit between November and February for pleasant daytime temperatures.
What to do
Drive around the park to take in the grand desert vistas. Admire the colors of Artist's Palette on Artist's Drive.
Marvel at the geometry of the salt flats at Badwater Basin. Drive up to Dante's View and look down upon the valley from above.
Walk the sand dunes at Mesquite Flats. Explore the ghost town of Rhyolite just outside the park. Experience the beauty of sunrise at Zabriskie Point. Or watch the millions of stars in the dark sky at night. Savor the silence.
If you enjoy hiking, try the Golden Canyon trail. Two miles long, the hike is classified as moderate and will take you through a colorful canyon.
Or tackle Mosaic Canyon, which is 3.5 miles out and back. There is some rock scrambling involved, so you can walk up to the point you feel comfortable and then turn back.

Where to stay
The Inn at Death Valley offers elegant accommodations inside Death Valley National Park. It is located near the Visitor Center, and the patios have beautiful views over the valley. Rooms are well appointed, with showers. Onsite dining options are very good. Make sure you take a peek at the Old West interior of The Last Kind Words Saloon even if you don't dine there!
Book a stay here
#18 Sausalito
A charming little town just north of San Francisco, Sausalito is great for a relaxing weekend by the bay.
With beautiful views of downtown San Francisco across the water, and great eateries, Sausalito is a fun destination any time of year.
What to do
Walk around the town and the boardwalk along the water, enjoying the views of the San Francisco skyline. On nice weather days, you will see many sailboats out on the water, their colorful sails making for gorgeous photos.
Drive up Conzelman Road to Battery Spencer, for breathtaking views of the Golden Gate Bridge and the San Francisco Bay.
If you enjoy Native American and military history, pay a visit to Fort Baker.
You can also visit Tiburon, a little village about 15 minutes away, and ride the ferry to Angel Island.
Browse the many small boutique stores and art galleries. See the boats lined up in the Sausalito Yacht Harbor.
View the famous houseboats of Sausalito on a floating homes tour. If you enjoy the beach, Rodeo Beach is a fun place to walk: you may even spot dolphins!
Where to stay
The Gables Inn Sausalito is a charming hotel, conveniently located to the San Francisco ferry and downtown Sausalito. Breakfast is included, and the hosts have a wine and cheese hour each evening. Rooms are spacious (with fireplaces) and beds super comfortable. Some rooms have water views.
Book a stay here
#19 Yosemite National Park
One of the great national parks in the west, Yosemite is one of the most visited national parks in the USA. Yosemite National Park can make for a wonderful weekend getaway, but only if you visit outside of peak season.
Visit in May or September, when crowds are less than during the peak summer months.
What to do
The opportunities for outdoor fun at Yosemite are endless, but you can also spend a quiet weekend just drinking in the spectacular beauty of your surroundings.
And if you are visiting as a family, you'll find kid-friendly activities at Yosemite as well!
Drive to Glacier Point for fabulous views of Half Dome and the Yosemite valley, and to Tunnel View, the most iconic view in the park, featuring Half Dome, El Capitan, Bridal Falls, and the valley.
Also drive Tioga Pass Road, to see the beautiful Tenaya Lake, Toulumne Meadows, and Lembert Dome.
If you visit in the spring, do not miss Yosemite Falls: it is the highest waterfall in the United States. Also hike to Bridal Falls, and feel the spray on your face!
And if you love bouldering, you'll have iconic opportunities at Yosemite!
Where to stay
Evergreen Lodge at Yosemite is located in Mather, just one mile from the Hetch Hetchy entrance to Yosemite National Park and about one hour from Yosemite Village. Cabin style units offer plenty of space. The feel is rustic, but the accommodations are clean and comfortable. The onsite restaurant features a heated patio.
Book a stay here
#20 Bishop
If you are looking for outdoor adventure, look no further than Bishop, nestled in the Owens Valley in the Eastern Sierra of California.
You can visit Bishop any time of the year, although fall is especially scenic.
What to Do
For outdoor enthusiasts, Bishop offers excellent hiking and backpacking opportunities, as well as a number of bouldering sites.
Bishop Creek Canyon makes for a scenic drive, with a lake at the end of each of the three forks of the creek: North Lake, South Lake, and Lake Sabrina. You can fish, or go boating at Lake Sabrina and South Lake.
In town, visitors that enjoy art will want to take a self-guided tour of the murals in town.
History buffs will want to visit the Laws Railroad Museum and the Owens Valley Paiute-Shoshone Cultural Center.
South of Bishop, visit the Ancient Bristlecone Pine Forest in the White Mountains, or the Alabama Hills National Scenic Area in Lone Pine.
Foodies will want to taste the sheepherder bread, brought over by Basque immigrants during the time of the California Gold Rush. Erik Schat's Bakkery offers lots of other tasty treats as well.
Where to Stay
If you enjoying camping of RVing, there are many campgrounds in Bishop.
Creekside Inn offers guest rooms with either mountain or creek views. Bishop Creek runs right through the landscaped grounds of the inn. There is a seasonal outdoor pool and year round hot tub.
Book a stay here
#21 Solvang
Looking for a bit of Europe in California? With its Danish architecture, restaurants, and bakeries, Solvang will transport you to Denmark! You'll even find windmills in town.
Solvang makes an excellent California weekend getaway any time of the year, and it's one of the best places to spend Christmas in the USA.
What to Do
Solvang is part of the picturesque Santa Ynez Valley in central California, famous for its wineries and restaurants. Wine tasting should definitely be on your Solvang itinerary!
Tour Old Mission Santa Ines, one of the 21 missions the Spanish built in California. There's a small museum, and you can walk the grounds and gardens.
Wander downtown Solvang and admire the beautiful facades. Browse the many boutiques, gift shops, and galleries.
If you enjoy museums, the Elverhøj Museum of History & Art is worth a visit.
Drive around the valley and tour the other towns, from Buellton, famous for its Sideways locations, to Los Osos, Santa Ynez, and Los Alamos, known for their western facades and food and wine.
In tiny Ballard, try breakfast at Bob's Well Bread, or dine at The Gathering Table at Ballard Inn.
Where to Stay
Hotel Corque is located near the Spanish mission, close to shopping and dining in downtown Solvang. Rooms are spacious and well-appointed, and the hotel offers an outdoor pool and hot tub.
Book a stay here
#22 Sacramento
Sacramento, California's capital, is sometimes overlooked as a travel destination, but discerning visitors love the farm-to-table dining, many historic sights, and opportunities for outdoor recreation.
Especially in the cooler months of the year, Sacramento makes for a delightful California weekend getaway. Spring brings wildflowers to nearby outdoor areas, and fall offers nice leaf peeping.
What to Do
Touring the historic sights is one of the top things to do in Sacramento. Visit Old Sacramento State Park to take in the old west facades and tour the railroad museum.
You can also take a cruise down the Sacramento River or take a scenic railroad excursion from Old Sacramento, and snap photos of the golden Tower Bridge.
Midtown Sacramento makes for a great stroll, and bring your appetite, because you'll find some of the city's best eateries here.
Nearby you'll find Fort Sutter State Park, where John Sutter established a settlement named New Helvetia. When gold was found nearby at Sutter's Mill in Coloma, the gold rush was ignited and the settlement was overrun by prospectors.
Also be sure to stroll the rose garden at the Capitol Park, and step inside the Capitol to experience the state's history.
Outdoor enthusiasts can go hiking, biking, and rafting or kayaking on the American River.
Where to Stay
The Fort Sutter Hotel Sacramento is located in Midtown, walking distance to shopping and dining. Rooms are well-appointed and spacious.
Book a stay here!
*****
So there you have it…my suggestions for some fun and fabulous California destinations to consider for your next weekend getaway!
Have you been to any of these places, or do you have another favorite California weekend getaway? I would love to hear your thoughts! Comment below to respond.
If you haven't yet been to these beautiful places, I hope you get planning soon! Pack your sunscreen and your camera, and get ready for some exciting weekends exploring the Golden State.
OTHER EXCITING DESTINATIONS TO DISCOVER
Nevada, USA: The Best Things to Do in Las Vegas (That Aren't Gambling!)
Kauai, USA: The Best Things to Do in Kauai, Hawaii!
Alberta, Canada: 15 Amazing Things to Do in Lake Louise
Seville, Spain: The Ultimate 3-Day Guide to Seville
Ravenna, Italy: See 6 UNESCO Monuments in One Day
Bergen, Norway: Ride the Floibanen Funicular to the Top of Mt. Floyen
Nevada, USA: The Most Beautiful Places to Visit in Nevada
Did you find this article informative? Pin it for later reference!