If you're a snowbird looking to escape the January chill, we have a fabulous round-up of warm weather US destinations from which to choose. Without question, these are some of the best warm places to visit in January in the USA!
January can get dreary in many parts of the world, with shortened daylight hours, gray skies, and bone-chilling temperatures, not to mention the bouts of snow or sleet.
It's the perfect time to plan a trip to warmer climes, where you can wander outdoors with just a light jacket during the day and perhaps even enjoy the beach!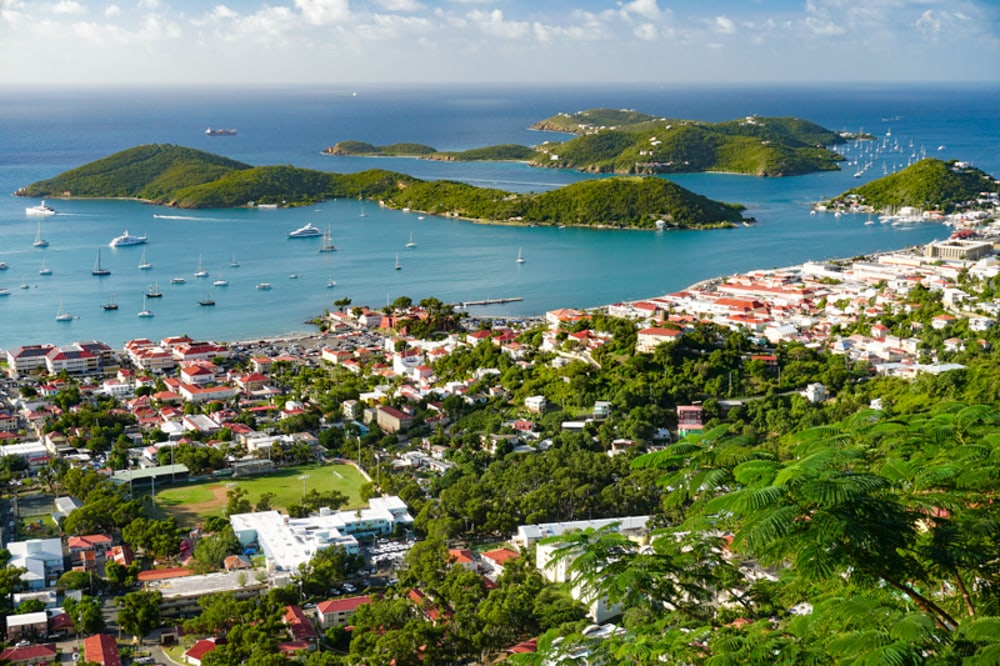 Some links on this page may be affiliate links. If you click an affiliate link and make a purchase, we may receive a small commission, at no extra cost to you. For more details, refer to our disclosure.
From sunshine-soaked islands like Puerto Rico to the superb natural beauty of Hawaii and from national parks like Big Bend and the Everglades to lively cities like San Diego and Miami, there's no shortage of warm weather US destinations perfect for January.
And with the holidays over and it being "low" season in many warm weather US destinations, you can find deals on accommodation and flights, making that January getaway even more enticing!
Excited? Let's get started discovering the very best warm places to visit in January in the USA!
Puerto Rico
While you can certainly vacation just in San Juan, the capital of Puerto Rico, it's a small enough island that you can do a road trip around the island if you have seven days in Puerto Rico. It's a beautiful Caribbean island to explore!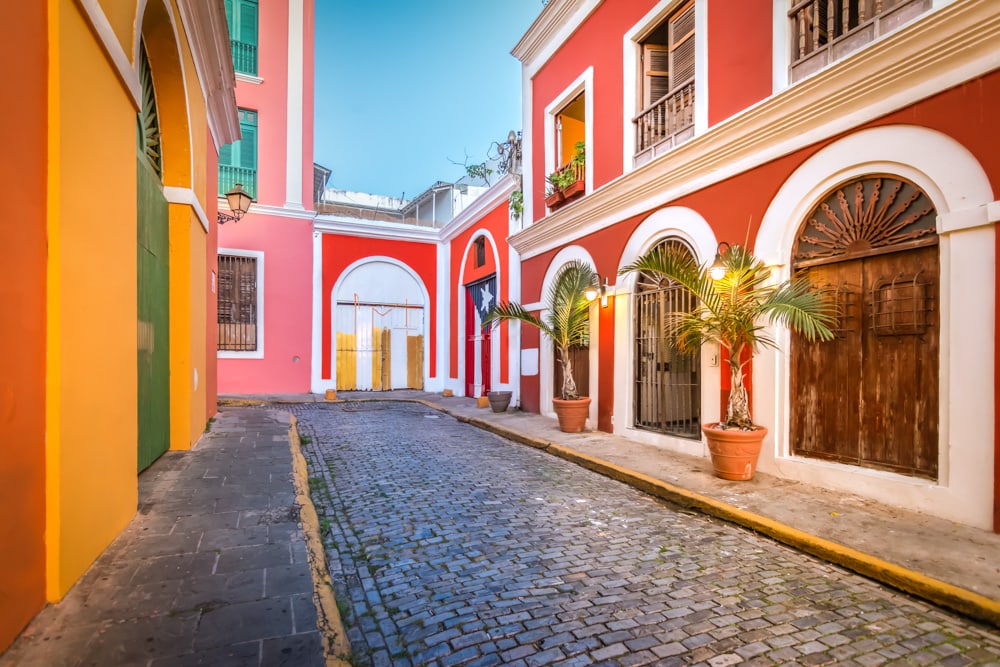 Puerto Rico is a US territory, so for US citizens, it's a domestic trip.
And January is a wonderful time to visit, since it's outside of hurricane season, and daytime highs are in the low 80s Fahrenheit, perfect for beach time and exploring outdoors. The water temperature is in the low 80s as well, great for ocean swimming.
Fly into San Juan to begin your Puerto Rico vacation. There are lots of things to do in Old San Juan, from exploring the El Morro and San Cristobal forts to enjoying a food tour.
You'll want to snap lots of photos of the colorful colonial facades in the historic district, and take a food tour to sample the delicious cuisine!
Tour El Yunque, the only tropical rainforest in the US, and spend some time at the beautiful beaches. Isla Verde and Condado in San Juan are known for their beaches, but Luquillo is also a must-visit.
Do a day trip to one of the smaller Puerto Rican islands: Vieques and Culebra are both fantastic options.
Rent a car and drive to Ponce, Puerto Rico's second city, where you can wander the historic core. Explore the southern coast of the island, where you will find many pristine beaches and wonderful natural landscapes.
Next, head up the western coast of the island to Rincon, famous for its beaches and spectacular sunsets. Then travel back along the northern shore to San Juan, to end your tour of Puerto Rico.
One of the best Caribbean islands to visit, Puerto Rico is a fabulous January getaway and one of the top beach vacation destinations in the USA any time of the year!
In San Juan, there are many stunning oceanfront resorts from which to pick. The Condado Vanderbilt offers four pools and a spa, and well-reviewed onsite eateries.
Suggested by us
Miami, Florida
Miami is a fantastic destination year round and one of the best places to visit in Florida, but January is ideal for the weather and loads of unique activities!
While the northern part of the US is usually digging out of a snowstorm, visitors to Miami are strolling the beach, enjoying an endless selection of restaurants, shopping, and more.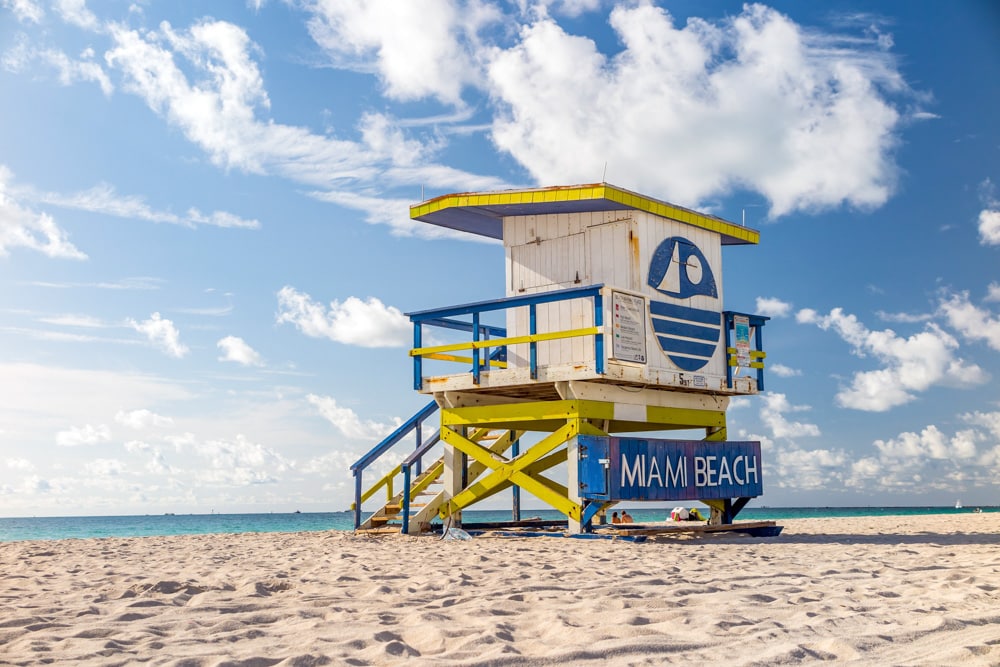 On average, the temperature remains in the 70s in January, with minimal rain — you can't ask for anything better!
For those who want to hit the beach, there is no better spot than Miami Beach. It's one of the most famous beaches in the US!
Aside from relaxing on the white sands, the beach is a great place to get a little exercise or people-watch.
Right next to the beach is another fantastic Miami destination, South Beach. This neighborhood is known for epic nightlife, gorgeous art deco architecture, endless shopping, and more.
One thing you shouldn't miss in South Beach is an Art Deco walking tour. The preservation league runs them regularly, and it's a great way to learn a little about the history of the area and what makes it unique.
In downtown Miami, be sure to stroll through the hip neighborhood of Wynwood, covered in beautiful street art. To learn a little more about the art, don't miss Wynwood Walls.
And if you are a foodie, you'll definitely want to book a food and walking tour of vibrant Little Havana, to sample Cuban food and learn about the history and culture of the neighborhood.
Deciding where to stay in Miami can be challenging! If you love the beach and nightlife, check out Fontainebleau in Miami Beach.
For something a little quieter, but close to the action, stay in Downtown Miami: citizenM Miami Brickell is modern and unique.
Suggested by Rebecca from Veggies Abroad
Planning a December warm weather vacation? Check out our round-up of the best warm places to visit in December in the USA!
Oahu, Hawaii
As the continental U.S. experiences the coldest weather of the year, Oahu, Hawaii is on average 78 degrees Fahrenheit in January.
January is also the heart of whale season, so you're bound to spot some during your trip.
January experiences a lower number of visitors, so you'll likely score cheaper flight and hotel prices too.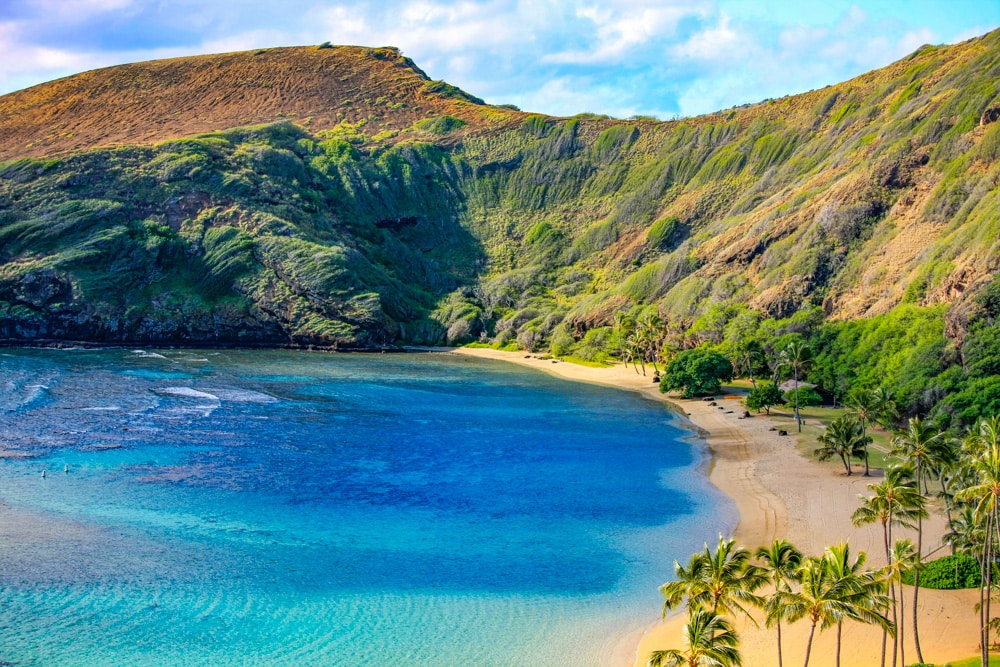 With so many amazing things to do on Oahu, you'll want to start with a whale watching tour. Book a boat tour and set off into the Pacific Ocean to spot as many whales as possible.
The island is known for its hiking, so pick a trail like the Makapu'u Point Lighthouse Trail. This 2.5 mile trail is paved, perfect for families with strollers but does have a decent incline.
At the end you'll get great views of the lighthouse, but all along the trail you'll see the water and be able to spot whales.
Some other great hikes include Koko Crater Trail and the very popular Diamond Head Trail: Diamond Head State Monument is one of the top places to visit in Hawaii.
Snorkeling is another must while on the island, to spot colorful fish and turtles. Schedule a Turtles Canyon snorkeling excursion from Waikiki to look for green sea turtles, fish and more.
Hanauma Bay is the most popular spot to snorkel. You can rent gear and buy food for lunch, but be sure to make a reservation in advance.
Lastly, you'll have to take surfing lessons during your time on Oahu, and January has the best waves all year. Schedule lessons in Waikiki, where the waves are big, but not huge. Surfing on Oahu is one of the best things to do in Hawaii!
And since you'll be in Waikiki for surfing and all of the delicious restaurants, book a few nights at the Sheraton Waikiki for the best views of the beach and an infinity pool overlooking the ocean.
Suggested by Tori of Tori Pines Travels
Looking to book a car rental for your winter getaway? We have found great deals on Discover Cars. They compare rates and rental requirements across many car rental agencies, both brands and budget, and get you the best deal.
Compare car rental rates and find your car here.
Las Vegas, Nevada
With daytime highs hovering around 60 degrees Fahrenheit, January is a great time for a Las Vegas vacation. Crowds thin out after New Year's, which means shorter lines at restaurants and popular attractions.
Plus, flights to Las Vegas are cheaper in January, and accommodation prices run a little lower (outside of the CES expo dates), making a Las Vegas trip that much more affordable in January.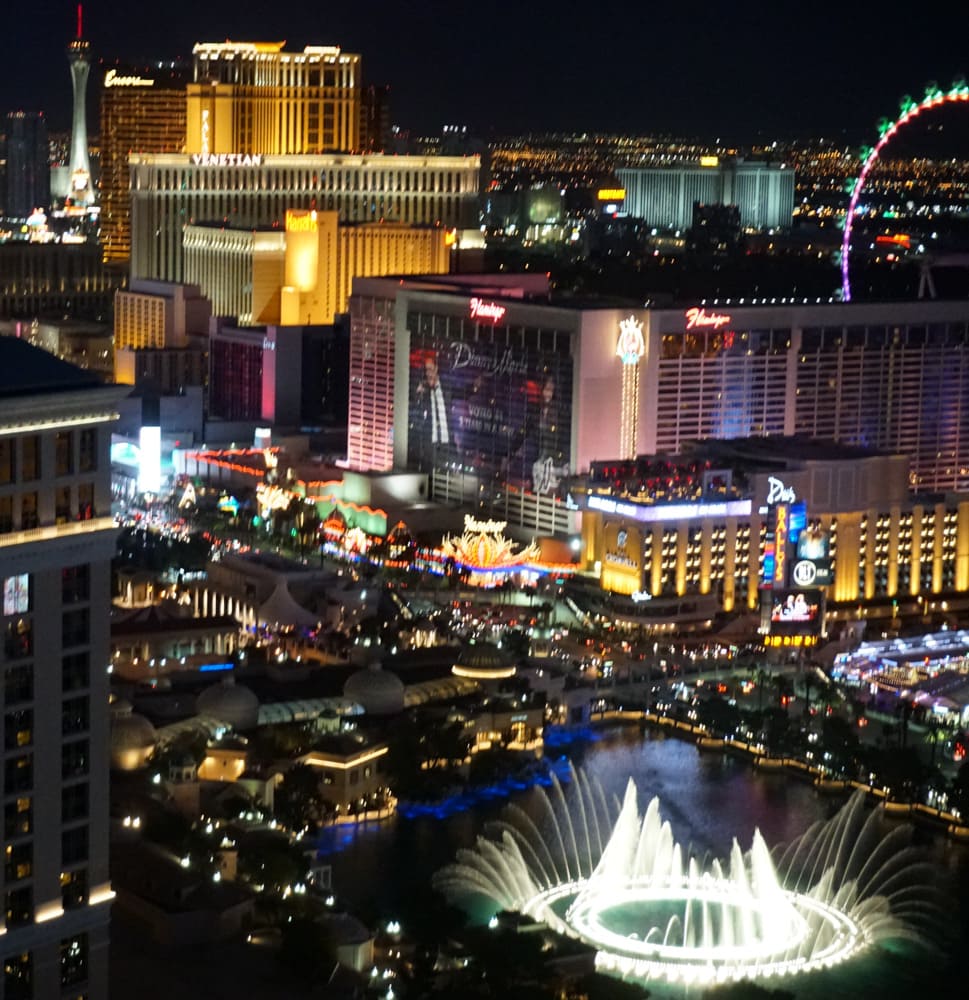 Nights do tend to be a little cold though, so bring layers, and pack a warm jacket for outdoor activities early and late in the day. Some resorts offer heated pools if you want to swim.
Hiking is popular around Las Vegas in January, as the temperatures are pleasant. Plan a few hours at the Red Rock Canyon National Conservation Area, or visit the Valley of Fire State Park, one of the best day trips from Las Vegas you can do.
The afternoon is a fun time to stroll the Strip in January. Admire the facades of the resorts, from the Venetian to New York, New York. The Strip also offers excellent people-watching and street performances.
In the afternoon, or after dark, enjoy the Bellagio fountain show: it's one of the best things to do in Vegas. The Volcano eruption at the Mirage is another must-see after-dark attraction.
For views over Vegas, go up to the viewing area at the Eiffel Tower or the Stratosphere, or enjoy a ride on the High Roller, the observation wheel at the LINQ. Taking in the views from above is one of the best things to do on The Strip in Vegas!
Adventure-seekers may want to consider a night helicopter flight over the Strip as the ultimate way of enjoying the lights of Sin City!
The Big Bus Las Vegas Open Top Night Tour is a great way to see the lights of Sin City. The tour also stops at the Fremont Street Experience, where can you can get a glimpse of Old Las Vegas.
To stay in the center of the action, book a stay at the Bellagio, and opt for a room with a view of the fountains.
Suggested by us
San Diego, California
San Diego is a great place to visit in January, whether you're traveling solo, as a couple, or with kids! Since San Diego is in southern California, the weather isn't as hot as in the summers, so it's perfect for spending time outdoors.
One of the best things to do in San Diego in January is to visit Balboa Park. This expansive park is full of museums, promenades, and an artist village where you can buy local art. If you're looking for something more active, explore the many trails in the park.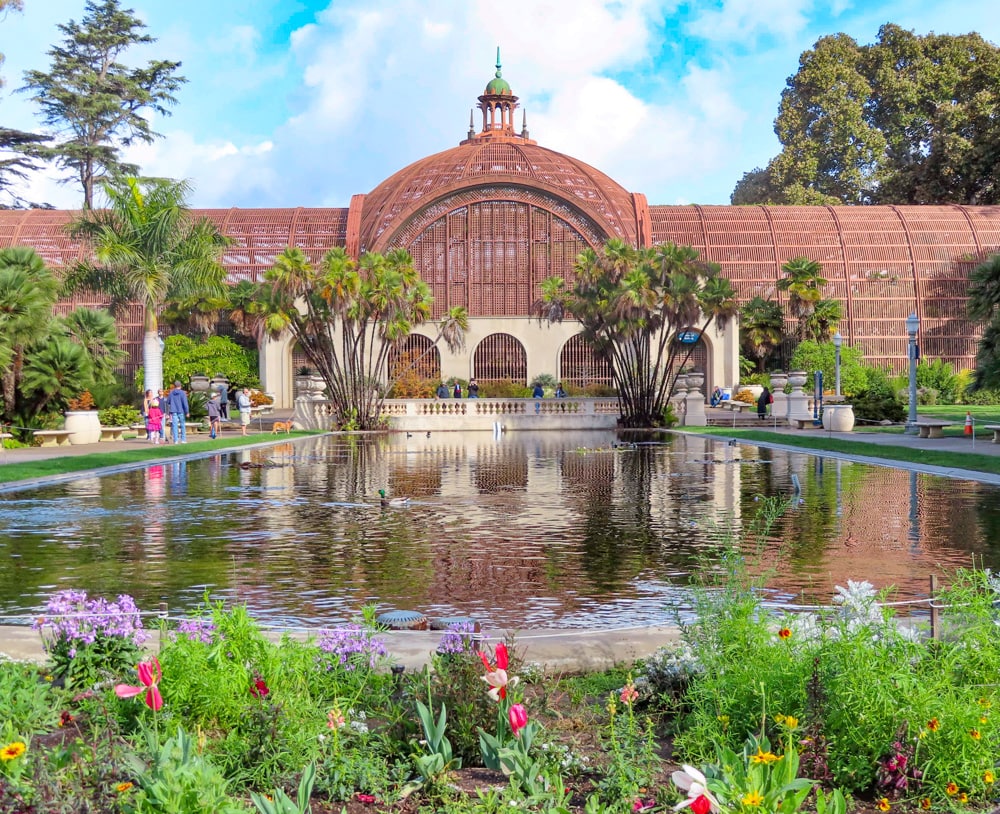 The San Diego Zoo, located in Balboa Park, is also a great place to visit. It is one of the best zoos in the country.
Another fun activity to do in San Diego in January is to visit Seaport Village. This is a laid-back beachfront shopping area for strolling around and enjoying the views of San Diego Bay. There are plenty of restaurants in Seaport Village, providing a variety of delicious choices for meals.
If you're interested in learning about San Diego's history, take a visit to Old Town San Diego. This is the site of the first European settlement in California, and there are a number of historic buildings to explore. This area also has plenty of shops and restaurants to enjoy.
Outdoor lovers will want to spend some time at Cabrillo National Monument, where you can do tidepooling, enjoy great views over downtown San Diego, and look for whales in season.
While there's plenty of sunshine in San Diego in January, bring a light jacket as the nights can get quite cool.
For your visit to San Diego, a stay at the Hotel del Coronado is a must! The beachfront historic hotel is a destination unto itself.
Suggested by Astrid of The Wandering Daughter
With its year-round fabulous weather, San Diego also makes our list of the best spring break destinations in the US.
St. John, US Virgin Islands
St. John in the US Virgin Islands is an exciting warm destination to visit in January, when you'll see leftover wintery Christmas decorations against a tropical backdrop.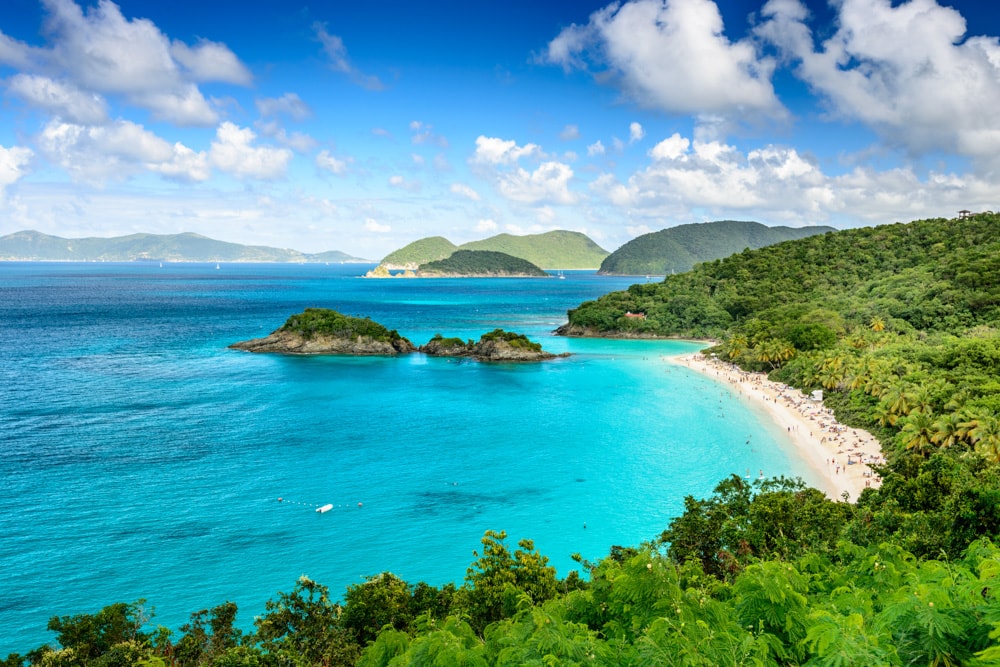 The month kicks off with several local bars and restaurants throwing parties to ring in the New Year. This time of year draws multitudes of visitors to the island, with many luxury yachts anchoring at the beaches.
Visitors to St. John in January can enjoy the beaches and hiking trails of Virgin Islands National Park.
Take a drive down North Shore Road to pick from a number of pristine beach options.
Maho Bay offers calm water and sea turtle sightings, while Trunk Bay is one of the largest and most picturesque.
These beaches get crowded though, so consider equally gorgeous Francis Bay or Cinnamon Bay as alternatives.
Virgin Islands National Park also offers upwards of twenty hiking trails.
The Reef Bay Trail is about five miles out and back, passing plantation ruins and leading down to peaceful Reef Bay Beach.
The peninsular Ram Head Trail feels more rugged, on dry rocky terrain with sparkling sapphire water on either side.
However, the best of the island is not confined to the national park.
You should also get out on the water with a boat charter that will take you to remote snorkel spots or even Lime Out, the floating taco bar.
Finally, don't leave St. John without viewing an epic sunset from either the Cruz Bay Overlook or Beach Bar.
Of course, if you stay at The Westin, St. John's main hotel choice, you can see the sunset right from the property!
Suggested by Theresa of Fueled By Wanderlust
Big Island, Hawaii
The Big Island of Hawaii is one of the best places to visit in the USA in January.
Although January is part of the rainy season in Hawaii, temperatures are still around 80°F (about 27°C) and the weather remains sunny most of the time. This makes it a perfect destination if you're looking for a beach vacation during winter.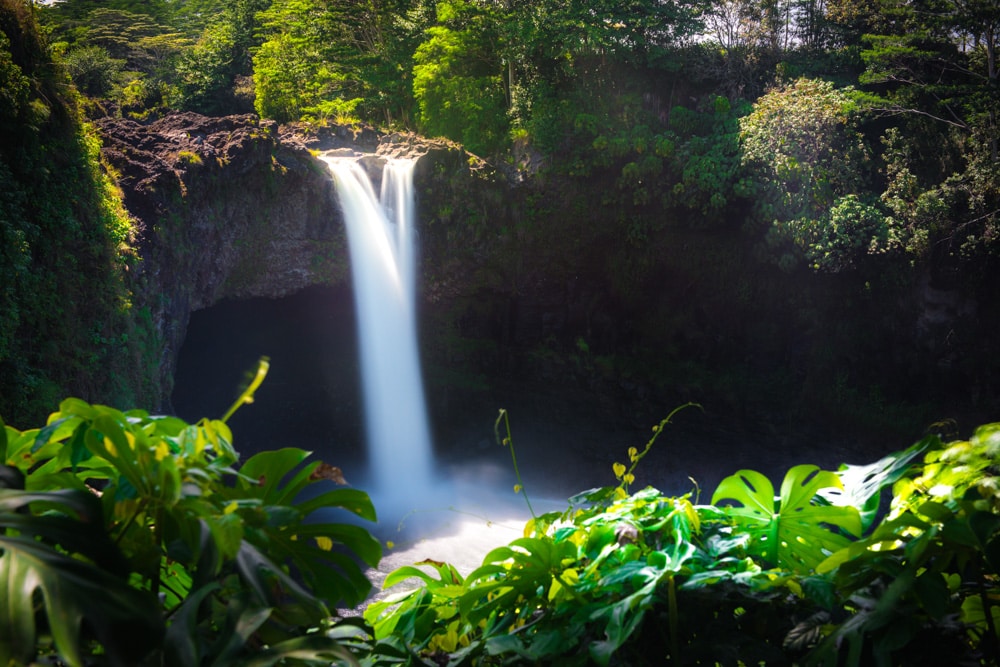 Now, visiting the Big Island in January also has one major perk: it is one of the best months to see humpback whales on the north-western coast of the island.
Although whale season lasts from November to April, January is when the number of individuals is at its peak, making your chances to see whales quite a bit higher. So be sure to book a whale watching trip!
At that time of the year, the ocean can be a bit rough so visitors focus on activities other than snorkeling. That includes visiting Hawai'i Volcanoes National Park, where you'll be able to see active volcanoes and observe the smoking craters.
Driving on the coast to see Rainbow Falls and heading to the Chain of Craters Road to see miles of volcanic grounds are two of the most interesting things to do on the island in January.
One tip for January visitors is to bring a light rain jacket to reduce the impact of quick showers!
Consider basing yourself in Kona, on the dry side of the Big Island. Stay at the Royal Kona Resort, facing the Pacific Ocean and featuring a private beach area.
Suggested by Mary of Be Right Back by Mary
Santa Barbara, California
The elegant coastal city of Santa Barbara, California, is one of the best warm places to visit in January in the USA. Daytime highs are in the mid-60s Fahrenheit, ideal for wandering around outdoors and enjoying water activities.
History buffs should not miss the Presidio of Santa Barbara, one of four forts built by the Spanish in California, and now a state park. Also be sure to visit the beautiful Old Mission Santa Barbara, where you can tour the museum, church, cemetery, and gardens.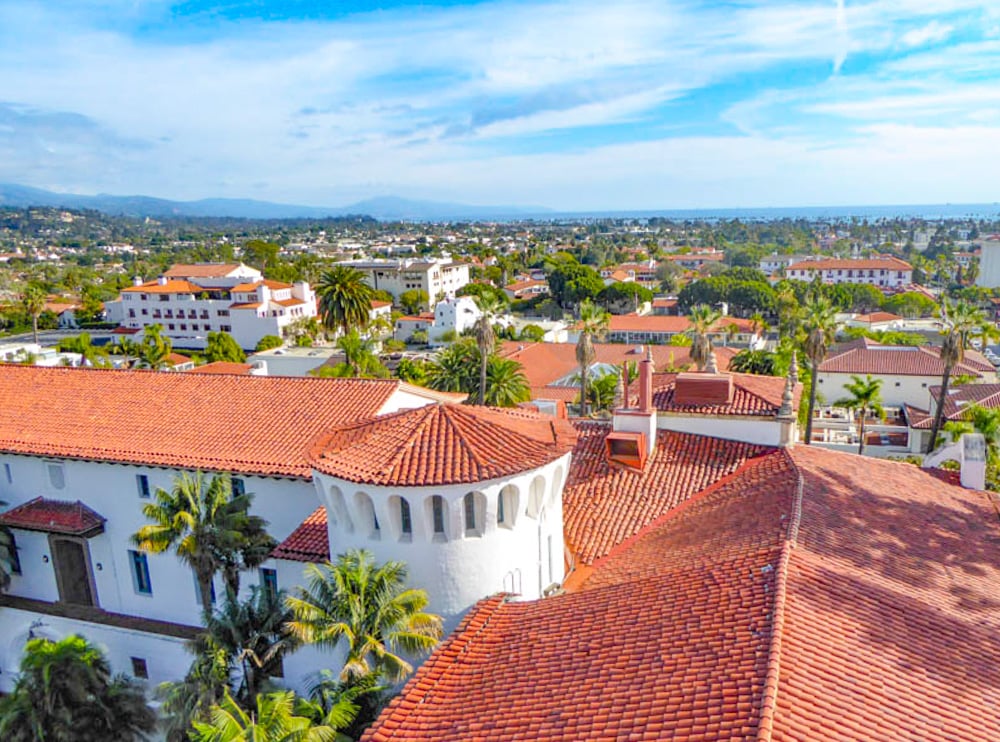 Another must-visit landmark in Santa Barbara is the County Courthouse, with its elegant architecture and sunken courtyard gardens. Ascend to the viewing gallery in the Clock Tower for spectacular 360-degree views over the city.
Wine lovers and foodies will want to stop by the Funk Zone, where you will find lots of tasting rooms and topnotch eateries, along with funky street art and the must-visit MOXI, the Wolf Museum of Exploration + Innovation.
Join a kayak excursion to paddle the calm waters of Santa Barbara harbor. Look for marine life and birds, and enjoy the views of the tall palms and graceful buildings of Santa Barbara, set against the backdrop of the Santa Ynez Mountains.
Although the water won't be warm enough to swim, you can stroll one of Santa Barbara's many beautiful beaches. Butterfly Beach in Montecito is especially visit-worthy at sunset.
Stroll State Street, the main drag in downtown Santa Barbara, where you will find excellent shopping, dining, and people watching. Stop for an ice cream at McConnell's!
Stay at the highly-rated Brisas Del Mar Inn at the Beach, walking distance from many beaches and the Santa Barbara harbor. The hotel offers complimentary bike rentals.
Suggested by Dhara of Roadtripping California
Maui, Hawaii
The Valley Isle of Maui, Hawaii, is a perennial getaway favorite, but you'll want to visit Maui in January for the balmy temperatures: daytime highs in the low 70s Fahrenheit are pretty close to perfect for outdoor adventures!
While you may encounter rain showers, they generally don't last long. Base yourself on the dry side of the island for more sunshine!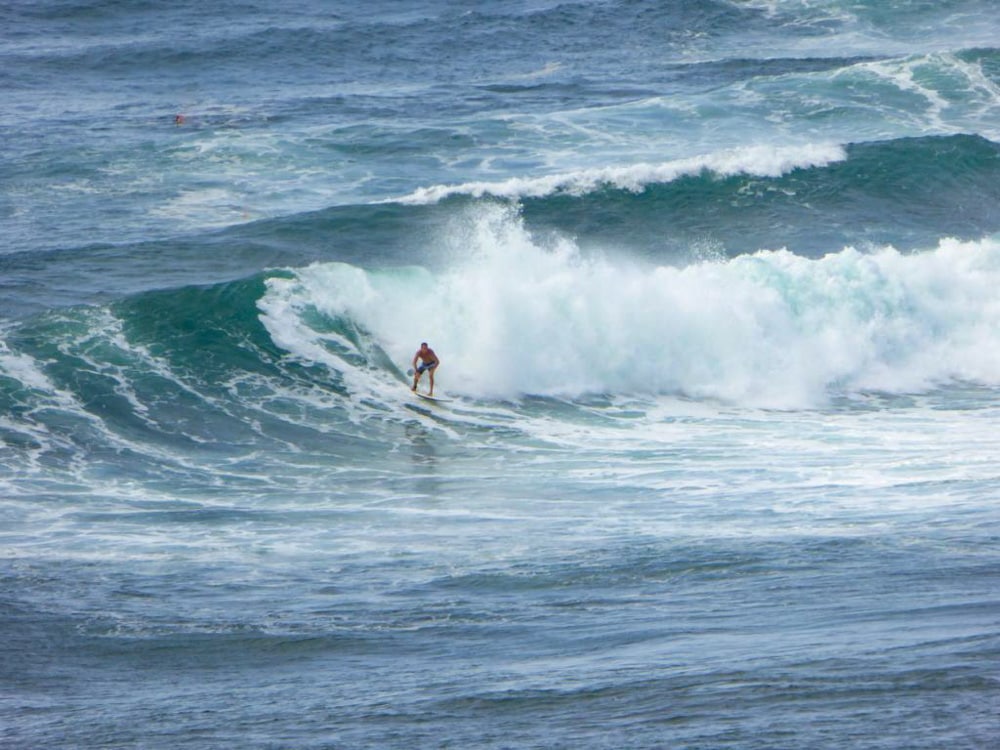 The water temperature in Maui in January is in the high 70s, making it a pleasure to swim in the ocean and enjoy other water activities.
One of the big pluses of visiting Maui in January is that crowds are the smallest at this time of year. Accommodation prices are lower than at other times of the year.
January is humpback whale season in Maui, so definitely book a whale watching tour to look for the mighty mammals in the warm waters around the island.
Along the north shore and west shore of Maui, January brings big waves, so be sure to visit Ho'okipa Beach Park to watch the expert surfers taking on the enormous waves. Peahi, on Maui's north shore, is known for its epic breaks during large swells.
Snorkeling is one of the most popular things to do in Maui. Molokini Crater is a well-known snorkeling spot, offering clear waters, as well as a variety of marine life to observe. Be sure to book a snorkeling tour in advance!
The summit of Haleakala is a breathtaking sunrise, sunset, or stargazing spot, but be sure to bundle up when you head up to the top: it is quite a bit cooler than on the island floor!
On a dry day, driving the road to Hana is a must. You'll see spectacular scenery, lush vegetation, and many waterfalls on the epic drive. Stop at the Keanae Peninsula to see the waves crash onto the rocks and walk the black sand beach at Waiʻanapanapa State Park.
Stay at the Wailea Beach Resort – Marriott Maui, located right on the water, and splurge on an ocean-view room.
Suggested by us
Scottsdale, Arizona
If you want a place that's not too hot and not too cold in January, then you'll find plenty of things to do in Scottsdale, Arizona.
With highs near 70 degrees Fahrenheit and lows close to 40 degrees, you can enjoy the outdoors during the day and throw on your favorite sweater at night.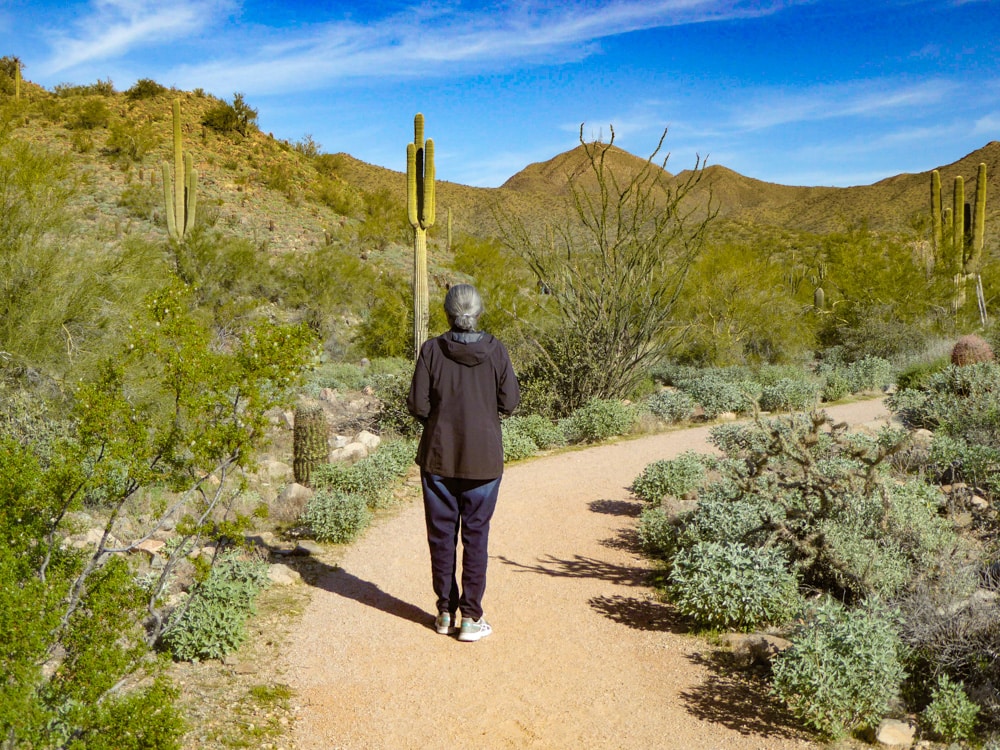 Scottsdale, one of the best places to visit in Arizona, is known for its plethora of art galleries. Explore several in one evening during the Gold Palette ArtWalk. Participating galleries often provide wine tastings, small bites, and live music.
January's also a good time to visit for foodies. The Old Town Farmers Market takes place on Saturdays and features more than one hundred Arizona specialty food producers and local growers. You can also pick up cheeses, jams, gifts, and more.
Whether you're a runner or a spectator, marathons are always entertaining, especially when it's the Rock 'n' Roll Arizona Marathon.
The course runs through Tempe and Phoenix in addition to Scottsdale and live performers line the route. This mid-January event is one of the most popular events of the year.
For a slower, less competitive pace, head to the McDowell Sonoran Preserve. There are more than 225 miles of trails in its 30,580 acres.
With those balmy January temperatures, the beginning of the year is a perfect time to explore the intriguing cacti forests and see great views of Scottsdale.
The Desert Botanical Garden makes for a delightful stroll in the cooler months, with a variety of desert plants to admire, along with epic birdwatching.
A great place to stay during your January visit is Andaz Scottsdale Resort & Bungalows.
Suggested by Theresa of The Local Tourist
Anna Maria Island, Florida
If you are searching for a perfect warm destination to visit in January in the US, put Anna Maria Island at the top of your list!
The weather in Anna Maria Island in January is ideal, with an average high temperature of 77 degrees Fahrenheit and a low of 65.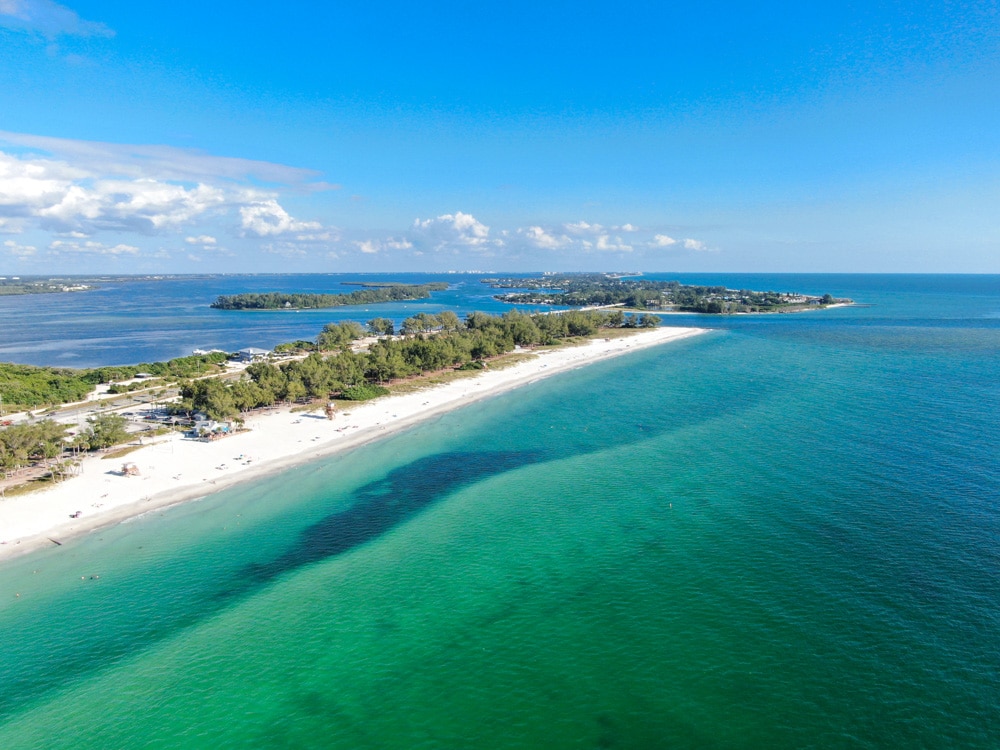 It is also considered the low season, so you will be able to enjoy your vacation without the crowds that you'll find in summer and spring. Plus, you will likely be able to find better deals on accommodations.
Anna Maria Island has amazing things to do, and it is a great destination for anyone.
If you are looking for a relaxing vacation, explore stunning beaches such as Manatee Beach, offering powdery sand and a turquoise water color, as well as great amenities to spend the day.
Looking for a real hidden gem beach? Head to Bean Point Beach, which is incredibly beautiful and one of the best spots on the island to watch the sunset or sunrise.
Anna Maria Island offers a great variety of outdoor activities, such as hiking, kayaking, and bicycling.
You can really immerse yourself in the "slow lifestyle" of Anna Maria Island: rent a bike for an easy and unhurried way to explore.
Also, don't miss the opportunity to rent a private boat to explore this stunning region, including going dolphin watching and snorkeling.
For a great stay, consider the Compass Hotel by Margaritaville Anna Maria Sound. It offers breathtaking views, an awesome outdoor swimming pool with a bar, and a restaurant serving fresh seafood and a fantastic breakfast.
Suggested by Paula of Paula Pins the Planet
Joshua Tree National Park, California
If you are looking for a national park to visit in January, consider Joshua Tree National Park in Southern California! The desert park is one of the best US national parks to visit in the winter.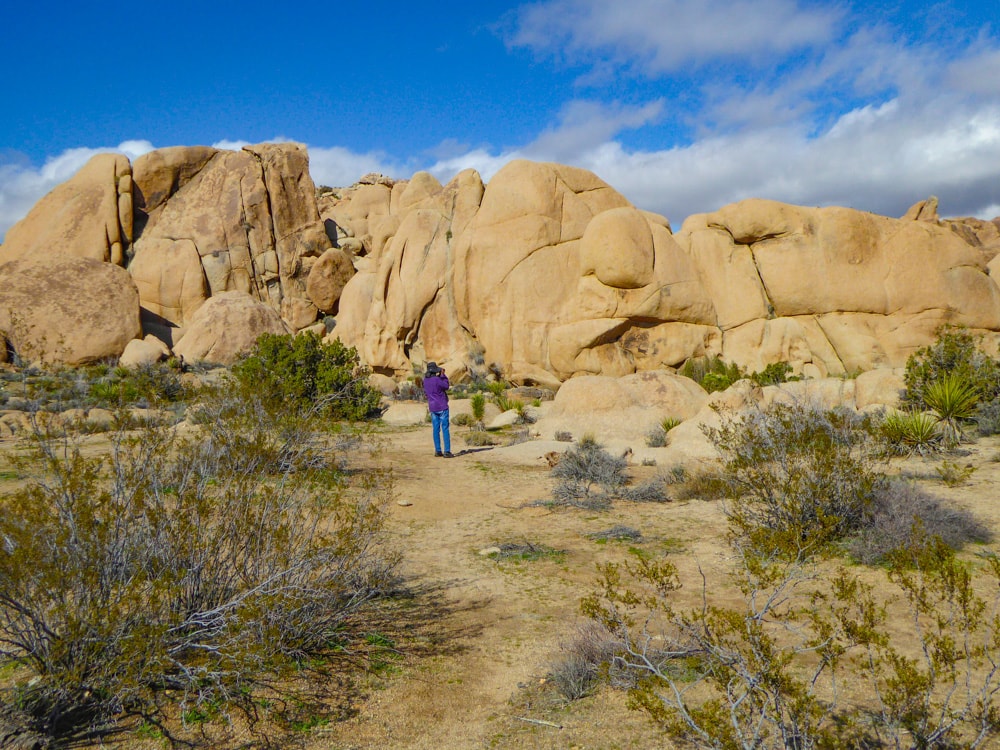 Daytime temperatures in the mid-60s Fahrenheit and sunshine-filled days make January the perfect time to hike in the desert, or go rock scrambling.
Joshua Tree National Park offers hikes for all skill levels, and beautiful desert landscapes with huge boulder formations and fields of Joshua trees, which look like they've been pulled from the pages of a Seuss story.
History buffs can take a tour of historic Keys Ranch, or hike to the remnants of old mines in the area. Barker Dam, accessed by a short hike, was built as a cattle reservoir by early ranchers.
Joshua Tree is known for its vegetation, from its many California fan palm oases to the Cholla Cactus garden, which you can explore via a boardwalk trail. Also keep your eyes peeled for wildlife!
Keys View offers expansive views over the Coachella Valley, and is a great place to be at sunset. You can drive up to a viewing area, and opt to do the short uphill walk to the very top.
While Joshua Tree National Park is one of the most popular day trips from Palm Springs you can do, it's also a great place to spend a few days, especially if you want to do a spot of stargazing or enjoy the serenity in the park early and late in the day.
Stay at the Holiday Inn Express Hotel & Suites in Twentynine Palms, close to the entrance to the park.
Suggested by us
Austin, Texas
Austin, one of the best places to visit in Texas, makes for a wonderful January getaway.
Daytime highs are in the low 60s Fahrenheit, perfect for exploring outdoors. Nighttime lows are in the 40s, so bring a jacket for early and late in the day.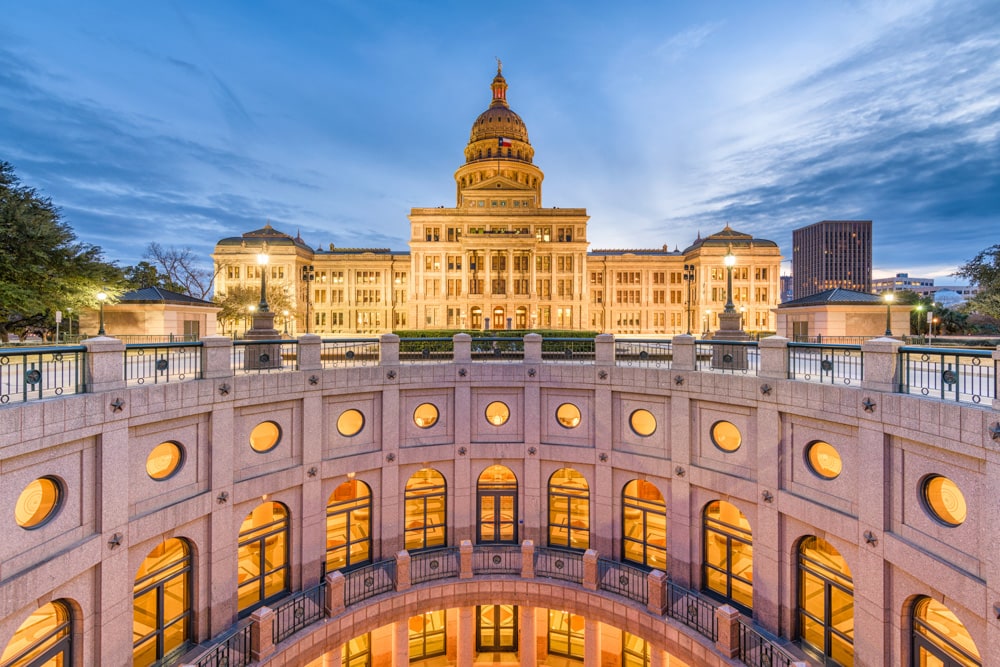 Zilker Metropolitan Park is a 361-acre park, located along the Colorado River in downtown Austin. Enjoy the Hike and Bike Trail, take a dip in the Barton Springs pool, admire the views of the Austin skyline, and have a picnic.
Snap photos of the handsome Texas State Capitol, which dates back to 1888. Made of pink granite, the capitol building is a must-tour to learn about the history of Texas. The architecture is stunning as well.
For expansive views over Austin, head to Mount Bonnell at Covert Park. Climb the 102 steps to the viewpoint at the peak and enjoy the views on clear days.
For culture buffs. Austin offers many topnotch museums, from the Blanton Museum of Art to the Bullock Texas State History Museum. Outdoors, take a tour of the gorgeous street art, including the Greetings from Austin mural, a popular Instagram spot.
Austin bills itself "the live music capital of the world," and Sixth Street, with its many bars, restaurants, and live music venues, is where you go to sample the offerings. Friday and Saturday evenings can get particularly boisterous!
Mayfield Park and Preserve, about 5 miles from the city center, is famous for its population of peacocks, but be sure to also visit the historical cottage and gardens along with walking the many trails to look for peacocks.
Stay at the Stephen F Austin Royal Sonesta Hotel, located close to the Capitol and walking distance to many major attractions.
Suggested by us
Delray Beach, Florida
January daytime highs right around 75 degrees Fahrenheit mean that it's perfect weather for enjoying outdoor activities in beautiful Delray Beach, Florida.
Delray Beach is a quintessential Florida beach town, located between Boca Raton and West Palm Beach is southeastern Florida.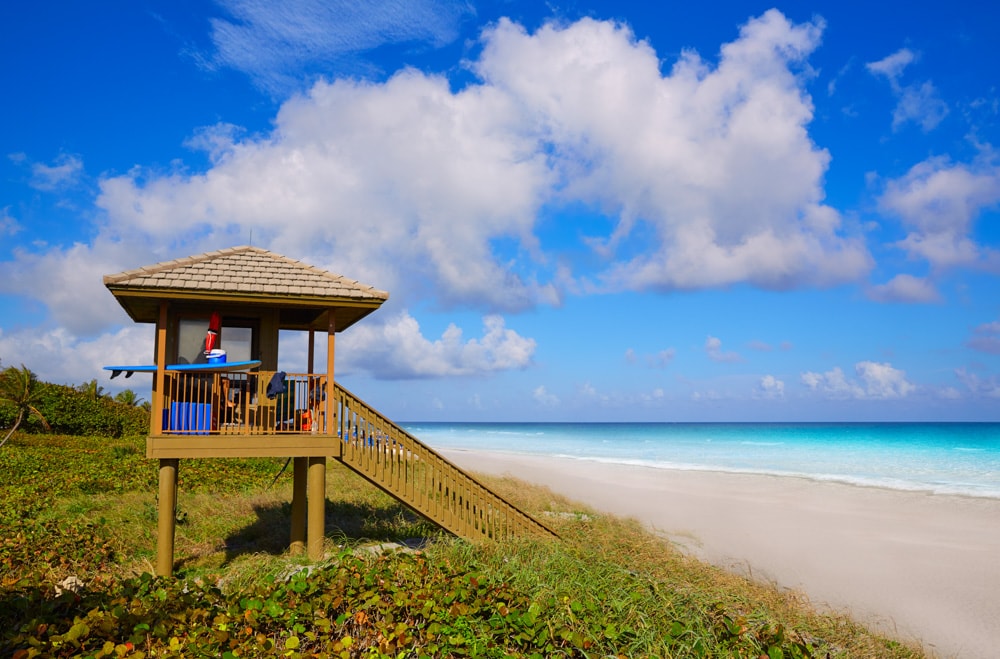 Featuring a gorgeous coastline and the soft white sand Delray Municipal Beach, Delray Beach offers excellent sunbathing. The water temperature is right around 70 degrees in January.
In downtown Delray Beach, stroll the brick sidewalks of Atlantic Avenue, lined with palm and oak trees. Here you'll find lots of fun shopping, with boutiques, art galleries and gift stores to browse. There are lots of great eateries here as well.
Pop into the Silverball Museum, which features vintage video games, pinball machines, and arcade games. With your admission, you can play any machine you like!
Pineapple Grove, located just off Atlantic Avenue, is a colorful arts district, with galleries, murals, and public art installations. You'll also find wine bars and bistros here. Lovers of contemporary art will also want to stop by the Cornell Art Museum.
Relax for a few hours at the tranquil Morikami Museum and Japanese Gardens. Here you'll find six gorgeous gardens, inspired by famous gardens in Japan.
Birdwatching enthusiasts should not miss the Wakodahatchee Wetlands, where, along with dozens of species of birds, you may also see wildlife such as alligators, turtles, and otters.
Stay at the Opal Grand Oceanfront Resort & Spa, where some rooms and suites feature spectacular ocean views!
Sedona, Arizona
Sedona, Arizona, known for its jaw-dropping red rock formations and ponderosa pine tree forests, is a wonderful destination to visit in January.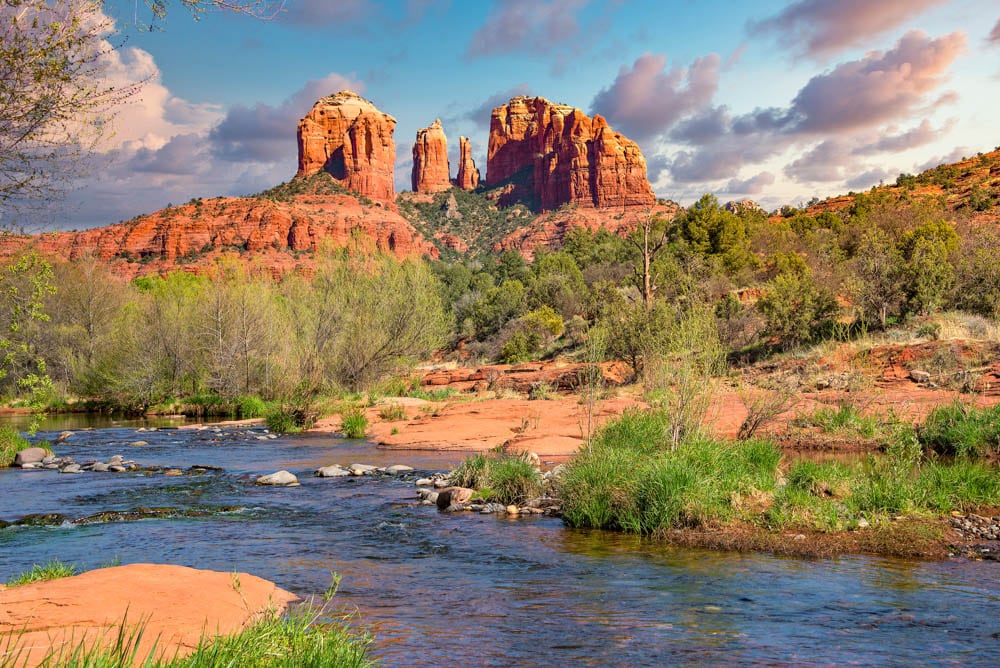 While the weather is on the cooler side (with daytime highs in the mid-50s Fahrenheit), you'll have comfortable temperatures for all of the outdoor adventures that Sedona has to offer.
And while this tiny town of just 10,000 residents gets 3 million visitors each year, the town is uncrowded in January, allowing you to have the beautiful scenery all to yourself.
One of the best things to do in town is go on any of the incredible hikes in Sedona, like the Devil's Bridge, where you'll climb to a sandstone arch, 50 feet above the desert floor, with stunning views of the surrounding red rock mesas.
For something a bit more heart pounding, consider booking an ATV tour, where you'll zoom across the dusty backroads past the beautiful cliffs and endless forests, stretching for miles in every direction.
While your time in Sedona should mostly be spent exploring its incredible landscape, make sure to carve out some time to poke around its quirky downtown.
Sedona is believed by some to be home to "energy vortexes" and thus, has developed quite a quirky vibe, with crystal shops, funky art galleries, and chakra healers to check out.
If you're looking for a luxurious experience, consider a stay at the Enchantment Resort, which has a spa in which to indulge, and an outdoor hot tub to soak in the warm waters and those spectacular views.
Suggested by Jessica of Uprooted Traveler
St. Thomas, USVI
January is one of the most popular times of year to visit the beautiful island of St. Thomas.
Located in the US Virgin Islands, St. Thomas is one of the best Caribbean Islands for families. Year-round, the island boasts sunshine, warm temperatures, crystal clear water, vibrant coral reefs, and stunning views.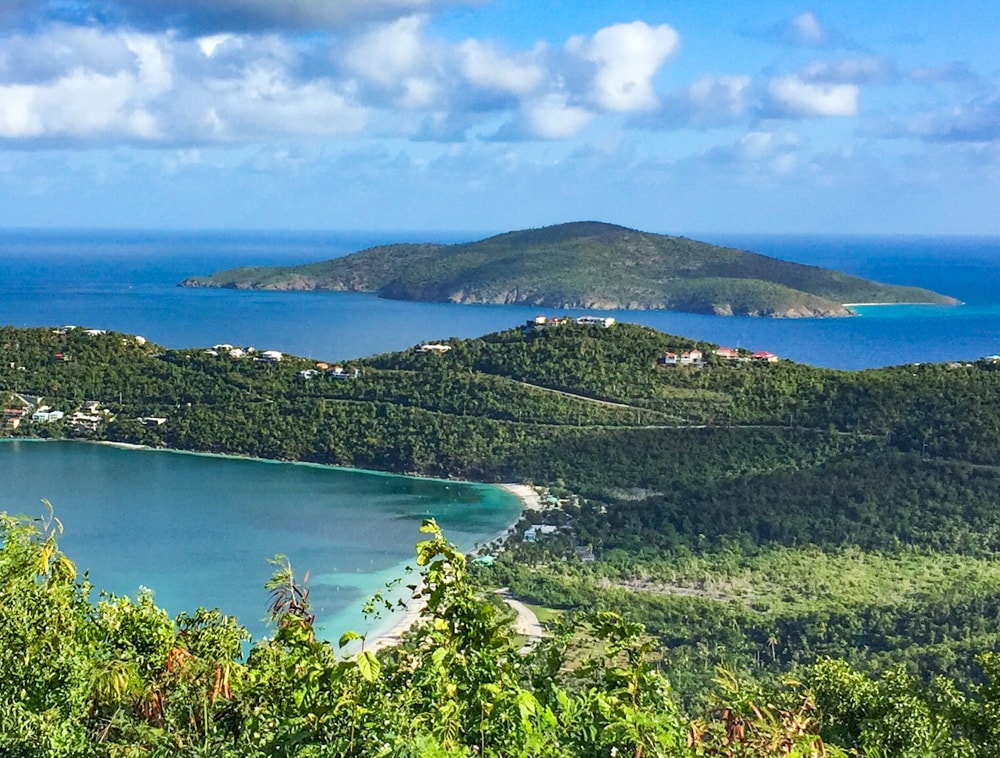 But because January is peak tourism season for the island, all the stores in the capital, Charlotte Amalie, are open and selling duty-free products.
Beach bars have live entertainment at night, and the atmosphere at popular destinations like Magen's Beach is lively and exciting.
Because the USVI is a US territory, US citizens do not need a passport to visit this fun-filled island.
The island is a cruise port, and it can get crowded when a cruise ship is docked. So, if you prefer to avoid crowds, be sure to check the cruise schedules, and visit the island's most famous attractions on days there are no ships at port or in the morning hours.
Aside from Magen's Beach, which is often named one of the most beautiful beaches in the world, be sure to visit Drake's Seat lookout point for epic views of the island, Blackbeard's Castle for some fun pirate history, and Coral World Ocean Park, for the mesmerizing marine life.
A great mid-range place to stay with incredible snorkeling right outside your door, Sapphire Village offers great condos overlooking Sapphire Beach. Located near the town of Red Hook, it is also a convenient place to stay if you want to take the ferry to the island of St. John.
Suggested by Melissa of Parenthood and Passports
Death Valley National Park, California
January is the perfect time to visit Death Valley National Park in Southern California. In fact, it is one of the best national parks to visit in January.
The place where the highest temperature on earth was recorded, Death Valley is pleasant in January, with daytime highs in the high 60s.
It does get cold at night in Death Valley, so if you plan to stargaze after dark or go out sightseeing early or late in the day, bring a warm jacket and a beanie!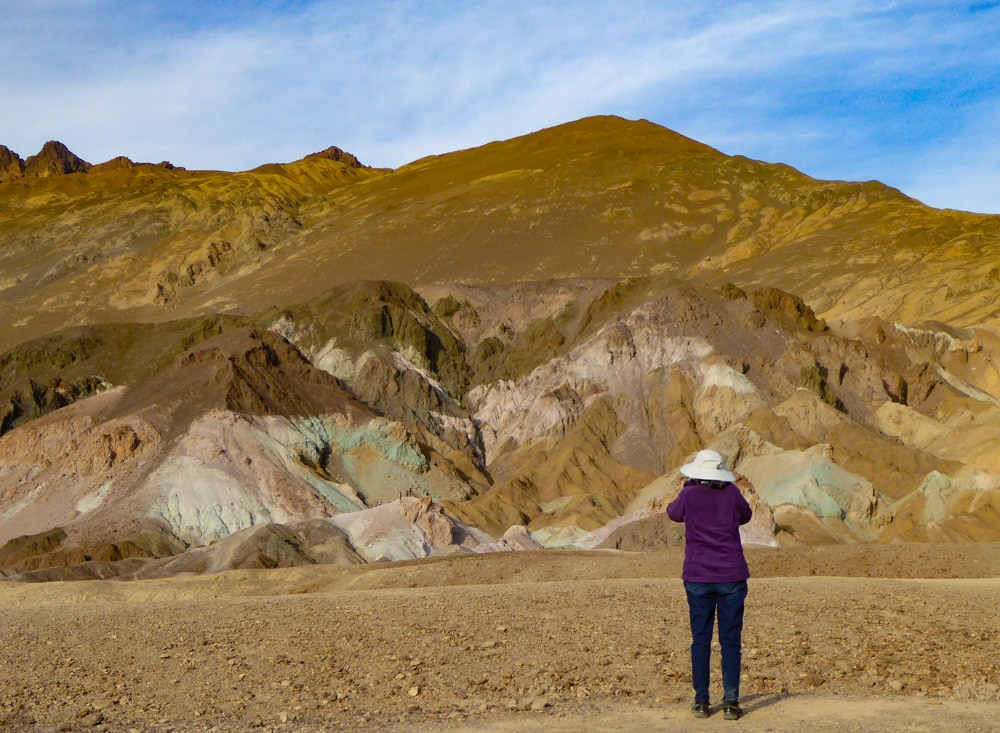 January is a great time to hike at lower elevations in Death Valley National Park. Try the moderate Mosaic Canyon hike to admire the marble and mosaic shaped by the forces of nature, or hike the beautiful Golden Canyon trail to view the colorful desert landscapes up close.
The Mesquite Flat sand dunes are easy to access and kids and adults alike can enjoy frolicking in the sand. The dunes are especially picturesque at sunrise and sunset, when the shadows are dramatic.
Catch sunrise or sunset at Zabriskie Point. The views of the badlands from the viewing area are drop dead stunning, and colorful skies at sunrise or sunset add an additional touch of drama to the views.
Another place you must not miss in Death Valley National Park is Badwater Basin. Walk out onto the enormous salt flat, which stretches out as far as the eye can see. Here's where you will find the lowest point in North America!
Do the Artist's Drive loop, which comes up on Badwater Drive. You'll want to stop at the Artist's Palette viewpoint, where you can see colorful mineral deposits in the rock face. You can even walk out into the washes amidst the swathes of color!
Book a stay at the Inn at Death Valley, or the Ranch at Death Valley, both located in the heart of the park.
Suggested by us
The Keys, Florida
If you are looking for warm places to visit in January in the USA, the Florida Keys make for the ideal getaway.
The Florida Keys are a magical warm destination that everyone will love. January is an ideal time to visit, because the weather is just right, and there is just the right amount of commotion after the holiday season.
Daytime highs in the Keys in January are in the mid 70s Fahrenheit, with nighttime lows in the mid 60s. The water temperature is just under 70 degrees, so you can go swimming here in January!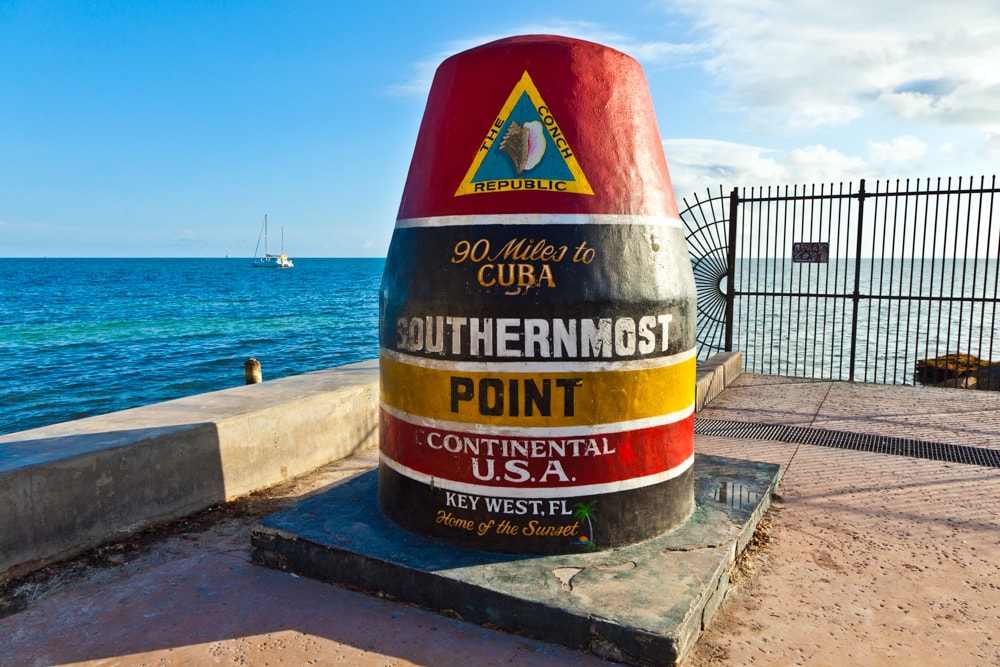 The Florida Keys offer many fun adventures that everyone will enjoy.
You will love jet skiing in the Keys on the beautiful clear ocean. You can either go on a tour or rent a jet ski to explore by yourself. The best cities to rent jet skis in the Keys are Key West and Key Largo.
Another fun thing to do as you make your way down through the Keys is hand-feeding the tarpons at Robbie's. There are lots of great food trucks to visit here, and it is fun to watch the large tarpons jumping out of the water.
If you're looking for more time in the water, check out John Pennekamp Coral Reef State Park. It is the first underwater park in the United States and a great place to go diving or snorkeling. You can also go on a bottom glass boat ride to see the ocean below.
While in the Florida Keys, make sure you grab some pieces of key lime pie. Try it at a couple of different places to see which ones you like the best. Each restaurant has its own twist. Kermits and El Mason in Key West are both great places to get pie.
Courtney's Place Historic Cottages and Inns in the heart of Key West feature air-conditioned accommodations and an outdoor pool. The property is located very close to Duval Street.
Suggested by Candice of CS Ginger
Big Bend National Park, Texas
One of the best places to visit in the USA in January is Big Bend National Park in west Texas. January has the best temperatures for this area for outdoor adventures, the park's main draw.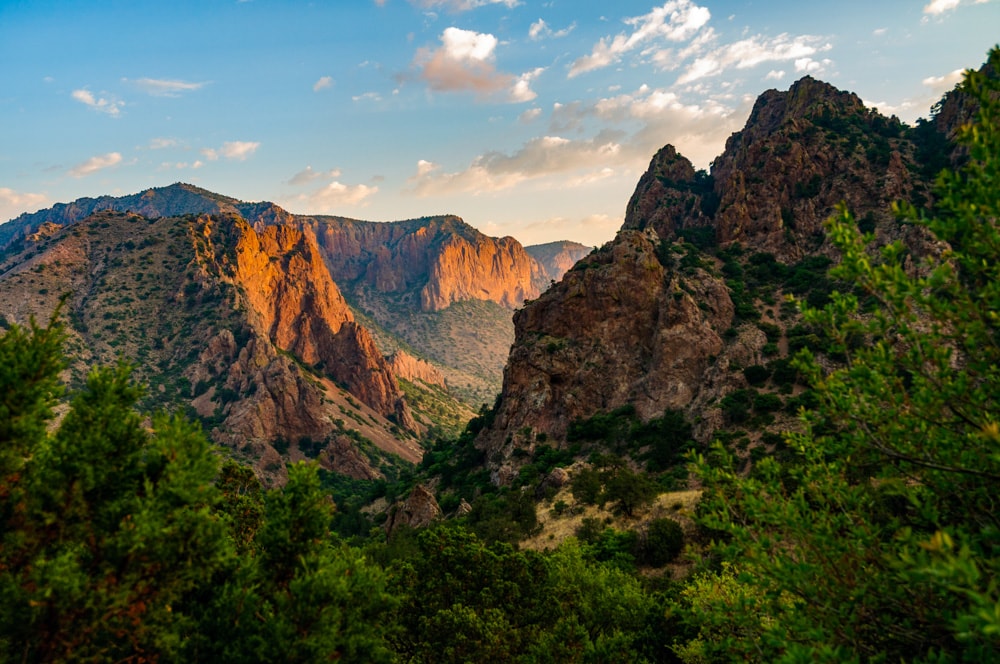 For a relaxing activity in Big Bend, soak in the hot spring, which is located in the park's southern portion. The hot spring is next to the Rio Grande, so you can easily jump in the river to cool off if you get too hot.
Another great activity in Big Bend is hiking the Lost Mine Trail. This trail has a fantastic view of the surrounding mountains and canyons at the top.
A popular activity that is located on the western side of the park is visiting the Santa Elena Canyon. This is probably the most famous viewpoint in the national park. The hike to the canyon is pretty straightforward and short, and you can either canoe the river or hike around it.
If you want to experience a hike with more boulders and rocky landscapes, try the Balanced Rock viewpoint on the Grapevine Hills Trail. The views are stunning, and exploring around the area can be a fun adventure.
Chisos Mountain Lodge is the only hotel in the national park. It is located in the middle of the park near the Chisos Basin Area. It has a restaurant and an RV park and is the best lodging option when visiting the national park.
About a 30-minute drive from the park is Terlingua Ranch Lodge. It offers a seasonal outdoor pool and an onsite cafe and restaurant. RV sites are available.
Suggested by Michelle of The Wandering Queen
Cedar Key, Florida
Cedar Key is the second oldest town in Florida and is full of historical charm. It's not as well-known as other beach towns, so it's the perfect place to visit to escape the Florida crowds.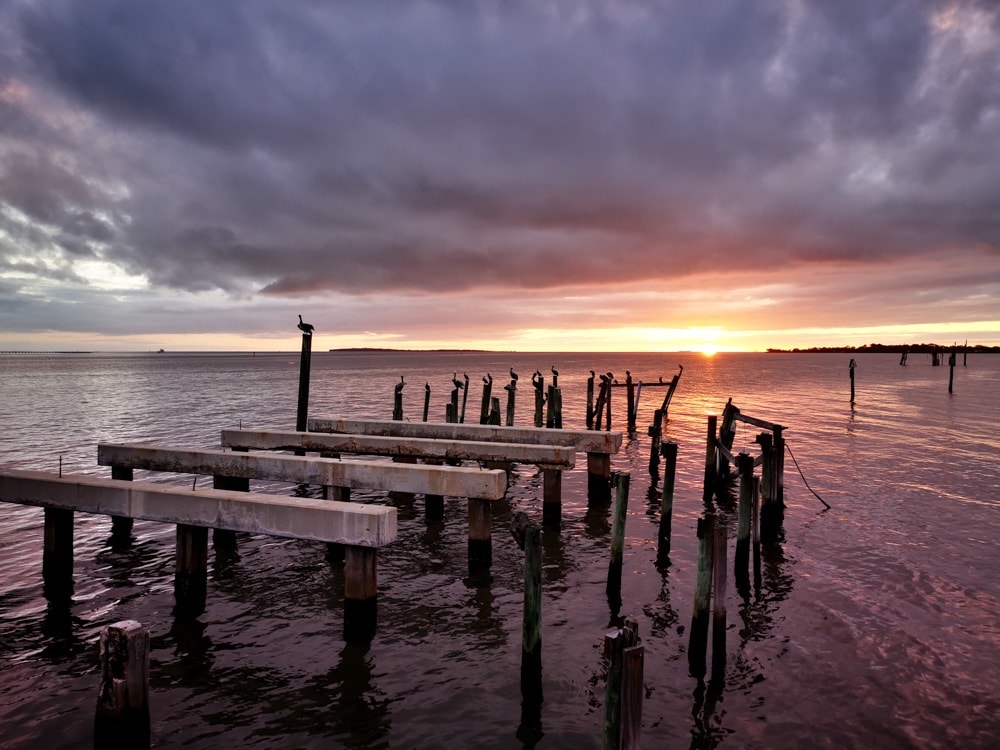 January temperatures mostly stay between 65 and 70 degrees Fahrenheit, and there are many exciting things to do in Cedar Key during this month.
The local museums reveal new exhibits every January, and the Cedar Key Arts Center hosts special art classes like painting and sewing.
Dock Street is the busiest street in the entire town and is perfect for sightseeing. The road is short and easy to walk by foot. On one end is the Cedar Key Fishing Pier, and the views from its dock are the best in Cedar Key.
On the other end of Dock Street is Cedar Key Beach. It's just a small beach, but it's 100% free to enjoy. You can also book boat tours from this beach. During January, sunset tours and coastal island tours are both incredibly popular.
Just a half mile away is Atsena Otie Key. This was once the original settlement of Cedar Key, but now all that remains are ruins of buildings and an old cemetery.
Tidewater Tours will provide ferry transportation to the island if you'd like to explore its interior or relax for a while on its uninhabited beaches.
For a unique place to stay in Cedar Key, choose the Island Hotel. This is one of the oldest hotels in Florida, dating back to 1859!
Suggested by Jillian Michelle of Adventure Dragon
Palm Springs, California
If you're looking for a sunny getaway this winter, Palm Springs should be at the top of your list: it is one of the best warm places in the US to visit in January.
January weather in Palm Springs is warm and dry with an average high of 74°F: perfect for exploring outdoors.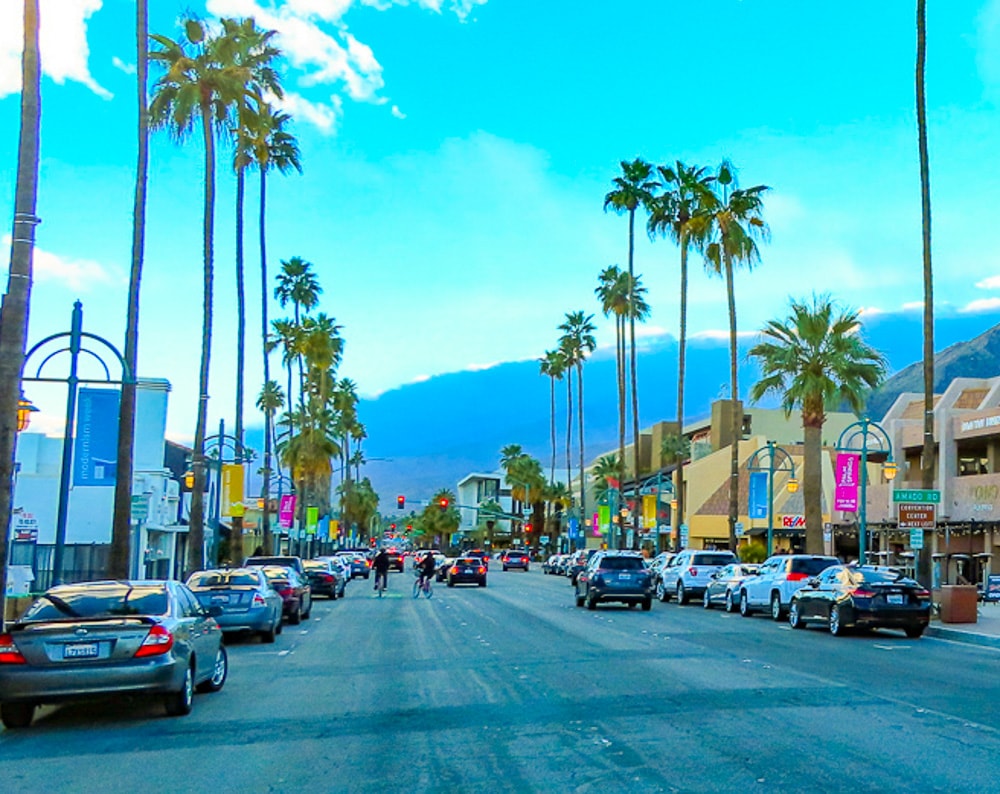 Palm Springs is also home to a number of festivals and events in January, including the Palm Springs International Film Festival.
One of the best things that you can do in Palm Springs is taking a ride on the Palm Springs Aerial Tramway. The ride itself is not long, but it is impressive, as it is the world's largest rotating tram car. Just be sure to bundle up, as it is much colder up in the mountains.
Another great place to visit is The Living Desert Zoo and Gardens in nearby Palm Desert. This is a great activity if you are visiting with children.
Architecture buffs will want to tour the mid-century modern homes and buildings, and art enthusiasts will want to visit the Palm Springs Art Museum, and admire the many public art installations around town.
January is a great time to go hiking in the desert. Explore the oases at the Indian Canyons, or hike at the Thousand Palms Oasis in the Coachella Valley Preserve.
And of course, no visit to Palm Springs would be complete without spending some time lounging by the pool!
Alcazar Palm Springs is a great place to stay as it's in downtown and offers beautiful mountain views and an outdoor pool.
So pack your sunscreen and sunglasses and head to Palm Springs for a January vacation you won't soon forget.
Suggested by Una of Wandernity
Everglades and Biscayne National Parks, Florida
The Everglades and Biscayne National Parks in Florida are located less than 20 miles from each other, making it possible to visit both parks in one exciting January warm weather trip!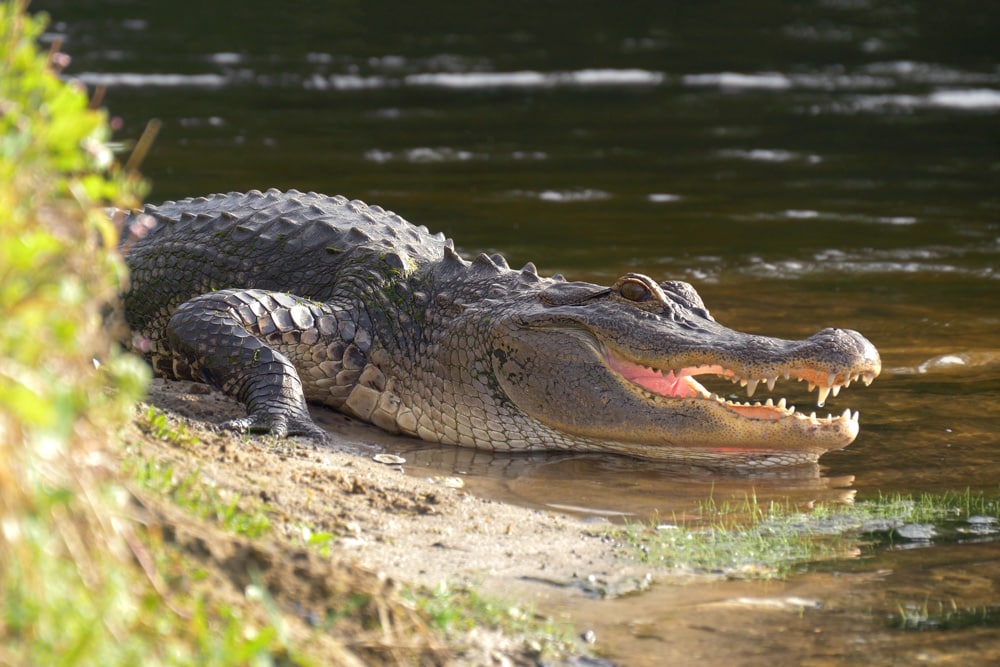 Everglades National Park is the third largest park in the contiguous 48 states, and one of the top places to visit in Florida. There's a lot to see here, so allow plenty of time!
In Shark Valley, in the northern part of the park, don't miss the Everglades Loop. You can either bike the 15 miles, or take the tram tour. Look for wildlife: you may see alligators and many species of birds.
The Anhinga Trail is an excellent short trail in the park, mainly boardwalk. You can walk it on your own or join a ranger-led walk. This is another great place to spot alligators.
At the boat dock near the Flamingo Visitor Center, you can rent a kayak or take a boat tour. Hiking is another popular activity in this part of the park.
Biscayne National Park is mainly underwater! You can choose from lots of water activities, from snorkeling and scuba diving to kayaking and boat tours.
The Biscayne National Park Institute offers eco-adventures. Take a cruise to Boca Chita Key and lighthouse, or do a full-day sailboat trip to snorkel along the fringes of the mangroves. Look for dolphins, sea turtles, rays, and many species of colorful fish.
Florida City or Homestead are good bases for exploring Everglades and Biscayne National Parks. Try the Best Western Gateway to the Keys in Florida City, or Courtyard by Marriott Miami Homestead for comfortable stays.
Suggested by us
*****
We hope you enjoyed this round-up of the most exciting warm weather destinations to visit in January in the USA. Which one will you pick for your January vacation?
MORE INSPIRATION FOR TRAVELS IN THE USA
Did you find this article informative? Pin it for later reference!