Planning a visit to Joshua Tree and looking for the best things to do in Joshua Tree National Park?
The Southern California park straddles two deserts and boasts spectacular scenery.
On our first visit to Palm Springs, we spent one day in Joshua Tree National Park, and were blown away by the amazing landscapes.
We've visited the park several times since, for wildflower viewing, hiking, rock climbing, and more.
Read on for the best things to do in Joshua Tree National Park in just one day!
Joshua Tree is remarkable for its different ecosystems that support a wide variety of flora and fauna.
It's also one of the places within striking distance from Los Angeles that boasts dark skies, ideal for stargazing.
And its landscapes are simply spectacular, with massive boulder formations, the likes of which you've probably never seen before.
Some links on this page may be affiliate links. If you click an affiliate link and make a purchase, we may receive a small commission, at no extra cost to you. For more details, refer to our disclosure.
The Best THINGS TO DO IN JOSHUA TREE
Ideally, you'd want to spend a few days exploring the 800,000-acre Joshua Tree National Park.
Especially if you are into hiking or bouldering, or if you love to photograph desert landscapes, or if you just enjoy being out in nature, you should consider spending two or three days in Joshua Tree National Park.
But even if you have just one day to spend in Joshua Tree, you should still visit!
In one day in Joshua Tree, you can do the scenic drive through the park, do a couple of short hikes or some rock scrambling, see the park's diverse flora (and fauna, if you are lucky), and enjoy a sunset or stargazing.
So here's my list of the best things to do in Joshua Tree in one day:
#1 Explore Cottonwood Spring Oasis
Enter the park via the south entrance. If you visit in early spring, you'll likely see lots of wildflowers in this part of the park.
We visited in late February, and wildflower season had not really started yet, but we still saw some beautiful early blooms near the south entrance.
About seven miles in, stop at Cottonwood Spring Oasis. This spot has lots of fan palms, and is a fabulous place to take landscape photos. If you brought binoculars, search for birds.
This oasis, the Oasis of Mara in the north of the park, and Barker Dam are some of the best spots in Joshua Tree for birding.
Walk down Cottonwood Wash — the walk is both easy and short — past the second oasis to a dry falls, which, in wet years, can have lots of rushing water! Look for red-spotted toads if there is water, and bighorn sheep.
Although you can do long hikes in this part of the park, you'll have to leave them for a longer visit.
Stop at the Visitor Center to check out the exhibits and get a brochure and a map of Joshua Tree National Park.
#2 Marvel at the Ocotillos
From the Cottonwood Visitor Center, drive along the Pinto Basin Road through the park. Along both sides of this road, you will see the ocotillos: tall plants that look like natural sculptures.
The ocotillo is not a cactus, although it looks like one. It's actually a deciduous shrub.
Stop at one of the pullouts and take a closer look at these amazing plants. The ocotillos look striking from the car but even more imposing up close.
Ocotillos bloom in the spring. When the red flowers show up at the end of the spiky branches, the plant looks stunning.
Most deciduous plants and trees drop their leaves once a year, but ocotillos drop and grow back their leaves multiple times a year, depending on water availability. Isn't that cool?
In this part of the park, you are in the Colorado Desert, the lower elevation, more arid of the two deserts you'll encounter in Joshua Tree. Note the scenery around you as you drive.
When you hit the Mojave Desert, you'll be surprised by the abrupt change to a completely different landscape.
#3 Walk among the Cholla Cactus
Further up the Pinto Basin Road, stop at the Cholla Cactus Garden, a Joshua Tree must see and one of the most popular super short hikes in the park.
Walk along the 0.25-mile Nature Trail that runs through the garden. It loops through the patch, bringing you back to the road.
It's a quick, easy, fun walk. The teddybear cholla patch here covers almost 10 acres. If you visit between March and May, you can see it in bloom.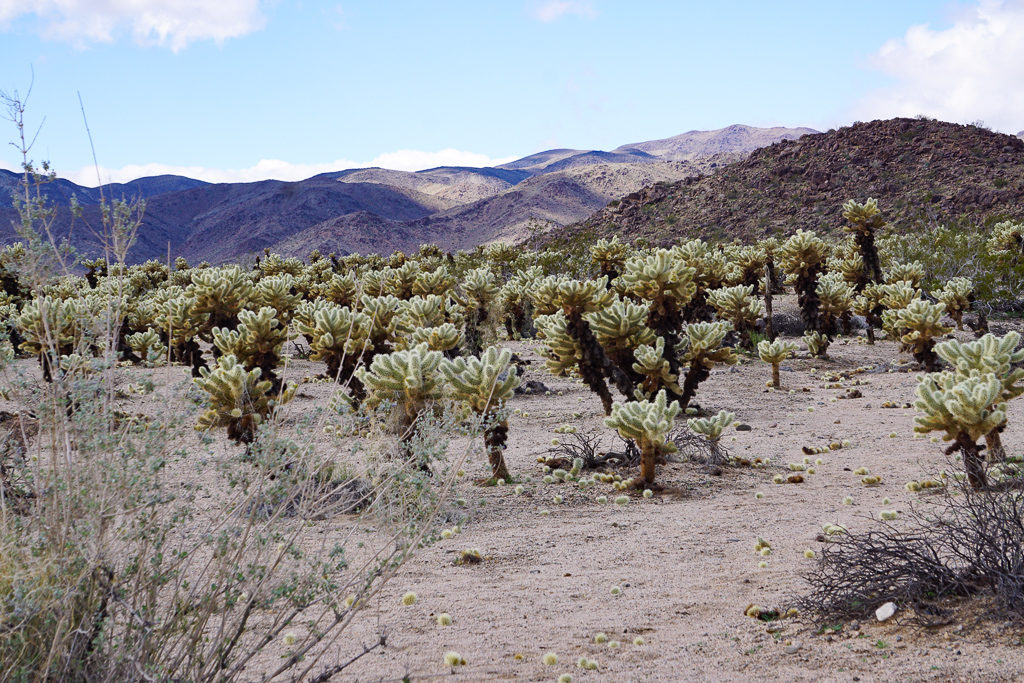 The cholla cactus is one of the more amazing flora we came across in Joshua Tree National Park. With its dense long spines, dark trunk, and light green top, it is an attractive plant.
The cholla are like sturdy little trees and some of them get really tall. It is a stunning plant to photograph, whether individually or the patch, with the mountains behind.
The teddybear cholla has a cute name and looks beautiful, but word of warning: the spines are painful to remove once they've latched on to you.
So wear closed-toe shoes, stay on the trail, and do not touch or brush against the cholla. There's a first aid kit chained to a post at the entrance, just in case!
Planning to visit more than one national park in the next 12 months? Consider buying the America the Beautiful National Parks Pass!

Valid at over 2,000 federal recreation sites all across the USA, the pass covers entrance, standard amenity fees, and day use fees for a driver and passengers in a personal vehicle at areas that charge per vehicle, and for up to four adults at sites that charge per person. Children ages 15 or under are free.

The pass is valid for 12 months from the month of purchase.
#4 Admire awesome rock shapes
One of the most awesome features of Joshua Tree National Park are the gigantic boulders. You will feel like they have been scattered about the landscape by giants.
You will see many unique shapes, some named and marked on the map, others not. Have fun making up names for the ones you think look like something but don't have names already!
Coming up from the south entrance, park in the Twin Tanks Day Use area and do the short hike to Arch Rock (and Heart Rock).
The out and back trail is a little over one mile long. The area contains other awesome rock formations, so it's worth the hike. If you are interested in geology, stop to read the placards along the trail that describe how Arch Rock was formed.
Next, drive along Park Boulevard and stop at the signs you find interesting. The road has tons of good signage and exhibits with information. Split Rock is enormous and is true to its name. Cap Rock and Skull Rock look very realistic!
Many of the rock formations are great for rock scrambling, and you will see kids and adults alike scrambling up the boulder masses. It's one of the most fun things to do in Joshua Tree!
#5 Get a close look at the Joshua tree!
In the Mojave Desert portion of the park, along Park Boulevard, you'll get your first look at a Joshua tree, after which the park is named.
As you drive along this road, you'll see large expanses of the strange trees rising up from the desert. Single mature specimens make wonderful photos, especially if you capture one at sunset.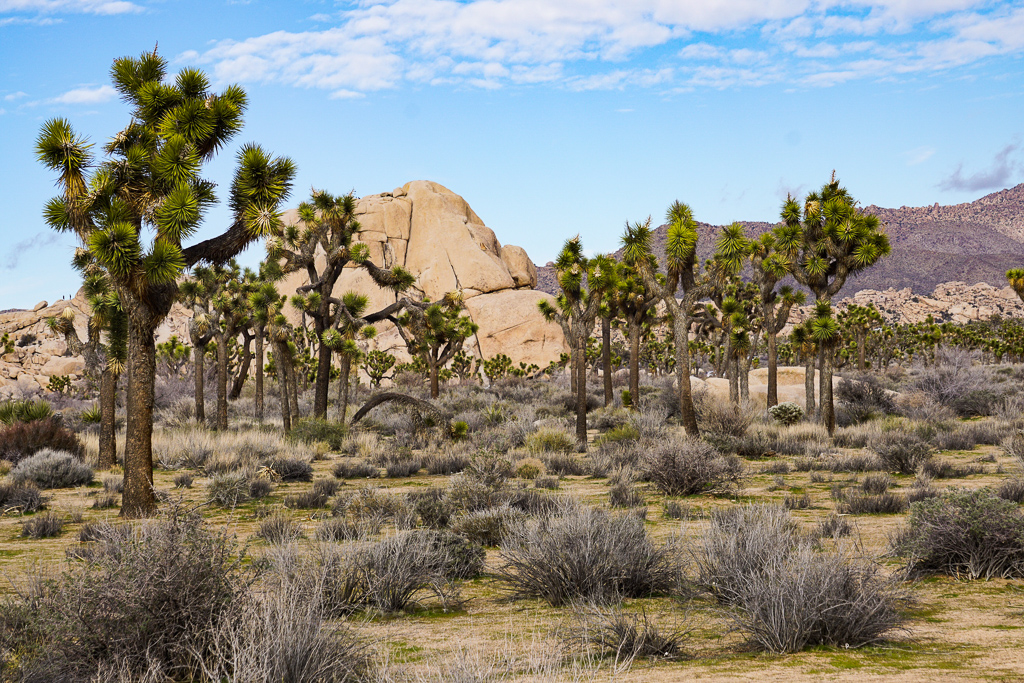 The Joshua tree is not really a tree but a yucca. It was named by Mormon settlers, who thought the arms of the tree resembled Joshua with his arms raised skyward in prayer.
The Joshua tree blooms in spring, and if you visit then, you'll see the pretty cream-colored clusters at the ends of the arms. Examine the leaves and flowers up close.
I was fascinated by many of the plants we saw at Joshua Tree, but viewing the plant that gave the park its name was a special experience.
#6 Hike the Scenic Hidden Valley Trail
Joshua Tree National Park has numerous hiking trails, ranging from easy to arduous. On a day trip, doing a few shorter hikes will enable you to explore different parts of the park up close.
For a scenic, relatively short and easy hike, do the Hidden Valley Trail. It's a one-mile loop.
There are some steps at the start, to get into the valley, but otherwise no elevation gain to speak of. You do have to do some minor scrambling though.
Hidden Valley is almost completely enclosed by huge rock formations. Story has it that cattle rustlers used to hide out here in times past.
See if you can spot the Great Burrito, a large named rock in this area. Also look for the signs along the trail that provide information about the trail and the area.
On this trail, you'll also see lots of Joshua trees, with their strange shapes, and other Joshua Tree flora and fauna. Watch for wildlife! Joshua tree is home to hundreds of species.
But you have to be lucky to spot wildlife during the day, because most creatures here are nocturnal.
You'll likely see birds, lizards, and squirrels during the day, and perhaps bighorn sheep or a fox or rabbit at dusk.
#7 Explore Barker Dam
Another relatively short hike you must do in Joshua Tree is the Barker Dam Nature Trail. It's a flat loop, about 1.2 miles long.
Built in 1900 by cattle ranchers in the area to store water, Barker Dam was modified by prominent cattle rancher William F. Keys in 1949-50. It's also called Big Horn Dam, and is listed in the National Register of Historic Places.
On this trail, look for bighorn sheep and other desert fauna, as well as boulders, Joshua trees, and other plants and grasses.
Also look for petroglyphs left by Native Americans. Keep a sharp eye out for the sign: the petroglyphs are on a big rock right near the sign.
You'll also see lots of birds in the area, especially if it has rained recently and there is water at the dam. You can also do bouldering on the rock formations here. This was our favorite trail at Joshua Tree National Park.
At the dam, if conditions are right, you will see beautiful reflections in the water, so make sure you carry your camera with you. Unfortunately you may find it dry if you visit after a dry spell, but it's still a pretty trail.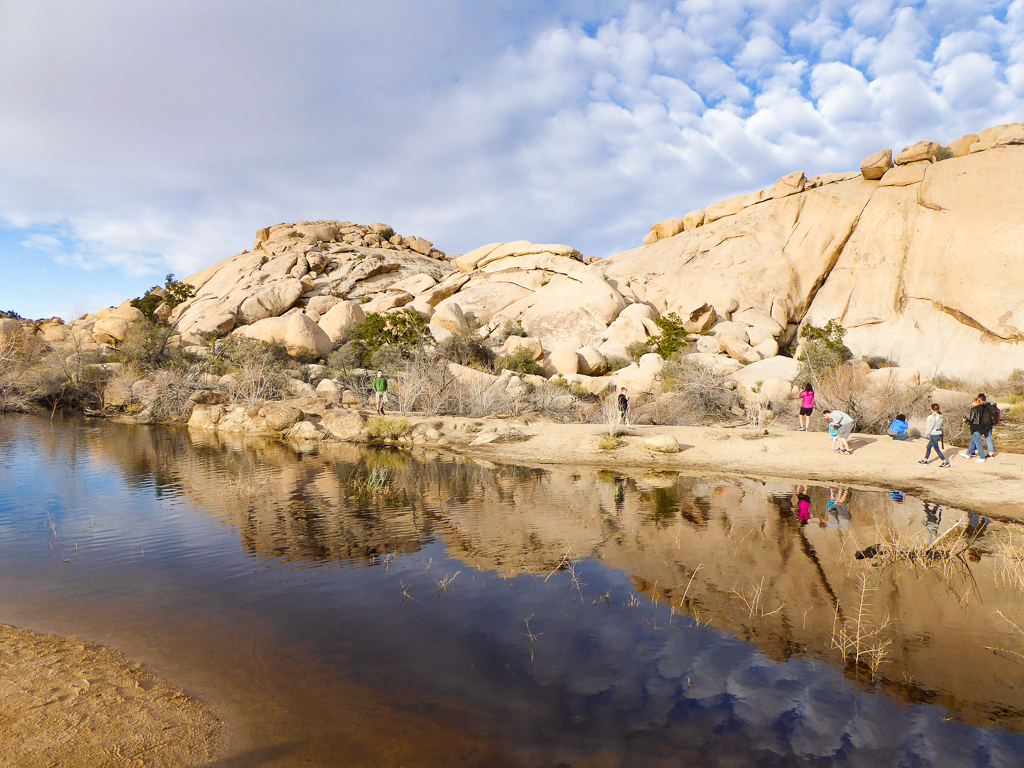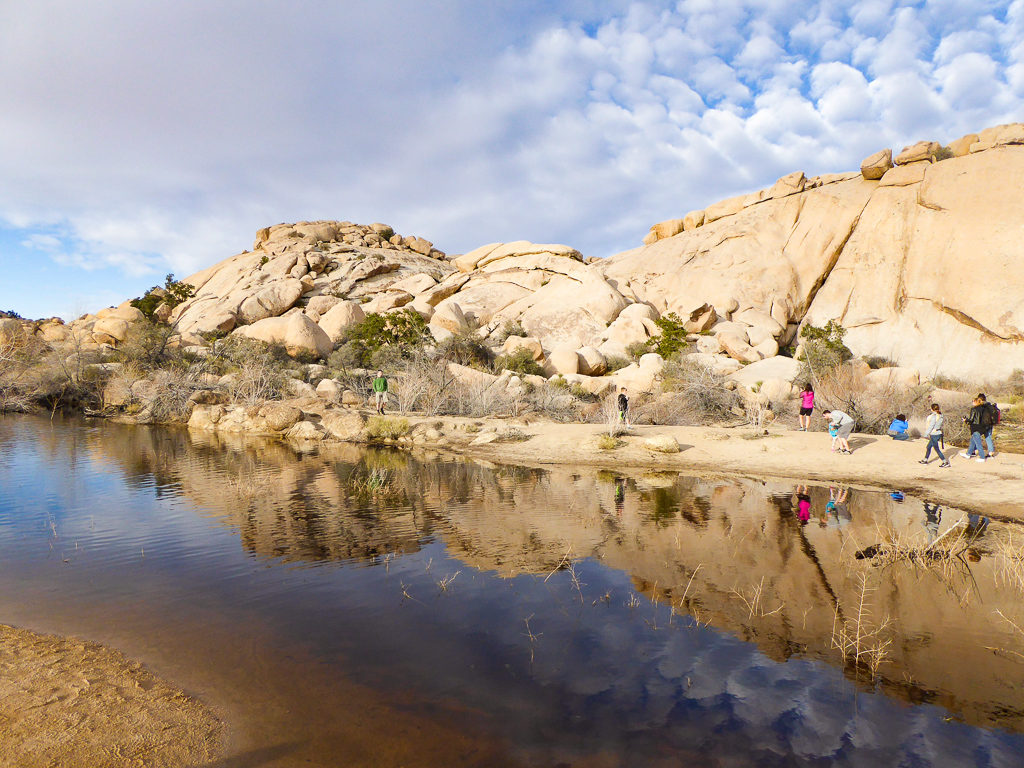 #8 Watch rock climbers in action
If you visit between October and May, you can do people watching of a special kind in Joshua Tree National Park.
During this time, rock climbers eager to test their skills on the 8,000+ climbing routes congregate at the park to take advantage of milder weather.
You can watch rock climbers in action at many places along Park Boulevard. We saw one set of expert climbers scaling a towering vertical rock wall with ease. You can also see bouldering happening at many spots along Park Boulevard.
Bouldering refers to scrambling over lower and easier step-like rock surfaces, of which there are many in the rock-strewn giant playground.
A one-day visit likely won't be enough time, but if you are spending two or three days in Joshua Tree, you can sign up for a guided climbing class.
#9 Take in the panorama at Keys View
Taking in the panorama at Keys View, a viewing area at the top of the Little San Bernadino Mountains, should definitely be on your list of things to see and do in Joshua Tree.
At the top, you can do the short loop trail to the top of the ridge for even more stunning views.
We had a beautiful blue sky day when we visited, but when we went up to Keys View at sunset, we were sadly met with thick clouds.
On a clear day, you can see not just the Coachella Valley below, but also the Salton Sea, the city of Palm Springs, and if you are very lucky, all the way to Mexico!
You can also see the San Andreas Fault in the valley below. This is the fault that runs through much of California, and caused the disastrous 1906 San Francisco earthquake.
The views are fabulous any time of day, but Keys View is one of the best places to be in Joshua Tree when the sun sets.
You might need a windcheater or a jacket and long pants in the evenings at Keys View. It can be cold and windy up at the top even if it is warm and toasty down below.
#10 Enjoy sunset or stargazing in Joshua Tree
Desert sunsets are often spectacular, with lots of post sunset colors in the sky. Keys View is a lovely place to be at sunset.
Bring some wine and cheese and settle down on a blanket to watch the show! Other great spots for sunset watching in Joshua Tree are the Cholla Cactus Garden and Hidden Valley.
Remember to linger after the sun has set to capture the best colors, especially if there are clouds in the sky. You will be awed by the brilliant oranges and pinks.
If you still have the energy, stick around until it gets dark, especially if you have a cloudless, moonless night, to gaze at the stars!
Joshua Tree has really dark skies, and you can see thousands of stars in the night sky from almost anywhere deep in the park.
But an especially good spot that is very accessible is Pinto Basin Road south of the Cholla Cactus Garden, where you can park in a pullout and enjoy the show.
Getting to Joshua Tree National Park
Joshua Tree National Park is doable as a day trip from Los Angeles. It's about 2.5 hours by road, so you'll likely have a long day if you do activities at the park.
Take Interstate Highway 10 East all the way to the south entrance to the park, or 10 E to California State Route 62 to access the north entrances to the park at Joshua Tree and Twentynine Palms.
From Palm Springs, the drive is under one hour, so Joshua Tree is easily doable as a day trip. Take 10 E to the south entrance or 10 W to Hwy 62 for the north entrances.
Prefer a guided tour? Consider this part day driving tour with a few well-chosen stops! The tour leaves from Palm Desert in the Greater Palm Springs area.

For an extra dose of adventure, do the tour in a Hummer, driving through desert back roads to get to the park.
Getting around in Joshua Tree National Park
You'll need a vehicle to get to the sights you want to visit within the park. The drive through the park is very scenic, and even if you did nothing else but drive through, you'd still have seen some amazing scenery.
Looking for a rental car for your national park trip? Compare prices, find your car, and book on Discover Cars! They search numerous car rental agencies, from brand to budget, to offer you the best choices for your trip.
Best Time to Visit Joshua Tree National Park
The most popular time to visit Joshua Tree is in the spring, especially if the winter was a rainy one and a spectacular wildflower bloom is anticipated.
Joshua Tree features on our list of the best US national parks to visit in March: the weather is still mild and daytime temperatures are perfect for hiking.
But any time from October through May offers milder temperatures and the opportunity to step out of your vehicle and enjoy the park.
The park is open 24/7 all year long.
Staying the Night?
If you can't bear to tear yourself away at the end of the day, you can look for accommodations in the towns of Joshua Tree and Twentynine Palms, just north of Joshua Tree National Park.
When it comes to hotels, your options will be modest, but you'll be right outside the park if you want to spend another day exploring Joshua Tree.
Consider Holiday Inn Express in Twentynine Palms or, for a special desert experience, try an Airstream at AutoCamp Joshua Tree!
You can also find lots of vacation rentals if you plan to spend a few nights.
If you are visiting from Las Vegas or Los Angeles or San Diego and looking for snazzier accommodations, drive the one hour to Palm Springs, where you will find lots of beautiful resorts and hotels.
We stayed at The Kimpton Rowan Palm Springs Hotel, a hip contemporary hotel in the heart of town. The room was quiet, the bed and furnishings very comfortable, and the service exemplary. A great place to relax after an active day!
Tips for Visiting Joshua Tree National Park
Here are some tips if you are planning a visit:
FEES
Information on current entrance fees is available on the park website. Since Joshua Tree is a national park, America the Beautiful passes are valid here.
FOOD AND DRINK
No food or drink is available inside the park. There are cafes and restaurants at town of Twentynine Palms and Joshua Tree, outside the park's north and west entrances respectively.
To conserve time on a one-day visit, pack a cooler with lunch and snacks and beverages for the day. Carry plenty of water: you will be in the desert!
MAP OF JOSHUA TREE NATIONAL PARK
For a downloadable map of Joshua Tree and lots of other maps that show climbing spots, camping spots, trails, and backcountry roads, visit the National Park Service website.
CELL PHONE RECEPTION
Cell phone reception is poor to non-existent inside the park. You may get some reception near the park entrances or at Keys View.
Download maps and other information you need prior to your visit and pick up a hard copy brochure and map at the Visitor Center closest to the entrance where you get in.
VISITOR CENTERS
There are three Visitor Centers, one at Cottonwood Spring Oasis on Cottonwood Spring Road, about 6 miles from the south entrance, one at Oasis of Mara near the Twentynine Palms entrance, and one at Joshua Tree, near the west entrance to the park.
The park is always open but the Visitor Centers have designated hours.
SAFETY
Much of Joshua Tree is a wilderness. To stay safe, follow park safety rules and guidelines at all times. Your hard copy park brochure should also have safety guidelines.
Speak with the rangers at the Visitor Center if you need more information or have questions on specific activities. Carry a first aid kit.
WHAT TO WEAR
If you are traveling between October and May, a lightweight warm jacket would be helpful, especially in the middle of this period. For the fringes of the season, consider a windcheater if you plan to visit Keys View in the late evening or early morning.
We wore jeans and closed-toe shoes appropriate for walking/hiking/scrambling over rocks.
A sun-protective hat, sunshades and sunscreen are also essential if you will be out in the park and not just driving through.
*****
So there you have it: the most fun things to do in Joshua Tree in just one day!
Have you visited Joshua Tree National Park? What did you like best about this amazing park?
If you have not yet visited, I hope I have inspired you to plan a visit soon!
Planning a US national parks trip? Check out our other articles for inspiration!
We also have round-ups of the best US national parks to visit by month:
And if you haven't bought your National Parks Pass yet, get it now!
Buy online at REI.
MORE FUN DESTINATIONS IN NORTH AMERICA
CALIFORNIA: 8 Beautiful Napa Valley Wineries to Visit
BRITISH COLUMBIA: A Day Trip to Yoho National Park
NEVADA: 25 Fun Things to Do in Las Vegas (That Aren't Gambling)
CALIFORNIA: 5 Must-Stop Spots on the Big Sur Coast Stretch of the Pacific Coast Highway
CANADIAN ROCKIES: The Best Lakes in the Canadian Rockies You Must Visit!

Did you find this article informative? Pin it for later reference!