Planning a weekend trip to San Diego? Read on to get the scoop on the best things to do on your San Diego weekend getaway!
With gorgeous weather, golden beaches that seem to go on forever, and tons of fun things to do, San Diego makes for a fabulous vacation any time of the year.
Located on the Pacific coast just a few miles north of the Mexico border, San Diego is unbelievably beautiful.
Some links on this page may be affiliate links. If you click an affiliate link and make a purchase, we may receive a small commission, at no extra cost to you. For more details, refer to our disclosure.
But it also boasts a rich history, lots of art and culture, and attractions that span the gamut from museums to beaches to theme parks. It is also rapidly developing into a fabulous culinary destination.
So you will truly be spoiled for choice on things to do on your weekend trip to San Diego!
10 BEST THINGS TO DO ON A SAN DIEGO WEEKEND GETAWAY
No matter what type of traveler you are, you will find amazing choices for your weekend in San Diego itinerary. We love the outdoors, history, art and culture, and great food, so my itinerary is an eclectic mix of must-do activities and awesome photo spots.
We visited over a long weekend, and we were able to fit in most of our getaway wish list in our 3 days in San Diego. Of course, there's lots we still want to see in and around America's Finest City, so we will be back for another weekend trip soon!
Here, then, are the very best things to do on your weekend trip to San Diego:
#1 Enjoy the views from Cabrillo National Monument
One of the most fun things to do in San Diego is a visit to Cabrillo National Monument, located on the tip of Point Loma Peninsula.
The monument commemorates Juan Rodriguez Cabrillo's landing at Ballast Point in San Diego Bay in 1542. He was the first European to land in what is present day California.
The monument is a must-visit, but the park has a lot more to offer besides the monument!
Love tide pooling? The tide pools at Cabrillo National Monument are some of the best in San Diego.
Visit in the winter, when you get negative low tides during the day, to get up close and personal with a lot of marine life. This area is great for birdwatching too!
Also in the winter, you may be able to spot Pacific gray whales on their migration from the waters of the Arctic to Baja California. Although January is peak whale-watching time, you may see them any time from late December until the end of February.
The whale overlook is at the very top of the park. Even if you don't see a whale, the ocean views from the overlook are ridiculously stunning.
Also at the top of the hill, visit the cute Old Point Loma Lighthouse.
The lighthouse keeper's quarters have been restored, so you can get a sense for what it must have been like to be the lighthouse keeper here all those years ago. The lighthouse makes for beautiful photos as well.
Cabrillo National Monument offers a couple of nice walking trails. Both the Bayside Trail and the Coastal Trail feature wildflowers in season, and you may see wildlife as well.
If you enjoy history, pop into the auditorium at the Visitor Center to view the films being shown, and browse the exhibits on display. The park also has military relics from the past.
I loved our visit to Cabrillo National Monument. It is a wonderful outdoor activity for a nice morning or afternoon, and you can spend two to three hours here, depending on the things you choose to do.
#2 See the sea lions on the La Jolla Cove walk
La Jolla Cove is breathtaking on a nice weather day. Park at one end of the waterfront walkway and stroll to the other end and back. With wildflowers in season, and beautiful water views, the walk is a wonderful way to begin a day in the region.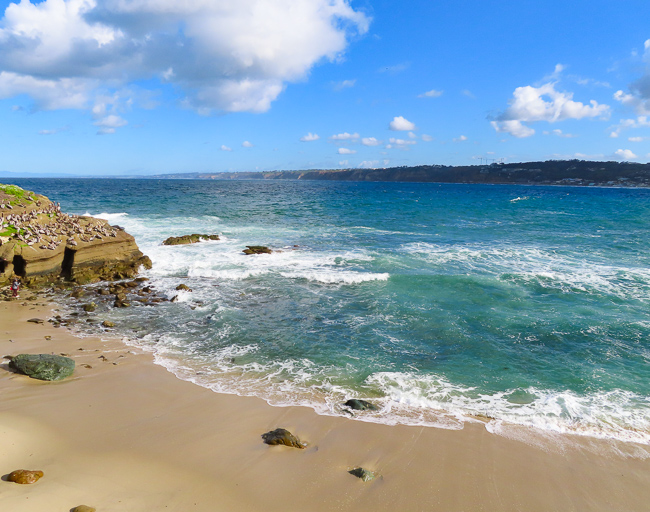 Although I love the California fog (in small doses!), you might want to avoid the June Gloom and visit outside of the summer months if you prefer your water views bright and sunny, with puffy white clouds in the sky and the ocean a rich dark blue.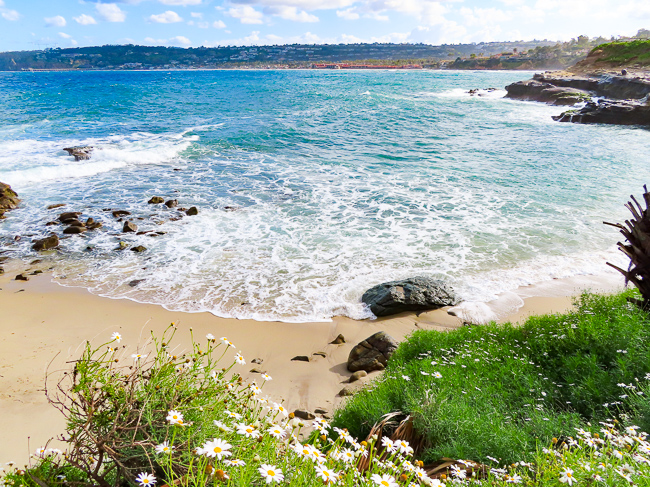 The La Jolla walkway is a prime spot for wildlife viewing. You'll see sea birds skimming over the water or resting on the rocks.
We saw a large number of California brown pelicans on the cliffs by the walkway. It was early in the day, so they were still asleep, with their bills tucked into their bodies.
When they are awake, the bright red throat pouch is much more visible.
And of course, the sea lions and seals are the stars of La Jolla Cove!
Watch them frolic in the water or snoozing in the sun on the shore or on the rocks by the wall.
We saws dozens of sea lions and seals when we visited in late February, both adults and babies. I had never heard sea lions barking before!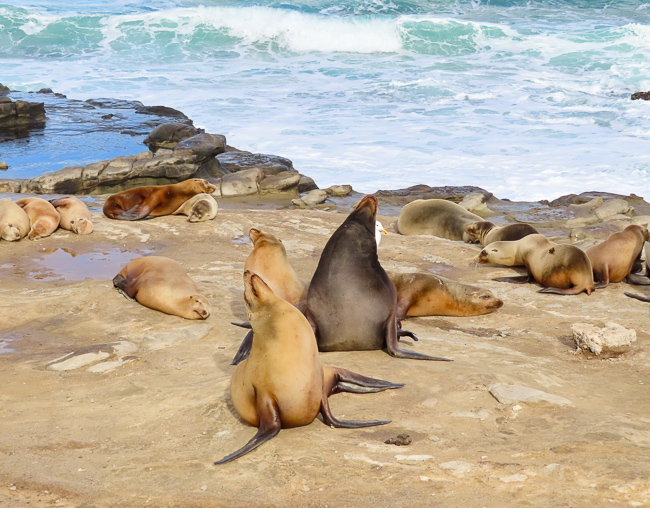 Do you know the difference between a seal and a sea lion? Sea lions bark, and they can "walk" on land using their flippers. They are generally tan or dark brown. Seals wiggle around on land on their bellies, and they are smaller and lighter in color.
One adventurous sea lion had even clambered up on to the ledge at the edge of the walkway. I was a little nervous because some visitors were getting too close to the creature for photos.
Always maintain a safe distance and respect the space of any wildlife you encounter, both for your safety and theirs. Of course you should take photos, but do so safely!
Pro Tip: If you have a zoom lens, remember to bring it along on your San Diego weekend getaway! We photographed lots of wildlife on our visit.
#3 Browse the galleries and shops in La Jolla
Downtown La Jolla is wonderful for strolling and a little retail therapy. La Jolla Village is home to lots of boutique stores, art galleries, and restaurants.
Girard Avenue and Prospect Street, the two major streets in downtown La Jolla, are located right next to the water. You'll see lots of cool apparel boutiques, and galleries with gorgeous but very pricey art.
La Jolla is one of the most expensive parts of San Diego, so most of the stores you'll see here will be very upscale, but you'll also see the souvenir and gift shops typical of any beach town.
Also, from many points on Prospect Street, you get gorgeous views of La Jolla Cove down below. If you want a little rest, pick a restaurant with views of the water, to sit and relax over a drink.
When we wanted a little break, we made our way to Michele Coulon Dessertier, for sweet treats. I had read that they were voted the best dessert place in San Diego, and we wanted a taste!
Sadly, they were sold out of their famous Gateau Aileen, but we loved the chocolate cake, the mini almond cake, and mini raspberry cake we chose.
#4 Hike an ocean view trail at Torrey Pines State Reserve
To see a really wild stretch of Southern California coastline, make your way to Torrey Pines State Reserve, a few miles north of downtown San Diego.
The Torrey pine is an endangered species, and the park is a protected environment for the trees.
There are several trails in the park, of different lengths and grades of difficulty. On a weekend getaway, pick one of the short scenic trails for great views characteristic of the region.
The Guy Fleming loop is 0.7 miles long, classed as easy, and provides beautiful views of La Jolla. Pick this trail if you love seeing wildflowers and other local flora when you walk.
You'll see the eponymous Torrey pines on this walk, which takes you to two beautiful overlooks. If you visit in the winter, watch for Pacific gray whales on their migration route south.
The Razor Point trail is a little longer, and a little more difficult. The loop, which overlooks the water, is 1.4 miles, and passes through coastal sage scrub on the way to the Razor Point Overlook and the Yucca Point Overlook. You'll see canyons and ravines along the trail.
Trails can be closed after rainstorms, so call ahead or check the park website for closures. Follow all park safety regulations and guidelines.
Parking can be a problem unless you arrive early. The small parking lots at the top get full early, and if you park at the bottom, there is a relatively steep walk to get to the trails at the top.
If you decide you aren't up for the trek up the hill, you can choose to walk the waterfront path or stroll Torrey Pines beach.
Another great alternative for views is the nearby Torrey Pines Gliderport. The views of the Pacific Ocean and La Jolla from the Gliderport are sensational.
On a nice day, the parachutes of the gliders offer bright spots of color against a blue sky. Picture perfect Southern California! Plus, you can even sign up for an instructional tandem flight!
#5 Get some rays at Coronado Beach
If beach time is important on your San Diego weekend, you're in luck, because there is no shortage of lovely beaches from which to pick.
For some fun time in a beach community, head to Coronado Island for your time on the sand.
Not only is the island a beautiful, but the drive across Coronado Bridge over San Diego Bay is very cool! Or you can take the Coronado Ferry, for views of both the island and downtown San Diego from the water.
Coronado Beach, one of the prettiest beaches in San Diego, is just a stone's throw from downtown San Diego.
The long stretch of sparkly gold sand is spectacular. If you're wondering, the sparkle comes from mica particles in the sand.
Walk along the beach or the paved walkway that runs alongside, and enjoy fabulous views of downtown San Diego. Or just spread a towel on the sand and relax!
Next, visit the Grand Old Dame of Coronado Island: the sprawling Hotel del Coronado with its Victorian architecture and striking red roof is a National Historic Landmark.
The hotel has been in operation since 1888!
Step inside for a drink with a view of the water, or enjoy a spa treatment at the hotel spa.
Even if the weather is not beach-worthy, Coronado Island is still worth a visit.
Walk the galleries and shops at Ferry Island or stroll down Orange Street, with its shops and restaurants.
Or walk Tidelands Park with its great views of Coronado Bridge and the boats on the water.
#6 Explore the museums and gardens at Balboa Park
Balboa Park is, simply put, amazing.
Set in the heart of San Diego, Balboa Park is a complex of a dozen or so museums, plus almost an equal number of gardens.
Of course you could spend a week or more enjoying everything that is on offer here, but for a weekend getaway, hone in on a few attractions that appeal to you the most.
If you are visiting with kids, the world-famous San Diego Zoo is here as well. It's a popular attraction, so get your tickets in advance to skip the line!
Stop by the Botanical Building and Lily Pond for stunning photo ops. If you can tear yourself away from watching the cute ducks (we saw a duck with a row of babies when we visited!), go inside the historic lath building to see the plants.
The building houses lots of tropical horticultural specimens, including palms so tall they reach the roof, delicate ferns, and exotic orchids. It's free to visit.
Picking one or two museums to visit will be a challenge! We plumped for the Railroad Museum and the San Diego Museum of Art, and we plan to return to see the rest on a longer visit.
I loved the train line exhibits in the Railroad Museum!
They are huge models, replicas of actual lines in the southwest United States. It was wonderful to see the model trains travel through the authentic-looking landscape, through tunnels, over hills and bridges, and past little towns.
The models are maintained by local model railroad clubs.
At the Museum of Art, you can see both permanent collections and temporary exhibits.
Don't miss the Spanish Masters, as well as other greats like Monet and Matisse. The collections span the world and feature multiple styles and mediums, so you can determine which exhibits to see in the time you have.
Other museums you can visit here include the Fleet Science Center, the San Diego Natural History Museum, the Museum of Photography Arts, the Timken Museum of Art, and the San Diego Automotive Museum.
Museums have entrance fees, and if you just plan to visit one or two paid attractions, it's more economical to pay at each individual attraction.
Among the gardens, I recommend ponying up the entrance fee for the Japanese Garden (it's classified as a museum). We spent about an hour walking around this peaceful place, and savored every single moment.
When we visited in mid February, magnolias were just starting to bloom. The koi are big and beautiful. Much of the garden is set below road level, so there's a little uphill walk back to the road.
Balboa Park also has the largest outdoor organ on the planet, at the Spreckel Organ Pavilion. It also has cool Spanish architecture, and beautiful succulent displays along the walkways.
Balboa Park should definitely top your list of things to do on a San Diego weekend getaway!
Prefer a structured tour that will show you all the highlights of Balboa Park? Opt for a 2-hour small group tour!
#7 Explore historic downtown San Diego
Downtown San Diego boasts at least a couple of must-visit historic neighborhoods. The Gaslamp Quarter has a very lively vibe, with lots of bars, clubs, and cocktail lounges.
If you are looking for nightlife, the Gaslamp Quarter is where you go. The Quarter gets its name from the original gas lamps that were used for lighting the streets in this part of the town.
The Gaslamp Quarter is made up of sixteen square blocks, and you'll see Victorian architecture next to contemporary high rises in this historic area of the city.
Browse the numerous boutique stores and galleries in the quarter and enjoy people watching during the day.
At night, enjoy the lights, have dinner at a celebrity chef restaurant, or take in a show at the Spreckels Theatre.
Just a few miles away, Little Italy is another iconic downtown San Diego neighborhood bursting with character. Once upon a time, the Italian families living in Little Italy earned their living from tuna fishing off the coast.
Today it's a walkable, vibrant neighborhood with a bustling Saturday morning mercato and lots and lots of cafes, wineries, boutique stores and art galleries.
We visited on a Saturday afternoon, to be able to browse the Saturday market stalls, where we found everything from prepared foods to fresh flowers.
The streets are pretty packed during market hours and parking is difficult to find (we parked almost a mile away, and paid a hefty fee for that privilege). Market hours are 8 a.m. until 2 p.m.
Little Italy is known as the dining mecca of San Diego, with a street nicknamed "Top Chef Alley," because so many alums of the food show have their eateries here.
But you can also find old school Italian restaurants in Little Italy, and in fact, you'll be sniffing hungrily as you walk, because the aromas of oregano and other spices waft through the streets!
Be sure to time your visit around a meal, and bring a hearty appetite. We ate at Bencotto Italian Kitchen and loved our traditional handmade pastas.
If you like art, browse the Kettner Art & Design District, and stop by Piazza della Famiglia, the large plaza in Little Italy fashioned after Italian squares.
#8 Enjoy the attractions at the San Diego Harbor
The San Diego harbor is beautiful just to wander around, but there are also lots of activities if you are looking for something specific to do.
If you enjoy maritime museums, you have two treats in store for you at the San Diego Harbor. The USS Midway Museum is an aircraft carrier, with several dozen exhibits that span the length, breadth, and depth of the warship.
From the engine room to the flight deck and the crew's quarters to the bridge, you can experience a lot of the ship!
Take in the 15-minute multimedia movie on the Battle of Midway, view the 30 restored aircraft, and learn a lot about US maritime military history! Buy tickets for the USS Midway Museum ahead of time and skip the line!
Look into the Go San Diego Pass if you are planning to visit a number of attractions with entrance fees: you could end up saving some money!
In the Maritime Museum of San Diego, you can view the Star of India, the world's oldest active sailing ship. The Star of India is beautiful! Built in 1863, the Star of India began life as Euterpe. Her first two voyages were eventful, and not in a good way!
The first voyage was marred by a collision and a mutiny, and in her second, she ran into a cyclone and barely managed to reach her destination.
But thereafter, she made several trips from Great Britain to India, and then from Great Britain to New Zealand, Australia, California, and Chile.
The Maritime Museum contains several other historic ships, so well worth a visit if you enjoy maritime history!
You can't visit San Diego and not get out on the water. A narrated sightseeing harbor cruise is a fabulous way to see many iconic San Diego landmarks from the water. You will likely see marine wildlife and sea birds as well.
If you visit on a nice weather weekend, a cruise should definitely be on your San Diego weekend getaway itinerary! In season, you can also choose a whale watching cruise.
For a truly special experience, try the 4-hour sailing adventure on the San Salvador, a full-sized replica of Juan Cabrillo's flagship that landed at San Diego Bay in September 1542. This is on our list for our next San Diego weekend getaway!
#9 Visit the San Diego Mission
Experience a little bit of California's Spanish Colonial past at the beautiful Mission San Diego de Alcala. The San Diego Mission was the very first mission built by the Spanish missionaries in Alta California.
The missionaries would go on to build a total of 21 missions from San Diego to Sonoma, in order to establish Christianity and solidify their presence in the region.
The San Diego Mission was built in 1769 under the supervision of Father Junipero Serra. It was relocated to the present site after water supply proved to be a problem at the original location.
The mission has a checkered history. In 1775, a number of American Indians, unhappy with the rules imposed by the Spanish, attacked the mission and burnt it to the ground.
The resident pastor was killed, and Father Serra returned to San Diego to rebuild the mission, this time with high walls and fortifications.
In the years that followed, the mission oversaw agricultural and animal breeding operations in the area while continuing to establish Christianity. Olive production in California began at Mission San Diego!
After the Mexican-American War, the US military occupied the mission for a while. Eventually, the property fell into disrepair. In 1931, Mission San Diego was restored to its former glory, and today functions as an active Roman Catholic church.
As you pull up to the parking lot, the pristine white facade of Mission San Diego will dazzle you, especially if you visit on a bright sunny day.
Banks of flowers and tropical plants make for a pretty picture. Don't miss the stunning bell tower with its five bells. The largest bell weighs 1,200 pounds!
You can tour the mission on your own. Guided tours are offered on weekdays by prior request. Stroll the gardens to feel the history of the place. You'll see bits and pieces of life as it existed in the early days of the mission.
The plants and flowers are beautiful, and include roses, bougainvillea, and succulents. The small museum houses artifacts found on the property.
Mission San Diego is a beautiful place for a quiet hour of reflection during your San Diego weekend getaway!
#10 Be awed by a West Coast sunset
California sunsets are legendary, and San Diego has its share of spectacular sky evenings. You can catch a fiery west coast sunset from many places in the city.
Some of the most popular include the western overlooks at Cabrillo National Monument, La Jolla and Torrey Pines, Pacific Beach, Balboa Park, and the pier at Oceanside, a few miles north of the city.
But if you want a place nearby where folks congregate just to watch that golden orb slide below the horizon in a blaze of color, head to Sunset Cliffs Boulevard, which runs the length of Sunset Cliffs.
You could arrive a little early and visit Sunset Cliffs Natural Park, where you can take a walk along the trail that overlooks the beach and then find a safe viewing spot to watch the sunset.
There is a steep drop off at the overlook area and you have to stay a safe distance back, especially if you plan to take photos.
Pro Tip: There is street parking but you have to arrive early to get a spot, or be prepared for a walk to the overlook.
Where to stay in San Diego
Since you have a cluster of activities in and around downtown San Diego and another cluster in and around La Jolla, either of those places would work well for your weekend getaway.
Both areas are pricey, but you will not spend a great deal of your precious weekend sitting in traffic.
The US Grant is a fabulous hotel in the Gaslamp Quarter, with a stunning facade and a location close to many major San Diego attractions. Rooms are lovely, with high ceilings and plush bedding. Public areas are spectacular. Presidents and celebrities have stayed here, and you will feel like a VIP too, when you stay here!
The Pendry is another gorgeous downtown San Diego option, also located in the Gaslamp Quarter. Rooms are luxurious, with views of the San Diego Bay or downtown San Diego. Furnishings are a pleasing oceanfront palette.
In La Jolla, we stayed at the gorgeous Estancia La Jolla. The grounds are beautiful. A spa treatment here is bliss. Rooms are decorated in warm colors, and our room looked out onto the courtyard.
The Grande Colonial La Jolla is located in La Jolla Village. Many rooms have stunning ocean views! You are close to beautiful beaches and all the shopping and dining on Prospect Street and the rest of La Jolla Village.
Where to eat in San Diego
In downtown San Diego you'll be spoiled for choice on where to eat. In Little Italy, we ate at Bencotto Italian Kitchen, a traditional Italian restaurant famous for their handmade pastas. "Bencotto" means cooked well, and Bencotto really lived up to its name!
I loved my velvety zucchini soup followed by vegetarian ravioli, and my husband thought his calamari starter was fresh and flavorful, and his meatballs and spaghetti delicious.
Little Italy houses a number of celebrity chef restaurants like Jupiter & Ivy and Herb and Wood, but traditional eateries like Filippi's Pizza Grotto get rave reviews as well.
We had lunch one day at True Food Kitchen, a chain based on healthy living principles. There is a location in La Jolla Village, and another one a few miles from downtown in Fashion Valley Mall.
I loved everything we ate here! We started with roasted cauliflower, and I had a quinoa inside out burger while my husband tried the fish tacos. Everything was flavorful and tasted awesome.
We loved our desserts at Michele Coulon Dessertier in La Jolla, but we also split an ice cream flight at Hammond's Gourmet Ice Cream. Yum! It looks like a lot of ice cream but the scoops are small. It's a great way to taste lots of flavors!
The best time to visit San Diego
San Diego is quintessential coastal southern California, so it's a year-round destination. But that said, there are some times of the year that may suit your taste better than others.
In wet years, winters can bring pretty severe rain storms that snarl traffic, cause closures of trails, and will put a damper on your weekend. But in dry years, winters can be a great time to visit, especially if you want to see whales off the coast. Winters generally have dazzlingly blue skies with no fog and stunning sunsets when it's not raining.
Late March or early April is when I would choose to visit. Temperatures are perfect, wildflowers are in bloom, and the rain is pretty much done. The water may not be warm enough for swimming, though. Another beautiful time is September until mid November.
In May and June, you may run into coastal fog, obstructing views if you love photography. The fog usually burns off by mid day. But otherwise, summer is perfect beach weather!
*****
So there you have it: my recommendations for the perfect San Diego weekend getaway. Have you been to San Diego? If so, what did you enjoy the most about America's Finest City? If you haven't yet visited, I hope I have inspired you to consider putting it on your list!
And if you are looking for other wonderful weekend getaways in California, you'll be spoiled for choice: there are so many wonderful places to discover in the Golden State that you could spend many lovely weekends exploring!
MORE FUN DESTINATIONS IN NORTH AMERICA
California: 7 Amazing Day Trips from Palm Springs You Must Do
Nevada: 26 Best Things to Do in Las Vegas
British Columbia: 10 Fun Things to Do on Your First Visit to Vancouver
Alberta: Best Lakes in Canada in (and around) Banff
California: Point Lobos State Park, A California Coastal Gem
DISCOVER AWESOME DESTINATIONS IN EUROPE
Poland: A Self-Guided Walking Tour of Gdansk Old Town
Spain: A 3-Day Guide to Granada in Andalusia
Italy: Capri in One Day — What to See and Do!
Denmark: The Ultimate Itinerary for One Day in Copenhagen
Norway: 10 Fun Things to Do in Stavanger
Did you find this article informative? Pin it for future reference!