The best places to visit in the Pacific Northwest are diverse: you will find gorgeous national and state parks, beaches, and other natural areas here, as well as an eclectic mix of charming little towns and vibrant cities that offer lots to do on a vacation.
Outdoor enthusiasts proclaim the PNW a paradise. Landscape photographers rave about the beautiful photo spots in the region, which mainly comprises the US states of Washington and Oregon. History buffs can find a plethora of museums and landmarks.
And visitors just looking for a beautiful escape can pick from any number of destinations, ranging from cultural hubs to romantic retreats.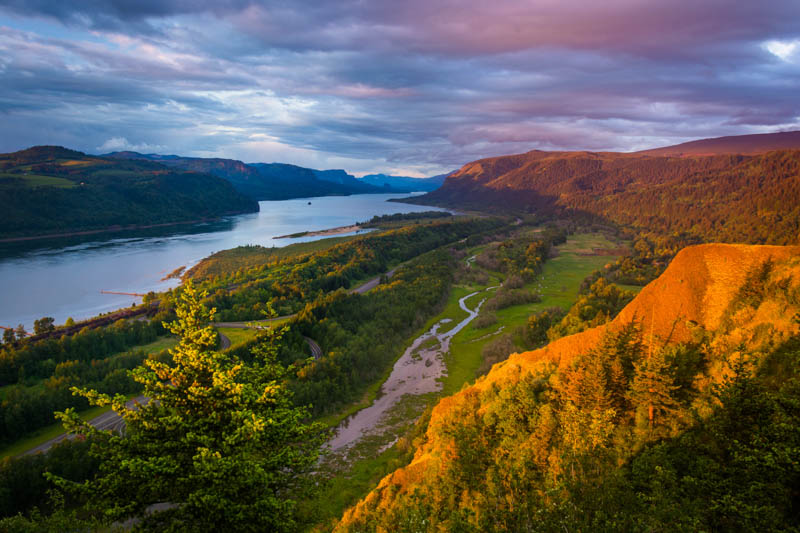 We've visited parts of the PNW in the past, and we can't wait to return. We are planning a long and leisurely road trip to soak in everything the PNW has to offer.
But meanwhile, for this round-up, we asked colleagues in the travel blogging community to pitch in with their favorite PNW destinations in the USA.
If you are dreaming of a trip to this beautiful region, delve right in, to discover the best places to visit in the PNW!
Olympic National Park, Washington
Olympic National Park (ONP) is a must-visit when you are in the Pacific Northwest. It is one of the most beautiful US national parks to visit in the summer.
The park showcases the area's most stunning features, across alpine mountains and lakes, lush rainforest, and dramatic coastline. To appreciate the diversity of landscapes, visitors should spend two days in ONP.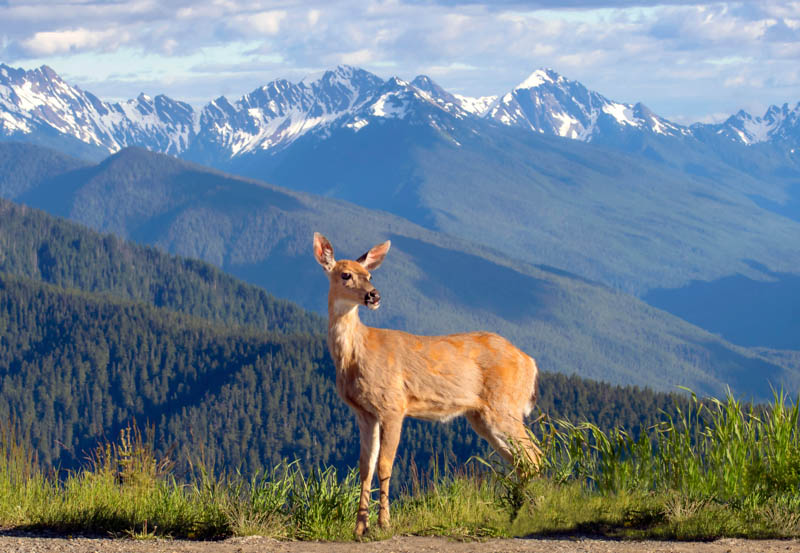 The stretch from Sequim to Port Angeles to Lake Crescent is the most visited area of the park.
You must visit Hurricane Ridge, where you can hike to spectacular viewpoints of the surrounding mountain ranges. The road to get there is scenic as well.
At Lake Crescent, you can go boating, hike the nearby mountains, or simply enjoy the reflections on the glacial water.
From there, you can continue to the town of Forks, of Twilight fame. This area contains Hoh, one of the largest temperate rainforests in the U.S. Hike the Hall of Mosses Trail here!
You should also visit Rialto or Kalaloch and walk on the driftwood-strewn beaches that provide the perfect sunrise or sunset photo opportunity.
June to September offers the best chance for sunshine and unobstructed views, though ONP can be visited any month of the year.
Because it inherits the infamously wet Pacific Northwest weather, visitors year-round should come prepared for rain and overcast skies.
Locals would consider the moody weather to be part of the appeal!
Suggested by Xin of Xinventure
Mount Rainier National Park, Washington
One of the best places to visit in the State of Washington (and the PNW) is Mount Rainier National Park.
This park features waterfalls, rivers, old grove trees, mountains, lakes, and so much more. It is an adventure lover's paradise!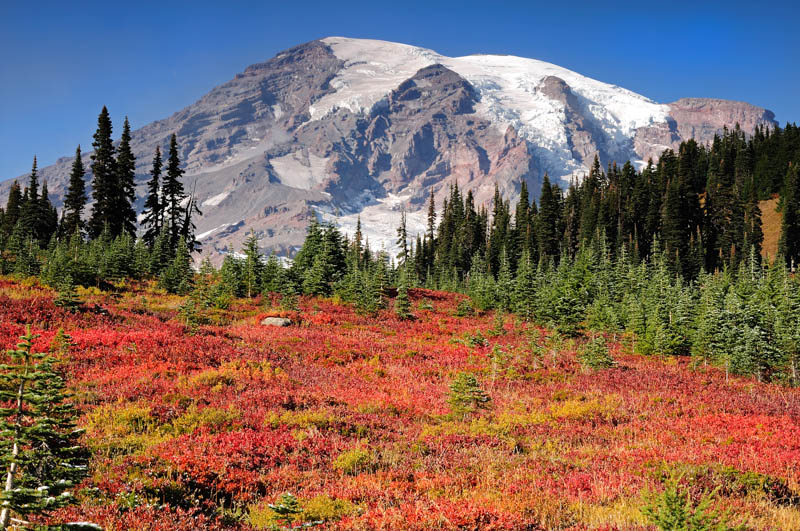 One of the first things everyone must do at the park is to visit the Paradise Visitor Center. It is the most popular thing to do in the park for a reason!
The views here are outstanding: you can see Mount Rainier and many other surrounding mountains.
If you want to go for a walk, make sure to hike the Skyline trail, where you can witness Myrtle Falls and endless views of Mount Rainier.
If the day is a little too foggy and grey, make sure to check out Comet Falls. This waterfall is around 380 feet high and is one of the best waterfalls in Washington.
Another great trail to do is the Fremont Lookout, located in the Sunrise section of the park. This trail features outstanding views of Mount Rainier and a cute fire lookout where you can take pictures. This trail is best to do for sunset.
Tolmie Peak is another excellent fire lookout trail located on the Northwest side of the park. The views here are magnificent, and the trail is rated as moderate.
Mount Rainier National Park is also one of the best places to go for fall colors in the USA. You'll see entire hillsides of bushes covered in reds and oranges!
Suggested by Michelle of The Wandering Queen
Leavenworth, Washington
No visit to the PNW is complete without checking out the scenic Bavarian town of Leavenworth! Nestled at the base of the Cascade Range of mountains, this adorable little town will capture your heart instantly.
Whether you are here to enjoy the incredible scenery, to celebrate a holiday, or to do some food and wine tasting, Leavenworth will deliver.
With its charm, and beauty, another plus to Leavenworth is its accessibility. It's so easy to get here from anywhere in the PNW!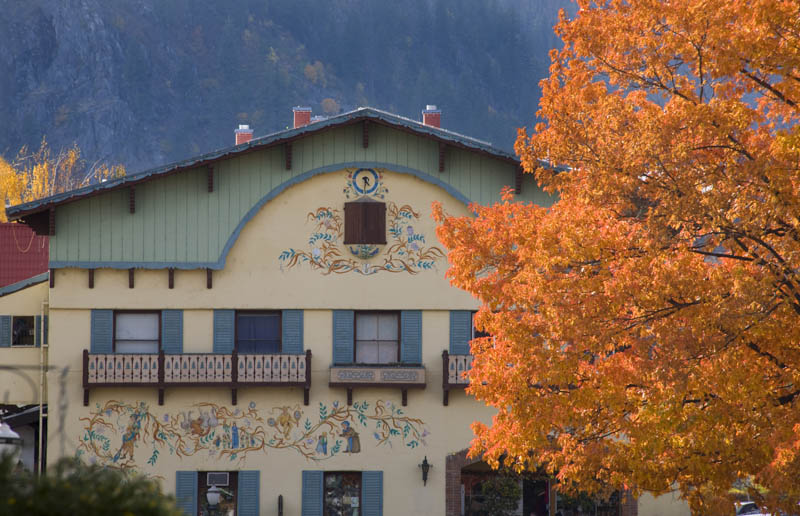 The drive to Leavenworth is just as beautiful as the town itself. In fact, Leavenworth lands right in the middle of the most beautiful road trip in Washington.
There is so much to do in and around Leavenworth any time of year!
During Oktoberfest, the whole town comes alive. You'll see people dressed in typical Bavarian dress and the main streets are closed to traffic.
This allows all the microbreweries and wineries to pull tables into the streets for one amazing party! Even if you don't want to participate in Oktoberfest, fall is a beautiful time of year to visit the town.
At Christmas, the village is covered in lights, and every night there is a tree lighting ceremony, complete with Santa, in the center of town.
If you choose to visit during the summer, you can enjoy a beautiful river that runs through town. There are also some of the state's most beautiful hikes to attempt.
No matter when you come, you'll want to book accommodations well in advance. Leavenworth is a small town and books up quickly.
Leavenworth is the perfect PNW destination for couples, friends, and family trips. Pack up your lederhosen and go check it out!
Suggested by Chantel of Flannels or Flipflops
North Cascades National Park, Washington
Located in Washington State, North Cascades National Park is best reached from Seattle, a three-hour drive that will lead you to stunning alpine scenery.
You can drive through, thanks to the North Cascades Highway, and stop at different points to enjoy the views.
Split into two separate sections, the park borders two other natural spaces: Ross Lake National Recreation Area, and Lake Chelan National Recreation Area, adding lake views to the already incredible landscape.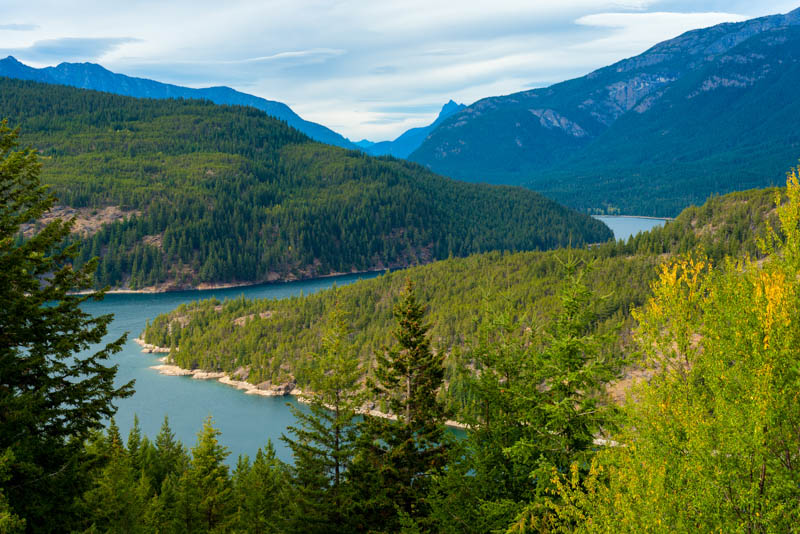 If you are an adventurer, you will most likely head to the park to take advantage of one of the many trails.
There are over 400 miles of trails, and hiking is one of the most popular activities in the park.
Among hikers' favorites are the 3.6-mile Thunder Knob Trail and the 3.7-mile Cascade Pass Trail with peaks and glaciers views.
Other outdoor adventures include kayaking on Ross and Diablo Lakes, biking in the Stehekin Valley, and horseback riding.
Thanks to the extensive wilderness of the rugged Cascades mountain range, wildlife and bird watching can be rewarding.
Spot grizzly and black bears, wolverine, mountain goats, moose, mountain lions, and even gray wolves, all present within the park boundaries.
As is the case with many US national parks, the best time to visit is over the summer, when temperatures are warmer.
Spring can be a good alternative, but snow might be still present high on the trails. Fall is another possible season, with fewer visitors.
Suggested by Patricia from Ze Wandering Frogs
Deception Pass State Park, Washington
When you hear "Deception Pass," you may be thinking of the historic bridge, but did you know it's also a state park?
It's located on Whidbey Island, about two hours from Seattle, and is the most popular park in Washington State. If you're visiting the area, walking across the bridge is an event in itself, but there's much more to do.
There are over 40 miles of hiking trails of all levels around the park. Some of them will take you through beautiful, old-growth trees, while others lead to amazing views and vistas.
There's a swimming beach and picnic area at Cranberry Lake, tide pools at Rosario Beach, and fishing, kayaking and crabbing near Bowman's Bay.
It's also the perfect spot to watch the sunset and it's not uncommon to see harbor seals playing near the shore at any of the beaches.
If you have the opportunity, a very popular activity from June to September is to take a whale watching tour. You can take a regular boat or a high speed catamaran and will hopefully spot some orcas, humpbacks, or gray whales.
There's so much to see and do in Deception Pass State Park that you could easily spend a day or even a weekend. There's even more to do in the nearby area, but even if you only have the chance to drive over the bridge, it's worth a visit just for the views!
Suggested by Karee of Our Woven Journey
Seattle, Washington
Seattle, Washington is one of the most iconic cities in the Pacific Northwest, tucked between the Olympics and Cascades Mountain Ranges and perched along the Puget Sound.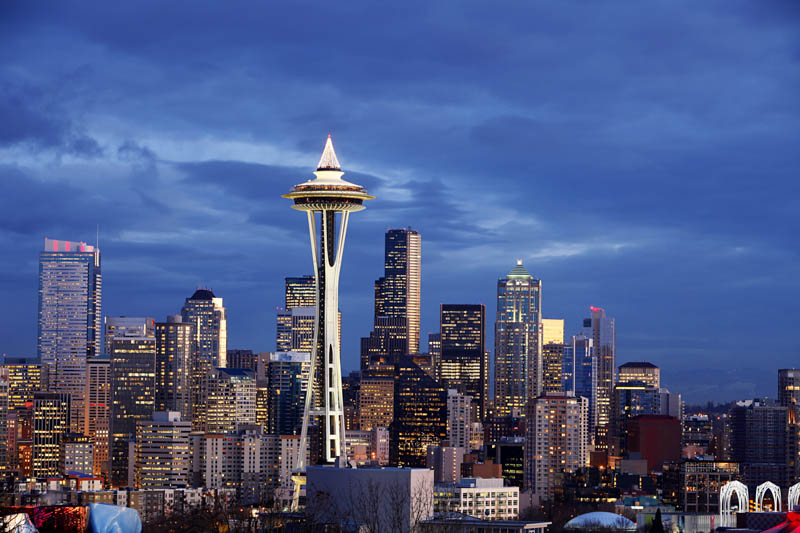 One of the best places to visit along the Washington coast, Seattle has several not-to-be-missed sights.
Pike Place Market is a buzzing market full of vendors, selling everything from flowers to artwork, unique coffee shops, and spectacular views of Eliot Bay.
Another popular stop is the Space Needle, the spaceship-like building that made Seattle's skyline famous. It has an open-air observation deck that provides sweeping views of the surrounding city and mountains.
For one of the coolest parks in the country, be sure to stop in Gas Works Park, a unique combination of rolling green hills overlooking the Seattle skyline and a rusted gasification plant from the early 1900s.
If you're looking to take a peek into the city's famous music scene, check out the Museum of Pop Culture, a shrine to all things pop culture, from Nirvana to the makings of Mind Craft.
Since much of Seattle's charm is taking in the breathtaking views of the city, the best time to visit the city is in the summer (from about June to September), when the city's infamous skies are clear and the temperature is perfect for outdoor adventures.
Suggested by Jessica of Uprooted Traveler
Artist Point, Mount Baker Wilderness, Washington
Many beautiful destinations are not easy to access. Fortunately, this is not the case with Artist Point in Washington's Mount Baker Wilderness.
Located at the end of Mount Baker Highway at an elevation of 5,100 feet, Artist Point boasts incredible alpine views that are visible from the parking area.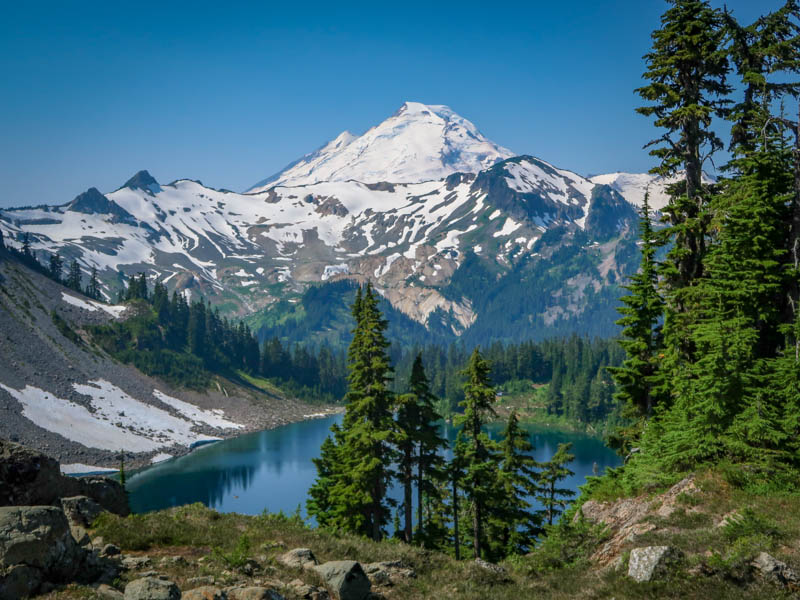 For those that do venture further, however, the area offers lots to explore.
The Artist Ridge Trail is a lovely 1.2-mile wheelchair-accessible loop through alpine meadows. For a bigger challenge, the 6.5-mile Chain Lakes Trail leads to a series of crystalline lakes.
Sledding is a popular activity with families as snow fields typically persist year-round.
The panoramic views also make a stunning backdrop for couples planning an Artist Point wedding.
The drive to Artist Point isn't for the faint of heart. Mount Baker Highway veers along hairpin turns and hugs the side of the mountain, revealing steep drop-offs over the side.
The views are incredible, however, making Mount Baker Highway one of the state's most scenic drives. The road is only open during the summer months as it is typically buried under snow from October through June.
Artist Point is located near the Canadian border in the Mt. Baker-Snoqualmie National Forest.
Covering an area of over 1.7 million acres, the National Forest is one of the most visited forests in the country.
A day use fee is charged to park at Artist Point (Northwest Forest or America the Beautiful passes are also accepted).
Text and photo by Katy of A Rambling Unicorn
Mount St. Helens National Volcanic Monument, Washington
Mount St. Helens National Volcanic Monument is a must-see stop on any trip to the PNW. The famous eruption in 1980 was the most destructive volcanic event in US history.
No amount of study can prepare you for the overwhelming majesty and power you will behold when you arrive.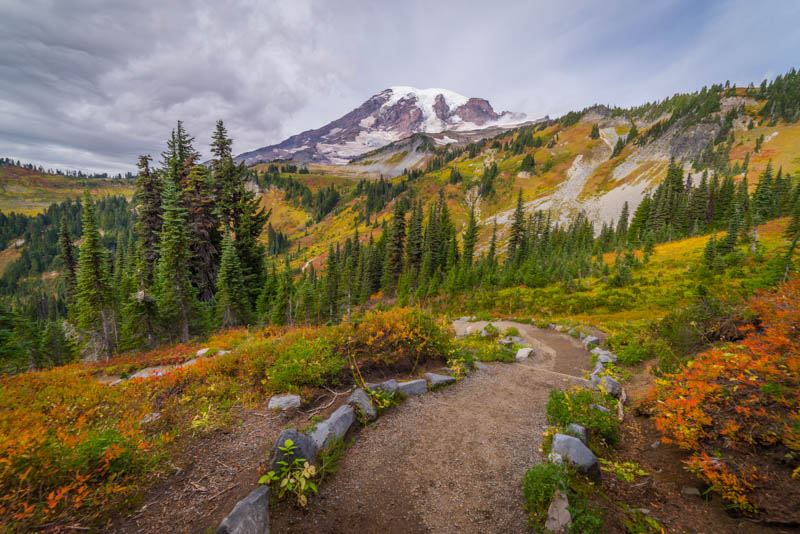 Mount St. Helens lies between Portland, Oregon and Seattle, Washington, and can be explored as a long day trip from either one.
If you don't have much time, stop in at the visitor center just off the highway in Castle Rock. You can learn about the eruption, enjoy a beautiful walk around a lake, and take in stunning views of the mountain.
If you can, make time to drive another 50 miles to the end of the road.
You will arrive at Johnston Ridge Observatory, which offers one of the most awe-inspiring views on the planet.
Once you have caught your breath, explore the short Eruption Trail, enjoy ranger demonstrations, and view the displays in the visitor center. Be sure to watch their informative film, the ending is unlike anything you have ever seen.
Serious climbers might consider a hike to the summit, but will want to do research in advance.
The best hike for most day trippers is the Hummocks Trail. You will be rewarded with an up-close look at the ever changing landscape of the recovering ecosystem.
And, if you have traveled with your kayak, spend a couple of hours paddling under the summit in Coldwater Lake.
Many facilities are closed in the winter, which makes the rest of the year the best time to visit.
Suggested by Erica of Tripscholars
Bainbridge Island, Washington
Bainbridge Island may very well be a best-kept secret in Pacific Northwest. It can only be accessed by boat or on the north end via Washington State Route 305.
If you're looking for a laid-back escape, this island offers arts, beaches, culture, nature, and more.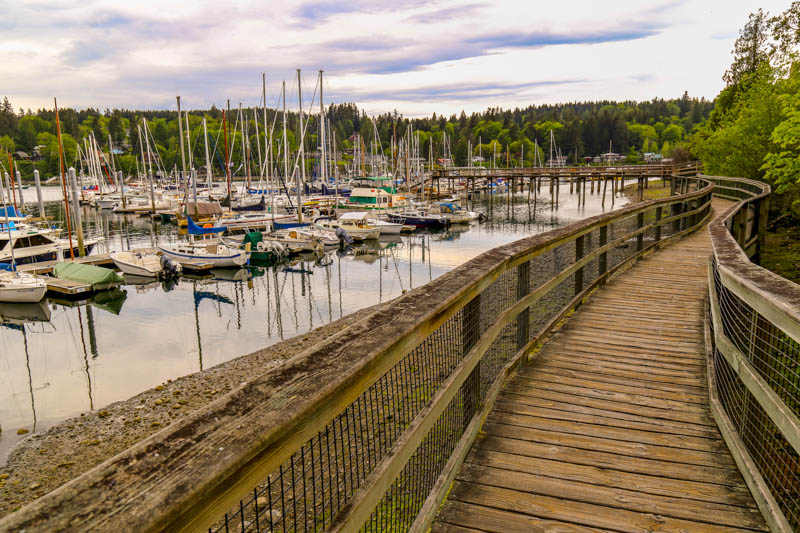 To get there without a car, take the Washington State Ferry from Seattle to Bainbridge Island for about $9. The journey across the Puget sound is a short jaunt (about 30 minutes), and the return ride is free.
On arrival, take a short walk uphill to town and be awed by the charming coastal ambiance. If you want to explore the town by bike, you'll find a rental kiosk near the ferry dock.
Continue walking towards the town where plenty of shopping awaits you on Winslow Way.
The Bainbridge Museum of Art is impressive on looks alone. There are many galleries, shops, and restaurants to experience, but don't skip a visit to the harbor.
There is a great waterfront trail where you can walk and enjoy views of the magnificent homes and boats along the waterways.
For the best sunny weather, visit from late June through October.
To avoid crowds, September through October is your best option.
A few hours of exploration on the island is a wonderful diversion from the big bustling city of Seattle.
Suggested by Tanya from Travels and Treasures
Orcas Island, San Juan Islands, Washington
Orcas Island, one of the San Juan Islands off the coast of Washington, is one of the best places to visit in the Pacific Northwest, especially in the summer.
It is located about three hours from Seattle, including an hour and a half ferry ride, and you'll need a car (or bike) once you land because the island is spread out and there isn't any public transportation.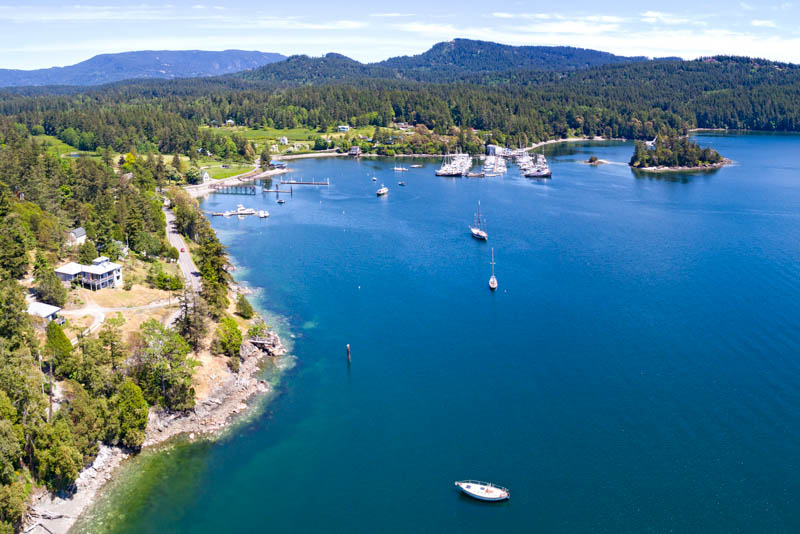 Camping is the most popular form of accommodation, with some of the best campsites at Moran State Park, but for those looking for a sturdier bed, the Outlook Inn is a beautiful bed and breakfast with one of the best breakfast spots on the island, New Leaf Cafe.
There are many fun things to do on Orcas Island, especially for those inclined toward ocean adventures.
As the ancestral land of the Central Coast Salish people, Orcas Island is also home to a wide variety of marine wildlife, most notably the orca.
There are a few whale watching companies on the island, but by far the best is Outer Island Excursions, led by a team of local captains with backgrounds in marine biology and sustainable eco-tourism.
Orcas Island is the best place in the PNW to see orcas in their natural habitat, and you can even rent a kayak and hit the water yourself.
But if you'd rather stay on land, you can also indulge in dozens of hiking trails, ranging from shorter and more accessible trails like Cascade Lake Loop, to the more challenging hikes like summiting Mt. Construction, the highest peak on the island.
Suggested by Kay of The Awkward Traveller
Winthrop, Washington
One of the most unique places in Washington State is the wild west town of Winthrop.
As soon as you drive in, you'll feel like you've stepped back in time in the best way possible. While other western-themed towns can be hokey, Winthrop is a true class act and amazing Pacific Northwest destination.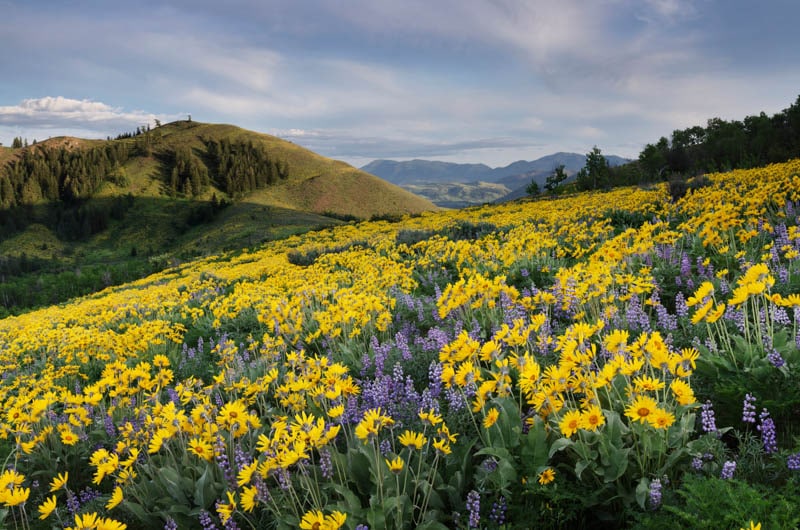 There are tons of things to do in Winthrop, WA. Outdoor enthusiasts will enjoy biking, rock climbing, fishing, hot air ballooning, or horseback riding in the Methow Valley.
The Shafer Museum is an indoor/outdoor museum showcasing pioneer life. And you won't want to miss Sherri's Sweet Shoppe, where you can eat ice cream cones while sitting on authentic cowboy saddles!
Speaking of cowboys, Sun Mountain Lodge has an incredible Cowboy Dinner where you will ride a horse (or a wagon) down a trail to a campsite.
Here, you'll be serenaded by country songs as staff prep dinner in an old wagon. You'll eat by the campfire and it's an experience you won't soon forget.
Many people come here to camp (there are tons of campsites), but there are a few adorable hotels and resorts in the area. The best time to visit is summer, when you can take advantage of the beautiful hiking trails and scenery.
Suggested by Marcie of Marcie in Mommyland
Lake Chelan, Washington
One of the best places to visit in the Pacific Northwest is Lake Chelan, Washington. It's about 3.5 hours east of Seattle and gets 300 days of sun a year.
It was named after what the Chelan tribe called it: "tsillan," meaning "deep waters." This is a fitting name given it's the third deepest lake in the USA.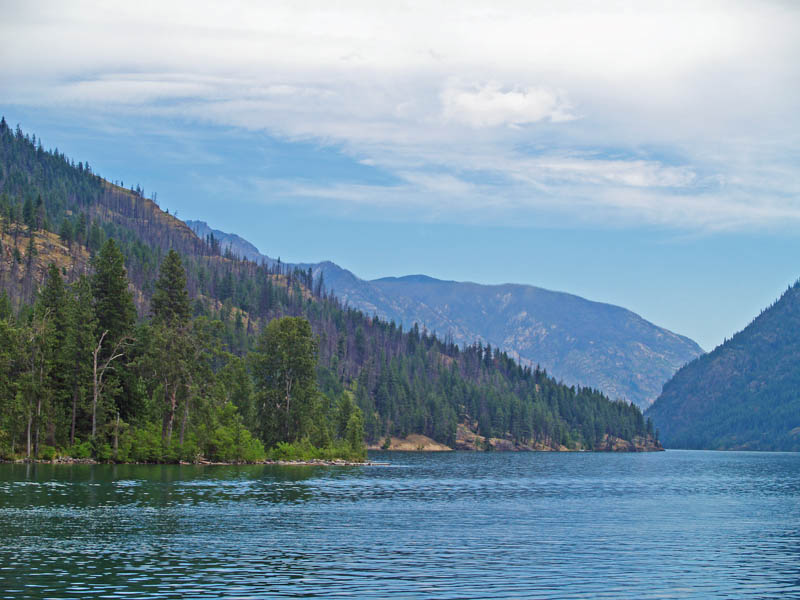 The lake was carved by ice age glaciers, giving it a sandy and volcanic sediment well suited for growing grapes.
As a result, Lake Chelan (pronounced "sha-lan") is a designated AVA wine region. It has about 30 wineries dotting the hills around the lake, many of them super small and family owned.
Visiting the best Lake Chelan wineries is a must during your visit. Don't miss Nefarious Cellars on the south shore of the lake for award-winning red wines and epic views reflecting in the crystal blue lake. On the north shore, seek out Hard Row to Hoe, with its mix of great wines and fun ambience.
Given its beauty, there is plenty to do in Lake Chelan for non-wine-drinkers too. Because of its 300 days of sun a year, Chelan is a great place to visit year round. In the winter, it's a destination for some of the best-cross country skiing in Washington.
Echo Ridge Recreation Area has trails weaving along a ridge that provide breathtaking views of snowy peaks in the distance. There is also tubing and a small downhill ski area. If you time your visit for late January, you can also attend Lake Chelan's Winterfest.
Visiting spring through fall offers a lot of outdoor activities. Boating, kayaking, and swimming in the lake is popular. You can also take the ferry to Stehekin, a remote island in the center of the lake.
Lake Chelan is also a great jumping off point for area hikes. Chelan Butte is a popular choice thanks to the uninterrupted views of Lake Chelan from up high.
Or during the fall you can head to Colchuck Lake near the Bavarian-themed town of Leavenworth for a hike that will take you to the golden larches.
Suggested by Adria of Emerald Palate
Spokane, Washington
The vibrant city of Spokane in Eastern Washington with its magnificent natural beauty and sights is an excellent destination in the Pacific Northwest. The Spokane River runs through the heart of the city and provides many recreational opportunities.
Riverfront Park has been named one of the most beautiful urban parks in the US. Powerful cascades create the largest urban waterfall. Rent a bike or an electric scooter to explore the many pathways of the park next to the river.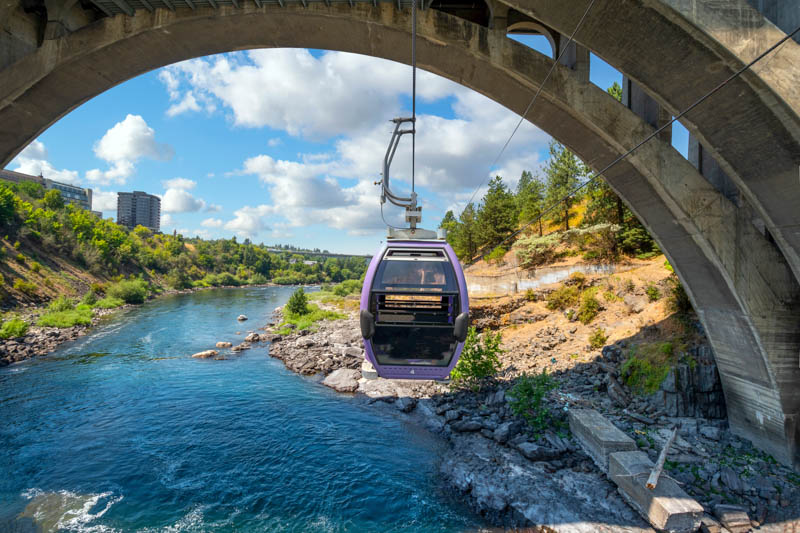 The Numerica Skate Ribbon is a 650-foot pathway to ice skate in the winter and skateboard, scooter, or rollerblade in the summer.
Kids will love the old-time carousel ride or the 12-foot tall Radio Flyer wagon they can climb on. Everyone will enjoy the riverside art and sculptures.
Outdoor enthusiasts can bike or skate on the 40-mile paved Centennial Trail that goes all the way to Idaho.
The historic buildings of downtown have been restored to their original charm.
Wine bars and cellars celebrate the many wineries and vineyards of Eastern Washington.
If craft brew is more to your liking, Spokane has 35 breweries. Stop for a tasting and enjoy the growing foodie scene with farm-to-table cuisine featured in many restaurants.
Suggested by Karen of Outdoor Adventure Sampler
Columbia River Gorge National Scenic Area, Oregon
With spectacular views and scenic waterfalls, the Columbia River Gorge in Oregon is the country's largest National Scenic Area.
The National Scenic Area stretches from the eastern fringes of the Portland metropolitan area all the way to the Deschutes River in the east.
The crown jewel of the area is the 620-foot Multnomah Falls, but you will find plenty of other natural wonders here. Columbia River Gorge is also famous for its farm-to-table cuisine and craft beer scene.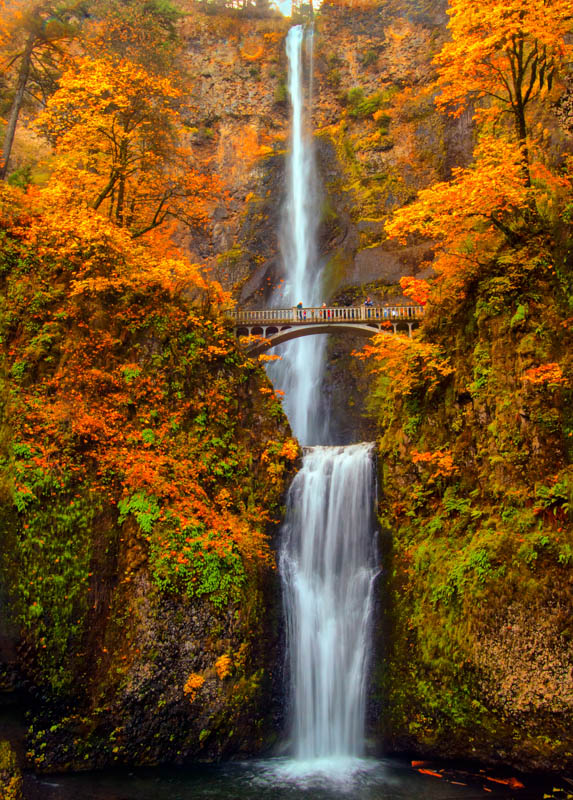 Driving the Columbia River Highway is a great way to experience the gorge.
Along the way, you will find beautiful natural scenery, many picturesque small towns, and endless opportunities for outdoor recreation, from hiking and biking to windsurfing, kayaking, and stand-up paddleboarding.
Hikers and backpackers will enjoy the Eagle Creek Trail, the most popular trail in the Columbia River Gorge. It offers spectacular views of forests and cliffs, along with many waterfalls.
Some of the most popular places to stop along the route include the Bonneville Dam, Bridge of the Gods, and Multnomah Falls. Crown Point and Vista House offer stunning views of the river.
Vista House has a museum and gift shop to browse. At Hood River, stop to take a scenic cruise of the Columbia River!
Columbia River Gorge is also known for its burgeoning craft beer scene. You will find craft breweries all along the route, from McMenamins Edgefield just outside Portland, to Everybody's Brewing in White Salmon.
The gorge is easily accessed from Portland, making it a popular weekend destination for outdoor lovers. If you can, visit during the week rather than at the weekend, for fewer crowds at popular stops along the way. If you'd rather leave the driving to someone else, there are a number of tours from which to pick.
Good to know: Between May 24 and September 5, 2022, a permit is required to drive the waterfall corridor between 9 a.m. and 6 p.m. A permit is also required to visit Multnomah Falls. Permits can be obtained at recreation.gov.
Suggested by us
Painted Hills, Oregon
Painted Hills, one of the Seven Wonders of Oregon, is one of the most unique areas to visit in the state. The colored, multi-layered landscape was once an ancient floodplain.
Today, it is an incredible lesson of geological eras created 35 million years ago from climate changes, and many volcanic eruptions. Looking at the landscape makes you feel like you are admiring a painting.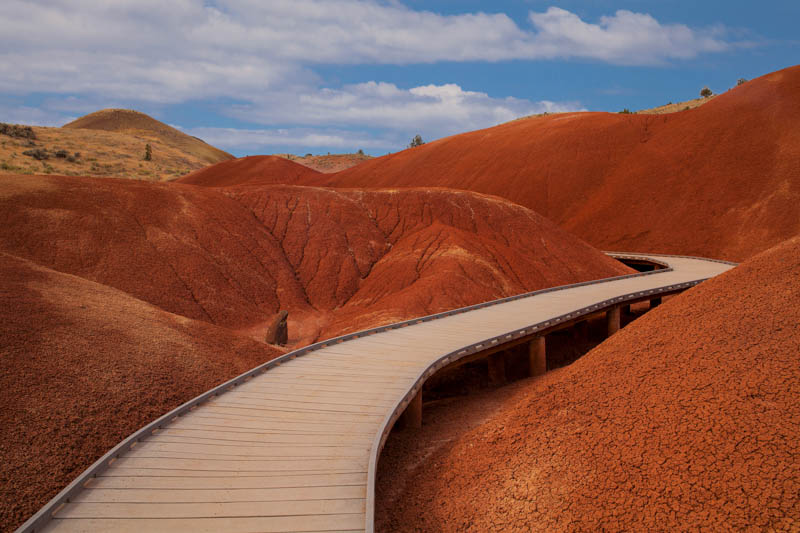 Five short hikes show different perspectives of the landscape. Painted Hills Overlook Trail and Painted Cove Trail are two of the trails you will not want to miss. The trails are easy to find from the main road and are well-marked.
The best times to visit Painted Hills are in mid-spring or fall, as you will have cooler weather. Plus, after a rainfall, the colors of the Painted Hills are intensified.
Also, if you time your visit for the afternoon, the reds, blacks, golds, and yellows are at their brightest best. Different lighting and moisture content can dramatically change the appearance of the hills throughout the day.
There is no visitor center or food or water available at Painted Hills, so plan accordingly. The Painted Hills unit is nine miles northwest of Mitchell, Oregon. The closest big city is Bend, Oregon, a two-hour drive away.
Painted Hills is one of three units of the John Day Fossil Beds. If you are interested in visiting the other two units, be aware that they are distanced.
The Sheep Rock unit is one hour away, and the Clarno Unit is two hours away. You will also want to make time to stop in at the Thomas Condon Paleontology Center.
Suggested by Debbie of World Adventurists
Crater Lake National Park, Oregon
One of the best places to visit in the Pacific Northwest is most definitely Crater Lake National Park in Oregon.
One of the great national parks of the west, this lesser-visited national park doesn't get as much attention as it should and offers activities year-round (but you better like snow if you visit during the winter)!
During the warmer months, one of the best things to do at Crater Lake is to go hiking.
Some of the most popular hiking trails in Crater Lake National Park are Garfield Peak, Pinnacles Overlook Hike, Cleetwood Cove Trail, and Watchman Peak.
If you're there during the spring, be sure to stroll along the Castle Crest Wildflower Trail where you will get to see the flowers in bloom.
If you're heading to Crater Lake during the winter, snowshoeing is a must!
The park receives around 43 feet of snow annually, and there are ranger-led snowshoe walks around the lake. These are free of charge and a fantastic idea for those looking to experience nature on a budget.
Crater Lake is a photographers' paradise. The pullouts along the Rim Road, which encircles the lake, are great spots from which to snap photos of the stunning deep blue waters (in warm weather) and the snowy wonderland (in the colder months).
Another wonderful thing about Crater Lake is that it is one of the best weekend trips from Portland, Seattle, and many other places in the PNW, making it an ideal destination for nature lovers looking to escape.
Suggested by Megan of Megan Starr
Portland, Oregon
One of the most beautiful and unique west coast getaways you'll find, Portland is definitely a top-spot inclusion on any PNW itinerary.
Whether you are looking for gardens and museums, great food and drink, or parks and outdoor activities, Portland delivers. Plus, it's compact, and easy to explore.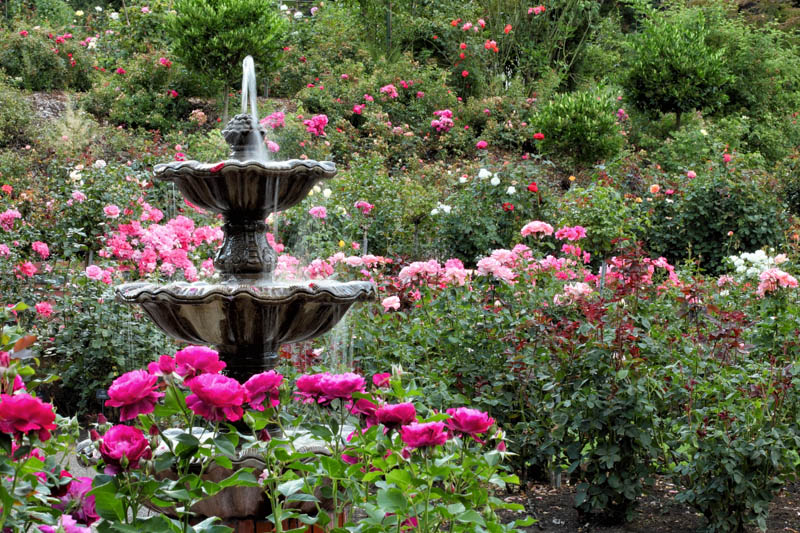 History lovers will want to tour Pittock Mansion, with its stunning interiors filled with artwork, and its gorgeous grounds.
Hiking enthusiasts should explore Forest Park, where several miles of trails await. Here you can also see Witch's Castle, an abandoned building that's a popular landmark.
Laurelhurst Park and Washington Park make for great strolls as well.
Love books? Step into Powell's City of Books, the largest independent bookstore on the planet.
Enjoy gardens? Don't miss the Portland International Rose Test Garden, where you can see 10,000 bushes, with about 650 varieties, on display. The garden is especially stunning in June, when it is typically at peak bloom.
The Japanese Garden, located nearby, is a must-visit as well.
Portland is a foodie paradise with several hundred food trucks spanning numerous cuisines, and many great restaurants. A food tour is a great way to get introduced to local eateries.
Be sure to check out the food pods at Cartopia and Hawthorne Asylum. Portland is also a top beer destination in the US, with several dozen microbreweries from which to pick.
And don't forget to get doughnuts at Voodoo Doughnut!
To make the most of the outdoors, and to see the roses at peak bloom, visit Portland in the summer.
Late spring and early fall are also good times to visit, with lower prices on accommodation than in the summer, and fewer crowds.
Winter is wet, but Portland offers many things to do indoors if you are planning a winter visit and run into rain.
Suggested by us
Ashland, Oregon
Ashland, Oregon is worth adding to your Pacific Northwest itinerary if you are a lover of Shakespeare.
The area is best known for the Oregon Shakespeare Festival which runs from early spring to late fall. It is a repertory theater, so there are a number of plays being produced simultaneously during the busy summer months.
You can see a Shakespeare play at the outdoor Elizabethan theater one night and an experimental play at one of the two indoor theaters on the next.
Visit over the 4th of July for a great small town celebration in the beautiful 100-acre Lithia Park. The festivities include a parade down Main Street.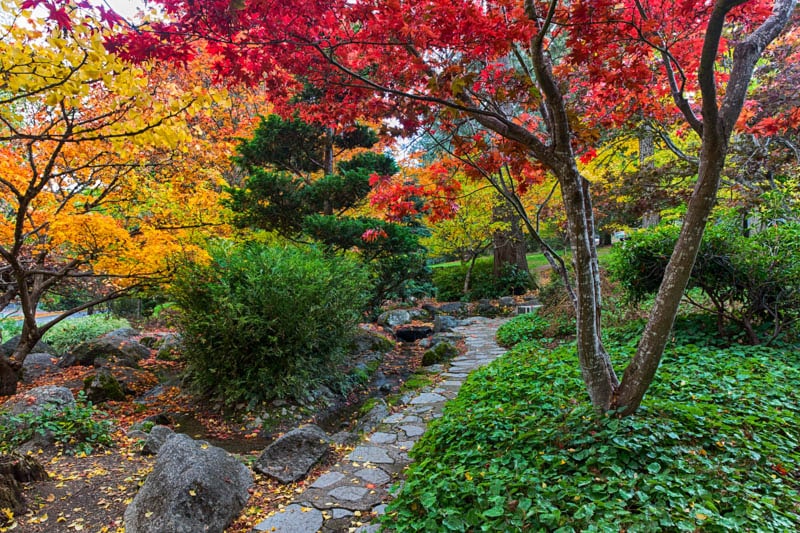 You can take in a dinner show at the Oregon Cabaret Theatre, or, if you have had enough culture, you can explore the whitewater on the nearby Rogue River in Grant's Pass.
The Rogue River can be explored on a 1-3 day trip. You can take a jet boat or a rafting trip or just find a quiet corner to fish.
In the winter, you can visit the area for the skiing and snowboarding at Mount Ashland.
Any time of year you can enjoy a glass of wine at one of the local wineries, like the Belle Fiore Estate.
Nearby Jacksonville is an old gold mining town. Jacksonville hosts the summer-long Britt Music & Arts Festival.
Suggested by Chris of Amateur Traveler
Cannon Beach, Oregon
Cannon Beach in Oregon blends all the best aspects of the Pacific Northwest: a dramatic landscape, amazing food, and opportunities to spend time in nature.
It is the perfect beach town (one of the best beach vacation spots in the US, in fact!), located just an hour and a half from Portland, and only three and a half to four hours from Seattle.
Experience it on its own or as part of an Oregon Coast road trip and you will not be disappointed!

The town has an activity for everyone. Walking along the beach named after the town is always awe-inducing.
The 235-foot Haystack Rock that sits just offshore the beach is a marvel, usually covered in sea-birds up top and anemones and starfish at the base (which you can visit during low tide!).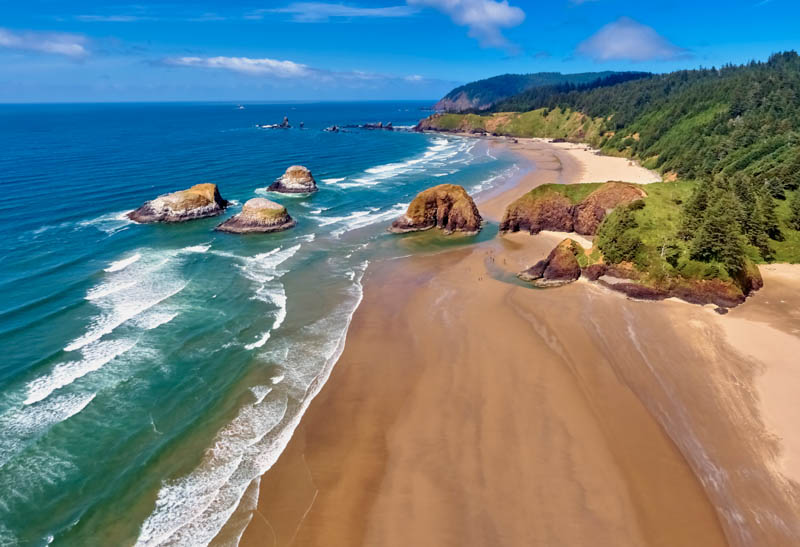 The beach itself is wide, long and expansive. Hours can be spent slowly strolling down the sand.
Whether it is raining or windy, the stores that line the town are perfect when you want a break from the outdoors. There are galleries, a candy store, and gift shops along Hemlock Street.
The food in Cannon Beach is amazing as well. Drop by Public Coast Brewing where there is outdoor seating and yummy food. Or visit Pelican Brewing for award-winning clam chowder or a drink from their on-site brewery.
While Cannon Beach is beautiful anytime of the year, it definitely shines in the fall. The Pacific Northwest is known for its cloudy, rainy winters and Cannon Beach is no exception.
In the spring and summer the coast is busier, and coastal fog can unexpectedly ruin a visit.
September and October are warm and sunny, and a lot less busy!
Suggested by Samantha of A Truthful Traveler
Smith Rock State Park, Oregon
Smith Rock State Park has some of the most picturesque natural landscapes in the Pacific Northwest.
The park is world-famous for its rock climbing but visitors can also enjoy its beauty in plenty of other ways like hiking, mountain biking, horseback riding, kayaking, and so much more.
With so many things to do and see, it's the perfect PNW stop for both outdoor lovers and casual visitors.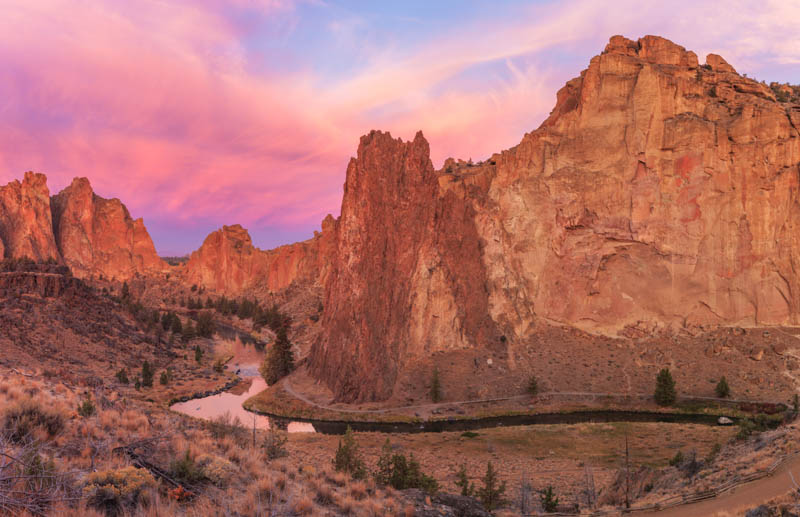 With over 2,000 routes, rock climbing is definitely one of the most popular activities in the park for both beginners and experienced climbers. Even if you're not a rock climber yourself, it's still fun to watch the climbers in action.
Secondary to climbing, hiking one of Smith Rock's 12 official trails is another popular way to experience the park.
The 3.7-mile Misery Ridge Loop is the most popular trail, since it offers hikers panoramic views of the Crooked River and access to watch climbers on the iconic Monkey Face rock formation.
Located just outside of Bend, Oregon, Smith Rock State Park is easily accessible as a day trip from the city or for staying overnight at either a campsite or vacation rental.
The best time of year to visit is either in the spring or fall when it's not so hot and the crowds are smaller.
Suggested by Stephanie of Travanie Travels
Oregon Dunes National Recreation Area, Oregon
Oregon Dunes National Recreation Area, is this amazing hidden spot on the coast of Oregon.
You are driving along among the cliffs and tall pines when you stumble across a hidden oasis of sand. It almost feels like you have wandered into a desert, but you are still in the beautiful Pacific Northwest Coast (PNC).
This is the largest stretch of coastal sand dunes in the United States.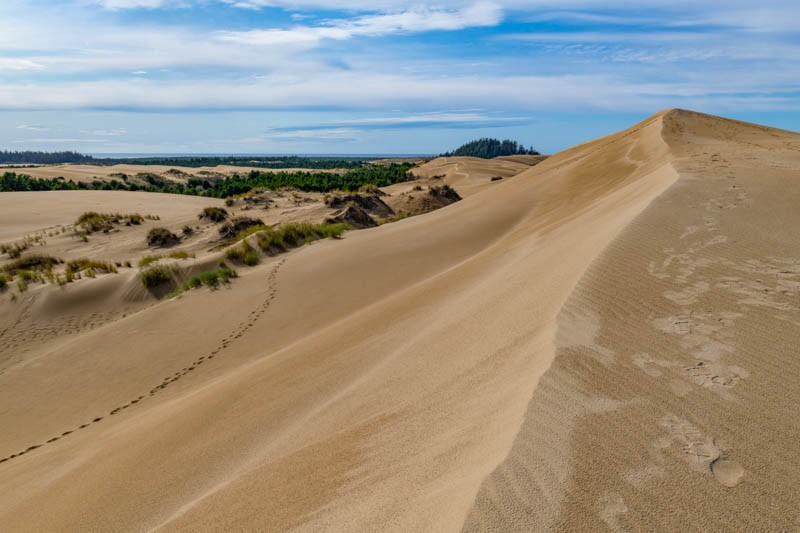 The best thing about the Oregon Dunes is there is literally something here for everyone. If you are looking for an adventure, you can rent or do a tour in an ATV or a dune buggy. You will get some serious adrenaline and some beautiful views.
If connecting with nature is more up your alley, than the campgrounds are a great place to stay. You can go fishing, hiking, swimming (fair warning: it'll be chilly), kayaking, or even crabbing.
The sand is very soft and pliable so the hiking can be a bit difficult, but it is totally worth it.
There are three campgrounds in the Oregon Dunes Recreation Area that are perfect for beach combing, and sandy action: East Dunes, West Winds, and Sandbeach.
If you aren't looking to make a weekend of it, just taking a picnic out, to hike the dunes and watch the Pacific Ocean, is worth the drive.
Suggested by Rebecca from Whatever Packs Your Bag
Willamette Valley, Oregon
If you love wine, then a visit to the Willamette Valley in Oregon is a must. Known for some of the best pinot noir you will ever try, the Willamette Valley is home to over 700 wineries.
But there is more to do in the Willamette Valley than sip on wine.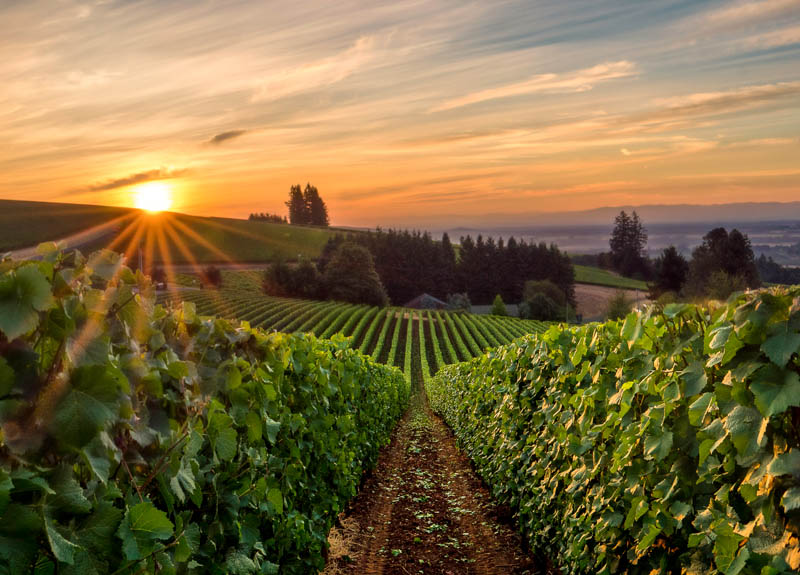 Visit Silver Falls State Park. One of the largest state parks in Oregon a visit to Silver Falls State Park will not disappoint. Here you can go hiking and admire the waterfalls.
Go wine tasting, of course. But not just any wine tasting. Head to Argyle and check out their sparkling pinot noir. You will not be disappointed. This is only one out of some of the most amazing wineries in the Willamette Valley.
Visit McMinnville and come hungry. McMinnville is home to some of the most amazing restaurants in the area, including Thistle. And after you're done don't forget to grab a drink at the rooftop bar at McMenamins.
Bike the Willamette Scenic Bikeway. This is an excellent way to take in the beautiful scenery. Afterwards, head to Mount Angel Abbey, where you can sip beer made by Benedictine monks.
Whether you have a love for wine or are looking for other things to do in the area, the Willamette Valley is a must-visit destination in the PNW.
Suggested by Taima of Poor in a Private Plane
Bend, Oregon
One of the best places to visit in the Pacific Northwest of the United States is Bend, Oregon.
Bend is most famous for the many outdoor sports opportunities it offers.
Plus, Bend is a very beautiful place, with lakes, waterfalls, and the Deschutes River.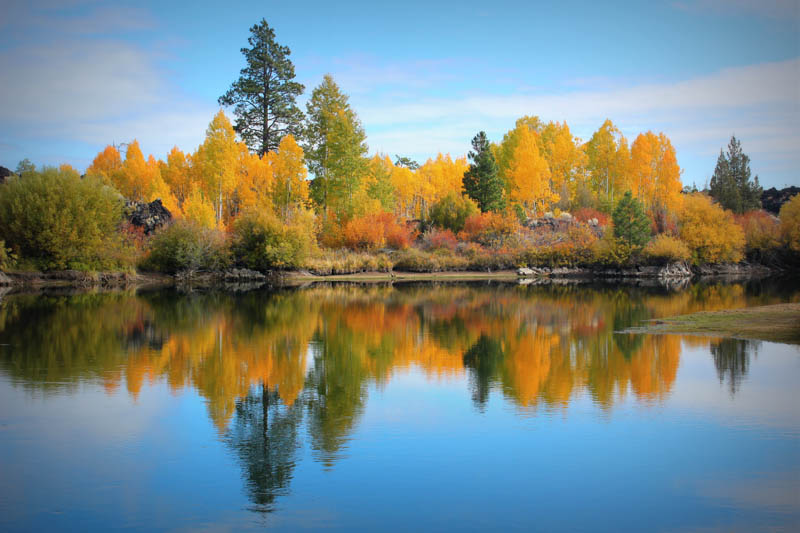 One of the best things to do in Bend is hiking in nature. There are many hiking trails near the city. For example, the Oregon Badlands Wilderness, with its beautiful landscape, is a great place to go hiking.
Another great activity is visiting the High Desert Museum, where you can learn about the High Desert and its history. The museum features a mix of Native American and Old West culture.
Rafting is another fun activity in Bend that is organized by Sun Country Tours. This experience takes place on the Deschutes River.
Furthermore, you should definitely visit the art galleries in Bend. Every first Friday of the month, you can participate in an art walk where you can go from one gallery to another. Many of Bend's art galleries focus on the High Desert.
Because there are many outdoor activities in Bend, the best time to visit depends on the weather.
That's why it is best to visit Bend from the end of spring till the beginning of fall when the temperature is most pleasant and there is less rain.
Suggested by Dymphe of Dymabroad
Hood River, Oregon
Just over an hour's drive from Portland, Hood River is a charming town situated on the banks of the Columbia River.
Known for world-class windsurfing and kiteboarding as well as a thriving foodie scene and outdoor activities, this picturesque town offers tons to do.
While Hood River is an excellent destination all year long, July through October is the best time of year to visit Mount Hood, as there are many festivals and events taking place then.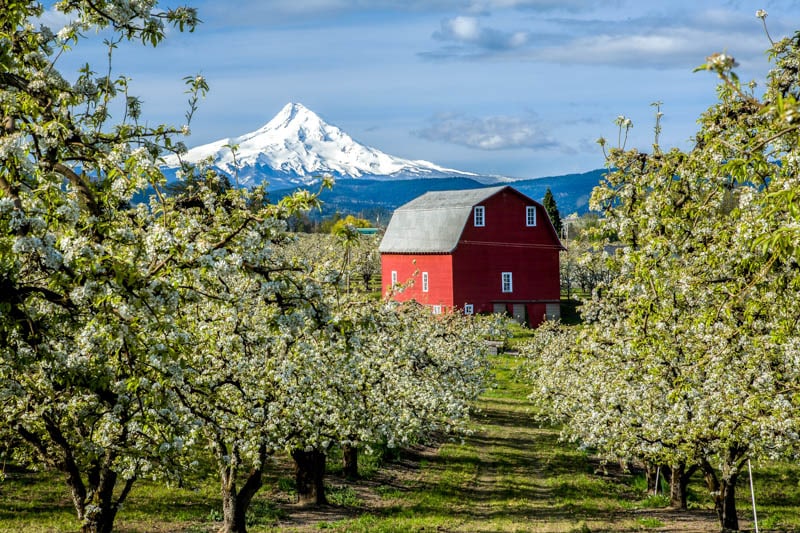 One popular thing to do in the summer and early fall is to drive the Fruit Loop, a 35-mile scenic drive that meanders through the Hood River Valley and brings you to fruit stands, orchards, and farms.
Pick cherries or apples (depending on the season) straight from the tree, and stop off at one of the many Hood River wineries to relax with a glass of wine and unobstructed views of Mount Hood.
While in town, walk along the banks of the Columbia River and watch the windsurfers in their element. If you're feeling adventurous, you can even take lessons and try it out for yourself.
Once you've had enough adventure, you can wander around downtown, popping into any of the boutiques or cafes that strike your fancy.
If you're a beer fan, Hood River has its share of excellent craft breweries from which to choose. Find one with a patio and enjoy your brew with views of the river or the mountains, or better yet, both!
Suggested by Katie from Go Wander Wild
*****
We hope you enjoyed this round-up of the most exciting destinations in the PNW. Which ones will you pick for your next trip?
MORE INSPIRATION FOR TRAVELS IN THE USA
Did you find this article informative? Pin it for later reference!