There are so many gorgeous places to visit in Arizona! As a part of the great American Southwest, Arizona features stunning natural landmarks, including the Grand Canyon, one of the seven natural wonders of the world.
Arizona's cities are fun to visit as well, with great shopping and dining, cultural sites, and proximity to the great outdoors, with miles of hiking and biking trails.
From the stunning cliffs of Sedona to the slot canyons of Antelope Valley and from the vistas of Monument Valley to the waterfalls of Havasu, the scenic beauty of Arizona is legendary.
Whether you choose to visit a specific place or two, or you do a road trip through the state, the best places to visit in Arizona will enthrall you.
Some links on this page may be affiliate links. If you click an affiliate link and make a purchase, we may receive a small commission, at no extra cost to you. For more details, refer to our disclosure.
We've visited Arizona many times, but for this article, we asked fellow travel bloggers to chime in with their recommendations as well, to give you a variety of destinations from which to choose.
Their recommendations make us want to pack and head out on a road trip as soon as we possibly can, to explore The Grand Canyon State yet again!
Excited? Here, then, are the best places to visit in Arizona!
Sedona
One of the best places to visit in Arizona is Sedona. This cute town is filled with so many beautiful hikes and landscape features. If you love the outdoors, then you need to check this place out!
Some of the best hikes in Sedona include Cathedral Rock Trail, Soldier Pass Trail, Devil's Bridge Trail, Bear Mountain Trail, Courthouse Butte Loop, and Bell Loop Trail.
Devils Bridge is extremely popular, so it is best to do this hike at sunrise. Cathedral Rock is a strenuous but short hike. Bear Mountain is a long and challenging hike but has fantastic views at the top.
Courthouse Butte and Bell Loop are great trails! Mainly because you can see incredible views throughout the whole hike. You will want to stop and take pictures every 10 minutes. These trails are great for the entire family.
Sedona really has some of the best views in Arizona. It has all types of hikes with different difficulty ratings. Whether you are an expert hiker or not, it is a great place to experience the outdoors.
Other than hiking, you will want to browse the shops and art galleries at the Tlaquepaque Arts & Shopping Village, visit the photogenic Chapel of The Holy Cross, and take a Pink Jeep Tour.
It is best to visit Sedona over a long weekend. Three to four days is enough to experience the majority of the popular hikes in the area.
The best time to visit Sedona is during the spring. The weather is phenomenal, and the desert flora speckle the red rocks with yellow, purple, and orange.
Where to stay
One of the best places to stay in Sedona is the Hyatt Residence Club Sedona, Piñon Pointe. This hotel makes you feel at home. It has a warm and cozy vibe!
Text and photo by Michelle Stelly from The Wandering Queen
Monument Valley
Monument Valley Navajo Tribal Park, one of the most photographed places on the planet, is part of the Navajo Nation.
The sandstone formations in the park rise up to 1,000 feet, making for beautiful vistas. The bright red color of the stone comes from iron oxide.
Monument Valley is about 91,000 acres in size, and is located on the border between Arizona and Utah, near Four Corners.
The much-Instagrammed middle-of-the-road photo of Monument Valley is taken from US Highway 163 that leads to the park, at mile marker 13 in Utah.
From the visitor center, you can see the Mitten Buttes and Merrick Butte. After paying an access fee, visitors can drive a 17-mile dirt road through the park.
You can join guided tours by Navajo tour operators to go down into the valley in Jeeps. Places such as Ear of the Wind and Mystery Valley can only be seen via guided tours.
Spring and fall are ideal times to visit Monument Valley. Summers are hot, although not unbearably so for the most part, because of the high altitude of the valley. Winters are cold, and you may even see the rocks with a dusting of snow on occasion.
Where to Stay
Goulding's Lodge is located in Monument Valley and offers an indoor pool and onsite restaurant. Rooms are well-appointed and some rooms come with a full kitchen.
Suggested by us
Phoenix
Phoenix is a wonderful destination in Arizona for anyone interested in cultural experiences. From museums to street art, there is a lot to discover in Phoenix!
There are so many fantastic museums in Phoenix that it would take days to visit them all.
Start with the Heard Museum, one of the finest museums dedicated to American Indian art in the world. You can even shop for your own pieces at the museum store.
Those looking for an interactive museum will love the Musical Instrument Museum. This museum houses instruments from every corner of the globe, and the audio guide allows you to listen to many of them.
There's even a section dedicated to famous musicians from Arizona like Alice Cooper.
History buffs will love exploring Phoenix's historic district, Heritage Square. You can take a tour of the Rosson House and learn what life would have been like in Phoenix at the turn of the 20th century.
After the tour, you can grab a pizza at the nearby legendary Pizzeria Bianco.
Finally, nature lovers will adore the Desert Botanical Garden. It's actually located in the Sonoran Desert, so there's no better place to see amazing cacti and other desert plants.
Phoenix is one of the largest cities in the United States, so plan to spend at least three days here enjoying the attractions.
The best times of year to visit are spring and fall, for optimal weather.
Where to stay
For a convenient location in a beautiful, historic building, stay at the Hilton Garden Inn Phoenix Downtown.
Text and photo by Stella Jane from Around the World in 24 Hours
Scottsdale
Located just about 20 minutes east of Phoenix, Scottsdale is the perfect place to visit for a long weekend full of luxury.
Home to luxurious resorts, golf courses, delicious dining, and fun activities, Scottsdale has plenty of things to do to keep you busy.
While Scottsdale's resorts and golf courses are fantastic, there's so much more to the city.
Old Town Scottsdale, the downtown area of the city, is home to some of the city's best restaurants and activities.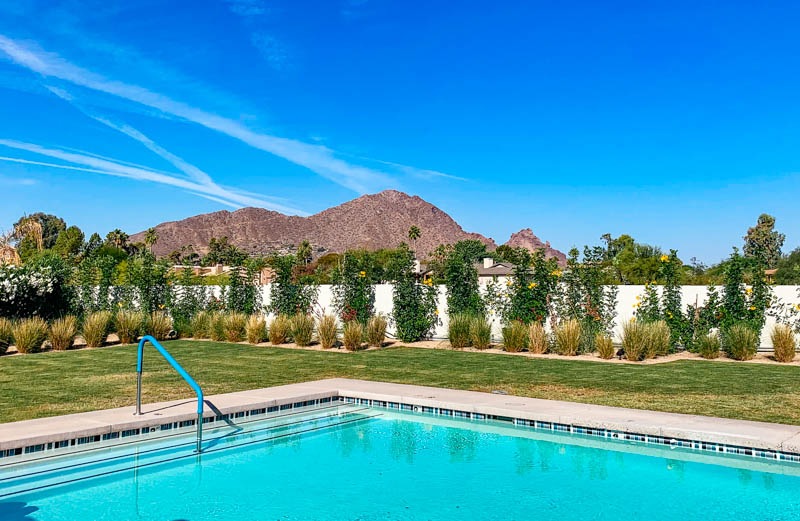 Take some time to walk around the Old Town, admiring the historic buildings and shopping in the cute boutiques, before stopping in The Mission Old Town to enjoy a lunch of tacos and other Latin-inspired dishes.
Art lovers will enjoy a visit to the Scottsdale Museum of Contemporary Art, and oenophiles will love visiting the stops on the Scottsdale Wine Trail.
If you're in the mood for some hiking, head to Camelback Mountain, but make sure to go early in the morning before it gets too hot!
A trip to Scottsdale doesn't have to be expensive – you can visit Scottsdale on a budget by going in the summer, when the rates at the resorts are deeply discounted.
Where to Stay
Scottsdale is known for its resorts, and one of the best resorts in town is the Andaz Scottsdale Resort and Bungalows. You can easily spend a day lazing by the pool or roaming the property – they even have a guided tour of all the best Instagram spots!
Text and photo by Sydney Richardson from A World in Reach
Page
Page is located in the northwestern part of Arizona on the southern shores of Lake Powell. It is home to two major tourist sites: Horseshoe Bend and Antelope Canyon, but there are many other things to do in Page as well.
Horseshoe Bend is one of the most obvious reasons to visit Page. Horseshoe Bend has increased in popularity recently due to Instagram. It is an easy walk down to the viewpoint and takes about 15 minutes.
The viewpoint is a beautiful spot to take in the Colorado River and a great place to watch the sunset as well. The hike back up is a bit harder as the path is sand.
Make sure you bring plenty of water as there is little shade and no facilities until you get back to the parking lot.

You can also visit Antelope Canyon while you are there. To visit, you must book a tour as the canyon is on Navajo Land. Antelope Canyon is a slot canyon: a narrow slot that has been formed over the years from the wind.
The tours take about an hour. Admire the beautiful red sandstone and snap lots of photos!
Both the Lower and Upper Antelope Canyons are fun places in Page to visit with kids. Adventurous kids will love the Lower Canyon in particular, since it involves climbing up and down staircases!
To see the famous light beams in Upper Antelope Canyon, visit between the middle of March and middle of October. The rays are best at mid day.
To avoid the crowds, visit Page between November and February.
Where to stay
The Hyatt Place Hotel is the best option to stay near Antelope Canyon and one of the best places to stay in Page. The Hyatt is newly built and has a beautiful pool and you can take in the views. The breakfast is highly rated as well.
Text and photo by Nicole LaBarge from American SW Obsessed
Grand Canyon National Park
Grand Canyon National Park is one of the top places to visit in Arizona. Its enormity, grandeur, and sheer beauty is impossible to capture in a photo. It will literally take your breath away!
Many road trip itineraries for the American West include this magnificent landmark, because it's a destination everyone should visit at least once.
It is included in our list of the best national parks to visit in January (low crowds and perhaps a dusting of snow!) and national parks to visit in April (great weather!).
You can stay on either the north or the south rim of the canyon, though the south rim is more popular, easier to access, and has more facilities. It is also open year round.
There is a shuttle to all of the major viewpoints along the rim, though you can also walk along the rim trail.
It is also worth venturing below the rim. The most popular trail is the Bright Angel Trail, which descends down a series of steep switchbacks more than nine miles to the Colorado River, where you can stay in a cabin or a dorm at Phantom Ranch.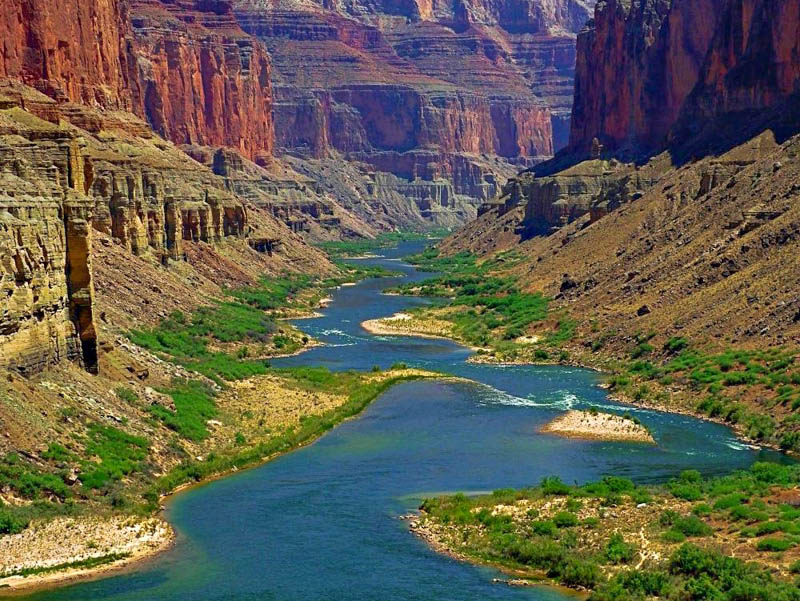 If you love being in the canyon, you can take a trip through the canyon on a white water raft, a large motorized raft or a tiny wooden dory boat.
Back up at the top in Grand Canyon Village, there are restaurants, stores, museums, and art galleries to provide variety for your trip.
If you don't stay at the bottom, but plan to do some hiking and relax, plan to spend 2-3 days at least. However, you can extend this by another 2-3 days if you plan to hike down to Phantom Ranch.
If you include a trip down the Colorado River, add another 3-7 days, depending on the trip you choose.
The best time to visit Grand Canyon National Park is spring (March-May) and fall (September-November) to beat the crowds, the summer heat, and the winter cold.
Where to Stay
There are several lodges inside the South Rim's Grand Canyon Village. The best one is El Tovar. Even if you stay at another lodge or camping area, it is worth splurging on dinner in their grand dining room.
Text and photo by James Ian from Parks Collecting


Havasu Falls
If you're looking for a magical must-visit destination in Arizona, you have to head to Havasu Falls! Havasu Falls is located on the Havasupai Reservation, which is surrounded by the Grand Canyon National Park.
A 10-mile hike will take you to an oasis of stunning blue waterfalls dramatically contrasted against the red sandstone of the desert. Visiting the falls is a bucket-list experience!
Havasu Falls has transformed from a secluded secret into one of the most popular hikes in the United States.
The number of visitors is limited, so you won't be overwhelmed by crowds, but this means it is extremely competitive to get hiking permits for Havasu Falls.
However, if you are lucky enough to land a permit, you also get a campground reservation for three nights, giving you lots of time to take memorable photos, hike to all five waterfalls, and soak in the turquoise water.
Because Havasu Falls is deep in the desert, and it is a fairly strenuous hike to get there, the best time to visit is definitely when it's a little cooler, either in the spring or the fall. Permits are available from February to November, but the summer can be incredibly hot.
Although it takes both some logistical and physical work to visit Havasu Falls, it is absolutely worth it to visit this unique and breathtaking place.
Text and photo by Allison from She Dreams of Alpine
The Wave (Coyote Buttes North)
The Wave is an incredible sandstone formation on the slopes of the Coyote Buttes in the Paria Canyon Wilderness area on the border of Arizona and Utah.
If the Wave not on your hiking bucket list yet, it should be. The 6-mile round-trip trek across the desert leads you to one of the prettiest places on the planet.
The Wave is thought to date back to the Jurassic period. It is made up of two troughs that intersect each other. Over time, through water and wind erosion, it has developed a stunning wavy pattern with raised ridges that draws hikers and photographers from around the world.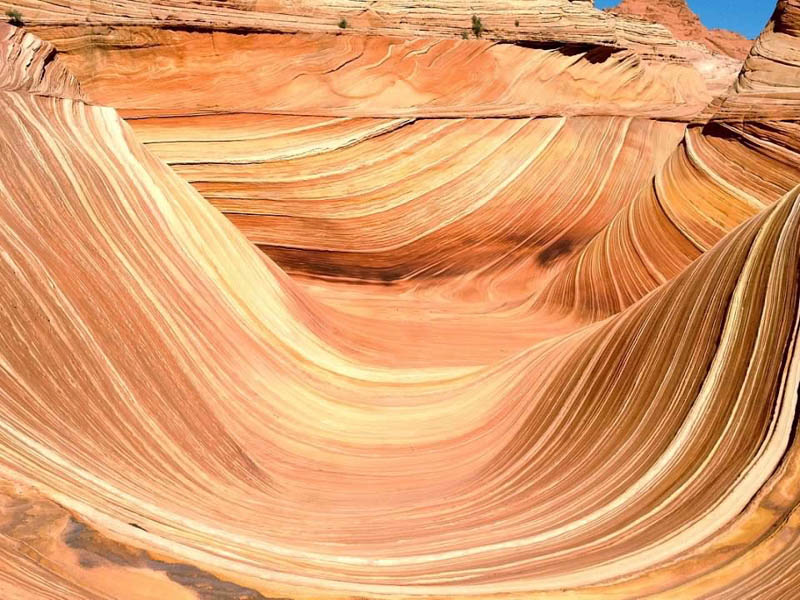 Here's the catch: it is very difficult to get a permit. Only 20 people are allowed in per day. Ten get online permits four months in advance, and the other ten get walk-in permits through The Wave lottery system.
The permit is good for one day only. If you are waiting for the lottery or want to spend more time in the area, you can visit Buckskin Gulch and Paria Canyon.
The best time to visit The Wave depends on a few factors. It's easiest to get walk-in permits from December to February, except for the week between Christmas and New Year's.
The best time for weather is spring, or fall, when the highs are around 80 degrees and the lows are in the mid-30s. Summer daytime temperatures often exceed 100 degrees.
Whenever you decide to go, it will be one of the best things you've ever done!
Where to Stay
Best Friends Roadhouse and Mercantile, in Kanab, Utah, offers comfortable bedrooms and sitting areas.
Text and photo by Jen from The Evolista
White Pocket (Vermillion Cliffs National Monument)
The Paria Plateau in the Vermillion Cliffs National Monument contains many stunning features, and a very photogenic destination here is White Pocket.
Located just a few miles southeast of Coyote Buttes, White Pocket at Vermillion Cliffs is a group of gorgeous rock formations that covers about one square mile.
Predominantly white or grey in color, the domes and ridges of White Pocket feature beautiful undulations in different hues, making for striking photos similar to the formations at Coyote Buttes.
Since the area is not super easy to access, White Pocket does not require permits, and you will not find it crowded.
The road route to White Pocket involves the unpaved House Rock Valley Road, which is considered generally passable for sedans except after heavy rain.
However, there are several sections with sand once you take the turnoff for White Pocket, some of it deep and soft. A high-clearance 4X4 is by far the recommended option if you plan to drive.
You can also choose to visit by guided tour, or for the most challenging option, do the 8-mile hike from House Rock Valley.
However you choose to arrive, the formations of White Pocket will leave you awe-struck. While you can explore the formations in a couple of hours, you can easily spend much longer if you enjoy landscape photography or exploring in depth.
Early spring and late fall are the best times of year to visit White Pocket, Arizona. We do not recommend summer: temperatures then are too hot to be exploring outdoors.
Where to Stay
Lee's Ferry Lodge at Vermillion Cliffs is located about 90 minutes from White Pocket. Rooms feature patios with mountain views. Beds are comfortable and the location is perfect for exploring Vermillion Cliffs.
Suggested by us
Petrified Forest National Park
Petrified Forest National Park should definitely be on your Arizona itinerary! It has lots to offer in archaeology, ecology, and paleontology.
From the world-renowned petrified logs to the Painted Desert vistas, and from ancient petroglyphs to Route 66 memorabilia, there's a lot to see in this national park.
Petrified Forest has trees that have been fossilized 211 to 218 million years ago. The area has been inhabited for 13,000 years.
There are over 600 archaeological sites in the entire park. Puerco Ruin and Petroglyphs are the ruins of a large Indian pueblo that peaked around 1,300 A.D.
Not to be missed in the park are the viewpoints at the 28-mile park road. You can get a good view of the petrified wood, the Painted Desert and rock art.
But even better is if you go hiking. There are 6 walking trails. To see Old Faithful, a petrified log almost 10 feet wide, do the Giant Logs trail. To see a hundred-room pueblo, hike the Puerco Pueblo trail.
Don't miss the Rainbow Forest Museum or the Painted Desert Inn National Historic Landmark. At the museum, you can learn more about the history and geology of the area. The Painted Desert Inn used to ;provide respite to travelers on Route 66.
One day should be enough to do all the six hikes and to visit the historical buildings, but you can spend longer to explore the park at leisure. Weather can be above 100°F in the summer and below freezing in winter, so visit in the spring or the fall.
Where to Stay
A great place to stay near the park is the Best Western Arizonian Inn in Holbrook, where you will also find dining and shops.
Text and photo by Cosette from KarsTravels


Montezuma's Castle and Well National Monument
Located off I-17 between Phoenix and Flagstaff, you'll find the incredible Montezuma's Castle and Well National Monument, one of the very first National Monuments established in the U.S. by President Teddy Roosevelt in 1906!
Montezuma's Castle is a large cliff dwelling created over 300 years ago by the Sinagua people. Montezuma's Well has cliff dwellings, a deep pond, and aqueduct systems.
Visiting the National Monument is a great addition to an Arizona road trip since it includes Native American, Southwest, and American history.
At Montezuma's Castle, learn about the monument at the museum, walk the trails that parallel the limestone cliffs, and look up to see the amazing cliff dwellings!
Montezuma's Well is 11 miles north of Montezuma's Castle. Roam the trails to view the blue well, which is the size of a pond, and admire the cliff dwellings.
Continuing on the trail, you can also see early aqueduct systems created by Native Americans.

You can easily spend a couple of hours at Montezuma's Castle and Well, so be sure to bring lots of water and sun protection! It gets extremely hot, especially in the summer! To avoid the heat and crowds, the best time to visit is spring, fall, or winter.

Montezuma's Castle and Well are located between cities. Sedona is the closest, with lots of lodging options. Try the highly rated Sedona Hilltop Inn that has epic views of the red rocks for which Sedona is famous.
Text and photo by Alanna from Periodic Adventures
Saguaro National Park
Saguaro National Park, home to the country's largest cactus plants, is located just outside Tucson. The cactus blooms from somewhere in mid May to the first part of June, so if you want to see the bloom, that's when to visit!
On the east side of the park, do the Cactus Forest Drive. The 8-mile scenic loop is fully paved and one way. There are several overlooks and viewpoints where you can park and take photos. The Javelina Rocks Overlook offers views over the park and Tucson.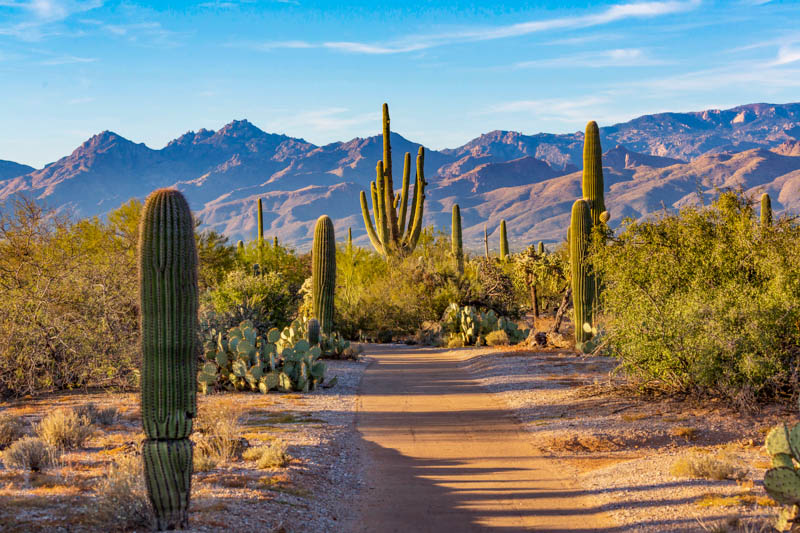 On the west side of Saguaro National Park, do the Bajada Loop drive. The 6-mile scenic loop is a graded dirt road deemed passable for sedans. Along the way, don't miss the easy Valley View Overlook Trail, where you can get up close to the cacti.
The Signal Hill Petroglyphs are worth viewing and the Desert Discovery Nature Trail is a short interpretive trail if you want to learn more. Hikers up for a challenge may wish to hike to Wassen Peak for great views over the park.
You can visit Saguaro National Park in one day, unless you wish to do backcountry hiking. For the best weather, visit from October to April.
Suggested by us
Grand Canyon West Rim
When most visitors think of the Grand Canyon, naturally, they think of the National Park. That said, although the Grand Canyon National Park is over 1.2 million acres, it does not comprise the entire canyon.
The National Park is made up of three rims, North, South, and East. However, there is a fourth rim just outside the National Park, the West Rim, and its exclusivity, paired with stunning vistas, are just some of the reasons it is a must-visit on any trip to Arizona.
The Grand Canyon West, Sá Nyu Wa, is on the Hualapai Native American Reservation and is owned and operated by the Hualapai Tribe.
While it doesn't get as many visitors as the National Park, it is the closest rim from Las Vegas (only two hours away), so it is easily accessible by car or tour bus. You can even visit via a helicopter tour!
The Grand Canyon West can easily be seen in a day, provided that you arrive early. Aside from being less crowded, this rim also has the deepest canyons.
Fall is the best season to visit, to see the canyon painted in various shades of orange and red, with deep violet sunsets coloring the sky.
Some may say that the Grand Canyon West is a tourist trap, because the ticket prices start at $42USD (compared to $35 at the National Park), but the park offers so many activities, such as a zip-line, old Western towns, floating the river, and even clear-bottom plank walk over the canyon!
Plus, by visiting the Grand Canyon West, you are supporting the Hualapai community! It's a win-win.
Text and photo by Kay from The Awkward Traveller
Flagstaff
If you're looking for a great place to go in Arizona that is conveniently located near several other popular Arizona destinations like Sedona, the Grand Canyon, and Page, Flagstaff is a natural choice on a Southwest road trip!

While Flagstaff is only 30 minutes away from Sedona, the landscapes couldn't be more different. Flagstaff is lush and green with lots of pine trees due to its high elevation (2,100 meters or 7,000 feet), which means that the temperatures in Flagstaff are often much cooler than elsewhere in the state. You may even see snow!
The top things to do in Flagstaff include zip-lining through the forest with Flagstaff Extreme (they also have an adventure park), exploring the lava tubes and beautiful landscapes at Sunset Crater Volcano National Monument, and enjoying the delicious craft beer scene at one of Flagstaff's several breweries.
You can also take the Snowball Gondola up to the top of the mountain and enjoy the Arizona Snowbowl winter sport area.
The best time to visit Flagstaff depends on what you want to do. If you're looking to ski, snowboard, or frolic in the snow, winter is an obvious choice, with the best snowfall around January/February.
However, if you're looking to enjoy the outdoor activities and warmer weather, it's better to go in June-August as it can get extremely cold in the mornings and even snow up through May!
A trip to Flagstaff merits at least two days, so you can enjoy the outdoor activities, food scene, and craft beer.
Where to Stay
Little America Hotel is located in a pine forest. With an outdoor pool and well-appointed rooms, this hotel makes for a great stay in Flagstaff.
Text and photo by Allison from Eternal Arrival
Organ Pipe Cactus National Monument
Organ Pipe Cactus National Monument is located way in the south of Arizona, very close to the Mexico border. The monument encompasses about 500 square miles, and was created in 1937 to protect the untouched Sonoran Desert environment here.
The park is the northernmost natural habitat of the organ pipe cactus. Plus it is home to a variety of other desert flora and fauna.
Hiking is one of the most popular activities in Organ Pipe Cactus National Monument. There are many miles of trails here, ranging from easy to strenuous. Right near the Visitor Center and Campground, you will find a few easy trails.
Desert View Trail has beautiful views and is a great easy trail to hike at sunset. The 3-mile Estes Canyon Trail crosses a few washes and is a moderate must-do trail if you enjoy birding.
A scenic drive through the park is a must. Trailheads for many hikes are found along the drives through the park. Plus, you will have beautiful views of the desert vistas.
Do the Ajo Mountain Drive, which twists and dips its way through the park. It is a dirt road, but passable in a sedan. You can also bike the paved roads in the park.
Visit in the cooler months of the year for best weather. One day is adequate to see the monument, unless you plan to go backcountry camping.
Suggested by us
Fossil Creek
Fossil Creek is located in Coconino National Forest, just outside Camp Verde in Arizona. It's a beautiful place in the mountains and is a must-visit if you love the outdoors, hiking, and epic waterfalls.
This part of Arizona is popular among locals but still a somewhat hidden gem for visitors.
Check out Fossil Creek Falls and Fossil Springs Falls. Both are amazing waterfalls. There's also Verde Hot Springs, which is quite popular.
If you want to experience both waterfalls and the hot springs, plan to stay at least two full days. There a lot to do and see in the area.
Camping is not allowed from April 1 until October 1, and a permit is needed to visit during this time. However, after October 1, camping is available and no day permit is needed.
The month of October is usually still warm in this area of Arizona, so it's a perfect time to enjoy the waterfalls.
Fossil Creek is easy to reach. If you're traveling from Sedona to Fossil Creek, it's only an hour away.
A high clearance vehicle is recommended but not needed if you're just visiting the waterfalls. If you do plan on going to the hot springs, plan to arrive in a high clearance vehicle.
Text and photo by Jeanine from Le Wild Explorer
*****
Planning to explore more of the US? Check out some of our other articles!
Did you find this article informative? Pin it for later reference!