Considering a visit to the Hawaiian island of Maui and wondering about the best things to do in Maui?
Our round-up of the most amazing Maui attractions, experiences, activities, and landmarks is great to keep handy as you plan your Maui itinerary, whether it's your first visit or your fifteenth.
The Valley Isle is one of the most popular travel destinations on the planet, and it's not surprising why!
Some links on this page may be affiliate links. If you click an affiliate link and make a purchase, we may receive a small commission, at no extra cost to you. For more details, refer to our disclosure.
The first image that comes to mind when you think of Maui is probably sun, sand, and sea, and Maui's beautiful beaches are definitely a huge reason why it is considered a tropical paradise.
But Maui is so much more than beautiful beaches! Your Maui bucket list can span everything from lush waterfalls to lavender farms and volcanic craters to botanic gardens.
We first visited Maui in 2014 (for 10 days), and fell irrevocably in love with the beauty of the Valley Isle. Every subsequent visit to Maui has only reinforced that feeling!
The Best Things to Do in Maui
Maui is the second largest island in the Hawaiian archipelago. It is younger in age than Kauai and Oahu, but older than the Big Island.
You will be spoiled for choice when it comes to amazing things to do in Maui.
Looking for beaches? Here you will find not just white, but gold, red, and black sand beaches.
Want to do some adrenaline-pumping hikes? Go to the top of the largest dormant volcano in the world for an epic hike into the crater.
Searching for memorable bucket-list experiences? Take a helicopter tour over the island, or marvel at the bright coral reef and hundreds of bright-colored fish in the blue waters on a snorkeling excursion.
Plus, the lush vegetation, colorful flowers, and the sweeping views of the ocean make it a joy just to be in Maui.
From the endless gold sand at Makena Beach to the impossibly lush vegetation on the Road to Hana, and from the impressive Haleakala Crater to the colorful coral reef at the Molokini Crater, the treasures of Maui await.
Excited? Let's get started discovering the best things to do in Maui!
1. Do the Road to Hana Drive Tour, the most scenic Drive in Maui!
The Road to Hana is a spectacularly scenic drive on Maui, with many must-stop spots along the way.
We've listed a few places along this drive as standalone best things to do in Maui, but the drive itself, from start to finish, is amazing, and among the top experiences in Maui.
Indeed, this drive is one of the best things to do in Hawaii!
You'll see lush tropical vegetation, plantations, rainbow eucalyptus, and gorgeous waterfalls along the route.
At every bend in the road (and there are 600 of them on this drive, along with more than 50 one-lane bridges!), you'll be wowed by the stunning views that greet you.
Some of the highlights and must-stop places along the Road to Hana include the Maui Garden of Eden, the Ke'anae Peninsula, Hanawi Falls, Hana Farms (for banana bread!) and Wai'anapanapa State Park.
You can either turn back at Hana Town, or drive all the way around the island, if your rental car agreement allows.
You can also do the drive counter clockwise, especially if hiking the Pipiwai Trail is high on your Maui bucket list.
If it's your first time, we suggest you take a Road to Hana tour, so everyone in your party can focus on the sights. Plus, parking can be a hassle in season, and traffic a nightmare.
Check out this small group full day tour that includes breakfast and lunch.
The tour is both highly-rated and popular. Stops include the famous Wai'anapanapa State Park with its black sand beach, the Ke'anae Peninsula, and the 'Ohe'o Gulch (Seven Sacred Pools).
Check price and availability for this full-day Road to Hana tour now!
The part of the road that loops around the island beyond Hana is marked by beautiful ocean views and you'll see the "back" side of Haleakala as well.
Stop at Hamoa Beach, Wailua Falls, and 'Ohe'o Gulch (Seven Sacred Pools).
If you are driving on your own, you can also stop at Maui Wine for a taste of sparkling pineapple wine.
2. Watch the Sun rise (or Set) at the Summit of Haleakala
The Haleakala crater towers over Maui, and you can't not go up to the top of the volcano when you visit.
Haleakala National Park is definitely one of the best places to visit in Hawaii, and the Summit District of the park is where you'll head for an epic sunrise or sunset.
Sunrise or sunset? We've seen gorgeous photos of both sunrise and sunset at Haleakala.
You'll hear varying opinions on which is the better time to go, but I think either option is fantastic if you are lucky enough to be there when the sky lights up in all shades of pink and orange and purple.
We went on a guided tour for sunset.
Just be sure to bundle up when you go. It can be freezing cold at the top even when it's hot on the island floor.
If you want to experience the out-of-this-world sunrise at Haleakala, schedule it for day one or two of your trip from mainland USA. You will likely rise early anyway because of the time difference so it won't feel like you are sacrificing zzzs on your vacation!
Check out this popular Haleakala sunrise plus breakfast tour: hotel pick-up and drop-off are included, as well as entrance fees.
Or this highly rated tour that combines sunrise at the summit with an exhilarating bike ride downhill from the top of Haleakala, a visit to the town of Makawao, and breakfast.
3. Snorkel at the Molokini Crater
One of the best snorkeling destinations on Maui is Molokini.
The crescent-shaped Molokini Crater Marine Reserve is home to dozens and dozens of species of fish and coral, many you can only see in Hawai'i, making it a snorkeling paradise.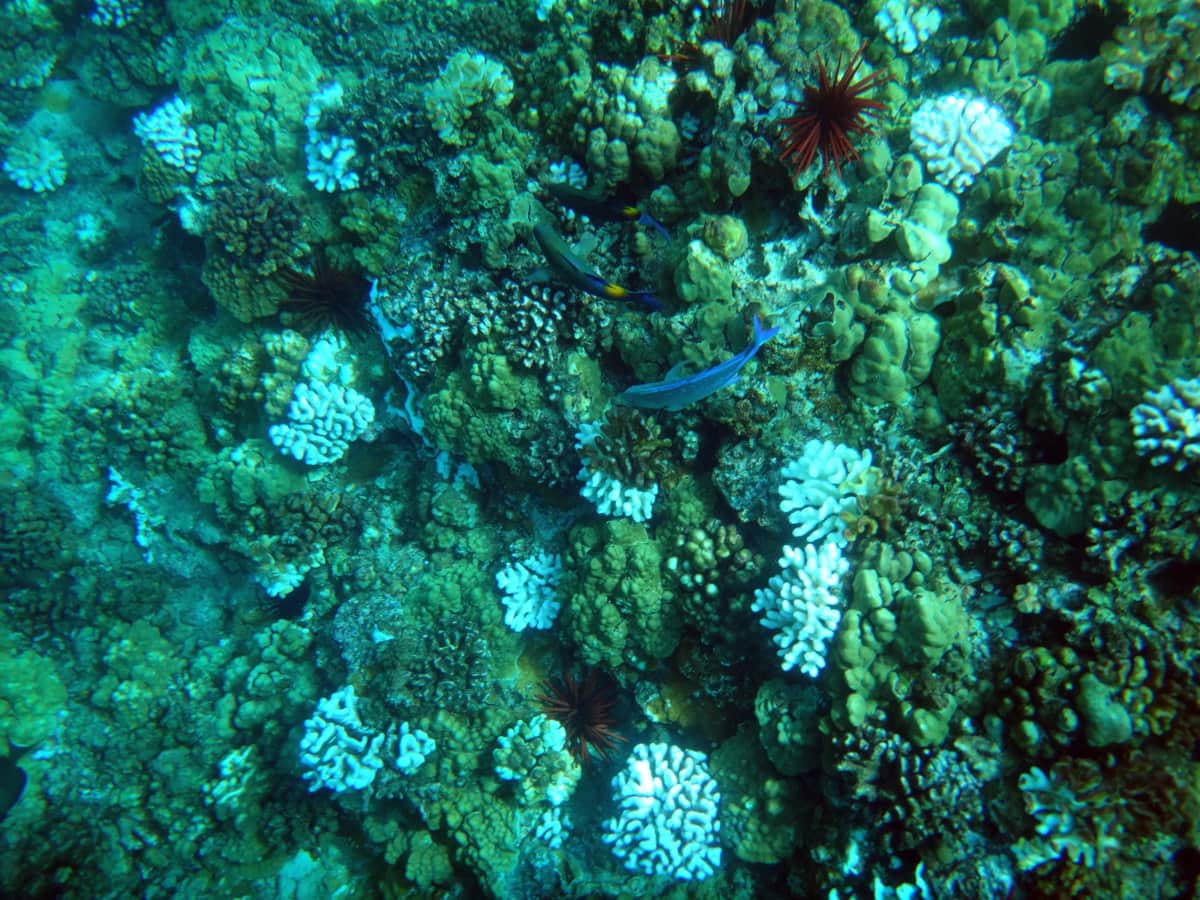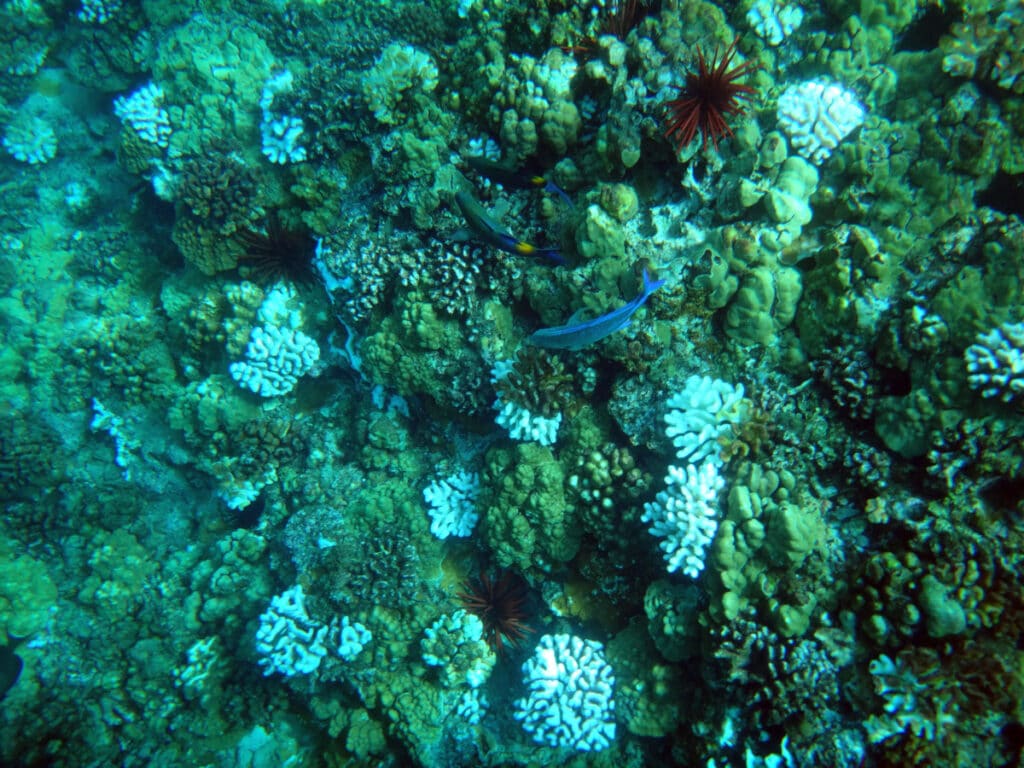 The water clarity, the amazing number of species you can see, and the beauty of Molokini make it a very popular diving and snorkeling destination, so plan ahead if you want to go.
There are spots at Molokini for all levels of snorkeling ability; check with your tour company. You can take a boat from Ma'alaea Harbor, Kihei, or Lahaina.
This highly rated snorkeling excursion leaves from Kihei, and this equally popular one from Ma'alaea Harbor.
Go in the early part of the day for calmer waters and more marine life. Morning trips are less likely to be canceled due to rough waters.
If you want to snorkel but you are not especially interested in Molokini, this highly-rated West Maui excursion (all 5-star reviews!) leaves from Ka'anapali, and takes you to two snorkeling spots on a 5-hour tour.
Swimming with turtles happens almost on every trip!
4. Relax on a maui Sunset Sailing Excursion
For the ultimate relaxing experience while in Maui, consider a sunset sail.
There's nothing more soothing than sitting or standing on deck, the breeze ruffling your hair, and the mellow rays of the setting sun bathing everything in gold.
It's wonderful to see West Maui from the water on a beautiful evening. You'll also see Lana'i and Molokai.
It's a little touristy, but worth doing regardless.
Choose a cocktail cruise rather than a dinner cruise, because dinner options are more varied on land. You can choose a departure from a beach or a harbor.
If you don't mind getting your feet and legs wet, choose a cruise that departs from the beach. Walking barefoot on the sand, sandals or shoes dangling from your hand, to board the boat is part of the magic!
Book this beach-loading sunset cocktail catamaran cruise from Kaanapali Beach now!
Prefer to keep your feet dry? Check out this champagne sunset sail from Lahaina Harbor. The 2-hour cruise aboard a sailing yacht is limited to just 22 people! And you can enjoy other drinks on board as well.
Check availability and pricing on this sailing cruise from Lahaina Harbor now!
5. Go on a Whale Watching Tour from Lahaina Harbor
Whale watching is one of the best things to do in Maui! If you visit Maui anytime between November and May, a whale watching tour is a must.
This is the season when thousands of North Pacific Humpback Whales (the fifth largest species of whales) make the waters around Hawai'i their winter abode.
The whales migrate here from Alaska. This is also their birthing season!
While February is the peak month, you have a good chance of seeing them in the other months as well. Watch them blow, spy hop, tail slap, or….breach!
Check out this highly rated 2-hour whale watching excursion that leaves from Lahaina harbor!
Humpback whales love Maui as a birthing area because the shallow waters here are relatively free of predators, and humpback babies can be nurtured safely here.
A whale watching tour is definitely a bucket list Maui activity in the winter and whale watching is fun for both kids and adults.
Although a boat tour is the best way to see whales, you can also look for whales from shore…the lookout at McGregor Point is a popular spot.
We saw several whale spouts and even a whale breaching in the distance when we visited in February. Bring binoculars! Enjoy the sweeping views of the ocean while you look for whales.
6. Admire the Black Sand Beach at Wai'anapanapa State Park
Walk onto the beach at Wai'anapanapa State Park and be prepared to be amazed: the sand really is black, made from the breakdown of volcanic lava rock over years and years and years.
The beach is actually mostly made up of small black pebbles, with a few areas that are more powdery. Bring water shoes!
You can also go for walks in the park above the beach, or longer hikes. There's a lot to explore: a natural stone arch, lava tubes, a blowhole, caves, and bird colonies.
This amazing park should definitely be on your list of the best things to do in Maui.
This beautiful black sand beach is one of the most Instagrammable spots you'll find in Maui, so get ready to snap lots and lots of photos here.
Swimming is not recommended at this beach unless the waters are calm, so enjoy the scenery instead.
The surf is often too rough for swimming, with rip currents, and the waters are known to be populated by jellyfish and Portuguese man-o-war.
Yes, you'll see people in the water any time you go, but be smart and stay safe.
If you want to spend longer at this beautiful park, you can camp or stay in lodging nearby.
The park is open daily from 7.00 a.m. until 6 p.m., and non-residents of Hawaii must pay a parking fee of $10.00 per standard vehicle and an entry fee of $5.00 per person.
Insider Tip: Reservations are now required for non-residents of Hawaii and can be made online up to 30 days before your planned visit. We suggest booking as soon as the window opens for your date!
7. Visit Lānaʻi on a Snorkeling Tour!
You can see the island of Lanai from many places on the west shore of Maui. It is located less than 9 miles from Maui.
The small island, called the Pineapple Island, is privately owned, but you can visit, for the day or for a longer stay if budget isn't a constraint: there are several luxury hotels on Lanai. There's a passenger ferry if you want to head over for the day.
This snorkeling tour from Maui is an excellent way to visit Lanai briefly if you do not want to visit on your own.
The full-day catamaran cruise departs from the harbor at Lahaina and includes breakfast and lunch.
You'll snorkel in the clear waters under the dramatic cliffs near Shark Fin and Manele Bay, where you'll see a variety of colorful fish and other marine life in the coral reefs.
Keep your eyes peeled for the pod of spinner dolphins that calls these waters home!
Check price and availability on this snorkel tour to Lanai now!
8. Explore the Haleakala Crater
Haleakala, House of the Sun, is deservedly one of Maui's top attractions.
While sunrise or sunset or stargazing at the summit is a bucket-list Maui activity in itself, exploring the Summit District of Haleakala National Park on a more extended visit should also be on your list of the best things to do in Maui.
Even if you walk around just a little, you will still be awed by the views and the beauty of the landscape.
The Pā Ka'oao Trail by the visitor center is just 0.4 mile long. Or walk the Leleiwi Overlook Trail (0.3 mile round trip) for a great view of the crater.
If you enjoy hiking, you'll really have fun exploring the crater and the shrubland around the summit. The Summit District offers over 30 miles of hiking trails.
Stop by the visitor center to learn more about the flora and fauna in the park. Haleakala is home to more endangered species than any other US national park.
You will likely see the Haleakala silversword when you're up at the summit: it's a very rare and endangered species that grows only here and on the volcanoes on the Big Island.
We were also excited when we saw a nēnē goose (Hawaii's state bird) at the nēnē crossing when we arrived at the summit district of the park the first time!
For park safety guidelines, click here.
There is no gas or food in the park. If you are going up on your own, make sure you have a full tank of gas, and take plenty of food and drinking water with you!
9. Hike the Sliding Sands Trail in the Haleakala Summit District
Hiking the Sliding Sands Trail is on the bucket list of many visitors to Maui. It is one of two popular trails in Haleakala National Park.
Officially the Keonehe'ehe'e Trail, Sliding Sands offers an unparalleled opportunity to experience the Haleakala Crater, with its myriad colors, textures, and shapes, up close.
You walk down into the crater, along the crater floor, and then back up, emerging at another point along the rim.
The full hike, between the trailhead at the visitor center and the trailhead at Halemau'u, is an epic 11.2 miles and classed as strenuous.
Pele's Paint Pot, one of the most colorful areas in the crater, comes up about 5.7 miles into the hike, at about the halfway point.
But you do not need to hike the full trail to experience its beauty. You can hike as little as 0.5 mile to the first lookout into the crater and back.
If you do the full hike, you will need to be able to access your vehicle from the endpoint. The park suggests parking at Halemau'u, hitchhiking to the visitor center, and starting the hike at the trailhead there, so your vehicle is waiting for you when you finish.
10. Snap a Photo of the Iao Needle
Want to see a lush tropical valley that comes with a dollop of history?
Head to the Iao Valley State Park, where you can see the beautiful Iao Needle rise up 1,200 feet into the sky.
This is the valley where King Kamehameha I fought with the armies of Maui over his desire to unite the islands. In the mighty battle that took place, he finally emerged victorious.
After you view the needle, enjoy a rainforest walk amidst lush greenery, waterfalls, and streams. Look for the beautiful green or purple taro and other native Hawaiian plants in the park.
Allow about two hours inside the park for a leisurely visit.
Head to the Iao Valley early in the day for your best chance of an unobscured view of the Iao Needle.
Later in the day, clouds tend to roll in. We love it when the needle is partially covered in mist, but sometimes you cannot see it at all.
Non-residents of Hawaii now need reservations to enter the Iao Valley State Monument. There is a parking fee of $10.00 for a standard vehicle, and an entrance fee of $5.00 per non-resident visitor.
11. Go for a Stroll along Kaanapali Beach at Sunset
Many of Maui's beaches are great places to take in a Hawaiian sunset, but our favorite is Kaanapali Beach: it is one of the best beaches in Hawaii.
First, you can watch the traditional cliff dive at Black Rock. The diver blows a conch in all four directions, then runs up the rock and lights the torches, and finally dives into the water. You will love watching the beautiful 10-minute ceremony.
Then you can stroll along the stunning gold sand beach, watching the pretty picture made by the crooked palms against the colors of the twilight sky. One of my favorite memories of Maui!
The lighting of the torches and dive takes place right behind the Sheraton Maui Resort. The beach behind the hotel is the best place to view the ceremony. Call the resort for the exact time the ceremony starts on the day you plan to visit.
The waterfront paved trail that runs by the beach is fun to walk any time of day, but in the evening, tiki torches at the resorts create a magical ambience.
Note: Kaanapali Beach was affected by a storm in 2022, and a part of the walking trail was damaged.
12. Hike the Pipiwai Trail
If you enjoy hiking, the Pipiwai Trail is a bucket-list Maui hiking trail you must not miss! This hike is one of the two most popular hikes on Maui.
Located in the Kipahulu District of Haleakala National Park, the trail is about 4 miles out and back. The elevation gain is about 800 feet, and the hike is classed as moderately strenuous.
The Pipiwai hike will take you about 2.5 to 4 hours, depending on how much you stop to enjoy the beauty of the area and snap photos.
Along this gorgeous hike, you will admire an enormous banyan tree, walk through a bamboo forest, and see several streams, pools, and waterfalls.
The Pipiwai Trail ends at the stunning 400-foot Waimoku Falls, one of the tallest waterfalls on the island. The water plunges down a rock face into a lovely pool below.
The trail is well maintained and takes you through some of the best of Maui's lush tropical beauty.
Wear waterproof hiking boots and carry a light poncho: passing rain showers can occur at any time on the wet side of the island.
And always follow park regulations and advisories.
13. Marvel at the Gigantic Lahaina Banyan Tree
You have to see this massive banyan tree in Lahaina!
If you've read about banyan trees, or you've seen them before, you know that they sprout roots in their branches and send them down to the ground, forming new trunks. How cool is that?
Planted as an 8-foot sapling in 1873, the Lahaina Banyan now has 16 major trunks and a spread of two-thirds of a whole acre. Its height is 60 feet. It's the largest banyan tree in the United States and the oldest banyan tree in Hawaii.
At sunset, the cacophony is deafening as hundreds of birds fly back to the tree to find a resting spot for the night. You can pose for a photo in its largest and oldest trunk.
If you are in the Lahaina area at sunset, return just after dark to see the banyan tree lit with hundreds of fairy lights. The Lahaina Banyan Tree Park is the perfect place for a short stroll after dinner.
14. Explore Lahaina
Lively Lahaina, on the west shore of Maui, is a lovely place to wander, shop, and dine. Lahaina Harbor is the departure point for many Maui boat tours.
Exploring the historic town of Lahaina as a dedicated activity is one of the best things to do in Maui.
Once upon a time (in the mid 1800s), Lahaina used to be a whaling village, and it was also the capital of the Hawaiian kingdom in the first half of the 19th century.
Lahaina is listed on the National Register of Historic Places. Front Street, the main drag in the town, is home to many historic buildings.
If you enjoy local history, walk the Lahaina Historic Trail to discover its rich history. Get a map at the Lahaina Visitor Center for more than 60 sites to visit.
Visit the Lahaina Jodo Mission for a tranquility break. There's a gigantic statue of Buddha here.
Lahaina is also a tourism hotspot.
If you love shopping (or window shopping or people watching), stroll Front Street in Lahaina. You will see charming little galleries, lots of stores selling crafts, souvenirs, clothing, and jewelry, and many restaurants on the waterfront.
15. Relax at Makena Beach State Park
Also known as Big Beach, Makena Beach is one of the most beautiful beaches in Maui. Spending a few hours relaxing at this beach is definitely one of the top things to do in Maui.
Located in Wailea, in the south of Maui's sunny west shore, Makena Beach is totally undeveloped, which means there are no buildings to mar the stunning natural backdrop to the beach.
The beach itself is very large, a wide swathe of gold sand that makes the perfect picture postcard with the blue ocean in front and the dark lava cliffs behind and on either side.
Makena Beach State Park is understandably popular, especially on weekends, so visit on a weekday morning for the most relaxing time.
Enjoy sunbathing, strolling the beach, and snapping photos of the scenery. You may see turtles in the water, and people snorkeling at either end of the beach if the waters are calm.
The waves here are known to break where it is very shallow, and currents can be strong, so Makena Beach is not for kids or inexperienced swimmers. There are two lifeguard stations on the beach.
The state park has a parking fee of $10.00 per standard vehicle and an entrance fee of $5.00 per person for visitors that are not residents of Hawaii.
16. Walk the Kapalua Coastal Trail
If you enjoy walking by the ocean, you will love the Kapalua Coastal Trail in the northwestern corner of Maui.
We stayed at the Kapalua Bay Villas on our very first visit to Maui, and walked this trail (or a part of it) almost every day we were on the island. The views are spectacular.
The trail runs between the southern end of Kapalua Bay and the D. T. Fleming Beach and is about 3.5 miles round trip if you walk it end to end and back.
While the trail offers fabulous ocean views, it does run along a fairly developed part of the coast and you will pass by various resorts like the Ritz Carlton and the Montage Kapalua.
Enjoy the sight of the waves crashing against the rocks at the shore, the beautiful bays (Kapalua Bay and Oneloa Bay are both stunning), coconut palms, and sandy beaches. Look for birds on the beaches and whales in the water in the winter.
Be sure to see the Dragon's Teeth rock formation and the labyrinth at Makalupuna Point en route.
Some of the trail is paved, in other parts it is packed dirt, rock, or sand. Proper footwear is essential for the rocky parts.
17. Drive the Kahekili Highway
The Kahekili Highway that wraps around the northwestern tip of Maui is sometimes called the "other road to Hana" because it's just as difficult a drive, with narrow lanes and hairpin curves, and the views are as gorgeous.
Driving this road is definitely not for the faint of heart, and your rental car agreement may prohibit you from driving this road.
We went part of the way, up to the Ohai Loop Trail, and enjoyed the stunning vistas. Up to here the road isn't too bad.
Beyond this point, the road narrows (no room for more than one car for a stretch) and becomes very winding for about 8 miles, after which it widens again.
But even driving at least up to Honolua Bay, three miles north of Kapalua, or the Nakalele Blowhole, a little further north, is very worthwhile.
Honolua Bay is simply stunning, and just enjoying the beautiful views from the lookout is enough reason to visit. But Honolua Bay is also a snorkeling and surfing destination, and you can see surfers in the water if you have a zoom lens.
The Nakalele Blowhole is an awesome sight if you are lucky enough to visit when the water erupts through the rocks like a geyser.
If you want to enjoy a little walk, the Ohai Loop Trail is an easy stroll among native plants, with lovely water views.
If you choose to do the full drive, start with a full tank of gas, and drive clockwise (west to east) in daylight on a bright clear day.
18. Be Awed by the Power of the Waves at Keanae Peninsula
One of the most awesome places to stop on the legendary drive to Hana, the Keanae Peninsula is one of those places where you can't put your camera down.
You will be completely awed by the high drama of the waves crashing over the black lava rocks at the shore. It's like a scene from an adventure movie!
And you'll find its history just as amazing.
Did you know that the Hawaiians brought soil down manually from the mountains to create the entire peninsula? I can't even begin to imagine the time and the effort it must have taken to complete the task.
Hands down, exploring the Keanae Peninsula is one of the best things to do in Maui.
This is a great spot to use the video feature (with sound!) on your camera or smartphone. You will love playing the videos back later to recreate the power and thundering of the water at Keanae Peninsula.
Other than the scenery, you'll find an old Hawaiian village here, a church from the mid 19th century, and taro fields and lots of banana plants.
And if you want to try banana bread, Aunty Sandy's here is one of the well-known stands along the Road to Hana.
19. Watch the Surfers from the Ho'okipa Lookout
You'll likely stop at Ho'okipa briefly on the Road to Hana drive, but if you are in Maui for a few days it's worth driving here to spend some time watching the surfers.
Especially if you learn that high waves are in the forecast!
In the winter, you can see waves get up to 40 feet here. There is a lookout from where you get great views of surfers trying to ride the monster waves. Sometimes you can see the bright sails of windsurfers as well.
Ho'okipa hosts several world-renowned surfing competitions in the winter, so if you enjoy watching, check to see if any of them in slated to happen during your visit.
Plus, the park is beautiful even if the surf isn't breaking. Sunset here is especially scenic.
If you go down to the Ho'okipa Beach in the afternoon, you can sometimes see giant sea turtles sunning themselves on the sand.
Hookipa Beach is great for sunbathing, strolling on the sand, and for photography.
20. Admire the Pools of 'Ohe'o
The Pools of 'Ohe'o, also called the Seven Sacred Pools, is a stunning location on Maui, with waterfalls on one end and the ocean at the other, and many pools in between.
The lush vegetation, waterfalls, and the surf make the spot extremely scenic.
This is a must stop if you are doing the full-loop Hana Highway drive around the island, and worth the 10 extra miles from Hana if you plan to turn back and return the way you came.
The Oheo Gulch is part of Haleakala National Park. The pools tend to get very crowded, especially in the afternoons. Don't forget to take in the vistas from the overlooks.
The 'O'heo Pools may not be open when you visit, so check before you go to avoid disappointment.
Keep park safety guidelines in mind as well: note that swimming, diving, and jumping into the pools are not allowed.
21. Wander through Paia Town
Most visitors to Maui experience Paia as a quick stop along the Road to Hana, and some visit to dine at the acclaimed Mama's Fish House Restaurant.
But Paia is also worth visiting in its own right.
It is located about four miles south of Ho'okipa Beach and used to be a sugar plantation village. Today the little oceanside town is home to lots of reasonably-priced restaurants and eclectic shops.
The town's bright-colored facades and funky signs are very bohemian, and you will enjoy wandering the streets and browsing the shops and galleries.
From surfboards to souvenirs, you will find lots to browse (and buy!) here. Stop by the iconic Mana Foods for natural treats: they offer a wide selection of cakes and pastries and other prepared foods.
Flatbread Company is a great stop for lunch if you visit Paia during the day.
Dining at Mama's Fish House Restaurant is one of the best things to do in Maui if you are a seafood lover. As a vegetarian, I enjoyed the salad, lots of papaya, and a decadent dessert here! Be sure to book well in advance.
22. Enjoy Hana Town
While the journey to Hana is considered one of the best things to do in Maui, Hana Town, and its surrounds, are well worth visiting as well.
Located on the windward (or rainy) side of Maui, Hana is unbelievably lush, with a variety of gorgeous green plants and trees, some with large striking leaves that scream "tropical."
Hana Bay is a lovely black sand beach. The bay is a popular place to go snorkeling, especially in the spring and summer, when the waters are clearer.
Hamoa Beach is a stunning white sand beach less than a 10-minute drive from Hana Town. The water is clear and you can find shade as well. Sunbathe, stroll on the sand, surf in the winter, and swim or snorkel in the summer when the waters are calm.
In town, tour the small Hana Cultural Center & Museum, stop by a farmers' market, or browse the many small stores and art galleries.
There are little farm stands set up outside many homes in Hana, where you can pick up fresh fruit and drop in the payment.
23. Dine at the Hali'imaile General Store
You will likely have to drive a ways to get to Hali'imaile General Store, but trust me, you do not want to pass up the opportunity to eat here.
The upcountry Maui restaurant is an acclaimed destination dining spot on the island, and is housed in a historic building that used to be the store for the pineapple plantation here.
If you are a vegetarian, be sure to try the coconut vegetable curry.
If you eat fish, don't miss the sashimi Napoleon as a starter and the coconut fish curry as a main dish.
The desserts are incredible as well, and the offerings change occasionally. We loved the lilikoi crème brûlée, and the chocolate decadence cake, which has now been replaced by a mousse/cake combination.
We dined at Hali'imaile on night two of our very first visit to Maui, and our meal here was so yummy that we drove all the way back to eat here again a couple days later.
We've since been back at least once on every trip. Reservations are a must!
24. Treat Yourself to Shave Ice!
You can't visit Hawaii and not sample its famous shave ice.
Shave ice was introduced to Hawaii by the Japanese that came here to work in the fields and plantations.
The best shaved ice in Maui is Ululani's Hawaiian Shave Ice. There are several locations on the island, including one in Lahaina, so you don't have to go far for some of this ice-cold goodness!
Many of their flavors are local: try No Ka Oi, a blend of coconut, mango and liliko'i, Lahaina, which includes banana, coconut and pineapple, or the decadent Haleakala, coconut and leche topped with sweet condensed cream. Yum!
For an even more decadent treat, you can add on locally made Roselani's ice cream to your shaved ice. It makes for a luscious creamy contrast to the crisp fruity ice.
25. Shop!
If you enjoy shopping for souvenirs (or just shopping in general), you have several options in Maui to stock up on edible treats like macadamia nuts, pineapple candy, and coffee, as well as freshwater pearl jewelry, apparel and more.
Front Street in Lahaina is a great place to look for souvenirs in all price ranges, from fine art and expensive jewelry to apparel and trinkets. I bought a pair of pearl earrings here on our very first trip.
The Shops at Wailea is an open-air two-level upscale shopping complex featuring national and local brands. There are numerous art galleries, making it a wonderful browse even if you aren't actively planning to buy.
Sometimes, you'll see traditional Hawaiian dancers and musicians performing here. That's a special treat!
Whaler's Village in Ka'anapali is an indoor-outdoor shopping complex, with a mix of national and local brands. You may find interesting in-store demos and classes here, from lei making and coconut palm weaving to ukulele and hula.
Also check out shops in Paia Town, Makawao, Nahiku Marketplace in Hana, and Wailuku!
26. Visit the Ali'i Lavender Farm at Kula
Lavender isn't native to Hawai'i but it thrives on the slopes of Haleakala at Ali'i Lavender Farm! The farm started with a single plant gifted to Ali'i, the owner, and today features more than 50,000 plants and dozens of varieties.
Peak bloom is summer, generally July and August. But the farm grows a few varieties that bloom through the year in Maui. You will likely see at least one variety in bloom no matter when you visit.
But lavender isn't the only reason to visit the farm.
We loved wandering around the property, which features proteas, birds of paradise, and other flowers besides lavender, and many varieties of fruit, olive, and cypress trees.
The views are gorgeous too! And visit the store for everything lavender you can possibly think of: be sure to enjoy a cup of lavender tea with a lavender scone.
If you are looking for swathes of purple, call ahead to make sure fields are in bloom before you make the drive. We visited when not much lavender was blooming, but still enjoyed our visit.
The farm is open for visits from Friday through Monday, 10 a.m. to 4 p.m. There is an admission fee of $3.00n per person.
27. Take an Early Morning Beach Walk
Maui has so many beautiful beaches that there are sure to be a few close to where you are staying in Maui.
Get up early, as in at (or just before) sunrise, and go for a stroll on a beach. Seeing the shimmering early morning light on the water is a Maui memory you won't forget.
Plus, at this time of the day, you may even have the beach all to yourself.
If you choose a beach in West Maui (Lahaina, Kaanapali, or Kapalua) you can see the islands of Lanai and Molokai. From the beaches of the south in Kihei and Wailea you can see the crescent Molokini Crater, and Kahoolawe. And from the beaches of East Maui (Hana), you can see the Big Island of Hawaii.
So grab your camera and do that morning walk for stunning photos!
Did you know that all beaches on Maui are public property and open to everyone? Even the most exclusive oceanfront resorts have to provide public access to the beaches behind their properties.
28. Attend a Luau
A combination of traditional food and entertainment, a luau is an excellent way to spend an evening in Maui.
Old Lahaina Luau is one of the best and most authentic luaus in Maui. It's set on a beach and makes for a fabulous sunset experience.
The five-course menu includes pork roasted in an imu (underground oven), Maui style fish, and island style chicken. You can request vegetarian options when you book.
The Feast at Lele also has a beachfront setting in Lahaina, perfect for sunset. The five-course meal is accompanied by entertainment from different Polynesian countries.
The Feast at Mokapu is located in the Andaz Hotel in Wailea. The setting is a grassy lawn at Mokapu Beach, and the menu features well-crafted Hawaiian dishes. The cocktails are yum, and the storytelling wonderful.
29. Wear a Fresh Flower Lei!
You can't visit Hawaii and not wear a lei (or bring one back when you return).
A lei is a symbol of aloha, and a charming Hawaiian tradition that happily still persists.
On one of our visits, our vacation rental host had fragrant fresh leis waiting for us in our refrigerator when we arrived. It was such a beautiful welcome to Maui!
You can buy leis at grocery stores in Maui, but you can also check out local florists for special leis.
Leis are most commonly made with flowers, but they can also be made with kukui nuts or seashells. If you want to learn how to make leis, many resorts offer lei-making activities, as does Whalers Village in Lahaina.
If you want to bring leis back to the mainland, check what's prohibited before you buy. Your seller should be able to guide you to choices that are safe to bring back!
Where to Stay in Maui
If you are a first-time visitor to Maui, you will want to base yourself on the west shore of the island for all or the bulk of your stay.
It's the drier side of the island, with many resorts and vacation rentals, access to numerous recreational opportunities, and excellent shopping and dining.
On the west shore, Kaanapali and Lahaina are popular places to stay. Kapalua, in the northwest, and Kihei or Wailea in the southwest, are other options.
You have lots of accommodation choices in Maui, no matter whether you are traveling solo, as a couple, or as a family.
In Kaanapali, consider the Hyatt Regency Maui Resort & Spa, located right on the water. Kids will love the outdoor water park, and breakfast in the Swan Court — where you can swans, flamingos, and more — makes for a great start to the day.
Check price and availability at the Hyatt Regency Maui Resort & Spa now!
In Kapalua, you'll find the Ritz-Carlton Maui, set on over 50 beautiful acres, with a full-service spa, golf, and a three-level swimming pool. We've stayed here and loved being able to stroll the Kapalua Walking Trail early in the morning.
In Wailea, the upscale Grand Wailea is well worth the splurge! The beachfront resort boasts multiple pools, art installations in public spaces, a water park for families, and several onsite restaurants.
Did you find this article informative? Pin it for later reference!