Located on the Gulf of Mexico in northwest Florida, Destin makes for a fabulous vacation destination, whether you want to stay a week or two, or you are planning a quick weekend getaway. Read on to discover the very best things to do in Destin, Florida!
Destin is part of Florida's famed Emerald Coast, and is known for its crystal clear emerald green waters and sugar sand beaches.
And if its stunning natural beauty is not enticing enough, Destin also boasts fabulous resorts and golf courses, great shopping, upscale dining choices, and loads of fun things to do, both in and out of the water.
It is one of the nicest places to visit in Florida!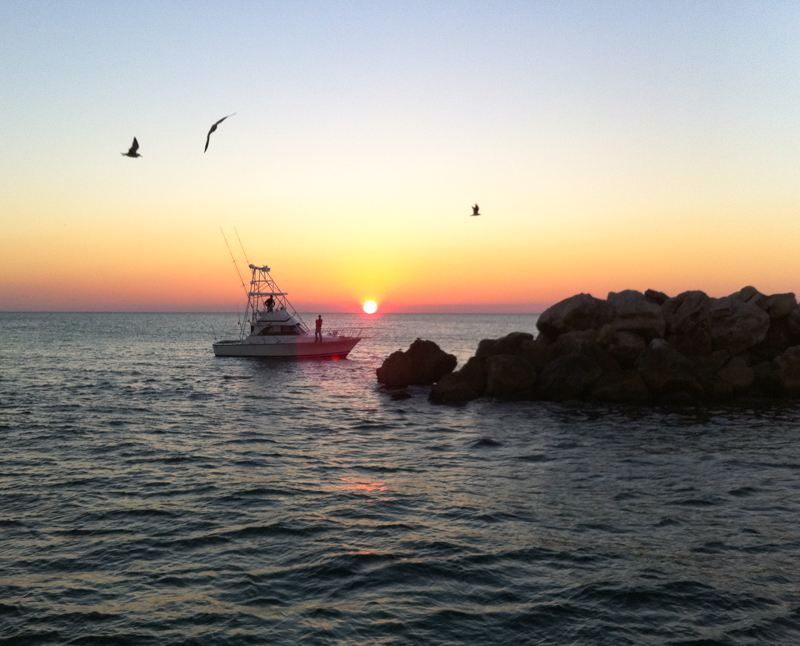 Some links on this page may be affiliate links. If you click an affiliate link and make a purchase, we may receive a small commission, at no extra cost to you. For more details, refer to our disclosure.
We last visited Destin for two blissful weeks in September, and spent some of that time exploring and some of it just enjoying a lazy and relaxed time at our resort, savoring the spectacular sunsets and going for long romantic walks on the beach.
We even walked the beach right outside our condo in moonlight, a truly surreal experience!
The Best Things to Do in Destin
Destin is the perfect Cinderella-sized beach town: not too large or super crowded but with plenty of activities to keep you engaged, whether you are looking to visit on a romantic couples' getaway, a fun-filled family trip, or a quick solo adventure.
Excited? Let's dive right into the most fun things to do in Destin!
#1 Get some quality beach time
Although Destin boasts many diverse attractions, it is best known for its beautiful beaches.
And it is the perfect place if you want a laid-back, quiet beach vacation. Some of my best memories from Destin are just strolling a secluded beach or watching the sun set over the water.
Destin's beaches are among Florida's top beaches with clear waters.
There are several great public beaches in Destin (read on to learn more about them), but if you stay at a waterfront property, you will have a beach right out the back that you can enjoy even early in the day or late in the evening.
Many properties offer complimentary beach umbrellas and loungers.
Destin's silver sand beaches are composed of Appalachian quartz. The Apalachicola River has been carrying the quartz crystals from the mountains to the Gulf of Mexico over thousands of years.
Over time, the crystals are ground really fine by the action of weather and water, creating the gorgeous sugar-white soft powdery sand on Destin's beaches.
Not only is the white sand beautiful to view, it's also cool to the feet, so you don't have to hop in pain if it's warm out and you are barefoot!
#2 Enjoy a romantic sunset (or harbor lights) cruise
While Destin's spectacular sunsets can be enjoyed from land, for a very special experience, take a sunset cruise and watch it set from out on the water!
We enjoyed our sunset cruise so much the first time that we did it again another evening during our stay.
For a small boat experience, pick from this highly-rated speedboat tour (holds 14 passengers). Or this tiki bar sunset cruise (just 6 people!), where you bring your own drinks.
You can also cruise after dark for beautiful views of the lights along the harbor at Destin.
On summer Thursdays and special holidays, you can do an evening cruise that ends with a view of the weekly fireworks display over Destin Harbor.
#3 Stroll the Destin Harbor Boardwalk
Stretching about half a mile along the harbor, the Boardwalk is a fun place to stroll, or sit and people watch.
This is the place where boat tours start and boat rentals are available, so you can walk before or after your boat ride. Keep an eye out for pelicans and other sea birds!
With lots of souvenir shops to browse and great bars and restaurants, Destin's HarborWalk Village is always bustling.
If you like adrenaline adventures, there's a zipline here to try, as well as a tall climbing wall.
#4 Explore Henderson Beach State Park
With beautiful tall white sand dunes and the trademark Emerald Coast waters, Henderson Beach State Park is a must-visit when you are in Destin.
The shimmery white beach is one of the nicest public beaches in the area, and the waters are crystal clear.
Wade into the warm waters of the Gulf, swim, or paddle. Look for marine life in the waters: you may see dolphins or sea turtles, along with many colorful species of fish. On land, look for rabbits, bobcats, and gopher tortoises.
And if you enjoy birding, you will see lots of species in the park from snowy plovers and American oystercatchers to migrants like the eastern kingbird and merlins. In the fall, you may see migrating monarch butterflies in some years.
Hiking the nature trail in the park in a fun activity, especially in the morning. The trail winds through the scrub and the moving sand dunes, and you can request a guided walk as well. Take along a picnic to enjoy after you walk and swim!
The park has restrooms and showers, as well as picnic areas and campsites. It is open everyday from 8 a.m. until sunset.
#5 Look for dolphins on a boat tour
Bottlenose dolphins are plentiful along the Emerald Coast and the Santa Rosa Sound, but you may also see Atlantic spotted dolphins here. Shark and stingray sightings are also possible!
Doing a boat tour is the best way to enjoy these beautiful creatures up close.
You can see dolphins pretty much all year round in Destin. They are reportedly more active in the mornings, so opt for an early tour if you can. As a bonus, you'll come across less boat traffic and have a more enjoyable tour earlier in the day.
On our dolphin spotting boat tour, we saw numerous dolphins cavorting in the water, some pretty close to the boat. Some of them even swam along in the wake of our boat for a bit!
Although you are likely to see dolphins on any boat tour in the waters around Destin, you might want to pick a dedicated dolphin spotting tour if you want to be sure of seeing some. Some (but not all) of these tours offer you a coupon for another trip if you do not see any dolphins at all when you go.
#6 Take a boat out to Crab Island
Crab Island, Destin's most popular boating destination, is not really an island. It is a sandbar completely covered by water. Accessible only by boat, Crab Island is a cool place to visit for a few hours of fun in the sun.
Check the tide charts and plan to be at Crab Island during high tide if you can. That's when the signature emerald waters of the Gulf of Mexico flow into the Choctawhatchee Bay.
There are lots of floating shops at Crab Island, and you can buy food and souvenirs, or rent inflatables, when they are open. Bring cash: not all of the vendors accept credit cards.
Pack food and drink when you go to Crab Island, along with sun protection. You can go snorkeling at Crab Island as well, so remember to bring your gear!
You can book a 3- or 4-hour Crab Island boat cruise or pontoon boat cruise, or you can rent a boat (at nearby Fort Walton Beach) and make your way there independently.
#7 Spot marine life from the Okaloosa Island Pier
For a modest fee, you can walk the beautiful Okaloosa Island Pier: it overlooks the Gulf of Mexico and is one of the best places on land from where to spot marine life in the area. The pier is just about 6 miles from Destin, an easy 15-minute drive.
Several species of turtles live in the waters around Destin, and nest on local beaches. You may see sea turtles from the pier, swimming in the clear waters below. You may also see sharks, dolphins, and manta rays, porpoises, and jellyfish, along with many species of fish.
The pier, which extends a quarter mile into the water. is also a popular fishing spot and a prime sunset viewing location.
#8 Visit the Big Kahuna's Water Park
If you are traveling with kids, or you are a kid at heart, you will enjoy the Big Kahuna's Water & Adventure Park! A great way to cool off, especially if you visit when the weather is warm, Big Kahuna's features 40+ attractions, including slides, pools, rides, and water play areas.
Ride down the Humunga River in a tube. Scream as you free fall down the Maui Pipeline. Twist, turn, and slide your way down the Monkey River. Little kids can splash in fountains, enjoy kiddie slides, and make their way through the Buccaneer Cove.
#9 Snorkel in search of marine life
For a lovely experience prized by locals, go snorkeling at the stone jetties at the East Pass. Located by the HarborWalk Village, East Pass is the opening between Choctawhatchee Bay and the Gulf of Mexico.
The man-made Destin Jetties at East Pass have created a big artificial reef, where numerous species of fish and other marine creatures reside. The spot is popular for both snorkeling and scuba diving.
Besides the colorful fish, you might see sea turtles, dolphins, crabs, and octopuses.
For the best experience, go when the tide is coming in: you'll have the clearest views. Make sure to check the beach flag safety guide before you head out!
#10 Explore Shores at Crystal Beach Park
The Shores at Crystal Beach Park features a stunning public sugar sand beach and a beautiful place to access the blue-green waters of the Gulf of Mexico.
The park has a large shaded pavilion with picnic tables and restrooms and showers. Bring your swimsuit and picnic fixings and enjoy a day on the beach! There are only a few parking spots at the beach, but you can usually find parking on a street nearby.
#11 Enjoy James Lee Park
Another beautiful beach park, James Lee Park offers public beach access. The sand is super soft and sparkling white, and the waters a vibrant turquoise. Stroll the beach, lounge under an umbrella, go bodyboarding, climb the sand dunes, or go swimming!
Amenities at the James Lee Park include parking, restrooms and showers, shaded pavilions, a kids' playground, and picnic tables. You can also eat at the Crab Trap Restaurant nearby. Parking can get full during the day, so visit early to snag a spot!
#12 Enjoy some retail therapy
If you love browsing shops on vacation, you have several options in Destin! Depending on what interests you, you can visit the Village of Baytown Wharf, just 8 miles east of Destin, or Destin Commons, or the stores at HarborWalk Village, or the Silver Sand Premium Outlets.
At the Village of Baytown Wharf, you will find artisanal stores selling candy, jewelry, handmade natural skincare, and local souvenirs, as well as boutique apparel stores.
The complex overlooks the beautiful Choctawhatchee Bay, and is a lovely stroll when lit up at night. With a carousel, playground, games arcade, and musical performances, the Village is fun even if you do not shop!
At Destin Commons, you'll find the charming Southern Living Store: they only have a handful of brick-and-mortar locations, so if you enjoy browsing home decor inspired by the South, pop in!
With lots of fountains, a mural walk, music, palm trees with lights, and seasonal events, Destin Commons is another great place to stroll in the evening. There are lots of eateries here as well.
If you want to score some serious bargains, check out the Silver Sands Premium Outlets, where you will find many name brands at discounted prices. The complex also contains lots of restaurants if you want to rest your feet and have a bite to eat or a drink.
#13 Take a sandcastle building lesson
For a fun activity, take a sandcastle building lesson! You can do it as a couple, as a family, with friends, or on your own. Learn professional sculpting techniques and make elaborate, large castles in the sand, or other types of beach sculptures.
Your instructor will meet you at "your" beach and bring all the tools you will need. All you need to bring are your creativity and enthusiasm!
#14 Visit Eden Gardens State Park
About 23 miles from Destin, Eden Gardens State Park is a must-visit if you like old houses and gorgeous gardens. With a lovely Antebellum plantation house, nature trails, gardens, and picnic spots, the park makes for an enchanting visit.
Towards the end of the 19th century, William Henry Wesley built the Wesley House here, and the family lived in the house until the middle of the 20th century, when it was sold to Lois Maxon, a wealthy New York publishing magnate.
Ms. Maxon thought the place resembled Eden, and thus was born the name of the park. She added beautiful ornamental gardens and filled the home with antiques. She donated the property, including the furnished plantation house, to the State of Florida in 1968.
The park is usually open 365 days a year, and there is a modest entrance fee per vehicle. Enjoy a guided tour of the house, wander about the gardens and grounds, stroll the trail, and have a picnic along Tucker Bayou!
#15 Take in a beautiful Destin sunset
Destin sunsets are so spectacular that they deserve a spot of their own on any list of the best experiences you can have here. A sunset cruise is definitely one of the most relaxing and nicest ways to enjoy the sunset.
But you can find spots on land as well, that are perfect to watch the sun set and the sky get painted in a dazzling range of colors, from oranges and yellows to pinks and purples. Any of the beaches, the harbor, or waterfront restaurants can make a great sunset watching spot.
#16 Enjoy watercraft rides or go parasailing
If you enjoy being your own boss on the water, you can rent numerous types of watercraft in Destin. From speedboats to pontoon boats, jetskis to banana boats, sail boats, kayaks and canoes, you have a dizzying choice of craft to enjoy the beautiful waters. You can also go paddleboarding.
If you enjoy parasailing, you can book an adventure in Destin for panoramic views of the Gulf of Mexico, the bay, and the Destin harbor and beaches.
#17 Go fish!
Destin is nicknamed the "World's Luckiest Fishing Village" and it's the perfect place for a fishing charter to the Gulf of Mexico, to try your hand at deep sea fishing. Fishing charters leave from Destin Harbor.
Or cast a line from the Okaloosa Pier or the Destin Jetties! If you plan to fish independently, you will need to obtain a license, but with a charter, the license is included.
Getting to Destin
Destin is located about a 30-minute drive from the Destin-Fort Walton Beach Airport, and a little over an hour away from Pensacola International Airport and the Northwest Florida Beaches International Airport.
If you plan to fly into the area, check ticket prices to all three airports. We flew into Pensacola International Airport and then drove to Destin.
Getting around in Destin
A car is the best way to get around in Destin and will allow you to explore nearby parks and beaches as well. You can rent a car at any of the three airports listed above.
Looking to rent a car for your Destin trip? Discover Cars offers you the ability to compare availability and prices across many major car-hire companies. Pick the car that best meets your needs!
Where to stay in Destin
The Henderson Park Inn is located on the beach just by the Henderson Beach State Park. The rooms are beautiful and the exemplary service includes a complimentary bottle of wine, roses, and sweet treats on arrival! Their breakfasts are highly rated, and the on-site restaurant is one of the most popular in Destin.
Read reviews on Tripadvisor
The Henderson Beach Resort & Spa is located right across from a sugar sand beach and the Gulf of Mexico. Right up against the nature preserve, the property has stunningly appointed rooms and suites featuring super comfy beds and luxurious bed linens. Bathrooms are large and decadent. A lovely place to stay in Destin!
Book a stay here
We stayed at the Silver Beach Towers, in a newly renovated apartment on a higher floor with a balcony overlooking the beach and the water. Our unit came with a beach umbrella and loungers, and had a fully equipped kitchen where my husband enjoyed cooking fresh fish. The property is close to many major sights and the Destin Harbor.
Read reviews on Tripadvisor
If you love the seclusion and roominess of an Airbnb stay, there are lots of fabulous Airbnbs in Destin from which to pick!
Where to eat in Destin
Fun fact: Many restaurants in Destin will clean and cook your catch for you, so if you go fishing and want to eat what you catch, call around to find one that will cook it to your liking!
For a fabulous meal with a view, try the Beach Walk Cafe at the Henderson Park Inn. You can choose to sit outside, with unobstructed views of the emerald waters, or inside, where a cozy fireplace creates a lovely atmosphere. Featuring American cuisine with lots of seafood options, and everything we had here was delicious. Do not skip dessert!
If you love seafood, you must eat at Louisiana Lagniappe. My husband tried lobster, scallops, and oysters, and pronounced all his choices fresh and well prepared. But if you are a vegetarian, there aren't too many options here.
Real Thai Fusion in Miramar Beach has lots of vegan and vegetarian options, and all the dishes we tried were excellent. We had the hot pot! My husband had chicken with cashews and vegetables and we shared a couple of tofu dishes.
The best time to visit Destin
There is no really bad time to visit Destin. Even in winter, the slowest season, although temperatures do get cool, the weather is still not bad. And winter sunrises and sunsets in Destin are phenomenal.
The most ideal times to visit are late spring (think May and early June) and fall, when the weather is great, the water is warm, and you don't have the crowds of summer. We visited in late September/early October, and we had gorgeous weather most days.
Destin gets crowded in the summer, and accommodation prices can be high. But daylight hours are long and all activities are in full swing, including the weekly fireworks shows. Although you might get afternoon showers, they clear up quickly.
*****
So there you have it: my suggestions for the most fun things to do on a Destin vacation. If you haven't yet been, I hope you plan a visit soon!

More Great Vacation Destinations in the USA
Palm Springs: The Most Exciting Things to Do in Palm Springs, California!
Las Vegas: What to Do in Vegas if You Don't Gamble
San Diego: How to Enjoy a fun San Diego Weekend Getaway!
Boston: The Best Things to Do at the Boston Public Garden
San Juan: Fun Things to Do in Old San Juan
USA: The Best National Parks to Visit in the Summer
Did you find this article informative? Pin it for later reference!