There are so many exciting places to visit in Nevada.
Everyone knows about Las Vegas, and yes, there are many things to do in Vegas even if you do not gamble. But there is a Nevada beyond Vegas worth exploring!
With state parks, national parks and monuments, cool cities with Wild West vibes, and ghost towns from the mining boom times, you have lots of choices when it comes to places to visit in Nevada.
While Nevada lies in the desert for the most part, its landscapes are diverse and beautiful.
From the red rocks of Valley of Fire to the emerald waters of Lake Tahoe and the picturesque Ruby Mountains, you will find lots of natural gems in Nevada to explore.
Some links on this page may be affiliate links. If you click an affiliate link and make a purchase, we may receive a small commission, at no extra cost to you. For more details, refer to our disclosure.
Nevada is a wonderful state for a road trip, on it own, or in conjunction with one of its beautiful neighbors like Utah or California.
If you do not own an RV, consider renting one and getting on the road for a couple of weeks! You can park it in RV parks in cities like Vegas. Or, of course, you can tour in a car.
You can also explore Nevada in chunks, doing day trips or overnighters from cities. When we visit, we always tack on 2 or 3 day trips from Vegas (or Reno), so we can explore some of the natural areas and small towns in the state.
However you choose to visit, you will have a blast exploring Nevada.
Considering a trip to the Silver State? Read on to discover the best places in Nevada to put on your itinerary!
Las Vegas
Unquestionably one of the top places to visit in Nevada, Las Vegas reels you in with top-flight entertainment, dining, and shopping.
And you don't have to gamble or party to enjoy Vegas. We don't, and we've visited Vegas several times to enjoy the art and architecture, shows and shopping, and the quirky museums, and, of course, to eat.
In Vegas, enjoy touring the insides of the most famous resorts, such as the Bellagio and the Venetian.
Walk Las Vegas Boulevard to admire the facades of the resorts, from the replica of Trevi Fountain at Caesar's Palace to Eiffel Tower at the Paris Resort and the Doge's Palace at the Venetian.
Watch the Bellagio fountains in action. It's free, and one of the best things to do on The Strip!
Shop (or window shop) at Crystals in the City Center. Stroll lively Fremont Street in Old Las Vegas.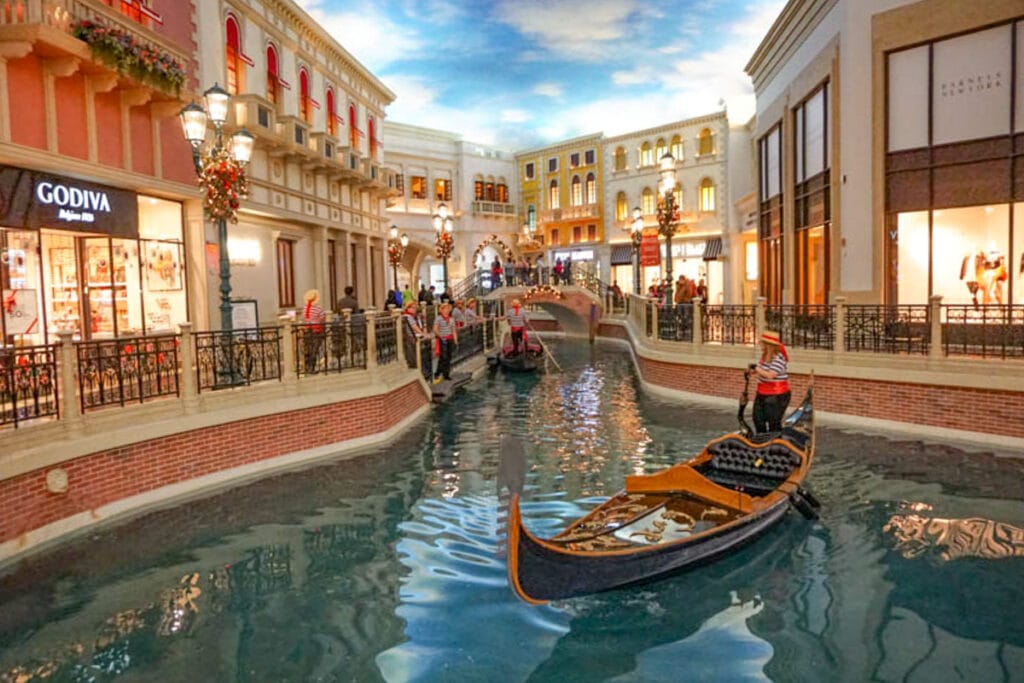 Take in a show (or three): from the weird and wacky Blue Man Group to the majesty and drama of Cirque du Soleil's O at the Bellagio, you will find something to suit your tastes.
Book a table for two at a celebrity chef restaurant, or enjoy a burger, pizza, or sandwich at a best-of-class eatery. You will find fabulous places to eat outside of Las Vegas Boulevard as well: try Lotus of Siam for out-of-this-world-tasty Thai!
While there's lots to do in Vegas, you can also make it a base for exploring surrounding areas. Classic day trips from Las Vegas include nearby Death Valley National Park, Valley of Fire State Park, and stunningly beautiful Red Rock Canyon National Recreation Area (more later in this article).
And if you are up for longer trips, there are many amazing national parks near Vegas you can visit, including a road trip through Utah's mighty 5, or a trip to Yosemite, Sequoia, and Kings Canyon National Parks in California.
Where to stay
Vdara in the City Center offers spacious rooms and suites in a non-smoking building. Opt for a stay with a view of the Bellagio fountains!
The Bellagio and the Venetian offer swanky stays on Las Vegas Boulevard.
Off Las Vegas Boulevard, you can base yourself in Henderson or Summerlin. The Residence Inn Las Vegas South is located in Henderson, about 9 miles from the Strip.
Valley of Fire State Park
One of the most beautiful state parks in the country, Valley of Fire State Park in the Mojave Desert is another must-visit Nevada travel destination.
The park's signature red rock formations are enormous, and spectacular!
The sandstone (and limestone) formations, centuries-old petroglyphs, and diverse flora and fauna make Valley of Fire a fascinating place to explore.
Drive the scenic road through the park, stopping at sights along the route.
The Beehive Rocks, Atlatl Rock with its petroglyphs, Balanced Rock, and Elephant Rock are some of the interesting geologic and historic features you will see.
To see other ancient petroglyphs, hike a little over a half-mile at Mouse's Tank.
If you enjoy hiking, a couple of day hikes in the park are standouts.
The White Domes trail is a scenic walk through white sandstone formations. Just over one mile long, the loop trail showcases gorgeous desert scapes, a slot canyon, and remnants of an old movie set.
The other must-do hike in Valley of Fire State Park is the Fire Wave trail, which leads to dramatic streaked sandstone formations reminiscent of Arizona's Wave.
Landscape photography enthusiasts love Valley of Fire State Park. Plan to stay for sunset, to capture your own fabulous photos. While Valley of Fire State Park is one of the most popular days trip from Vegas, you can also easily spend a few days here.
Where to stay
You can camp in Valley of Fire State Park: both regular campsites and RV hookups are offered. If you do not want to camp, consider the well-reviewed North Shore Inn at Lake Mead in Moapa Valley, eight miles from the park.
Lake Mead National Recreation Area
Lake Mead National Recreation Area is huge, at 1.5 million acres.
Encompassing different landscapes, from mountains to valleys and canyons, Lake Mead National Recreation Area has two beautiful lakes (one each in Nevada and Arizona) and offers a plethora of activities for nature lovers and outdoor enthusiasts.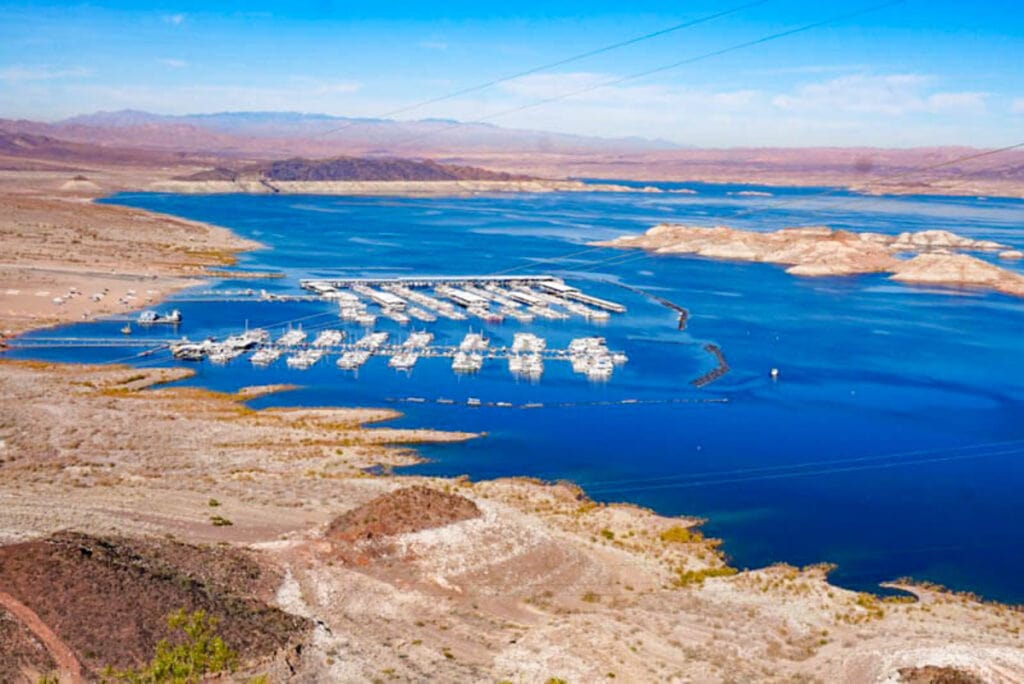 Lake Mead is a man-made reservoir, created by the damming of the Colorado River.
With 750 miles of shoreline, there's lots to do both on the water and around.
In Nevada, rent a boat at Hemenway Harbor or cruise Lake Mead to Hoover Dam on the Desert Princess. You can swim, boat, or sail at Boulder Beach. Go canoeing or kayaking, or join a guided tour.
There are many hiking trails at Lake Mead, including some easy scenic trails that start by the Visitor Center. Y
ou can also drive scenic Northshore Road, which offers 62 miles of beautiful vistas.
Enjoy photographing sunrise or sunset, and look for birds and wildlife. The park is home to many animals, including bighorn sheep and the desert tortoise, and you may spot an American bald eagle in the winter!
You can visit Lake Mead on a day trip from Vegas, or spend a few days here, to soak in the beauty of your surroundings!
Where to stay
Best Western Hoover Dam Hotel in Boulder City features clean, comfortable rooms and a convenient location if you are looking to spend a few days enjoying Lake Mead. There are many restaurants in Boulder City.
The America the Beautiful National Parks Pass is accepted at Lake Mead National Recreation Area. If you don't have your pass yet, you can buy a regular annual pass online at REI here!

The annual pass costs $80.00 and offers savings if you visit 3 or 4 federally managed areas like national parks over the course of the year. The pass is good for one vehicle.
Hoover Dam
Built in less than five years during the time of the Great Depression, Hoover Dam is hailed as an epic feat of civil engineering.
The dam has been designated a National Historic Landmark. Only a 30-minute drive from Las Vegas, Hoover Dam is one of the most exciting places to visit in Nevada.
Hoover Dam is a concrete arch dam in the Black Canyon of the Colorado River and provides water for irrigation and hydroelectric power to Arizona, Nevada, and California.
The beautiful visitor center at the dam was completed in 1995, and the dam is now a major tourist attraction.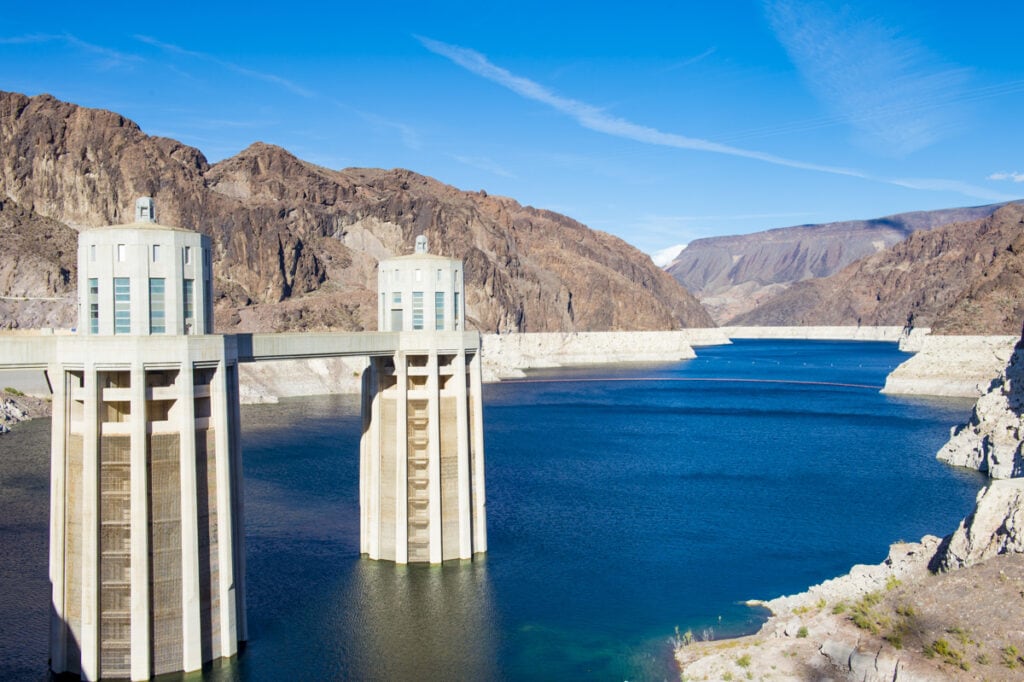 You can visit the dam (other than the visitor center) only via a guided tour. Opt for a tour of the whole dam or only the power plant.
You can wander the visitor center on your own, to view all the interesting information on display. The visitor center offers a stunning 360-degree view of the dam.
Hoover Dam makes for an easy day trip from Las Vegas, or from Boulder City.
Where to stay
The Best Western Hoover Dam Hotel offers spacious rooms and an indoor swimming pool with hot tub. Other than being convenient for exploring the town, the hotel is also within a few miles of both Hoover Dam and Lake Mead. Book a stay here!
Red Rock Canyon National Conservation Area
Located a mere 17 miles from Las Vegas, the Red Rock Canyon National Conservancy Area is a stunning park in the Mojave Desert that makes a great day trip (or half day visit) from Vegas.
The beautiful red Aztec sandstone cliffs in the park are made for photography.
You can drive the 13-mile scenic loop through the park, stopping at points of interest along the route.
But the best way to appreciate Red Rock Canyon is by hiking, so you can get up close to the geological features and appreciate the flora and fauna in the park.
There are over two dozen hiking trails of varying lengths and difficulty levels in Red Rock Canyon.
The moderate Calico Hills trail that runs along the base of one of the best stretches of red rock in the park is one of the most popular trails.
If you are up for a more challenging option, try the Calico Tanks hike, which leads over the rocks to a great view of Las Vegas
The America The Beautiful National Parks Pass is accepted at Red Rock Canyon National Conservancy Area.
Boulder City
Historic and charming, Boulder City is often treated just as a place from which to explore nearby attractions such as Hoover Dam and Lake Mead, but it is worth touring in its own right.
Boulder City came into being in the 1930s as a place for workers building the Hoover Dam to live.
The Nevada State Railroad Museum in Boulder City is a fun place to visit if you enjoy trains. Tickets include a 40-minute excursion, and for an additional fee you can even ride in the cab with the engineer and head brakeman!
You can ride a real steam engine here, view model railroads, and learn about the history of the Nevada Southern Railway.
The Old Town Historic District is fun to wander. It still has several hundred structures that were built in the 1930s.
The Boulder Dam Hotel is a must-stop, with its beautiful old facade and murals inside.
The building houses the Boulder City and Boulder Dam Museum as well.
Browse the many stores and galleries in a gambling-free atmosphere.
Where to stay
The Best Western Hoover Dam Hotel offers spacious rooms and an indoor swimming pool with hot tub. Other than being convenient for exploring the town, the hotel is also within a few miles of both Hoover Dam and Lake Mead. Book a stay here!
Lake Tahoe
Lake Tahoe is a beautiful alpine lake that straddles California and Nevada.
A year-round playground, Lake Tahoe offers endless recreation opportunities, both in and around the water. If you love nature and the outdoors, be sure to include Lake Tahoe on your Nevada itinerary!
Sand Harbor State Park, on the Nevada side of Lake Tahoe, offers a beautiful beach and picnic area. A short interpretive boardwalk trail features spectacular views of the lake.
Swimming and scuba diving are popular in the summer, and horse-drawn sleigh rides in the winter.
A cruise is a great way to enjoy a relaxing time on the water. Cruises depart from Zephyr Cove on the Nevada side of the lake.
For a more active water activity, go kayaking or canoeing, or stand-up paddleboarding.
Hiking is a great way to get up into the mountains for fabulous aerial views of the lake.
In winter, enjoy a wealth of sports, from downhill skiing and snowboarding to cross-country skiing, snowshoeing, and snowmobiling.
If you visit Lake Tahoe in the fall, watch the kokanee salmon run at Taylor Creek or enjoy leaf peeping around the lake.
Where to stay
Edgewood Tahoe Resort is a gorgeous property with spectacular views of Lake Tahoe. Rooms are beautiful, with luxurious furnishings. Enjoy the hot tub and terrace. Book a stay here!
Rhyolite
Rhyolite sprang up when gold was discovered here in 1904.
Soon there were thousands of claims in the area, and the town boomed. It boasted everything from a school to a bank and a hospital.
But the financial panic of 1907 started a downturn, and by 1916, the town was abandoned.
You can see the remnants of some of the grand buildings of the town from its glory days, including the bank building and the old jail.
The train depot is still intact, and so is Bottle House, which was originally built in 1906 from 50,000 beer and liquor bottles and restored in the 1920s by Paramount Pictures, which used the area as a movie location.
Rhyolite is located near Beatty, just outside Death Valley National Park, and should ideally be visited in combination with the park.
There is a paved road which leads to the town, and you can park and walk around.
Reno
Reno, like Las Vegas, is best known for its casinos. But the city is worth exploring beyond the resorts.
In Reno, you will find the National Automobile Museum, which is worth visiting for its extensive collection of restored rides, even if you are not an auto aficionado.
The Nevada Museum of Art is housed in a fabulous contemporary building. Inside you will find impressive permanent collections and sculpture gardens.
Reno's Truckee Riverwalk is a fabulous place to stroll. With its collection of galleries, shops, and restaurants, the Riverwalk is a draw for art lovers and foodies alike. If you are visiting Reno as a family, you will love walking this pleasant area with kids.
Reno is a hiker's paradise in the spring, summer, and fall, with trails to suit all skill levels.
Try the Oxbow Nature Study Area Trail, or the Tom Cooke Trail near the Truckee River for easy, family friendly options.
Huffaker Park Lookout Trail offers stunning views of the city. Hunter Creek Trail, a longer, more challenging hike, ends at a beautiful waterfall.
In the winter, nearby Mount Rose and Lake Tahoe offer great skiing and other winter sports. Mount Rose is just 20 miles from the city, and therefore very popular, so visit during the week if you can.
Where to stay
Worldmark Reno offers spacious rooms and suites with kitchenettes and free parking. There is a seasonal outdoor pool. Book a stay here!
Great Basin National Park
One of the least visited national parks in the USA, Great Basin National Park offers diverse landscapes and a lot to see and do. Ideally, plan on spending at least a couple of days in the park, so you can enjoy the major sights.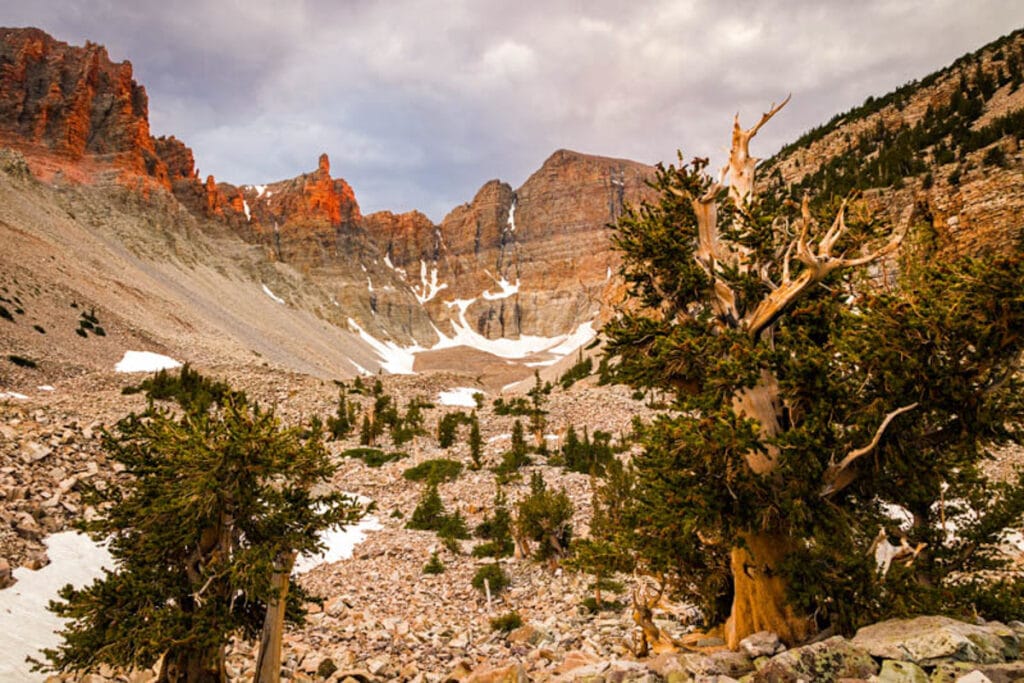 Walk the Bristlecone Pine Trail through the grove of ancient bristlecone trees, the oldest living organisms on the planet. Some of these trees are several thousands of years old!
They grow in a twisted fashion, and make for awesome photos. The trail offers interpretive signage to help you learn more about the trees.
Join a guided tour of the Lehman Caves, the longest cave system in Nevada at over 2 miles. With stalactites and stalagmites and a variety of cave life, including recently discovered species, the caves are a fascinating place to tour.
Drive the Wheeler Peak scenic drive for beautiful views and to observe diverse ecosystems.
Enjoy sunset and linger after dark to stargaze. The park features some of the darkest skies in the country. and you may also be able to join a ranger-led astronomy program after dark.
Where to stay
Baker is the town closest to Great Basin National Park. Hidden Canyon Retreat is located off the main road in a canyon and features spacious rooms with comfortable beds. The property has a garden, pool, and hot tub, and nearby Baker offers restaurants and stores. Book a room here!
Mount Charleston
Spring Mountains National Recreation Area, also known simply as Mount Charleston, is just a 45-minute drive from Las Vegas and provides a cool escape to the heat of the Mojave Desert in the warmer months.
In the winter, it becomes a snow-covered wonderland.
Drive the Mount Charleston Scenic Loop: Highways 156, 157, and 158, which are fully paved and run through the Spring Mountains National Recreation Area.
Hike some of the many trails in the park. Trails vary in length and difficulty, and you can even climb to the summit of Mt. Charleston via two routes.
Cliff-climbing, mountain biking, and horseback riding are other ways to enjoy this scenic area.
Observe the flora and fauna. There are over 25 species of plants and animals that are endemic to this area and not found anywhere else on the planet. Enjoy wildflowers in the spring and changing leaf colors in the fall.
You can visit Mount Charleston on a day trip from Vegas, or spend a few days camping here. There are several campgrounds in the Spring Mountains National Recreation Area, and lots of picnic sites for meals with a view.
Virginia City
Located just 20 miles southeast of Reno, Virginia City is a super colorful and historic gem that you should definitely consider adding to your list of places to visit in Nevada.
Home to the famous Comstock Lode, Virginia City was a boom town for many years as fortunes were made here.
Virginia City boasts a number of sights and attractions. Journey into the past on the V&T Railroad, enjoying the scenery as you hear the commentary.
Tour the haunted places in the town on a guided ghost tour: Virginia City bills itself the most haunted town in America. Touring the Comstock Gold Mill is also fun.
Stroll the town and take in the colorful specialty shops and antique stores. Visit Piper's Opera House, rebuilt most recently in 1885, after being destroyed by fire twice. There is a lot to admire and photograph in Virginia City!
Virginia City makes a great day trip from Reno or Carson City.
Cathedral Gorge State Park
Located about 2.5 hours northeast of Las Vegas, Cathedral Gorge State Park is one of Nevada's most beautiful state parks. The park is located in a long narrow valley, filled with beautiful bentonite clay formations.
The caves and spires in the park are the result of volcanic activity that occurred over millions of years.
Volcanic activity deposited ash and pumice in the area, which then filled with a lake. When the lake eventually dried up, it left behind the beautiful formations we see today.
Cathedral Gorge became one of Nevada's first state parks in 1935 and has been a popular place to visit. There are walking trails to explore the park and get up close to the beautiful spires and caves.
The slot canyons in the park are some of the few that you can find in Nevada, and they are long and really fun to hike.
There are picnic spots in the park for lunch. Make sure you bring your camera, because the park offers stunning photo ops! You can visit Cathedral Gorge State Park for the day from Vegas, but you can camp overnight as well.
Carson City
Nevada's state capital, Carson City, is located about 20 miles from Incline Village in Lake Tahoe, and about 30 miles from Reno, making it an easy visit from either place.
Carson City has many things to see and do, making it a worthwhile stop on your Nevada trip.
Carson City has a rich and colorful history. When the Nevada Territory was established in 1861, Carson City became its capital. And when Nevada became a state, Carson City was designated the state capital.
Some of the major historical sights in the city include the State Capitol Building, the State Museum, and the Governor's Mansion.
Other than historical sites, Carson City is a lively city that offers unique boutique stores and antique shops, and a fun arts and culture scene with lots of murals, art galleries, and performances.
Visit the Nevada State Railroad Museum, where you can see old locomotives and cars of the famous Virginia & Truckee Railroad, and even take a train ride in a historic train.
Where to stay
The Hampton Inn & Suites Carson City has a location central to many major sights and attractions in the city. Rooms are spacious and beds rated very comfortable. The hotel features an indoor pool. Book a stay here!
Lamoille Canyon
Lamoille Canyon is an incredibly beautiful part of Nevada's scenic Ruby Mountains, located in the northeastern part of the state, about a 4.5-hour drive from Reno. The landscape here is lush and green, quite a contrast to the desert you see in much of the state.
Drive the Lamoille Canyon Scenic Byway, a paved drive up the canyon to a height of 8,800 feet above sea level.
The drive offers stunning views, plus you can enjoy wildflowers in the spring, and leaf colors in the fall. Stop at the Lamoille Glacier Overlook, with its spectacular views of the mountains.
You can enjoy a variety of recreational opportunities in the canyon. Hiking is popular, with over 100 miles of trails.
You can also go mountain biking or backpacking, fishing, and climbing.
There are picnic facilities, and campgrounds. In the winter, you can go snowmobiling and cross-country skiing here.
Where to stay
Stay in the TownePlace by Marriott Suites in the town of Elko, about 21 miles from the park. The suites are spacious and comfortably furnished. The hotel features an indoor pool and outdoor picnic and barbecue facilities. Book a stay here!
OTHER FUN US DESTINATIONS
Did you find this article informative? Pin it for later reference!