The best places to visit in Texas range from lively cities to charming small towns, national and state parks, historical sites and beaches. The Lone Star State offers fabulous food and drink, and uniquely Texas experiences as well.
From Austin to San Antonio and Dallas, the large cities of Texas make for exciting travel destinations, whether you choose them for quick US weekend getaways or you visit for a longer period of time.
And the many pretty and sometimes quirky small towns in Texas lend themselves perfectly to a Texas road trip.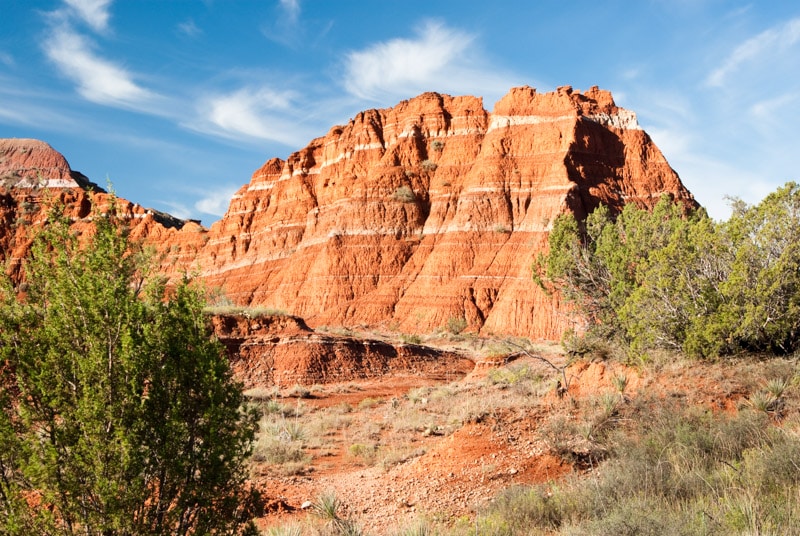 Some links on this page may be affiliate links. If you click an affiliate link and make a purchase, we may receive a small commission, at no extra cost to you. For more details, refer to our disclosure.
We've lived for a few years in Austin, the beautiful state capital, and used the time to explore more of the Lone Star State.
For this article, however, we asked colleagues in the travel blogging community to chime in with their favorite Texas destinations as well, so you have lots of choices when it comes to planning a Texas vacation.
Ready to get started discovering the best places to visit in Texas? Let's go!
1. Austin
Known for its live music, gorgeous nature, and many festivals, Austin is more than just the capital city of Texas — it's one of the best places to visit in the Lone Star State!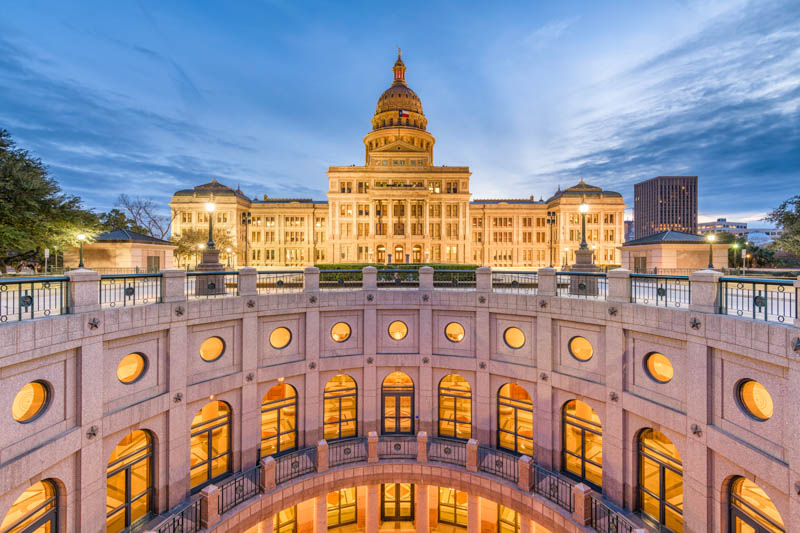 A weekend getaway in Austin may not be enough to uncover all of the city's hidden gems, but it's more than enough to see some of the best of Austin and appreciate why this Texas city has become a national and international tourism hotspot over the last decade.
While you're there, be sure to peruse the shops and boutiques on famous South Congress, take a dip in Barton Springs Pool (and it's almost always swimming season in Austin), tour one of Austin's incredible museums like the Blanton Museum of Art or the LBJ Presidential Library, and watch the sunset from picturesque Mount Bonnell.
Be sure to snap photos with a few of the city's beloved murals, too!
If you visit between late March and early fall, you must watch the night flight of the bats of the Congress Avenue Bridge!
And, of course, no trip to Austin is complete without taking full advantage of its legendary food scene, with a special emphasis on TexMex, barbecue, and breakfast tacos.
If you choose to stay downtown, you'll be able to walk to many of the best things to see in Austin — but Austin is still a fairly spread-out city, and a car will help you take full advantage of both the city itself and its many incredible day trip opportunities.
Suggested by Kate of Lone Star Travel Guide
2. San Antonio
San Antonio may be the second-largest city in Texas, but it has a laid-back, small-town feel that makes it an enticing destination for a relaxing getaway.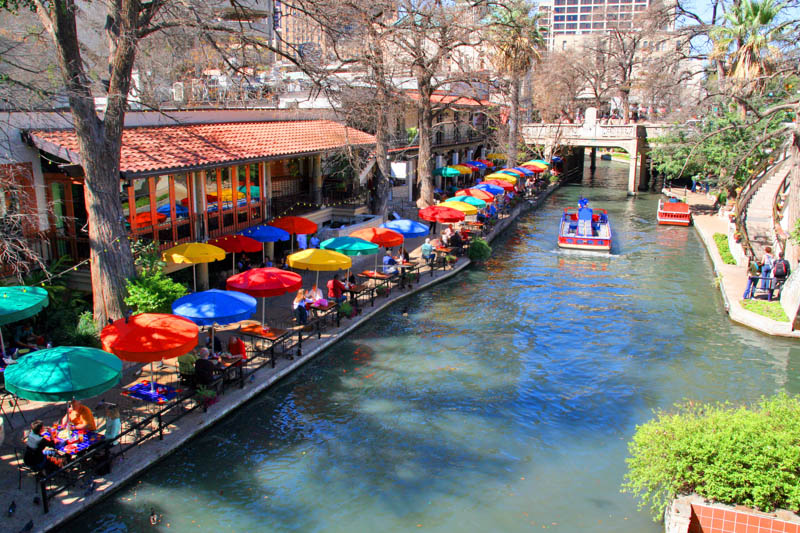 One of San Antonio's most famous attractions, without question, is the Alamo.
Now a National Historic Landmark, this mission served as the fortress for Texan soldiers during the Texas Revolution, as Mexico fought for independence from Spain.
The site is extremely touristy, but it's free to visit and definitely an interesting place for those interested in Texan history.
San Antonio's River Walk is another famous attraction in the city. This pedestrian walkway meanders along the river, which cuts through downtown San Antonio. Lined with shops, restaurants, and a canopy of trees, this is a scenic way to experience downtown San Antonio. You will find some of San Antonio's best restaurants here!
Just a few steps off of the River Walk, you'll find La Villita Historic Arts Village. Originally an encampment for Spanish soldiers, this area is now an arts district featuring local galleries and curios shops in adobe-style buildings.
Another must-visit part of San Antonio is The Pearl District. Formerly the site of a brewery, this area has been transformed into a trendy shopping and dining destination. There's also a weekly Farmers' Market, and live concerts and other events often take place on the green space.
Unless you're prepared to confront extreme heat, the best time to visit San Antonio is during the winter and spring. Between November and April the city is comfortably warm, and precipitation is low. The summer months are sweltering (think the high 90s!) and humid, and rain showers are common.
Whether you're interested in historical sites, outdoor experiences, or simply want to get to know the city's culture, there's no shortage of dynamic activities to enjoy in San Antonio.
Suggested by Janine of Janine in the World
3. Dallas
Lots of things are bigger and better in Texas, and Dallas is one of them.
A new generation of vibrant neighborhoods, delicious food, and unmissable experiences invite you to visit one of the greatest cities in the US. There are so many cool things to do in Dallas!
If you're a sports enthusiast, you can't miss the AT&T Stadium. Also known as the "Cowboy Stadium," it is the largest dome structure in the world, and many tours are available, including a visit inside the players' and the cheerleaders' locker rooms.
Who doesn't love a good old barbecue? Pecan Lodge is a family-run steakhouse and one of the most popular spots in the city. And for a good reason. This is where to go for that perfect, mouth-watering Texas barbecue!
During the roaring 20s, the Deep Ellum was the headquarters for all jazz and blues lovers. This eclectic neighborhood has recently been reinvented and is home to some of the coolest arts, music, culture, and innovation exhibitions in the world.
Unless you want to melt under the Texas sun, the best time to visit Dallas is during spring or early fall, when the weather is cooler. Late September offers not only more pleasant temperatures but also a chance to experience the famous Texas State Fair.
Suggested by Sara of Mindful Travel by Sara
4. Amarillo
Cutting across the top of the Texas panhandle is historic Route 66! The 2,448-mile road trip starts in Chicago, Illinois and ends in Los Angeles, California.
Around 180 miles of the route crosses Texas between Shamrock and Adrian. Amarillo is a fun place to visit. Some of the attractions in Amarillo became inspiration for places and characters in the Disney Pixar 'Cars' movie!
A popular stop running along I-40 is Cadillac Ranch. This public art installation consists of 10 Cadillac cars half buried in the ground.
Visitors are allowed to graffiti the cars with spray paint, so the colors of the cars are forever changing! If you decide to paint the cars, it is important to remember to take the spray cans away and dispose of them properly.
A unique place to eat is The Big Texan Steak Ranch and Brewery. This eatery is the home of the 72oz steak challenge.
Those brave enough to take on the challenge have one hour to eat all 72oz of the steak, plus a shrimp cocktail, a baked potato, a dinner roll, and salad!
If the challenge is completed the meal is free and the competitor's name is added to the Hall of Fame, with almost 10,000 other people who have succeeded since the challenge started in the 1960s.
Across from The Big Texan Steak Ranch is the Big Texan Motel. The brightly colored motel is Wild-West themed and even has a Texas shaped outdoor swimming pool (available for guests between May and September). There's also a horse motel and an RV park.
Suggested by Kylie of Between England and Iowa
5. South Padre Island
South Padre Island is a small barrier island located on the coastal tip of Texas in the Gulf of Mexico and is the only tropical island in all of Texas.
It boasts 34 miles of beautiful, sandy beaches and is the perfect place for vacationers who want to experience the tropics, without having to leave the country.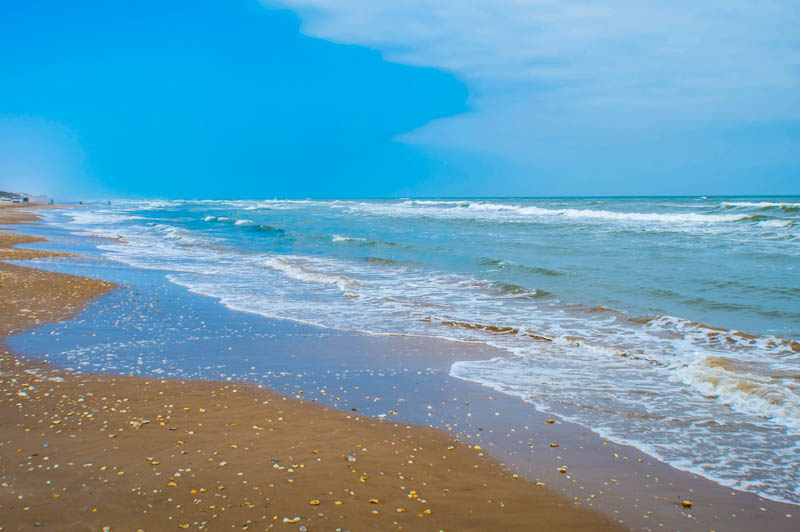 While South Padre is an extremely popular spring break destination (meaning March-April are very crowded with party-goers), the rest of the year also has great weather for a beach vacation.
Summertime can get crowded too, so the ideal time to travel to South Padre is between September and February.
While the beach is the main attraction, there are plenty of other ways to spend your time on the island. Visitors can check out the results of the annual sandcastle building contest that are kept for viewing year-round.
Sea Turtle, Inc. is a great place to see some of these giants up close and to learn more about what's being done to protect them. There's a 5-story watchtower at the Birding and Nature Center where you can get a look at some of the migrating birds to the area.
You can also book tours to get out on the water and see the dolphins, take a sunset dinner cruise and even snorkel. South Padre Island is a vacation destination that offers something for everyone!
Suggested by Karee of Our Woven Journey
6. Fredericksburg
If you are a wine lover then you absolutely have to visit the Texas Hill Country town of Fredericksburg. What started as a small settlement of German immigrants has blossomed into one of Texas' largest wine-producing regions.
While visitors come from all over the country to enjoy some of the fabulous Texas wine produced here, that is not all that Fredericksburg has to offer.
There are so many things to do in Fredericksburg, TX that you can easily stay busy for weeks! Outdoor enthusiasts will love hiking Enchanted Rock State Park or exploring Lady Bird Johnson Municipal Park.
History lovers will feel right at home in Fredericksburg as well while they immerse themselves in local and world history at the National Pacific War Museum and the Fredericksburg Pioneer Museum.
One of the most popular things to do here is is to stroll down Fredericksburg's Main Street with a glass of wine in hand and do some shopping.
Main Street is lined with charming boutique shops selling jewelry, housewares, furniture, clothing, and more! And the fact that you can walk down the street while drinking your wine is just icing on the cake!
All of this and more is what makes Fredericksburg one of the top places to visit in Texas!
Suggested by Michelle of That Texas Couple
7. Fort Worth
Fort Worth is one of the largest and fastest growing cities in Texas. But despite having a major metropolitan population, Fort Worth hasn't lost its historic cowboy roots and laid back feel.
The city, which shares an urban area with Dallas, is often called 'Cowtown,' as it was once a stop for cattle drivers along the Chisholm Trail.
Although you'll find plenty of tall buildings and cosmopolitan influence, at its heart Fort Worth is a city that was founded and developed largely due to the ranching and cattle raising industries.
To experience Fort Worth's cowboy culture, head straight to the city's historic stockyards.
There are many things to do at the Fort Worth Stockyards, but perhaps the most notable is the twice-daily cattle drive through the brick-laden streets.
The stockyards in Fort Worth are the only place in the world where you can watch an actual cattle drive everyday for free. Cowboys in early 20th century attire usher a herd of longhorns down the historic, preserved street.
Other popular attractions in Fort Worth include the Fort Worth Water Gardens, Botanic Gardens, shopping and dining in the city's urban center, Sundance Square, and a visit to the number-one rated zoo in the United States.
Suggested by Melissa of Parenthood and Passports
8. Texas Hill Country
A region, not an individual town or city, Texas Hill Country is one of the best places to visit in Texas, especially during bluebonnets season, when carpets of the cheery blue spring wildflowers make it a landscape photographer's dream.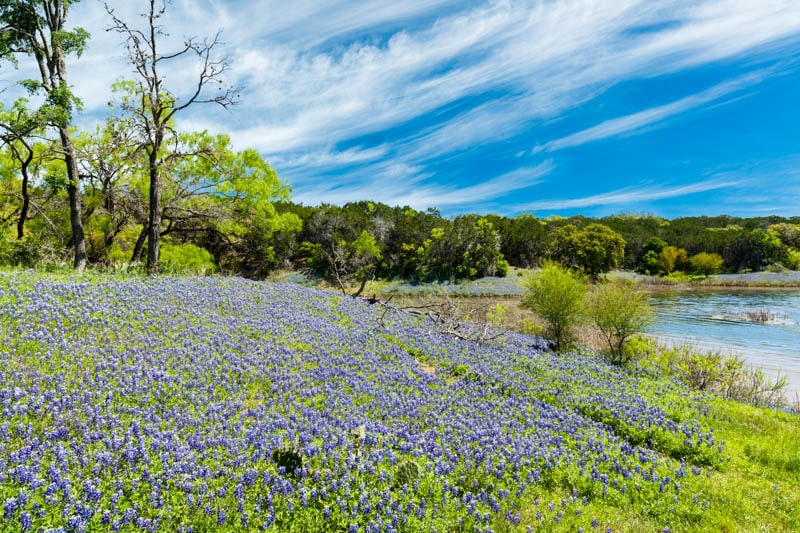 So where exactly is Texas Hill Country? It's the southeast section of the Edwards Plateau, west of Austin and north of San Antonio. Because it's centrally located, a road trip through Texas Hill Country is easy, with lots to see and do.
A well-known Texas wine region, Texas Hill Country includes a host of charming towns like New Braunfels, Wimberley, and Fredericksburg, some of which are wonderful Texas destinations unto themselves.
The region also boasts a great number of charming inns and B&Bs, so you'll not want for great stays on your road trip!
Outdoor enthusiasts will want to hike one or more trails in beautiful Garner State Park. You can also tube or kayak Frio River, which runs through the park. Admire Enchanted Rock, float the Guadalupe River, or swim in the natural pool at Dripping Springs or the Blue Hole in Wimberley.
You'll find little museums and quaint attractions to discover at Texas Hill Country towns, plus fun shopping. The region is also home to some great barbecue spots!
Suggested by us
9. Big Bend National Park
Big Bend National Park is located in southwestern Texas and at 800,000 acres, it's one of the largest parks in the United States. It's also one of the most popular vacation destinations in the area.
The landscape at Big Bend National Park is incredible and there are over 200 miles of hiking trails and scenic natural hot springs. The park also offers opportunities for camping, backpacking, mountain biking, horseback riding, and even stargazing.
Of the countless outdoor activities around Big Bend National Park, there are a few that stand out as highlights. The Lost Mine Trail is a 4.8-mile round-trip trek that offers amazing panoramic views of the mountains.
If you're looking for the best place to watch sunset in the park, check out the Window View Trail.
And if you'd rather see the park from the comfort of your car, the Ross Maxwell Scenic Drive offers plenty of stunning overlooks and noteworthy stops, including the Sotol Vista, Mule Ears Outlook, and Tuff Canyon.
If you are craving a more relaxing Big Bend adventure, head over to Boquillas Hot Springs. This geothermally heated pool remains 105°F all year round.
Not only is this a great place to relax, but it's historic as well since the surrounding structure was constructed as a bathhouse in the 1900s.
From the trailhead the trek to the hot springs is just 0.5 mile round trip. Be sure to take a chilly dip in the Rio Grande before you leave!
Southwestern Texas has extreme temperatures, with temperatures reaching 100 degrees in the summer and below freezing in the winter. So the best time to visit is during the more mild fall and spring seasons.
Suggested by Val & Nick of The Wandering Wheatleys
10. Galveston
Located on the Gulf Coast of Texas, Galveston Island is fun for the whole family, with amusement parks, museums, and beaches. For great weather, plan a trip to Galvestion in October or November or in March or April.
The Galveston Island Historic Pleasure Pier amusement park is a big draw. With live music and entertainment, and many rides over the water, the park also has lots of retail stores and eateries.
Schlitterbahn Waterpark has lots of fun water slides and high thrill quotient rides, perfect for summer.
Moody Gardens is a great attraction for the whole family: Here you can explore the rainforest or meet ocean creatures, and enjoy a paddlewheel boat cruise.
Love museums? Explore the Galveston Railroad Museum, or visit the Ocean Star Offshore Drilling Rig Museum. Downtown Galveston has many historic homes you can tour as well.
Galveston Island has about 32 miles of shoreline, so beach time should definitely be on the agenda when you visit!
There are numerous sandy beaches where you can enjoy beach sports, picnic, walk, or sunbathe. East Beach hosts an annual sandcastle competition in the summer, plus festivals and concerts.
For a meal with a view, pick an eatery along the famous Seawall Boulevard. While lots of fresh seafood is on offer (Gaido's is famous), you will be spoiled for choice when it comes to cuisines from which to pick.
Suggested by us
11. Marfa
If you are planning a visit to west Texas, put Marfa on your itinerary! The town is a must-stop on a west Texas road trip.
Marfa used to be a small Texas railroad town, until the artist Donald Judd moved there. When he moved to Marfa, he began to create large art installations in town that attracted guests from far and wide.
Today, the area is a well known artistic hub and a tourist destination. Marfa has a mixture of modern art alongside old historic buildings, which makes this area especially unique.
There is plenty to see and do in this small town. First and foremost, visit the iconic Prada Marfa, which is an art installation in the middle of a desert highway that looks like a real Prada store.
You can see more of the iconic artwork in town at the Chinati Foundation or the Judd Foundation. Also in town, you can walk around the small shops and stop for fuel at great places like Marfa Burrito or Do Your Thing Coffee.
At night, you can view the mysterious orbs in the sky from the Marfa Lights viewing area.
The best time to visit Marfa is in the spring or the fall, when the temperatures are moderate and there are sunny skies. There's no place quite like Marfa and it's such a fun place to explore!
Text and photo by Lita of Lita of the Pack
12. Lake Conroe
Just an hour north of Houston, Lake Conroe is a refreshing escape from the heat of the city. The 21,000-acre lake is a water playland, perfect for families or couples.
Boating is popular on this large lake, with rentals available at over a dozen marinas. For a change of pace, you can also rent jet skis and kayaks.
Boaters enjoy cruising right up to the docks of lake-front restaurants for lunch and beverages. And you'll find swimming beaches at hotels and public parks.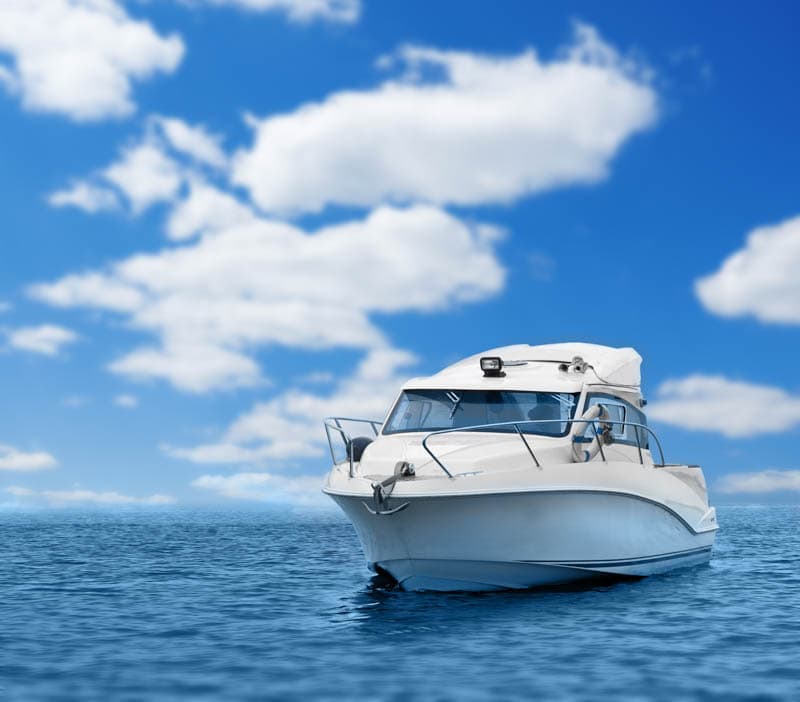 If you'd like to try your hand at world class fishing, check out one of the many guide services. Lake Conroe is known for its record sized bass and catfish.
Need a break from the water? The lake is surrounded by the gorgeous Sam Houston National Forest, perfect for an afternoon of hiking through the pines.
In the local communities around the lake you can enjoy breweries, wineries, specialty restaurants, and quaint small-town shopping.
You'll find a plethora of lodging choices in hotels, cabins and vacation rentals right on the lakefront. Or go more casual at one of the lakeside campgrounds.
Resorts like Margaritaville and Holiday Inn's Piney Shore Resort provide entertainment late into the night on their private beaches.
Suggested by Ladona of Walking the Parks
13. Beaumont
Beaumont is 85 miles east of Houston on I-10 and is well worth visiting for more than a quick pit stop from your interstate drive.
Fun things to do in Beaumont include several entertaining attractions and museums, excellent food and culture, and surprising nature environments.
Beaumont is at the intersection of several migrating bird flyways and Cattail Marsh Wetlands is a bird watching paradise.
Over 250 different bird species have been counted in these wetlands in a season and the boardwalk trail is an excellent place for a nature walk any time.
For a different and really exhilarating animal experience, visit Gator Country to see massive rescued gators and fun wildlife shows.
The discovery of oil in Beaumont in January 1901 led to the city's nickname of Boomtown. The Spindletop oil well gushed for nine days before engineers could figure out how to cap the flow.
Visit the Spindletop Gladys City Boomtown Museum to experience the re-created old west village and a reenactment of the gushing oil (they use water for the demo!).
Later, visit McFaddin-Ward House Museum, which was the grand residence of a family already prominent before 1900 that became exponentially wealthier during the oil boom.
Complete your day of oil boom town experiences at Texas Energy Museum, which covers the history of the oil industry and people, along with exhibits on other energy sources, like wind energy.
Near Texas Energy Museum, check out the Art Museum of Southeast Texas, Beaumont Children's Museum, Edison Museum, Tyrrell Historical Library, and Fire Museum of Texas, where you can see the world's largest operating fire hydrant!
A couple of miles away is the Babe Didrikson Zaharias Memorial Museum, which covers the life of the world's greatest female athlete.
Suggested places to eat in Beaumont include Tacos La Bamba, Tia Juanita's Fish Camp, Amelia Farm and Market, Boomtown BBQ Company, Rao's Bakery, and J. Wilsons.
Suggested by Charles of McCool Travel
14. Guadalupe Mountains National Park
Guadalupe Mountains National Park is Texas's lesser known, wilder, and more remote national park, perfect for getting off the grid and exploring all the outdoor adventures on offer!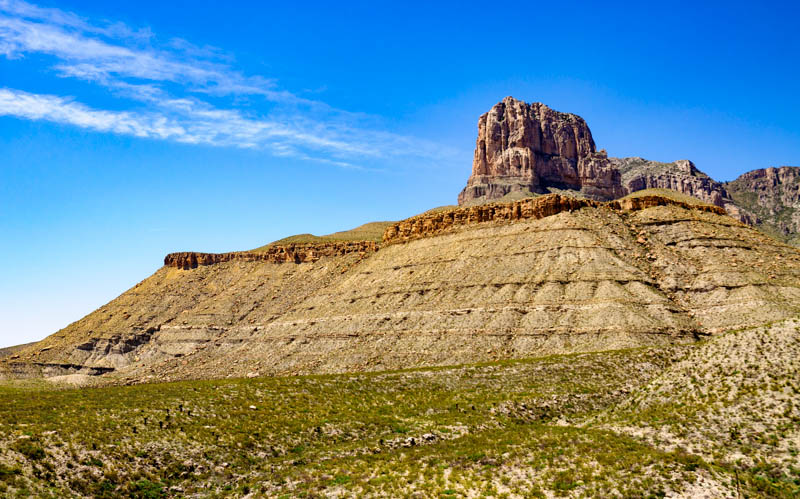 In Guadalupe, you can camp under unfiltered panoramas of dark night skies, hike through multiple ecosystems including deserts, canyons, forests, and mountain peaks, and take in the historical roots that abound here, from early frontier settlements, to stops along the Butterfield Overland Stage Coach route.
Guadalupe Mountains National Park is located in far western Texas. It is about an hour from the town of Carlsbad, New Mexico, and its mountains actually share a unique connection to Carlsbad's Caverns, in that they are part of the same mountain chain.
Given the desert surroundings of Guadalupe, a visit during spring or fall is ideal to avoid the hottest temperatures.
There are backcountry backpacking opportunities in Guadalupe, as well as two designated campsites, each with its own regional characteristics: one set amongst the open high desert, and one set amongst the cliffs of the mountain range.
Guadalupe has many exhilarating hikes to choose from, starting with the "top" hike in Texas, the state high point hike to Guadalupe Peak, residing at an elevation of 8,750 feet. Guadalupe Peak traverses high desert, thick ponderosa forests, and wind sculpted cliffs all in one trail.
Other standout hikes include the canyon hikes of The Devil's Hall and McKittrick Canyon.
History buffs will appreciate Guadalupe for its reminders of early Texas settler life, like the Pratt Cabin and Hunter Line Cabin located in McKittrick Canyon, or the remnants of the Pinery Station stop along the Butterfield Overland Stage Coach's early mail route.
Suggested by Kristen of Yonderlust Ramblings
15. Shamrock
Shamrock lies in Northern Texas on the iconic Route 66 so if retro towns, buildings and neon are your thing you should definitely make a stop!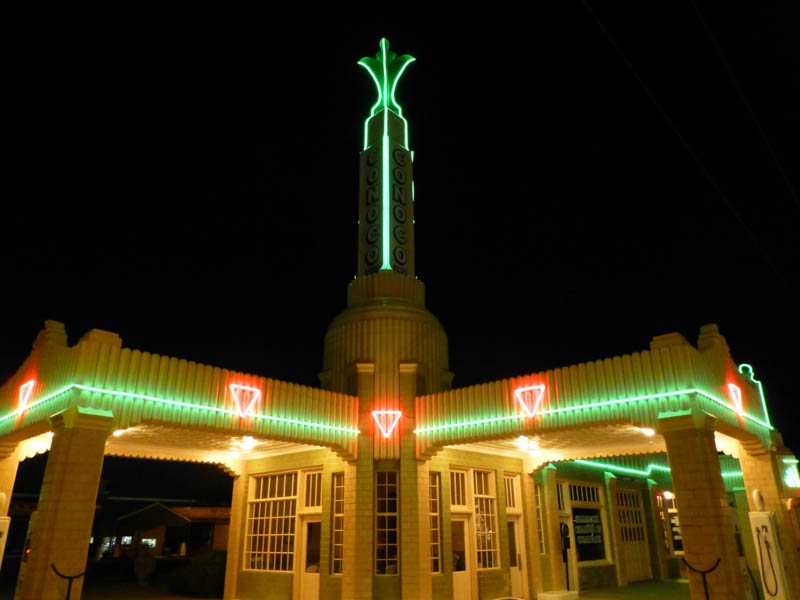 The main attraction of the town is the old Conoco gas station and cafe (which is no longer either, although they do sometimes serve drinks).
This is a beautiful art deco style building that may well look familiar to you if you like your Disney films — it was what Ramone's garage was based on in the film Cars.
The outside looks amazing and it really pops out against the blue sky. It's a must for some photo opportunities. Go inside and you'll see some exhibitions about the history of the site. If you can, stay until dark when it lights up and looks amazing with neon.
Elsewhere in the town is a museum which tells the history of the area, how the town came to be and the connections with Ireland. They definitely love that connection in the town — shamrocks and Irish touches everywhere!
Keep exploring and you'll find the tallest water tower in Texas, the Blarney Stone (at least their version of it), and a host of old cars, retro buildings, and photo spots.
The attractions are available to see all year round but be aware that the weather can be stifling in summer.
Text and photo by Kirsty of Lost in Landmarks
16. Mustang Island State Park
Mustang Island State Park is one of the best hidden gems in Texas and is located about 11 miles south of Corpus Christi. The park is a protected five-mile section of Mustang Island, a barrier island directly to the north of the more famous Padre Island.
Mustang Island is home to many species, including the endangered Kemp's Ridley sea turtle and the threatened whooping crane.
It features natural habitats, including tidal marshes, coastal dunes, freshwater wetlands, and many acres of thick coastal prairie grasses.
There are also over one hundred plant species that can be found on Mustang Island.
Mustang Island State Park offers a range of recreational opportunities and things to do, including camping on the beach or in designated campgrounds, swimming at one of three public beaches maintained by the park, kayaking the Texas Paddling Trail, fishing off the jetties, and bird watching.
The best time to visit is in summer when you can swim, though note that fishing is best in August and September as compared to June or July.
Winter is a good time to visit if you want to enjoy warmer temperatures than further north, plus there is some bird watching still available at this time of the year, though it's too cold to swim.
Suggested by Stephanie of Oklahoma Wonders
17. Nacogdoches
Nacogdoches is the oldest town in Texas, so it's no wonder Nacogdoches is one of the best places to visit in the Lone Star State.
It was founded in 1779 by Don Antonio Gil Y'Barbo, who later was accused of smuggling, left the town he founded, and was forbidden to return.
Nacogdoches is full of historical landmarks and old architecture. Strolling the red brick streets in the downtown area and driving around town to find them is one of the best things to do.
Some of the landmarks you can't miss are the Sterne Hoya Museum & Library, the Old Nacogdoches University Building, and the iconic General Mercantile mural.
While driving around town, make a detour to Oak Grove Cemetery. It is one of the most famous cemeteries in Texas, because it's the final resting place for some legendary Texans, including the four signers of the Texas Declaration of Independence.
Visiting traces of the original El Camino Real in Mission Tejas State Park is also a must-do. It's part of a 2,500-mile road built by the Spaniards from 1686 to 1692, and connects Mexico to Louisiana.
But Nacogdoches is not only about history. It is also the Garden Capital of Texas. You will find gardens scattered around the city, and the end of March is a great time to visit, to see the azalea blooms in the historic districts and residential areas.
Suggested by Umiko of Two Worlds Treasures
18. Palo Duro Canyon State Park
Home to some of the most spectacular scenery in the Lone Star State, Palo Duro Canyon State Park is a must visit if you love the great outdoors.
At 120 miles long, 20 miles wide, and up to 800 feet deep, Palo Duro Canyon is the second largest canyon in the US, and is described as the Grand Canyon of Texas.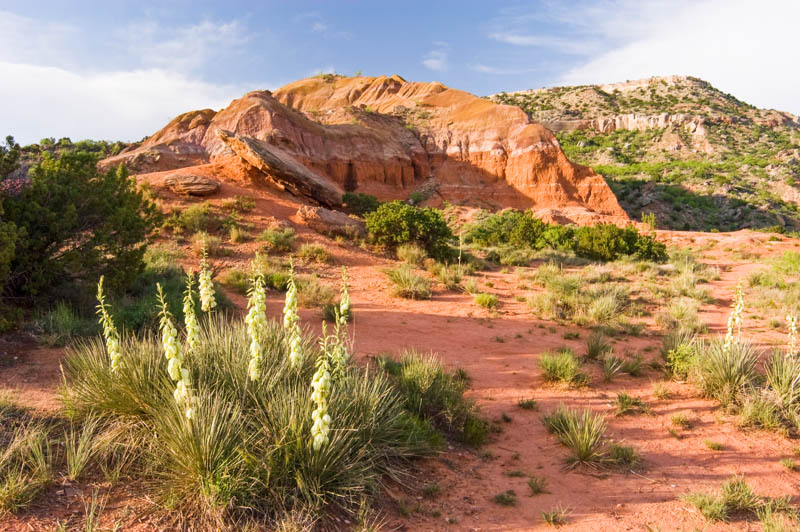 Rock colors in the park are breathtaking. Look for hoodoos: they make for fabulous photos! The park features more than 30 miles of trails, and you can hike, bike, or explore on horseback.
The Lighthouse is arguably the most popular rock formation in the park, and can be accessed via a 3-mile (one way) trail from the road. You can climb up to the base of the Lighthouse for views. Carry plenty of water, and go early to beat the heat, and the crowds.
With diverse fauna, the park is a nature lover's delight. Bring your binoculars or zoom lens, and look for wild turkeys, mule and white-tailed deer, and snakes and lizards. Bobcats and coyotes live here as well. Texas longhorns can also be seen here!
Birdwatchers will love the opportunities to spot birds in various habitats in the park, both resident species and migrants. From woodpeckers and roadrunners to painted buntings and western meadowlarks, you may see a variety of species when you visit.
Vegetation in the park includes mesquite, cottonwood, willow, and juniper, and in season you can enjoy a variety of wildflowers. In the summer, you can catch musical performances at the Pioneer Amphitheater in the park.
Suggested by us
19. Corpus Christi
Corpus Christi is a small gulf town in southern Texas, but holds some of the most noteworthy contributions to Texan culture. With sheltered beaches and warm waters, Corpus Christi makes a great Texas getaway.
First, it is the birthplace of one of the most iconic women in American music, Selena Quintanilla. Even if you've never heard her music before, you will soon become familiar with her after just one trip.
The late Tejano singer is an icon for the city, and there are multiple memorials and sites in honor of Selena, including the Selena Museum, her gravesite, and even a statue dedicated to her legacy at the pier.
Corpus Christi is also the home of the state's first Whataburger, where you can still visit to order a piece of Texas' favorite burger chain.
Nature enthusiasts will appreciate the abundance of wildlife along the shore, with peak bird migration season during the winter.
If festivals are more your style, be sure to visit either in January during the Fiesta de la Flor, a weekend music festival, or the end of October for Dia de Los Muertos, a Mexican holiday to honor and celebrate deceased family and friends.
But even if you don't visit during a particularly eventful time, the beautiful Spanish architecture and warm gulf waters make Corpus Christi an easy-going destination for travelers who appreciate a slower pace of travel.
Suggested by Kay of The Awkward Traveller
20. Houston
Houston is not typically considered a tourist destination. Known to be a sprawling city, Houston is famous for NASA, oil companies, and hurricanes.
It's often overlooked when compared to Austin, San Antonio, the Hill Country, or other more popular destinations.
So you may be wondering: why visit Houston?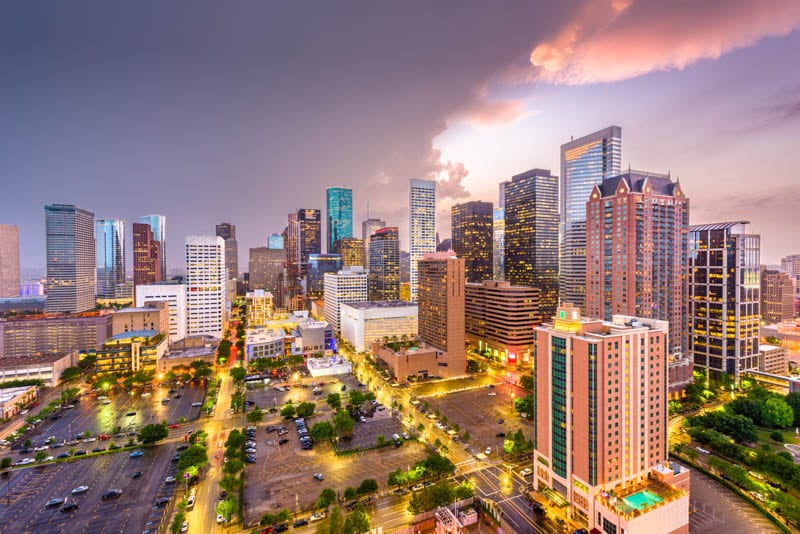 Houston is super livable and the same charms that make it a great place to live make it a great place to visit. Believe it or not, Houston was named the "capital of southern cool" by GQ in 2018.
With a super diverse population, legitimately world-class food, a beach an hour away, and tons of activities, Houston is a great place to spend a long weekend.
The food is the main reason to visit Houston. The restaurants here rival top restaurants in hot destinations like NYC and Paris — but at a the prices are much more affordable.
Enjoy the chef's menu (omakase) at renowned sushi restaurants, taste the best fajitas of your life, gorge on competition-quality BBQ, and try exotic flavors like Viet-Cajun.
You could try a new restaurant every meal and enjoy a different cuisine each time.
Are you into museums? The Museum District has absolutely unbelievable museums. From the Museum of Fine Arts to the Houston Museum of Natural Science to the Holocaust Museum and more, there is something for everyone.
NASA Johnson Space Center is just about 45 minutes away from downtown Houston and is a great place to spend half a day if you want to get up close and personal with space exploration. There's even a real-life rocket — the Saturn V — that you can see!
Houston also offers up lots of options for those who are into sports. The Houston Astros, Texans, Rockets, and Dynamo are all based here so you can catch nearly every type of professional sporting event!
Houston winters are beautiful, so visiting sometime between November through March is probably the most pleasant. Summers are hot and humid — and hurricanes are a very real threat!
Interested yet? Come enjoy Houston and find out why it is the southern capital of cool.
Suggested by Gabby of Office Escape Artist
21. Murchison
If you want to mix in some good deeds with traveling, a day at the Cleveland Amory Black Beauty Ranch is just the ticket.
The animal sanctuary is located in Murchison, just outside Dallas, and offers private tours and encounters with ostriches, horses, monkeys, goats, and other rescue animals.
Many of the 800 rescues come from the exotic pet trade, hoarding situations, or research laboratories. But now, they live in a 1,400-acre ranch in the middle of Texas where they can enjoy life.
A trip to the ranch can include a tour of the grounds and seeing the animals in their enclosures. Or your trip can be all about a day of helping animals in need by volunteering at the ranch.
Because of how vast the sanctuary is and the large number of animals that live there, a lot of work needs to be done.
Volunteers can help with feeding the animals, making enrichment toys, or help with general maintenance of the grounds. For those that live in the area, the ranch needs volunteers throughout the year to help with everything from caring for the animals to outreach and admin work.
Other than visiting the ranch, you can spend some time at Purtis Creek State Park, enjoy history at Yewell-Snyder House, and pick your own blueberries or blackberries at Echo Springs Blueberry Farm.
Texas can be pretty hot and humid in the summer so the best time to visit would be in the fall or spring to enjoy the outdoor activities at the sanctuary and elsewhere in town.
Text and photo by Bernadette of Explorer Chick
*****
We hope you enjoyed this round-up of the most exciting destinations in Texas. Which one will you pick for your next trip?
MORE INSPIRATION FOR TRAVELS IN THE USA
Did you find this article informative? Pin it for later reference!