Looking for the best East Coast weekend getaways? From Maine in the north to Florida in the south, the East Coast of the USA offers unending options for great weekend trips.
You can pick from charming beach towns or gracious cities, beautiful national parks or unspoiled natural areas.
Enjoy the national parks in Florida, tour charming Charleston or Savannah, or relax at the many beach getaways in Florida.
Visit New England's only national park, Acadia National Park, or the lovely Cape Cod National Seashore. Tour historic Boston and Portland, see Gilded Age mansions in Newport, RI, and much more!
Read on to discover the most spectacular weekend escapes on the East Coast!
Some links on this page may be affiliate links. If you click an affiliate link and make a purchase, we may receive a small commission, at no extra cost to you. For more details, refer to our disclosure.
Weekend breaks can be heaven when done right. Minimal packing, no spending hours on trip preparation, and no long haul flights.
Whether you choose to fly or get on the road, quick weekend jaunts can help you get acquainted with lots of places without the need to take vacation days. And they are great to recharge the mind and body!
With loads of history, spectacular natural beauty, infinite diversity, and a hopping food scene, the East Coast offers a dizzying choice of getaway destinations, and no matter what type of traveler you are, you'll find some places that sound just right to you.
And if you want to take to the road to experience the East Coast for a longer vacation, be sure to check out our round-up of the best East Coast road trips!
Best East Coast Weekend Getaways
We have our favorite places for quick East Coast vacations. We love Boston for its history, food, and culture. We are endlessly captivated by the gracious charm of Savannah and Charleston, and we enjoy smaller beach towns like Destin in Florida.
For this article, we asked other members of the travel blogging community to chip in with their favorite East Coast getaway destinations.
After checking out some of their recommendations, we already have a list of new places we want to explore soon!
Excited to learn more? Let's get started on discovering some of the most compelling weekend getaway destinations on the East Coast!
1. Boston, Massachusetts
One of the best weekend getaways on the East Coast has to be the historic city of Boston.
Boston makes for a fun weekend break for every type of traveler. Whether you are looking for historical monuments, great architecture, gardens and museums, or great restaurants, Boston has you covered.
You can enjoy a weekend getaway in Boston any time of the year, but Boston is especially pretty in spring and fall. Visit in the spring to enjoy the blooms in Boston's gardens. Visit in the fall to admire the glorious colors.
Stroll through the Boston Common, and wander the paths at the adjacent Boston Public Garden. Enjoy the architecture around Copley Square.
Walk Boston's famous Freedom Trail, or take a guided tour of the 16 historical markers and monuments along the 2.5 mile route.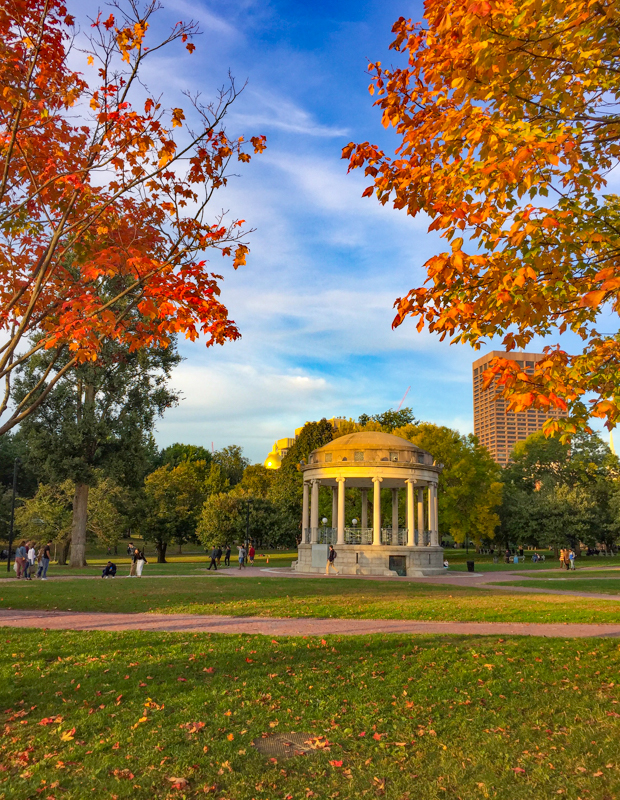 Visit the Boston Museum of Fine Arts, and step into the Boston Public Library to admire the art and architecture. Pop over to nearby Cambridge to stroll the Harvard Campus. Walk along the Charles River. Take a harbor cruise.
If you are a baseball enthusiast, take in a game at Fenway Park. It's a historic ball park, home to the Boston Red Sox since 1912.
Enjoy your cuisines of choice in the wealth of restaurants or visit one of Boston's famous food markets. Stop for a cannoli (or three!) at Mike's Pastry or Modern Pastry. Lobster rolls and a slice of Boston cream pie are also musts!
Where to stay
Stay at The Godfrey Hotel, located just steps from Boston Common and close to a wide choice of restaurants and many major sights. Rooms are good-sized, with super comfy beds!
Suggested by us
2. Miami, Florida
Miami is hardly a hidden gem in American travel: in fact, it's one of the most popular east coast vacation spots in the country.
Still, the city has so much to offer for every type of traveler from romantic Miami activities to foodie destinations in Little Havana and the vibrant clubs that attract party-goers year round.
Miami is a famous beach destination and the glorious weather make any time of year great for visiting. While the summer months can be humid, most days offer a nice ocean breeze.
Avoiding hurricane season, especially August and September, can guarantee you'll have good weather for your trip.
One of the best beaches to visit is the famous South Beach. Even during tourist season, it dazzles! The white sand beaches and turquoise water are brilliant, and the Art Deco district is the perfect backdrop.
The neighborhood was built in the 1920s and has maintained its charm with pastel buildings and vibrant nightlife. Make sure to visit Ocean Drive, which you'll probably recognize from the movies, and find a spot for a mojito or even a salsa lesson.
Little Havana is another historic neighborhood with delicious foods and authentic Cuban kitchens. One of the best views in Miami is from South Pointe Park Pier. It can get crowded midday, but it's perfect for a morning walk or run, with fewer tourists.
Where to stay
South Beach is the best place to stay in Miami if you're traveling for nightlife. One 4-star option is Hotel Victor, an art deco hotel right on Ocean Drive with a pool and spa.
Travelers seeking a quiet location and families will enjoy their stay at the Mutiny Luxury Suites Hotel in Coconut Grove, which overlooks Sailboat Bay and is very close to shops and restaurants. This hotel is less than 6 miles from the South Beach Art Deco District.
Text by Derek and Mike from Robe Trotting
3. Savannah, Georgia
With its beautiful antebellum architecture, draping Spanish moss, and delicious Southern-style cuisine, Savannah makes for one of the most romantic weekend getaways on the East Coast.
Spending a long weekend in Savannah is a great way to get an introduction to the charming city.
No matter your interests, you'll find something fun to do in Savannah. During the day, explore the city's Historic District, admiring the historic homes and city squares that dot the area.
To help stay cool during your walk, grab a frozen daiquiri or another cocktail – Savannah allows consumption of alcoholic beverages in plastic containers while in the Historic District.
Walk through the district until you get to the beautiful Forsyth Park, home to Savannah's frequently photographed fountain. The park is a perfect place to relax after your stroll.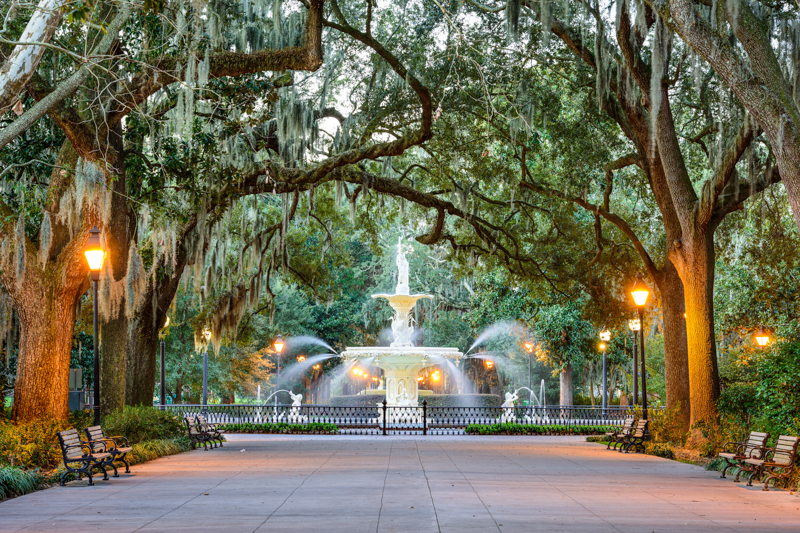 For something fun to do at night, make sure to book one of the famous Savannah Ghost Tours. There are several different tours throughout the city – some are adults-only, some are family friendly, and some are even held in a converted hearse!
The best time to visit Savannah is during the spring months. The city is beautiful at this time of year, and the weather is much more comfortable than in the hot, humid summer months.
If you're planning your visit in March, consider visiting around St. Patrick's Day. Savannah holds one of the largest St. Patrick's Day celebrations in the country, so this is a really fun time to visit, but keep in mind that there will be lots of crowds and prices may be higher than normal!
Where to stay
One of the best places to stay in Savannah is the Hyatt Regency. This hotel is perfectly located on the Riverfront and is reasonably priced.
For a true Southern experience, book a stay at one of the Historic Inns of Savannah: Kehoe House, The Marshall House, Olde Harbor Inn, and East Bay Inn are all great options.
Text by Sydney from A World in Reach
4. Asheville, North Carolina
Looking for a fabulous East Coast weekend getaway? A visit to Asheville, North Carolina, should be top on your list!
The best time to visit (and the most popular time) is in fall, when the striking fall colors are on display. If visiting in the fall, make sure to include a drive down the famous Blue Ridge Parkway on your itinerary.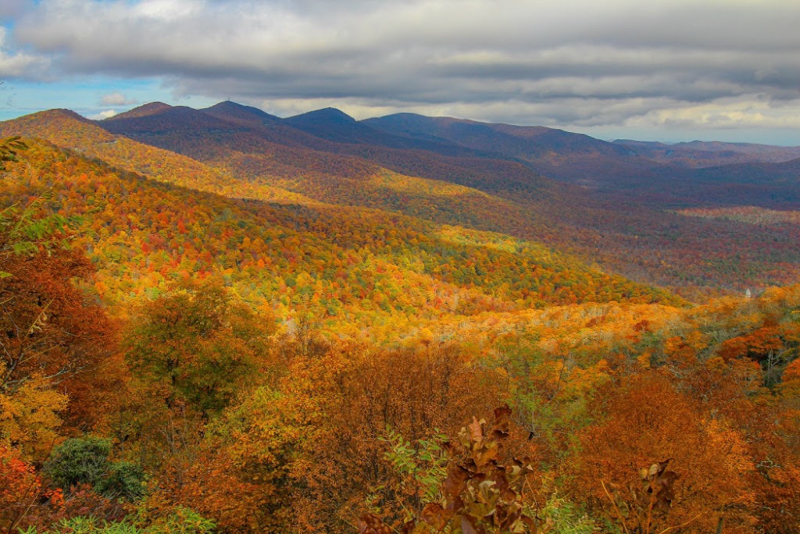 Asheville has long been a haven for anyone wanting a nature-based holiday, but it's also risen in the ranks for being one of the premier destinations for inventive Appalachian-inspired farm-to-table cuisine. It is also home to a large number of craft breweries.
Visiting the famous Biltmore Estate is one of the top things to put on your Asheville weekend itinerary. The mansion, built for George Vanderbilt, and its gorgeous gardens, are a joy to explore.
Stroll Downtown Asheville, where you can browse boutique stores and art galleries, and watch buskers perform. If you enjoy the outdoors, walk the lovely trails at the North Carolina Arboretum, or go boating down the French Broad River.
If you want to get a feel for Asheville's thriving art scene, you can head down to the River Arts District, where over 200 artists showcase their work. Often there are live presentations and fun classes offered for locals and visitors alike.
Where to stay
For a short weekend visit, it's best to stay near the downtown area so you can be close to everything you need. Hotel Aloft is a nice spot, located in Downtown Asheville.
Text and photo by Christina from Live a Wilder Life
Looking to rent a car for your East Coast weekend trip? Discover Cars offers you the ability to compare availability and prices across many major car-hire companies. Pick the car that best meets your needs!

Check availability and book your rental car now!
5. Destin, Florida
With miles of white sand beaches and the beautiful emerald waters of the Gulf of Mexico, Destin makes for a wonderful beach weekend getaway in Florida.
It's the perfect place to just kick back and relax, but it's also fun if you are looking for an activity-filled weekend.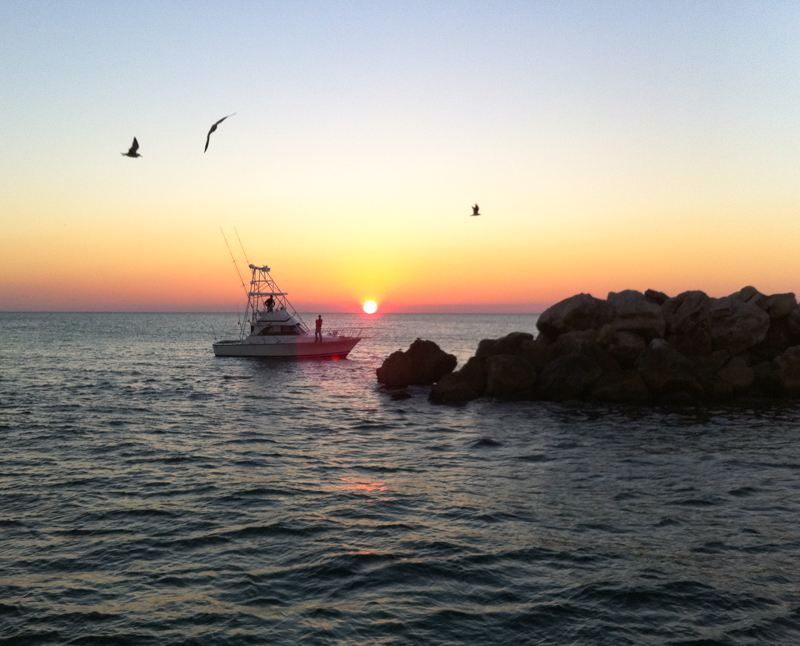 Walk the nature trail at Henderson Beach State Park, with sand dunes to climb and beautiful water views to enjoy. Take a dolphin spotting cruise, or go on a romantic sunset sail.
Or take a boat out onto Crab Island, where you can drop anchor and spend a few hours enjoying the water.
If you enjoy water sports and activities, the sky is the limit in Destin! You can swim, snorkel, sunbathe, jet ski, go deep sea fishing, parasail over the water, build sandcastles, or go stand-up paddleboarding.
On land, walk the lively Destin boardwalk. Enjoy shopping for souvenirs. And gorge on all the delicious food on offer at Destin's upscale and diverse eateries.
With so much to do on land and in the water, Destin makes for a great family weekend getaway, if you are looking for places to escape with kids on the East Coast.
While there isn't really a bad time to visit Destin, go in late spring or early fall for the best weather, lower crowds, and more competitive accommodation prices.
Where to stay
Stay at the Henderson Beach Resort, located right next to Henderson Beach State Park. Just 5 miles from Destin HarborWalk Village, the resort features private beach access, a full service spa, and balconies, some overlooking the water.
Book a stay here
Suggested by us
6. Stowe, Vermont
Nestled at the foot of Mount Mansfield, Stowe is the quintessential New England town, complete with a white church with steeple.
A fabulous New England vacation getaway in every season, and one of the top places to visit in Vermont, Stowe has something to offer every type of traveler. Couples looking for a cozy getaway and families seeking fun activities will love Stowe.
While winter sports enthusiasts will definitely want to schedule a visit in ski season, non-skiers will find lots to do in Stowe in winter as well, from sleigh rides to Christmas festivities.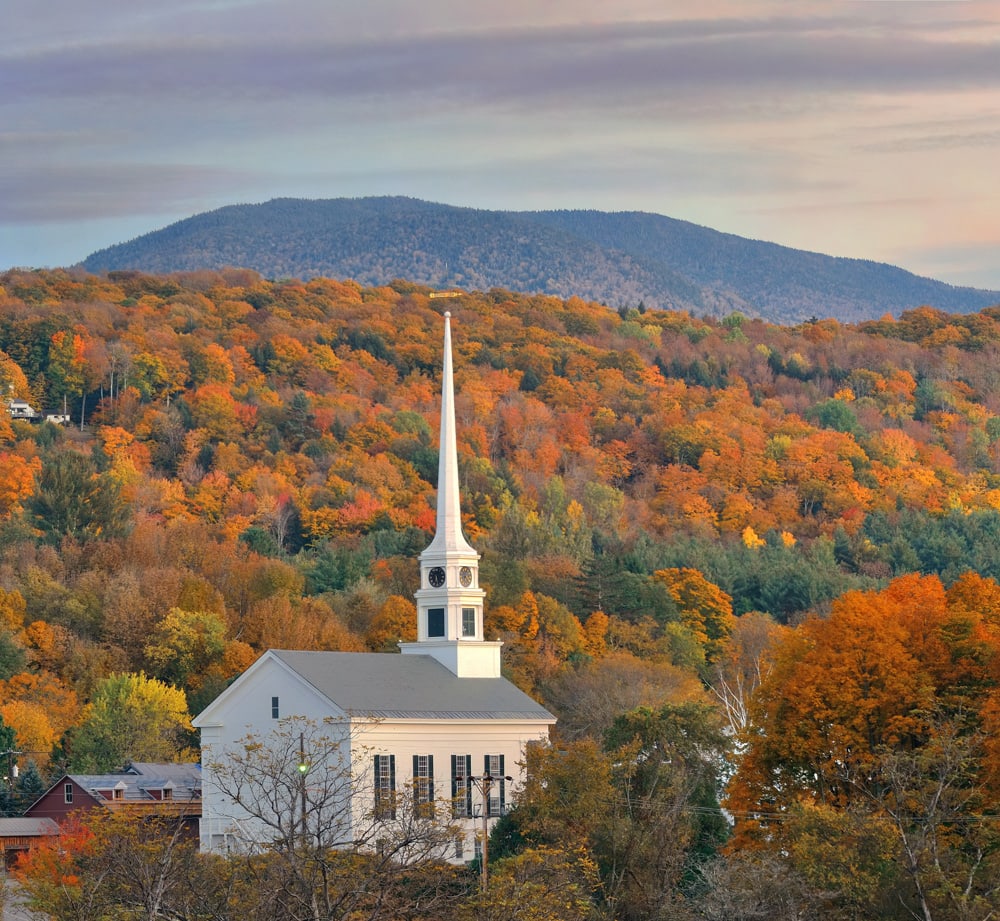 One of the best things to do in Stowe in the warmer months is hiking, whether you choose to walk the popular Stowe Recreation Path (you can also bike it), or you want to trek to the top of Mount Mansfield.
Moss Glen Falls and Bingham Falls are two pretty waterfalls within easy reach of town and offer great photo ops.
There are many scenic drives you can take around Stowe: the countryside is very pretty year-round, but it is especially spectacular in the fall, when foliage in shades of yellow, orange, red, and burgundy creates a brilliant display.
Capturing Stowe's famous white church against a backdrop of bright fall foliage is many a photographer's dream!
If you enjoy landscape photography, you'll also find some of Vermont's famous covered bridges within easy driving distance of Stowe.
In the village, strolling the charming Main Street is a must. Here you'll find many boutique shops and galleries to browse, plus a number of eateries. Shop for Vermont maple syrup to take home!
While you're in Stowe, you'll want to visit local breweries and cideries to sample the delicious offerings. The cider donuts are addictive!
Where to Stay
Trapp Family Lodge is an Austrian-style lodge, run by the von Trapp family of The Sound of Music fame.
Suggested by us
7. Providence, Rhode Island
Providence makes for the perfect East Coast weekend getaway and is one of the best places to visit in New England.
As one of the oldest cities in the United States, Providence is chock full of history and culture. In addition, Providence boasts one of the best 'foodie' scenes in the country, as well as a thriving nightlife.
Located in the smallest state in the nation, Providence is super walkable! There's no need for public transportation, although if walking isn't your thing, the bus system in the city is extremely reliable.
The different neighborhoods in Providence offer a variety of activities and ambiance for every type of traveler. The West End and the East Side are perfect counterparts to each other.
The West End is trendy, gritty, and a little hipster. Think great brunches and craft cocktails.
The East Side is the historic center with beautiful streets and architecture as well as the city's universities. Brown and Rhode Island School of Design are both located on the East Side.
There is no shortage of things to do in Providence. You can take a haunted Providence tour (H.P. Lovecraft was born here and many of his stories are based in the city), or wander the tree-lined streets and admire the beautiful architecture of the East Side.
If it's summer, head to India Point Park for free concerts and festivals overlooking the Providence river. Head to the West End for all of your foodie needs.
Somewhere in between, you'll find Waterplace Park. If you've never been to Waterfire before, be sure to check out this quintessential Providence event.
Generally held on Saturday nights in the summer months, fires are lit along the river and vendors and street performers line up to feed and entertain the masses.
Where to stay
Ready to book your weekend trip? The Dean Hotel has excellent mid-upscale options for rooms in a central location.
Text and photo by Jade from The Migrant Yogi
8. Panama City Beach, Florida
Why take a weekend getaway to Panama City Beach? PCB features 27 miles of sugar-sand beaches along with the warm turquoise blue waters of the Gulf of Mexico.
Reaching the beach is easy, with two state parks (St. Andrews State Park and Camp Helen State Park) and dozens of public beach access points. Visitors also enjoy fresh local seafood at waterfront restaurants and superb activities on the land and water.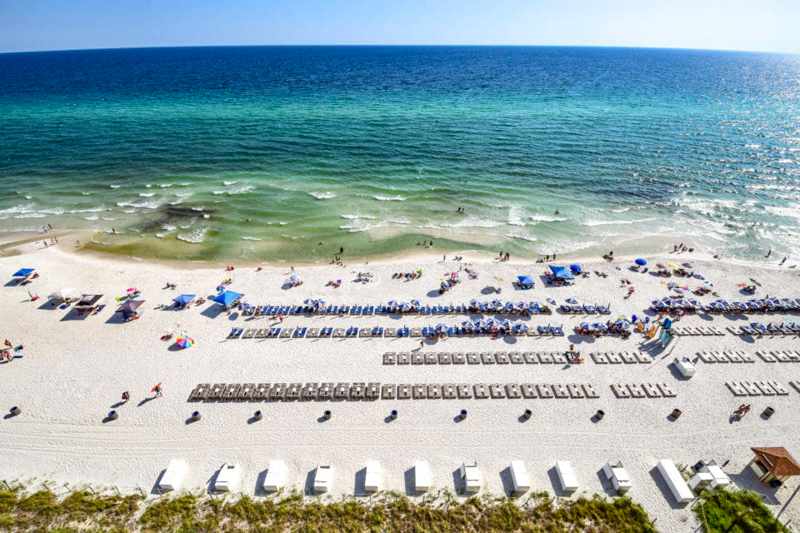 On land, visitors will enjoy shopping or riding the sky wheel at Pier Place or going to a myriad of tourist attractions like Ripley's Believe it or Not, Shipwreck Island, or WonderWorks.
The only thing more fun than being on the beach at PCB is being in the water. St. Andrews Bay has the largest population of bottle-nose dolphins in the world! Dolphin tours depart regularly and will often include a stop by the beautiful Shell Island.
A little farther off the coast, you'll see why this area is called 'The Shipwreck Capital of the South. Diving Panama City Beach features over fifty ships sunk as artificial reefs, as well as historic shipwrecks.
Panama City Beach is a fabulous destination for active visitors, or to relax and do nothing at all. It's beautiful year-round, but particularly nice in the fall when the Florida heat breaks, but the Gulf water is still pleasantly warm.
Where to stay
At night, enjoy the sunset over the water and a delightful dinner of fresh seafood before retiring to a beach-front condo.
There are many condo and resort options to choose from, but the Hyatt Place offers beachfront accommodations, pool and hot tub, and evening entertainment.
Text and photo by Ed and Jennifer from Coleman Concierge
9. Wine Country, Northern Virginia
If you're a wine lover or just want to enjoy the countryside, Northern Virginia wine country is a fantastic weekend getaway option on the East Coast that you may not have considered.
Northern Virginia is one of the most vast and beautiful wine regions in the United States, with rolling hills that stretch for miles, complete with lush vines and sprawling wine estates.
The best time to visit is in the summer and fall when the vines are full of fruit and there's lots of activity happening in the cellars.
The Northern Virginia wine region, in Loudoun County, Virginia, is home to the Middleburg American Viticultural Area that covers around 190 square miles and contains 229 acres of vineyards.
The wine region starts just 20 miles west of Washington DC and extends all the way to the West Virginia border.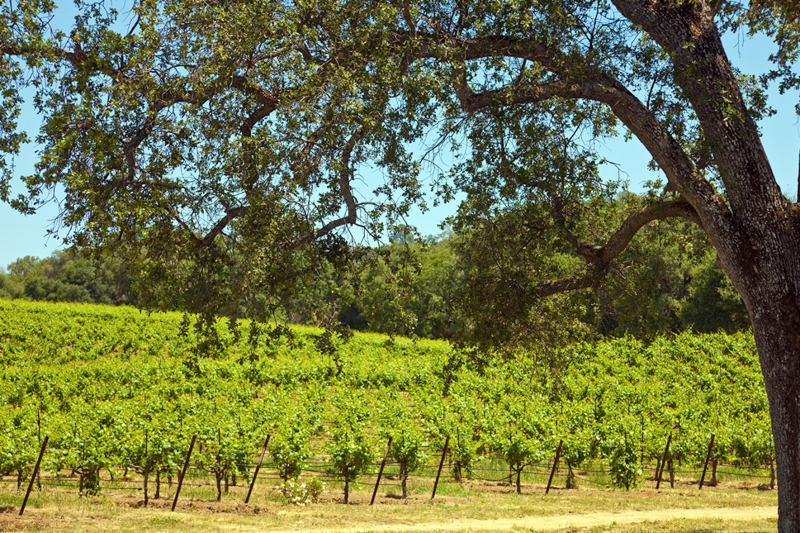 You could spend the entire weekend wine tasting at your picks of the 24 wineries in the region. Our favorites include Bluemont, Chrysalis and 50 West Vineyards. All of these wineries offer tastings and have beautiful views and outdoor space to have a picnic.
When you're done with the wine tasting, there are lots of antique markets in Loudoun, plus the Leesburg Corner Premium Outlets for shoppers.
In the northwestern corner of Loudoun County is Harper's Ferry Adventure Center for outdoor activities like whitewater rafting, tubing, and ziplining.
Where to stay
A popular place to stay for families is the Salamander Resort near Middleburg. If you want to stay in the heart of the action, The Red Fox Inn is a beautiful historic hotel with its own tavern and lovely rooms.
Text and photo by Laura from Savored Sips
10. Hudson Valley, New York
The Hudson Valley makes the perfect East Coast weekend escape, especially from New York or other major East Coast cities.
While it is well worth visiting any time of the year, the Hudson Valley is especially pretty in the fall, when the woods are ablaze with red, orange and yellow colors.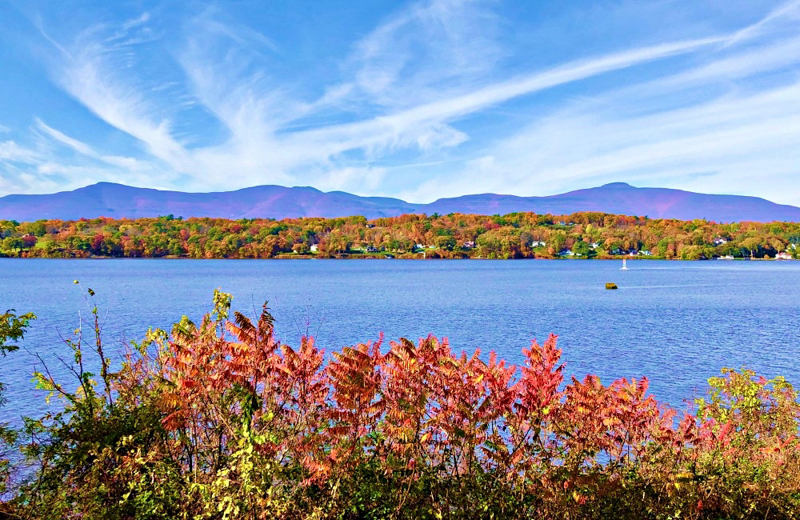 There are so many different things to do in the Hudson Valley! At several cider houses, including Brooklyn Cider House in New Paltz, you can sample locally made cider in the apple orchards from which the apples come.
In Gardener, you can try Hudson whiskey and tour the brewery where it's made. There are also several vineyards and wineries you can visit.
If you have kids, several farms are set up for agritourism and have hay rides, corn mazes and u-pick seasonal fruit. Many farms also have farm stands where you can buy fresh fruits and vegetables.
There are many mansions from the golden age you can visit. Tour the houses and then wander the grounds and even have a picnic overlooking the Hudson River.
There are also lighthouses on the Hudson River (the one at Saugerties even has a tiny B&B where you can stay).
From Kingston, you can take a cruise on the Hudson River and see the mansions and lighthouses from a different perspective.
If you prefer something more active, there are plenty of wonderful hikes to do in the surrounding hills and mountains. Popular spots include Mohonk Preserve and Minnewaska State Park.
If you prefer to spend time exploring antique stores, don't miss the small town of Hudson, where dozens of stores crowd the main street.
Where to stay
One incredible place to stay is Mohonk Mountain House, which looks like something out of a Harry Potter book/movie! Surrounded by forest, the National Historic Landmark resort offers farm-to-table cuisine and a spa.
Read reviews on Tripadvisor
Text and photo by James from Travel Collecting
11. Key West, Florida
One of the best vacation spots on the East Coast is Key West, Florida.
Whether you're close enough to road trip down to the last stop on Highway A1A or you need to hop a flight, unplugging and relaxation are at the top of the list of things to do in Key West.
If you fly in, you won't need a car. Why bother renting a car when you can comfortably walk anywhere you like, especially if you're staying in Old Town!
Plan a long weekend in Key West to enjoy great food in casual settings and a bar scene like no other, visit historical sites, or try every water sport imaginable. If your vacation vibe consists of just lounging in the tropical sun with an umbrella drink, that's fine too!
One of the most relaxing things to do in Key West is take a sunset snorkeling cruise on a sailing catamaran. After you're done snorkeling on the beautiful reef, you can enjoy your beverage of choice, often including champagne.
It's so mellow to be under sail, listening to Bob Marley as the captain positions the boat to help you view an incredible sunset.
Where to stay
Our favorite place to stay in Old Town is Douglas House on Amelia Street. It's a quiet tropical paradise in the heart of the district. And it's an easy walk to Mallory Square for sunsets, and steps from Duval Street, where most of the action happens.
Text and photo by Lori from Travlinmad
12. Washington, D.C.
If there's one city on the East Coast where you won't have a problem filling up a weekend, it's Washington D.C. Without a doubt, it is one of the top East Coast weekend getaway destinations!
The capital city boasts an incredibly long list of things to do and your Washington D. C. itinerary can be anything you want to make of it. However, there are a few top must-sees!
The National Mall is the perfect place to start and you may not even need to adventure very far off the entire weekend.
Here you can find the majority of Washington D.C.'s Smithsonian museums, world famous monuments and memorials like the Lincoln Memorial and World War II Memorial, the impossible to miss Washington Monument, and the imposing U.S. Capitol Building.
If you enjoy public art, you will plenty of excellent street art in DC to admire. Take a lunch cruise on the Potomac River. If you enjoy gardens, make a stop at the U.S. National Arboretum.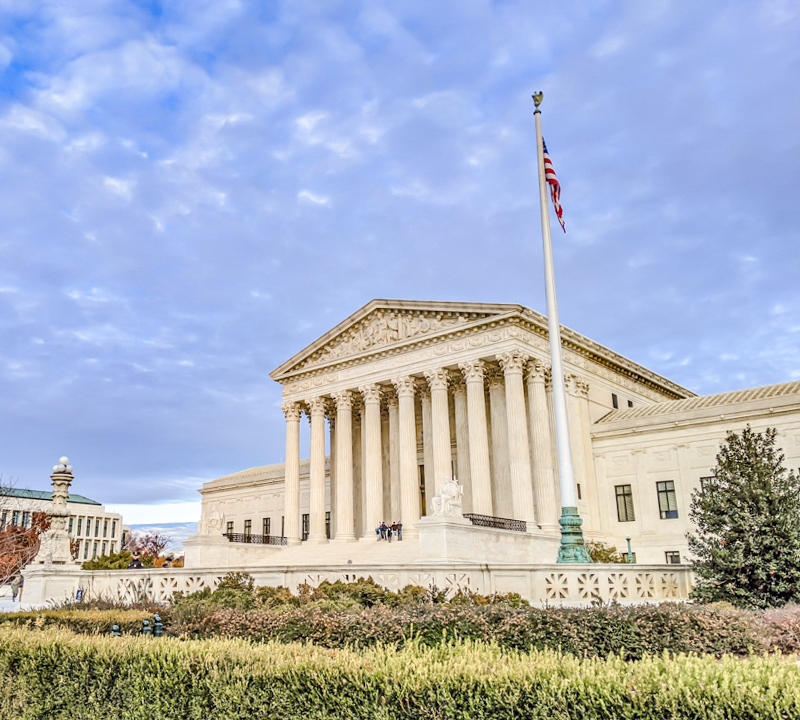 Additionally, Washington D.C. has some of the best food you'll ever eat. Popular local restaurant chains like the innovative Farmers & Distillers and the understated Ben's Chili Bowl are must-visits.
It's a cosmopolitan city, and you can find almost any kind of food here that will make for an unforgettable meal.
Anytime is a great time to visit Washington D.C. but the most popular time would have to be cherry blossom season. During the early spring the entire National Mall area is covered in bright pink blossoms and is truly a sight to see.
Where to stay
When visiting Washington D.C., one iconic place to stay would have to be the Watergate Hotel. Known around the world for its infamous past, today it's a beautiful luxury hotel not too far from all the popular Washington D.C. sights.
Book a stay here
Text and photo by Ashley from My Wanderlusty Life
13. Woodstock, Vermont
Woodstock in Vermont is a charming town and makes for one of the most wonderful (and most romantic!) weekend getaways on the US East Coast, but maybe lesser known to some.
Vermont, the Green Mountain State, is a pastoral dream. In the late spring and summer months, the entire state comes alive in the most vibrant shades of emerald. You'll never wonder where it gets its nickname when you visit in these seasons.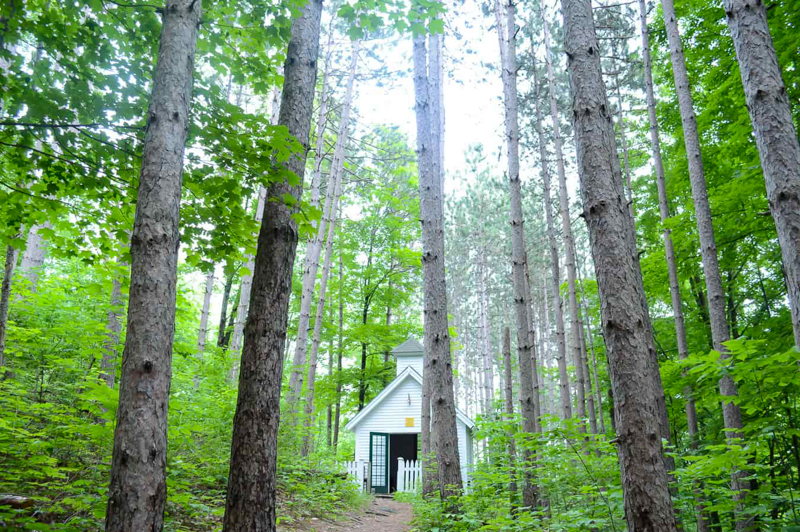 Then in the autumn, the foliage changes to reds, golds, and oranges, drawing visitors from across the world to see Vermont's unparalleled color. And winter brings a thick blanket of snow: perfect for those who enjoy snow sports or just sitting by a cozy fire with a mug of hot cocoa.
Vermont offers all of this, and Woodstock is one of the best places to savor the quintessential Vermont experience. The town is quaint and charming, with a traditional Main Street and a classic general store (rumor has it its the oldest one in the state).
The mountains surround this area, so there are ample opportunities for hiking, as well as other outdoor activities like camping, fishing, and kayaking.
In June, don't miss the annual Quechee Balloon Festival, when dozens of vibrant hot air balloons take to the skies over this pretty town.
When you're not busy playing and exploring, you'll be eating and drinking, as Vermont is a haven for foodies, especially those who love the farm-to-table movement.
There are some world-class restaurants here, as well as craft breweries, and farms where you can purchase freshly made Vermont cheese.
Where to stay
There are plenty of options on where to stay in Woodstock, but for a great central location and a reasonable price, check out The Shire, which is right on the river.
If you are planning a romantic East Coast weekend getaway in a quintessential New England bed and breakfast, check out the highly rated Woodstocker B&B!
Text and photo by Amy from New England with Love
14. St. Augustine, Florida
St. Augustine, located near Jacksonville, Florida, is one of the best places to visit on the East Coast. It is the oldest, continuously occupied, European founded city in the continental US. It also has one of the most interesting histories!
Founded in 1565 by the Spanish, St. Augustine became the capital of the Florida territory until 1824. It changed hands several times between the Spanish and the British until 1822 when it became part of the United States.
This history has left it with a gorgeous historic district, perfect for exploring on a weekend getaway.
There are many fun things to do in Saint Augustine. In the Historic District, you will find many museums and attractions to learn more about the history of the area.
The Colonial Quarter is a great place to start and is like a big open air museum. It has four different sections based on different periods where you can experience and see things from that period of time. Entry includes a tour which is worth taking.
Another must visit place is the Castillo de San Marcos National Monument. It is a Spanish fort built in the late 1600s. It is located next to the historic district. There is a museum and canon firing.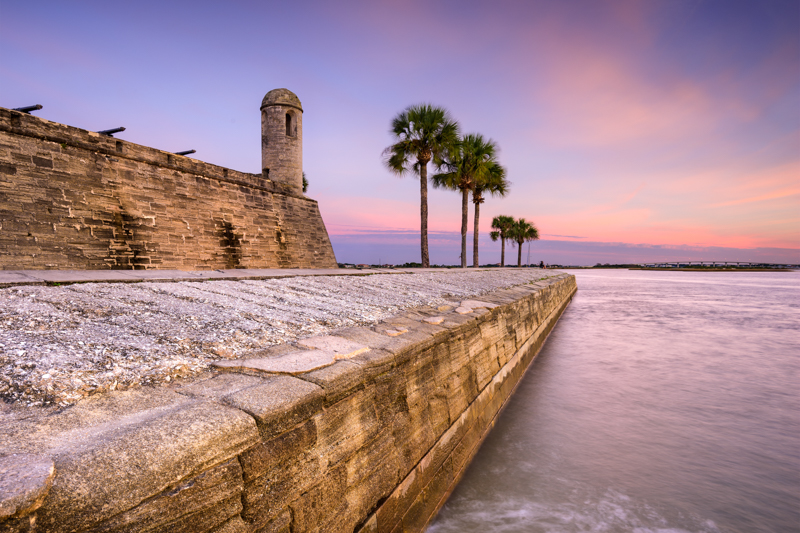 There are also countless charming restaurants, bars and shops and you'll wish you had more than a weekend to visit them all.
And if you tire of the Historic District, there are also great beaches nearby, and the Fountain of Youth where you can drink from springs to help you stay young!
The best time to visit St. Augustine is between March and May, when you'll have great weather and low crowds. Summer can be quite hot and humid. Winters are mild.
Where to stay
A good place to stay is St. George Inn, located in the Historic District, close to restaurants, shops, and sights. Opt for a suite with a balcony that overlooks the Castillo de Saan Marcos!
Text by Sharon from Baby Journey
15. Provincetown, Massachusetts
Just a two-hour drive from Boston lies vibrant, never-boring Provincetown. There are many reasons to escape to Provincetown for an East Coast weekend trip.
First of all, the city itself is beautiful. It's like stepping back into time when you step into the old pirate port town.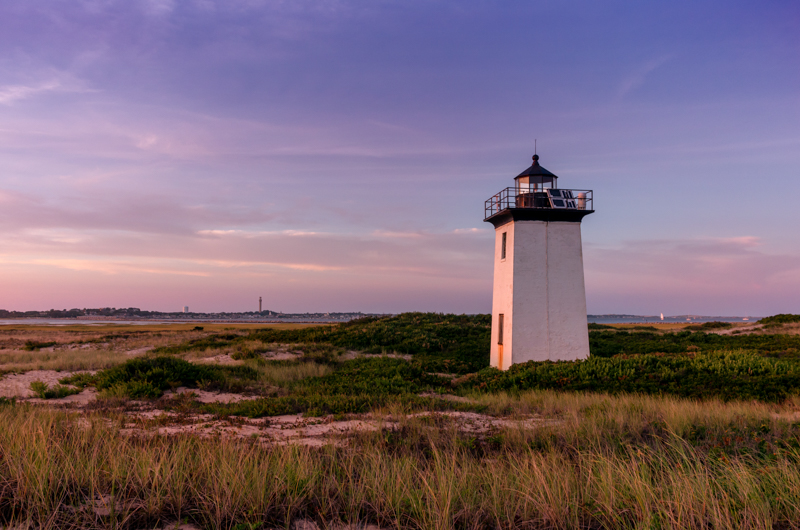 For those looking for nightlife, this sea-sprayed town has made a name for itself as a party hotspot. Bars and clubs line the street, offering a variety of nightlife and entertainment. Provincetown is also known for being extremely LBGTQ friendly.
But Provincetown (or P-town as the locals call it) is much more than loud clubs and packed bars. The town is also teeming with history.
This Atlantic coastal town was the spot of the Mayflower landing in 1620. This makes Provincetown literally the first entry in American history.
Not sold yet? Well, Provincetown also has sandy beaches, a thriving art scene, panoramic viewpoints, and diverse wildlife. With so much going for it, there's no doubt that Provincetown is one of the best places to visit in the United States.
Where to stay
A great place to stay is the Breakwater Hotel, which features rooms with views of the bay. Convenient to many sights and right across from the beach, the highly-rated hotel has bright contemporary furnishings and a laid-back vibe.
Text by Stephen from A Backpacker's Life
16. New York City, New York
New York City has a little bit of something for everyone, so it's no surprise it's one of the top East Coast getaways. There are countless museums, outdoor activities, historical sites, and endless delicious restaurants. And if you plan well, you can even visit New York City on a budget!
Popular attractions include the Empire State Building, the Statue of Liberty, and the 9/11 Memorial and Museum. Make sure not to miss the Metropolitan Museum of Art, walk the iconic Brooklyn Bridge, and catch a Broadway show if you can!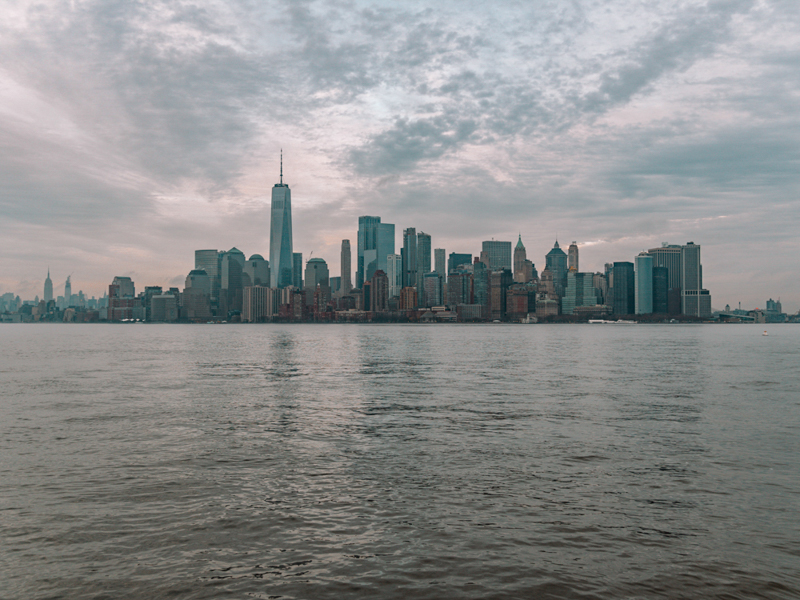 Visitors must grab a slice of New York pizza when visiting (check out John's or Joe's Pizza for the best pizza). If you are a history lover, head Downtown to Federal Hall, the first capitol building of the United States, or Uptown to President Grant's Tomb.
The best time to visit depends on what kind of weather you like. During the holiday season, the weather may be colder, but NYC is decked out in holiday decorations with many special events.
If you want warmer weather, May and September are great times that are a bit less busy. If you want the cheapest time to go, February is very inexpensive but also very cold.
New York City is a city full of endless fun and entertainment and worth visiting for at least a weekend.
Where to stay
If it is your first time in NYC, stay in the Midtown area. One of the best value hotels is the Hampton Inn Times Square Central. Not only is it a great location and within walking distance of the subway, the rooms are spacious and it also comes with breakfast.
Text and photo by Francesca from Homeroom Travel
17. Marco Island, Florida
Marco Island is the largest of Florida's Ten Thousand Islands in the southwest corner of the state and the only one of them that is developed.
It's the perfect little (busy) island getaway that is close to plenty of other awesome places like Naples and Big Cypress National Preserve.
There are plenty of things to do on Marco Island to keep you busy for a weekend. Visit the Marco Island Center for the Arts, or explore the Ten Thousand Islands National Wildlife Refuge.
Take a shelling tour in the Ten Thousand Islands, or go shelling at Tigertail Beach or South Marco Beach, or visit the Marco Island Historical Museum to see Indian artifacts found on the island.
Look for dolphins and manatees, and if you want to get a little swampy, take a day trip over to Big Cypress and walk the boardwalks preserve in the Fakahatchee Strand State Park.
Marco Island makes for the perfect relaxing weekend getaway any time of the year, but winter will be a little less hot but still have great weather, making beach days still great.
Where to stay
The BoatHouse is the perfect place to stay: it's right on the water, making it ideal for relaxing away from the busy beaches and highrises. Look for marine life from the private dock or lounge on the sun terrace!
Text and photo by Megan from Red Around the World
18. Charleston, South Carolina
Charleston in South Carolina is a perfect eastern US destination for a weekend getaway. There are truly endless fun things to do in Charleston for families, couples, or even solo travelers.
Be sure to explore downtown Charleston, the City Market, and Waterfront Park. While it may seem super touristy, consider taking a carriage tour to see many of the downtown highlights.
If history is your thing, you will love visiting Fort Sumter, Patriot's Point Naval & Maritime Museum, or one of the many local plantations. And don't forget to grab photos in front of the famous pineapple fountain and by Rainbow Row.
Want to spend some time outdoors? Soak up the sun at one of the many nearby area beaches. Kiawah Island, Sullivan's Island, and Folly Beach are some local favorites.
You can explore the boardwalk and experience waterfront dining at Shem Creek. Or for a more budget friendly option, visit the Angel Oak Tree on John's Island: it is one of the oldest living organisms in the country!
Charleston is an incredible foodie destination too! Make sure you make reservations ahead of time as many restaurants can be difficult to walk into on the weekends. Some amazing choices are S.N.O.B., Callie's Hot Little Biscuit, Husk, or Hall's Chophouse.
Whatever you decide to do, you are guaranteed to have an epic weekend getaway in Charleston, SC!
Where to stay
Depending on your budget and needs, we recommend The Restoration Hotel overlooking King Street (just steps from the Historic District), or the Courtyard Charleston in nearby Mount Pleasant, six miles from the Charleston city center.
And if you are planning a girls' weekend trip to Charleston, check out these rentals in exciting Charleston neighborhoods!
Text and photo by Julie from More than Main Street
19. Wilmington, North Carolina
Looking for the perfect vacation spot on the East Coast? You need to check out Wilmington, North Carolina! This charming southern city has beautiful Victorian mansions, a fabulous foodie scene, shopping, and a requisite beach.
Often overshadowed by nearby Savannah and Charleston, this underrated East Coast town should be on your must-visit list.
There are so many fun things to do in Wilmington. One fun thing to do is to explore Wilmington's movie-making history. Wilmington is known as the "Hollywood of the East," since over 500 films and TV shows have been filmed there, including Iron Man 3 and One Tree Hill. You can take a walking tour of the film locations with a local film expert.
History buffs should take a tour of Bellamy Mansion, a gorgeous antebellum home located downtown. Just 15 minutes from downtown is Wrightsville Beach, perfect for any beach lover.
When it's time to eat, be sure to check out Caprice Bistro, a casual French restaurant that focuses on fresh seafood. Or Beer Barrio, for excellent margaritas paired with creative tacos.
Where to stay
Because Wilmington is a city full of southern hospitality, consider staying in one of its many charming and historic bed and breakfasts, such as The Verandas.
Text by Maggie from Pink Caddy Travelogue
20. Palm Beach, Florida
For a posh weekend getaway in a stunning coastal setting, look no further than Palm Beach. The glamorous beach town, located in Southern Florida, almost feels akin to a private island oasis within the continental US (which is because it is, in fact, an island – Palm Beach is separated from the mainland by the Intracoastal Waterway.)
There is a certain je ne sais quoi about Palm Beach that makes it so appealing. For starters, it boasts some of the most stunning stretches of beach in South Florida.
And there's also the fact that in Palm Beach, you'll find a level of sophistication and old school refinement unlike anywhere else in the US.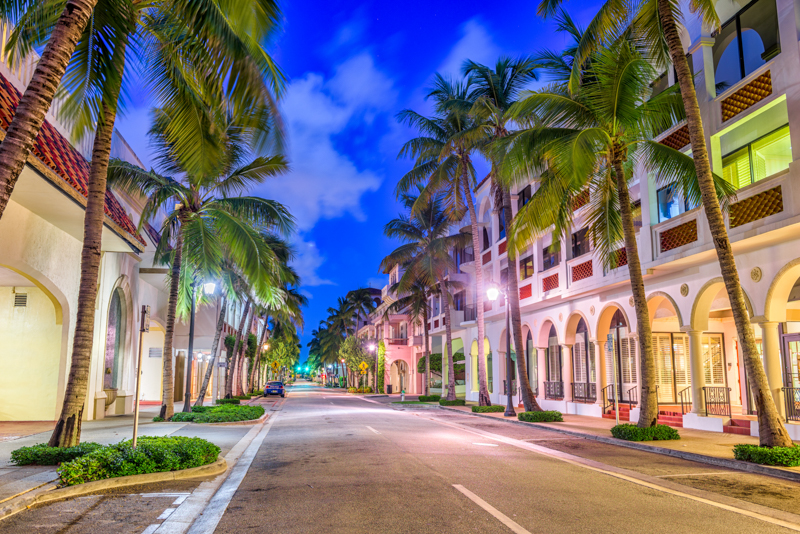 While there are so many incredible things to do in Palm Beach, one of the quintessential can't-miss experiences is a tour of the stately Henry Morrison Flagler Museum.
It is located on the iconic estate owned by oil mogul Henry Flagler, and visitors can take guided tours that include the Flaglers' palatial 75-room home that was once described as "more wonderful than any palace in Europe."
Take a casual drive throughout Palm Beach and you'll find plenty of palace-like estates, owned by local residents including Howard Stern, James Patterson, Jimmy Buffet, Rod Stewart, and most famously, Donald Trump.
You may even rub elbows with one or more of them at places like The Breakers (a hotel and resort), Lola41 (the hottest new restaurant in town), and Palm Beach Grill (an old standby).
Other top restaurants include Buccan, Cafe Boulud, Renato's, and Sant Ambroeus.
While Palm Beach is beautiful to visit year-round, it's particularly ideal for a winter East Coast escape. With less humidity, it's more fun to stroll and shop along Palm Beach's famed Worth Avenue.
Where to stay
In terms of accommodations, expect to spend a pretty penny. On the higher end is The Breakers, with a private beach and beautiful grounds, and for something at a more mid-range price-point (for the area) is the colorful boutique Colony Hotel.
Text by Lindsay from Lindsay Silberman
21. Bear Mountain, New York
Located in upstate New York and overlooking the stunning Hudson river, Bear Mountain has a lot to offer, from scenic viewpoints to hiking adventures!
Bear Mountain State Park is a perfect weekend getaway for couples and families looking to escape the hustle and bustle of New York City or coming from other states to see the magic that New York State has to offer.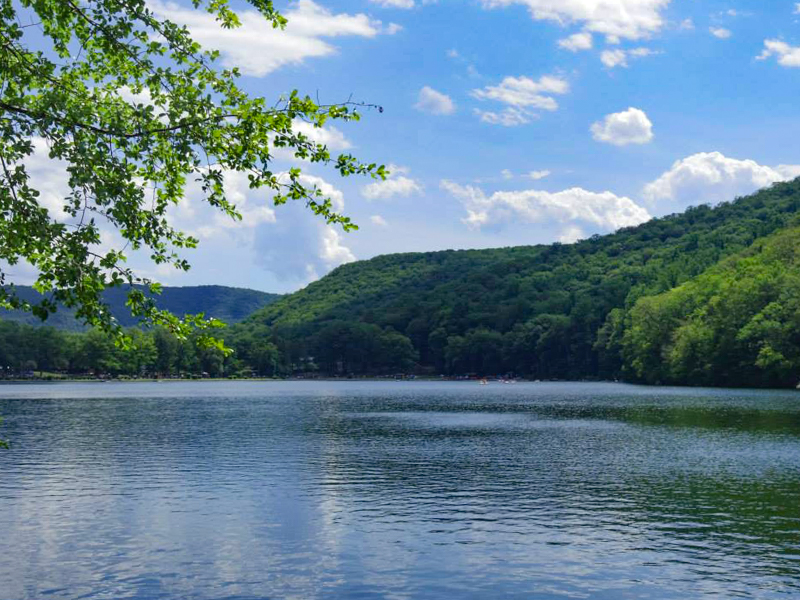 Bear Mountain is one of the best known peaks of New York's Hudson Highlands and also includes the oldest section of the famous Appalachian trail, for those who seek a more challenging hiking adventure.
The park offers various hiking trails that cater for a range of abilities and adventure, these include day hikes and overnight camping hiking trails.
With many other activities including picnics at picturesque places, river fishing, swimming, biking on trails, and cross country skiing, the park is the perfect place for those seeking outdoor adventures. It is open year round, with the various activities dependent on weather.
The best time to visit would be late summer and fall, to take advantage of the milder weather and to see the stunning fall foliage throughout the park and along the Hudson River.
Where to stay
Stay at the historic Bear Mountain Inn, built in 1915 and listed on the National and New York State Register of Historic Places! The Inn offers a range of accommodation styles, including the Inn, the scenic Overlook Lodge (which includes pet-friendly rooms for those traveling with pets) and stone cottages.
Read reviews on Tripadvisor
Text and photo by Kelly from Wanderlust by Kelleyy
22. Shenandoah National Park, Virginia
One of the best weekend getaways in Virginia is Shenandoah National Park. This park features wonderful waterfalls and stunning mountains. The hikes in Shenandoah National Park are outstanding, and the views are spectacular.
Shenandoah National Park is a must on everyone's East Coast bucket list. The best time to visit is, of course, in the fall, to experience the beautiful fall colors.
One of the best things to do in the park is to hike Old Rag Loop Trail. This hike is strenuous and lengthy (9.2 miles and a 2,380-foot elevation gain). But it still brings in the crowds so get there early for a parking spot.
Another fun thing to do is to stop at all the viewpoints on Skyline Drive. This 105-mile road has many stops to take pictures of the beautiful mountains. I highly recommend stopping at many spots around sunrise or sunset.
The Skyline Drive is where many of the trailheads for other popular hikes start. You can choose from the Black Rock Summit Hike, White Oak Canyon Trail, Mary's Rock, Stony Man/Little Stony Man, and Bearfence Mountain.
Where to stay
Since Shenandoah National Park is away from big cities, I recommend staying at one of the hotels in the park. You won't have to do a lot of driving, and you can easily experience the magnificent sunrises and sunsets.
The best option is Skyland, located on Skyline Drive's highest elevation point, from where you will have easy access to some pretty great views.
Read reviews on Tripadvisor
Text and photo by Michelle from The Wandering Queen
23. Greenville, South Carolina
Greenville, South Carolina, has become a popular weekend destination – and with good reason! Due to its location, Greenville has mild temperatures year-round, making it a great destination at any time.
Perhaps Greenville's greatest attraction is its easily walkable downtown. With a Main Street with wide sidewalks spreading approximately 10 blocks, the city's downtown welcomes visitors to enjoy its attractions.
There are so many things to do in Greenville during a weekend. Some of the most popular sights in town include the Liberty Bridge found at the Falls Park on the Reedy.
The curved pedestrian bridge crosses the Reedy River, providing beautiful views of the city's downtown waterfalls. The Falls Park's trails intertwine with the more extensive Swamp Rabbit Trail.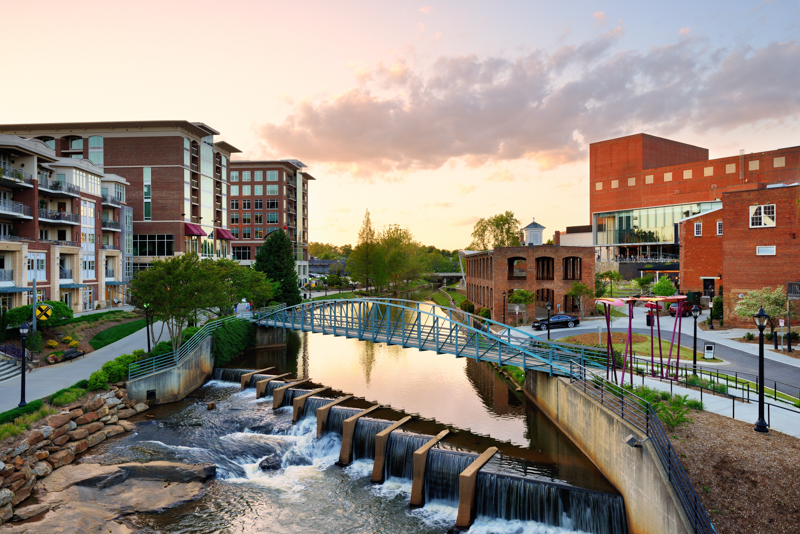 Outdoor lovers will enjoy accessing the Swamp Rabbit Trail. Popular with bikers, walkers, and runners, the approximately 20-mile trail connecting Greenville to Travelers Rest.
Nearby, lakes offer kayaking and canoeing opportunities. Or hike to find waterfalls and more tranquil nature spots.
The city is becoming a foodie favorite too. The Food Network, Southern Living, and several other publications have recognized Greenville's cuisine and chefs.
An entire weekend itinerary could be planned around food and eating. The city's visitor's bureau has arranged foodie tours for those who prefer to let others do the planning. And don't skip the city's craft brewery scene!
A weekend getaway to Greenville, South Carolina, will certainly be an enjoyable one for visitors who like exploring laid back, walkable Southern cities.
Where to stay
Guests staying at the Westin Poinsett will be ideally located on Main Street. This classy hotel is located such that almost everything on Main Street is just a few minutes' walk in either direction. It is the perfect property to come back to after a show at the Peace Center for the performing arts too.
Text by Annick from Common Traveler
24. Cape Ann, Massachusetts
A rocky cape in the northeastern part of Massachusetts, Cape Ann is a perfect weekend getaway. This New England coastal retreat is only 30 miles away from Boston, around the northern section of Massachusetts Bay.
A great way to visit the charming towns around Cape Ann is to go on a driving vacation, stopping in to explore Rockport, Gloucester, Essex and Manchester-by-the-Sea. The colorful towns, picturesque fishing villages, and rugged cliffs are stunning.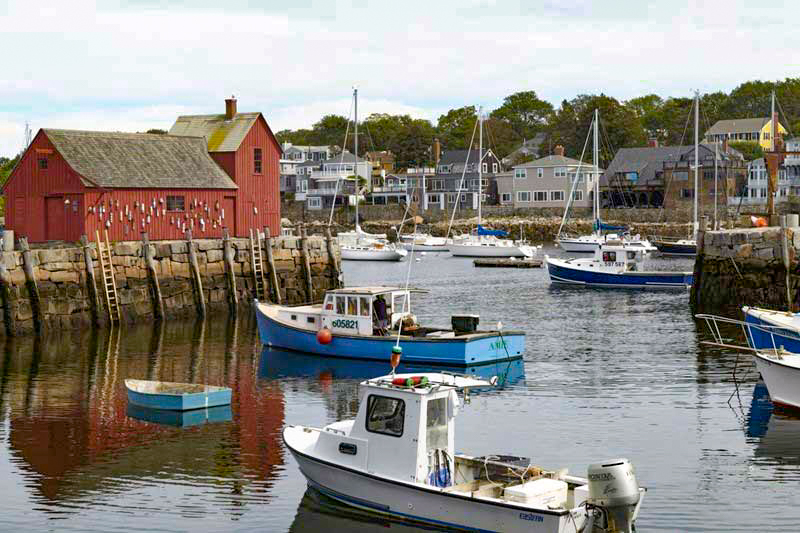 Other reasons to visit are the uncrowded beaches and good food. One of the best things to do in the region is to wander around Rockport, an impossibly scenic former fishing village with shops, cafes and galleries housed in former fishermen's shacks.
The fishing shack on Bradley Wharf called "Motif No. 1" was featured on a postal stamp in the Greetings from America series.
Cape Ann is famous for its lobster and other seafood. For a tasty snack, order a lobster roll (perfect for summer) or try lobster chowder to warm you up in winter.
Cape Ann is also where fried clams were invented so make sure you try those at Woodman's of Essex.
Cape Ann is a year-round destination but the most popular time to visit is in summer. If you are on a budget, fall or winter are the best seasons to go for cheaper accommodation and festivals.
Where to stay
There are plenty of places to stay around Cape Ann for all budgets. Luxurious accommodation picks are Beauport Hotel in Gloucester and the Rockport Inn and Suites. Midrange accommodation choices include the Sea Lion Motel in Gloucester or Eagle House Motel in Rockport.
Text and photo by Christina from Travel2Next
25. Outer Banks, North Carolina
One of the best places to vacation on the East Coast is the Outer Banks in North Carolina. This series of barrier islands off Carolina's coast is famous for wild horses, stunning beaches, and historic lighthouses. It truly is the perfect beach getaway for anyone looking to escape!
The water here is warm and green, with rolling waves and stunning sunrises over the water. You can pick from some great Outer Banks beach towns spread across the different islands. Each offers something a bit different.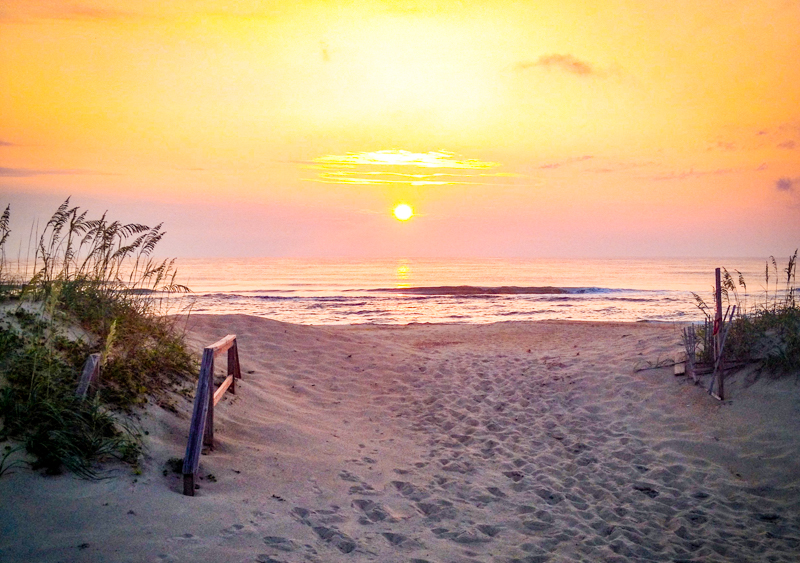 Head to Nags Head if you want to see wild horses, Buxton and Corolla for views of beautiful lighthouses, and Kill Devil Hills if your goal is to explore American history with a visit to the Wright Brothers National Memorial to see the where the first flight took place.
You can also visit Manteo on Roanoke Island, which was the location of the famous Lost Colony of Roanoke and Fort Raleigh National Historic Site.
The great thing about the Outer Banks is that you can stay in one town and visit the others, so you can string together a great itinerary, or you can just relax on the beach! If your main goal is to enjoy the water, don't miss a visit to the Cape Hatteras National Seashore!
Where to stay
Many visitors will rent out a beach house for a week, but if you're coming in for a few days or a long weekend, then you might prefer to check into the lovely Hatteras Island Inn in Buxton.
Text and photo by Stephanie from History Fangirl
26. Acadia National Park, Maine
As the oldest national park in the United States situated east of the Mississippi, you know before arriving that Acadia National Park has to be something special – and it definitely is.
Set on the southern coast of Maine, Acadia National Park was once the haunt of legendary American families like the Rockefellers, and today is known for its natural beauty, gorgeous sunrises from Cadillac Mountain (during part of the year, this is the first place the sun rises in the USA!), and the varied number of things to do in Acadia National Park.
While you're in the park, be sure to admire the view from Cadillac Mountain, drive the charming Park Loop Road, check out Jordan Pond, listen for the "thunder" created by the crashing ocean at Thunder Hole, hanging out on the beautiful Sand Beach and, if you're not scared of heights, hike to the Beehive.
There are many hiking trails in Acadia National Park, so you're sure to find a few trails to suit your skill level, from the easy Ship Harbor Trail to the epic Precipice Trail.
Nearby Bar Harbor, one of the best places to visit in Maine, is a quaint and beautiful small town, packed with great places to stay and excellent dining – if you're visiting Acadia National Park during the summer, be ready to try plenty of dishes cooked with the area's delicious blueberries, and of course lots and lots of lobster rolls!
Of course, summer isn't the only excellent time to visit: the stunning fall foliage turns the park into a colorful wonderland during its peak, making Acadia National Park one of the best fall weekend getaways on the East Coast.
Where to stay
The Bar Harbor Grand Hotel is a popular option in the town of Bar Harbor. Just a short distance from the park and within walking distance of the waterfront, the hotel is highly rated for its comfy beds!
Text by Kate from Our Escape Clause
27. White Mountains, New Hampshire
For unforgettable scenery, great hikes and drives, and a wealth of outdoor adventure opportunities, plan a weekend escape to the White Mountains of New Hampshire!
Covering about a fourth of the state, the White Mountains are an irresistible destination any time of year, but undoubtedly, fall is the most scenic season. When we lived in New England, driving the Kancamagus Highway during peak fall color time was an annual ritual we never missed!
On a weekend trip to the White Mountains, focus on a few activities for a more relaxed time. Do one of the scenic rail journeys: either the Mount Washington Cog Railway to the top of Mt. Washington, or one of the two routes on the Conway Scenic Railroad.
Ride the aerial tramway to the top of Cannon Mountain for panoramic views all the way to Canada on clear days.Visit some of the iconic covered bridges in the area: they make for fabulous photos! If you enjoy the water, short hikes will get you to lakes, ponds, or waterfalls.
Or drive the scenic White Mountains Trail, of which the Kancamagus Highway is one part. The trail winds its way through the White Mountains National Forest, and along the way, you can stop off at attractions and viewpoints.
Where to stay
There are numerous places to stay in the White Mountains area, depending on the community you choose as your base. The Adair Country Inn & Restaurant in Bethlehem is a charming option, with rooms furnished with antiques and a cozy vibe.
The Omni Mount Washington Resort in Bretton Woods offers a variety of stay options from the Grand Hotel to townhomes.
Suggested by us
To sum up, you have no shortage of choices when it comes to irresistible weekend getaways on the East Coast!
Whether you're looking to do getaways with kids, escape as a couple, or just zip off on your own, you can't go wrong with any one of these amazing destinations!
MORE US TRAVEL INSPIRATION
Looking to explore the western part of the country? Check out our round-up of the most epic western US road trips to take. And if you want to road trip the eastern part of the USA, read our article on the most exciting East Coast road trips.
We also have a round-up of the most epic road trips in America, the ones you have to take in your lifetime!
And if you are looking for short escapes in the west, we have an article on the best West Coast weekend getaways and one on the best weekend getaways in California.
Want to do a western US road trip covering national parks? Check out this article on the great national parks in the west, from Yellowstone and Yosemite to Utah's Mighty 5.
Love the vibrancy of US cities? Be sure to read our round-up of the best USA weekend trips, from New Orleans and New York City to San Diego and Las Vegas.
You may also like:
National Parks: The Best US National Parks to Visit in the Fall
Canada: Driving the Icefields Parkway
Nevada: The Best Things to Do in Las Vegas
Arizona: The Best Places to Visit in Arizona
Caribbean: The Best Caribbean Islands for Your First Visit
Nevada: 15 Beautiful Places to Visit in Nevada

Did you find this article informative? Pin it for later reference!