Considering a quick West Coast weekend trip? It's a beautiful part of the country, with lots of choices for short jaunts. Read on to discover the most incredible West Coast weekend getaways!
The West Coast features spectacular scenery, vibrant cities, and charming towns.
Whether you are looking for a beautiful beach or a cozy retreat in the mountains, or you want to take in the sights in one of the many fabulous cities, you can find your perfect escape on the West Coast!
Best West Coast Weekend Getaways
The contiguous US West Coast is made up of just three states: Washington, Oregon, and California.
But from north to south, the coast features a dizzying array of quick getaway destinations.
You will be spoiled for choice when it comes to your next west coast escape!
Some links on this page may be affiliate links. If you click an affiliate link and make a purchase, we may receive a small commission, at no extra cost to you. For more details, refer to our disclosure.
We have visited many of our favorite California weekend getaway destinations more than once, but we've only done brief jaunts into beautiful Oregon and Washington. So for this post, we asked fellow travel bloggers to chime in with their favorite escapes.
Want to learn more? Let's dive right into the best weekend getaways on the US West Coast!
Yosemite National Park, California
One of the must-visit national parks in the western USA, Yosemite National Park is home to spectacular waterfalls, majestic granite domes, and epic viewpoints to take in the scenery.
Many of the park's most famous attractions are located in Yosemite Valley, but if you visit in high season, you should also spend some time driving Tioga Road through Yosemite's high country, walk among the sequoias in Mariposa Grove, or hike in Hetch Hetchy.
In Yosemite Valley, you can gaze in awe at Half Dome, the most famous granite dome in the park, as well as El Capitan.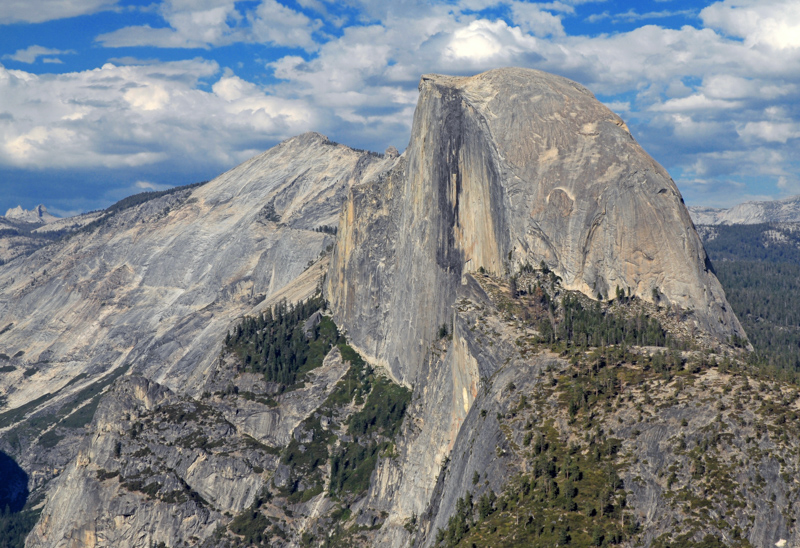 In Yosemite Valley, do the loop around Yosemite Falls: you can get up close to the spray from the Lower Yosemite Fall when it is flowing powerfully in the spring or early summer. More adventurous hikers can do the strenuous hike up to the Upper Yosemite Fall.
Mirror Lake is another good loop to hike in the valley. Also do the short hike up to Bridalveil Fall, which will drench you in the spring.
Tunnel View and Glacier Point are two of the best viewpoints in Yosemite National Park. Tunnel View can be accessed by road year round, but Glacier Point Road closes in the winter (as does Tioga Road).
Yosemite National Park is one of the best national parks to visit in May, when the waterfalls are flowing well, but it also makes for a cozy winter weekend getaway, with no crowds and a peaceful silence in the park.
If you visit in the summer, be prepared for crowds at viewpoints and hiking trails in the park. Visit during the week if you can, and explore early or late.
Suggested by us
Crater Lake, Oregon
Crater Lake is a lake you might expect to see in the Andes or the Himalayas. The enormous caldera left behind from the collapsed Mount Mazama is now filled with primary blue waters. It's spectacular and completely unlike any of the other US National Parks.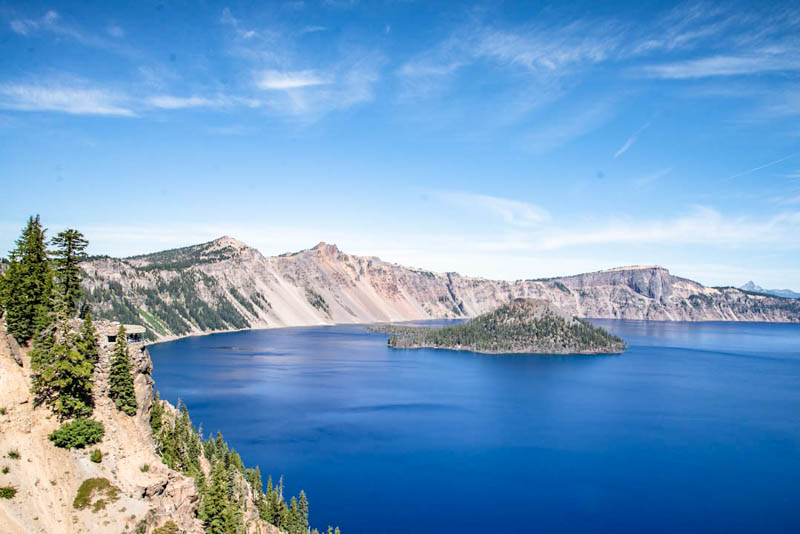 Crater Lake National Park sits a little out of the way in Southwestern Oregon. It's a small park, but about 250 miles from Portland, making it well suited for a weekend getaway.
The easiest way to experience Crater Lake is on a scenic drive around the rim. The 33 mile loop wraps around the rim of the lake, with picnic areas, pull-offs, and trailheads along the way.
But to get the real best of your Crater Lake experience, you have to get down to the lake itself. The Cleetwood Cove Trail is a short one mile down, and once you get there, you can hop on one of the boat cruises to Wizard Island and Phantom Ship.
While Crater Lake is open year round, the best time to visit is June through October when most of the roads are open.
Book a campsite to make a weekend of it, or book a stay in the historic Crater Lake Lodge.
Text and photo by Taylor from Travel Outlandish
Sonoma County, California
Located north of San Francisco, Sonoma County is Northern California's hidden gem that boasts world-class wineries and farmers' markets, but lacks the crowds of Napa Valley and other more popular destinations in California's wine country.
Sonoma County is famous for its many wineries where you can even bring your picnic. Some of the best wineries near Santa Rosa are Pellegrini, accessed via a gorgeous drive through 70 acres of vineyards, and Paradise Ridge, overlooking the Russian River Valley.
If you visit Sonoma in May, you will be treated to lavender fields in bloom in some Sonoma County wineries. Many wineries in the area offer tours, so don't forget to check your options before you leave.
The area is also home to the tallest trees in the world, which can grow up to 250 feet. For the ultimate experience, you should head to the redwood forest of the Pacific Coast near Santa Rosa for some zip-lining.
After spending your day in Sonoma County, head to Santa Rosa for the night. Here you can find plenty of accommodations and restaurants for all price points. Cozy Plum offers mouth-watering vegan food. And If you ever thought that plant-based food is boring, this place will prove you wrong!
Text by Daria from The Discovery Nut
San Diego, California
San Diego is the perfect California beach city and a must on any USA West Coast itinerary.
Its wonderful weather and many beaches have made San Diego one of the best beach vacation destinations in the USA.
Also known as America's Finest City, San Diego has a lot to offer, whether you are looking for a beach getaway at one of the many beach resorts in San Diego, a fun time in the city, or a mix of both.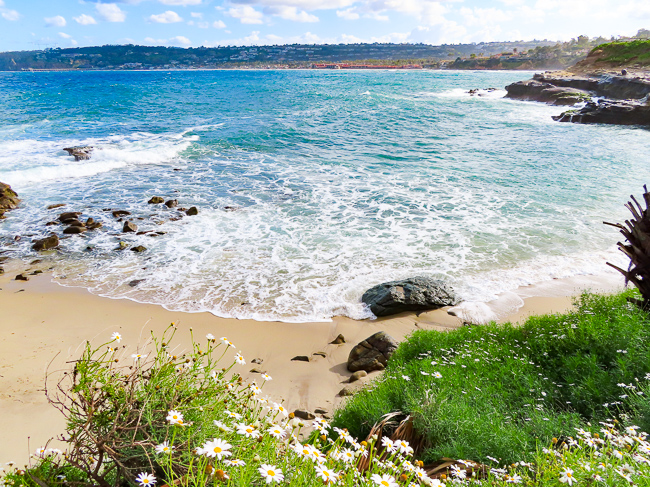 There are many things to do in Downtown San Diego. From eating delicious Italian fare in Little Italy to visiting the Midway Museum, strolling though Seaport Village, or having a fun night out in the Gaslamp Quarter, there is something for everyone.
If you love the outdoors and animals, visit Balboa Park and the world-famous San Diego Zoo, or spend a few hours at the Cabrillo National Monument.

San Diego has some of the best beaches in Southern California. Some of the most popular ones are Mission Beach, Coronado, and beaches in La Jolla. You can relax on the sand, take surfing lessons, or ride your bike along the boardwalk for a fun day on the beach.

San Diego has so much to offer and is simply a fun city, perfect for that weekend trip! While it's a great getaway any time of the year, San Diego is perfect for winter: it's part of our round-up of the best warm places to visit in January in the USA!
Text by Maria from San Diego Explorer
Big Sur, California
Leave the city behind, cross over the famous Bixby Bridge and head into the dreamy town of Big Sur with tall redwoods and jaw dropping coastline views.
Whether you opt to stay in a hotel overlooking the Pacific Ocean or a luxurious Big Sur glamping tent, one of the first things to do is walk through the redwoods. These beautiful giants provide the perfect shade and fresh air that will instantly relax you and make this a weekend to remember.
Big Sur is filled with natural beauty. Grab your camera for the easy 15-minute hike to McWay Falls in Julia Pfeiffer Burns State Park, showcasing an 80-foot waterfall that drops into the Pacific Ocean.
Pfeiffer Beach is another great spot where you can get some beach time and see Keyhole Arch, the stunning rock formation.
The best time to visit Big Sur is late summer and early fall when the weather is the sunniest. This area has a persistent marine layer at other times during the year, which gives it a beautiful moody feel, but make sure to bring a warm sweater.
Text and photo by Jen from The Evolista
While you can visit Big Sur on its own, it also makes for a great stop on one of the most iconic road trips in the western US: the Pacific Coast Highway.
Bend, Oregon
Bend is one of America's greatest outdoor playgrounds.The town of about 100,000 lies in Central Oregon, where the forested Cascade Mountains meet the sage-covered valleys of the state's eastern desert.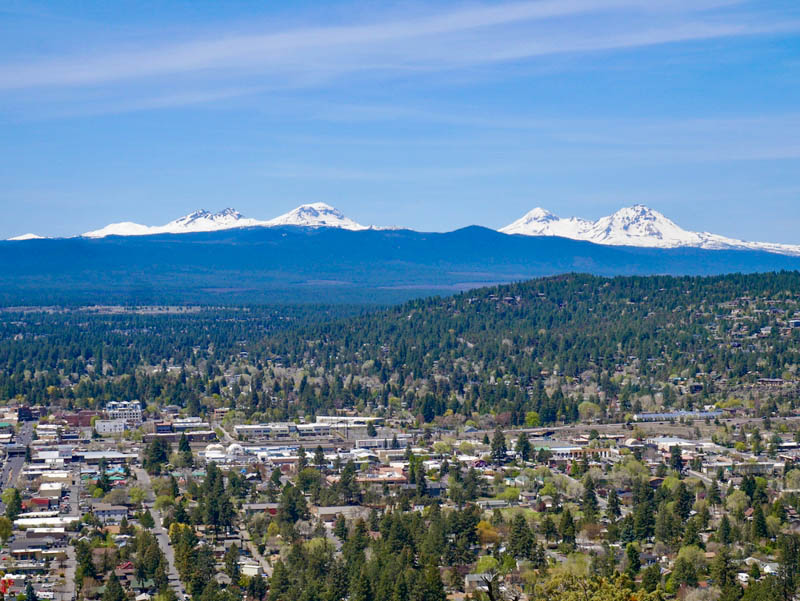 There is no shortage of things to do in Bend. The city is chock full of local eateries, boutiques, breweries, parks, music venues, and golf courses.
Bend also acts as an optimal base for exploring the best of Central Oregon—whether you want to float the Deschutes River, kayak on the placid waters of Sparks Lake, snowshoe on Mount Bachelor, or climb the vertical cliffs of Smith Rock.
Bend is a year-round travel destination. In winter, you can ski at Mount Bachelor and take day trips to nearby hot springs. Springtime in Bend means that the snow is melting and flowers are blooming in Oregon's high desert.
When summer arrives, warm temperatures are perfect for outdoor concerts, open-air beer gardens, and water sports. And in fall, the weather is perfect for traveling the Cascade Lakes Scenic Byway and hiking some of the most spectacular peaks in the Pacific Northwest.
The diversity of tourist attractions in and around Bend make the Central Oregon mountain town a fantastic weekend getaway for backpackers, families, adventure-seekers, and nature enthusiasts.
If you're looking for a place where you can hike in the morning, ski in the afternoon, eat a gourmet meal for dinner, and visit an observatory at night, then there's no place better than Bend.
Text and photo by Erika from Erika's Travels
Seattle, Washington
Whether you're visiting Seattle for the first or the fiftieth time, a weekend trip is a great way to enjoy a little taster of the city. You'll want to book to arrive first thing Saturday AM (or ideally Friday night) so you can really make the most of your trip.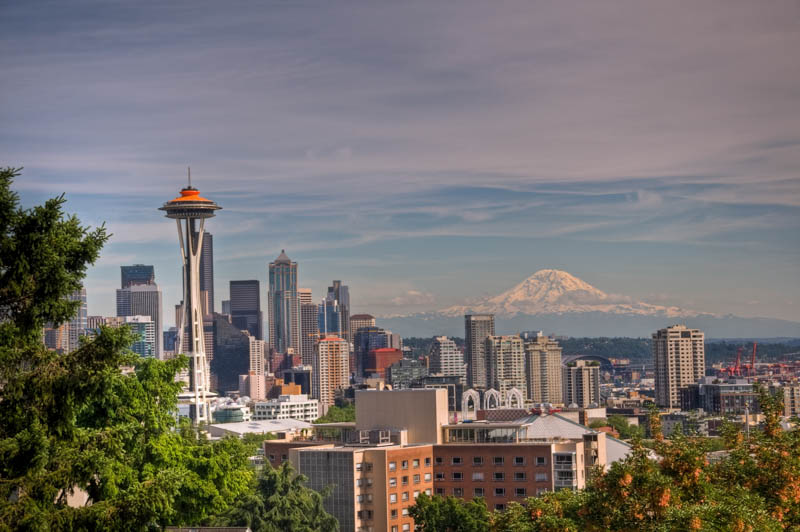 Depending on what time you arrive, you'll either want to head to Pike Place for a morning pick-me-up coffee from the Original Starbucks and a wander around Pike Place Market, or head straight to Pike Place Chowder for a warming bread bowl of the city's famous clam chowder.
You can then spend a few hours exploring the sights of Downtown Seattle, including The Gum Wall, the Seattle Public Library, the waterfront, and, of course, the Space Needle. Book your tickets in advance for the Space Needle to save waiting in line, especially if you only have 48 hours to explore. After enjoying a few hours of sight-seeing, head up Kerry Park to watch the sun go down.
Your second day can then be spent seeing all the spots you missed the first day, such as the Olympic Sculpture Park or Gasworks Park, as well as savoring even more Seattle flavors.
The spring/summer months are the best time of year to travel to Seattle as these months will offer longer, warmer days (so more daylight hours to experience the city!) but a winter getaway can also be fun for those who want to soak up the festive cheer.
Text by Chrisoula from Travel Passionate
Olympic Coast, Washington
The Olympic Coast in Washington is the perfect weekend getaway. This slice of Washington is across the Puget Sound from major cities Seattle and Tacoma, and it feels like a world away.
With giant driftwood, awe-inspiring landscapes, and a temperate rainforest, it really feels like
you have stepped into another universe.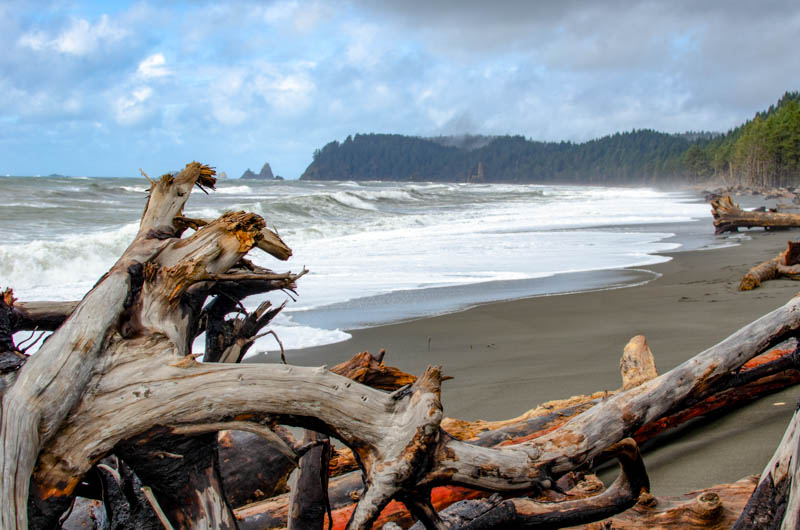 There is no lack of things to do along this coast. From visiting charming towns such as Port Townsend in the Northeast to climbing high into the mountains of Olympic National Park at Hurricane Ridge, there is something for everyone.
The beaches are the biggest draw. These beaches, located within a Marine Protected Area, are more wild than a typical West Coast beach. Swimming is not encouraged, pebbles line most of the shores and there are sea stacks everywhere.

While each season is beautiful on the coast, the fall months seem to have the nicest weather. Winter and spring bring rain, and summer can see a lot of sea fog. If you are visiting the beaches, remember to be mindful of the tides! You can check tide tables online, and this will
ensure you have a chance to check out the tide pools along the shore, as well as stay safe.
No matter when you choose to visit the Olympic Coast, you are sure to have an amazing time!
Text and photo by Samantha from A Truthful Traveler
Oregon Dunes National Recreation Area, Oregon
The Oregon Dunes are a unique place in American conservation efforts. While most recreation areas have ample trails, not many allow you to tear around on ATVs.
As the name suggests, the heart of activities at the dunes is recreation. There are quite a few places to rent an off-road vehicle along US 101. Being able to tear around the dunes is exhilarating.

If speeding around on ATVs isn't quite your style, the dunes offer other possibilities for fun. The Dunes Day Use area is off-limits to off-highway vehicles, making it the prime spot to spend some time on foot.
The trail leads down into a wide open area of dunes for you to explore. You can continue across the dunes, through the coastal forest, and out onto the beach.

If you're looking for a place that offerS a wide variety of activities for the family, Oregon Dunes National Recreation Area is the place to go. From dune camping to hiking and off-roading, there is an abundance to do here.
Even if you just make a quick stop to look at the dunes in their full glory as you explore the rest of the Oregon Coast, you won't leave disappointed.
Text and photo by Zach from Florida Man on the Run
Mount Rainier National Park, Washington
Mount Rainier National Park is an outstanding place for a weekend getaway. There are hikes galore, featuring mountain views, waterfalls, lakes, and hills. If you enjoy being outdoors, you will love Mount Rainier!
One of the best hikes to do in Mount Rainier is the Comet Falls trail. This glorious waterfall stands at about 380 feet tall, and along the way you have views of Van Trump Creek. This is a great rainy day hike.
Another fantastic hike is the Skyline Trail. This trail is one of the most popular trails in Mount Rainier and for good reason. There are 360-degree views of mountains. There is a magnificent waterfall called Myrtle Falls on the trail. There is also a great chance you will spot the cute marmots.
The last hike you should attempt in a weekend at Mount Rainier is Fremont Lookout. This is an excellent spot for sunset, and if you are lucky, you might get a cloud inversion.
Text and photo by Michelle from The Wandering Queen
Lake Tahoe, California
If your desired West Coast weekend trip consists of alpine lakes, beautiful mountains peaks, waterfall hikes, and plenty of fresh clean air, Lake Tahoe is sure to be the perfect destination.
Lake Tahoe spans the state border between California and Nevada and is nestled in the basin of the Sierra Nevada mountains at just over 6000' elevation.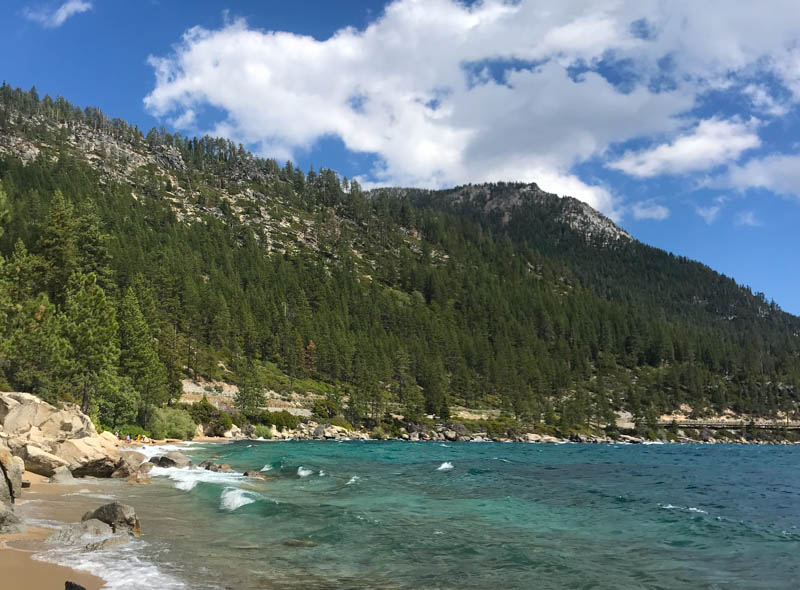 The cool mountain air makes it the perfect spot in the heat of summer for a cool swim, paddle board or kayak ride on the lake. Sand Harbor and Meeks Bay are some local favorite swimming holes.
Winter turns Lake Tahoe into a beautiful winter wonderland with plenty of snow sport opportunities at one of its many resorts, such as Heavenly or Northstar. Hiking trails are also open throughout the area as long as you strap on your snowshoes first!
Spring turns waterfalls into gushing cascades and meadows to fields of wildflowers. Ski resorts stay open until the last of the snow starts to melt. Lake Tahoe makes our list of the best spring break destinations in the USA, especially for families!
Lake Tahoe in the fall is also wonderful. Autumn turns the aspens to golden in October, which makes this time of year also perfect for hiking. Check out Eagle Falls or the Van Sickle Bi-State Park trails for lovely autumn views.
Text and photo by Sierra from Free to Travel Mama
Columbia River Gorge, Oregon
The Columbia River Gorge makes the perfect west coast weekend getaway destination for those who love the outdoors. This is the place to go when you want to be surrounded by nature and experience some of the best scenery the Pacific Northwest has to offer.
The Columbia River Gorge sits along the Columbia River at the border between Oregon and Washington. This area is best known as the location of Multnomah Falls, Oregon's tallest waterfall, and easily the biggest attraction in the area.
In addition to Multnomah Falls, be sure not to miss Latourell Falls, Wahkeena Falls, Bridge of the Gods, or the Stonehenge Memorial. For spectacular views of the surrounding area, head to Crown Point. This is a scenic overlook with impressive views of the Columbia River.
When planning your trip be sure to bring comfortable hiking shoes and a rain jacket. This is an area known for its rainfall so come prepared for all kinds of weather. The best time to visit is spring or fall. You'll avoid the crowds and get better weather.
Text and photo by Eden from Rock a Little Travel
Sequoia and Kings Canyon National Parks, California
The main reason to travel to Sequoia and Kings Canyon National Park is to see the sequoia trees. They are often confused with giant redwoods. Both are awe-inspiringly tall, but they are different species of trees.
One of the park's top sights is the 275 foot high tree called General Sherman. It is the world's largest living tree by volume and is in the Giant Forest section of the park. There are many good hiking trails in this area allowing you take in the majesty of the trees towering above you.
Other areas not to miss are Moro Rock and Tokopah Falls. Keep an eye out for black bears, which can often be seen wandering along the side of the road and in the quieter areas of the park.
The best time to visit is May through October, although there are fewer ranger-led programs outside the main summer months. If these are not of interest, consider visiting outside the holiday periods and weekends when the park is quieter.
During winter some parts of the park close. You can still walk around the sequoia forests, but take care since it can be snowy and icy.
Text and photo by Kristin from Adventures with Ensuite
The Willamette Valley, Oregon
The Willamette Valley, located just an hour south of Portland, Oregon, is the perfect place for a weekend getaway on the West Coast. The Willamette Valley is home to approximately 600 wineries. It is also known for some of the best Pinot Noirs in the world.
Wine tasting in the Willamette Valley is one of the top reasons why people visit from all over the world. Check out Argyle Winery for bubbly. They even have a sparkling Pinot Noir. If you want to get a taste of Tuscany then also add Alloro to your list.
Harvest or the fall is one of the best times to visit the Willamette Valley. This is when most wineries and vineyards hold special events to celebrate the harvest season. The weather is crisp but just warm enough to sit outside and the atmosphere is very festive.
While there are many options for places to stay in the Willamette Valley, McMinnville is one of the top places to call home during your weekend getaway.
The small town of McMinnville is home to several wineries within walking distance which means you don't even have to get in your car. Also, there are plenty of amazing restaurants within walking distance.
Text and photo by Taima from Poor in a Private Plane
Cannon Beach, Oregon
Cannon Beach is the jewel of the Oregon Coast vacation towns. Known for its stunning beauty, awe-inspiring coastline, and an array of things to do in the downtown area, it's the dream weekend getaway for those who love Pacific Northwest beaches.
Cannon Beach's main claim to fame is Haystack Rock, a massive sea stack that towers over the main beach as the waves of the Pacific Ocean lap at its base. Right next to the beach are restaurants and cafes, shops and wineries.
The quaint streets of downtown Cannon Beach are lovely to walk around for an afternoon of shopping or to get something delicious to eat. Making Cannon Beach even more of an ideal weekend getaway on the west coast is its close proximity to two major cities of the PNW.
Cannon Beach is just 90 minutes from Portland, Oregon, and a little over three and a half hours from Seattle, Washington.
The best time to go to Cannon Beach is in summer when the days are long and the air is warmer, but if you want to avoid crowds, the shoulder season months are also lovely — just be prepared for rain the further out from summer you go.

Text and photo by Gina from Evergreen and Salt
Mount Baker, Washington
Just a few hours drive from both Seattle, WA and Vancouver, BC stands Mt. Baker, an expansive wilderness and gorgeous ski area that welcomes travelers year round.
The surrounding towns, with names such as Glacier and Welcome, are quaint and relaxing: rent a cabin and spend a perfect weekend away from the city, hopefully sans cell phone service to seal the deal of a disconnected getaway.
In the summertime, head to a number of trails for a day hike or a weekend backpacking trip. Peak summertime activities are best during the warmer months of late June through early September, when the winter snow has receded for a few months.
Once the snow has once again blanketed the mountain, the area turns into a wonderland fit for skiing and snowboarding with snowshoe trails that also lead to amazing views.
In fact, the Mt. Baker Ski Area is home to the greatest known snowfall in a season, with a record-setting 1,140 inches of snow in 1998-1999, and a yearly average of about 640 inches.

While visiting Mt. Baker would be suitable any time of year for a number of great day hikes near Seattle or a day of skiing the slopes, the area is a beautiful backdrop for a weekend break and makes the perfect destination for a weekend getaway on the West Coast.
Text and photo by Michele from Adventures Abound
Los Angeles, California
Los Angeles is the perfect west coast weekend getaway, and indeed, one of the best cities for weekend trips in the USA.
While it is a great destination for solo jaunts and for couples and families, it is also one of the best girls' trips destinations you can find!
Known for the glitz and glamour of Hollywood, LA also has incredible restaurants, upscale shopping, famous hotels, and the iconic Hollywood sign. You can even take tours to see the homes of Hollywood stars.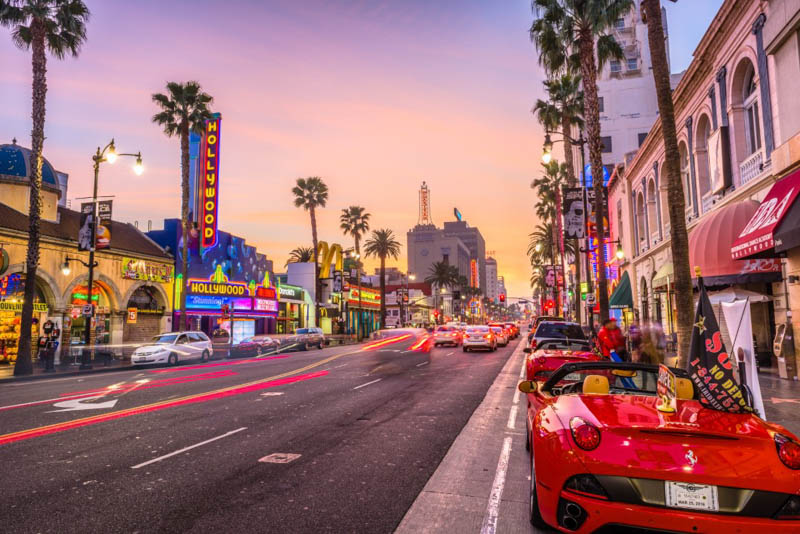 But Los Angeles is so much more than Hollywood! Some popular things to do in the area include: Disneyland, Griffith Observatory, Runyon Canyon Park, The Getty Villa, and the Santa Monica Pier.
If you are feeling extra adventurous, take your turn at OUE Skyspace LA and ride the slide towering over the city. If you want to see where a lot of famous people are buried, head to Westwood Village Memorial Park.
You can visit LA any time of year, with relatively great weather in all seasons. One of the best tips for visiting is to know that traffic can be extremely challenging and busy.
No matter what your travel style, you can craft an itinerary to see everything you want to see in LA for a fabulous weekend.
Text and photo by Nicole from Eat Live Travel Drink
Portland, Oregon
There's nothing quite like spending a 3 day weekend in Portland, Oregon! This Pacific Northwestern city is full of quirks and charm and is fully explorable in just a weekend.
Of course, if you have more time, you will be spoiled for choice on things to do in Portland!
Get lost in the stacks at Powell's Books, the world's largest independent bookstore of new and used books. The store takes up an entire city block in the Pearl District, selling an endless quantity of books, cards, stationery, and local gifts.
Take a walk along the Willamette River along the Waterfront Park Trail: it's absolutely beautiful in the spring, and you'll see why Portland is also known as "the city of bridges."
The city has 12 bridges that cross the Willamette River and 2 that traverse the Columbia River. While you're on the trail, don't forget to visit Mill Ends Park, the world's smallest park.
Eat at Portland's famous street carts located throughout the city. There are a couple of pods in Downtown with carts, such as Fried Egg I'm in Love, Bing Mi, and more. There is such a variety of food carts in the city that you'll find something for your taste buds.
Text and photo by Constance from The Adventures of Panda Bear
*****
So there you have it: the best weekend getaways on the US West Coast! Which one will you pick for your next trip?
MORE US TRAVEL INSPIRATION
Looking to explore the western part of the country on the road? Check out our round-up of the most epic western US road trips to take.
And for some bucket-list ideas all over the country, check out our article on the most iconic USA road trips.
If you want to road trip the eastern part of the USA, read our article on the most exciting East Coast road trips. And if you are looking to get away for short breaks in the east, we've compiled a list of the most exciting East Coast weekend getaways from which to choose.
Want to do a western US road trip covering national parks? Check out this article on the great national parks in the west, from Yellowstone and Yosemite to Utah's Mighty 5.
Love the vibrancy of US cities? Be sure to read our round-up of the best USA weekend trips, from New Orleans and New York City to San Diego and Las Vegas.
Did you find this article informative? Pin it for later reference!