Planning to explore the western United States? These epic western US road trips are a fabulous way to discover the diverse and beautiful landscapes for which the west is famous.
Majestic mountain parks studded with alpine lakes. Vast expanses of desert. One of the most beautiful coastlines on the planet. A plethora of lively cities and laid-back towns. You'll find all these and much more in the western USA.
From the Rockies to the American Southwest and the California coast, there are many iconic road trip routes from which to choose.
While we've done numerous Western US road trips, for this round-up of the best western US road trip ideas, we asked travel blogging colleagues to chime in with their favorites as well, to give you a wide variety of options for your next adventure on the great open road.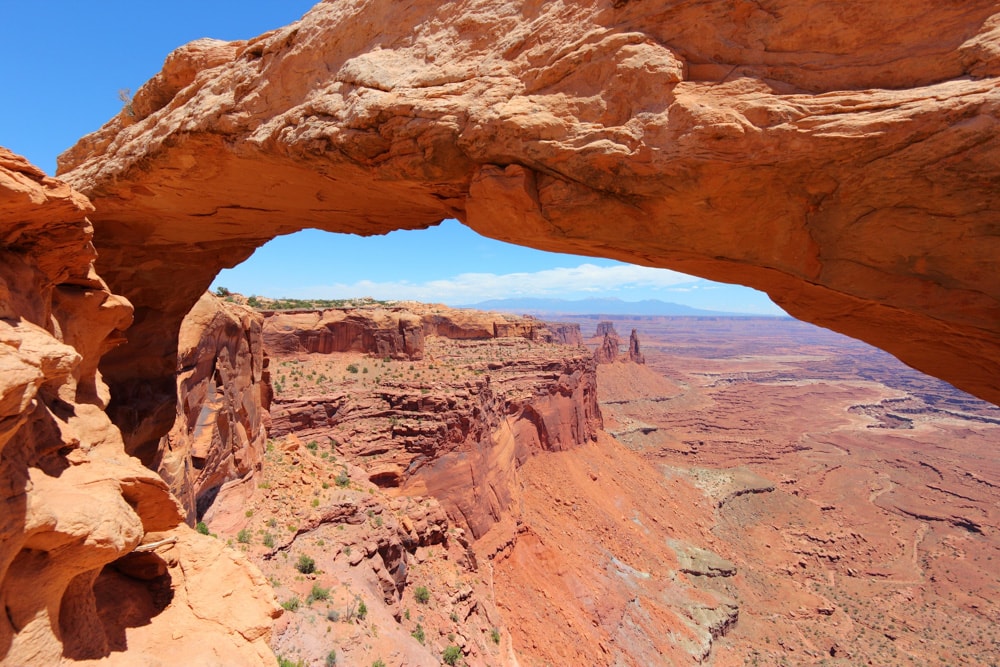 Some links on this page may be affiliate links. If you click an affiliate link and make a purchase, we may receive a small commission, at no extra cost to you. For more details, refer to our disclosure.
From the great national parks of the west to vibrant cities, our western US road trip itineraries offer diversity and excitement.
Our amazing US West road trip itineraries will make you want to load up the car and head out on an adventure immediately.
Let's get started discovering the most amazing road trips in the west!
California Highway One Road Trip Between Los Angeles And San Francisco
One of the most popular road trips in California (and arguably in the United States!) is Highway 1 between Los Angeles and San Francisco.
Sometimes known as the Pacific Coast Highway road trip, this iconic west coast road trip adventure is on many travelers' bucket list.
This 450-mile drive along the California coast has everything you could want in a road trip, and you can drive it in either direction.
While you could easily spend weeks exploring everything along this route, 4-5 days is a good length to experience the highlights.
California is known for having lovely weather most of the year, but any time from April to October is ideal for this road trip. Late spring is a particularly nice time, with bright green hillsides and lots of wildflowers.
No matter what you like to do, you'll find countless things to see and experience throughout this drive.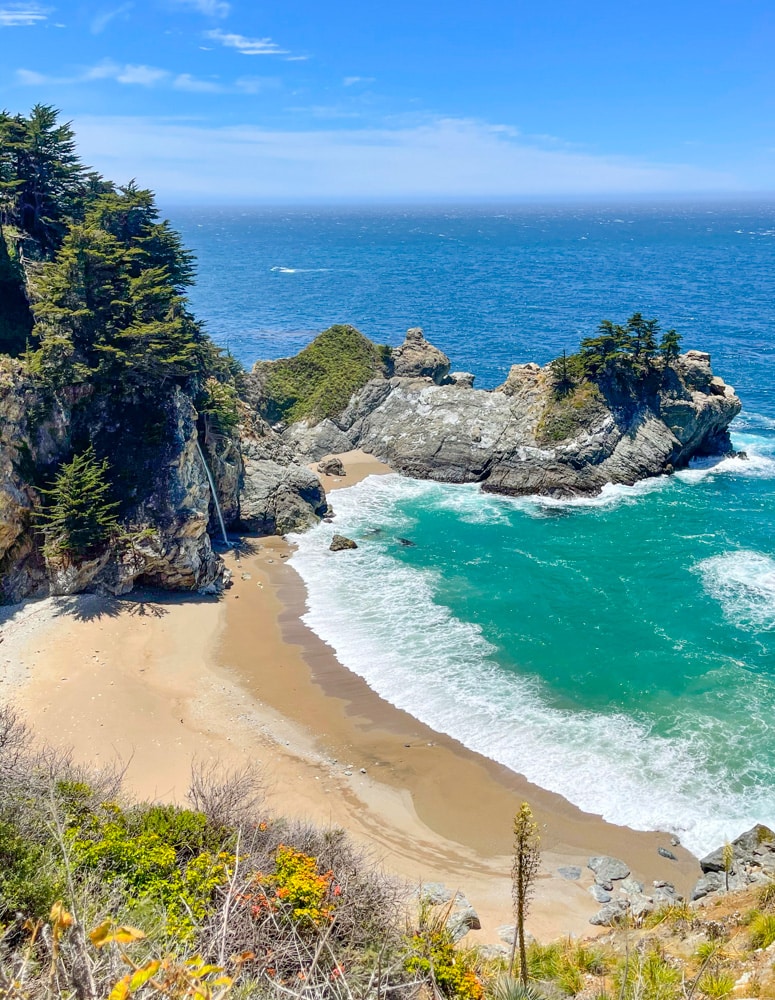 The two California cities that book-end the drive, LA and San Francisco, are iconic destinations you'll definitely want to explore!
Take a cruise of the San Francisco Bay, explore Golden Gate park, walk (or bike) the Golden Gate Bridge, and tour Alcatraz in San Francisco.
In Los Angeles, hike up to the Hollywood sign, explore Hollywood, enjoy the beach and Ferris wheel in Santa Monica, and discover the many museums and gardens.
Animal lovers will enjoy spotting elephants seals, sea otters, whales, and dolphins along the coast. If you look up, you might even spot the endangered California condor, with its massive wingspan!
There are dozens of hikes in the many state parks and along the beaches for every skill level.
Santa Barbara is one of the best stops on the Pacific Coast Highway, and you'll love exploring the charming towns of the Central Coast, from Pismo Beach to Morro Bay and Cambria.
Probably the most famous stretch of this drive is Big Sur, a 90-mile portion between San Simeon and Carmel-by-the-Sea that boasts the most unforgettable views.
Here you can see the famous Bixby Bridge, McWay Falls, and Hearst Castle.
Make sure you spend some time at Pfeiffer Big Sur State Park and marvel at the stunning redwoods, and visit beautiful Pfeiffer Beach.
To the north of Big Sur, Monterey offers excellent whale-watching and a world-class aquarium. South of Big Sur, the little seaside village of Cambria makes for a lovely stop!
And don't forget about the food! Take advantage of all the local seafood restaurants and fill up on some amazing cuisine along the way.
Suggested by Stefanie of Open Road Odysseys
Yellowstone and Grand Teton National Parks Road Trip
For one of the best road trips in the western US, head to the beautiful states of Wyoming and Montana.
On this road trip, you will explore the stunning Grand Teton National Park and the unique Yellowstone National Park. They are two of the most iconic national parks in the western USA!
Start your journey in either Jackson Hole, Wyoming, or Gardiner, Montana. This road trip is approximately 150 miles.
A week is a good estimate of the amount of time you will need to explore this area.
The best time to take this road trip is from mid-May until late September. The reason for this is that many of the facilities and roads in the Tetons are closed during the winter months.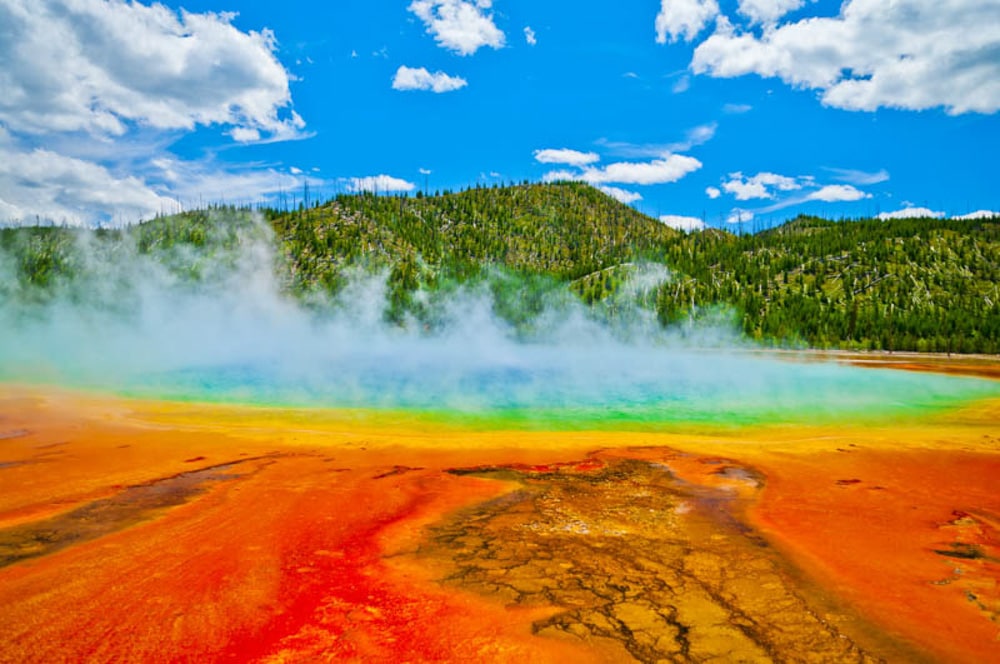 Jackson Hole is the closest town to Grand Teton National Park.
When in Jackson Hole, visit Jackson Town Square for a great place to walk around, shop, and dine.
After exploring the town of Jackson Hole, make your way to Grand Teton National Park.
This park is famous for its stunning Teton range. The Tetons are a great place to take in scenic views, and go hiking, biking, fishing, and rafting.
After exploring the Tetons, you will be on your way to the popular Yellowstone National Park.
See Old Faithful, The Grand Canyon of the Yellowstone, Lamar Valley, and Mammoth Springs. Look for herds of bison and other wildlife!
The closest town to Mammoth Springs is Gardiner, the North Entrance of Yellowstone.
Get your picture taken at the Roosevelt Arch and explore this cute, western town to end your epic road trip.
Suggested by Kim of Traveling Swansons
If you are looking to rent a car for your Western US road trip, consider Discover Cars! They scour multiple providers to get the best price for you, including brands like Hertz, Enterprise, Alamo, Budget, and Sixt.
the Oregon Coast: One of the Best Western US Road Trips!
The Oregon Coast is truly a beautiful stretch of the West Coast and is a great place to go on a road trip.
You can start your road trip anywhere along the coast, but the ideal starting point is at the very southwestern corner of Oregon, near Brookings, from where you can work your way up to Astoria, in the very northwestern corner.
To travel the entire coast, it'll be just over 300 miles, and you can fully experience it in 5-6 days.
Though the coast is beautiful year-round, the best time of year to visit Oregon is the summer months, as the weather is warmer, and the sun tends to be out more often.
Even just the drive along Highway 101 on the coast is unbelievably beautiful.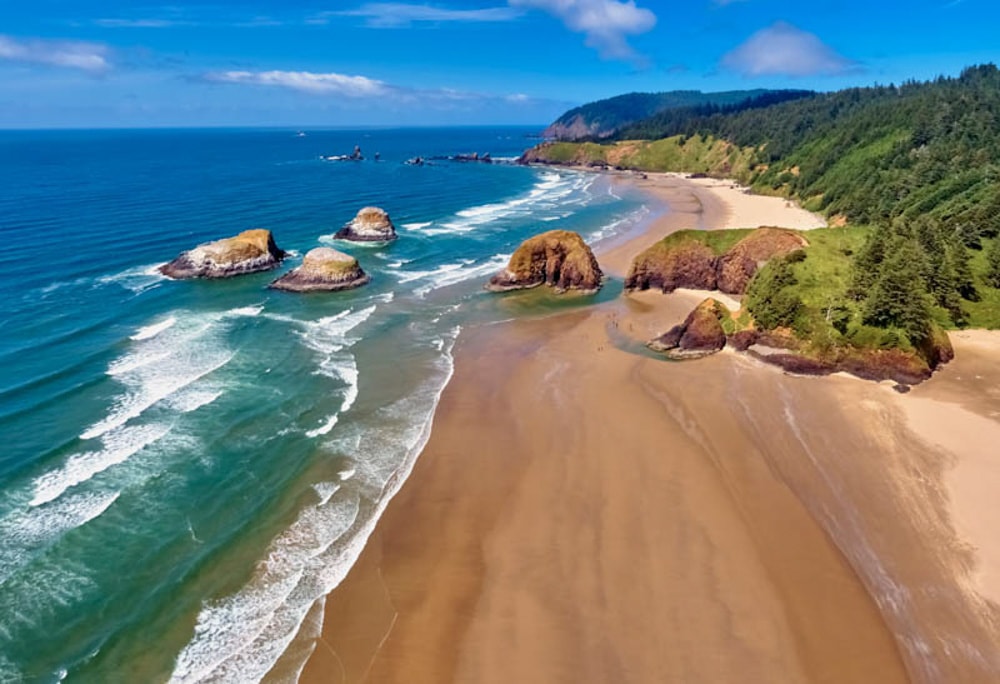 Starting in southwestern Oregon, your first stop should be Samuel H. Boardman State Scenic Corridor. Here one of the best things to see is Natural Bridges, a unique and beautiful rock formation over the Pacific Ocean.
About 3 hours north, stop in Florence at Sand Master Sandboarding to rent sandboards and enjoy some time boarding down the Oregon Sand Dunes.
Next, in Yachats, you'll find the famous Thor's Well, a sinkhole on the coast that seems to be bottomless.
For one of the most unique and beautiful places along the Oregon Coast, head to Cape Kiwanda. This phenomenal location has sand dunes and red sandstone rock formations.
Cannon Beach, Seaside, and Astoria will be the final stops on your Oregon road trip.
Here you'll find some of the beautiful filming locations for popular movies like The Goonies. These are some of the most popular places on the coast, so they'll likely be fairly busy.
If you're planning a road trip in the Western U.S., you should definitely consider the Oregon Coast!
Suggested by Kassidy of The Hiking Helper
Los Angeles to Southern California Deserts Road Trip
The Southern California deserts offer spectacular scenery, old west history, and diverse hiking opportunities. With several parks to visit, a road trip is the ideal way to enjoy the desert vistas.
Los Angeles makes the perfect start and end point for this loop trip, especially if you are flying into the area.
This epic California desert road trip itinerary covers 851 miles, and you'll need a minimum of 7 days to do justice to all the parks. Of course, if you can spend longer, you can do more hikes, and take in more desert sunrises and sunsets (they tend to be amazing!).
It's a desert road trip, so the cooler months of the year are the best time for this trip: any time from late fall to early spring is great.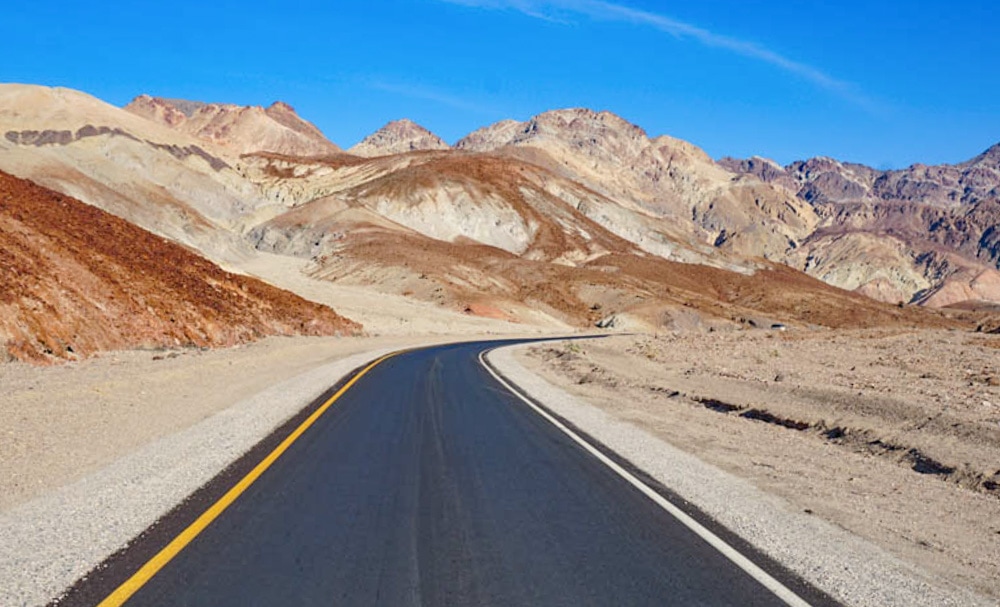 Starting from LA, make your way to Death Valley National Park, where you can gape at the badlands from Zabriskie Point, drive up to Dante's View for panoramas, walk the salt flats in the Badwater Basin, and hike the dunes at Mesquite Flats Sand Dunes.
If you have the time, do a short detour to Lone Pine en route to Death Valley. Here you can explore the beautiful Alabama Hills, in the high desert. The rock formations are spectacular!
Next, you'll visit another beautiful California desert national park, Joshua Tree. Your driving route takes you through the Mojave National Preserve, where you can visit a historic railroad depot and climb even higher Kelso Dunes.
Joshua Tree National Park is famous for its enormous boulder formations and strange-looking Joshua trees. Hike, go rock climbing, and visit old west ranches and remnants of mines.
All of these parks offer excellent night sky observing. You'll be amazed at the number of stars you can see on moonless nights!
Take a city break in Palm Springs, known for its mid-century modern architecture, resorts and spas, and shopping and dining. Try a date shake, tour a wind farm, or visit desert botanical gardens.
Your final stop on this deserts road trip is Borrego Springs. Explore Anza-Borrego Desert State Park, California's largest state park. If you visit in the spring of a good bloom year, you will be treated to fantastic wildflower displays here.
After you complete your explorations of the park, return to Los Angeles to complete your road trip.
Suggested by Dhara of Roadtripping California
Washington State National Parks Road Trip
This Washington State road trip is great if you only have one week to spend in Washington State, and you enjoy hiking, but you aren't an incredibly experienced hiker. It's roughly 550 miles total.
This road trip begins and ends in Seattle and is best done during late spring, summer, or early fall.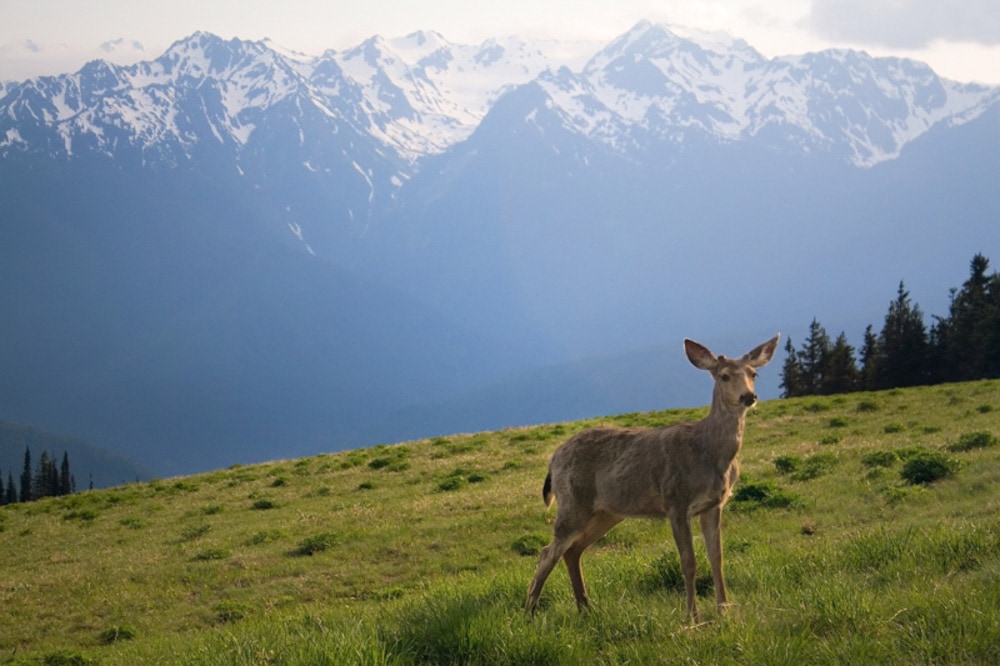 Once you grab your rental car in Seattle, head to Mount Rainier National Park. This incredible park surrounds glacier-capped, 14,410-foot Mount Rainier.
You can admire Mount Rainier from the Sunrise Visitors Center, which can easily be reached by car. There are also many incredible hikes to take in Mount Rainer National Park.
The Grove of Patriarchs is also a must-do in Mount Rainier National Park. The trees here are estimated to be over 1,000 years old, and they are HUGE.
The next stop on your road trip will be Olympic National Park. Here, the Quinault Rainforest will be the first highlight to visit.
Then, drive to Kalaloch Beach, which is home to "The Tree of Life." Ruby Beach is also close by and worth a visit, thanks to its unique landscape and rock formations.
The Hoh Rainforest is also worth visiting, as are the La Push beaches just outside of Forks, Washington. At Hoh, be sure to stroll the Hall of Mosses Trail!
After you've had your share of hiking, and the outdoors, head back to Seattle for a day of fun exploring the city!
From the Pike Place Fish Market to "The Fremont Troll" to the Seattle Center, there are plenty of fun things to do and see in Seattle before you head back home.
Suggested by Lindsey of Have Clothes, Will Travel
Utah Road Trip
The state of Utah is full of magnificent canyons, red rock formations, and other scenery, and one of the best ways to see it is by taking a road trip from Moab to Zion.
Stop at lots of slot canyons in Escalante along the way, and then end with the thrilling Angels Landing hike in Zion National Park.
For this road trip, you'll need to drive a distance of at least 400 miles, and plan on about 7 to 10 days.
Utah is nice any time of year, although you might want to avoid going in the mid-summer months (July and August) because of the excessive heat.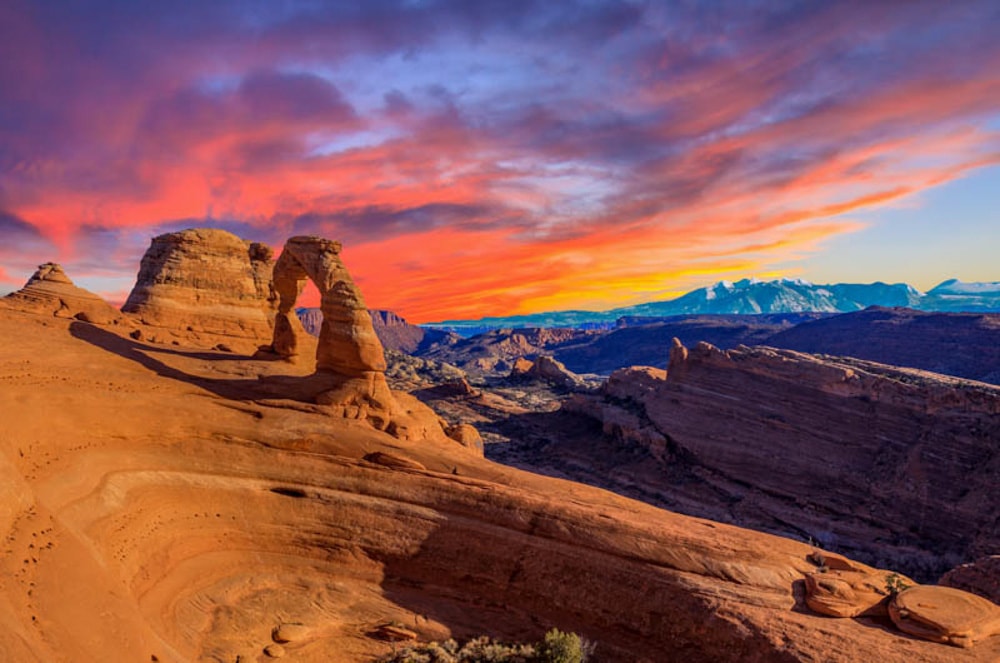 Moab has lots of its own things to see, including the Arches National Park and a wide variety of canyons, dunes, and hoodoos.
The Corona Arch trail is a good lesser known hike outside of the national park.
Dead Horse Point State Park is also a must visit!
Some of the best places to stop between Moab and Zion are the slot canyons in Escalante: Zebra Slot, Peekaboo Canyon, and Spooky Gulch.
The canyons are stunningly beautiful, and they're just now starting to become popular to visit. Now is the time to go before the crowds!
Other good things to see on the way from Moab to Zion include the Lower Calf Creek Falls (one of Utah's nicest waterfalls), the hoodoos at Devils Garden (also in Escalante), and the Utah Highway 12 Scenic Byway near Bryce.
Once you reach Zion National Park, you'll want to spend a few days doing some of the best hikes in the park, like Observation Point, The Narrows, and Angels Landing.
They are bucket list quality hikes, but if you are looking for easier trails, you will find those in Zion as well, along with exceptional scenery.
Suggested by David & Intan of The World Travel Guy
Southern Colorado Road Trip
Colorado is an amazing state to visit, and one of the best western US road trips takes you to three national parks in Southern Colorado.
For this Colorado road trip, start in Alamosa and end in Montrose, for about 600 miles of driving.
The best time to do this road trip is early summer or early fall, when the weather is mild.
Eight days allows you to see a good number of the attractions along the route without feeling rushed.
After you rent a sand sled in Alamosa, spend your first day riding the dunes at Great Sand Dunes National Park.
Drive to Mesa Verde National Park the next day, stopping at Chimney Rock or Canyons of the Ancients National Monument on your way.
Stay at the Farview Lodge in Mesa Verde. It is worth it to see the sunrise and sunset over the park!
Spend day 3 exploring Mesa Verde. Go on a guided tour to see one of the cliff dwellings up close, drive the Mesa Top Loop to learn about the people that lived here, and take a hike to explore the landscape.
All aboard the Durango & Silverton Narrow Gauge Railroad on day 4! This train takes you on a scenic ride to Silverton to spend a few hours exploring and back to Durango.
Next, drive the famous Million Dollar Highway to Montrose. Stop at Silverton for a mine tour and Ouray to soak in the hot springs.
Spend days 6 and 7 hiking the north and south rim of Black Canyon of the Gunnison National Park.
Take a day trip to Colorado National Monument to see the unique rock formations and hike, to end this amazing southern Colorado road trip.
Suggested by Caitlin of Twin Family Travels
Route 66 Road Trip: Santa Fe, New Mexico to santa Monica, California
Driving Route 66, known as the Mother Road, is a cherished bucket list item for many travelers. On this western US road trip, you can drive part of the iconic route, through three of the western states: New Mexico, Arizona, and California.
While you can drive it in either direction, it's fun to end in Santa Monica on the California coast, where you can pose for a photo with the marker that says "end of the trail."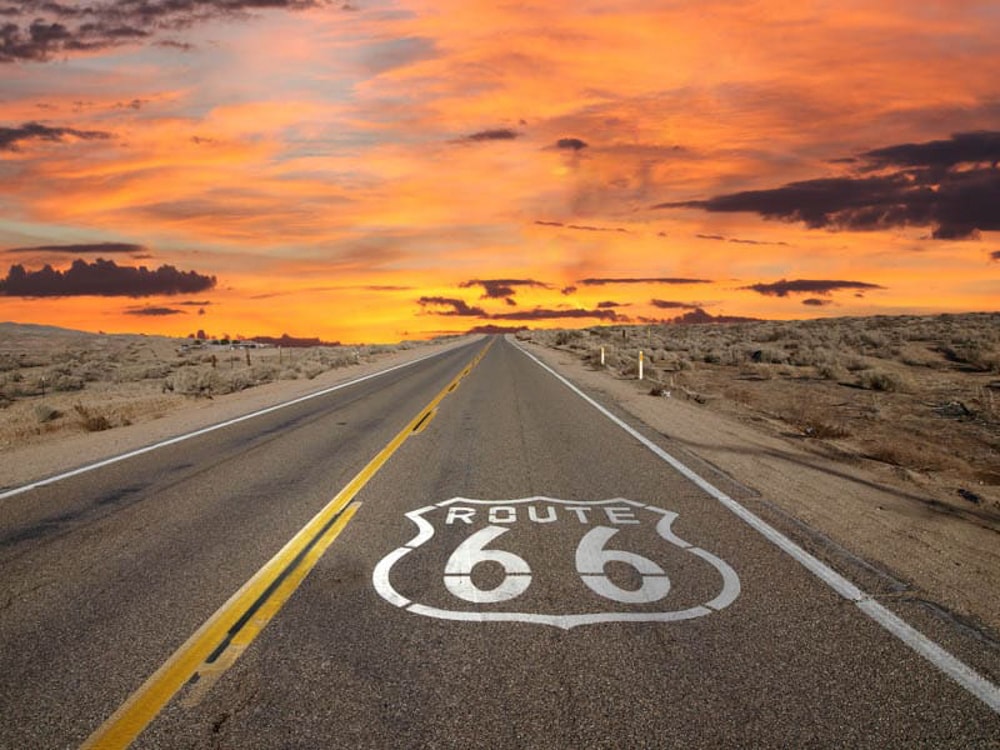 At about 1,000 miles, this road trip is best done over several days: at least a week, but more is deal, because the route is packed with epic destinations and lots of landmarks.
Any time from late fall to early spring is the best time for this section of Route 66, because quite a bit of the route is through the desert.
In Santa Fe, check out the historic La Fonda on the Plaza Hotel. The historic Route 66 passed quite close to the hotel. Other than the plaza, New Mexico's capital offers lots of museums and markets.
Explore Albuquerque and Gallup on your way to Arizona. In Albuquerque, don't miss the Old Town and the Sandia Peak Tramway. Its balloon festival is very popular as well.
Arizona has many miles of the original road still open. Flagstaff is the largest city along the route in Arizona. Don't miss the Wigwam Hotel in Holbrook, and the many vintage cars along the way.
Route 66 in California runs through the desert in the eastern part of the state. Here you can stop at many ghost towns and iconic attractions like Roy's Motel and Cafe in Amboy.
Stop at Elmer's Bottle Ranch, an iconic California roadside attraction, before making your way to San Bernadino, where you can see the other Wigwam Hotel and the very first McDonald's, now a museum.
Pasadena is a fun stop, with many Route 66 attractions as well as a lively Old Town. Then it's on to Santa Monica, where you will find the "End of the Trail" sign on the pier.
Suggested by us
Road Trip the Southern California Coast
One of the best road trips in the United States is traveling the Southern California coast, a 220-mile drive that starts in San Diego and ends in Santa Barbara.
Though this region is lovely at all times of the year, a spring, summer, or fall trip is ideal so that you can enjoy the sunshine and beaches.
If you'd like to make a lot of stops, plan at least seven to ten days for this road trip!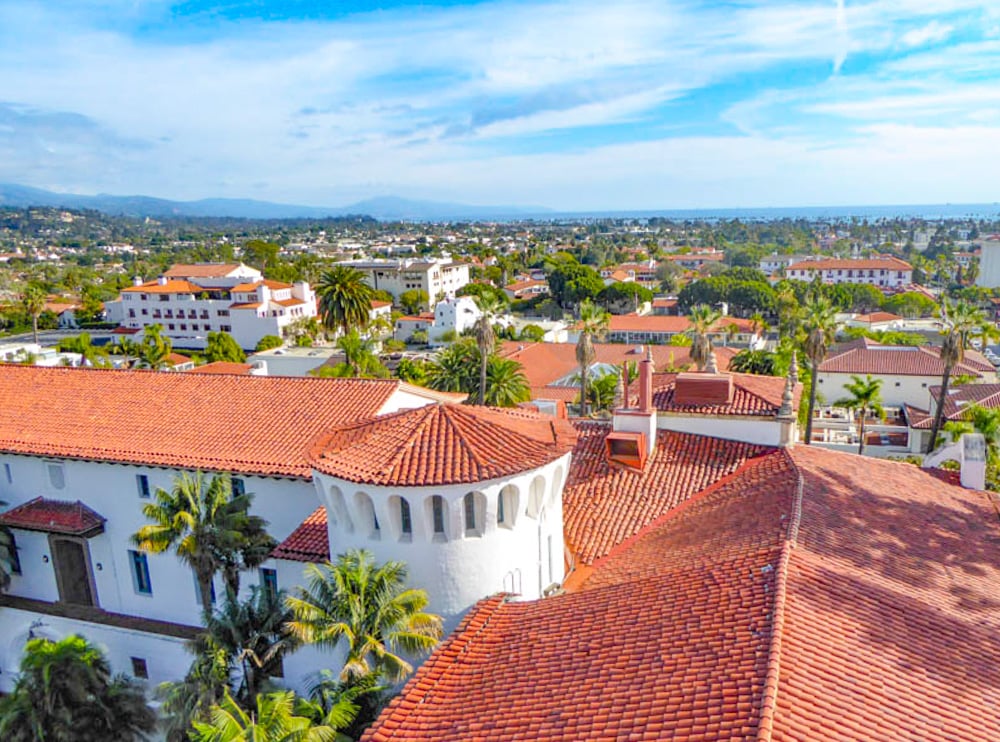 In San Diego, you can spend a few days exploring and checking out the popular attractions, like the San Diego Zoo, Coronado Island, Cabrillo National Monument, Seaport Village, and Balboa Park.
Next, drive up to Temecula, where you can visit some of the best wineries in Temecula, Southern California's wine country.
After wine tasting, you can drive to Los Angeles, to visit Disneyland in Anaheim, Beverly Hills, or the Hollywood Walk of Fame.
Or you can opt for a scenic route along the coastline, stopping at beach cities like Huntington Beach and Long Beach.
Next, stop in Ojai for some relaxing hiking, olive oil tastings, and spa days in this laid-back town before heading to Santa Barbara.
If you have the time, you can also do a day trip to Channel Islands National Park: ferries run from Ventura or Oxnard.
In Santa Barbara, watch the sunset from Stearns Wharf, check out the wineries and breweries in The Funk Zone, and see famous buildings like the County Courthouse of Santa Barbara!
Suggested by Brittany of Travel by Brit
New Mexico Road Trip
Starting and ending in Albuquerque, this 550-mile road trip in New Mexico is the ultimate American Southwest experience.
To enjoy New Mexico best, plan for 5 to 7 days during spring and fall, when the temperatures are mild, explore the numerous archaeological sites, appreciate the rich culture, and admire the fantastic scenery.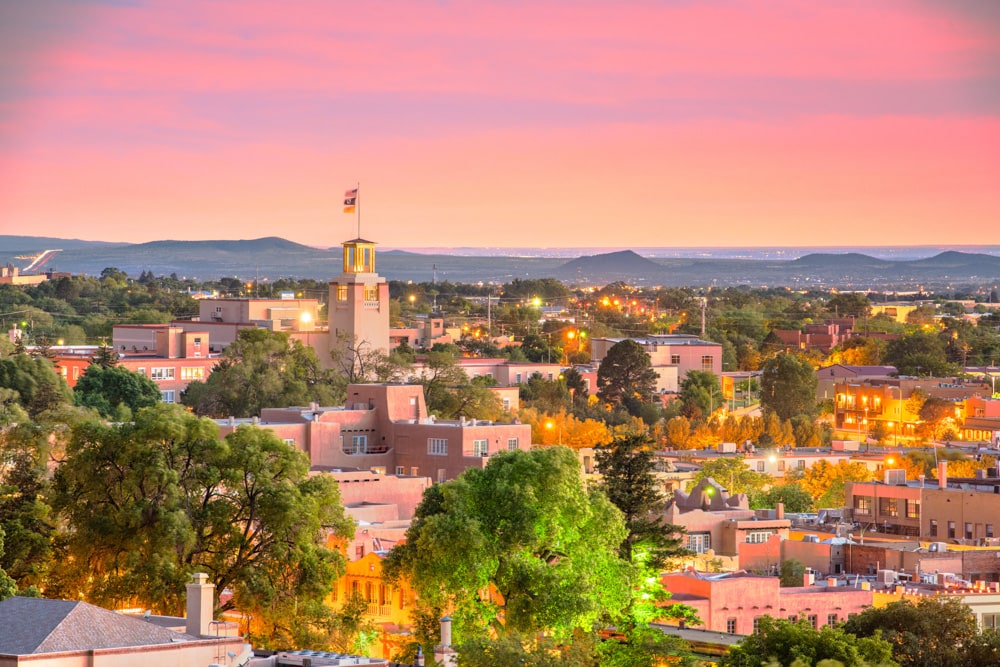 Upon arriving in Albuquerque, the state's largest city, head to Acoma Pueblo for your first day. A Native American pueblo settled on a mesa top, Acoma Pueblo is considered one of the oldest continuously inhabited communities in the US.
Spend the second day exploring the ruins of Chaco Canyon, an important cultural center for Ancestral Puebloans during the 10 to 12th centuries. Wander the large complex and picture the life of the Pueblo people.
Head to Taos, known for its historic adobe buildings, on the third day. The surrounding Southern Rocky Mountains make Taos an ideal destination for hiking in the warm months and skiing in winter.
On day four, visit Bandelier National Monument, with its fascinating multi-story cliff dwellings built by the Ancestral Pueblo.
On the fifth day, explore the Pueblo-style architecture and former 17th-century Spanish colony architecture of Santa Fe, New Mexico's capital, before returning to Albuquerque.
For further Pueblo cliff dwellings, add a trip to Arizona's Canyon de Chelly National Monument and the Mesa Verde National Park in southern Colorado, and turn the 5-day itinerary into a 7-day road trip.
Suggested by Patricia of Ze Wandering Frogs
Road Trip to Grand Canyon and Page, Arizona, from Las Vegas
Visit the jaw-dropping Grand Canyon and check out the natural wonders in Page on this 740-mile road trip that starts and ends in Las Vegas.
The best time of year to do this road trip is fall through spring, when outside temperatures are pleasant during the day.
Plan on about 6-7 days for the best experience: there's a lot to see and do!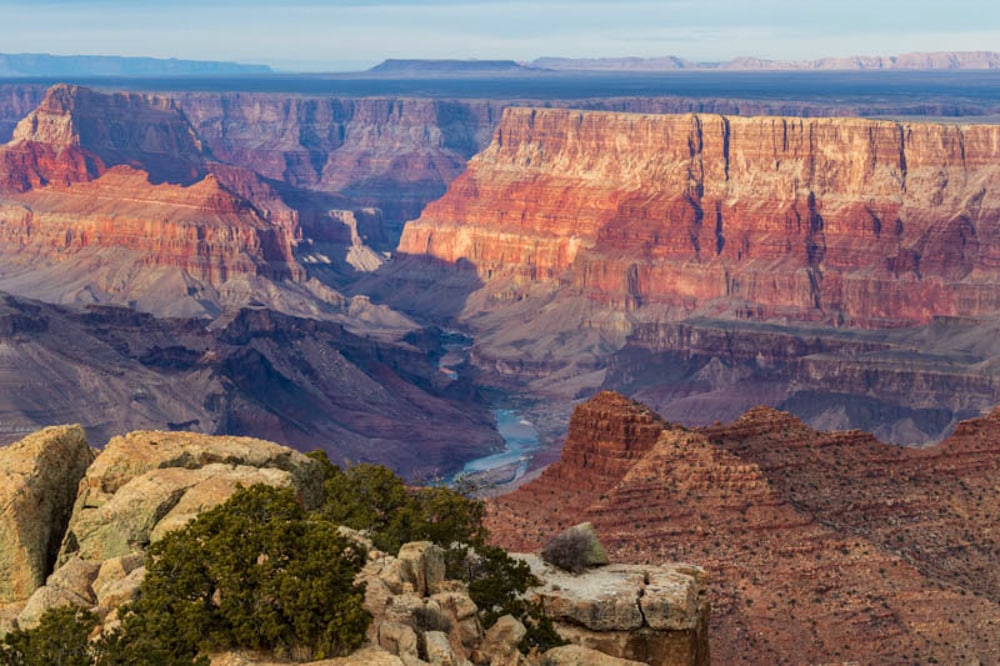 Just an hour south of the Las Vegas Strip lies the Hoover Dam. This man-made wonder is a feat of modern engineering.
You can either choose the free experience of parking at one of the open lots next to the top of the dam, or you can pay to park in the garage and enjoy the paid indoor tour.
The Hoover Dam is a great stop on your way to the Grand Canyon, one of the main highlights of the road trip.
While you can stay overnight in nearby Flagstaff, it's a better experience to stay at one of the lodges inside Grand Canyon National Park, which allows you to see both sunrise and sunset over the canyon.
For the best experience of the South Rim of the Grand Canyon, plan to spend two nights in the park. Do the scenic drives along the rim, hike, and enjoy the breathtaking views.
Your next stop is a hike in Antelope Canyon in Page, Arizona. All visitors here have to pre-book a guided tour with an approved tour company.
Also worth seeing in Page are Horseshoe Bend State Park and Lake Mead. Horseshoe Bend is an amazing viewpoint, where the Colorado River forms a picture-perfect horseshoe.
Antelope Canyon and Horseshoe Bend are among the best places to visit in Arizona.
Plan to spend two nights in Page to experience all the sights.
On your way back toward Las Vegas, stop at Zion National Park. You can drive through it during the low season (December through February) or take the tour buses between sightseeing stops.
In order to see at least most of the park by vehicle, plan to spend one night in the town of Springdale.
Just an hour outside Vegas, stop at Valley of Fire State Park to experience the magnificent red rock formations. You can simply do the scenic drive through the park, or get out and explore on foot.
Suggested by Brodi of Our Offbeat Life
Road Trip from Los Angeles to Sequoia and Yosemite National Parks, California
A 6-day adventure from Los Angeles to two of the country's top national parks, a Sequoia and Yosemite road trip combines wide open roads with beautiful views, natural scenery (some of the best in the world!), and abundant wildlife.
The best time to do this road trip tends to be between May and September, when the weather is warm, and roads are not snowed in.
To get the most out of your trip, plan for at least 6-7 days, spending three days in each national park.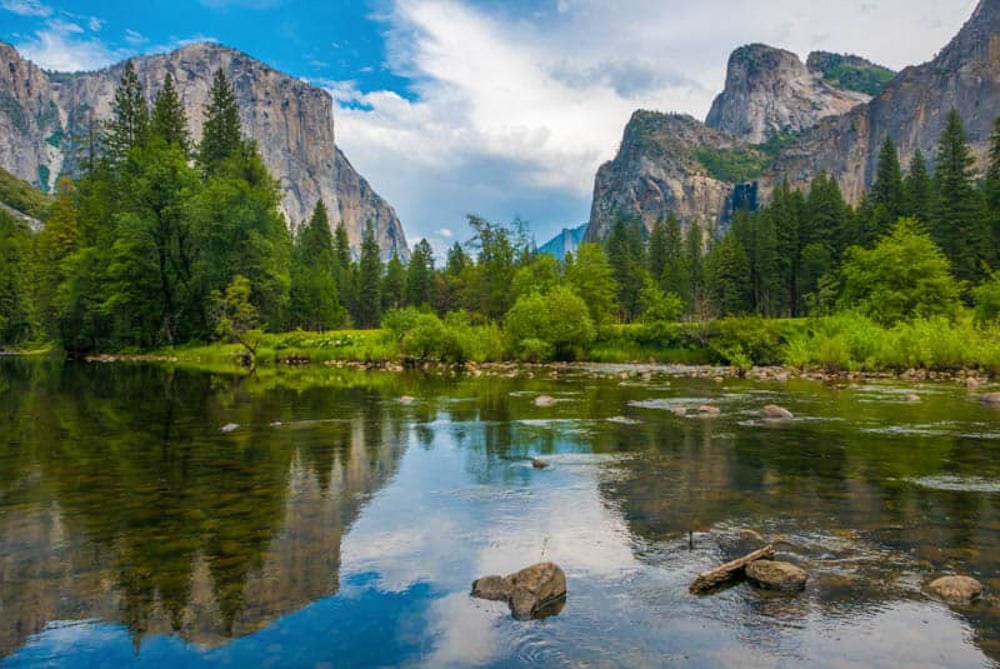 Sequoia and Yosemite lodging are plentiful and diverse so you have your pick of hotels, campgrounds, and everything in between when it comes to accommodation.
For the most scenic route from Los Angeles to Sequoia National Park, take the I-5 North to Wheeler Ridge, where you'll take the Golden State Highway (CA-99).
After Bakersfield, turn right on CA-65 until you reach the General's Highway into the national park. This drive is 204 miles and takes about 3.5 hours.
Some attractions to see along the way include Angeles National Forest, Fort Tejon Historic Site, Colonel Allensworth State Historic Park, Zalud House, and Slick Rock Recreation Area.
Once in Sequoia, be sure not to miss the General Sherman Tree, the Giant Forest Museum, and Moro Rock.
Yosemite is about 200 miles from Sequoia and the drive takes about four hours.
Be sure to stop in Fresno and check out area attractions such as Forestiere Underground Gardens and the Fresno County Blossom Trail in season. Wild Water Adventure Park is also great if you're traveling with kids.
And of course, once you reach Yosemite, you'll want to visit the top attractions in the park, like Yosemite Falls, Tunnel View, Glacier Point, and El Capitan Meadow.
The Mist Trail is a must-hike to enjoy Vernal and Nevada Falls, and you can drive Tioga Park Road if you visit when it is open.
Suggested by Jenna of Up and Away
Southern Idaho Road Trip
If you're looking for a great less-touristy road trip in the Western USA, head over to Southern Idaho.
With 8 days, you'll start in Boise, the capital and the most populous city in Idaho, and you'll end in Idaho Falls, for a total of 321 miles.
The best time for this road trip is between late spring and fall, for warmer weather and abundant sunshine.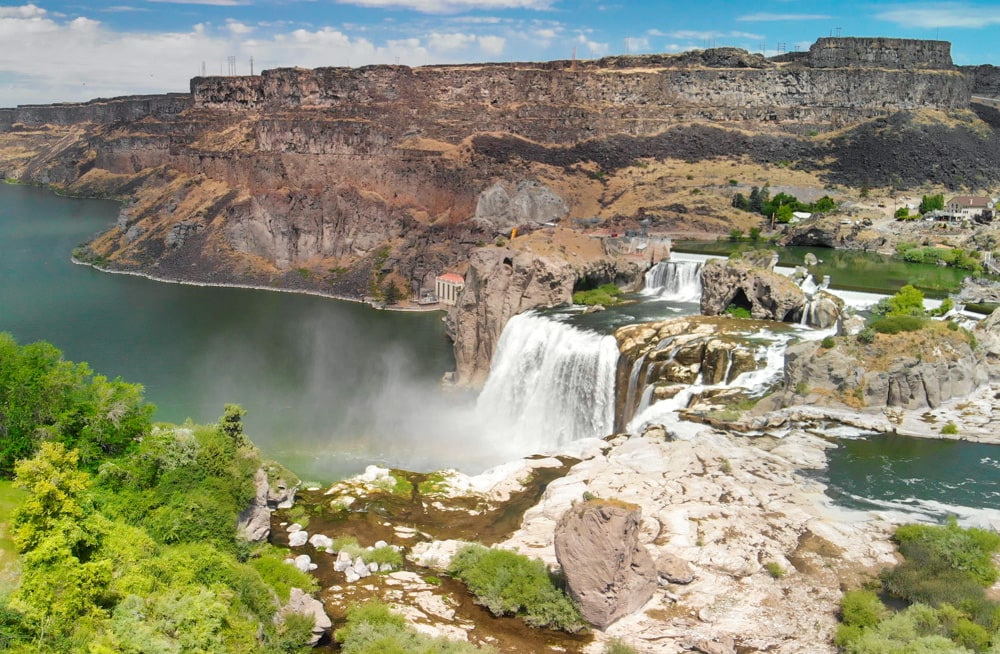 Plan on 2 days in Boise, where you'll want to wander downtown, do some paddleboarding (or kayaking) at Esther Simplot Park, hike the Old Oregon Trail, and visit the Old Idaho Penitentiary.
Then, drive southeast to Thousand Springs State Park. Make sure to stop at Malad Gorge Unit and the Ritter Island Unit. Take your time to do some hikes and see the waterfalls.
At the end of the day, stop at Banbury Hot Springs to soak in the natural hot springs. You can stay there overnight.
Next, head to Twin Falls, where you can admire the Shoshone Falls and the Perrine Coulee Falls, walk under the Perrine Memorial Bridge, and relax at the Centennial Park. Plan on staying 2 days in Twin Falls.
On the next day, drive north to Craters of the Moon National Monument and Preserve. Stop at Idaho's Mammoth Cave and Shoshone Ice Cave on your way. You can stay for a day or two to explore the Craters of the Moon.
The next day, arrive in Idaho Falls. Walk along the river and admire the waterfalls.
If you still have time, you can drive south to visit Lava Hot Springs, Soda Springs, and Bear Lake (at the border of Utah) before returning to Idaho Falls to end your trip.
Suggested by Emilie of Love Life Abroad
Road Trip from Crater Lake, Oregon, to Seattle, Washington
This road trip begins in Crater Lake National Park, Oregon, and ends in Seattle, Washington, for a total driving distance oif 568 miles.
Plan for 4+ days, depending on how many stops you plan to make and how many sights you plan to see.
The best time of year for this road trip is July through September, to ensure all roads are fully open.
Crater Lake is an ideal place to take in nature and fully explore the outdoors. You will have out-of-this-world views when hiking up the side of the crater.
Swimming is another favorite pastime, located off the Cleetwood Cove Trail. The crystal blue waters are remarkable against the dramatic backdrop.
From Crater Lake National Park, take US Route 97 headed north to Leavenworth, Washington.
Along the way you will get gorgeous views of the Columbia River from Maryhill State Park. Also, slightly further north on this stretch of road you will notice the beautiful wind turbines in the distance.
Leavenworth is a unique Bavarian-style village nestled in the Cascade Mountains. While here, you must take a stroll down Front Street to fully appreciate this colorful city.
Leavenworth is also widely known for having the world's largest Nutcracker Museum, which holds over 7,000 varieties of nutcrackers.
Heading on I-90W, take a short detour about 40 minutes outside of downtown Seattle. Here you will see one of the most beautiful waterfalls in Washington.
Snoqualmie Falls is free of charge to visit, and is easily accessible with viewing platforms. There is also a Railway Community Park nearby in Snoqualmie with a historic train depot. This worthy detour you will find to be one of the trip highlights.
Seattle has so many fun things to do! While here, enjoy the Emerald City by visiting famous landmarks such as Pike's Place Market and the Space Needle.
If you like marine life, don't miss the Hiram M. Chittenden Locks and watch the salmon swim upstream.
To fully appreciate Seattle, plan for two days at a minimum.
Have time to extend your vacation? Continue your road trip to Port Angeles Washington just outside of Seattle, and take a ferry to beautiful Victoria in British Columbia.
Suggested by Erin of Erin's Travel Tips
Montana: Billings to Glacier National Park Road Trip
Montana has a plethora of beautiful city and natural sites to visit, although the distances between places can be long.
You'll need a minimum of 6 days for this Montana road trip, with at least 4 days on the road between Billings and Whitefish and 2 days in Glacier National Park.
However, to do it right, you should extend, with at least 6 days on the road and 4 or more days in Glacier. You could easily spend a week in Glacier National Park if you have the time!
Given the large distances in Montana, the trip will cover approximately 600 miles and take at least 10 hours of on-road time.
The best months for this road trip tend to be July to early October, when the Going to the Sun road in Glacier NP is open.
Outside these months, you'll be limited in where you can drive in Glacier, but you can hike, cross-country ski, or snowshoe your way into many park areas.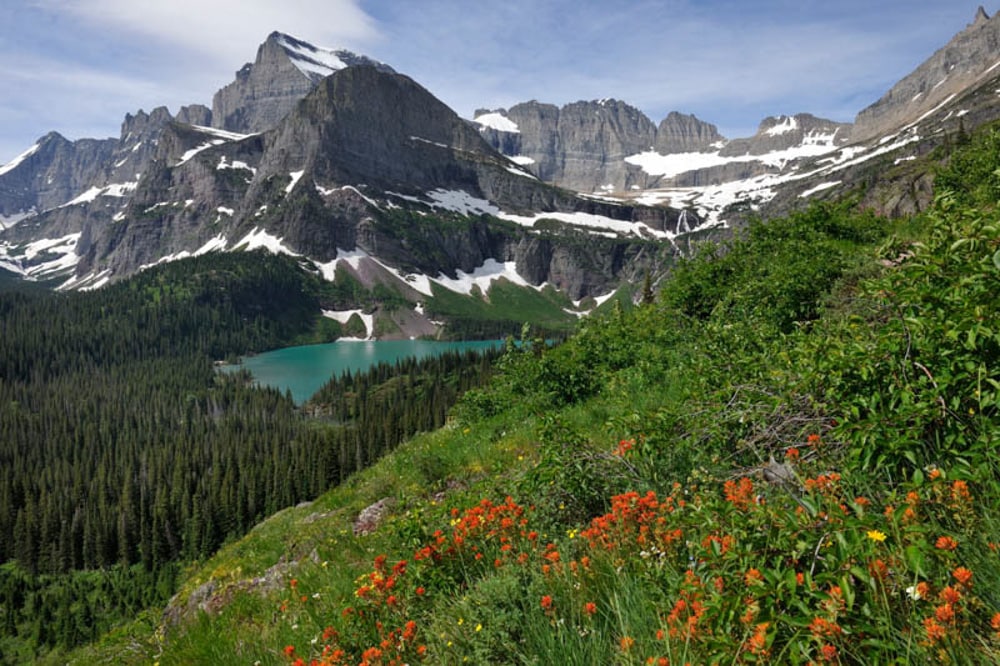 Starting this trip in Billings, take a quick trip outside the city to visit the National Monument commemorating the battle of Little Bighorn and pay your respects to the US and Native warriors who fell here so many years ago.
After your visit, set off east from here along I-90, taking in the massive cattle ranches en route.
Make a stop at Pompey's Pillar National Monument to view the signature of William Clark (of Lewis and Clark fame) on the sandstone pillar. The pillar also features lots of petroglyphs.
Spend the night in Bozeman and enjoy the restaurants and old western feel of the town. Be sure to check out the Museum of the Rockies for its incredible dinosaur exhibit (famous as a scene from Jurassic Park) before heading towards Butte, Montana.
In Butte, discover its copper mining history and explore its historic buildings and museums. You can even dine at the oldest continuously operating Chinese Restaurant in the US, Pekin Noodle Parlor.
The following morning, head north towards Grant-Kohrs Ranch National Historic Site, a working cattle ranch operated by the National Park Service. After your visit, continue to Missoula to dine, explore, and spend the night.
After you leave Missoula, head north towards Flathead Lake. If you have time, you can do the scenic drive through the National Bison Range.
Regardless, be sure to stop or look east at the beautiful Mission Mountains on your way. Make your way to Whitefish by evening. Be sure to check out downtown Whitefish and grab a sandwich at the Wich Haus.
If you are here in the summer, you'll want to wake early to explore Glacier National Park.
Several days can easily be spent wandering the trails in the park. Drive the Going to the Sun Road!
Book a stay at one of the lodges or campsites in the park: lodging fills up months in advance, so plan ahead.
Suggested by Anwar of Beyond my Door
Road Trip from San Francisco to Crescent City, California
From coastal redwoods to wine country and dramatic beach cliffs, it doesn't get much more breathtakingly diverse than road-tripping from San Francisco to Crescent City.
Direct, the journey can take just 6.5 hours over 355 miles on Highway 101. However, this Northern California scenic drive is about 450 miles with the detours outlined here.
Spread the journey over at least 5 days to fully appreciate all the small towns, trails, and beaches along the way.
Setting off from the iconic Golden Gate Bridge, explore the incredible Muir Woods National Monument before taking the coastal Highway 1.
Many dramatic twists and turns later will take you to Point Reyes. Point Reyes is worthy of a good day or two of exploration, from the scenic lighthouse walk (if it's open and not shrouded in fog!) to the calm inlet of Tomales Bay.
You can stick along Highway 1 for the full Northern California experience. However, this is where you should head inland for a couple of days to experience the best Napa and Sonoma wine counties have to offer.
Advance bookings are required at many wineries for tastings, but there's plenty to stop, see, and taste along the way besides wine. Take the Silverado Trail or some of the lesser-used back roads for the complete and picturesque wine country experience.
Ready for some more curvy mountain roads? The northern Pacific Coast Range makes for some dramatic driving.
Take a cut through the Hendy Woods Scenic Drive, and you'll hit the rugged but exceptionally beautiful Mendocino Coast.
Visit the famous Fort Bragg Glass Beach (if there's any glass left!) and enjoy the dramatic coastal cliffs before descending back to Leggett and the junction of the northern end of Highway 1.
Next up are the Redwoods National and State Parks, covering a vast area of northern California.
Your journey really starts once you hit the Humboldt Redwoods State Park. Make sure you turn off the 101 to experience the Avenue of the Giants scenic drive.
Many visitors choose to break up their journey with a stop in Eureka before continuing the dramatic journey through to Crescent City.
Highway 101 essentially runs through the redwood forests, so you can see plenty by car, but do get out and explore some of the trails.
The drive can be done at any time of year but do look out for wildfires in the summer that may lead to route closures and possible landslides in the winter.
Fog can also wreak havoc with the pretty coastal views in summer, and you'll, of course, hit summer vacation traffic in July and August, making the shoulder seasons of late spring and early fall the best time for this drive.
Suggested by Keri of Family Road Trip
Colorado Road Trip Through Rocky Mountain National Park
This epic Colorado road trip covers some of the most popular destinations in the state on a loop starting and ending in Denver.
Discover beautiful mountain scenery and enjoy Colorado's best cities on this road trip, for which you should ideally allow 7-10 days. On a 10-day trip, you can spend three days exploring Rocky Mountain National Park.
The trip is 383 miles total, and is best done in the very late spring, summer, or fall, when Trail Ridge Road through Rocky Mountain National Park is open.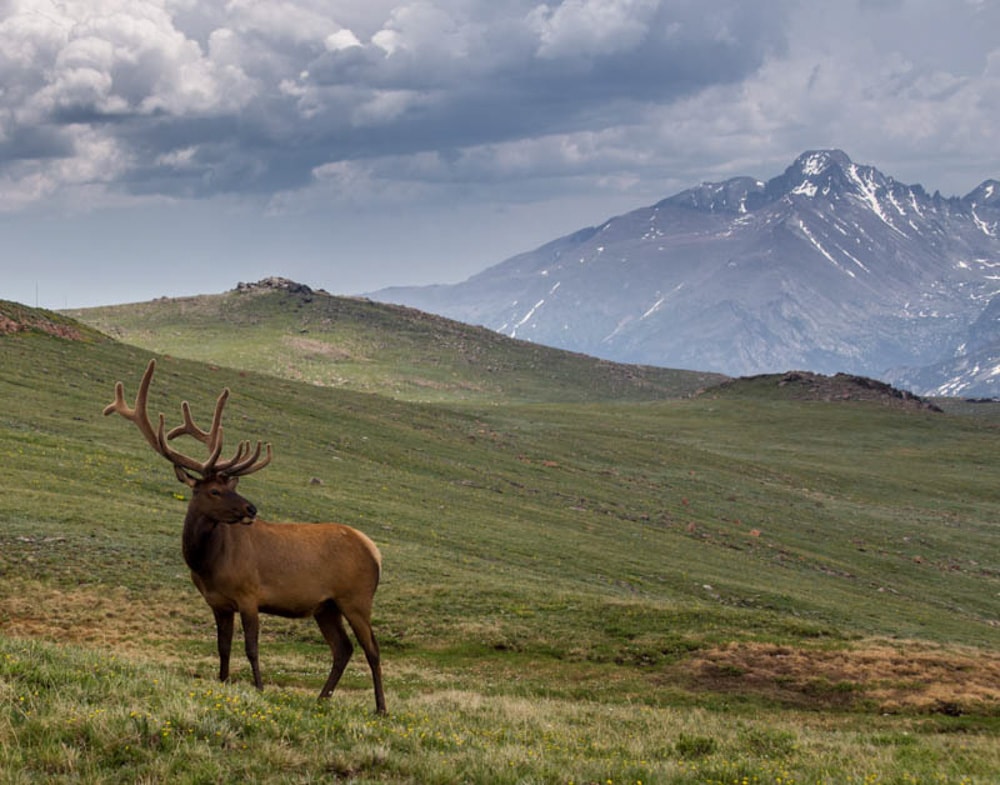 Start your trip by discovering Denver, Colorado's capital and one of the top places to visit in Colorado. Visit the art museum and botanic gardens, and stroll LoDo: Downtown Denver is home to several dozen shops, galleries, cafes, and restaurants.
In nearby Morrison, be sure to visit the Red Rocks Park and Amphitheatre. Even better, take in a show or concert in the theatre for an unforgettable experience.
Explore Boulder, a lively university town with a walkable downtown, before heading to Estes Park, the eastern entrance to Rocky Mountain National Park.
Spend at least a couple of days exploring charming Estes Park and the magnificent mountain scenery in the park. Enjoy hiking or biking, view the beautiful lakes, look for moose, and admire wildflowers or fall colors in season.
Drive Trail Ridge Road to Grand Lake on your way to the charming mountain town of Breckenridge. in "Breck," stroll the historic district: its main street is adorable. Explore hiking trails or go for drives to take in the views.
If you have the time, do a side trip to Vail, arguably Colorado's most famous ski resort. It's beautiful in any season!
Then drive southeast to Colorado Springs, where you can drive to the top of Pike's Peak for panoramic views, and explore picturesque Garden of the Gods Park before returning to Denver to complete the loop.
Suggested by us
Best of Oregon Loop
Starting in Portland or Salem, you can easily visit the impressive range of Oregon's diverse terrain in a short time.
This loop covers a distance of 530 miles.
You'll want to spend a minimum of 3 days on this beautiful road trip, though the trip is best enjoyed over a full week or more.
For the best road tripping weather in Oregon, aim for June through September.
First, be sure to enjoy the restaurants and sights in Oregon's largest and most popular city: Portland. The city is famous for its many gardens and museums.
Next, head east on I-84 through the impressive Colombia River Gorge and its many waterfalls to the trendy windsurfing town of Hood River.
Stop by local apple farms as you head south through Mt. Hood National Forest and pass numerous mountain peaks on your way to Central Oregon.
After pursuing your favorite outdoor adventure activities around Bend, make your way back over the mountain range to Silver Falls State Park. Here you can see 10 or more waterfalls on one trail – and even walk behind two of the falls!
Continue back into the Willamette Valley and explore Oregon wine country around McMinnville, Oregon. Take your pick of scenic vineyards for wine tasting.
Once you've had your fill of pinots and cabernet sauvignons, continue west just one hour to reach the Oregon Coast.
Climb the dunes at Pacific City and when you're ready, make a stop at the Tillamook Cheese factory on your way back to Portland.
Suggested by Michelle of Intentional Travelers
Highway 395 Road Trip in California
California's Highway 395, tucked on the eastern side of the Sierra Nevadas, provides beautiful mountain views and dynamic scenery throughout its 344 miles.
This nine-day road trip will take you from Death Valley National Park to Yosemite National Park, with plenty of jaw-dropping vistas along the way.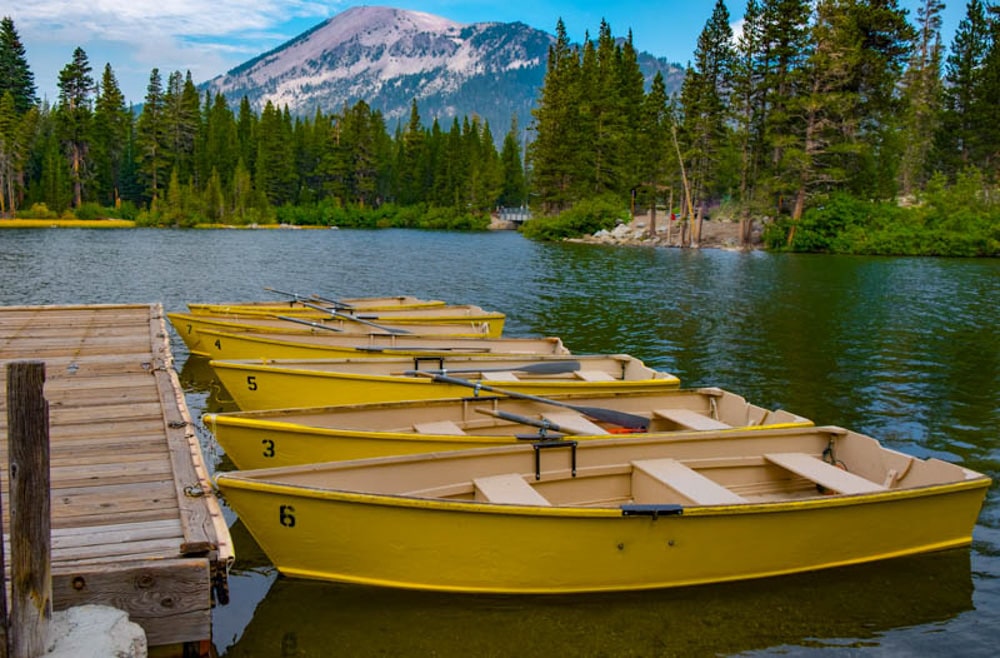 October is the perfect time to explore this little slice of heaven: Death Valley will be a manageable temperature, Yosemite's eastern entrance near Highway 395 will still be open (with the heavy snowfall it receives, this entrance is closed for at least half the year), and the eastern Sierra Nevadas will be covered with beautiful autumnal foliage.
Start in Death Valley National Park, spending three days on experiencing iconic sights like Zabriskie Point, a unique rock formation amongst swirling badlands, or Badwater Basin, with salt flats that stretch out over 200 square miles.
Next on your trip is the Alabama Hills, a striking landscape of enormous monzogranite boulders, sitting at the foot of the towering Sierra Nevadas (including the tallest mountain in the lower contiguous United States, Mount Whitney!).
After a day of outdoor adventures here, you're ready to move on to a couple of days in Mammoth Lakes, a charming ski town with easy access to the mountains and several amazing natural hot springs.
To cap off your trip, drive through the Tioga Pass entrance of Yosemite National Park to enjoy three days of exploring some of the most dramatic scenery in the United States, including the granite behemoth El Capitan or Yosemite Falls.
Suggested by Jessica of Uprooted Traveler
Eastern Oregon Road Trip
An Eastern Oregon road trip is perfect for desert lovers who live in the Pacific Northwest, but don't want to travel too far away!
You'll start and end in Bend, Oregon, for a 400-mile loop.
Plan on 3-5 days for this road trip. The best time to visit is early summer or early fall.
Eastern Oregon is considered a high desert climate, with tons of examples of volcanic activity, curious rock formations, wild prairie land, and wildlife.
Some of the most iconic stops on this route include Tumalo Falls and Smith Rock (Bend), The Painted Hills, Crane Hot Springs, and the Newberry National Volcanic Monument.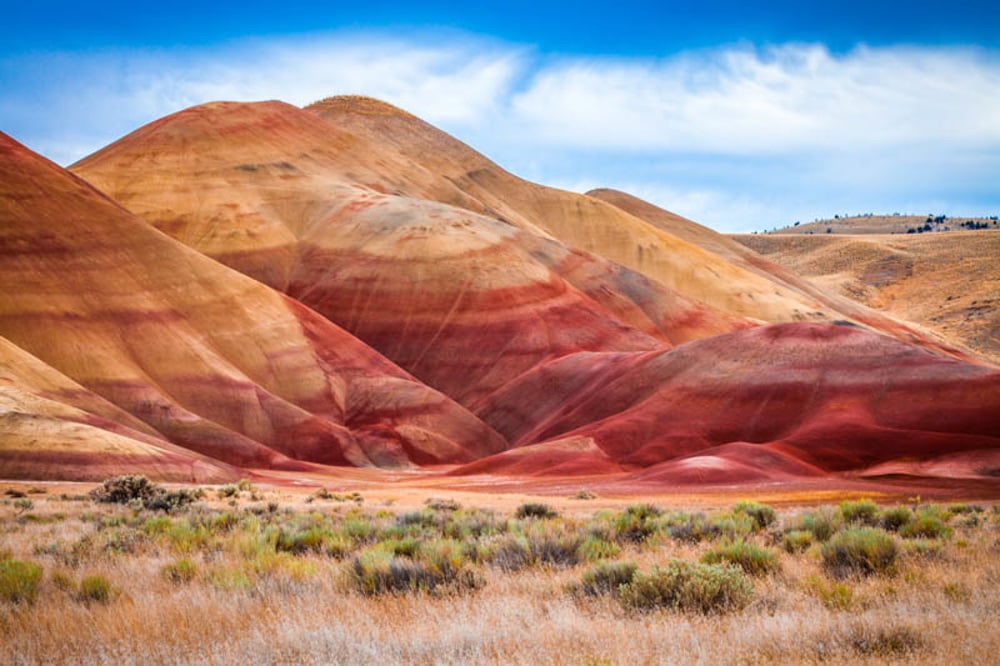 If you enjoy landscape photography, you will love the colorful Painted Hills, considered one of the "seven wonders of Oregon." Smith Rock is also on the list.
This trip is ideal for outdoor lovers because, besides outdoor activities, there's not much else!
Eastern Oregon is quite serene, making it a perfect getaway spot to avoid more crowded areas of Oregon.
You can easily plan a shortened road trip for a 400-mile loop between Bend, Burns, John Day, and then a return to Bend.
For accommodations, you can find limited Airbnb rentals in smaller towns like Burns, John Day, and Mitchell. Bend will give you the most options for accommodations and hotels.
Or go boondocking on this trip: much of the area is on National Forest and BLM land, where dry camping (camping with no running water or toilets available) is legal. Come prepared with your camping supplies to make the most of your trip!
Suggested by Emily of The Mandagies
Utah's Mighty 5: One of the Best Western US Road Trips
Utah's "Mighty 5" makes for a classic western US road trip, one that is on the bucket lists of many outdoor enthusiasts. It includes Utah's five national parks: Arches, Canyonlands, Capitol Reef, Bryce, and Zion.
You can start the itinerary in Salt Lake City and end in Las Vegas, or vice versa.
The road trip is about 900 miles total, and if you enjoy hiking and the outdoors, you should plan on about 10 days.
Late spring or early fall are the ideal times for the Mighty 5 road trip. Winters can get too cold, and summers sweltering hot.
Arches National Park is known for its stunning red rock formations and its natural arches, and is one of the best places to visit in Utah.
Delicate Arch is the most famous arch in the park, well worth the hike. Also don't miss Double Arch and the Windows.
If you have the time, visit the beautiful Dead Horse Point State Park on a day trip from Moab.
Canyonlands National Park is large and lesser visited. Most people spend their time in the Island in the Sky district, which is close to Moab. If you have the time, the Needles district is also worth visiting.
If you have the time, visit Goblin Valley State Park and Little Wild Horse Canyon, located on the route between Moab and Capitol Reef.
Capitol Reef National Park features gorgeous rock formations and arches, and the drive through the park is the easiest way to take in all the best sights. Hickman Bridge is a must-do hike.
Bryce Canyon National Park is famous for its hoodoos. Drive along the rim and stop at the iconic viewpoints: Sunrise Point, Sunset Point, Inspiration Point, and Bryce Point. The Queens Garden and Navajo combination trail is not too long and very picturesque.
Zion National Park contains a couple of the country's most epic hikes: Angel's Landing and The Narrows. While these two hikes are considered very challenging, the park also offers shorter and easier hikes.
Suggested by us
Northcentral Arizona: Road Trip from Phoenix to Page, AZ
Road tripping through the spine of Arizona offers a little bit of everything: marvelous red rock mountains, ancient cliff dwellings, Navajo culture, and sparkling waters flowing through slot canyons.
This road trip from Phoenix to Page and back to Phoenix is 720 miles total. Plan on at least 7 days for the best experience.
Spring and fall are the best times to embark on this road trip adventure. Summers are brutal in the south, and winters are cold in the north.
Phoenix is the most accessible starting point for those flying in. After touring America's fifth-largest city, head north towards Sedona, stopping at Montezuma Castle National Monument en route to marvel at ancient cliff dwellings.
You can easily spend days in Sedona, hiking through endless trails featuring jaw-dropping scenery, shopping at Tlaquepaque Village, and seeing the sunset at Airport Mesa.
Continue north towards Page, detouring for Grand Falls, a 181-foot muddy waterfall in the middle of the desert. This seasonal attraction is best viewed in spring or after heavy rains.
Adventures in Page, Arizona are abundant! Experience Navajo culture in the vast beauty of Arizona's nature.
Get the million-dollar photo shot of Antelope Canyon, kayak Lake Powell to discover hidden slot canyons, and soak in views of Horseshoe Bend and Glen Canyon Dam.
Detour at the town of Cameron to drive the entirety of Grand Canyon National Park, one of America's most iconic natural landmarks.
Now it's time to head back to Phoenix. If you have an extra day, tack on Saguaro National Park near Tucson, just two hours south of Phoenix.
Suggested by Catherine of Nomadicated
Las Vegas to Denver Road Trip
A Las Vegas to Denver road trip provides ever changing views across four states, plenty of hiking opportunities, and two bustling cities to explore.
The entire journey can be completed in as little as a week, but allowing 10 days will mean more time to explore at each location.
For the best weather and low crowds, aim for an early May departure.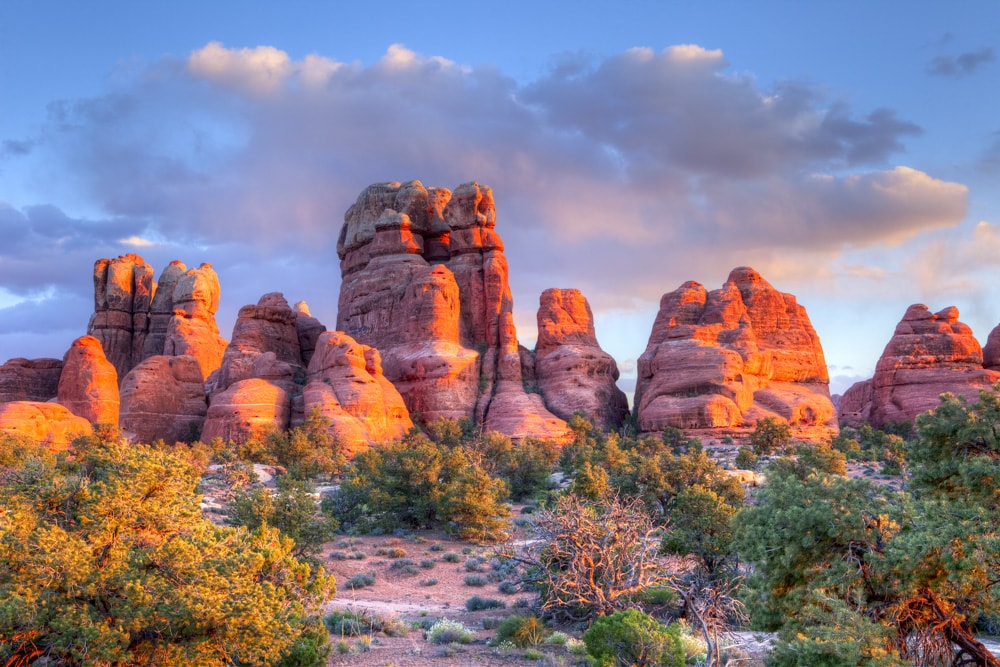 Begin your 930-mile road trip with a day in exciting Las Vegas, discovering the many themed hotels and the Bellagio fountains on the Strip.
Next, head into Arizona, where you'll be able to ride on the iconic Route 66 to Flagstaff.
From there, head north to the Grand Canyon's south entrance to see one of the most awe-inspiring natural landmarks in the United States.
The next stop is Monument Valley, on the border of Arizona and Utah: the spires and buttes here have been featured in many movies including John Ford's westerns and Forrest Gump.
Continue north to Moab, Utah, where you'll explore two more national parks, the sprawling Canyonlands National Park and the popular Arches National Park.
Pause for a day in Grand Junction, Colorado, to visit the Dinosaur Journey Museum and the Colorado National Monument, before taking the scenic I-70 towards Denver.
Stop for a visit at Red Rocks Park in Morrison, Colorado, before cruising into Denver, where museums, shopping, and dining await.
Suggested by Natalie of Cosmos Mariners
Arizona: Grand Canyon to Sedona Road Trip
A great road trip in the western US is from the Grand Canyon to Sedona.
The drive from the Grand Canyon to Sedona is about 120 miles. Fall and spring are the best times for this road trip, to avoid the warm summer temperatures.
This road trip can be done in as few as three days, but if you would like more time for hiking in either location, you can spend five days or more.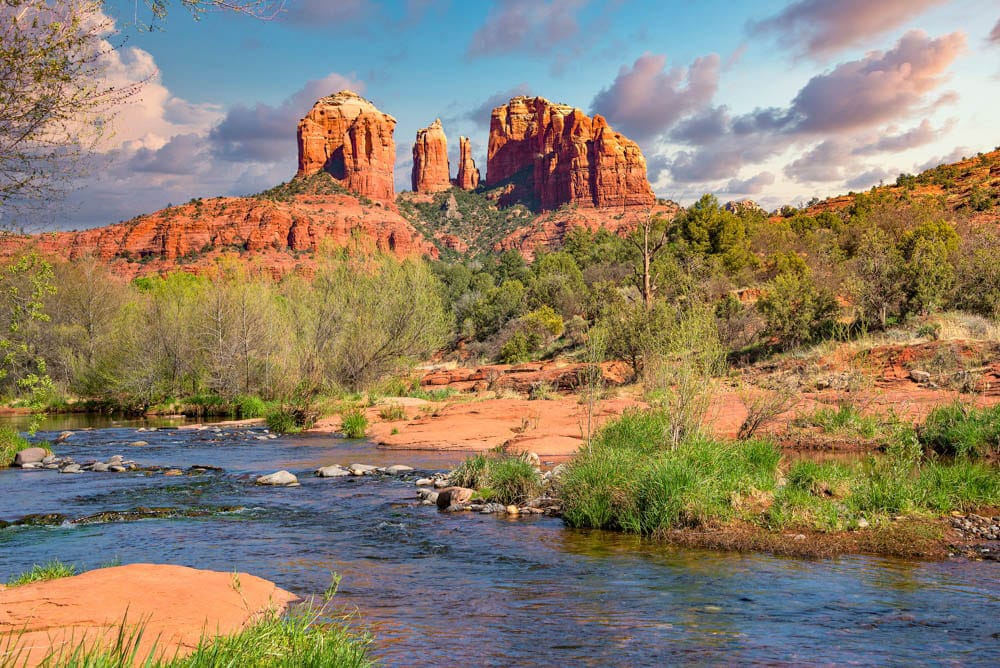 At the Grand Canyon, you should start your day at the Visitor Center. Here, rangers will have helpful information about current conditions and the best hiking trails for your group.
There are also exhibits here with information about the Grand Canyon's wildlife and geology. You can also access some of the beautiful viewpoints and the Rim Trail from the Visitor's Center.
If you're looking for an adventurous day at the Grand Canyon, you can bike the Hermit's Rest Road, go on a mule ride down into the canyon, or take a helicopter ride over the canyon.
As you make your way to Sedona, stop at Bearizona Wildlife Park, visit the historic district in downtown Flagstaff, and explore the Tuzigoot National Monument.
In Sedona, there is a really fun downtown area as well as miles and miles of trails to explore. The hiking trails in Sedona are the highlight of this area. The beautiful red rocks, vortexes, and caves make Sedona an incredible place to spend time hiking.
Some of the most popular hikes in Sedona are Cathedral Rock, Bell Rock, Devil's Bridge, Airport Mesa, and Soldier's Pass.
Suggested by Candice of CS Ginger
More American West Travel Inspiration
MORE US TRAVEL INSPIRATION
Looking to explore the eastern part of the country? Check out our round of the best East Coast road trips to take, from the Blue Ridge Parkway to the Florida Keys and New England.
We also have a round-up of the most iconic USA road trips: you have to take these in your lifetime!
Want to get away for short breaks on the east coast? We've compiled a list of the most exciting East Coast weekend getaways from which to pick your next escape.
Love the vibrancy of US cities? Check out our article on the best USA weekend trips. From NYC and Boston to New Orleans, San Diego, and Las Vegas, you'll find excellent options for your next city break.
Did you find this article informative? Pin it for later reference!