Planning a visit to the beautiful town of Stowe, VT? There are plenty of fun things to do in Stowe!
Whether you enjoy outdoor pursuits, shopping for local crafts or foods, or savoring and sipping the fabulous food and drink on offer in this quintessential New England town, you'll find Stowe a great place to vacation.
Nestled below Mount Mansfield in northern Vermont, Stowe is a four-season destination for solo travelers, couples, and families or groups.
Some links on this page may be affiliate links. If you click an affiliate link and make a purchase, we may receive a small commission, at no extra cost to you. For more details, refer to our disclosure.
Simply put, Stowe is one of the best places to visit in New England!
Enjoy skiing and snowshoeing in the winter, wildflowers and fresh-tapped Vermont maple syrup in the spring, hiking and biking amid verdant forests in the summer, and sensational leaf-peeping in the fall.
The Village of Stowe offers on-point dining and great shopping year round, along with art and culture events and fun festivals.
Excited? Let's get started discovering the best things to do in Stowe!
IN THIS ARTICLE…
Things to Do in Stowe, VT
Getting to Stowe, Vermont
Where to Stay in Stowe, VT
The Best Time to Visit Stowe
Things to Do in Stowe, Vermont
1. WANDER DOWNTOWN STOWE
Downtown Stowe is charming.
Stroll Main Street and wander some of the side streets to enjoy the New England ambience.
Stowe Village Historic District is on the National Register of Historic Places.
You will find beautiful historic homes and churches to admire in the town, plus lots of boutique shops and art galleries to browse.
The Stowe Historical Society & Museum showcases local history. The Current houses art exhibitions in a beautiful historic building.
You'll also find lots of quality eateries in downtown Stowe, plus cideries and breweries.
Stop in at the visitor center on Main Street to pick up maps and get recommendations from staff. The visitor center is open Monday through Saturday from 9 a.m. until 5 p.m.
2. SNAP PHOTOS OF THE FAMOUS WHITE CHURCH OF STOWE
One of the most photographed locations in New England, the pristine white of Stowe Community Church stands out against the natural beauty of its surroundings, whether it's the serene greens of summer or the blazing yellows, oranges, and reds of fall.
The traditional New England Church, with its tall graceful steeple, is located along Main Street, and although you can snap photos of the church from the street outside, scout around and you will find other great locations from which to photograph it.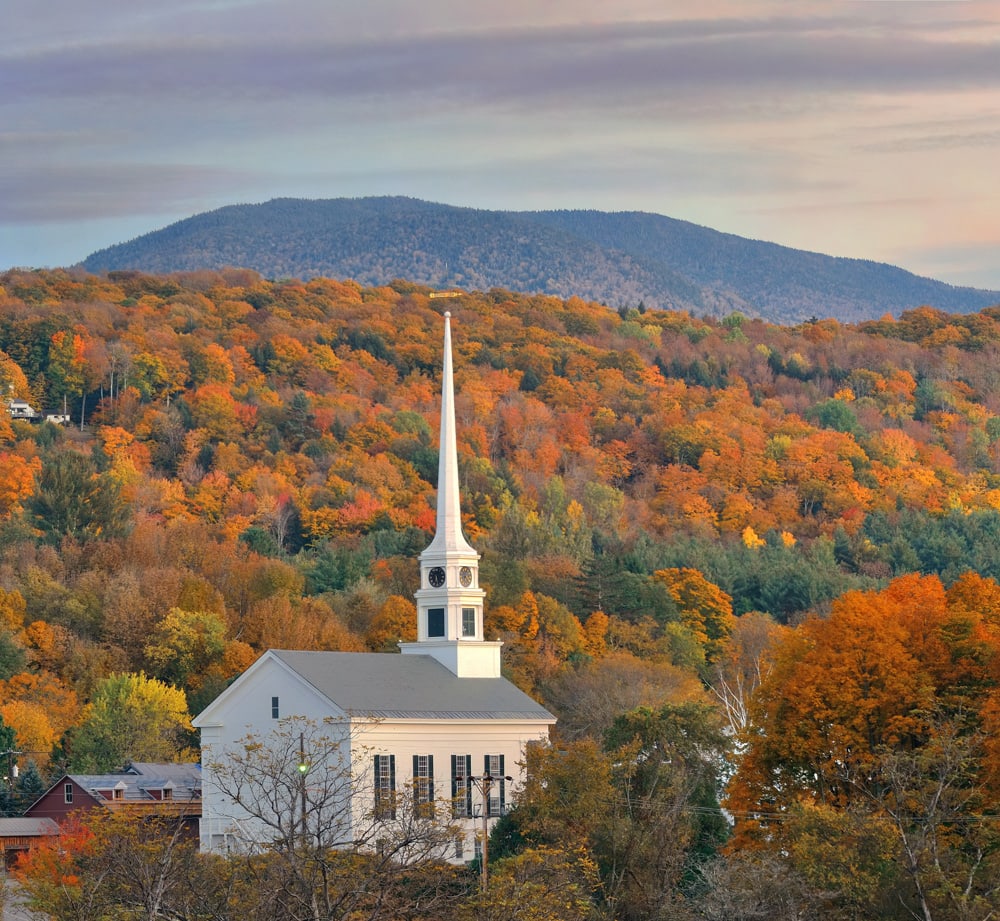 Drive along Route 108 and look for overlooks from where you can get good shots of the church, along with its surroundings. There are businesses here with parking lots where you can park for a quick stop for photos.
Salon Salon's parking lot on Mountain Road (Route 108) is one of the most convenient spots from which to take your photos of Stowe's white church.
Sunset is a wonderful time to take photos of Stowe Community Church in the fall. Just be prepared for a line of photographers with tripods!
3. SHOP STOWE
Stowe is home to several dozen retailers, including boutique shops, galleries, country markets, and sports and outdoor goods stores.
Some of our favorite places to shop in Stowe:
Laughing Moon Chocolates is a must-visit for us every time we are in Stowe.
Small-batch chocolate treats prepared using the freshest of ingredients, Laughing Moon's chocolates are addictive! The coffee and hot chocolate are delicious too.
Remarkable Things is another fun browse: look for unique gift items, local art, handmade jewelry, and home decor.
We love the jewelry here: pieces are often one of a kind, and most items are made by craftspeople from Vermont and other parts of the US.
The Country Store on Main is a home and gift store set on Main Street. The farmhouse pottery is gorgeous, and you'll find lots of great items for the kitchen, bath, and more here.
Stowe Mercantile is a store with an old-time feel. You can play a game of checkers here, run your fingers over the piano keys, or step into the photo booth.
And you can load up on Vermont maple syrup, fudge, Vermont brews and cider.
Tangerine & Olive is another fun gift store, with a focus on outdoor lovers.
Look for striking Vermont pennants, Vermont maple syrup, cards, and other unique gift items.
Cabot Farmers' Store is not right in Stowe, but it's well worth making the short drive to Waterbury if you enjoy cheese!
Here you will find a wide variety of Cabot products, including lots of delicious artisanal cheeses, plus other Vermont foods, brews, and cider. They offer samples, too!
4. ENJOY THE STOWE RECREATION PATH
Walking or biking the Stowe Recreation Path is one of the best things to do in Stowe! The paved and family-friendly Stowe Recreation Path is super scenic in any season.
The greenway stretches for 5.3 miles, from Stowe Village to the Topnotch Resort on Mountain Road. A little ways up the road is a beautiful Vermont covered bridge!
The trail criss-crosses the picturesque West Branch Little River via charming wooden footbridges, and offers stunning mountain views. Trees offer shade in many places. The trail also passes by shops, restaurants, farms, and fields.
There are swimming holes along the route where you can take a dip (or just dip your toes!) in warm weather, and picnic areas if you want to relax and enjoy a meal.
If you are visiting with kids in the fall, be sure to stop at the corn maze at Bouchard Farm. You can also feed the farm animals here: the baby goats are very cute!
The trail can be accessed at several places along the route, so if you do not wish to walk the entire stretch and back, you can do just a part of it.
You can also bike the trail, or go rollerblading: bike and skate rentals are available in the village.
In the winter, the path is perfect for cross-country skiing or snowshoeing, and there's a free shuttle for the return if you want to do just a one-way trip.
Leashed dogs are allowed on the recreation trail.
5. OR WALK THE STOWE QUIET PATH!
For a shorter and more tranquil trail, try the Quiet Path, a loop near Stowe Village. This dirt trail is only open to walkers and runners.
You can hike the Quiet Loop as a detour from the Stowe Recreation Path, or hike it on its own. Either way, you will love this serene trail through beautiful scenery!
The trail winds its way along the scenic west branch of the Little River, and passes by a local farm as well. It's a bucolic trail, perfect in any season!
The loop is about 1.8 miles long and offers expansive views. There are interpretive walkers along the trail that offer information about the area.
Dogs are allowed on the trail, either on a leash or under voice control of their owners.
6. DISCOVER MOSS GLEN FALLS
Moss Glen Falls is a short and easy hike with a big payoff!
The trailhead for the Moss Glen Falls hike is a scant five-minute drive from the Village of Stowe. Although the full trail is considerably longer, Moss Glen Falls comes up just 0.25 mile from the trailhead.
With a plunge of about 85 feet, Moss Glen Falls is the tallest waterfall in Vermont. But it isn't just tall, it is also very photogenic! Truly worth the time.
The trailhead is located on Moss Glen Falls Road, and there is a small parking lot.
From the parking area, follow the boardwalk trail until it forks, where you can either turn right to go to the base of the falls, or ascend left to look for the best photo spot to snap photos of the falls.
After you are done, just retrace your steps to the parking lot!
Moss Glen Falls is popular, so if you plan to visit on a summer or fall weekend, go early in the day.
Tip: Although the trail is short, it can be wet and slippery, so sturdy walking or hiking shoes with good grip are advised.
7. ADMIRE BEAUTIFUL BINGHAM FALLS
Stowe has not one but two beautiful waterfalls that are not too difficult to access!
Bingham Falls, located in a scenic gorge, is a 0.5-mile round trip hike, rated moderate.
The waterfall, framed by impressive rock ledges, makes for magnificent photo ops. At the fork in the trail, you can choose to go right to go down to the falls, or left to the upper gorge for beautiful views of the river.
To access the falls, go down the stone "steps" to the base of the falls. The steps can be wet and treacherous, so watch your step. From the base of the falls, you can admire the cascading waters as you feel the cool spray on your face.
When you are done, simply retrace your steps to the trailhead and parking area.
Wear proper hiking shoes with good grip, and be careful to stay away from the edge of the gorge at all times, whether areas are roped off or not.
8. DRIVE SCENIC SMUGGLERS' NOTCH
Smugglers' Notch is a narrow scenic pass that sits between Mount Mansfield and Spruce Peak. In the 19th century, smugglers used the pass for illicit trade with Canada, hence the name.
Route 108 through "the notch" is one of two officially designated state scenic drives, and driving it from Stowe to Jeffersonville (or a part of the route) is one of the top things to do in Stowe.
The views along the drive are spectacular, with verdant forests and dramatic rock formations. There are overlooks along the route where you can stop and take in the views.
If you have the time, you can hike to one or more of the named rock formations along the drive: The Hunter and His Dog is one of Vermont's most famous landmarks.
Definitely one of the best state parks in Vermont, Smugglers' Notch State Park is a must-explore, with scenic hiking trails, and campsites, if you wish to overnight.
9. DRIVE TO THE TOP OF MOUNT MANSFIELD
Mount Mansfield is one of Vermont's best-known landmarks. The ridge line of the mountain resembles a giant's face as he lies prone, looking up at the sky.
You can drive the Auto Toll Road to the top of Mount Mansfield. The drive is one of the best activities in Stowe in good weather!
Originally built in the later part of the 19th century, the road provided access for folks wanting to get to the erstwhile Mount Mansfield Hotel at the summit.
Today there is a chapel and a visitor center at the top where you can get information and maps if you want to hike or climb or observe wildlife and birds at the summit.
The steep and winding road is about 4.5 miles long. The road is unpaved and only open to cars. Along the route, you get views of Spruce Peak and the surrounding areas.
Savor the views from the top, or take the time to do part or all of the ridge line hike for unbeatable views. Bring a picnic to enjoy if you want to relax for a while.
10. OR RIDE THE SCENIC GONDOLA TO THE TOP!
Another fun way to get to the top of Mount Mansfield is to take the Gondola Skyride! There are wonderful views all along the ride to the top, so keep your camera or smartphone handy.
From the upper station near the summit of Mount Mansfield, enjoy spectacular 360-degree views of the surrounding mountains and forests on clear days. You can also access hiking trails at the summit.
Have a leisurely meal with a view at the Cliff House Restaurant, or enjoy snacks and sweet treats at The Waffle. There's also a gift shop you can browse.
The gondola may not operate in inclement weather. At the time of writing, an adult ticket costs $37.00 and a child ticket (age 5-12) costs $25.00. You can reserve online.
11. VISIT THE AUSTRIA-INSPIRED TRAPP FAMILY LODGE
In the 1940s, the von Trapp family (of The Sound of Music fame) settled down on a farm in Vermont, surrounded by mountains that reminded them of Austria. In 1950, they opened a lodge here.
The original structure sadly burned down in 1980, but it was replaced by the stunning Trapp Family Lodge you see today.
The lodge features Austria-inspired architecture, and European and American furnishings, and is owned and operated by the von Trapps.
You can choose the Trapp Family Lodge for a fabulous stay in Stowe, but if you stay elsewhere, you should visit to dine or to enjoy a drink. Plus, the views are stunning!
They have a large wine cellar, but they also have a brewery, and you can taste their brews in the Bierhall at the lodge.
If you visit earlier in the day, stop in at the Kaffeehaus, where you can enjoy Austrian cakes and pastries and Austrian coffee.
If it's a nice day, snag a table on the outside deck and enjoy the fabulous mountain views as you sip your coffee.
Including the Bierhall, there are three eateries onsite.
The main dining room offers European-style dining with farm fresh ingredients, and features beautiful mountain views. Make reservations well ahead of your trip!
The Lounge offers Austrian specialties such as bratwurst and weiner schnitzel, as well as American fare such as burgers. You can visit for either lunch or dinner.
12. TOUR THE VERMONT SKI & SNOWBOARD MUSEUM
Established by Roy Newton, a Vermont editor and publisher, in 1988, the Vermont Ski & Snowboard Museum moved to Stowe in 2011, and is housed in the historic (and picturesque!) Town Meeting House, an 1818 building.
The museum serves to preserve and showcase Vermont's skiing history, and is a must-visit, not just for winter sports enthusiasts but also for history buffs.
There are more than 8,000 items that are preserved by the museum, including skis, boots, and poles, as well as large items such as snow-making equipment. Alpine skiing, Nordic skiing, and snowboarding are represented in the collections.
The museum also hosts temporary exhibitions on subjects relevant to skiing and snowboarding, so check to see what's on when you plan to visit.
Vermont Ski & Snowboard Museum is located at 1 South Main Street in Stowe. It is currently open Thursdays through Sundays, from noon until 5 p.m.
Parking is available adjacent to the museum and nearby. A donation of $5.00 per adult is suggested.
13. VISIT BEN & JERRY'S WATERBURY FACTORY
If you are an ice cream lover, you have to tour the Ben & Jerry's factory in Waterbury. It's located on Route 100, about 9 miles from Stowe. Tours last about 30 minutes, and include a free sample.
During the tour, you can watch the sweet treat being created. You'll also find the Flavor Graveyard here, where discontinued flavors are honored with amusing headstones. There's a Scoop Shop, where you can buy some ice cream to go!
There's usually a line, so allow time for the wait.
14. HIKE TRAILS AROUND STOWE
As an outdoor adventure paradise, the Stowe area offers many hiking trails, of varying lengths and difficulty levels. You can also find bike trails in the area.
Sunset Rock is one of the most popular trails in Stowe. Sunset Rock is located in the heart of the village, and looks out onto Main Street. Keep climbing past the rock to hit the Upper Overlook, which has fabulous views of Mount Mansfield.
The Sterling Pond Trail is located in Smugglers' Notch State Park. The moderate trail is about two miles round trip, and if the weather is nice, you have the option of having a dip in the pond at the top.
The Chin of Mount Mansfield via the Long Trail is a strenuous trail that leads to the "chin," the summit of the mountain. The ascent is almost 3,000 feet. For an easier hike, you can drive up on the Auto Toll Road and hike the ridgeline from nose to chin.
Stowe Pinnacle is one of the most popular hiking trails in Stowe. It is moderate to challenging, with a steep climb that leads to rewarding views of Mount Mansfield, Camel's Hump, and the Green Mountains in general.
15. ENJOY LEAF COLORS IN THE FALL
Stowe is considered one of the best leaf-peeping destinations in New England, and fall is a spectacular time for a getaway to Stowe.
Indeed, Stowe offers some of the best fall colors in the USA!
Book accommodations well in advance and expect lots of other visitors at peak color.
Stowe itself shows off beautiful fall foliage, and a photo of its white church surrounded by brilliant fall foliage is a classic New England photo.
But there are many scenic drives in the area, if you want to stay a few days to experience and photograph leaf colors around Stowe. You can literally drive anywhere in the area and come across brilliant fall foliage if you visit at peak.
Brush Hill is a beautiful back road drive, about 8 miles long. The drive offers great views and is wonderful during fall foliage time.
Stagecoach Road to Johnson (and back) is about 30 miles round trip. Do it in both directions and bring a picnic to enjoy en route!
The Waterbury Reservoir is another excellent fall colors destination. Rent a kayak or canoe and go out onto the water for a quiet paddle while you admire the reflections of the trees in the water.
16. GO SKIING AT STOWE MOUNTAIN RESORT in the Winter
Planning a winter visit to Stowe? If you enjoy skiing, Stowe Mountain Resort offers skiing on both Mount Mansfield and Spruce Peak. It's a world-renowned resort, with skiers from all over the world visiting to experience the slopes here.
With 468 skiable acres, equipment rentals, and lessons, the resort is a must-visit whether you're a beginner or an expert.
While the area gets a significant amount of snowfall each year on average, the resort also boasts an array of snow-making equipment for a longer season and better quality experience.
The Lodge at Spruce Peak is a great après-ski destination, with private outdoor igloos and topnotch dining and libation options.
17. GO ICE SKATING OR ENJOY OTHER WINTER SPORTS
You don't have to take to the slopes to enjoy winter in Stowe. There are a number of winter activities to enjoy other than skiing, from snowmobiling, cross-country skiing, and snowshoeing to sleigh rides and ice skating.
Stowe Arena houses a superb ice skating rink with daily public use hours during the months the rink is open, generally from June through March.
If you prefer an outdoor rink, check out the rink at Spruce Peak Village Center. It's free to use and open to the public. You can rent skates here as well.
One of the most magical experiences you have in Stowe in the winter is a sleigh ride in the evening, when the lights are on. Gentle Giants Sleigh and Carriage Rides offers romantic rides for couples or fun family rides.
18. CHECK OUT COVERED BRIDGES NEAR STOWE
If you love photographing covered bridges, bring your camera, because there are several picturesque bridges around Stowe. Here are some nearby photo-worthy bridges to check out:
Gold Brook Covered Bridge, also called Emily's Bridge is right in Stowe. The wood bridge, built in 1844, is on the National Register of Historic Places.
The bridge is not only a great photo op, it also has a legend attached to it: young Emily jumped from the bridge into the river when her bridegroom-to-be stood her up. Her ghost is said to still haunt the bridge.
Red Covered Bridge, in nearby Morristown, is a striking red, and makes for a great photo in summer or fall. There isn't much else around it, so it's worth visiting only if you are actively looking to snap photos of covered bridges.
Grist Mill Covered Bridge is located in Cambridge off Route 108. It is built on the scenic Brewster River. There's parking, so you can stop to walk through the bridge, snap photos, and stroll nature trails nearby.
The Scribner Covered Bridge is located in Johnson, off Route 100C, was originally an open bridge. Also in Johnson, you'll find the Power House Bridge, which dates back to 1870. Both bridges are listed in the National Register of Historic Places.
19. GO ZIPLINING IN STOWE!
Adventure-loving visitors have a couple of options for going ziplining in Stowe. If you choose Ziprider at Stowe Mountain Resort, you'll ride up Mount Mansfield in the gondola, and then glide down just under two miles, with incredible views.
ArborTrek Canopy Adventures has a zipline canopy tour that lasts from 2.5 to 3 hours and zips over treetops and bridges for a memorable adventure.
20. TRY LOCAL BREWERIES AND CIDERIES
Vermont is famous for its breweries and cideries, and you'll find several must-try places in and around Stowe.
The Alchemist Brewery in Stowe is a family-run operation known for its double IPA Heady Topper. But they also offer limited specialty seasonal releases at their Stowe location that are eagerly awaited by beer connoisseurs.
Idletyme Brewing, also located in Stowe, offers both great beer and great food. You'll find ales, double IPAs, and limited seasonal releases here, but be sure to try Will's famous New England specialty, classic Bavarian weizens.
Von Trapp Brewery rounds out the craft breweries in town. They offer classic Bavarian-style lagers in their Bierhall, where you can also dine with a view.
Stowe Cider is located on Mountain Road in Stowe. Their taproom offers both indoor and outdoor seating, and you can sometimes catch live music performances here. Taste a flight (or taproom exclusives): they have a dozen ciders and several exclusives from which to choose.
Cold Hollow Cider Mill is located along Route 100, about six miles from Stowe. They are famous for their fresh apple cider, but they also produce hard cider: taste a flight and then pick favorites to take home. Their cider donuts are to-die-for good as well.
21. EAT!
With mouthwatering casual fare, great après-ski foodie hangouts, and fine dining options, Stowe offers so many attractive dining choices that you'll be hard put to choose where to eat.
Without a doubt, Butler's Pantry is a must for breakfast. The food is topnotch and the ambience warm and inviting.
Try the Pantry Breakfast, or the Eggs Benedict for a hearty and delicious start to the day. Join the waitlist on Yelp to save on wait time or arrive early.
The Bench calls its offerings Vermont comfort food, and we agree! Whether you opt for their popular pizzas or something else on the menu, you will likely not be disappointed. The wood-fired mussels and the wood-fired nachos are both yum.
Piecasso Pizzeria is another must-visit pizza place in Stowe: make reservations or be prepared for a long wait. The Pesto Delight with Eggplant is our favorite pie here, but you can't go wrong with any choice.
Doc Ponds offers irresistible pub food, from the Doc Smash Burger and Doc Fries to cheddar fritters, buffalo wings, and sweet potato tostadas. The menu does change, but you'll find that offerings are crafted with care and the ingredients topnotch.
Harrison's offers American cuisine in a charming New England setting. Try the grilled pork chop with maple chipotle lime glaze or the wild mushroom ravioli. The cheese plate makes the perfect starter.
A stop at Stowe Sweets is a must when you are in Stowe! With a variety of hard ice creams, soft serves, sundaes, shakes, and iced coffee, the shop is a sweet lover's dream.
Getting to Stowe, Vermont
If you're flying in, Burlington International Airport, the closest international airport, is a scenic 40-minute drive from Stowe.
You'll find direct flights from many major US cities to Burlington International Airport, and car rentals are available at the airport as well.
Stowe is within reasonable driving distance of many major cities in the Northeast, plus Montreal and Toronto in Canada.
With a drive of just 3.5 hours, Stowe is one of the most popular weekend getaways from Boston.
If you are planning a New England road trip or a road trip through Vermont, be sure to put Stowe on your itinerary!
Looking for a rental car for your Stowe trip? Check out Discover Cars: they search across a wide range of local car rental companies for availability for your dates, and you can compare prices, reviews, and other details to make the best choice.
WHERE TO STAY IN STOWE, VT
HOTELS IN STOWE, VT: LUXURY
The Lodge at Spruce Peak is a luxury ski-in/ski-out destination that also offers 36 holes of golf, a full service spa, two onsite restaurants, and a heated indoor pool.
Accommodations come with balconies that feature mountain views, plus full kitchens, fireplaces, and spacious bathrooms. You can pick from studio units to four-bedroom apartments.
Book on booking.com | Book on expedia.com
Trapp Family Lodge is run by the von Trapp family of The Sound of Music fame. You can choose from rooms in the Austrian-style main lodge, including one- or two-bedroom suites, or private villas.
There are three quality eateries onsite, as well as a coffee house for pastries and coffee. The lodge offers free parking and wifi. There is a wonderful outdoor hot tub with mountain views.
Book on booking.com | Book on expedia.com
HOTELS IN STOWE: MID-RANGE
The Stoweflake Mountain Resort & Spa is located on 50 acres, with a world-class spa and an onsite restaurant. Rooms are comfortable, and the property offers indoor and outdoor swimming pools and an outdoor jacuzzi.
The resort offers free parking and free wifi.
Book on booking.com | Book on expedia.com
HOTELS IN STOWE: BUDGET
Commodores Inn has a serene lakeside setting at the edge of the village of Stowe, and offers indoor and outdoor pools and three hot tubs. There is an onsite restaurant and rooms are comfortably furnished.
Pet-friendly rooms are available on request. The hotel offers free parking and free wifi.
Book on booking.com | Book on expedia.com
THE BEST TIME TO VISIT STOWE
One of the best places to visit in Vermont, Stowe is a year-round destination, and when you visit depends on your interests and preferences.
VISITING STOWE IN THE WINTER
An internationally-acclaimed skiing destination, Stowe is a mecca for all types of winter sports and fun winter activities like snowshoeing, snowmobiling, sleigh rides, and dogsledding.
Plus, snow often turns Stowe into a winter wonderland, offering a magical landscape and cozy times by fireplaces at restaurants and resorts. The holidays are an especially enchanting time to visit Stowe!
In early December, the village celebrates A Traditional Christmas in Stowe, a beloved annual event kicking off holiday celebrations.
The Winter Carnival in January offers ice-carving demos and a competition, stargazing, music, and food.
VISITING STOWE IN THE SPRING
Spring transforms the landscape to a bright fresh green. Winter sport enthusiasts enjoy the last few weeks of fun in the snow. Wildflowers start making an appearance.
Trout fishing begins in the spring, as does Vermont's maple sugaring season. Visit Stowe in the spring to sample fresh-tapped sweet Vermont maple syrup!
Visit in May to attend Chowderpalooza & Spring Art on Park, where local restaurants showcase the beloved New England chowder and you can enjoy local art and live music along with fun food and drink.
VISITING STOWE IN THE SUMMER
Summer offers a wealth of outdoor activities in and around Stowe. Go hiking or biking, paddle, chase waterfalls, or swim in natural swimming holes.
The Vermont Renaissance Fair generally occurs in the later part of June, with Vermont arts and crafts, Vermont brews, ciders, and wine, lots of fun food, and music performances.
On July 4, Stowe celebrates An Old-Fashioned 4th of July, with a parade, food and live music, and fireworks.
Generally at the end of August, the Race to the Top of Vermont brings hikers, bikers, and runners that want to head to the top of Mount Mansfield.
VISITING STOWE IN THE FALL
Stowe is stunning in the fall. The "fall color capital" is a landscape photographers' and nature lovers' delight in September and October, as leaves across the region start to turn, peak, and then drop.
While the colors are the main draw, fall still offers a variety of outdoor pursuits. Paddle the Waterbury Reservoir to enjoy the colors from the water, or walk in the woods.
In September, the British Invasion showcases British cars. In October, celebrate Oktoberfest with the von Trapps. Also in October, the Stowe Foliage Arts Festival offers arts and crafts, live music, and food and drink.
More New England Travel Inspiration
Planning a trip to New England? Check out our list of the very best places to visit in New England. We also have an article on the best places to visit in Vermont.
Also check out our article describing the best things to do in Newport, RI, and the best things to do in Acadia National Park in Maine!
Looking for more travel inspiration for the US East Coast? Check out our article on the best East Coast weekend getaways, from big cities like Boston and Miami to smaller places like Savannah and Charleston!
And if you are looking to do a road trip, we have a round-up of the best East Coast road trips you can take, from the Blue Ridge Parkway to New England in the fall.
Did you find this article informative? Pin it for later reference!