Looking for ideas for US East Coast road trips?
The East Coast of the United States offers spectacular scenery, historic sites, vibrant cities, charming towns, beaches and coastal areas, and wine regions, perfect for exploring on road trips long and short.
From driving the amazing Blue Ridge Parkway end to end, to marveling at leaf colors along New England back roads in the fall, and discovering the tropical beauty of the Florida Keys, there are numerous (and very diverse!) East Coast road trip options from which to pick.
You can also string a few of these east coast road trips together for an epic longer road trip, if you can afford more time!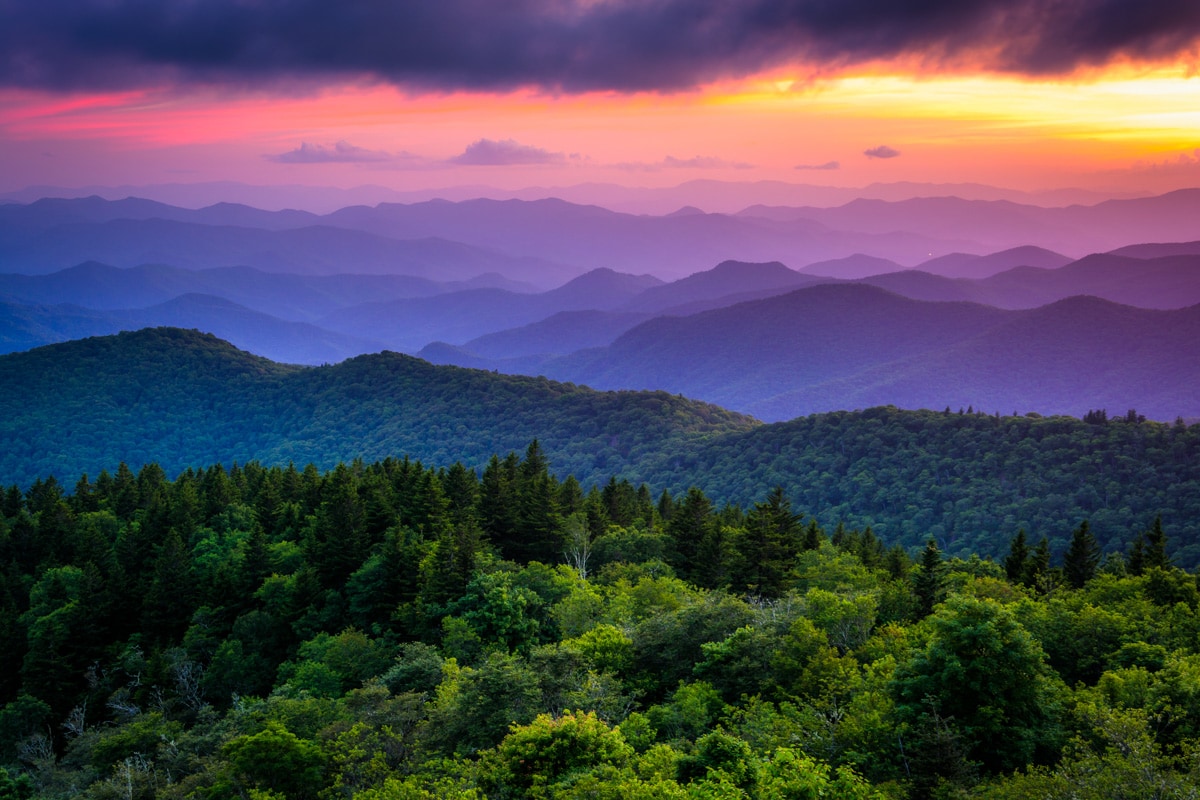 Some links on this page may be affiliate links. If you click an affiliate link and make a purchase, we may receive a small commission, at no extra cost to you. For more details, refer to our disclosure.
In this article, we've rounded up the most exciting East Coast of the USA road trip itineraries, with must-stop spots, things to do along the way, and tips for when to go.
Excited? Let's discover the best road trips on the East Coast of the USA!
1. The Blue Ridge Parkway: One of the Epic East Coast Road Trips
Without question, the Blue Ridge Parkway makes for an epic East Coast road trip. It is considered one of the must-do road trips in the US.
The parkway stretches for 469 miles from Rockfish Gap in Virginia to Cherokee in North Carolina, and connects Shenandoah National Park in the north with the Great Smoky Mountains National Park in the south.
Although we've described the attractions from north to south on this east coast road trip itinerary, you can drive the Blue Ridge Parkway in either direction.
While you can drive the Blue Ridge Parkway in 12 to 13 hours, you'll ideally want to spend 7 days (or more, if you can swing it!) discovering this gorgeous route at an unhurried pace.
Fly into Charlottesville, VA, and drive some of Skyline Drive through the beautiful Shenandoah National Park before arriving at the northern entrance to the Blue Ridge Parkway.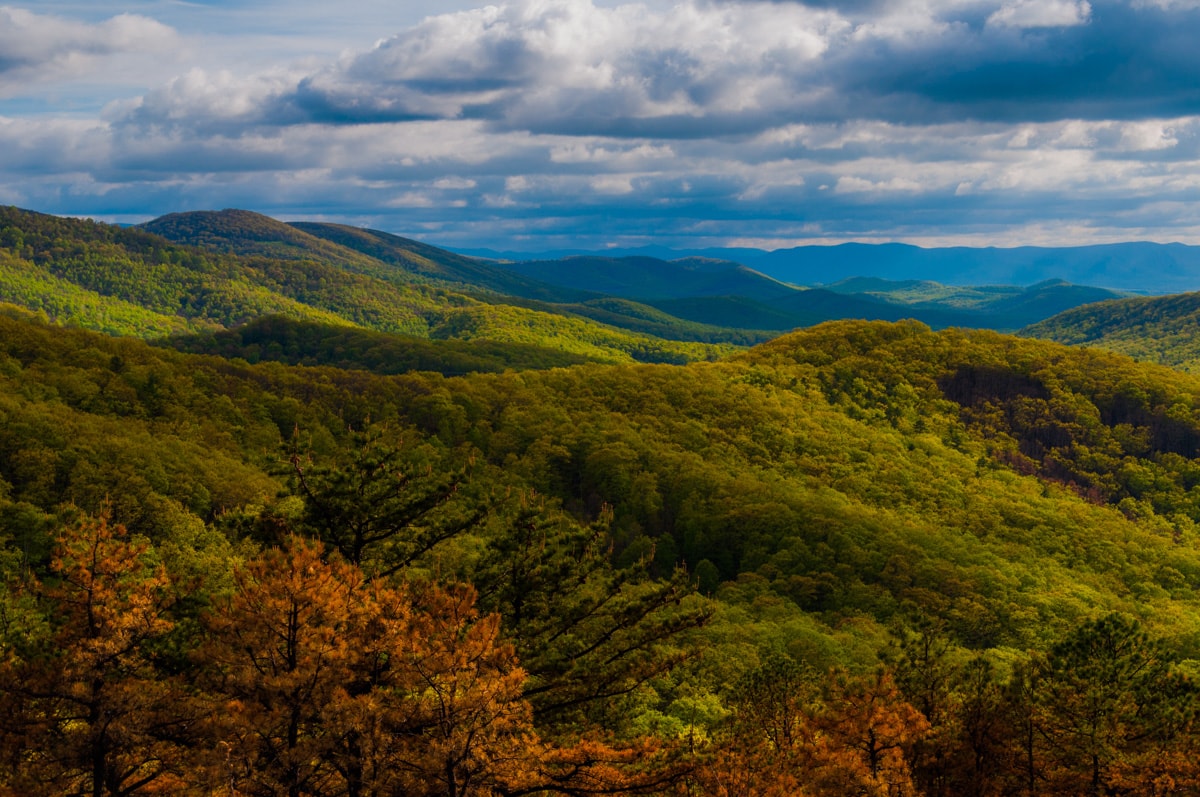 Or fly into Asheville, NC, and visit the renowned Biltmore Estate before heading to Cherokee, the southern start point of the Blue Ridge Parkway. Biltmore Estate offers gorgeous gardens and events throughout the year.
With dozens of stunning overlooks for vistas of the mountains, beautiful waterfalls, and hikes for all skill levels, there is plenty to see and do along the parkway, and many small towns off the parkway where you can break journey.
Be sure to stop at Apple Orchard Mountain, the highest point along the parkway in Virginia, and the Peaks of Otter, three peaks that you can summit. Sharp Top, which offers expansive panoramas in every direction, is the most famous of the three peaks.
Snap photos of picturesque Mabry Mill, which has a blacksmith shop and sawmill you can tour.
Fancy Gap is one of the charming communities along the drive where you can spend a night. The town is charming, with boutiques and small independent stores to browse.
Take in a bluegrass or blues music show at the famous outdoor amphitheater at the Blue Ridge Music Center.
Do not miss the Blowing Rock, one of the oldest attractions in North Carolina. Known as the "Crown of the Blue Ridge," the town makes for a charming stop for a meal or to explore local attractions.
Stop at Rough Ridge, at Grandfather Mountain, and do the short but uphill hike to the famous photo spot at Lion King Rock. The scenery is fabulous!
Easily accessed from the parkway, Linville Falls is one of the most famous waterfalls along the drive.
Further south, Little Switzerland is charming! And be sure to stop at the Folk Art Center to browse local crafts.
Looking Glass Rock is a stunning sight from the overlook along the parkway before you drive the final stretch to Cherokee, the entrance to Great Smoky Mountains National Park, which you must definitely allow time to explore.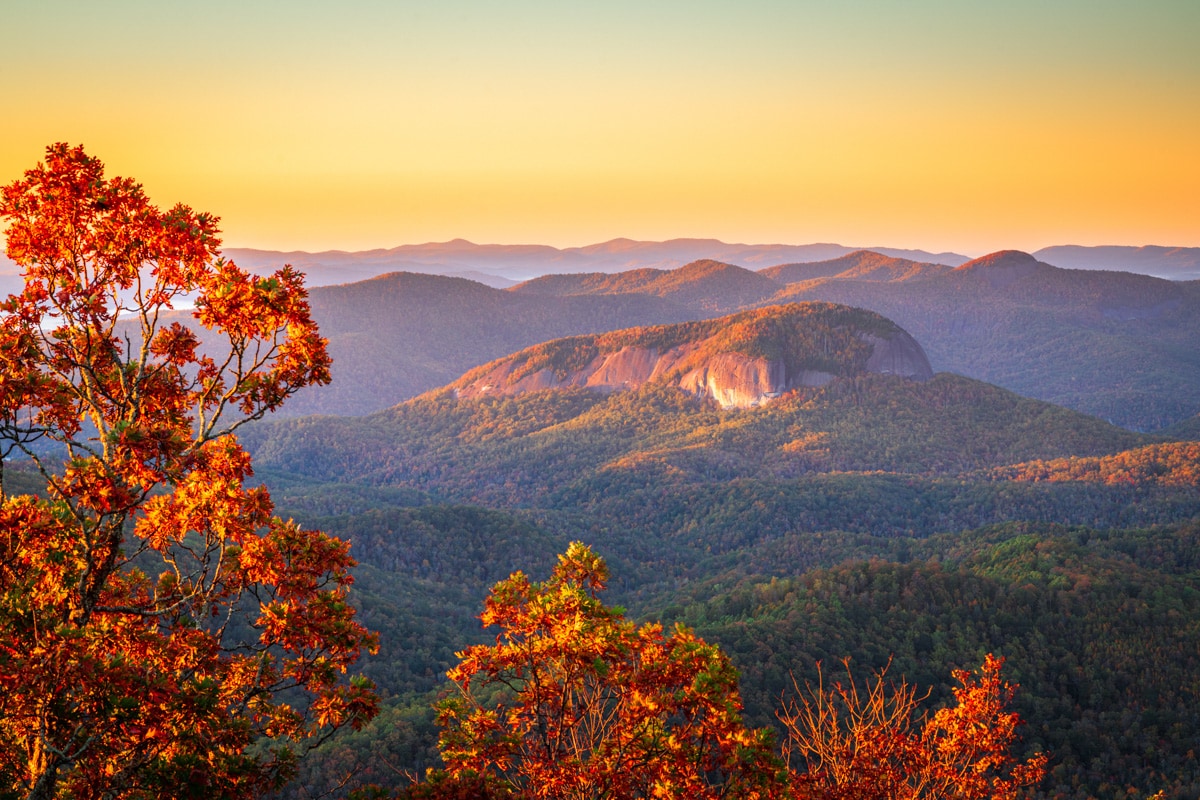 Mid-fall is without a doubt the best time to drive the Blue Ridge Parkway, followed by summer. You'll have good weather, and at peak in the fall (generally in October), the area offers some of the best fall foliage in the USA for epic leaf peeping and apple picking.
Suggested by us
2. Boston to Acadia National Park Road Trip
The drive from Boston to Acadia National Park offers some of the best stops along the New England coast, and is the perfect road trip for those looking to explore the Northeast.
Along the way, you'll see beautiful lighthouses, charming towns, and some of the best coastal views in the region.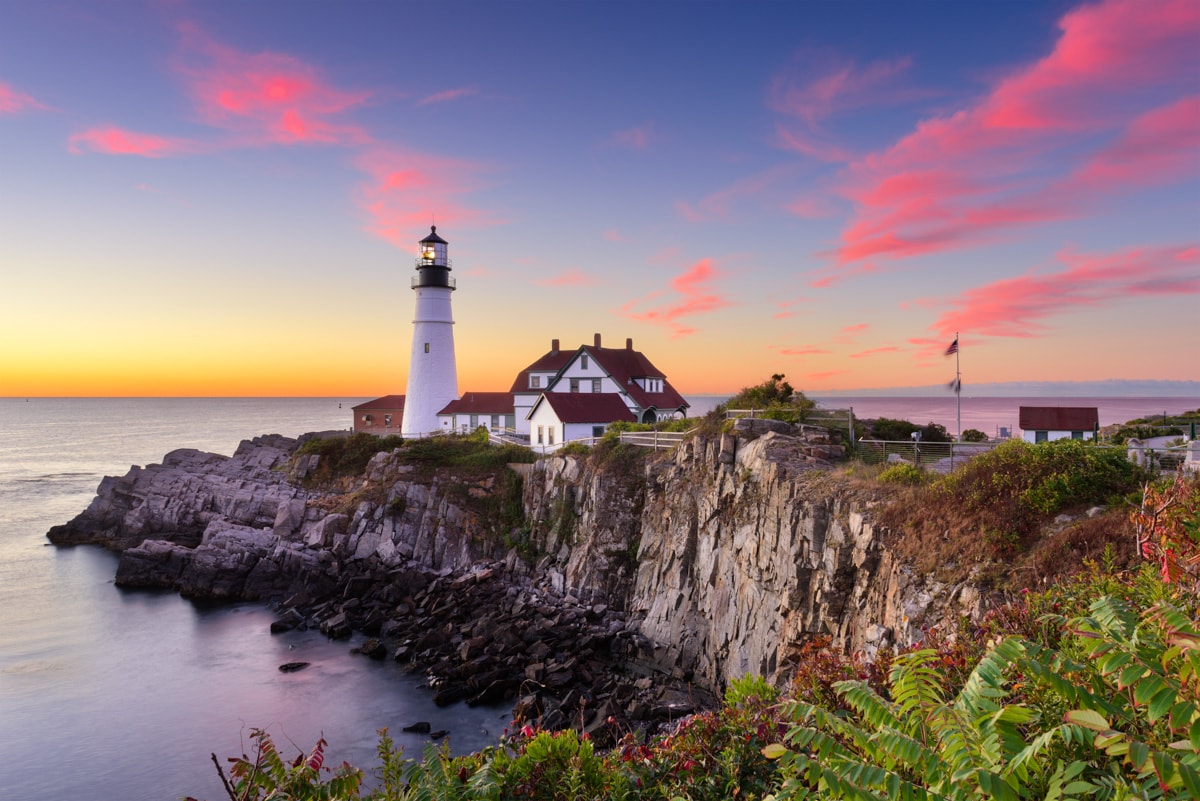 This road trip begins in one of the most beautiful cities in New England – Boston!
Since there are so many things to do in Beantown, you'll want to be sure to plan at least 24 hours here before hitting the road.
Walk the Freedom Trail, try lobster chowder at Quincy Market, and sample Boston cream pie!
Your final destination will be Bar Harbor, which is the gateway to Acadia National Park.
Even though the drive between these two destinations is just under 5 hours, you'll want to plan 5-7 days for this road trip to not feel rushed at each stop.
The best place to spend your first night is in Ogunquit. This charming little seaside town is home to one of Maine's best beaches, and the incredibly scenic walking path, Marginal Way. It also has a picturesque downtown with beautiful shops and awesome restaurants.
A lovely hotel option in Ogunquit is Terrace by the Sea, which is within walking distance to the beach.
Once you leave Ogunquit, you'll drive up the coast of Maine to make your way to Bar Harbor.
If you have the time, you'll want to consider stopping in Portland, Boothbay Harbor, and Camden, some of the best places to visit in Maine.
Boothbay Harbor is especially charming and unique, and offers opportunities to take boat tours to a puffin colony.
When you finally arrive in Bar Harbor, you should plan on spending at least 2 nights to have time to explore the park.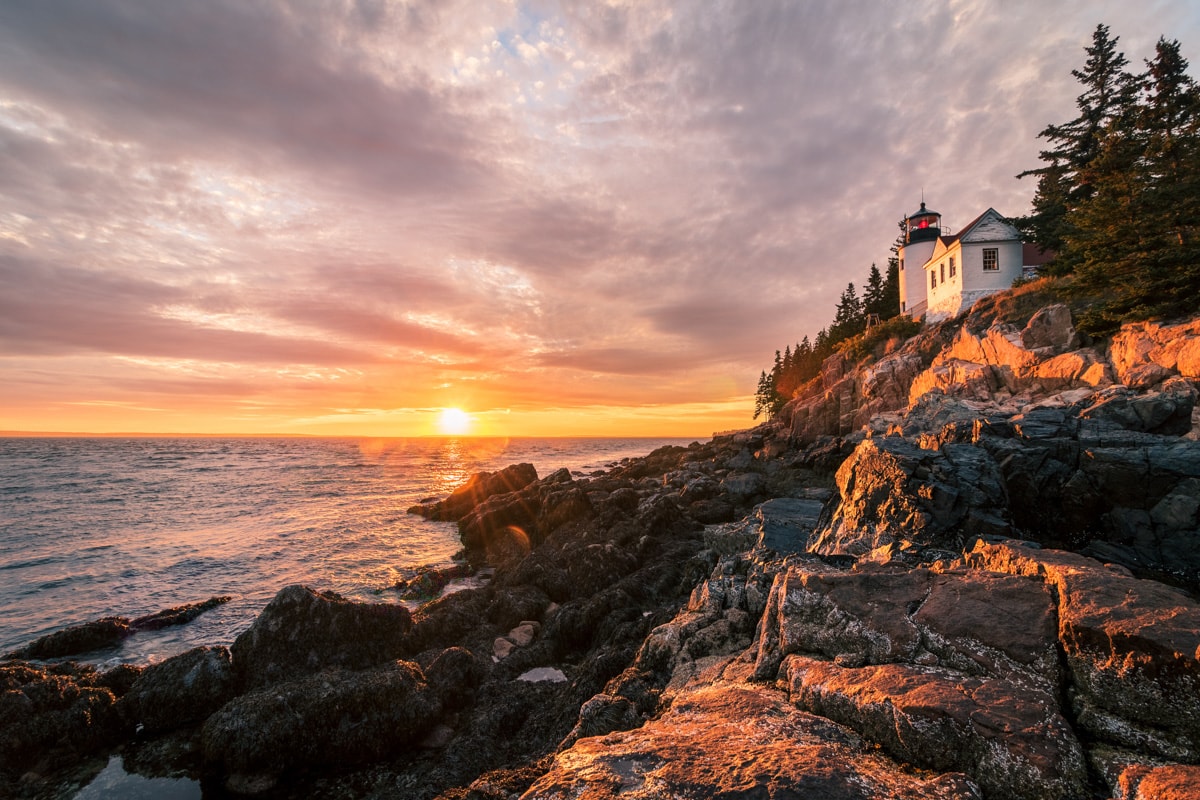 Some of the top things to do in Acadia are catching a sunrise at the Cadillac Mountain summit, and exploring Sand Beach, Ocean Path, and Thunder Hole.
Be sure to snap photos of the picturesque Bass Harbor Lighthouse at sunset!
Some of the best hiking trails in Acadia National Park are the Beehive, Great Head, and Gorham Mountain.
The best time of year to take this road trip is in the summer or fall.
July and August are peak season for coastal New England, and bring the most crowds and highest prices (but the best weather!).
June and September are also great shoulder season months, and at the end of September or early October, you'll get to experience the amazing fall foliage in Acadia.
Suggested by Samantha of New England Wanderlust
3. New Hampshire and Vermont road Trip from Boston
This New England road trip is a popular route with leaf peepers keen to catch the autumn hues before winter sets in.
The route starts and ends in Boston, Massachusetts, where there are numerous car rental locations for car hire.
The minimum time you'll need is four days, for a whirlwind tour with few stops, or seven days for a more relaxed trip.
Naturally, the best time to visit is in the fall when the leaves change, but it is also the most popular time for this road trip, so expect long lines of cars at tourist destinations if traveling during full peak.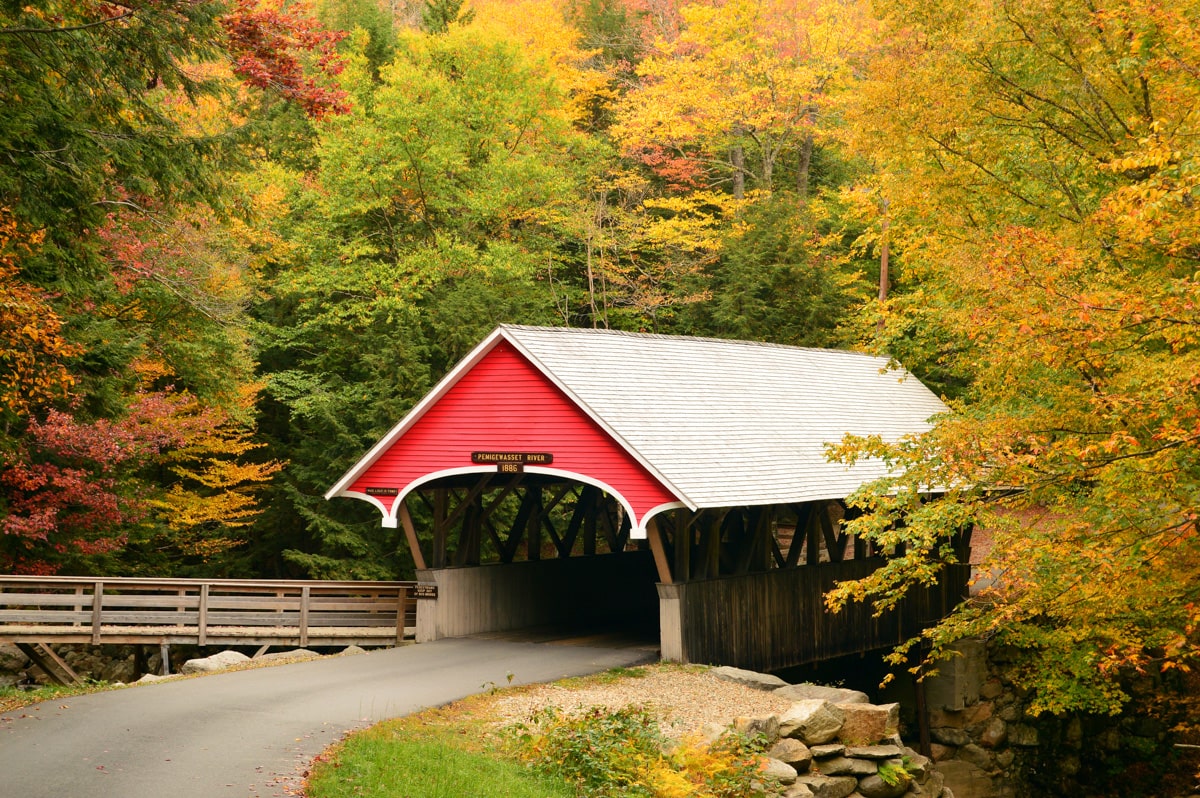 Leaving Boston, your first stop is Concord in New Hampshire, where you can snap photos of the State Capitol, built in Greek Revival style, and admire the architecture in the town center.
Next is the lesser-known region around Lake Winnipesaukee, where you'll find cute towns like Alton Bay and Weir Beach.
You can take a ride on the Hobo Scenic Railroad (they have fall foliage trains!) or take a boat tour on the lake.
Spend the night in Laconia or one of the surrounding areas.
In the morning, drive to Franconia to hike the (crowded) Artist Bluff or (quieter) Bald Mountain, both of which offer spectacular views.
Or, if you have time, drive to Conway to do the famous Kancamagus Scenic Byway, which can take up to a day to complete depending on how many stops you make.
Stay in or around Littleton for dining options and an early drive to Vermont.
From Littleton, head to Montpelier in VT to see the Capitol building, dine on tacos, and enjoy a creemee (soft serve ice cream!) at a local farm like Bragg Farm.
Next, it's on to Stowe in the Green Mountains to catch a ride on the gondola. Next, drive to Burlington, the Queen City and one of the best places to visit in Vermont, for dining, shopping, and evening entertainment.
Stay the night in Burlington, or split this journey up by booking accommodation in Stowe if you have time.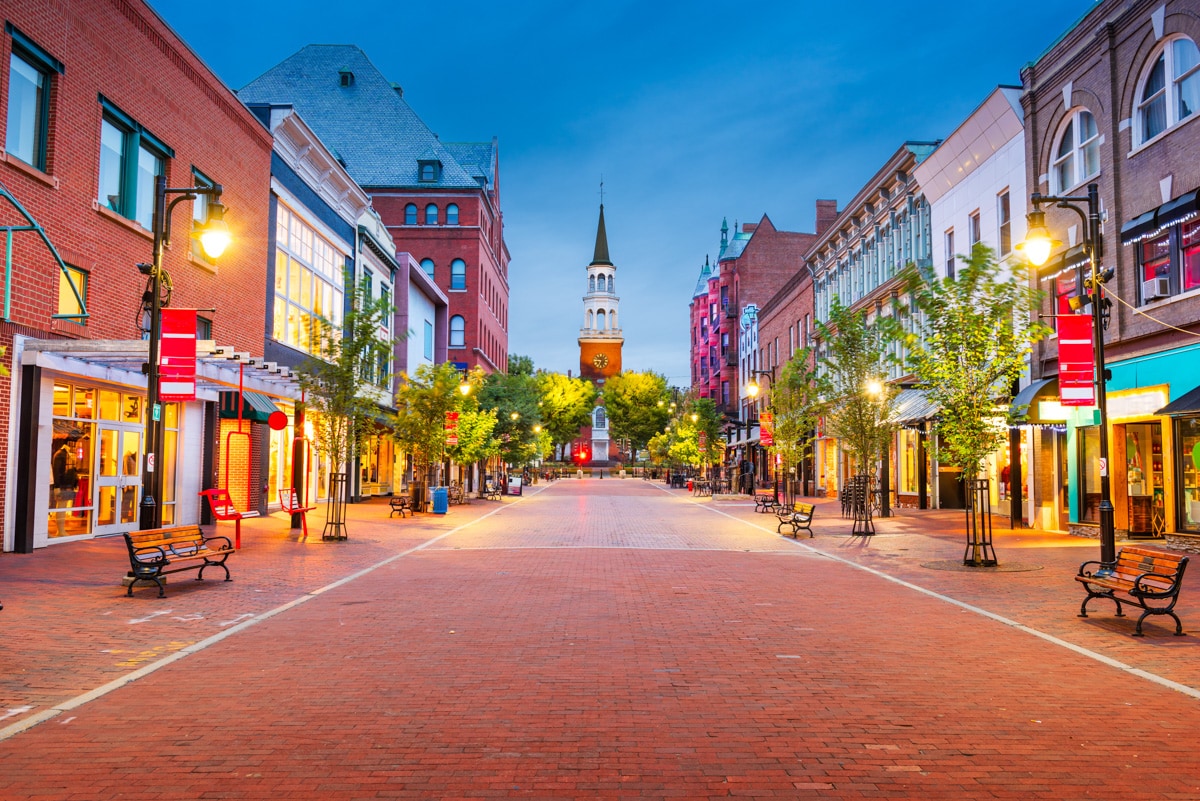 From Burlington, drive south down the Vermont Route 100 to Killington, then onto the pretty town of Woodstock to see the covered bridges.
Afterwards, you can break up the journey back to Boston by staying in Battleboro, or head straight back to the city.
Suggested by Amanda of Hey! East Coast USA
4. Charleston to Orlando Road Trip
Start a fantastic 7-day southern road trip on the East Coast in Charleston, continuing down through Savannah in Georgia, and ending in Orlando, Florida.
Begin your getaway in the stunning town of Charleston, South Carolina.
The Charleston City Market is one of the most popular places to visit here, with vendors and artisans selling anything you can imagine.
Make sure you try the famous Callie's Hot Little Biscuit eatery for some true Southern treats!
Other famous spots in Charleston include Rainbow Row, Magnolia Plantation and Gardens, and Fort Sumter.
From Charleston, drive about 2 hours south to Savannah, Georgia. Savannah is known for being a historical town right on the water.
Its downtown area is filled with preserved buildings and squares, with museums practically on every corner.
Ride a bike through Forsyth Park, taking in the beautiful fountain and gardens.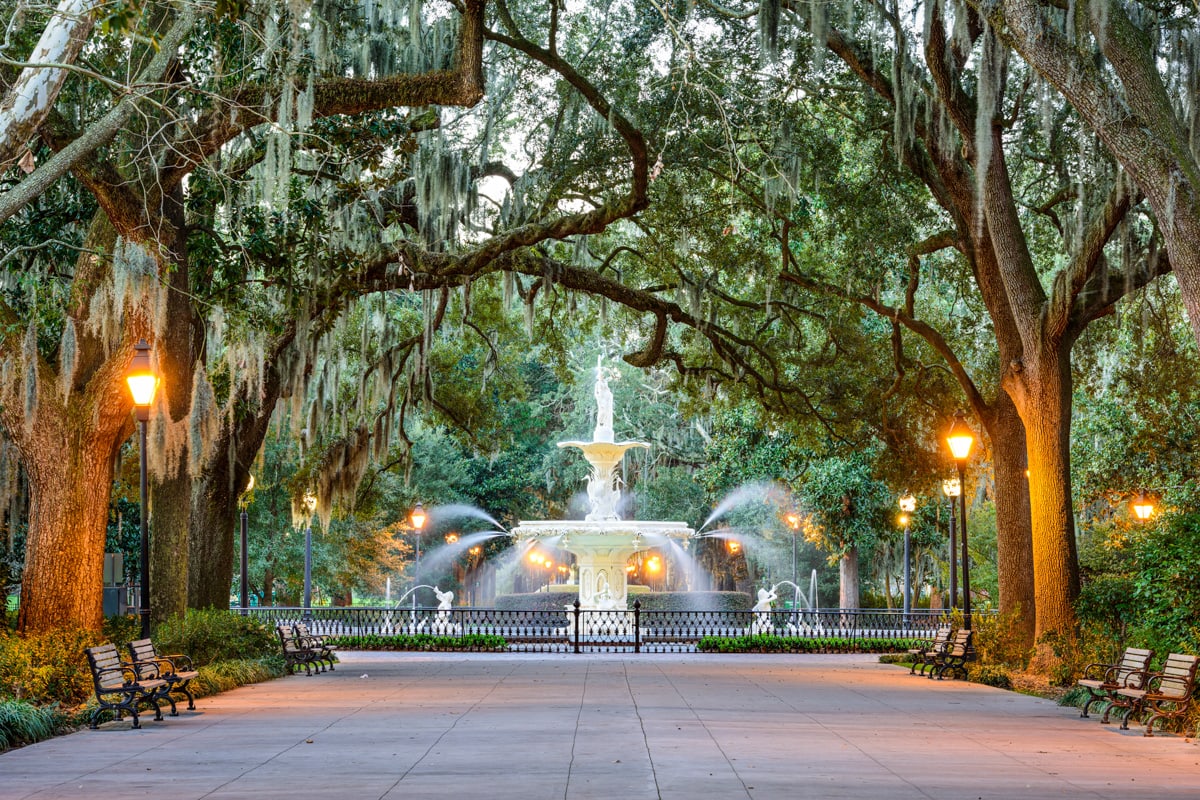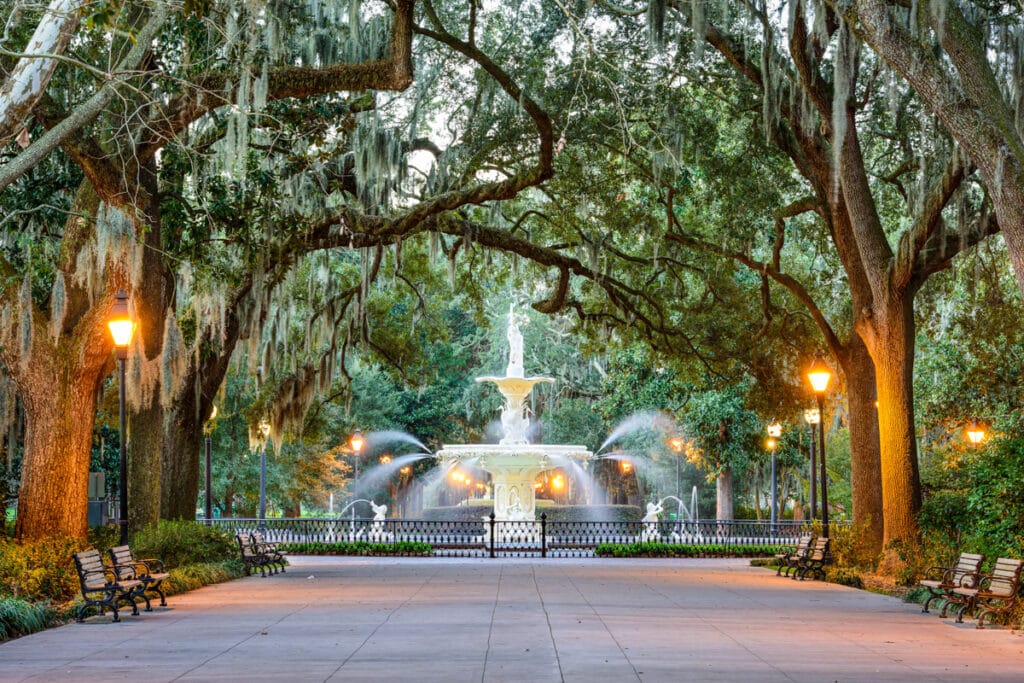 For the best way to explore the city, use the Savannah Hop-on-Hop-Off Trolley. Nothing makes you feel like you're headed back in time like a traditional trolley ride.
Finally, watch the miles fly by as you journey on the last leg of your East Coast road trip to Orlando, one of the top spring break destinations in the USA.
You can't go to Orlando without visiting the "Happiest Place on Earth," Walt Disney World.
Kids of all ages will enjoy the magic of Disney.
Take your pick of the four major theme parks here: Epcot, Magic Kingdom, Animal Kingdom, or Hollywood Studios. They are all fantastic, but cater to different interests and ages!
For your traditional Disney experience, take your princess or Mickey-loving toddler to Disney's Magic Kingdom. Cinderella's Castle is sure to wow young kids, and they'll see plenty of characters to make their dreams come true.
This road trip is best for the spring or fall months, as temperatures can be pretty hot during the summer!
Suggested by Taylor of Traverse with Taylor
5. Road Trip from Peaks of Otter to Floyd
While driving the entire Blue Ridge Parkway is an epic experience, you can also enjoy segments of the parkway on shorter road trips that are just as exciting.
A 4-day road trip along the Blue Ridge Parkway from Peaks of Otter to Floyd captures the beauty of both southwest Virginia and the Blue Ridge Parkway.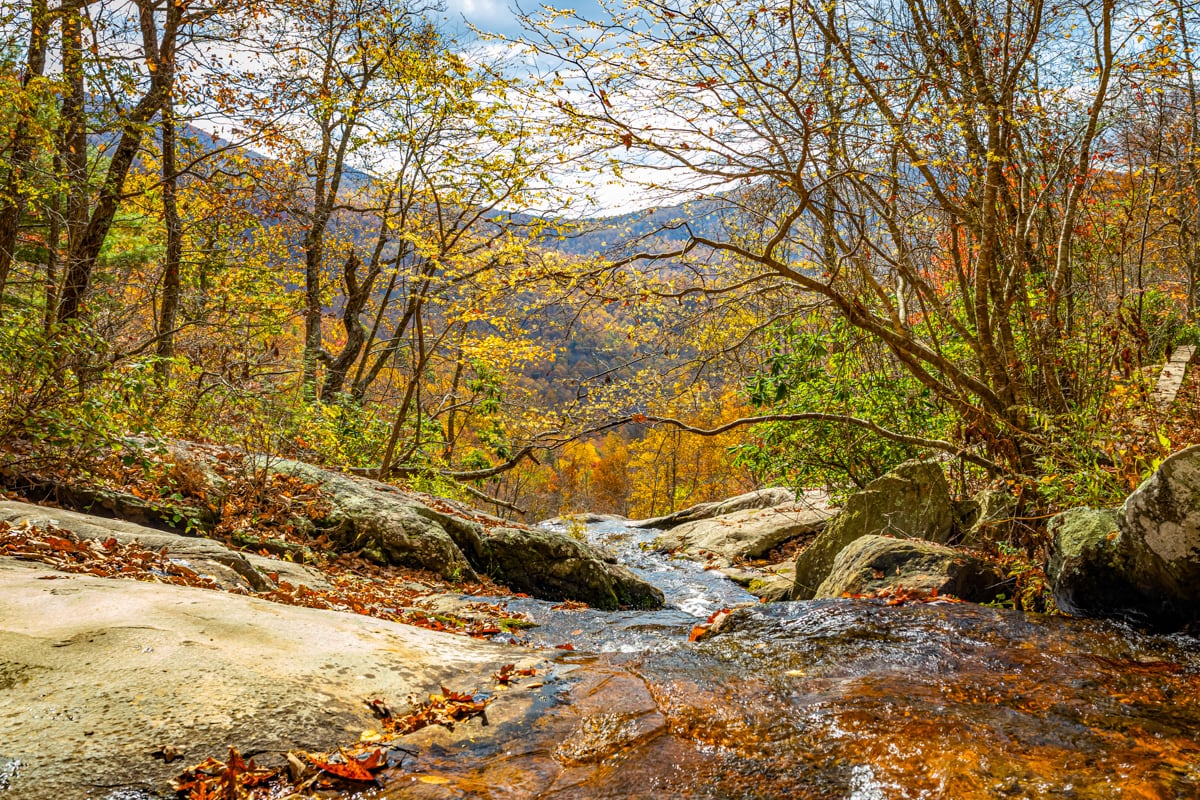 Start your road trip at Peaks of Otter, nestled between mountains in the Jefferson National Forest. The secluded beauty of this location makes it an ideal starting point.
Hiking Sharp Top Mountain is a must-do activity. The summit provides 360-degree views of the surrounding Blue Ridge Mountains.
For those not up to hiking the 3.3 mile out-and-back trail, a shuttle is available to transport visitors within 1,500 feet of the summit.
Other activities include apple picking at Johnson Orchards and sampling fruit wine at the Peaks of Otter Winery, home to the spiciest wine in Virginia!
There is no better place to spend the night, than at the iconic Peaks of Otter Lodge, located at milepost 86 on the BlueRidge Parkway.
The bustling city of Roanoke is the second stop along this Southwest Virginia road trip.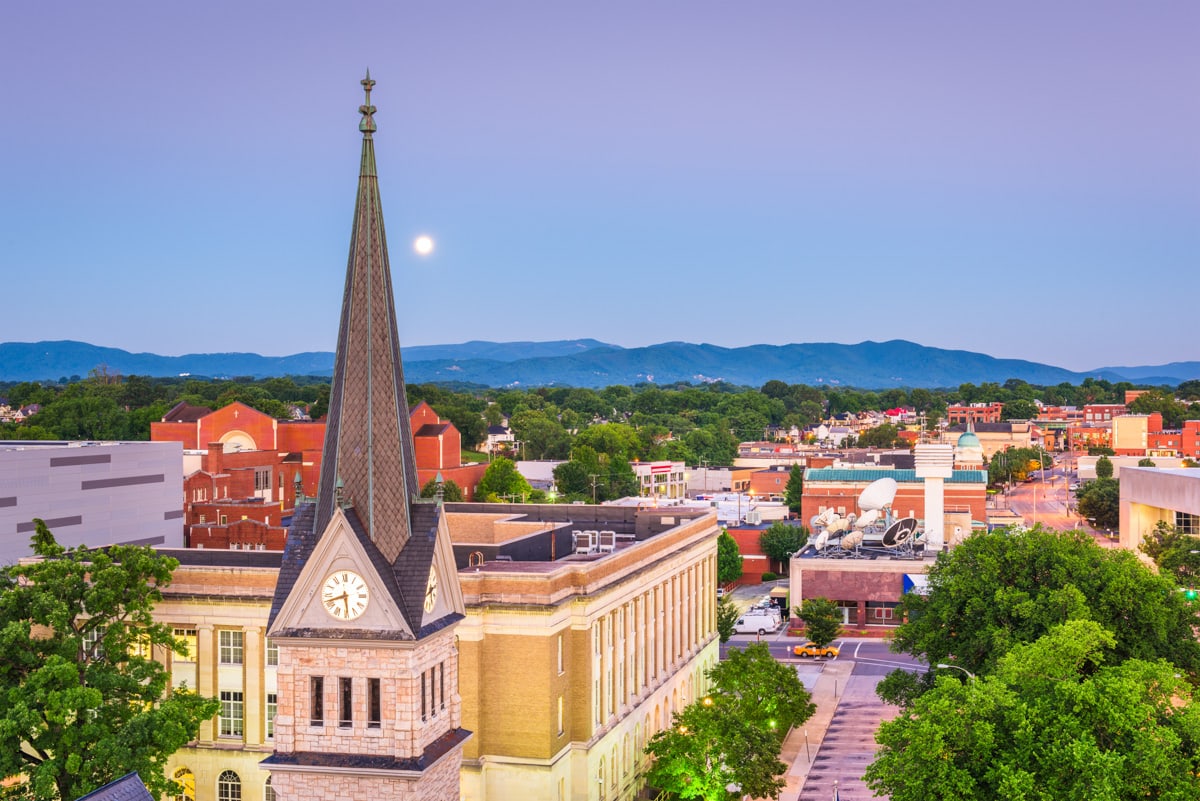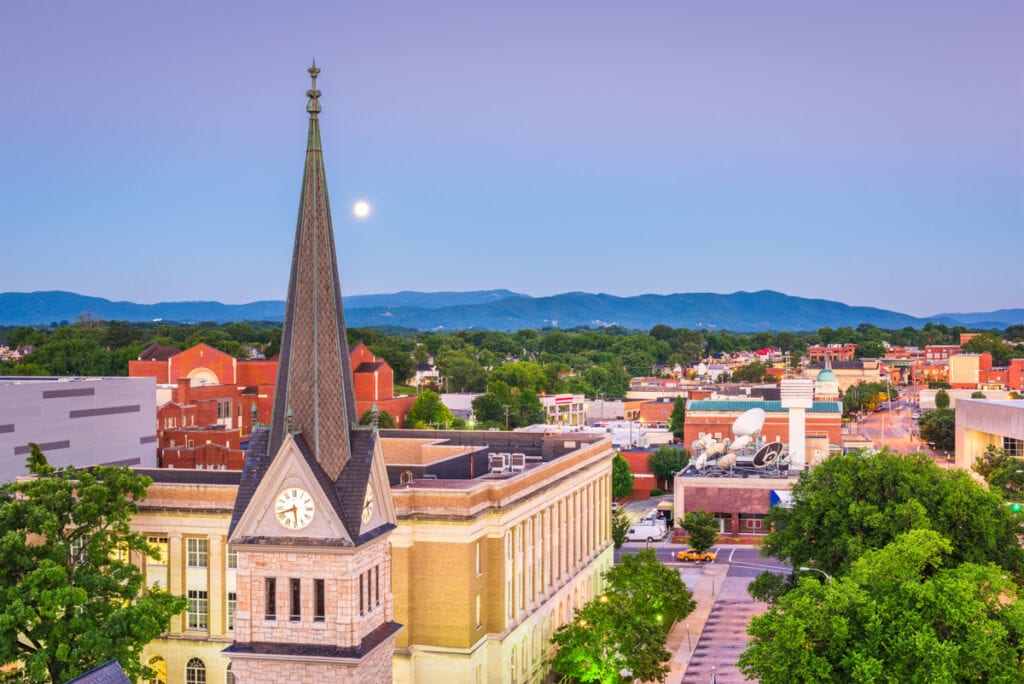 Roanoke is also known as the "Star City of the South" for the massive illuminated star perched high atop Mill Mountain shining as a beacon over Virginia's Blue Ridge.
Aside from exploring trendy boutiques and restaurants downtown, visitors will not want to miss a trip to Black Dog Salvage, home of the television series Salvage Dawgs.
This acclaimed warehouse carries an eclectic selection of restored furniture and vintage pieces.
Although there are many places to stay in Roanoke, the area is quickly becoming more popular for its bed & breakfast scene.
King George Inn, housed in a restored 1900s Colonial Revival home, stands apart as one of the best B&Bs in the area.
Next, head to the town of Floyd, which is small, but a vibrant community bursting with music heritage, arts, and culture.
It is a key destination along Virginia's Heritage Trail, and there are many things to do in Floyd.
The Friday Night Jamboree at Floyd Country Store has been recognized as one of the best places in the country to hear bluegrass music.
Each year, thousands of visitors flock to Floyd to participate in one of the town's famous annual events, including Floyd Fest, Floyd Yoga Jam, and the Black Dog Music Festival.
It is only appropriate to stay in a lodging as unique and memorable as the town itself. Floyd Yurt Lodging offers affordable stays in cozy yurts just minutes away from town.
Take this road trip during the fall, when leaves are changing colors across the Blue Ridge Mountains. The views alone are worth this drive.
Suggested by Cecilia from Lovicarious
6. Miami to Key West Drive
If you're looking for epic USA east coast road trips, then you can't beat the classic Miami to Key West drive.
One of the most stunning drives in Florida, the route covers a distance of 166 miles and takes you along the iconic Overseas Highway.
And while you can easily do this drive in around four hours, plan to spend between 3 and 5 days doing this drive.
This way, you can really enjoy area highlights like the Everglades, the Turtle Hospital in Marathon, and more.
Start your road trip by exploring all that downtown Miami has to offer.
You can relax on South Beach and explore the Espanola Way before experiencing amazing art and Cuban-American culture in Little Havana.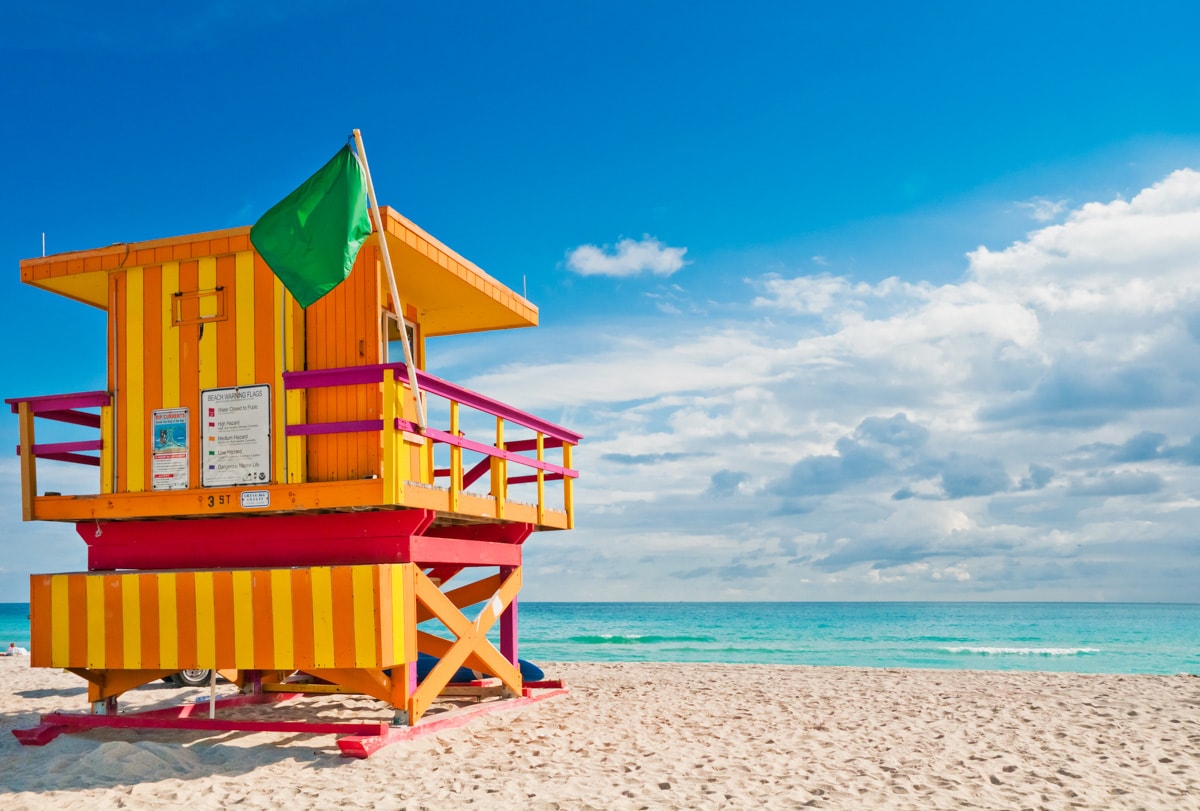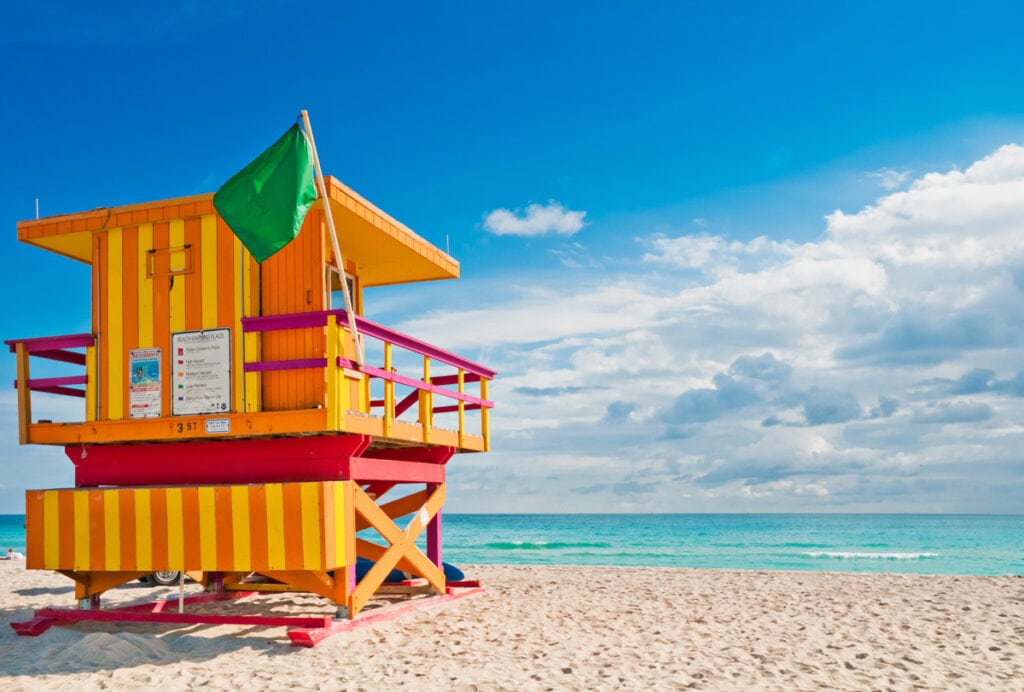 Next, head to Homestead, Florida, and visit the one-of-a-kind Coral Castle Museum. Part sculpture garden and part limestone castle, this unique place was erected over the course of thirty years by Edward Leedskalin.
And if you're a fan of Nascar, you can visit the Miami Speedway before soaking up the natural beauty of Everglades National Park, one of the best places to visit in Florida.
The park is a great place to spot a wide variety of local bird life. Do a canoe trip through the Everglades to see if you find some local alligators that live in the swamps here.
If you have time, you can even explore the first undersea park in the country with a stop at John Pennekamp Coral Reef State Park before exploring Key Largo and grabbing a slice of Key Lime Pie at Mrs. Mac's Kitchen.
Continue along the Overseas Highway to Key West, stopping to feed tarpon at Robbie's, tour the Turtle Hospital, and explore beautiful Bahia Honda State Park before arriving in Key West.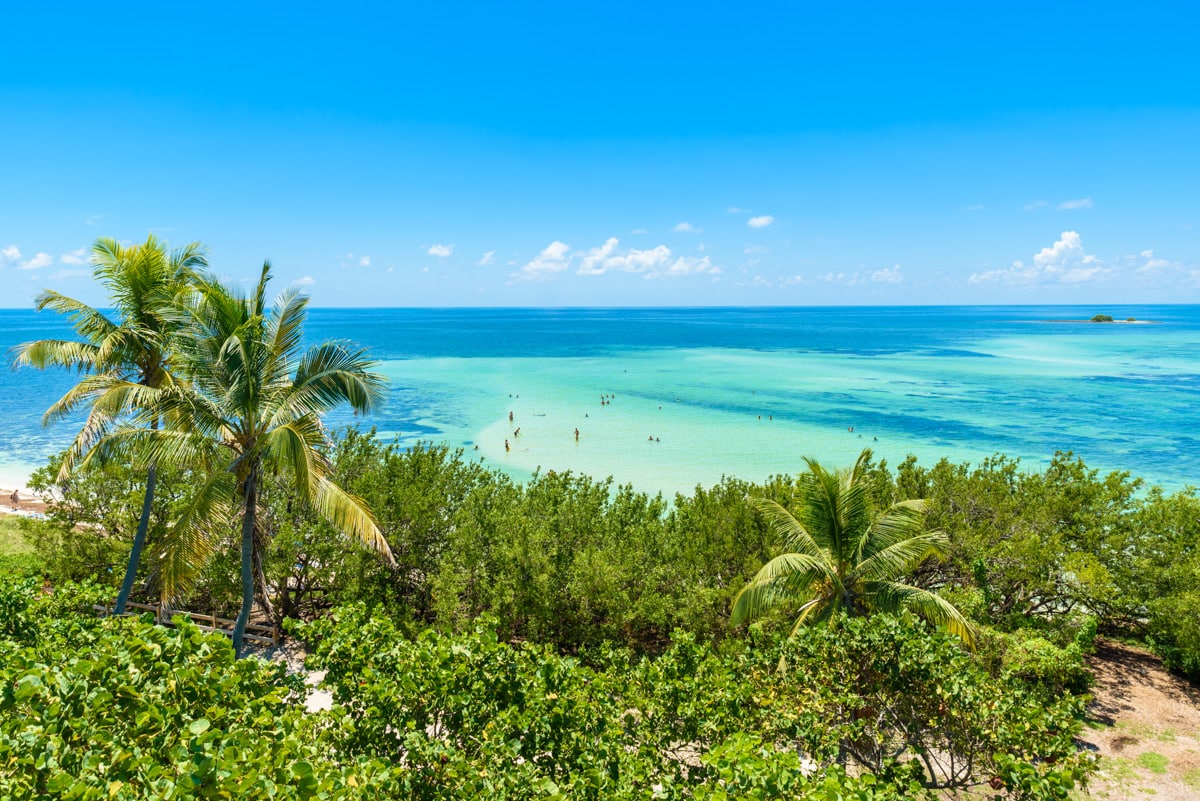 In Key West, enjoy lively Duval Street, wander Mallory Square, snap a photo at the southernmost point in the US, visit historic sites, and relax on one of the many beaches.
Be sure to plan your Miami to Key West road trip outside of hurricane season, which typically runs from June through November. The best time to do this drive is therefore in either the winter or spring.
Suggested by Victoria of Florida Trippers
7. Virginia Wineries Road Trip
Virginia is home to over 300 wineries!
Many of them are nestled among the rolling hills of central Virginia and the Shenandoah Valley of Western Virginia.
From Fairfax County in Northern Virginia, you can take a memorable long weekend road trip to Charlottesville, with stops at many of the commonwealth's top wineries along the way.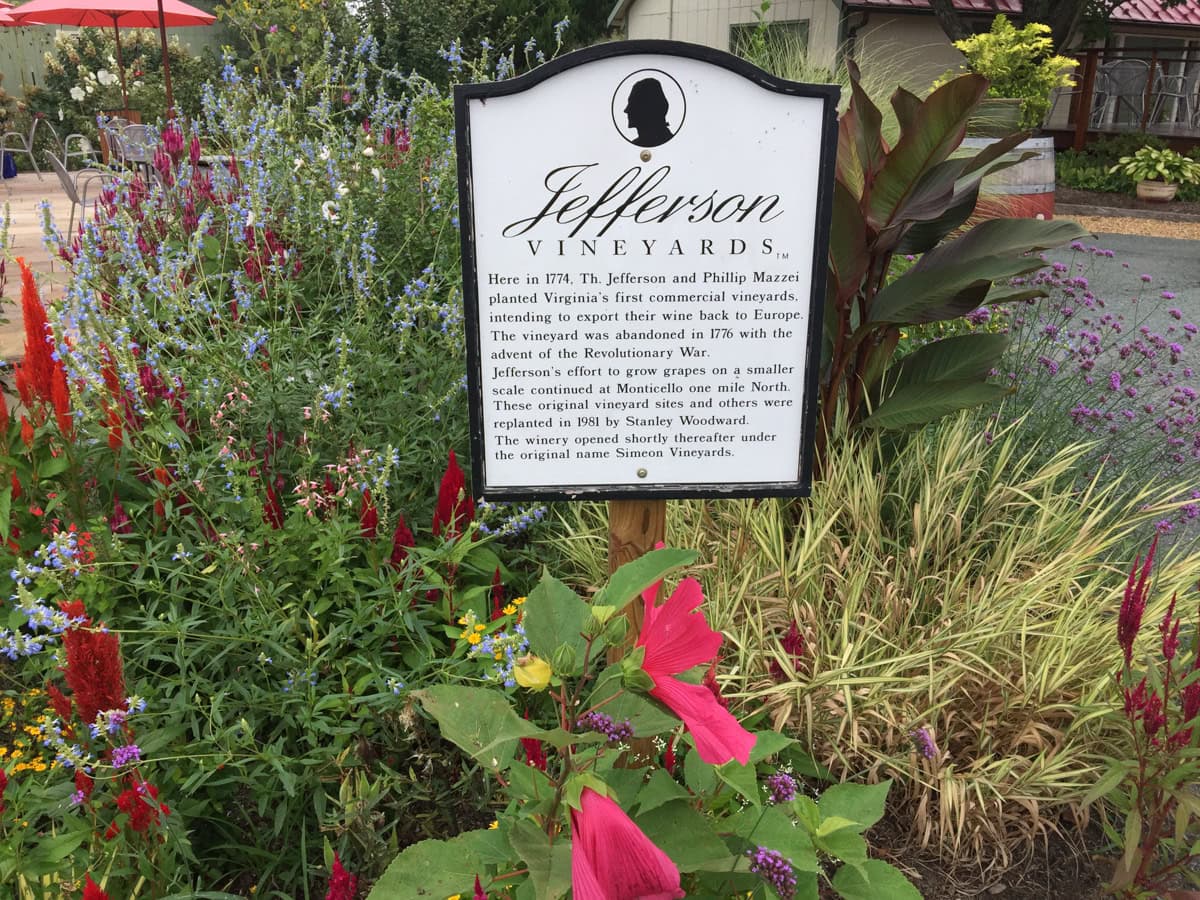 The roundtrip can generally be done in as little as three days, though a longer trip will give you a chance to add in more wine tours and attractions.
The most direct route from Fairfax, VA to Charlottesville will take you along I-66, US-29, and US-15.
By taking a small detour south of Warrenton, you can make a lunch stop at Narmada Winery, which serves Indian food along with excellent wines.
Gray Ghost Vineyards, which is close by, is also worth a stop to pick up a bottle or two of their excellent Gewurztraminer.
Just outside Charlottesville, make a stop at Veritas Vineyards for an unforgettable dinner menu featuring a four-course meal with wine pairings.
Note that seating is limited and you will need reservations in advance.
After dinner, settle in for the night in nearby Charlottesville. Excellent hotels include the Omni Charlottesville Hotel and Graduate Charlottesville.
For your first full day of exploring wineries in the Charlottesville area, you can book a convenient winery day tour with a hotel pickup service.
Wish Wish Wine Tours offers a great winery day tour, with visits to some of the main wineries in the area, including Barboursville and Keswick Vineyards.
Booking a wine day tour takes the stress and hassle out of navigating wineries on your own.
For dinner, Charlottesville is home to a wide variety of excellent restaurants in the Downtown Mall.
Whether you're in the mood for sushi, Italian, American, or French, the mall has the perfect place for you.
On day two, you can take time to explore the many historic highlights of Charlottesville.
The city is home to Monticello, the famous home of founding father Thomas Jefferson. You can book a guided tour of the estate.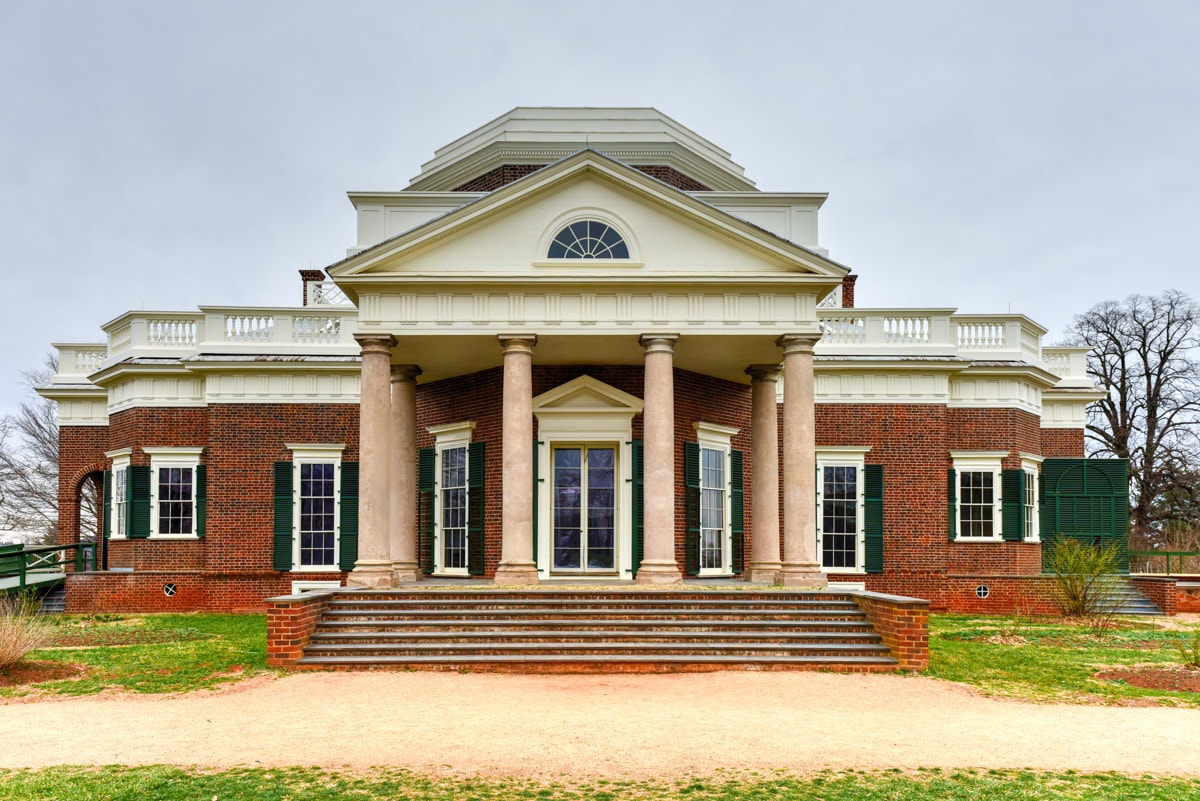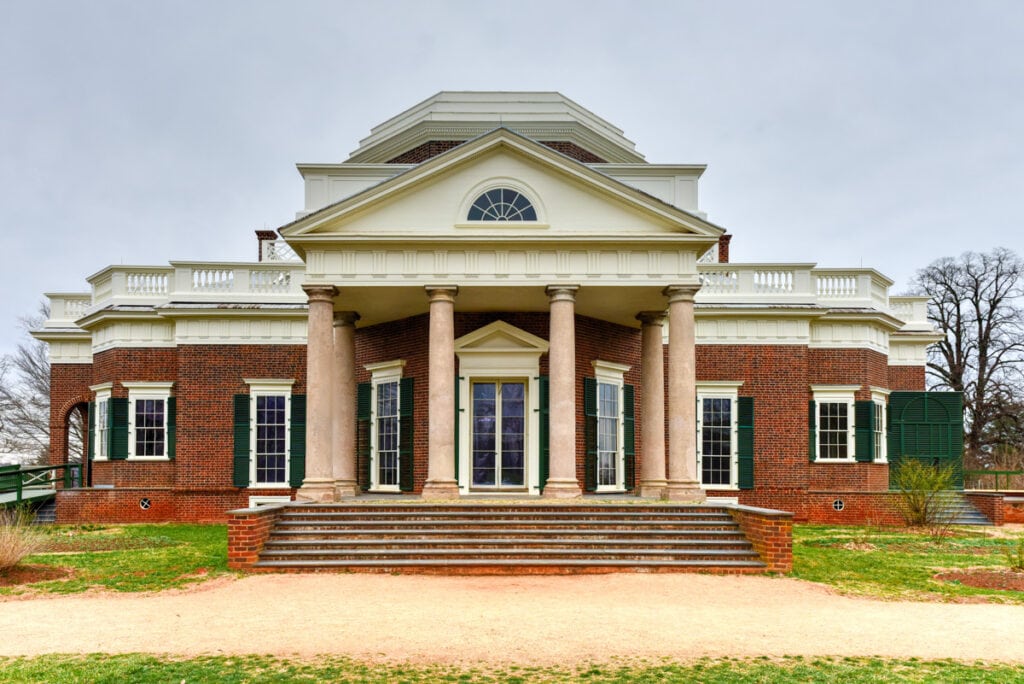 The University of Virginia is also located in Charlottesville and is filled with historic architecture to explore.
On day three, you can make your way back up to northern Virginia. Along the way, there are numerous wineries to visit.
Two unique recommendations are Glass House Winery, which features a delectable wine and chocolate pairing, and DuCard Vineyards, which has a picturesque setting overlooking rolling hills and streams, plus fine red wines.
Suggested by Merry of Virginia Vacation Guide
8. New York City to the Outer Banks, NC
This road trip starts in fabulous New York City. You will stop in Washington D.C., explore the rural treasures of Virginia, and head to Colonial Williamsburg before ending in Nags Head Beach, NC, which is part of the Outer Banks.
This US East Coast road trip route is fabulous for families, as it combines educational stops with some relaxing beach time.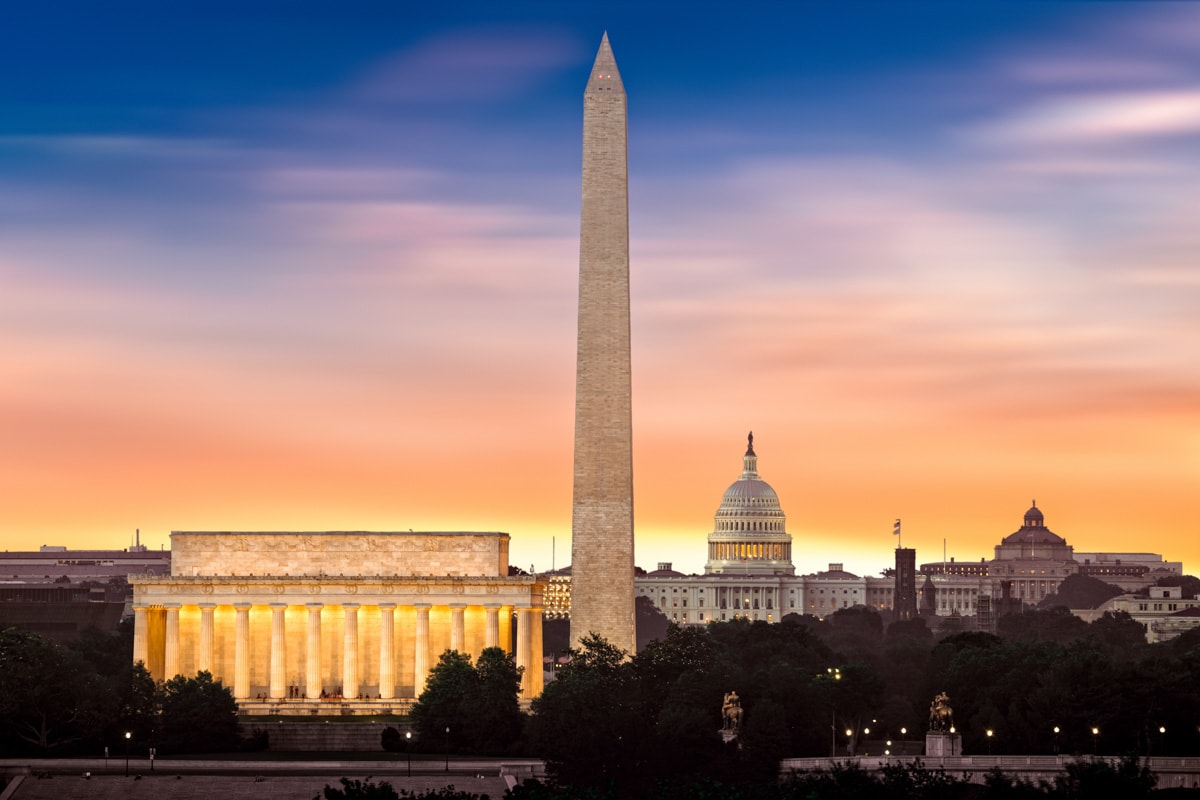 This 7-day road trip includes a full day in Washington D.C., and two nights in the Outer Banks.
Leaving New York City on your way to Washington DC, you'll go through Philadelphia, so feel free to add a stop there if you wish. This is a great place to stretch your legs, get a snack, or check out some of the historical sites in the city.
Spend two nights in Washington D.C., the nation's capital.
Plan ahead to take a tour of the White House, visit some of the free Smithsonian Museums, stroll the National Mall, or see original versions of the Declaration of Independence, Constitution, and Bill of Rights at the National Archives Museum.
Alternately, spend a day at Mt. Vernon, George Washington's family estate just 30 minutes south of the city. This is a great choice if you arrive on a Monday or Tuesday, when many of the major attractions in Washington D.C. are closed.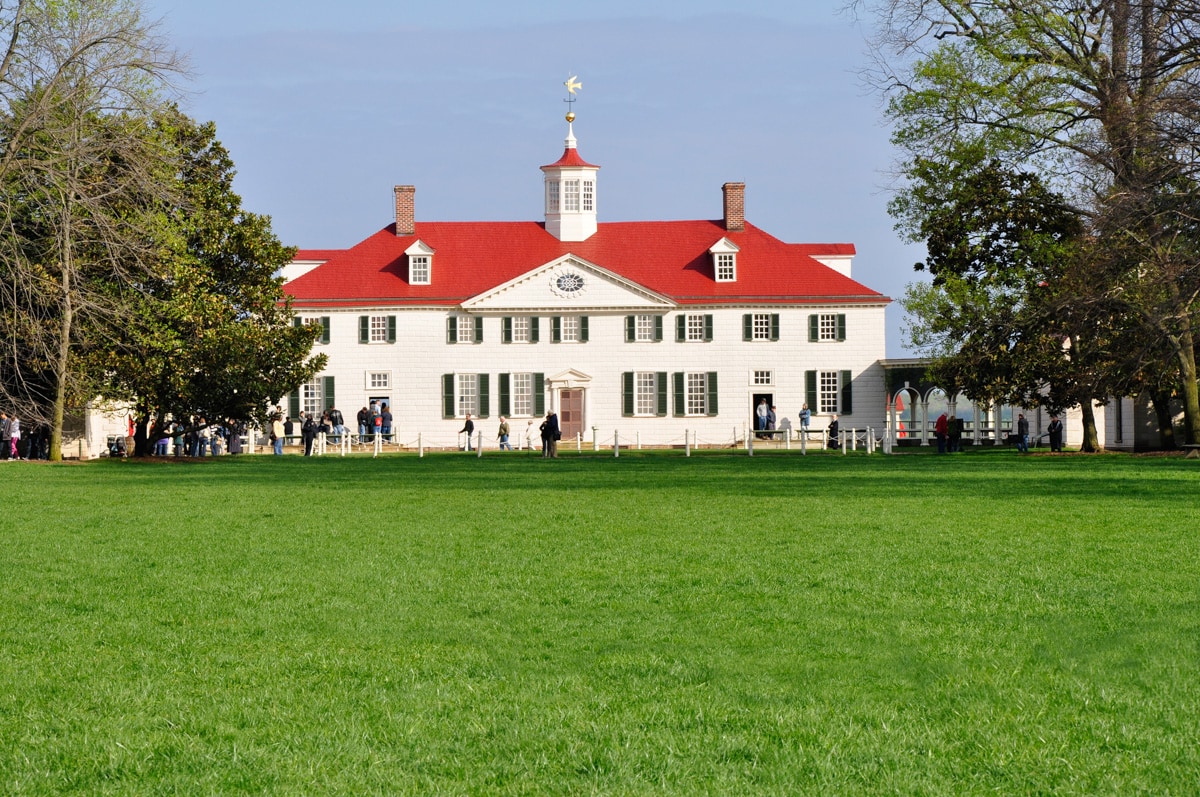 Head next to Natural Bridge State Park, just outside of Charlottesville, Virginia. It's about a three-hour drive from D.C. to the beautiful Shenandoah Valley. Explore Natural Bridge, before heading 34 stories underground into the Caverns at Natural Bridge.
The next morning, head to Williamsburg, VA! Get an early start, as you'll have a 3-hour drive to reach Colonial Williamsburg. This site is a famous recreation of early America, a "living museum" where you learn from costumed interpreters.
Sleep close to Colonial Williamsburg, then head to your final stop: Nag's Head Beach, NC!
Since your drive time to the Outer Banks is only 2 ½ hours, consider stopping at Historic Jamestowne on your way. Jamestown was the first permanent English settlement in the Americas.
Once in Nag's Head, you'll find wonderful beaches, and of course lots of fresh seafood!
Spend at least two nights here to enjoy the beach, and visit the Wright Brothers National Memorial, which is on the site where the Orville and Wilbur Wright took their first successful test flights.
Late spring (late May and June) and early fall are wonderful times if year to take this road trip.
Suggested by Cynthia of Sharing the Wander
9. New England Fall Colors Road Trip
One of the most popular times to do a road trip in New England is in the fall and it's no wonder why!
During a New England fall road trip, you'll get to witness beautiful reds and oranges on the leaves and embrace the season's activities, which include apple picking, hiking, and getting cozy in a beautiful cabin.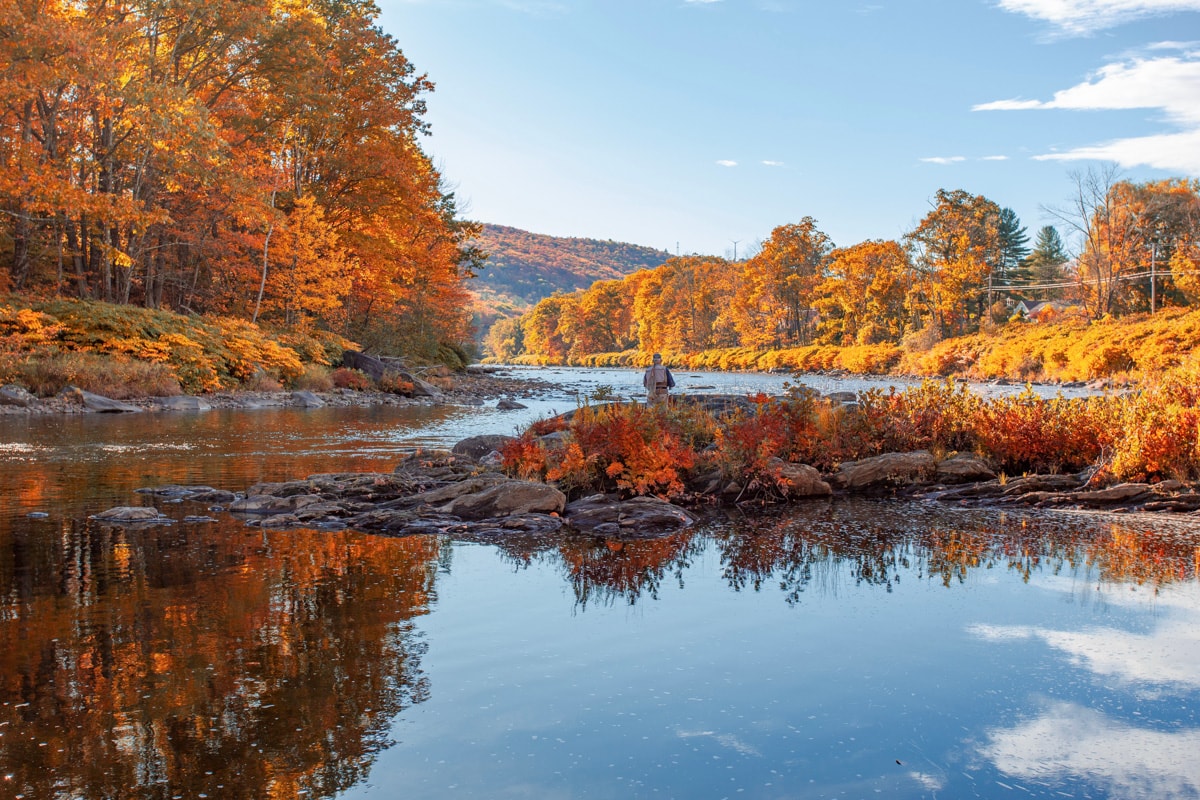 A good New England fall road trip itinerary takes around 7 days but can be shortened or extended depending on how much time you want to stay in each state.
A one-week road trip in New England during fall gives you enough time to embrace the beauty, but you'll need longer if you want to do lots of hiking.
If you are planning to fly in and out of Boston, you can drive to the Berkshires in western Massachusetts to kick off your fall colors road trip.
The little towns of Lenox, Williamstown, Stockbridge, and North Adams, offer historic sights and museums to discover, apart from the stunning scenery and leaf-peeping opportunities.
Then head to Manchester, Vermont, drive north to Stowe, followed by a drive along the famous Kancamagus Highway, before heading to Lake Winnipesaukee in New Hampshire and then back to Boston.
One of the main highlights along the way is the town of Stowe, which offers many beautiful hiking trails and scenic drives. Without a doubt, Stowe is one of the top places to visit in New England!
There are huge mountains all around Stowe, and photographers looking to capture the beautiful New England fall colors stop off at the white-steepled church in Stowe, or go up the Gondola Sky Ride at Stowe Mountain Resort.
You'll also drive through the White Mountains and the stunning Kancamagus Highway.
This 34-mile scenic route is a must and there are numerous pull-outs along the way where you can enjoy the surroundings. Be sure to make time for walks to Sabbaday Falls, Champney Falls, and Lower Falls.
Also be sure not to miss the nature walk through Flume Gorge in Franconia Notch State Park, where you will find beautiful waterfalls, covered bridges, a gorgeous natural pool, and views of the mountains.
Given that the main attraction of this New England road trip is the colors you'll see, the best time for this road trip is the fall, usually around the end of September or the beginning of October.
Peak time for fall in New England changes slightly every year depending on the weather. The northern states tend to experience fall a week or two earlier than those further south.
Suggested by Hannah of That Adventurer
10. The Historic Triangle in Virginia Road Trip
The Historic Triangle of Virginia is one of the most significant areas of the country in terms of its history. For this reason, it makes for a great East Coast road trip.
The area, located between the James and York rivers, includes the colonial towns of Williamsburg, Jamestown, and Yorktown, all of which you likely learned about in US history classes.
While the region is small, you'll want to give yourself anywhere between 3 days to a week to explore the Historic Triangle.
Start your journey in Williamsburg, where alone you could spend several days!
The town, which was the original capital of Virginia, is home to the world's largest open air museum. In Colonial Williamsburg, you can tour dozens of restored and preserved buildings which date back to the 1700s.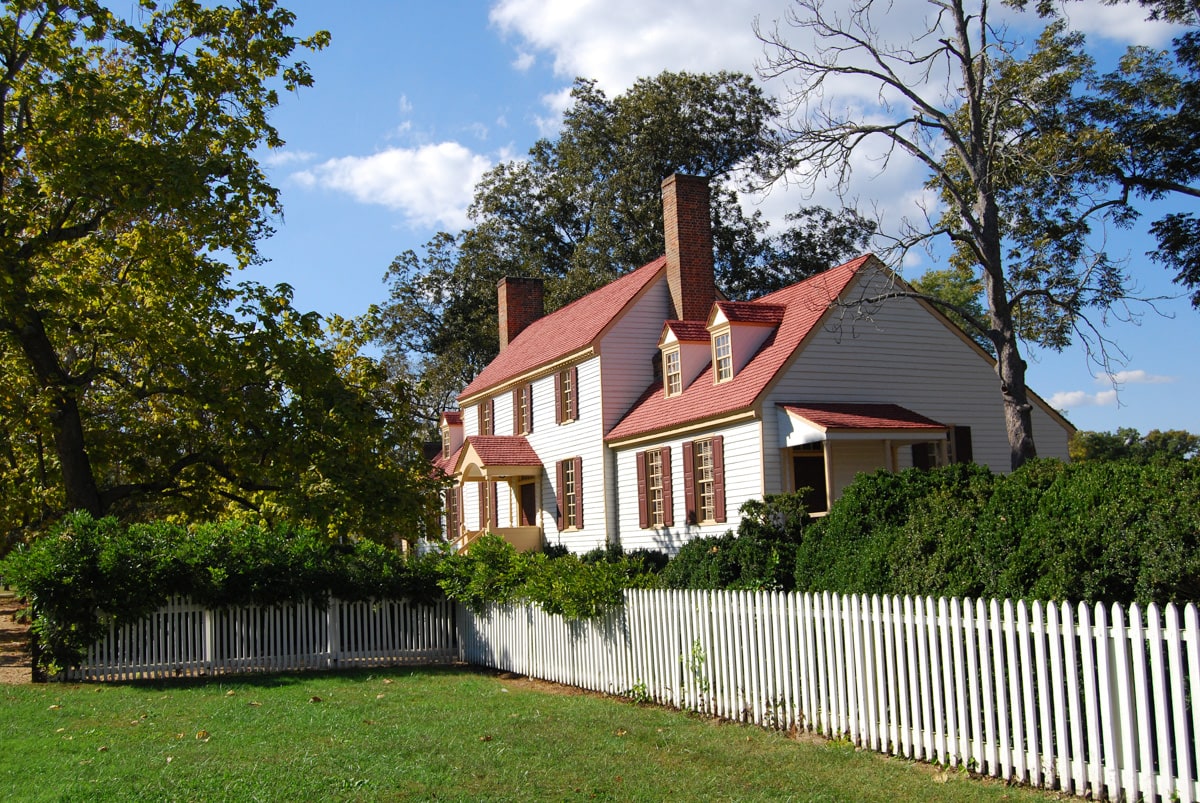 Historical interpreters dressed in period clothing roam the streets, give tours, and perform reenactments for visitors to the living history museum.
While exploring Colonial Williamsburg is one of the best things to do in the town, if traveling with children, Busch Gardens Amusement Park and Water Country USA are also worth a day.
From Williamsburg, your road trip will take you along the scenic Colonial Parkway to Historic Jamestowne, the first permanent English settlement in the New World.
The former settlement includes remnants of the first fort, and at the Jamestown Settlement Museum, you can tour a reconstructed Powhatan Indian Village and board ships that are replicas of the ones that sailed from England.
Your final stop on your Historic Triangle Road trip is Yorktown, where the American Revolution ended and the British surrendered.
You can drive the actual battlefield or visit the American Revolution Museum, yet another fascinating living history museum that will take you inside the encampment of revolutionary soldiers during the war.
Whether you are a history lover, museum lover, or simply looking for a unique place to visit on the East Coast, America's Historic Triangle is worth the road trip!
From a weather perspective, late spring or fall are ideal times for this road trip. Crowds will be less at these times as well, and in the fall, foliage colors are attractive.
Suggested by Melissa from Parenthood and Passports
11. New Hampshire Road Trip
New Hampshire with its waterfalls, lakes, gorges, and covered bridges is arguably the gem of New England.
A perfect road trip for 6 days, starting and ending in Boston will cover most of the attractions in the state. It's easy to fly in and out of Boston, as it is the largest city in New England, with an international airport.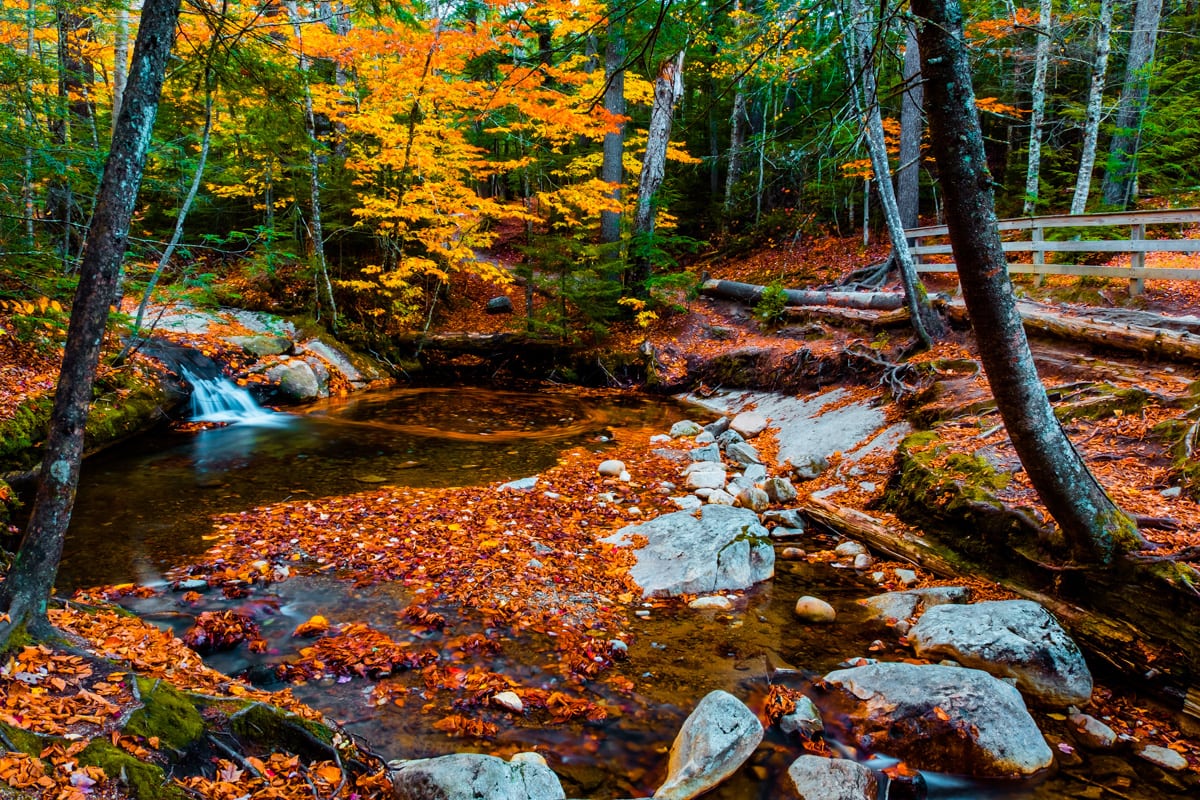 Base yourself in Portsmouth on the cost for the first night, Conway for the second, Lincoln in the north for the next two days, and Manchester in the south for the last 2 days.
On day one, drive up the short but scenic New Hampshire coast to the port town of Portsmouth.
Salem, in Massachusetts, with its connection to the witch trials of the 17th century, makes for a fun stop en route, as does Hampton Beach in New Hampshire, a family-friendly beach town with a gorgeous sandy swathe of beach.
Portsmouth is a historic port town, known for its walkable downtown and Prescott Park, set on the waterfront. Do not miss the Strawbery Banke Museum, a living historic site that's fun for both adults and kids.
On the following day, the highlight is Mount Washington, the tallest peak in the northeast. Drive the Auto Road to the summit, or ride the Mount Washington Cog Railway. Along with epic views, at the top you will find Mount Washington Observatory.
If you choose to take the Auto Road, ride the Conway Scenic Railroad, especially if you are planning to do this road trip in the fall! Sleep in Conway.
On day three, drive the scenic Kancamagus Highway, a 35-mile winding driving route with Conway at the east end and Lincoln at the west end.
En route, stop at interesting overlooks and trails, including Sabbaday Falls, Rocky Gorge and Falls Pond, Albany Covered Bridge, and Lower Falls.
On day four, drive further north to the spectacular Flume Gorge, and walk the 2-hour trail, exploring glacial boulders, two covered bridges and Avalanche Falls.
Another place of interest nearby is the unique Basin and Basin Cascade in Franconia Notch State Park. There is a short trail leading to the Basin and views of the cascade in the Pemigewasset River.
On the following day, Squam Lake and the Ashland Covered Bridge are worthy of stops, for short walks and pictures.
Admire Lake Winnipesaukee, the largest lake in New Hampshire, by taking a scenic train ride from Meredith. Drive along Alton and Wolfeboro to get more lake views.
Move south on the next day to take a short boat ride on the Merrimack River in Manchester to enjoy the views.
Mines Falls Park and Dam in Nashua are interesting scenic places for long shaded wooded trails and a visit to the dam and waterfall.
The best time to do this East Coast road trip is during fall, around mid October, when the trees and foliage turn orange and red. Summer is another good option.
Suggested by Jan of Leisurely Drives
12. Pennsylvania to Washington D.C. Road Trip
There are so many amazing road trips you can take on the East Coast. Hershey, Pennsylvania, to Washington D.C. is a trip you will want to take!
Trips that include fun activities, historical sites, and beautiful landscapes always make for great family vacations.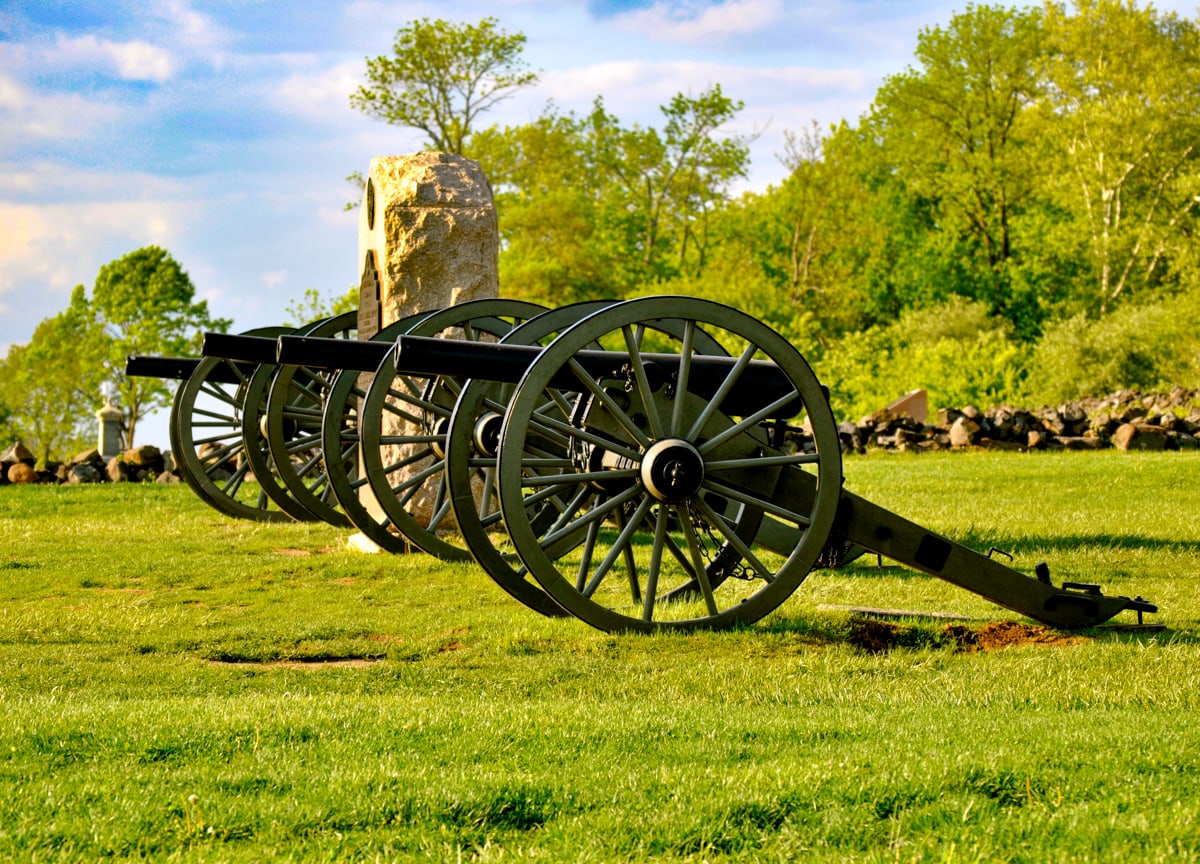 This road trip could be as short as two days or as long as a week, depending on how much time you would like to spend in each area.
Hershey, in Pennsylvania, is a great place to start a road trip.
You will want to make sure you get tickets to Hershey Park. Hershey Park is both a water park and an amusement park. You will find Hershey's flagship store, Chocolatetown, here as well. Hershey Park also has amazing accommodation onsite.
As you travel south, make a stop at Gettysburg, PA.
Gettysburg is a National Military Park, with an amazing museum and movie dedicated to the Civil War. You can also tour the battlefield. This is a highlight of visiting Gettysburg. Be sure to listen to the self-guided tour. The ghost tour of Gettysburg is worth checking out as well.
Your last stop on this road trip is Washington D.C.!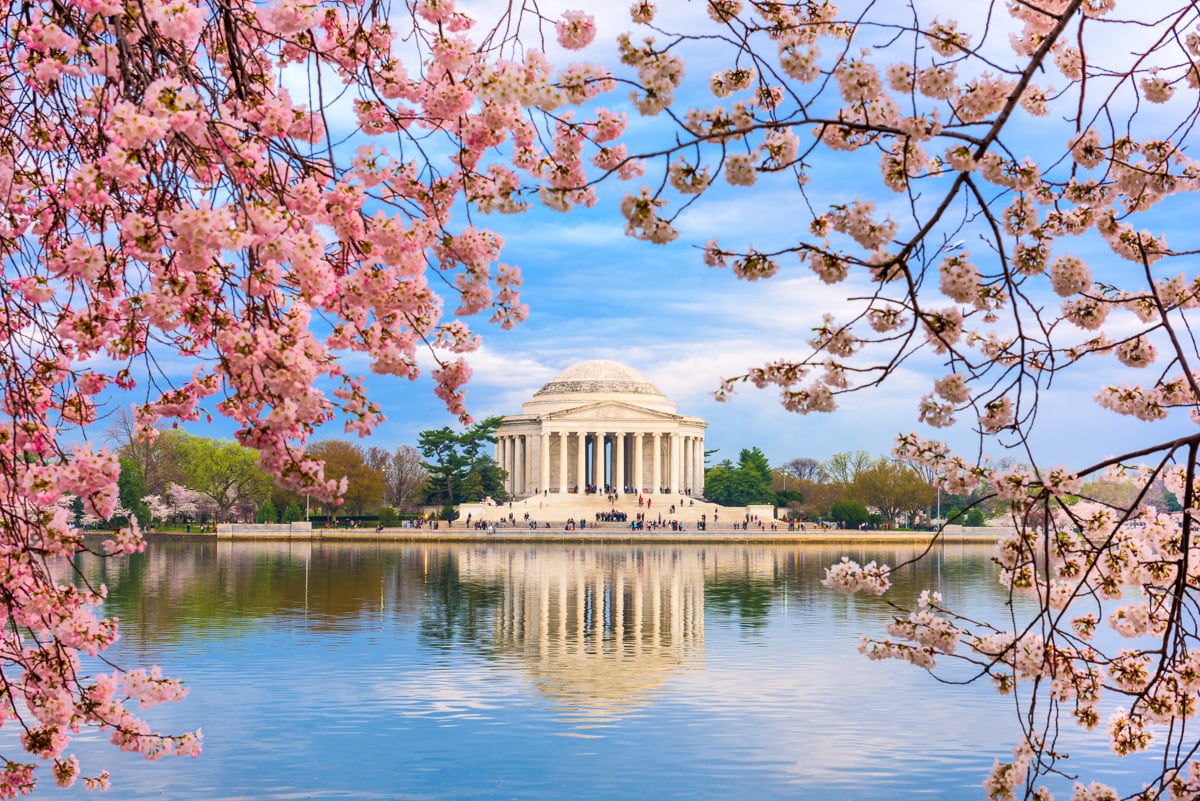 You can visit the many Smithsonian museums, the White House, the Capitol Building, and National Monuments. In fact, exploring the monuments at night is even better!
This east coast road trip is great pretty much year-round, but the weather will likely be the best in both the spring and the fall.
Suggested by Lisa at Planning Away
13. West Virginia Road Trip
West Virginia is one of the most underrated states in the USA, and one of the best ways to explore it is by doing a road trip. The beautiful scenery and winding roads make the state perfect for ran east coast trip.
One of the best East Coast road trips is from Davis down to White Sulphur Springs with a stop at Snowshoe. If you are very outdoorsy then you'll want to spend about six days on this trip.
There are so many fun things to do in Davis, WV, which makes it the perfect starting point where you should spend three days.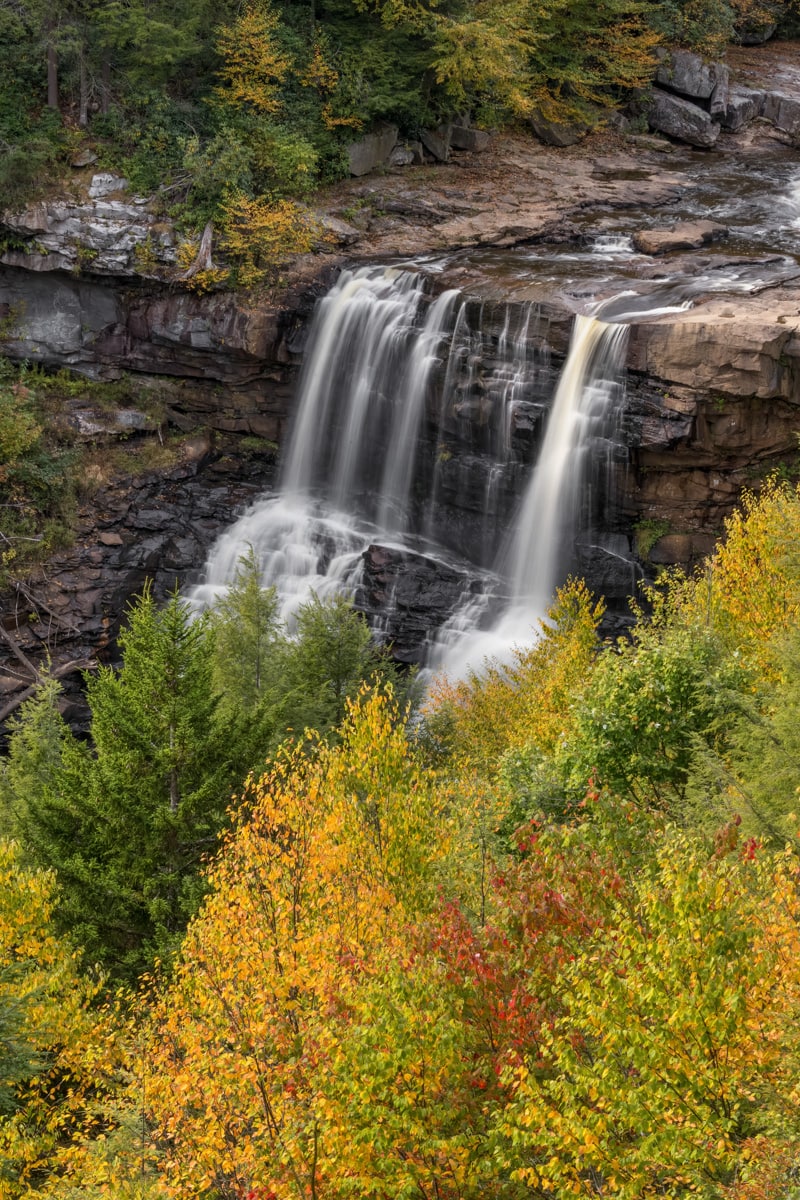 If you love hiking then Blackwater Falls State Park and Canaan Valley State Park both have great trail options. In winter, you can downhill ski at Timberline Mountain or Canaan Valley State Park or cross-country ski at White Grass Touring Center.
Drive out through the Dolly Sods Wilderness Area but bring your map since there's no cell service! Visit Bear Rock Preserve, which is one of the best places for sunrise.
On your way down to Snowshoe, make a stop at Seneca Rocks where you can see the impressive rock formations. Snowshoe is an adorable resort town where you can ski in the winter and mountain bike in the summer.
Spend two nights here. They also have hiking, disc golf, or a lake where you can swim, kayak, or paddleboard.
The Village is very cute, with neat shops and restaurants.
The last stop is White Sulphur Springs, where you can finish off the trip with a one-night stay at The Greenbrier, one of the most luxurious resorts on the east coast.
White Sulphur Springs is a destination in itself with all kinds of indoor and outdoor activities throughout the year. Hiking, horseback riding, a climbing tower in summer, and ice skating in the winter are popular activities.
Summer or fall are great times for this road trip, but if you ski then you'll love it in winter.
In Davis, the Laurel River Club B&B is a unique option for lodging. At Snowshoe, stay in The Village if possible, but if not, Elk River Inn is a good budget option.
Suggested by Anna of Stuck on the Go
14. American History East Coast Road Trip
Take a trip through American history with stops at Civil War battlefields, national parks, and even a secret bunker to hide Congress! This scenic road trip is perfect for enjoying the great outdoors while learning a bit of history as you go.
Starting in Appomattox, VA and ending in White Sulphur Springs, WV, the ideal duration for this East Coast road trip is 5-7 days.
Begin your trip at the end of the Civil War at Appomattox Court House National Historical Park in Virginia. Spend the morning touring the town, especially the McLean House, where Generals Grant and Lee met to sign the orders of surrender.
After a short drive towards Charlottesville, VA, spend the afternoon touring the home of America's third president: Thomas Jefferson's Monticello. Jefferson's Virginia home displays his love for books, science, and architecture while also shining a light on the lives of the enslaved that served the Jefferson family for generations.
Day 2 features Shenandoah National Park in Virginia's Blue Ridge Mountains. Get an early start and drive Skyline Drive from the south entrance at Rockfish Gap all the way to the northern end at Front Royal. The drive will take you all day, with several stops to enjoy views, get in a few hikes, and eat a picnic lunch with a stunning view.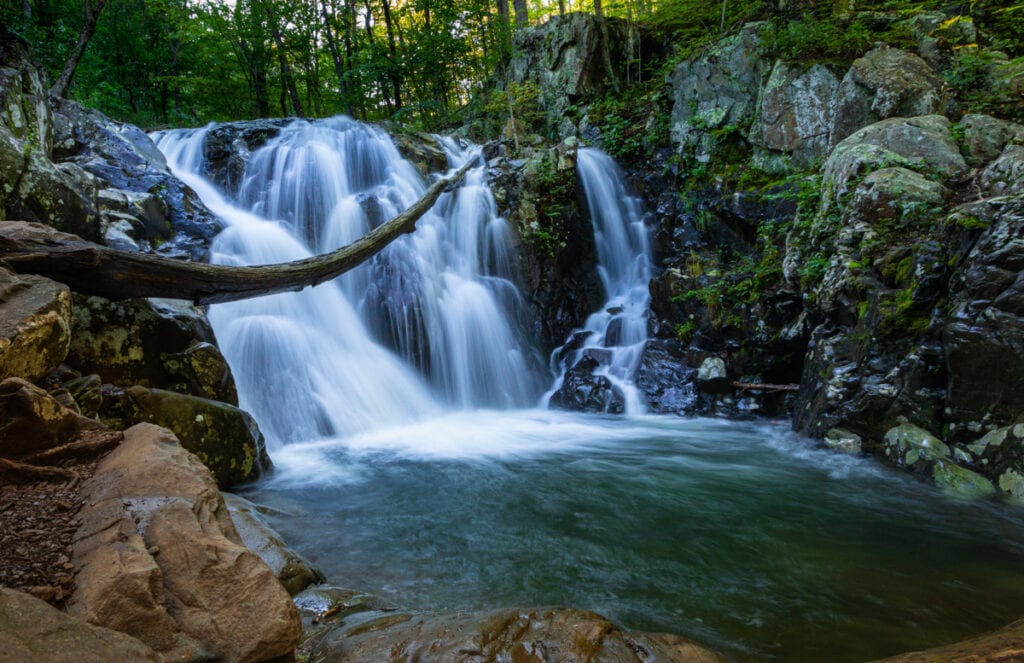 Day 3 begins in Harpers Ferry, WV. Most of the downtown area is now a National Historical Park, perfect for strolling the streets, and learning history, from Lewis & Clark to the Civil War and on to the Civil Rights Movement.
In the afternoon, travel to Sharpsburg, MD to tour Antietam National Battlefield. The Civil War's worst single day battle for casualties, Antietam is a relatively small battlefield and easy to drive around in an afternoon.
Day 4 will be long but worth it. Gettysburg National Military Park in Pennsylvania is HUGE, so get an early start, both to fit it all in and to beat the crowds. Then, head west to the Flight 93 National Memorial Site, arriving just before sunset. This is a quick but worthwhile stop, and helps break up the driving between sights.
Day 5 features America's newest national park: New River Gorge National Park and Preserve in West Virginia. Head to the Canyon Rim Visitor Center for views of the bridge, easy hikes, and a dose of the area's mining history.
Alternatively, adrenaline junkies can take a whitewater rafting trip down the Lower Gorge or visit in October for base jumping from the New River Gorge Bridge.
After you've had your fill of the outdoors, head to White Sulphur Springs, WV. Stop at the ultra-fancy Greenbrier Resort and take the Greenbrier Secret Bunker Tour. An entire wing of the hotel conceals a nuclear bunker built to house Congress in the event of an attack on Washington, D.C.!
Shoulder season, spring or fall, is an excellent time of year for this road trip. You don't have to worry about summer crowds, temperatures are mild with a bit of a nip in the air in the evenings, and the landscape is either starting to bloom or the leaves are starting to change colors.
For a luxurious splurge, book a night or two at The Greenbrier Resort. You can stop for just the bunker tour without staying here, but the resort is jaw-dropping in its own right!
Suggested by Rachel at Means to Explore
15. NYC to Washington D.C. Road Trip
The East Coast of the US is beautiful, and a road trip from New York to Orlando is a perfect way to discover all its beauty.
With less time, you can cover only the first part of this trip and see three famous and historical cities of the Northeast. NYC, Washington D.C., and Philadelphia are three top east coast road trip stops.
The starting point of your road trip is New York City and the endpoint is Washington D.C. The trip is 8 days in total.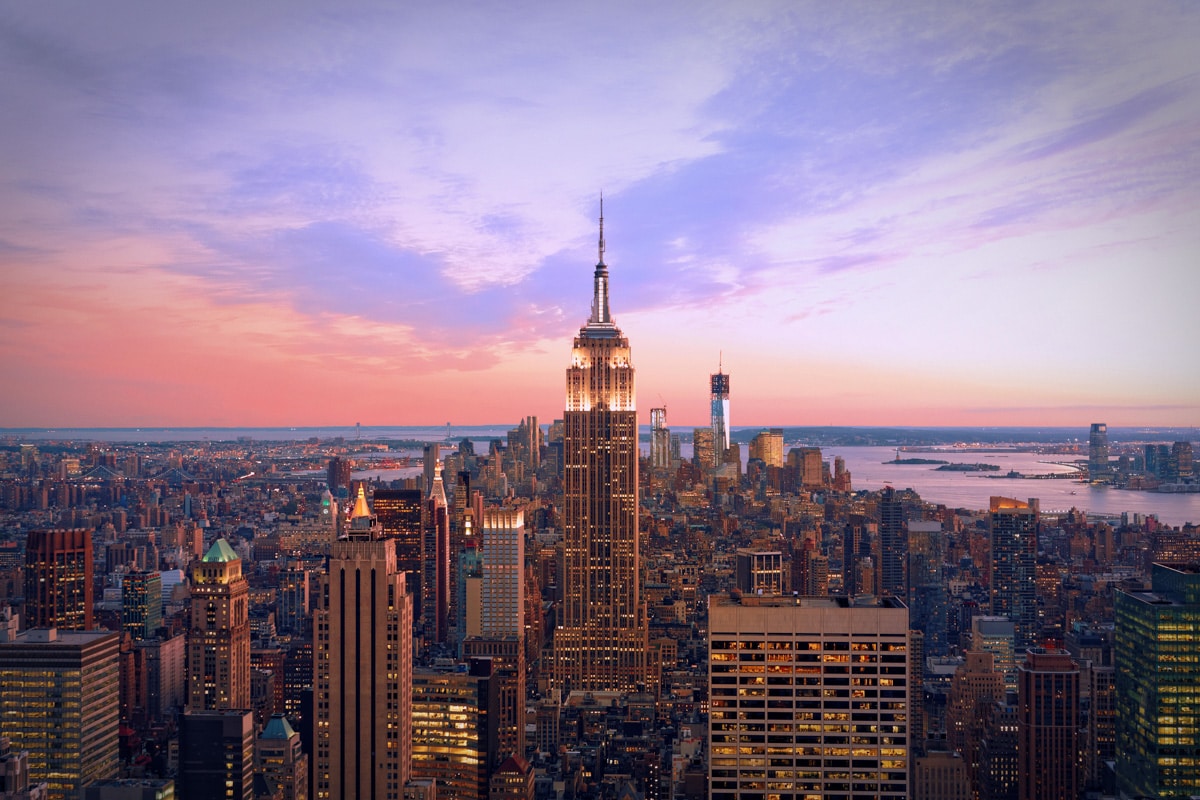 You'll arrive in New York City on day one and spend three days exploring the Big Apple.
The city has something for everyone to enjoy. Explore Central Park, stand on top of the Empire State Building, walk around Times Square, and visit one of the many excellent museums such as the National History Museum and the MET.
Take a Big Bus sightseeing tour, take in the views from other observation decks such as Top of the Rock and One World Trade. Also reserve a table for a rooftop meal!
Ride the Staten Island ferry to view the Statue of Liberty, take a stroll in Central Park, and attend a show on Broadway.
On day four, drive to Philadelphia, which will take 2 to 4.5 hours depending on the traffic. You have one day to explore the city. Visit the Liberty Bell and run up (and down) the Rocky Steps at the Philadelphia Museum of Art.
The last stop on your road trip is Washington D.C., which is another big city that has a lot to offer. Explore the National Mall, with its many monuments and memorials, the White House, and the plethora of museums.
Just outside the city, Great Falls National Park has wonderful hiking trails and great views of the falls of the Potomac River.
You can drive this route all year long. The attractions are open and perfect to visit in every season.
Suggested by Cosette from KarsTravels
16. East Coast Baseball-Themed Road Trip
The East Coast is home to some of the country's best baseball teams, hosted by fascinating cities to visit. Connect them all into an unforgettable East Coast baseball-themed road trip.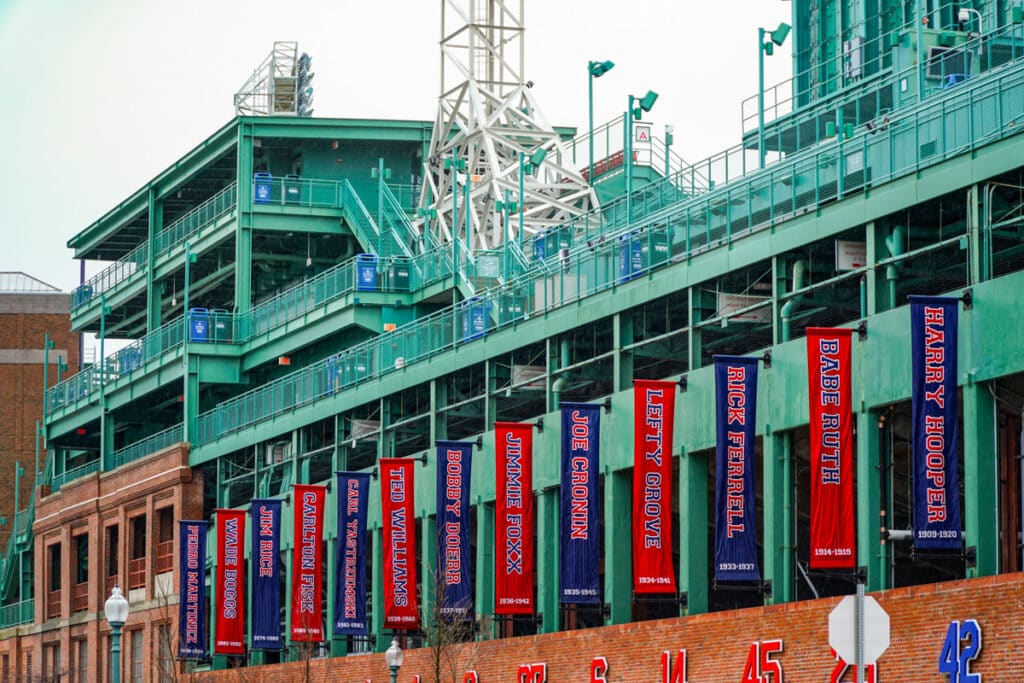 This trip starts and ends in Washington, D.C. Plan for 7 days, though your itinerary may change depending on game schedules.
In Washington D.C., Nationals Park is the heart of the Capitol Riverfront, within walking distance of the Navy Yard's booming restaurant scene. The park is a short Metro ride from the city's famous buildings, museums, and monuments.
Check out the Philly Phanatic at a Philadelphia Phillies game. When you're not at the stadium, grab a cheesesteak, and run up the "Rocky Steps" at the Philadelphia Museum of Art.
NYC's Yankee Stadium is just two hours from Philadelphia. For a sense of the Yankees' history, stop by the stadium's museum.
The museum opens 90 minutes before the first pitch on game days. Admission is free with your ticket.
And when you're not at the game, you have all of New York to explore, from Times Square to the Empire State Building and the Statue of Liberty to Central Park!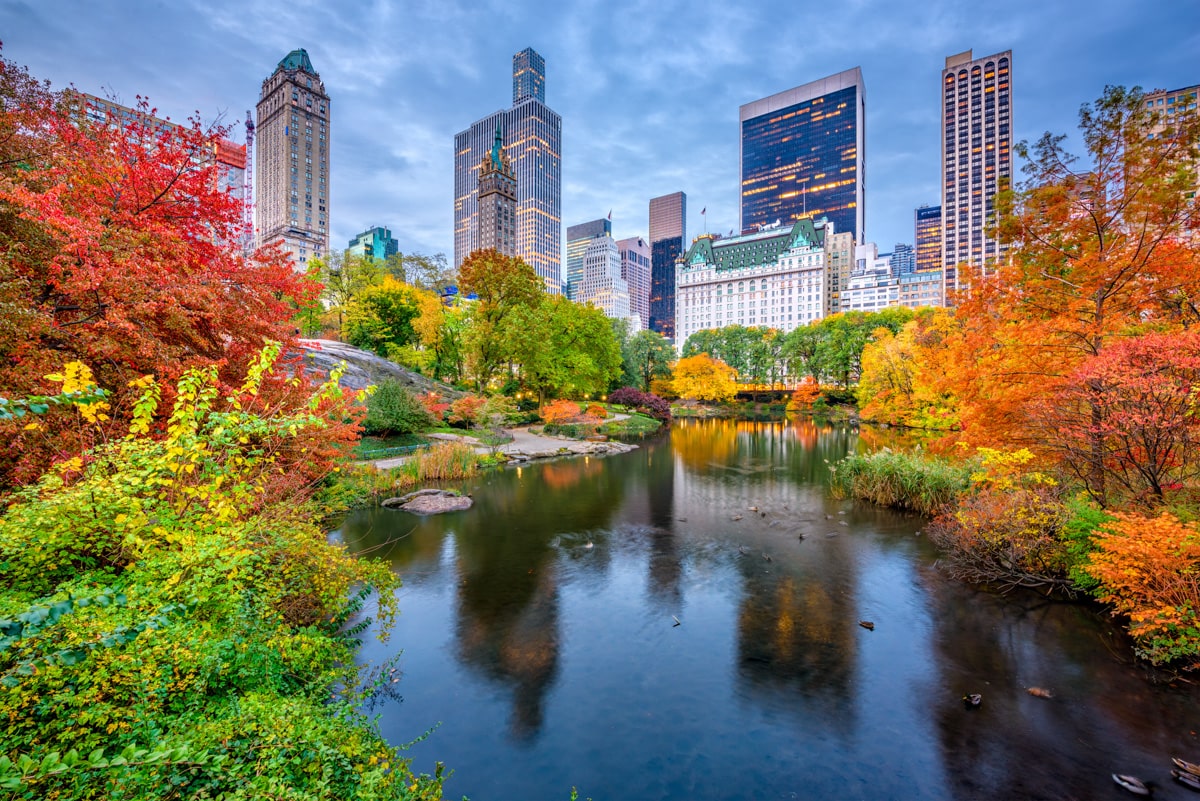 After cheering for (or against) the Yankees, your next stop is home to their biggest rival: the Boston Red Sox. Book a stadium tour before the game to take in views from the Green Monster at historic Fenway Park.
After the game, Boston's Freedom Trail makes it easy to find the city's many historic points of interest, from the Boston Common and Boston Public Garden to the historic buildings of the Freedom Trail.
Cooperstown, NY is home to the Baseball Hall of Fame and Museum. This town is dedicated to the love of baseball. Keeper of baseball's history and legends, it's a perfect cap for any east coast baseball road trip.
You can do this trip any time during baseball season, which usually runs from spring until early fall.
Suggested by Kristy of JJ and the Bug
More US Travel Inspiration
Want to get away for short breaks? We've compiled a list of the most exciting East Coast weekend getaways from which to pick your next escape.
Looking to explore the western part of the country? Check out our round-up of the most epic western US road trips to take.
If you want to do a western US road trip covering national parks, check out this article on the great national parks in the west, from Yellowstone and Yosemite to Utah's Mighty 5.
And if you are looking for short breaks in the west, we have an article on the best West Coast weekend getaways.
Love the vibrancy of US cities? Check out our article on the best USA weekend trips. From NYC and Boston to New Orleans, San Diego, and Las Vegas, you'll find excellent options for your next city break.
We've also got a round-up of the very best road trips in the USA, if you are considering an epic vacation on the road in the US!
Did you find this article informative? Pin it for later reference!