Looking for the best places to visit in Maine? The northeastern US state offers spectacular scenery, charming coastal resorts, and year-round recreation.
Maine's coastline is legendary for its beauty, and from York to Bar Harbor, you will find plenty of towns and small villages to tour along the scenic coast.
Inland, you will find pristine lakes, beautiful waterfalls, and mountain peaks to explore.
Some links on this page may be affiliate links. If you click an affiliate link and make a purchase, we may receive a small commission, at no extra cost to you. For more details, refer to our disclosure.
Maine is home to Acadia National Park, one of the most popular national parks in the US. But also do not overlook other natural areas, such as Baxter State Park and Moosehead Lake.
The coast of Maine is one of the most popular East Coast road trip routes!
And Maine's many offshore islands are fun vacation spots as well, whether you visit for the day or you choose to overnight.
While summer is a very popular time to visit, Maine is attractive in other seasons as well, with the bonus of a quieter vacation. Fall colors are spectacular in many parts of the state, and winter offers snowshoeing, skiing, and stargazing.
Read on to discover the very best places to visit in Maine!
Acadia National Park
Located on Maine's picturesque Atlantic Coast, Acadia National Park is one of the best places to visit in Maine, and indeed, one of the most beloved East Coast weekend getaways.
It's also one of the most popular US national parks.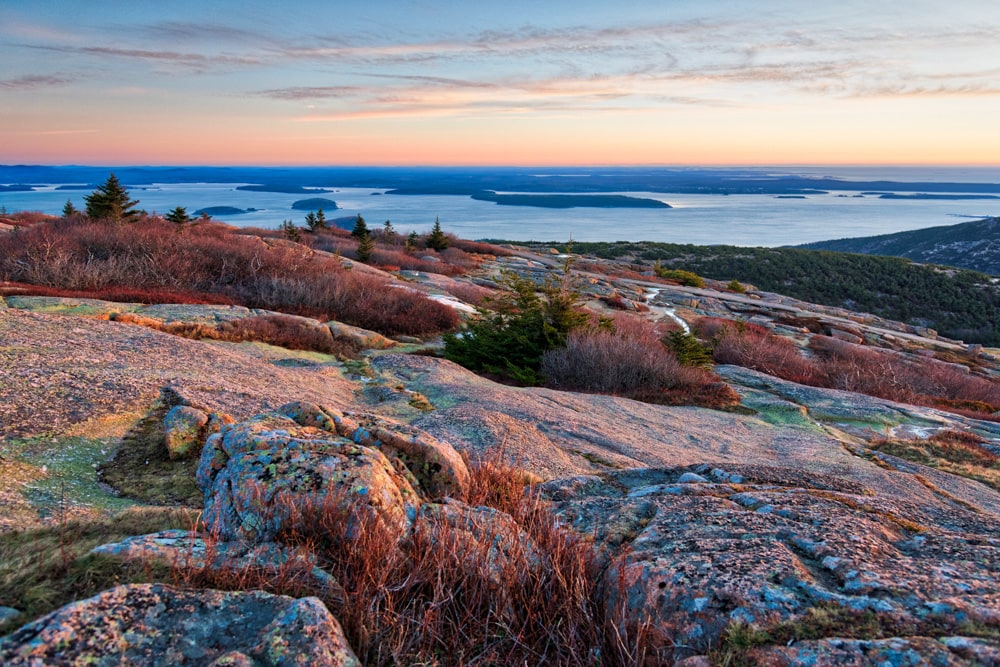 Drive scenic Park Road to access many of the park's major sights, from Sand Beach to Otter Cliff. The drive is beautiful in any season, but especially so in the fall. Get an audio tour guide!
Head to the top of Cadillac Mountain for panoramic views of the water and the coastline, as well as offshore isles.
Sunrise is a particularly magical (and popular!) time to visit. From early October to early March, Cadillac Mountain is the first place in the country the sun strikes.
Note that reservations are required in season if you plan to drive the road to the summit.
Hiking in Acadia National Park includes many thrilling rung-and-ladder trails, but there are also easier scenic strolls for visitors less interested in adrenaline-pumping adventures.
Photographing the spectacularly positioned Bass Harbor Head Light is one of the most popular things to do in Acadia National Park. Sunset is a popular time.
Walk the historic carriage roads, and admire the stone bridges and little waterfalls. These roads, closed to vehicular traffic, are great for leaf peeping in the fall, but also for snowshoe hikes in the winter.
The park is known as one of the must-visit leaf-peeping destinations in the USA.
Whether you're visiting on a weekend getaway or as part of a road trip, Acadia National Park is fun for both kids and adults that love the outdoors. And if you visit for a longer vacation, all the better!
Where to Stay
Charming Bar Harbor makes a wonderful base from which to explore Acadia National Park. The Inn on Mount Desert offers modern rooms in the heart of town, with free onsite parking. The inn is just one mile from Acadia National Park.
Book a stay here!
Portland
The city of Portland is located on a peninsula that juts out into Casco Bay. It is both historic and lively, and one of the best places to visit in New England.
There are 80 historic landmarks in downtown Portland, from historic houses and churches to the Portland Observatory, which you can climb for views. Grab a walking map, and do a self-guided tour!
Or get this excellent overview of the city plus three lighthouses on this highly-rated guided tour led by a local!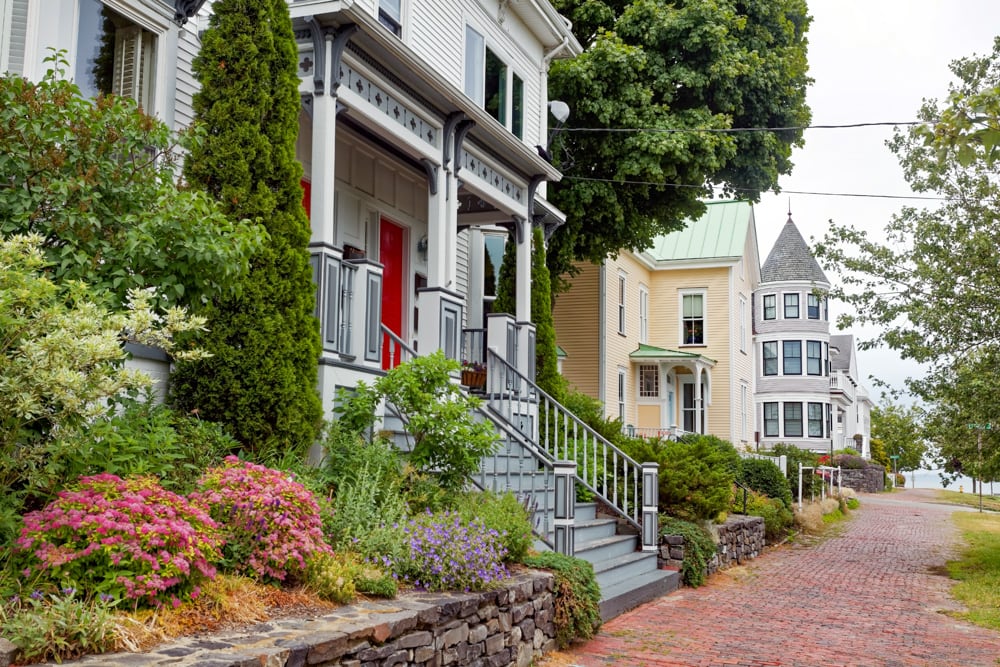 The Old Port is a lively historic district. Stroll the cobblestone streets and browse the many boutiques, housed in old brick buildings. You will find lots of restaurants and bars here as well.
If you like art and museums, downtown Portland offers lots of options. More than a dozen private fine art galleries feature paintings, drawings, photography, prints, and sculpture.
The Maine Narrow Gauge Railroad Museum is a must-browse for railroad enthusiasts. You can even take an excursion train ride.
Portland is known for its dining scene, so join a food tour to taste a sampling of the delicious offerings. This highly-rated Old Port culinary walking tour stops at up to seven quality eateries for Maine-inspired cuisine.
Where to Stay
The Press Hotel, Autograph Collection, offers beautifully-appointed rooms and suites in the city center. The windows are oversized, making the rooms light and bright. The onsite restaurant, Union, offers farm-to-table and sea-to-table cuisine.
Book a stay here!
Cape Elizabeth: Portland Head Light and More!
Located just a short drive from downtown Portland is the Portland Head Lighthouse, the most photographed lighthouse in New England, and perhaps even in the entire country. It's that stunning!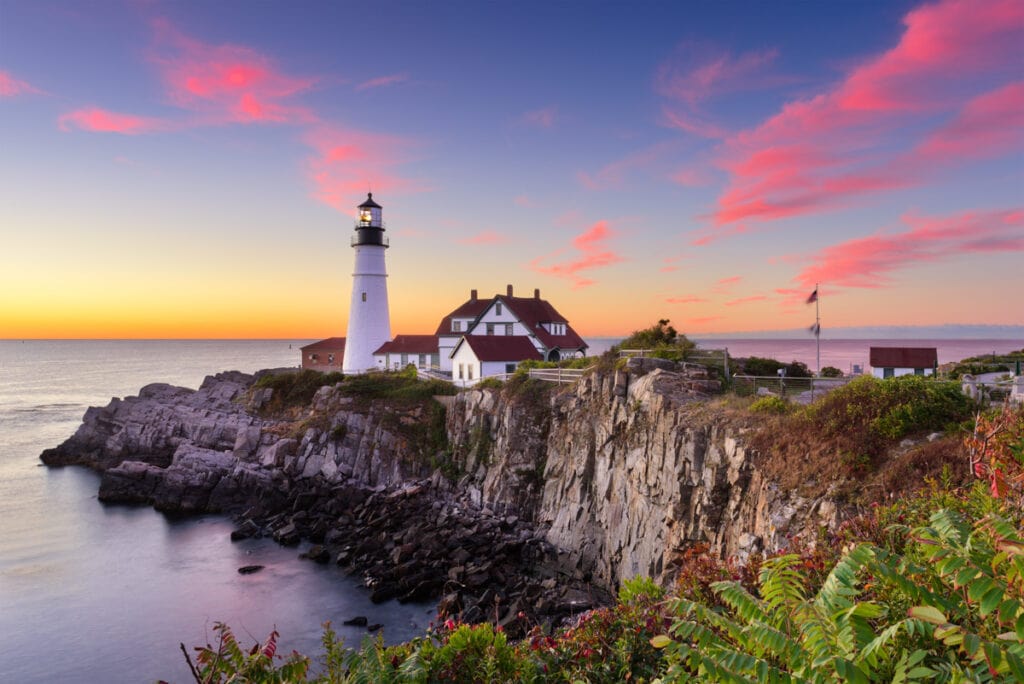 Completed in 1791, the Portland Head Light is the oldest lighthouse in Maine. It sits on a picturesque promontory at the entrance to Portland Harbor.
The lighthouse, and the adjacent Fort Williams Park, offer lots of recreational opportunities, from flying kites to walking the coastline and the rocky beach. There are food vendors, but you can also bring a picnic.
Tour the Lighthouse Museum, located in the former keepers' house. Exhibits showcase the history of the lighthouse from the time it became operational until the light was automated in 1989.
Be sure to do the cliff walk through the fort grounds for spectacular water views, and, if you enjoy plants, visit the arboretum.
Apart from the picturesque lighthouse, Cape Elizabeth is a relaxing getaway. Relax at Crescent Beach State Park, admire the ruins of the Goddard Mansion, walk the trails in Two Lights State Park, and visit the Cape Elizabeth Lighthouse.
Where to Stay
Inn by the Sea is an eco luxury inn located right in Cape Elizabeth. Located on a pristine sandy beach, the inn offers rooms as well as one- and two-bedroom suites. There is a pool and the grounds are gorgeous.
Book a stay here!
Looking for a rental car for your Maine trip? Check out Discover Cars: they search across a wide range of local car rental companies for availability for your dates, and you can compare prices, reviews, and other details to make the best choice.

Check availability and prices at DiscoverCars!
Camden
Camden is a charming town on Maine's scenic Midcoast. Extremely popular in the summer, Camden has many part-year residents that own ocean-view estates.
This New England town makes for one of the nicest weekend getaways from Boston, and one of the best places to visit in Maine.
In downtown Camden, browse the many specialty shops and galleries, or go antiquing. You'll find lots of cafes and restaurants here as well. Enjoy a lobster roll at Marriner's!
Camden Harbor is very picturesque and the departing point for boat tours and cruises. A windjammer day cruise is a wonderful way to take in the views!
The High Street Historic District features many 19th century homes, as well as the lovely Camden Public Library. If you enjoy quirky museums, check out the Oz collection at the National Oz Museum!
At nearby Megunticook Lake, Barrett's Cove Public Beach is a great place to relax. There are swim areas and picnic tables, and the water is fairly warm in the summer.
Laite Memorial Beach is a quick drive from downtown Camden and offers beautiful views over the harbor. The beach is great for strolling, and there are picnic tables. Search for shells, or go kayaking or paddleboarding.
Camden Hills State Park offers many miles of hiking trails. You can hike up to the top of Mt. Battie! You can also drive up to the top, for gorgeous views over Penobscot Bay.
Where to Stay
Lord Camden Inn is a luxury boutique hotel located in the village. It boasts magnificent views of Camden Harbor and the surrounding coastal mountains. Rooms and suites span four floors and are extremely well appointed.
Book a stay here!
Ogunquit
Ogunquit is a popular vacation destination on the southern coast of Maine, with a scenic coastline and beautiful beaches. Ogunquit means "a beautiful place by the sea," in Native American, and that it definitely is!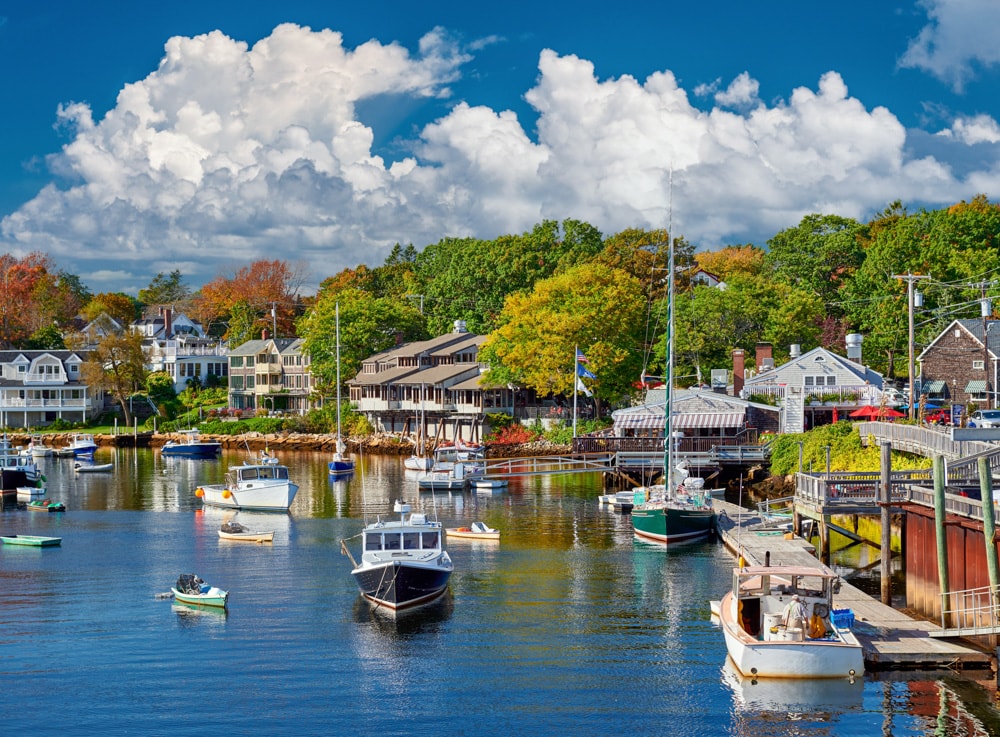 The historic center features a walkable main street, with many boutique stores, sweet shops, and art galleries. Ogunquit is also home to many quality eateries, with several restaurants featuring Maine lobster and other seafood specialties.
At about 3 miles, Ogunquit Beach is a gloriously long and sandy beach. It's a family-friendly beach, with relatively calm surf. Play at the water line, walk along the sand, fly a kite, or build a sand castle!
Walk Marginal Way, a 1.25-mile waterfront walkway that stretches from the village of Ogunquit to Perkins Cove. Along the way, you can stop to admire the views and snap a photo of the lighthouse.
Perkins Cove, the little fishing village at the end of the walkway, is a fun place to visit, with beautiful water views, little shops, and restaurants. Take a boat tour to enjoy the views of the Maine coastline from the ocean!
Catch a performance at the Ogunquit Playhouse. Visit the Ogunquit Museum of American Art. Enjoy a spa treatment at the Cliff House Resort, and follow it up with a drink: the views are spectacular!
Where to Stay
Abalonia Inn is located just a 2-minute walk from the beach and about one mile from Perkins Cove. Rooms are well-appointed, with wood furnishings, and the property offers a seasonal outdoor pool, hit tub, fire pit, and gardens.
Book a stay here!
Bar Harbor
Known as the gateway to Acadia National Park, the charming town of Bar Harbor is a Maine destination in its own right, with many options for land and water recreation.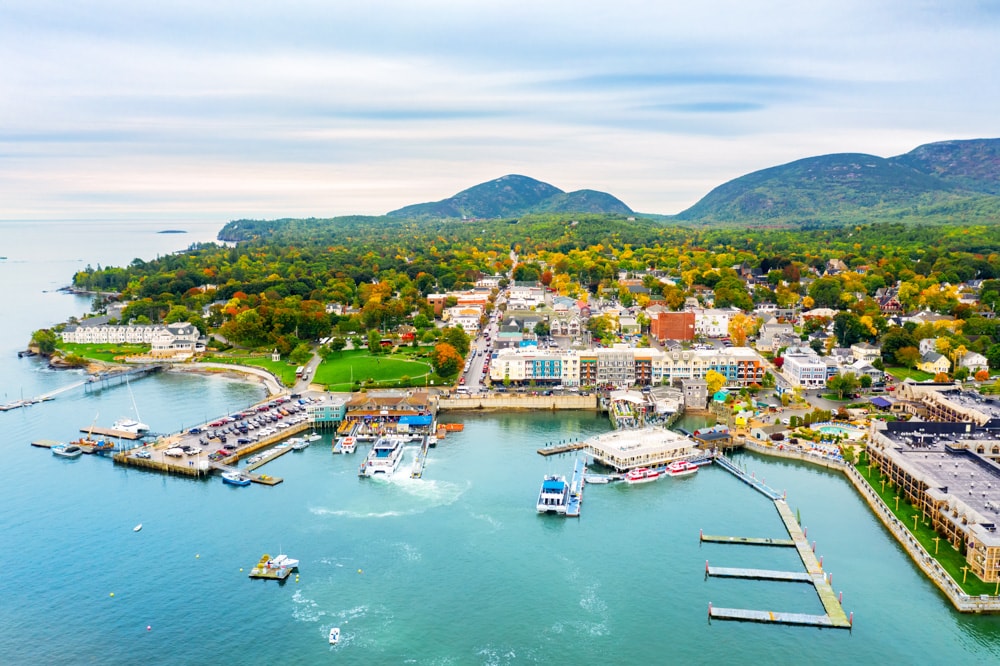 Visit in the spring or fall for a more relaxing time at the scenic coastal town: it can feel crowded in the summer, which is a popular time to visit the national park.
Walking the beautiful 1.5-mile Shore Path is one of the best things to do in Bar Harbor. The scenic path winds around Frenchman's Bay, with views across to offshore isles.
At low tide, you can walk across to Bar Island, and climb to the top of the island for magnificent views of the town of Bar Harbor and the mountains in the back. Check tide information before you walk across, to get back safely!
Downtown Bar Harbor has a charming main street, with photo-worthy facades and lots of shops and galleries to browse. You'll also find many places to enjoy Maine lobster.
Bar Harbor offers a variety of boat tours, from whale watching cruises to sailing. A cruise is a delightful way to take in the picturesque coastline. You can also go kayaking or paddleboarding.
Where to Stay
Yellow House Inn features individually decorated rooms with antique furnishings and plush bedding. Breakfast is served each morning, and includes rotating hot entrees. Shopping and dining are nearby.
Book a stay here!
Kennebunkport
A laid-back coastal town in southern Maine, Kennebunkport offers a plethora of recreation options. While it is very popular in the summer, Kennebunkport also makes for a quiet getaway in the spring and the fall.
Downtown Kennebunkport has a variety of stores to browse. You will find gift shops with local arts and crafts, apparel boutiques, home decor, and fine art. Restaurants abound in Dock Square.
Take a boat cruise to explore Goat Island Lighthouse in Cape Porpoise. The cruise includes a guided tour of the historic light, plus a visit to Bumpkin Island to view the seals.
Sailing expeditions are available, as well as kayaking, whale watching cruises, lobster boat tours, and guided deep sea fishing.
Kennebunkport has a string of beaches. Gooch's Beach is arguably the most popular and the most scenic. It is dog-friendly as well! Bring beach chairs and a picnic, and arrive early to snag a parking spot.
Snap a photo of historic St. Ann's Church. Kids will love the Seashore Trolley Museum: you may even be able to ride in a car. Visit Walker's Point, home to the Bush compound. The views along Ocean Avenue are stunning.
Where to Stay
Waldo Emerson Inn is a 3-star bed and breakfast with air-conditioned rooms and private bathrooms. Rooms have sitting areas and some rooms overlook the gardens. An American breakfast is served daily. Complimentary bikes are offered for the length of your stay.
Book a stay here!
Boothbay Harbor
The quintessential Maine seaside town, Boothbay Harbor offers fun things to do on the water and on land. Boothbay Harbor is part of Maine's scenic Midcoast region.
Downtown Boothbay Harbor features lots of shops and restaurants. Orne's Candy Store has been in operation here since 1885! Be sure to walk the long wooden footbridge that connects the two sides of the harbor.
Visit the spectacular Coastal Maine Botanical Gardens: at 250 acres, you'll need to set aside a few hours to explore the gardens at leisure. The gardens are open May through late October.
Kids and adults alike will enjoy Boothbay Railroad Village, where you can take a ride in a vintage coach drawn by a 100-year-old steam locomotive! There are also antique autos and old buildings to admire.
A boat tour is a must when you visit Boothbay Harbor. The views are beautiful, and you can look for puffins and seals. Take a relaxing whale-watching cruise, or a windjammer excursion. Kayaking tours are another way to explore the area.
Barrett Park, right on the water, is an excellent place for a stroll. The short walking paths offer great views, and mature trees provide shade. It's a relaxing place for a picnic lunch.
Foodies will want to book a culinary tour to sample local delicacies!
Where to Stay
Harbor Towne Inn on the Waterfront is located near the marina and is a 10-minute walk from the beach. The bed and breakfast offers a shared lounge, plus a garden and terrace, and rooms are beautifully appointed.
Book a stay here!
York
A popular summer vacation spot in southern Maine, York consists of York Village, York Beach, York Harbor, and Cape Neddick. The area makes for a wonderful getaway for couples, solo travelers, or families and groups.
Visit the Cape Neddick Nubble Lighthouse, a very photo-worthy lighthouse that is located on a small islet offshore. The views are expansive, and for the adventurous, there are rocks to climb.
Long Sands Beach is one of the most best beaches in the region. It's crowded in the summer, but if you visit in late spring or fall, you can watch the waves in relative quiet. There are surfers to watch as well.
Shorts Sands Beach is much smaller, but it is family-friendly, and close to an amusement arcade and eateries. York Harbor Beach, another long sandy beach, rounds out York's beach offerings.
Mount Agamenticus is one of York's major landmarks. You can drive up to the top, or you can hike one of the trails to the top for 360-degree views. On a clear day, look for Cape Neddick, the Piscataqua River Bridge, and the White Mountains.
History buffs will enjoy a visit to the York Historical Society, to learn about life in the early days of the English settlement. If you enjoy shopping, you'll love browsing the shops in York Harbor.
Where to Stay
Union Bluff Hotel is located just a 3-minute walk from the beach. Rooms are comfortably furnished, and some rooms offer ocean views. Complimentary breakfast is served in the Union Grill, which also offers dinner.
Book a stay here!
Baxter State Park
Located in north-central Maine, Baxter State Park covers over 200,000 acres. It is not part of the Maine State Park system; it is independently funded and managed.
The focal landmark in the park is Mount Katahdin, the tallest mountain in Maine and the northern endpoint of the Appalachian Trail. Many trails lead to peaks on Katahdin, including Baxter Peak, the highest point.
The park features over 220 miles of hiking trails, and hikers of all skill levels will find trails to walk. Cranberry Pond and Caverly Pond near Togue Pond Gate are short and scenic.
At Togue Pond, rent a canoe and paddle for great views of the park and Katahdin. You can take a dip in the pond on warm days as well. Bring a picnic and spend a few hours here.
Biking, fishing, and climbing are other activities to enjoy in Baxter State Park. The park is a wonderful place for birdwatching and wildlife viewing. Wildflowers and fall color are other seasonal draws.
If you enjoy camping, the park offers more than 300 campsites. There are not many amenities though, so come prepared tp enjoy the pristine wilderness.
Where to Stay
Baxter Park Inn in Millinocket is located about 18 miles from the park, and offers free parking and wifi. The property features an indoor pool and sauna. Rooms are quiet and comfortable.
Book a stay here!
Bangor
Considered the lumber capital of the world in the 19th century, Bangor got its name from a Welsh hymn of the same name. Today, the city offers visitors an eclectic array of things to see and do.
Downtown Bangor offers shopping and dining. Walk Main Street and State Street to browse the many boutique shops and galleries. You'll also find historic homes and churches to photograph in the historic district.
One of the most visited landmarks in Bangor is Stephen King's house. Although you can only see it from the outside, the home is very worthy of photos! Don't miss the wrought-iron gates and the carved tree in the grounds.
Paul Bunyan's statue celebrates the city's past as a lumber hub. It's also mentioned in King's novel It, so you'll want to make a quick stop if you are a fan of King or roadside attractions.
Outdoor lovers will want to head to Bangor City Forest, 680+ acres of wilderness with many hiking trails and excellent wildlife viewing and birding. the Orono Bog Boardwalk trail is a must!
The Bangor Historical Society offers a couple of cool tours: the Ghostly Bangor Walking Tour and the Darker Mount Hope Cemetery Tour. Both tours are worth taking! The Hill House Museum is also worth the visit.
Where to Stay
Residence Inn by Marriott Bangor offers rooms with sitting areas and comfortable beds. The historic district is just one mile away. The property offers a swimming pool and hot tub, as well as free parking and free wifi.
Book a stay here!
Rockland
Located along Maine's picturesque Midcoast, Rockland is one of the most popular vacation spots in the state. The town offers many quality eateries, a lively downtown, and lots of activities.
Art lovers will find two excellent museums in Rockland. Visit the Farnworth Art Museum to see works by the Wyeth family and other American artists. Or tour the nearby Center for Maine Contemporary Art.
If you are visiting for a few days, book a multi-day windjammer or schooner excursion. You will cruise scenic Penobscot Bay, for a memorable adventure. Schnooner Isaac H. Evans offers two-hour cruises if you are seeking a shorter excursion.
Walk the mile-long Rockland Breakwater to Breakwater Light. The views are excellent both ways. The lighthouse is listed in the National Register of Historic Places.
Also visit Owl Head Light, where you can climb to the base of the lighthouse for expansive views of Penobscot Bay and offshore islands.
Every August, Rockland hosts the Maine Lobster Festival, a 5-day festival with lots of seafood, entertainment, and a parade. It is a popular time to visit the town!
Where to Stay
Rockland Harbor Hotel is located in the heart of town, close to the ferry. Rooms are well-appointed with beds rated super comfy. Some rooms feature water views, and there is a fire pit for evening relaxation.
Book a stay here!
Old Orchard Beach
A super popular summer resort destination in southern Maine, Old Orchard Beach offers a small seaside town ambience with plenty of opportunities for recreation.
The sandy beach is seven miles long! Bring a blanket and a cooler with picnic fixings and beverages and spend a few hours relaxing by the ocean. Swim, play frisbee, or take a kayak out into the water.
Old Orchard Beach Pier is a great place to stroll. It features lots of cafes and restaurants, and shops. This is a newer and shorter pier: the original pier, which extended more than 1,800 feet into the ocean, was destroyed by storms.
Palace Playland styles itself as New England's only beachfront amusement park. Here you will rides for young kids and for thrill-seeking older kids and adults. You'll love watching the old-fashioned carousel in action!
Take a boat tour: pick a rafting tour, a lobster boat tour, or a fishing charter. You can also go kayaking on the Saco River. The Scarborough Salt Marsh offers excellent wildlife viewing and birdwatching.
There are lots of fun eats to try in Old Orchard Beach. Try the crisp and crunchy fries at Pier French Fries, croissants from Cafe 64, and ice cream at Ocean Park Soda Fountain. And, of course, lots of fresh seafood!
Where to Stay
The Edgewater is located right by the beach. Rooms are well-appointed, and some rooms feature ocean views. The property features a swimming pool, and parking and wifi are free.
Book a stay here!
Bethel
The Bethel area is known for winter sports, but it's a year-round vacation paradise. The small town of Bethel, and nearby Sunday River, are located about a 90-minute drive northwest of Portland.
The Sunday River ski area is one of the most popular winter sports destinations in New England. Close to 800 acres of ski area across eight mountain peaks make it a skiers' paradise.
A 20-minute drive from town, Grafton Notch State Park is a hikers' paradise in warmer months. The park contains one of the toughest sections of the Appalachian Trail, but there are also many short and easy hikes.
You can also just drive the Grafton Notch Scenic Byway through the park, and stop off at overlooks to enjoy the superb views. The park also features spectacular birding and wildlife viewing.
Between July and mid-October, take a scenic chairlift ride to the top of North Peak for fabulous views of the Sunday River Valley and Mahoosuc Mountains. You can take the gondola back down, or walk down.
Downtown Bethel is walkable, and the town is charming. Visit the Maine Mineral and Gem Museum to see a variety of gems and rocks from the area. You may even be able to hold a moon rock or Mars rock!
Where to Stay
Holidae House Bed & Breakfast, located in downtown Bethel, features rooms with antique furnishings and private bathrooms. A gourmet breakfast is offered each morning, and drinks and baked treats in the evenings.
Book a stay here!
Vinalhaven Island
One of the two Fox Islands in Penobscot Bay, Vinalhaven is Maine's largest offshore island. It's located about halfway up the Maine Coast, and you can arrive by ferry from Rockland.
Lane's Island Preserve is about a 20-minute walk from the ferry terminal. The preserve is connected to Vinalhaven by causeway. There are trails to hike and a rocky shoreline to explore.
Tip Toe Mountain Preserve is another must-visit park on the island of Vinalhaven. Short trails lead to the top of Little, Big, and Middle Tip Toe Mountains. Each summit offers beautiful views.
Lawson's Quarry and Booth's Quarry are popular swimming holes, with flat rocks for sunbathing. The crystal-clear freshwater here offers a break from saltwater swimming.
To get out onto the water, rent a kayak or paddleboard, or join a lobster boat tour. Birders can book a tour with ornithologist John Drury: you'll visit adjacent islands to look for birds and wildlife.
Visit the Vinalhaven Historical Society to learn about the history of the island from its early days, when farming and fishing were paramount, to its transition as a quarrying center, to its current days.
Where to Stay
The Tidewater is located on Main Street in Vinalhaven. Rooms and suites are appointed with beach casual furnishings, and many suites offer kitchens and decks. The property overlooks the harbor.
Moosehead Lake
Moosehead Lake is a popular destination for outdoor enthusiasts visiting Maine. It is the largest mountain lake in the eastern US, and offers breathtaking scenery, fall color, and wildlife viewing opportunities.
Take a tour of Moosehead Lake on the Steamship Katahdin! Once a working steamboat, Kate, as she is fondly called, is more than 100 years old! You can take the narrated cruise between June and October.
Other ways to get out onto the water at Moosehead Lake include renting a boat, canoe, kayak, or stand-up paddleboard. The shoreline offers numerous coves and inlets to explore and there are dozens of islands on the lake.
Fishing for trout and landlocked salmon is another popular activity on the lake. If you visit in the summer, you can take a dip in the clear cool waters of Moosehead Lake! Monson Public Beach and Red Cross Beach are popular swim areas.
Moosehead Lake is a great place for wildlife viewing and bird watching. And yes, you may spot a moose here, especially if you are out early or around dusk. May and June are especially good months for moose viewing.
Visiting in the winter? Enjoy stargazing: with little light pollution, you may see the Milky Way, and even the Aurora Borealis! Go snowshoeing, cross-country skiing, and snowmobiling. You can also go ice fishing here in the winter.
Where to Stay
Crows Nest is a cozy one-bedroom, one-bathroom vacation rental in Rockwood that comes with a fully-equipped kitchen and a patio with lake views. It's the perfect retreat for a couple!
Book a stay here!
Monhegan Island
Monhegan Island is just about one square mile in area. It lies about ten miles off the coast of mainland Maine, and is only accessible by boat. It's the perfect retreat if you are looking for a quiet time!
You can arrive on your own boat, or you can take a ferry from Boothbay Harbor, Port Clyde, or New Harbor. And while you can visit for the day or cruise around the island, you can also spend several days relaxing here.
The lighthouse on Monhegan Island dates from 1824, and it is the second highest light in Maine. From Lighthouse Hill, you get fabulous views of Monhegan Village and harbor, Manana Island, and the mainland.
There is a thriving artists' colony on the island, and some artists offer studio visiting times. You can also view the works of local artists at art galleries around the island.
Th Ice Pond is a great place to go birdwatching (and skating in the winter!). Lobster Cove and the meadow, at the southern end of the island are also excellent birding locations.
White Head and Burnt Head are other short day hikes. Both headlands offer excellent views, and the opportunity to sit on the rocks and enjoy your surroundings.
Monhegan Island is home to some quality eateries. Eat at the water view restaurant at the Island Inn, or enjoy a lobster roll at the Fish House. Sample baked treats at The Barnacle, and ice cream and desserts at the Novelty.
Where to Stay
Island Inn is located on a bluff overlooking Monhegan Harbor. The inn offers well-appointed rooms and suites, some with ocean views and private baths. An American breakfast is included, and the onsite restaurant also serves dinner.
Peaks Island
If it's your first visit to Peaks Island, get acclimated with a golf cart tour! You'll learn about the island's history as you admire the views along the way. Also visit the Fifth Maine Regiment Museum, which showcases the history of the island.
Battery Steele, a WWII fortification, is one of the largest batteries in the US. It is listed on the National Register of Historic Places. Peaks Island Land Preserve, which houses the battery, is a great place to walk and view wildlife and birds.
You'll find a trio of beautiful beaches on Peaks Island. Sandy Beach is excellent for swimming. Centennial Beach is wonderful for a stroll, especially at sunset! At Cairn Beach, you can view the many existing cairns or build one!
To explore Peaks Island from the water, a paddle is an excellent idea. Guided kayaking tours are offered, and a great option if you are new to sea kayaking. Experienced sea kayakers can paddle around the island.
Stroll Island Avenue, home to small shops and eateries. Shop for souvenirs, or visit the quirky Umbrella Cover Museum, which features umbrella covers from all over the world.
Where to Stay
The 8th Maine Regiment Lodge and Museum features uniquely decorated guest rooms with views of the property, or the beach or ocean. Bathroom facilities are shared and rooms are simply decorated with traditional furnishings.
Book a stay here!
*****
We hope you enjoyed this round-up of the most exciting destinations in Maine. Which one will you pick for your next trip?
MORE INSPIRATION FOR TRAVELS IN THE USA
Did you find this article informative? Pin it for later reference!