Planning a US national parks trip to say adieu to spring and welcome to summer? We have a round-up of the best national parks to visit in June!
June is a popular month to visit national parks in the USA.
The weather is nice and warm in much of the country, ranger programs are in full swing in most parks, and you can enjoy wildflowers, waterfalls, and wonderful vistas, depending on the parks you choose.
No matter where in the USA you want to go, you'll find one or more national parks to visit in June.
From icons in the lower 48 like Yellowstone and Yosemite to parks like Kenai Fjords and Denali in Alaska, adventure awaits!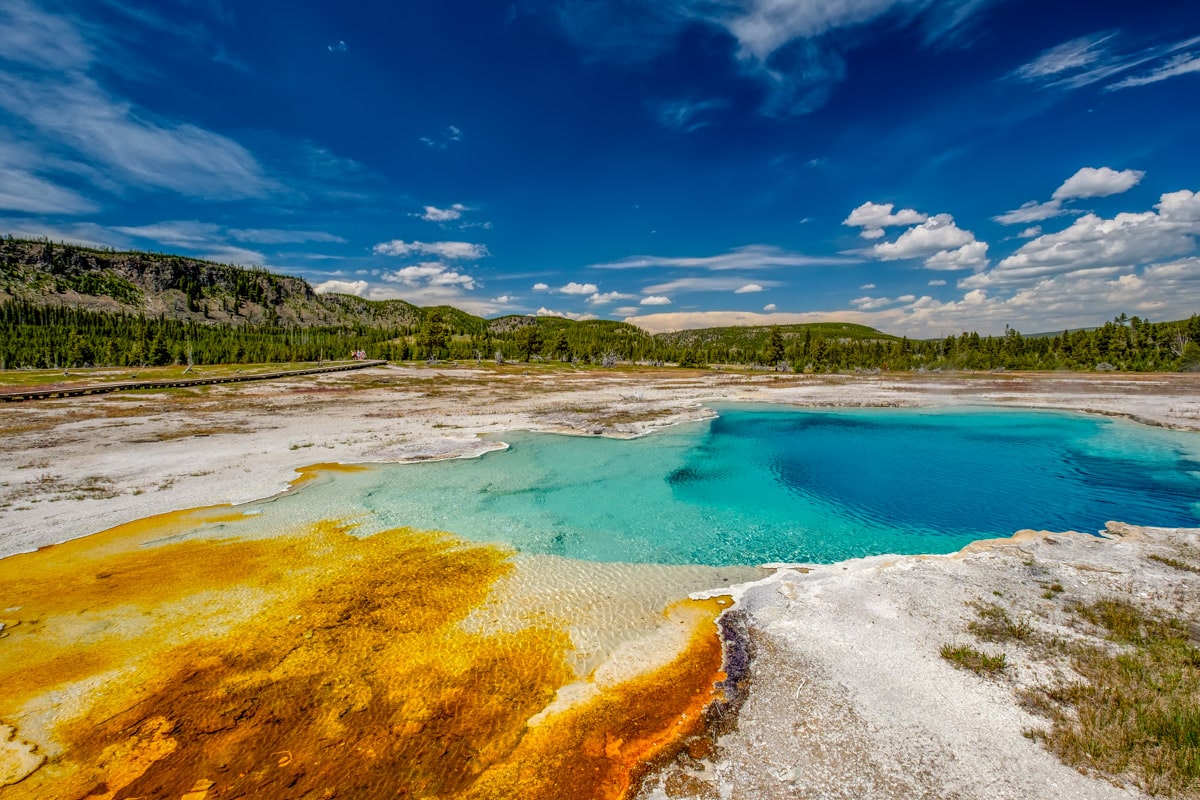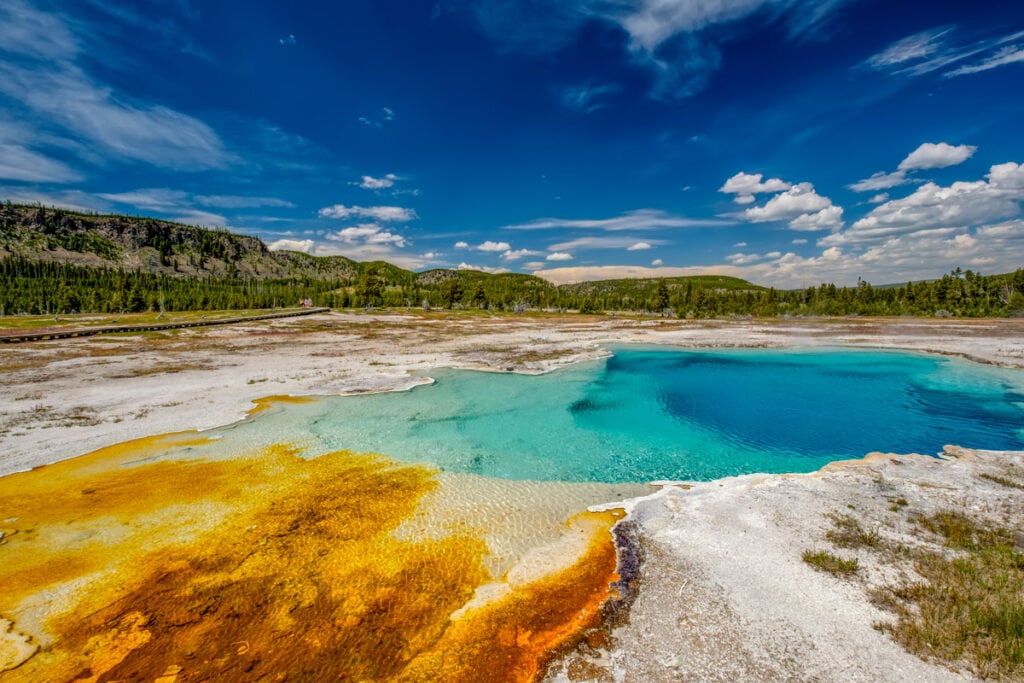 Some links on this page may be affiliate links. If you click an affiliate link and make a purchase, we may receive a small commission, at no extra cost to you. For more details, refer to our disclosure.
Since June is the start of summer, expect popular parks to start to be crowded, although not as much as in July and August. Visit during the week if you can, and start your explorations early in the day to avoid the worst of the crowds.
Before we get started on our round-up, a reminder to get your National Parks Pass, if you don't have one already. If you plan to visit three national parks (or more!) this year, the pass will likely save you money!
And now, are you ready to get started? Let's discover the best national parks to visit in June!
1. Rocky Mountain National Park
Location: Colorado
Rocky Mountain National Park is one of the best US national parks to visit in June, and one of the top travel destinations in Colorado.
Its Northern Colorado location means it's easy to access from the airport in Denver, and the Rockies offer stunning landscapes to explore.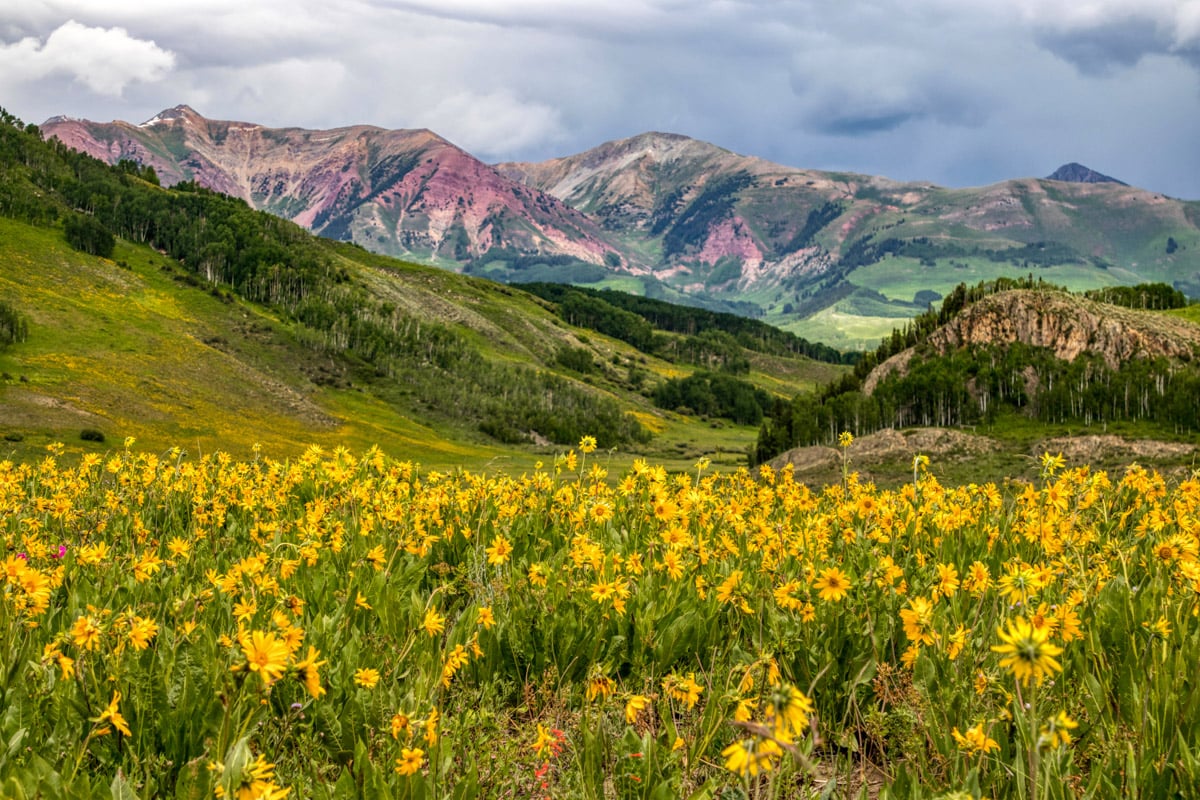 June is the perfect time to visit Rocky Mountain as the winter snow will have mostly melted, resulting in roads reopening after winter closures, allowing visitors to explore the whole park.
Wildflowers fill the fields once the snow melts, leaving a beautiful green landscape with colorful flowers everywhere.
June brings large crowds to Rocky Mountain National Park, but not quite as many as July. Visitors are advised to book their timed entry permits for the park on May 1 for June travel.
Rocky Mountain weather in June: June weather in the park is close to perfect, with average daytime high temperatures in the mid-70s Fahrenheit. Be advised that higher elevations will still sometimes require layers.
The area receives a couple of inches of rain throughout the month on average.
What to do in Rocky Mountain National Park: Driving Trail Ridge Road is a highlight on most Rocky Mountain itineraries.
The road winds through the park for 48 miles, rewarding travelers with gorgeous views of the alpine landscape above the tree line and many scenic overlooks.
The Alpine Visitors Center is the country's highest, with an elevation above 13,000 feet. The center offers a gift shop with many locally-crafted souvenirs and is a great place to pick up snacks.
The Alpine Ridge Trail is a short, but steep trail that leads from the center up to a gorgeous lookout.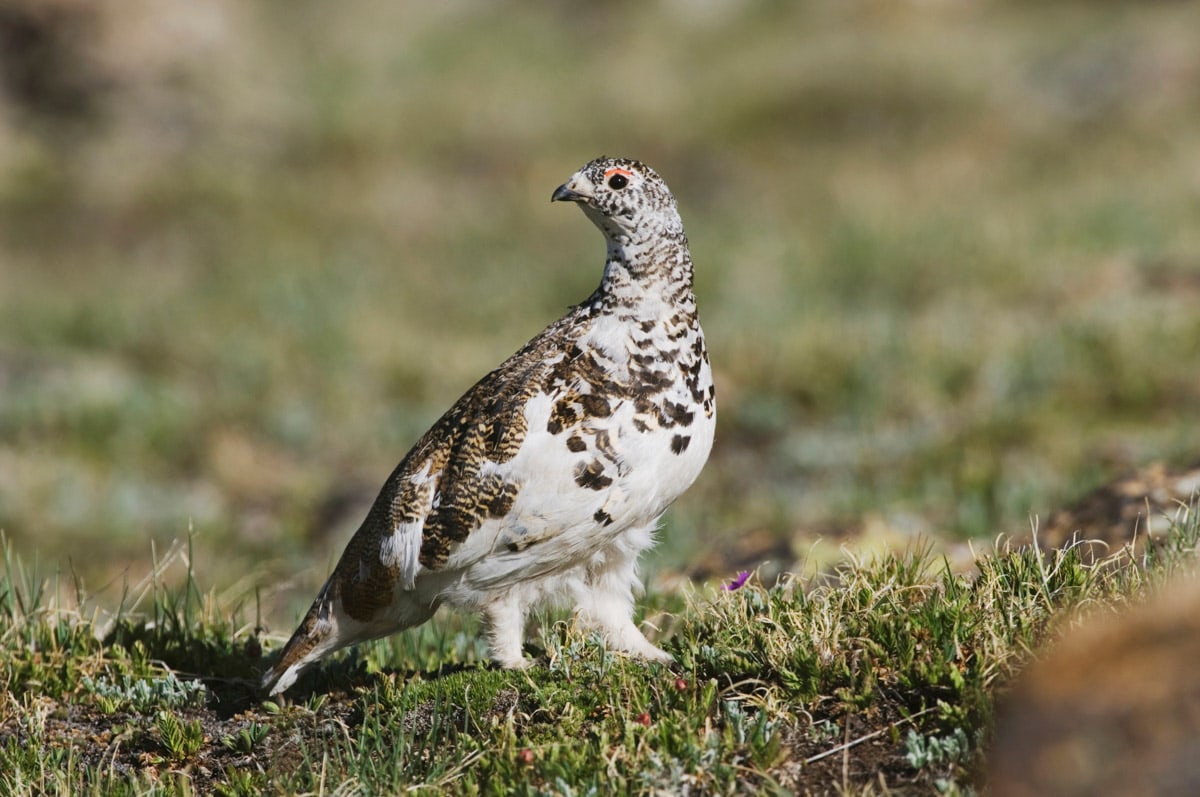 Rocky Mountain National Park is home to many beautiful lakes, and the hike to Emerald Lake is a great way to visit some of them.
This hike is about three miles out and back, and allows hikers to lay eyes on three lakes, as Nymph Lake and Dream Lake are along the way. This is arguably one of the most impressive trails in the whole park.
Take an easy stroll around Bear Lake for beautiful views with little effort. This 0.8-mile path is level and simple to access, drawing large crowds, so be sure to arrive in the parking lot early.
Where to Stay
Estes Park offers many lodging accommodations just a few minutes from the park entrance. The Stanley Hotel is a unique option, with its upscale rooms and interesting history.
The Estes Park Resort has a lakefront location and features an onsite restaurant and spa.
Suggested by Sierra of Island + Alpine
2. Yellowstone National Park
Location: Wyoming, Montana, and Idaho
The first national park to be established in the United States, Yellowstone has wowed visitors since its inception in 1872.
Home to more than 10,000 hydrothermal features and more than 500 active geysers, the park is unlike anywhere else on the planet.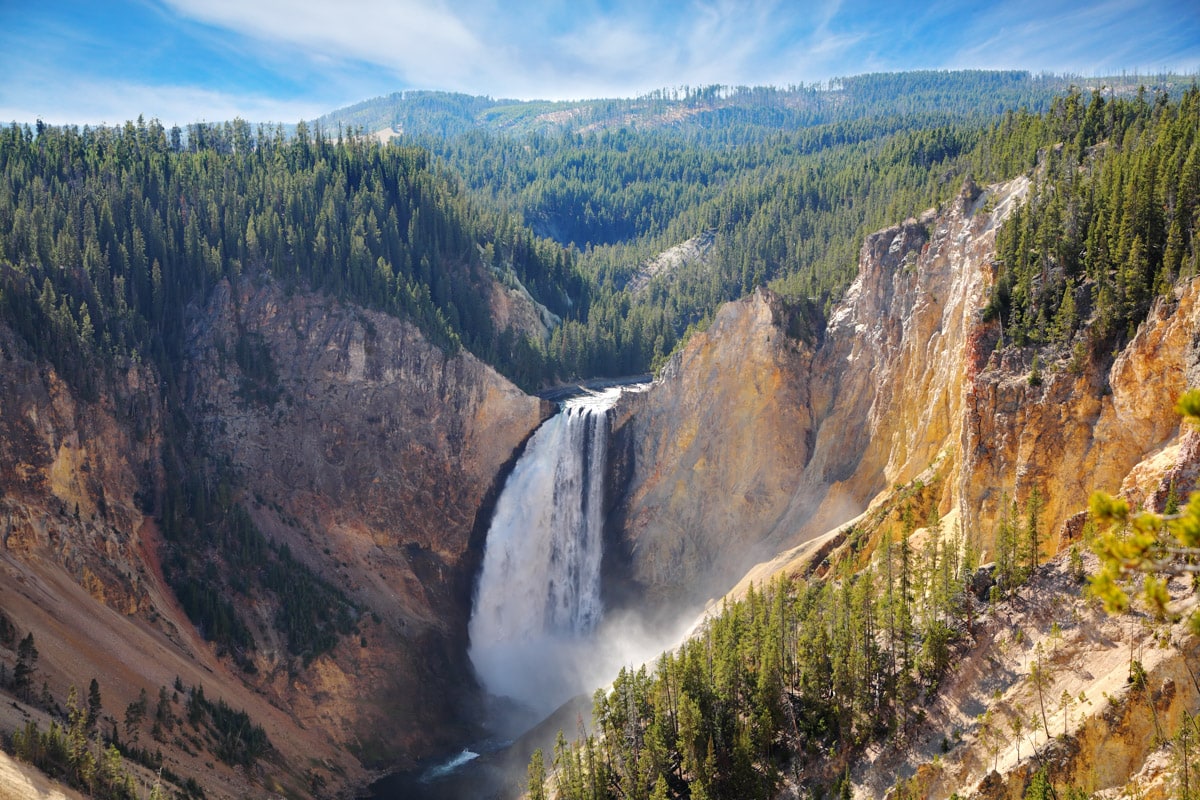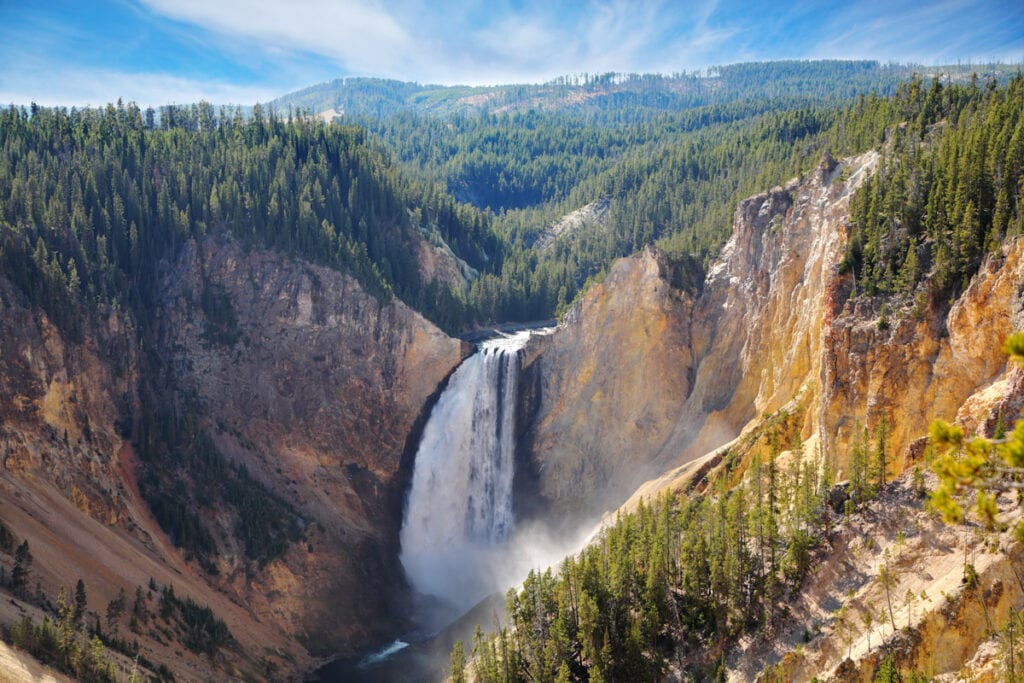 Pair its ethereal landscapes with its abundant wildlife and it's easy to understand why Yellowstone is one of the most visited national parks in the country.
June is a fantastic time to visit Yellowstone. The weather is warm during the day but cool at night, the bison are calving in Lamar Valley, and wildflowers are in full bloom.
Early in the month, it hasn't quite reached peak season, but most of the snow has melted and the majority of trails and attractions are accessible.
Yellowstone weather in June: During June, plan for warm days and cool nights. Temperatures vary slightly across the park, but highs average about 70°F, and lows average about 42°F.
Rain is not uncommon and while snow in June is rare, it's not unheard of. It's important to arrive prepared with a jacket and warm shoes.
What to do in Yellowstone National Park: While likely to be crowded in June, if it's your first time visiting Yellowstone, you can't miss the classics: Old Faithful Geyser and Grand Prismatic Spring. Arrive early in the morning for both, to beat the worst of the crowds.
You can find a schedule with the day's predicted eruptions for Old Faithful Geyser at the visitor center. The eruptions of the famous geyser throw up boiling water to heights over 100 feet.
Grand Prismatic Spring is well known for its striking colors of green, blue, orange, and yellow. For the best view, take the short hike up to Grand Prismatic Overlook. The extra steps are well worth it.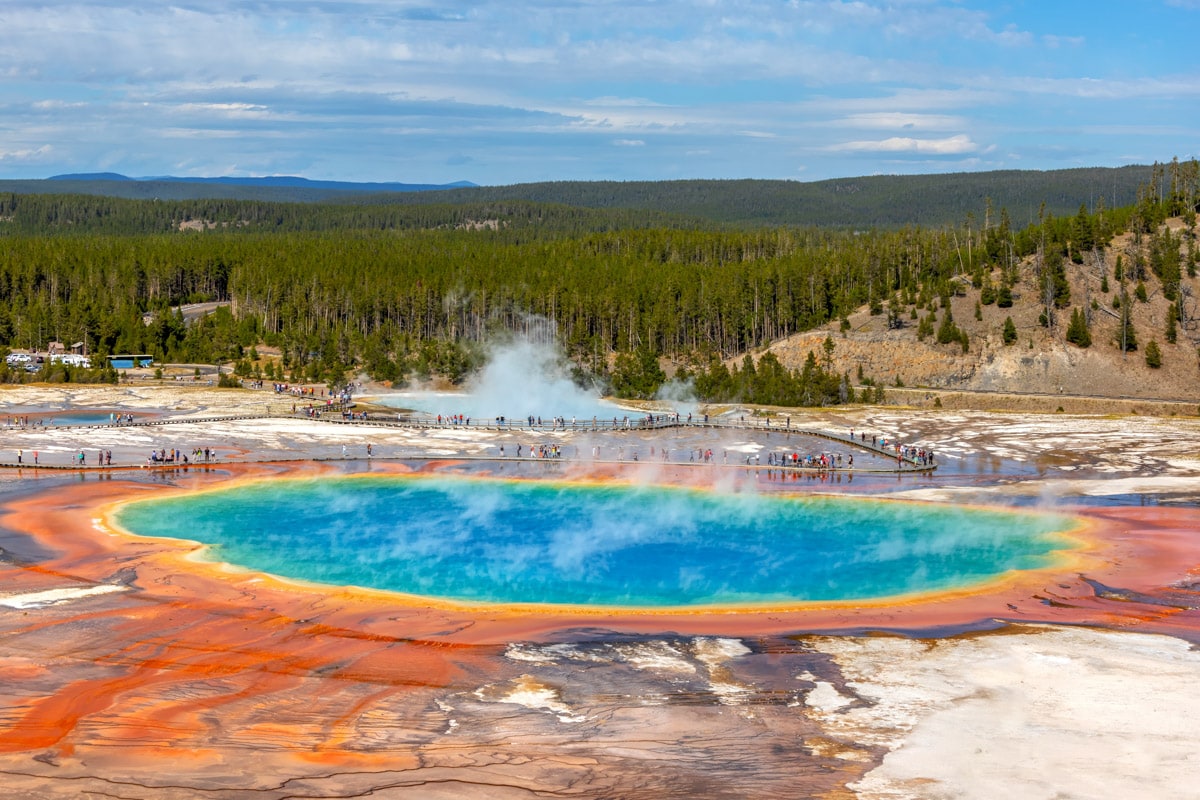 Mammoth Hot Springs is another popular stop located in the northern section of the park. Follow the boardwalk through the steaming springs and take in the landmark's unique mineral-rich features.
Next up, Hayden Valley is the most popular area for wildlife viewing. Bison are plentiful and elk and grizzly bears are not uncommon.
However, if you're looking for a more offbeat option, try the Lamar Valley, where bison calving takes place in June and where wolf sightings are most likely to occur.
Where to Stay
Inside the park, you really can't go wrong with Canyon Lodge and Cabins or Grant Village Lodge. Alternatively, Norris and Madison are the two most popular campgrounds.
Gray Wolf Inn & Suites in West Yellowstone is walking distance to restaurants.
There are also some incredible Yellowstone glamping options just outside the national park.
Suggested by Jenna of Up and Away Magazine
Planning to visit more than one national park in the next 12 months? Consider buying the America the Beautiful National Parks Pass!

for a driver and passengers in a personal vehicle at areas that charge per vehicle, and for up to four adults at sites that charge per person. Children ages 15 or under are free.

The pass is valid for 12 months from the month of purchase.
3. Olympic National Park
Location: Washington
Olympic National Park, located on Washington's Olympic Peninsula, is one of the most well-known national parks in the US.
The park is blessed with a variety of natural ecosystems, so visitors here can experience mountains, temperate rainforests, as well as the coast.
This makes it a great Pacific Northwest vacation destination for someone looking to have diverse adventures during their trip!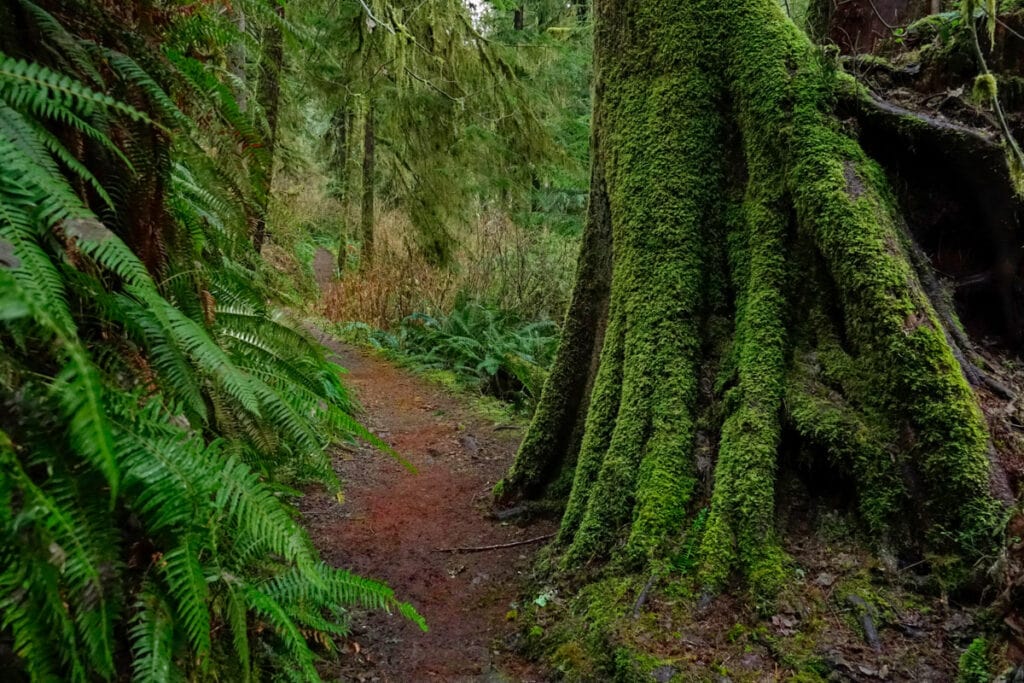 Coming to Olympic National Park in June will allow you to experience the park before the true high season kicks off in July.
If you are looking to grab a bit of peace and solitude but still want to come in the summertime, June's long days are the perfect recipe to help you escape!
You'll be able to get up to Hurricane Ridge well before it hits peak crowds at 10 a.m., and you can enjoy the Hoh Rainforest after 5 p.m. when most of the other visitors have left.
Olympic weather in June: The weather in the park in June is moderate, so if you're coming from a part of the US that's already hot for the summer, ONP offers a great escape.
The average highs are in the mid-60s Fahrenheit, and the average lows are in the mid-40s. You can expect about 13 days of rainfall throughout the month, so pack a rain jacket!
What to do in Olympic National Park: Because there are so many different things to do in ONP, you will want to plan your time carefully to get the most out of your trip here.
Drive or hike up to Hurricane Ridge, which offers stunning views of the Olympus Mountains from the top. If you choose to drive, make sure to stop at the scenic viewpoints along the way.
Visit Lake Crescent. From this popular lake, you can go kayaking, SUP-ing, hiking, or simply enjoy a picnic on the shores. You can also visit the Lake Crescent Lodge on its shores.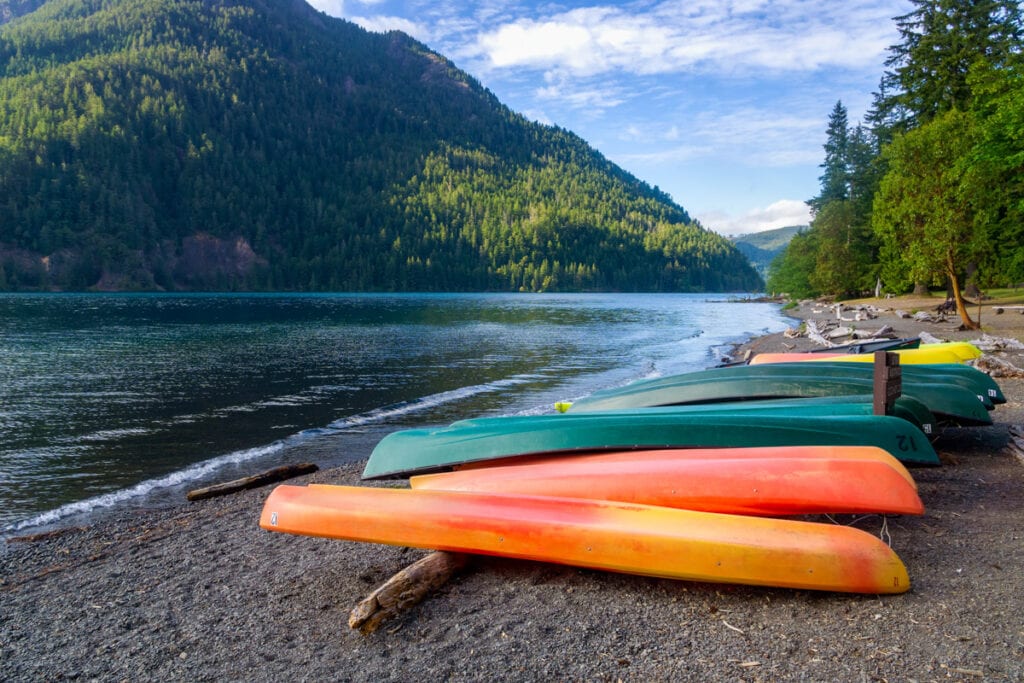 Walk through the Hoh Rainforest. This is one of two temperate rainforests within Olympic National Park. The Hall of Mosses Trail here is the most famous walk through the lush forest.
Enjoy a stunning sunset at Ruby Beach, or visit one of the park's other spectacular Pacific Coast beaches. These areas were added to the park many years after its creation, but they are integral to the park experience now.
Where to Stay
While you can stay at one of the park lodges, these need to be booked well in advance. If you want to base yourself in a nearby town, the Red Lion in Port Angeles is right on the water and is newly renovated!
Suggested by Stephanie of History Fangirl
4. Yosemite National Park
Location: California
The renowned Sierra Nevada national park of Yosemite is a great park to put on your itinerary for June. The park's famous waterfalls are generally in peak flow during this month, and the landscape is gorgeous.
While Yosemite is one of the top weekend getaways in California, waterfall season is a popular time to visit Yosemite Valley, so plan your visit for weekdays if possible.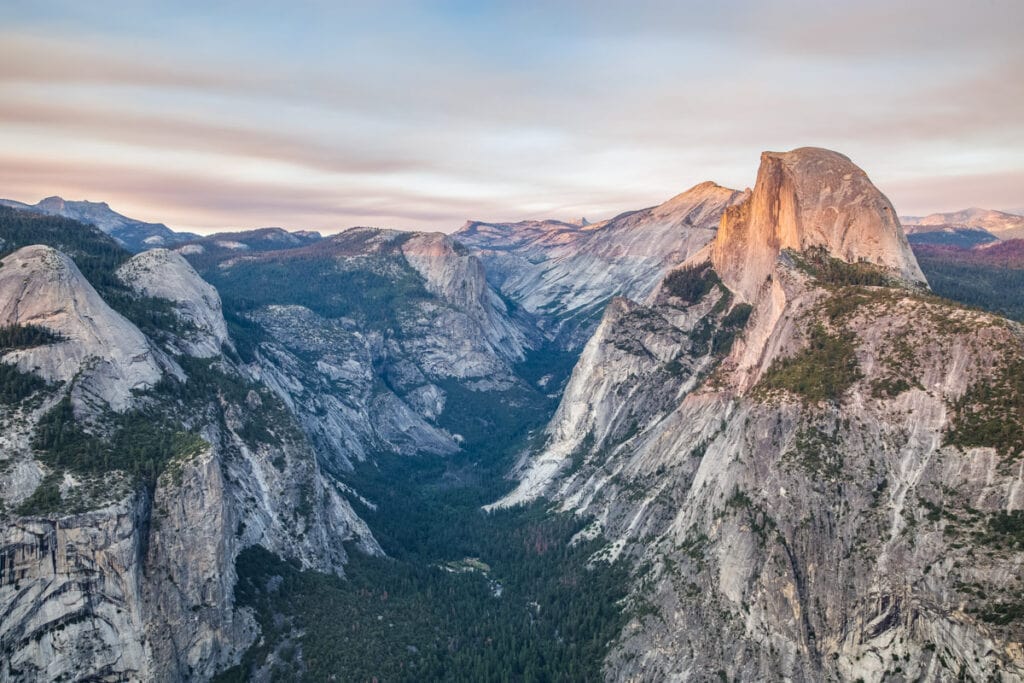 Yosemite weather in June: The average daytime highs in Yosemite Valley in June tend to range from the mid 70s to the low 80s Fahrenheit. Higher elevations in the park are several degrees cooler. Nighttime lows range from the mid 40s to the mid 50s.
The rainy season is all but over, so you'll likely have dry weather on your June visit to Yosemite.
What to do in Yosemite National Park: Whether you spend a weekend in Yosemite or opt for a longer stay, there's plenty to do in the park!
Yosemite Valley, home to the park's most iconic attractions, is a must-visit. Tunnel View is a popular viewpoint, as is Glacier Point. The road to Glacier Point generally opens in late May or early June for the season.
Do the easy walk to the bottom of Yosemite Falls, which tumbles 2,425 feet down the cliff. Walk the loop around Mirror Lake to take in views of Yosemite's granite formations. Do the short hike to the bottom of Bridalveil Fall and feel the spray on your face.
If you are up for a more challenging hike, tackle the Mist Trail, which offers spray-in-your-face proximity to Vernal and Nevada Falls. This trail is extremely popular, so you'll want to hike it early in the day to avoid the crowds.
Away from the valley, you can drive Tioga Road through the park's high country. The scenic drive offers views of Tuolumne Meadows and Tenaya Lake, and Olmsted Point is one of the park's best viewpoints.
Wildlife in Yosemite is very active in June, so keep an eye out for deer, bear, and coyote as you hike or drive in the park.
Want to see giant sequoias? Head to Mariposa Grove in the southern part of the park, to walk among the giants.
Note that in June the shuttle service operates in the park, so you will not be able to drive to different areas within the park in your own vehicle when the shuttles are operational.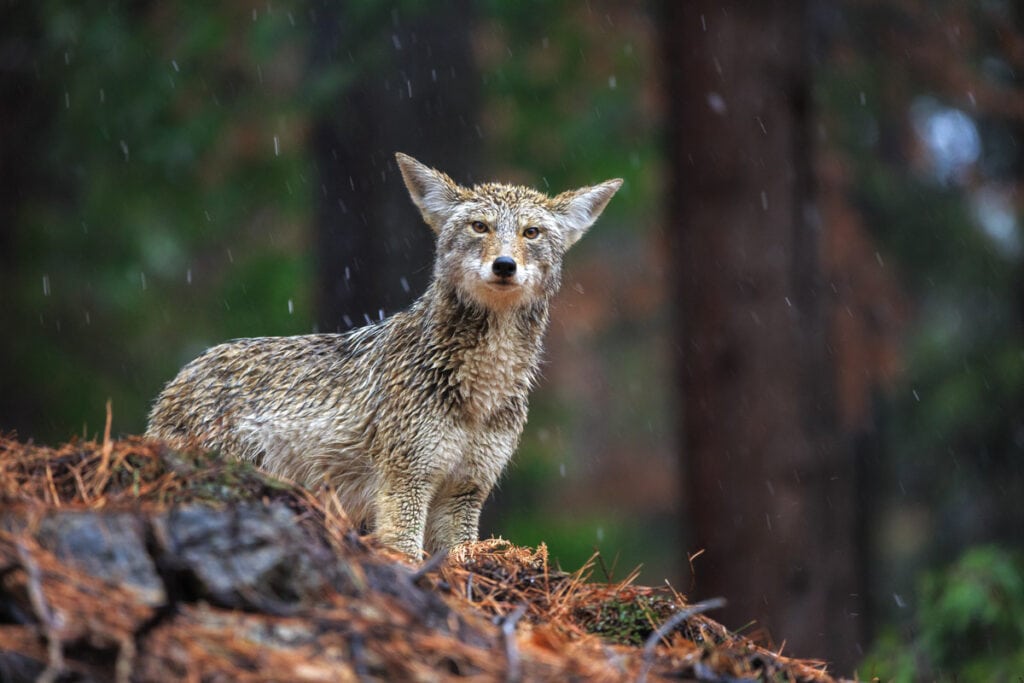 Where to Stay
Yosemite Valley Lodge is an excellent lodging option in Yosemite Village, close to major sights. Reserve early.
The Ahwahnee is a luxury hotel in Yosemite Village. Even if you do not stay here, at least visit for a meal.
5. Bryce Canyon National Park
Location: Utah
Bryce Canyon is one of the best places to visit in Utah. The popular national park located in the southern portion of the state.
Its main attraction is the weather-carved hoodoos and other sandstone shapes. These colorful columns look like candle wax drippings on the horizon.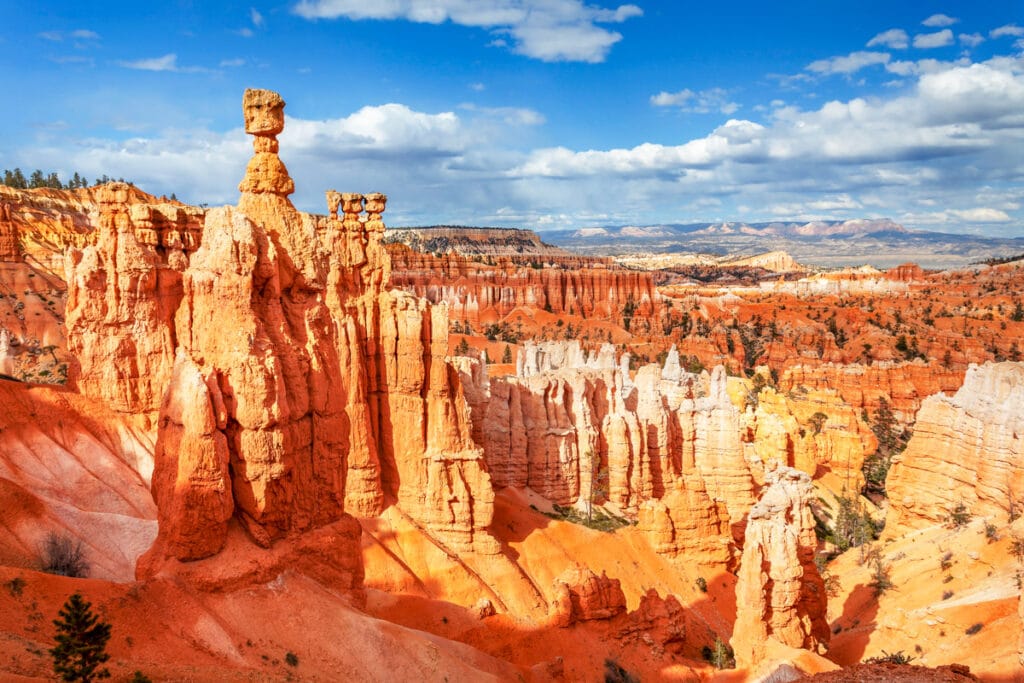 Bryce Canyon is the best of the Mighty 5 Utah national parks to visit in June. Besides offering spectacular weather, the park is less crowded in June than during July or August.
Weather in Bryce in June: As Bryce Canyon on a plateau located at a higher altitude, this magnificent park has relatively cooler temperatures in June.
The pleasant low- to mid-70-degree average high temperatures of Bryce Canyon makes for perfect hiking weather.
What to do in Bryce Canyon National Park: Hiking down into the canyon to see the majestic rock spires and fins is one of the most popular things to do in the park.
The Navajo Loop, a moderate 1.5-mile trail, is one of the best canyon adventures in Utah. The trail descends into the canyon at Sunset Point and climbs out on the switchbacks of Wall Street.
A horseback riding trip is another way to get close to the rock formations in the canyon. An experienced wrangler guides the horseback riding tours and tells interesting stories about the Bryce Canyon area.
For those with less time to enjoy the park, walk along the rim to see amazing views of the hoodoos and the windows carved out of the sandstone.
The rim is also a wonderful place to enjoy a sunset or sunrise at one of the viewpoints. Visitors can also explore the rim on a ranger-led walk and learn about the fascinating geology of Bryce Canyon.
You can also do the Southern Scenic Drive, beyond the Bryce Amphitheater, to enjoy overlooks that are somewhat lesser visited in the park.
Among the sights you will see is Bryce Canyon's Natural Bridge, one of the many arches in the park.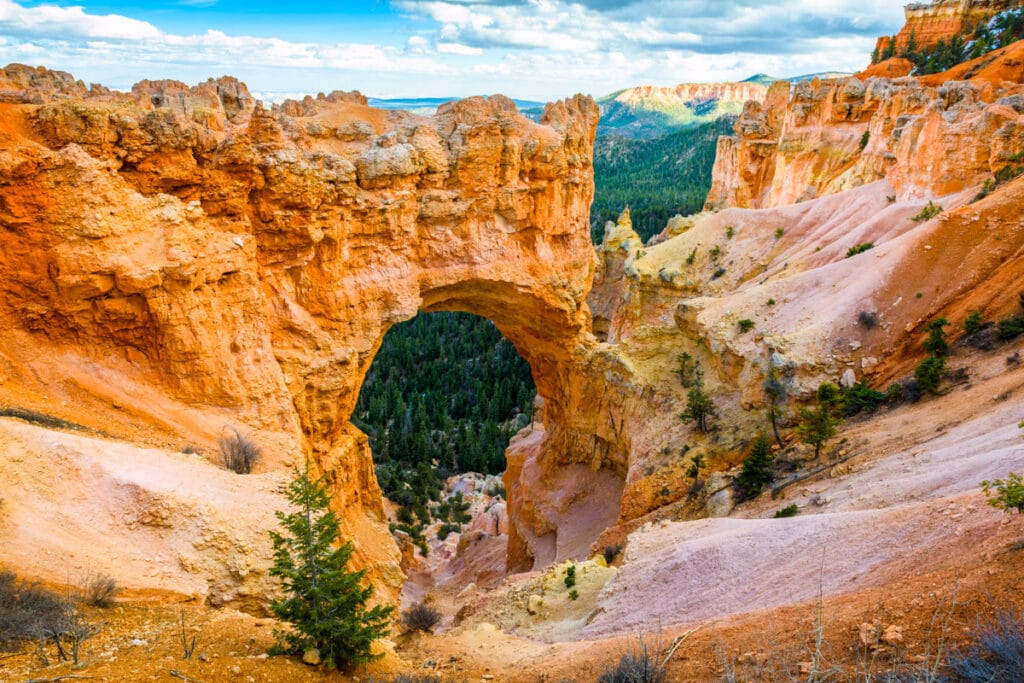 Where to Stay
Bryce Valley Lodging offers charming cabins in nearby Tropic.
Suggested by Karen of Outdoor Adventure Sampler
Looking for a rental car for your national park trip? Compare prices, find your car, and book on Discover Cars! They search numerous car rental agencies, from brand to budget, to offer you the best choices for your trip.
6. Glacier Bay National Park
Location: Alaska
Glacier Bay National Park is a must-see destination for those visiting Alaska. Located in the southeastern corner of the state, it is accessible only by air or boat, and most visitors arrive on an Alaska cruise.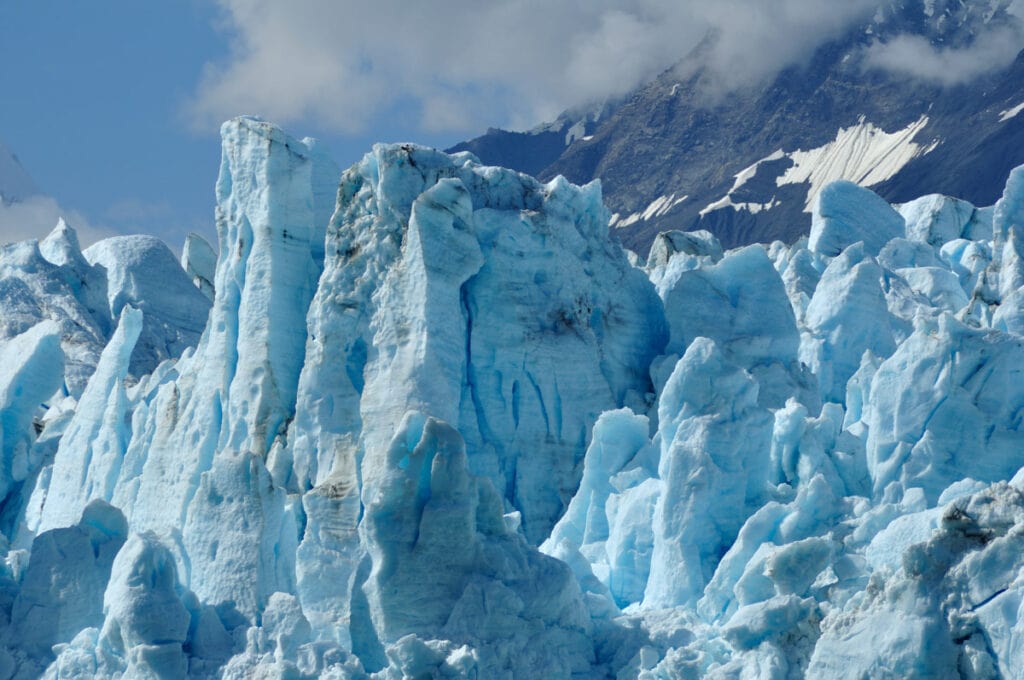 With no road access, watercraft provide a way to view a small portion of its three million acres. Icefields cover 25% of the park, and are the number one reason for visitation.
Weather in Glacier Bay in June: In June, you'll experience drier and warmer temperatures ranging from 44 – 48° Fahrenheit and avoid the frigid temperatures of the shoulder season.
With around 16 hours of daylight on average in June, you have lots of time each day to appreciate the jaw-dropping landscape.
What to do in Glacier Bay National Park: Visitors can enjoy up to nine hours of cruising Glacier Bay, with ample opportunity for whale watching, eagle spotting, or seeing harbor seals basking on icebergs.
Bring a pair of compact binoculars, and you may see black bears scouring the beaches for food.
But the pinnacle of visiting an icefield is watching the calving action. At the glacier's terminus, the ice cracks with an echoing thunder and breaks into the bay.
Of the tidewater glaciers in Glacier Bay National Park, Margerie Glacier provides the best activity.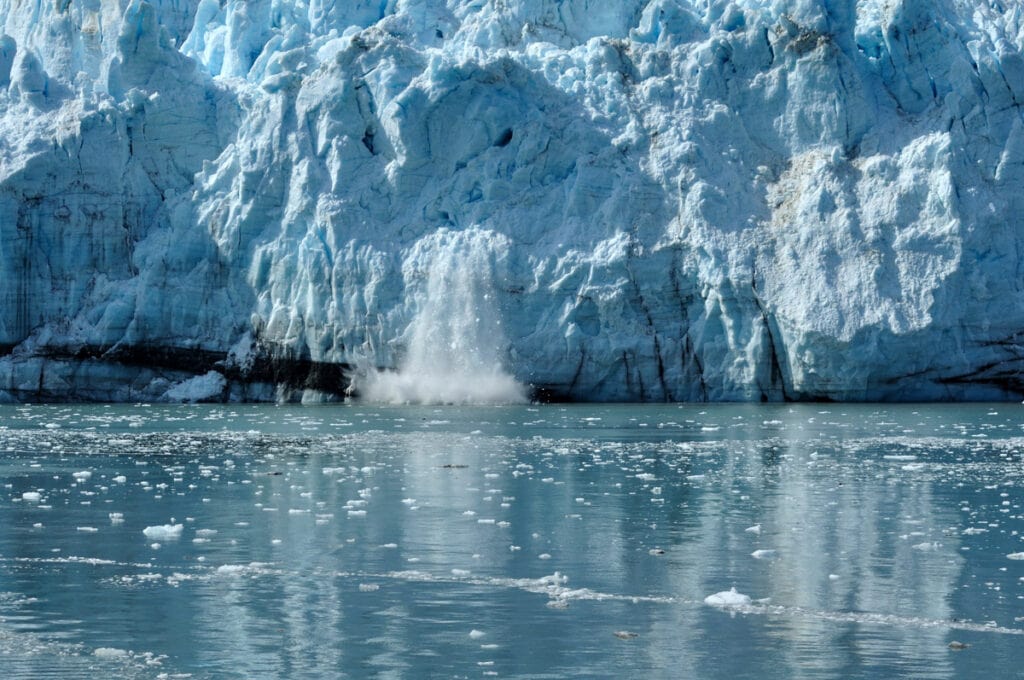 A park ranger must accompany large cruise ships. During the sailing, you can learn about the park, and its wildlife, and ecosystems, at an informative ranger talk.
For those who prefer to avoid the crowds of a cruise ship, you can visit the UNESCO-designated national park by taking a plane to Gustavus.
From Gustavus, guests can take small boat and kayak tours into the park.
Where to Stay
In Gustavus, the Glacier Bay Lodge provides the only accommodation to explore the reserve.
Suggested by Karen of Forever Karen
7. Acadia National Park
Location: Maine
Acadia National Park is one of the best East Coast national parks and the only national park in all of New England.
The park is located along Maine's scenic Atlantic coastline, and visitors flock to Acadia to enjoy hiking, biking, camping, and so much more.
Besides being one of the best places to visit in Maine, Acadia is also a popular stop on many East Coast road trips that include the northeastern part of the country.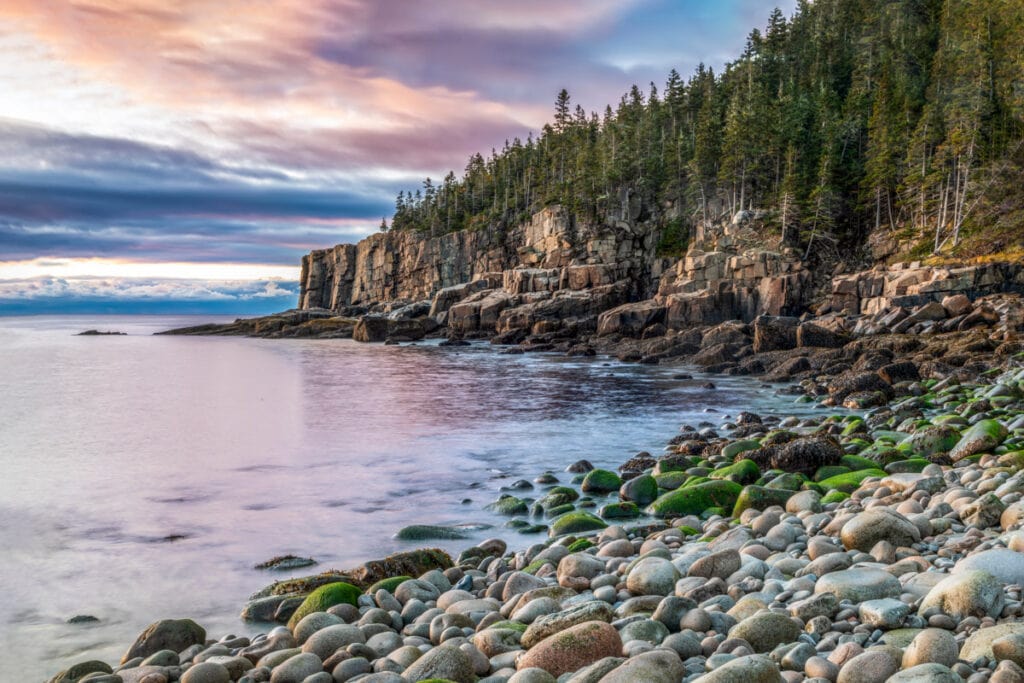 Visiting Acadia in June is ideal after the long winter season has well and truly gone, bringing early summer growth and comfortable temperatures for perfect hiking conditions.
You'll be avoiding the worst of the summer heat and bugs by visiting in June. Plus, lupines and lilacs bloom in the park in June, making for a delightful sight.
Acadia weather in June: You can expect high temperatures to be around 63°F on average, and lows around 52°F.
While August is the driest month in Acadia, June should still be a safe bet with only around a 31% chance of rain.
What to do in Acadia National Park: The park boasts 125 miles of hiking trails, so you'll definitely want to lace up your hiking boots and try a few Acadia National Park hikes! The park offers hikes of varying lengths and difficulty levels, so there are trails for everyone to enjoy.
Ocean Path parallels Park Road and offers gorgeous ocean views. Walk the loop around Jordan Pond, or try more challenging trails such as Acadia Mountain or the Beehive Loop.
Early risers should drive to the top of Cadillac Mountain to be one of the first to witness sunrise in North America. It's one of the best things to do in Acadia National Park!
If you'd prefer less altitude, then bicycle along the 45 miles of carriage roads instead. In late June, the Island Explorer Shuttle Bus service starts, so you can sit back and enjoy the ride if you don't want to drive or cycle.
Garden and plant lovers should make the time to stroll through the Wild Gardens of Acadia, which feature a variety of native plants and look stunning this time of year. Also look for wildlife!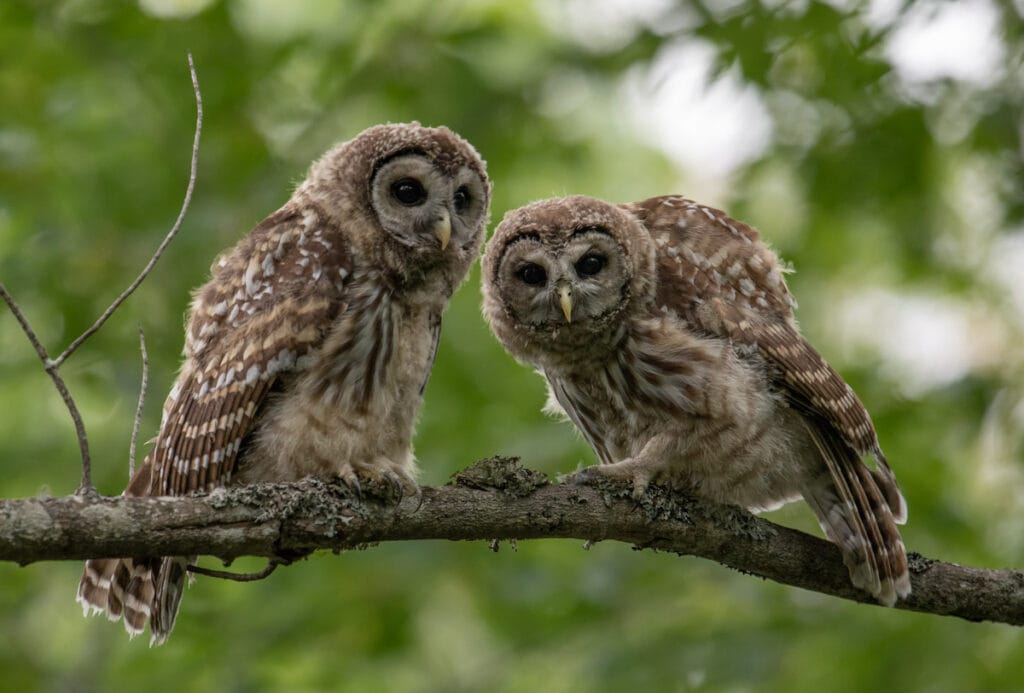 After your time in the park, don't skip a sunset cruise from Bar Harbor to bask in the beauty of your surroundings from the water.
Where to Stay
To make the most of your visit, stay right in Bar Harbor for easy access to the park as well as all the best restaurants and shops.
There are tons of great places to stay in Bar Harbor, but the Bar Harbor Grand Hotel offers an ideal blend of historic charm with modern amenities.
Suggested by Amanda of Hey East Coast USA
8. Grand Teton National Park
Location: Wyoming
Grand Teton National Park offers gorgeous mountain vistas, plenty of wildlife viewing, has many opportunities for hiking, and is very wheelchair accessible, making it a wonderful place to visit for people of all abilities.
It is also near Yellowstone National Park, allowing for an easy way to combine these two amazing places.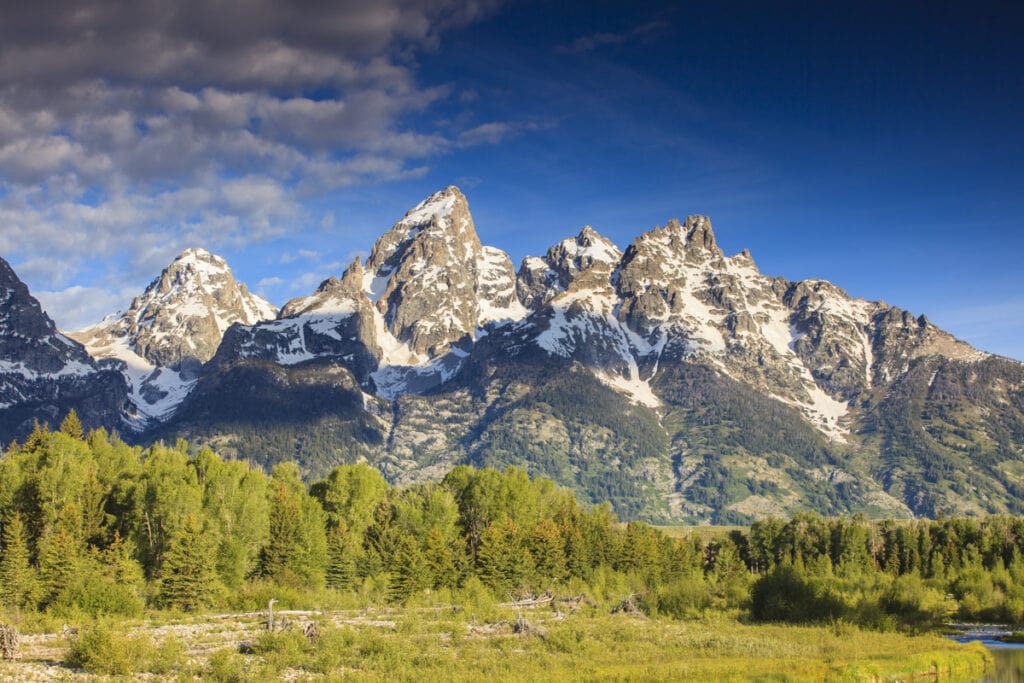 Grand Tetons is a fantastic national park to visit in June as most of the snow has melted and the park is not quite as crowded as in the peak months of July and August. Visit in early June while kids are still in school to avoid the summer crowds.
During your June visit, you will also have the opportunity to see young wildlife. Look for baby bison, moose, elk and more.
Grand Teton weather in June: Temperatures at Grand Teton National Park in June are excellent for hiking, with high temperatures ranging from 64 to 76 degrees Fahrenheit.
The sun shines for about 10 hours each day, giving you ample daylight to explore the park.
While you may encounter more rain in the beginning of June, the chances for precipitation decrease significantly as the month goes on.
What to do in Grand Teton National Park: Things to do in Grand Teton National Park in June are plentiful.
Make sure to try some of the many hiking trails within the park.
You can choose to walk around Jenny Lake, ascend one of the magnificent mountains, or do a wheelchair-accessible hike along String Lake.
In addition, head to the Chapel of the Transfiguration to get an iconic view of the mountains framed by the window over the altar of the church.
Another popular activity is to explore Mormon Row to see an early settlement. You will see older homes and those famous barns that are often seen in pictures of the park.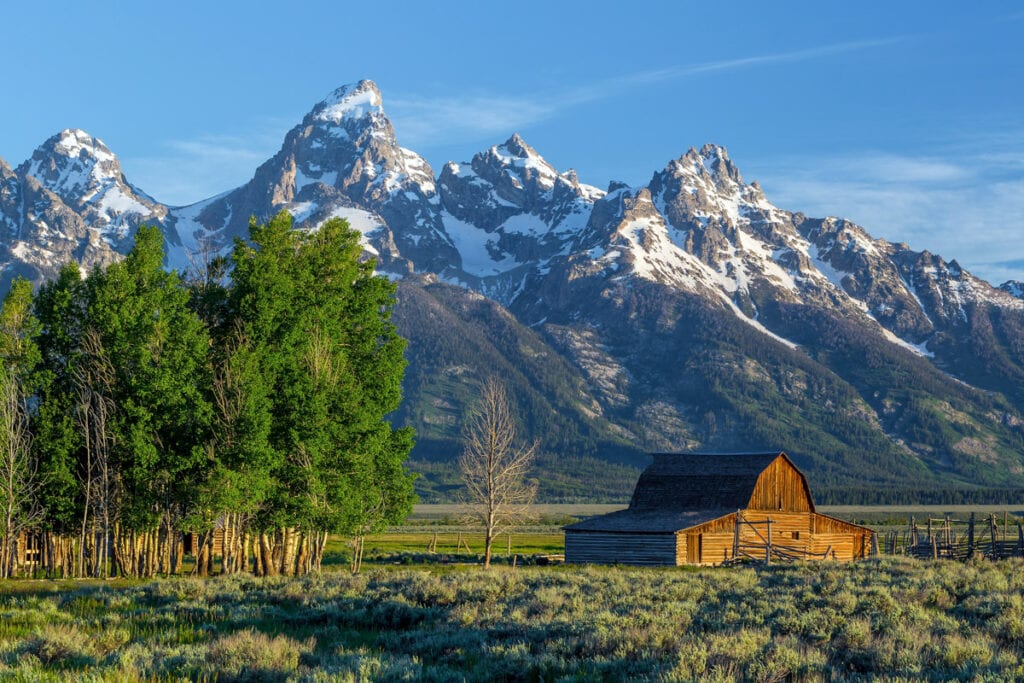 Finally, look for that wildlife mentioned above. The Moose-Wilson Road is a hangout area for moose, and elk are regularly seen on the drive to the summit of Signal Mountain.
Tip: Visit Yellowstone and Glacier along with Grand Teton for a fabulous June vacation in nature: it's one of the most epic US road trips you can take!
Where to Stay
Visitors can choose to stay in the nearby town of Jackson or within the park at one of the many lodges. The Lodge at Jackson Hole is located near the park and walking distance to several restaurants.
For a fun ranch experience, plan a stay at either Dornans Spur Ranch or Triangle X Ranch within the park.
Suggested by Kristin of World on Wheels
9. Theodore Roosevelt National Park
Location: North Dakota
Theodore Roosevelt National Park is filled with badlands: a dry terrain where erosion has occurred to shape the earth.
You'll see some striations of color in the rocks in the badlands of Theodore Roosevelt, and there are also wild animals you may see, including elk, bison, wild horses, and prairie dogs.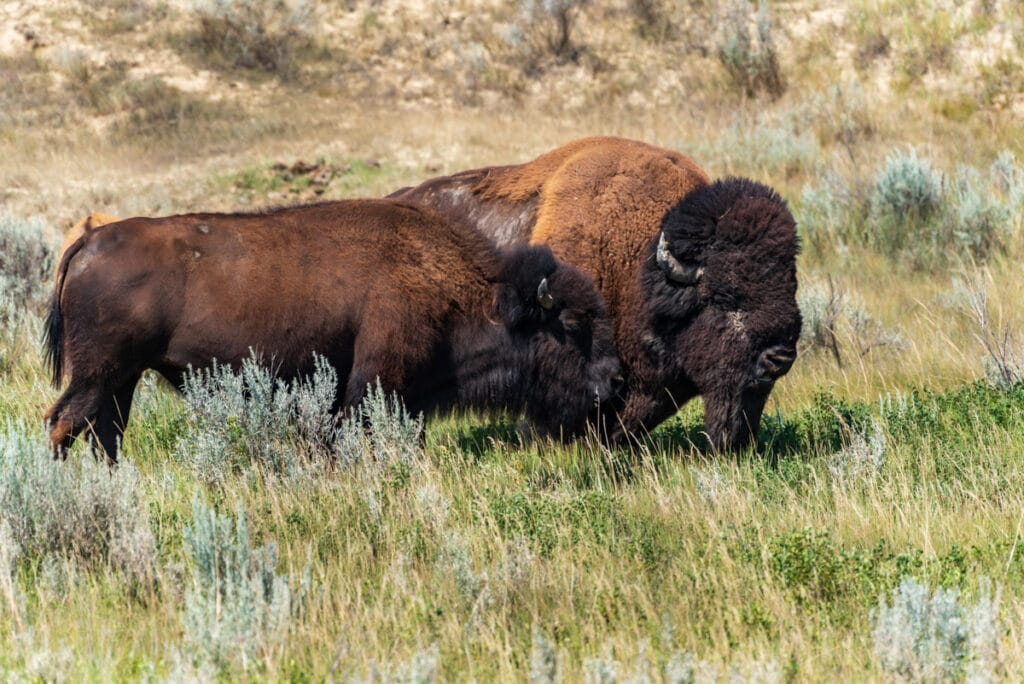 Theodore Roosevelt National Park is a great national park to visit in June for several reasons.
First, since it's located in North Dakota, it's really not a great park to visit during the late fall, winter, or even early spring, as the snow and cold temperatures can be intense.
Second, there is a fantastic, professional musical put on during the summer in the town of Medora, just outside the national park.
And finally, there are many wildflowers in bloom during June!
Roosevelt weather in June: Weather in June in the park is very pleasant, with highs around 75 degrees Fahrenheit.
There's about a 34% chance of rainfall on average throughout the month, with around 2.2 inches of rain falling during June, so remember to bring rain gear.
What to do in Roosevelt National Park: The best things to do in Theodore Roosevelt are hike the Wind Canyon Trail, which follows a canyon formed by wind, or view the Badlands Overlook, which has some of the best badlands views in the park.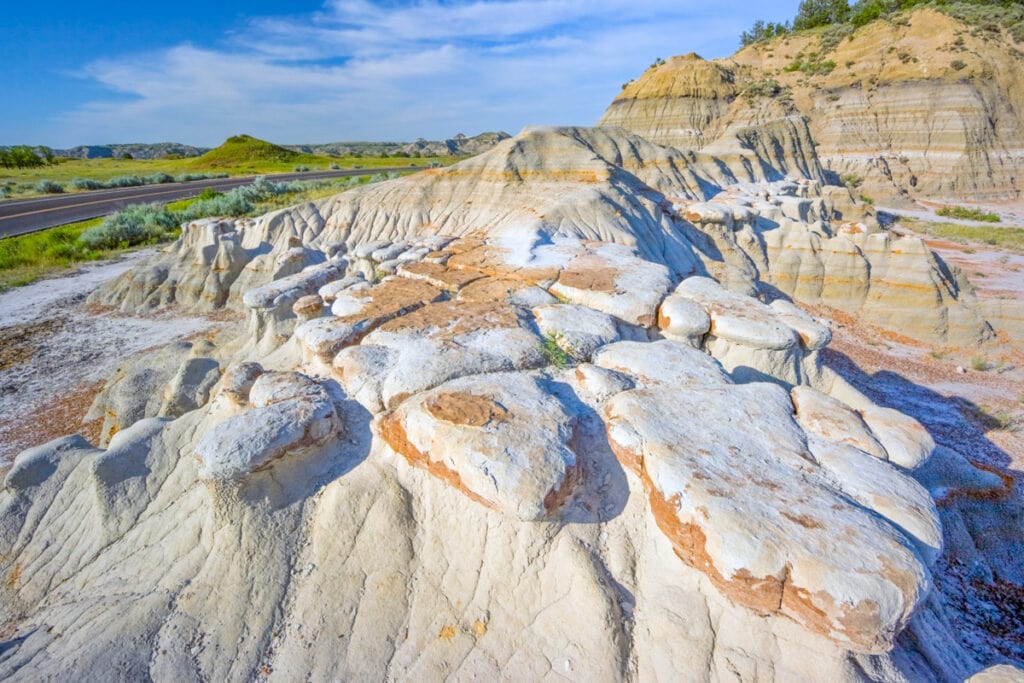 You also must hike the Painted Canyon Trail, which takes you down and into some of the badlands hills, and of course, keep on the lookout for wild horses!
There are three units in the park, and the Scenic Loop in the South Unit makes for a great drive. It's paved and 36 miles long, with lots of pullouts and interpretive signs, and many opportunities to see wildlife.
The Theodore Roosevelt North Unit Scenic Byway is another super scenic drive through the badlands.
Also be sure to stop by the historic Maltese Cross Ranch Cabin, located at the entrance to the park. It was originally built during the winter of 1883-84, and was later moved here.
Where to Stay
The AmericInn by Wyndham is a good hotel choice right by the park entrance.
Suggested by Stephanie of The Unknown Enthusiast
10. Glacier National Park
Location: Montana
Glacier National Park, one of the great national parks of the west, is located in northwestern Montana, just south of the Canadian border.
Although it is a somewhat remote park, you should not let that keep you from visiting. Glacier is easily one of the most beautiful US national parks!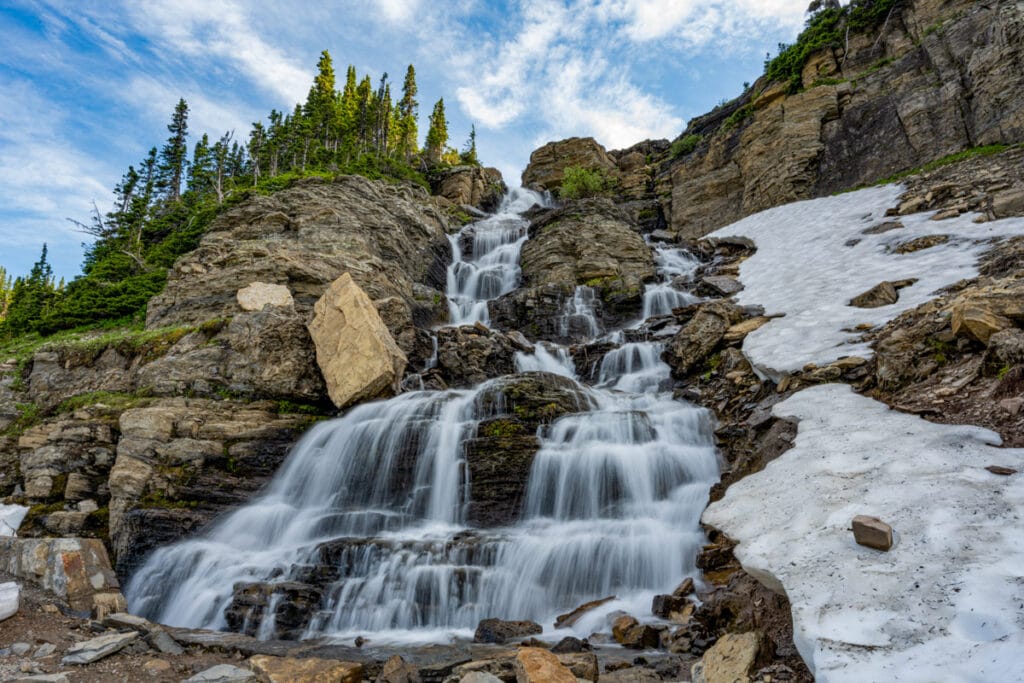 June is the ideal time to visit Glacier National Park because the primary tourist season is generally just beginning, and you can avoid the large hoards of summer crowds.
In addition, the hiking trails are likely to be clear of snow by June, and the park's lodging also opens in early June.
Going-to-the-Sun Road typically opens for the season generally in the third week of June, which also makes this an ideal month to visit.
Glacier weather in June: Because Glacier National Park is located so far north, it can be quite cold much of the year, with large amounts of snowfall.
However, June's nice weather makes it the perfect time of year to visit! Although it is summer, the temperatures are generally pleasantly mild, with highs in the high 60s to low 70s and lows in the 40s Fahrenheit.
Pack rain gear, though, because the park sees quite a few days of rain — about 10 — on average in June, and even some late snow.
What to do in Glacier National Park: When visiting Glacier National Park, you will find no shortage of incredible things to do!
There are over 700 miles of gorgeous hiking trails to consider if you enjoy hiking.
However, if you are looking for an easily accessible hike without driving very far into Glacier National Park, consider the Avalanche Lake Trail.
Biking the Going-to-the-Sun Road is another popular activity in June: even when the road is closed to vehicles, it's open for hiking and biking.
Or book a guided horseback riding tour through Glacier National Park if you enjoy horses.
The tours share some of the trails with hikers but have designated routes for only horseback riders as well. Most tours accommodate riders seven years old and up.
Another great thing about Glacier National Park is the lakes. There are more than 700 lakes in the park, several of which are quite popular for canoeing, kayaking, and paddleboarding.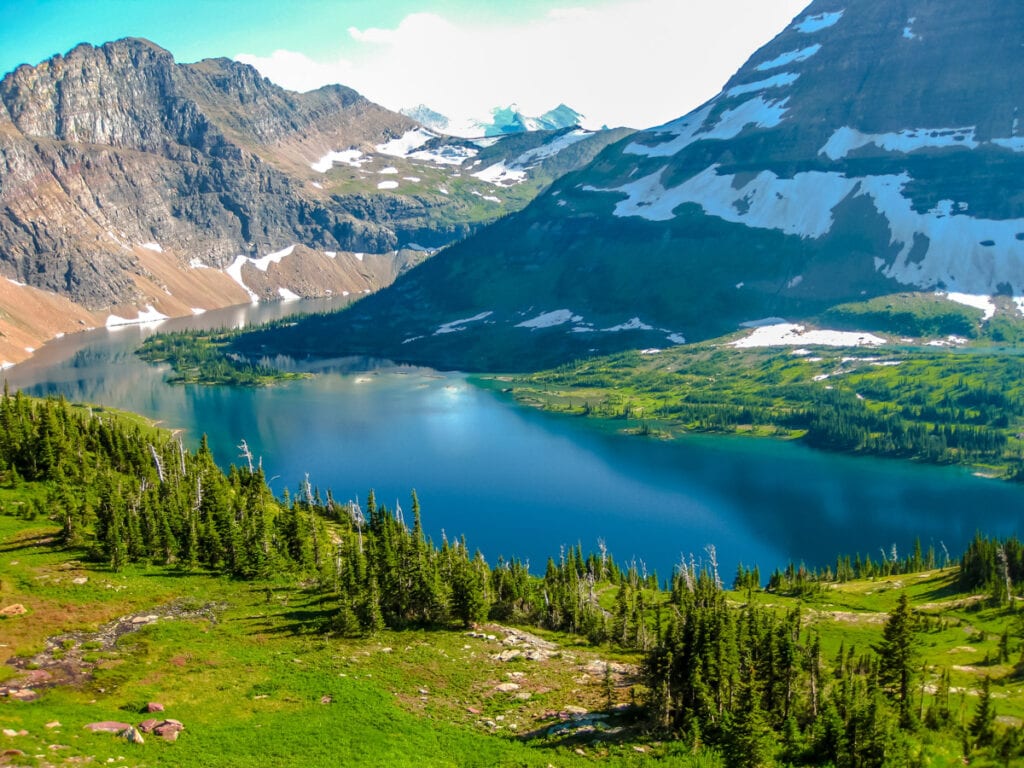 For extra adventurous travelers, consider booking a whitewater rafting tour! These guided rafting tours are popular in the summer and are a blast.
With class 2 and class 3 rapids, the rafting tours are doable for beginners but provide enough of a challenge for more advanced rafters to enjoy.
Where to Stay
Book a stay at the Lake McDonald Lodge inside Glacier National Park. Great Northern Resort is located one mile from the park entrance in Whitefish and offers rooms and cabins.
Submitted by Janae of Adventures With TuckNae
11. Virgin Islands National Park
Location: St. John, USVI
Virgin Islands National Park is a stunning paradise of nature and culture. The park takes up 60% of the island of St John. There is also a large portion of the park that is underwater!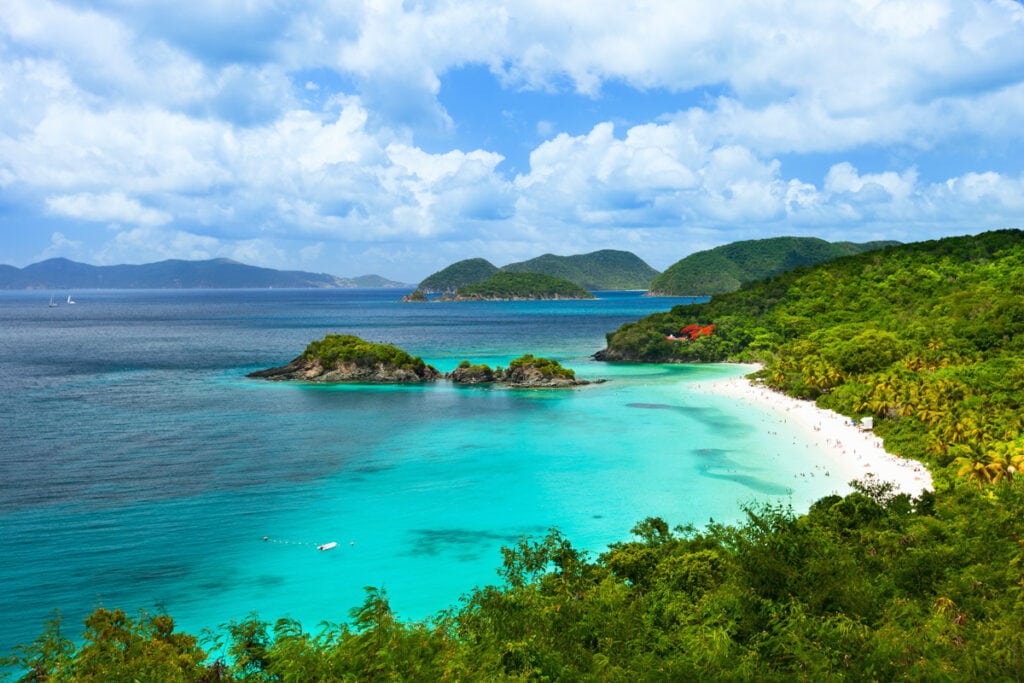 June is not quite the busy season yet, so crowds will be fewer, and prices cheaper. This makes it ideal for everything from hiking and snorkeling to simply lounging on some of the world's most beautiful beaches.
Virgin Islands weather in June: June is considered one of the most pleasant times of year to visit the Virgin Islands National Park.
Temperatures remain relatively moderate at this time of year, with daytime highs averaging around 85°F (29°C), while rainfall is minimal.
What to do in Virgin Islands National Park: If you're visiting in June, there are plenty of activities to keep you busy!
You can snorkel from shore at most of the beaches in the park. From Trunk Bay Beach you can snorkel the underwater trail. Snorkeling is best done in the morning before the winds pick up.
In June, it won't be too hot to explore the many ruins scattered throughout the park. Be sure and check out Annaberg Plantation, the remains of an old sugar mill, and one of the best-preserved ruins on the island.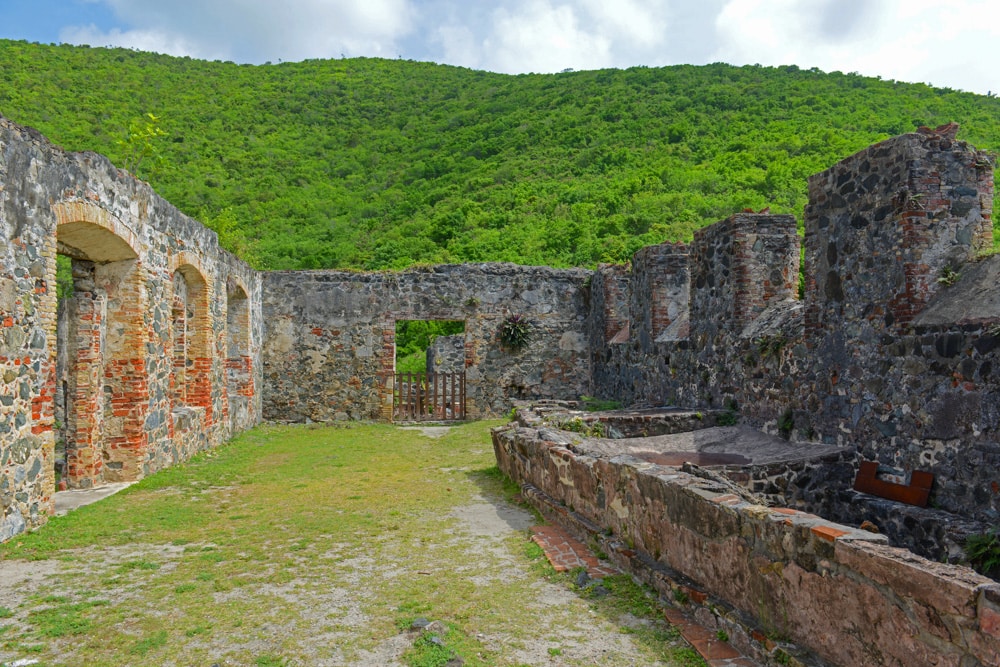 Beach hop! With so many beautiful beaches, it's no wonder this is the most popular thing to do in June in Virgin Islands National Park. Some of the most popular beaches are Cinnamon Bay, TrunkBay, and Francis Bay.
Virgin Islands is the starting point for many great fishing excursions. You can take a boat out yourself, or book a tour with a local fisherman.
Where to Stay
When it comes to accommodation near the national park, it doesn't get much better than Gallows Point Resort on St John Island.
This luxury resort offers stunning ocean views from its spacious villas and suites as well as easy access to all that Virgin Islands National Park has to offer.
Submitted by Chantelle of Flannels or FlipFlops
12. Capitol Reef National Park
Location: Utah
Located in southcentral Utah, the Capitol Reef National Park landscape is part of The Waterpocket Fold: colorful sandstone layers that form cliffs, canyons, and domes.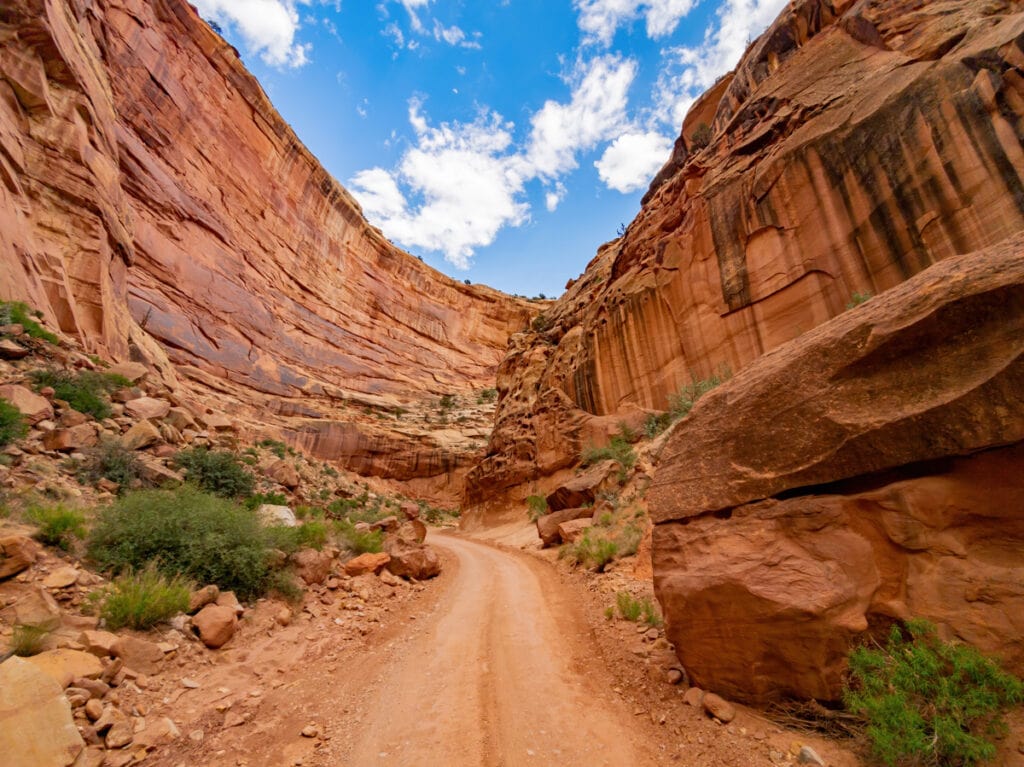 The park offers a variety of activities and attractions to help you explore this stunning area, from camping and hiking to scenic drives and stargazing.
Capitol Reef weather in June: The weather at Capitol Reef in June is moderate with average daytime highs near 85 degrees Fahrenheit, and lows near 56 degrees.
It typically rains only 3 days in June, about 0.4 inch.
What to do in Capitol Reef National Park: In the main Fruita area of Capitol Reef you'll find the Visitor Center, Gifford Homestead, blacksmith shop, barn and orchards.
In mid to late June you'll be able to pick cherries and apricots from the park orchards!
Enjoy stunning landscape views along the scenic drive in Capitol Reef. It's a paved 7.9 mile one-way road suitable for passenger vehicles. There are also two dirt spur roads off the scenic drive: Grand Wash and Capitol Gorge.
Hiking at Capitol Reef is a fun way to explore the park. There are trails for all hiking levels.
Try the moderate hike to the stunning Hickman Bridge. The hike is 1.8 miles round trip and extremely scenic.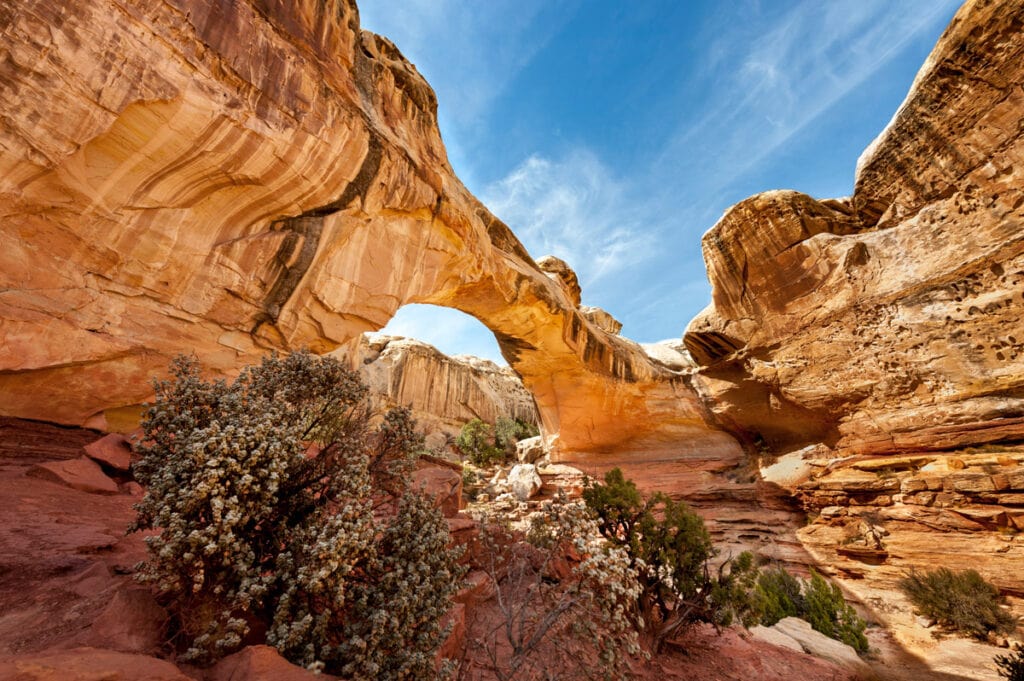 The elevation at Capitol Reef is 5,500 feet, so if you're coming from a lower elevation, or from sea level, trails that are considered "easy" might be more difficult for you.
Capitol Reef is internationally recognized as one of the best places to stargaze. It's worth the time to take one evening and enjoy gazing up at the endless sky of stars!
Where to Stay
You can camp at the Fruita Campground, or stay at the Capitol Reef Resort (in Torrey) in a hotel room, covered wagon, or teepee!
Suggested by Joyce of PhotoJeepers
13. Kenai Fjords National Park
Location: Alaska
Kenai Fjords National Park is one of the most beautiful parks in Alaska, with the added benefit of being accessible to all visitors via water, air, or hiking.
You can't go wrong here with day-long cruises, great hiking, and gorgeous views!
June is a phenomenal time to make a trip down the Kenai Peninsula to Kenai Fjords National Park.
However, you're just getting into the travel season, and if you go early in the month, you might miss the swarms of tourists visiting in July and August.
Kenai Fjords weather in June: When it comes to weather, be ready for anything in June near Seward!
Weather can be hit or miss as the spring rains begin to wane and summer settles into the Kenai Fjords.
With highs ranging across the 50s with lows hovering in the 40s Fahrenheit, you'll want to keep your jacket close, especially with an average of four inches of rain throughout the month.
But, like all of Alaska, this is perfect weather for adventuring if it's dry.
What to do in Kenai Fjords National Park: The easiest way to explore the park on foot is by hiking the Exit Glacier Trail. The area is the only part of the park accessible by road.
The Exit Glacier Trail, the main hiking attraction in the park, can be a rigorous 9-mile trek or a short two-mile stroll, depending on your route. Get up close to a glacier!
Among the best things to do here is take one of the Kenai Fjords cruises to get onto the water, see the tucked-away glaciers, and view wildlife.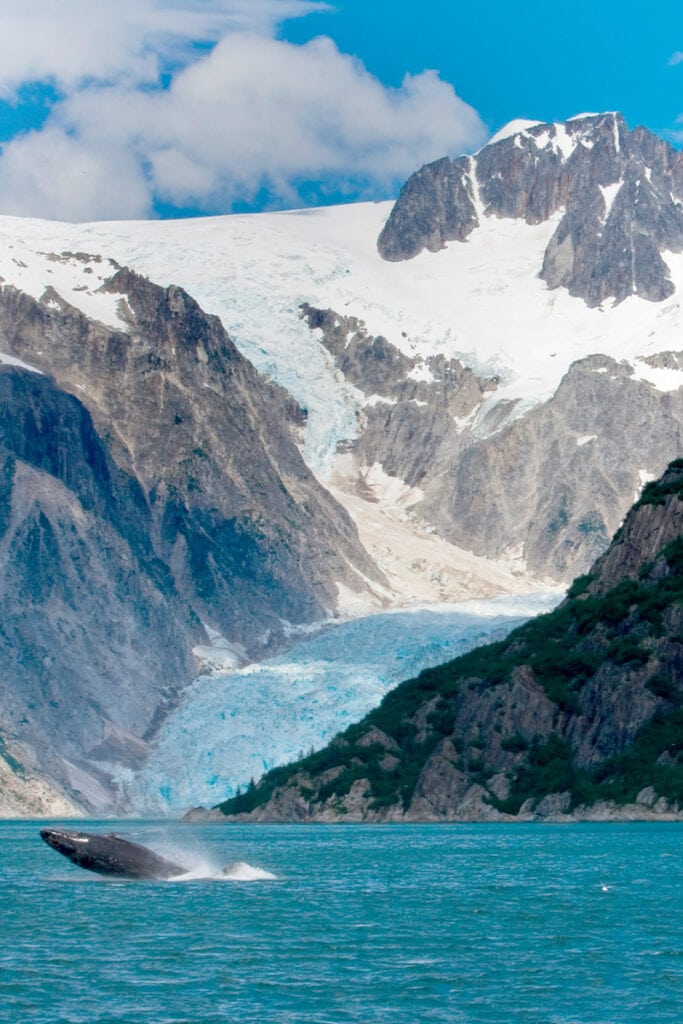 Motorized boat tours depart from Seward every day in the summer. Reserve your spots ahead of time!
Don't forget to book a day or overnight kayaking trip, plus fishing expeditions, to get the full breadth of the Kenai Fjords adventure. Paddling here can be an otherworldly experience!
And finally, if a flightseeing tour is on your bucket list, tours are offered from Seward.
Where to Stay
For budget travelers or those doing van life, camping on the water at the Resurrection Campground is a must-do. You have unbelievable views of the peaks across the bay, and you can enjoy watching wildlife.
You can also find lodging in the town of Seward, the gateway to the park. Trailhead Lodging offer comfortable rooms with free wifi and parking.
Suggested by Alec of Explore with Alec
14. North Cascades National Park
Location: Washington
Named after the North Cascades Range, the largest glacial system in the country, North Cascades National Park boasts over 500 beautiful lakes and stunning mountain peaks, earning it the nickname "American Alps."
Take a break from the hustle and bustle of life and immerse yourself in the peace and tranquility of the park.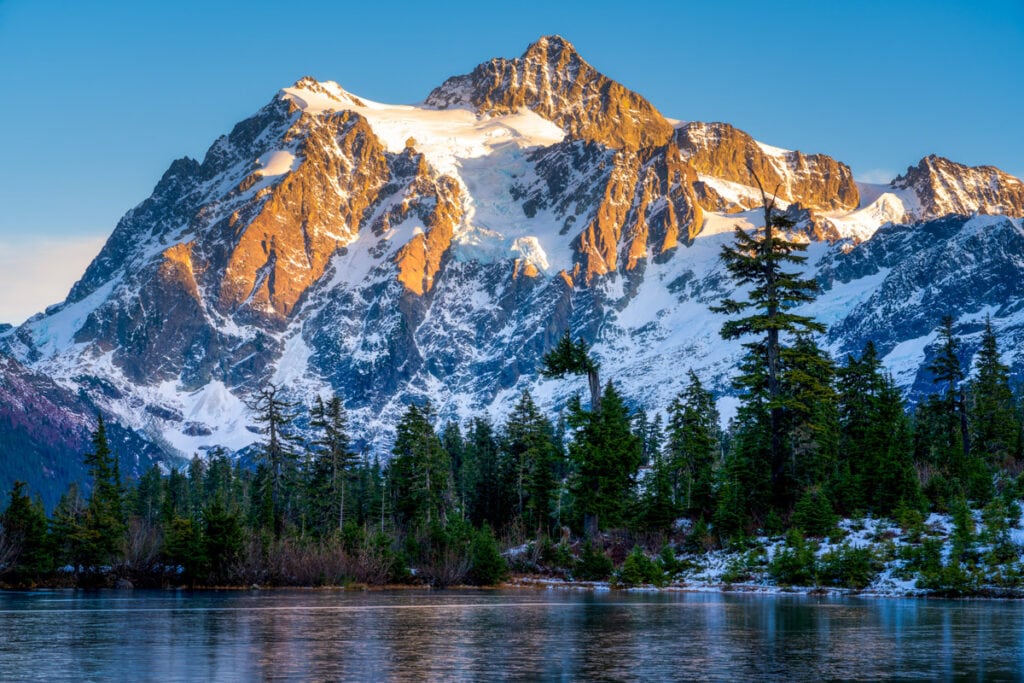 The best time to visit is in June, when snow it's less crowded than during July or August. You'll be able to admire the breathtaking views of snow-capped peaks and crystal-clear water.
North Cascades weather in June: Expect average daytime highs in the low 60s Fahrenheit, with nighttime lows dropping into the 40s.
In June, trails at higher elevations in North Cascades National Park may still have snow on them. Storms are always a possibility, so bring layers and rain gear.
The east side of the park is much warmer and drier in the summer than the west side.
What to do in North Cascades National Park: Here are a few must-see spots during your visit to the park!
Diablo Lake is a top attraction, known for its captivating green-blue hue. You can observe the stunning color from designated overlooks, hike nearby, or set up camp.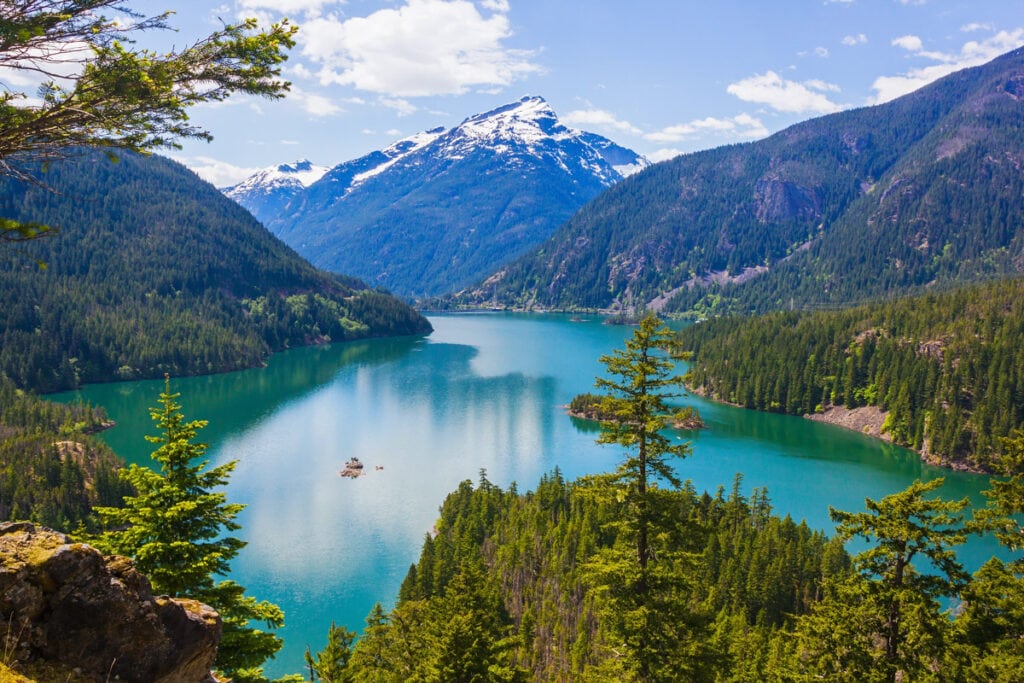 Don't miss Gorge Lake and Ross Lake, two nearby lakes that offer breathtaking views of Gorge Creek Falls and the surrounding mountains.
Stehekin is the perfect slow-paced gateway to the Lake Chelan Valley. The valley boasts the third-deepest lake in the US with 300 days of sunshine and is surrounded by vineyards with unique glacial soil.
Throughout the year, the area hosts wine tastings and events.
Lake Chelan Valley is a hub for foodies and adventure seekers, offering diverse dining options and activities like mountain biking, boating, fishing, golfing, skydiving, and more.
Where to Stay
Accommodations in Lake Chelan range from camping to luxury resorts, and there are plenty of seasonal events and activities to choose from, like Winterfest and Brews on the Bridge.
Ross Lake Resort offers rustic cabins in Rockport. North Cascades Lodge at Stehekin is another option.
Suggested by Meenakshi of Backpacking with My Lens
15. Denali National Park
Location: Alaska
Visiting Denali National Park is one of the things you must do in Alaska. The wilderness extends over six million acres around North America's tallest mountain, Denali.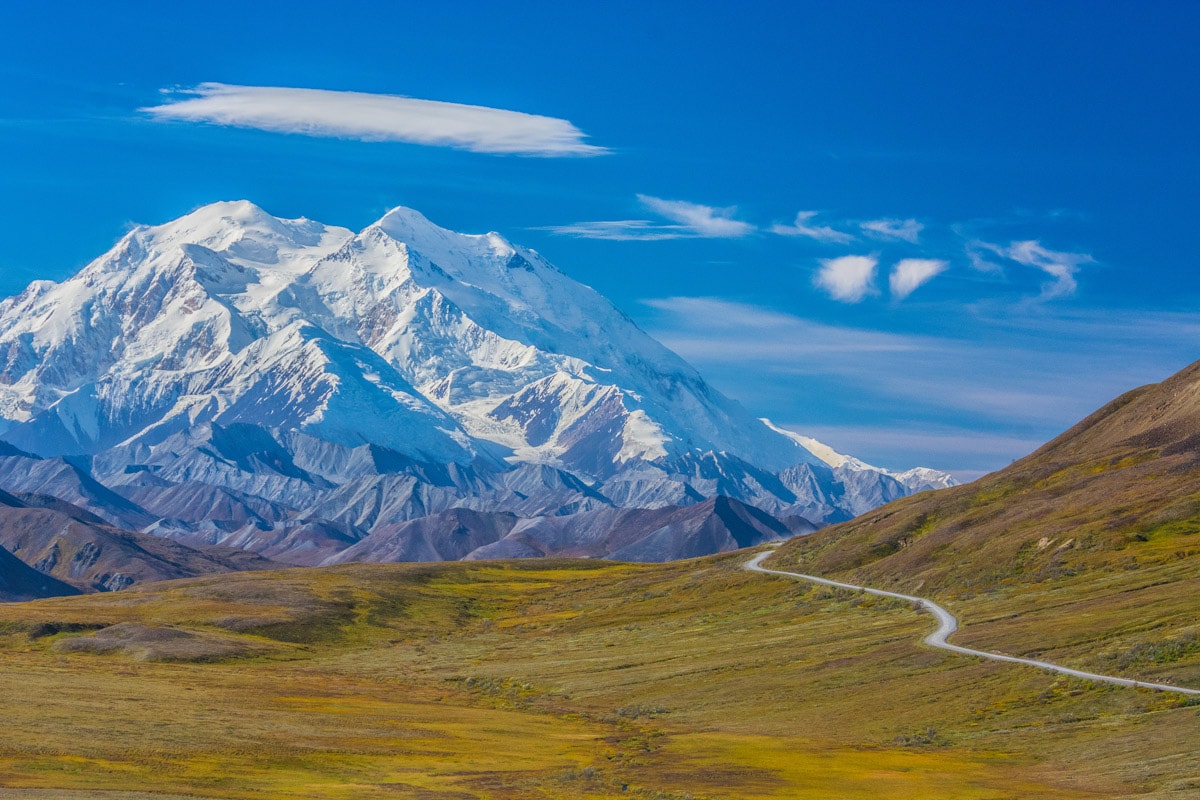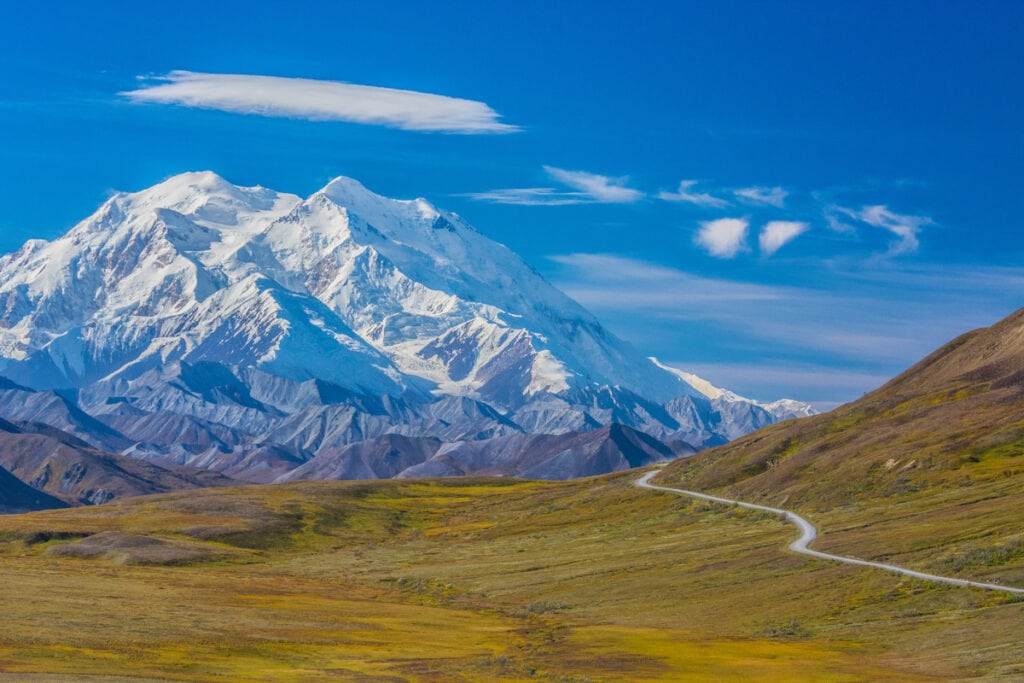 From lush forests and impressive glaciers to an amazing ecosystem of wildlife, it's a nature lover's paradise.
In June, the air is still cool and crisp, whereas the summits of the Alaska Range are still blanketed in white snow to make for picturesque views.
This is a time of transition, with wildflowers blooming, and you can watch as the landscape changes from brown to vibrant shades of green.
Denali weather in June: Average daytime highs in Denali National Park tend to be in the high 50s or low 60s Fahrenheit, with lows in the low 40s.
June sees about 12 days of rain on average, so rain gear is a must!
What to do in Denali National Park: There are plenty of activities in Denali National Park during the summer, with hiking being number one on the list.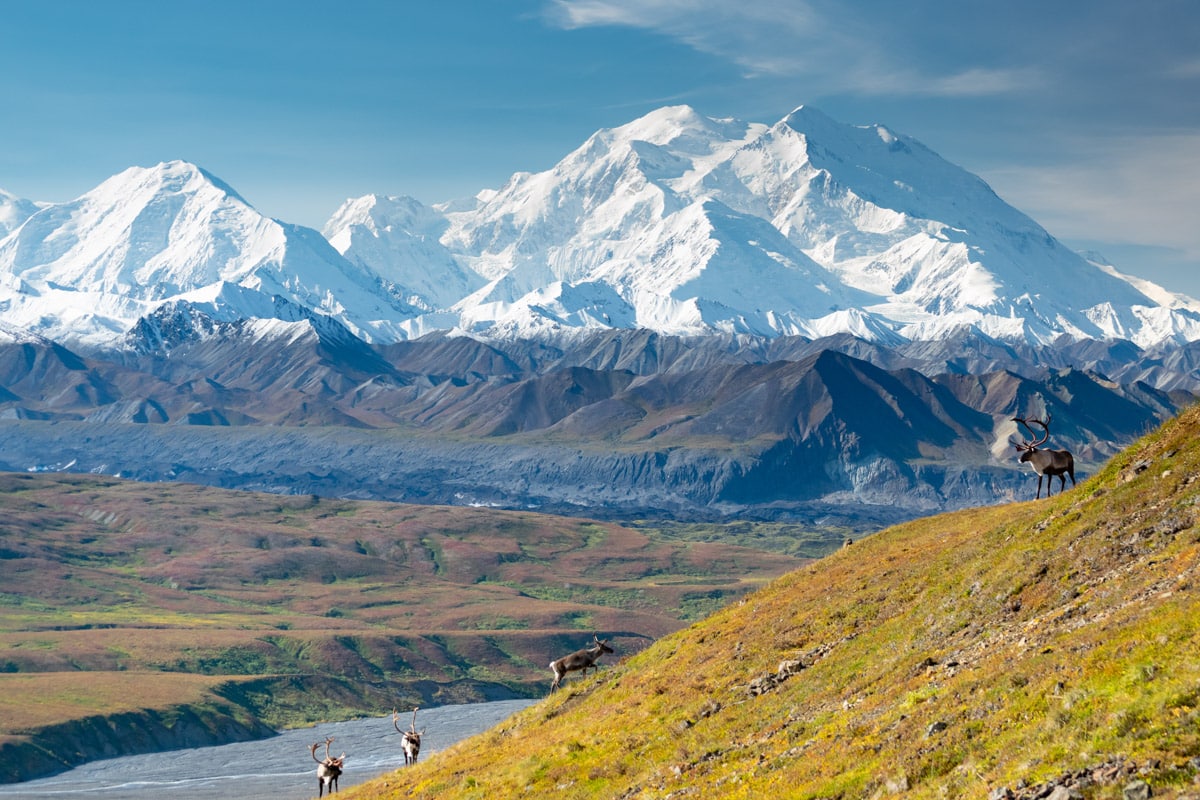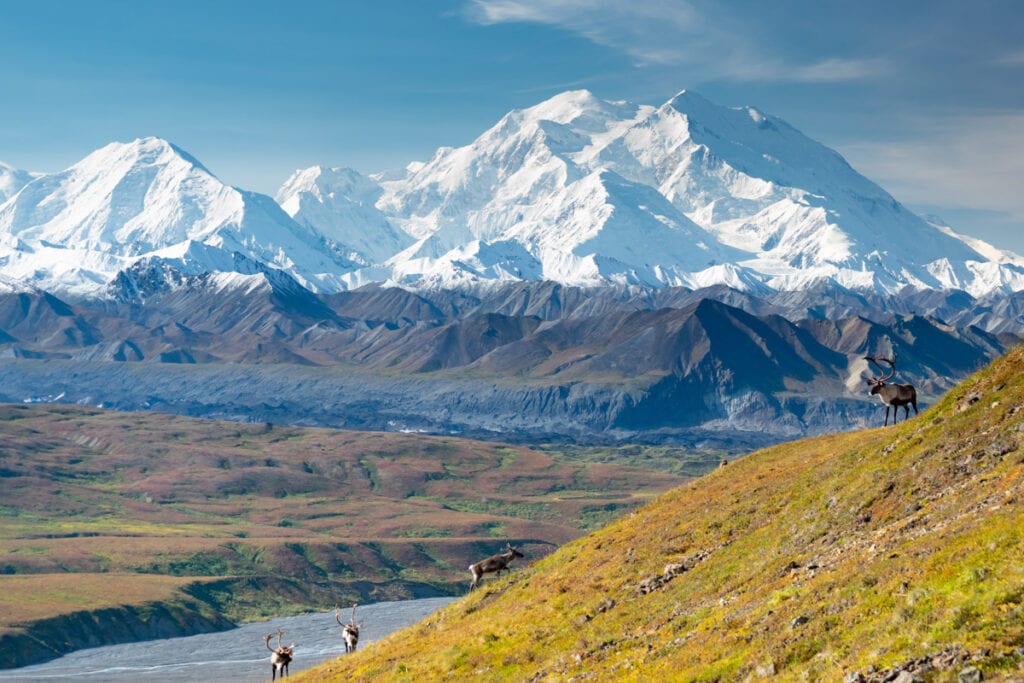 The Horseshoe Lake Trail, the Savage River Loop, and the Tundra Loop at Eielson are short options for those wanting an easy and relaxing hike.
If you have a little more time, the Triple Lakes Trail is 9.25 miles one way and takes you past three beautiful lakes.
Explore the rugged tundra terrains by ATV or Jeep, which can be a thrilling way to experience the Alaskan backcountry.
You can mix up the land-based adventure by rafting down the Nenana River, ziplining, or going on a helitour!
Where to Stay
For accommodation, Denali Backcountry Lodge is a great base. It is situated near a river valley with opportunities to view diverse and interesting wildlife.
Suggested by Bradley of Dream Big Travel Far
16. Great Smoky Mountains National Park
Location: North Carolina and Virginia
Great Smoky Mountains National Park is the busiest national park in the entire country. It is located in the Appalachian area covering both eastern Tennessee and western North Carolina.
GSMNP contains 500,000 acres with miles and miles of trails that lead to waterfalls, historic buildings, and panoramic mountain viewpoints.
This park also has lots of highlights if you are exploring strictly by car, with lots of wildlife can be seen along the road if you're lucky!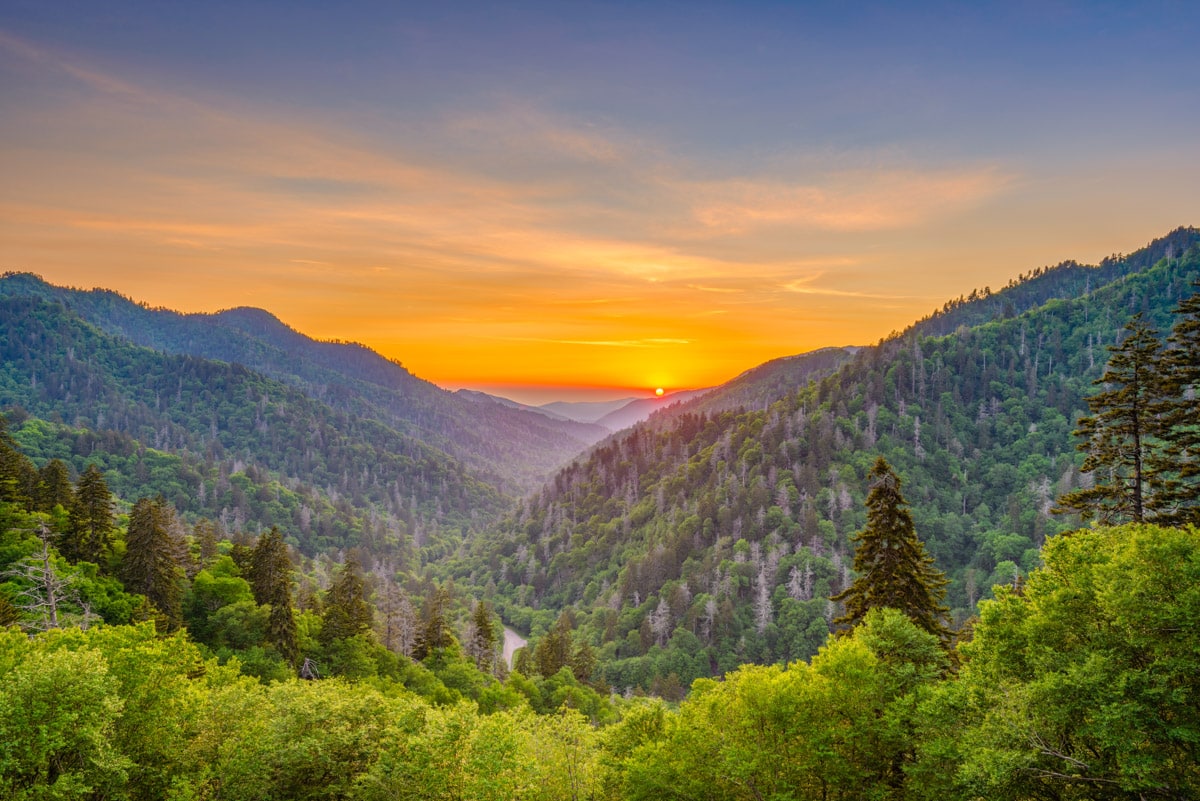 Great Smoky Mountains weather in June: The weather year-round tends to be mild but visiting the Smokies in the month of June lets visitors soak up sights of the famous azalea and rhododendron blooms!
June is also warm enough to swim in the river or walk in the creeks but still has cool breezes at night for sleeping.
All the ranger programs and tourist attractions are open in June but the timing typically misses the heavy crowds that come later in the summer and around the Thanksgiving holiday.
June weather in Gatlinburg (the most popular gateway city) has average highs of 86 degrees Fahrenheit and average lows of 58, with 9 rainy days a month.
Afternoon showers are common but heavy rainfall is not, and temperatures get much colder the higher in elevation you go within the park, so pack layers.
What to do in Great Smoky Mountains National Park: All visitors that are able should walk up the steep paved trail to Clingman's Dome for gorgeous long range views.
Cruise (by car, or bike on certain days) the famous Cade's Cove loop to spot wildlife. Driving this 11-mile scenic loop is one of the best things to do in the park, and there are pullouts where you can park and enjoy the views.
Visit one of the several historic wooden buildings in the park and learn about the history. There are over 90 historic structures that have been preserved in the park, from mills and barns to schools and churches.
Hike or drive by a lush, mossy waterfall! Laurel Falls and Abrams Falls are two especially lovely falls in the park that are relatively easy to access.
And if you enjoy easy hiking, there are many beginner and kid-friendly hikes in Smoky Mountains National Park from which to choose.
Where to Stay
Visitors focused on hiking will want to camp inside the park, but folks looking for tourist attractions and wilderness should consider the nearby Wilderness at the Smokies.
If it rains in the afternoon, just head back and enjoy the indoor water park!
Suggested by Stephanie of Explore More Clean Less
17. Sequoia National Park
Location: California
Seqouia National Park is located in the Sierra Nevada mountains in Southern California and it is famous for its enormous sequoia trees.
There can often be snow during the winter. June is a good time to visit since all the park roads are open, ranger-led activities are in full swing and the weather is warm during the day, making it the perfect time for hiking and exploring the park.
Sequoia weather in June: The average daytime high temperatures in June in the park are around 68 degrees Fahrenheit, with overnight lows of around 44 degrees. Bring a fleece for the chilly evenings.
Rainfall drops significantly in June compared to the prior months, with an average of only 2 days of rain per month.
What to do in Sequoia National Park: When visiting Sequoia National Park, the one thing not to miss is the world's largest tree, General Sherman.
The enormous tree is 275 feet tall, about 2,200 years old, and an easy half-mile walk from the car park.
Big Trees Trail is a short walk past some of the most impressive trees in the park, and the slightly longer Congress Trail, at two miles, is also well worth the walk.
The Giant Forest Museum is worth a visit, to learn about California's redwoods.
For a longer, more strenuous hike the views from the top of Moro Rock are so worth the effort. There are about 350 steps to climb, to get to the top of the granite dome.
Close to Moro Rock is the Tunnel Log, a tree log through which you can drive. You'll find the Tunnel Log along the Crescent Meadow Road. Crescent Meadow is a beautiful hike as well.
The Generals Highway, which goes through the park, leads to adjoining Kings Canyon National Park, and many visitors do a combined visit to both parks. In Kings Canyon, you can view the General Grant Tree, known as the Nation's Christmas Tree.
Whilst driving through the park look out for the black bears that can often be seen at the side of the road or even up a tree!
Where to Stay
Wuksachi Lodge is the best place to stay in the park providing easy access to all the sights.
Suggested by Kristin of Scotland Less Explored
MORE INSPIRATION FOR US NATIONAL PARKS TRAVEL
Are you planning more visits to US national parks?
Discover the most exciting national parks in the west, or plan a national parks road trip from Las Vegas: you'll find more than a dozen national parks near Vegas to explore, from Utah's Mighty 5 to the Grand Canyon.
Also read our articles on how to spend one day in Joshua Tree National Park and things to do in Death Valley National Park, including the must-do Artist's Drive.
If you want national park choices by season, we have an extensive round-up of national parks to visit in the summer, plus national parks to visit in the fall, and US national parks that are perfect for winter visits.
Visiting a US national park in another month? Check out our other round-ups of the best national parks to visit by month!
And if you haven't bought your National Parks Pass yet, get it now!
Buy online at REI.
Did you find this article informative? Pin it for later reference!