Considering a getaway to a US national park in February? We have you covered, with our round-up of the very best US national parks to visit in February.
If you live in a wintry place, you are probably ready for some bright sunshine and blue skies, maybe even some beach time! Island national parks make wonderful February getaways, whether you pick Virgin Islands National Park or Hawaii Volcanoes National Park on Hawaii's Big Island.
Death Valley National Park in Southern California offers wonderfully warm weather, perfect for hiking. And national parks in Florida are super popular for February too, with ideal weather and few bugs.
Some links on this page may be affiliate links. If you click an affiliate link and make a purchase, we may receive a small commission, at no extra cost to you. For more details, refer to our disclosure.
But it's also a month when you may want to pick a park that gets insanely crowded in the spring, summer, and fall. Whether it's Arches National Park or Zion, you'll find it much more relaxing visiting in February, even if the weather doesn't play nice all of the time.
Most of the parks in our round-up are "warm" weather parks, but we have included just a couple of very popular cold weather parks that look spectacular in the winter while being relatively crowd-free. So if you are actually looking to embrace the snow and cold of natural winter wonderlands, these parks are for you.
And now, let's get started discovering the best US national parks to visit in February!
1. Virgin Islands National Park
Location: Saint John, US Virgin Islands
Looking for an idyllic island warm weather national park getaway in February?
With many pristine beaches, stunning scenery, and interesting historic sites, Virgin Islands National Park should be your top choice if you want a tropical escape to get a respite from wintry weather.
The park encompasses about two-thirds of the island of Saint John, and offers a variety of things to do if you are up for an active vacation.
Virgin Islands weather in February: Daytime highs in the park in February average around 80 degrees Fahrenheit, with nighttime lows around 67 degrees.
The water temperature is right around 80 degrees on average, so you can go swimming at Virgin Islands National Park in February!
A few days of rain are expected, but there's also lots of sunshine. A light jacket is also good to bring, because sometimes a cool wind can kick up in the evenings.
What to do in Virgin Islands National Park: Routinely listed among the top ten beaches on the planet, Trunk Bay is the most visited beach in the park. It features turquoise water and soft white sand.
Trunk Bay offers swimming, snorkeling, and sunbathing. The waters are clear and you may see turtles in addition to colorful coral and fish. If you want to snap photos of the iconic beach from above, the Trunk Bay Overlook on North Shore Road is the best spot.
Trunk Bay gets crowded during the day, so arrive early in the day for the best experience!
Another popular beach in the park is Honeymoon Beach at Caneel Bay, with blue-green waters, leaning palms, and soft white sand. The coral reefs here are stunning, so it makes for a great snorkeling spot: look for turtles and rays.
Maho Bay is considered one of the best snorkeling spots in Virgin Islands National Park. Look for turtles, rays, and a variety of fish. It's also a kid-friendly beach, with usually calm waters and no big drop-off.
For a quieter beach, head to Francis Bay. It offers excellent snorkeling, with many turtles and colorful fish.
For a peek into the island's past, tour the Annaberg Plantation. Here enslaved workers farmed sugarcane and produced sugar, rum, and molasses. You can see the workers' quarters, the guard house, and some of the production sites.
Ram Head Trail and Reef Bay Trail are two popular hikes in the park.
Ram Head Trail is exposed but offers spectacular water views. Wear proper shoes, the trail has loose rocks. The trail is about 2.3 miles round trip, and you can cool off at Salt Pond after!
Reef Bay Trail is longer, at about 4.4 miles round trip, and is more of a jungle hike, with the ruins of a sugar mill, and a waterfall and petroglyphs on a short spur.
Where to Stay
Coconut Coast Villas are located in Cruz Bay, just under 3 miles from Virgin Islands National Park. They offer studios and larger units. The property features a year-round outdoor pool. Units are air-conditioned and have wifi.
Book a stay here!
Suggested by us
READ MORE: The Best Caribbean Islands to Visit!
2. Everglades National Park
Location: Florida
The Everglades National Park is located at the southernmost tip of Florida, south of Miami, and encompasses over 1.5 million acres of wetlands, marshes, and cypress, mahogany, and mangrove hammocks.
The third largest national park in the continental United States, the Everglades protects over 39 endangered or threatened species of birds, manatees, alligators, turtles, snakes, and fish.
Due to the size of the park, it is important to have a good itinerary when planning a visit to the Everglades.
Being in South Florida, the park sees hot and humid weather with a lot of rainfall in the summer months.
Visit early in the year, before the busy season begins. Visitors in February are more likely to be able to experience the solitude and quiet that the park provides in winter and early spring.
Everglades weather in February: Average daytime highs in the mid-70s Fahrenheit mean that many of the best outdoor activities in the Everglades, like hiking, kayaking, and bike riding, are pleasant.
Average temperatures tend to stay in the upper 50s at night, bringing cool breezes that help keep bugs away.
What to do in Everglades National Park: One of the best things to do while in the Everglades is to enjoy a leisurely hike.
On the Anhinga Trail, a boardwalk takes visitors through different habitats filled with turtles, alligators, and tropical birds. This is one of the best places to view wildlife in the park.
Kayak and canoe tours can also be booked in order to explore the park on the water, both at the Flamingo Marina and the 10,000 Islands section of the park.
Paddlers will pass mangrove tunnels and may even be able to spot dolphins, manatees, and alligators.
Everglades National Park also offers guided boat tours throughout the day for a more relaxed way to explore the miles of waterways in the park.
Or for the more adventurous crowd, book an airboat ride to really get up close to some of the more elusive animals that call this park home!
Where to Stay
The only stay options located inside the park are at the Flamingo and Long Pine Key campgrounds.
For a good option just outside of the park, travelers can stay at the Hampton Inn & Suites Homestead Miami South, which is a great jumping off point for visiting the Everglades, Miami, and the Florida Keys. Book a stay here!
Suggested by Erin from Super Simple Salty Life
Planning to visit more than one national park in the next 12 months? Consider buying the America the Beautiful National Parks Pass!

Valid at over 2,000 federal recreation sites all across the USA, the pass covers entrance, standard amenity fees, and day use fees for a driver and passengers in a personal vehicle at areas that charge per vehicle, and for up to four adults at sites that charge per person. Children ages 15 or under are free.

The pass is valid for 12 months from the month of purchase.
3. Death Valley National Park
Location: California
One of the best national parks to visit in February is Death Valley National Park in Southern California. The park's majestic landscapes are awe-inspiring.
Death Valley's super hot daytime temperatures make it inhospitable to exploring on foot from spring until fall, so February is the perfect time to head there if you want to do more than just drive through the park.
On a visit in February, you can even hope to see some wildflowers blooming in the desert at lower elevations. In a good year, you may even be treated to a superbloom.
Death Valley weather in February: Average daytime highs in February in Death Valley National Park are in the low 70s, making it perfect weather for exploring.
Nighttime lows drop into the mid-40s, so you'll need a warm jacket for activities early or late in the day.
While some days are overcast, you are likely to get lots of sunshine as well. Rain is rare.
What to do in Death Valley National Park: Take advantage of the ideal daytime temperatures to go hiking in Death Valley National Park.
Enjoy the slot canyon and smooth marble and mosaic at Mosaic Canyon, or the beautiful views of the badlands along the Golden Canyon Trail.
Death Valley National Park offers many scenic overlooks to enjoy the diverse landscapes in the park. Check out sunrise at Zabriskie Point, the valley panoramas from Dante's View, or the multi-hued rocks at Artist's Palette along Artist's Drive.
At sunset, head to Mesquite Flat Sand Dunes, to watch shadows deepen as the sun sets, or visit Badwater Basin, where the colors of sunset offer a contrast to the vast stretch of salt flat.
If you have the time, drive out to Ubehebe Crater, in the northern part of the park. While you can view the yawning chasm from the parking lot, you can also walk the trail along the rim to view the crater from different angles.
Death Valley is considered a Gold Tier Dark Sky Park, and offers fabulous night sky observation.
The park hosts a Dark Sky Festival in February each year, and you can attend various events, including talks and ranger-led night sky watching.
Even without the festival, plan on spending some time during your visit admiring the millions of stars in the night sky. Zabriskie Point, Mesquite Flat Sand Dunes, and Harmony Borax Works are excellent spots for night photography.
We suggest spending at least one night in the park, but many visitors also visit on a day trip from Las Vegas. In fact, a Death Valley day trip is one of the more popular things to do in Vegas for outdoor enthusiasts!
Where to Stay
Splurge on a stay at the four diamond AAA resort, the Inn at Death Valley. It offers onsite dining and a pool, and beautiful views from its terraces. Book a room in the main inn or a standalone casita. Book a stay here!
The Ranch at Death Valley, just across the road, offers comfortable rooms for a more affordable price. The Ranch also has a pool and an onsite restaurant. Book a stay here!
Suggested by us
4. Hawaii Volcanoes National Park
Location: Big Island, Hawaii
Hawaii Volcanoes National Park is home to two of the most active volcanoes in the world, Kīlauea and Mauna Loa, as well as an incredible range of unique geological, cultural, and biological landscapes.
The park is one of the best places to visit in Hawaii.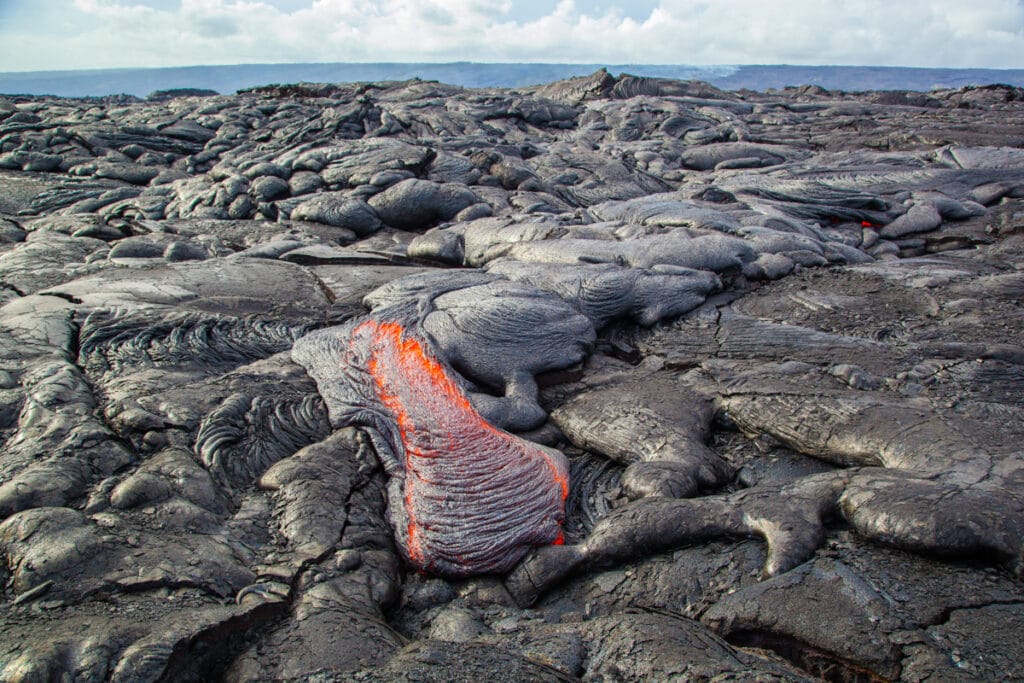 February is a wonderful time to visit this park because of its mild weather, especially if you want to escape winter snows.
Hawaii Volcanoes weather in February: You can enjoy pleasant temperatures in the 60s and 70s Fahrenheit. While winter is still the rainy season, February is the tail end of it, so you'll have less rain than earlier months.
What to do in Hawaii Volcanoes National Park: Drive the fascinating Chain of Craters Road, one of the highlights of the park.
This 19-mile scenic drive goes from the summit of Kilauea to the sea, with many points of interest such as lava fields, craters, and the Pu'uloa Petroglyph field.
Make sure to plan some time for hiking in Volcanoes National Park as well. Check out the steam vents trail just past the visitors center, or walk down Devastation Trail to see the aftermath of a 1959 eruption.
Don't miss exploring Nahuku (Thurston Lava Tube) and the surrounding tropical forest, a huge cave created 500 years ago by lava flows.
Lastly, one of the most exciting things about this park is the possibility of seeing molten lava. Seeing lava flow in the park should definitely be at the top of your Hawaii bucket list!
Check the park's website for up-to-date information on the locations of any active lava flows.
It's especially cool to view after dark, when the bright lava contrasts with the night.
Where to Stay
If you want to wake up to amazing views, book a room at Volcano House Hotel, located inside the park at the edge of the Kīlauea caldera.
The Volcano Eco Cabin Retreat is a cozy cottage located six miles from the park entrance. The one-bedroom cottage has a kitchenette and a sun terrace. Wifi is offered, and the refrigerator is stocked with choices for making breakfast. Book a stay here!
Suggested by Megan of Next is Hawaii
Looking for a rental car for your national park trip? Compare prices, find your car, and book on Discover Cars! They search numerous car rental agencies, from brand to budget, to offer you the best choices for your trip.
5. Zion National Park
Location: Utah
Zion is a scenic national park located in the desert of south Utah, and it has some of the best Utah hiking trails!
The park is about 160 miles from Las Vegas (it's one of the national parks nearest Vegas) or 300 miles from Salt Lake City.
February is a great time to visit Zion because the park is less busy, unlike the summer months when it can be extremely crowded with tourists.
Zion weather in February: The temperatures in the park are on the cool side, but still comfortable for hiking, with a daytime high of 50-60 degrees Fahrenheit. Nighttime lows drop to below freezing.
On average, 7 days of rain are forecast for Zion in February. It snows very rarely and when it does, it doesn't stick around for very long. The rocks look gorgeous when they have a dusting of snow on them.
What to do in Zion National Park: There are so many iconic things to do and see in Zion!
The Angels Landing Hike is a fantastic cliff trail where you have to hold onto chains for safety, with amazing views of Zion surrounding you on all sides.
Just remember to check weather conditions, and speak with a park ranger before you go: this is not a trail to attempt in inclement conditions such as rain, wind, snow, or ice. Be prepared to turn back if the trail is slick or snowy.
The Zion Narrows is one of the world's most popular slot canyon hikes, with 2,000 foot high walls. It involves walking through the Virgin River for miles, and it's a very unique experience. Gear rentals are available.
For a flat and easy walking trail that's a great introduction to Zion National Park, consider the Pa'rus Trail. It has nice views of Zion Canyon, and it's the only trail in the park that's open to pets and bicycles.
The Canyon Overlook Trail is a short and underrated hike that ends with amazing views of Zion Canyon. It has some of the same scenery as other more famous hikes in the park, without being quite as difficult.
The Zion-Mount Carmel highway is a scenic drive where you can enjoy amazing views of the national park without doing any hiking! The highway and tunnel were built in the 1920s.
Where to Stay
A good hotel to check out is the Holiday Inn Express in Springdale, which is located right outside of the Zion National Park. Book a stay here!
Contributed by David & Intan of The World Travel Guy
6. Biscayne National Park
Location: Florida
Biscayne National Park is quite unique compared to most other parks because it is 95% water! The park protects 270 square miles of ocean including a large area of coral reefs.
Biscayne is only a short drive from Miami but feels worlds away.
February is the perfect time to visit Biscayne for the mild weather and fewer crowds than the summer months.
Biscayne weather in February: Average daytime high temperatures in Biscayne National Park in February are around 66° F and nighttime lows around 59° F.
You can expect fairly dry conditions, with only about 4 days of rain forecast during the month.
What to do in Biscayne National Park: By far the best way to explore Biscayne is by boat.
The Biscayne National Park Institute offers several excursion options depending on your interests. If you don't want to get wet, take the Heritage of Biscayne Cruise to learn about the history of the park and tour around the area.
If you prefer adventure, a snorkeling tour is one of the best things to do in Biscayne National Park. You can snorkel among coral reefs or shipwrecks and admire the variety of marine life along the way.
Another great way to explore the park is by stand-up paddle board. There are sections of the park with mangrove tree tunnels and it's fun to paddle through the narrow passages and keep an eye out for sea life.
Finally, be sure to make a visit to Boca Chita Island and see the lighthouse. The island is perfect to enjoy a picnic lunch and watch for dolphins swimming along the shore.
Where to Stay
The city of Homestead is the best place to stay near Biscayne (it's also a great base for exploring the Everglades!).
A hotel that offers great value is the Hilton Garden Inn in Homestead. Book a stay here!
Suggested by Lydia of Lost with Lydia
7. Arches National Park
Arches National Park is a gorgeous national park located in eastern Utah. It is known for its numerous sandstone arches, beautiful red rock colors, and other stunning rock formations.
February is a great month to visit Arches National Park for many reasons. The park is a lot less crowded during this month. For this reason, Arches also features on our round-up of the best national parks to visit in January!
February is also a great time to visit for photographers looking to photograph the gorgeous red rocks in contrast with the white snow that piles up around them.
Another great reason to visit in February is that because it is cold, you don't have to deal with overheating while out hiking or exploring the park! It can get very hot in the summer months and many people get very sick from the heat.
During the winter you don't have to worry about this at all, but you do need to make sure to watch out for icy conditions on the hiking trails!
Arches weather in February: Weather in Arches National Park February is cold, with highs averaging 30-50° Fahrenheit and lows averaging 0-20° Fahrenheit.
Large snowfall is uncommon (except in the nearby mountains). But is it common to get light dustings in the area, and icy conditions.
What to do in Arches National Park: There are lots of fun things to do in Arches National Park during the winter.
One of the best things to do is drive the scenic drive through the park. You can see many of the iconic arches from the road or a short walk from your car.
Another great thing to do is watch the sunset from a viewpoint in the park. There are several incredible sunset spots in Arches, but one of the easiest places to watch the sunset is at Panorama Point.
You can simply park in the parking lot and watch the rocks change to the fiery orange and red hues as the sun goes down.
Not to be missed while exploring Arches in February is hiking to Delicate Arch. Make sure the trail isn't too icy, as it is pretty steep in some spots and there are drop offs. If the conditions allow, it is an absolutely stunning 3.0-mile round trip hike.
And finally, if you aren't too keen on hiking the 3 miles to Delicate Arch, instead check out the upper/lower Delicate Arch viewpoints. The lower viewpoint is really close to the parking lot and the upper viewpoint is a 0.5 mile walk uphill.
Where to Stay
The Hoodoo Moab is one of the best places to stay near Arches. It is a gorgeous hotel by Hilton and offers clean rooms, a great breakfast, and awesome views from some rooms. Book a stay here!
Suggested by Jessica of Unearth the Voyage
8. Carlsbad Caverns National Park
Location: New Mexico
Carlsbad Caverns is a UNESCO World Heritage Site that protects an incredible collection of over 100 caves, including the largest cave chamber in North America. The park was established in 1930.
While the park is still being explored and more areas continue to be discovered, three of the over 119 caves that have so far been discovered are open to the public for tours.
February is a great time to visit for lower crowds.
Carlsbad Caverns weather in February: The park experiences mild winters. The average highs during February tend to be around 64 degrees Fahrenheit, with lows of about 35 degrees Fahrenheit.
The caves you can visit tend to remain at a constant cool temperature of 56 degrees Fahrenheit through the year.
While rare, the park can receive snow and ice, but the cave system will still be accessible (barring flooding).
What to do in Carlsbad Caverns National Park: Touring the caves is the most popular activity in the park.
Reservations are required to enter the caves and must be done ahead of time online at recreation.gov.
There are options for self-guided tours of two cave trails (Big Room Trail and Natural Entrance Trail). Access is by elevator or hiking.
The Big Room Trail takes you through the largest cave chamber in North America. The trail is flat, and you'll see interesting cave formations, and a rope ladder used by explorers in 1924.
The Natural Entrance Trail is very steep, and takes you past named cave formations like Iceberg Rock and Devil's Spring.
Ranger-guided tours enable you to visit other caves in the system, such as the King's Palace and Hall of the White Giant. Ranger-guided tour sizes are limited and tend to book up quickly so it's important to reserve as soon as you can.
If weather conditions allow and you come bundled up, you can also walk desert trails on the surface, to enjoy the landscapes of the Guadalupe Mountains and Chihuahuan Desert. Trails vary in length and difficulty.
Slaughter Canyon Trail is just 0.5 mile in length, but has an elevation change of about 500 feet and is considered difficult. It offers spectacular views. The Chihuahuan Desert Nature Trail is 0.5 mile and mostly paved.
Where to Stay
TownePlace Suites by Marriott in Carlsbad is located about a 20-minute drive from the park, and offers comfortable rooms with a kitchen. Book a stay here!
Suggested by Anwar of Beyond My Door
9. Capitol Reef National Park
Location: Utah
Capitol Reef National Park is one of the most underrated parks in Utah, with otherworldly landscapes just begging to be explored.
In fact, Capitol Reef is located along a 100-mile waterpocket fold, which is essentially a wrinkle in the Earth's crust. This unique feature results in the erosion of jaw-dropping rocks, called "reefs," jutting out of the earth.
Capitol Reefs weather in February: Average daily highs in the park, come February, are in the mid-40s Fahrenheit, with clear and dry skies.
So you'll have crisp yet comfortable weather to explore the park's hiking trails! Plus, the most popular time to visit the park is in the springtime, so you'll beat the crowds and get to enjoy the park to yourself!
What to do in Capitol Reefs National Park: If you only have one day in Capitol Reef National Park, you can't miss the Cassidy Arch Trail, a unique hike that takes you up and actually on top of a natural arch over 600 feet above the desert floor below.
Alternatively, the Hickman Bridge Trail takes you below an equally impressive natural arch, stretching 300 feet overhead.
If you want to give your legs a break after the hikes, check out Fruita, an adorable historic district that, depending on the season, has orchards and buildings from the 1800s.
The Gifford Homestead has an excellent selection of locally crafted baked goods, like cinnamon rolls and pies, if you've worked up an appetite on the trails.
Close out the day by watching sunset at the aptly named Sunset Point, which provides sweeping vistas over the park's colorful rock formations.
If you have more than one day in the park, rent an AWD and explore Cathedral Valley where the Temple of the Sun and Moon is a stunning viewpoint, or drive the Burr Trail Switchbacks, or visit Strike Valley Overlook.
You can also explore more in the Fruita District. Check out the scenic Goosenecks Overlook, walk to Panorama Point, and admire the panel of petroglyphs off Highway 24 between Fruita and Hickman Bridge.
Where to Stay
Cougar Ridge offers a hot tub and a choice of rooms or standalone villas. It's just a 10-minute drive from the park.
Suggested by Jessica of Uprooted Traveler
10. Petrified Forest National Park
Location: Arizona
Petrified Forest National Park, in the northeast corner of Arizona, is one of the best hidden gems in the National Park Service.
With shockingly vibrant badlands, barren expanses of desert stretching on to the horizon, and literal forests of fossilized trees, it offers a completely different — and yet, totally unmissable — experience from its more famous neighbors, like the Grand Canyon.
The park is usually less crowded than its busy peak season in the summer, so you'll get to enjoy the expansive vistas in peace and quiet.
Petrified Forest weather in February: Petrified Forest rarely gets truly cold weather and February is no exception, with daily highs typically in the mid-50s and generally clear skies.
What to do in Petrified Forest National Park: February is the perfect time to take advantage of the short hiking trails throughout the park.
The Blue Mesa Trail is one of the highlights, taking you below the rim of a mesa to walk amongst towering hills of bentonite clay, striated with vibrant blue colors.
Alternatively, hike along the Crystal Forest Trail, where you'll stroll around rolling hills covered with countless pieces of colorful petrified wood, dating back millions and millions of years.
Carve out some time to make a quick and easy stop at Newspaper Rock, with over 650 petroglyphs left behind by the Pueblo people some 2,000 years ago.
Finally, be sure to stop at the Painted Desert, either to simply gaze out on its pink- and scarlet-hued badlands, or to hike along its rim.
You're also welcome to strap on a backpack and wander down into the desert, which stretches on for 146 miles beyond the park.
Where to Stay
If you'd prefer an actual bed for the night, book a room at Brad's Desert Inn, a kitschy motel that leans into the area's history with the famed Route 66.
Suggested by Jessica of Uprooted Traveler
11. Bryce Canyon National Park
Location: Utah
Bryce Canyon National Park is a highly underrated national park compared to its neighbors, Zion and Arches, but surely no less spectacular!
Visiting Bryce Canyon in February means you'll likely enjoy a winter wonderland amongst the vibrant red hoodoos. Dusted with snow, it's like entering a magical kingdom — but from Mars!
Aside from its unique beauty, visiting Bryce Canyon in February means you'll enjoy the quiet of the park's low season. Less crowds means more space to explore the park!
Bryce Canyon weather in February: Bundle up for high temperatures ranging from 38 degrees Fahrenheit to low temperatures dropping to roughly 10 degrees Fahrenheit.
The park has seen years with lower temperatures. Always check with the park office prior to beginning hikes in the winter, to verify safety and potential route closures.
Rainfall is forecast approximately four days of the month.
What to do in Bryce Canyon National Park: A can't miss thing to do at Bryce Canyon is completing the 8-mile Scenic Drive.
Explore some of the best views of the park from the warmth and comfort from your vehicle. Several pull-out lots allow you to explore the beauty from accessible viewpoints.
Snowshoeing is an activity popular with winter travelers to the park. Snowshoeing is allowed on all trails but can be strenuous depending on the depth of snow.
Enjoy snowshoe walks along the Rim Trail on your own, or join a ranger-led hike. Snowshoes and poles are provided on ranger-led hikes.
Cross country skiing is a highly-rated winter activity at Bryce Canyon as well. Both cross country skis and snowshoe rentals are available at various businesses surrounding the park.
Other travelers flock to the park for its hiking adventures. Consider hiking Navajo-Queens Garden Loop Trail for a moderate route, but note that the Wall Street side of the Navajo Loop closes each winter.
The loop starts at the super scenic Sunset Point, with magnificent vistas over the mesas and hoodoos. It ends at the equally beautiful Sunrise Point. Bring water, and traction devices for your shoes to use if needed.
Or hike Mossy Cave Trail for an easy 0.9-mile round trip route that leads you to a waterfall. It's flat and wide for the most part, and the scenery is beautiful.
Where to Stay
Bryce Country Cabins is a recommended cozy, budget accommodation. This is perfect after a long day of exploring!
Suggested by Alyssa of An Apple A Plane
12. Grand Teton National Park
Location: Wyoming
Grand Teton National Park is an incredible national park to visit in February, for its stunning winter scenery and abundant outdoor activities.
Draped in a thick blanket of snow, the Teton mountain range looks ethereal, and the park is still and tranquil, making for a magical ambience.
February is a great time to book a trip to Grand Teton National Park (Jackson, Wyoming) not only for the wintry landscapes, but also because there are fewer crowds here during the winter season.
Grand Teton weather in February: The weather in Grand Teton National Park in February is bone-chilling cold, with a high of 0 degrees Fahrenheit and a low of -13 degrees Fahrenheit.
Come prepared with lots of warm winter layers!
Expect rain or snow on about 10 days during the month of February.
What to do in Grand Teton National Park: There are several activities to do in Grand Teton National Park in winter that are unique to the season.
During this time, elk migrate down from the mountains to come together in the lower valley near Jackson. You can watch the Jackson Elk Herd at the National Elk Wildlife Refuge off the highway. You may also see moose.
While most of the park is closed to regular traffic, nearby trails turn into snowshoeing and cross-country skiing routes for a fun day near the lakes.
Snowshoeing to Taggart Lake is an especially popular trail to experience. Beginners can join a guided snowshoe walk with a ranger, to learn about winter in the park.
In town, you can enjoy local music, bingo & trivia nights, and food at local pubs in the evenings.
Finally, Grand Teton in the winter is a haven for landscape photographers. The sun rises late and sets early, so you can capture photos at the golden hour and still get enough sleep in the evenings!
Where to Stay
For a cozy experience, stay at the Anvil Hotel. They have an American Western theme, with an outdoor-adventure-focused vibe and a relaxed community-oriented lobby.
Suggested by Emily of The Mandagies
13. Yosemite National Park
Location: California
Yosemite National Park is known for its magnificent domes and rock faces, and for its many beautiful waterfalls.
One of the most popular national parks in the country, Yosemite can be uncomfortably crowded from spring through fall, making winter a blessedly peaceful time to enjoy the park's majestic landscapes.
You may find the park blanketed in snow when you visit, making it a winter wonderland, but the tranquil landscapes of winter in Yosemite will wow you with snow or without.
Yosemite weather in February: Yosemite in February is cold! Expect average daytime highs of around 53 degrees Fahrenheit, with lows dropping into the high 20s.
On average, expect it to snow on 7 days during the month of February. More snow falls at higher elevations in the park, and some roads in the park, such as Tioga Road and Glacier Point Road, are kept closed in the winter.
Things to do in Yosemite National Park: The Badger Pass ski area is the oldest ski resort in California. Here you will find a variety of trails for Alpine skiing as well as cross-country. There's also a family-friendly snow-tubing area.
Another fun thing to do in Yosemite in February is a snowshoe hike. Go on your own or join a ranger-led walk. Walk along the groomed Glacier Point Road or try Crane Flat or the Mariposa Grove of Giant Sequoias.
You'll find an ice rink at Curry Village if you enjoy ice skating. The rink is surrounded by drop-dead gorgeous scenery for a truly unique and beautiful winter experience.
You can walk hiking trails at the bottom of Yosemite Valley. Even though Yosemite Falls may not be in full flow, the scenery is still spectacular. Also visit the Yosemite Museum and the Ansel Adams Gallery!
Since the sun sets early, February is a great time to observe the night sky in Yosemite National Park. It's a dark sky area, so you'll see millions of stars on moonless nights!
And last but not least, you may be lucky to catch the Firefall in Yosemite if you visit in the second week of February. For just a few days, the rays of the setting sun hit Horsetail Fall at exactly the right angle to cause it to glow orange.
Where to Stay
Yosemite Valley Lodge is located in the Village, so you can maximize your sightseeing time. There's an onsite restaurant and bar.
MORE INSPIRATION FOR US NATIONAL PARKS TRAVEL
Planning more visits to US national parks? Check out our round-up of the most exciting national parks in the west or plan a national parks road trip from Las Vegas: you'll find more than a dozen national parks near Vegas for your bucket list.
If you want national park choices by season, we have an extensive round-up of national parks to visit in the summer, plus national parks to visit in the fall, and US national parks that are perfect for winter visits.
Visiting a US national park in another month? Check out our other round-ups of the best national parks to visit by month!
And if you haven't bought your National Parks Pass yet, get it now!
Buy online at REI.
Did you find this article informative? Pin it for later reference!