The best places to visit in Colorado are as varied as they are beautiful. The Centennial State is known as "colorful Colorado" for its outstanding beauty.
You will find stunning natural wonders here, from national and state parks to scenic wildernesses and alpine lakes.
But you will also find vibrant cities teeming with cultural activities and great food and drink, charming little towns nestled into the beautiful countryside, and world-class ski resorts.
The western US state of Colorado is a mecca for travelers of all types. Landscape photographers will want to capture the magnificent mountain vistas. Outdoor enthusiasts are spoiled for things to do, no matter the season.
Nature lovers will enjoy the beauty in each season, from wildflowers in spring and summer to fall colors and the snowy wonderlands of winter.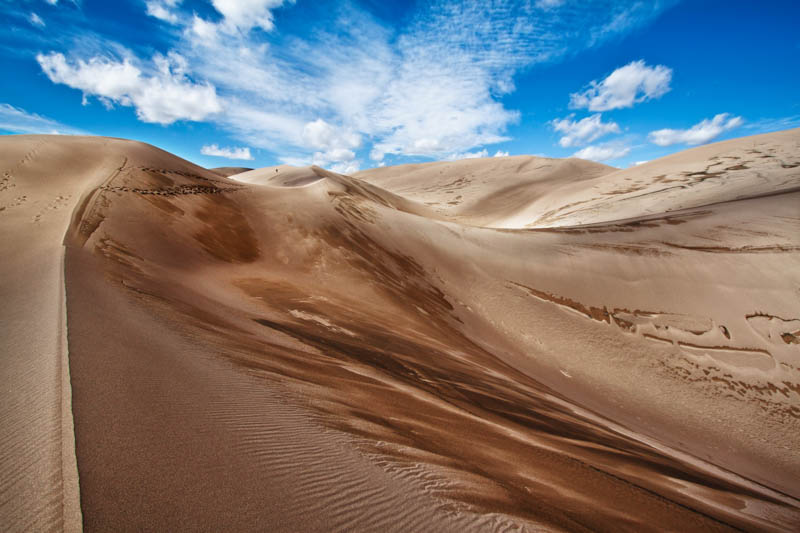 We were blessed to call Colorado home for many years, and we've explored quite a bit of the state. But for this round-up, we invited other members of the travel community to chime in with their favorite Colorado destinations as well, to offer you even more options if you are thinking about a visit.
Excited? Let's get started discovering the best places to visit in Colorado!
Rocky Mountain National Park
The most popular place to visit in Colorado, Rocky Mountain National Park is one of the great national parks of the west and a must-visit for its spectacular scenery and epic hiking.
Located along the Continental Divide, the park features breathtaking vistas of mountains, forests, and lakes.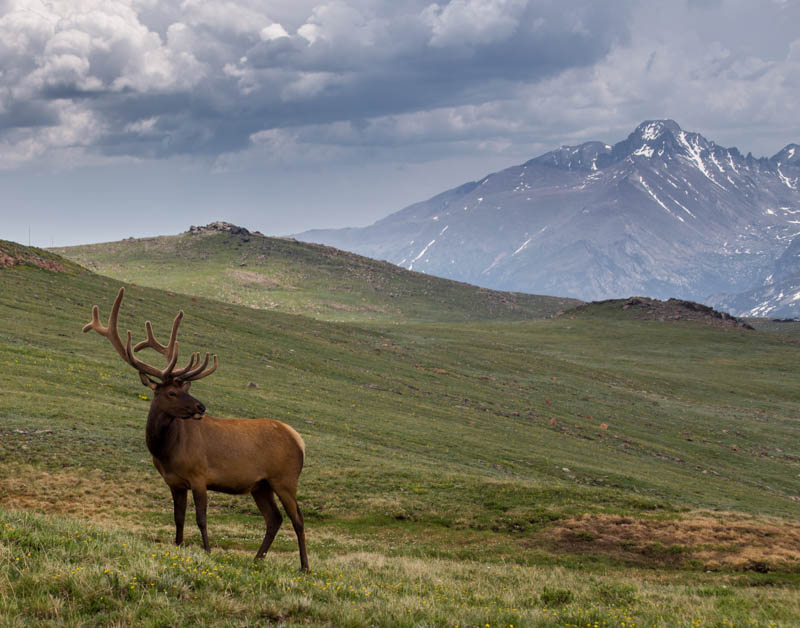 Drive Trail Ridge Road, an America's Byway and an All American Road. Spanning 48 miles between Estes Park and Grand Lake, the high-elevation road offers you spectacular views without having to leave the comfort of your car. Wildflowers are plentiful in season, and you may see wildlife.
Old Fall River Road is another stunningly scenic drive in the park. The road is mostly gravel, and it is narrow and winding. Allow plenty of time, because the posted speed limit is low: plus, you want to be able to enjoy the scenery!
Rocky Mountain National Park features 355 miles of hiking trails, and, no matter what your skill level, you will find one (or three!) hikes to do here. Hiking allows you to get close to the park's beautiful landscapes and gives you opportunities to spot wildlife.
Bear Lake Loop is flat, and offers great views of the surrounding mountains. Mills Lake, at just under 3 miles, offers fabulous views of Longs Peak, the tallest point in the park, and Keyboard of the Winds.
More difficult but rewarding trails include the hike to Chasm Lake, the hike to Timberline Falls, and the Twin Sisters Peaks Trail.
Rocky Mountain is one of the best US national parks to visit in the summer. The weather is perfect for hiking and exploring, and you will see tons of wildflowers.
Rocky Mountain National Park is also one of the top national parks to visit in the fall, because fall colors from the aspen here are spectacular.
Suggested by us
Planning to visit more than one national park in the next 12 months? Consider buying the America the Beautiful National Parks Pass!

Valid at over 2,000 federal recreation sites all across the USA, the pass covers entrance, standard amenity fees, and day use fees for a driver and passengers in a personal vehicle at areas that charge per vehicle, and for up to four adults at sites that charge per person. Children ages 15 or under are free.

The pass is valid for 12 months from the month of purchase.
Great Sand Dunes National Park
It's no secret that Colorado is full of amazing places to see and things to do, whether you visit for an outdoor-focused vacation or you do a Colorado road trip. But if you are looking for an extra unique experience, add Great Sand Dunes National Park to your list!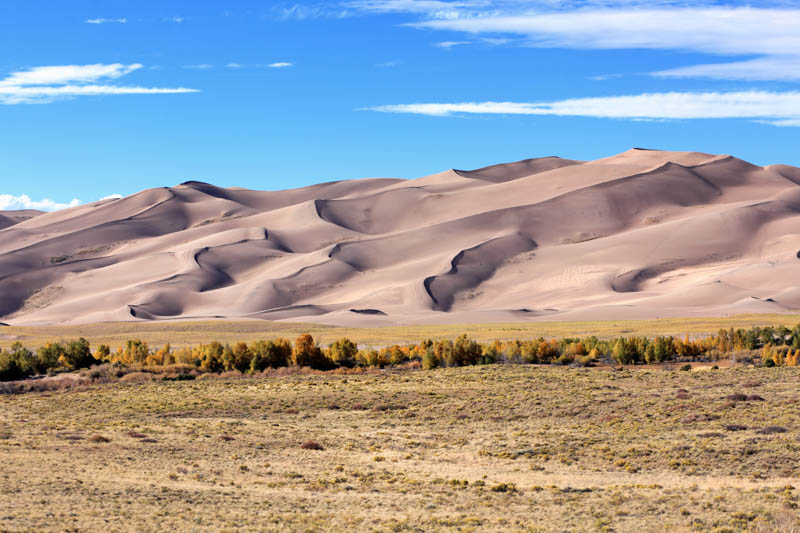 Great Sand Dunes National Park is home to the tallest dunes in North America and surrounded by beautiful snow-capped mountains.
Although it is located in the middle of nowhere, you will appreciate the unique landscape, fun things to do, and opportunity to escape the crowds.
Great Sand Dunes National Park is open 24/7 and features campgrounds and backcountry camping. There are no lodging options within the park, but several outside of the entrances.
Before arriving, be sure to stop at a store to rent a sand board and pack a lunch. After arriving, you can spend the day sliding down the dunes, hiking to the top of Star Dune, and birdwatching. In the summer you can even splash in the creek. The best part about this park is that it is completely dog-friendly!
If you are looking to explore the surrounding area more, you can rent fat-tire bikes, horseback ride, or hike to see Zapata Falls. No matter if you are visiting for a day or planning to camp inside the park, you will surely find yourself wanting to return as soon as possible!
Suggested by Jordan of The Homebody Tourist
Estes Park
Estes Park is one of the top places to visit in Colorado. This small town boasts great food, scenic views, an incredible location, and plenty of activities to keep everyone busy.
Located at the entrance to Rocky Mountain National Park, Estes is the perfect base from which to explore the park.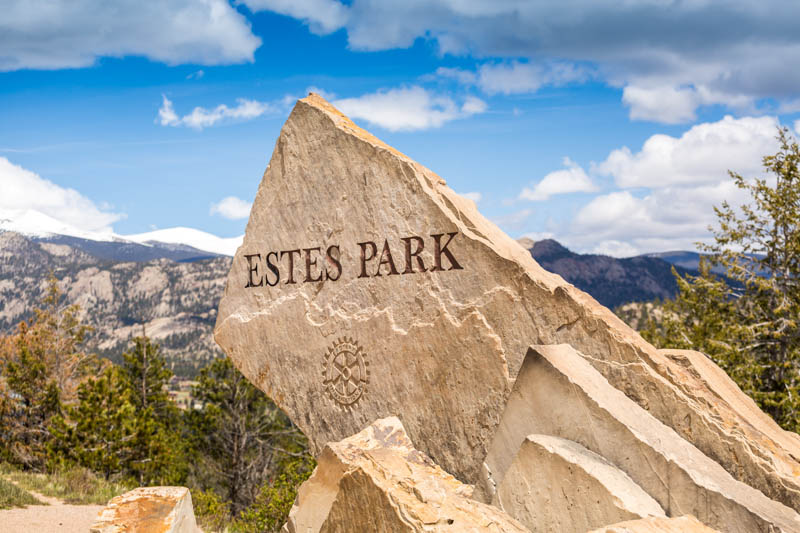 Rocky Mountain National Park is not the only draw to this town though. There are so many things to do in Estes Park, Colorado that you can stay busy for weeks.
History lovers will definitely want to take time and explore the iconic Stanley Hotel. This hotel inspired Stephen King to write the book The Shining and was later featured in the mini-series.
For more history, visit the Enos Mills Cabin. Mills was known as "The Father of Rocky Mountain National Park."
Outdoor lovers will enjoy spending time on Lake Estes, where they can enjoy a day of fishing or take a walk around the lake on the Lake Estes Loop. Another great outdoor area is the Estes Park River Walk. The River Walk is notorious for having elk on the trail, so keep your eyes open.
Of course, there are plenty of bars, restaurants, and quaint shops in Estes Park as well. All of this and more make Estes Park one of the places to visit Colorado that you can return to again and again!
Suggested by Michelle of That Texas Couple
Denver
From a thriving downtown to the surrounding Rocky Mountains, the capital city of Denver has it all.
It is a must-visit city on any trip to Colorado, and not just because you'll likely fly into it! Denver is considered one of the top choices when it comes to US city weekend getaways.
Arriving into the city, you'll be greeted with sunshine, as Denver does have over 300 days of sunshine per year, and high altitude, which is why it's known as "The Mile High City."
You'll quickly realize why it's one of the best places to visit in the state, as there are tons of amazing things to do in Denver.
Spend a day exploring the downtown area, including Larimer Square and the 16th Street Mall, and stop in the Colorado State Capitol for a free tour. While you're there, search out the "One Mile High" marker on the steps of the Capitol.
You can also walk through RiNo, the River North Arts District, to admire the street art or stop in one of Denver's wide selection of museums and exhibits, like the Denver Art Museum, the Denver Zoo, or the Downtown Aquarium.
Continue your explorations out to the famous Red Rocks Amphitheatre, which is a perfect place to catch a concert or simply go for a short hike.
There are also plenty of longer hiking trails and state parks in the region, including some seriously challenging mountain hikes! If you'd rather ski than hike, plan a winter visit as Denver is enticing no matter which season you visit!
Then, at the end of your days, unwind at the dozens of craft breweries scattered throughout the city, like Wynkoop Brewing Company, Rock Bottom Brewery, or the Great Divide Brewing Company.
Suggested by Julia of The Cure for Curiosity
Mesa Verde National Park
Located in the far southwest corner of Colorado, Mesa Verde National Park is one of the most unique places to visit in the state, and an easy addition to any southwest USA itinerary.
It is the only national park in the United States that received its designation because of man-made wonders, rather than natural ones.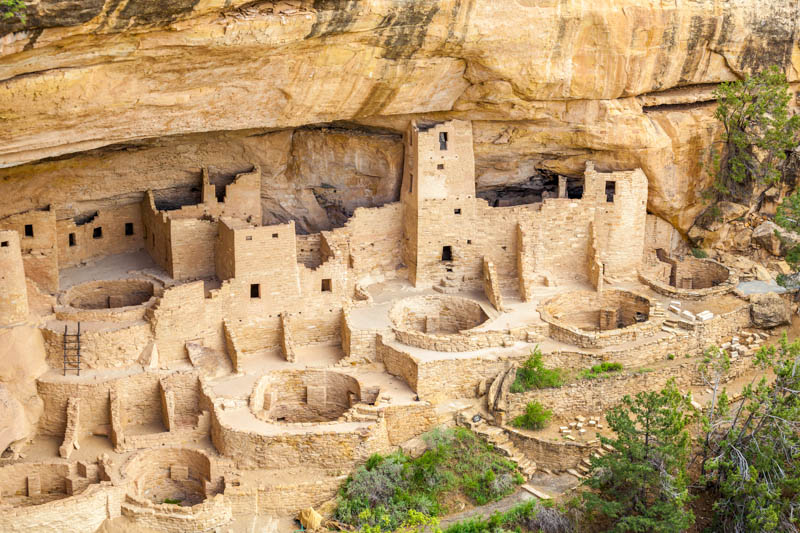 Within the park you will find more than 5,000 archeological sites, such as cliff dwellings, Indian ruins, and petroglyphs. In fact, one of the largest and most well-preserved cliff dwellings in the world is located in Mesa Verde.
The winding, scenic road up to Cliff Palace gives you beautiful panoramic views of the plateaus and desert landscapes within the park.
You can also take a guided tour of Cliff Palace, which is believed to have once been the home to more than 100 indigenous Pueblo Indians.
If you prefer self-guided tours, there are plenty of other hiking trails and ruins within the park you can explore on your own.
The ruins in Mesa Verde date back 600 years, giving you a fascinating glimpse back in time to the early years of North America, long before the United States was ever a country.
Its remote location lends itself to incredible stargazing for those who choose to camp out under the night sky. While summer is the most popular time to visit, the park is less crowded and the weather is ideal in early fall.
Suggested by Melissa of Parenthood and Passports
Black Canyon of the Gunnison National Park
Black Canyon of the Gunnison National Park is located in western Colorado. It is a lesser-visited national park, perfect if you like to enjoy spectacular scenery and outdoor activities in a secluded environment.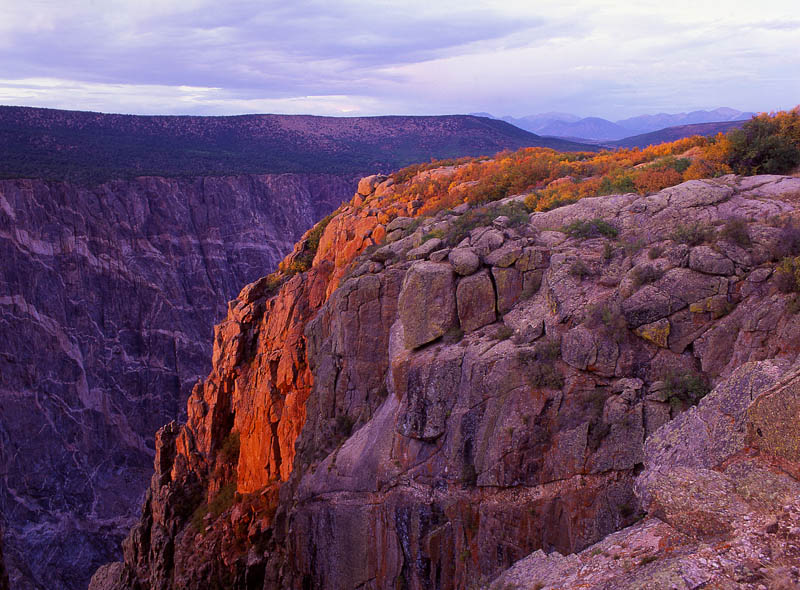 The deep canyon has been carved by the Gunnison River. The landscapes here are majestic, with ancient rock and steep cliffs. Scenic drives take you along both rims of the canyon, with overlooks for snapping photos.
East Portal Road goes down to the river where you can camp or picnic in the Curecanti National Recreation Area. This road is closed in the winter.
Hiking is one of the most popular activities at the park, with trails available for all levels. There are trails along both rims, and the intrepid can also hike down to the bottom of the canyon.
Along with the beautiful scenery, you may also see birds and wildlife, especially early and late in the day.
Rock climbing, kayaking, camping, photography, fishing, and night sky viewing are other activities you can enjoy at Black Canyon of the Gunnison. In the winter, you can go snowshoeing or cross-country skiing along the South Rim.
Black Canyon of the Gunnison is a four-season park, and when you visit depends on the activities you wish to do. From late spring to fall, you will find all roads open and the broadest spectrum of things to do in the park.
Suggested by us
Aspen
Aspen is one of the most beautiful places in Colorado. With its low-key (although expensive) charm, Aspen is a must visit city in Colorado. Aspen is renowned for its fabulous scenery, amazing drives, small town charm, and the ability to spoil visitors.
The city has four popular world-class ski areas to visit in the winter, including Aspen Mountain, Aspen Highlands, Buttermilk, and Snowmass.
Aspen is truly a winter wonderland and also has fun activities like tubing, cross-country skiing, ice skating and snow cat tours. Experiences can range from high-intensity skiing to days at the spa.
In the summer, fall, and spring, Aspen is surrounded by some of the most fabulous hiking areas in the country. Visiting Aspen in early fall can immerse you in color. Leaves start to change color late September and early October, turning the area into bright hues of orange and gold.
Independence Pass, Ashcroft Ghost Town, and especially the Maroon Bells all love to show off in the fall.
The Maroon Bells area just north of Aspen is a must stop destination when visiting this beautiful mountain town. The bells are said to be the most photographed mountains in the world, for good reason. They're beautiful.
Make sure you do more at Maroon Bells than just get a photo. Take time to explore and wander, to really get the most out of your Aspen vacation.
Suggested by Lori of Fitz 5 on the Go
Garden of the Gods Park
Garden of the Gods just outside of Colorado Springs is loaded with incredible red rock formations. The landscape is fascinating and is a huge draw for visitors. Exploring the park is consistently rated as one of the best things to do in Colorado Springs.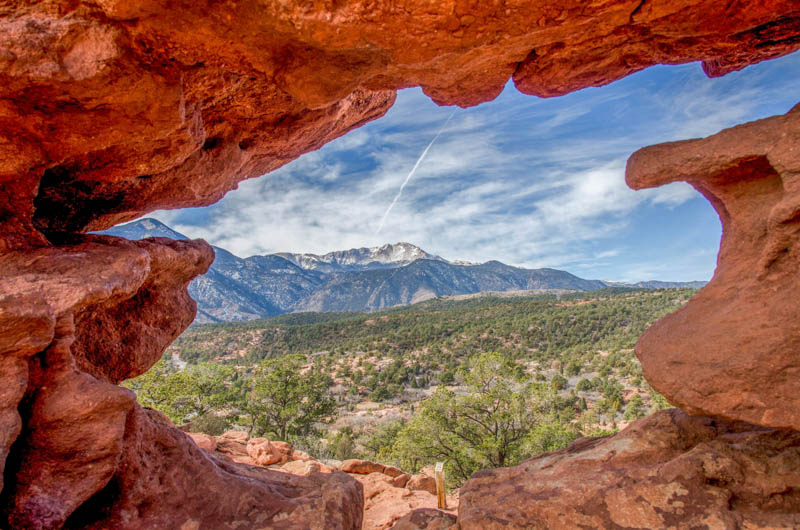 Hiking is the most popular activity, with trails leading to unique rock formations like the Kissing Camels and Balanced Rock. Many areas also offer scenic views of nearby Pikes Peak. The most popular area even has a wheelchair accessible trail so all visitors have a chance to enjoy the sights.
Rock climbing is another popular activity, and enthusiasts can climb routes independently or take a guided climb with a park vendor.
Don't miss the chance to explore the visitor center for exhibits about the park's wildlife and geologic history. The building also offers a café with enormous windows from which you can enjoy the scenery while dining.
Perhaps best of all is the fact that admission to Garden of the Gods is free. The park is open year round, and the most crowded times are weekends during the warmer months.
If you have flexibility, try to plan your visit for a weekday when crowds are at their lower. A visit during winter may treat you to beautiful views of white snow dusting the red rock formations.
Suggested by Kris of Nomad by Trade
Colorado Springs
Colorado Springs is a must-visit destination in Colorado due to the variety of activities the area has to offer. It is a great place to vacation in any season. There are many outdoor activities to enjoy, beautiful scenery, and parks that are accessible throughout the year.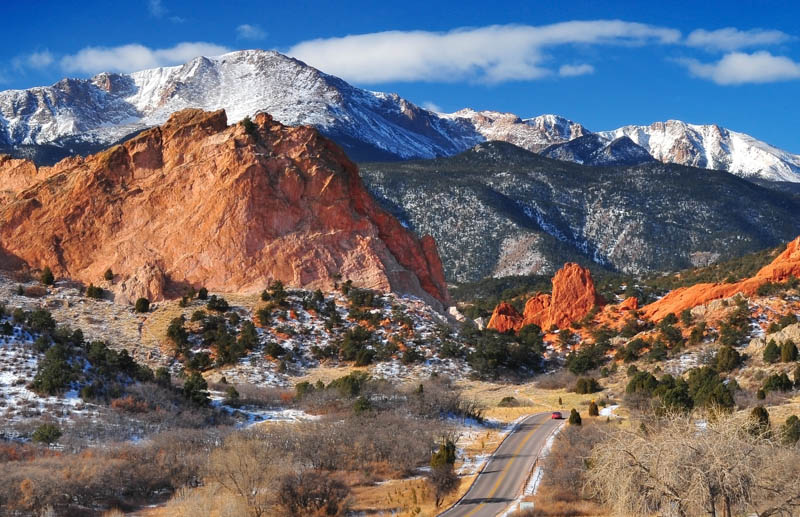 At the top of the list of must-see sites in Colorado Springs is Pikes Peak. America's Mountain is over 14,000 feet high and is one of the few high-elevation mountains that has a drivable road to the summit, making it an easy travel destination for anyone looking for a breathtaking mountain view.
Driving up Pikes Peak Mountain takes about three hours round trip, along 19 miles of switchbacks on the Pikes Peak highway. The famous Pikes Peak donut is available at the summit, notable for a special high-altitude recipe that will deflate if taken to a lower elevation.
There are several other activities in the area that are interesting and unique. One of the more popular sights is the Manitou Cliff Dwellings, which contains historical Pueblo dwellings embedded into the cliffside.
The Broadmoor Resort is a beautiful AAA five-star diamond resort set on a picturesque lake. Seven Falls is a chain of waterfalls near The Broadmoor. The Olympic Training Center is one of three training centers in the country.
Finally, the Cheyenne Mountain Zoo is the largest private zoo in the USA and has a skyride that takes guests on animal-viewing rides above its grounds.
Suggested by Michelle of Moyer Memoirs
Mount Evans
Mount Evans is definitely one of the best places to visit in Colorado, whether you want to summit a 14er on foot or from the comfort of your car. The cool thing about Mount Evans is that you can actually drive to the 14,265 foot summit if you don't want to hike.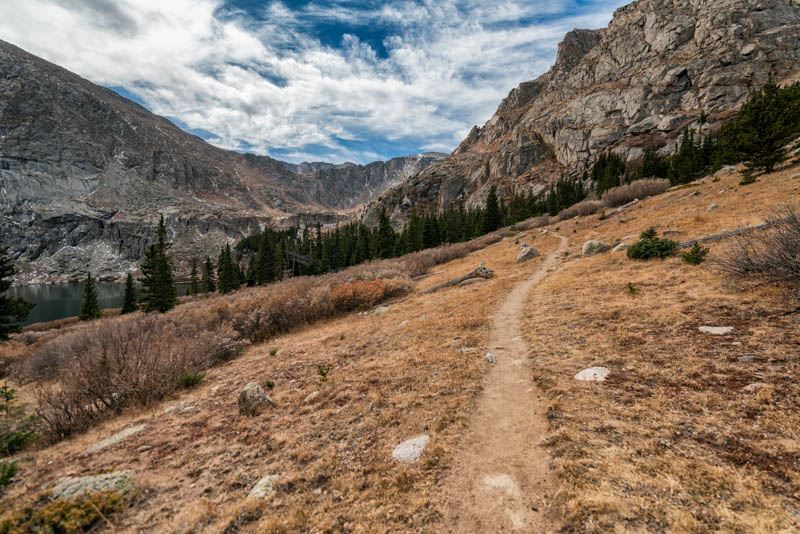 To get to the top, you will take Mount Evans Scenic Byway (aka Highway 5), which is actually the highest paved road in the entire United States.
The road is closed in winter, but it is a gorgeous drive in any other season, especially with the incredible panoramic views at the summit.
If you want the achievement of hiking a 14er, park at Summit Lake trailhead and hike about 4.5 miles round trip (with 2,300 feet of elevation gain) to reach the summit of Mount Evans. You can even bike to the top if that's your preferred mode of transportation.
After your 14er adventure, make a pit stop in the nearby town of Idaho Springs for a slice of pizza at local favorite Beau Jo's and a beer at Tommyknocker Brewery.
If you really want to treat yourself, head to Indian Hot Springs and spend some quality time soaking in the mineral pool or geothermal caves.
Suggested by Allison of She Dreams of Alpine
Boulder
Located about 30 minutes northwest of Denver, Boulder is one of the most popular destinations in Colorado for rock climbing: it draws visitors from all over the world. Boulder is one of the easiest and best road trips from Denver you can do.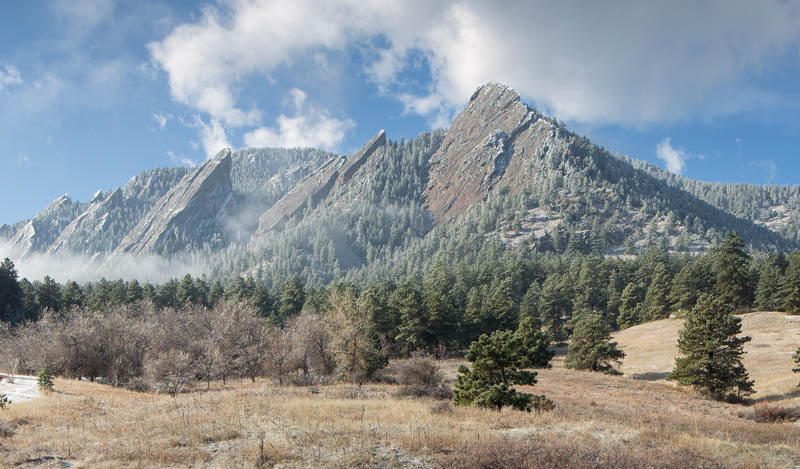 Besides being an incredibly scenic destination and an unparalleled gateway to adventure, Boulder is also home to the University of Colorado at Boulder, with thousands of students from all over the country (and abroad) coming to study here.
Aside from rock climbing, some of the most popular activities in Boulder include mountain biking, hiking, and camping.
Boulder is located about one hour away from the Rocky Mountain National Park and many travelers combine these two destinations, stopping in Boulder for at least a few hours.
How much time you need for Boulder depends on your plans. If you want to see some of the highlights, such as the iconic Flatirons, do a quick hike, and stop at Pearl Street, one day could be enough.
But if you love the outdoors, Boulder will keep you busy for days. There are many trails of varying difficulty within a short distance of Boulder, such as Mount Sanitas, Eldorado Canyon State Park, Sugarloaf Mountain, and Enchanted Mesa Trail.
Summer is the best time to visit Boulder, with tons of cool trails for all levels, and wonderful scenery. However, it's also the busiest time, so make sure to plan your adventures for early morning.
And if you come here in winter, visit the nearby Eldora Ski Resort where you can ski and snowboard.
Suggested by Daria of The Discovery Nut
Manitou Springs
A great place to visit in Colorado is the mountain town of Manitou Springs. The downtown area is very walkable, but it is also within a short drive of several fun attractions.
Manitou Springs is known for its eight natural mineral water springs around the town. The springs are drinkable so take a bottle to fill up. Each spring has a slightly different taste, due to the mineral content, and the water is naturally carbonated.
Hikers will enjoy the challenge of the 'Manitou Incline,' a one mile long, 2,744 step trail with a 41% incline! Winter is a good time to visit Manitou Springs, but the Incline may be inaccessible during this time.
There are so many more things to do in Manitou Springs. A fun downtown attraction is the 'Arcade Amusement Penny Arcades.' It's free to visit and contains a huge range of retro arcade games, some of which only cost 1 cent to play.
A recommended place to eat is the 'Border Burger Bar,' which serves a unique range of burgers and has amazing fried mushrooms. The 'Villa Motel' has reasonably priced rooms within walking distance of the downtown bars and restaurants.
A short drive away is Garden of the Gods, with 21 miles of hiking trails, the Manitou Cliff Dwellings, which have been open to the public since 1907, and the Cave of the Winds mountain park.
Cave of the Winds offers underground cave tours, the Terror-Dactyl canyon swing, zip lining, a high ropes course over the edge of the canyon and a Via Ferrata climbing route.
Suggested by Kylie or Between England and Iowa
Vail
Vail is one of the best places to visit in Colorado. Known for its world class ski runs, European-feel village, and luxurious accommodations, Vail is a popular travel destination for travelers from all over the world.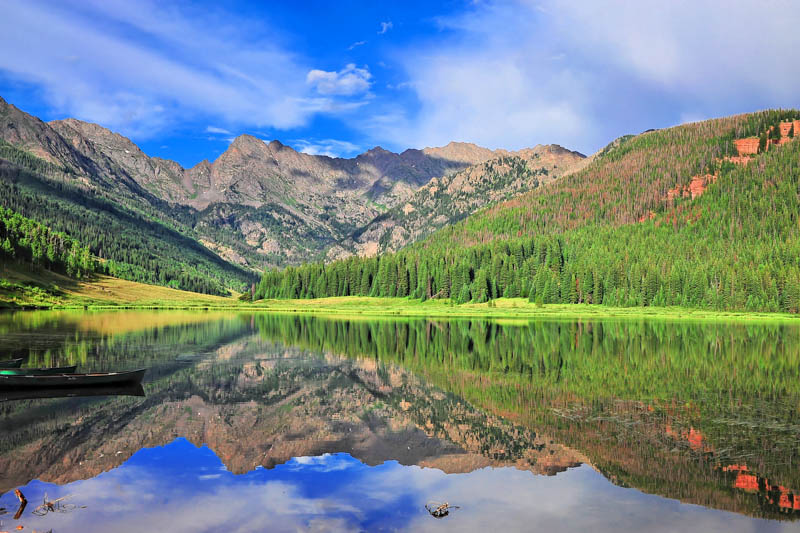 You can travel to Vail year round, but the best time to visit Vail is in the winter. With over 5,000 acres of ski terrain, Vail Ski Resort is not only one of the biggest in the United States but it's also extremely popular.
From the legendary back bowls to the bunny slope, Vail Mountain offers something for every ability level. Not into skiing or snowboarding? No problem, there are several things to do in Vail in the winter that aren't just skiing or snowboarding.
Vail Village is full of boutique shops, fun bars, and tasty restaurants. One of the best bars in Vail Village is Vendetta's. Come here for a fun environment, apres drinks and cheap pizza. If you are looking for more of an intimate dining experience, reserve a table at one of the several on-mountain restaurants like Game Creek.
Spend a morning getting pampered at one of the high end spas that dot the base of the mountain, or try out a new sport like ice skating or snow shoeing.
Vail is a destination for the whole family. When it snows, you feel as if you are in a real life snow globe. It doesn't take long to understand why Vail is such a vacation destination hot spot.
Suggested by Jess of I'm Jess Traveling
Steamboat Springs
Steamboat Springs, nestled in the bucolic Yampa Valley, is a trendy, northern Colorado town with a laid-back vibe. It lies about three hours north of Colorado's capital city, Denver.
"The Boat" – that's what the locals affectionately call Steamboat Springs – is an internationally renowned ski resort. The slopes in the area are stunningly beautiful, with soaring mountains and dramatic drops.
The best-known slopes include Mount Warner, Howelsen Hill, and the majestic Outlaw Mountain. No matter a skier's level of expertise, there is an appropriate slope to enjoy. Can't ski? Tale a course at the local ski school. Want something more challenging? Try alpine skiing.
Every February, Steamboat Springs celebrates the skiing season with the Winter Festival and Parade. This is the only parade where performers march to the music on skis!
In fact, skiing is such serious business in The Boat that more winter Olympic athletes come from Steamboat Springs than any other city in the U.S.
Despite the local fascination with skiing, there is plenty more to enjoy in Steamboat no matter what time of year you go. The Steamboat Balloon Festival attracts people from around the country to witness the colorful parade in the sky, and summer is for enjoying water sports in the city's many cool springs and lakes.
The local downtown area around Lincoln Avenue has a Western vibe with picturesque shops lining the streets. September offers Restaurant Week and a chance to sample the wide variety of the town's culinary treats, a real foodie's paradise.
You can buy the freshest produce at the regular Farmers' Markets as well as partying the night away at the various music venues and bars. What's not to love about Steamboat Springs!
Suggested by Talek of Travels with Talek
Breckenridge
If you are looking for a fabulous Colorado mountain getaway then the charming town of Breckenridge has you covered. It's surrounded by the Rockies for nonstop breathtaking views.
Stroll through the laid-back town center and stop for a craft brew or a meal at one of the upscale restaurants, served without the attitude. Breck chefs pride themselves on locally sourced ingredients.
If you want to try an outdoor sport, it's a good bet that Breckenridge has it. Rafting, ziplining, fly fishing, and biking are a few. Outdoor enthusiasts will love the hundreds of nearby trails.
In the summer you will find wildflowers as you hike into an alpine lake or a cascading waterfall. In fall, the blazing colors of the aspens will delight you. The winter brings chances for world class cross country and alpine skiing.
The Breckenridge Ski Resort boasts five mountains and 187 trails. Their world-class adaptive skiing program brings people with all abilities out on the slopes.
History buffs will enjoy Breckenridge's historic district, where you can learn the story of this old mining town. A not-to-be missed activity is to take the free gondola ride up into the mountains.
Don't be surprised to see moose or a bald eagle from your vantage point high in the sky. This beautiful mountain town will constantly amaze you with its all-season activities.
Suggested by Karen of Outdoor Adventure Sampler
Morrison
Morrison is a must-visit place in Colorado. It is beautiful, and there is a ton to do and many fun places to eat! Morrison is less than a 30-minute drive from Denver. It is home to museums, shops, restaurants, a Tiny Town, and Red Rocks.
If you love to hike and eat, you will not be disappointed! Red Rocks Park and Amphitheatre is home to one of the best performance venues in the USA. Here you can experience amazing concerts and music events.
With that said, Red Rocks Park is also one of the most beautiful places in the world to hike. The natural red stone makes it a truly picturesque place to trail run, hike, or bike.
When you catch your breath, be sure to check out The Cow, An Eatery, or The RoofTop Tavern on the main street in Morrison for places to sample amazing food. Try the mussels and one of the local draft beers.
After your thirst has been quenched, there are some great and funky shops and a fun little museum called Tiny Town. The unique museum is a fun place to take kids. It has over 100 miniature buildings.
Morrison is a very small town but it is full of large adventures. Put on your travel gear, grab your friends or family, and head to this awesome little city!
Suggested by Cortney of Tin Can Living
Telluride
Located in the heart of the stunning San Juan Mountains, Telluride is one of the most beautiful alpine towns in the USA.
This gorgeous mountain locale boasts some of the most amazing activities if you love the outdoors, such as waterfall hopping (Bridal Veil Falls is a must-see!), alpine lakes that come in all shades of blue, and some of the most thrilling hikes in Colorado.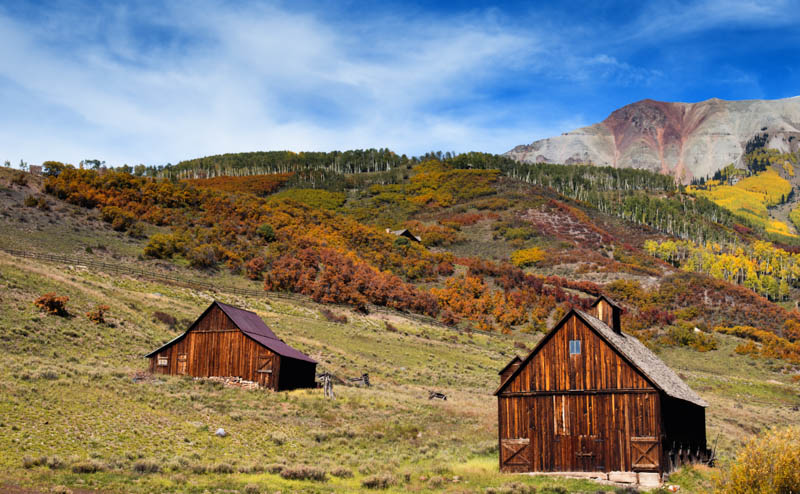 If you're into some serious adventure, the Telluride Via Ferrata nearby offers a hiking and climbing adventure high up on the mountains that's not for the faint of heart but an absolute must if you're a fan of heart-pumping activities.
For a day spent relaxing after spending time in the outdoors, head to the historical Main Street where you'll find quaint eateries and unique boutique shops as well as an array of hot springs to relax your muscles!
Telluride is a year-round destination, but the best time to visit for hiking is from late June through September. October is also a good time if you don't mind a bit of snow.
Moreover, Telluride is a fantastic skiing destination, so while visiting in winter might mean not being able to hit the trails, you'll be able to make up for that with winter activities!
Suggested by Meg of Fox in the Forest
Canon City
Cañon City is a historic city in Colorado's Fremont County, with roots that trace back to the Pike's Peak Gold Rush. Cañon City offers much to enjoy, for everyone from outdoor enthusiasts to history buffs, making it a great choice for your next getaway.
Perhaps one of the most well-known attractions in Cañon City, a trip on the Royal Gorge Railroad will take you through Cañon City's famous Royal Gorge along the Arkansas River.
After a ride on the railroad, stop by the Royal Gorge Bridge & Park where you can relax and enjoy views of the gorge from above and walk the Royal Gorge Bridge.
For some more stunning nature and city views take a drive along the twisting and winding Skyline Drive.
The Museum of Colorado Prisons is a great stop for those looking to enjoy some history and thrills. For art lovers, the Fremont Center for the Arts is the perfect stop.
For those who would rather spend their time outdoors in nature, the Garden Park Fossil Area features almost 20 miles of trails for hiking or biking.
Adventure is also to be found with the Echo Canyon River Expeditions on a white-water rafting journey along the Arkansas River.
The best time to visit Cañon City is spring or early summer, when you will find milder temperatures that are still warm enough to enjoy the outdoor beauty Cañon City has to offer.
Suggested by Melissa of Navigation Junkie
Durango
Durango is a must visit spot in Colorado. It offers spectacular hiking and whitewater rafting, breweries, amazing skiing, a historic train, and an interesting downtown area.
The best hiking in the area is in the San Juan National Forest, with thousands of miles of back roads and hundreds of miles of trails to hike. You could easily fill a lifetime with beautiful views and hikes.
The Animas River offers some of the most exhilarating white water rafting in the area. It can be very chilly from the snow melt, even in the summer, so dress accordingly!
There are five breweries in Durango. Steamworks Brewing Company, located in the historic downtown area, is convenient to visit and one of the best, and the restaurant is also famous.
If you are in Durango in the winter, hitting the slopes is a must-do activity. Telluride Ski Resort is a short drive down the road and the views from the summit are breathtaking.
Check their website for packages, sometimes you can find a great deal on a lesson rental and lunch package.
The Durango & Silverton Narrow Gage Railroad has some amazing packages, trips range from 2 hours to 9.5 hours, and booking ahead is always a good idea to ensure you get the package you want.
The experience is great for anyone looking to experience the history of steam trains in the rugged terrain.
Suggested by Rebecca of Whatever Packs Your Bag
Glenwood Caverns
Glenwood Caverns and Adventure Park is a must see spot in Colorado, approximately one hour from Aspen and one hour from Vail. America's Only Mountain-Top Theme Park has tons of rides like the Alpine Coaster, Cave Tours, and Gondola, all with incredible views!
To reach Glenwood Caverns, you take a gondola ride to the top, where you can explore dozens of thrill rides or family friendly rides. The cave tour also takes place on top of the mountain where you can see the Fairy Caves and the King's Row, the most decorated cave room in the state.
There are many rides at the adventure park, including Haunted Mine Drop, which is a 110-foot drop inside Iron Mountain. The speed of the Alpine Coaster is controlled by the rider so you could have a gentle ride down the 3,400 feet of track or a crazy fast ride down!
Check out the Giant Canyon Swing, which USA Today said was one of the most extreme rides in the country. There are also more family-friendly rides, including the Wild West Express, Mine Wheel, and Laser Tag.
And you won't need to go down the mountain to get refueled for adventure as they have two restaurants and a popcorn wagon. Glenwood Caverns has something for everyone in your family!
Suggested by Jennifer of Family Trip Guides
Paint Mines Interpretive Park
Paint Mines Interpretive Park is a must-see hidden gem in Colorado. Despite the fact that this spot is just an hour northeast of Colorado Springs, it feels completely other-worldly. The incredible rock formations and their history are what make this place so unique. American Indians utilized the clay from the Paint Mines to make paint.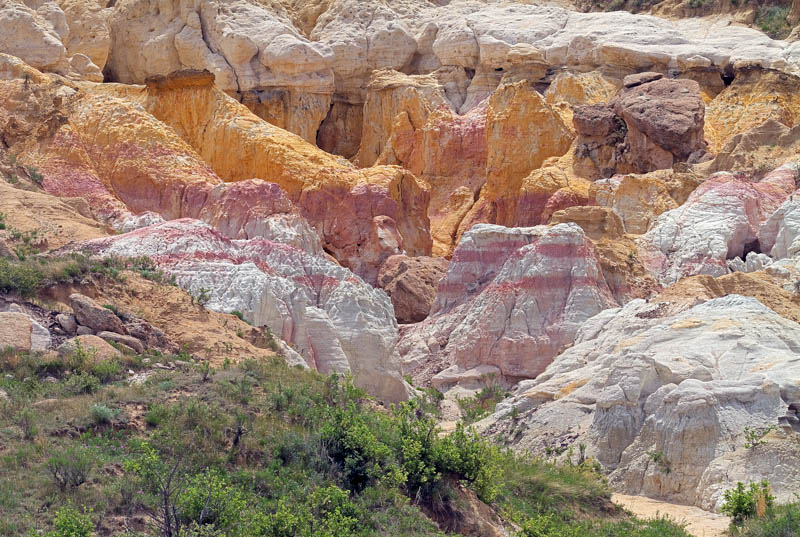 Consider hiking the Paint Mines Trail (a 3.4-mile loop) for the best and most up-close-and-personal views of the park's geology. If you are there during summertime, you will even see some of the park's beautiful wildflowers along the way.
In addition to hiking, the park is a great destination for wildlife viewing and photography. Some animals that frequent the landscape, which is a combination of prairie and badlands, include coyotes, rabbits, mule deer, and hawks.
Entry to the park is free and it's open year-round, though the best times to visit include late spring and summer. Make sure to pack a windbreaker as this open space is known to be extremely windy. Also, it's best to leave your furry friends at home for this one as pets are not allowed.
Don't be surprised if you feel a little lost as you approach the destination, which is seemingly in the middle of nowhere. The park is easy to find with a navigation system!
Suggested by Maddy of Madelyne On The Move
Dillon Lake
One of the best places to visit in Colorado is Dillon Lake. It's a large lake with scenic views, but isn't overrun with tourism like many other spots in the state. With nearby hiking, biking, kayaking, and boating opportunities, it's a perfect destination for a week long vacation or even part of a greater Colorado road trip!
Lake Dillon can be enjoyed year round. In the winter, seeing the amazing ice castles is an unforgettable experience. Ice fishing, snowmobile tours, and tubing also top the list for wintertime activities.
The area really comes alive during the summer. There's kayaking and stand-up paddle boarding on the lake. Frisco Adventure Park offers disc golf, camping, a skate park, and so much more. Enjoy the sights of the area with an amazing hot air balloon ride too!
Lake Dillon offers 26 miles of shoreline, so you definitely won't get bored. Make sure to hike the Sapphire Point Overlook Trail. At just over a half mile in length, it's easy for any skill level.
In the evenings, be sure to catch live music at the Dillon Amphitheater or nearby Frisco for weekly concerts. You certainly won't get bored at Lake Dillon in Colorado!
Suggested by Nikki of She Saves She Travels
Keystone
If you are looking for a fun and affordable ski getaway in Colorado, Keystone is one of your best options. This ski town is less than an hour away from Denver and will transport you to a winter wonderland!
Visiting Keystone is ideal for a skiing or snowboarding trip, as there are ski trails available for all abilities from beginner to expert. There are also tons of resorts within walking distance of the mountain with pretty low rates, especially in March. We stayed at the Hyatt Keystone and we were able to rent gear and walk to the main peaks. This resort even offers free breakfast and free lift tickets for children!
However, you do not have to be a ski bunny to have fun here. Keystone is also home to many excellent restaurants and breweries. My favorites were Kickapoo Tavern and Inxpot, as well as nearby Outer Range Brewing.
Breckenridge and Frisco do have more options than Keystone, but they are less than a half an hour drive away. A day trip to Breckenridge for some snowmobiling is a must, followed by a visit to the distillery!
You can also ice skate, or go snowmobiling or tubing at multiple spots in Keystone. It is also enjoyable walking around the village with some hot cocoa, for a little shopping. At night, you can relax at the spa or warm up in a hot tub under a starry sky for an especially unique experience. A winter visit to Keystone is the perfect way to enjoy some time in snowy Colorado.
Suggested by Amy of The Florida Travel Girl
Golden
Golden is a highly underrated place to visit in Colorado that you won't want to miss out on. Located less than a half-hour west from Denver, it makes the perfect day trip from the city and gives a much-wanted escape into small-town mountain life. Plus, it's a town with old west vibes and lots of fun outdoor activities.
One fun activity you won't want to miss out on is the hike up Lookout Mountain! There are a few different trails along the mountain, depending on your skill level, ranging in length from four to ten miles. From the top, there are amazing views of Golden from above.
Other can't-miss attractions in Golden include exploring the historic downtown area, visiting the Buffalo Bill Museum and Grave, and taking a tour of Coors Brewery.
You can hop on a free shuttle right to the brewery for the tour from downtown Golden, making it extremely accessible if you're visiting Golden without a car.
The best time to visit Golden is during the summer. Because it's not a super popular travel destination compared to other places to visit in Colorado, it's never too busy. The weather in the summer is perfect, with blue skies and an average temperature of around 85°F (29°C).
Suggested by Krystianna of Delightfully Denver
Roxborough State Park
Roxborough State Park, located about an hour south of Denver, is a lesser-known state park that is absolutely a must-visit in Colorado.
Famous for soaring red rocks and the opportunity to see wildlife (mostly deer, but occasionally bears, mountain lions, foxes, and more!), Roxborough State Park provides all the beauty you expect in Colorado without all the touristy crowds.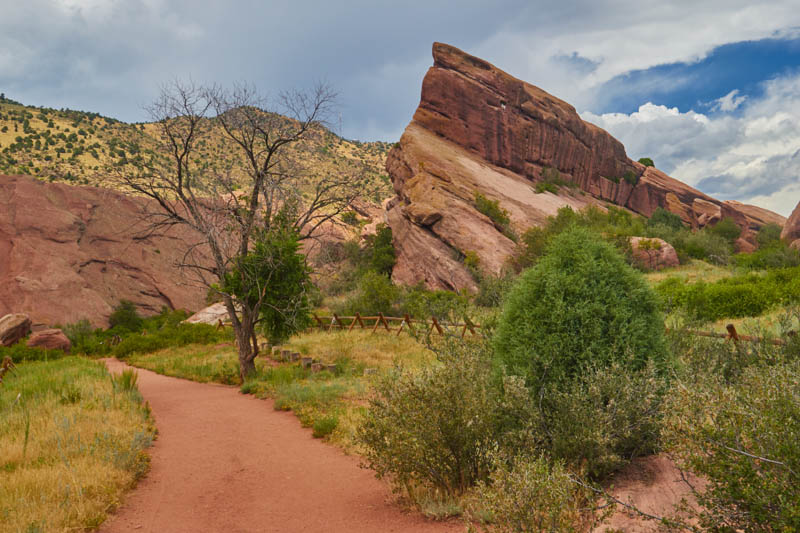 There's a saying in Colorado: "Don't like the weather? Wait five minutes!". It's usually scorching hot and dry in the summer, but snow isn't unheard of.
Because of that, check the weather forecast before heading out and pack sunscreen and a jacket, just in case. Weather can be beautiful any time of year, as long as you're prepared.
Spring, summer, and fall are the best times to visit, but winter can be beautiful, too.
The best thing to do in Roxborough State Park is hike and explore the beautiful surroundings. There are a ton of trail options for all skill levels.
For an easy to moderate hike that provides gorgeous views of the famous red rock outcrops, check out the 2.5 mile Fountain Valley trail loop.
For a strenuous workout, the Carpenter Peak trail is an intense 6.5 mile trail that provides stunning views of the Front Range, downtown Denver, and the outcroppings.
When you're done exploring, go to Arrowhead Golf Course to eat at On the Rocks Bar and Grill. The view from the patio is absolutely unmatched and there are tasty offerings for everyone.
If hiking isn't your thing but you want these stunning views, you could always golf at Arrowhead Golf Course, instead. It's a very expensive golf course, but for a once-in-a-lifetime experience, it's worth the money!
Suggested by Gabby of Office Escape Artist
*****
We hope you enjoyed this round-up of the most exciting destinations in Colorado. Which one will you pick for your next trip?
MORE INSPIRATION FOR TRAVELS IN THE USA
Did you find this article informative? Pin it for later reference!