Looking for a winter getaway in the great outdoors? Plan a trip to a national park! Read on to discover the most beautiful US national parks to visit in winter.
Whether you are looking for cold weather national parks to enjoy winter sports and snow, or warm weather national parks to get away from the cold, there is a perfect US national park for your winter getaway.
From the snowy wonderlands of Yosemite and Yellowstone to the stunning vistas and warm weather of Death Valley and Virgin Islands National Park, a wealth of natural beauty and outdoor activities are yours to enjoy in the winter.
Some links on this page may be affiliate links. If you click an affiliate link and make a purchase, we may receive a small commission, at no extra cost to you. For more details, refer to our disclosure.
We've visited several national parks in winter, and we've included some of them in our list below, but for this article we also reached out to other members of the travel blogging community for their favorites.
Some of the gorgeous parks on this list are UNESCO World Heritage Sites for their spectacular beauty. Others are parks that are incredibly popular in season (Arches, for example), making winter a time to enjoy the epic landscapes in relative peace and quiet.
Every park we've included below is home to photo-worthy landscapes and a range of activities that will keep you engaged, whether you are traveling alone, as a couple, or as a family with kids.
Here, then, are the top national parks in the US to consider for your winter vacation!
#1 Death Valley National Park
Location: California
As the hottest place in the country, Death Valley National Park in Southern California is a pleasant winter destination, with daytime temperatures in the 60s and 70s making for perfect hiking weather.
It gets cold at night though so bring a jacket if you plan to stargaze or hike early in the day.
The park features in our round-up of the best national parks to visit in February: you may see wildflowers in bloom in the later part of the month, and Death Valley has a Dark Skies celebration annually in February.
Death Valley's desert landscapes are spectacular and enormous in scale: at 3.4 million acres, the park is the largest in the contiguous United States.
From hiking to stargazing, there are many fun things to do in Death Valley National Park.
Take in the beautiful views from Zabriskie Point, or the aerial panoramas from Dante's View. Walk the saltwater flat at Badwater Basin, the lowest place in North America.
Enjoy the play of light and shadow at the Mesquite Flat Sand Dunes. Hike one of the many gorgeous canyons, like Golden Canyon or Mosaic Canyon. Drive Artist's Drive to the colorful Artist's Palette viewpoint.
Death Valley is one of the most popular day trips from Las Vegas. You can also visit for the day from Los Angeles, or make it a stop on a California road trip itinerary.
But for the best experience, just spend a few days here savoring the beauty and the silence.
Where to stay
The historic Inn at Death Valley is located inside the park and offers beautiful rooms in the main building or standalone casitas. The views from the terraces at sunset are gorgeous. Enjoy two spring-fed pools and a sauna. The on-site restaurant is convenient for meals.
If you are looking for a more affordable option inside the park, the Ranch at Death Valley located at Furnace Creek is comfortable and well-located.

Suggested by us
#2 Yellowstone National Park
Location: Montana, Wyoming, and Idaho
Think Yellowstone National Park can only be visited in summer? Think again!
This beautiful national park is an adventurer's playground in the winter months, and the snow-blanketed landscape will leave you in awe.
Yellowstone is one of the must-visit national parks of the west, and winter is an incredible time to visit.
The roads might not all be open and therefore you may not be able to see all of the top sights, but what you will find is an expanse of beautiful land that is devoid of the crowds that flock to the park in the summer.
The best things to do in Yellowstone National Park in the winter all revolve around snow, which probably doesn't come as a surprise!
Join a snowmobiling tour around the open areas of the park. Take a snowcoach or snowmobile tour to visit Old Faithful and the Grand Canyon of the Yellowstone.
Sign up for a ranger-led winter hike around Old Faithful or Mammoth Springs. Temperatures are super cold, but you can see the geyser basins steaming.
Other popular winter activities in America's first national park include snowshoeing and cross-country skiing.
Where to stay
Make sure you stay in a location that's convenient to Gardiner, Montana. That's because that's where the north entrance to Yellowstone is located, and it's the only entrance that's open to vehicles in the winter.
Consider Yellowstone Riverside Cottages, located close to the park entrance: rooms are clean and comfortable, and feature pretty views.
Suggested by Gina from Travel Montana Now
READ NEXT: The Best US National Parks to Visit in Summer
#3 Everglades National Park
Location: Florida
Everglades National Park in southern Florida is a fantastic area to explore in winter, because you avoid the bugs and sweltering heat of summer but don't miss any active wildlife viewing opportunities.
Everglades is one of the most fun places to visit in Florida if you enjoy nature.
While there aren't any long trails, the different regions of the park are very spread out. It's easy to swing through for one day and enjoy yourself without feeling like you're missing out on anything, but you can easily spend four days exploring all of the main regions.
Visitors won't want to miss the Shark Valley area where you can walk, take a tram, or rent bikes to explore the paved paths flanked by alligators, birds, turtles and snakes.
At the end of the 15-mile path is a tall observation tower from which you can survey the diverse habitat.
Taking a boat tour near the Flamingo Visitor Center gives people a chance to spot the crocodiles and manatees up close, although they can sometimes be seen off the piers if you're lucky.
There are also a number of short, boardwalk trails that curve around unique trees and foliage in the area.
The Ten Thousand Islands area is a great place to rent a canoe or kayak and float among the mangrove trees along the gulf coast of the state. This area also has boat tours if you prefer to ride rather than paddle.
No matter what area you choose, read more Everglades National Park tips here before you go.
Where to Stay
You'll find a number of chains in Homestead, the city closest to the park. Consider TownePlace Suites by Marriott, located about 13 miles from the Ernest F. Coe Visitor Center and main entrance to the park. The hotel features contemporary furnishings and an outdoor pool.
Suggested by Stephanie of Explore More Clean Less
Planning to visit more than one national park in the next 12 months? Consider buying the America the Beautiful National Parks Pass!

Valid at over 2,000 federal recreation sites all across the USA, the pass covers entrance, standard amenity fees, and day use fees for a driver and passengers in a personal vehicle at areas that charge per vehicle, and for up to four adults at sites that charge per person. Children ages 15 or under are free.

The pass is valid for 12 months from the month of purchase.
#4 Virgin Islands National Park
Location: Saint John, US Virgin Islands
Looking for a Caribbean island national park vacation in the winter?
Virgin Islands National Park is an idyllic place to visit if you want to escape the winter cold. Located on the Caribbean island of St. John, this gorgeous national park is filled with beautiful beaches, great snorkeling, and scenic hiking trails.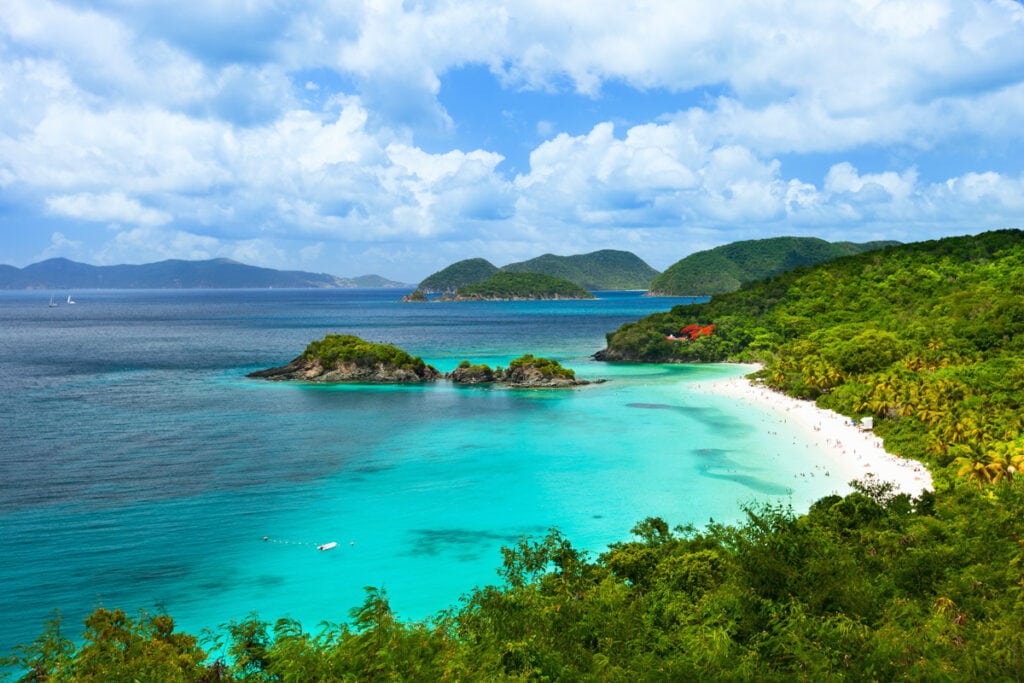 As Virgin Islands National Park makes up about two thirds of St. John, this island is largely untouched. As a result, the beaches are some of the most peaceful and pristine in the world.
Although this park is definitely a popular place to visit in the winter months, the lack of all-inclusive resorts and inability of cruise ships to dock on the island save it from being overcrowded.
For the full experience, visit Virgin Islands National Park for a few days.
First off, it is tricky to reach, since you actually have to fly into neighboring St. Thomas, and then take a ferry to St. John.
Plus, you want to give yourself enough days to check out the various beaches, do a hike or two, and maybe even take a charter to do some island hopping.
Where to stay
The most popular hotel near Virgin Islands National Park is The Westin. As it's on the western side of the island, The Westin offers great sunset views and a short drive to Cruz Bay, which is where the ferry dock is, as well as some very good bars and restaurants.
For a great happy hour experience, check out The Beach Bar, especially near sunset. After happy hour, head to The Longboard for dinner: tacos or bowls made with delicious fresh fish!
Suggested by Theresa of Fueled by Wanderlust
Looking for a rental car for your national park trip? Compare prices, find your car, and book on Discover Cars! They search numerous car rental agencies, from brand to budget, to offer you the best choices for your trip.
#5 Joshua Tree National Park
Location: California
California is blessed with not one but two spectacular desert national parks. Joshua Tree National Park, located in the southern part of the state, straddles the Colorado and the Mojave deserts.
Winter is a great time to visit Joshua Tree, because daytime temperatures are pleasant, allowing for time outdoors to hike, do some rock scrambling or rock climbing, and observe the interesting flora and fauna in the park.
Joshua Tree National Park is most well known for the enormous boulder masses strewn about the northern part of the park, and for the Seussian Joshua trees that dot the landscape.
But it is also home to a number of beautiful fan palm oases, and a large field of cholla cactus.
Hiking is the best way to experience the landscapes at Joshua Tree up close.
If you are just planning to visit for the day, try the easy and scenic hike to Barker Dam, where you may see bighorn sheep or birds. Or climb to the top of Ryan Mountain for panoramic views over the park.
Other than hiking, you can drive through the park, take a tour of historic Keys Ranch, and drive up to Keys View for beautiful panoramas of the Coachella Valley.
Stargazing is another popular activity in the park, especially on clear moonless nights.
Where to stay
You can camp in Joshua Tree National park, but reserve well in advance.
North of Joshua Tree Park are the small communities of Twentynine Palms and Joshua Tree, where you can find lodging.
Holiday Inn Express in Twentynine Palms is located near the north entrance to the park and offers comfortable rooms and suites.
Suggested by us
Read More: The Best Things to Do in Joshua Tree National Park
#6 Glacier National Park
Location: Montana
When planning your Glacier National Park itinerary, you might not be thinking about heading there in the colder months. However, in my opinion, winter is a fabulous time to visit the park.
While the famous Going-to-the-Sun Road is closed during this time, you can still participate in some snowshoeing and cross-country skiing.
The best part? The park is almost completely empty, other than wildlife and the rare local.
Join a ranger-guided two-hour snowshoe outing in the Apgar area. Look for wildlife, and enjoy the serenity and the stunning landscapes that turn the park into a winter wonderland.
If conditions allow, you might even be able to snow-hike on the iconic Going-to-the-Sun Road.
Remember to bring your snow gear, and prepare for cold weather. Montana can dip to temperatures below zero on a regular basis, so make sure the car you rent has four-wheel drive.
Dress in layers, and wear hats and gloves! You may wish to bring hiking poles as well.
You should plan on two days in the area: one for exploring Glacier and another for Whitefish, where there is world-class skiing and some amazing restaurants.
Where to stay
Stay at the Summit Mountain Lodge, located just outside the park. Not only does it provide easy access to the park, but it also offers a piece of local history (it is a train station from 1906!) and pretty views.
Suggested by Alex from Alex on the Map
#7 Guadalupe Mountains National Park
Location: Texas
Guadalupe Mountains National Park is a stunningly serene spot to visit in the winter! The encompassing desert environment, which can be harsh in the summer heat, becomes a welcoming oasis during the winter season.
Guadalupe is an ideal winter destination due to the moderate temperatures, fewer crowds and increased solitude, and exhilarating mountain hikes that are best enjoyed in the gentler conditions of winter.
Though Texas may not be known for its mountains or high altitude hikes, a visit to Guadalupe will prove that misconception wrong! Guadalupe is best for hiking and outdoor adventures.
There are a multitude of different ecosystems existing together here, from lush creek bed trails at the base of the range, to canyon slot environments or forested, high altitude treks to peak summits!
The king of all hikes in Guadalupe has to be the hike to the highest point in Texas, Guadalupe Peak.
Where to Stay
You can camp in Guadalupe Mountains National Park. As Guadalupe is one of the lesser visited national parks in the country, odds are high that you will have a very secluded and spacious camping experience!
Aside from camping, lodging can be found in the nearby cities of Carlsbad, New Mexico, and Whites City, New Mexico, both of which offer additional camping options, as well as hotel and vacation rentals.
Consider TownePlace by Marriott in Carlsbad, which offers quiet studios and suites. The park is 56 miles southwest of Carlsbad.
Suggested by Kristen from Yonderlust Ramblings
#8 Bryce Canyon National Park
Location: Utah
There are many beautiful places to visit in Utah: its five national parks, of course, and many other places beyond. And one of the most beautiful places in Utah to put on your winter itinerary is Bryce Canyon National Park.
There's something about the combination of red rocks and snow, and at Bryce Canyon you get to experience that unique beauty in spades. Bryce Canyon National Park gets lots of snow in the winter, since it's located at a high elevation.
The popular road along the rim of Bryce Canyon is plowed in the winter, so you can drive it and stop for photos at scenic viewpoints. It may not, however, be open during and just after a snowstorm.
Winter activities at Bryce Canyon National Park include snowshoeing and cross country skiing. You can join ranger-led snowshoe hikes (try the full moon hike!), do some stargazing on clear moonless nights.
Enjoy photographing the stunning snow-capped hoodoos. Unplug and experience the park in the quiet and relative serenity of winter.
Bring layers of clothing, hats, gloves, and snow boots to be able to enjoy being outdoors in the park in winter. Your shoes need to have excellent traction. You can rent snow shoes and snow poles at the park, but call ahead to confirm.
Where to stay
Bryce Canyon Plus Ruby's Inn is located in Bryce Canyon City, just outside the park. Part of the Best Western Group, the inn offers spacious comfortable rooms and nearby dining.
Or consider Best Western Plus Bryce Canyon Grand Hotel, also offering spacious rooms and on-site dining with a location close to the park.
Suggested by us
#9 Crater Lake National Park
Location: Oregon
While Oregon arguably boasts more natural beauty than any other US state, Crater Lake is Oregon's only national park. Crater Lake is one of the most beautiful national parks to visit during the winter.
As the snow descends, the landscape is transformed into a winter wonderland. Impossibly white snow encompasses the blue lake, making it one of the most spectacular Southern Oregon photography locations.
In fact, Crater Lake is one of the snowiest places in the US, with an average snowfall of 43 feet per year. This snow can often last into May. During the winter, access to the park is only available via the south entrance.
There are a wide range of winter activities that can be enjoyed at Crater Lake. One of the most popular is their ranger-led snowshoeing experience. This 2-hour experience is free and snowshoes are provided, but does require advance booking.
Other activities include sledding, cross-country skiing, downhill skiing, snowboarding, and snowmobiling. The park is also a wonderful place to just unplug and relax for a few days, savoring the quiet and the beauty.
Where to stay
Unfortunately, Crater Lake Lodge is closed during the winter, as are campgrounds and gas stations. However, for the adventurous, winter backcountry camping is allowed in the park with a free permit.
The closest lodging for those wanting a bit more comfort is 20 miles away in Fort Klamath. A good option here is the Crater Lake Resort, which offers cabins, as well as camping and glamping options.
Text and photo by Sophie from We Dream of Travel
READ NEXT: The Best US National Parks to Visit in the Fall
#10 Big Bend National Park
Location: Texas
Part of the Big Bend National Park experience is the dramatic approach from El Paso across miles of Chihuahuan desert, spectacular in its flat dull terrain and surprising in its views of long ridges and jutting peaks ahead in the park.
The first drive inside the park, from the north entrance, takes you on a steady winding climb up to the main visitor center at Chisos Basin, which is at a surprising altitude of more than 5,400 feet.
Near the Chisos Mountain Lodge in the park is the trailhead for a hike down the mountain toward a feature called "The Window" that gives you a view between two mountain ribs to the valley below.
Also a short drive from the Lodge is the South Rim Trail that will give you a 12 to 14.5 mile workout replete with stunning views. There are a number of other day hikes in the park, plus you can do scenic drives and look for birds and wildlife.
From Chisos Basin, you can also backtrack to the main east-west road, where you have the choice of going to either end of the park and approaching the Rio Grande at the Mexican border.
Boquillas in Mexico is worth a visit and there's an Immigration outpost on the east end of the park. Be sure you bring your passport to see this charming town.
Where to stay
The Chisos Mountain Lodge is the only lodging that is within park boundaries. As with lots of national park concessionaires, the lodge is in need of an update. But its location overcomes all such obstacles and it's normally full.
If the Lodge is full, stay in Terlingua, about 26 miles from the park entrance. Consider Terlingua Ranch Lodge, a resort featuring cabins as well as campsites.
Suggested by Tom from Travel Past 50
#11 Zion National Park
Location: Utah
With year round trails, relatively mild winters, and low crowds, Zion National Park in Utah is one of the best US national parks to visit in winter, and one of the most epic places to visit in Utah.
Due to the low elevation of Zion Canyon, many of Zion's most popular trails remain open throughout the winter months, including Canyon Overlook, the Emerald Pools, and the Pa'rus trail.
A two- or three-day visit will allow time to hike a nice variety of the Zion trails. If you are traveling with kids, you will find some family-friendly trails at Zion.
Two of Zion's most famous trails, Angels Landing and the Narrows, can be a little more challenging in winter. The water-based Narrows, a Zion classic, can be included in a winter visit when dry suits are worn.
The iconic Angels Landing, an exhilarating trail synonymous with Zion, can be attempted on most days, although it is more difficult when conditions are wet or icy. Check in with park rangers to determine which trails are appropriate to attempt when you visit.
Winter visitors to Zion should make sure to pack lots of layers as well as hats and gloves. A head torch can be useful for early starts or late finishes in the park.
The usual "shuttle only" access rules on Zion Canyon Scenic Drive are suspended in late winter when crowds are low, and it may be possible to drive to the trailheads on some days.
Short on time? Visiting Zion National Park for the day is one of the best things to do in Vegas!
Where to stay
For accommodation, Zion Lodge, located inside the park, is a great choice, as are hotels such as Cable Mountain Lodge located in nearby Springdale, close to shopping and dining options.
Suggested by Elaine & David from The Whole World is a Playground
#12 Petrified Forest National Park
Location: Arizona
Petrified Forest National Park, located just outside of Holbrook in Arizona, is an ideal national park to visit in the winter. The colors of the park are vibrant in the crisp cool air, and you can see for miles in every direction.
Located in the higher altitudes of Northern Arizona, it stays cool enough in the park that it's not as bustling as warmer parks.
However, this is still a desert in the Southwest, so it never gets so cold you'll require hardcore winter gear. At most, you'll have a few inches of snow in spots, perfectly accenting the dramatic, colorful mesas.
Speaking of colorful rock formations, one of Petrified Forest's most famous attractions is the Rainbow Forest.
On the far southern end of the park, the Rainbow Forest Museum has tons of interesting paleontological fossils and is surrounded by the otherworldly petrified logs which give the area its name.
Usually, the short trails here are packed with tourists admiring nature's artwork, but not in the winter. Indeed, you'll have most trails and exhibits to yourself.
It's a small national park, but well worth the visit.
Where to stay
There are no hotels in Petrified Forest National Park. However, the lovely La Posada Hotel and Gardens in Winslow is about 45 minutes away, and the Lexington Inn in Holbrook is only about 20 minutes away.
There isn't much to do in Holbrook or Winslow, but there are some excellent local restaurants serving awesome Southwestern cuisine.
Also, the towns are on the original Route 66, and there's a lot of cool history around in the form of old fashioned cars and diners.
Suggested by Kaisa from Glam Granola Travel
#13 Yosemite National Park
Location: California
Located amidst the peaks of the Sierra Nevada mountains in California is the breathtaking wellness travel destination of Yosemite National Park.
Designated a UNESCO World Heritage Site, the park is a fabulous winter getaway.
Yosemite is famous for its numerous attractions, from gigantic sequoia trees to the unique rock formation of Half Dome, gorgeous meadow valleys, and numerous waterfalls spread throughout the park.
During winter, this green haven transforms into a winter wonderland, with snow covered valleys, waterfalls turning into giant icicles, and an ice skating rink in the middle of Yosemite Village.
The medium-sized ice skating rink is perfectly situated among the giant frosted sequoias, creating an enchantingly adventurous ambiance for a wintry day out.
Plenty of hiking trails in the park are open, such as the iconic Yosemite Falls Trail.
Or you can enjoy cross-country skiing and ranger-guided snowshoeing through the serene park.
Skiing, snowboarding, and snowtubing are also winter sport options at Yosemite.
Make sure to pack extra socks, a hat, mittens, and a scarf if you plan to hike, as it gets extremely cold.
Where to stay
Camping is available year round at certain campgrounds near Yosemite Valley, such as Upper Pines and Hodgdon Meadow.
If you want warmer accommodations during your winter visit, consider staying at Yosemite Valley Lodge, or Tenaya Lodge at Yosemite, which also has its own ice skating rink.
Suggested by Ciara from Wellness Travel Diaries
#14 Grand Canyon National Park
Location: Arizona
The Grand Canyon sees over 6 million visitors a year, but most people visit in the summer.
If you want to experience the Grand Canyon at a different, more peaceful time of year, I recommend visiting in the winter.
In the winter, only the South Rim is open to vehicular traffic. But the South Rim is the most popular section of the canyon, so you'll get to see the best sights.
If you visit when there is a light dusting of snow on the temples and buttes, you will get memorable photos!
Your first stop should be the Visitor Center, to check the driving conditions and see if any of the trails are closed.
From the Visitor Center, you can follow the Rim Trail along the South Rim of the Grand Canyon. This 2.5-mile trail is paved, and there are several beautiful viewpoints along the way.
Winter is also a great time to try and spot wildlife, from mule deer and elk to different types of squirrels and numerous bird species, from bald eagles to California condors.
I recommend visiting the Grand Canyon for two days at least.
As the Grand Canyon is four hours away from Phoenix and Las Vegas, you want to make your trip worth the drive. Dress in layers, so you can enjoy being outside.
Where to stay
The best place to stay near the Grand Canyon is Tusayan, six miles from the entrance to the Grand Canyon.
The Grand Hotel at the Grand Canyon offers spacious rooms, some with balconies, and on-site dining. Beds are rated super comfortable!
Suggested by Nicole from American Southwest Obsessed
#15 Arches National Park
Location: Utah
Located just north of Moab in eastern Utah, Arches National Park, with its beautiful red rock formations, is a top choice national park for a winter visit. Although winters here are cold, heavy snowfall is very rare.
If you visit after a snowstorm, when the roads have been cleared, you'll be able to get fabulous photos of the red rocks dusted with snow against a bright blue sky.
Driving through the park without crowds is very enjoyable, and auto touring is one of the most popular things to do in Arches National Park.
Many trails at Arches National Park are open year round, but stop in at the Visitor Center to get up-to-date information when you visit. Definitely bring proper gear like traction devices and trekking poles if you plan to hike, because some trails can be icy.
If you do not want to do the long-ish hike to see Delicate Arch up close, you can still view it from a distance if you walk a short level stretch at the Lower Delicate Arch viewpoint. Bring a zoom lens to take good photos!
Dress in layers, and bring a warm hat, mittens, and a scarf to stay warm whilst enjoying the beautiful scenery of Arches National Park.
Where to stay
Moab is just a few miles from the park entrance, and you have tons of accommodation and dining options in the city. Hyatt Place in Moab features comfortable, well-appointed rooms and on-site dining, and is located about 12 miles from the park.
*****
So there you have it: the most spectacular US national parks to visit this winter! Have you visited any of them yet? I would love to read your thoughts if you have: comment below to respond!
If you're starting to make plans for a winter trip, put one (or more!) of these beautiful national parks on your itinerary! A retreat into nature is always recharging, and you won't find more beautiful nature spots than our stunning national parks.
Whether you are traveling with kids, going solo, or looking for a couples getaway, you will enjoy your winter trip to one of these amazing parks.
After reading through this fabulous list, I hope you were able to zoom in on the perfect park for your winter vacation!
MORE INSPIRATION FOR US NATIONAL PARKS TRAVEL
Discover the most exciting national parks in the west or plan a national parks road trip from Vegas: you'll find several stunning national parks near Vegas to explore, from the Mighty 5 in Utah to Arizona's Grand Canyon.
If you want national park choices by season, we have an extensive round-up of national parks to visit in the summer, or national parks to visit in the fall.
Want to know which US national Park to visit by month? Check out our rounds-up of the best national parks to visit by month!
And if you haven't bought your National Parks Pass yet, get it now!
Buy online at REI.
MORE SCENIC PLACES TO VISIT
Alberta: The Best Things to Do in Jasper National Park
British Columbia: One Day in Yoho National Park
Nevada: What to Do at Valley of Fire State Park
British Columbia: A Day Trip to Mount Robson Provincial Park
Alberta: Things to Do in Lake Louise
California: The Best Stops Along the Pacific Coast Highway
Croatia: The 8 Incredible National Parks in Croatia
Did you find this article informative? Pin it for later reference!