Looking for a US national park to visit in the early spring? Our round-up of the very best national parks to visit in April will help you choose a park (or parks!) to celebrate the first full month of spring.
Roaring waterfalls. Wildflowers in pinks, blues, yellows, reds, and more. Deciduous trees wearing a mantle of light green. Warming temperatures and sunshine. April is a wonderful time to take a vacation in nature…and where better to go than to a national park?
Great Smoky Mountains National Park and Shenandoah National Park offer lots of early spring wildflowers in the east. In the west, Yosemite National Park's famed waterfalls are at their roaring best.
Some links on this page may be affiliate links. If you click an affiliate link and make a purchase, we may receive a small commission, at no extra cost to you. For more details, refer to our disclosure.
Parks that are super crowded in the summer, such as Grand Canyon National Park, Arches National Park, and Rocky Mountain National Park, are worth considering in April. Although nice weather weekends in April may be crowded, you still may be able to enjoy relative quiet if you visit during the week.
And national parks make for great spring break destinations in the US for families, especially if you pick one of the lesser visited national parks.
Before we get started on our round-up, a reminder to get your National Parks Pass, if you don't have one already. If you plan to visit three national parks (or more!) this year, the pass will likely save you money!
And now, are you ready? Let's get started discovering the best national parks to visit in April!
1. Grand Canyon National Park
Location: Arizona
The Grand Canyon is perhaps the most well-known national park in the United States and one of the best places to visit in Arizona.
Encompassing nearly 2,000 square miles, and the Colorado River, this national park is truly worth the trip. Whether you plan on hiking down into the canyon or just visiting the rim, you don't want to miss this park on a Southwest road trip!
April is one of the best times to visit the Grand Canyon, with great weather. Hiking into the canyon is pleasant, without the extreme heat you'll encounter later in the summer.
While the Grand Canyon is never unpopular, the majority of people do visit in the summer, so by visiting in April you will encounter fewer people.
Good to know: The West Rim is not part of the national park but it is one of the popular day trips from Vegas since it's the nearest rim from Sin City.
Grand Canyon weather in April: At the South Rim, the weather varies from warm inside the canyon to still cool at the rim. Daytime highs inside the canyon are in the low 80s, while the rim generally sees daytime highs around 60 degrees Fahrenheit.
Snow can occur until May in the Grand Canyon, so there is the chance you will encounter some flakes, but that just makes the Grand Canyon more beautiful! The average number of rain/snow days forecast in April is just 3.
What to do in Grand Canyon National Park: To visit with even fewer crowds, consider arriving at sunrise. You will avoid a long line to get in, and watching the sunrise is one of the best things to do in Grand Canyon National Park.
Mather Point is the most popular sunrise spot, but you can really witness sunrise from anywhere on the Rim Trail.
April is a great time to hike at the Grand Canyon. Hike along the rim or down into the canyon.
The South Kaibab Trail is a good trail to hike down just a few miles into the canyon. Do not attempt to hike all the way to the bottom in one day, and always hike prepared!
If hiking is not your thing, you can also bike along Hermit Road. This road leads to several magnificent viewpoints and you can rent a bike right inside the park.
You can also drive to the scenic viewpoints along Hermit's Rest Scenic Drive and along Desert View Drive. Climb to the top of the Desert View Watchtower and snap photos of Hermit's Rest.
Learn more about the geology of the Grand Canyon at the Yavapai Museum of Geology. This museum is in the Grand Canyon Village and has large panoramic windows and plaques that teach about how the canyon was formed.
And for a bucket list experience, book a helicopter flight through the canyon! Flights take off from Tusayan, and you'll fly through the canyon from the South Rim to the North Rim in an ECO Star helicopter.
Check pricing and availability on this Grand Canyon helicopter tour now!
GUIDED TOURS FROM VEGAS TO THE GRAND CANYON
Adventurous visitors to Vegas that are short on time can enjoy an extended helicopter ride over the West Rim, or this highly-rated helicopter experience that also includes a landing at the Grand Canyon and a champagne toast!

Bus tours to the West Rim or the South Rim are also available, if you'd rather not drive yourself.
Where to Stay
Bright Angel Lodge is the most convenient lodging for your stay It is located right in the park!
Nearby Tusayan has lodging options as well. Consider The Grand Hotel at the Grand Canyon, located about 7 miles from Grand Canyon Village and 18 miles from the South Rim. Rooms are air-conditioned and there is a swimming pool as well as a hot tub.
Suggested by Val of Voyages with Val
2. Shenadoah National Park
Virginia's Shenandoah National Park, with its mountain vistas and rolling green hills, awes with natural beauty in the springtime.
As the temperatures tick up and wildflowers start to bloom, violets, buttercups, and yellow lady's slippers line the park's wooded hiking trails.
Shenandoah weather in April: The park is set in the mountains, and temperatures run cooler than at lower elevations. Early spring weather varies from day to day, so dress in layers!
In April, average daytime highs in the park are generally in the mid-50s Fahrenheit, while lows are in the mid-30s. Snow storms are still possible.
What to do in Shenandoah National Park: April is a great time to visit the park for less foot traffic on the hiking trails and tumbling waterfalls that can be hardly a trickle by late summer.
A few Shenandoah National Park waterfalls that are must-sees in the spring include Dark Hollow Falls, Hazel Falls, and Doyles River Falls.
As the park begins to green up in spring, stop at as many of the 75 scenic overlooks and pull-offs along Skyline Drive as you like.
There are also trailheads up and down Skyline Drive for hikes that lead to rocky summits, historic sites, waterfalls and grassy meadows. Hike to Hawksbill Summit, the highest point in Shenandoah National Park, for sensational panoramas.
It's also a must to hike at least a few steps on the white-blazed Appalachian Trail. In fact, 101 miles of this iconic long-distance trail run south to north across Shenandoah National Park.
The short hike to the top of Hightop Mountain on the Appalachian Trail rewards with big views.
April is an excellent time to go birding in Shenandoah National Park, with migratory birds beginning to visit. So bring your binoculars!
Where to Stay
Book a stay at one of the park's four family campgrounds or two in-park lodges, Skyland or Big Meadows Lodge.
Both lodges have a restaurant, outdoor terraces, and access to hiking trails. Be sure to order a slice of the park's signature mile-high blackberry ice cream pie, which is available at both park restaurants.
Just a few miles outside the park in Luray, Hotel Laurance offers air-conditioned rooms. The hotel has a garden and a terrace.
Suggested by Erin of Go Hike Virginia
Planning to visit more than one national park in the next 12 months? Consider buying the America the Beautiful National Parks Pass!

Valid at over 2,000 federal recreation sites all across the USA, the pass covers entrance, standard amenity fees, and day use fees for a driver and passengers in a personal vehicle at areas that charge per vehicle, and for up to four adults at sites that charge per person. Children ages 15 or under are free.

The pass is valid for 12 months from the month of purchase.
3. Pinnacles National Park
Location: California
One of the smaller and less visited national parks in the USA, Pinnacles National Park is a delight in April, especially if you enjoy wildflowers and hiking.
There isn't a road through the park, and April's weather makes exploring the wilderness on foot pleasant.
Pinnacles is known not only for its signature volcanic spires, but also for its talus caves and diverse flora and fauna. It's one of the places where California condors are released into the wild.
Pinnacles weather in April: Daytime highs in Pinnacles National Park in April tend to be in the high 60s or low 70s Fahrenheit, with nighttime lows dropping into the 40s.
About 6 days of rain are forecast on average. April is the tail end of rainy season in California, so bring rain gear, just in case.
What to do in Pinnacles National Park: Hiking is the predominant activity in the park, with over 30 miles of trails of varying lengths and difficulty levels.
Arrive at either the Bear Gulch entrance in the east, or the west entrance near Soledad to start exploring. You can access the High Peaks Trail from either side.
The High Peaks trail offers great views of the peaks of the pinnacles, and you can look for condors roosting on high ledges. In April, you will see lots of wildflowers blooming right by the trails, allowing for closer looks at the delicate blooms.
California poppies, fiesta flower, shooting stars, suncups, larkspur, and bush lupine are among the many species of wildflowers you can see in the park in April.
Also plan on exploring Bear Gulch Cave or Balconies Cave on your visit to Pinnacles. The caves can sometimes be closed due to breeding bats, but if they are open, they are fun to walk through!
Birding and wildlife spotting are other fun things to do in Pinnacles National Park: it's home to numerous species of birds other than the majestic California condors, and you may see black-tailed deer, gray fox, or bobcat.
Many visitors spend just one day in Pinnacles National Park, but if you choose to overnight, you can enjoy an evening guided walk with a ranger, and admire the dark night skies, filled with stars on moonless cloudless nights.
Where to Stay
There is one campground at Pinnacles National Park, near the east entrance.
The coastal city of Monterey is just one hour's drive from the park. Book a stay at the Intercontinental the Clement Monterey, located on historic Cannery Row.
Suggested by Dhara from Roadtripping California
4. Great Smoky Mountains National Park
Location: Tennessee + North Carolina
From its beautiful landscapes to the wide variety of wildlife it shelters, the Great Smoky Mountains National Park is a place that must be seen to be believed.
With its breathtaking sights and the myriad experiences awaiting visitors, this park has rightfully earned the title of America's most-visited national park.
Great Smoky Mountains weather in April: April is a marvelous month that ushers in delightful sunshine and warm temperatures, with daytime highs usually between 70-80 degrees Fahrenheit.
On average, the park receives 4 inches of rain throughout this period, generally in the form of afternoon showers.
What to do in the Great Smoky Mountain National Park: Enjoy wildflower bloom! April marks the start of wildflower season and visitors can look forward to a rainbow of colors.
Delightful blooms, from delicate trillium and fragrant rhododendron to vibrant mountain laurel and azalea, will surround you as you explore.
April is the perfect time to experience peak wildlife viewing in the Great Smoky Mountain National Park.
As many animals emerge from hibernation or migrate back into the area, visitors have a unique chance to observe species such as black bear, white-tailed deer, wild turkeys, and various birds including songbirds and raptors.
With mild temperatures, April is the ideal month for exploring the park on foot. Choose from over 800 miles of trails with stunning vistas filled with wildflowers, wildlife, and breathtaking views.
The easy hike to Laurel Falls is about 2.6 miles round trip, and a footbridge allows you to take great photos. In the spring, you may see mountain laurel blooming along the trail. Cataract Falls is another easy hike perfect for families.
Make sure to take the Newfound Gap Road scenic drive, which features several pull-offs with expansive views. It's the lowest pass through the Great Smoky Mountains.
Cades Cove Loop and the Roaring Fork Motor nature Tour are other must-do scenic drives in the park.
Where to Stay
Le Conte Lodge is a rustic lodge located within the national park. It offers an unforgettable mountain experience complete with cozy cabins and unbeatable views.
Here is a list of recommended places to stay outside the park. In Pigeon Forge, consider The Inn on the River, just a 20-minute drive from the park. It offers comfortable rooms, an outdoor pool and patio, and an indoor heated pool.
Suggested by Melodie of Travel Must Dos
Looking for a rental car for your national park trip? Compare prices, find your car, and book on Discover Cars! They search numerous car rental agencies, from brand to budget, to offer you the best choices for your trip.
5. Arches National Park
Location: Utah
Arches National Park is a beloved US national park, with its unbelievable red arches, spires, and balanced rocks that you can view throughout the park.
This is a fantastic park to visit in April, thanks to the mild temperatures and blooming wildflowers you can see on your visit.
April is a popular time to visit Arches, before the heat hits, so arrive early in the day, or stay late, to enjoy the most-visited spots in the park without the crowds.
Good to know: The timed entry system for Arches starts in April each year. Slots for April are usually released in early January, so make sure to book yours then!
Arches weather in April: The weather in Arches National Park in April can be quite variable. Highs are usually in the 60s and 70s Fahrenheit, but can also be in the 50s or 80s! Lows tend to be in the 30s and 40s F, but can also be in the 20s or 50s.
Rain is rare in April, and the entire month sees about half an inch total.
What to do in Arches National Park: The best hike to do in Arches is definitely Delicate Arch. This 3-mile hike will take you to one of the most famous arches in the world. It's an incredibly large and impressive free-standing arch up close.
If you do not wish to do the fairly strenuous hike, you can see the iconic arch from the Upper Delicate Arch Viewpoint (0.5-mile hike) or the Lower Delicate Arch Viewpoint (just a 100-yard walk on level ground).
Sunrise is a great time to do the Delicate Arch hike. Crowds are lower, and the light is gorgeous. Sunset is also a popular time for photographing the arch, but expect lots of other visitors.
Devil's Garden is a popular hiking area with seven different arches to see. The most popular arch on this hike is Landscape Arch, which is very skinny and is the longest arch in the world. Double O Arch is another striking arch you'll see here.
The Fiery Furnace hike is an incredible experience, but does require a permit, which are in high demand (but easier to get in April). This hike allows you to explore off-trail in the canyons and between the fins, spires, and arches of the Fiery Furnace.
You can enjoy Arches National Park even if you do not want to hike long trails. The scenic drive through the park is beautiful, and there are many viewpoints where you can stop and be mesmerized by the views.
Where to Stay
A great place to stay near Arches National Park is the Aarchway Inn in Moab. Rooms and suites are spacious and include refrigerators and microwaves.
Suggested by Stephanie of The Unknown Enthusiast
6. Yosemite National Park
Location: California
Nestled in the Sierra Nevada Mountains, Yosemite National Park is one of California's iconic national parks and one of the most popular weekend getaways in California.
The park features sheer granite cliff faces, gushing waterfalls, giant sequoias, and stunning lakes.
Yosemite in April offers incredible exploring, with the park's famous waterfalls being at their best. With the snow melting and the ice thawing, it is truly a magical time.
Several hikes feature blooming flowers in open meadows. It is also the beginning of the rafting season, for adventurers.
Although April sees more visitors than the winter, the crowds are much lower than during the summer, especially during the week.
Good to know: Tioga Road and Glacier Point Road are still closed in April, and some trails may still be covered with snow.
Yosemite weather in April: The average high temperature in Yosemite in April is around 64°F, whilst lows are around 36°F. While rain is most likely between November and March, you could run into some late rainy weather (and even some snow) in April, so bring rain gear.
What to do in Yosemite National Park: One of the best hikes in Yosemite in the spring is the Mirror Lake Loop. Featuring some spectacular views of Half Dome and El Captain along the way, the hike is around 5 miles and is a fantastic way to see some of the main attractions in the park.
No trip to Yosemite is complete without seeing Yosemite Falls, which has a 2,425-foot drop. One of the best ways to view the falls is to do the short Lower Yosemite Fall Loop in Yosemite Valley.
You can also visit Bridalveil Fall on a 1.2-mile round trip hike. In the spring, the flow is ferocious, and you'll be sprayed with the mist as you approach.
As a bonus, you'll see many unnamed waterfalls cascading down the granite faces in the park at this time of the year.
The most iconic photo of Yosemite has to be Tunnel View, with the best time to visit being sunrise. Capture stunning photos of Half Dome, framed by the tunnel.
In Yosemite Village, step inside the Ansel Adams Gallery to see some of the famed photographer's works. The Yosemite Museum, which showcases local history, is another great option if you run into inclement weather.
The lower Mariposa Grove is mostly free of snow in April if you want to admire the giant sequoias. There are several walking trails from which to choose.
Where to Stay
Stay at the Ahwahnee Hotel! Well known for its fine dining experience, it is also situated in the best location to explore the valley. Dinner at the Ahwahnee is considered a great experience to add to a Yosemite itinerary.
Yosemite Valley Lodge is another good option right in Yosemite Village.
Suggested by Karen of Travel Mad Mum
7. Haleakala National Park
Location: Maui, Hawaii
Maui is the second largest island in the Hawaiian archipelago and has one national park, Haleakala. Haleakala National Park encompasses over 30,000 acres and features a dormant volcano.
The park is one of the best places to visit in Hawaii!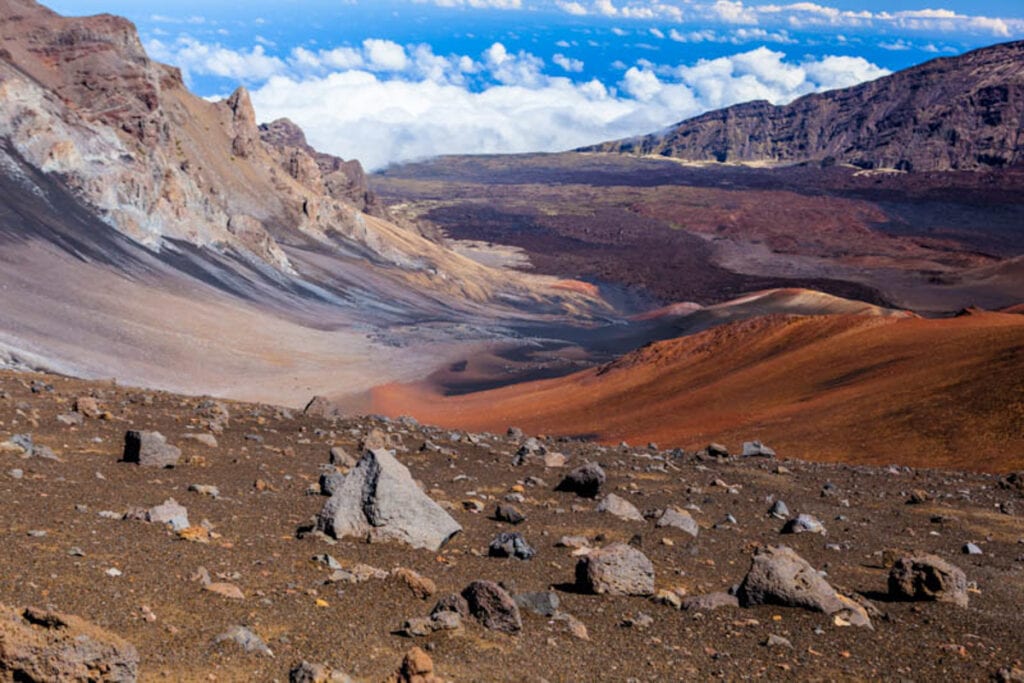 Haleakala weather in April: When you visit Haleakala National Park in April, you'll enjoy slightly cooler temperatures and fewer crowds.
It can be high 80s Fahrenheit at the base, but mid-50s at the 10,023-foot summit. With winds, it can feel colder, so prepare for the trip by packing a lightweight jacket or an extra layer.
What to do in Haleakala National Park: Haleakala, meaning "house of the sun," is known for its spectacular sunrise. In fact, watching the sun rise over Haleakala is one of the top things to do in Hawaii.
Since it takes two hours to reach the summit, visiting in April allows you to benefit from a slightly later morning wake-up call than if you visit in the summer.
At the summit, you can enjoy one of the many hiking trails. Keonehe'ehe'e Trail, or Sliding Sands Trail, travels down into the crater, allowing you to enjoy its colorful moonlike surface.
For thrill-seekers, biking down Haleakala offers the longest downhill bike ride globally. Tour operators will drop you at the summit, and you can enjoy a group or self-guided ride down.
At the summit, look for the Haleakala silversword, a striking long-lived plant that's on the endangered list. Also keep an eye out for nēnē, an endangered medium-sized goose that's Hawaii's state bird.
If you choose to visit the national park at the coastal level, it requires driving the Road to Hana: the drive itself is one of the best things to do in Maui.
A thrill-seekers' adventure of another sort, the highway consists of over 600 curves and almost 60 bridges, many of which fit only one vehicle.
However, once you reach the park's Kipahulu District, the Pipiwai Trail leads you through a bamboo forest to view several cascading waterfalls.
Where to Stay
Staying at the Lumeria Maui Retreat Center gives you the closest access to the park and cuts down on your early sunrise drive to the summit of Haleakala.
Suggested by Karen of Forever Karen
8. Olympic National Park
Location: Washington
Olympic National Park is a large national park renowned for its diverse ecology, which includes glacier-capped mountains, temperate rainforests, and an extensive coastline.
The park is a UNESCO World Heritage Site and one of the top places to visit in the Pacific Northwest.
Spring is a great time to spot wildlife and birds in the park, with black bears coming out of hibernation and other species out and about.
Wildflowers begin to bloom in the park once the snow melts. In April, look for them on lowland trails. You may see the pink douglasia laevigata, or even the first glacier lilies.
Olympic weather in April: April is right in the middle of Washington's temperamental spring season.
The days are crisp and pleasant, with temperatures moderate enough to enjoy sightseeing. Rain showers bring out the deep greens of Olympics' lush old growth forests.
Temperatures vary based on elevation, but expect daytime temperatures in the high 40s and low 50s Fahrenheit. You will likely see some rain as well, so pack rain gear!
What to do in Olympic National Park: There are four spots within the park that provide an unparalleled experience: Hurricane Ridge, Ruby Beach, Sol Duc Falls, and the Hoh Rainforest.
Hurricane Ridge is your spot for dramatic views. On clear days, you'll be able to see snow-capped mountains, forests of evergreen trees, and Mount Olympus.
Hurricane Ridge Road is generally open to vehicular traffic in April, so you should be able to drive up if weather conditions are good during your visit.
Ruby Beach is truly a gem of the Pacific Northwest. Massive sea stacks are scattered along the shoreline while towering evergreen trees line the beach. The sand's ruby-colored crystals inspired its name.
Sol Duc Falls, which features multiple picturesque streams dropping into a gorge, only requires a short walk from your car, making it one of the popular waterfalls in the park.
Strolling through the forests of the Hoh Rainforest, you may find yourself in awe of the mossy giants towering over you. These old-growth trees are blanketed in velvety greens, some of which mix to create a scene reminiscent of a fairy tale.
Where to Stay
The Kalaloch Lodge is a great lodging option. Located on the wild and rugged coastline, this lodge is conveniently situated near some of the area's most treasured sights.
Or consider Misty Valley Inn, also in Forks. Rooms are spacious and comfortable and the terrace offers lovely views.
Suggested by Debbie of World Adventurists
9. Zion National Park
Location: Utah
Zion National Park is one of the most beautiful and popular US National Parks, and one of the best places to visit in Utah.
The park is home to spectacular hiking trails and viewpoints and features beautiful scenery, with red rock formations and the Virgin River.
April is the perfect time to visit Zion. The snow has melted, waterfalls begin to flow, and wildflowers bloom, offering bright pops of color. The weather is just right, with blue skies, comfortable temperatures and optimal hiking conditions.
Although April in Zion is more crowded than the winter months, explore early and late to beat the crowds, and visit during the week instead of at the weekend.
Zion weather in April: Whilst you may get the odd April shower in Zion, April in Zion typically sees only 33mm of precipitation.
It is common to have warm, sunny days in Zion in April, with an average high of 74.3°F and an average low of 43.9°F. Do bring layers though, as the mornings and evenings can still be cold.
What to do in Zion National Park: April is the perfect time of year to go on hikes that are too hot to do in summer.
The shuttle bus is in operation in Zion, so you'll need to ride on it, but it's a great way to see the beautiful landscapes and access major sights in the park.
Whilst The Narrows hike is often off-limits due to the risk of flash flooding, there are other epic hikes with breathtaking views such as Angels Landing and Observation Point you can do.
You need a permit to hike Angels Landing, so apply well ahead of your visit if you wish to hike the bucket-list trail.
In terms of waterfalls, head to the 300-foot fall at Upper Emerald Pools and the waterfalls at Lower Emerald Pools. These waterfalls are generally flowing consistently in April.
And don't forget to look out for the wildlife in Zion in April! You may see bighorn sheep, deer, or wild turkeys, often with young ones in tow.
April is when many of Zion's wildflowers bloom, adding giant splashes of color to Zion's red rocks. You'll see the bright scarlet of paintbrush and lots of yellow and pink from western Columbine and desert marigolds: truly spectacular!
You may find beauties like shooting stars and lobelia in wetter spots like Weeping Rock or the Emerald Pools, so look for color as you walk the trails in the park.
Where to Stay
If you want to stay overnight, the nearest accommodation is Zion National Park Lodge, located right inside the national park.
In Springdale, the Hampton Inn and Suites is located just a mile from the park entrance, with comfortable rooms and a swimming pool.
Suggested by Catrina of 24 Hours Layover
10. Rocky Mountain National Park
Location: Colorado
Rocky Mountain National Park is one of the best places to visit in Colorado. Located just an hour outside Denver, it's one of the most popular U.S. National Parks, with 4.5 million visitors annually.
April is a particularly great time to visit Rocky Mountain National Park for several reasons.
First, the park remains cool with snow-capped peaks through the springtime. It's a beautiful scene, and hiking is much more comfortable in spring than during the summer months.
Additionally, wildlife is easy to spot, and April marks the beginning of wildflower season in Colorado. Look for pasque flowers, the Rocky Mountain iris, Easter daisies, and more.
Rocky Mountain weather in April: The weather in Rocky Mountain National Park in April is enjoyable. You can expect temperatures of 45-60ºF, and while it does rain on average 4-5 days in April, the showers are usually short-lived.
What to do in Rocky Mountain National Park: Camping in the park is a fun adventure. The campgrounds at Rocky Mountain National Park are spacious and close to all of the best hikes in the park.
As the snow melts in the spring, the waterfalls in Rocky Mountain National Park are at their most powerful. The best waterfalls in April are Ouzel Falls, Alberta Falls, and Adams Falls.
Estes Park is a historical town just outside the boundaries of Rocky Mountain National Park. There are lots of shops to browse, restaurants to enjoy. Here you'll also find a park visitor center, where you can learn more about the park.
It would be a shame to visit this national park without seeing the best parts of it on foot. A couple of day hikes you can't miss at Rocky Mountain are Glacier Gorge to Mills Lake (5 miles out and back, moderate), and Lake Haiyaha (4 miles out and back, moderate).
Good to know: Trail Ridge Road through the park only opens fully in the last part of May. Before then, conditions permitting, you can drive it from Estes Park to Many Parks Curve. It's worth driving the stretch that's open!
Where to Stay
If you aren't interested in camping, you'll find great places to stay in Estes Park. The Inn on Fall River is a highly rated, sustainable property that's reasonable for travelers on any budget!
Suggested by Caleb & Sarah of The Pazook Travel Journal
11. Yellowstone National Park
Location: Wyoming, Montana, and Idaho
Yellowstone National Park is one of the most popular National Parks in the United States. It has some of the most unique and beautiful scenery you will find, and you will see an abundance of wildlife.
April is a fun time to visit because you will get to see the park with snow on the ground. As this snow starts to melt in March and April, bears come out of hibernation and start to look for food.
If you want to see animals and lots of them, April is fantastic. The animals are giving birth to babies, and the crowds have not pushed away many of the more timid animals like bears and wolves.
Because April is considered off-season, you will not have to fight the typical crowds that you will see in the late spring and summer.
Accommodations will be cheaper, saving you a lot of money, and the time of year can still give you the ability to enjoy some of the beautiful Yellowstone winters with a little warmer weather.
Yellowstone weather in April: The temperature in April ranges from an average daytime high of 46 to 50 degrees Fahrenheit to an average nighttime low of 18-19 degrees Fahrenheit.
Expect a few days of rain or snow in April, although you will likely have plenty of sunshine as well. Pack layers and rain gear.
Good to know: If you are going to be visiting in early April, the only road open will be the road that connects the North and the Northeast entrances. This road passes Mammoth Hots Springs, Tower Junction, and Lamar Valley.
Mammoth Hot Springs is open year-round and is a great place to see elk and visit some fun hot springs. The Lamar Valley is a very popular place to see a lot of wildlife. This includes bison, wolves, bears, and an array of birds.
You can go snowshoeing earlier in the month, as there may still be snow on the ground. Towards the end of April, the park starts to open, giving you the option to explore a bit more.
In April, there are an average of just under 50,000 visitors, but in May, that number jumps to just under 500,000.
Most April visitors visit in the middle or the end of the month because they can take advantage of the low crowd numbers and cheap places to stay, and still visit many of the most popular attractions like Old Faithful, the Norris Geyser Basin, the Artist Paint Pots, and the beautiful Yellowstone Falls.
Where to Stay
You will need to stay in West Yellowstone because the lodging inside the park does not open until May, but this is not a big deal.
West Yellowstone is super close to the park entrance, and many people stay here throughout the year. There are lots of great places to stay near Yellowstone, like the Kelly Inn or the Explorer Cabins.
Suggested by Candice of CS Ginger
12. Badlands National Park
Location: South Dakota
One of the most underrated national parks in America is Badlands in western South Dakota.
Badlands boasts dramatic and unusual landscapes through colorful rock formations and it must not be missed on a South Dakota road trip. It's a fascinating park with cool wildlife like bison, bighorn sheep, pronghorn, and black-footed ferret.
Overall, April is the best time to visit Badlands National Park since it is considered the shoulder season, so there are less crowds.
You can easily access the overlooks, enjoy less trafficked hiking trails, and spot a lot of wildlife!
Another reason why April makes for a great trip to the Badlands is because everything is decently priced. You can find great discounts on hotels, flights, and more!
Badlands weather in April: Expect cool weather during a visit to Badlands in April and be prepared for potential rain.
In April, temperatures can range from the low 60s to low 30s Fahrenheit. Avoiding harsh winds is almost impossible during a visit to Badlands in April, so make sure to dress warm!
What to do in Badlands National Park: Admire the stunning views from the overlooks. The best ones to visit are Pinnacles Overlook, Hay Butte Overlook, Yellow Mounds Overlook, Panorama Point, and Big Badlands Overlook.
What is also cool about Badlands National Park in South Dakota is that dinosaurs once walked through this area! On the Fossil Exhibit Trail, you can do a self-guided tour and check out the fossil replicas and exhibits.
Another reason why Badlands National Park is the perfect destination to visit in April is because it features incredible hiking!
The Notch Trail is a fun, 1.5-mile out-and-back trail that includes a ladder to climb up and enjoy breathtaking views. An easy trail to enjoy is the Door Trail, which is a 0.9-mile out-and-back trail that takes only 20 minutes to complete.
For those looking to do a great day hike, the Castle and Medicine Root Trail Loop is the perfect option! The easy hike is suitable for families with kids, and you'll experience a variety of Badlands landscapes.
Lastly, visiting Badlands National Park in April makes for great stargazing! Since this incredible National Park has a remote location, it's easy to escape light pollution from the cities and towns.
Where to Stay
When planning a visit to Badlands National Park, the best places to stay in are Rapid City, Custer, and Deadwood. There are a lot of great hotel options to suit all budgets in these areas.
Closer to the park, the Best Western Plains Motel in Wall offers seasonal outdoor and indoor pools and comfortable accommodations. The park is about 7.5 miles from the hotel.
Accessing the park is easy from Interstate 90 through the Pinnacles Entrance, near the town of Wall, or the Northeast Entrance, which is near the town of Phillip.
Suggested by Taylor of Brown Eyed Flower Child
13. Gateway Arch National Park
Location: Missouri
St. Louis Gateway Arch National Park is the only national park located in an urban area and it is also the smallest national park in the country.
The park was first envisioned as a way to bring life to St Louis' waterfront and to honor Thomas Jefferson. The arch was chosen to symbolize St. Louis as the Gateway to the West.
The National symbol officially opened in 1963, and it stands 630 feet tall, taller than the Washington Monument and more than twice as tall as the Statue of Liberty.
Gateway Arch weather in April: The beautiful park around the monument is in full bloom in April, making it the ideal time to visit. April daytime highs in St. Louis average high 60s or low 70s Fahrenheit, perfect for exploring.
Rain is forecast for 10 days of the month, so pack an umbrella.
What to do in Gateway Arch National Park: Strolling the grounds of the park is a must-do at the Gateway Arch National Park. In early spring, magnolias and other spring-flowering trees are in bloom, making for a stunning landscape.
In addition to strolling the grounds of the national park, you can enter the base of the monument and see the history of the westward expansion by browsing the interactive exhibits of the free museum.
Following your stroll through the museum, you can purchase tickets to ride the tram to the top of the Gateway Arch, where you will get a once-in-a-lifetime experience and see the city of St Louis from new heights.
After your visit to the Arch, you'll want to visit the Old Courthouse, located in the national park. Here you can walk the hall of the Old Courthouse, where Americans made civil rights history.
For another perspective of the arch, take a ride down the Mississippi River on a 19th century steamboat replica. The two steamboats, Tom Sawyer and Becky Thatcher, offer fabulous views of the Gateway Arch and downtown St. Louis on one-hour tours.
Where to Stay
After your visit to St. Louis Gateway National Park, plan to spend the night just blocks from the park at St. Louis Union Station. This beautiful hotel was once the main rail station connecting the east to the west and the home of the 1904 World Fair.
Suggested by Gary & Michelle of Our Laptop Lives
14. Cuyahoga Valley National Park
Location: Ohio
Visiting Northeast Ohio? Then you must take in the scenic natural beauty that is the Cuyahoga Valley National Park (CVNP). It's the only national park in the state of Ohio.
CVNP occupies 33,000 acres of land between Cleveland and Akron. From hiking to waterfalls and ski resorts to a historic steam locomotive, this national park offers a variety of activities in every season of the year.
In April, enjoy wildflowers such as marsh marigold, spring beauty, purple and spring cress, yellow trout lily, and rue anemone, which burst out in abundance throughout this month.
Cuyahoga Valley weather in April: April sees the Cuyahoga Valley National Park transitioning from winter to spring.
Average daily high temperatures reach 60 degrees Fahrenheit, and you'll see many people walking along the Towpath Trail that follows the Cuyahoga River.
But, bring your umbrella as it rains about 1 of every 3 days this month.
What to do in Cuyahoga Valley National Park: In April in Cuyahoga Valley National Park, you may catch a glimpse of the great blue herons and bald eagles that nest here in the valley.
Birding is one of the most popular attractions here due to this national park being home to over 200 species of birds throughout the year. Grab your binoculars and be on the lookout for babies that hatch sometime at the end of the month.
Riding the rails throughout the valley is a popular pastime for all ages. The steam locomotives that run through the park are a 100-year old tradition.
April events take place on the weekends, and include the ever-popular dinner train, the murder mystery excursion, and the princess pj party excursion trains.
Prefer hiking and waterfalls? There are approximately 100 waterfalls within the Cuyahoga Valley National Park.
Hiking Brandywine Falls and its gorge loop trail is one of the most popular things to do in the park. Salamanders can be spotted in the springtime as the vernal ponds fill with water from snow packs and spring rains.
Where to Stay
After a full day of exploring, be glad you booked The Inn at Brandywine Falls as your getaway hotel. Overlooking the falls, this historic inn dates back to 1848 and is part of the National Register of Historic Places.
Sheraton Suites Akron Cuyahoga Falls is located about a 15-minute drive from the park. It overlooks the gorge of the Cuyahoga River and is rated highly for its spacious rooms and comfy beds.
Suggested by Christine of Treasured Family Travels
15. Bryce Canyon National Park
Location: Utah
Bryce Canyon National Park, in southwest Utah, is known for its unique hoodoos, stunning pink and orange rock spires that have been carved over millions of years from ice and rain.
While you can enjoy the park's trails without the crowds of summer, April is definitely the month that Bryce starts coming back to life from the winter, with facilities like the General Store and the dining room at Bryce Canyon Lodge reopening for the season.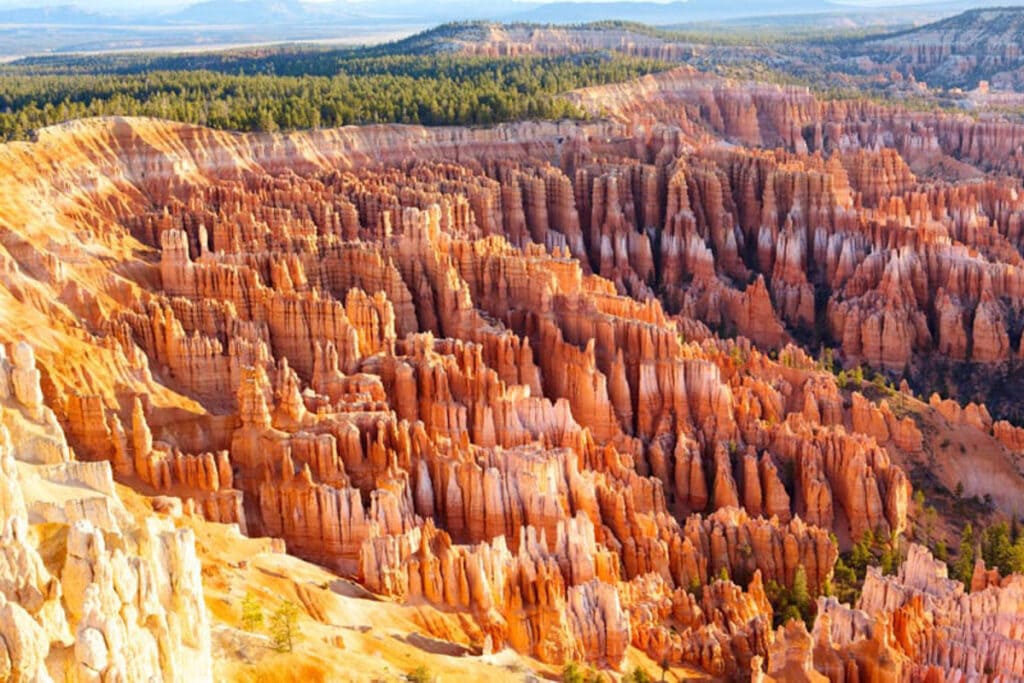 Bryce weather in April: April is the shoulder season for Bryce, with temperatures slowly warming up from the freezing winter.
It's a magical time, as daytime highs are usually in the mid-50s Fahrenheit, but you still have a chance of seeing the park's colorful rock formations dusted with snow.
What to do in Bryce Canyon National Park: Hit the park early to see sunrise. Surprisingly, one of the best places to watch the golden glow light up the canyon is at Sunset Point!
From here, you're right by the trailhead for the Navajo Loop and Queen's Garden Trail, which will take you below the rim of the canyon and under the soaring hoodoos.
If you've got your heart set on hiking along the trail's famed Wall Street portion, plan your trip for later in the month. It stays closed due to rock fall risk until temperatures are no longer freezing overnight.
Another not-to-be-missed hike is the Fairyland Loop Trail, which snakes around and under the rim of the canyon and around some of the park's most spectacular rock formations.
If you need to give your feet a rest at the end of the day, you can take the Bryce Canyon Scenic Drive, an 18-mile route that passes some of the most stunning overlooks of the canyon below.
Where to Stay
As a home base during your stay, book a room at the Happy Trails Bed and Breakfast, a cozy family-run inn, with a fire pit in the back to roast marshmallows in the evening and outdoor hammocks to take a much needed nap after all that hiking!
Or consider Bryce Canyon Log Cabins, located about a 15-minute drive from the park. Air-conditioned cottages at the property feature balconies with views.
Suggested by Jessica of Uprooted Traveler
16. Hawaii Volcanoes National Park
Location: Big Island, Hawaii
Hawaii Volcanoes National Park in the Big Island of Hawaii is a very unique national park, going from sea level to an elevation of over 13,000 feet.
The park is home to two active volcanoes: Mauna Loa and Kilauea, and if you are lucky, you may even witness a lava flow during your visit.
Hawaii Volcanoes National Park is designated a UNESCO World Heritage Site.
April is a great time to visit Big Island and Hawaii Volcanoes National Park as the weather is very pleasant for hiking and other recreational activities.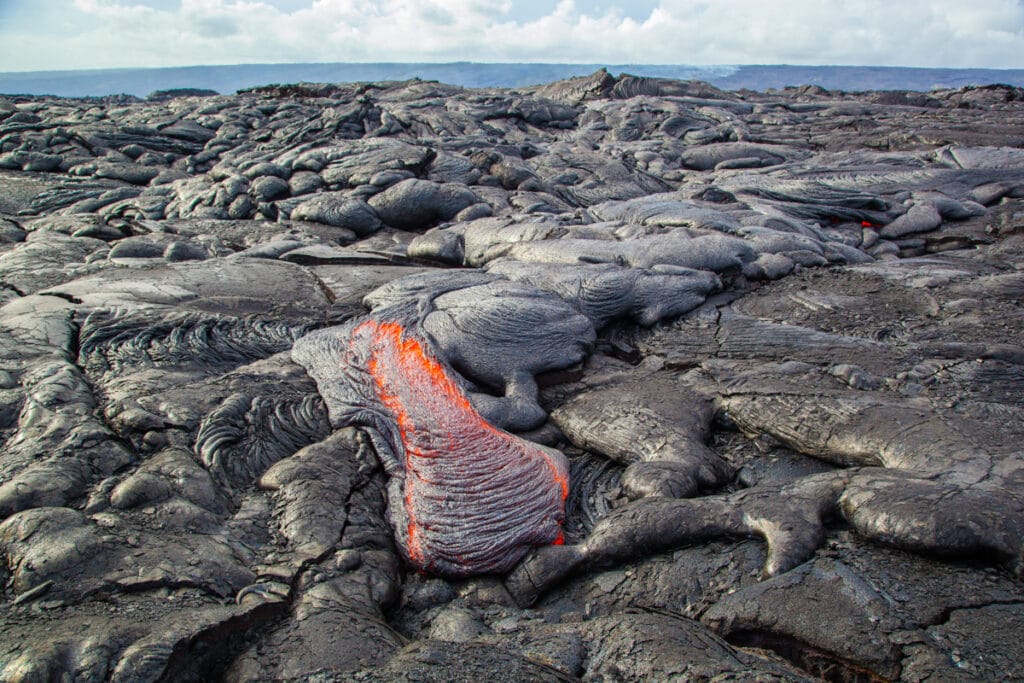 Hawaii Volcanoes weather in April: The average daytime temperatures are around 65 to 70 degrees Fahrenheit and average night time temperatures are around 50 degrees. Bring layers, as it gets cooler the higher you go.
Hawaii Volcanoes National Park is on the eastern side of Big Island, which receives quite a bit of rainfall, but the rain here is sporadic and not continuous, with a lot of sunshine.
Just carry on with your plans and not worry about the rain as it might start and stop at any time!
What to do in Hawaii Volcanoes National Park: Hiking is the most popular thing to do in the park. The top hike in Hawaii Volcanoes National Park is the Kilauea Iki crater hike.
On this hike, you walk inside a dormant volcano crater and through a dense rainforest in just about 3 miles!
Another popular thing to do here is to see the attractions along the Crater Rim drive like the Sulphur Banks, steam vents, the Halemaumau Crater overlook at the Volcano House, and the Kilauea Visitor Center.
Along the drive is Nāhuku, the Thurston Lava Tube, created long ago by a river of molten lava. Today you can access the tube via a short hike and walk inside. The tube is lit during the day.
Driving the scenic Chain of Craters road to the ocean is another great activity. Overlooks offer views over craters and the sites of old lava flows. If you enjoy history, be sure to stop to admire the Puʻuloa petroglyphs.
Where to Stay
Volcano House, inside the national park, is a great place to stay overnight.
Or consider Kilauea House, located in Volcano, just a short distance from the park entrance. Breakfast is rated excellent, and units include kitchenettes and views of the gardens.
Suggested by Anu of Destination Checkoff
17. Capitol Reef National Park
Location: Utah
Capitol Reef National Park is located in southern Utah and features beautiful red rocks in the south and towering white monoliths in the north.
With its otherworldly landscapes, Capitol Reef is a great pit stop on a road trip around Utah's five national parks. It's also one of the least crowded parks, making for a much more enjoyable visit!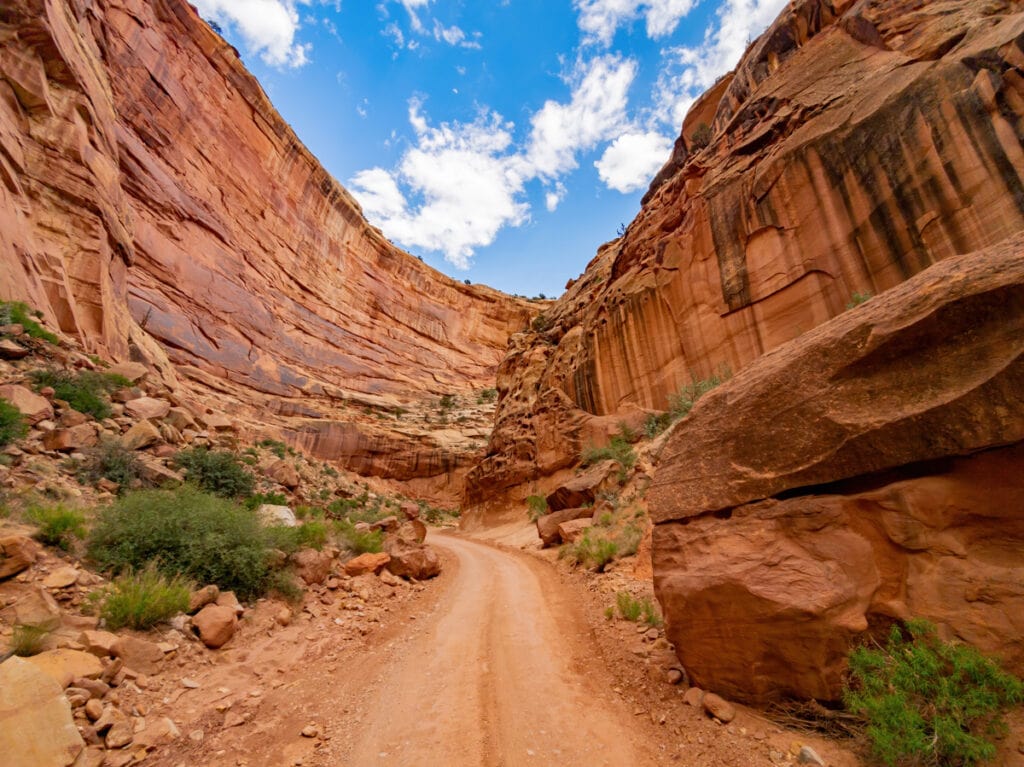 Capitol Reef weather in April: April is the perfect time to visit Capitol Reef, as the weather is quite pleasant: fairly dry, with average highs in the mid-60s Fahrenheit and lows in the mid 30s.
This park is set in the desert, so visiting any later in the year means hot, unpleasant temperatures. In April, you can spend your whole day outside exploring in comfort!
What to do in Capitol Reef National Park: During a visit to Capitol Reef, don't miss a hike to one of the park's many beautiful overlooks, such as the moderate Fremont River Trail.
There are more than a dozen trails in the popular Fruita area of the park. Easy trails include Capitol Gorge, at about one mile each way, and Sunset Point, just 0.4 mile one way. Sunset Point is great at sunset!
As you drive through the park on Utah State Route 24, make sure to stop at the various pull-offs as well. Some of the more picturesque viewpoints include Panorama Point and Goosenecks Overlook.
Refuel with some homemade pie at the historic Gifford Homestead before heading into Cathedral Valley, the rugged, off-road northern section of the park.
The rock formations here look just like the spires of Gothic cathedrals, hence the name. You can drive Cathedral Road to see the Temples of the Sun and Moon, two large rock formations protruding from the desert floor.
Where to Stay
Spend the night at the Capitol Reef Resort for a unique stay right at the entrance to the park. The resort offers rooms and suites plus glamping and cabins.
Suggested by Jen of Glasses and Boarding Passes
18. Congaree National Park
Location: South Carolina
Congaree National Park is known for having the largest stretch of old growth bottomland hardwood forest in the country.
A visit to the park is one of the best things to do in South Carolina in April since temperatures are comfortable but not unbearably hot.
Mosquitoes are generally not a problem at this time of year and crowds are minimal too.
Congaree weather in April: Expect daytime high temperatures in the mid to upper 70s Fahrenheit and nighttime lows in the 50s.
Be prepared for possible thunderstorms and rain, since it rains an average of five days in April.
What to do in Congaree National Park: Explore the park's 20+ miles of trails to discover the incredible biodiversity for which the park is known.
Because the park is in a floodplain, many of the trails are flat and feature only slight elevation gains. Many trails begin at the Harry Hampton Visitor Center and feature brown blazes to mark the path.
Must-hike trails in the park include the Boardwalk Loop Trail and the Weston Lake Trail.
The Boardwalk Loop Trail leads down into the bottomland hardwood forest where you can admire the bald cypress and tupelo trees at the bottom.
The Weston Lake Trail is a moderate hike and excellent for birdwatching. You'll also traverse a section where you can see cypress "knees" poking out of the water.
If you want to get out onto the water, then try the Congaree River Blue Trail. It's an incredible, 50-mile designated paddling trail that starts in Columbia, the state capital, and goes downriver to Congaree National Park.
Also, because water levels are high in April, you could easily canoe down Cedar Creek. It's a major part of the park's floodplain and features markers to help you find the way.
Where to Stay
And if you don't feel like camping at either Longleaf Campground or Bluff Campground (you need a reservation to stay at either), you can always book a room at the Cambria Hotel Columbia Downtown the Vista in nearby Columbia.
Suggested by Victoria of Southern Trippers
MORE INSPIRATION FOR US NATIONAL PARKS TRAVEL
Planning more visits to US national parks?
Discover the most exciting national parks in the west or plan a national parks road trip from Las Vegas: you'll find more than a dozen national parks near Vegas to explore, from Utah's Mighty 5 to the Grand Canyon and Death Valley.
If you want national park choices by season, we have an extensive round-up of national parks to visit in the summer, plus national parks to visit in the fall, and US national parks that are perfect for winter visits.
Visiting a US national park in another month? Check out our other round-ups of the best national parks to visit by month!
And if you haven't bought your National Parks Pass yet, get it now!
Buy online at REI.
Did you find this article informative? Pin it for later reference!