The Midwest region of the United States may not receive as much attention as other parts of the country when it comes to tourism, but that's a big mistake!
There is so much to be seen when visiting this underrated region of the country, and there are so many great Midwest cities to visit!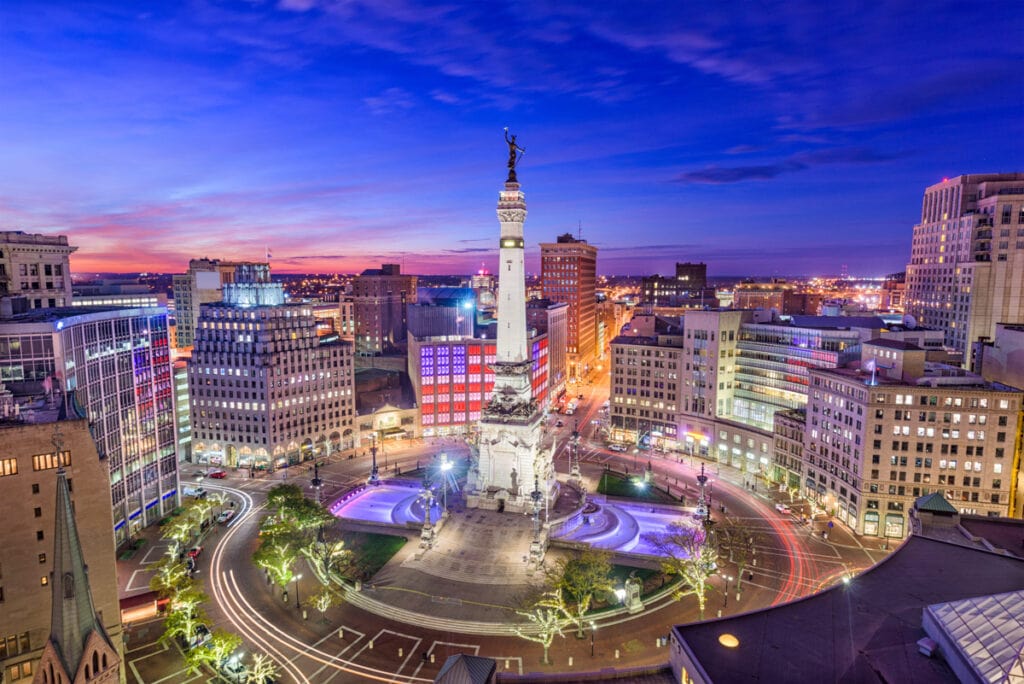 From bustling metro areas to quaint small towns, there's something for everyone, no matter what you like to see when you travel.
One of the best parts about the Midwest is that you can travel and see all of the amazing places with fewer crowds and lower prices.
Here are the best places to visit in the Midwest!
Best Midwest Cities to Visit
Below are some of the very best cities in the Midwest to visit for your next vacation, from small to large destinations.
1. Minneapolis, Minnesota
One of the best places to visit in the Midwest is Minneapolis, thanks to its beautiful park system, great shopping and food, and endless entertainment opportunities for visitors.
From a visit to the Mall of America for some shopping to a walk downtown to catch a concert at First Avenue, there's something for everyone.
If you enjoy art, then you'll love a stop at the Walker Art Center and the Minneapolis Sculpture Garden, which is located outside.
For entertainment, head to downtown Minneapolis, where you'll find US Bank Stadium, where the Minnesota Vikings play, Target Field, where the Minnesota Twins Play, and endless music venues and theaters.
Plus, you'll find fantastic boutique hotels, including some with rooftops from which to admire the skyline.
Foodies can enjoy all of the amazing food destinations that offer unique dining experiences. You have to try a classic Minnesota juicy lucy burger at one of the many places that offer them in the Twin Cities!
And if you have some extra time and are able to take a day trip, head to the small town of Stillwater, which sits along the St. Croix River.
With hiking trails, state parks, wineries, and more, Stillwater is a great escape from the city.
2. Ann Arbor, Michigan
If you're looking for a vibrant and welcoming city in the heart of the Midwest, Ann Arbor is a nice place to start.
Located just 45 minutes outside of Detroit, Ann Arbor is a smaller city with plenty to do.
Home to the University of Michigan, Ann Arbor is a college town that has become full of trendy boutiques, restaurants, hotels, and places to visit in recent years.
During the summer months, the Ann Arbor Summer Festival is one of the most popular things to do, with art, music, food, and more to celebrate the summer season.
If you're a football fan, you'll want to check out the Michigan Stadium, otherwise known as 'The Big House,' which is the largest stadium in the United States.
Other fun things to do in Ann Arbor include the Matthaei Botanical Gardens, Krazy Jim's Blimpy Burger, and the University of Michigan Institute of Art.
You'll also find endless food options, and local shops to browse.
3. Chicago, Illinois
Chicago is one of the best Midwest cities to visit, and is a destination that nearly everyone visiting the Midwest has at least heard of.
One of the top US cities for weekend trips, Chicago has plenty to offer visitors, including some of the best perks of being in a major city. It is the largest metropolitan city in the Midwest, after all!
Start your visit to the Windy City with a trip to Millennium Park to snap a photo in front of the iconic Bean sculpture, where you can see your reflection look back at you.
Then, head to the Willis Tower to walk out onto the Skydeck and the Ledge to view the skyline of Chicago from high above a glass balcony. This is something that's unique to Chicago!
As for food, you can find just about anything in Chicago, but a trip here wouldn't be complete without at least trying a deep-dish pizza! You can find them on nearly every corner, so you won't have to look too hard to find a good slice.
With so much to see and do, it's no wonder that Chicago is one of the most popular tourist destinations in the Midwest.
Plus, Chicago is also the eastern terminus of the famous Route 66, one of the best road trips in the USA!
4. Duluth, Minnesota
As the gateway to the beautiful North Shore, which lines the shore of Lake Superior, Duluth is a fantastic Midwestern city.
You'll find beauty in this city that's unlike any other city in the state of Minnesota, with views of the crashing waves of Lake Superior from everywhere you look.
One of the best ways to spend time in Duluth is to visit Canal Park, where you'll find a wide array of local shops and restaurants. You can find all sorts of delicious food and lots of places to grab a souvenir to bring home.
Duluth also has all of the best chain restaurants and big box stores that you could imagine, including a mall, so if you're a lover of shopping, then this is the place for you!
If you have some extra time, start to make your way North along the North Shore, where you'll find endless hiking trails, waterfalls, viewpoints, and places to enjoy time outdoors.
Your first stop will be near the small town of Two Harbors, where you can find plenty to do, and then you'll reach Silver Bay, Lutsen, and Grand Marais.
5. Fargo, North Dakota
As the largest city in North Dakota, Fargo is a must-see when you're traveling throughout the Midwest. And no, the city is not just snow and ice like the movie suggests!
Fargo is most well known for being the home to the North Dakota State University Bison. So seeing a Bison football game during your visit is a must!
Wandering around Downtown Fargo is another great must-do, with many local shops and places to eat. A few of the best restaurants include Mezzaluna, the Toasted Frog, and Scoop 'n' Dough for an ice cream treat.
Just like most other large cities, Fargo is home to a large mall, the West Acres Mall, which features lots of shopping, and there are many other big box stores and chain restaurants around.
The Red River Zoo is a nice place to bring kids, as well as the Fargo Air Museum and Thunder Road Family Fun Park.
Overall, a stop in Fargo provides a great experience for everyone!
6. Rapid City, South Dakota
Rapid City is located in one of the best locations in South Dakota for outdoor lovers and people who love to see a good view on their vacation.
Nestled in the South Dakota Badlands, Rapid City makes for a great addition to a Midwestern vacation!
Just a short distance away, you'll find the phenomenal Custer State Park, which features some of the best hiking trails in the Midwest. Hike to Black Elk Peak, admire the views, and watch as bison roam through the plains.
You can also make stops at Mount Rushmore National Memorial and Crazy Horse Memorial, each of which are just about 45 minutes away.
If you have a few days to explore, head over to both of South Dakota's national parks, Badlands National Park and Wind Caves National Park. They both are unique from each other and showcase all of the Midwest's beauty.
Just 30 minutes north is the town of Sturgis, which is home to the Sturgis Motorcycle Rally and the Motorcycle Museum and Hall of Fame.
In Rapid City itself, you can visit Dinosaur Park, Bear Country USA, and Reptile Gardens.'
7. Milwaukee
Milwaukee is best known for having a big brewery scene and being the home to the Major League Baseball team, the Milwaukee Brewers.
Beer lovers will love the city, as it's home to some of the very best breweries in the Midwest, including Lakefront Brewery.
So if you're a lover of beer or baseball, then this midwest city to visit is going to be best for you! But even if you don't like either, there is still plenty to do in this Wisconsin city.
Head to the Milwaukee Art Museum, which in itself has a beautiful outside and has nearly 30,000 pieces of art on display.
The Harley Davidson Museum is another interesting location to visit, as is the Milwaukee Public Museum, which is home to artifacts and exhibits about natural human history.
The Historic Third Ward is a warehouse district that is home to great restaurants, small shops, and the Milwaukee Riverwalk, which is the perfect place for a romantic night out.
8. Wisconsin Dells, Wisconsin
Sometimes, traveling with kids can become tough, especially if there aren't any specific fun things for them to do. But in Wisconsin Dells, that'll never be something you have to worry about!
As the Waterpark Capital of the World, there is always going to be something to do for your family in Wisconsin Dells.
Whether you book a stay at the best waterpark, Noah's Ark Waterpark, or you hop around to all of them throughout your stay, you'll have a blast.
There are over 20 to choose from, with many of them being indoors and even a few being outdoors to enjoy the warm summer weather!
Most of the waterparks also have great arcades and other games and things to do, such as mini golf, movie theaters, and more.
If you're in need of a break from the waterparks, you can check out all of the beautiful outdoor things to see in Wisconsin Dells. Witches Gulch leads you through the gorge in the city, and allows you to enjoy nature.
You can also wander through Devil's Lake State Park, which is just a short distance away.
9. Cedar Rapids, Iowa
Cedar Rapids, Iowa is one of the most overlooked cities in the Midwest, and while it doesn't have as much to do as some of the other major cities, it's still worth a visit!
For starts, enjoy some time outdoors on the Cedar River at Palisades-Kepler State Park. This park is just a short distance from Cedar Rapids and offers a great escape from the hustle and bustle of the city.
Old MacDonald's Farm is a unique destination for families with kids, as it's a free petting zoo with loads of barn animals that you can get to know and visit with.
There are also a few theaters in the city, including Paramount Theater and McGrath Amphitheater, where you can catch a show or concert year-round.
Along with these fun things to do in Cedar Rapids, just wandering around downtown is a great way to spend some time in the city.
In this area, you'll be greeted by beautiful public art sculptures and charming local shops and restaurants.
10. Medora, North Dakota
Medora is a small and unsuspecting town, located in the heart of the North Dakota Badlands. It's the gateway to Theodore Roosevelt National Park and is surrounded by stunning views.
With roaming bison, winding hiking trails, and endless views just steps away in the national park, Medora is a must for outdoors lovers!
Within the small city, you can wander around the streets and stop into the many local stores and grab a bite to eat at the Western-themed restaurants.
The Medora Musical is a must-see, where you can watch a unique country-Western variety show with singing dancing, and more on the stage.
While Medora is small and doesn't have the same things that most big cities have, it's unique and is the perfect place to start a North and South Dakota road trip!
11. Indianapolis, Indiana
Indianapolis is known as the racing capital of the world since it hosts multiple races throughout the year at the Indianapolis Motor Speedway.
Out of all of them, the Indy 500 is the most popular, having been up and running for over 100 years! It's held every year around Memorial Day in May.
Other fun things to do in Indianapolis if you aren't interested in racing include checking out the Children's Museum of Indianapolis if you have little ones, or visiting the Indianapolis Zoo.
Monument Circle is another must-see, found right in the middle of the city. It is a large statue that honors sailors and soldiers that have served our country.
The city is also home to the Indianapolis Colts National Football League team, who play at Luca Oil Stadium. Catching one of their games during your visit is worthwhile!
12. St. Louis, Missouri
As one of the largest and most well-known cities in Missouri, a visit to St. Louis is a must when traveling around the Midwest.
It's located along the Mississippi River and offers something for everyone.
One of the most popular activities is seeing the Gateway Arch. The arch towers about at 630 feet tall and is the tallest monument in the United States.
You can take a tram to the top to see the views from above!
The Saint Louis Art Museum is another great place to visit, especially if you love art, and the Missouri Botanical Garden is perfect for those who love flowers and plants.
You can get an adrenaline rush at Six Flags St. Louis, where there are dozens of roller coasters and other fun rides to check out. St. Louis also has an MLB team, the Cardinals, and you can watch them play at Busch Stadium
Be sure to wander around Downtown St. Louis to grab a bite to eat and wander in and out of the local shops.
13. Branson, Missouri
Branson, Missouri is a hidden gem, found in the Ozark Mountains that offers some of the best family-friendly entertainment around!
With dozens of theaters showcasing live music, comedy, and magic shows, it's no wonder that this small town is considered the 'Live Entertainment Capital of the World.'
On top of all of the theaters and entertainment, there are also several amusement parks, water parks, and museums to check out during your visit.
A few of the most popular places to watch a show include The Haygoods, Dolly Parton's Stampede, and many others that roll in and out of town.
As for other things to do, Silver Dollar City is a popular amusement park, and the Titanic Museum is an interesting place to visit. The Branson Boardwalk is a great place to walk down and enjoy the shopping and dining.
And when you need a break from all the excitement, you can take a scenic drive through the surrounding hills, go fishing on Table Rock Lake, or explore the many hiking trails in the area.
14. Mackinac Island, Michigan
Michigan's Upper Peninsula is one of the most beautiful places in the Midwest, but Mackinac Island is a must-see if you want to head somewhere on the mainland!
Well, somewhat on the mainland, since it is an island! You can reach the island from Mackinaw City via the ferry, or if you have a bit more to splurge, via seaplane.
This adorable island has a historic Main Street to wander down, which is filled with plenty of great shops and the smell of freshly made fudge.
Pay a visit to Mackinac Island State Park and see Arch Rock to enjoy the beautiful views along the coastline of Lake Michigan and Lake Huron.
Take a carriage ride through the island, as there aren't any cars here since they have been banned! Instead, you'll only see horse traffic!
The adorable island gives you a chance to escape real life for a few days and explore somewhere totally unique.
15. Cincinnati, Ohio
Cincinnati is well known for a few things, but the most famous is its beer and brewery scene.
During a visit to Cincy, you'll most definitely want to visit a brewery or two for yourself! A few of the most popular include Braxton Brewing and MadTree Brewing.
A few other great things to do in Cincinnati include visiting the Findlay Market, which is an indoor/outdoor market with dozen of local vendors, or visiting the massive Cincinnati History Museum.
Take a ride on BB Riverboats along the Ohio River to get views of the city from a new perspective. This is fantastic for a romantic day out, or a family adventure.
And wandering around Downtown Cincinnati is a great way to spend the evening to make the most of your visit. Take a ride on the Skystar Wheel, wander through The Banks for food and drinks, and admire the beautiful city skyline.
What States are in the Midwest?
The Midwest is located in the upper central portion of the United States and is made up of 12 states. The 12 states are North Dakota, South Dakota, Minnesota, Iowa, Nebraska, Illinois, Indiana, Missouri, Ohio, Kansas, Michigan, and Wisconsin.
Wrap-Up: Best Midwest Cities
While many people overlook the Midwest and decide to travel elsewhere, it's a beautiful place that is vastly underrated!
From small to big cities, entertainment all over, beautiful hiking trails, and park systems, the Midwest can offer visitors a great time with fewer crowds.
So for your next vacation, head to one of these great Midwest cities to visit and enjoy your time!
This article was written for us by Kassidy, a Midwest native, avid traveler, and travel blogger at Kassidy's Journey.
MORE INSPIRATION FOR TRAVELS IN THE USA
Did you find this article informative? Pin it for later reference!