A 10-day Scandinavia itinerary will barely scratch the surface of everything there is to do in this spectacular part of the world.
But in ten days in Scandinavia, you can definitely make a decent dent in the highlights on offer in the three capital cities — Oslo, Stockholm, and Copenhagen, and enjoy some of the magnificent scenery that makes Norway a magnet for nature lovers.
Keep reading to discover the ultimate Scandinavia travel guide for first-timers!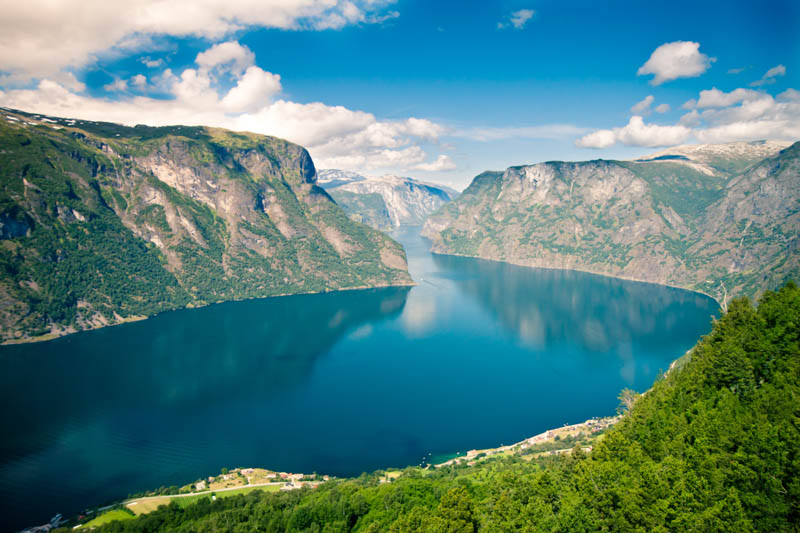 Some links on this page may be affiliate links. If you click an affiliate link and make a purchase, we may receive a small commission, at no extra cost to you. For more details, refer to our disclosure.
Depending on who you ask, the northern European region of Scandinavia can refer to just Sweden, Norway, and Denmark, or these three countries plus Finland and Iceland.
This Scandinavia itinerary is restricted to the core countries of Sweden, Denmark, and Norway, but with another day or two, you can also cover Helsinki, the capital of Finland.
Scandinavian countries regularly appear in top spots in lists of the happiest countries in the world. Having spent time in the region now, I can see why!
Despite the extreme variations in day lengths and rigorous winters, people here have found ways to stay cozy and content. And it helps that the region includes some of the prettiest natural environments on the planet.
We just can't get enough of this beautiful part of the world, and once you visit, you'll want to return too!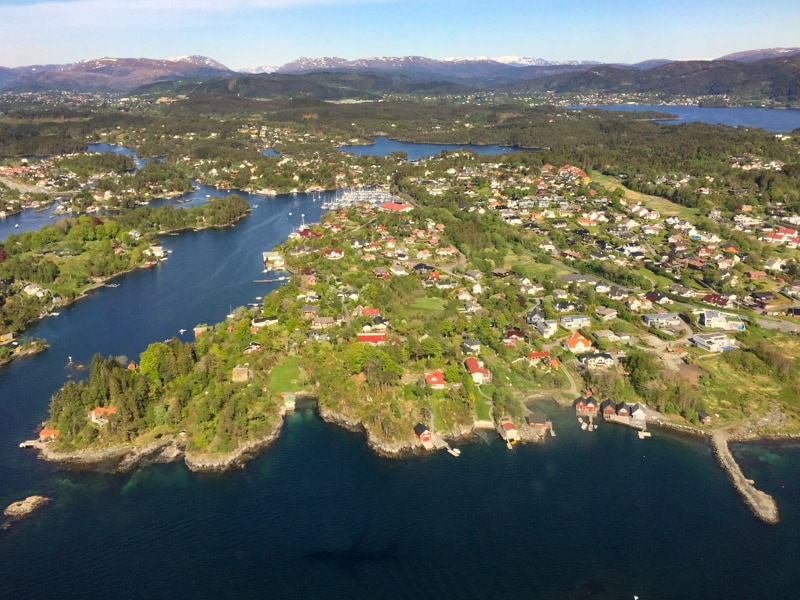 Scandinavia Itinerary for FIRST-TIME INDEPENDENT TRAVELERS
Scandinavia's history goes back all the way to the Stone Age! The pagan Vikings populated the region from the 8th to the 11th centuries, and from their base in Scandinavia, conducted explorations and invasions of other parts of Europe.
Today you can learn about the Viking Age and see Viking artifacts and ships in museums around the region.
With the establishment of Christianity in the region, the Viking age came to an end, and monarchies were established in Sweden, Denmark, and Norway.
Today these three countries are parliamentary democracies, with strong economies.
Scandinavia boasts spectacular scenery and vibrant cities. You can experience the midnight sun here, and the Northern Lights.
If you haven't visited yet, it's time to start planning a Scandinavian holiday! It's one of the best ways to spend 10 days in Europe.
Here is how to enjoy the best of Scandinavia in just 10 days:
Day 1: Arrive in Copenhagen, Denmark, tour Copenhagen
Day 2: See more of Copenhagen; fly to Stavanger, Norway
Day 3: Tour Stavanger and hike Pulpit Rock
Day 4: Travel to Bergen; tour Bergen
Day 5: Tour Norway fjords; ride the Flåm Railway
Day 6: Travel to Oslo; tour Oslo
Day 7: See more of Oslo
Day 8: Travel to Stockholm; tour Stockholm
Day 9: See more of Stockholm
Day 10: Say goodbye to Scandinavia!
Days 1 and 2: Enjoy the best of Copenhagen, Denmark
Kick off your 10-day Scandinavia trip by traveling on day one to Copenhagen, the capital of Denmark.
A lively city with insanely good gastronomic options and a variety of sightseeing choices, Copenhagen will draw you in from the get go. It's definitely one of the best places to visit in Scandinavia!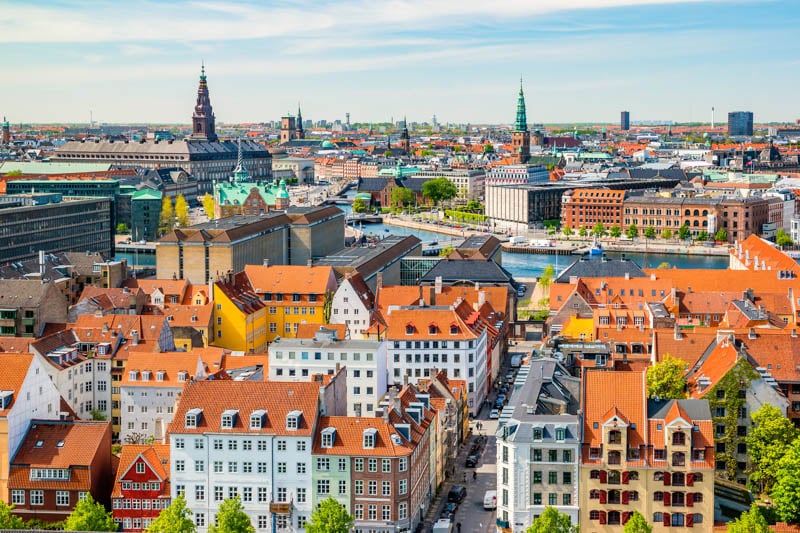 Getting in
It's easy to fly into Copenhagen airport from most international destinations. The airport is not too far from the city center, and you can take the metro or train, or a taxi if you have lots of bags.
You can also arrive in Copenhagen by train, bus, or ferry, depending on where your travel originates.
Getting around
The public transport system in Copenhagen is very efficient. The metro, trains, and buses are convenient options to get where you want to go.
The Copenhagen Card includes unlimited public transport for the duration of the card, along with free admission to a host of attractions. Get the voucher ahead of time and exchange for the card at the airport!
You can also buy a City Pass, just for public transport. And of course, you can also walk to most places within the city center, or rent bikes.
What to see and do
Whether you love history, art and architecture, great views, the waterfront, theme park rides, or shopping, Copenhagen has you covered.
If you arrive late in the day, just settle in and relax on day one, and follow my one-day Copenhagen itinerary on day two, to cover the best of the city.
If you arrive early, complete the one-day itinerary on day one, and pick from some of the "with more time" options for your second day.
Must not miss
If you're into royal history and regalia, you'll be spoiled for choice in Copenhagen.
Visit Rosenborg Castle, home to the Crown Jewels. Or Amalienborg Palace, the current royal residence and venue for the Changing of the Guard. Or Christiansborg Palace, with its famous Queen's Tapestries and the Royal Stables.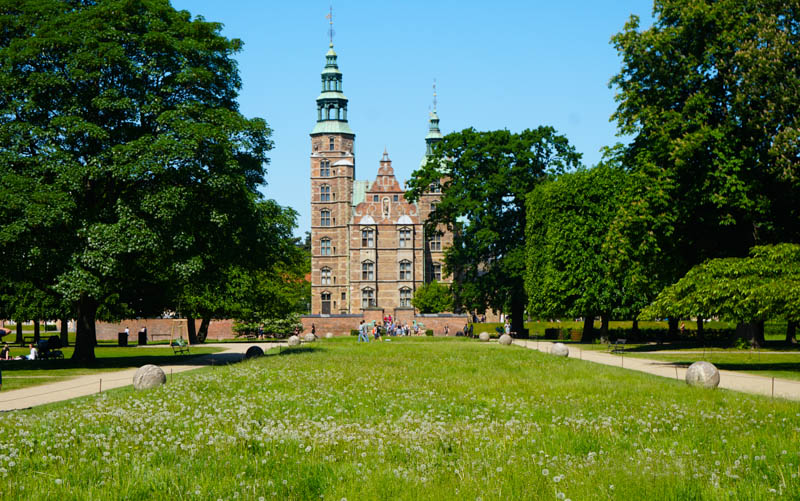 If you love climbing towers, head to Rundetaarn. The spiral ramp is an easy walk, and from the top you get great views of the city rooftops.
Foodies will want to allow time for this highly-rated and popular half-day food plus walking tour. Sample cheeses created in conjunction with Michelin-star chefs, and smørrebrød, among other delicacies.
To take in great city views from the water, enjoy a canal cruise from Nyhavn. The waterfront is also a great place to hang out and people watch, and a canal cruise is a great way to see the sights from the water.
If your budget allows, opt for this more expensive but much more personalized cruise: we loved it.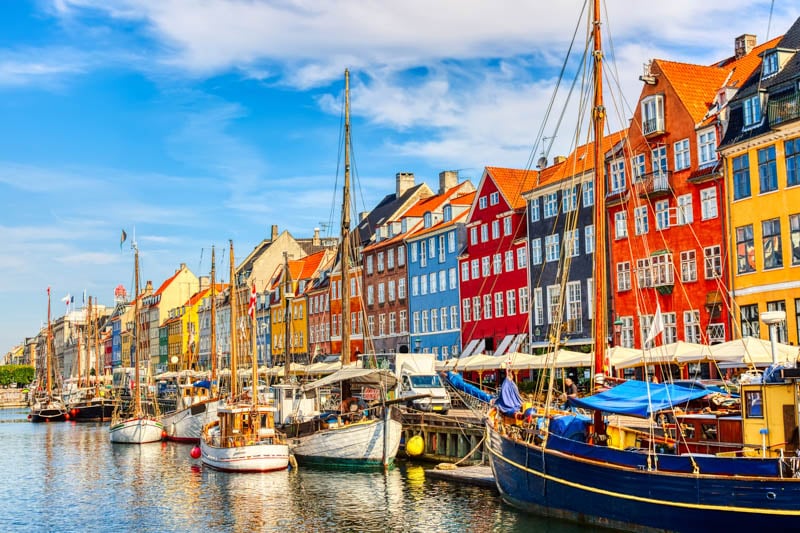 For some great retail therapy, make your way to Strøget, one of Europe's longest pedestrian shopping streets. While you'll find the likes of Prada and Gucci here, you'll also find more pocketbook friendly options like H&M and Zara.
Tivoli Gardens is a must-visit, whether you enjoy theme park rides or not. For the best experience, visit after dark when the lights make the park a magical place.
Gardens, fountains, and beautiful buildings make Tivoli Gardens a fun place just to walk around. Great people watching too!
Buy your Tivoli tickets in advance to save time!
Late in the evening on day one is a good time to head to the waterfront for a photo with the Little Mermaid.
The Hans Christian Andersen heroine is super popular during the day, when busloads of tourists mill around to get pictures with her.
Be sure to allow for a couple of coffee stops during your day in the city: Coffee Collective is a popular cafe with many locations.
Where to stay
Hotel Sanders is located in the heart of the city, near Nyhavn. Elegant rooms are done in Scandinavian furnishings. Comfortable beds, well-appointed bathrooms, and a cozy feel make this hotel the hygge experience in Copenhagen. Check prices and availability!
Hotel Herman K is located in the heart of the city center. Rooms are well appointed, with lots of gizmos and gadgets. Splurge on a suite for lots of room and a private terrace. Check prices and availability!
For a super special occasion splurge, consider the Nimb Hotel! Located inside Tivoli Gardens in a building that looks like a Moorish palace, Nimb Hotel features four-poster beds and luxurious bathrooms. Check prices and availability!
In the late afternoon or evening of day 2, fly to Stavanger, Norway.
Day 3: Tour Stavanger and do the Pulpit Rock hike!
The next stop on your itinerary for Scandinavia is where you'll get your first glimpse of Norway's incredible natural beauty.
Stavanger, in southwestern Norway, is not just a fun place to explore in its own right, it also makes the perfect base for a trio of Norway's most iconic hikes: Pulpit Rock (Preikestolen), the Flørli 4444 steps, and Kjeragbolten.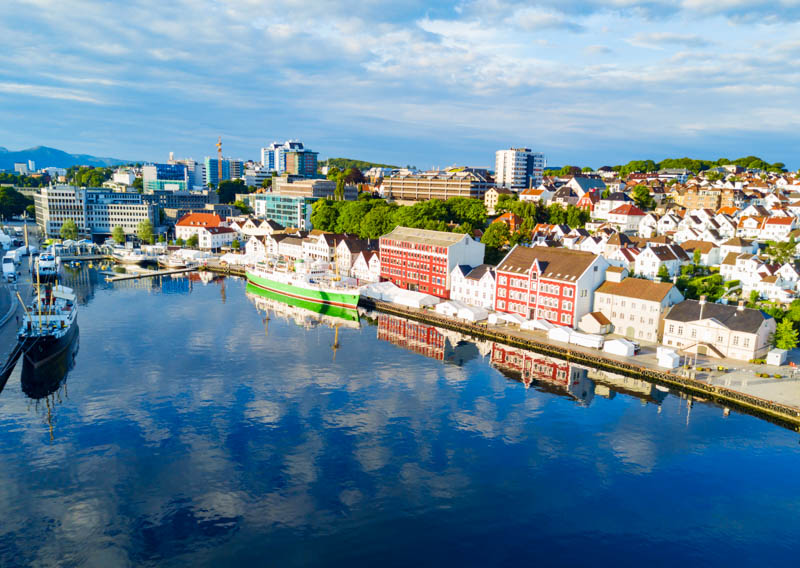 Getting in
From Stavanger airport, take the Flybussen coach into the city center or the port. The journey time is about 30 minutes.
Getting around
The city center of Stavanger is compact and walkable. You can also walk to the ferry terminal from the city center in just a few minutes.
WHAT TO SEE AND DO
Stavanger is known as the oil capital of Norway, but it is located in the heart of some of the most gorgeous scenery in Norway. What's more, its city center, Old Town, and harbor front are both historic and picturesque.
You'll spend the bulk of your day here cruising the dramatic Lysefjord and hiking Preikestolen, but pick a few things to do in Stavanger before and after.
MUST NOT MISS
Hiking to the top of Preikestolen will definitely be among your top memories from your Scandinavia trip. The view from the top of Pulpit Rock has been described as one of the most beautiful on the planet.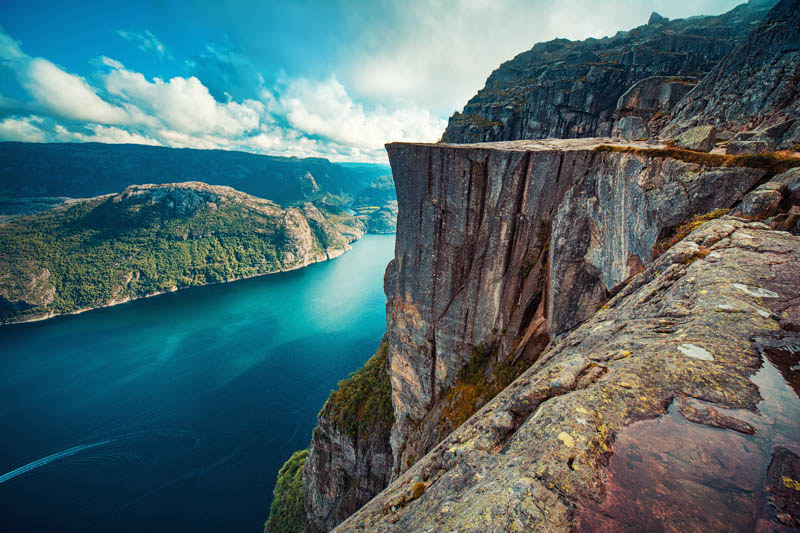 Cruising the dramatic Lysefjord en route to the trailhead for Pulpit Rock is the perfect prelude to the hike. Admire the steep walls of rock on either side as you relax on the boat and keep an eye out for mountain goats.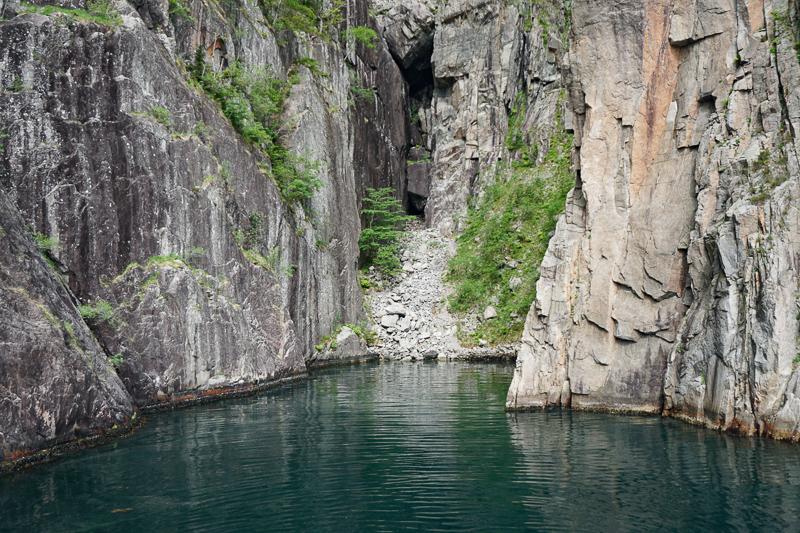 While you can do the Pulpit Rock hike on your own, you can also combine the Lysefjord cruise with a guided hike to the top of Pulpit Rock.
Check prices and availability on the guided hike to Pulpit Rock now!
If you'd rather not hike, opt for this gorgeous sightseeing tour of the Lysefjord!
See the pretty white houses of Gamle Stavanger: this is the largest collection of historic wooden houses in northern Europe. The cobblestone streets, white houses, and pretty gardens make for great photo ops.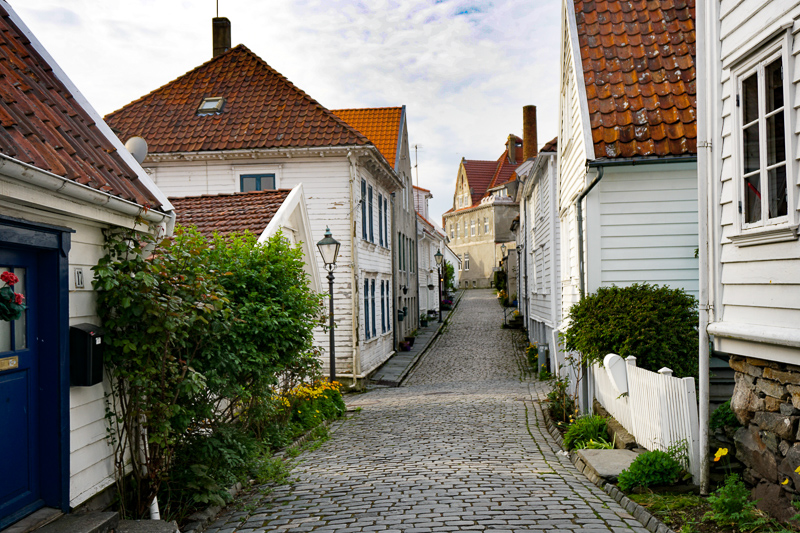 Spend the late evening relaxing on the harbor front, where you will find lots of great cafes, restaurants, and bars.
Where to stay
The Radisson Blu Atlantic Hotel is conveniently located in the city center, and is near the Old Town and the ferry terminal as well. The Flybussen airport coach stops at the hotel. Rooms are bright, beds comfy, and bathrooms modern. Some rooms have a view of the lake in the city center. Check prices and availability!
Thon Hotel Stavanger is also located in the city center. It is known for its fabulous breakfasts and super comfy beds. Check prices and availability!
Day 4: Fly to Bergen and tour Bergen
Early on day four of your Scandinavia trip, travel to Bergen, Norway's second-largest city and the gateway to Norway's spectacular fjords.
Bergen's stunning location, in the midst of tall mountains, and its history, going back all the way to the Age of the Vikings, make it a must-visit destination in Norway and a fun stop on your Scandinavia trip.
You can take a flight from Stavanger to Bergen, ride the Kystbussen express bus, or take the Fjordline ferry. Any of these options should get you in the city center by about lunch time.
My preference is the express bus, which takes about five hours and transports you from city center to city center. The scenery along the route is awesome.
GETTING IN
From Bergen Airport Flesland, you can get to the city center by light rail (Bybanen), by airport bus, or by taxi. The Kystbussen express bus drops you off in the city center. From the ferry terminal, you can take a taxi to your hotel.
GETTING AROUND
You'll be able to walk to most of the sights in and around the city center. Bergen has an excellent public transport system, so you can use the light rail or the bus if you choose a sight or an experience that's not within walking distance.
Transport and free or discounted admission to several attractions are available with the Bergen Card. You can also buy a card for only transport.
WHAT TO SEE AND DO
Bergen is beautiful. You don't even have to do anything other than just walk around to appreciate its beauty. My one day in Bergen itinerary offers ideas for seeing the best of the city in a short period of time.
Bergen is known for being one of the rainiest places on the planet, so arrive prepared. The plus side: Bergen looks gorgeous even when it's wet, and there are plenty of great museums if it's really coming down hard.
MUST NOT MISS
The Bryygen Hanseatic wharf is on the UNESCO World Heritage site list. The colorful wooden houses have been rebuilt time and again after burning down in fires.
Walk the wharf as well as the alleys that run up the hill behind the wharf for a good sense for the original Bergen.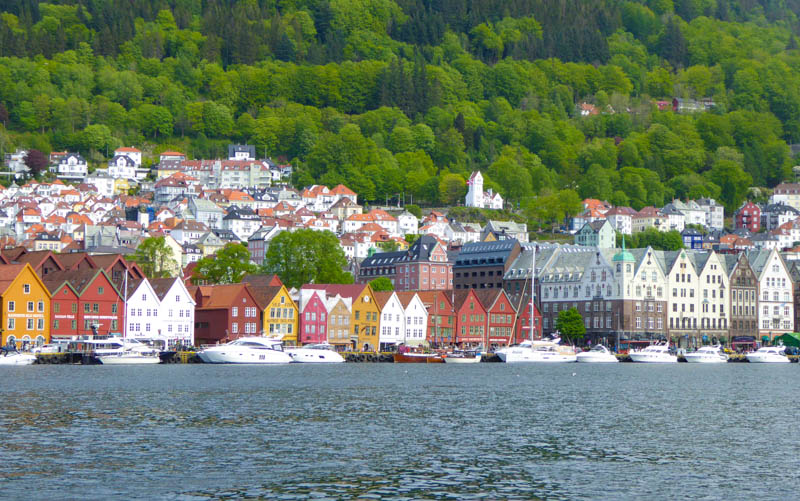 Take the Fløibanen funicular to the top of Mount Fløyen. Admire the panoramic views from the top: on a clear day, you get 360-degree views of the city, the surrounding mountains, and the fjords beyond.
Do the funicular either first thing in the morning, or late in the day; it tends to be crowded during the day in season. Go up at sunset to watch the skies change color and lights come on in the city.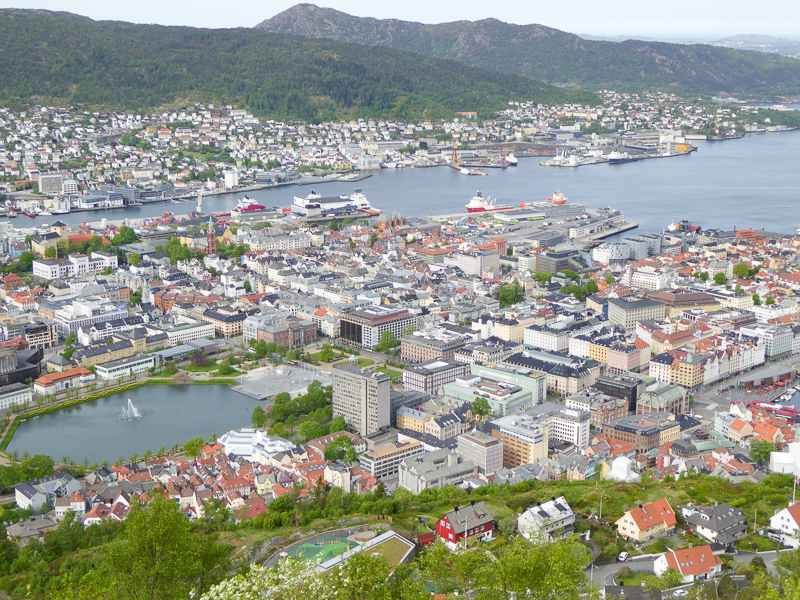 Or take the cable car to the top of Mt. Ulriken for equally spectacular views. But pick a clear day!
If you enjoy museums, Bergen offers plenty of choices. The KODE Art Museums are located in the city center, and here you can see the Edvard Munch collection, along with works by other Norwegian artists.
WHERE TO STAY
For a luxury stay, pick the Opus XVI, an Edvard Grieg Heritage Hotel located in the city center. Rooms are extremely well-appointed, and some rooms come with great views of the harbor. The train station and the stop for the airport bus are both close by. Check prices and availability!
Hotel Norge by Scandic is located in the city center, about a ten-minute walk from Bryygen. Contemporary design and furnishings give the rooms a clean look. Some rooms come with city or mountain views. Check prices and availability!
Thon Hotel Rosenkrantz is located steps from the Bryygen wharf, in the city center. They are known for their excellent buffet breakfast and fabulous coffee. Rooms come with comfortable beds and modern bathrooms. Check prices and availability!
Day 5: Enjoy the breathtaking beauty of Norway
Today you will have the opportunity to travel through some of Norway's prettiest scenery, by train, bus, and cruise boat.
Depart early so you have plenty of time to get to Myrdal, your final destination for the day, while enjoying the beauty of the Norwegian landscape.
The journey from Bergen to Oslo through Norway's fjords is marketed as a packaged self-guided tour (the original tour is called Norway in a Nutshell), where all the bookings are made for you.
You can make the reservations individually on your own as well, and save some money.
While the tour is pricey, it takes you through some of the best scenery in Norway. It's one for the bucket list!
Book the self-guided tour from Bergen to Oslo via the fjords and the Flam Railway now!
Your journey begins with a train ride on the Bergen Railway from Bergen to Voss. From Voss you take a spectacularly scenic one-hour bus ride to the little village of Gudvangen.
In season (generally May through September), you'll see roaring waterfalls and experience the somewhat scary switchbacks of Stalheimskleiva, one of the steepest roads in Europe.
Travel by cruise boat from Gudvangen to Flåm. Your cruise will take you through two of Norway's most magnificent fjords: Aurlandsfjord, and Nærøyfjord, which is on the UNESCO World Heritage site list. The cruise takes about 2 hours.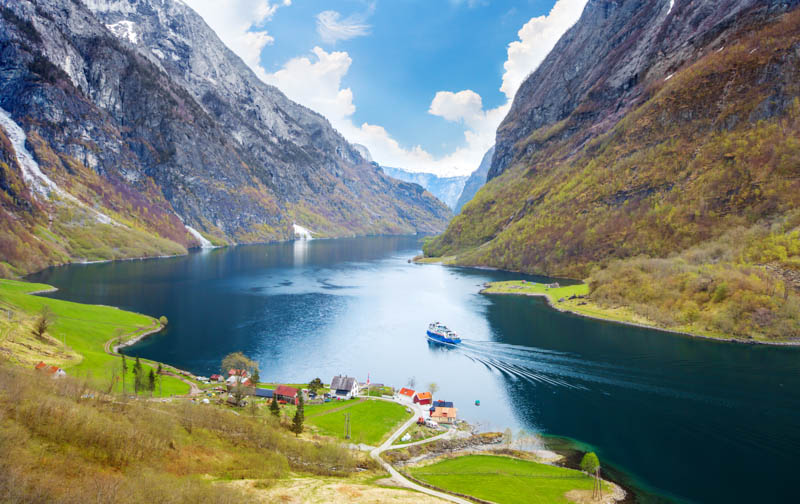 At Flåm, take the Flåmsbana to Myrdal. If you have the time, prior to departing for Myrdal, do the tour to the spectacular Stegastein viewpoint. It takes about 90 minutes, and the views from the top are stunning. Walking around the scenic village of Flåm is also fun.
The train ride from Flåm to Myrdal on the Flåmsbana is considered one of the most scenic train journeys on the planet, and rightfully so.
Over the course of approximately one hour, the train takes you from the village of Flåm, located at sea level, to the mountain village of Myrdal, located over 2,800 feet above sea level!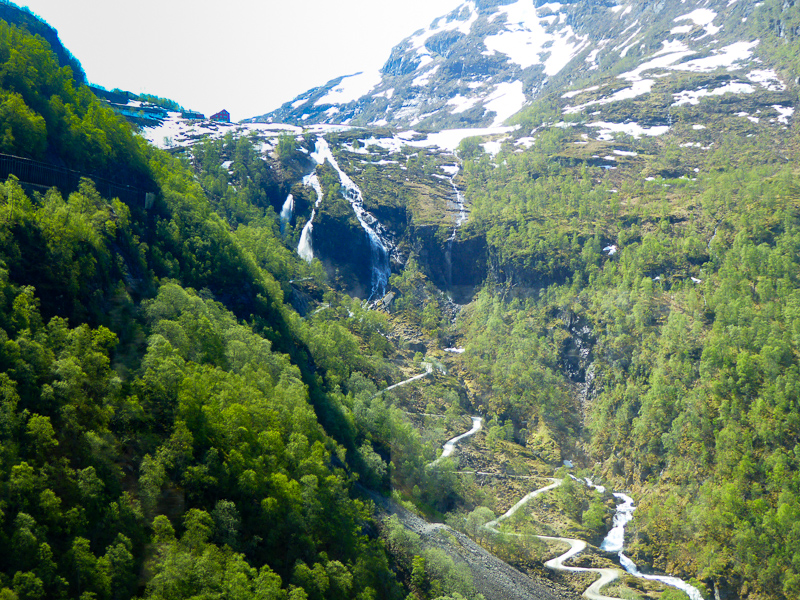 Along the route, you will witness some of the most gorgeous scenery in Norway, with roaring waterfalls and verdant mountainsides on both sides. The train actually stops at a waterfall along the route!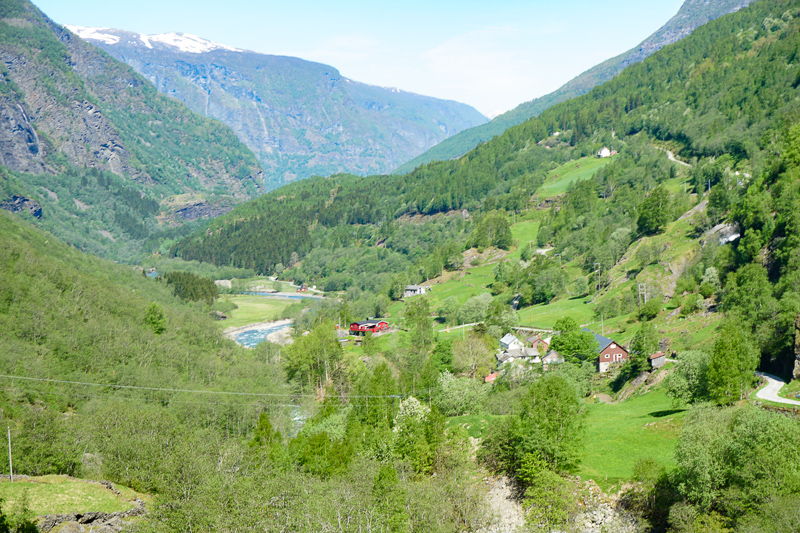 Note that you'll be bringing your bags with you. The transfers are located close enough to one another that you won't be walking with bags over long distances, and there is storage in the buses, trains, and boats. Packing light is a great plan!
If you like, you can opt for this hassle-free tour from Bergen that includes the Nærøyfjorden, Flåm, and Stegastein. The 11-hour tour returns to Bergen, from where you can fly or take the train to Oslo.
WHERE TO STAY
Vatnahalsen Høyfjellshotell has a stunning location at the head of the Flåm Railway, and is accessible only by train. Rooms have mountain or water views from large windows, and a breakfast buffet is offered. This charming hotel offers a great opportunity to stay right in the midst of the wild beauty of Norway. Check prices and availability!
Days 6 and 7: Travel to Oslo, tour Oslo
Today you will continue your journey through Norway with a scenic train journey from Myrdal to Oslo.
If you enjoy hiking, the Vatnahalsen Høyfjellshotell offers access to hiking routes in the area, and you could do a morning hike before you take the train to Oslo.
If hiking isn't your thing, take a morning train to Oslo, and spend some time touring Oslo in the evening.
From Myrdal to Oslo, you will travel on the Bergen Railway. This journey takes about 5 hours on a high-speed train. The trains are clean and very comfortable. There is a restaurant car on the train.
You will travel through the beautiful Norwegian landscape, passing mountains and valleys, glaciers and streams, waterfalls and forests, farms and little villages.
GETTING IN
Oslo Central Station is located in the heart of the city, and you can take a taxi to your hotel if you have bags.
GETTING AROUND
Many attractions are within walking distance. You can also rent bikes and zip to your destinations. If you need to venture farther afield, Oslo also has an efficient public transportation network consisting of buses, trams, trains, ferries, and the metro, run by Ruter.
The Visit Oslo Pass includes free public transport for the duration of the card.
WHAT TO SEE AND DO
The capital city of Norway is known for its many beautiful buildings and lively waterfront.
Our one day in Oslo itinerary offers suggestions for some of the best things to do in the city.
Oslo offers a variety of indoor and outdoor activities. If you enjoy museums, you'll be spoiled for choice in Oslo. If you love architecture, walking around the city will enable you to admire many stunning examples of modern architecture.
If you enjoy being outdoors, explore parks, walk the waterfront, or get to know some of Oslo's trendy neighborhoods.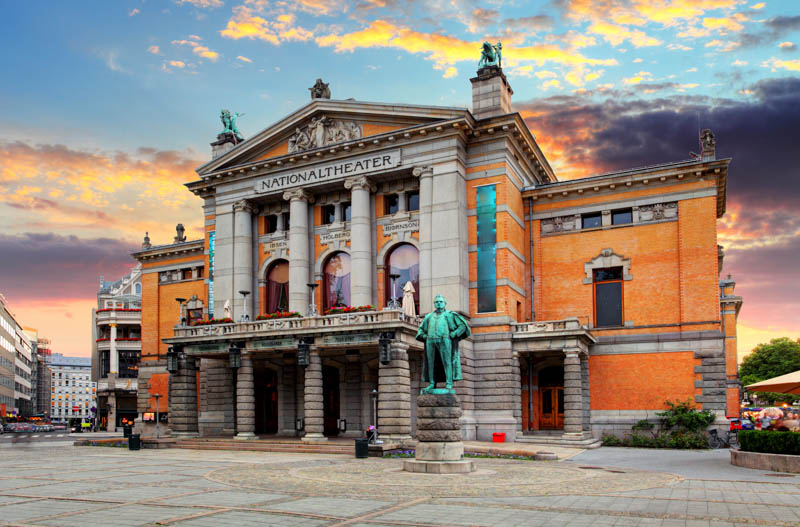 MUST NOT MISS
Cruising the Oslo Fjord is a popular activity in the Norwegian capital.
Exploring Vigeland Park should definitely be on your list of things to do in Oslo. The largest sculpture park by a single artist, Vigeland Park contains more than 200 sculptures.
The sculptures span young to old folks, individuals and families, and different genders. Truly a fascinating place if you love art!
Frogner park, which contains the sculpture park, also has a rose garden that looks beautiful when in bloom.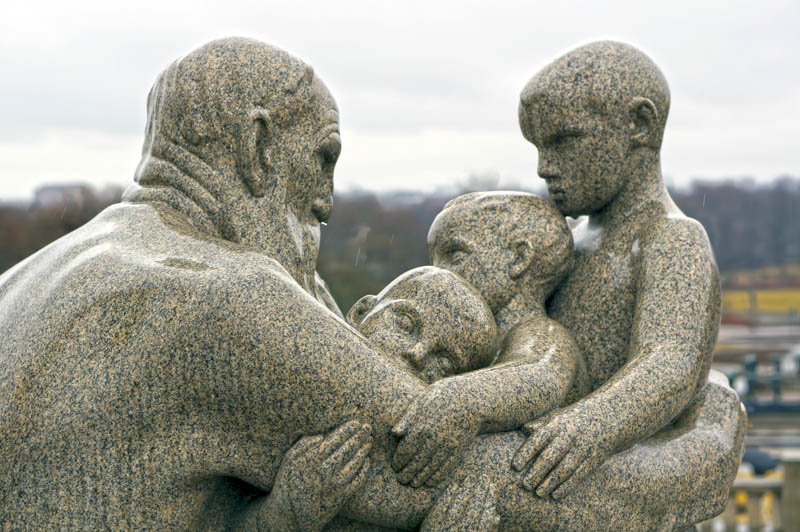 Akershus Fortress served as a defense for the city, but eventually became a castle and royal residence, and is today a museum. Visit for the history and the fabulous views over the harbor.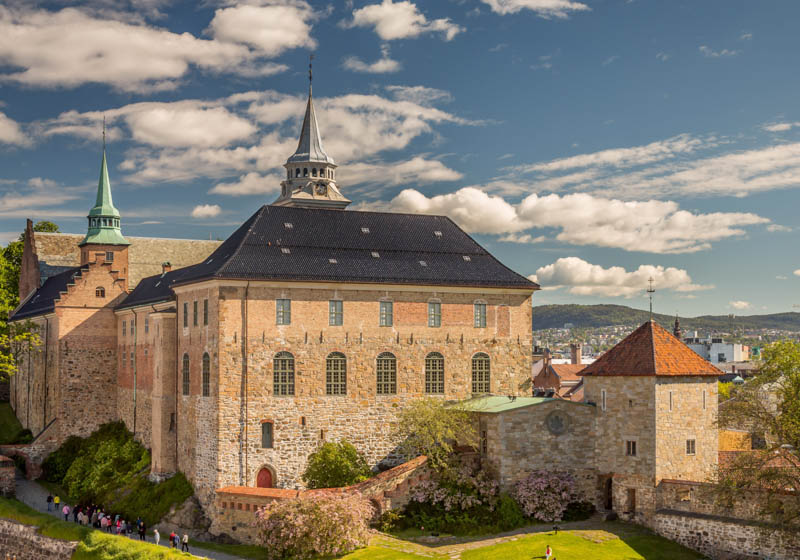 If you are a museum buff, head to the Bygdøy peninsula, where you can visit the famous Viking Ship Museum. This unique museum houses three Viking ships and lots of artifacts from the Age of the Vikings.
Note: The Viking Ship Museum is currently being restored and will not re-open until 2025 or 2026. Visit the Fram Museum or the Norwegian Maritime Museum instead.
Also on the peninsula is the fun and popular Kon-Tiki Museum, where you can view the balsa wood raft of famous Norwegian explorer Thor Heyerdahl, who used it to sail from Polynesia to Peru in 1947.
Strolling Karls Johans Gate is also a must-do in Oslo, as is visiting the buzzy Aker Brygge and Tjuvholmen areas in the evening.
WHERE TO STAY
Hotel Continental is a 5-star property located in the heart of the action. Featuring gorgeously designed public spaces, classy rooms with super comfortable beds, and a wonderful breakfast spread, Hotel Continental is a great place to stay in Oslo. Check prices and availability!
Amerikalinjen is located across the street from the train station. This hotel features beautifully designed rooms, modern bathrooms, and cozy public spaces. Check prices and availability!
Hotel Bristol is also well-located in the city center, about one-half mile from the Central Station. Rooms are elegantly appointed in a classic style and rich furnishings. Breakfast is exceptional. Check prices and availability!
Days 8 and 9: Travel to Stockholm, tour Stockholm
On Day 8, take an early morning flight or a fast train to Stockholm, the capital of Sweden. Stockholm is one of my most favorite Scandinavian cities, and no matter how many times we visit, I can't wait to go back.
You will love Stockholm's charming neighborhoods, vibrant shopping streets, bakeries and restaurants, and gorgeous architecture.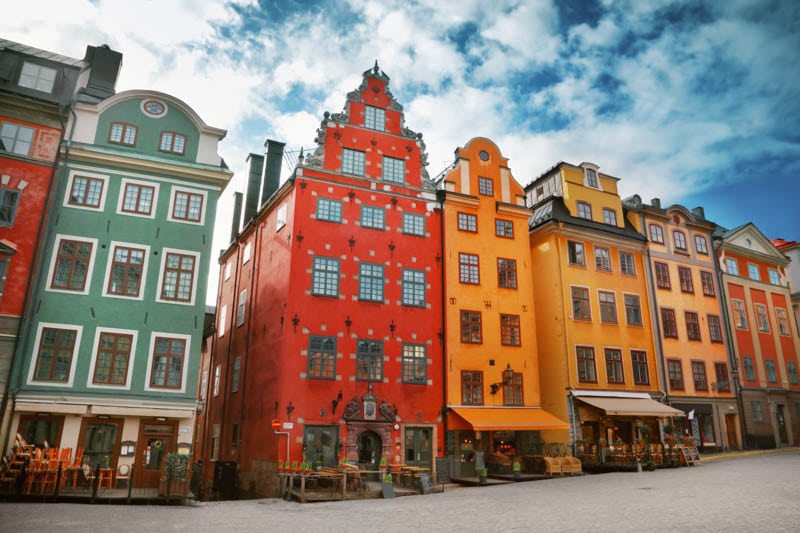 GETTING IN
From Arlanda Airport, you can take the Arlanda Express train to Stockholm Central Station, or the Flygbussarna, coaches that take you from the airport to one of three different endpoints in central Stockholm depending on where you wish to go.
You can also take a taxi to your accommodation. Be aware that taxis in Stockholm are not regulated so pick a service that advertises a fixed rate.
If you arrive by train, Stockholm Central Station is right in the heart of the city.
GETTING AROUND
Stockholm's public transport system is efficient and convenient, and you can get pretty much everywhere using public transport. We used the Stockholm metro (the Tunnelbana or T-bana) extensively when we visited Stockholm recently for a week. Stockholm's public transport company runs the city's metro, trains, buses, and ferries.
While the Stockholm Pass offers free or discounted admission to many major Stockholm attractions, it does not include public transport. If you plan to use public transport for more than just a couple of journeys, consider getting a Travelcard.
Of course you can walk to many attractions within the city center, and bikes are an option as well.
WHAT TO SEE AND DO
Stockholm has a wide variety of fun activities and experiences on offer! On you first day in Stockholm, cover the city's most iconic sights and experiences with my one-day itinerary for Stockholm.
On your second day, you can pick from some of the many fabulous things to do in Stockholm that I've listed, after a wonderful one-week visit to the city.
From a woodland cemetery to a ride in a capsule to the top of the largest globe on the planet, you'll find lots to keep you occupied in Stockholm.
MUST NOT MISS
Gamla Stan, Stockholm's Old Town, is an exquisitely-preserved historic center.
Wandering the cobblestone streets, drinking in the beautiful gold facades, and enjoying the lively atmosphere, is one of the must-dos when you visit the Swedish capital.
But Gamla Stan is also home to several historic sights.
A walking tour of Gamla Stan is a very worthwhile activity, to learn about the history and the context of what you see here!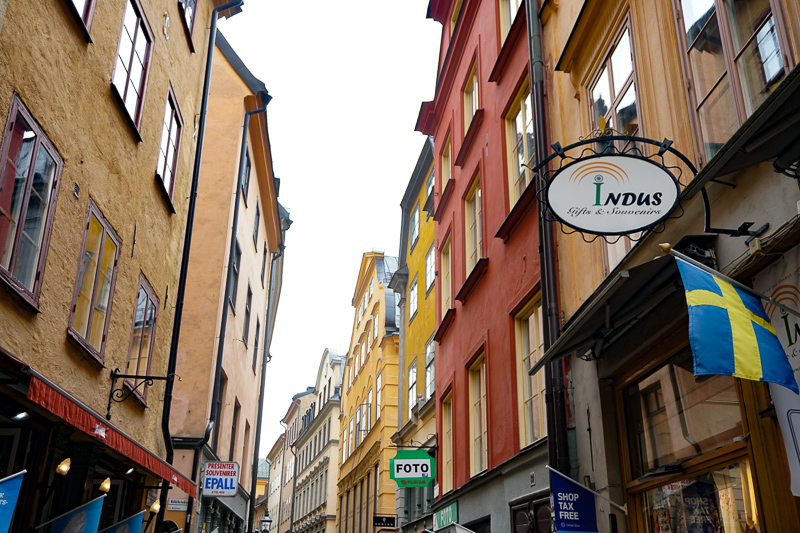 Stockholm's Royal Palace (right next to the Old Town) is very beautiful, but take the ferry to Drottningholm Palace on your second day: not only is the palace stunning, but the grounds are gorgeous.
Drottningholm Palace makes for an amazing full or part day trip from Stockholm.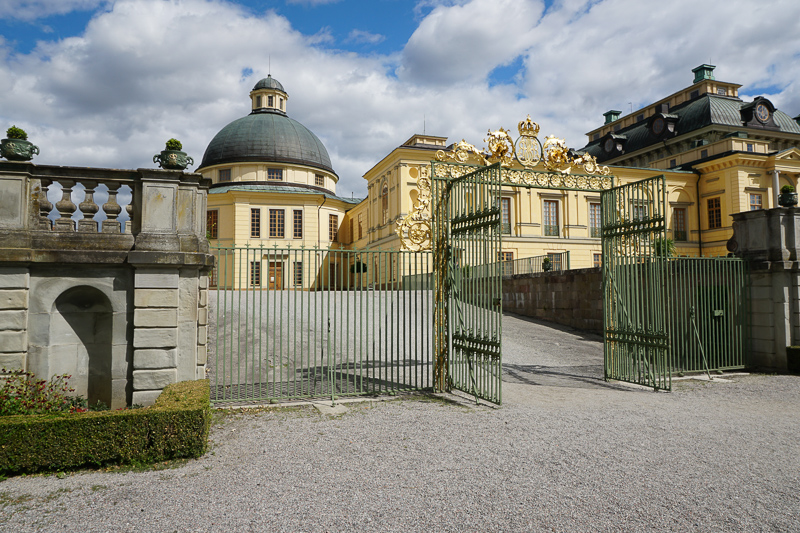 The Vasa Museum houses the restored historic ship Vasa, which sank on its maiden voyage. It was salvaged a few decades ago, and is now on display in the museum. If you have time for just one museum in Stockholm, the Vasa Museum should be the one!
One of the most unique things to do in Stockholm, especially if you are a lover of art, is a tour of Stockholm subway art. I was blown away by the scale, variety, and depth of artistic offerings in Stockholm's metro stations, many with underlying messages as well.
WHERE TO STAY
The Lydmar Hotel is located on the waterfront in the city center. The boutique property is a blend of traditional and modern for an elegant vibe. Rooms are reasonably spacious and bathrooms modern. Check prices and availability now!
At Six has a fabulous location in the heart of the city in the Norrmalm neighborhood. Contemporary design, spacious rooms, nice bathrooms, and super comfy beds make At Six a great choice in Stockholm! Check prices and availability now!
The Bank Hotel is in the upscale neighborhood of Östermalm, just a few minutes from the city center. Understated luxury describes the rooms, and the bathrooms are modern and well-appointed. Check prices and availability now!
Day 10: Say goodbye to Scandinavia!
Sadly, today, it's time to say goodbye to Scandinavia, and fly home or move on to your next travel destination. I am sure you will want to return, to explore more of Scandinavia.
7-Day Scandinavia Itinerary
If you have just 7 days to spend in Scandinavia, you have some options. As an example, you can restrict yourself to the three capital cities of Oslo, Stockholm, and Copenhagen.
Fly into Copenhagen and out of Oslo, and either take flights or fast trains between cities. There's plenty to keep you occupied in each of these cities for two days apiece. On day 7, depart to your next travel destination or return home.
A 7-day Scandinavia itinerary that includes some of the Norwegian countryside is also doable, but you would be giving up one of the three capital cities.
For an itinerary that excludes Oslo, for example, fly into Bergen on day one and tour Bergen for the rest of the day. On day 2, travel through Voss, Gudvangen, Flåm, and Myrdal, returning to Bergen.
On day 3, fly to Stockholm, and tour Stockholm. Spend day 4 seeing more of Stockholm. On day 5, travel to Copenhagen and tour Copenhagen. On day 6, see more of Copenhagen. On day 7, say goodbye to Scandinavia!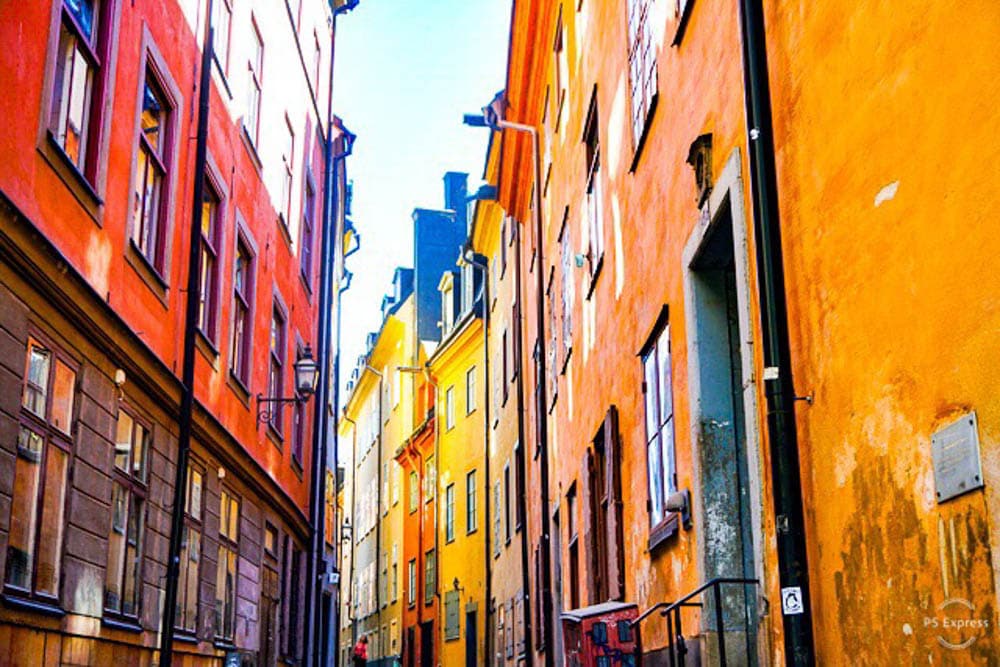 12-Day Scandinavia Itinerary
With a 12-day Scandinavia itinerary, you can add one day in Helsinki, Finland's capital, and, if you take the night ferry from Stockholm to Helsinki and back, you can add another day trip of your choice at the appropriate point in your itinerary.
From Copenhagen, for example, you can do a guided tour to Kronborg and Frederiksborg Castles, or you can hop over to Malmö and Lund in Sweden. There are so many day trips from Copenhagen from which to choose!
From Stockholm, you could visit the university town of Uppsala, or the UNESCO protected Viking trading post of Birka.
There's plenty you can do in Helsinki in one day! The city center is compact, and you can see Senate Square, pop into the Helsinki Cathedral, browse the stalls at Market Square, ride the Helsinki Skywheel, and view the red Uspenski Cathedral.
You can also take the ferry to the Suomenlinna fortress, a UNESCO World Heritage Site.
Take the night ferry from Stockholm to Helsinki and back, to save on hotel costs.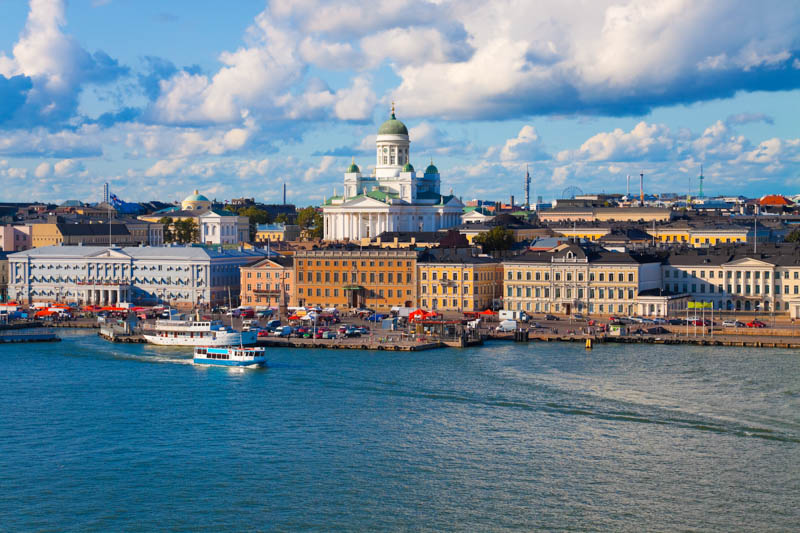 The best time to visit Scandinavia
Late May through mid-September is the ideal time to visit Scandinavia. You'll have reasonable temperatures and really long days, so you can see and do a lot each day.
But bear in mind that during this peak time of year, you will have to contend with a higher volume of visitors, as well as higher prices in an already expensive part of the world.
The first part of May and mid-September through mid-October can also work, although you'll have to pack extra layers. Rain gear is always recommended, no matter what time of year.
In the spring, everything is lush green, and in the fall, when the leaves change color, you will love wandering tree-lined streets.
Unless you are traveling to enjoy winter sports, wish to see the Northern Lights, or enjoy the holiday markets, I would not plan a first visit between November and February, because the days are so short.
But if you love visiting winter wonderlands, Scandinavia definitely fits the bill. Pack smart and you can enjoy both the indoors and the outdoors.
*****
So there you have it: the ultimate 10-day itinerary for beautiful Scandinavia. If you enjoy cruises, a Northern Europe cruise is a great way to get introduced to this beautiful region.
Have you been to Scandinavia? Comment below to let me know how you enjoyed it! If you haven't yet visited, I do hope you will add Scandinavia to your travel plans!

MORE FUN DESTINATIONS IN EUROPE
Spain: The Perfect 3-Day Itinerary for Seville
Italy: The Best Day Trips from Sorrento
Germany: One Day in Rostock
Poland: A Self-Guided Walking Tour of Gdansk Old Town
Slovenia: The Best Things to Do in Lake Bled
WONDERFUL DESTINATIONS IN NORTH AMERICA
Alberta: The Best Lakes in Canada around Banff
California: One Day in Joshua Tree National Park
British Columbia: A Day Trip to Yoho National Park
Nevada: The Best Things to Do in Las Vegas
California: What to Do on a Weekend Trip to San Diego
Did you find this article informative? Pin it for later reference!