Wondering how to spend 10 days in Europe? Europe is a dream destination that includes several dozen countries, which means there are countless 10-day Europe itineraries you can craft, depending on where you want to go and how slow or fast-paced you want your trip to be.
On a 10-day Europe trip, you can tour one country, or combine two or three neighboring countries. You can zip between two or three European cities, or pick a region to explore.
You can even plan a 10-day Europe trip based on season! See famous Christmas markets in November and December, admire tulips in the spring in the Netherlands, see the fields of lavender in Provence in early summer, or enjoy beer in the fall at Oktoberfest in Germany.
Europe's magnificent cities, charming little towns, and historic landmarks (so many UNESCO World Heritage Sites!) make it an enticing destination for every type of traveler. The food and wine, and cultural offerings, make it even more irresistible.
And if you are wondering if it's worth going to Europe for 10 days, it absolutely is, as long as you don't try to see and do too much. Focus on just a few places and you'll have a wonderful 10-day Europe vacation!
10 days in Europe will allow you to sample some of the incredible experiences on offer in the continent, such that you'll want to return over and over, to see more and do more.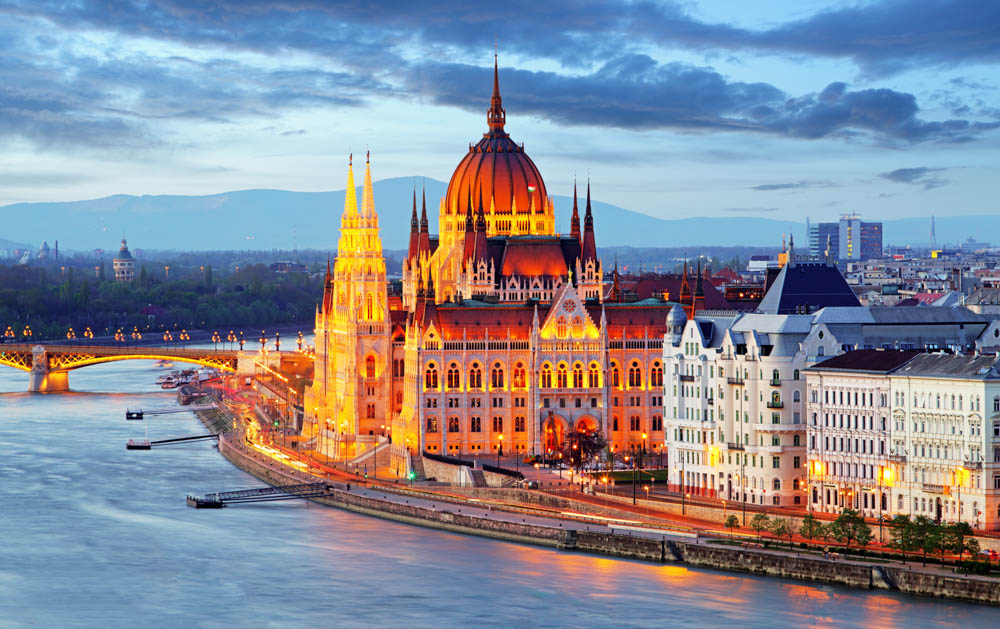 Some links on this page may be affiliate links. If you click an affiliate link and make a purchase, we may receive a small commission, at no extra cost to you. For more details, refer to our disclosure.
Best 10-Day Europe Trip itinerary Ideas!
In this article, we've teamed up with other travel bloggers to describe 25 magical 10-day Europe itineraries, to help you plan your dream trip.
While you can rent a car and do a 10-day Europe road trip if you wish, you can also reach many many destinations without the need to drive yourself.
Europe has budget airlines, an extensive rail network, and coach services that will help you craft 10-day Europe itineraries that do not require driving. Traveling Europe by train is a delightful experience.
From iconic destinations like London and Paris, Venice and Rome, and the great cities of Central Europe, to off-the-main-tourist-track Northern Europe cities, dreamy Greek islands, and the charming Croatian coast, you are spoiled for choice on where to go in Europe!
Ready to get started? Let's discover the most exciting 10-day Europe itineraries for your next trip!
Classic Italy: Venice-Florence-Rome
Italy is high up on the wish list for many travelers to Europe, and no wonder: its rich history, amazing art and architecture, and delicious food and drink make it a no-brainer on any list of best Europe itineraries.
Venice, Florence, and Rome, Italy's most iconic destinations, make the perfect combination for a 10-day Europe trip itinerary.
Here's a sample 10-day itinerary to consider!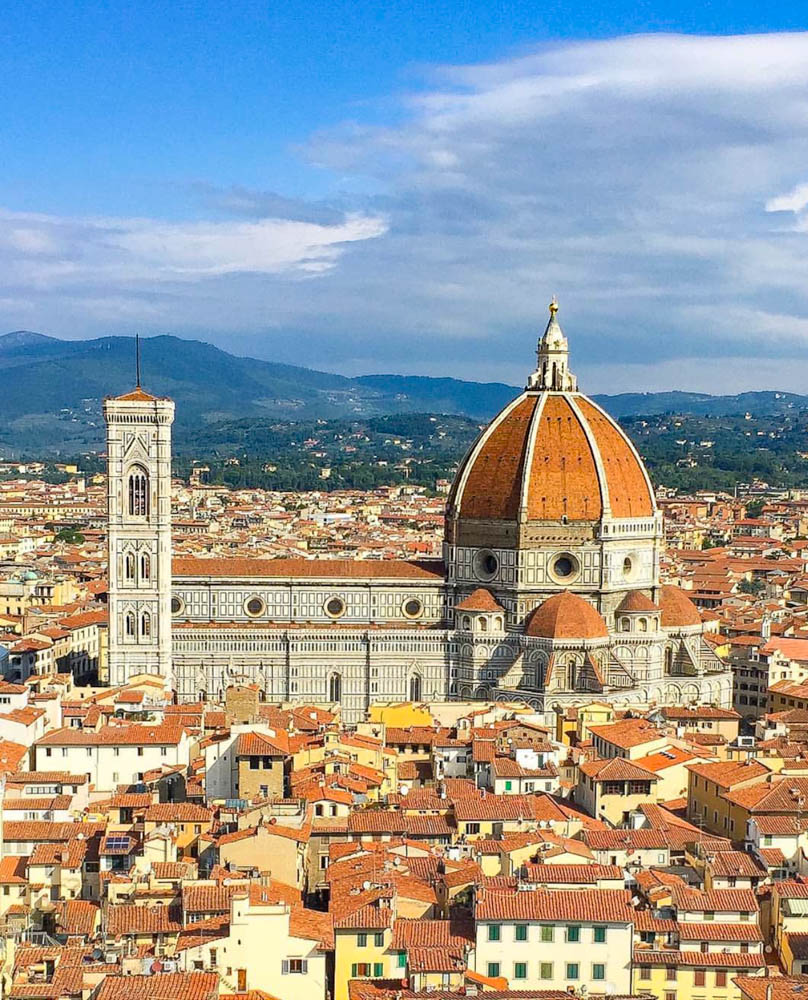 Days 1-2: Venice
Start your exploration of Venice at the famous St. Mark's Square. Visit the illustrious St. Mark's Basilica and marvel at the hallways of the Doge's Palace.
This combined guided tour of St. Mark's and the Doge's Palace is a great way to skip the lines and get lots of information as you explore.
Get lost in the charming alleyways lining the canals of this romantic city. Stop to admire the picturesque Rialto Bridge, or browse the art at the Accademia or the Peggy Guggenheim Collection. Optionally, take a meandering gondola ride down the Grand Canal.
Where to stay: Hotel Dona Palace | Hotel Monaco & Grand Canal | Bauer Palazzo
Day 3: Bologna
After a short trip by speed train, spend the day exploring the beautiful architecture of Bologna.
Spend some time in the Piazza Maggiore with its arched colonnade and medieval and Renaissance construction like the Fountain of Neptune and City Hall. Snap photos of some of the many porticos: Bologna's porticos are a UNESCO World Heritage Site.
Make sure to set aside plenty of time to eat at one of the many delicious eateries in town. After all, Bologna is the foodie capital of Italy!
A food tour with a local is a wonderful way to sample local cuisine!
Where to stay: Hotel Metropolitan | Hotel Corona d'Oro | Grand Hotel Majestic gia' Baglioni
Days 4-5: Florence
Spending two full days in the historic center of Florence is a must. Florence is one of the most walkable cities in the country, and you can see all the Renaissance highlights very conveniently.
Top attractions in Florence include the statue of David by Michelangelo, the iconic and elegant Duomo, and the Uffizi Gallery (seek out the famous painting, The Birth of Venus).
For a great food experience, explore the Mercato Centrale and try the pasta with truffle.
And do not miss watching the sun set over Firenze from Piazzale Michelangelo!
Where to stay: Hotel degli Orafi | Hotel Milu | Helvetia & Bristol
Day 6: Siena
Stop for the day in the picturesque town of Siena. With stunning views over the surrounding vineyards, it's quintessentially Tuscan.
People watch with an Aperol spritz in hand at the Piazza del Campo, the central square, after a climb up the Torre del Mangia.
Also admire the elaborate gothic architecture of the Duomo di Siena, and walk the cobbled streets to admire the pretty buildings.
Where to stay: I Merli di Ada | Grand Hotel Continental Siena
Days 7-10: Rome
Rome, the Eternal City, and what a city it is. Spending 4 days in Rome will give you a great first look at the plethora of things there are to do here.
A visit to the Colosseum, along with visits to the Roman Forum and the Palatine Hill, is one of the best things to do in Rome.
We recommend a skip-the-line tour that includes the Colosseum underground for the most complete experience.
The Vatican Museums, St. Peter's Basilica, the Trevi Fountain, the Spanish Steps, and the Pantheon are other must-visit places in Rome (and the Vatican).
Relax in the many lovely piazzas and stroll the historic heart of Rome after dark, when the monuments are illuminated!
Where to stay: The Liberty Boutique Hotel | Dharma Boutique Hotel & Spa | Little Queen Pantheon
Getting in and out
Start your trip by flying into the Marco Polo International Airport in Venice. End your trip by flying out of the Leonardo da Vinci International Airport, a 45-minute taxi ride from Rome's center.
Best Time to Do This 10-Day Europe Trip
The best time of year to visit Italy is during the shoulder months of April-May or September-October. The weather is relatively nice at these times, and while you will still encounter crowds during these months, summer months are even more busy.
Suggested by Haley from Haley Blackall Travel
If you are planning a trip to Italy, we have a round-up of more than a dozen 10 days in Italy itineraries from which to choose!
Scandinavia: Copenhagen-Oslo-Stockholm
Way up in the north of Europe, Scandinavia offers a mix of breathtaking landscapes, elegant architecture and art, historic city centers with pretty squares, museums, and churches, and a thriving dining scene. It's also a must-visit destination for design enthusiasts.
Our 10-day Scandinavia itinerary is anchored by the capital cities of Copenhagen, Oslo, and Stockholm, while also incorporating some of Norway's stunning natural scenery.
The three Scandinavian capitals are among the best cities to visit in Europe.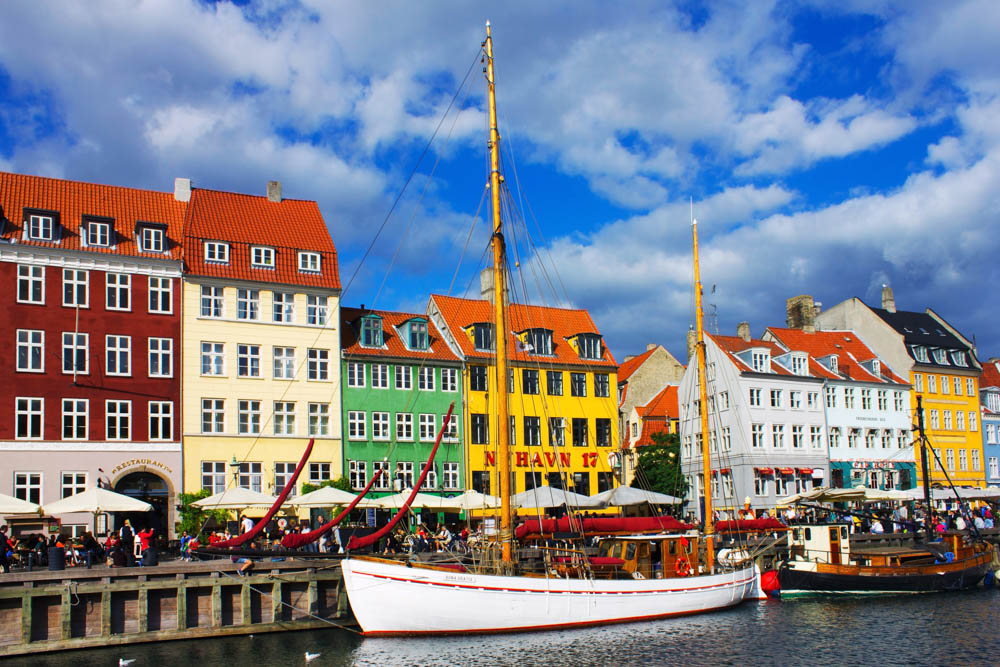 Days 1-4: Copenhagen
In Copenhagen, Denmark's capital, you will love the rides and the lights in Tivoli Gardens (buy tickets in advance). It is one of the oldest amusement parks in the world. Snap photos of the colorful facades of Nyhavn, tour Rosenborg Castle, and sample smørrebrød.
Watch the changing of the guard at the Amalienborg Palace, and look for the statue of the Little Mermaid, Hans Christian Andersen's famous young heroine.
There are also a number of excellent day trips from Copenhagen if you want to spend a day exploring beyond the Danish capital.
Where to stay: citizenM | NH Collection | 71 Nyhavn Hotel
Days 4-5: Bergen and the Norwegian Fjords
In Bergen, wander the Bryggen Hanseatic Wharf, a UNESCO site, try fresh seafood at the fish market, and take the funicular to the top of Mt. Floyen for panoramas over the city.

Enjoy Norway's spectacular beauty as you traverse the "Norway in a Nutshell" route to Oslo. En route, gape at the beauty of Norway's most stunning fjords and ride the scenic Flåm railway. Book this bucket-list experience now!
Where to stay: Bergen Børs Hotel | Thon Hotel Orion | Radisson Blu Royal
Days 6-7: Oslo
Oslo, Norway's capital, is home to Vigeland Park, with more than 200 sculptures by one artist. Tour Akershus Fortress, admire contemporary architecture in the city, and enjoy the waterfront. Oslo also has numerous museums, and a very cool opera house!
Where to stay: Hotel Bristol | Radisson Blu Scandinavia | The Thief
Days 8-10: Stockholm
Stockholm, Sweden's gorgeous capital city, is built on an archipelago. Its beautiful waterways, spectacular architecture, and colorful Old Town (Gamla Stan) will wow you.
To avoid the worst of the crowds, plan a trip in early spring or fall, when temperatures are cooler than in the summer months.
Be sure to set aside time to view the art in Stockholm's subway stations, take the ferry to tour Drottningholm Palace, and visit the tranquil woodland cemetery, Skogskyrkogården, a UNESCO World Heritage Site.
Where to stay: Radisson Blu Royal Viking | Blique by Nobis | At Six
Getting in and out
Fly into Copenhagen Airport, Kastrup. Fly out of Stockholm Arlanda Airport, about a 30-minute train ride or 30-minute drive from the city center.
Best Time to Do This 10-Day Europe Trip
Late May through mid-September is the warmest time of the year, with long daylight hours. It's also the time when you will run into more visitors in this part of Europe. You can also do mid-April to mid-May or mid-September to mid-October: pack layers.
Suggested by us
City-Hopping: Paris-London-Dublin
Paris, London, and Dublin are some of the most exciting and beautiful cities to visit in Europe. Together, they make for one of the most exciting 10 day Europe trips!
Paris and London should be on every Europe traveler's bucket list, and the picturesque city of Dublin rounds out a 10-day European tour.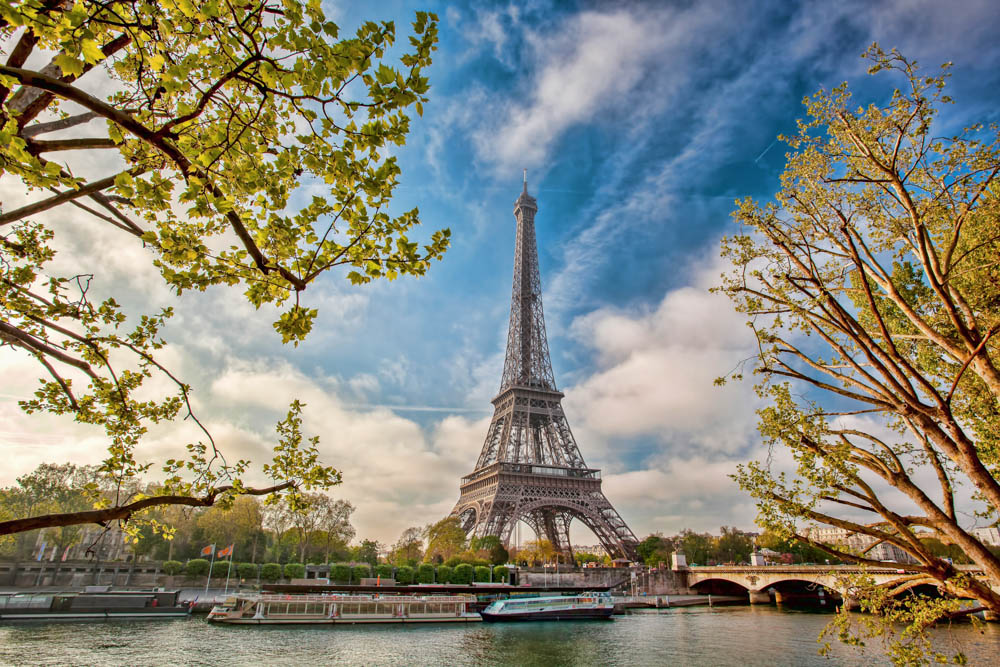 Days 1-3: Paris
Ahhh, Paris! The very name evokes romance and beauty. Visit the iconic Eiffel Tower, where you can climb the stairs all the way to the top and see all of Paris from above.
Or, if you want the Eiffel Tower in your photos, climb to the top of the Arc de Triomphe instead!
Another highlight is the Louvre Museum, where you can gaze at the Mona Lisa and the Winged Victory of Samothrace.
Other Paris must-visits include the Notre Dame Cathedral (being rebuilt after a devastating fire), the Sacré-Cœur Basilica in Montmartre, and the catacombs. Make sure to try some crepes when you are in Paris!
Where to stay: Hôtel San Régis | Le Basile Hotel | Hotel Bel Ami
Days 4-7: London
Although visitors can spend as little as a day in London, the ideal amount of time for the city is 4 days: there is so much to see and do! Visit Westminster Abbey, the Tower of London, and Big Ben, and ride the iconic London Eye.
Be sure to snap photos of the picturesque Tower Bridge!
Watching the changing of the guard at Buckingham Palace is yet another London experience you must not miss. For a dose of art and history, tour the Victoria and Albert Museum, or the British Museum, or the National Gallery.
In the evenings, enjoy exciting and free walking tours such as one about Jack the Ripper or a ghost tour to see London from a different perspective.
There are also many shows playing in the West End, and you must choose at least one to attend while you are in the city. Or watch a performance at Shakespeare's Globe. And don't forget to have afternoon tea in London!
Where to stay: The Kings Arms | The Montague on the Gardens | The Resident Covent Garden
Days 8-10: Dublin
After a jam-packed itinerary in London, take it slow by spending the last days of your 10-day Europe visit in Dublin, Ireland. Take a tour of St. Patrick's Cathedral, snap a photo at the Dublin Spire, feel tiny at the Leprechaun Museum, and drink some Irish coffee at Temple Bar.
For more experiences, visit the Guinness Storehouse Factory or see the Dublin Castle. Or opt for a day trip to see the Cliffs of Moher!
Where to stay: Stauntons on the Green | The Fitzwilliam Hotel | The Alex
Getting in and out
Fly into Charles de Gaulle (CDG) airport to begin your trip, and take a taxi or Uber to the heart of Paris.
After completing the 10-day itinerary in Paris, London, and Dublin, fly out of Dublin Airport (DUB) to return home.
Best Time to Do this Europe Itinerary
The best time for this bucket-list three-city Europe trip is late May through early August. Although this is the high season for tourists, the temperatures all around will be mild and warm.
Suggested by Pafoua from Her Wanderful World
Iceland: A Fire and Ice 10-Day Europe Trip
Iceland, known as the Land of Fire and Ice, is renowned for its raw, untouched landscapes. Without a doubt, Iceland is one of the most exciting 10-day Europe trips you can do!
By visiting this outdoor paradise nestled far into the northern Atlantic, you're all but guaranteed a once in a lifetime adventure through unique cultural enclaves, stark wilderness, and enchanting villages.
Day 1: Reykjavik
Begin your 10-day Iceland road trip in the nation's capital, Reykjavik. Be sure to hit the renowned Hallgrimskirkja for a panoramic view over the remainder of the city, join a free walking tour to familiarize yourself with key landmarks, and catch a show at the esteemed Harpa concert hall.
Day 2: The Golden Circle
Along the Golden Circle, there are three "primary" stops, including Thingvellir National Park, the Strokkur Geysir and Gullfoss (otherwise known as the golden waterfall).
If you can spare the time, also consider stopping at the hot springs in Laugarvatn, or the Friðheimar greenhouse and restaurant, where you can enjoy the tomato in many forms.
Check out this private Golden Circle tour for a hassle-free way to see the best sights if you do not want to drive.
Day 3: South Iceland
From here onward, the bulk of your Iceland road trip distance will come into play. Be sure to stop at the Sólheimasandur plane wreck, an iconic Iceland photo stop, before moving onto the Dyrhólaey Cliffside Lighthouse or the infamous Reynisfjara (black sand) Beach, and finally, the charming town of Vik.
Day 4: South Iceland
Make a quick stop at the scenic mossy canyon of Fjaðrárgljúfur before continuing onto Vatnajökull National Park for a glacier walk or to witness Iceland's scenic basalt columns.
If you don't end up spending the night in the park, you'll especially want to hit the Jökulsárlón Iceberg Lagoon and famed Diamond Beach before moving onto the eastern portion of your Iceland road trip.
Day 5: East Iceland
Stop in the highly photographed town of Seydisfjordur to capture its trademark rainbow streets and soak in the luxury Vök Baths.
Day 6: North Iceland
En route to the second largest city in Iceland, Akureyri, you'll want to visit Dettifoss, the most powerful waterfall in Europe, prior to heading toward the Myvatn Nature Baths for a quick dip.
Then, opt to either catch a whale watching tour in the sweet seaside town of Husavik or spend the afternoon on Akureyri's vibrant main street, window shopping or cafe hopping.
Days 7-8: Westfjords
You can't visit the Westfjords region without visiting the Rauðisandur red sand beach. Other points of interest include the zany Museum of Icelandic Sorcery and Witchcraft and the Drangsnes hot pots.
Hike through some of the Hornstrandir Nature Reserve. Ordinarily an overnight backpacking trek/thru-hike, this area still makes for a great day trip through some of Iceland's most unspoiled terrain.
Just ensure that you know how to pack for a day hike before embarking on the trails in this remote area!
Day 9: West Iceland
Stop at the highly popular Kirkjufell (affectionately referred to as Wizard Hat Mountain due to its quirky appearance) before making the final leg of your journey to Snæfellsjökull National Park, where you can visit the Skardsvik white sand beach and join an Icelandic horseback riding tour.
Day 10: Reykjavik
It's customary for travelers departing Iceland to stop at the world class Blue Lagoon before catching their flight out and bidding this remarkable country farewell. Book your tickets in advance to secure your spot!
Getting in and out
Arrive and depart through the Keflavik Airport in Reykjavik.
The Best Time to Visit
Summer offers long daylight hours, courtesy of the midnight sun, and warmer temperatures great for hiking and sightseeing. If you wish to see the Northern Lights, the February-March or September-October time frames offer good chances of seeing the dancing lights.
Suggested by Natasha from Planes, Trains and Karcz
Christmas Markets Europe Trip: Budapest-Prague-Vienna
A visit to the great cities of Central Europe — Vienna, Prague, and Budapest — for the holiday season is a treat. Here is the perfect 10-day Christmas market itinerary!
This trio of cities is great if you plan to visit Europe in winter, and the markets here are among the best Christmas markets in Europe!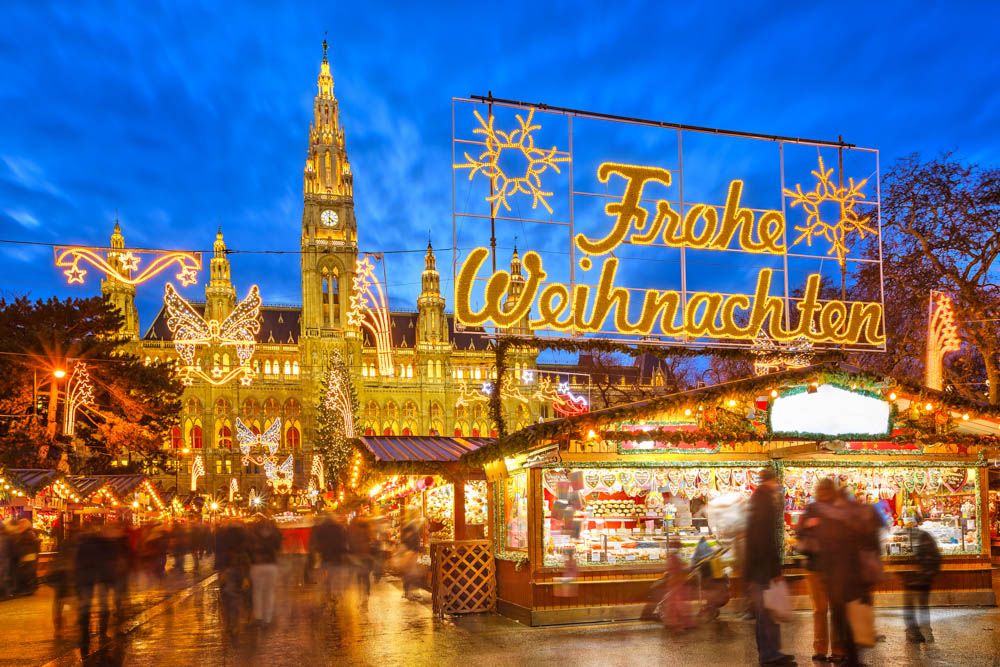 Days 1-4: Budapest, Hungary
Budapest is a thriving city with so many unique things to see! Visit the markets at St. Stephen's Basilica, Vorosmarty Square, Great Market Hall, and Deak Ferenc Street.
Enjoy tasty Hungarian treats like goulash, langos, and chimney cakes as you embrace the holiday atmosphere.
Other things to do in Budapest include visiting quirky ruin pubs like Szimpla Kert, exploring the old town, visiting Fisherman's Bastion for incredible views, taking an evening cruise on the Danube, shopping at Central Market Hall, and definitely visiting a bathhouse like Rudas Baths.
Where to stay: Kempinski Hotel Corvinus | The Ritz-Carlton Budapest | Prestige Hotel Budapest
Days 5-7: Vienna, Austria
Vienna certainly feels like the Capital of Christmas with markets on every corner!
Some favorites include the main market on Rathausplatz, Christmas Village & New Year's Eve Trail on Maria-Theresien-Platz, Am Hof Christmas Market, Christmas Market on Stephansplatz, and Freyung Christmas Market.
Aside from markets, a visit to Vienna isn't complete without enjoying its cafe culture in places like Cafe Demel or Cafe Central. Tasting sacher torte is a must!
Check out our detailed 3 days in Vienna itinerary to plan your trip!
A visit to the Spanish Riding School to see the Lipizzaner stallions is also a delight.
Vienna is a city full of palaces, so you'll definitely want to check some of them out during your stay: Schonbrunn Palace (one of the most magnificent palaces in Europe!), Hofburg Palace, and Belvedere Palace are must-visits. These palaces have their own Christmas markets too!
If you have time, you could also take a day trip to Bratislava for the day, to enjoy the small city and explore their markets.
Where to stay: The Ritz-Carlton Vienna | Steigenberger Hotel Herrenhof | Grand Hotel Wien
Days 8-10: Prague, Czech Republic
To wrap up your trip, head to Prague and its Christmas markets. The city really shines in the holiday season, from the market in Old Town Square to the market in the sprawling Prague Castle grounds.
Fill up on comfort foods at the markets: you'll find sausages, Moravian cake, Prague ham, and, of course, mulled wine.
Things to do in Prague include going on a food tour around the city, soaking in a bathtub full of beer at a beer spa, wandering along Charles Bridge and the Old Town, and admiring the Astronomical Clock.
Where to stay: The Mozart Prague | Ventana Hotel Prague | Grandium Hotel Prague
Getting in and out
For this itinerary, you should fly into Budapest and fly home from Prague. Then, you take the train between the cities.
Best Time to Do this Europe Itinerary
Obviously, this itinerary is best during the holiday season, so from the end of November until just before Christmas, as many markets close around December 23.
Suggested by Kat from Worldwide Honeymoon
10-Day Europe Itinerary for Germany-Austria-Switzerland-Liechtenstein
Explore Central Europe on this amazing 10 day itinerary through 4 countries!
See the best of southern Germany, enjoy a touch of Mozart in Austria, get an introduction to the Swiss Alps in Switzerland, and do a day trip to Liechtenstein, one of Europe's smallest countries!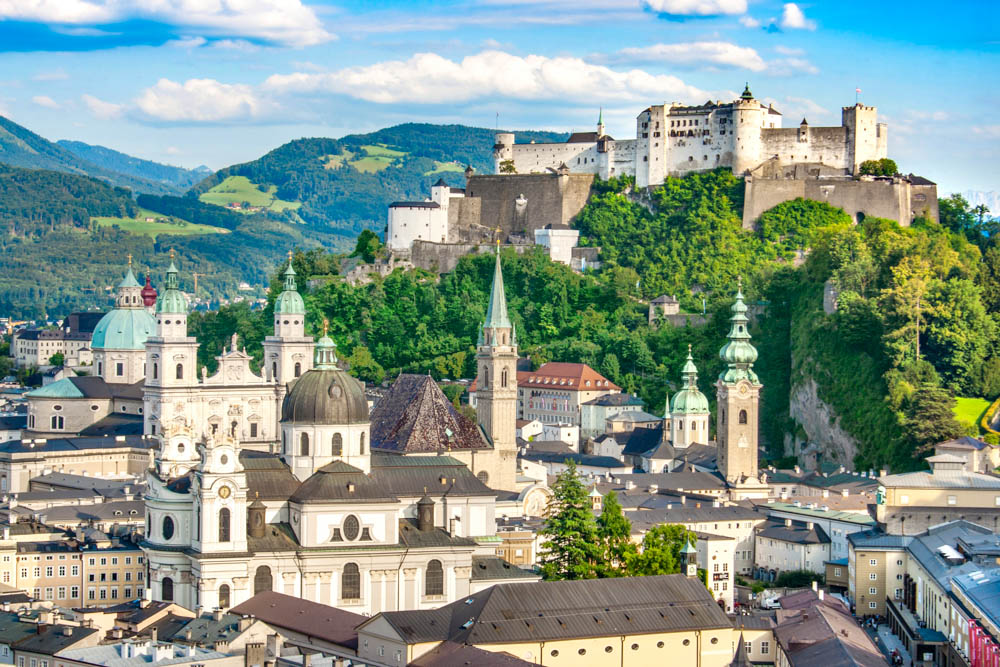 Day 1: Salzburg, Austria
To start off you 10-day Europe holiday, spend the day exploring Wolfgang Amadeus Mozart's hometown. Don't miss Hohensalzburg Fortress, the Mirabel Palace Gardens, and Mozart's birthplace.
If you enjoy classical music, Salzburg is a great place to take in a concert, whether in a historic concert hall or in a local church.
Day 2: Berchtesgaden, Germany
Get a taste for the Bavarian Alps. Visit Berchtesgaden National Park, gliding across the Konigssee to see St Bartholomew's Church. Next, head to the Eagle's Nest for an incredibly scenic late lunch from a building that used to be Adolf Hitler's mountaintop chalet.
Days 3-4: Munich, Germany
Explore Munich to its fullest. Eat at the legendary Hofbrauhaus, tour the Munich Residence or Nymphenburg Palace, stroll through the English Garden, tour the Dachau Concentration Camp Memorial Site, watch the famous glockenspiel in Marienplatz, and be astounded at the BMW Museum.
Day 5: Nuremberg, Germany
Nuremberg is a must-do day trip from Munich. World War II history buffs will love Nuremberg's Documentation Center at the Former Nazi Party Rally Grounds. Everyone will enjoy the medieval Kaiserburg Castle in the Old Town.
Day 6: Neuschwanstein Castle in Fussen, Germany
It's an easy day trip from Munich, so go visit the famous fairytale castle that inspired Disney!
Day 7: Zurich, Switzerland
Take a bus from Munich to Zurich, and spend the rest of the day exploring Zurich. Climb the Grossmunster Church tower for amazing views over the city or just relax by the lake. Don't miss Zurich's famous luxury shopping district, the Bahnhofstrasse.
Day 8: Lucerne, Switzerland and Mt. Pilatus
Take the golden tour of Mt. Pilatus and see the mountain via boat, cogwheel train, and cable car gondola. Afterwards, stroll the streets of Lucerne and soak in some history and art at the Chapel Bridge, the Lion Monument, and the Old City Walls.
Day 9: Liechtenstein
On a day trip to tiny Liechtenstein, admire Gutenberg Castle in Balzers or the Crown Prince's castle in Vaduz. Don't forget to get your passport stamped at the Liechtenstein Tourism Office!
Bonus: stop by St. Gallen, Switzerland on your way back to Zurich and tour the medieval Abbey, a UNESCO World Heritage Site.
Day 10: Zurich, Switzerland
Sadly, your exciting 10-day Europe trip comes to an end today. Enjoy one last meal in Switzerland and then prepare to return home!
Getting in and out
To start your trip, fly into Munich and take the train to Salzburg. Fly out of Zurich Airport at the end of this 10-day Europe itinerary.
Best Time to Do this Europe Trip
This itinerary is ideally done in the late summer, for warm weather and reduced chance of rain.
Suggested by Rachel from Means to Explore
Ireland: 10 Days on an Enchanting emerald Isle!
With its magical landscapes of rugged coasts, dramatic cliffs, and rolling countryside, Ireland is the stuff of travel dreams and one of the best 10-day Europe itinerary ideas.
In 10 days in Ireland, you can road trip your way through the major sights.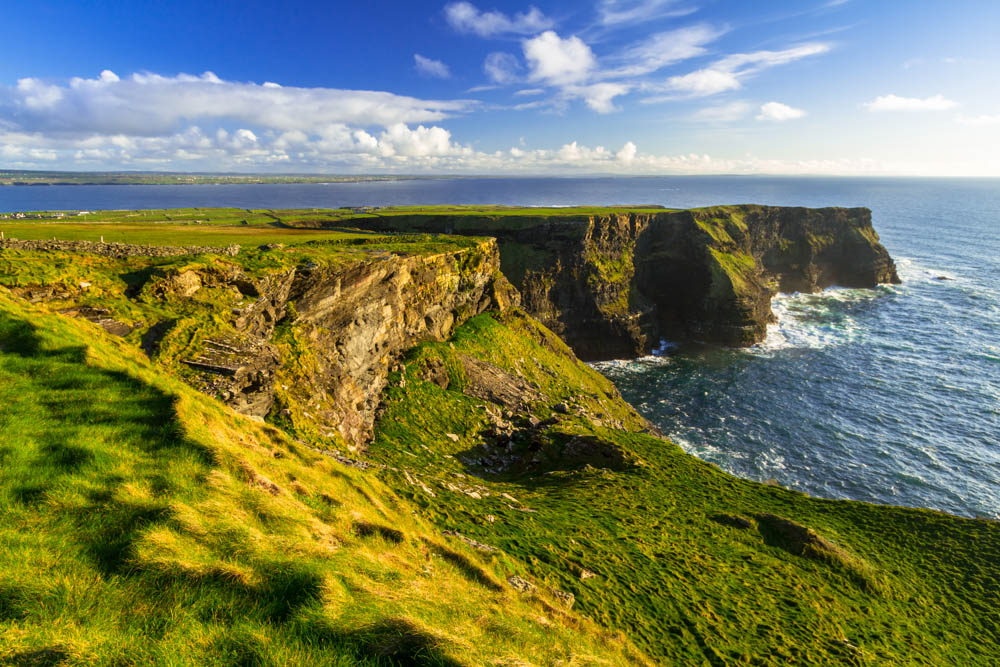 Day 1: Dublin
To start off your 10 days in Ireland, take in the highlights of Dublin, the capital city. Visit Ha'Penny Bridge, the Book of Kells at Trinity College, Temple Bar, and the Guinness Storehouse.
Day 2: Northern Ireland
Do a day trip to Northern Ireland to see the atmospheric beeches of the Dark Hedges, the dramatic basalt columns at Giant's Causeway, and Carrick-a-Rede Bridge. Tour the famous Titanic Quarter in Belfast and enjoy the bustling city center.
Day 3: County Wicklow and Kilkenny
Get out onto the road from Dublin! Today, visit the stunning house and gardens at Powerscourt Estate and the extensive Glendalough Monastic Site, both in County Wicklow. Next, tour Kilkenny Castle and spend the night in Kilkenny.
Day 4: Blarney
Explore the ruins of Jerpoint Abbey before driving to Blarney, a famous village just outside the city of Cork. Enjoy the 15th century Blarney Castle with its gorgeous gardens and the legendary Blarney Stone, and shop for sweaters at the Blarney Woolen Mills. Spend the night in Kenmare.
Day 5: Ring of Kerry
Do a self-guided Ring of Kerry driving tour, ending in Killarney. The drive features some of Ireland's most spectacular scenery.
Day 6: The Cliffs of Moher
Drive north to visit the rugged and dramtic Cliffs of Moher and explore the Burren, known for its incredible diversity of flora and fauna. Enjoy the Dunguaire Castle Banquet before pressing on to Galway.
Day 7: Galway
Spend the day exploring Galway by shopping and dining in the Latin Quarter, visiting Galway Cathedral, and lounging in Eyre Square.
Day 8: The Aran Islands
On this day trip from Galway, visit the three rocky isles that stand at the entrance to Galway Bay and are known for their ancient historic sites. The drive to the ferry port in Rossaveel is very scenic too!
Day 9: County Mayo
Enjoy a leisurely drive from Galway through beautiful, rural County Mayo. If you're feeling ambitious, devote the afternoon to hiking Croagh Patrick. Spend the night in Westport.
Day 10: Return to Dublin
A B&B on Lower Gardiner Street gives you easy access to the airport. Return your rental car and grab one last pint at a nearby pub!
Getting in and out
You'll arrive and depart via the Dublin International Airport. This itinerary requires a rental car.
When to Do this Europe Itinerary
Ireland is a beautiful country you can visit any time of year, but ideally, time your visit for late April or early May, when the lush green hills are dotted with lambs.
Suggested by Ada from Beyond the Yellow Brick Road
Spain-Portugal-Gibraltar: 10 Days on the Iberian Peninsula
Looking for the ideal 10-day Europe trip? Embark on a Spain and Portugal itinerary! The two countries offer stunning historical and architectural sights, rich and colorful cultures, and delicious food and drink.
We also have an in-depth 10-day Spain itinerary if you plan to just visit Spain — there's plenty to do here in 10 days!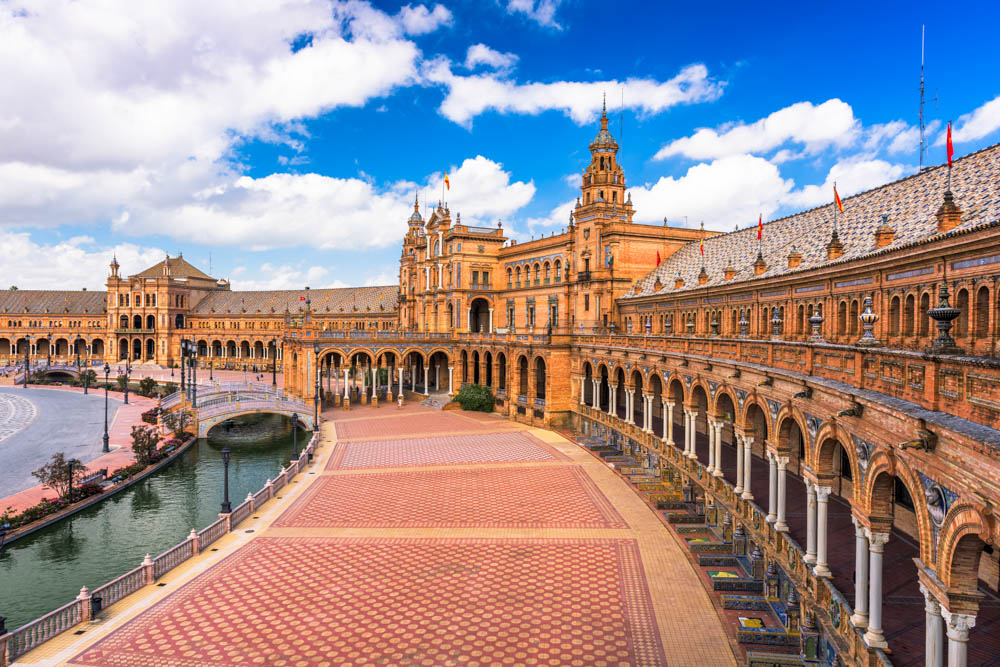 Days 1-3: Barcelona, Spain
Kickstart your vacation in beautiful Barcelona, one of the top places to visit in Spain.
Barcelona is a city that never sleeps, so you'll always find something fun and exciting to do. Three days in Barcelona is a nice amount of time to explore the city.
Stroll La Ramblas and the Gothic Quarter, get a view of the city under the night lights from Bunkers del Carmel.
Explore the stunning architecture of Gaudi's works: La Sagrada Familia, Casa Battlo, and Casa Mila, and take in a sunset view from Park Guell.
Soak in the sun at Barceloneta Beach, and enjoy a stroll along Port Vell. You can also go on a catamaran cruise, or visit the Maritime Museum.
Try some delicious Catalan cuisine (take a food tour to get acquainted!) and enjoy a glass of cava (sparkling wine).
If you would rather spend one day exploring outside the city, consider taking one of the popular day trips from Barcelona on day 3: check out Montserrat, or take a day trip to Girona from Barcelona.
Days 4-5: Lisbon, Portugal
Explore Lisbon's historic old town, with its cobblestone streets, colorful buildings, and amazing food. Visit iconic landmarks like St George's Castle and Lisbon Cathedral, or wander the neighborhoods of Alfama, Baixa, and Chiado.
In Belem, go on a guided tour of Jerónimos Monastery, and the Maritime Museum. See Belém Tower, which was built by King Manuel I in 1515 as part of a defense system along the Tagus River estuary, and soak in the sunny vibes of Lisbon.
And don't forget about all those delicious desserts! We recommend trying Pastel de Nata (Portuguese custard tarts)!
Day 6: Sintra + Cascais, Portugal
Go on a full-day guided tour or self-guided day trip from Lisbon to Sintra (and Cascais, if you so wish). Visit the Pena Palace, Moorish Castle, and the beaches of Cascais.
Days 7-8: Seville, Spain
The city of Seville is full of life. Its culture and history make it a must-visit destination in Spain. You can visit Seville by traveling from Lisbon on an overnight bus, or fly.
Some of the best things to do in Seville include admiring the beautiful architecture of the Real Alcazar, touring the Seville Cathedral, and strolling the alleys of Barrio Santa Cruz, the Jewish Quarter, where you will also find great places to eat.
Visit the Plaza de España, which is one of the iconic landmarks in the city. Then take a tour of the Tower of Gold, and enjoy a cruise on the Guadalquivir River. Explore the neighborhood of Triana, known for flamenco, local markets, and more.
Day 9: Gibraltar, British Overseas Territory
Go on a day trip from Seville to Gibraltar. If Gibraltar does not appeal, there are many other day trips from Seville from which to pick: Granada, Cordoba, or Ronda, for example.
From sightseeing and shopping to dining, there's something for everyone in Gibraltar. Make sure you check out the Rock of Gibraltar, one of the most iconic landmarks in the world. This massive limestone monolith is a must-see for any visitor to Gibraltar.
Drop by the St. Michael's Cave and the Apes Den. If you have time, you can also explore the Moorish Castle.
Day 10: Seville
With your 10-day trip to Europe at an end, prepare to head back home.
Getting in and out
Fly into Barcelona (Josep Tarradellas Barcelona-El Prat Airport), and out of Seville International Airport.
Best Time to Do This Europe Trip
The best time to do this itinerary is in September or October, when temperatures are pleasant and you can still enjoy beach time in Barcelona.
April-May and November are also good times to do this itinerary, although it's not beach weather in these months.
Suggested by Mayuri from To Some Place New
A Taste of Switzerland: Zurich-Lucerne-Zermatt-Lugano
Switzerland is a small but incredibly scenic country that is packed with stunning hikes, gorgeous vistas and charming cities.
Many visitors come to Switzerland to enjoy its unparalleled landscapes, and while you need weeks (or even months!) to discover everything that this country has to offer, you can easily check some of the major highlights off your bucket list on a 10-day Switzerland itinerary.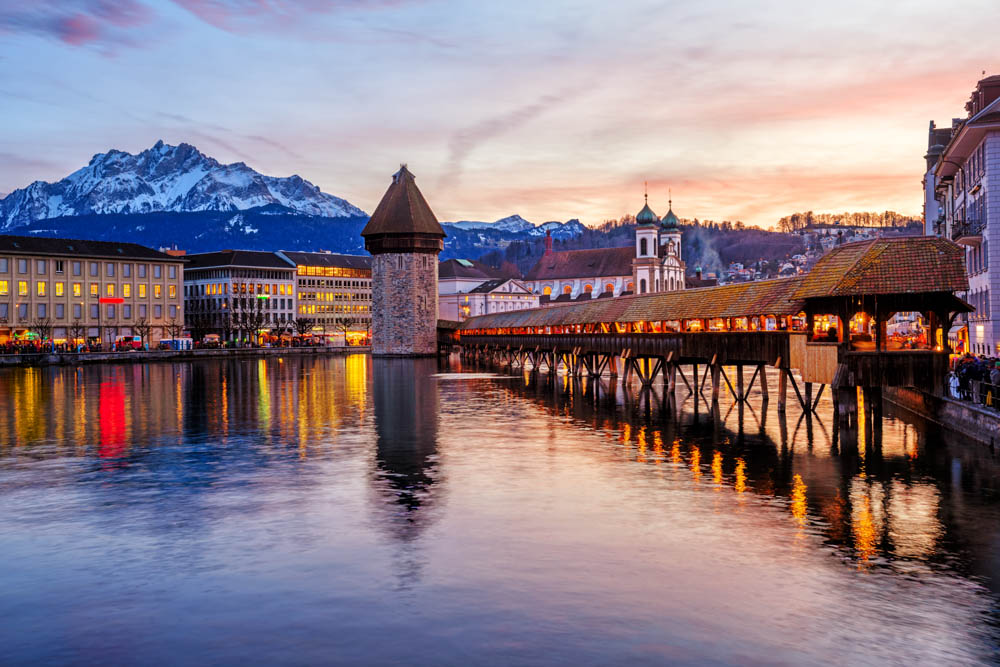 Days 1-2: Zurich
In Zurich, the largest city in Switzerland, explore the beautiful Old Town, and visit museums such as the Swiss National Museum to learn more about the country's history and culture before continuing your trip.
Days 3-4: Lucerne
Next, take a quick train ride to Lucerne, a quintessential Swiss town located on the shores of Lake Lucerne, surrounded by the Swiss Alps, and two famous mountains, Pilatus and Rigi. You can visit these mountains from Lucerne on a day trip to enjoy spectacular panoramic views.
In Lucerne, visit the picturesque Chapel Bridge and tour the Old Town. If you enjoy chocolate, you can take a class in making your own chocolate bar!
Days 5-7: Zermatt
From Lucerne, proceed to Zermatt, the crown jewel of Switzerland. A car-free town, Zermatt is located in the canton of Valais in the Visp District.
The town sits at the foothills of the Matterhorn Mountain — the signature view of Switzerland that can be found on many things, from Toblerone chocolate to souvenirs.
Enjoy a plethora of outdoor activities in the area, from skiing and ice-skating to hiking and mountain biking, depending on time of year.
Days 8-10: Ticino
Finish your trip in Ticino, the Mediterranean heart of Switzerland that is home to mild climate gorgeous valleys like Maggia and Verzasca and cities like Lugano and Ascona.
Ticino might not be as famous as other parts of Switzerland, but it's well worth a stop on your itinerary because it will show you the diverse nature of this country.
Rent a car and drive around the picturesque region to tour charming little towns and enjoy the scenic countryside.
Getting in and out
Fly into Zurich to start your trip and out of Milan, the closest international airport to Ticino. It takes about an hour to drive from Lugano to Milan.
The Best Time to Do this Trip
Switzerland is a year-round destination, and when you visit depends on your interests. Summer offers longer daylight hours and the opportunity to go hiking, while winter features stunning snow-covered landscapes and epic winter sport opportunities.
Suggested by Stacy from The Discovery Nut
The Baltics in 10 Days: Tallinn-Riga-Vilnius
The Baltics are a beautiful part of Europe, off the main tourist track other than for cruises covering Northern Europe. The Baltic countries of Estonia, Latvia, and Lithuania offer rich history, beautiful architecture, and walkable old towns.
On a 10-day visit, you can take in the major sights in the three capital cities of Tallinn, Riga, and Vilnius.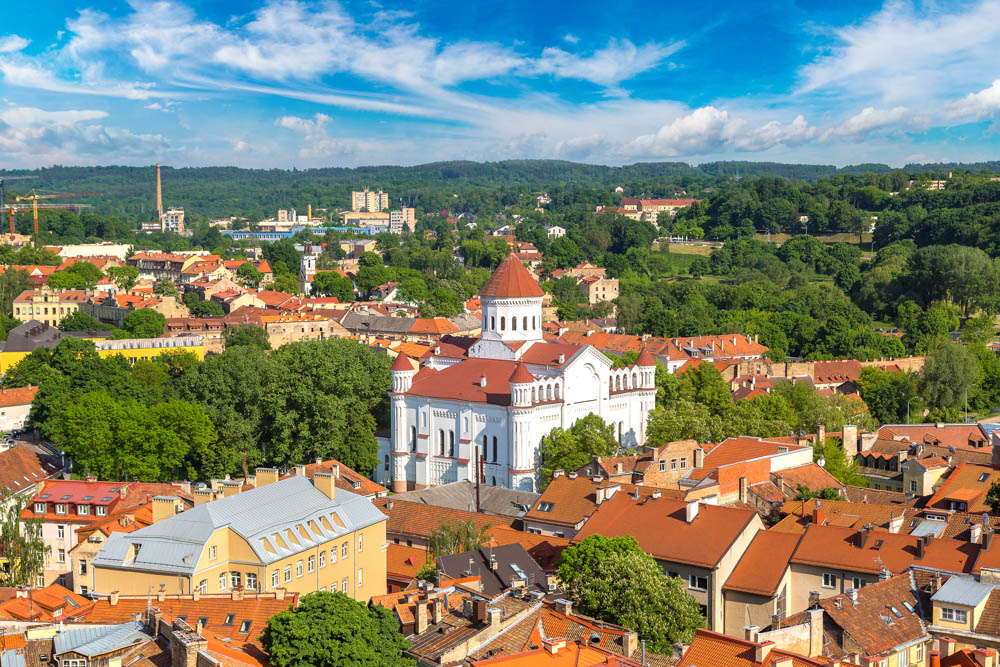 Days 1-4: Tallinn
Estonia's capital Tallinn is a charming city on the Gulf of Finland. With its cobbled streets, gothic architecture, terracotta rooftops and shining onion domes, this small city is packed with things to do.
Allow at least three days to explore the medieval old town, Toompea Hill and the city walls. Be sure to try some traditional Estonian dishes at one of the many restaurants on Raekoja Platz, the main square.
On one of your days in Tallinn, take a day trip to nearby Helsinki in Finland. There are many ferries making the short crossing each day and the journey time is just two hours. One day in Helsinki will allow you to take in the major sights in the Finnish capital.
Days 5-7: Riga
There are up to 13 daily coaches between Tallinn and Riga and the journey time is just 4.5 hours. Lux Express is one of the best services in the Baltic states.
Riga's Old Town is a UNESCO World Heritage site, with a vast array of architecture from classical and baroque to modern. Highlights include Town Hall Square, the Swedish Gate, and Riga Cathedral.
Visitors with an interest in history and music can discover the house where composer Richard Wagner used to live on Vagnera Iela!
Days 8-10: Vilnius
Vilnius is smaller than both Tallinn and Riga and arguably the prettiest of the Baltic capitals. There are daily buses between Riga and Vilnius with a journey time of just four hours!
Explore the cobbled old town before making your way up to Gediminas Tower, the old castle overlooking the city. Here you have enjoy fantastic views across the colorful rooftops of the town and the Lithuanian countryside beyond.
Getting in and out
Fly into Tallinn Airport in Estonia to start your Baltics itinerary. Fly out of Vilnius International Airport in Lithuania at the end of your 10-day trip.
The Best Time to Do This Europe Itinerary
Summer (June to September) is a great time to visit the Baltics so as to take advantage of the many outdoor recreational activities.
If you don't mind the cold, then the Baltic cities are transformed into snowy winter wonderlands from December to February.
Suggested by Steve from The Trip Goes On
Cologne, Luxembourg, Basel, Colmar, Strasbourg (Christmas Markets)
Have you considered a road trip through Europe to experience European Christmas markets?
The Christmas markets in Europe are unmatched and such a unique experience! This 10-day Europe itinerary will take you to markets in Germany, Switzerland, and France.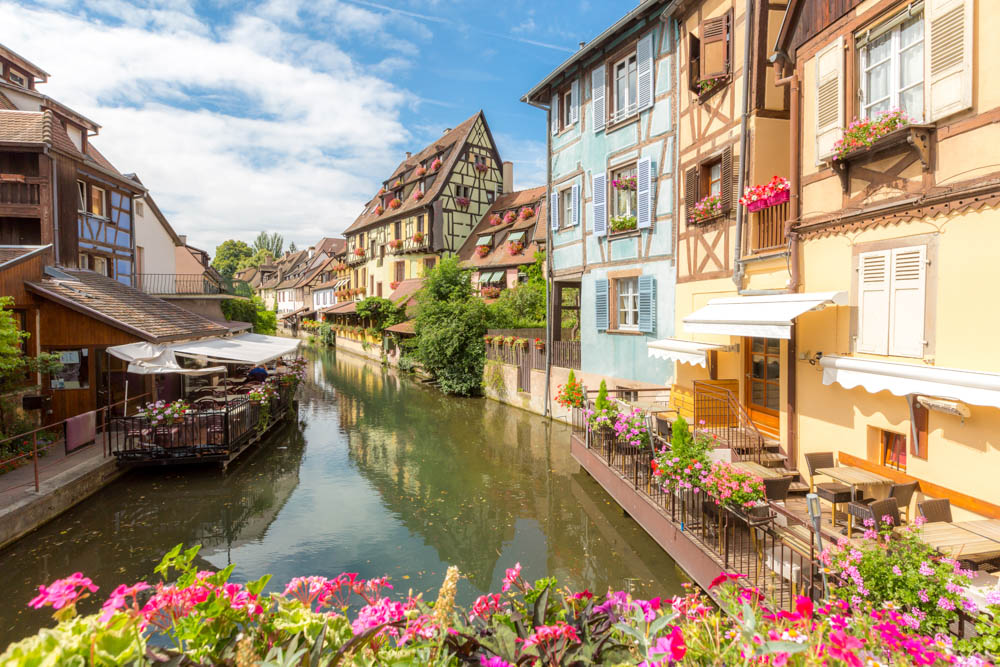 Days 1-3: Cologne, Germany
Start your road trip at the Cologne Christmas Market tour in Germany, with the best themed Christmas markets in Europe.
There are seven different markets in the city and each one has a distinct theme, with the decor, mugs, and even sometimes the food and goods for sale fitting in with the theme.
For example, Heinzels Wintermarchen has a strong woodland/gnome theme, with stalls reminiscent of woodland cabins and gnomes on every stall.
Don't forget to try some bratwurst, reibekuchen (fried potato cakes), muzen (fried sweet dough balls rolled in cinnamon sugar), or the schupfnudeln (potato noodles served with sauerkraut and cream).
After you're done exploring the markets, go see the Cologne Cathedral, the Lindt Chocolate Museum, and the colorful buildings by the Fischmarkt.
Days 4-5: Basel, Switzerland
There are two main markets in Basel: Munsterplatz and Barfusserplatz. In Basel, wander the two markets, stroll through the streets, admiring that stately Swiss architecture.
Eat all the cheese-filled dishes, including cheese tarts, fondue, raclette, and fondue-stuffed baguettes.
Days 6-7: Colmar, France
Colmar is an absolutely adorable little town with absolutely adorable Christmas markets. While in Colmar, explore all six markets, stop by the chocolate museum, visit the many churches and cathedrals in the city, eat some gingerbread, and go ice skating in the park.
Also wander around the Petite Venice area, and admire all the Christmas decorations on the buildings around town.
Days 8-10: Strasbourg, France
Strasbourg calls itself the Capital of Christmas, and it really works to earn that title. There are 15 Christmas markets spread out around the city, some of them very big and some of them only a few stalls.
Visit all 15 markets, walk through the city at night (the streets are full out decorated with lights), see the giant Christmas tree, visit the towering Strasbourg Cathedral, ride a carousel, eat tarte flambée and baguette flambée, visit the Petite France area, and walk along the river.
Getting in and out
Fly in and out of Cologne, Germany. Ay the end of the trip, travel by train from Strasbourg to Cologne.
When to Do This Europe Trip
Christmas markets usually start during the 3rd or 4th week of November and end either right at Christmas or at the New Year: check the websites of the cities for individual dates!
Suggested by Stephanie from The Unknown Enthusiast
Greece-Albania-Montenegro
This captivating 10-day Europe itinerary combines the best of Greece with the beautiful landscapes of Albania and Montenegro. While you could easily visit each of these countries for much longer, this itinerary captures the highlights.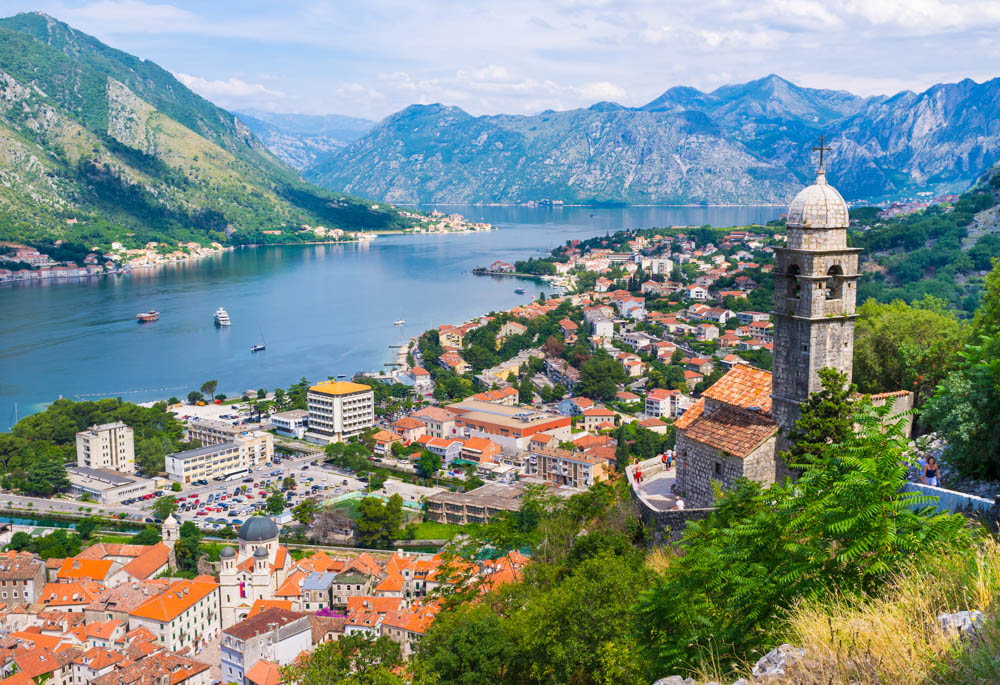 Days 1-2: Santorini or Mykonos, Greece
Choose between Santorini or Mykonos because they each have a lot to offer.
In Mykonos, wander around Little Venice, visit the iconic windmills, stroll around the town, learn about history at the Archaeological Museum of Mykonos, and watch the sunset from Armenistis Lighthouse.
In Santorini, take a photo with one of the infamous blue-domed churches, hang out on the black sand beaches, hike from Fira to Oia, sample Santorinian seafood, and watch the sunset in Oia.
Days 3-4: Athens, Greece
In the historic city of Athens, tour the Acropolis, Parthenon, and the Temple of Olympian Zeus. Visit the National Archaeological Museum, stroll Monastiraki Square and the lively Plaka district, and enjoy other historic sites as time permits.
Day 5: Sarandë, Albania
Next, head to Albania and explore the coastal town of Sarandë. Spend the day visiting Lekuresi Castle, experience Syri and Kaltër, two beautiful water springs, and hang out at one of the beaches. Stroll along Hasan Tahsini Boulevard and soak in the views from the 40 Saints Monastery.
Day 6: Berat, Albania
Visit Berat and climb to the top of Berat Castle for epic views of the town. Watch the sunset from Gorica Hill, learn about local history at the National Ethnographic Museum, enjoy the cafes along Bulevardi Republika, and see the historic mosques and churches.
Days 7-8: Budva, Montenegro
Arrive in Budva, a picturesque town on the Adriatic in Montenegro. Discover the fortified city walls and historic sites in Stari Grad. Spend a few hours exploring Sveti Stefan, Sveti Nikola, and the Archaeological Museum. Then, relax at one of the gorgeous beaches.
Days 9-10: Kotor, Montenegro
End your epic 10 days in Europe in medieval Kotor. Wander around the old town, hike to Kotor Fortress for stunning views of the Bay of Kotor, sample Montenegrin wine, and go on a cruise around the bay. You can also take a half-day trip to Perast.
Getting in and out
Fly into Santorini (Thira) Airport or Mykonos International Airport (depending on which Greek island you visit). Fly out of Tivat International Airport near Kotor in Montenegro.
The Best Time to Do This 10-Day Europe Trip
Summer is the best time to visit these three countries since they're all coastal. Although it's the most popular time of year in these places, it's the best time of year to enjoy the beaches.
Suggested by Disha from Disha Discovers
Only have 7 days in Europe? Check out our one-week Europe trip itinerary ideas!
Paris-Brussels-Amsterdam
A trio of lively cities make for this fabulous 10-day trip to Europe. From the canals of Amsterdam to the cafes of Paris, this trip allows you to explore history and architecture, famous landmarks, and great food and drink.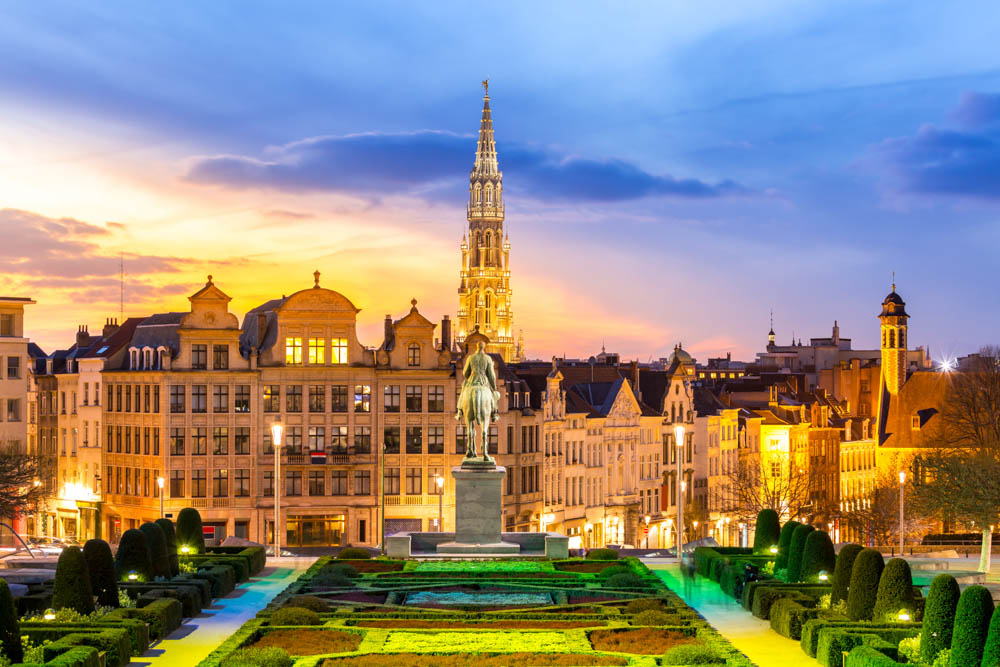 Days 1-4: Paris, France
Get your trip off to a great start by exploring the magnificent City of Lights. There is honestly so much to do in this city that four days will barely scratch the surface of Paris, but you will still be able to see a lot in this short time.
Spend a day traipsing the artsy, bohemian Montmartre area, making sure to stop at the artists' square and the stunning Sacre Coeur church, which offers beautiful views of the city.
Make sure you take a day trip out to the opulent Palace of Versailles where you'll be able to explore the decadence of the French monarchy before it was overthrown in the French Revolution.
You'll also want to be sure to spend time at the Eiffel Tower. Take a picnic and spend lunchtime on the grass underneath one of the city's most iconic sights, the huge iron tower that defines the city's unforgettable skyline.
Days 5-7: Brussels, Belgium
Take the train to Belgium's capital, Brussels. Brussels offers a nice change of pace to Paris as it is a smaller, less overwhelming city, but packs a whole lot of punch when it comes to beauty.
The stunning Grand Place, the city's main square, often has festivals or music playing. Grab a Belgian beer and just enjoy the atmosphere.
Near the Grand Place is the gorgeous Galeries Royales Saint Hubert, a stunning shopping arcade. Stop in for some Belgian waffles.
From Brussels, it's also possible to do a day trip to the UNESCO World Heritage listed town of Bruges or to the Flanders Fields region, where battles of World War I played out.
Days 8-10: Amsterdam, The Netherlands
Next, take a train ride from Brussels to the gorgeous canal-lined streets of Amsterdam. This city has much to discover, but the thing all visitors absolutely must do is a canal cruise around the city's iconic waterways.
Amsterdam is also famous for wonderful museums. The Van Gogh Museum offers the world's best collection of the Dutch painter's work, and the nearby Rijksmuseum has a varied and enormous selection of art works, one that rivals the Louvre.
Getting in and out
Fly into Charles de Gaulle Airport in Paris to begin your trip. After your time in Amsterdam, fly home from Amsterdam Schipol International Airport.
When to Do This Europe Trip
The best time to undertake this itinerary is in the shoulder seasons of spring or autumn, when tourist numbers aren't quite so high, but the weather is still balmy enough to be outside and enjoy your trip.
Suggested by Emma from Emma Jane Explores
Provence + French Riviera
After Paris, Provence and the French Riviera are two of the most popular destinations in France. This 10-day itinerary combines the best of both regions for an unforgettable Europe trip.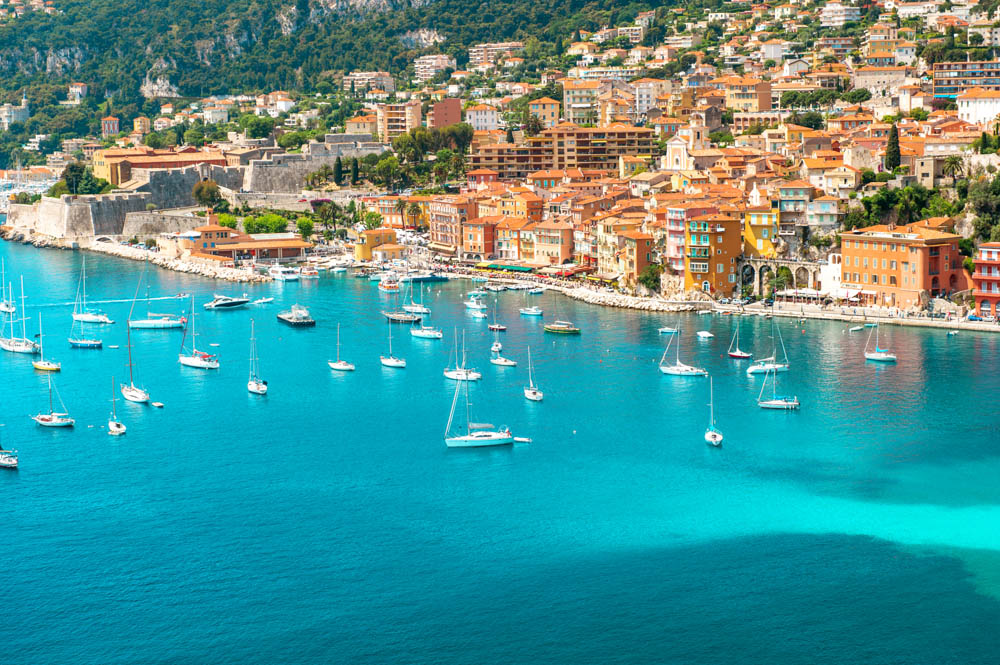 Days 1-3: Marseille
Marseille is the second largest city in France after Paris and merits several days of sightseeing. Stay in or near the Vieux Port to be close to the best attractions Marseille has to offer. Combine your Vieux Port explorations with the nearby Le Panier neighborhood and the MUCEM museum.
Visit the Notre Dame de la Garde Basilica and the Château d'If. You will need to take a ferry from the Vieux Port to get to this château, featured in The Count of Monte Cristo. Combine this ferry excursion with a trip to the Frioul archipelago for some hiking and dining on fried mussels.
On your last day in Marseille, visit the Calanques, cliffs typical to the area. Explore them by boat or on a hike. The Parc National des Calanques is one of Europe's best national parks, and is just a 30-minute drive from Marseille.
Day 4: Aix-en-Provence
There are many exciting things to do in Aix-en-Provence, a very walkable town. Top museums are Hôtel de Caumont, Granet Museum and Cezanne's studio. Make sure you stop at a farmer's market. If you enjoy shopping then Aix is filled with elegant French boutiques.
Day 5: Gorges du Verdon – Moustier-Sainte-Marie – Valensole
Start in Gorges du Verdon where you can rent a kayak to enjoy this beautiful canyon. Next, go to Moustier-Sainte-Marie, a picturesque village. If you are visiting between June and August, then end your day in the Plateau de Valensole, where you can admire lavender blooms.
Day 6: Saint-Tropez- Cannes
Spend your morning on the beach in Saint-Tropez and after lunch head over to Cannes. There, take a walk down Croisette, the most iconic street in town, and explore the Le Suquet quarter. If you're there in May, then you can enjoy the Cannes Film Festival.
Days 7-8: Nice
In Nice, take a stroll on the Promenade des Anglais and discover the old town. Try socca, a pancake considered a local delicacy. Go up to the hill garden of la Colline du Château.
If you are a history buff then visit the Roman ruins in the Cimiez neighbourhood. Don't miss the Russian Orthodox Cathedral, an interloper among Mediterranean architecture. Take a boat trip to either Villefranche or to the Lerins Islands.
Days 9-10: Monaco
The top attraction in Monaco is the Prince's Palace which is open to visitors from January through October. Do not miss the Monte Carlo Casino, featured in several James Bond movies.
Visit Le Rocher, the oldest neighborhood in town. And admire the Monte Carlo Harbor, full of luxury yachts. And if you visit in May, then you could attend the Monaco Grand Prix, the world's most prestigious car race.
Getting in and out
The best airport to fly into is the Marseille (MRS) airport and the best to fly out of is the Nice (NCE) airport.
When to Do This Europe Itinerary
This itinerary is best enjoyed in spring, summer or fall. If you wish to attend the Cannes Film Festival or the Monaco Grand Prix, then May would be best. If you want to see lavender fields in bloom, visit from the end of June to mid-August.
Suggested by Bea from PackYourBags
Croatia
Croatia is a beautiful European destination with a massive coastline, stunning islands, world-class national parks, and historic towns. Any Croatia itinerary should be at least 10 days long to enjoy this unique country.
This itinerary will help you visit some of the best places to go in Croatia!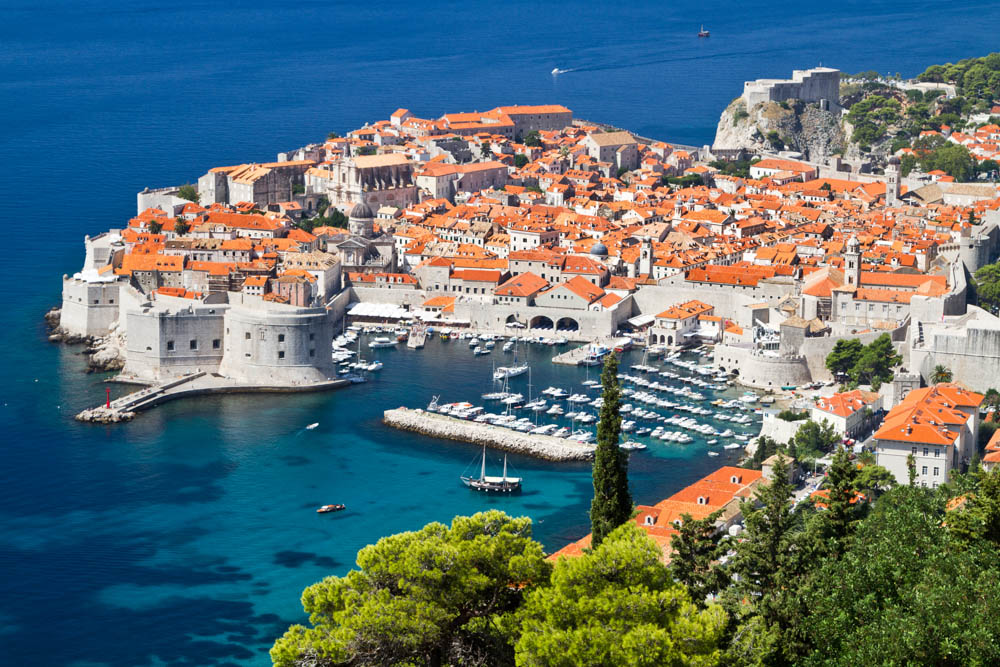 Days 1-2: Zagreb
Zagreb is the bustling capital of Croatia, and a popular location to start a Croatia itinerary.
Zagreb is a great place to enjoy city life in Croatia and to get a taste for the local culture. The most popular things to do here are to visit the local market, tour some museums, and visit old churches and cathedrals.
En route from Zagreb to Split, visit Plitvice Lakes National Park, one of the most stunning national parks in Eastern Europe. This iconic park is filled with dozens of waterfalls and crystal-clear pools of water that can be seen from designated boardwalks.
Days 3-4: Split
Split is a great city to experience Croatian history, with its massive old town with maze-like alleyways. Diocletian's Palace in the city center and the seaside promenade shopping and restaurant district are key tourist destinations.
Split has a massive ferry terminal, and is therefore the gateway town to Croatia's famous islands: a multi-island boat trip is one of the most popular day trips from Split. Split is a must-stop on any Croatian coast itinerary.
Days 5-8: Brač and Hvar Islands
Hopping on a ferry from Split to Brač (pronounced "Bratch") begins the island-hopping portion of this 10-day itinerary!
Spend two days each in both of these beautiful islands to get a feel for the laid-back Croatian island life, and a taste of its wild nightlife too. Brač and Hvar are two of the islands closest to Split.
Days 9-10: Dubrovnik
Dubrovnik, located at the southern tip of the country, is one of Croatia's most-visited cities. It is famous for its massive old town, built right into the coastline, as well as for being a filming location for the popular TV series Game of Thrones.
Visitors can walk along the top of the Dubrovnik Walls to enjoy views of the Adriatic ocean and the city itself.
Getting in and out
This itinerary is a one-way itinerary, starting at the Zagreb airport and ending at the Dubrovnik airport. Both airports offer connecting flights to many other European countries for a reasonable price.
Best Time to Visit
The best time of year to embark on a Croatia itinerary is between May and September when the weather is the warmest. If you want to avoid the tourist crowds, plan your trip for the shoulder months of May or September.
Suggested by Erika from Erika's Travelventures
Portugal Road Trip
Central Portugal is full of surprises, and in 10 days, you can enjoy many of its highlights. A scenic road trip from Lisbon to Porto will take you past fairytale castles, charming towns and villages, and unique natural spots.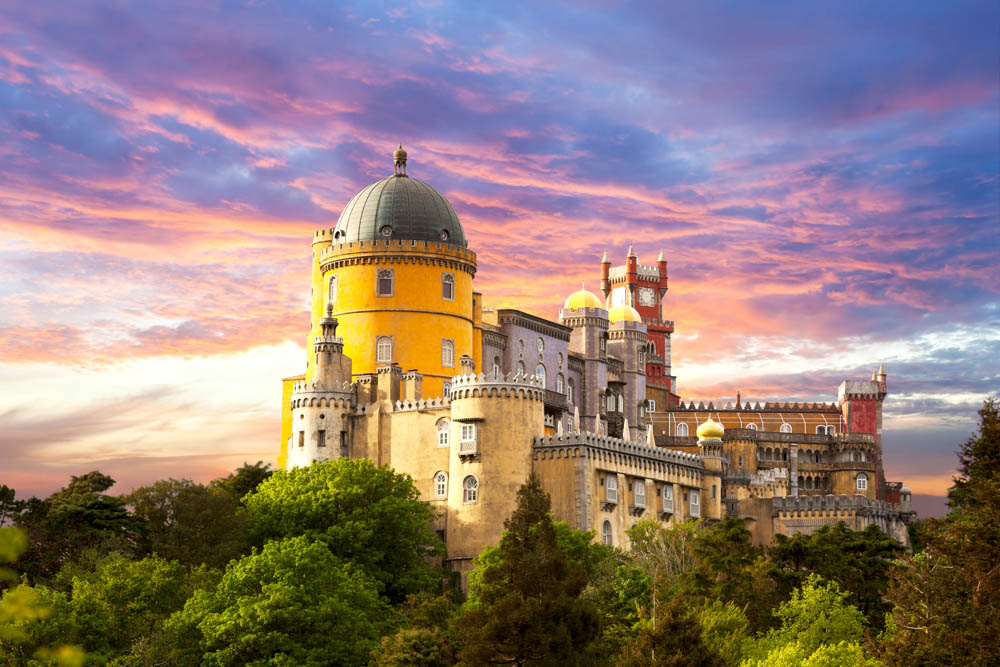 Days 1-2: Lisbon
Start by spending 2 days in Lisbon, focusing on its most famous historical landmarks, including the Belem Tower, São Jorge Castle, Jerónimos Monastery, and Lisbon Cathedral.
Be sure to take some time to wander freely through neighborhoods like Alfama and Barrio Alto and taste the local cuisine.
Days 3-4: Sintra
En route to Sintra, visit Cabo da Roca, Europe's westernmost point, to marvel at the views of the rugged coastline of the Atlantic Ocean.
Sintra, a UNESCO World Heritage Site, is a city of storybook palaces and castles that will transport you to another world. Castles you can visit include the Insta-famous Pena Palace, Quinta da Regaleira, and Sintra National Palace.
Day 5: Cabo Carvoeiro
Explore Cabo Carvoeiro and its unique rock formations, the charming medieval village Obidos, and the caves of Mira de Aire.
Day 6: Tomar
The city of Tomar itself is an incredible place to explore, but its highlight is the UNESCO-listed Convent of Christ, which was the seat of the Knights Templar and the Knights of the Order of Christ.
Day 7: Coimbra
Discover the city of Coimbra, known as the home of one of the oldest (and most beautiful) universities in Europe.
Day 8: Espinho
Stroll through the gorgeous and mysterious Bussaco Forest, and unwind in the coastal town of Espinho.
Days 9-10: Porto
End your road trip with two days in Porto and the nearby Vila Nova de Gaia, one of the best places to have some port wine tastings.
In Porto, you can wander through the historic center, visit the Jardins do Palácio de Cristal, climb the Clérigos Tower for amazing panoramic views, and visit the bookstore that inspired Hogwarts, Livraria Lello.
Getting in and out
Start your Portugal road trip by flying into Lisbon, the capital city. At the end of the trip, you can fly back home from Porto, but you can also drive back to the Portuguese capital and return your car there before flying out of Lisbon airport.
The Best Time to Do This Portugal Itinerary
Late spring or early fall are ideal times to do a Portugal road trip. The weather is pleasant and relatively dry, and popular tourist
attractions are less crowded than in the summer.
Suggested by Or from My Path in the World
Andalusia: Spain's Stunning Southern Province
Andalusia is a bucket-list Europe destination for many travelers, and the reasons are many: vibrant and historic cities, several UNESCO World Heritage sites, numerous charming white villages, and a stunning coast.
This itinerary captures the best of the region.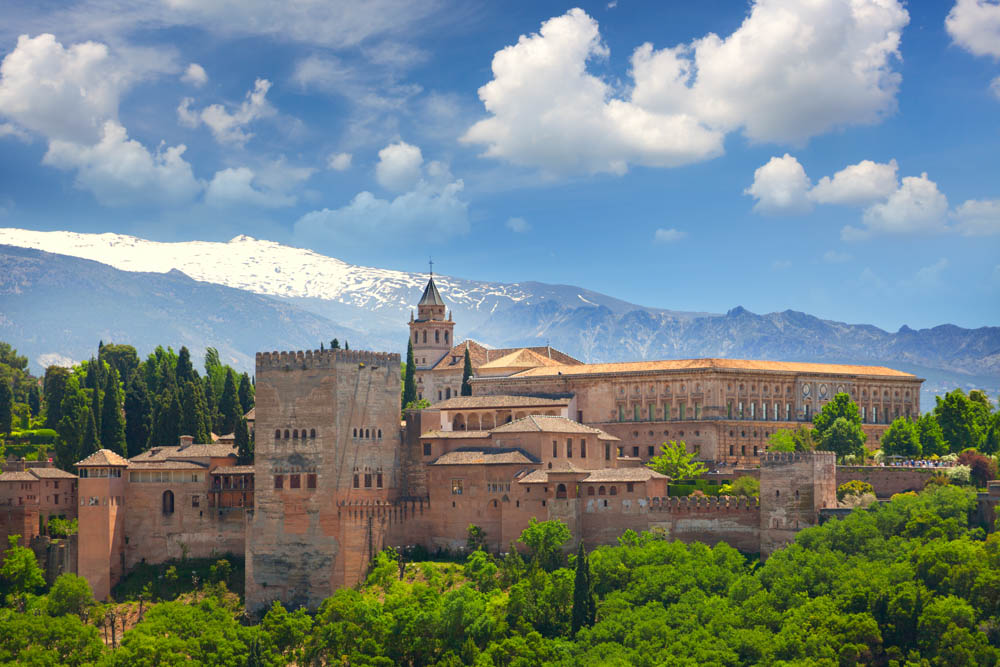 Days 1-2: Malaga
Start your Andalusia adventure in the beautiful city of Malaga. Visit stunning historical buildings such as La Alcazaba, a Moorish fortress-palace with panoramic views of Malaga, the Roman Theatre, and Gibralfaro Castle.
Malaga's many museums are also worth visiting: choose from the Picasso Museum Malaga, Carmen Thyssen Museum and Malaga Museum. Alternatively, have a relaxing day at Malagueta Beach! Be sure to try the delicious local food.
Day 3: Nerja
Discover the beauty of the whitewashed town of Nerja along the Costa del Sol. Tour the famous Nerja Caves, enjoy the views from Balcon de Europa, and relax at the crystal blue beaches.
Nerja is one of the best day trips from Malaga you can do.
Days 4-5: Granada
In Granada, a visit to the Alhambra, a UNESCO World Heritage Site, has to take the top spot in your itinerary. The palaces and gardens are gorgeous. Also, no visit to Granada can be complete without sampling the delicious tapas.
Day 6: Cordoba
Explore the Mosque-Cathedral of Cordoba, one of the most beautiful buildings in Andalusia. Walk across the historic Roman Bridge and visit the Alcazar of Cordoba.
The city is also famous for its patios, which are dressed up even more for the annual festival in May.
Days 7-8: Sevilla
In Seville, the capital of Andalusia, be sure to tour the Royal Alcazar, one of Andalusia's most beautiful palaces. Visit the gigantic Seville Cathedral and climb up the ramp of La Giralda for magnificent views over the city.
Stroll the massive Plaza de España, where you can take a boat ride along the moat. Take in a flamenco show (it's one of the best things to do in Seville!), and eat more tapas!
Day 9: Cadiz + Jerez
Do a day trip from Seville to Jerez and Cadiz, two smaller Andalusian cities. In Jerez, famous for sherry (and horses!), tour a winery or two, and explore the city center.
The must-see attraction in Cadiz is its lovely cathedral, located right by the water. Explore the city center, with its beautiful architecture, and visit Tavira Tower for spectacular views of the city.
Day 10: Seville
Sadly, today your Andalusia adventure ends. If you have the time, take a last stroll through the picturesque alleys of Barrio Santa Cruz before you say goodbye to the city.
Getting in and out
On this itinerary, you will fly into Malaga Airport and fly out of Seville Airport. You can rent a car for easy exploring, or use trains or buses within Andalusia.
The Best Time to Visit Andalusia
The best time to do this 10 day Andalusia itinerary is in late spring or early autumn. During these times of the year, the temperatures are pleasant for sightseeing. Crowds are lower than in the summer, and you will likely find better prices on accommodations.
Suggested by Cristina from My Little World of Traveling
Highlights of France
Spending 10 days in France is always an incredible experience.
While you won't be able to cover the whole country, this 10-day itinerary showcases the highlights, including Paris, a famous wine region, the Alps, and the beach.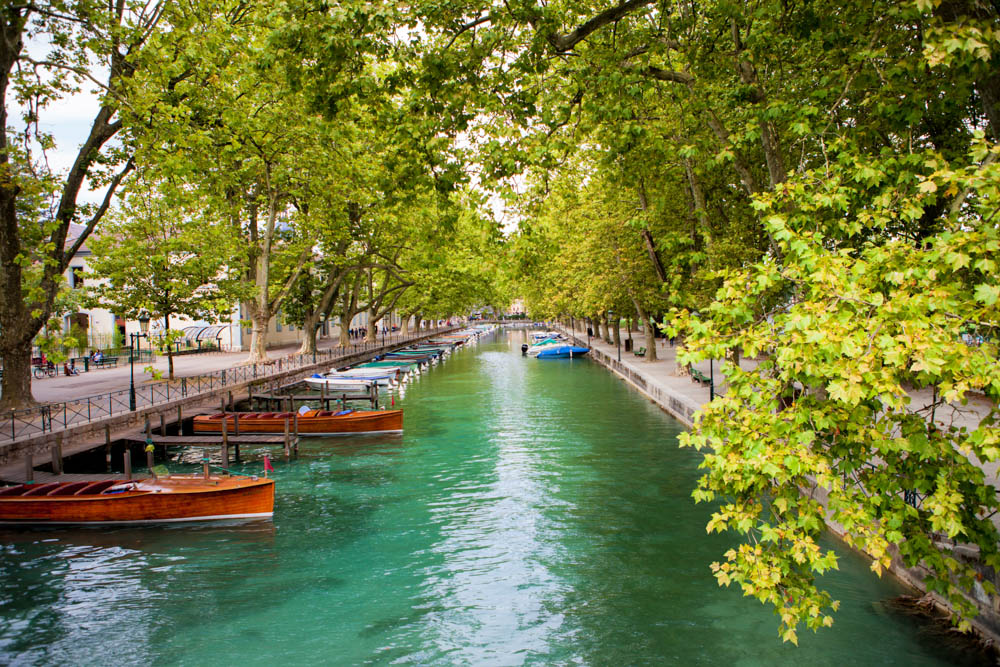 Days 1-3: Paris
As Paris is the capital of France and its largest city, expect to spend a few days here. Paris has so much to offer for art lovers to foodies and more!
Top things to do in Paris include art museums like the Louvre, D'Orsay, L'Orangerie, and Rodin. Paris is also a city full of parks, so stopping by Jardin du Luxembourg, Parc des Buttes-Charmont, and the Tuileries are great ideas.
It is also ideal to take a food tour to fully embrace French cuisine and learn more about the city. The best food tour has to be in the Le Marais area of Paris!
Lastly, you cannot leave Paris without exploring the Eiffel Tower, the tallest structure in the city.
Day 4: Dijon
Dijon is a city that is far smaller and less crowded than Paris but with all the charm. It is also only a 1.5-hour train ride from Paris, meaning you'll have a full day to explore the delights of this town.
Spend the day enjoying the best things to do in Dijon, including a self-guided tour (hint: follow the owls!), trying Dijon favorites like their mustard as well as pain d'epices at Mulot et Petitjean, and exploring the Ducal Palace and Musee des Beaux-Arts.
Lastly, to wrap up your day, have dinner at a Michelin guide-recommended restaurant like Parapluie or L'Essential: their tasting menus are very affordable!
Day 5: Day Trip to Burgundy Wineries
Dijon is the capital of Burgundy, so why not use this day for a day trip to the wineries? Take a short train ride into Beaune and go on a bike tour of nearby vineyards. Bike through charming small villages and try Burgundian pinot noir and chardonnay at the source!
Day 6: Annecy
Wake up early this morning to catch an early 4-hour train ride to Annecy in the Alps.
Annecy is one of the most beautiful cities in France. Not only is it surrounded by mountains, but it has a glorious mountain lake. Its many canals result in its being known as the "Venice of France."
You can't miss a chance to wander by the canals and admire the flowers along the way.
A must for visitors to Annecy is the Old Town Market, where you can buy various things, from nougat and cheeses to fresh fruit and veggies. It is the perfect opportunity to purchase everything you'd need for a picnic along the lake.
Then, in the afternoon, rent a paddle-boat and get out onto Lake Annecy. Perhaps take a bottle of wine to enjoy on the ride!
And of course you can't leave Annecy without spotting the famous Palais de L'isle, a former prison and palace-turned-museum in the middle of the Thiou Canal.
Day 7: Savoie Wine Tour
Take a hiking and wine day trip with Alpes Flaveurs. You'll hike past a waterfall and sip wine in the iconic vineyards of the Savoie wine region.
Days 8-10: Nice
Wrap up the trip in Nice. Day 8 is mostly a travel day, as it is a 7.5-hour train ride to Nice from Annecy.
However, the remaining 2 days are meant for relaxing at the beach and exploring Nice.
Top things to do in Nice include walking along the Promenade des Anglais, exploring the old town, admiring the views from Parc de la Colline du Château, and visiting the Marché Aux Fleurs Cours Saleya for fresh flowers and produce.
Getting in and out
For this itinerary, you should fly into Paris and fly home from Nice. As you're sticking to France, the best way to get around would be the train.
The Best Time for this 10-Day France Itinerary
The best time for this itinerary is between June and September so you'll have warmer weather for exploring and for visiting the beach in Nice.
Suggested by Kat from France Voyager
Best of Greece: Athens-Paros-Naxos-Santorini
10 days in Greece is a good amount of time to get a first taste of what the country has to offer.
This itinerary includes a visit to Athens, the country's capital, and stops at three of the best Greek islands, Paros, Naxos, and Santorini.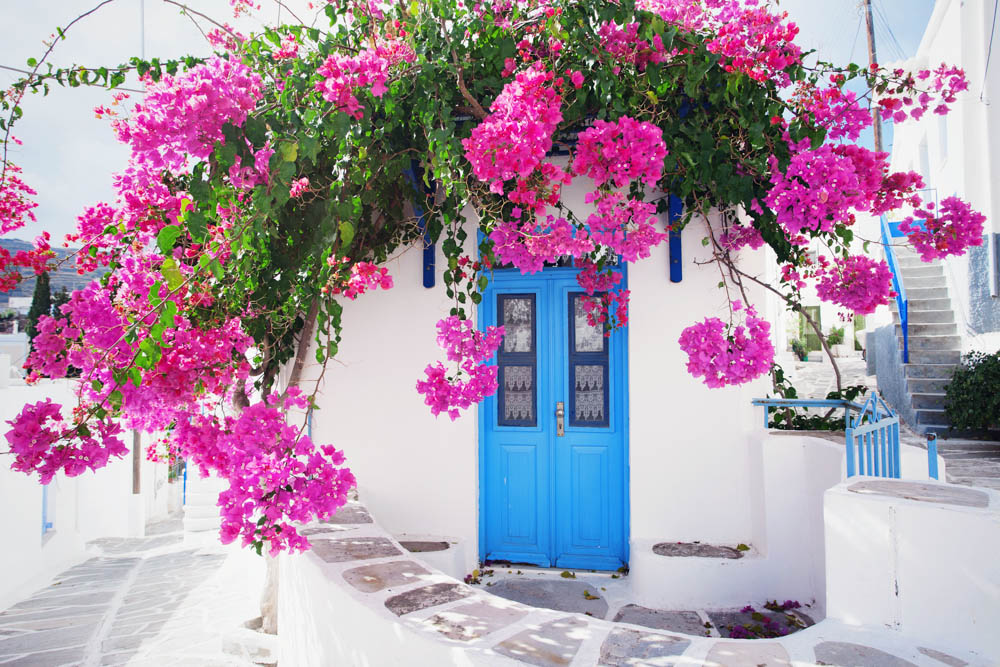 Days 1-2: Athens
Start your Greece itinerary in Athens. Explore the Acropolis and the Acropolis museum, and see the changing of the guard in front of the parliament. Walk the alleyways of Plaka, Athens's oldest neighborhood.
Marvel at the views from one of the city's rooftop bars or restaurants, enjoy some food at the central food market, and watch the sunset from the temple of Poseidon in Sounio.
Days 3-4: Paros
Take the morning ferry from Pireaus Port (Athens) to Paros island. There are many things to do in Paros not the least of which is spending time at the amazing beaches (Kolymbithres, Monastiri, and Pounda).
Explore Parikia town, with its archaeological museum and magnificent 4th-century Ekatontapyliani Church, bar hop at the old port of Naoussa town with its view of the Venetian castle, and get lost in the alleyways of the picturesque villages of Lefkes, Prodromos, and Kostos.
Days 5-7: Naxos
The island of Naxos is a quick ferry ride from Paros. Spend the next days enjoying the sun on the famous beaches of Agios Prokopios and Agia Anna.
Stroll the alleyways of Chora, with its magnificent castle, check out the villages of Halki and Apiranthos, and see some of the archaeological sites like the Temple of Apollo, the famous Kouroi statues, and the Temple of Demeter.
Days 8-9: Santorini
The famous island of Santorini is very close to Naxos by ferry. In Santorini, you can choose from a number of activities and attractions.
Visit the archaeological site of Akrotiri, swim in the red beach or in one of the black sand beaches of the island, or hike from Fira to Oia and watch the sunset.
Taste some of the local wines on a winery tour, or do a boat trip to the volcano and enjoy the best views from the caldera. On your final night in Santorini, fly back to Athens.
Day 10: Athens
On your last day in Greece, spend some more time in Athens before getting your flight back home. It is advisable to return from the islands at least one day prior to an international flight, as many things can go wrong!
Getting in and out
On this itinerary, you will fly into Athens to begin your Greece trip, and fly out of Athens at the end of your trip.
The Best Time to Do This Greece Itinerary
May to September is considered the best time to visit Greece, for beautiful weather with warm temperatures and clear blue skies. Within this time, May-June and September are ideal, to avoid the crowds (and high prices!) of summer.
Suggested by Chrysoula from Greece Travel Ideas
Northern Italy
If you're looking for a beautiful and diverse Italian experience, consider spending 10 days in Northern Italy.
This Northern Italy itinerary will take you to Milan, Lake Como, Lake Garda, the Dolomites, and Venice.
You'll get to explore everything from lakeside villages to dramatic mountain landscapes to one of the most beautiful cities in the world.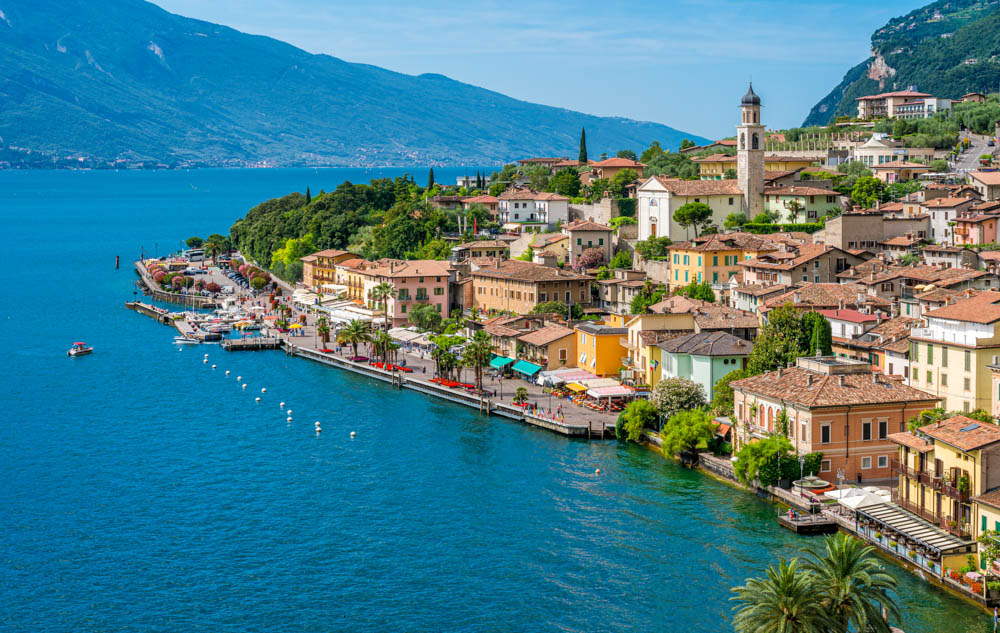 Day 1: Milan
Milan is a great place to start your journey, and one of the must-visit places in Northern Italy. You'll need a day here to see the Milan Cathedral and Galleria Vittorio Emanuele II, which are two of the most well-known attractions in Milan.
After you're done sightseeing, head over to Parco Sempione for some relaxation, or grab dinner at Navigli, where you'll find many authentic trattorias and floating bars along the canals.
Days 2-3: Lake Como
On your second day, rent a car or hop on the train and head over to Lake Como.
Lake Como is perhaps best known for its villas, where the rich and famous have stayed since Roman times. You can visit some of these homes during your stay in Bellagio or Varenna.
Or, you can just relax by the lake. There are plenty of activities to enjoy in Lake Como, including swimming, boating, or hiking up Mount Bisbino.
Lake Como makes for one of the best day trips from Milan if you prefer to explore for the day.
Days 4-5: Lake Garda
Next, it's time to visit Lake Garda, Italy's largest lake. It's also one of the best places for a swim, as the water here doesn't get too cold. You can also go hiking along Monte Baldo or visit some of Italy's historic castles.
Days 6-7: The Dolomites
For a change of scenery, head up to the mountains! With its dramatic alpine landscapes and charming mountain towns, the Dolomites are a great destination for outdoor enthusiasts. You can go hiking, mountain biking, or paragliding.
The area is vast, so it's worth spending a couple of days here, to be able to enjoy the sights.
Days 8-10: Venice
End your Northern Italy trip by visiting one of the most iconic cities, Venice. You'll want at least two days in Venice to explore the city properly.
You can take a gondola ride, wander around St. Mark's Square, visit the famous Rialto Bridge, or take a half-day trip to Murano and Burano.
Getting in and out
Both Milan and Venice have international airports, so this itinerary works in both directions.
The Best Time to Do this Europe Trip
It's best to visit Northern Italy from May through September when the weather is warm and sunny. If you want to escape the crowds, though, try to avoid visiting in the summer months and stick to the shoulder seasons.
Suggested by Krisztina from She Wanders Abroad
Berlin-Potsdam-Dresden-Leipzig
If you have 10 days to spend in Europe, Eastern Germany is a great choice. Highlights of this itinerary include Berlin, Potsdam, Leipzig, and Dresden.
While you can do this trip as a one week itinerary in East Germany, you'll have time to see more or enjoy a more relaxed pace with 10 days at your disposal.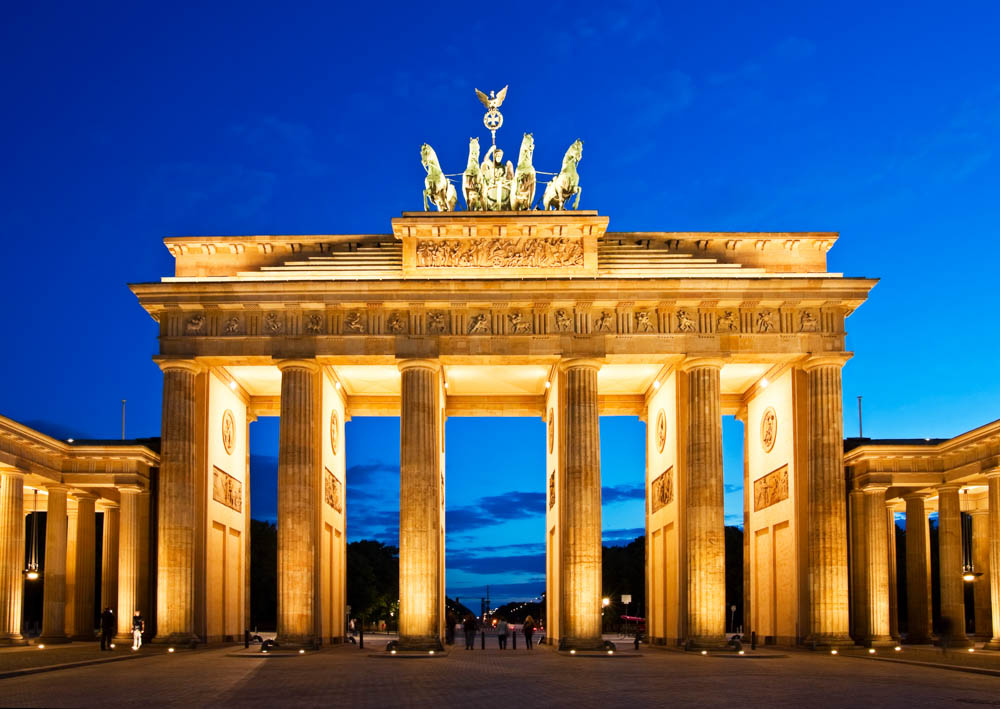 Days 1-4: Berlin
Start your trip in Berlin, Germany's capital. Learn about Berlin's World War II and Cold War history at the Holocaust Memorial, East Side Gallery, Bernauer Strasse Wall Memorial, DDR Museum, and many other museums and attractions.
Other popular sights you shouldn't miss are the Berlin Cathedral, Museum Island, TV Tower, Brandenburg Gate, Gendarmenmarkt Square, Reichstag Building, Tempelhof Park, Tiergarten Park, and Charlottenburg Palace.
On either day 2 or 3, take a day trip to Potsdam. This is a popular day trip because it's where you'll find a big group of gorgeous palaces and ornate gardens. Don't forget to spend some time in Potsdam's old town and Dutch quarter, too.
Day 5: Lutherstadt Wittenburg
Lutherstadt Wittenburg is a city with strong connections to Martin Luther, the Protestant Reformation leader. See Lutherhaus, a former monastery that's now a museum, and learn about this important figure. Then stop by Castle Church, where Luther nailed his 95 theses to the church door.
Continue on to Leipzig and arrive towards the end of the day.
Days 6-7: Leipzig
Explore Leipzig's old town starting from the main square, Leipzig Markt. Visit Nikolaikirche, the church known for nonviolent protests that led to the eventual end of communist rule in East Germany. Bach served as a choirmaster at this church.
Other important landmarks in Leipzig include the St. Thomas Church, two Bach memorials, a Bach museum, a Wagner Monument, the Old Rathaus, and Volkerschlachtdenkmal (Battle of the Nations Monument), the largest war memorial in Europe.
For panoramic views of Leipzig, visit the viewing platform in the Panorama Tower.
Days 8-9: Dresden
Explore Dresden's old town, where you'll find the impressive Altmarkt Square. Nearby is the Rathaus (city hall) and Holy Cross Church. In Neumarkt Square there's a Martin Luther statue and the Frauenkirche church.
Also nearby is the Dresden Castle, Hausmannsturm tower for views, Schlossplatz Square, Zwinger Palace, and Brühl's Terrace, a gorgeous promenade along the Elbe River.
Day 10: Berlin
It's time to head back to Berlin. Did you miss any sights or museums at the beginning of your itinerary? Now's your chance to see anything you skipped, before your flight home.
Getting in and out
To do this trip, you should book round trip flights to and from the Berlin Airport (BER).
The Best Time to Visit
It's best to visit in late spring or early fall, but summer is a good time too if you don't mind bigger crowds and potentially hotter weather. If you come from late November to Christmas, you can also visit lots of Christmas markets on your trip.
Suggested by Ali from Berlin Travel Tips
London-Edinburgh-Isle of Skye
If you enjoy a mixture of big city breaks and outdoor exploration, then spend 10 days in the UK. While most people only stop by London, there are plenty of worthy places to see up north in Scotland as well.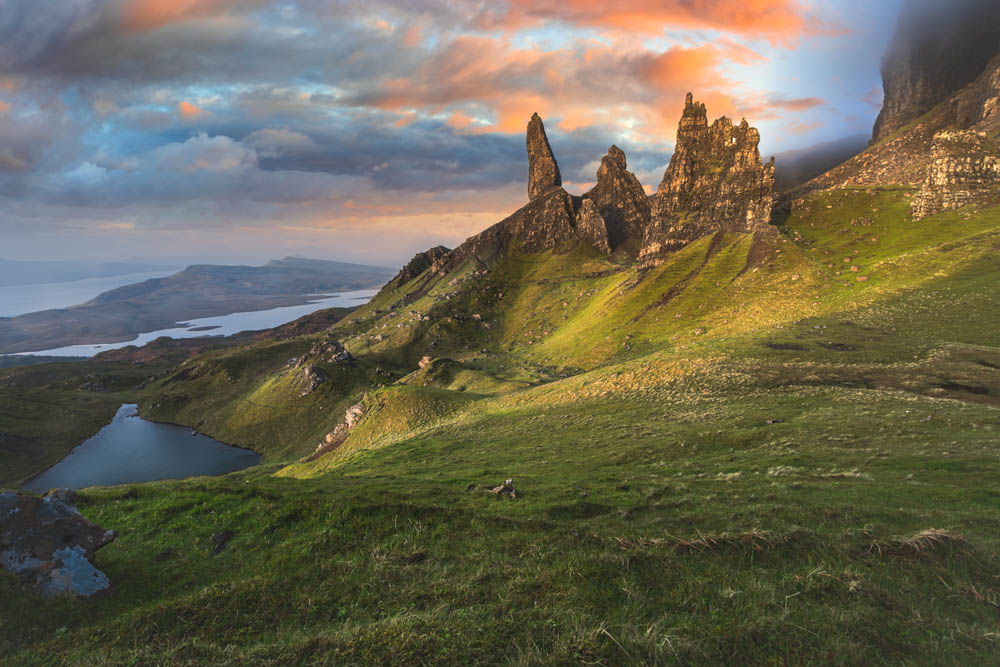 Days 1-3: London
Start your UK itinerary in the bustling city of London. Three days is just enough time to take in the most stunning sights in the capital of the United Kingdom.
Be sure to stop by Westminster Abbey, Big Ben, and Buckingham Palace, where the Queen resides. Snap photos of the picturesque Tower Bridge, and visit the Tower of London.
You can also find plenty of cute cafes in the Belgravia neighborhood, and catch a theatre performance in Soho.
Days 4-6: Edinburgh
Spend the next three days in the historical city of Edinburgh in Scotland. Admire stunning views of the city from Calton Hill and Arthur's Seat, which makes for a very scenic and fun hike.
Be sure to also stop by Dean Village and the beautiful Edinburgh castle, stroll the old town, and visit the National Museum of Scotland.
Day 7: Drive from Edinburgh to Isle of Skye
Rent a car and do a scenic road trip from Edinburgh to the Isle of Skye. The journey should take roughly 5.5 hours.
Stop by Invergarry, Loch Ness, and Glen Shiel before arriving in Portree, one of the best places to stay on the Isle of Skye.
Days 8-10: Isle of Skye, Scotland
Once you're on Skye, immerse yourself in the outdoors. If you enjoy hiking, head to Quiraing, Brother's Point, and the Old Man of Storr. Don't leave without visiting the stunning Dunvegan Castle and the famous Eilean Donan Castle.
Getting in and out
You can fly into London Heathrow and fly out of Inverness Airport, which is near the Isle of Skye. From there, you can connect to London's many airports and make your journey onwards.
The Best Time for this Europe Itinerary
The best time to do this itinerary is in the summer, when the weather is the most pleasant in the UK.
Suggested by Jiayi from The Diary of a Nomad
Brussels-Ghent-Bruges-Amsterdam
The Benelux region is not to be missed. Belgium has all the best parts of France and Switzerland, in a compact, affordable package and Amsterdam is a bucket list destination in itself.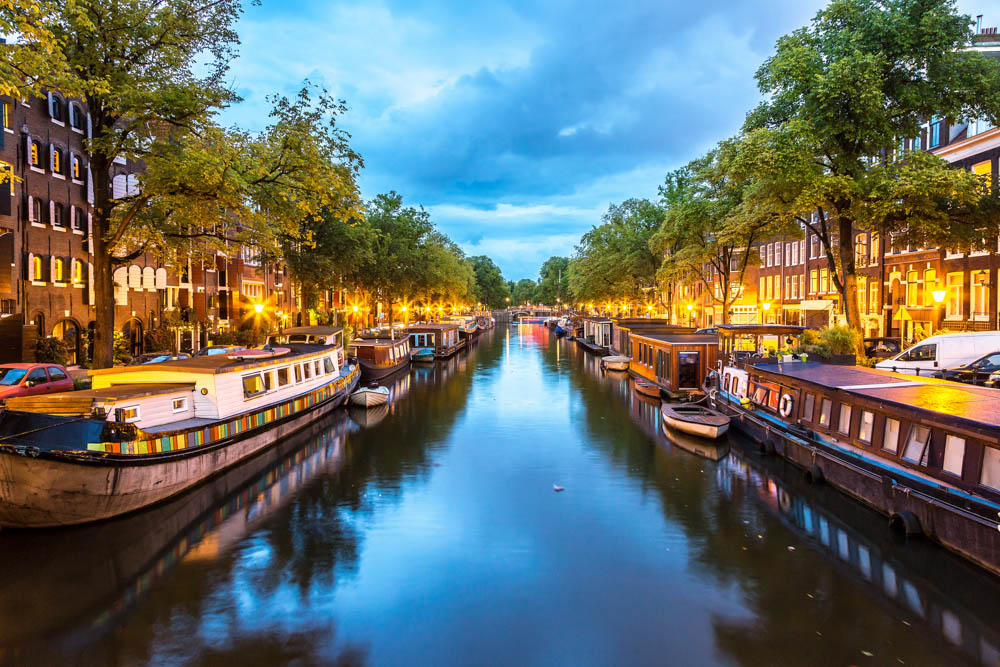 Days 1-3: Brussels
Being the capital of Belgium and European Union headquarters, Brussels has many palaces and parliaments to tour.
There are also more quirky spots like the Mannekin Pis statue and TinTin murals to photograph. Make sure to visit the many chocolatiers for a taste of world-famous Belgian chocolate.
Days 4-5: Ghent
Tour the Gravensteen castle for a full medieval experience. Wander the riverfront path lined with historic buildings and drop into some bars to taste Belgian beers before grabbing frites on your way home.
Days 6-7: Bruges
Bruges' historic centre is a UNESCO World Heritage Site and the best way to see it is by climbing the Belfry Tower. You can't visit Belgium without trying waffles and you'll find them everywhere in Bruges. The Liege variety are local favorites.
Days 8-10: Amsterdam
Amsterdam is most famous for its red-light district. However, don't overlook the Dutch Art exhibitions. See old masters in the Rijksmueum or Rembrandt Museum or modern art at the Moco Museum.
The Anne Frank House is a must see and you'll find great shopping in the surrounding area. Make sure to try one of the infamous vending machine restaurants.
Getting in and out
Fly into Brussels Airport to start this itinerary and out of Amsterdam Schiphol at the end of your trip. Alternatively, catch a train from most major cities in the region, including Paris and London.
When to Do This Europe Itinerary
This trip is magical in the winter, when the streets are covered in snow and crowds are smaller. However, there's no bad time to visit.
Suggested by Kate from Kate Abroad
Poland
Poland offers varied landscapes, medieval towns rebuilt from ruins, and hearty comfort food. And to hit all the important cities of Poland, use this 10-day Poland itinerary.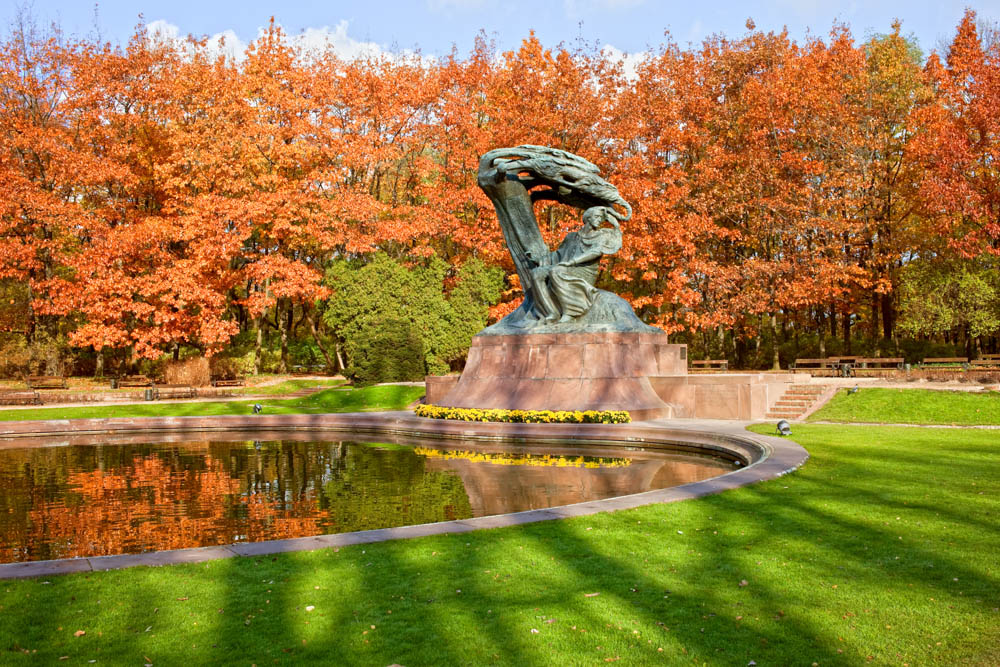 Days 1-2: Gdansk
Start your Poland itinerary in the city of Gdansk. Its main attractions are to be found along Dlugi Targ. Make sure you visit a few museums, such as Artus Court, Town Hall, and Uphagen House.
Tour the Museum of the Second World War, one of the best museums in Gdansk that mesmerizingly tells the history of this tragic historical event. Also do not miss the European Solidarity Center, dedicated to the Polish Solidarity movement. At the Museum of Amber, learn how Gdansk became the city of amber gemstones.
Day 3 – Malbork Castle
Spend this day on the road, traveling from Gdansk to Warsaw. Make an early stopover at medieval Malbork Castle, located an hour train ride from Gdansk. After arriving in Warsaw, stroll its Old Town.
Days 4-5: Warsaw
Warsaw boasts historical museums that you can't miss. The most important ones are the POLIN Museum of the History of Polish Jews, Warsaw Uprising Museum, and Life Under Communism, to learn more about the country and its capital.
For a relaxing stroll mixed in with cultural experience, wander through Warsaw's Lazienski and Wilanow palaces and parks.
Day 6: Poznan
Spend this day walking the winding cobbled streets of Poznan's Old Town and admiring its multicolored, fascinating houses and unique Art-Nouveau buildings.
Day 7: Wroclaw
Wroclaw is known for the hundreds of little dwarf statues scattered across the city, and finding them is one of the best things to do in Wroclaw. Also be sure to visit some of the islands nestled in the heart of Wroclaw.
Days 8-10: Krakow
Krakow is known for its medieval center that survived WWII. The spacious Market Square, with fascinating buildings dominating the skyline, is the city's main attraction, along with the beautiful Wawel Castle.
The location of Krakow enables you to make day trips to the two very important historical sights: the Wieliczka Salt Mine and the Auschwitz-Birkenau concentration camp.
Getting in and out
Fly into Gdansk Lech Walesa Airport to start this Poland itinerary, and fly out of Wroclaw Nicolaus Copernicus Airport at the end of the trip.
The Best Time to Visit Poland
Spring (April-May) and fall (September-October) are great times to do this Poland itinerary. Summer offers warm temperatures and dry skies, but you'll likely encounter more crowds at popular places in the summer.
Suggested by Baia from Red Fedora Diary
Romania
Planning a 10-day Europe trip? A road trip across Transylvania in Romania is one of the best ways to appreciate a region with superb natural beauty and great historical significance.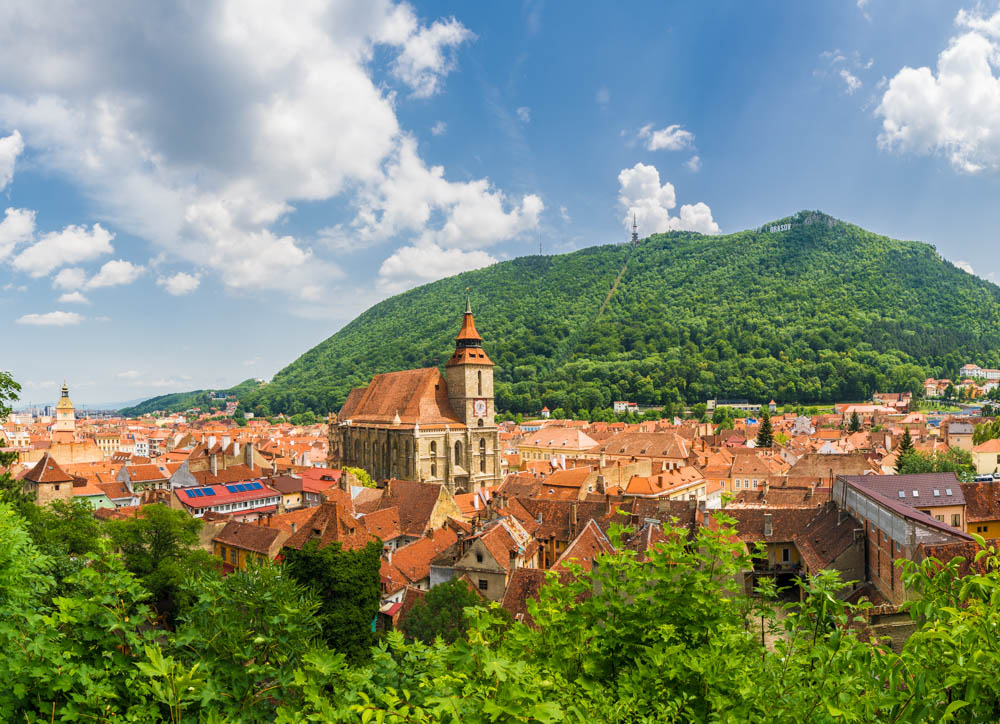 Days 1-2: Brasov
Brasov is probably the most picturesque town in Transylvania. It's also the perfect base from which to explore some of the region's main attractions, such as Bran Castle, Peles Castle, and Rasnov Fortress.
Day 3: Sighisoara
On your way from Brasov to Sighisoara, make a stop in Viscri, a quaint village where time seems to have stopped. Viscri is home to a magnificent fortified church, one of many that dot the Transylvanian countryside.
Once in Sighisoara, you'll be amazed by the colorful citadel that looks as though it has sprung out of the pages of a fairy tale.
Day 4: Cluj-Napoca
It may take a slight detour to get there, but Cluj-Napoca is the perfect place to relax and unwind before you resume exploring the wonders of Transylvania.
With its lively vibes and exquisite dining and café scenes, Cluj-Napoca also guarantees an authentic Romanian experience.
Days 5-6: Sibiu
Sibiu's history is fascinating as it used to be the region's most important city in the past. Nowadays, Sibiu is one of the most charming places to visit in Romania and the ideal base if you want to visit Corvin Castle and Alba Iulia.
Days 7-8: Transfagarasan
Regarded by many as one of the world's most spectacular routes, the Transfagarasan Highway is a dramatic mountain crossing that winds its way through landscapes of unfathomable beauty, amidst waterfalls, lakes and smooth slopes.
Days 9-10: Bucharest
No trip to Romania is complete without a visit to the country's vibrant capital. Bucharest is among the most exciting European capitals for recent history buffs and nostalgic architecture lovers.
Getting in and out
To make the most of this 10-day itinerary, it's wise to fly in and out of Bucharest Airport, following a circular route.
The Best Time for this Europe Itinerary
The best time to enjoy this trip across Transylvania is between July and October, because that's when the Transfagarasan Highway is open to the public.
Suggested by Maria from It's All Trip to Me
*****
We hope you enjoyed this round-up of exciting Europe trip itineraries. Which one will you pick for your next visit to Europe?
More Europe Travel Inspiration
Did you find this article informative? Pin it for later reference!