Can you really "do" Copenhagen in a day? Absolutely! If you have just one day in Copenhagen, you can visit some of its major attractions, sample some smørrebrød, relax at Nyhavn, and even do a canal cruise!
Keep reading to discover the ultimate one day Copenhagen itinerary!
Copenhagen, the capital of Denmark, sits on an archipelago, made up of two main islands, Zealand and Amager, and many small islets.
It is a beautiful green city, known for the quality of life it offers its residents, who are reported to be among the happiest people on the planet!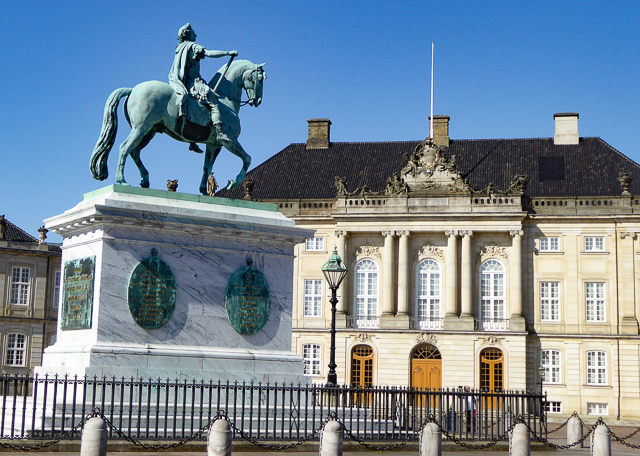 Some links on this page may be affiliate links. If you click an affiliate link and make a purchase, we may receive a small commission, at no extra cost to you. For more details, refer to our disclosure.
With its multiple palaces and museums, its superb gastronomic choices, diverse neighborhoods, and vibrant culture, Copenhagen is a must-visit destination in Northern Europe.
ONE DAY IN COPENHAGEN: WHAT TO SEE AND DO!
You could easily spend a week or more exploring everything there is to see and do in Copenhagen.
But if you are on a cruise, with Copenhagen as a port of call, or otherwise here just for one day, you can still enjoy a good sampling of Copenhagen's main attractions.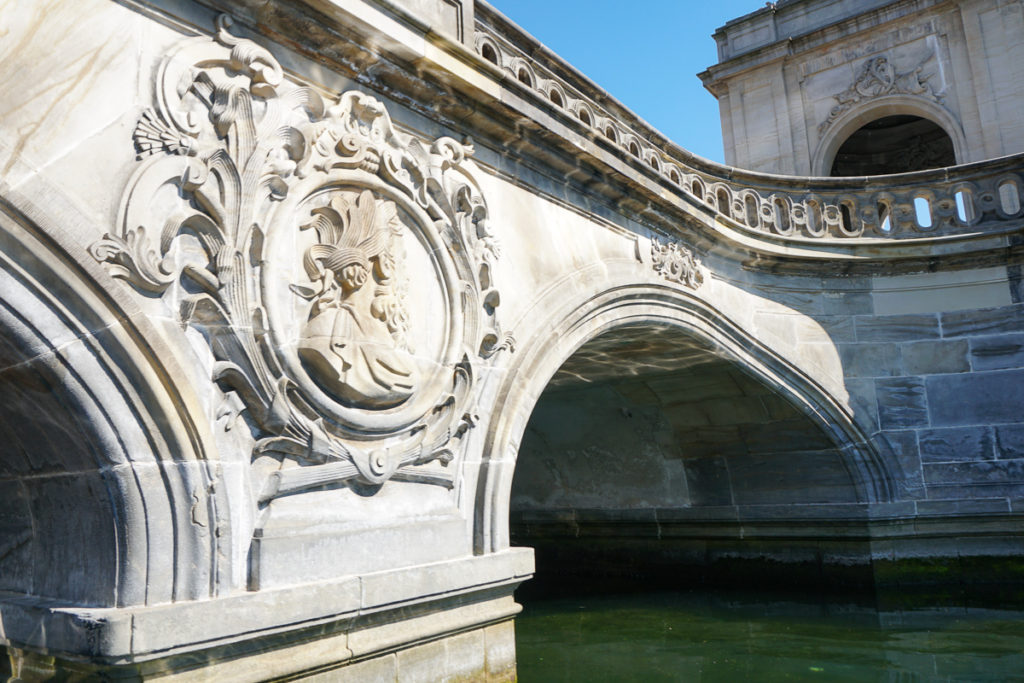 With just one day to explore Copenhagen, focus on a few sights, the ones that interest you the most, and otherwise spend your day walking or biking around the Danish capital, strolling the shopping streets, and sampling the delicious cuisine.
Here's the ultimate itinerary for one amazing day in Copenhagen:
9 a.m. Walk the King's Garden
Start your day with a brisk walk in a beautiful garden. The King's Garden originally served the Rosenborg Castle, the pleasure palace of King Christian IV.
When the royals abandoned the castle, the gardens were opened to the public.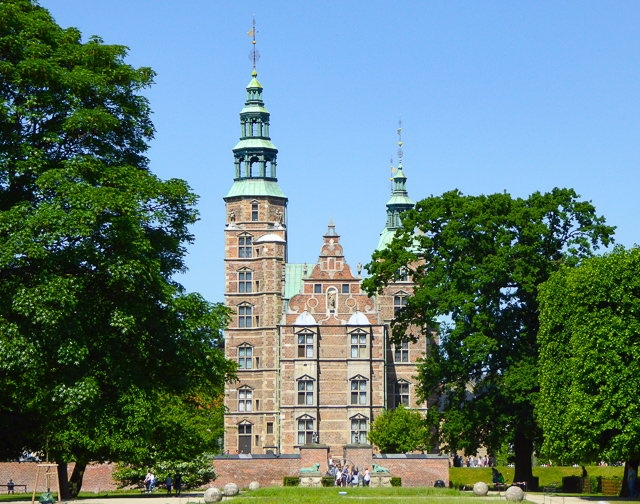 The green space, with its tree-lined walkways and large flower beds, is hugely popular on nice weather days.
When we visited in late May, tulips were nearing the end of their bloom. Folks were out in force enjoying the sun. It is a beautiful walk.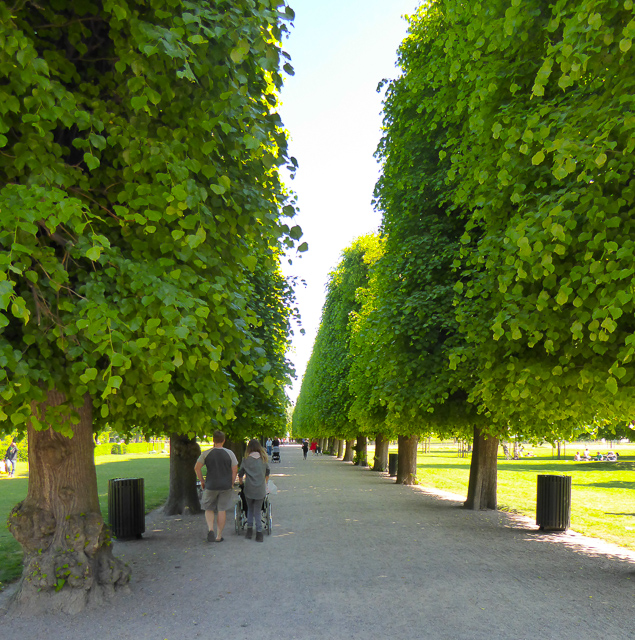 Rosenborg Castle features beautiful interiors and houses the Crown Jewels of Denmark.
If you are in Copenhagen for just one day, however, you'll likely have to pick between the interiors of Christiansborg Palace or Rosenborg Castle, and leave the other one for another visit. We chose the interiors of Christiansborg Palace, but you can't go wrong with either choice.
Rosenborg Castle opens at 10 a.m., so view the gardens first and then tour the interior.
If you go: The King's Garden and Rosenborg Castle, Øster Voldgade 4A, 1350 København, Denmark
Want to save some money? See if the Copenhagen City Card is right for you! From 24-120 hours, it offers free and discounted admissions as well as free transportation!
10 a.m. Climb to the top of the Round Tower
The Rundetaarn, or Round Tower, is actually an observatory: the oldest one in Europe, to be precise.
There is a platform at the top, from where you get gorgeous views of the rooftops of old Copenhagen.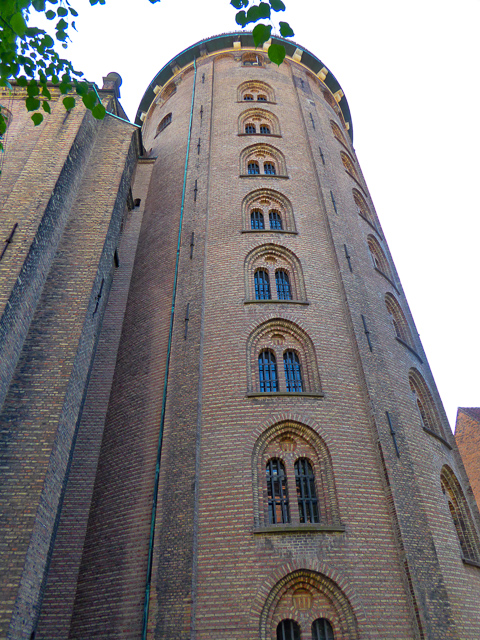 The top of the tower is accessed via a spiral ramp.
Peter the Great went up the ramp on his horse, followed by his wife in a carriage, but you have to walk up the 700 feet to the top. It's not a difficult walk, though, and the views are worth the climb!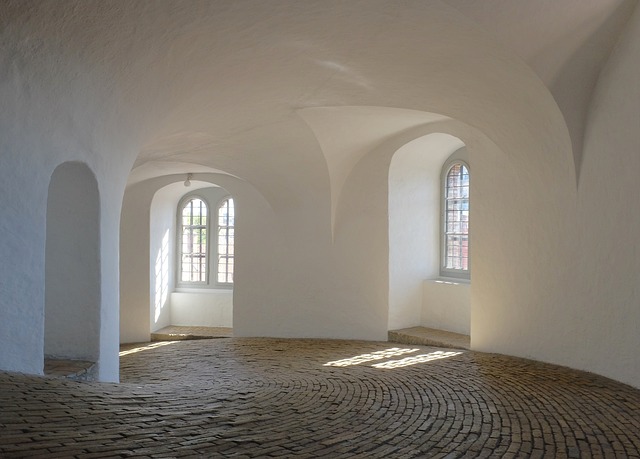 If you go: Rundetaarn, Købmagergade 52A, 1150 København, Denmark
11 a.m. Browse the shops on Strøget
At 0.7 mile, Strøget is one of the longest pedestrian streets in Europe, with City Hall square on one end, and Kongens Nytorv square on the other.
Shops, cafes, and restaurants line both sides, making it a hub of activity all through the day.
Shops on Strøget run the gamut from top name brands to modest stores. You'll find Gucci and Louis Vuitton here, as well as Zara and H&M. The Lego Store is a big draw.
Strøget is a fun place to window shop, or shop, or just stroll and people watch. You may see street artists performing, and people out enjoying the day if the weather is nice.
While walking the area, keep your eye out for some of Copenhagen's attractions. The Stork Fountain at Amagertorv is gorgeous!
1.30 p.m. Explore Christiansborg Palace
Christiansborg Palace used to be the official residence of the Danish monarch, but today it is only used by the royal family to host state events.
Located on the little island of Slotsholmen, Christiansborg Palace houses various offices, including the Danish Parliament and the Supreme Court.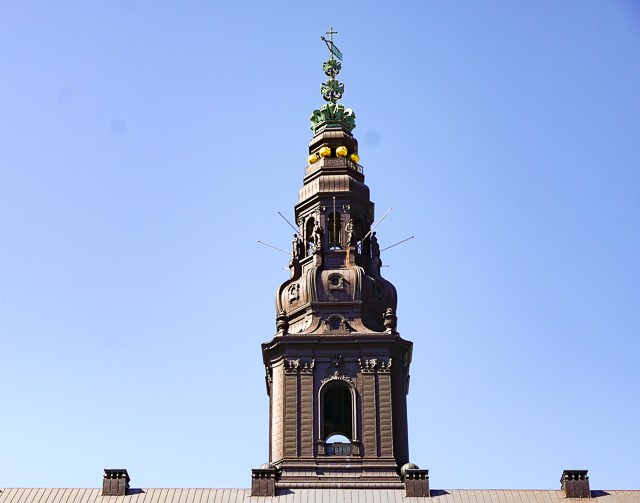 You could really spend a whole day exploring the complex, which includes the Royal Stables, the Royal Kitchen, and the Ruins, apart from the Royal Reception Rooms. Each requires a separate ticket.
If you are in Copenhagen for just one day, I would suggest just touring the Royal Reception Rooms.
Head straight to the Great Hall, where you will find the Queen's magnificent tapestries that detail 1,000 years of the history of Denmark.
The Throne Room, with its gorgeous green silk wall coverings and marble pilasters, is where the monarch of Denmark receives visiting royalty and dignitaries.
If you go: Christiansborg Palace, Prins Jørgens Gård 1, 1218 København, Denmark
Like the idea of a guided tour? It's an efficient way to see the sights, while learning about local history and culture. Consider this Best of Copenhagen tour that mixes in a few hidden gems with well-known sightseeing landmarks. The 3-hour tour is highly rated. Book this tour now!
Or consider this very popular private walking tour, priced by group. The 3-hour tour covers major landmarks, including Nyhavn, Amalienborg Palace, and Tivoli Gardens, and there are multiple departure times. Book this tour now!
3.30 p.m. Enjoy a break at Nyhavn
It's time for a break at Nyhavn, Copenhagen's medieval commercial port and today a beautiful waterfront destination for both residents and visitors.
If you are on Instagram, you are probably already familiar with the bright colorful facades of Nyhavn! It's arguably the most popular photo spot in Copenhagen.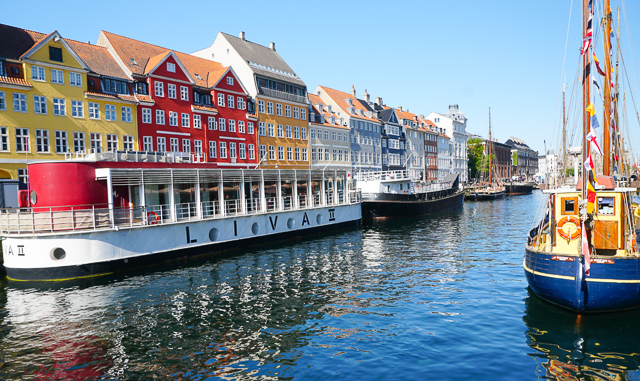 Nyhavn is lined with cafes and restaurants, and is an extremely popular place to relax and enjoy being outdoors if the weather is nice.
If you visit during the holidays, you will be charmed by the annual Christmas market and the pretty lights.
But Nyhavn is beautiful any time of year and any time of day.
Nyhavn has a colorful history as well: during its time as Copenhagen's commercial port, the area was full of bars, and the haunt of sailors.
A bit of trivia: Hans Christian Andersen, the famous fairy tale author, lived and worked in Nyhavn for many years. He was living in Nyhavn 20 when he had some of his famous stories published.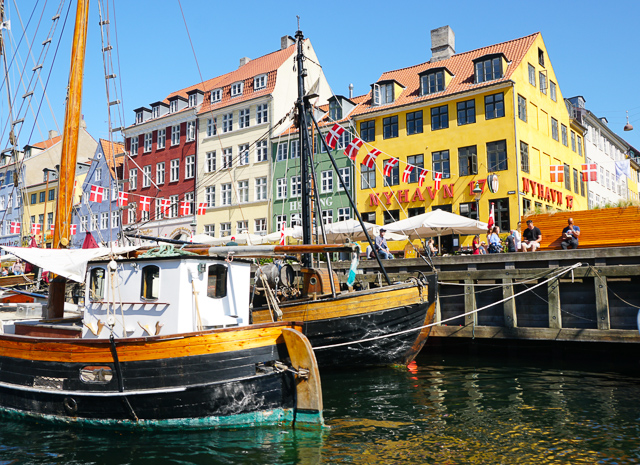 4.00 p.m. Take a canal cruise
Canal boat tours depart from Nyhavn, Copenhagen's picturesque waterfront, all through the day. You can also start your cruise at Gammel Strand. A canal cruise is one of the top things to put on your list for your one day in Copenhagen.
The one-hour cruise takes you past many of Copenhagen's famous attractions. You will cruise past the facades of Nyhavn, the Amalienborg Palace, the Christiansborg Palace, the beautiful Old Stock Exchange building, the Opera House, and the Little Mermaid statue.
Pretty buildings line the canals on both sides, so you'll be spoiled for choice on photo ops along the cruise. Guided commentary is offered in Danish and English. I loved our cruise in Copenhagen!
This more expensive canal tour is worth considering for the personalized experience and the small group size. The tour is highly rated, and lasts 2 hours. A beverage is included. Book this tour now!
5.30 p.m. Admire the stunning Amalienborg Palace
The Amalienborg Palace courtyard is simply stunning, with its surround of four identical beautiful buildings and the statue of King Frederik V in the center.
From the square, you can also see the beautiful copper green dome of Frederick's Church, also called the Marble Church.
Amalienborg Palace is the winter residence of the monarch of Denmark.
If you visit at noon, you can see the changing of the guard, but if you are visiting Copenhagen for just one day, you may not be able to allocate the time for it. If you are in Copenhagen for 2 or 3 days, however, you should definitely plan to see the ceremony.
Also if you are here for longer, plan to visit the Amalienborg Museum, where you can see the private interiors of many kings and queens of Denmark, going back 150 years.
If you go: Amalienborg Palace, Amalienborg Slotsplads 5, 1257 København K, Denmark
6.15 p.m. Stroll through Kastallet
Copenhagen's old fortress, Kastallet, is today a beautifully preserved park. Walking through it is a joy, with all the green, the moat, and the gorgeous old buildings.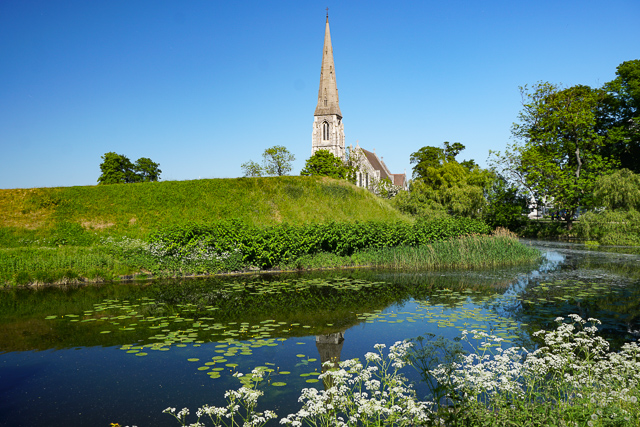 Built in the 17th century, the citadel includes a church and a prison. Many of the buildings have bright facades, and look stunning against the blue sky on a nice day. Don't miss the Commander's House, and the Dutch-style windmill.
The windmill at Kastallet is the only working windmill left of the 16 that were originally built to grind grains during a siege.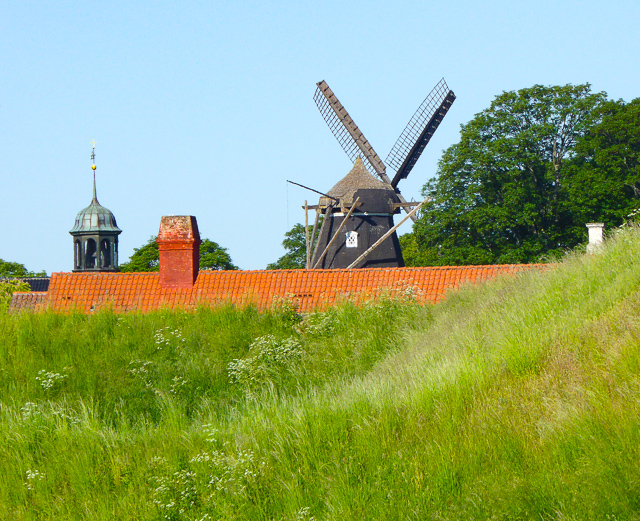 There are lots of birds at Kastallet, so see if you can spot gulls, herons, swans, or Pomeranian ducks. If you enjoy visiting green spaces on your travels, you will love strolling through Kastallet.
If you go: Kastallet, Gl. Hovedvagt, Kastellet 1, 2100 København, Denmark
7.00 p.m. Take a photo of The Little Mermaid
End your explorations of Copenhagen at the Langelinie Pier, where you will find one of the city's most popular attractions: The Little Mermaid statue by Edvard Eriksen.
Den lille Havfrue is inspired by Hans Christian Andersen's famous fairy tale, and was sculpted more than 100 years ago.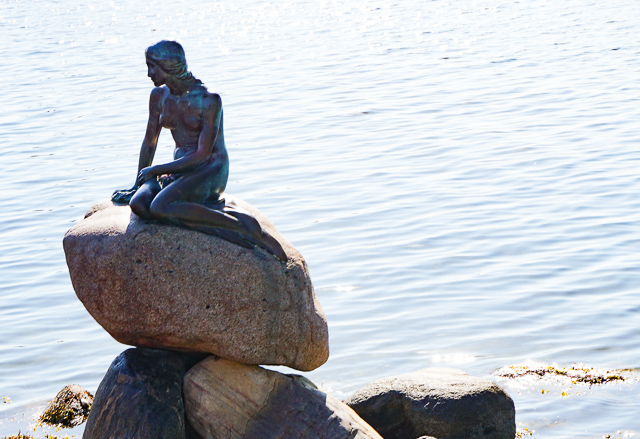 The Little Mermaid's vigil is no longer lonely though, because throngs of tourists from all over the world surround her all the time, especially in season. So your best chance at a good photo is early or late in the day.
The walk along the pier is both serene and pretty. As you walk along the pier towards The Little Mermaid statue, you will see the Gefion Fountain as well.
If you go: Den lille Havfrue, Langelinie, 2100 København Ø, Denmark
With More Time in Copenhagen
If you are spending 2 or 3 (or more!) days in Copenhagen, you can see and do a lot more.
With more time, don't miss the changing of the guard at Amalienborg Palace, and spend more time exploring the fabulous Christiansborg Palace complex and Rosenborg Castle.
The Danish capital is home to a number of world class museums, churches, gardens, and theme parks. You will not run out of things to see and do in Copenhagen, even if you are here for a week or more.
And, if you like, you can swap out an activity from the itinerary above for one from the list below, if you find one that is more tailored to your interests.
Also, there are several day trips from Copenhagen you can add to your itinerary if you are planning a longer stay in the Danish capital!
Explore Designmuseum Danmark
A unique museum that showcases the history of design along with displays of decorative arts and crafts, this museum is a must-visit if you love design and decorating.
Admire the furniture, ceramics, and textiles on display, see the fabulous poster collection, and look for souvenirs in the lovely museum shop!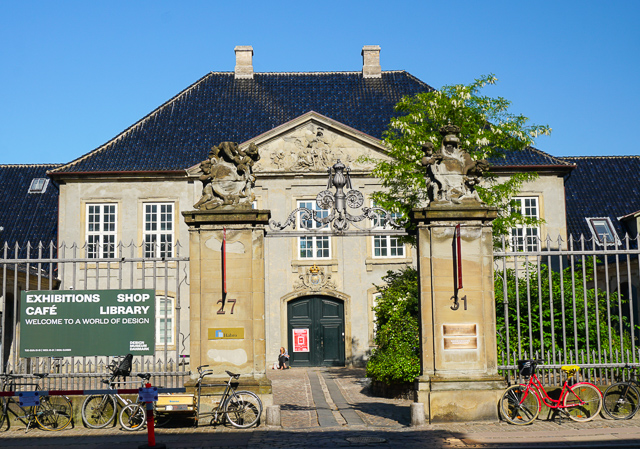 If you go: Designmuseum Danmark, Bredgade 68, 1260 København, Denmark
Enjoy the Art at The Glypotek
The Ny Carlsberg Glyptotek, known popularly as the Glyptoteket, is a must-visit art museum in Copenhagen. If you enjoy art, this museum should be at the top of your itinerary for the city.
The private art collection of Carl Jacobsen, the museum is a treasure-house of sculpture and paintings.
Sculptures range from ancient Egyptian, Roman, and Greek works to an impressive collection of Rodin works. Paintings include works by many French Impressionist masters as well as post-Impressionist works.
The museum is included in the Copenhagen Card.
Visit the National Gallery of Denmark
Denmark's largest art gallery, the National Gallery of Denmark, houses a permanent exhibition of Danish and Nordic art, as well as other collections. The museum's origins lie in the art collected by Danish monarchs over time.
If you go: National Gallery of Denmark, Sølvgade 48-50, 1307 København K, Denmark
Admire the Greenhouses at the Botanical Gardens
If you love gardens, visiting the University of Copenhagen Botanical Gardens is one of the best things to do in Copenhagen. The gardens are famous for the large number of historical greenhouses, some of them going back to the late 19th century!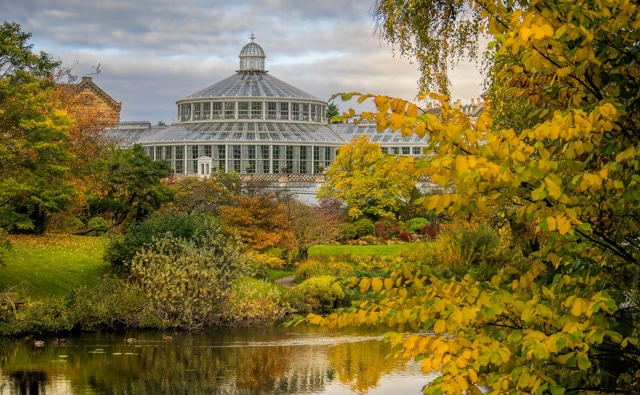 The gardens are home to some 13,000 species, and a Butterfly House that's open in the summer.
If you go: University of Copenhagen Botanical Garden, Gothersgade 128, DK-1123 København K, Denmark
Discover the National Museum of Denmark
The Nationalmuseet is Denmark's largest museum of cultural history, with its main location near Strøget. It covers many centuries of Danish history, going back all the way to the Ice Age and the Age of the Vikings.
If you love collecting coins, don't miss the collection of coins in the museum.
If you go: National Museum of Denmark, Prince's Mansion, Ny Vestergade 10, 1471 København K, Denmark
Take in the views from the Church of Our Savior
You can see the tower of the Church of Our Savior from the water, with a curvy spiral staircase going to the top. If you have the energy, climb up the 400 steps for amazing views. Be warned: the last 150 steps are out in the open!
If you go: Church of Our Savior, Sankt Annæ Gade 29, 1416 København, Denmark
Catch the light show at Tivoli Gardens
A visit to Tivoli Gardens is fun even if you don't enjoy the rides and thrills at amusement parks. The theme park opened all the way back in 1843, and is considered one of the inspirations behind the Disney theme parks.
Tivoli is the second-oldest amusement park in the world.
Enjoy a musical performance, the ballet, or a pantomime, check out the gardens and the lake, browse the shops, and people watch! And after dark, enjoy the light and sound show, and the lit up rides and gardens!
Get your Tivoli Gardens admission tickets in advance to skip the ticket-purchasing line!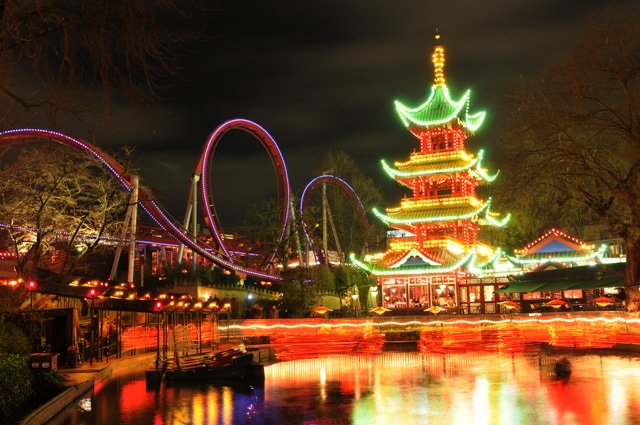 If you go: Tivoli Gardens, Vesterbrogade 3, 1630 København V, Denmark
Getting into Copenhagen
BY AIR
If you are flying into Copenhagen, you will arrive at Copenhagen Airport Kastrup. From the airport, you can take a train or the metro into the city center. The journey takes about 15 minutes. You can also take a bus or a taxi into the city from the airport.
BY TRAIN
Trains connect Copenhagen with other parts of Denmark, several places in Sweden, and to Hamburg in Continental Europe. Copenhagen's Central Station is in the city center, and you can take a taxi to your hotel if you arrive with baggage.
BY CRUISE SHIP
If you are on a cruise of Scandinavia and Northern Europe, your itinerary will likely include Copenhagen as a port of call. If you arrive by cruise ship, you could dock at one of three terminals.
From the terminal, the city center is just a short ride by bus or taxi. Your cruise line will likely offer shuttles as well.
Getting Around Copenhagen
The Copenhagen Hop on Hop Off Bus is a great way to get around if you do not want to walk a lot. There are three routes: pick the Classic Route to cover major sightseeing points in the city. The ticket is valid for 72 hours. Book the Hop On Hop Off bus tour now!
If you are a confident cyclist, a bicycle is a convenient and time-saving way to get around in Copenhagen. Many streets in the city have wide bike lanes, and locals zip along everywhere on their bikes.
You can rent bicycles from a shop, or use the city's bike-sharing option, called Bycyklen. City bikes come equipped with a GPS system and an electric motor!
You can also join a guided bike tour of Copenhagen. This highly-rated 3-hour tour includes many city highlights and is an excellent introduction to Copenhagen.
Book this tour now!
All the locations on my one day Copenhagen itinerary are walkable, but you will rack up a lot of steps by the end of the day, and you will have to walk briskly to make all the stops. We walked a lot of it, but used taxis a couple of times.
Copenhagen has an extensive and very efficient public transport system as well, so you can use a combination of walking and public transport for your 1 day in Copenhagen. You can also do it all using public transport. The public transport system includes S-trains, the metro, bus, and boat.
A Copenhagen City Pass allows for unlimited use of public transport, and can be ordered online for different time periods depending on the length of your stay in Copenhagen.
You can also join guided tours, either a walking tour or a tour by bike to get a good overview of the major sights in a couple of hours, followed by spending more time at the places you like. This Segway tour is another great option.
Where to Stay in Copenhagen
You have lots of options for luxury stays in Copenhagen. Staying in the city center will mean you are close to the Central Train Station and many attractions.
Nobis Hotel is located in a historic building very close to Tivoli Gardens and the Central Station. Contemporary furniture contrasts nicely with embellished ceilings for lovely interiors. Rooms are contemporary and very comfortable.
Hotel Sanders is located near Nyhavn. This is a stylish boutique property, with beautiful public spaces and rooms with gorgeous bathrooms.
Hotel Herman K is located right next to Kongens Nytorv square. Herman K is a boutique hotel with an industrial design both inside and out, trendy grey and tan furnishings in the rooms, and a stunning 2-story restaurant.
Where to Eat in Copenhagen
BREAKFAST
For a quick but tasty breakfast, visit Torvehallern, a wonderful food market in the heart of Copenhagen. Pastries, cheeses, fresh juice, great coffee…you will find them all here. Try Coffee Collective if you love good coffee.
LUNCH
Lunch is the perfect time to try the smørrebrød, the famous Danish open-faced sandwich. For the full local experience, wash it down with aquavit!
The smørrebrød can have any toppings you want, including shrimp, egg, meat, or fish. Vegetarian toppings include potato and avocado. Dark rye bread is slathered with butter (or lard), and then the toppings are piled on, for a tasty treat.
For the most gourmet smørrebrød experience, head to Aamanns. You can sit down and eat a relaxed lunch, or get a to-go box from their deli next door. Either way, you'll be happy with your meal. If you are at Nyhavn at lunch time, try the smørrebrød at Told & Snaps, or Kompasset.
If you love food sampling, consider a food tour to learn more about new Nordic cuisine and sample a choice array of local delicacies! This tour takes 2.5 hours, and involves a short walk through the city.
HYGGE BREAK
Hygge means "cozy," and one of the best ways to find hygge in Copenhagen is a relaxing "coffee" break, ideally with a baked treat to go with your hot coffee, tea, or chocolate.
You'll find cozy cafes everywhere you go in Copenhagen, so pick one you like and enjoy a little break! Coffee Collective has many locations all over the city.
DINNER
There are more than a dozen Michelin starred restaurants in Copenhagen, so consider ending your one day in Copenhagen with a fine dining experience at one of them!
Try Geranium, which has three Michelin stars and offers a multi-course tasting menu (about two dozen offerings!) with wine or juice pairings. You will love the big open kitchen and elegant Nordic design.
Or Noma, the legendary New Nordic restaurant, also with three Michelin stars, focused on locally sourced seasonal ingredients.
In the mood for Thai? Copenhagen is home to Kiin Kiin, the only Thai restaurant outside Thailand to have earned a Michelin star!
For great non-Michelin Nordic cuisine, Marv & Ben gets rave reviews on Trip Advisor, or try centrally-located Uformel.
The Best Time to Visit Copenhagen
May or early September are great months to visit, with reasonably good weather and ample daylight hours. We visited in late May to gorgeous weather.
In late April and early May, you will likely find cherry trees in bloom in Copenhagen. It's a very pretty sight! Spring is also tulip season in the city: the displays at Rosenborg Castle are gorgeous.
Summer brings great weather and really long days, ideal for outdoor dining and abuzz with festivals. But summer is also the most popular time to visit Scandinavian countries. So you will deal with crowds at popular places, and higher prices.
The holidays are another good time to visit, with Christmas festivities bringing cheer and lights. Expect this time to be expensive as well.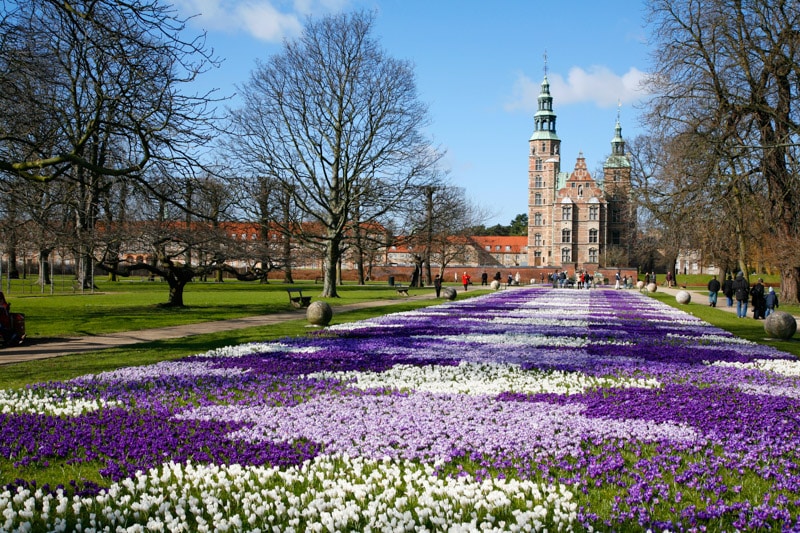 The Copenhagen Card
Copenhagen is not an inexpensive destination, and admission fees can add up.
The Copenhagen Card provides free admission to a number of Copenhagen sights and attractions, including the most visited: Tivoli, Rosenborg Castle, Christiansborg Palace, the Rundetaarn, and Amalienborg Palace.
The card also offers discounts on tours and restaurants and free unlimited public transportation. It is available for different time periods: 24, 48, 72, and 120 hours, from the time you activate it.
For exploring Copenhagen in a day following the itinerary above, the card may not be a good deal.
But if you choose a couple more places with entrance fees in place of some of our choices, or you have at least two days in Copenhagen and plan on visiting several more places that charge an entrance fee, you should definitely consider it!
*****
So there you have it: the ultimate itinerary for exploring Copenhagen in a day, and lots of options to mix and match if you want to come up with your own. If you have visited the beautiful Danish capital, I would love to know your thoughts: comment below to respond.
And if you haven't had a chance to visit yet, I do hope I have inspired you to add it to your Scandinavia itinerary! If you are planning a visit to neighboring Sweden or Norway as well, read my articles on these destinations next.
From a guide on the fabulous art in Stockholm metro stations to the best things to do in one day in beautiful Bergen, you'll find lots of ideas to help you map out your own visit.
MORE FUN ADVENTURES IN NORTHERN EUROPE
Sweden: Stockholm in a Day
Poland: A Self-Guided Walking Tour of Old Town Gdansk
Germany: One Day in Rostock
Norway: How to Spend One Perfect Day in Bergen
Finland: Helsinki in One Day
Norway: 10 Fun Things to Do in Stavanger
Cruising: The Viking Homelands Ocean Cruise Itinerary Review
Did you find this article informative? Pin it for future reference!