Stockholm in a day? If you're wondering, yes, it's doable! In one day in Stockholm, you can visit some of the top attractions in the city, enjoy Swedish cuisine, and have a wonderful time just soaking up the cool vibe of the Swedish capital.
Keep reading to discover how to experience the best of Stockholm in one day!
Some links on this page may be affiliate links. If you click an affiliate link and make a purchase, we may receive a small commission, at no extra cost to you. For more details, refer to our disclosure.
Stockholm sits on an archipelago of 14 islands, criss-crossed by numerous picturesque bridges. It is the largest of the Scandinavian capitals, and boasts beautiful architecture and an exquisitely preserved Old Town.
But it is also a vibrant modern European city, with clean air and lots of green spaces: it was designated the first European Green Capital.
Stockholm's diverse neighborhoods, cafe culture, and great dining scene make it an irresistible destination, one of the best places to visit not just in Sweden but in all of Northern Europe.
One Day in Stockholm: WHAT TO SEE AND DO!
The beautiful capital of Sweden ideally deserves at least 3-4 days, and even so, you'd still only be able to enjoy a spattering of the wonderful experiences on offer here.
If you have several days to spend in this magnificent city, be sure to check out my list of the best things to do in Stockholm!
But if you are on a cruise with Stockholm as one of many ports of call, or you are here only because you have a long layover, or if you are planning a quick visit for other reasons, and you only have one day in Stockholm, you can still take in some of its major sights.
If one day in Stockholm is all you have, don't run around trying to do too much. It's much better to focus on your top few things to do in Stockholm, and bask in the joy of just being in the lively, cosmopolitan Scandinavian city.
Stockholm's Old Town, Gamla Stan, is where you should spend quite a bit of your one day in Stockholm!
Here is my suggested itinerary for what to do in Stockholm in a day:
8.45 a.m. Visit the Stockholm City Hall
The red brick City Hall, built in the National Romantic style, is imposing, but only about 100 years old. About eight million bricks were used in the construction of the structure!
You can view the rich interiors, but only as part of a guided tour. You will be awed by the enormous pipe organ in the Blue Hall. This is the hall where the Nobel Banquet is hosted each year!
Admire the lovely French tapestries in the Oval Room, and the mosaics in the Golden Hall that depict the history of Sweden. The balls following the Nobel Banquet are held in the Golden Hall.
The City Hall Tower rises about 350 feet into the sky. If you visit between May and September, you can climb to the top for superb views.
Only 30 people are allowed per time slot and tickets for the entire day tend to sell out quickly in season. An elevator takes you up part of the way, but you'll still have to climb about 180 steps to the top.
By arriving early, hopefully you will be first in line for tickets. Tickets cannot be booked in advance.
If there is no line, spend a few minutes walking around the exterior, admiring the views across the water and the beautiful red brick of the tower. After your visit to the tower, you can join the first guided tour of the day to view the interiors.
If you go: Stockholm City Hall, Hantverkargatan 1, 111 52 Stockholm, Sweden
11 a.m. Explore Gamla Stan, Stockholm's Old Town
Exploring Gamla Stan should be at the top of your list of things to do in Stockholm. From the City Hall, it's a pleasant 20-minute walk to Gamla Stan. On the way, you will be able to admire Stockholm's beautiful architecture.
Don't miss the stunning Riksdag, the Swedish Parliament building. It covers almost half of Helgeandsholmen, the island on which it is located.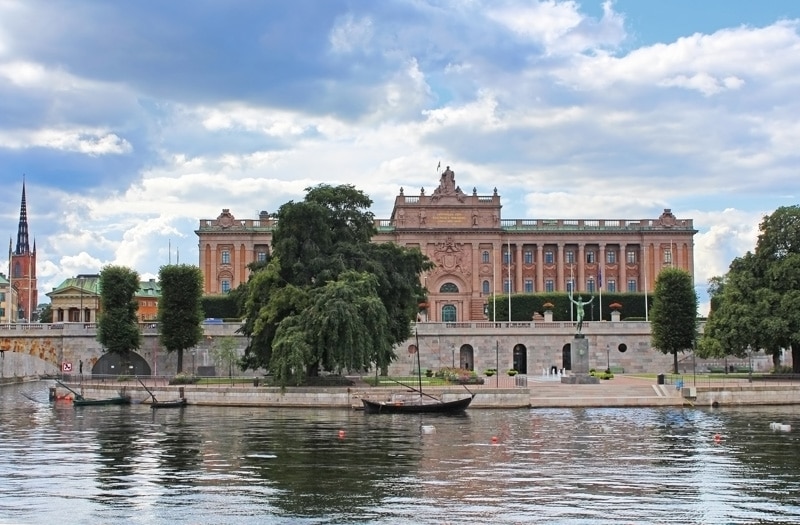 Stockholm's beautiful Old Town has so many things to see and do that you could pretty much spend an entire day here. But because your time here is limited, you can do a guided walking tour, or pick from some top attractions:
RIDDARHOLMEN CHURCH
Step inside Riddarholmskyrkan, one of the oldest structures in Stockholm. The church was the burial place for Swedish monarchs. With its graceful cast iron spire, it is a pretty sight in Gamla Stan.
If you visit: Riddarholmen Church, Kungliga slottet, 107 70 Stockholm, Sweden
STROLL the streets
The narrow cobblestone streets of Gamla Stan are lined with gorgeous buildings. The bright facades, in yellow, mustard, rust, orange, and red, will have you stopping every few feet for photos.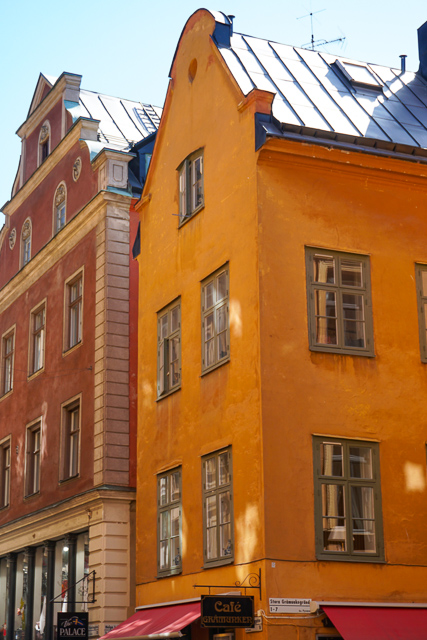 Västerlånggatan is one of the main streets in Gamla Stan. It is lined with shops selling souvenirs, and a few eateries. You will likely find this street very crowded during the day, especially in season.
Walk Västerlånggatan to Mårten Trotzigs Gränd, a little alley that is described as the narrowest street in Stockholm.
Climb up this alley to Prästgatan, a quieter street that runs parallel to Västerlånggatan and provides lots of photo ops.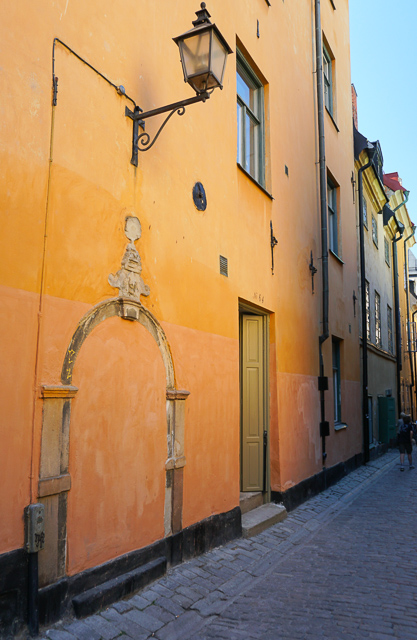 TAKE A BREAK AT STORTORGET
Next, make your way to Stortorget, the oldest square in the city and the scene of the gory Stockholm Bloodbath in the early 16th century, when several dozen luminaries were beheaded and hanged in the square.
Today the pretty square is lined with cafes and restaurants and is an excellent place to have lunch or to just take a break and engage in the pleasurable activity of people watching.
The red and yellow gabled buildings that are just made for photography are numbers 18 and 22.
VISIT THE NOBEL MUSEUM
At Stortorget, you will also find the Stock Exchange Building, which houses the Nobel Museum. The building also houses the Nobel Library.
In the Nobel Museum, you can view exhibits about the Nobel Prize and Nobel Laureates such as Nelson Mandela and Winston Churchill. You will also find information on Alfred Nobel, founder of the Nobel Prize.
Don't forget to stop by the museum shop for unique souvenirs, books, and fun toys. And get some ice cream at the Bistro Nobel!
If you visit: Nobel Museum, Stortorget 2, 103 16 Stockholm, Sweden
VISIT THE STOCKHOLM CATHEDRAL
Storkyrkan, the Stockholm Cathedral, is just around the corner. This church is the oldest in Gamla Stan, going back at least to the 13th century. Built in the Brick Gothic style, Storkyrkan features a clock tower with a teal top.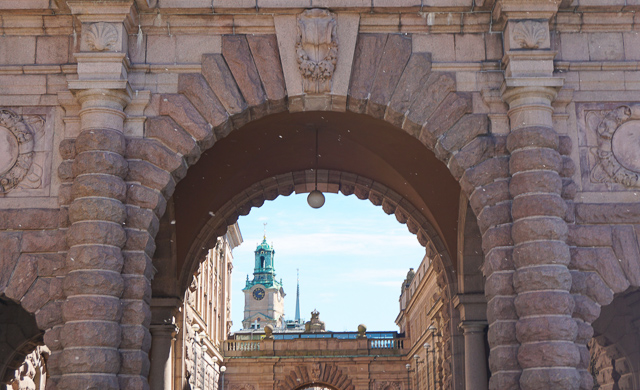 The Stockholm Cathedral has been the site of many royal weddings, funerals, and coronations.
Inside, don't miss the famous statue of St. George and the Dragon and the Sun Dog Painting, the oldest known picture of Stockholm.
If you visit: Storkyrkan, Trångsund 1, 111 29 Stockholm, Sweden
SEE THE ROYAL ARMORY
Your next stop in Gamla Stan is the Royal Armory, which is part of the Royal Palace. It is worth a quick stop to take photos of the outside, or, if you wish, you can explore the museum inside.
The Royal Armory houses items that have belonged to Swedish royalty, including battle uniforms, clothes and toys, and the royal coaches.
The changing of the guard ceremony happens a little past noon on weekdays and somewhat later on Sundays, and lasts for about 40 minutes.
On a one-day visit to Stockholm, you will likely not be able to fit it in, but if you have a few days in the city, you may enjoy watching the ceremony.
If you visit: Livrustkammaren, Slottsbacken 3, 111 30 Stockholm, Sweden
EXPLORE THE ROYAL PALACE
Your final stop in Gamla Stan is the huge Royal Palace, with more than 600 rooms and five museums!
Built in the Italian Baroque style in the 18th century, the palace has several ornate reception rooms you can tour. During the summer months, the Royal Chapel is open and is worth visiting.
Although the Royal Palace is the official residence of the Swedish royal family, they don't live here. Their private residence is Drottningholm Palace, about 7.5 miles from the city center and also open to the public.
If you visit: Royal Palace, 107 70 Stockholm, Sweden
3.30 p.m. Visit Vasamuseet to see a famous ship!
If you enjoy maritime museums, the Vasa Museum on the island of Djurgården is a must-visit. The Vasa Museum is one of Stockholm's top attractions and a must on any Stockholm sightseeing itinerary.
On August 10, 1628, the Vasa, a newly-built powerful warship, set sail from Stockholm harbor to much fanfare, with a large audience watching from shore.
A few miles from the shore, a strong gust of wind pushed the ship onto her side, and water gushed in through the open gunports on the bottom deck. In a few minutes, the Vasa sank. Most of the crew survived.
In 1956, the Vasa was found, and in April 1961, she was raised whole from her watery grave. In 1989, the Vasa Museum was opened to the public, and since then, over one million visitors throng to the museum.
If you are crunched for time, you can see the highlights in one hour. But of course you can spend much longer seeing all there is to see here. Audio guides are available, and you can also opt for a guided tour.
From the Royal Palace, it's a 30-minute walk to the Vasa Museum, or a quick 10-minute taxi ride. Or you can take the Djurgården ferry from the Slussen stop.
5.30 p.m. Wander the City Center
From the Vasa Museum, make your way to the island of Norrmalm, where you can walk around the city center and admire the architecture.
Here's where you will find the red church of St. Jacob, the Royal Swedish Opera, and the equestrian statue of Gustav II Adolfs. And a ton of other beautiful buildings, shopping malls, and green parks.
It's a lovely area to just wander and enjoy the sights and sounds of the city, as the finishing flourish to your one amazing day in Stockholm.
With more time in Stockholm…
If you are in Stockholm for one day, it makes sense to spend your time within walking distance of Gamla Stan for the most part, so you are not spending a lot of time commuting.
But if you have 2 days in Stockholm, or more, there is plenty more you can do in Stockholm! Or you can swap out one of the activities above for something that appeals more to you.
Visit ABBA the Museum
Learn more about Sweden's most famous band at ABBA the Museum. Located in Djurgården, the museum features fun interactive exhibits where you can perform ABBA's music!
View the band's stage costumes and other artifacts, and get a better understanding of the band's journey to fame.
If you go: ABBA the Museum, Djurgårdsvägen 68, 115 21 Stockholm, Sweden
VISIT FOTOGRAFISKA STOCKHOLM
You can visit Fotografiska Museum even on a one day visit to Stockholm, because the museum is open quite late. Located right by the water, the museum is especially convenient if your cruise ship docks nearby.
The Fotografiska is a museum of contemporary photography, and features multiple exhibitions at any given time. The red brick Art Nouveau building used to be a customs house.
If you go: Fotografiska, Stadsgårdshamnen 22, 116 45 Stockholm, Sweden
Visit Skogskyrkogården
The Woodland Cemetery, or Skogskyrkogården, is a UNESCO World Heritage site.
Spread over 250 acres, the lovely rolling landscape and the thoughtful architecture by Sigurd Lewerentz and Gunnar Asplund make the Woodland Cemetery a wonderful addition to your Stockholm itinerary.
The cemetery is in use, so the chapels may not be open when you visit. Call ahead or book a guided tour if you want to be assured of viewing the interiors of the chapels. Otherwise, audio guides are available and the cemetery itself is open everyday.
To get to the Woodland Cemetery, take the green metro line towards Farsta Strand, and get off at the Skogskyrkogården station.
If you go: Skogskyrkogården, Sockenvägen, 122 33 Stockholm, Sweden
EXPLORE SOME STOCKHOLM NEIGHBORHOODS
While Gamla Stan is undoubtedly the Stockholm neighborhood you definitely must explore, if you have the time, check out a couple of other attractive areas.
Södermalm, the district to the south of the city, is a hip and trendy part of the city. Here you will find architecture from the 18th and 19th centuries, lots of cafes, boutique stores, and galleries. Stroll down Svartensgatan and admire its pretty wooden houses!
In upscale Östermalm, take a walk along Strandvägen, one of the most exclusive streets in the city. Here you will find the top fashion brands, plush homes, exclusive restaurants and bars, and luxury boats in the harbor.
Do a Day Trip to Drottningholm Palace
The private residence of the Swedish royal family and a UNESCO World Heritage site, Drottningholm Palace has a stunning location on an island in Lake Mälaren. A day trip to the palace is definitely one of the best things to do in Stockholm.
The baroque palace was built in the 17th century, and is surrounded by gorgeous gardens. The grounds also contain the Chinese Pavilion and the Drottningholm Court Theater. Each structure has a separate entrance fee.
Except for the royal family apartments in the southern wing of the palace, you can tour all the interiors.
In the summer, you can take a boat from Stadshuskajen, the City Hall Quay, to Drottningholm. This is the preferred way to visit, since the approach is so scenic. The trip takes one hour. You can also take a bus, or a taxi.
If you go: Drottningholm Palace, 178 02 Drottningholm, Sweden
Do a cruise of the archipelago
If you come into Stockholm on a cruise ship, and are on deck for the approach, you will enjoy beautiful views of some of the thousands of islands that make up the Swedish archipelago.
But if you didn't come in by way of the water, or if you'd like to enjoy the experience again, you can do a guided cruise of the archipelago from Stockholm.
You can choose a cruise to a specific destination, or just cruise the canals or explore smaller islands in the archipelago. Depending on the time you have, you have the option to do a short cruise of a couple of hours, or make a day of it.
On my list for when we next visit Stockholm is a guided tour to the Viking city of Birka, a UNESCO World Heritage site. Birka is known to have existed as far back as the 8th century, and traces of life from those times can still be seen today.
Getting into Stockholm
BY AIR
If you are flying into Stockholm, you will most likely arrive at Arlanda International Airport. It is located about 25 miles north of the city.
Unless you have a lot of baggage, the Arlanda Express train is the most convenient way to get from the airport into the city center. There are frequent departures and the journey takes about 20 minutes.
You can also take a bus from Arlanda Airport to the center. The bus takes about 40 minutes.
Taxi cabs are also available, and take about 40 minutes. Taxis are not regulated in Sweden, so pick a reputable company.
Stockholm has three other airports, all connected to the center by bus. Taxis are available at Bromma Airport.
BY FERRY
Ferries connect Stockholm with many nearby countries, including Estonia (Tallinn), Finland (Helsinki and Turku), Russia (St. Petersburg), and Latvia (Riga).
If you arrive by ferry, you will dock at one of the many inner-city harbors in Stockholm, from where you can either walk to the city center, or take a bus or taxi.
BY CRUISE SHIP
If you are on a cruise of Scandinavia and Northern Europe, your itinerary will likely include Stockholm as a port of call. If you arrive by cruise ship, you will dock at one of the inner-city harbors in Stockholm.
From the terminal, many major attractions are within walking distance, or just a short ride by bus, ferry, or taxi.
Getting around in Stockholm
If you have just one day in Stockholm, it is best to stay within walking distance of Gamla Stan for the day. The city center and Old Town are compact, and you will find a lot to do within walking distance.
That said, Stockholm has a very efficient public transportation system. You can choose from buses, commuter trains, the underground, trams, and ferries, all run by Stockholm Public Transport.
If you do happen to take the T-bana (the underground), do not miss the beautiful Stockholm subway art in the stations!
You have to buy tickets or Travel Cards in advance; they cannot be purchased on board. If you plan to use public transport a lot, a 24-hour or 72-hour Travel Card may be cost effective, depending on the length of your visit. The card itself costs 20 Swedish Kroner, but it is reusable if you return.
Of course, you can rent a car and drive yourself, bike, or take taxis as well.
Where to stay in Stockholm
Norrmalm is the most convenient neighborhood for a short stay in Stockholm. You are close to many major attractions, shopping, lots of great dining options, and, with Stockholm Central Station close by, getting in and out of the city is a breeze!
The Grand Hotel is a luxury hotel located on the waterfront and is one of the iconic buildings in the area. The location, next to Gamla Stan, is a big plus. You have a fabulous view of the Royal Palace, and the rooms are comfortable.
The Lydmar Hotel is another great option in the city center. A boutique hotel with styled interiors, the Lydmar offers comfortable rooms, some with canal views.
The Diplomat Hotel also has a great location within walking distance of major attractions. Rooms are on the small side, but well appointed. Some rooms have sea views!
Where to Eat in Stockholm
LUNCH
If you are visiting Stockholm for a day, it is likely you will be in Gamla Stan at lunch time. Which is great, because there are lots of great eateries in the area.
For traditional Swedish cuisine, including meatballs, try the appropriately named Tradition. It's open for lunch weekdays and dinner everyday.
Meatballs are served with potatoes and lingonberries, and my husband thought they were delicious. My vegetarian dish was potato dumplings stuffed with mushrooms…yum!
Gastabud, also on the same street, is open for lunch everyday. It's a small restaurant so you may have a wait, but the traditional offerings get rave reviews on Trip Advisor.
If you want to lunch in Stortoget, try Ebenist. Here you can enjoy traditional offerings such as meatballs and reindeer whilst people watching in the famous square!
FIKA BREAK
When in Stockholm, a fika break is a must! A fika break involves a relaxing break during the day, with coffee and a baked treat. Isn't that a lovely tradition?
Stockholm has lots of stylish cafes where you can enjoy your cup of coffee and cinnamon bun. Vete-Katten has been operating since 1928, and is still the place to go for a fika break.
Other great choices for a fika break? Johan & Nyström in trendy Södermalm, or Chokladkoppen in Gamla Stan at Stortorget, where you can also get ice cream or hot or cold chocolate, and enjoy people watching at an outdoor table.
DINNER
For dinner, splurge on a Michelin Star meal at Ekstedt in the upscale Östermalm district. Ekstedt offers innovative New Nordic cuisine, with dishes created from seasonal ingredients. Reservations are a must.
The At Six Dining Room gets fabulous reviews on Trip Advisor for the quality of the food. The menu includes a vegetarian option for both starter and main, and features local seasonal ingredients.
For a more casual, fun experience, try Kungshallen, a gigantic food court featuring cuisines from all over the world, at reasonable prices.
The best time to visit Stockholm
Visit Stockholm in the late spring or early fall for reasonably pleasant daytime temperatures. But dress in layers!
In the spring, pink blossoms offer a pretty picture in many city parks. In the fall, the changing leaf colors echo the rust, yellow, and orange of city facades.
Christmas is a great time to visit if you love a getaway during the holidays, and January or February if you love snow and winter sports. You can still access many of Stockholm's cultural sites and Gamla Stan during the winter.
Stockholm is pricey, and summer can be a particularly expensive time to visit. Summer also brings more visitors to Northern Europe, so you will experience crowds at popular attractions.
But you will have really long daylight hours in the summer, as well as the warmest weather.
The Stockholm Pass
Stockholm is an expensive travel destination, and entrance fees to attractions can add up, so it is worthwhile to assess if you should purchase a Stockholm Pass for your visit.
The Stockholm Pass is available for durations of 24, 48, 72, and 120 hours from the time you activate it.
It includes free entrance to more than 60 top Stockholm attractions, including the sights that are routinely in the list of top ten things to do in Stockholm for most visitors, such as the Vasa Museum, the Royal Palace, the Nobel Museum, and Drottningholm Palace with Boat Tour.
The Stockholm Pass also includes a number of tours and trips outside the city, such as a visit to Birka and a canal cruise. Also included is the Hop On, Hop Off Bus and Boat. It does not include free public transport though, so you will need to buy a separate Travel Card.
If you are in Stockholm for just one day, and you plan to spend some time at the City Hall, which is not included, the Stockholm Pass is most likely not going to offer savings.
But if you plan to be in the city for two days or more, definitely plan out the sights you want to cover and you may discover that the pass is a good deal!
*****
So there you have it: my guide for one day in Stockholm, with great alternatives to mix and match for the perfect itinerary tailored to your interests!
Have you visited Stockholm? What was your most favorite experience in the Swedish capital? Comment below to respond! If you haven't yet visited, I hope you will add it to your list!
More Great Destinations in Northern Europe!
NORWAY: How to Spend One Perfect Day in Bergen, Norway!
POLAND: A Self-Guided Walking Tour of Gdansk Old Town
GERMANY: One Day in Rostock and Warnamunde
NORWAY: 10 Best Things to Do in Stavanger
FINLAND: One Day in Helsinki
DENMARK: One Day in Copenhagen
CRUISING: The Viking Homelands Ocean Cruise Itinerary
DENMARK: The Best Day Trips from Copenhagen
More Fun Places to Explore Around the World
CANADA: Best Things to Do in Lake Louise, Alberta
CALIFORNIA: 10 Fun Things to Do in Joshua Tree National Park
SPAIN: The Best Things to Do in Granada, Spain
ITALY: 25 Best Things to Do in Rome on Your First Visit
NEVADA: The 10 Best Day Trips from Las Vegas You Must Do

Did you find this article informative? Pin it for later reference!
Photo of St. George and the Dragon: CC BY-SA 2.0 de