Planning a visit to Bled in Slovenia, and looking for the best things to do at Lake Bled?
Lake Bled is the perfect picture postcard!
Its turquoise blue waters, medieval castle, and magical island make it an irresistible destination, one you must definitely put on your itinerary for Slovenia.
Read on to discover the best things to do in Lake Bled, Slovenia!
Some links on this page may be affiliate links. If you click an affiliate link and make a purchase, we may receive a small commission, at no extra cost to you. For more details, refer to our disclosure.
Arguably the most recognized symbol of Slovenia's spectacular beauty, Lake Bled is nestled in the midst of the tall peaks of the Julian Alps and the Karavanke mountains.
With that almost unreal blue-green color characteristic of alpine lakes, Lake Bled is incredibly charming and romantic, and even more gorgeous in person than in the stunning photos of it you've seen online.
The Best Things to Do in lake Bled
Located just about 35 miles from Ljubljana, the Slovenian capital, Lake Bled is a photographer's paradise and a wonderful destination for anyone that loves nature.
Visiting Lake Bled is definitely one of the top things to do in Slovenia.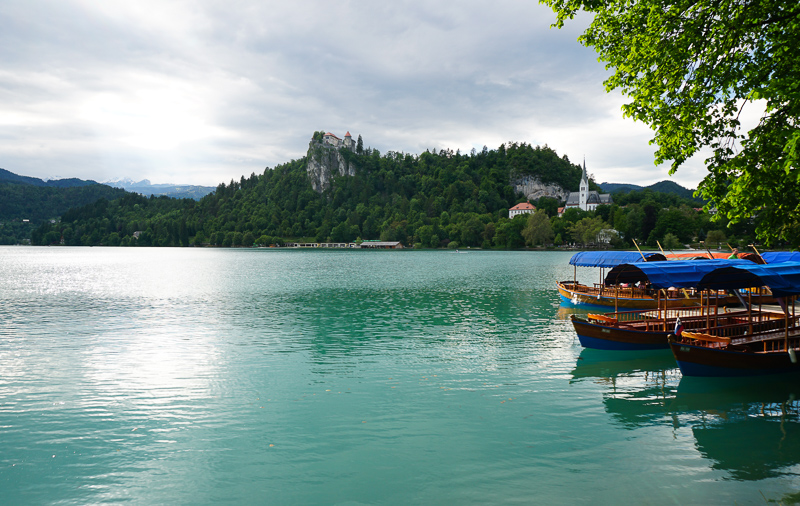 If you wish to be active, Lake Bled offers the opportunity to hike, bike, walk, climb, row, or swim.
On the other hand, if you just wish to relax, you can sit back and do nothing other than enjoy the spectacular scenery all around you.
Here are the absolute best things to do in Bled!
#1 Explore Bled Island on Lake Bled
Exploring the charming little island in the middle of the lake is definitely one of the top things to do at Lake Bled.
A series of 99 stone steps leads up from the dock to the Church of the Assumption at the top.
As we climbed up to the top, I couldn't help thinking that I wouldn't want to be a bridegroom having to carry the bride up all those steps, even to assure a happy married life!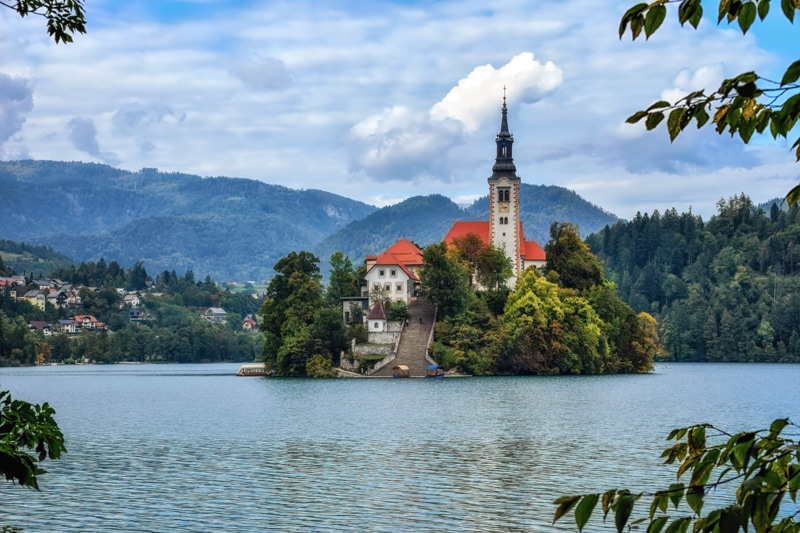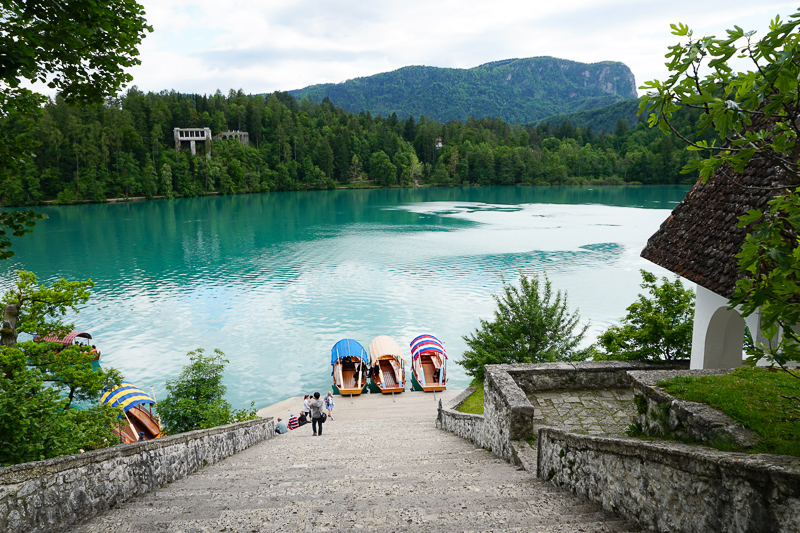 A house of worship has stood at this site on Bled Island for centuries. Before Christianity took hold in the region, a pagan temple to the goddess Ziva was located here.
A Romanesque church built in its place was later replaced by a Gothic church, and the bell tower was added. This church was severely damaged in an earthquake, and was replaced by the current Baroque church.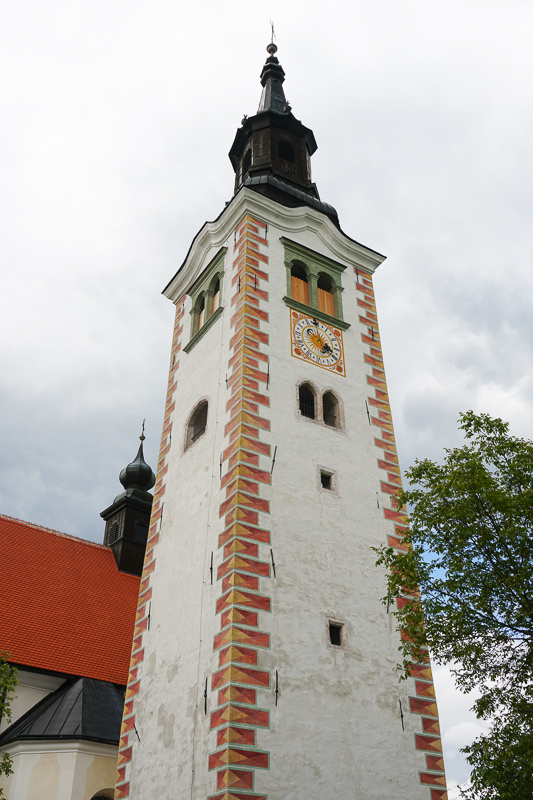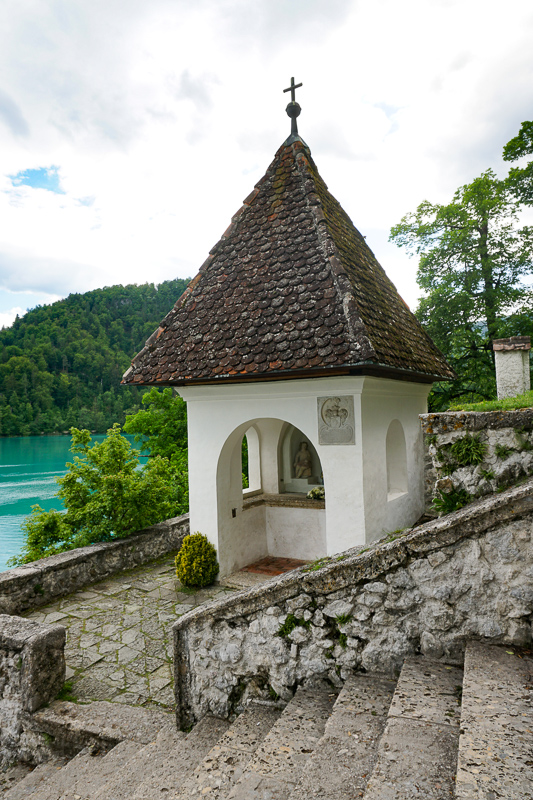 While the church is the star attraction, you can also spend a few minutes walking around the little island before returning to the boat dock. When we visited in early summer, there were beautiful wildflowers along the pathway.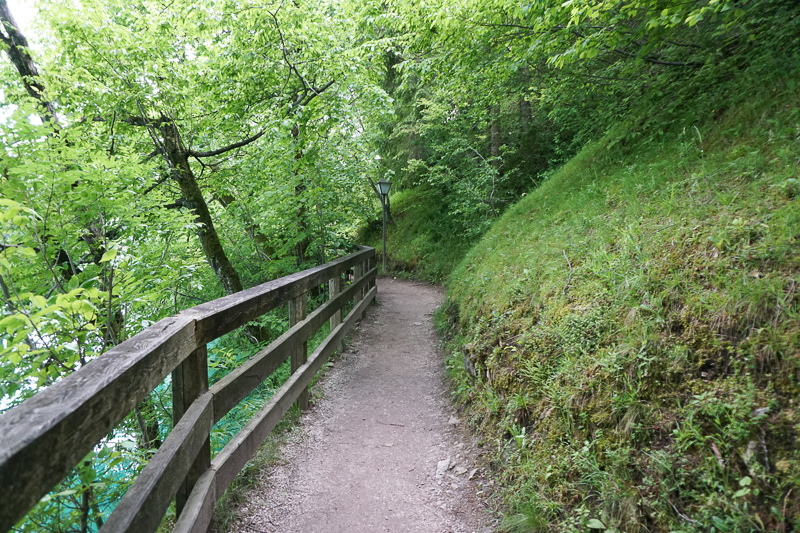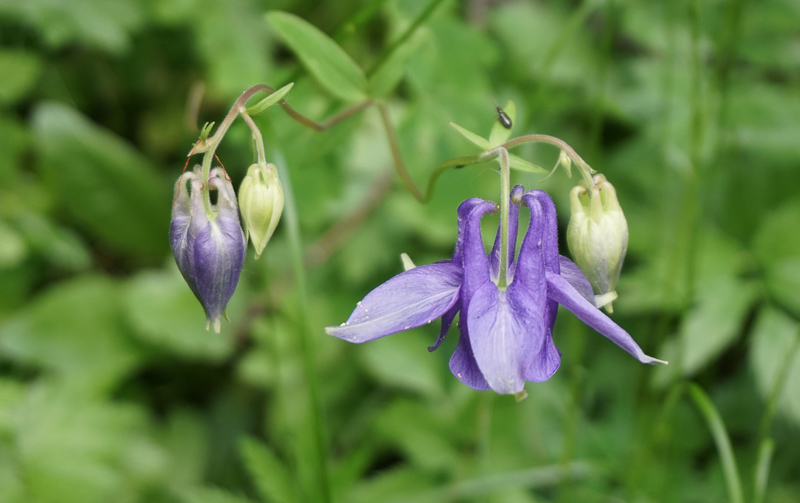 From the island, you get beautiful views of the shore of Lake Bled and Bled Castle. It had snowed on the mountain peaks the day before our visit to the island, so the views we got were especially spectacular!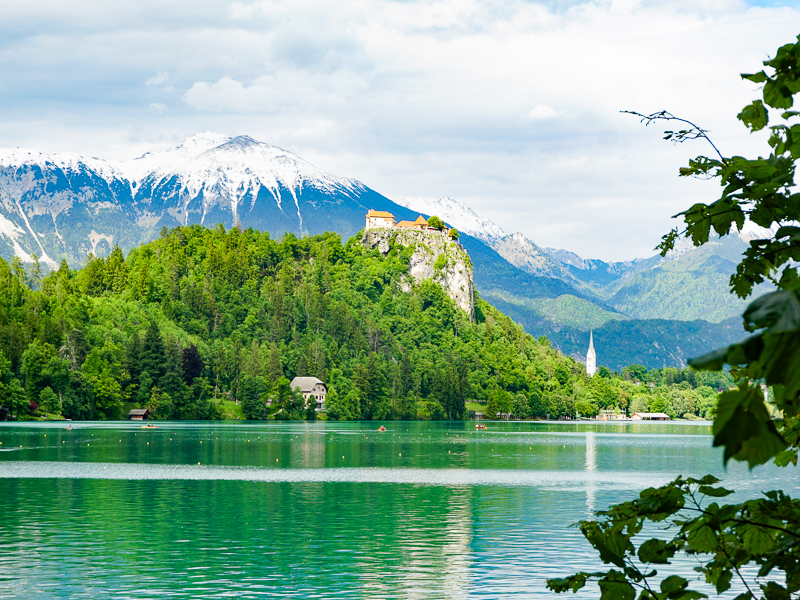 #2 Ring the bell at the Church of the Assumption
You'll hear the "wishing bell" peal all through the day at Bled Island. It's said that if you pull on the rope and ring the bell three times whilst making a wish, your wish will come true!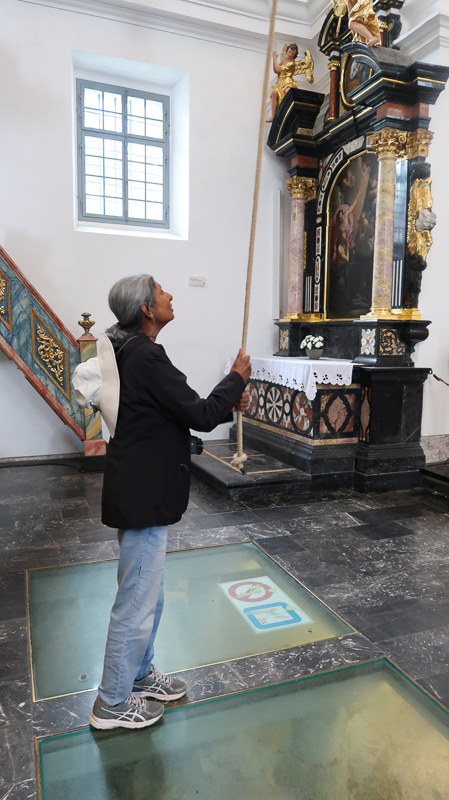 The wishing bell dates back to 1534.
The story goes that a young widow that lived at Bled Castle had a bell made for the church on the island in memory of her late husband.
As the bell was being transported to the church, a terrible storm struck Lake Bled, and the boat carrying the bell sank to the bottom.
After the widow's death, the Pope had a new bell made and sent to the island. And, according to the legend, if you ring the bell and thus honor the Virgin Mary, your wish will come true.
There's an entrance fee for the privilege of entering the church and ringing the bell, but you get to view the beautiful interior of the church as well. Go early or late in the day if you do not want to wait in line to ring the bell.
#3 Ride a Pletna boat to the island
There's more than one way to get to Bled Island, but riding in a Pletna boat is a must-do when you visit Lake Bled.
Reminiscent of the gondolas of Venice, the traditional Pletna boats are made of wood (by hand!), and each boat can seat about 18-20 people.
The flat-bottomed Pletna boats are unique to Lake Bled, and have been used here since the end of the 16th century. Amazingly, a single oarsman rows the boat to the island and back.
Since the boat only leaves when it's full, you may have a little bit of a wait if you're the first ones aboard. But with the amazing scenery that surrounds you, the wait isn't much of a hardship at all.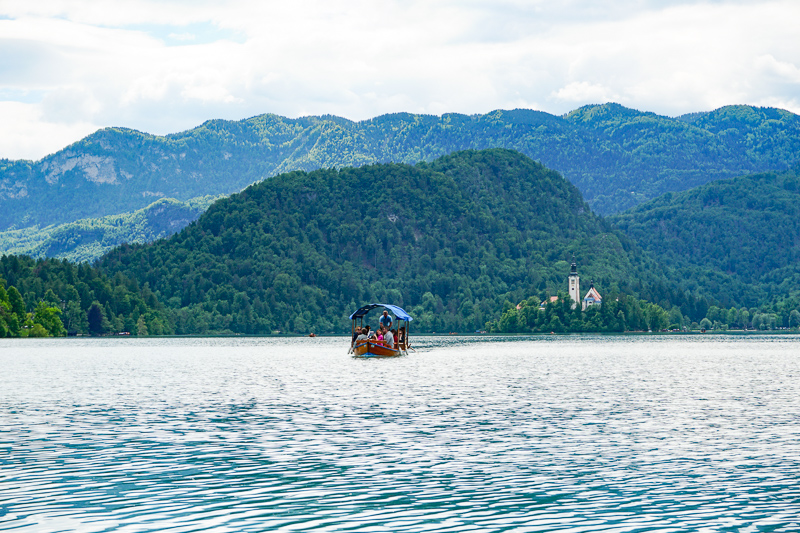 We boarded our Pletna boat at the dock right below Hotel Park, but I saw some at another dock as well. You can't miss them, because their awnings are so colorful!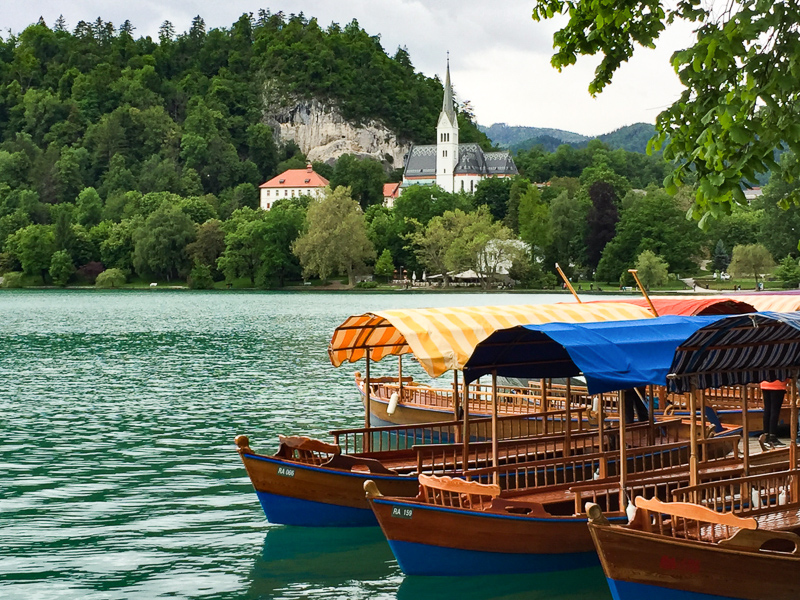 The boat docks at the bottom of steps that lead up to the church on Bled Island, and we found that the time we were allowed on the island was plenty.
#4 Walk around the shore of Lake Bled
To appreciate the beauty of Lake Bled from every angle, walk around the lake!
The entire walk is a little less than 4 miles, and is likely to take about 1.5-2 hours, with stops for photos. If you are pressed for time, you can stroll a part of the shore.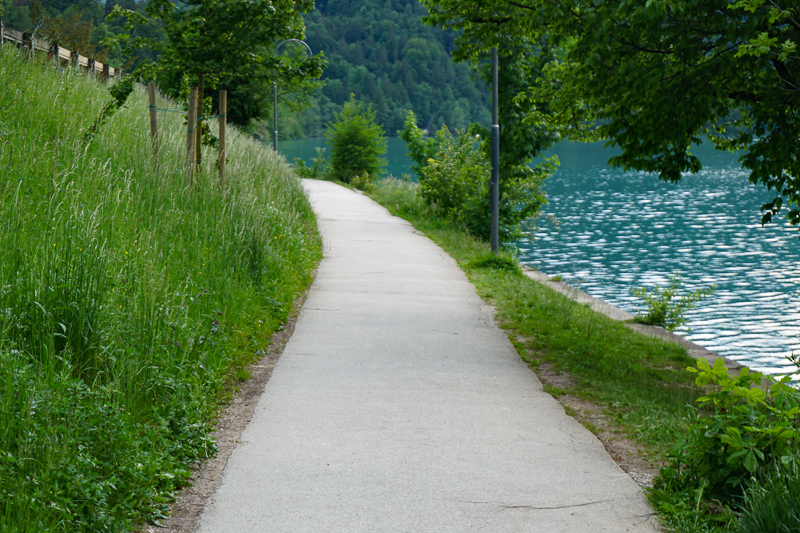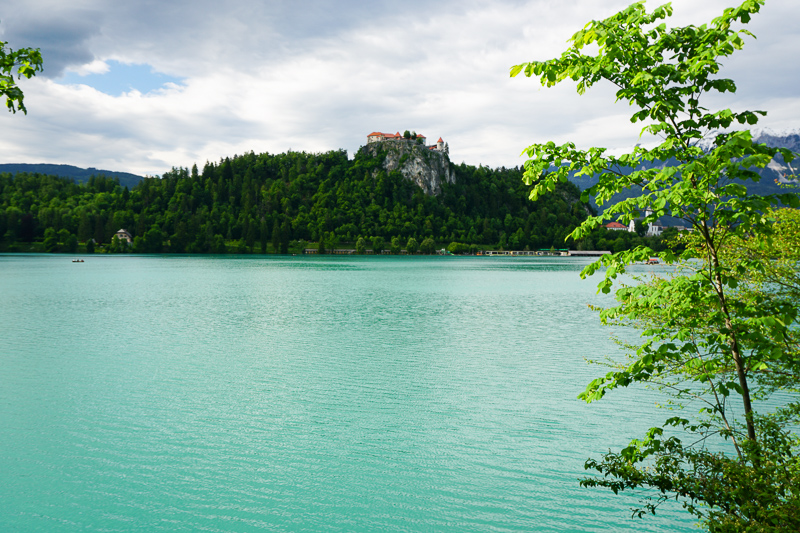 If you walk the stretch of shore from Hotel Park to Vila Bled, you will get lovely views of Bled Castle and the Church of St. Martin. As you get closer to Vila Bled, you will get great views of Bled Island.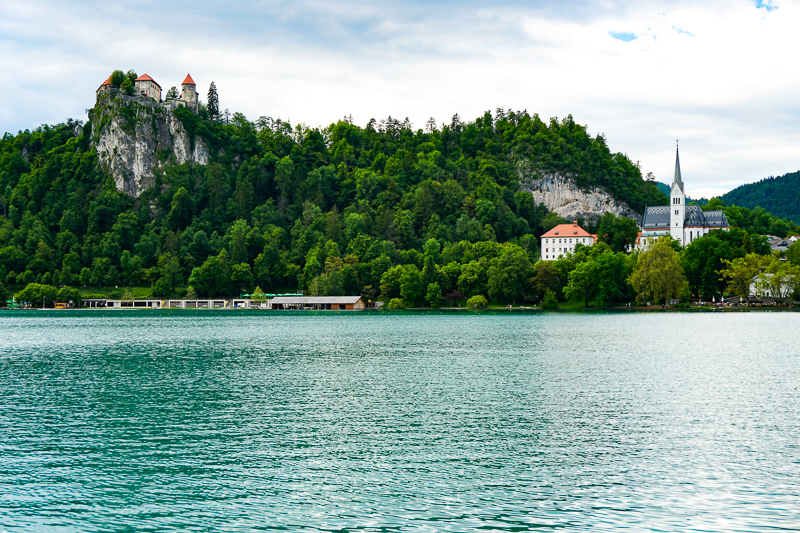 Pose for photos at the Heart of Bled, located along the lake shore.
Admire Zdraviliski Park, with its beautiful plants and flowers. Pause to enjoy the antics of the Lake Bled ducks, and the graceful movements of the swans.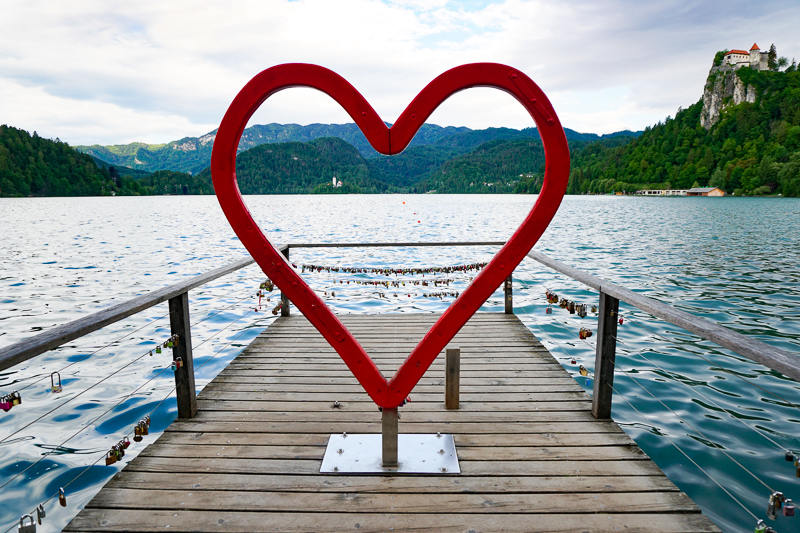 If you prefer being driven around to walking, a tourist train goes around the lake every 45 minutes between 9 a.m. and 9 p.m. from June until September. In May and October, the train runs on good weather weekends.
#5 Visit Bled Castle
Bled Castle (Blejski Grad) is both picturesque and historic: it's the oldest castle in all of Slovenia.
Perched on a hilltop high above the blue waters of Lake Bled, Bled Castle looks gorgeous when viewed from the shore. Every time we walked along the lake, I couldn't help taking more photos of the orange-roofed castle!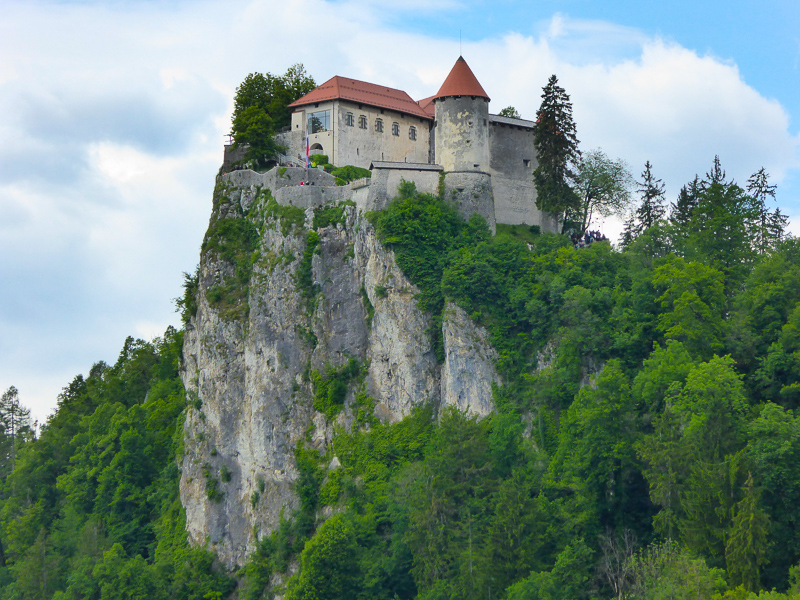 A visit to Bled Castle is definitely one of the most fun things to do in Lake Bled. You can drive up to the parking lot, or you can climb up 200+ steps. From the parking lot, a short but very steep walk leads to the entrance.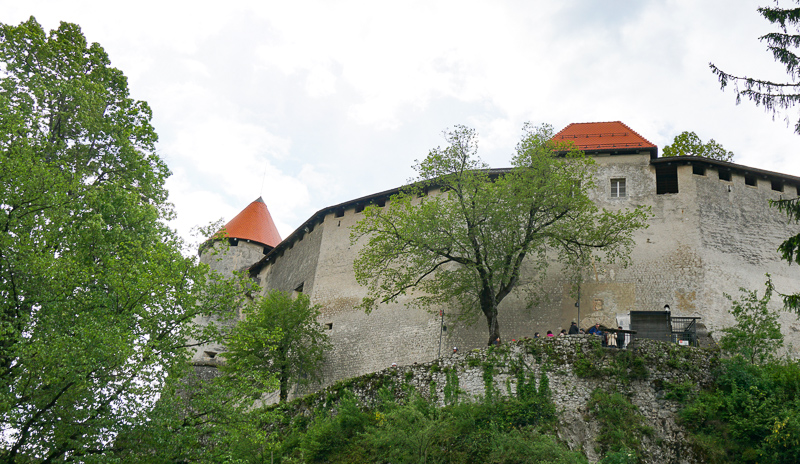 From the viewing decks at Bled Castle, you get fabulous aerial views of the lake and Bled Island, as well as the surrounding countryside.
If the day is clear, you can see all the way to the Julian Alps. The views are definitely worth both the effort to get here, and the rather steep entrance fee.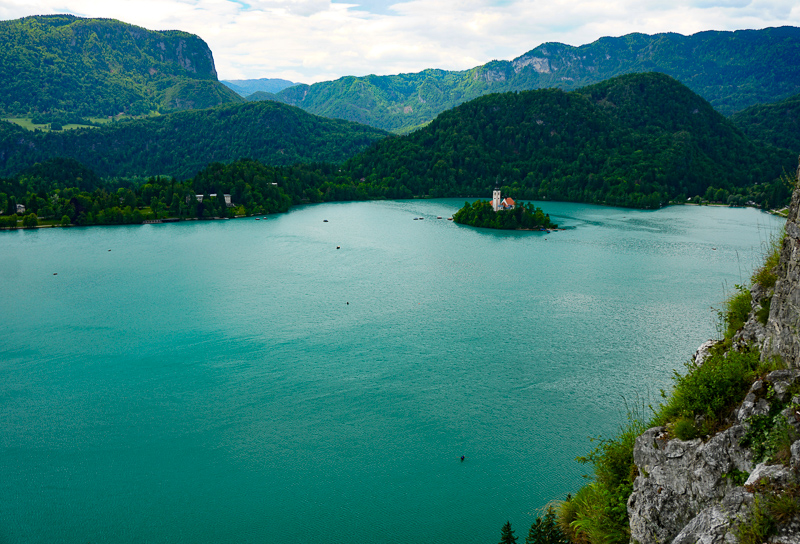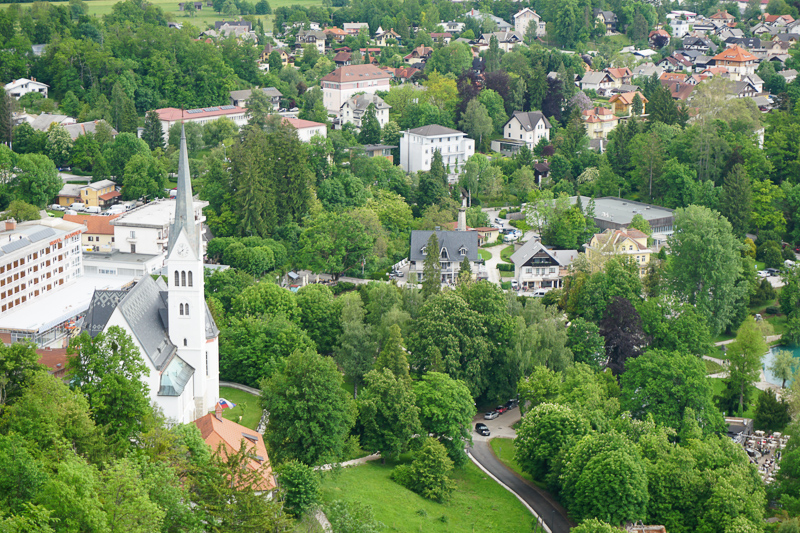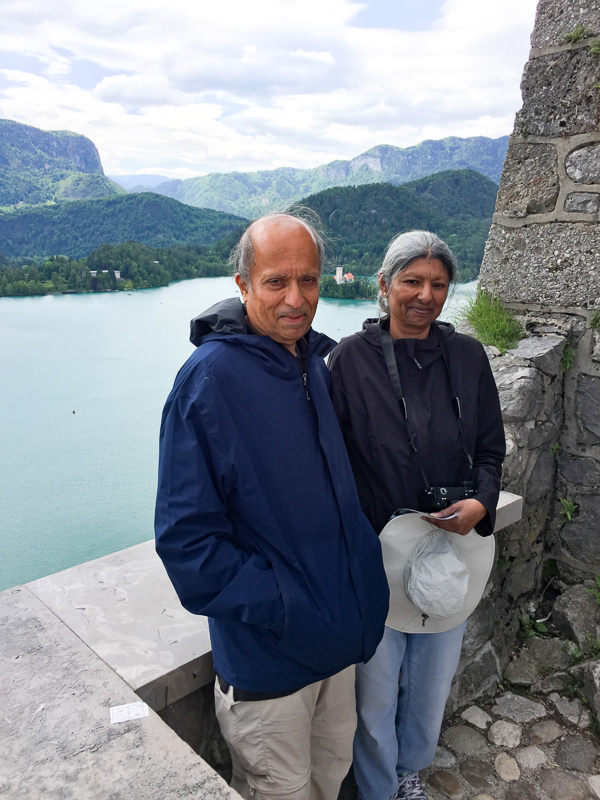 After you enjoy the views, explore the castle: the museum, the little chapel, and the print shop with the wooden Gutenberg press.
There is a restaurant at the top if you wish to enjoy a meal with a view. Make reservations in advance, especially if you want an outside or window table.
On the day we visited, performances were being held in the castle courtyard. We caught the tail end of a fire-eating act, and then watched a traditional dance. Lovely!
For hours of operation, visit the Bled Castle website.
#6 Enjoy water sports at lake Bled!
Rowing is a popular water activity at Lake Bled. It has hosted the World Rowing Championships several times.
If you are looking for a workout, you can rent a rowboat for a couple of hours and row to the island and back, or just enjoy a leisurely row around the beautiful lake.
There are three or four boat rental companies scattered about the shore. Boat rentals are generally available May through September.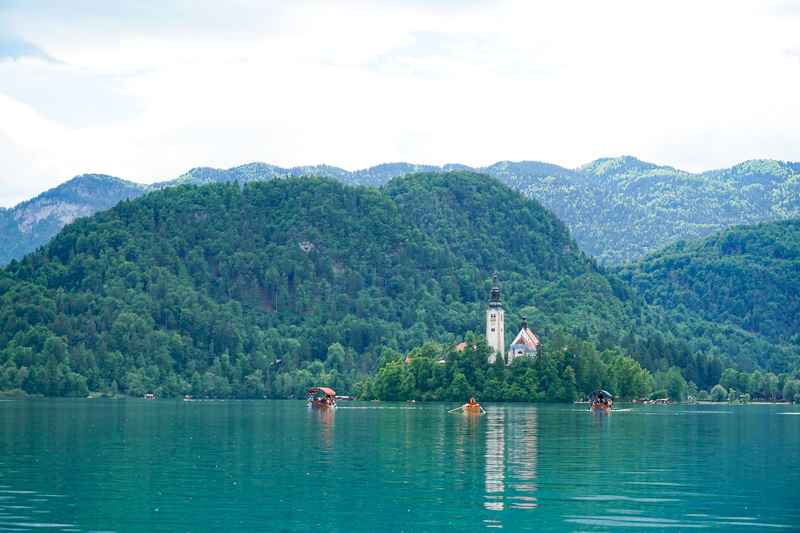 Lake Bled is an important Central Europe rowing regatta venue. During our visit, we saw rowers practicing on the lake. It was very cool to see them race across the water and back.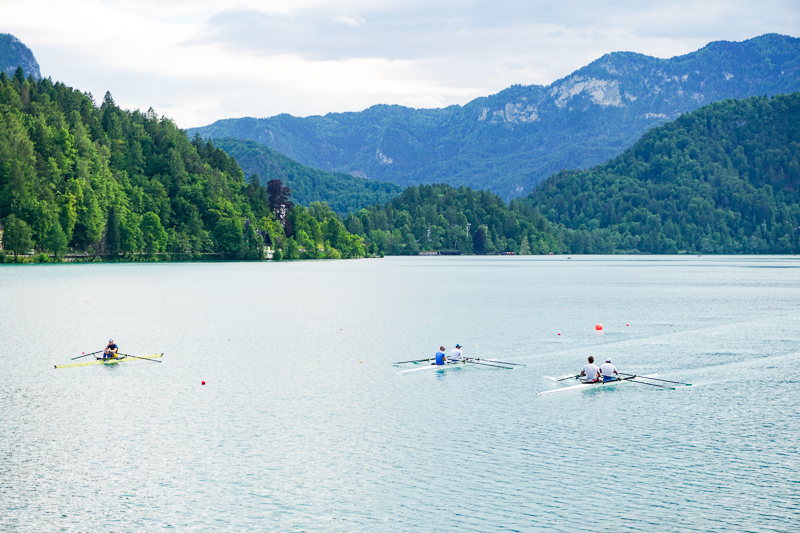 Stand up paddle boarding (SUP) is another option if you want to get out on to the water. You can even join a fun SUP tour!
Or join a kayaking tour: this highly-rated tour features a transparent kayak for a unique experience. Book this tour now!
Are you wondering if you can swim in Lake Bled? During the warm summer months, you can definitely enjoy a swim at a designated swimming area at Lake Bled. We visited in very late May and the water was still a little too cold for me!
#7 Take a hike
If you are up for a climb, a couple of hikes in the area afford magnificent panoramic views of Lake Bled. Make sure you pick a good weather day, and avoid going if it has rained recently, because the paths may be slippery.
Sadly, it rained heavily the evening before our visit, so we could not attempt these hikes. They are definitely on our list for our next visit to Lake Bled!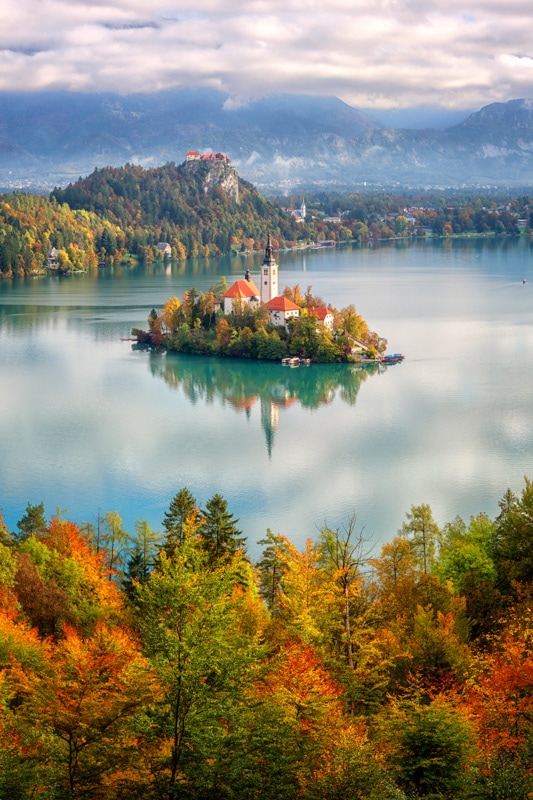 The Ojstrica viewpoint is about 2000 feet above sea level. The trail starts in the southern part of Zaka Bay, on the west shore of Lake Bled, right near Camping Bled. A 20-minute ascent brings you to the top of the hill, from where you get stunning panoramic views of Lake Bled.
The walk up to Mala Osojnica takes about 45 minutes along a steep forested trail. From the viewpoint, you get gorgeous views of Lake Bled and Bled Island, as well as the surrounding mountains and the countryside.
From the view point, you can climb even further, to the top of the hill. This walk is another 20 minutes or so.
#8 Explore Bled
If you like churches, you must stop by the Church of St. Martin. You can see the tall graceful steeple of the church from the lake shore, and it's a short walk up from the water.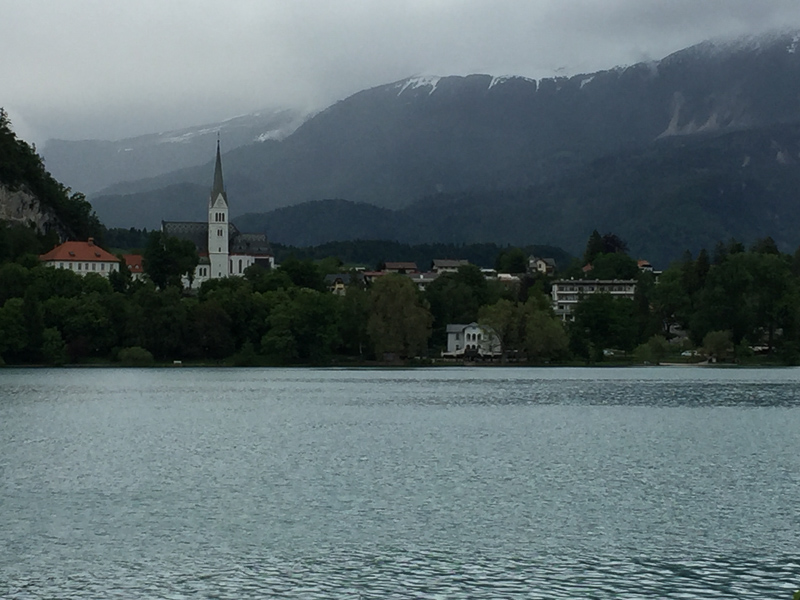 The Church of St. Martin contains contributions from famous Slovenian architects and artists, including a garden sign by Jože Plečnik, the architect responsible for lots of great architecture in Ljubljana.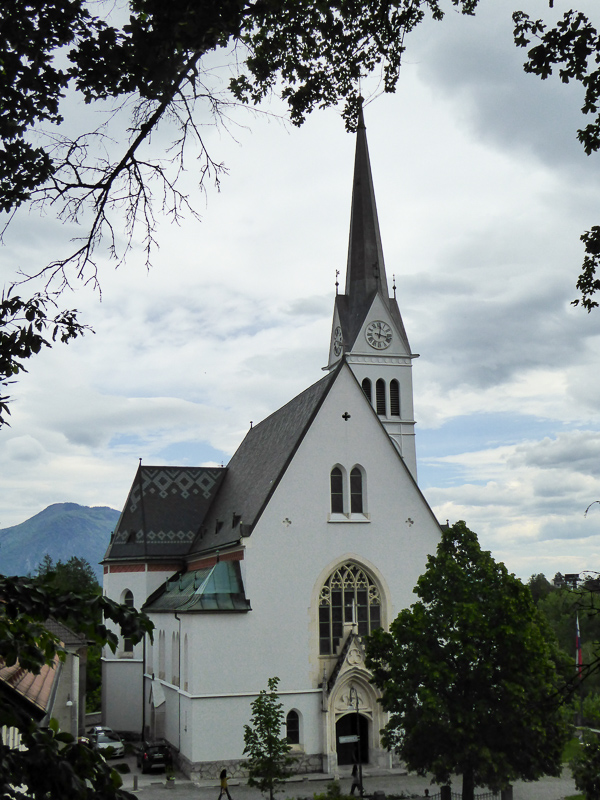 Wander around the charming streets of Bled for a little while if you have the time. Even away from the water, Bled is charming. You'll come across other little churches, pretty squares, and beautiful little gardens in the backyards of homes.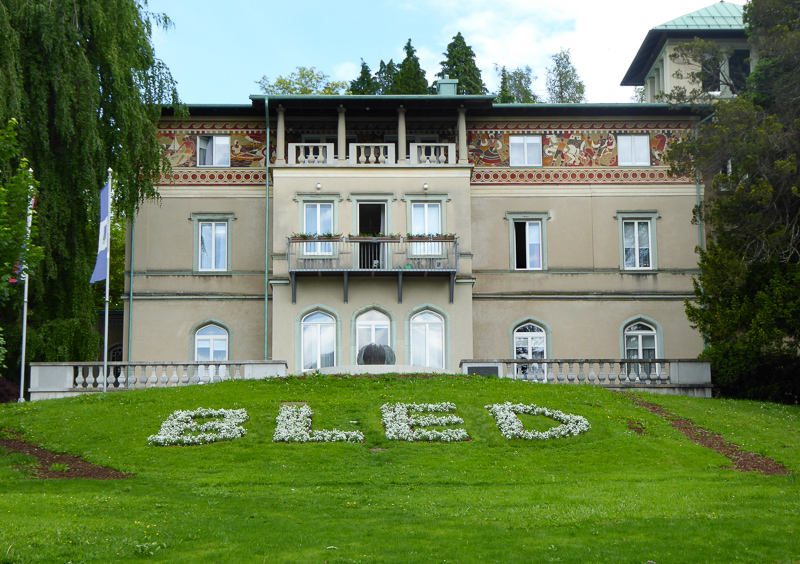 Take the chair lift to the top at Straza Bled for great panoramic views of the lake without the need to hike! You can walk up to the lower cable car station or drive up to it. You can sled back down the hill if you like!
#9 Visit Vintgar Gorge
One of the most fun and exciting things to do in Lake Bled is actually a little bit outside Bled. A walk through Vintgar Gorge, about a 10-minute drive from Bled, is an exhilarating way to spend a couple of hours during your visit to Lake Bled.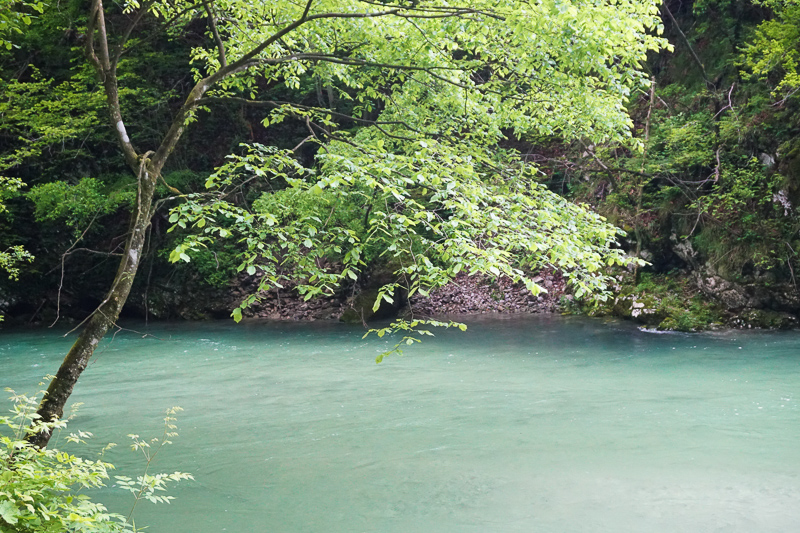 Vintgar Gorge, created by the Radovna River, is just about a mile long. The exciting passage of the river includes many bends and curves, rapids, and waterfalls. A trail, composed of boardwalks and packed pathways, traverses the entire length of the gorge, such that you can walk right beside the water all the way and back.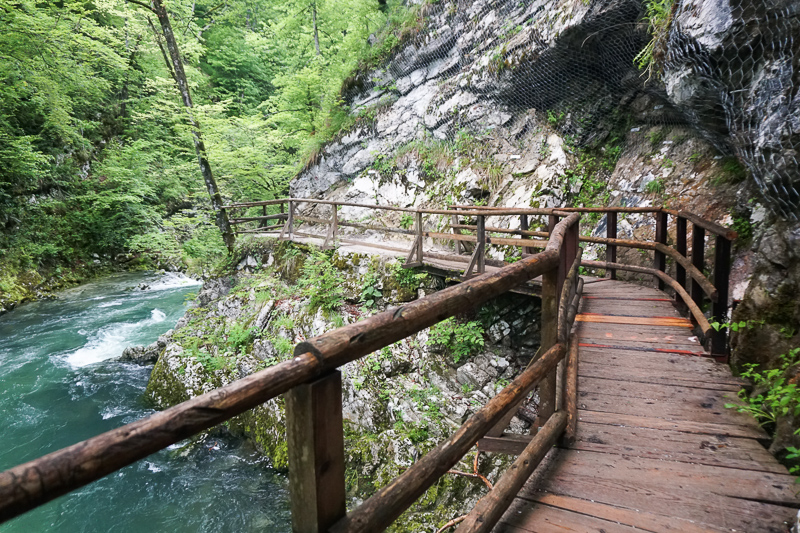 The beautiful turquoise of the water, the lush greenery all around you, wildflowers in season, and the steep walls of the canyon rising up on both sides of the water make the walk through the Vintgar Gorge a magical experience.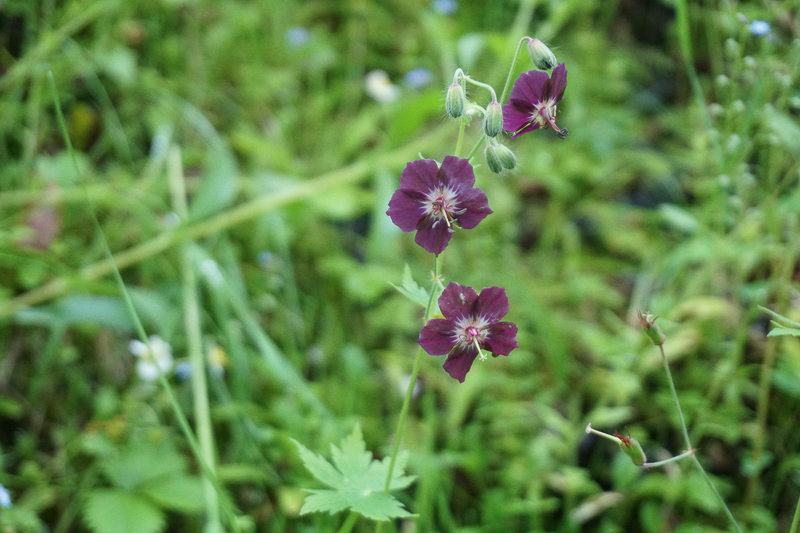 So if you love nature, make room in your Lake Bled itinerary for a visit to Vintgar Gorge. It's open from April through November.
#10 Eat Bled Cake
Kremna rezina, Lake Bled's famous cream cake, is delicious. For a special treat, have a square slice at Hotel Park, where it was created! Get a seat on the outside terrace, and you can enjoy the confection with a view of the water.
Kremšnita, or cream cake, is believed to have been created during the time of the Hapsburg Empire, and many countries in the region have their version of it.
Bled's cream cake recipe is credited to a master chef that worked at the Hotel Park in the years after World War II. It was debuted in 1953, and became a big success.
So successful that the Bled cream cake is now protected as a dish of designated origin!
The cake consists of layers of custard and whipped cream sandwiched between thin layers of hard pastry. The filling is melt-in-your-mouth. It's not cloyingly sweet, and I loved it!
#11 Go Whitewater Rafting!
Adventure-loving visitors to Bled will want to consider a whitewater rafting tour!
A popular summer activity in Bled, the guided tour includes pick-up from select accommodations in Bled.
Enjoy the pristine beauty of the Sava Dolinka River near Bled, and the surrounding Alps, as you navigate easy to intermediate Class II and III rapids on the river on this exciting tour.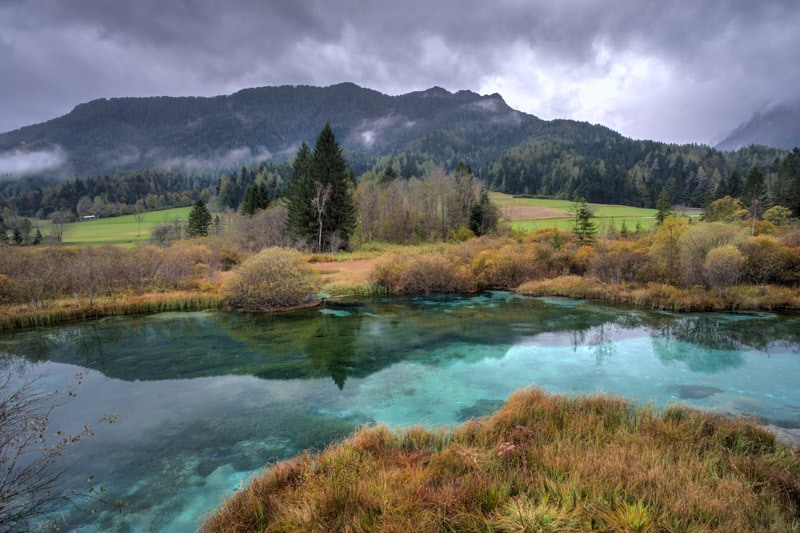 The tour is accompanied by a swift water rescue certified guide, and all equipment is included.
You can go either in the morning or in the afternoon. The activity lasts about 3 hours, with 1.5 hours of rafting.
Check price and availability on this Bled whitewater rafting tour now!
#12 Tour Charming Radovljica
Just a short drive or bus ride from Bled, the charming little town of Radovljica is worth the visit!
The medieval town makes for a wonderful stroll, with views of the surrounding countryside and the Karavanke Alps and the Julian Alps from the outer road.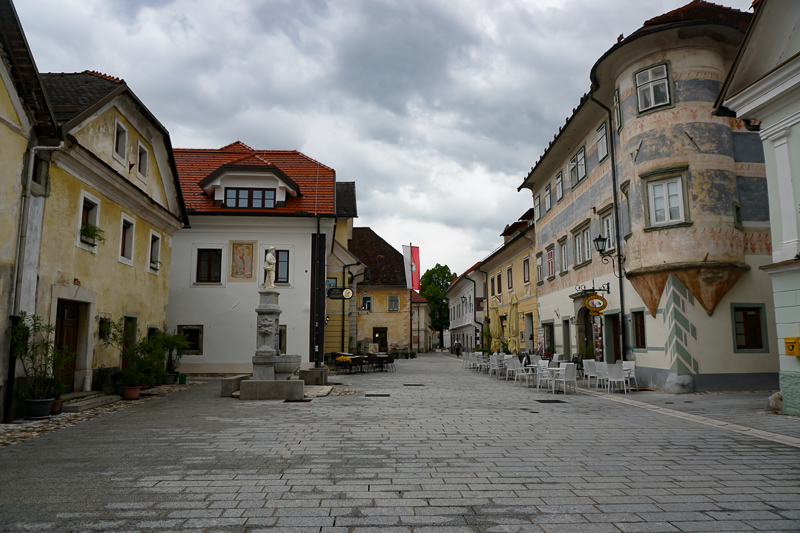 The center of town features beautiful buildings from the 16th to the 18th centuries, and you'll also want to step inside the Gothic St. Peter's Church with its three naves.
Radovjica is a traditional center for beekeeping, and there's an apiculture museum in town you can visit. There's also a gingerbread museum to visit here, and a fascinating alchemy museum.
Local gingerbread is made with honey dough, and tastes delicious.
Browse the small souvenir shops and pick up some local honey, heart-shaped gingerbread pastry, or hand-made chocolates.
Getting to Lake Bled
Bled is accessible both by rail and by bus, and you can, of course, drive to Bled as well, or splurge on a private transfer. Bled makes a great stop on a train itinerary through Europe!
The Lesce-Bled railway station lies on the Oste railway line, which covers Münich – Salzburg – Villach – Ljubljana – Belgrade – Istanbul – Athens.
The station is about 2.5 miles from the town of Bled. We took a train from Zagreb to Lake Bled and arrived at Lesce-Bled.
From Lesce-Bled, take a taxi or a bus into the town. The bus stop is right across the road from the station. You have to call the taxi cab company; there were none waiting at the train station when we arrived.
If you are traveling from Ljubljana to Bled by public transport, take the bus. The bus service is frequent, and the ride takes about an hour and 20 minutes with stops in between, and under an hour if it is a direct bus.
The bus station is within Bled, which makes the bus the more convenient public transport option to get from Ljubljana to Bled.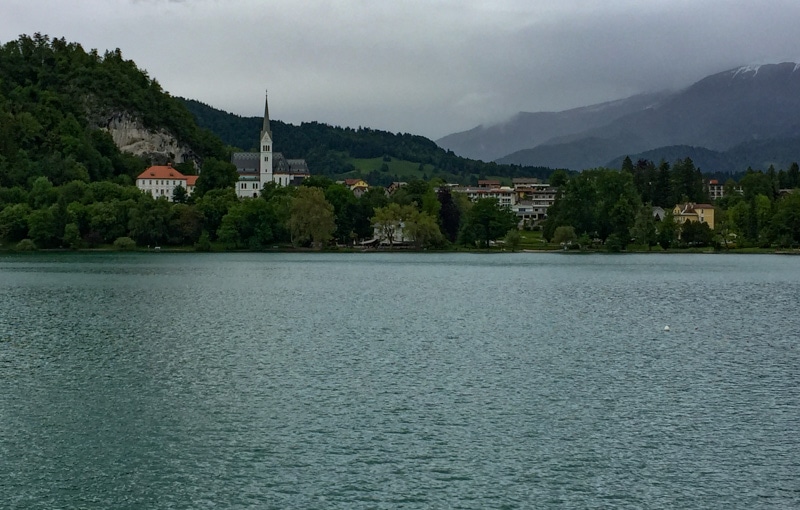 Getting around Lake Bled
You can pretty much walk everywhere in Bled, and visit Bled Island by rowboat or Pletna boat. In season, a tourist train and a Hop On, Hop Off bus go around Bled.
With a car, you will have greater flexibility if you wish to explore nearby places such as Vintgar Gorge or Lake Bohinj. But in season, inexpensive shuttles are available to transport you to these places as well as go around Lake Bled.
There is regular bus service to Lake Bohinj and other nearby places. We visited without a car and had no trouble getting to the places we wanted to visit using public transport.
Where to Stay in Lake Bled
Before I talk about the best places to stay in Bled, I want to emphasize that you should make your reservation well in advance (think several months) if you plan to spend more than a night between June and mid-September and have your heart set on a specific hotel.
Lake Bled is a popular destination, and rooms for summer months sell out way in advance.
Grand Hotel Toplice is located on the lake shore. Definitely splurge on a room with a balcony and lake view! The hotel features air-conditioning (not all hotels at Lake Bled do!), a stunning spa, and a bathing site with thermal waters. Check prices and availability here.
Hotel Vila Bled does not have air-conditioning, but it does have a location by the shore of Lake Bled. If you plan to stay here, go for a room with a lake view! Check prices and availability here.
We stayed at the Old Parish House, a bed and breakfast right next to the Church of St. Martin. Our room was a good size, up a flight of stairs. Furnishings are spartan, but in keeping with its history as the former church house. I found the bed a little soft for my back (I have back issues and like my bed to be a little on the firm side), but the location is excellent and the breakfast good, even if the spread is not huge. All in all, a comfortable, convenient, and pleasant option! Check prices and availability here.
Where to Eat in Lake Bled
Rustika is a popular pizzeria in Lake Bled, and we ate there a couple of times. Their pizzas are very good: thin crust, the way I like mine, with generous toppings.
The vegan burgers and roasted potatoes at Public Bar & Vegan Kitchen Bled are definitely worth a visit. My husband, who is an omnivore, actually voted to go there for a second meal because he liked it so much.
For fine dining with a view, try the Bled Castle Restaurant. Their lunch menu features vegetarian and vegan options.
The restaurant at Penzion Berc, called Finefood Berc, is fabulous. It's just a 10-minute walk from the Heart of Bled. My husband found the fish fresh and superbly prepared, and I enjoyed my gnocchi.
The best time to visit Lake Bled
Lake Bled is gorgeous any time of year, and, if you enjoy winter activities, you can visit it in winter. In some years, you can actually walk across the frozen lake to Bled Island!
But to see Lake Bled in all its resplendent color, visit when it is fully thawed: late spring, summer, or early fall. You can also hike, boat, and perhaps even swim at these times of the year. We visited in very late May and early June, and had very pleasant daytime temperatures.
Lake Bled weather can be unpredictable though, so be prepared: it did rain quite a bit on our first day at the very end of May, as a result of which we woke up the next day to dazzling snow-covered mountain tops and insanely beautiful views.
How long to spend in Lake Bled
You can see the major sights at Lake Bled in one day, and many people even visit as a day trip from Ljubljana. But it is worth spending at least a couple of days here, enjoying the magical lake and its surroundings.
We spent four days in Bled. We used Lake Bled as a base to explore Slovenia in greater depth, doing day trips to Lake Bohinj and to the Soca River Valley. Lake Bled also makes a great base if you want to explore more of Triglav National Park.
*****
Have you been to Lake Bled? What was your most favorite experience at this fabulous lake? I would love to read your thoughts! Comment below to respond.
If you haven't yet visited, I hope you will add Lake Bled to your Slovenia itinerary. And if you are planning a trip to Slovenia, check out all my posts in my Slovenia destination guide for ideas as you flesh out your own visit!
MORE INFORMATION FOR YOUR SLOVENIA TRIP
Postojna Cave: How to Do a Fun Day Trip to Postojna Cave and Predjama Castle
Lake Bohinj: What to Do at Lake Bohinj in the Summer
Ljubljana: The Best Things to Do in Ljubljana
Vrsic Pass: An Epic Day Trip from Ljubljana to the Vrsic Pass
Piran: 10 Best Things to Do in Piran!
Skofja Loka: What to Do in the Charming Town of Skofja Loka
Slovenia: 25 Best Things to Do in Slovenia
Day Trips: 20 Exciting Day Trips from Ljubljana You Must Do
MORE FUN DESTINATIONS IN EUROPE
Stockholm: The Best Things to Do in Stockholm
Norway: 10 Best Things to Do in Stavanger
Italy: The 10 Best Things to Do on Your First Visit to Florence
Spain: The Best Things to Do in Granada in 3 Days
Denmark: One Day in Copenhagen
EXCITING DESTINATIONS IN NORTH AMERICA
British Columbia: A Day Trip to Yoho National Park
Nevada: 10 Best Day Trips from Las Vegas
California: The Best Things to Do on a Weekend Trip to San Diego
Alberta: The Best Lakes in Canada around Banff
California: Two Magical Days in Death Valley National Park
Did you find this article informative? Pin it for later reference!