Visiting Las Vegas but don't want to spend all your vacation in the city? It's easy to add on weekend trips from Las Vegas to other nearby places!
One of our travel tips for Vegas is to visit during the week. Spend Monday through Thursday in the city taking in the best attractions on the Las Vegas Strip, and then head out on one of many weekend trips from Vegas you can take!
From the breathtaking Grand Canyon to the hoodoos of Bryce Canyon and from the red rocks of Sedona to the Sierra Nevada mountains in Mammoth Lakes, many incredible adventures are within weekend getaway distance from Sin City.
In this article, we've rounded up the best weekend trips from Vegas. You can drive to all of them and have plenty of time to take in the sights before heading back.
Excited? Let's get started discovering the best weekend trips from Las Vegas!
Some links on this page may be affiliate links. If you click an affiliate link and make a purchase, we may receive a small commission, at no extra cost to you. For more details, refer to our disclosure.
Best Weekend Trips from Las Vegas
1. Grand Canyon National Park, Arizona
Distance: 275 miles Drive Time: 4 hours and 15 minutes (map)
Who doesn't have the Grand Canyon on their bucket list?
If you have a couple days to spare, the Grand Canyon definitely makes for one of the best weekend trips from Vegas you can take.
Although the West Rim of the canyon is closer, it is not part of the national park. Make for the South Rim, where you can enjoy scenic drives, snap photos of the Big Ditch, and hike.
The South Rim is open all year.
Take in the views from Mather Point. Sunrise here is spectacular but you'll need to arrive early for a good spot!
Bike Hermit Road to take in the views from nine marked overlooks. You can also drive Hermit Road in the off season, but from March to November you have to ride the free shuttle.
Desert View Drive, going eastward, is open to private vehicles year round and offers different views of the Grand Canyon.
Do the short but super scenic hike to Ooh Aah Point or hike part (or all!) of the Bright Angel Trail. If you prefer to stay on level ground, walk a part of the Canyon Rim Trail!
Want to see the Grand Canyon from above? It's a bucket-list item for many people, and this highly-rated helicopter tour from Tusayan is just the way to do it.
And if you are on a very brief trip to Vegas and can't spare a weekend, but still want to visit the Grand Canyon, book a helicopter tour right from Vegas! It's pricey, but the views are breathtaking.
Stay at a lodge inside the park if you can score a reservation. Otherwise, nearby Tusayan offers many options. We like the Grand Hotel at the Grand Canyon.
The El Tovar Dining Room offers breakfast, lunch, and dinner, and is open year round. Make reservations for lunch and dinner here.
2. Joshua Tree National Park, California
Distance: 218 miles Drive Time: 3 hours and 30 minutes (map)
Small enough that it can easily be explored in a weekend, Joshua Tree National Park offers rock climbing and bouldering, hikes for all levels, and a scenic drive.
Joshua Tree NP straddles two deserts and is known not only for its enormous boulder formations but also for its diverse flora and fauna, including the namesake Joshua trees.
Do the short stroll through the picturesque Cholla Cactus Garden. It's especially scenic at sunrise or sunset.
Hike to the photo-worthy Arch Rock, or try the scenic Hidden Canyon Trail, which offers rock clambering along the way. The hike to Barker Dam is short and scenic as well.
Pose for a photo by Skull Rock. Take a tour of Keys Ranch, or hike to the remnants of old gold mines.
At sunset, head to the overlook at Keys View for sensational views over the Coachella Valley and the surrounding mountains.
Stay in a motel in the quirky town of Joshua Tree, or in Twentynine Palms (we like Holiday Inn), or look for a desert vacation rental with an outside hot tub for stargazing.
You'll find lots of good eateries in the town of Joshua Tree. Try Crossroads Cafe! Head to Pappy and Harriet's in Pioneertown for dinner with live music.
3. Los Angeles, California
Distance: 271 miles Drive Time: 4 hours (map)
Los Angeles is one of the most exciting city weekend trips from Vegas you can do.
But LA is very spread out so you'll want to focus on a few areas to minimize the time you're sitting in traffic.
Spend a day touring a trio of iconic LA attractions: Griffith Observatory, for views over the city and a view of the Hollywood Sign, and the Getty Center and the Getty Villa for art, architecture, and gardens.
If it's your first visit to the City of Angels, head to Hollywood, where you can view the Walk of Fame (be warned, the area is SUPER touristy) and catch a movie at the TCL Chinese Theatre.
Nearby Silver Lake, with its mid-century modern and contemporary homes, is a great stroll for architecture buffs. Or, book this guided tour of the famous painted staircases of Silver Lake!
Visit Santa Monica, where you can snap photos of the Ferris wheel, and Venice Beach, known for its people watching and street performers. This food tour is a great option for exploring Venice Beach!
You have oodles of choices when it comes to hotels in Los Angeles. We usually base in Santa Monica: try the Shore Hotel, which sits just across from the beach.
4. Bryce Canyon National Park, Utah
Distance: 259 miles Drive Time: 3 hours and 56 minutes (map)
Famous for its huge concentration of hoodoos — the largest in the world — Bryce Canyon National Park makes for an epic outdoorsy weekend trip from Vegas.
Do the scenic drive through the park. Stop to gawk at the hoodoos in the Bryce Amphitheater, and continue on to more overlooks over lesser-visited areas of the canyon.
Hike! The Rim Trail from Sunset Point to Sunrise Point is a one-mile out and back hike with spectacular views. The trail is paved and easy.
The moderate Queen's Garden / Navajo Loop comes in just shy of 3 miles and gets you up close to some of the beautiful red rock in the park.
Enjoy biking? The shared-use path offers 5 miles of vehicle-free biking and passes by Sunrise Point, Sunset Point, and Inspiration Point. You can also explore the park on horseback.
Look for wildlife! Bryce Canyon National Park is home to a variety of animals and birds. If you enjoy birdwatching, bring your binoculars.
The park is also known for its dark skies, so be sure to enjoy a spot of stargazing after dark.
The Lodge at Bryce Canyon is located inside the national park and has an onsite restaurant. The Best Western Plus Ruby's Inn is just a short drive from the park entrance.
Other places to eat near the park include Stone Hearth Grille and Rustler's Restaurant.
5. Flagstaff, Arizona
Distance: 253 miles Drive Time: 3 hours and 50 minutes (map)
For the perfect blend of the outdoors and the attractions of a small mountain town, head to Flagstaff on your weekend getaway from Las Vegas.
Three must visit national monuments lie close to Flagstaff: Walnut Canyon National Monument, Wupatki National Monument, and Sunset Crater Volcano National Monument.
Hike, admire the beautiful rock formations, and visit ancient pueblos. The landscapes are photogenic and the history fascinating.
In town, head to the Arboretum at Flagstaff to discover plants native to the Colorado Plateau. The setting, in the midst of ponderosa pine forest, is lovely.
Astronomy buffs won't want to miss the Lowell Observatory. Reserve premium access to the Dyer Telescope for exceptional stargazing.
Stroll the historic downtown area, where boutique shops, art galleries, and quality eateries line the streets.
Visiting in the fall? Blazing yellow aspens make for fabulous fall foliage viewing. In the winter, Flagstaff becomes a wonderland, a magnet for skiers and winter sport enthusiasts.
Flagstaff offers a variety of stays to suit all pocketbooks. We love the tranquil setting of the Little America Hotel Flagstaff, and its beautiful outdoor pool.
Don't miss coffee and a pastry at Flagstaff Station Market Cafe and Neapolitan-style pizzas at Fat Olives!
6. San Diego, California
Distance: 332 miles Drive Time: 5 hours and 7 minutes (map)
Offering lots of activities both on land and water, San Diego is a year-round playground with fantastic weather.
It's one of the best weekend trips from Vegas you can take, with something for everyone: our San Diego weekend itinerary can help you plan your own visit.
Spend a day discovering Balboa Park, a complex of museums and gardens right in the heart of the city. The San Diego Zoo is super popular with families.
Cabrillo National Monument has a picturesque old lighthouse to view, tide pools to explore, and a whale watching overlook.
Get out onto the water with a harbor cruise, or spend time at one of the many popular beaches in the area: our favorite beach is Coronado Beach, just a ferry ride away.
Downtown neighborhoods like Little Italy and the Gaslamp Quarter offer excellent eateries and exciting nightlife.
One day in La Jolla is a must! La Jolla is a tony community located just north of San Diego.
Watch the sea lions, enjoy the beach, wander the village with its shops and restaurants, and explore the famous sea caves on a tour.
You'll find numerous places to stay in San Diego, but we suggest a downtown hotel for a weekend trip. We like the Omni San Diego Hotel.
Don't leave without trying the tacos at Tacos El Gordo in Chula Vista and ramen at Menya Ultra on Clairemont Mesa.
7. Sedona, Arizona
Distance: 279 miles Drive Time: 4 hours and 25 minutes (map)
Whether you are a nature lover, outdoor photographer, or hiker, you will definitely want to put Sedona on your radar for a weekend trip from Las Vegas.
Hiking is a super popular activity in Sedona, with several hundred miles of trails. No matter what your skill level, you'll find a walk or hike to suit in Sedona.
The moderate hike to Cathedral Rock offers stunning photo ops. Scramble up as far as you like! Bell Rock is another popular scrambling destination. Both hikes are fairly short.
Devil's Bridge is arguably the best hike in Sedona. Pose for the iconic photo atop the bridge!
Drive the Red Rock Scenic Byway, stopping to gawk at the views and snap photos. And take a Sedona jeep tour for some offroading: this tour is not too wild and suitable for families.
Visit the Chapel of the Holy Cross, designed in the 1950s by sculptor Marguerite Brunswig Staude. It's one of Sedona's most recognizable landmarks.
Stroll the Tlaquepaque Arts & Shopping Village, where you will find boutiques, art galleries, and restaurants in a setting with fetching architectural touches and fountains.
Accommodations on offer in Sedona include hotels and resorts as well as vacation rentals. We've stayed at The Wilde Resort & Spa and the Adobe Grand Villas and like both places.
A meal at the hugely popular Elote Cafe is a must, but reservations are mandatory. Also be sure to have pizza at Hideaway House and South American fare at Mariposa Latin Inspired Grill.
8. Vermillion Cliffs National Monument, Arizona
Distance: 235 miles Drive Time: 3 hours and 49 minutes (map)
For hardcore outdoor enthusiasts, Vermillion Cliffs National Monument is definitely one of the top weekend trips from Vegas.
On a weekend visit, you'll want to pick one or two areas to explore.
The monument is home to The Wave, arguably the most epic photo spot in the American Southwest.
Coyote Buttes North, the area of the monument where The Wave is located, can only be accessed with a very hard-to-get permit. Only 64 people are allowed on The Wave each day.
Buckskin Gulch is another popular hike here. One of the longest continuous slot canyons on the planet, Buckskin Gulch offers views of sandstone walls and rock formations. It requires a day use pass.
Paria Canyon features spectacular scenery, with tall cliffs and deep canyons, and opportunities to spot wildlife. It's a popular backpacking area.
White Pocket, in the Paria Plateau, offers swirling multi-colored sandstone rock formations. It doesn't require a permit at this time.
Note that roads in the monument are typically unpaved and rugged, and a 4-wheel high-clearance vehicle is the way to go.
There are two developed campgrounds just outside the monument, and dispersed camping is allowed inside.
If you'd rather not camp, stay overnight in Page or in Kanab and explore the monument during the day.
9. Mammoth Lakes, California
Distance: 308 miles Drive Time: 5 hours and 7 minutes (map)
One of our favorite weekend getaway destinations in California, Mammoth Lakes makes for an excellent trip from Vegas.
While Mammoth Lakes is a very popular winter sports destination, there are lots of things to do here year round.
Visit Devils Postpile National Monument, where you can gawk at the basalt columns formed by volcanic forces and hike to the picturesque (and powerful!) Rainbow Falls. Devils Postpile is only open to vehicular traffic in the summer months.
Mammoth Lakes is, of course, famous for its many lakes, so there's no lack of water activities here, from boating and paddling to swimming and fishing.
Photograph sunrise at Convict Lake. This alpine lake is one of the most beautiful lakes in the Eastern Sierra. You can go boating here, and hike the perimeter of the lake.
Check out the bubbling blue pools at Hot Creek Geologic Site, walk the short trail at Earthquake Fault, soak in Wild Willy's Hot Spring, and do the scenic June Lake Loop drive.
Fall is a sensational time to visit the area!
As a resort town, Mammoth Lakes offers numerous accommodation choices. We've stayed at the Westin Monache as well as the Village Lodge and liked both places.
Be sure to dine at the Convict Lake Restaurant and have lunch at the Good Life Cafe!
10. Page, Arizona
Distance: 272 miles Drive Time: 4 hours and 22 minutes (map)
Page is one of the most popular places to visit in Arizona, and with good reason! Although the town itself is underwhelming, the area is home to some of the best natural scenic wonders in the state.
Horseshoe Bend is an iconic overlook over the Colorado River and a very popular photo spot. Getting to the overlook requires a hike, about 1.5 miles total.
Splurge on tours of both Lower Antelope Canyon and Upper Antelope Canyon. The light effect is superior in the upper canyon, but the lower canyon is less crowded.
Both slot canyons are among the most beautiful you'll see anywhere, with colorful walls and narrow passageways.
Note that the famous light beams can only be seen during certain times of the day between April and October, and tours are priced higher for those times.
A short distance north of Page is Lake Powell, where you can take a boat cruise to the Rainbow Bridge National Monument. The bridge is one of the largest known natural bridges in the world.
Although the Glen Canyon Dam, which created Lake Powell, is not currently open for tours, you can stop at the Carl Hayden Visitor Center for spectacular views over the dam, the lake, and the Colorado River.
Page offers a number of motels, as well as some vacation rentals. We usually stay at the Hampton Inn and Suites on short trips.
El Tapatio offers exceptionally good Mexican food. Also try Sunset 89 for island food with a view!
11. Zion National Park, Utah
Distance: 152 miles Drive Time: 2 hours and 14 minutes (map)
Zion National Park is a Utah Mighty 5 park that actually makes a good day trip from Vegas, but it also makes for a great weekend trip, especially if you want to hike in the park.
The bucket list hike in Zion is Angels Landing, which requires a permit. This strenuous hike involves climbing up the stone face (along the West Rim Trail) to the summit for stunning views.
Another bucket-list hike in Zion National Park is The Narrows, which involves wading and walking through the Virgin River in the narrowest part of the canyon.
You don't need to do either of these hikes to enjoy Zion National Park. The drive through the park is very scenic (although in season you have to ride the park shuttle). You can also bike through the canyon.
There are several easier walks and hikes to enjoy. Two of our favorites are the Emerald Pools Trail and the Canyon Overlook Trail.
Be sure to also drive to Kolob Canyons, where the scenic drive allows you to enjoy the views of the red canyons from vista points.
Lodging is available inside the park and there are lots of hotels in nearby Springdale. We usually stay at the Best Western Plus Zion Canyon Inn & Suites in Springdale.
Enjoy a meal at The Spotted Dog, which features fresh produce and hormone-free meats. We also like the Bit N' Spur Restaurant & Saloon (the micro brews are amazing!).
12. Santa Barbara, California
Distance: 361 miles Drive Time: 5 hours and 45 minutes (map)
The elegant coastal city of Santa Barbara enjoys excellent weather year round and is one of the best weekend trips from Vegas you can take along the west coast.
Called "the America Riviera" because of the Mediterranean-style red roofs in downtown Santa Barbara, the city offers historic sights, gardens and museums, and a variety of activities.
Visit the gardens and museum at the Old Mission Santa Barbara, which dates back to 1786. Take in the views from the Clock Tower at the County Courthouse.
State Street in downtown Santa Barbara makes for a wonderful stroll, with lots of fun shops, art galleries, and eateries. Pose for photos on the Spanish tile staircase at the Paseo Nuevo shopping mall!
Funk Zone is a must-visit, with its many wine tasting rooms and restaurants, and colorful street art. Pop into MOXI, a fun interactive museum for adults and kids alike.
Enjoy time at the many beautiful beaches — sunset at Butterfly Beach is particularly beautiful!
Drive out to the picturesque Santa Ynez Valley, where you can stroll Danish-themed Solvang and take a wine tasting tour of the vineyards.
There are lots of places to stay in Santa Barbara: we like Simpson House Inn, a charming B&B close to dining and shopping, or the Brisas Del Mar Inn, close to the beach.
If you like Mexican food, be sure to try La Super Rica Taqueria. Mesa Verde is great for vegetarian options. The Santa Barbara Public Market is a great choice for lunch.
13. Grand Staircase-Escalante National Monument, Utah
Distance: 213 miles Drive Time: 3 hours and 28 minutes (map)
Grand Staircase-Escalante National Monument is vast and rugged, but if you are an outdoor enthusiast, consider a weekend trip from Las Vegas to take in the highlights!
The monument offers scenic drives, hikes (including backcountry trips), and many slot canyons to explore.
The scenery is amazing and a visit here truly feels like you are out in the wilderness.
Drive Scenic Byway 12 to take in the gorgeous landscapes. There are many places to stop and admire the views at leisure, and snap photos.
Do the moderate trail to Calf Creek Falls: the waterfall at the end is beautiful. We saw someone swim out to it when we were there.
The Zebra Slot Canyon hike is a must for seasoned hikers! It's a short canyon, with striped walls that give it its name. In places the walls are less than one foot apart. Before you go, make sure there isn't too much water in the canyon to hike.
The Toadstools is an easier and shorter hike, and the balanced rocks look exactly like toadstools. It's a great spot to take photos!
Kanab offers places to stay as well as dining. We've stayed at the Red Canyon Cabins on Highway 89 and liked it.
Dine at the Rocking V Cafe: the food is awesome and there are vegan options. Kanab Creek Bakery is great for breakfast or lunch. Pizza at Peekaboo Canyon Wood Fired Grill is also a must: all vegetarian or vegan.
14. Great Basin National Park, Nevada
Distance: 296 miles Drive Time: 4 hours and 27 minutes (map)
A lesser-visited national park, Great Basin National Park is one of the best places to visit in Nevada and makes for an excellent weekend getaway from Las Vegas.
The park, dominated by Wheeler Peak, features gorgeous landscapes and offers a variety of activities.
The 12-mile scenic drive to Wheeler Peak offers spectacular views of the mountains and valleys. You'll want to stop often for photos!
Explore the Lehman Caves on a guided tour. It's the longest cave system in the state of Nevada, and you'll see lots of stalactites and stalagmites. Tours are popular, so make a reservation ahead of time.
There are lots of trail to hike in Great Basin National Park, ranging from easy to strenuous.
Try the moderate hike through the grove of ancient bristlecone pines: they are the oldest trees on the planet, some thousands of years old. The easy Alpine Lakes Loop is another popular hike, and features fabulous views of Mount Wheeler.
Enjoy the dark skies at night. The park offers ranger-led astronomy programs, so check to see if one is on the schedule when you visit!
Lodging near the park is sparse. If you prefer not to camp, try the Whispering Elms Motel in Baker. '
Dine at Sugar, Salt & Malt, and try Great Basin Cafe for breakfast or lunch.
15. Palm Springs, California
Distance: 264 miles Drive Time: 4 hours and 14 minutes (map)
Palm Springs offers an eclectic mix of activities, from hiking to museums, and has a vibrant downtown and many splurge-worthy resorts.
If you are visiting Sin City in the cooler months and like the idea of warm desert temperatures and a non-gambling vibe, Palm Springs makes for a fun weekend trip from Las Vegas.
Take the aerial tramway to the mountain station at Mount San Jacinto for sensational views over the desert floor. Bundle up, though, because the temperatures at the top are considerably cooler.
Tour the mid-century modern architecture in town! This biking tour is a great way to learn as you explore. For culture vultures, the Palm Springs Art Museum offers a well-curated collection.
Hike! While you can enjoy the stunning desert landscapes in Joshua Tree National Park on a day trip, you'll also find hikes closer to Palm Springs, in Indian Canyons, Tahquitz Canyon, and Thousand Palms Oasis.
Take a scenic drive. The Palms to Pines Scenic Byway starts from Palm Desert, a little south of Palm Springs, and takes you through a variety of landscapes.
Splurge on a resort with a lovely pool and gardens. We like Korakia Pensione for a romantic weekend and Omni Rancho Las Palmas Resort & Spa for a family getaway.
Be sure to have lunch at Farm (or pizza at Birba) and book a table for dinner at Workshop Kitchen + Bar.
16. Phoenix, Arizona
Distance: 302 miles Drive Time: 4 hours and 42 minutes (map)
Phoenix, along with Scottsdale, is one of our favorite weekend getaways. While we love visiting in the winter, you can score much cheaper accommodation deals in the summer.
Of course there's way too much to see and do here to fit everything in a weekend, so you'll have to pick and choose.
We like to squeeze in a museum or two when we visit: the Musical Instrument Museum, the Phoenix Art Museum, or Taliesin West, Frank Lloyd Wright's desert workshop, are all great options.
Definitely plan on touring the Desert Botanical Garden: not only are the plant specimens amazing, you'll also see lots of birds here. Bring your binoculars!
Hike Camelback Mountain! You have a choice of two trails: the Cholla Trail or the Echo Canyon Trail. Or Uber to the trailhead and do it point-to-point: go up Cholla Trail and come down Echo Canyon.
Wander Old Town Scottsdale to browse the shops and galleries, people watch, and enjoy the eateries. It's a great place to shop for souvenirs!
Take in all the colorful street art in downtown Phoenix!
For your base, pick a resort with a pool. We've stayed at the Andaz Scottsdale Resort as well as the Scottsdale Camelback Resort and loved both stays.
Be sure to eat at FnB in Old Town Scottsdale for produce-forward offerings, have a meal with history at The House Brasserie, and enjoy Italian at Fat Ox.
17. Death Valley National Park, California
Many visitors to Vegas spend one day touring Death Valley National Park, but it's a large park with lots to see and do, so visiting on a weekend trip from Vegas is well worth it.
Highway 190 is the scenic route through the most popular sights in Death Valley National Park.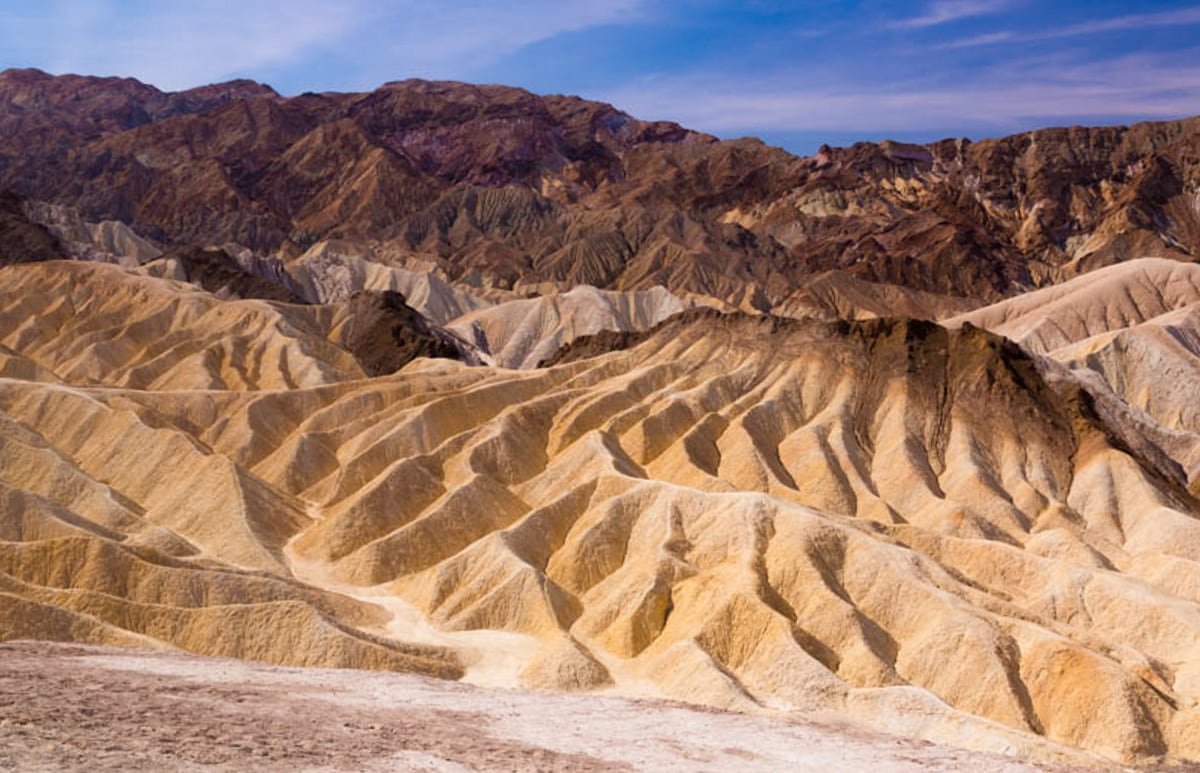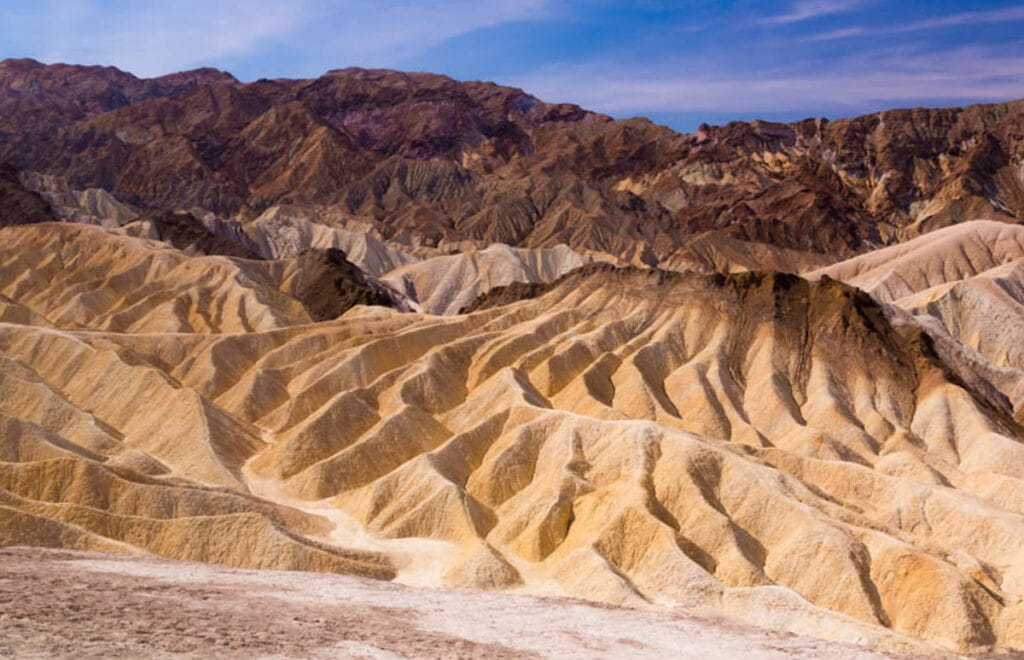 Drive up to Dante's View, the highest point in the park you can reach in a vehicle, for panoramic views over the valley. Gawk at the beautiful badlands from Zabriskie Point.
At Badwater Basin, walk the gigantic salt flat and pose for a photo by the sign marking the lowest point in North America, 282 feet below sea level.
Do the picturesque Artist's Drive and snap photos of the colorful Artist's Palette.
If you visit in the cooler months, the Golden Canyon Hike is a must-do for its views of the badlands. Another hike worth considering is Mosaic Canyon, for the beautiful textured canyon walls.
Play in the sand at Mesquite Flat Sand Dunes: kids will love sandboarding here.
Death Valley National Park offers splendid opportunities for night sky observation, one of the big reasons to spend a night or two in the park. Sunrises and sunsets are also spectacular.
Stay in the park: splurge on the the Inn at Death Valley or opt for the more affordable Ranch at Death Valley. Both hotels have onsite restaurants and bars: The Inn Dining Room and the Last Kind Words Saloon at the Ranch.
Map of Best Weekend Getaways from Vegas
Did you find this article informative? Pin it on Pinterest for later!