Planning your very first visit to Vegas? While Las Vegas is an exciting vacation destination, it can be overwhelming trying to plan your first trip to the city. Our Vegas travel tips will help!
Unless you're going to Vegas ONLY to gamble, there are so many choices when it comes to things to do in Vegas, from shows to dinners at topnotch restaurants and thrilling experiences that it becomes difficult choosing!
Some links on this page may be affiliate links. If you click an affiliate link and make a purchase, we may receive a small commission, at no extra cost to you. For more details, refer to our disclosure.
And even after you've nailed down the things you want to do, there are logistics to consider, from figuring out where to stay to how you'll get around in Vegas.
In this article, we've compiled lots of helpful information and tips and tricks for your Vegas trip, so you can hopefully enjoy the planning process instead of feeling stressed.
Ready? Let's get started discovering everything you need to know to plan that perfect first visit to Las Vegas!
Las Vegas Travel Guide: Helpful Information + Top Tips!
1. Get oriented: The Strip + Downtown Las Vegas
If you are considering your first-ever visit to Vegas, it's helpful to know what to expect in terms of where to spend your time.
Most first-time visitors to Vegas spend most (or all!) of their time exploring the many things to do on the Las Vegas Strip.
So, what exactly is the Strip?
Another name for a portion of Las Vegas Boulevard, the main street that runs through the area, the Strip is where you will find all the major resorts.
The Strip stretches for a little over 4.2 miles end to end. Anchoring one end is the Mandalay Bay Resort and Casino, and at the other is the STRAT Hotel, Tower, and Casino.
Along the Strip you'll find the Bellagio, the MGM, the Venetian, Paris Las Vegas, and other famous resorts you've probably read about when researching your trip.
Downtown Las Vegas, or Old Las Vegas, is the other part of town you should put on your itinerary.
The historic part of town is home to many old-style casinos like the Golden Nugget, Binion's and Four Queens, along with museums and other exciting experiences.
It's also a more affordable part of town if you are visiting Vegas on a budget.
The Las Vegas Big Bus tour is a great way to get an overview of the Strip and downtown Las Vegas.
The open-top bus includes a walking tour of Fremont Street in downtown Las Vegas.
Opt for the night tour, and you'll get to see the famous lights of Las Vegas!
>> Check price and availability for the Las Vegas Big Bus night tour now!
2. Stay on The Strip (Close to the Center!)
Given that you'll be spending a lot of your time in Vegas on the Strip, it makes sense to stay in one of the resorts along the Strip.
So not only is it exciting to be based in the heart of all the action, it's also practical.
Find a base as central as possible, because distances on the Strip can be much longer than they appear.
Flamingo Las Vegas Hotel & Casino or the LINQ Hotel are well-placed and relatively well-priced options.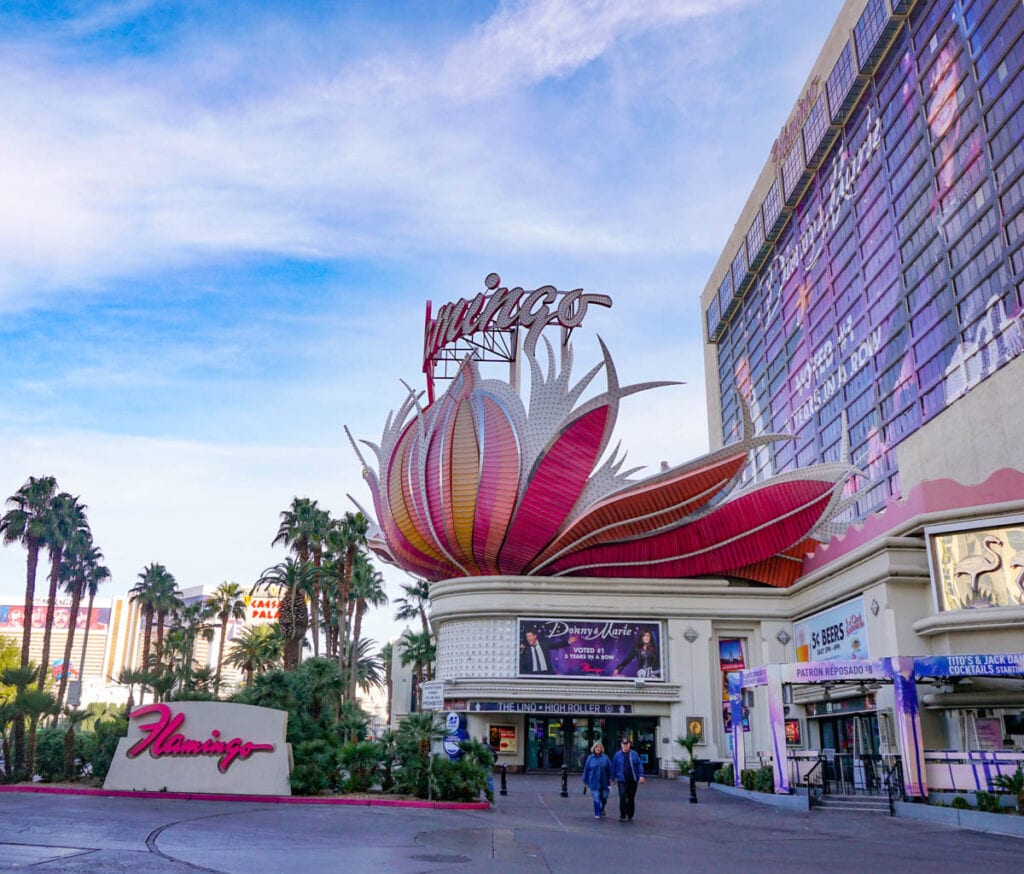 If you are looking for more upscale places to stay in the heart of the Strip, Caesars Palace and Paris Las Vegas Resort & Casino fit the bill.
And if you are looking to splurge, book a stay at The Bellagio, or The Venetian!
Want a quiet place to stay that's still walking distance to places on the Strip?
We've stayed a few times at Vdara, which is set back from the Strip and is a non-smoking, non-gambling tower in the City Center.
The Signature at MGM Grand is also non-smoking and non-gaming. There are three towers with one- and two-bedroom suites.
3. Don't want to pay resort fees? Find a hotel near (but not on) the Strip
Pretty much all the resorts on the Strip tack on a resort fee to the daily rate, which can add up if you plan to spend a few nights in Vegas.
Typically, the resort fee covers amenities like pool and / or gym access, wifi, and so on. And you have to pay the resort fee whether you use the amenities it purports to cover or not.
At the higher-end hotels on the Strip you could be looking at a daily resort fee of $45.00 to $50.00.
If you'd rather not pay a resort fee at all, you'll have to choose a base that's off the Strip, yet near enough that you can get to the action quickly.
Club Wyndham Grand Desert is about a 15-minute walk from the Strip and offers a pool, free parking, and free wifi.
Other options include Marriott's Grand Chateau and the Hilton Garden Inn Las Vegas City Center.
These hotels are also great choices if you are visiting Las Vegas with kids and you want a quieter base away from the glitz and glamor of Las Vegas Boulevard.
4. Renting a car in Vegas: is a car necessary?
First, you have to decide whether you need a car while you are in Vegas.
Visitors that plan to spend their Vegas vacation on the Strip or in Old Las Vegas may find they do not need a car at all. Especially if you choose a base on the Strip or walking distance from it.
As you'll see below, you have many choices for getting from the airport to your hotel and for getting around the Strip and downtown Las Vegas.
Based on the things you plan to do, a car may be more hassle than help.
Most resorts charge parking fees and some only have valet parking. Not only will the cost add up, you'll be hanging around waiting endlessly for your car to be brought around at busy times in the evenings.
Renting a car does make sense if you are visiting as a family or group and plan to do day trips while you are in Vegas.
If you plan to visit the popular Valley of Fire from Vegas, or Red Rock Canyon, for example, you'll want to rent a car for the day (or join a tour).
If you are traveling solo or as a couple, look into guided tours: they may end up cheaper than renting a car.
In short, figure out where you want to visit on your day trips from Vegas and compare the cost of guided tours to a car rental.
If you decide that renting a car for a day or two makes the best sense, check out Discover Cars for great deals.
And don't rent a car either at the airport or at your hotel: find a car rental location in town near your hotel for better deals!
>> Check prices and availability for Las Vegas car rentals now!
5. Getting to the Strip from the airport (and Back!)
If you are wondering how to get to your hotel on the Strip, don't worry: you have several options!
Take a taxi
Taking a taxi may seem old school, but it's still a viable option for getting from Harry Reid International Airport to your accommodation. You'll find taxi stands at Terminals 1 and 3.
Vegas taxis accept credit cards and have to charge the flat fare mandated by the Nevada Taxicab Authority.
Book a Private Transfer
If you like your travel arrangements firmed up ahead of arrival, book a round-trip private transfer from the airport and back.
You'll be transported in a private SUV, and the service is 24/7.
>> Check price and availability for transfer from Vegas airport and back!
Ride a Shared Shuttle
A relatively inexpensive mode of transfer, a shared shuttle is the way to go if time isn't a constraint.
Airport shuttles serve most major Vegas resorts and hotels, but they make numerous stops en route.
Take the Bus
Although it isn't quick, the public bus is a reliable and inexpensive way to get from the airport to the Strip and vice versa.
There are bus stops at Terminals 1 and 3.
Book a Limo!
Want to arrive at your hotel in style? Arriving by limo is decidedly very Vegas: you'll even find limo stands at the airport, although you can book your ride ahead of time.
Get a Ride share
Uber and Lyft operate in Vegas, but we've always had to suffer long wait times to get rides in Vegas, especially at high travel times.
If you choose a ride share, give yourself plenty of time (we almost missed our flight the last time we visited because we thought we'd take Uber or Lyft).
And be prepared for high prices.
There are pick-up locations at Terminals 1 and 3, and you'll be dropped off at the departure curbs.
6. Getting around in Las Vegas
If you do not plan to rent a car, there are many ways to get around Las Vegas. In fact, sometimes a car can be more a hassle, with having to pay for parking and having to wait for your car to be brought around if you've opted for valet parking.
Walk!
If you book your stay centrally on the Strip, walking is a great way to get where you want to go, within reason.
Distances on the Strip are much further than they seem, and walking can take not only time but also energy. You'll be racking up the steps within each resort, without adding to it by walking from one resort to another.
So plan to do some walking every day: after all, walking the Strip is a fabulous way to take in all the glitzy resort exteriors and attractions like the Bellagio Fountains, not to mention the prime people watching.
But manage your walking time so it's not eating into your itinerary too much.
And make sure you do not jaywalk: you can be cited and fined. Use designated crosswalks or the pedestrian bridges that stretch over the Strip.
Use the Monorail
The Las Vegas monorail is a super convenient option for traveling up and down the Strip.
The monorail is air-conditioned, and avoids having to sit around in traffic, which can be horrendous on the Strip depending on time of day and day of week.
There are seven monorail stations, starting with the Sahara near the STRAT at the north end of the Strip and ending at the MGM Station, which is pretty close to the resorts at the very south end of the Strip.
Buying tickets online can save you some money and you can simply use your phone to scan the e-tickets at the gate. Easy peasy! Of course, paper tickets are also available.
You can buy a single-ride ticket, a day pass, or a multi-day pass. A day e-ticket costs $13.45 at the time of writing, and gets cheaper per day, the higher the number of days.
The monorail starts operating at 7 a.m. everyday and ends at midnight on Mondays, 2 a.m. Tuesdays through Thursdays, and 3 a.m. Fridays through Sundays.
Ride the Free Trams or Shuttle
The ARIA Express Tram connects the Park MGM, Aria, and Bellagio Hotels. The tram is air-conditioned, and runs every 7-10 minutes between 8 a.m. and 2 a.m. It's free!
The air-conditioned Mandalay Bay-Luxor-Excalibur Tram runs every 5 minutes from 10 a.m. until midnight. Rides are free.
The Treasure Island-Mirage Tram connects the two properties and runs from noon to 2 a.m. on Fridays and Saturdays and from noon to 9 p.m. on other days. It's free.
The Downtown Loop stops at The STRAT and has several other stops downtown, including Fremont Street and the Arts District, ending at the Mob Museum.
It's a free shuttle, and runs every 20 to 30 minutes from 11 a.m. until 6 p.m. Sundays through Thursdays and from 3 p.m. until 10 p.m. Fridays and Saturdays.
Take the Bus
The Deuce is the local bus service offered by the Regional Transportation Commission.
Running 24 hours a day, the Deuce starts at the South Strip Transit Terminal, continues along the Strip, and then to the Fremont Street Experience in Downtown Las Vegas.
The Deuce stops at almost every resort along the Strip, and runs every 10 to 15 minutes for much of the day.
You can buy a single day or multi day pass for the Deuce, so you can get on and off whenever you wish.
It's a convenient and inexpensive way to get around during your stay in Vegas!
Get a Ride Share
Uber or Lyft is a popular way to get from A to B in Vegas, whether on the Strip or in Downtown Las Vegas.
Resorts on the Strip have designated pick-up / drop-off areas for ride shares. Make sure you know where that spot is for your ride and that you can get to it by the time your ride is scheduled to arrive.
Availability and price can vary based on the time of day or day of week, and ride shares may not be a dependable option during busy times.
Add in 10 to 15 minutes to your travel time for your ride to show up, longer at busy times.
Take a Taxi
Taxis are a time-honored and popular way of getting around on the Vegas Strip and in downtown Las Vegas, although they are pricey.
You can pay by credit card, although there's a credit card fee that's tacked on to your fare.
You can ask the taxi driver to follow a route you specify, to get to your destination.
You can't flag down a cab on Las Vegas Boulevard. It's illegal for a cab to stop on the street to pick up a fare. To get a taxi, go to one of the many ranks along the Strip or get one at a hotel or resort.
Or Take a Limo
For special rides — maybe you are getting married in Vegas, or going to a bachelorette party? — limos are a fun transportation option on the Las Vegas Strip and Downtown Las Vegas.
There are numerous limo service companies in Vegas and you can book your rides online.
7. Visit Vegas in Early Spring or Late Fall for the Best Weather
From a weather perspective, early spring and late fall are the best times of the year to visit Las Vegas.
Daytime temperatures are the most pleasant in March and April, or October and November, making wandering about outdoors on the Strip an enjoyable activity weather-wise.
Peak summer months are very hot, with daytime highs routinely making their way into the triple digits, so unless you plan to spend pretty much ALL of your time indoors (and many people do exactly that!), avoid July and August.
If you do visit in the summer bring light clothing to wear outdoors but a sweater or wrap for when you enter a resort, where the temperatures will feel downright cold.
Winters can be cold — Vegas is in the desert, after all — and while we won't tell you not to visit then, bring layers, especially for early and late in the day.
We've visited Vegas several times during the winter months: in January and February, the Strip is pleasantly devoid of crowds and prices at resorts are lower.
In fact, Las Vegas features in our round-up of the best Christmas vacations in the USA: the holidays are a magical, if crowded, time to be in Vegas.
8. When to Visit Las Vegas: Avoid the Busiest Times!
From a crowds perspective, although Vegas is a popular vacation destination any time of the year, crowds go up exponentially at holiday times.
Avoid long weekends, Thanksgiving, Christmas and New Year's, spring break, and the summer vacation period if you want to steer clear of the worst of the crowds.
When school is out, families come to Vegas in droves, so even though it's super hot in July and August, don't expect low visitor counts.
The other thing to watch out for is conventions, and mega sports events like March Madness or the Super Bowl.
Las Vegas has a very busy conventions calendar, and if you can, you should definitely avoid being here when CES, which occurs annually in January, (or similar conventions) are happening.
Unless you plan to visit Vegas for the Formula 1 race, we suggest scheduling your visit for another time of year. Weeks before the race, the Strip starts seeing many changes, including placement of viewing stands along the street that disrupt the normal view.
Not only is it unpleasant steering through the crowds on the Strip, prices on accommodations go up during the crowded times of the year, show tickets sell out, and lines at buffets and restaurants get super long.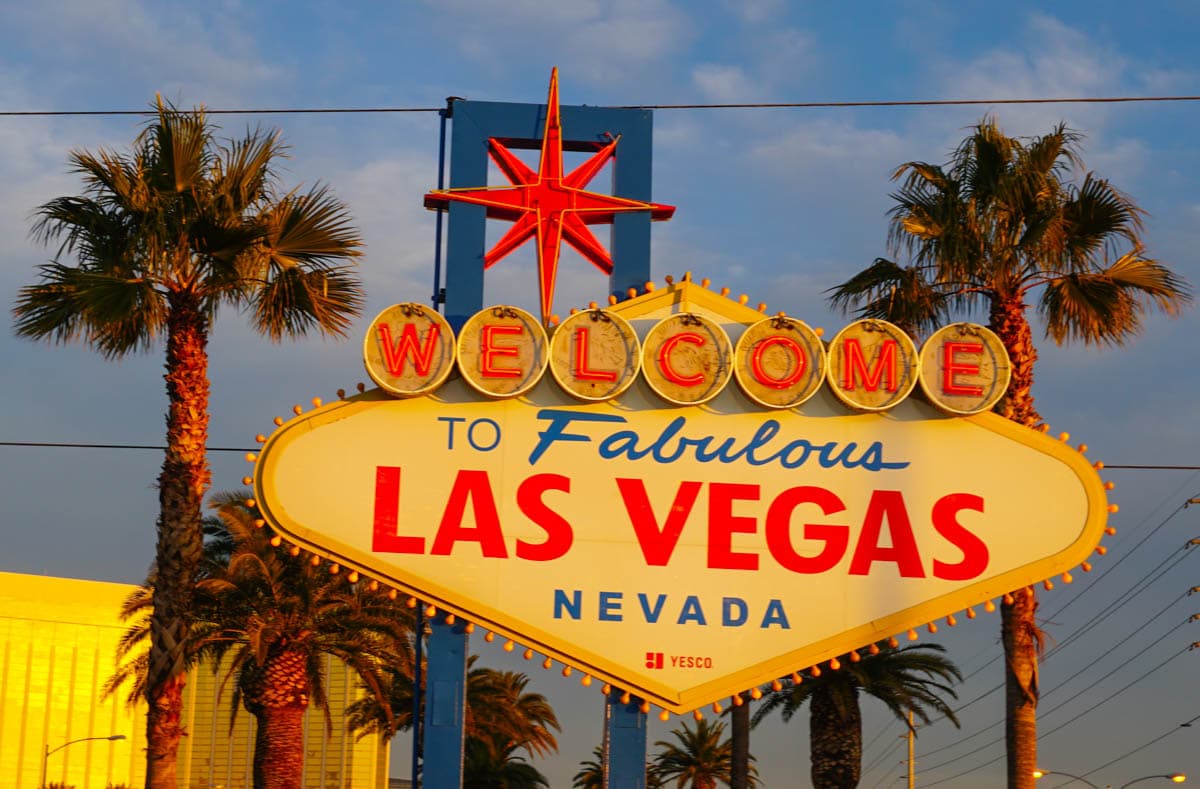 9. Visit Vegas during the Week: Lower Prices + Less Crowded!
If you'd like a more relaxed experience on your visit to Las Vegas, choose to visit during the week rather than on weekends.
Las Vegas is one of the top cities for USA weekend trips, and Fridays through Sundays tend to be more crowded (and pricier!) all through the year.
Many attractions in Vegas are priced lower on weekdays.
Hotels and resorts typically have lower rates for week nights when compared to the weekends, and, on week nights, you may even find yourself upgraded to a swankier stay without even having to ask.
Of course, you can always request to be upgraded, and it'll be easier for the hotel staff to find you an upgrade during the week.
On the flip side, though, expect some attractions and buffets to have shorter times or be closed during the week days.
The Bacchanal Buffet at Caesars, for example, offers their special crab brunch only Thursdays through Mondays.
But, fair warning, even during the week it will be busy on the Strip.
10. Book shows and experiences in Advance!
When planning your Vegas itinerary, it's a good idea to book your must-do experiences, shows, and dinners in advance. And that's especially the case if you are planning a trip over a weekend, or during events and holidays.
If you have your heart set on a show and you plan to visit for less than a week, make sure the show is running on the days you'll be there, because many of them go dark a few days a week.
If you do not care which show or where you sit, you can buy discount tickets for same day shows, but in general, it's far better to book ahead.
These are some of the top first-time Vegas experiences you'll want to consider:
A helicopter tour over the lights of the Las Vegas Strip is on the bucket list of many travelers to Vegas. It's a short flight, but incredibly exciting!
>> Check price and availability for the Las Vegas Strip helicopter tour!
A Cirque du Soleil show offers drama, grand visuals, acrobatic moves, and great music. O at the Bellagio makes for an incredible first show experience in Vegas!
>> Check price and availability for O at the Bellagio now!
The High Roller at the LINQ is the tallest Ferris wheel in the world that's in operation. Take a 30-minute spin to enjoy the views from above, day or night.
>> Check price and availability for the High Roller now!
11. Explore beyond the Strip
If you plan to spend a few days in Vegas, and you enjoy the outdoors, there are so many exciting day trips from Vegas (and day tours) you can add to your itinerary!
After three or four days amongst the bright lights of Vegas you may find yourself ready for some fresh air and natural scenery.
And there are so many natural wonders within driving distance of Vegas!
Red Rock Canyon and the Valley of Fire are shorter drives from Vegas and offer gorgeous desert scenery and great hiking.
But there are also several national parks near Vegas you can visit, including the Grand Canyon, one of the wonders of the world.
And if you plan to squeeze in some nearby exploring, but don't want to drive, here are the top excursions to book:
Visit the Hoover Dam and the West Rim of the Grand Canyon on a bus tour from Vegas. It's one of the most popular day trips from Vegas!
>> Check price and availability for the Grand Canyon and Hoover Dam bus tour now!
Or splurge and visit the Grand Canyon on a deluxe helicopter tour from Vegas! It includes a landing at the Grand Canyon for a champagne toast.
>> Check price and availability for this Grand Canyon helicopter tour now!
Get adventurous on an ATV tour of the Las Vegas dunes! The tour gets you up close to the rugged desert scenery and includes transport from the Strip and back.
>> Check price and availability for the Las Vegas Dunes ATV tour now!
12. Eating at a buffet: Choose off times
You must definitely plan on a meal at a Las Vegas buffet on your first visit to the city!
The spreads are the largest than you've likely ever seen, with dozens of stations and numerous offerings. from salads to hot dishes, breads, meats, and more. Often, multiple cuisines are represented.
The dessert stations are wickedly decadent, with many kinds of cakes, candy, and pastries from which to choose. Sometimes, there's a fresh crepe station or gelato.
Las Vegas buffets are immensely popular, especially if you are looking to visit one of the top buffets: Wicked Spoon at the Cosmopolitan, the Bacchanal Buffet at Caesars Palace, the Buffet at Wynn, or the Bellagio Buffet.
Wait times can often be very long, especially on holidays and weekends or at busy times of the year. Some buffets offer reservations or pre-registrations, so take advantage of that option!
If you cannot reserve in advance, plan to eat at an off-meal time to avoid waiting in line for a long time. Arriving early or late can mean much lower wait times.
Some buffets offer VIP seating (smaller line) for a small fee, so that's another option if you want to eat at mealtimes but don't want to waste precious time queuing.
13. Trying Your Luck in Vegas: Where to Begin
While a little bit of gambling in Vegas can be fun, it can be daunting to know where to begin if you are a Vegas first-timer.
Slots are by far the easiest option. You'll see machines all over the gaming floor in every casino, and no-one is looking at you as you play.
There are no rules to learn: you just insert bills into the machine and hit the buttons for the bets you want to place. That's it!
But be warned: slots have poor odds and it's easy to lose hundreds of dollars before you know it.
Which brings us to our primary tip: no matter which gaming activity you choose in Vegas, set a budget and stick to it.
You can also try your hand at table games, blackjack or roulette, for example, but try and understand the game before you place a bet.
And find resorts with lower minimums, so your budget lasts longer: you'll generally find them in downtown Las Vegas or other areas away from the Strip.
Many Vegas resorts offer gaming lessons for beginners. Instructors tell you how a game is played, and if you arrive early and get a seat at the table, you may even be able to play a few hands for practice.
Lessons are usually offered during the afternoons on weekdays.
14. Tip Servers for Free Drinks in Casinos
If you're placing bets at casinos in Vegas, you may have servers come up and offer drinks, on the house.
Although many resorts no longer have the drinks flowing quite as freely any more, you can still score some free drinks as long as you are playing.
Remember to tip the server that brings you your drink: $1 or $2 per drink is considered standard.
15. wear comfortable walking shoes (Most of the Time!)
Unless you're taking a limo or a ride share to a swanky restaurant or club, leave your high heels behind.
Some women wear flip flips up to their ride, switch to heels, and then back again on the ride home!
Even if you do not go to that extreme, reserve the heels for very special occasions.
You will be doing a LOT of walking in Vegas, and high heels or uncomfortable shoes can make you miserable in quick time.
Bring your most comfortable walking shoes, already broken in, and wear them for wandering the Strip. And bring a couple pairs!
16. Bring layers!
No matter when during the year you plan to visit Vegas, you'll want to bring layers!
While it's hot outside in the summer, the inside of most Las Vegas resorts are always super cool, literally. The air-conditioning is kept cranked up all day and all night.
You'll feel the change especially acutely as you flip between indoors and outdoors along the Strip during the summer.
Bring a warm sweater or light wrap that you can fold small and carry it in your bag to pull out when you need!
And while you'll definitely need a nice jacket or coat for when you step out in the evening during the colder months of the year, you'll find the interiors of the resorts toasty for the most part.
17. Bring water and sun protection
Las Vegas is located in the desert, and whether you are indoors or outdoors, it's crucial to stay hydrated as you explore.
Carry a full bottle of water each time you head out the door from your room.
Bring a refillable water bottle and refill at any drinking water fountains you come across. You can also ask for cups of water at bars in resorts.
If you need bottled water, you can buy it cheaper at smaller drug and convenience stores along the Strip or just off the Strip.
You can also order water and other grocery essentials delivered to the resort where you are staying, and the bell desk will help get them to your room.
Sun protection is also a must when outdoors in Vegas, whether you're walking the Strip, or lounging by an outdoor pool.
Be sure to pack sunscreen, your sunglasses, lip balm with SPF, and a sun hat for daytime wandering!
18. Consider the Go Las Vegas pass
If you plan to load up your Vegas itinerary with lots of fee attractions and experiences, look into the Go City Las Vegas All-Inclusive Pass.
The Go City Las Vegas All-Inclusive Pass includes 45+ attractions with durations of 2, 3, 4, or 5 days. You can use it directly from your phone, too!
Passes for 3, 4, or 5 days come with one free premium attraction, such as a Las Vegas Strip helicopter ride, a Bryce Canyon and Zion National Parks Tour, or tickets to Ka by Cirque du Soleil.
Many of the top Vegas attractions are included in the pass.
>> Check price and availability for the Go City Las Vegas All-Inclusive Pass now!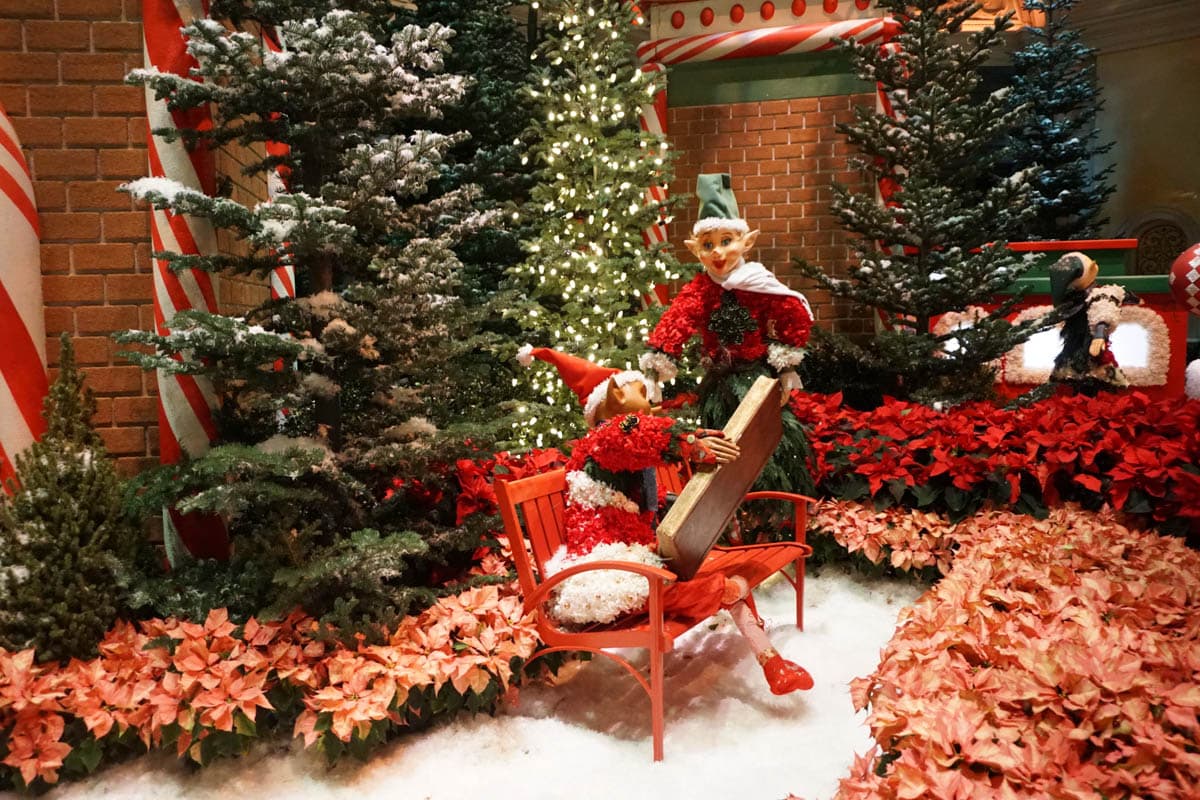 19. Checking in: arrive off hours
If you do not want to wait in line at all, many resorts in Vegas offer online check-in.
However, in-person check-in can have some advantages: you may be able to score a free upgrade, for example, or you can spell out room preferences you have to see if they can be accommodated.
But the lines to check in can be long during standard check-in times, especially is you are a first-time visitor with no special-preference lines you can join.
So plan to arrive later in the evening or night, or earlier in the day: some hotels offer early check-in option and will accommodate you based on room availability.
20. Don't Underestimate Distances on the Strip and Inside Resorts
We've mentioned this a couple of times in this article, but it's something worth repeating:
Distances along the Strip can be much further than they appear.
You'll be standing outside a resort, looking down the street at another resort and think that it will be a breeze walking over, only to find that it's a much longer walk than it appeared.
By the time you allow for waiting for crosswalk lights to change, or hoof it up and down pedestrian bridges, you'll have spent a good bit of time getting from A to B.
While it isn't a big deal if you are just wandering around exploring the Strip, you have to allow for enough time if you are walking to a show or a restaurant booking that's for a specific time.
It's also something to note if mobility is an issue, you are visiting Vegas with little kids, or you just do not want to spend so much of your time in Vegas just getting from one place to another.
The distance observation is also valid for inside resorts on the Strip, many of which are huge.
Ask for a room near the elevators if you want to reduce walking time inside.
Download maps of the resorts you plan to visit so you can figure out the shortest routes to where you want to go.
21. Follow Etiquette for Street Photography
You'll see street performers on the Strip and in downtown Las Vegas that are obviously dressed up or performing for tips.
From Dorothy of The Wizard of Oz fame to Star Wars characters, persons in costumes stand in front of attractions along the Strip or on Fremont Street, ready to pose with you for photos, for tips.
If you snap photos, be sure to ask the person first, and tip them after…bring cash!
22. Sign up for Loyalty Cards
As soon as you know you're going to Vegas, sign up for one (or more!) loyalty programs, for discounts and rewards starting with your very first trip!
MGM Rewards and Caesars Rewards are the two big loyalty programs in Vegas, but there are a few smaller ones also worth considering: the Wynn and Encore Red Card Club, the Venetian and Palazzo Grazie, and the Station Casinos MyBoardingPass.
MGM Rewards is the program for MGM Resorts, which owns and operates many hotels and resorts on the Strip, including MGM Grand, Bellagio, Mirage and Mandalay Bay.
The program has five tiers, and you can earn credits to move up each time you spend at one of their properties: on hotel rooms, dining, entertainment, spa services, or gaming.
Just for signing up for M Life, you may qualify for discounts on hotel rooms, shopping discounts, or early access to events.
Caesars Rewards operate similarly, and they own several properties on the Strip as well, such as Caesars Palace, Flamingo, Planet Hollywood, and Harrah's.
23. Make Restaurant Reservations
Many top eateries get booked up weeks in advance, so if you plan to have dinner at one or more fine dining places, make reservations ahead of your visit!
You generally do not need reservations for breakfast or lunch. But for dinner, or special brunches, although you may get lucky, if it's a must-eat place, it's safer to book in advance.
If you plan to wing it, try off-times. We arrived at Bouchon at 5 p.m. on one trip and were seated immediately without a reservation. Had we arrived an hour later, we would have been turned away.
24. Plan on Some Pool Time in Vegas (Even in the Winter!)
Remember to pack your bathing suit so you can chill by the pool during your Vegas trip!
Many of the resorts on the Strip and in Downtown Vegas have fabulous swimming pools.
Mandalay Bay, for example, is famous for its pool complex, spread over 11 acres, with a wave pool and a lazy river. Other resorts, like the Bellagio and the MGM Grand, also boast beautiful pools.
While summer is of course the time to spend lots of time by a pool in Vegas, bring your bathing suit along in winter as well if you pick a place to stay that has a heated pool for the colder months.
Mandalay Bay keeps one pool heated and open during the winter, and the Bellagio, MGM Grand, Cosmopolitan, Venetian, Wynn, and other places have pools that are open as well.
Ask before you book if you are planning a winter visit to Vegas and a heated pool is important to you!
25. Check into Free Las Vegas Activities
With shows, dining, experiences, and gambling, there's little doubt that a visit to Vegas can create a hefty dent in your pocketbook.
So if you are on a budget, check into free things to do in Vegas that you can add to your itinerary to visit without breaking the bank.
Here are some of our favorite free things to do in Vegas:
One of the top free experiences in Vegas is the Bellagio fountain show. The stunning presentation of light, water, and music is short but will captivate you.
Another totally free attraction, and one of the best things to do at the Bellagio, is exploring the Bellagio Conservatory. The displays of plants and decorations are spectacular and change five times a year. It's a must-visit for us every time we go to Vegas!
If you are an art lover, you'll find lots of free art to admire in Vegas, from the art pieces at the Aria to the murals downtown.
The Fremont Street Experience in downtown Las Vegas is another fun and free attraction, with lights, performers, and more.
26. Carry ID!
This may seem basic, but you should never head out of your hotel room in Vegas without your ID, because you never know when you'll need it!
Your Driver's License or passport are generally accepted forms of ID.
You may need ID to prove your age to buy a drink, or to engage in gaming activities, or even when using a credit card to shop.
Did you find this article informative? Pin it for later reference!