Looking for the best day trips from Palm Springs, California?
If you are planning to spend a few days in Palm Springs in Southern California, block out a few days from your vacation to explore the surroundings!
From beautiful desert parks to vibrant cities, you have many day trip destinations from which to choose.
Some links on this page may be affiliate links. If you click an affiliate link and make a purchase, we may receive a small commission, at no extra cost to you. For more details, refer to our disclosure.
Read on to discover the seven most amazing day trips from Palm Springs you must definitely do!
Located in the Sonoran Desert in southern California, Palm Springs has it all: marvelous mid-century modern architecture, luxurious resorts, world-class golf courses, hot springs and spas, and fabulous eateries.
No wonder Palm Springs has been the go-to retreat for a long list of celebrities for years.
While you might find it difficult to tear yourself away from the charms of Palm Springs, you will be rewarded with exciting sights and experiences at every single one of these day trip destinations.
And you can return to a delicious dinner and some chill time at your resort or vacation rental each evening, for the best of all worlds!
THE BEST DAY TRIPS FROM PALM SPRINGS, CALIFORNIA
Whether you are looking for a scenic drive or an exciting city to explore, Palm Springs delivers!
We have visited the southern California desert city many times.
Not only do we get the opportunity to relax for a few days in a lovely resort, we get to explore a little more of the surrounding areas each time we visit. We have enjoyed exploring these destinations, and we hope you will, too.
Here then is my list of the top day trips from Palm Springs you must do:
#1 Idyllwild and the Palms to Pines Scenic Byway Loop
The Palm to Pines Scenic Byway offers stunning scenery and beautiful views.
If you do it as a loop, with a stop at Idyllwild, it makes for a fabulous day out in the country. This is one of the best day trips from Palm Springs you can do, and especially appealing if you visit in the warmer months of the year!
We did the drive in late February and experienced warm temperatures and bright sun at the bottom and light snow and gray skies at the top.
Start by going south to Palm Desert, where you can stop for breakfast at Wilma & Frieda's Cafe, one of our most favorite casual eateries in the area.
Next, head to the Santa Rosa and San Jacinto Mountains National Monument Visitor Center. Here you can view exhibits on desert wildlife and area cultural history, and pick up a map.
Continue on Highway 74 as it winds its way up the mountains, but stop to take in the views at designated turnoffs. The Coachella Valley vista point is a must-stop spot for photos.
As you go up the mountain, you will see the desert flora give way to pine trees and alpine vegetation. Stay on Highway 74 past Paradise Valley and continue on to Lake Hemet.
We didn't go down to the lake but stopped along the road to take photos of the beautiful vegetation and to view the pretty farmhouses and horses. At Mountain Center, take California Highway 243 to Idyllwild.
THE LITTLE TOWN OF IDYLLWILD
Have lunch at Idyllwild. I was not sure I would find lots of vegetarian options in Idyllwild, so we packed a picnic hamper, but the little town has lots of restaurants. Walk the town, with its cute little shops and many art galleries.
If you want to really stretch your legs, try the Ernie Maxwell Scenic Trail, an easy 2.6 mile hike that starts at Fern Valley Road and features lots of flora. Treat yourself to ice cream before heading out.
Pro Tip: If you have binoculars or a good zoom lens, look for birds. Also watch for deer.
From Idyllwild, the road descends to the town of Banning along Interstate Route 10. You will want to stop at turnouts again, for photos of the panoramic views. At Banning, take I-10 to return to Palm Springs.
#2 Joshua Tree National Park
One of the most unique national parks in the western USA is just about an hour's drive from Palm Springs.
Joshua Tree National Park, with its massive boulder formations and strange-looking namesake Joshua trees, makes for a wonderful day trip from Palm Springs, especially between late September and early April.
Joshua Tree National Park is located on two deserts: the Colorado Desert, and the Mojave Desert. For the best experience of both parts of the park, enter from the south entrance at Cottonwood Springs, which is the Colorado Desert part of the park.
If you visit in the spring, you will see lots of wildflowers along the approach road and near the south entrance, and the palm trees at the oasis are beautiful.
WHAT TO DO IN ONE DAY IN JOSHUA TREE NP
You can choose from lots of things to do in Joshua Tree National Park, including hiking, wildlife spotting, rock scrambling, stargazing (it's a Dark Sky Reserve), and driving through scenic areas of the park.
As you drive through the main road in the park, you will see some of the diverse flora in the park, from patches of the tall ocotillo to the Cholla Cactus Garden, where you can actually walk among the prickly plants.
Don't go too close though, the needles are painful to remove once they lodge in your skin.
When you make the turn on to Park Road in the northern part of the park, you will see a change in the landscape: you are now in the Mojave Desert! Stands of Joshua trees dot the landscape, and everywhere you see huge boulders arranged in masses.
Apart from the scenic drive through the park, you can hike a couple of short trails: the Hidden Valley trail and Barker Dam trail, almost across the road from each other, are fabulous.
You can do some bouldering (scrambling up and down rocks) if you are able. Definitely drive up to Keys View at sunset for panoramic views over the Coachella Valley.
For a fun tour from the Greater Palm Springs area, consider this highly-rated offroad tour of Joshua Tree National Park! The half-day 4X4 tour takes you deep into the desert to see parts of the park you would not normally experience.
For current fees and park hours, visit the park's website.
#3 Anza-Borrego Desert State Park
Another gorgeous desert park, Anza-Borrego State Park is about 90 minutes from Palm Springs.
It is the largest state park in California, covering about 600,000 acres of southern California desert wilderness.
The park visitor center is located in the township of Borrego Springs within the park.
If you time your visit for spring in a superbloom year, you will be treated to large carpets of wildflowers in the park.
We visited in a superbloom year, but were just a couple weeks too early to catch peak bloom. It was still great to be able to see the beginning of the bloom, and the first buds of the beautiful desert lily.
Anza-Borrego, named after Spanish explorer Juan Bautista de Anza and the Spanish word borrego for sheep (you might spot some of the native bighorn sheep on your visit!) feels a lot more remote and wild than Joshua Tree National Park.
It is a fabulous place to enjoy the quiet and calm of the desert.
WHAT TO DO AT ANZA-BORREGO STATE PARK IN ONE DAY
At the park, start by exploring the desert garden right outside the Visitor Center.
Here you can get familiar with the flora in the park, and watch the pupfish in the pond. If you are visiting during bloom time, speak with the rangers to find out the parts of the park with the best bloom. As you explore, look for cactus in bloom as well.
The metal sculptures by Ricardo Breceda near Anza-Borrego are magnificent.
There are 130 full size sculptures of various creatures that supposedly inhabited the areas eons ago, from dinosaurs to serpents and tigers to tortoises. Look for them as you drive around the area!
If you enjoy hiking, there are lots of trails at Anza-Borrego: the park features more than 100 miles of trails. We did the one-mile Cactus Loop Nature Trail, but there are longer trails as well.
Pro Tip: Many roads are unpaved, and you might want to consider a high clearance vehicle. We did fine in our little Honda Civic, but we didn't venture down long stretches of unpaved road.
Pro Tip: On the way to the Anza-Borrego State Park, you will come upon the strange Salton Sea. It's a saltwater lake that seems to go on forever. You can make a brief stop for birdwatching and to take photos.
#4 Pasadena and the Huntington Gardens and Library
Less than two hours away by road, the Huntington Gardens, Art Museums, and Library in San Marino (near Pasadena) make for a wonderful day trip from Palm Springs.
The complex was once the residence of railroad magnate Henry Huntington. Today it houses rare manuscripts and beautiful works of art in buildings surrounded by a more than a dozen gorgeous themed gardens.
THE BEST THINGS TO DO AT HUNTINGTON GARDENS & LIBRARY
The Desert Garden is one of my favorite gardens in the complex.
It features an extensive collection of all kinds of succulents, from little plants hugging the ground to massive specimens standing tall against the sky.
Some of the succulents were in bloom during our visit, and the enormous spikes of flowers shooting up from the center of the plants were truly a magnificent sight.
You will see species here from all over the world, some of them quite rare.
The Japanese Garden is a tranquil place where you can sit and relax for a bit. You will love the pretty maples, semi-circular bridge, and traditional tea house.
The Chinese Garden features beautiful lily ponds and cool architectural elements.
The Rose Garden is absolutely amazing if you visit during peak bloom time.
We visited in late May, a little past peak, but still saw tons of gorgeous blooms in different colors.
Take a break here for high tea. They serve yummy strawberries with clotted cream. Delicious!
Some of the smaller gardens, in particular the Shakespeare Garden, the Iris Garden, and the Herb Garden, are beautiful too, so don't miss them!
The Library hosts many rare manuscripts, including a Gutenberg Bible. The Art Collection includes some stunning masterpieces, such as Gainsborough's The Blue Boy, and Pinkie by Thomas Lawrence.
Feast your eyes on the Sevres collection and lots of small statues. I saw a small replica of Bernini's Pluto and Proserpina here before I saw the large life-sized original in the Borghese Gallery in Rome.
There's a lot to see here, so plan to be at the entrance at opening time! Check out the official website for current entrance fees and hours.
After your visit to the park, head to downtown Pasadena to stroll the main street, browse the stores, and have dinner at one of the many restaurants here.
Downtown Pasadena is lively and fun in the evening. Sometimes you will see street performances, and the architecture is pretty.
Pro Tip: The gardens contain a corpse flower plant, which only blooms rarely, so be sure to check if it is blooming when you visit!
#5 San Diego
San Diego is a little over two hours by road and makes for an exciting day trip from Palm Springs if you are looking for an urban getaway.
There's a lot to see and do in San Diego: the city really warrants more like a week, but even in one day you can get a good taste of the different things on offer here.
WHAT TO DO IN SAN DIEGO IN ONE DAY
Start your day trip to San Diego by spending the morning at one of the area parks.
Cabrillo National Monument at the tip of the Point Loma Peninsula offers a little bit of everything: history, hiking, fabulous views, some of the best tide pools in San Diego, birdwatching, and an old lighthouse that's been restored.
A bit further up north, Torrey Pines State Reserve also boasts fabulous water views and some great hikes.
Next, head to Little Italy in the historic part of downtown San Diego for lunch. If you visit on a Saturday, you can also browse the many stalls at the market.
After lunch, you can either drive across the cool Coronado Bridge over the bay for some sun time at Coronado Beach, or explore the city's history at Old Town or the San Diego Mission.
The mission was the first one built in California, and the gardens are lovely.
Spend the rest of your day at San Diego's large complex of museums and gardens at Balboa Park.
The Japanese Garden is a must-visit, with its waterfall, magnolias, little bridges and stepping stones. Set below street level, it involves a climb back up, but the garden is totally worth the effort.
Awaken the kid in you with a visit to the Railroad Museum, which features replicas of actual lines. Maintained by local railroad enthusiasts, the exhibits charmed me. The Botanical Building is another must-visit exhibit, as is the Museum of Art.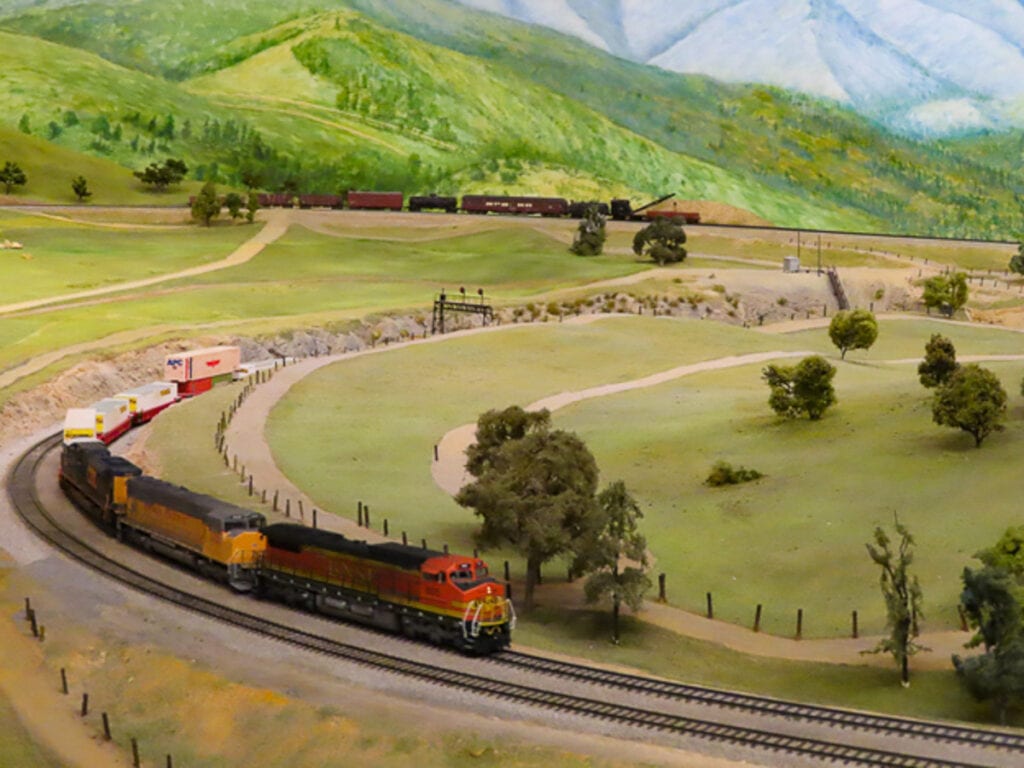 If you visit on a day when there is a scheduled performance at the Spreckels Organ Pavilion, don't miss it! The Spreckels Organ is the largest outdoor pipe organ in the world, and looks very impressive.
And if you are up for a late return to Palm Springs, visit the lit historic Gaslamp Quarter for dinner for a fabulous end to your day trip to San Diego!

Have a weekend to spend in San Diego? Discover the best things to do on a San Diego weekend getaway!
#6 Los Angeles
The most iconic of all day trips from Palm Springs is to Los Angeles. If you haven't visited the City of Angels before, a day trip to sample a small amount of the city's multitude of offerings is a must.
Without traffic snafus (which is a BIG if), the trip takes just under a couple hours by road. Leave very early and return late for the best traffic scenarios and for maximum time in the city.
Your itinerary for your one precious day in Los Angeles will depend on your interests, but as far as possible, stick to sights that are reasonably close to one another, so you don't spend hours just sitting in traffic.
WHAT TO DO IN LOS ANGELES IN ONE DAY
If you love museums, plan on visiting the gorgeous Getty Center or LACMA, the much Instagrammed Los Angeles County Museum of Art. You really can't go wrong with either.
At the Getty Center, tour the magnificent art collection, view the many outdoor sculptures, and enjoy the art and architecture.
At LACMA, view the large photo-worthy outdoor exhibits before venturing inside to take in some of the diverse exhibitions.
For the most touristy activity in LA, walk the Hollywood Walk of Fame to the TCL Chinese Theatre. There are more than 2,500 stars on this famous stretch of pavement, located on both sides of Hollywood Boulevard.
You can also browse the stores on Rodeo Drive or drive down Sunset Boulevard.
For lunch nearby, try Thai at Night + Market or Peruvian cuisine at Rosaliné.
For some time by the ocean, head to the iconic Santa Monica Pier. The sandy beach is amazing, and the list of attractions in the area long.
You can ride the famous Ferris wheel or a roller coaster, walk around and people watch, bike the oceanfront path, view street performers, play boardwalk games, or sit down with a drink.
Next, make your way to the world-famous Griffith Observatory, from where you can get fabulous views over the city and photos of the famous Hollywood sign. Paying to see one of the planetarium shows is very worthwhile, as is hanging around to see the sun set.
For dinner nearby, you can't go wrong with the thin crust pizzas at Little Dom's or American fare at Alcove, with its lovely garden patio. The desserts at Alcove are to-die-for good, so save room. Neither my husband nor I wanted to share, so we splurged on a big dessert each!
#7 Big Bear Lake
A little under two hours by road, Big Bear Lake is a wonderful recreation area you can visit as a day trip from Palm Springs. The lake is located at an elevation of 7,000 feet in the San Bernadino Mountains.
WHAT TO DO AT BIG BEAR LAKE IN ONE DAY
In the spring, summer, and fall, you can enjoy hiking, mountain biking, offroad trails, rock climbing, and horse riding. You can also ride the Scenic Sky Chair at Snow Summit for fabulous views.
There are hikes for all skill levels at Big Bear. On a day trip, pick one or two of the short trails: a part of the easy Alpine Pedal Path or the Woodland Interpretive Trail would be perfect.
Enjoy wildflowers in season and the opportunity for some quiet walking time in the midst of beautiful nature!
A day use pass, available for purchase at the visitor center, is required to park at trailheads. America the Beautiful passes are accepted at Big Bear!
Offroad driving is an exciting experience. With the Big Bear Jeep Experience tour, you can take the wheel yourself to explore mountain trails in a Jeep.
The popular Gold Fever Trail, however, can even be done in your regular vehicle, but be sure to verify road conditions before you head out. Our little Honda Civic made it fine.
Get out on the water! At Big Bear Lake you can rent canoes, kayaks, power boats, or pontoon. You can also go sailing if that's your preference! There are several marinas along the lake's shore, and boats can be rented in the spring, summer, or fall.
A day trip to Big Bear Lake is just as exciting in the winter, especially if you love winter sports. There are two winter sports resorts at Big Bear, and you can enjoy skiing and snowboarding at either.
You can also do snow tubing, sledding, and snowshoeing. We haven't yet visited in the winter, but it's on our wish list.
You might need snow chains in the winter. Check out the park's visitor guide if you plan to visit! We packed a picnic lunch, but there are several restaurants at Big Bear, and even an ice cream shop and a bakery.

*****
So there you have it: absolutely amazing day trips from Palm Springs to make your trip even more exciting!
Have you done any of them? If you have, I would love to hear about your trip: comment below to respond. If you have not, plan on adding a few of them to your next itinerary for Palm Springs!
Where to stay in Palm Springs
If you are looking for nice places to stay in Palm Springs, we have stayed at three lovely properties on three different visits, and we thought all of them were wonderful.
The Doubletree by Hilton Resort in Cathedral City is great if you are visiting with kids or you like the amenities of a resort.
The Westin Willow Villas in Palm Desert has lots of room in the units plus a washer and dryer, perfect if you plan to hike or do outdoor activities and want to pack light.
The colorful Saguaro Palm Springs is located in downtown Palm Springs, and perfect for a desert getaway.
MORE FUN ADVENTURES IN NORTH AMERICA
Vancouver: 10 Best Things to Do in Vancouver on Your First Visit!
California: 7 Most Amazing Experiences in Death Valley National Park
Nevada: 25 Best Things to Do in Las Vegas (That Aren't Gambling!)
California: 19 Fantastic Weekend Getaways in California
Lake Louise: 15 Fun Activities to Enjoy in Lake Louise, Canada
California: 8 Beautiful Napa Valley Wineries You Must Visit
DESTINATIONS IN EUROPE YOU WILL LOVE
Spain: Enjoy 3 Perfect Days in Seville
Denmark: The Ultimate One Day Itinerary for Copenhagen
Italy: Experience the Best of Tuscany in 7 Days
Northern Europe: A Review of the Viking Homelands Ocean Cruise Itinerary
Sweden: How to Spend One Amazing Day in Stockholm
Did you find this article informative? Pin it for later reference!