If you're planning a trip to Europe, consider visiting Slovenia! With caves, castles, and charming cities, Slovenia packs a powerful punch when it comes to spectacular sights and amazing activities. Read on for the ultimate 7 days in Slovenia itinerary!
A small country in Central Europe, Slovenia is bounded by Italy and the Adriatic Sea to the west, Austria to the north, Croatia to the south, and Hungary to the east.
It is easy to combine a Slovenia holiday with a visit to one or more of its neighbors if you are looking to visit more than one country.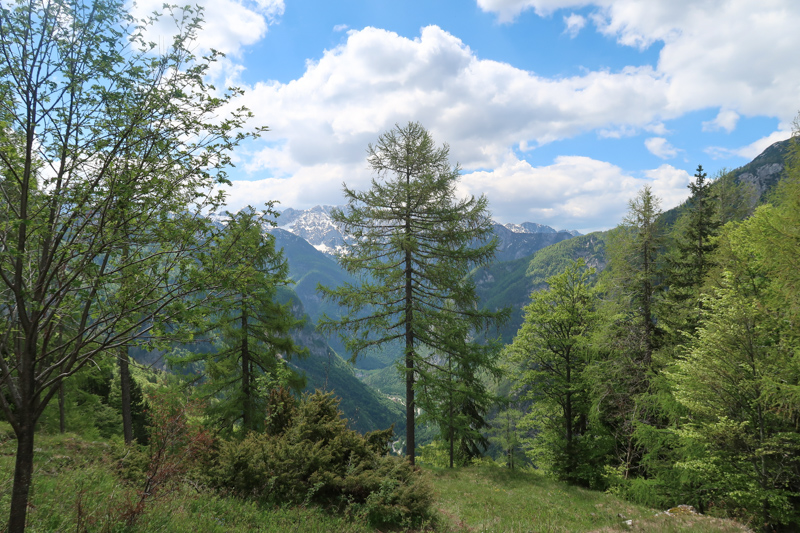 Some links on this page may be affiliate links. If you click an affiliate link and make a purchase, we may receive a small commission, at no extra cost to you. For more details, refer to our disclosure.
We spent 8 days in Slovenia as part of a longer trip that included Montenegro, Croatia, and Italy.
While we think one week is a good amount of time to see Slovenia's major sights, by all means, allot more time to this lovely country if you can.
You will not want to leave!
7-Day Slovenia Itinerary
While our Slovenia itinerary is geared towards first-time visitors, you could have a blast visiting these places on a return trip as well, because it includes some of the most beautiful places in Slovenia.
Our itinerary for Slovenia includes a bit of almost everything the country has to offer, from stunning natural scenery, seaside bliss, and scenic drives, to culture, history, and architecture in Slovenia's cities and small towns.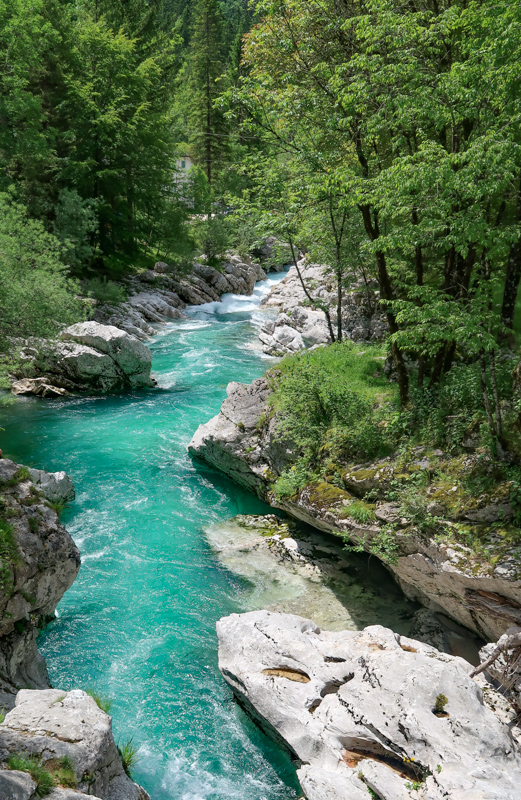 Plan to arrive in Ljubljana, Slovenia's capital city, the evening before you begin this itinerary: it assumes you have 7 full days in the country. Settle into your accommodation when you arrive and be ready to go the following morning!
Later in the article, I show you how to modify this itinerary if you have a longer or shorter stay in Slovenia.
There are so many wonderful things to do in Slovenia that most visitors end up wishing they had planned on more time in the country.
If you are planning a short first visit, bank on coming back!
Day 1: Explore Ljubljana
Compact, charming, and lively, Ljubljana is one of my most favorite European capitals.
Although more time will allow you to savor the delights of Ljubljana in a leisurely fashion, you can see most of the major sights in Ljubljana in one active day.
Ljubljana Castle is a must visit! You can walk up to the top or take the funicular, or drive up to the parking lot at the entrance.
Enjoy the panoramic views of the city from the tower and viewing gallery. Explore the complex, with its prison and chapel.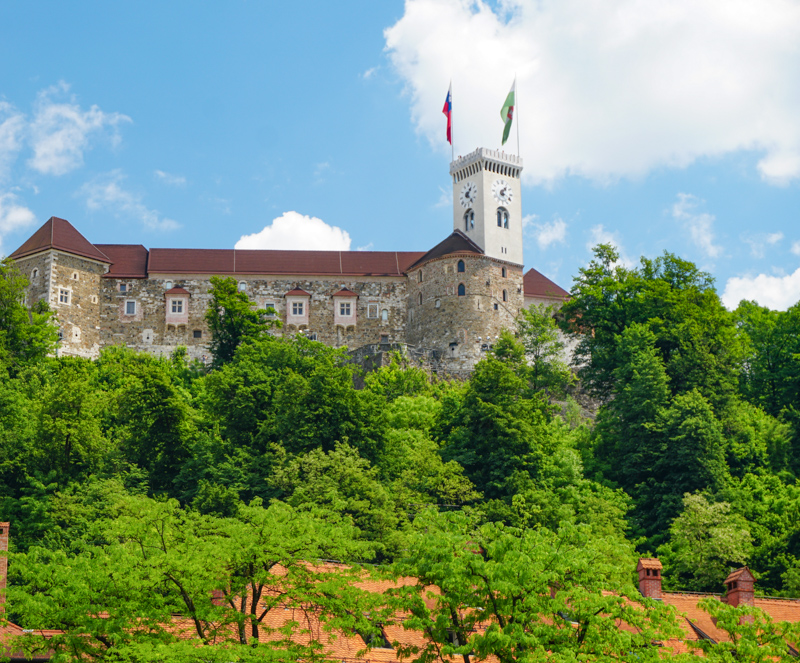 Enjoy lunch in the historic center (at an outside table if the weather is nice!). Visit the famous pink Franciscan Church of the Annunciation and stroll Prešeren Square.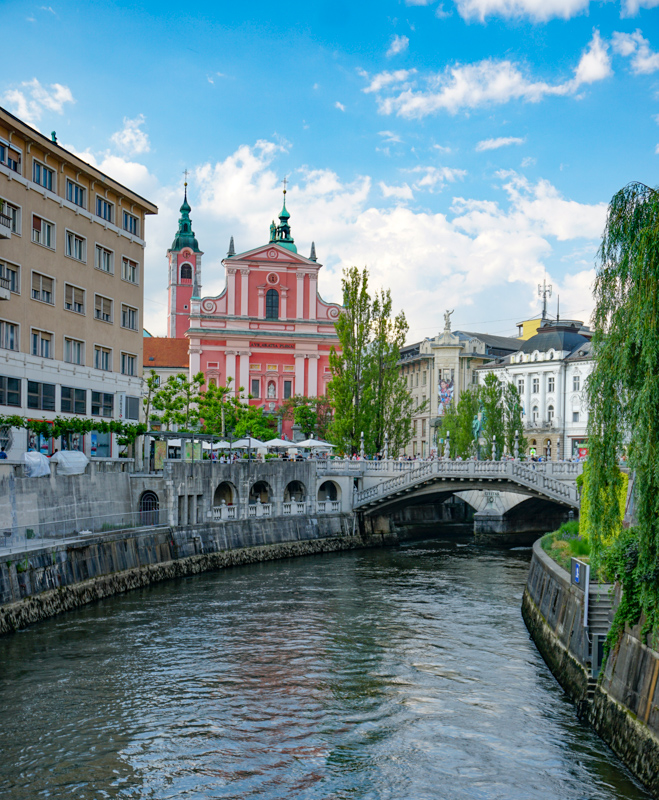 Walk along the river and admire the many bridges over the Ljubljanica River. Snap photos of the famous Ljubljana dragons at the Dragon Bridge. In season, you can enjoy a cruise on the river, or go kayaking or paddleboarding.
Step into the Ljubljana Cathedral. Walk the markets: the covered market, along with many other structures and bridges in Ljubljana, was designed by the famous Slovene architect Jože Plečnik.
Consider this highly rated walking tour with a local to learn about Ljubljana and its history and architecture while you wander. With a customizable tour length starting at 2 hours, you can decide how much to walk and see. We did a 2-hour walking tour that we thoroughly enjoyed.
Or check out this 3.5 hour food tour that allows you to taste several Slovenian dishes plus local wines. We found Ljubljana to be a paradise from a foodie perspective, so a tour with a local is an excellent way to try several dishes in an efficient manner.
Check pricing and availability on this Ljubljana small group food tour now!
Where to stay in Ljubljana
We stayed at the uHotel, which used to be the Grand Hotel Union Business. Rooms are spacious and well-appointed, and the location, just off Preseren Square, is perfect. With a spa, saunas, and swimming pool, the hotel offers lots of ways to relax. And the spread at breakfast is unbelievably extensive.
Book a room here
Love a hotel with ambiance? Consider Hotel Cubo, located in the heart of the city and walking distance to most major sights. Rooms feature contemporary furnishings. Expect designer bed linens and bathroom amenities.
Read reviews on TripAdvisor | Book a room here
Day 2: Visit Škocjan Caves (or Postojna Cave) and Predjama Castle
Slovenia's Karst country contains thousands of cave systems. Two are extremely popular tourist destinations: the Škocjan Caves are a UNESCO World Heritage site, and the Postojna Cave is home to the only double-track cave railway in the world.
While you can certainly choose to explore both cave systems (they are two very different experiences!), most visitors to Slovenia opt for one or the other, generally in conjunction with nearby Predjama Castle, the world's largest cave castle that's built high into the cliff face.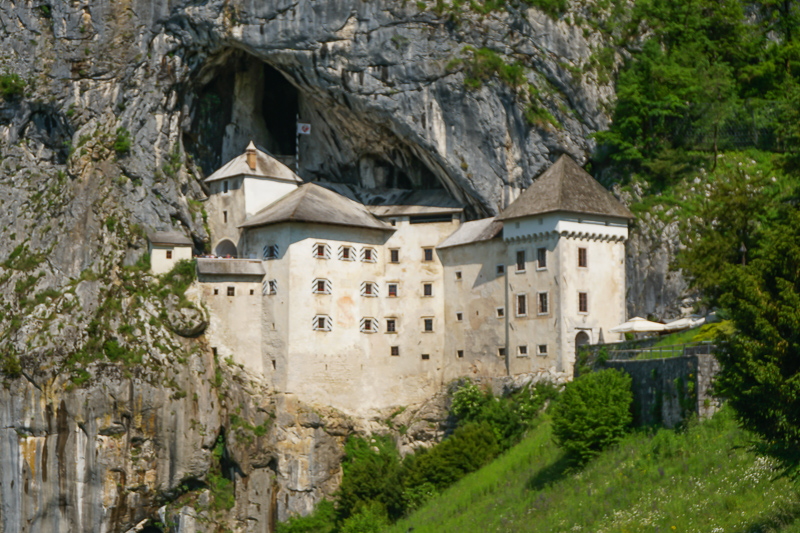 If you are traveling with small kids, or you have mobility issues, pick Postojna Cave, because there are no stairs to navigate. The Škocjan Caves tour requires you to walk steep uphill stretches and about 500 steps in bits and pieces.
If you love horses, you can also stop at the Lipica Stud Farm nearby, to view the beautiful Lipizzaner mares as they graze in the field, or to take a paid guided or self-guided tour of the farm, which has been operating for more than four hundred years.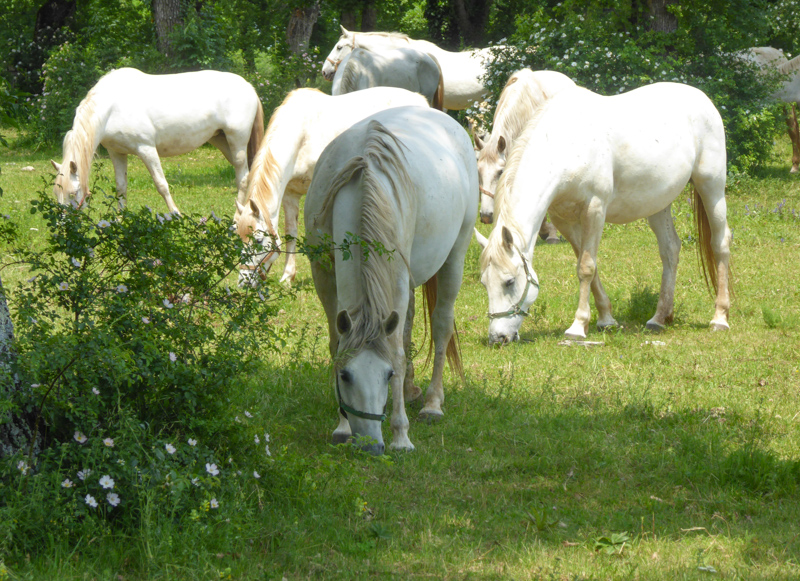 After you complete your sightseeing in the countryside, continue on to Piran, one of three picturesque towns on the Slovenian coast. If you are driving, you can make stops to tour the tiny historic centers of Koper and Izola, the other two, on your way to Piran.
If you do not wish to drive, consider this highly rated small group guided tour to Postojna Cave and Predjama Castle or this one that combines a visit to Skocjan Caves and the Lipica Stud Farm with a visit to Piran.
Day 3: Enjoy seaside bliss in Piran
Piran is a tiny coastal gem, with the feel of an old fishing village. But despite its small size, Piran has plenty to keep you occupied for a full day, and even more.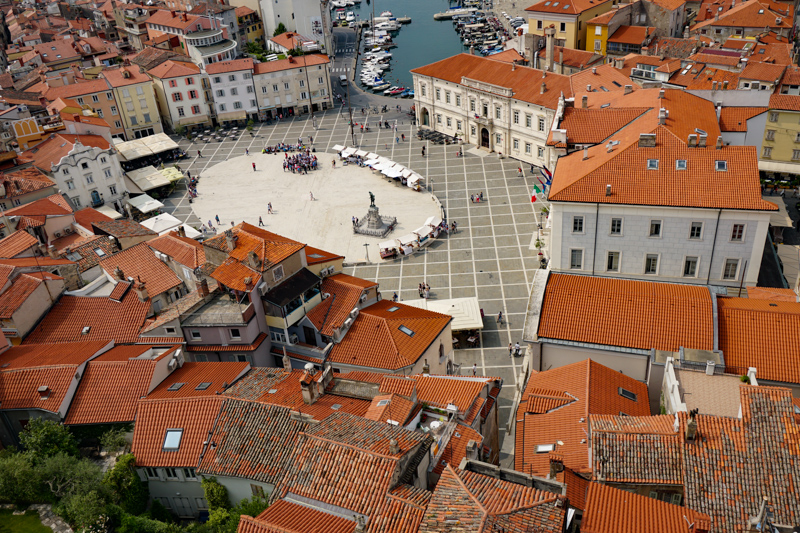 Stroll Tartinijev Trg, the main square, climb the bell tower of the Church of Saint George for spectacular views, and walk the town walls. Wander the pretty alleys and stroll the waterfront promenade.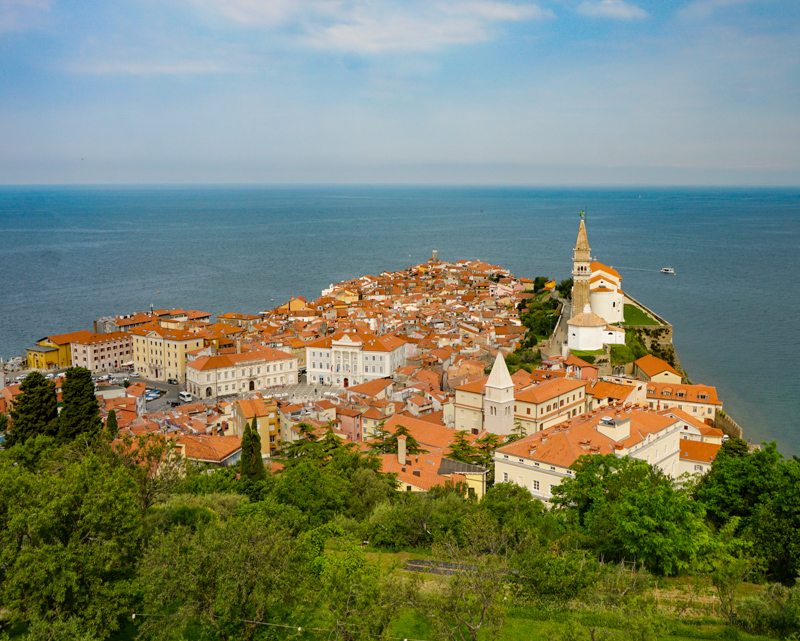 You can swim in the waters of the Gulf of Piran or sunbathe on the rocks by the lighthouse. And if you enjoy seafood, you'll find waterfront restaurants where you can enjoy the day's catch!
Where to stay in Piran
We stayed in the Hotel Piran. It's right on the water, and you can enjoy breakfast outside in the covered patio. There's also a rooftop terrace, perfect for a drink in the evening. Rooms are well appointed, if a tad small. Opt for one with a water view.
Book a stay here
Day 4: Tour the Soča River Valley and

Vršič Pass
Today you will tour some of the most spectacular parts of Slovenia on your way to Lake Bled, the country's most well-known destination. It's a long drive, but so scenic that it's a must-do!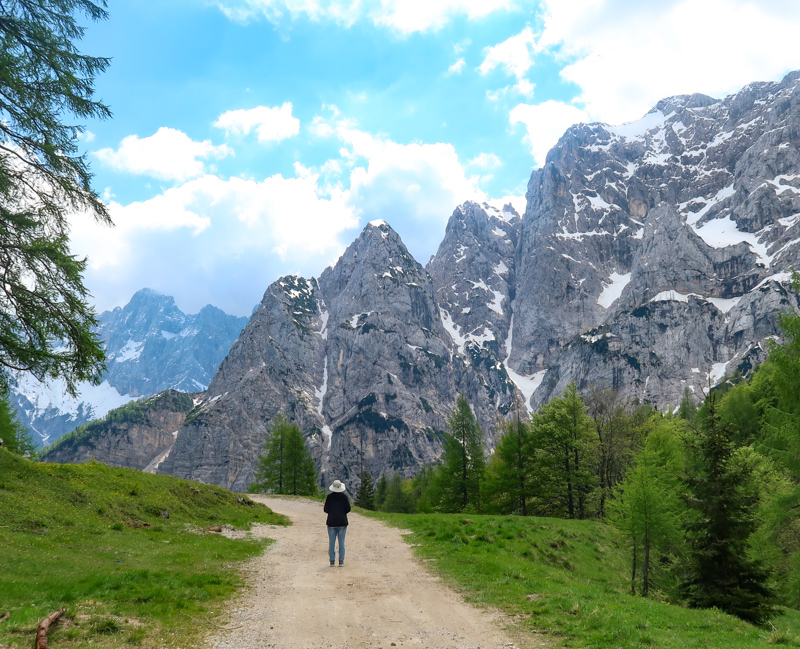 The Soča River is one of the most beautiful rivers I have ever seen. Its aqua color is unreal. The best spot to photograph it in its full glory is from the Napoleon Bridge in Kobarid.
For an unforgettable culinary treat, book a table for lunch at Hisa Franko.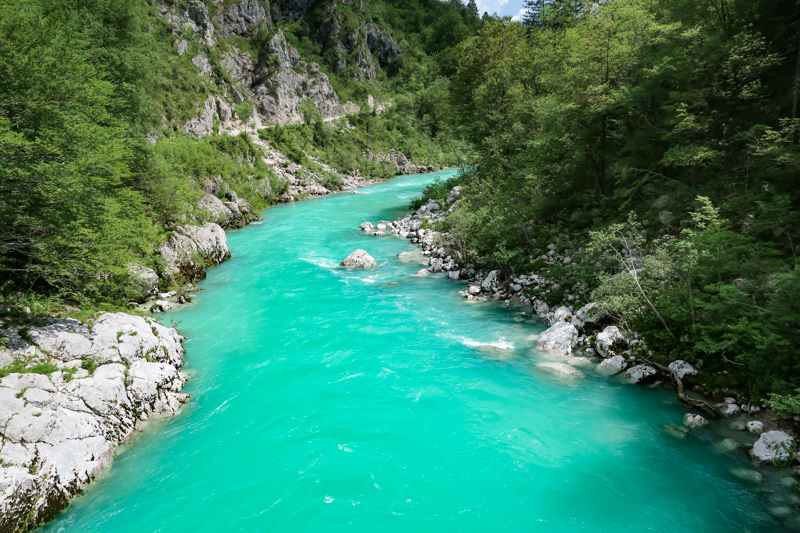 The Vršič Pass is the highest mountain pass in Slovenia, over the eastern Julian Alps. The scenery along the drive through Triglav National Park, one of the best national parks in Europe, features 50 hairpin bends. It is spectacular.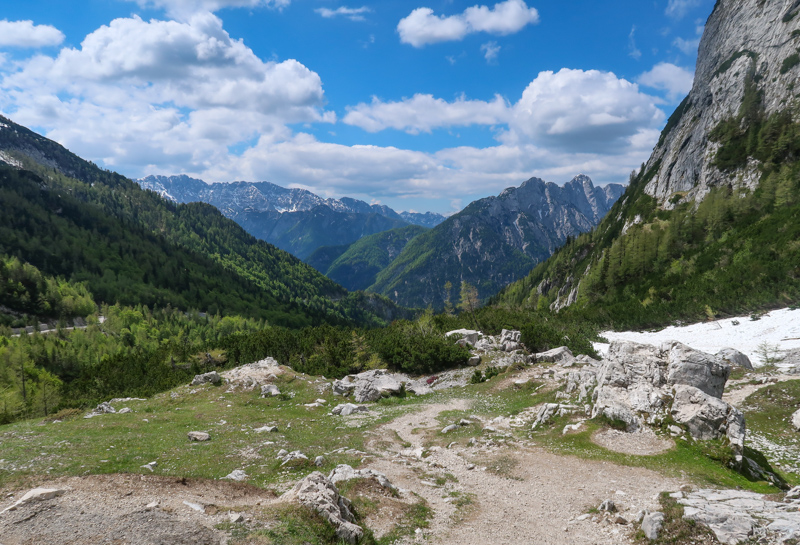 You'll have time for one or two short hikes on this day, plus short stops at various viewpoints along the drive for photos and to stretch your legs. We did a walk along the shore at Lake Jasna just outside Kranjska Gora, and a short hike to the Kozjak Waterfall in Kobarid.
Looking for a car rental for your Slovenia road trip? We've had great experience booking with Discover Cars: they offer deals across several different providers and have a wide selection on offer.

Compare prices and find your car at DiscoverCars.com!
If you are not doing a road trip through Slovenia, this private guided tour is a great option for touring the Julian Alps and the Soča Valley as a day trip from Ljubljana or Lake Bled.
Day 5: Discover Lake Bled and hike Vintgar Gorge
Lake Bled is more touristy than other places in Slovenia, but it is also drop dead gorgeous. Set in the midst of tall mountains, the turquoise alpine lake appears made to grace picture postcards.
Outdoor enthusiasts will find lots of activities to enjoy at Lake Bled, including hiking to viewpoints in the surrounding hills and rowing to Bled Island in the spring, summer, and fall.
Walk around the shore of the lake, ride in the traditional Pletna boat to Bled Island, and visit Bled Castle, perched on a hilltop overlooking the water.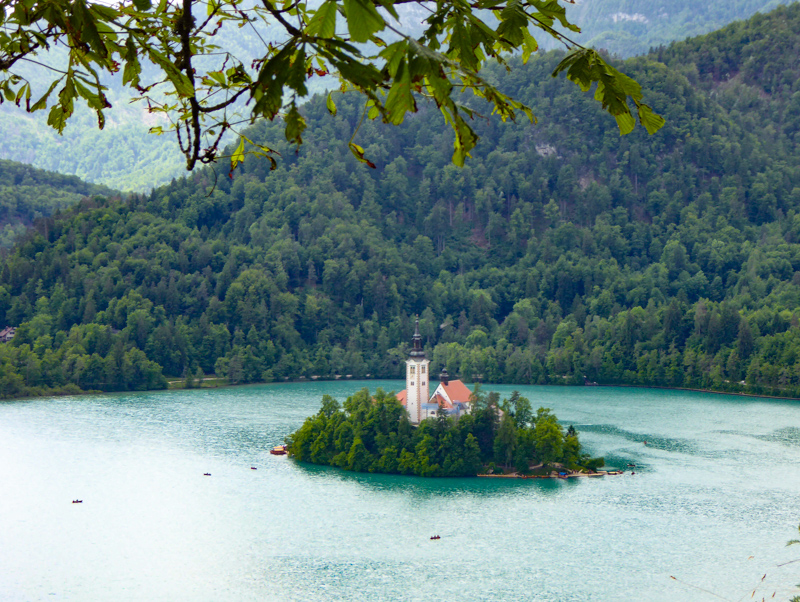 Put the Vintgar Gorge hike on your Lake Bled itinerary if you enjoy walks in spectacularly scenic places. The Vintgar Gorge walk is about one mile each way, and best done either early or late in the day because it tends to get crowded during the day.
Where to stay in Lake Bled
We stayed at the Old Parish House, a comfortable but no-frills bed and breakfast. The location is excellent, convenient to the bus station, a great pizzeria, and the water. The rooms are a good size, and the beds are comfortable. The breakfast is good, even if the spread is not huge.
Book a stay here
Grand Hotel Toplice is a luxury hotel located on the lake shore, if you are planning a special occasion splurge. The hotel has air-conditioning (not all hotels at Lake Bled do!), and the official Lake Bled bathing site with thermal waters. Opt for a room with a lake view!
Read reviews on TripAdvisor | Book a stay here
Day 6: Explore Lake Bohinj
Just a short drive from Lake Bled is Lake Bohinj, less glamorous than Lake Bled but just as beautiful. It's a large lake, with the town of Ribčev Laz on its eastern shore and the town of Ukanc on the western edge.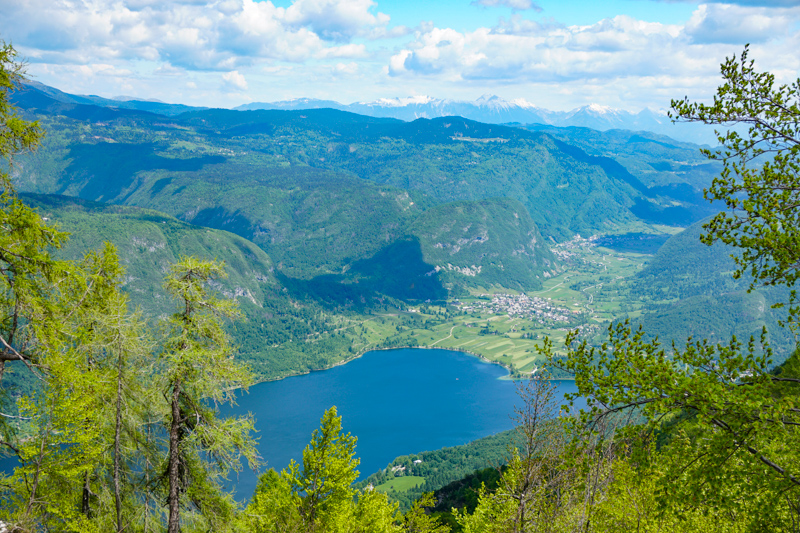 You can walk (or bike) along the shore of the lake, swim in the crystal clear blue-green waters, or go kayaking. The trails are beautiful in the spring, summer, and fall.
Visit the Church of Saint John the Baptist at Ribčev Laz. The church is tiny, but the frescoes inside are gorgeous. At Ukanc, take the cable car up to the top of Mount Vogel, or do the hike to the Savica falls.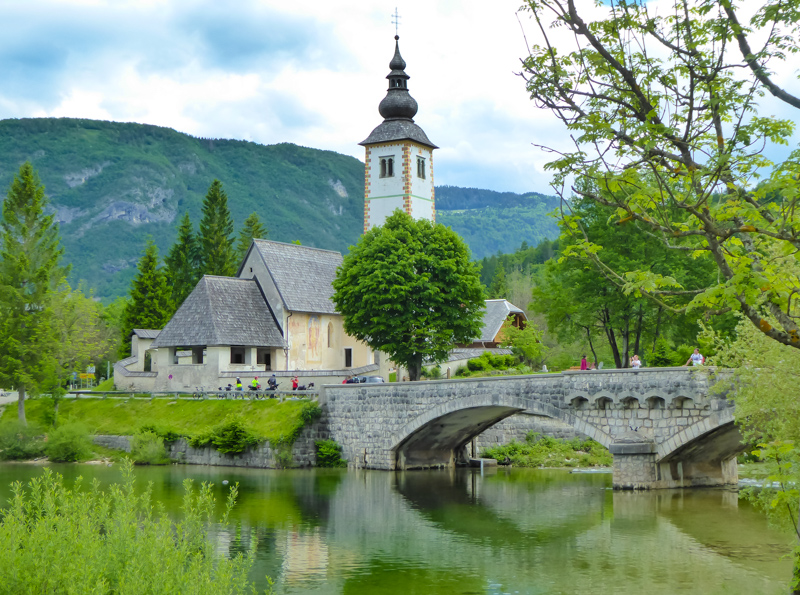 Where to stay in Lake Bohinj
The Bohinj ECO Hotel has spacious rooms, and is clean and comfortable. It is located in Bohinjska Bistrica, the largest town around the lake, and about 3 miles from the shore.
Book a stay here
Hotel Jezero is located on the lakeshore. Some rooms have balconies looking out over the lake. Rooms are spacious and bathrooms are modern. The hotel restaurant is super convenient for dinner after a day exploring the lake.
Read reviews on TripAdvisor | Book a stay here
Day 7: Visit Radovljica and

Škofja

Loka en route to Ljubljana
Today you'll visit two charming little towns on the route between Lake Bled and Ljubljana, for more glimpses into Slovenia's rich history, culture, and architecture.
Radovljica is just a few miles from Lake Bled. The medieval center is tiny, but the buildings are beautiful, and the squares charming. From the outer road, you get stunning views of the countryside and the mountains.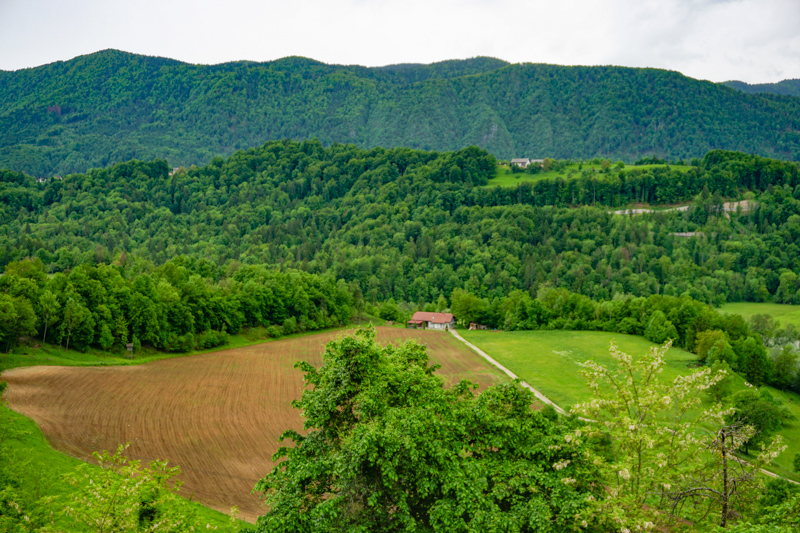 You'll want to stop in at the gingerbread factory, and the apiculture museum if you like honey. The town also hosts a chocolate festival annually in April. Allow a couple of hours.
Škofja Loka is a medieval gem. Its main square, Mestni Trg, is known for its colorful facades, some of them adorned with frescoes. Also worth visiting is the little Church of Saint Jacob.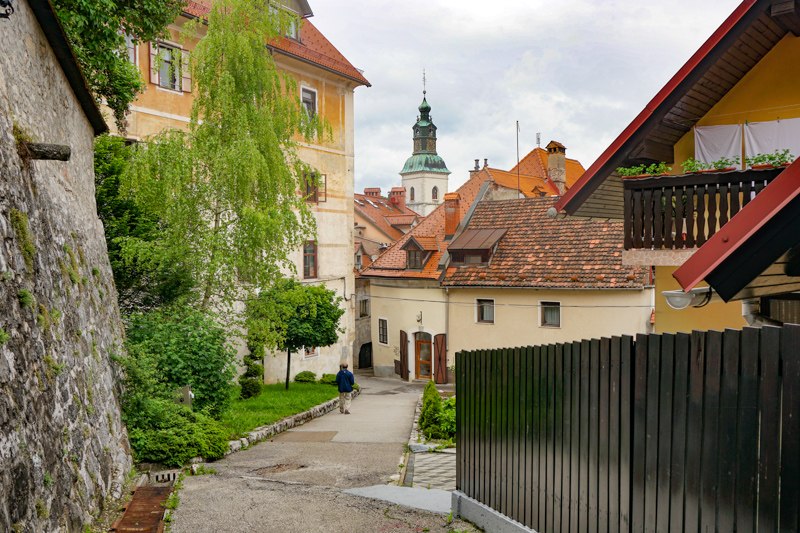 Walk up the hill (or drive up) to Loka Castle, from where you get lovely views of the rooftops of the town and the surrounding countryside. The museum in the castle is a great look into Slovenia's past.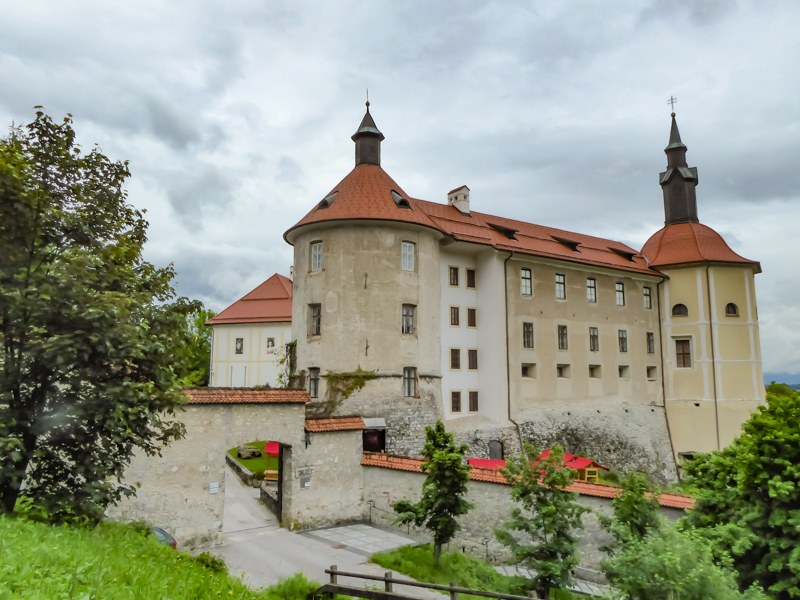 Travel to Ljubljana to fly home, or travel on to your next destination.
With more time: Add to your Slovenia itinerary
If you have more time in Slovenia, there are a few other destinations you can add to your itinerary, or you can simply choose to spend more time in some of the places above.
You could, for example, easily spend another day or two at Lake Bohinj and do some longer hikes, participate in adventure sports, or explore more of Triglav National Park. Or you could spend another day in lovely Ljubljana.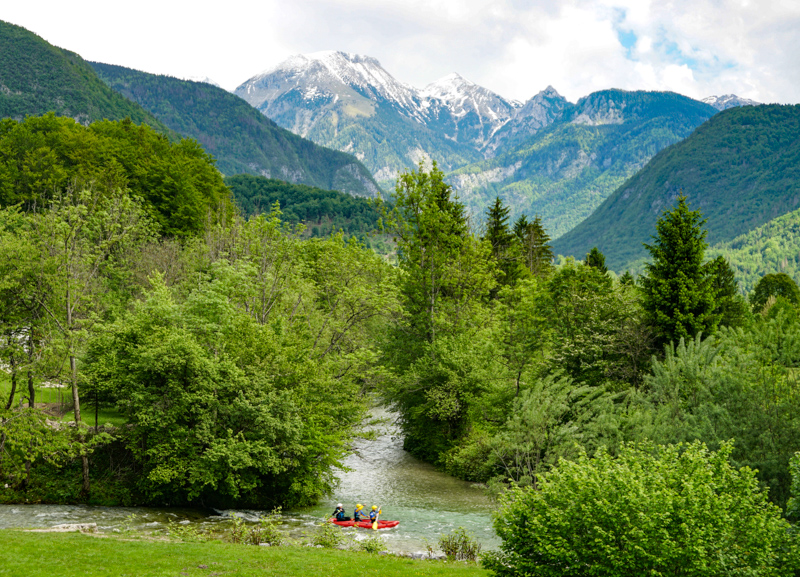 If you are looking to add more destinations to your Slovenia trip itinerary, consider one or more of the following!
Tour Maribor and/or Ptuj
The northeastern cities of Maribor and Ptuj are a little off the main tourist trail in Slovenia, but if you have the time, they make for a fabulous day trip from Ljubljana, or you can spend a night in Maribor.
Maribor is known for its wine, so if you are an oenophile, you might want to set up some tastings or join a tour that combines tastings with a tour of one or more wine cellars. You must also visit the Old Vine House in the Lent district: it is home to the world's oldest grape vine.
Maribor's Lent district on the bank of the Drava River also features several old towers and the historic Jewish Quarter. Visit the Maribor Cathedral in Slomškov Trg, and admire the architecture around the main square. You can also climb up to Maribor Castle for panoramas over the city.
Ptuj is very picturesque! Just a 30-minute drive from Maribor, its beautiful architecture makes it worth a stop on the way to or from Maribor.
Trek up to Ptuj Castle, set on a hilltop, for fabulous views over the red rooftops. Then walk the historic center, where you can admire the Orpheus Column, the Old Town Hall, and other buildings around Slovenski Square.
Tour the Vipava Valley
Another of Slovenia's postcard pretty wine regions, the Vipava Valley will remind you of Tuscany, with its rolling hills and farmhouses dotted about the countryside.
A set of wheels is pretty much a requisite to be able to hop from village to village, doing wine tastings or enjoying bites of local foods at area farmhouses. Or consider a guided tour.
Unlike Tuscany, the Vipava Valley is not a heavily visited tourist destination, so you can tour the region without having to deal with crowds.
Drive the Logar Valley
A glacial valley in northern Slovenia, close to the Austrian border, Logarska Dolina is spectacularly scenic and a joy to explore with a car. Not on the main tourist track, the Logar Valley is a richly rewarding experience for outdoor enthusiasts and lovers of natural beauty.
With beautiful bare jagged peaks forming the backdrop to a bucolic green countryside with little farms set here and there, the Logar Valley is also known for its beautiful waterfalls.
The Solčavska Panoramic Road through the valley is one of Slovenia's most scenic drives, with several viewpoints where you can park and enjoy the beautiful vistas.
Logar Valley can be reached by car from Ljubljana in about 2 hours. If you don't want to do the drive all the way to the Logar Valley, you can do a day trip to the picturesque town of Kamnik, just north of Ljubljana, and tour the Velika Planina.
7 Days in Slovenia Itinerary at a Glance
Here's how top experience the very best of Slovenia in just 7 days with our itinerary:
Day 1: Arrive and explore Ljubljana, Slovenia's charming capital city
Day 2: Visit Škocjan Caves and Predjama Castle
Day 3: Enjoy Piran on the Slovene Riviera
Day 4: Tour the Soča River Valley and the Vršič Pass
Day 5: Discover Lake Bled and hike Vintgar Gorge
Day 6: Explore Lake Bohinj
Day 7: Visit Radovljica and Škofja Loka en route to Ljubljana, to depart
With Less Time: See the Best of Slovenia in 3 or 5 Days
If you have less than 7 days in Slovenia, you can still see quite a bit of the country, since it's so small. If you do not plan to drive yourself, do a series of guided tours or day trips from Ljubljana to cover the most iconic sights in an efficient manner.
5 Day Slovenia Itinerary
Assuming you arrive in Ljubljana the evening before, here is a sample 5-day Slovenia itinerary you can follow.
Day 1: Explore Ljubljana.
Day 2: Do a day trip that combines one of the cave systems with a glimpse of the Slovenian coast
Day 3: Travel to Lake Bled early in the day and explore Lake Bled
Day 4: Do the drive over the Vršič Pass to the Soča River Valley, return to Bled
Day 5: Spend the morning at Lake Bohinj and the afternoon in Škofja Loka, drive to Ljubljana
3 Day Slovenia Itinerary
If you have 3 full days in Slovenia, here is a sample itinerary you can follow.
Day 1: Explore Ljubljana
Day 2: Do an independent day trip that combines one of the cave systems with a glimpse of the Slovenian coast, or do it with this guided tour.
Day 3: Do a leisurely day trip to Lake Bled, or a more hectic one that adds Lake Bohinj and Škofja Loka to the mix! This guided tour covers them all if you do not have a car.
1 Day Slovenia Itinerary
If you are visiting Zagreb in Croatia and can spare only one day, you can still get a glimpse of Slovenia! Do an independent day trip from Zagreb to Ljubljana and Lake Bled.
If you start early, you can take in the major sights in the Slovenian capital and spend a few hours relaxing at Lake Bled.
If you do not have a car, this guided tour is an excellent way to efficiently see Ljubljana and Lake Bled on a day trip from Zagreb!
Getting around in Slovenia: driving yourself
A car is undoubtedly the best way to get around in Slovenia, because the country's beautiful and well-maintained roads are ideal for a memorable road trip through its stunning scenery.
Book your car ahead of your visit, especially if you plan to visit during the season, so you are not left stranded upon your arrival. This applies especially to automatic transmission cars. Rental fees are apt to be cheaper in advance as well.
If you are looking for a car rental for your Slovenia road trip, we've had great experience booking with Discover Cars: they offer deals across several different providers and have a wide selection on offer.

Compare prices and find your car at DiscoverCars.com!
Different pick-up and drop-off points will incur additional fees. Slovenian motorways require tolls, so keep cash handy once you've begun your road trip.
If you are not a EU resident, you will need an International Driver's Permit plus your home country Driver's License to rent a car in Slovenia. Age restrictions apply as well.
Slovenia requires a vignette sticker for the use of its motorways. Your rental car will likely come with a vignette, otherwise you can buy one at any gas station. Penalties for driving without a vignette are steep, so make sure your rental car has a valid vignette for the duration of your stay.
Here is a map of the route for this itinerary:
Don't want to drive?
What if you do not want to drive in Slovenia? Can you still cover a good bit of the country? In a word: absolutely!
Slovenia has an excellent bus network, and you can travel to different parts of the country in a comfortable coach. While you won't be able to stop along the way to take photos, or explore intriguing side roads, you can still have an excellent visit without a car.
You can also base yourself in Ljubljana and do day trips to different parts of the country, either independently using public transport or on a guided tour.
Read more details on my article on popular day trips from Ljubljana, along with directions for traveling to and fro!
You can also book a private car and driver for a custom day trip itinerary: it's pricey, but we found it very worth it for our day out in the Julian Alps and the Soca Valley. Both my husband and I were able to relax and enjoy the day, stop at all the best viewpoints, and take lots of photos!
The Best Time to Visit Slovenia
From a weather perspective, this itinerary works best if you visit in late spring, summer, or early fall, when rivers and lakes are fully thawed, and you can hike, boat, and walk around comfortably outdoors for extended periods of time.
Of course, Slovenia looks stunning in the winter as well, so if you enjoy winter activities, you could visit Slovenia in the winter.
Resorts like Kranjska Gora offer tons of winter sport opportunities. Of course, many businesses shut down during the off-season, and you will have fewer daylight hours.
The high season in Slovenia runs from June until the end of August or early September, and within that time you will run into crowds at popular tourist destinations like Lake Bled and Ljubljana. Accommodation prices will likely be at their highest during the summer as well.
So if you can swing it, late spring or early fall are ideal times to plan a trip to Slovenia. In late spring you will see lots of beautiful wildflowers everywhere!
We visited in very late May to early June and found Slovenia green and gorgeous. The water was warm enough for swimming, and most places were not crowded. Fall should be equally wonderful.
Don't forget these items for your Slovenia trip!
Water shoes: If you plan to swim or wade into the water at Lake Bohinj (or other beach areas in Slovenia), pack a pair of water shoes. Your feet will thank you! They will also come in useful if you plan to visit neighboring Croatia. Most beaches here are pebbly, not sandy. Check out this lightweight pair with great grip, available on Amazon!
Rain gear: A rain jacket (or a sturdy compact umbrella) is a must. You may be very lucky and escape the rain entirely during your visit to Slovenia, but if not, you'll want to be able to continue exploring without getting soaked. This jacket, available on Amazon, is lightweight, long for better coverage, packs well, and looks super stylish!
Reusable Water Bottle: Consider a reusable insulated water bottle to stay hydrated while on day trips and hiking: it's also good for the planet! This sleek bottle, available on Amazon, is BPA free, suitable for hot and cold drinks, and comes with a lifetime guarantee!
Travel insurance: We never travel without travel insurance. It's not expensive, and we sleep better knowing we are covered in the event a mishap occurs.
*****
So there you have it: the perfect 7-day Slovenia itinerary! Have you visited Slovenia? I would love to hear your thoughts, if you have! Comment below to respond.
If you haven't yet visited, I hope I have inspired you to plan a visit to this beautiful part of the world. And if you are planning a trip, check out all the articles in our Slovenia travel guide.
You may also like:
Croatia: What to Do in One Day in Zagreb
Montenegro: The Best Things to Do in Kotor
Italy: How to See the Best Ravenna Mosaics in One Day!
Croatia: The Best Day Trips from Zadar
Montenegro: A Day Trip to Durmitor National Park
Did you find this article informative? Pin it for later reference!