Want to explore one of the most breathtakingly beautiful countries on the planet? Plan a visit to Montenegro in southeastern Europe! Read on to discover the ultimate one week Montenegro itinerary.
One week is the perfect amount of time to explore Montenegro. In 7 days in Montenegro, you can discover Old Town Kotor, Perast, and Old Town Budva, and visit the stunning national parks in the interior, such as Lovcen, Lake Skadar, and Durmitor.
Tiny in size, Montenegro delivers a powerful punch when it comes to natural beauty.
Located in the shadow of the mighty Dinaric Alps, the country has a picture-postcard coastline and a plethora of national parks you will love exploring.
Some links on this page may be affiliate links. If you click an affiliate link and make a purchase, we may receive a small commission, at no extra cost to you. For more details, refer to our disclosure.
While Montenegro's spectacular scenery is undeniably its biggest draw, it's not wanting in history, culture, or charm.
Old Town Kotor on the Boka Bay, neighboring charmer Perast, and the old capital of Cetinje offer oodles of atmospheric charm.
7 Days in Montenegro: The Perfect One Week Itinerary
One week is a good amount of time to see the major sights in Montenegro, because it's such a tiny country. Here is how to enjoy the best of Montenegro in just 7 days!
Later, we also show you how to modify the itinerary for a shorter or longer stay in Montenegro.
We also offer detailed suggestions for things to do each day, plus places to stay.
Day 1: Explore Old Town Kotor
Plan to arrive early in the day if you can, so you have a few hours to explore Kotor on the first day.
But know that if you are based in Old Town Kotor, you can also explore it early and late in the day on other days, and really see it at its atmospheric best at those times.
A charming walled town located on the Bay of Kotor, Old Town Kotor is a joy to explore.
Wandering its labyrinthine cobbled streets is a must, especially early or late in the day, when there are fewer people around. The stone walls and stone pavement are spectacular for photography.
A food and walking tour is a great way to get acquainted with the old town and get in-the-know recommendations for where to eat! This highly-rated 2-hour food and walking tour offers information on local history while you sample local food and wine.
If you are up for a workout, climb the town walls to the fortress of San Giovanni for stunning views over Kotor and the bay. Visit the impressive Tryphon Cathedral, and the many other churches in the town.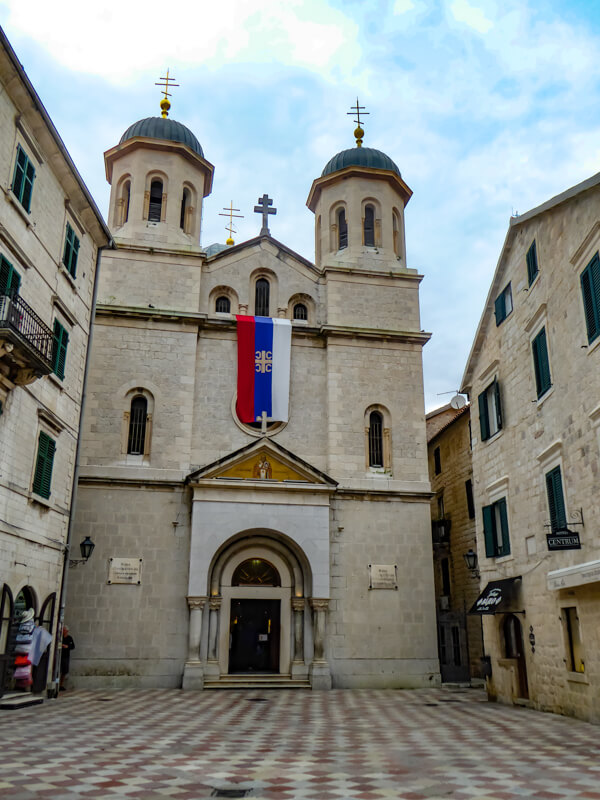 If you are a cat lover, pop into the quirky Cats Museum to see the whimsical illustrations of cats, and if you wish to learn a little about Kotor's seafaring history, visit the little Maritime Museum. Relax in the main square, enjoying the architecture around you.
And finally, taking a boat tour to enjoy the stunning beauty of the Boka Bay should definitely feature on your itinerary for Kotor. Seeing the stunning scenery all around you from the water is a sublime experience.
I would try to get in the hike to St. John's fortress on day one at a minimum, because it takes about 3-4 hours depending on your speed and how often you stop for photos.
Where to stay in Kotor
Consider staying within the walls of Old Town Kotor, so you can easily enjoy the town early and late in the day. In season, you might have noise: if that's a concern, you might want to stay outside the walls.
Historic Boutique Hotel Cattaro is housed in a restored 18th century building, and offers individually decorated rooms. There is an onsite restaurant and bar.
Outside Old Town Kotor, consider renting an apartment in nearby Dobrota.
Apartment Castellino comes with a garden and is the perfect place to stay for couples. If you are a family, check out Apartment Dobrota View, located right on the beachfront.
Where to stay in Tivat
Tivat has a number of luxury hotels if you plan to splurge. Consider Boutique Hotel La Roche, which has its own private beach. With elegant classic furnishings and balconies in some rooms, this hotel is a lovely choice in Tivat.
Day 2: Visit Herceg Novi, the Luštica Peninsula, and Risan
Many Montenegrin towns are strung like beads on a necklace around the beautiful Bay of Kotor.
Located at the entrance to the bay is the beautiful and historic town of Herceg Novi, and the next major town you'll come across as you drive around the bay is Risan.
In Herceg Novi, wander the streets of the Old Town, Step into the beautiful old churches: we loved the Church of Michael the Archangel (and the beautiful plaza over which it presides), and St. Jerome's Church, which has water views.
Climb to the top of the Kanli Kula Fortress for spectacular views over the water. Visit the Savina Monastery, just outside town.
The Luštica Peninsula is known for its lovely beaches. Here's where you will find the famous Blue Grotto, which you can visit by way of a boat tour.
The gleaming blue of the water is created by light hitting the sandy floor of the cave and reflecting off it. You can swim here!
Dobreč Beach in the peninsula is accessible only from the water. It is a beautiful Blue Flag beach and a great place to spend a few hours relaxing. Catch a water taxi from Herceg Novi.
Other beaches of note include Žanjic and Mirišta, and Uvala Veslo if you want to snorkel.
At Risan, you can make a quick stop to view the Roman mosaics in a villa right off the road that goes around the bay. Risan used to be home to many magnificent villas in Roman times, but now seems a little forlorn.
Note: If you are driving into Montenegro from Dubrovnik, you might want to start early in the day, and cover Herceg Novi, the Luštica Peninsula, and Risan on day one, arriving in Kotor in the evening. Then explore Old Town Kotor on day two.
Day 3: Enjoy Perast and Old Town Budva
Perast is a gorgeous Venetian town located on the Bay of Kotor, just about a 30-minute drive or a boat ride away from Kotor.
The town is pretty, but the main draw is the Church of Our Lady of the Rocks, located on a tiny island off the coast of Perast.
This small town boasts an amazing number of palazzos, now functioning as hotels or museums, or falling in picturesque ruins. It also has over a dozen churches!
Take photos of the beautiful town from the waterfront promenade, do the boat tour out to Our Lady of the Rocks, and wander around the town.
Where to stay in Perast
Perast is a great alternative to Kotor as a base on the Boka Bay. It is quieter, because it is not a cruise ship port like Kotor, and extremely beautiful.
For a luxurious stay in a boutique hotel, consider Hotel Per Astra. Featuring less than a dozen elegantly appointed suites, an onsite restaurant, and parking, Hotel Per Astra is the perfect place for a quiet getaway!
Or check out a studio apartment with views of the Bay of Kotor at the highly-rated Apartmani Armonia. The apartment features elegant furnishings and exposed stone walls. And the restaurant, Armonia Restaurant, is fabulous: we had lunch there when we visited Perast.

Located on the stunningly beautiful Adriatic Coast of Montenegro, Budva boasts some beautiful beaches. Mogren Beach is stunning!
Budva beaches do tend to get crowded during the high season, so you might want to take a water taxi out to the beach on Hawaii Island just off the coast, which gets fewer visitors and is just as beautiful.
Old Town Budva is well worth a few hours. Don't miss the Citadela, which is worth the entrance fee. You will get beautiful views of the rooftops of Old Town Budva and the water from its terraces.
When visiting Budva, you will want to stop by the viewpoint along the road from where you can get great views of Sveti Stefan, the picturesque little island that is now a swanky resort.
If you have the time, stop for a drink at the rooftop terrace of the Adrovic Hotel: the terrace offers stunning views of Sveti Stefan.
Where to stay in Budva
Budva is lively in season. It is attractive as a base if you enjoy night life and value the proximity to world-class beaches. Like Kotor, Budva also makes a good base if you wish to do day trips to explore the rest of Montenegro.
Consider the Dukley Hotel & Resort! Located on the water, about a 30-minute walk from the Old Town, this hotel features beautiful gardens and a rooftop infinity pool.
You will enjoy large master bedrooms with contemporary decor, and fabulous bathrooms. The hotel offers a shuttle service to and from Old Town Budva is season.
Where to stay in Petrovac
Located just south of Budva and Sveti Stefan, Petrovac is home to many stunning beaches and offers the perfect base if you enjoy the closeness to the beaches without the party atmosphere.
Hotel Eleven is very close to a beach, and features air-conditioned rooms with balconies and a separate seating area. With contemporary furnishings and beautiful bathrooms, Hotel Eleven makes for a great stay in Petrovac!
Day 4: Tour Lovcen National Park, Cetinje, and Lake Skadar National Park
This tour was one of my favorites from our Montenegro visit. The itinerary has a little bit of everything: history and culture, spectacular views, and a lovely boat ride with the opportunity to see lots of beautiful birds. What more could you ask of a day?
On a one day visit, you will likely not be able to do any hikes in Lovćen National Park. But the drive through the park is beautiful.
And if you take the switchback road from Kotor up to the town of Njeguši, which sits inside the park, that drive is unforgettable.
Make your way to the Mausoleum of Njegoš, which is located at the top the lower of the two peaks of Mount Lovcen. Climb the 461 well-maintained steps to the top for panoramic views of Cetinje and the countryside.
Next, explore the historic city of Cetinje, the old capital of Montenegro. Admire the beautiful architecture, visit the Cetinje Monastery, and step into the tiny Court Church on Cipur.
Then drive to the scenic little town of Rijeka Crnojevica, where you can do a boat tour on scenic Lake Skadar. The lake is the largest in southeastern Europe and straddles both Montenegro and Albania.
You will see numerous beautiful birds, including, if you are lucky, the endangered Dalmatian pelican. It is awesome watching its grace as it carries its large body across the air.
The surface of the lake is covered with lily pads in some parts, making for lovely photos. We did a speedboat tour and had a wonderful time!
Prefer a guided tour to explore the interior of Montenegro? This highly rated full-day tour includes Lovcen National Park, Cetinje, the Crnojevic River (part of Lake Skadar National Park), and Sveti Stefan.

It's an efficient way to take in some of the major sights beyond the Bay of Kotor.
Day 5: Do a day trip to Durmitor National Park and Ostrog Monastery
Although Montenegro has several beautiful national parks, Durmitor National Park is the only one that is currently a UNESCO World Heritage site.
Durmitor National Park is one of Europe's best national parks. It is located in the north of the country, and features spectacular natural scenery and a historic bridge.
A day trip from Kotor to Durmitor National Park allows you to see the major sights, but if you want to attempt one of the epic hikes in the park, you should spend a night in the little town of Zabljak, located in the park, for more time.
A detour to tour the Ostrog Monastery was well worth the extra driving for us. Set into the face of a cliff hundreds of feet above the valley floor, the monastery is dedicated to Saint Basil of Ostrog.
The setting is beautiful and you get fabulous views of the countryside from the grounds.
At Durmitor National Park, you'll be captivated by the mysterious Black Lake.
An alpine lake with darkly brooding waters and beautiful reflections when the light is right, the lake is one of Montenegro's most visited sights. You can walk around the lake or go boating in the summer.
Next, visit the Đurđevića Tara Bridge, which spans a canyon considered second only to the Grand Canyon in terms of depth.
While you can drive the bridge, it is much more fun to park and walk to the end of the bridge and back, stopping every few feet to take yet another photo of the scenery on both sides.
Feeling adventurous? You can zipline here!
Where to stay in

Žabljak
If you plan to spend a night in Durmitor National Park, consider Hotel Soa. Featuring a terrace with spectacular views of the surrounding countryside, the hotel offers units with separate seating areas and a kitchenette. Enjoy comfortable contemporary furnishings and an onsite restaurant.
Want to visit Durmitor National Park on a guided tour from Kotor? This highly rated tour is a full day, and includes the Ostrog Monastery, Black Lake, and Tara Canyon. It's a great hassle-free way to see the northern part of Montenegro from Kotor!
Day 6: Enjoy Tara River Rafting or Biogradska National Park or Stari Bar and Ulcinj
Today you can pick from a number of options, depending on your interests. You can relax at a beach, or get your adventure game on with some river rafting, or visit another gorgeous national park.
Stari Bar and Ulcinj: Beach time!
If you enjoy historic old towns and beautiful beaches, explore Stari Bar and Ulcinj, further south on the Adriatic Coast of Montenegro.
Ulcinj is the southernmost city on the Montenegro coast, close to the border with Albania. Stari Bar consists of the old fortress, now mostly in ruins.
Both Bar and Ulcinj have a number of beaches, and Ulcinj even has a number of long sandy beaches, a rarity in this part of the world, where pebbly beaches are more the norm.
Tara River Rafting: Time for an adrenaline rush!
Tara River rafting is a fun activity if you enjoy adventure.
The best way to do this is by guided tour from Kotor (or Budva, Tivat, or Herceg Novi) if you do not have a car. If you do, you can drive up to the start point at Šćepan Polje and join the tour there. This is a full day activity that includes lunch.
The river rafting tours are popular in season, so reserve ahead of time.
Biogradska National Park: explore an ancient forest!
Just like Montenegro's other national parks, Biogradska Gora National Park is a place of exceptional natural beauty. It is specifically famous for containing one of the three remaining sizeable virgin forests in Europe.
Biograd Lake is the most famous destination in the park. You can easily spend a relaxing day here in nature. Walk the trail around the lake that goes through the ancient trees. Take a boat out onto the water.
Day 7: Return home or proceed to your next destination
Sadly, it is the end of your visit to Montenegro. Prepare to return home, or to travel to your next destination.
But know that you will be leaving a bit of your heart behind in this beautiful country, and hope to return for another visit!
7 Day Montenegro Itinerary at a Glance
Here is a synopsis of the above itinerary:
Day 1: Explore Old Town Kotor
Day 2: Visit Herceg Novi, the Lustica Peninsula and Risan
Day 3: Enjoy Perast and Old Town Budva
Day 4: Tour Mount Lovcen National Park, Cetinje, and Lake Skadar National Park
Day 5: Do a day trip to Durmitor National Park and Ostrog Monastery
Day 6: Enjoy Tara River Rafting or Biogradska National Park or Stari Bar and Ulcinj
Day 7: Return home or proceed to your next destination
Structuring Your Montenegro Itinerary
We spent one week in Montenegro, with Kotor as our base. Having one town as your base works well in Montenegro, especially for shorter stays, because the country is small, and you can fan out each day in the direction you want to go.
You can do many fabulous day trips from Kotor.
If you plan to spend longer, you might want to consider one or two nights in Zabljak to make exploring Durmitor National Park easier, and the rest of your time in Kotor or a beach town (Budva if you enjoy a lively night scene, or Petrovac, which has great accommodation options but is much quieter).
You can also do this Montenegro itinerary as a road trip, staying in different places each night.
While my itinerary is geared towards the first-time visitor to Montenegro, I would have no hesitation in doing it all over again, because it includes the most iconic destinations in the country.
It's an eclectic itinerary, including natural wonders, scenic drives, historic monuments, and charming towns: the best things to do in Montenegro!
How long should you spend in Montenegro?
You can get a taste of the Montenegro coast even if you just have one day to spare, but in order to do the country justice, think 5 to 7 days, or even more.
With five days to one week in Montenegro, you can explore the beautiful Boka Bay, spend some time on the Adriatic Coast, and get up into the mountains to discover the gorgeous scenery in the interior of the country.
With 10 days to 2 weeks, you can explore the country at a leisurely pace, soaking in the beauty of your surroundings, taking the time to savor the ambiance of historic towns like Kotor, and enjoying quality beach time along the Adriatic Coast or on the Lustica Peninsula.
Renting a car for your Montenegro holiday
Whether you will find it easy to drive in Montenegro depends on your experience and confidence as a driver.
The roads tend to be narrow and Montenegrin drivers are reputed to be aggressive.
Mountain roads are often very narrow and winding, and locals whiz up or down without a care in the world.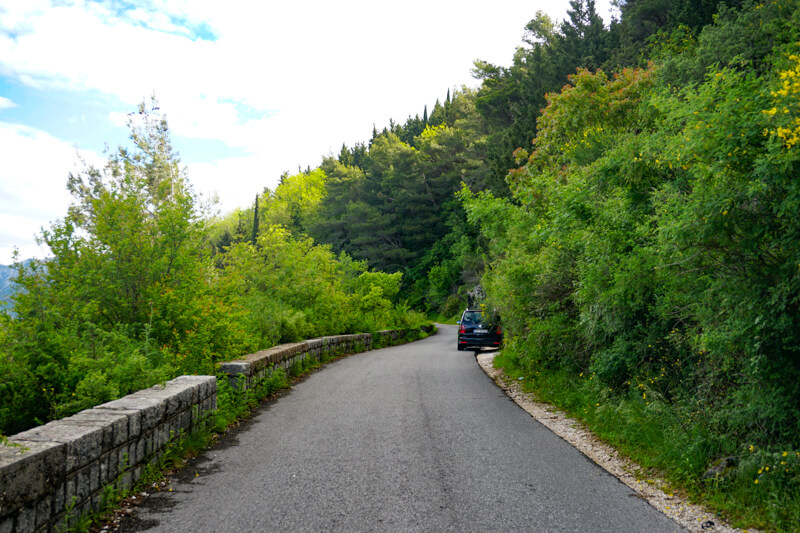 But if you are an experienced and confident driver, a car is the best form of transport to explore Montenegro. Montenegro's scenery is its foremost draw, and the ability to pull over (safely!) to gape at a vista or to take photos is very advantageous.
Discover Cars offers you the ability to compare availability and prices across many major car-hire companies. Pick the car that best meets your needs!

Check availability and book your rental car for Montenegro now!
Distances are not long (Montenegro is a tiny country, after all), but speed limits and the nature of the roads can extend driving times.
Start early in the day when possible, especially during the high season months of May through September, to avoid the worst of the traffic at least in one direction.
To be able to rent a car for your Montenegro visit, you will need a valid driver's license from your country of residence. Note that there may be age restrictions for drivers.
If you plan to use the car to travel to neighboring countries, verify that your contract permits such travel, and that your car comes with a valid "green card."
Find your rental car for Montenegro at Discover Cars: check prices and availability now!
What if you don't want to drive?
You can still see quite a bit of Montenegro, if you prefer to not drive. You can use a combination of buses and boats, small group guided tours, and even private day tours to cover a lot of territory.
While not every destination is easily accessed using public transport, you can get to the towns on the Bay of Kotor and along the Adriatic Coast using buses. Boat tours or ferries in season can also be a scenic way to get to places on the Bay of Kotor.
There are a multitude of group tours that can take you around the country.
Check out this group tour that covers Durmitor National Park and Ostrog Monastery.
Or this highly rated tour to Lovcen National Park, Cetinje, and Rijeka Crnojevica. Either tour is a great way of efficiently visiting one or more national parks.
GetYourGuide has a variety of tours and activities for your Montenegro itinerary. They (or Viator) are our go-to option for guided tours and experiences, and we have never been disappointed! Browse and book tours on their Montenegro portal.

Or book your tours at Viator. They have a variety of experiences in Montenegro to add to your itinerary! Browse and book tours on the Viator Montenegro portal.
My articles on individual destinations in my Montenegro guide have more detailed information on getting to each destination, so be sure to check them out if you are laying out your itinerary!
Is Montenegro safe?
We spent one week in Montenegro and always felt safe. We stayed in a hotel in Old Town Kotor, about 5 minutes from the Sea Gate, the main entrance into the walled town. We walked everywhere around town, and outside along the waterfront promenade.
People in the hospitality industry speak English and we had no trouble getting questions answered. For the greater part, people were helpful and friendly.
Like in other tourist destinations, always be alert to what's happening around you, and find safe places for your valuables. That's just common sense advice to follow no matter where in the world you travel.
What currency does Montenegro use?
Montenegro uses the Euro. Credit cards are widely accepted, and you'll find ATM machines in the towns as well.
Planning more time in Montenegro?
Lucky you! If you have more time to allot to Montenegro, you can explore the country in a much more leisurely fashion. Here are some suggestions for adding on to the above itinerary:
Spend a day each in Lovcen National Park and Lake Skadar National Park instead of doing them both in one day. This will allow you to do some walks in both areas and explore each park at leisure.
Consider two days in Durmitor National Park, staying overnight in Žabljak. This will allow you to do one long hike or a couple of shorter ones, to enjoy the park up close. You can even attempt the hike to the top of Bobotov Kuk, which takes several hours.
Or choose to spend a few days just enjoying the sun, sea, and sand. Montenegro has a wealth of stunning beaches, along the Adriatic Coast, and in the Luštica Peninsula. Swim, snorkel, dive, or simply relax!
You can also do two, or all three, of the options listed for day six in my itinerary above, instead of choosing just one. Plus add a day trip to Prokletije National Park, Montenegro's fifth and newest national park. The Ali-Pasha Springs in the park are supposed to be stunning, although a this time the site is not maintained.
Planning a shorter visit to Montenegro?
Montenegro is a tiny country, so it's worth adding to your itinerary for the region even if you have just a few days to spare. If you do not plan to rent a car, opt for guided tours that will allow you to maximize your sightseeing time within Montenegro.
5 day MONTENEGRO Itinerary
Here is a sample 5-day Montenegro itinerary that covers many of the major sights and destinations:
Day 1: Explore Old Town Kotor
Day 2: Tour Lovcen National Park, Cetinje, and Lake Skadar National Park
Day 3: Visit Durmitor National Park and Ostrog Monastery
Day 4: Visit one or more of the towns on the Bay of Kotor or along the Adriatic Coast
Day 5: Return home or travel to your next destination
3 Day Montenegro Itinerary
With 3 days in Montenegro, I would pick one national park tour. Here is a sample itinerary:
Day 1: Explore Old Town Kotor and visit Perast
Day 2: Tour Lovcen National Park, Cetinje, and Lake Skadar National Park or Durmitor National Park
Day 3: Return home or travel to your next destination
1 day in Montenegro
If you are visiting Dubrovnik in neighboring Croatia, you can visit the Montenegrin coast and the Bay of Kotor as a day trip. Most people visit Old Town Kotor, Perast, and Budva on a day trip.
If you prefer a guided tour, check out this popular tour that covers the same three destinations: it is a very efficient way to visit Montenegro for the day from Dubrovnik!
The best time to visit Montenegro
Spring and fall are lovely times to visit Montenegro.
Between late March and late May, and in September and October, you can expect decent weather, fewer crowds, and lower prices on accommodations. Wildflowers in late spring and changing leaf colors in fall are bonuses.
If swimming in the sea is important to you, the water will still be warm enough up to the end of October in the fall, but in the spring, it will likely be too cold until the end of May. When we visited in mid May, the beaches of the Adriatic Coast were still deserted.
Summer is high tourist season in Montenegro, and you will encounter crowds at popular tourist destinations. Accommodation prices will be higher as well, and the beaches and popular Riviera towns will be in party mode.
Cruise ships call on Kotor most days of the week from late spring until the fall, so expect Old Town Kotor to be crowded during the day during that period.
Don't forget to pack these items for your trip to Montenegro!
Travel Insurance: We never travel without travel insurance. It's not expensive, and we sleep better knowing we are covered in the event a mishap occurs.
Water Shoes: Many beaches in Montenegro, and in neighboring Croatia and Slovenia, are pebbly, not sandy. So remember to pack a pair of water shoes to protect your feet from cuts and scrapes. Check out this lightweight pair with great grip, available on Amazon!
Rain Gear: A rain jacket (or a sturdy compact umbrella) will come in useful if you run into some rain. We had a couple of days with showers, but we were able to continue exploring because we came prepared with rain gear! This jacket, available on Amazon, is lightweight, long for better coverage, packs well, and looks super stylish!
Reusable Water Bottle: Carrying a reusable insulated water bottle is the responsible way to stay hydrated while traveling! This sleek bottle, available on Amazon, is BPA free, suitable for hot and cold drinks, and comes with a lifetime guarantee!
Travel Adaptors: Visiting from outside Europe? Remember to pack adaptors! This two-pack of Type C adaptors is highly rated on Amazon and will work in most of Europe, including Montenegro.
*****
So there you have it: the ultimate itinerary for your first visit to Montenegro. Have you visited? I would love to hear your thoughts if you have! Comment below to respond.
And if you have not yet visited, what are you waiting for? Go start planning your Montenegro holiday: you will love this gorgeous country, guaranteed! Check out all the articles in our Montenegro guide, and if you have any questions, ask away in the comments below!
You May Also Like:
Croatia: The Best Things to Do in Zadar in One Day
Slovenia: 20 Fun Day Trips from Ljubljana
Italy: The Most Exciting Things to Do in Verona
Croatia: How to Spend One Day in Zagreb
Slovenia: The Best Things to Do in Piran
Did you find this article informative? Pin it for later reference!