If you love art or history, or art history, put Ravenna on the itinerary for your next trip to Italy! Located in the northeastern part of Italy in the Emilia-Romagna region, Ravenna is famous for its stunning ancient mosaics. Read on to discover how to visit the best of the Ravenna mosaics in just one day!
Ravenna's mosaics are not just drop-dead gorgeous, they are also historically significant.
First, they are old: they were created as far back as the 5th and 6th centuries AD.
Second, they are a unique blend of western and eastern designs.
And third, they are the best surviving examples of the art in Europe.
So the mosaics in Ravenna are definitely a must-visit for lovers of art and culture!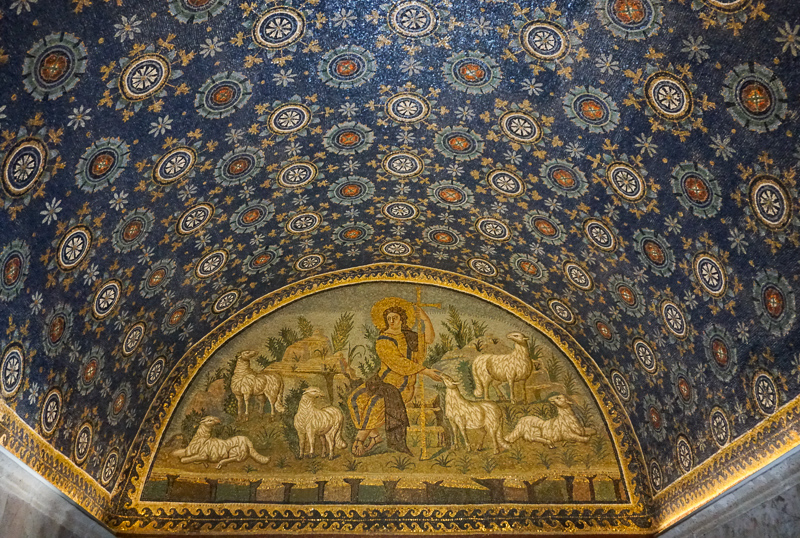 Some links on this page may be affiliate links. If you click an affiliate link and make a purchase, we may receive a small commission, at no extra cost to you. For more details, refer to our disclosure.
Plus, Ravenna's mosaic collection is extensive. So much so that eight buildings here, together known as the Early Christian Monuments of Ravenna, are designated a UNESCO World Heritage site.
The Best of the Ravenna Mosaics in One Day
Six of Ravenna's eight UNESCO monuments are in the city center, within walking distance of one another. So even if you have just one day in Ravenna, you can still see several of the sites.
In this guide, you'll get a good overview of the Ravenna mosaic sites (I took so many photos!) and why each one is worthy of your time.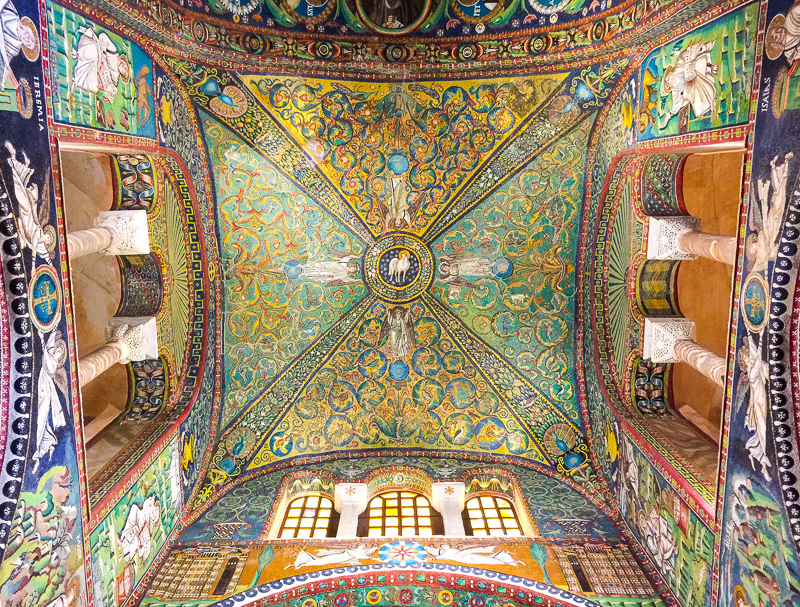 Like in most Italian towns and cities, there are other things to do in Ravenna besides viewing the mosaic art, including great bites and pretty streets perfect for wandering.
A little planning will allow you to make the best use of your one day in Ravenna, to not only view the best of the beautiful mosaics, but also experience a little of the city.
If you would like context for the stunning mosaics you'll see, you may want to join a guided tour. The highly-rated tour will take you through five of the six monuments in the city center in three hours, making for a very efficient visit.
Plus, you won't have to worry about booking timed entry in advance — it's mandatory for two of the sites at the time of writing.
So, here's my complete guide to Ravenna's mosaics!
Ravenna's UNESCO Monuments: The History
How did Ravenna come to be an important repository of Christian Byzantine art?
Looking back at the history of Ravenna during the 5th and 6th centuries AD, three successive empires chose the city to be their capital.
And in each reign, art and architecture flourished in the city: in particular, mosaic art that spans late Roman works to Byzantine displays.
At the start of the 5th century AD, Western Roman Emperor Honorius moved the capital of the empire from Milan to Ravenna. Several of Ravenna's impressive monuments were built during the rule of this empire.
The Mausoleum of Galla Placidia and the Neonian Baptistery, two of the sites you will visit, were built in this period.
In 493 AD, Ravenna became the capital of the Ostrogothic Kingdom of Italy, after Theodoric the Great took control of the region.
Under Theodoric's reign, Ravenna saw the construction of the Church of Sant'Apollinare Nuovo and Theodoric's Mausoleum, among other structures.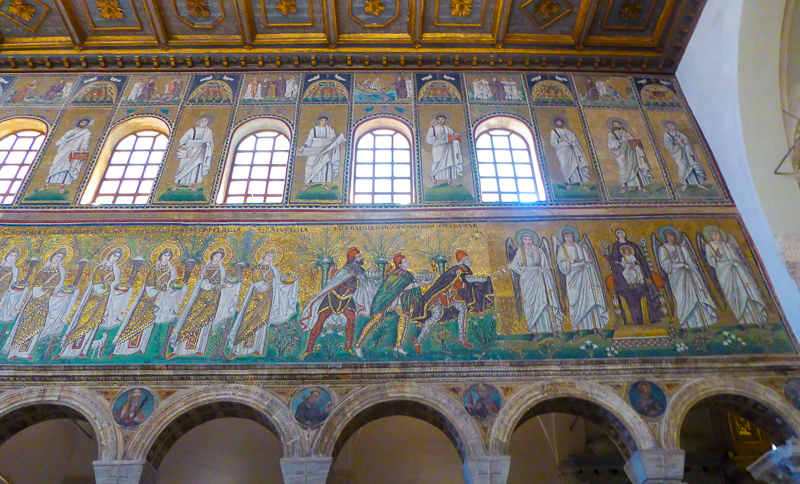 The Christian Byzantine empire conquered Ravenna in 540 AD. Ravenna became the capital of the Byzantines in Italy.
From then until the end of the 6th century AD, many impressive churches were built in Ravenna and the nearby port city of Classe.
Two of the monuments on the UNESCO list, the Basilica di San Vitale and the Basilica di Sant'Apollinare in Classe, are from this period.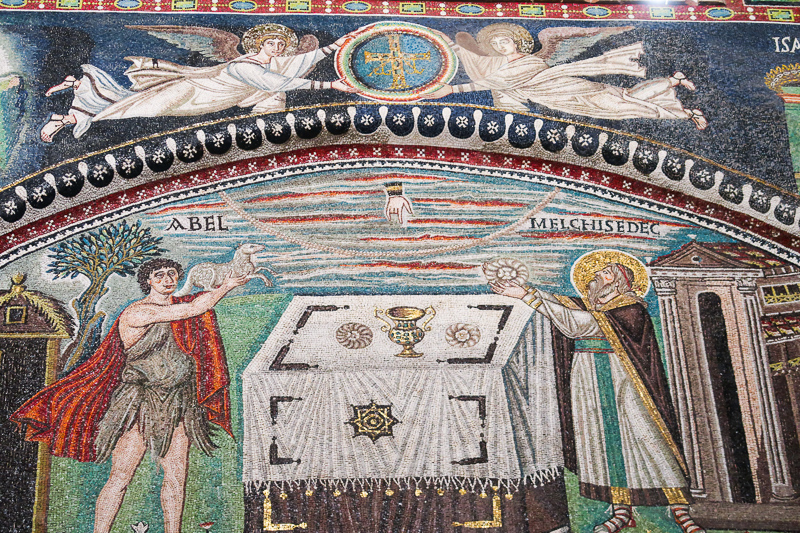 Another interesting historic tidbit, though it came much later: Dante Alighieri, the famous Florentine poet, is buried in Ravenna, and you can make a quick stop at his tomb when you visit.
A Sample Itinerary for the Mosaics in Ravenna
On this day trip itinerary, you'll cover the six monuments on the UNESCO list that are within the city center. This is eminently doable if you are making the day trip from Bologna or another nearby city, and you start early.
In fact, you'll have time for a sit-down lunch and opportunities to linger in the streets and admire the architecture.
As you can see from the map below, you'll be walking a total of about 2.4 miles (about 47 minutes), if you start and finish at the Ravenna train station.
The Mausoleum of Theodoric is about 1.5 miles from the city center, and the Basilica di Sant'Apollinare in Classe is about 5 miles outside the city center.
You could in theory cover them as well, either driving to them if you have a car, or taking a taxi if you took a train to Ravenna, but you would need to start early and be prepared for a longer day.
#1 Admire the Ceiling of the Arian Baptistery
If you plan to walk into the city center from the train station at Piazza Luigi Carlo Farini, your first stop should be the Battistero degli Ariani (the Arian Baptistery), built in 500 AD.
Look for an octagonal building in the courtyard of the Church of Santo Spirito. The baptistery is reported to have sunk about 7 feet into the ground.
There's no decoration on the walls of the baptistery.
But you'll find a beautiful mosaic ceiling, showing a young Jesus being baptized. He is shown standing in the waters of the River Jordan, with a dove drizzling water on his head. Surrounding him are the twelve apostles.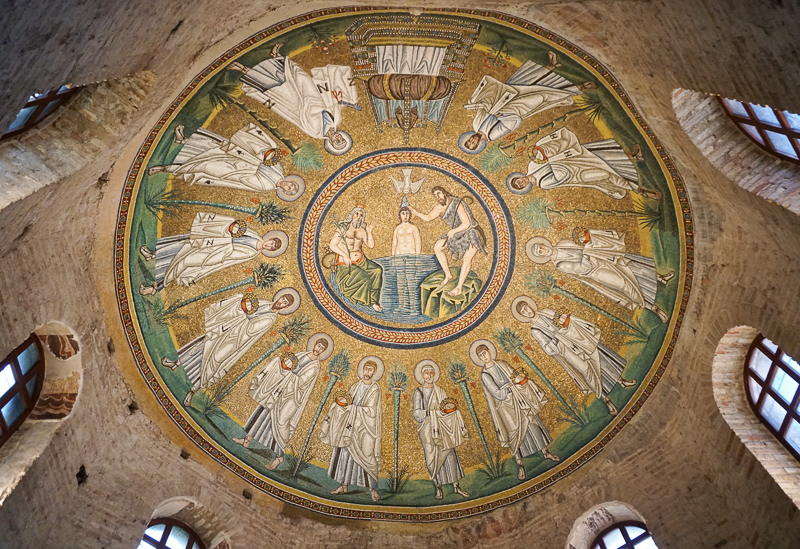 When we visited, there was a mat placed on the ground below the dome, so you could lie horizontal to better appreciate the work without having to crane your neck!
#2 Visit the Basilica di Sant'Apollinare Nuovo
Next, you'll visit the Basilica di Sant'Apollinare Nuovo, which contains some of the most lavish mosaics in Ravenna, as well as an interesting history.
The church was built by Theodoric and dedicated to Christ, but when the Byzantines took over, they dedicated the church to St. Martin of Tours.
Later still, the remains of Sant'Apollinare were reportedly transferred here from Classe, and the church got its current name.
I loved the piazza and the exterior of the church, as well as its cloisters. Beautiful plants, graceful arches, and a cylindrical tower all call for admiration outside before you step inside to view the mosaics.
And what stunning mosaics!
Running along the entire length of both long walls, in three panels from top to bottom, you'll see extravagant mosaics that will take your breath away.
The hall of the church is bare, so you can walk around and view them section by section.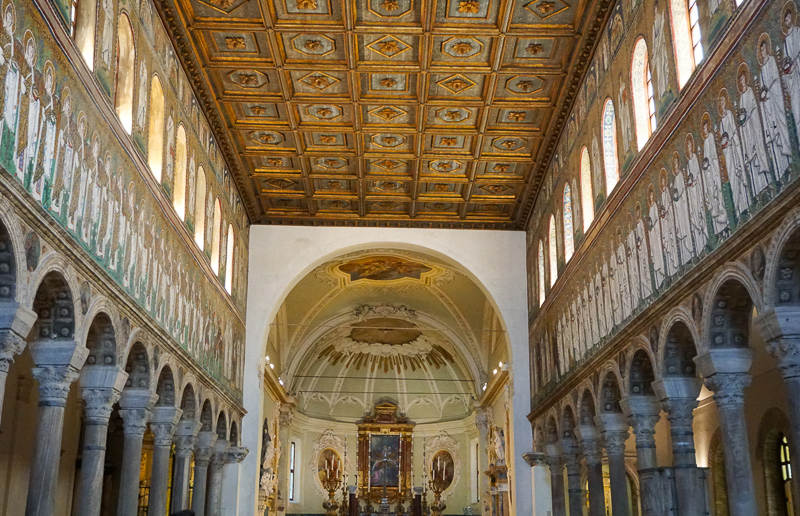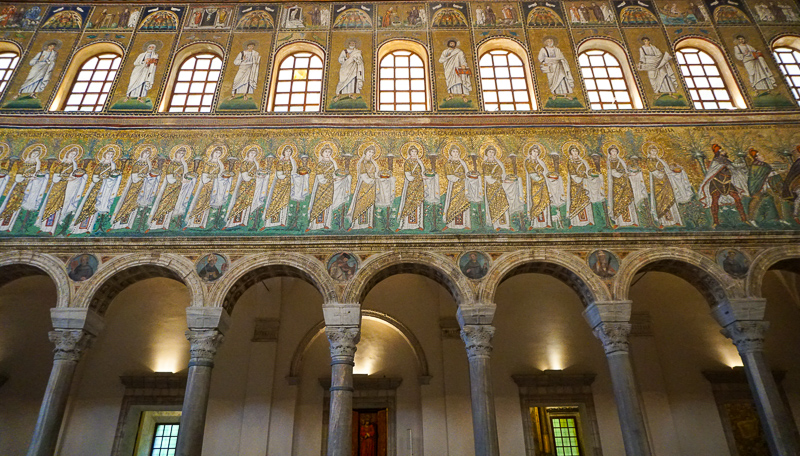 The Byzantines covered over references to the time of Theodoric by modifying some of the mosaics, and you can even see where they forgot to cover over a hand or two!
After you have had your fill of gazing at the mosaics, visit the cloisters and view the lovely courtyard with its plants before heading to your next destination.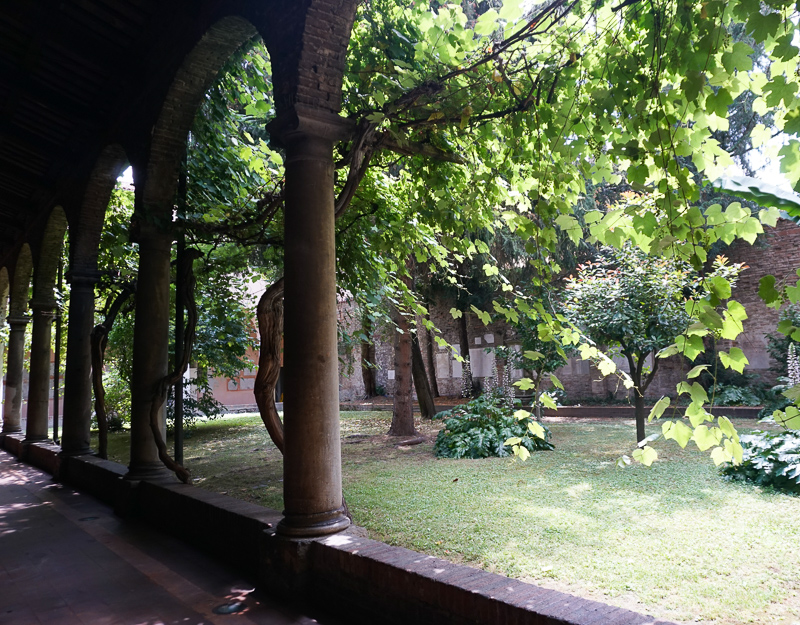 #3 SAVOR THE ART AT THE Archiepiscopal Chapel
Also known as the Oratory of San Andrea, the Archiepiscopal Chapel in Ravenna is the only early one from early Christian times that is still intact. It was built during Theodoric's reign as a private oratory for Catholic bishops.
Originally dedicated to Christ, the chapel was later dedicated to Saint Andrew, after his remains were brought to Ravenna from Constantinople.
The colors of the mosaics are rich, especially in the foyer to the chapel, with lots of reds and deep blues. The bottom of the foyer is marble, and the top is mosaics. Here Christ is shown as a warrior, with one foot on a lion and the other on a snake.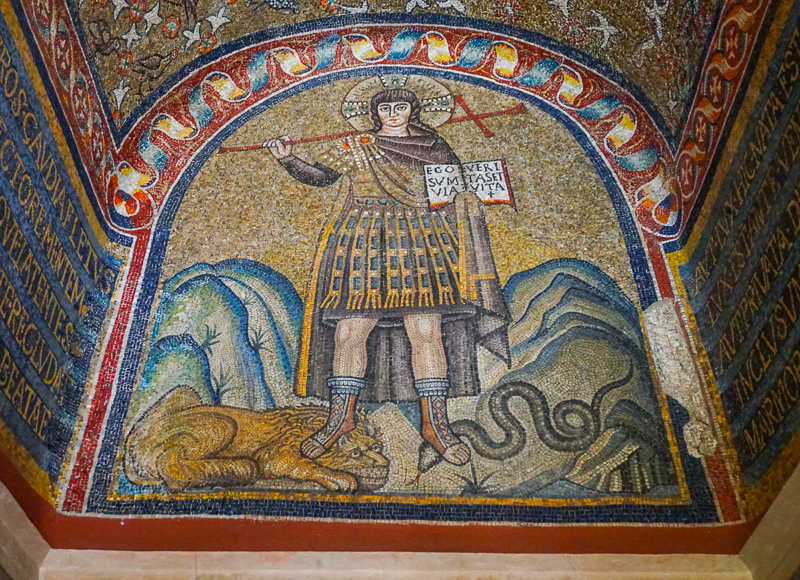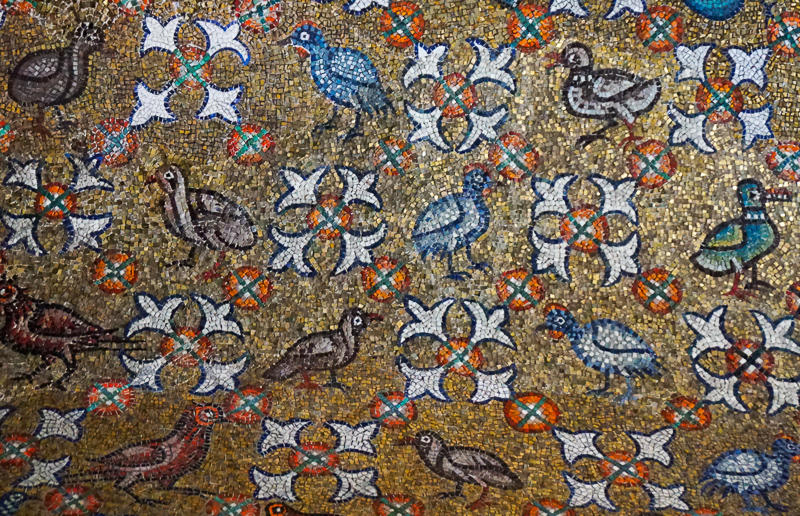 Inside the chapel, there are beautiful mosaics as well.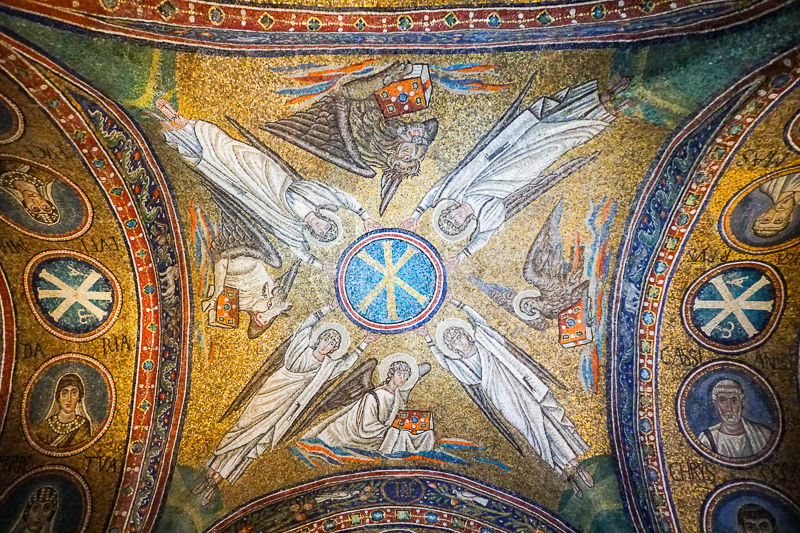 #4 GAZE AT THE ART IN THE Baptistery of Neon
The Baptistery of Neon is right across from the Oratory of San Andrea. The octagonal brick building was erected in the 5th century AD. This building has sunk some 9 feet into the ground, just like the Arian Baptistery.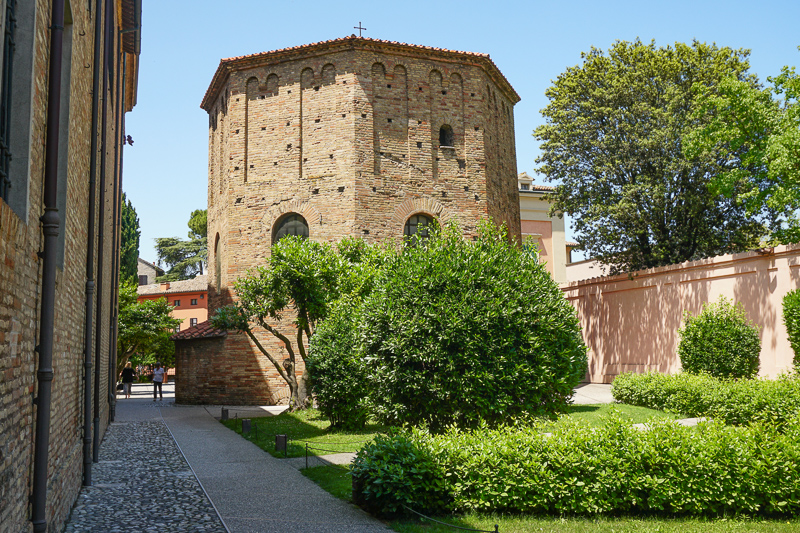 In the ceiling is a circular mosaic of the Baptism of Christ. The young Christ is standing, hip deep, in the waters of the Jordan River.
The outer circle shows the procession of the twelve apostles. The apostles are split in two, with one half led by Saint Peter, and the other by Saint Paul.
This Baptistery has a lot more decoration than the Arian Baptistery. Jewel-rich colors and exquisite detail mark the mosaic decoration.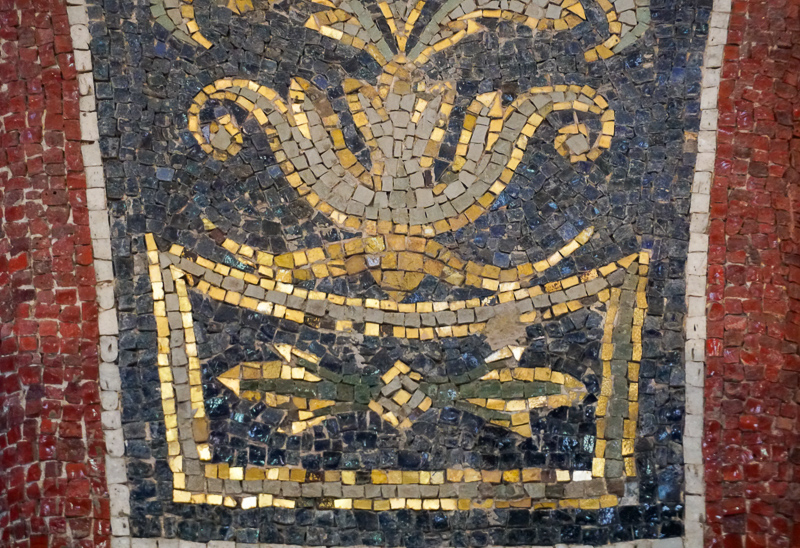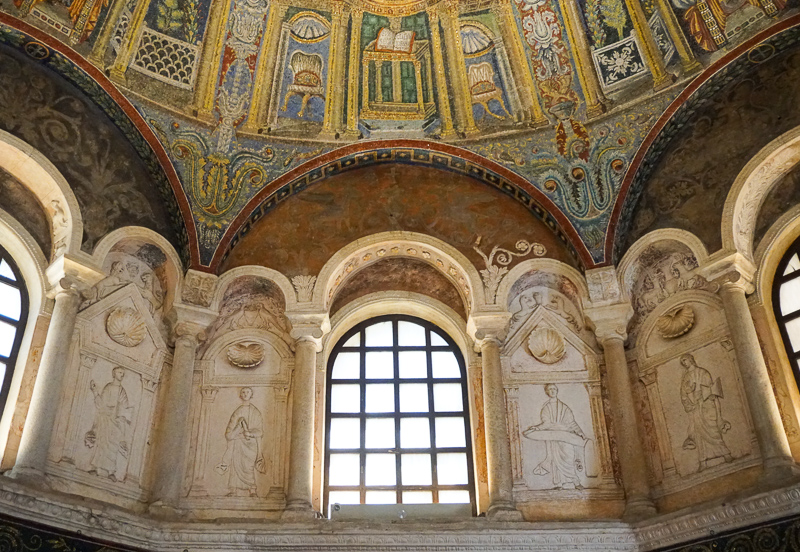 #5 BE ENTHRALLED BY THE MOSAICS IN THE Basilica di San Vitale
If you have the time to see just one of Ravenna's UNESCO monuments, you should head straight to the Basilica di San Vitale.
Said to have been the inspiration behind the Hagia Sophia of Constantinople, built a decade later, this church contains the most breathtaking mosaic displays.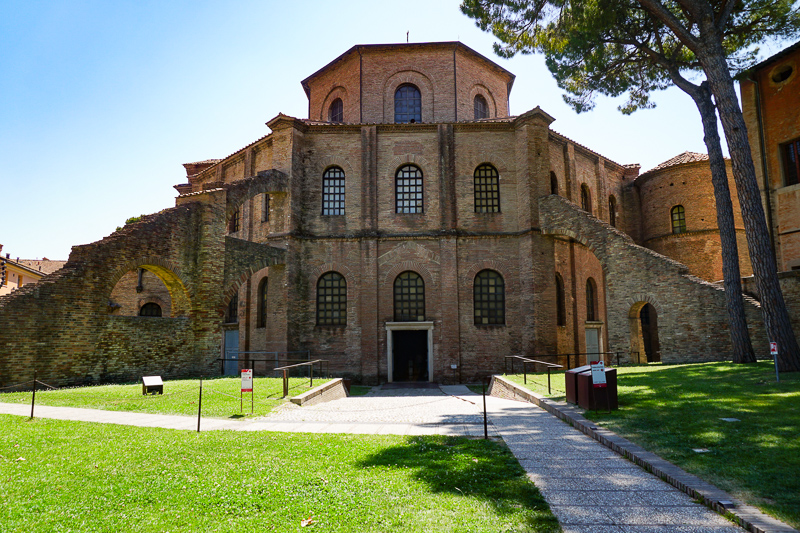 The church is octagonal in shape and topped by a cupola. The exterior is austere brick, like many structures in Ravenna. But inside, beautiful mosaics and frescoes create a fabulous whole that will make your jaw drop in awe.
The frescoes in the cupola and the niches were done by artists from Bologna and Veneto. While the frescoes are lovely, your eyes cannot help but be drawn to the extraordinary mosaic work on display.
The entire apse is covered with mosaics. The colors, the detail, and the scale of the work will just blow you away.
Here, you'll see three mosaic scenes that are probably the most fabulous west of Istanbul: the Byzantine Emperor Justinian in his court, the Empress Theodora, bedecked in jewels and accompanied by her many ladies-in-waiting, and Jesus Christ, sitting on a globe.
These famous panels were completed in the year 547.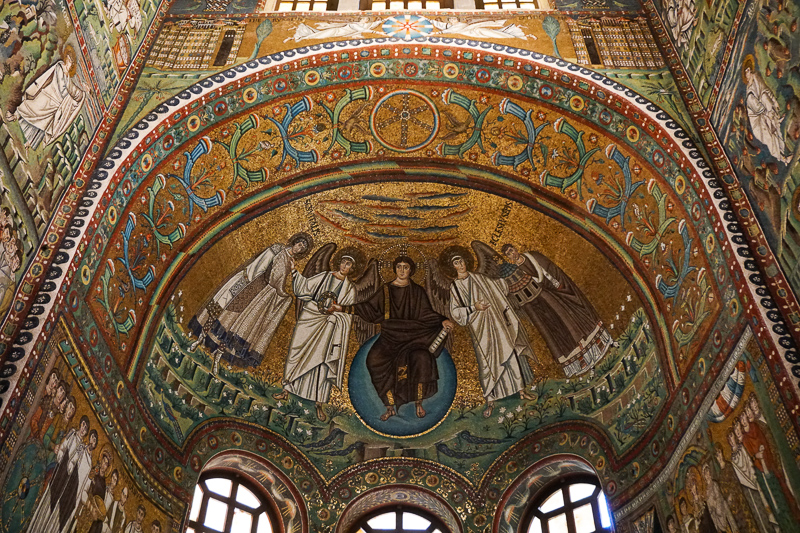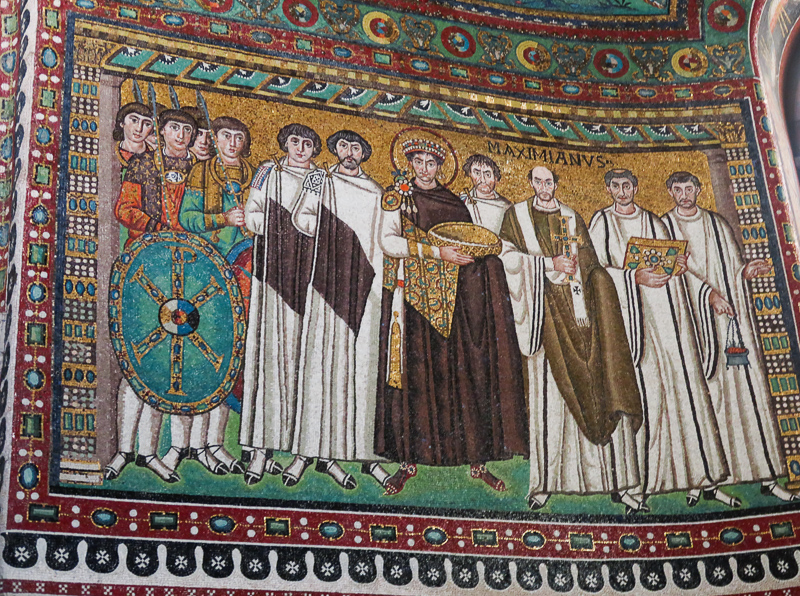 #6 BE CAPTIVATED BY THE MOSAICS IN THE Mausoleum of Galla Placidia
Right near the Basilica di San Vitale is the Mausoleum of Galla Placidia, where you'll find some of the most ancient mosaics in Ravenna.
Galla Placidia, sister of Western Roman Emperor Honorius, built this mausoleum in Ravenna as her own final resting place, but she actually died in Rome and was buried there.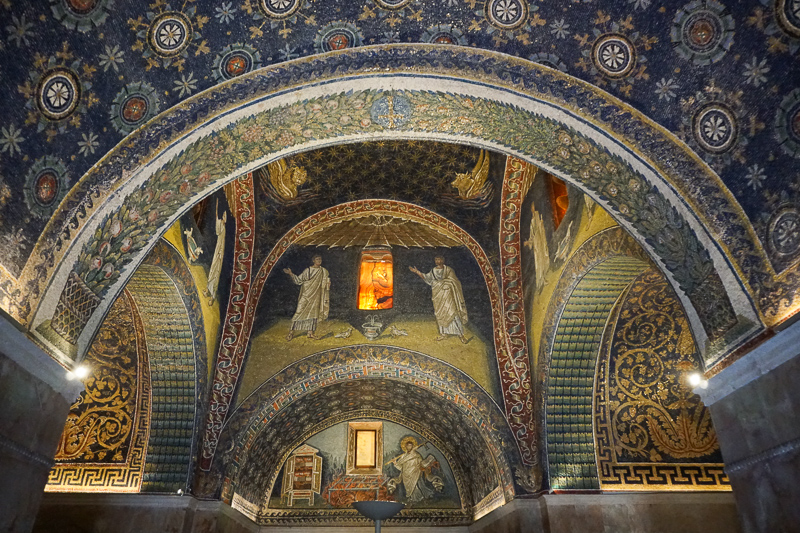 The little building contains a wealth of mosaics. The entire ceiling is studded with mosaic stars. Mosaics also cover the upper walls. Alabaster windows let in filtered light that makes the mosaics gleam.
Since the interior of the mausoleum is tiny, there's a time limit on how long visitors can spend inside. It wasn't enforced when we visited, presumably because it was not crowded at the time. If you are claustrophobic, pick a time when it's relatively empty inside.
#7 Visit the Basilica di Sant'Apollinare in Classe
While it's outside the city center, requiring the use of a car, bus, or taxi, the Basilica di Sant'Apollinare in Classe has some beautiful mosaics worth viewing.
Sadly, it was plundered time and again over the centuries, but it still contains beautiful mosaics in the apse. Along the two walls of the church, you'll see coffins of various archbishops.
We didn't get to visit this basilica, but photos look beautiful. Visit if you have the time!
#8 Stop by the Mausoleum of Theodoric
The Mausoleum of Theodoric also lies outside the city center. Although you can walk to this monument, you should consider it only if you have plenty of time.
While the building looks beautiful, and is of great historical relevance, it doesn't contain any mosaics.
Hours and Admission Tickets Information for the Ravenna Mosaics
Five of the UNESCO monuments in the city center (all except the Arian Baptistery) are open from 9 a.m. until 7 p.m. from March to October, and from 10 a.m. until 5 p.m. from November until February. The Arian Baptistery is open from 8.30 a.m. until 7.30 p.m.
A combination ticket is available if you plan to visit multiple UNESCO monuments in town. At the time of writing, a ticket to five of the six monuments in the city center (all except the Arian Baptistery) is €10,50. It's valid for 7 days from purchase, for one admission to each monument.
The Neonian Baptistery and the Mausoleum of Galla Placidia require advance booking of entrance time. There is a € 2,00 fee per site for the mandatory entrance time booking.
For current admission fees and hours, special evening openings, and special closure notices, visit the official website.
If you are visiting for the day, a guided small-group tour isn't much more expensive, and will save you the hassle of having to reserve your entrance time and show up at that time!
There's more to see in Ravenna!
Ravenna is most famous for its Early Christian mosaics, and most visitors come mainly to see the UNESCO monuments in Ravenna.
But there's a lot more to see and do in the city if you plan to visit for 2 or 3 days. With lots of gorgeous architecture, a great food scene, and a summer music festival, you'll not run out of things to do in Ravenna!
Dante's Tomb is a quick stop on your way from the Basilica di Sant'Apollinare Nuovo to the Chapel of Sant Andrea. It's at the end of a little alley, near the Basilica di San Francesco.
After his exile from his native Florence, Dante lived in Ravenna, and died here in 1321.
A couple of centuries after his death, Florence tried to get Ravenna to return his remains to Florence, but Ravenna declined to part with them. And so he remains buried in the tomb you see in Ravenna.
Ravenna's streets and squares are pretty. As you walk around the city center to the different sites, you can admire the architecture all around you.
Apart from the UNESCO sites, you'll find lots of churches and museums in Ravenna. If you plan to visit Ravenna for more than just one day, you can take in some of these sights as well.
Also, Ravenna continues to be a producer of mosaics today, and you'll find lots of present-day signage and artwork in restaurants done in mosaics. You can even take back a mosaic souvenir from Ravenna!
Getting to Ravenna by train
Train is the best form of public transport in Italy. We did Ravenna as a day trip by train from Bologna, and it was easy. Ravenna, in fact, was one of my favorite day trips from Bologna!
The direct train from Bologna to Ravenna takes a little over one hour, and there are multiple departures in both directions each day. Ravenna therefore makes for a convenient day trip from Bologna.
If you are visiting the Emilia Romagna region of Italy, you can also get a direct train to Ravenna from Ferrara or Faenza, other popular destinations in the region. From Ferrara, for example, it takes a little over one hour to get to Ravenna.
If you're traveling from Florence, take a train to Bologna first, and then another train from Bologna to Ravenna. A fast train takes 35 minutes to get from Florence to Bologna.
From Venice, you could take a train to Bologna or Ferrara, and then another train to Ravenna. From Venezia Mestre to Bologna, the journey takes a little over one hour, and from Venezia Santa Lucia to Bologna, it takes about one hour and 30 minutes.
While it's doable as a day trip from either Florence or Venice by train, or as a stop en route from one to the other, you will get less time in the city of Ravenna.
So I would suggest starting with the sites you most want to see and then working your way down, or joining a formal guided tour, which will take you through the best of Ravenna's mosaics in a structured and efficient manner.
If you are a history or art buff, you may even want to splurge on a private guided tour. We loved our private tour: we learned a lot and "saw" more than we would have on our own. And our guide waited patiently as we snapped lots and lots of photos!
Getting to Ravenna by car
Of course, if you have a car, you can also drive yourself to Ravenna.
You can drive from Bologna to Ravenna in about one hour in normal traffic. You can also do a guided tour with private transfer from Bologna.
From Florence, it takes a little over 2 hours to drive to Ravenna, via Bologna. From Venice, it takes a little over 2 hours on the coastal road SS309, in normal traffic.
There are several public car parks in Ravenna, including just outside the two UNESCO sites outside the city center.
Getting around in Ravenna
Ravenna's city center is compact, and not too far from the train station, so you can walk everywhere. It takes about ten minutes to walk from the train station to Piazza del Popolo in the heart of the city center. You can also rent a bike to visit the various sites.
If you'd rather not walk, local buses go into the city center from the train station, as well as around to the major monuments. You can find bus timetables online.
Buy bus tickets at a newsstand or a tabaccheria. You'll generally find one or the other at the train station.
Where to eat in Ravenna
When in Ravenna, you must try a piadina! The piadina is a local specialty: a toasted flatbread, stuffed with a filling, and folded over. It's like a quesadilla, but the bread is somewhat thicker.
Savory fillings include cheeses, meats, and vegetables, and sweet ones include Nutella or fruit preserves. If you're vegetarian, look for piadinas made with oil instead of the traditional lard.
For highly-rated piadinas in the city center, head to Profumo di Piadina "Laboratorio del Palato." It's located right next to the Piazza del Popolo. The line can get long at peak lunch time, so try yours at another time of day.
For a nice sit down meal, try Antica Trattoria al Gallo, about a 10-minute walk from Piazza del Popolo. We had lunch here and thought it was excellent. My husband and I both had pasta dishes. Mine was vegetarian.
Trattoria la Rustica comes highly recommended as well. It's about a 6-minute walk from Piazza del Popolo. This is a tiny restaurant. Show up when it opens for lunch to be assured of getting a table without a wait.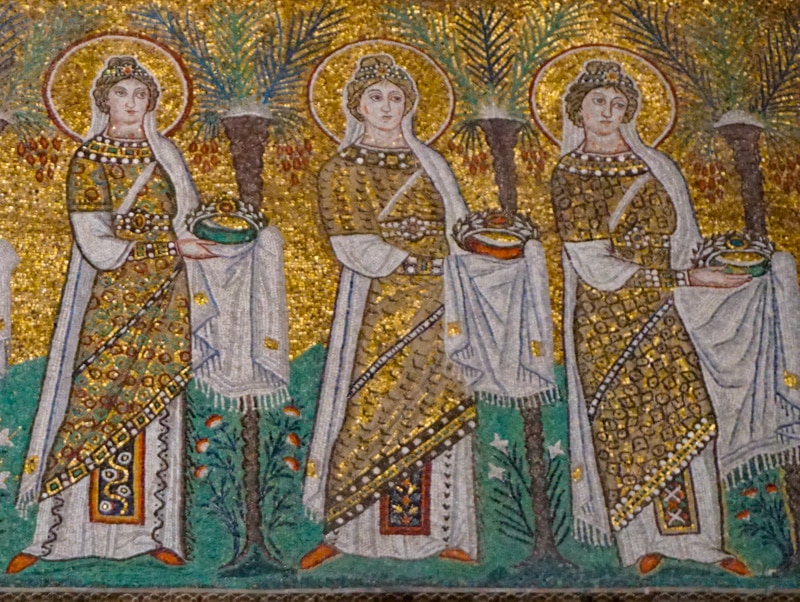 Where to stay in Ravenna
If you plan to spend a night or two in Ravenna, good for you! You'll be able to take your time with the mosaic sites. Plus you'll have time to enjoy the city, which I thought was relatively non-touristy.
Hotel Albergo Cappello is located in a palazzo in the city center, just a 5-minute walk from the Basilica di San Vitale. Rooms are gorgeous, with traditional furnishings and high ceilings. Beds are rated super comfy! Check prices and availability!
Also just 5 minutes from the Basilica di San Vitale, Santa Maria Foris is a lovely bed-and-breakfast that's also a fabulous value. There's a garden on the property, and the rooms are elegant, spacious, and stylish. Check prices and availability!
The best time to visit Ravenna
Popular sites in Italy are super crowded in the summer. Plus it gets really hot in the summer in Emilia Romagna. So, if possible, visit outside of peak summer months.
March-May and September-November are ideal months to visit Ravenna. Temperatures are pleasant, so walking around is a joy. But you're likely to run into school tour groups. Just bring a light jacket for cooler weather.
Winter is also a good time to visit Ravenna, even though it's cold. You'll be indoors most of the time you're in the city. Bundle up and enjoy having the monuments pretty much to yourself!
*****
So there you have it: my guide to visiting the Ravenna mosaics! Have you been to Ravenna? How did you like it? I would love to read your thoughts on this beautiful Italian city that's not on the tourist trail. Comment below to respond!
If you haven't yet visited Ravenna, I hope I have inspired you to place it on your itinerary for your next visit to Italy. Ravenna's mosaic art treasures are truly worth the time!
Did you know that Italy is home to many more UNESCO World Heritage sites? We have visited many of them, and hope to visit some more on our next trip to Italy!
MORE INFORMATION FOR YOUR TRIP TO ITALY
Italy Itinerary: The Perfect 3-Week Itinerary for your First Visit to Italy!
Florence: 10 Best Things to Do on Your First Visit to Florence
Venice: How to Spend Two Perfect Days in Venice
Campania: The 10 Best Day Trips from Sorrento
The Amalfi Coast: What You Must Not Miss on the Amalfi Coast Drive
Rome: 25 Fun Things to Do in Rome for First-Timers
Tuscany Itinerary: Experience the Best of Tuscany in One Week
Did you find this article informative? Pin it for later reference!