Boasting some of Montenegro's wildest and most beautiful scenery, Durmitor National Park definitely deserves a place on your Montenegro itinerary, especially if you love natural beauty. Read on to discover what to do on a day trip to Durmitor National Park from Kotor.
The only one of Montenegro's national parks to be accorded the designation of a UNESCO World Heritage site, Durmitor National Park really deserves a couple of days.
This is especially so if you want to do a reasonably long hike (one of the best things to do in the park), or if you wish to participate in adventure sports.
Some links on this page may be affiliate links. If you click an affiliate link and make a purchase, we may receive a small commission, at no extra cost to you. For more details, refer to our disclosure.
But if your time in Montenegro does not allow for 2 days to explore the northern part of the country, a day trip is the next best option.
While you will have a long day and a lot of it will unfortunately be spent in the car, Durmitor National Park is beautiful enough to warrant the effort: it is one of the best national parks in Europe.
On a day trip to Durmitor from Kotor, you will enjoy the stunning scenery, spend some time at beautiful Black Lake, and walk the Tara Canyon Bridge.
WHAT TO DO ON A DAY TRIP TO DURMITOR NATIONAL PARK
With 23 mountain peaks that are over 7,500 feet tall, and bounded by the Tara and the Piva rivers, Durmitor National Park is nestled in the picturesque Dinara Alps.
The Tara River Canyon is part of the park, and there are more than a dozen glacial lakes in the park. The park is also home to diverse flora and fauna.
The area has historical importance as well. A major World War II battle took place near Žabljak, and there are archaeological digs in the region. Durmitor was designated a National Park in 1952.
The easiest way to visit Durmitor National Park on a day trip from Kotor, if you do not have a car, is to book a guided tour.
So here are the best things to do on a day trip to Durmitor National Park!
#1 Visit the Ostrog Monastery
The Ostrog Monastery is not part of Durmitor National Park, but it was definitely worth the detour to us. When you look at the dazzling white Upper Monastery from the road below, it seems impossible that a building could indeed be built in that spot.
Located in the cliff face almost 3,000 feet from the valley floor, the Ostrog Monastery is dedicated to Saint Basil of Ostrog, who is believed to have performed several healing miracles. Make sure you look up when you pass through the gate: the inside of the arch is painted.
The site is of immense importance to Orthodox Christians in Montenegro, and over a million people visit the monastery each year. Some pilgrims even walk barefoot from the Lower Monastery to the main shrine at the top.
From the grounds of the Upper Monastery, you get spectacular panoramas of the valley below. You can see vendors selling shawls and other souvenirs at stalls on the grounds. Pilgrims buy shawls and other necessities for the monks in the monastery.
There are frescoes in the caved shrine, but it's fairly dark. If you are claustrophobic, you might find it close inside, especially if there are lots of other folks inside when you visit. Photos are not permitted inside.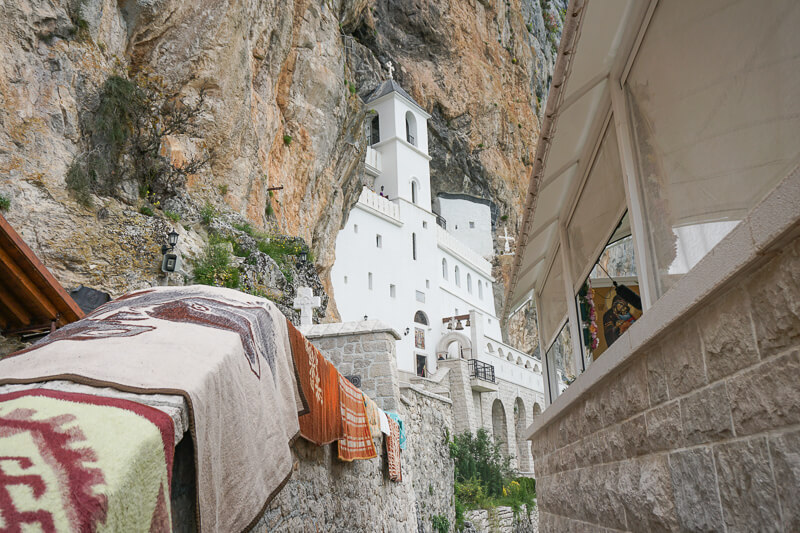 It's a steep climb from the parking lot to the Upper Monastery, with many many steep stone steps, or a long walk up the paved road. Tour buses go right up to the entrance though. There is also accessible parking at the top.
We started out with climbing the steps but switched to the road after a bit because it was less punishing on our knees. Plus we got to enjoy the views along the way.
You'll need to be appropriately attired to enter the shrine, with knees and shoulders covered.
#2 Take in the views at Durmitor National Park
Driving through the Durmitor National Park, you'll be awestruck by the breathtaking vistas all around you. With alpine meadows, many mountain peaks, and deep green forests, the landscape is both wild and dramatic.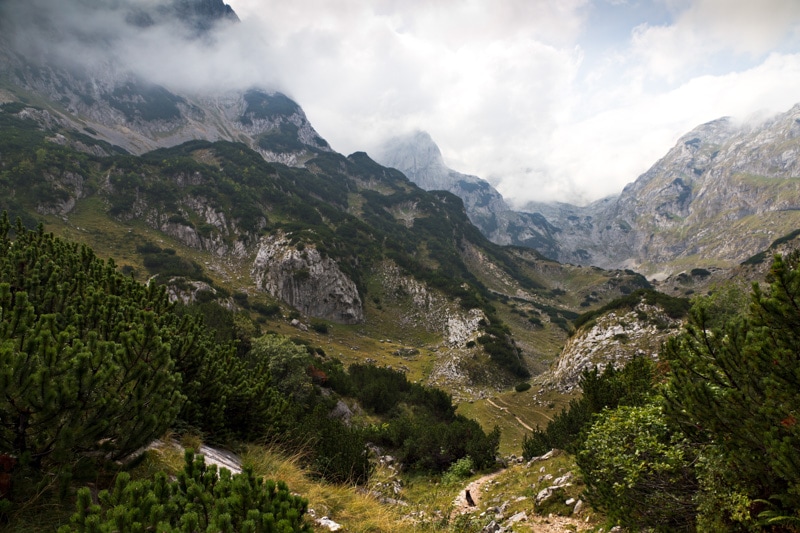 Bobotov Kuk is the tallest peak in the park. You can hike to the peak if you are an experienced hiker, but the shortest route is about 3 hours one way, so the hike unfortunately can't be attempted on a day trip.
#3 Take a walk at Black Lake
On a day trip to Durmitor National Park, Black Lake (Crno Jezero) is the ideal place to stop and stretch your legs. Considered the most beautiful alpine lake in the country, Black Lake is one of the most visited attractions in Montenegro.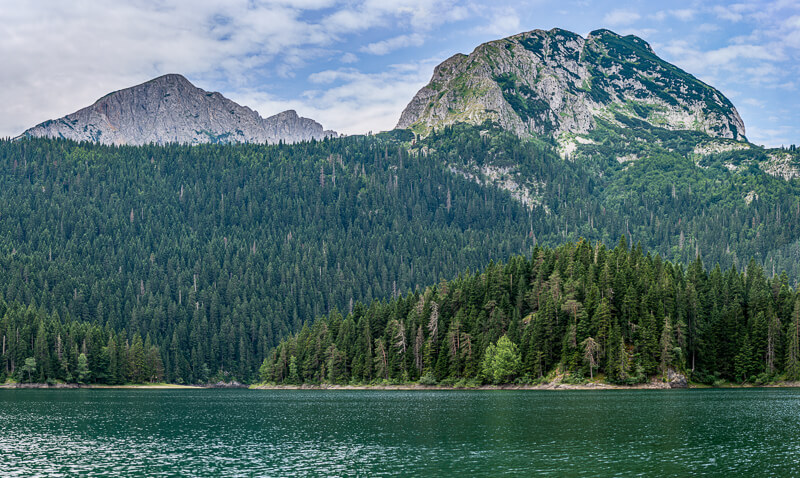 The dark brooding waters that give the Black Lake its name are created by the shadow of the mighty Meded Peak. Beautiful pine forests edge the lake, and are reflected beautifully in the waters when the light is right. We didn't have perfect photo conditions on the day of our trip, sadly.
A pathway goes around the entire lake, and is about 2 miles in length. We walked a little bit along the path, but it was quite wet and muddy when we visited and we had to turn back because our shoes were not waterproof.
In the summer, you can swim in the crystal clear waters, or take a boat out on to the water. There are benches from which to drink in the view, if you visit on a nice weather day!
Even the pathway from the parking lot to the water is picturesque, lined as it is with a mysterious dark pine forest along one side. As we walked back to our car after our visit, we saw a couple of other visitors heading off into the trees to explore!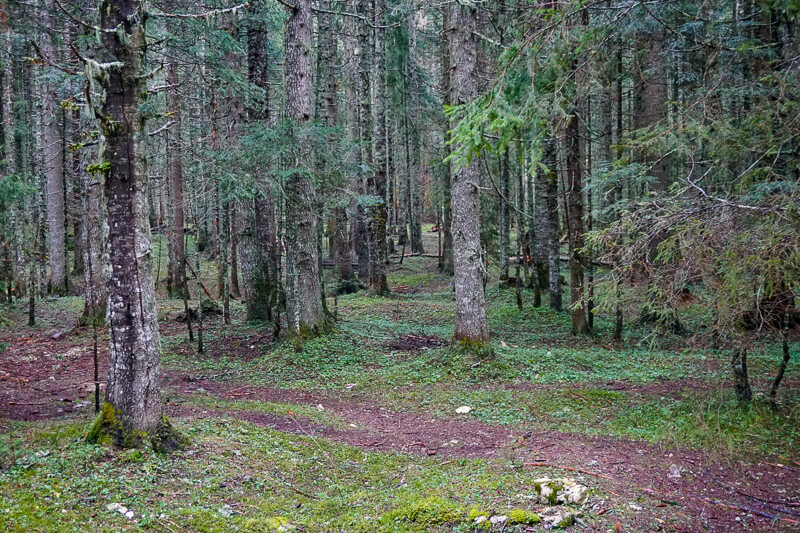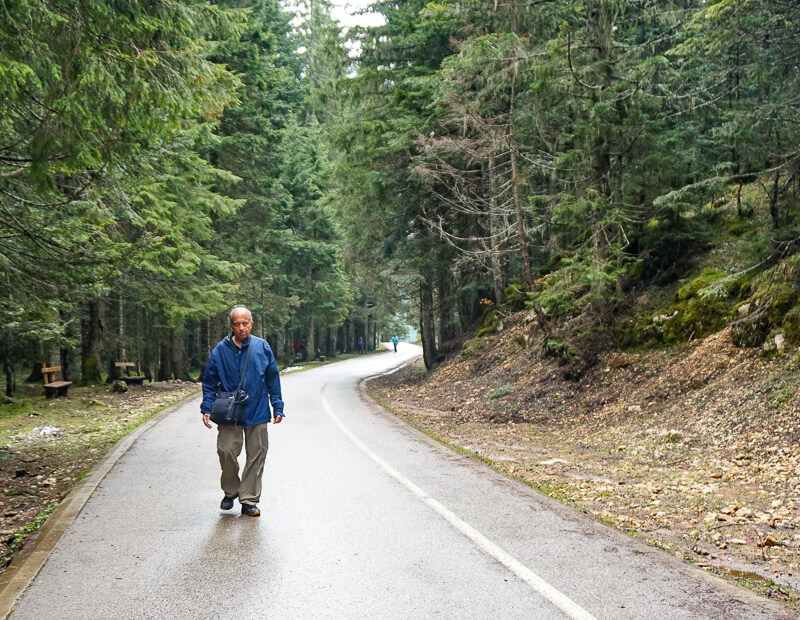 #4 Eat lunch at the Katun Restaurant
You can eat in the town of Žabljak, of course, but our driver recommended the Katun Restaurant on the shore of Black Lake, and we were glad we took his advice! The food was delicious: some of the best we had in Montenegro.
I had an assortment of grilled vegetables and Swiss chard with potatoes, and my husband had meat and potatoes. We were both very impressed with our meals.
It was a little cold and drizzly when we visited in mid May, and there was a blazing fire inside the restaurant, which made us feel very welcome. I noticed they have a large patio right over the lake. That patio would be a lovely place to have lunch in the summer!
#5 Walk the Tara Canyon Bridge
Walking the Tara Canyon Bridge is a must-do when you are in Durmitor National Park. The Durdevića Tara Bridge is an amazing arched bridge that spans one of the deepest gorges in the world. At its deepest, the canyon is about 4,300 feet deep!
The beautiful concrete bridge was built between 1937 and 1940. With five arches, the bridge is close to 1,200 feet long. The bridge is open to vehicular traffic, but raised sidewalks on both sides make it possible to safely walk it from one end to the other and back.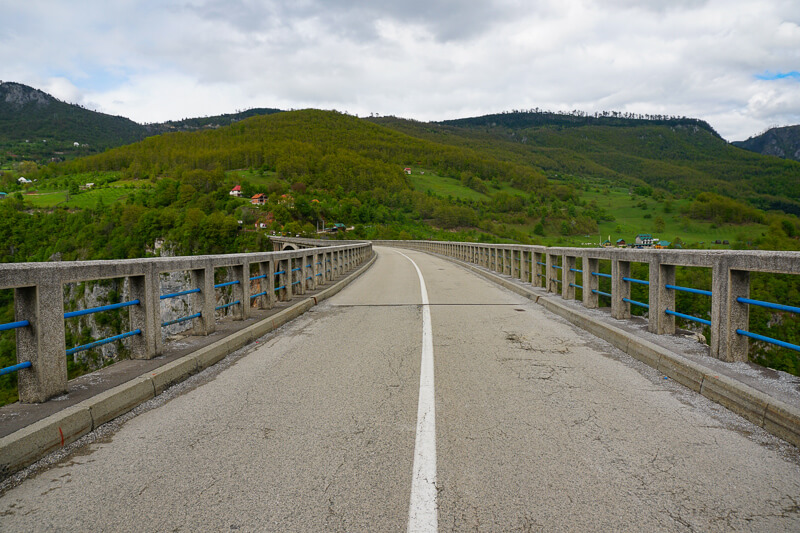 The sides of the canyon are clothed in brilliant green forests. You can see the river streak like a blue thread far below you. The Tara River Bridge and the Tara Canyon are among the most photogenic places we saw in Montenegro.
During World War II, the area came under the occupation of Italy. Yugoslav partisans blew up the bridge with the help of Lazar Jauković, one of the engineers that had helped construct the bridge. But sadly, the Italians captured Jauković and executed him.
The bridge was rebuilt after the war and today it is one of Montenegro's most popular tourist attractions. If you enjoy adventure sports, you can zipline over the Tara Canyon or go river rafting along the Tara River.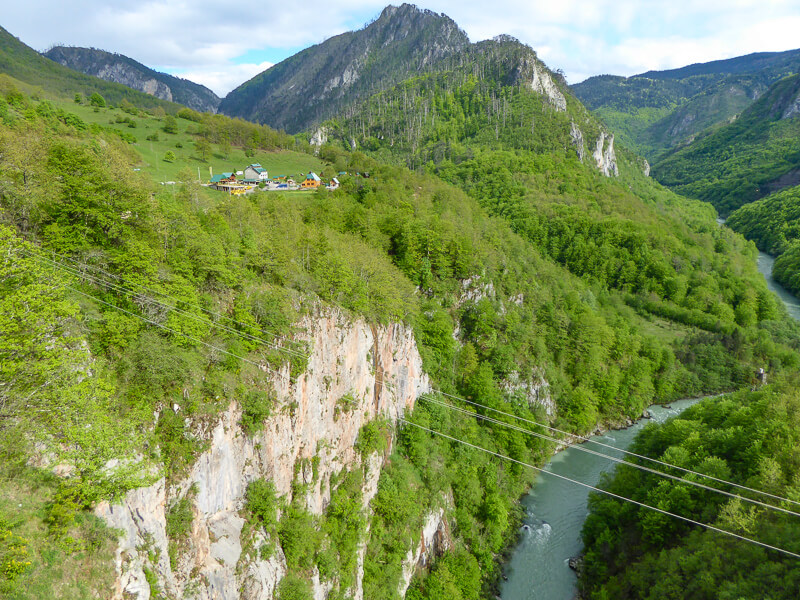 After your walk, stop by the vendor stalls at the end of the bridge and pick up some honey infused with dried fruit and nuts, a local specialty!
#6 Drive back via the Kotor Serpentine
If you visit when daylight hours are long, and you are an experienced mountain driver, you may want to consider driving back to Kotor via the switchback road that includes the Kotor Serpentine.
The views over the Bay of Kotor and beyond to Croatia and the Adriatic Sea are indescribably gorgeous any time of day. But if you drive it at sunset, it's even more special.
If you prefer navigating the winding narrow road during the day, you could use this route to head to the Ostrog Monastery in the morning. If you start early enough (which you should, since it's a long day), you will not encounter much traffic.
We had hired a car and driver for the day trip to Durmitor National Park from Kotor, and when the driver asked us if we would like to return via the switchback road, which we had previously driven during the day, we jumped at it.
It started turning dark just as we started down the road, and lights had begun coming on in the towns around the Bay of Kotor. It looked like the bay was wearing a necklace of sparkling diamonds. An absolutely divine sight!
Tips for your day trip to Durmitor National Park
We like our trips to be an eclectic mix of soft adventure, natural beauty, and culture and history, so the itinerary detailed above worked perfectly for us.
We did two walks during the day, neither of which was too long or too taxing, and the climb up the hill at Ostrog Monastery.
If your preference is to focus on Durmitor National Park, and you are traveling independently, you may wish to skip the Ostrog Monastery.
Beautiful as it is, it does take up a good three hours, especially if you have to climb to the Upper Monastery. That will free up some time if you wish to do ziplining at the Tara Canyon Bridge, or go boating at Black Lake, or even squeeze in a short hike.
If you wish to go river rafting on the Tara River, you should pick a tour that will take you to the starting point of the activity.

Check out this highly rated full day river rafting tour from Kotor.
Start as early as you can, if you are planning to travel on your own. The drive is long and starting early will allow you to take your time at each stop.
Getting from Kotor to Durmitor National Park
By Car
You can, of course, do the trip independently if you have a car. Although the roads are narrow and sometimes winding, they were in good condition when we visited. Speed limits are low, so the journey takes a while.
Looking for a car rental for your Montenegro trip? Consider Discover Cars: they have provided the best deals for us on our Europe car rentals.
By Guided Tour
If you don't have a car, or do not wish to drive, a guided tour is a great option. Check out this highly rated tour that takes you to Black Lake, Tara Canyon Bridge, and the Ostrog Monastery. It is a long day though, at 13 hours.
Book a guided tour of Durmitor and Tara Canyon from Kotor now!
We hired a car and driver for the day, so that my husband and I could both view the scenery and take photos when we wished.
By bus
In theory, you can take the morning bus from Kotor to Žabljak, the town closest to the park, and then take the evening bus back to Kotor.
But this option will leave you with just a few hours in the park, not enough to do anything much other than perhaps a visit to Black Lake and lunch. Plus, it will be a brutally long day, much of it spent in the bus.
If you plan to travel by bus, spending a night in Žabljak would be worthwhile, so you have enough time to explore. Check bus schedules close to your planned date of visit to confirm timings.
There is a local bus that connects Žabljak with the Tara Canyon Bridge. And the entrance to Durmitor National Park (and Black Lake) is about a 30-minute walk from Žabljak.
*****
Planning a trip to Montenegro? It is a gorgeous country! Check out my suggestions for things to do in Montenegro, things you absolutely must not miss when you visit! And Kotor makes for a fabulous base from which to explore most of the country. Of course, there are many unmissable things to do in Kotor as well.
Three other fabulous day trips from Kotor to add to your Montenegro itinerary: a visit to the little town of Perast (its little island church is one of Montenegro's most visited attractions), a stroll through Old Town Budva, and a fabulous day trip to Mount Lovcen National Park and Lake Skadar National Park.
And finally, if you are looking for accommodation in Kotor, I recommend staying in the atmospheric Old Town, so you can enjoy it in the early mornings and late evenings.
We stayed in Hotel Villa Duomo, which is just a 5-minute walk from the town main gate. Our room was super spacious, and featured exposed stone walls and traditional furnishings.
Read reviews on TripAdvisor | Book a room here
MORE INFORMATION FOR YOUR TRIP TO MONTENEGRO
Things to Do: 25 Exciting Things to Do in Montenegro
Old Town Kotor: 15 Fun Things to Do in Kotor
Perast: Visiting Perast on a Day Trip from Kotor
Mount Lovcen and Lake Skadar: What to Do on a Day Trip to Mount Lovcen and Lake Skadar
Budva: Things to Do in Budva on a Day Trip from Kotor
VISITING NEARBY COUNTRIES?
Lake Bled, Slovenia: 10 Fun Things to Do in Lake Bled
Zadar, Croatia: What to Do in Zadar in One Day
Zagreb, Croatia: The Best Things to Do in Zagreb
Ljubljana, Slovenia: The Ultimate Guide to Ljubljana
Piran, Slovenia: 10 Fun Things to Do in Piran
Did you find this article informative? Pin it for later reference!