Considering a visit to Newport, Rhode Island? You'll find plenty of exciting things to do in Newport, from enjoying outdoor adventures to exploring historic homes.
Whether you are a history or architecture buff or you enjoy beautiful gardens, you'll find the Gilded Age mansions of Newport captivating. Outdoor enthusiasts will want to hike, fly a kite, or explore a wildlife preserve. Beaches beckon in the summer.
Rhode Island's City by the Sea is located on Aquidneck Island, about 30 miles south of the capital, Providence. Newport is one of the best places to visit in New England.
Some links on this page may be affiliate links. If you click an affiliate link and make a purchase, we may receive a small commission, at no extra cost to you. For more details, refer to our disclosure.
Other than the many attractions and activities in Newport, you'll find great food, wine tasting, and brews. Newport is also home to three must-enjoy music festivals.
Ready to get started discovering the best things to do in Newport? Let's go!
IN THIS ARTICLE…
Things to Do in Newport
Getting to Newport, RI
Where to Stay in Newport, Rhode Island
The Best Time to Visit Newport
THINGS TO DO IN NEWPORT
ENJOY THE VIEWS FROM CLIFF WALK
Stretching for 3.5 scenic miles along Newport's eastern shore, Cliff Walk is an iconic coastal trail.
The walk, designated a National Recreation Trail, starts at the west end of Easton's Beach at Memorial Boulevard, and ends at Bellevue Avenue.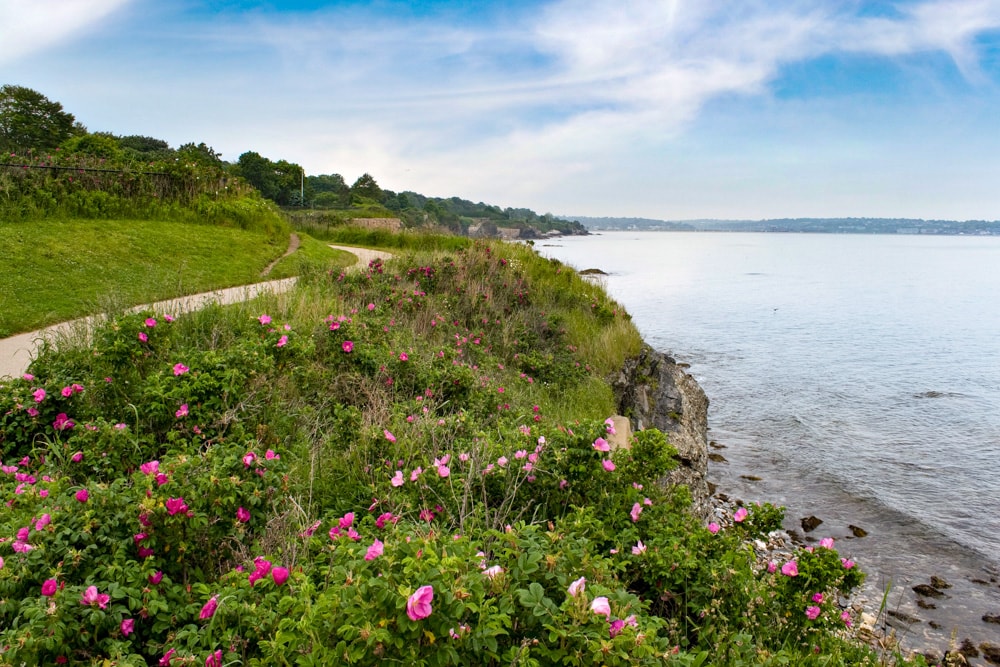 On a nice weather day, enjoying the expansive ocean views from Cliff Walk is one of the best things to do in Newport.
On one side, you'll see the ocean and crashing waves, and on the other, the famous Gilded Age mansions of Newport.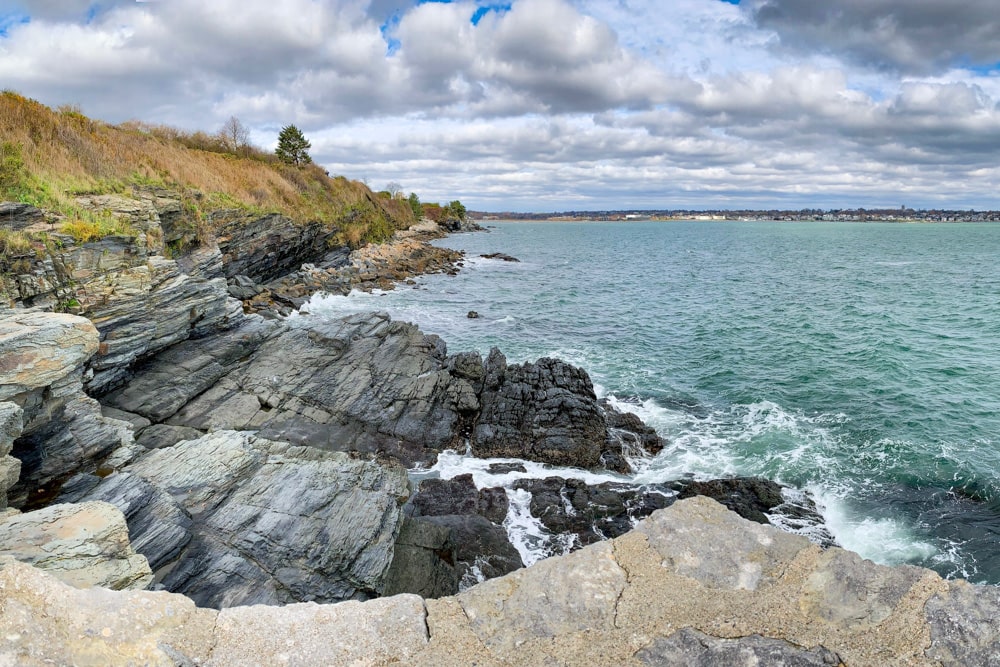 Bring your camera or a fully-charged smartphone: you'll want to take loads of photos as you walk!
While quite a bit of the trail is easy, there are sections in the southern part where the trail gets rough and some scrambling over rocks may be required.
If you want an easy scenic stroll, do the section between Memorial Boulevard and Forty Steps, or to Ruggles Avenue if you are comfortable with sets of steps.
The trail runs very close to the edge in places, with steep drops. Watch your footing, and keep young children close.
Cliff Walk is free, and leashed pets are permitted on the trail.
TAKE IN THE VIEWS ALONG OCEAN DRIVE
A ten-mile stretch of scenic coastal road in Newport, Ocean Drive is a must-do with windows down on a good weather day!
Start in downtown Newport at Thames and Wellington, and drive along the coast, with the ocean on your right for magnificent views.
You'll pass by Fort Adams State Park and Brenton Point State Park, two beautiful parks that we'll talk more about later in this article.
There are ample places to park along the drive if you want to get down to snap photos and take in the views at leisure.
Gooseberry Beach is a nice spot if you want to dip your toes in the water or walk along the sand for a bit.
Finish the drive by going up Bellevue Avenue, where you will find Newport's Gilded Age mansions.
Sunrise and sunset are especially beautiful times to do the Ten-Mile Drive.
BE AWED BY THE NEWPORT MANSIONS
Undoubtedly one of the top things to do in Newport is to tour some of the Gilded Age mansions for which the city is renowned.
The Gilded Age is an era in US history, roughly from 1870 to 1900. During this time, some of America's richest families built opulent mansions in different parts of the country.
Many such mansions were built in Newport. Some of these homes, carefully preserved, are open to the public for tours. Individual or combination tickets can be purchased online.
Depending on the time you have in Newport, here are some Newport mansions to put on your must-tour list:
THE BREAKERS
The Breakers is arguably the most popular Gilded Age mansion in Newport.
Built by Cornelius Vanderbilt II, The Breakers is designed to resemble an Italian palazzo. The mansion features ocean views and very ornate interiors.
From the chandeliers in the dining room, made with Baccarat crystal, to the tile mosaics crafted by European artisans, the fixtures and furnishings will leave you gaping in awe.
The house and grounds are open daily from 10 a.m. until 5 p.m. Tickets can be purchased online.
Want to combine a tour of Ocean Drive with admission to The Breakers? Check out this super popular trolley tour that takes you past more than 150 points of interest in Newport, with commentary.
THE ELMS
The Elms also features lavish interiors. Of special interest are the collections of Renaissance ceramics, 18th century French and Venetian paintings, and Oriental jades.
The gardens are gorgeous. They include marble pavilions and beautiful fountains, terraces with sculptures, and a carriage house.
The house and grounds are open daily from 10 a.m. until 5 p.m. Tickets can be purchased online.
ROSECLIFF
Built as a summer home for Theresa Fair Oelrichs, a silver heiress from Nevada, Rosecliff is fashioned after the Grand Trianon, a palace in Versailles, France.
The home includes a magnificent ballroom that has been featured in many movies, including The Great Gatsby.
Rosecliff is open daily from 10 a.m. until 3 p.m. Buy tickets online.
MARBLE HOUSE
Marble House was built by William K. Vanderbilt, the younger brother of Cornelius Vanderbilt of The Breakers. It was inspired by the Petit Trainon at Versailles.
The home features extravagant interiors and several hundred thousand cubic feet of marble.
After the death of William Vanderbilt, his wife Alva had a Chinese Tea House built on cliffs on the property overlooking the sea.
Marble House is open daily for tours, from 10 a.m. until 5 p.m.
CHATEAU-SUR-MER
Until the Vanderbilts built their palatial summer homes, Chateau-sur-Mer was the grandest of the Newport mansions.
Built to resemble an Italian villa in 1852, the home was remodeled in the 1870s in the Second Empire French style.
Check hours of operation and buy tickets online.
DO A FOOD TOUR!
We love walking tours and food tours, and this popular tour combines tastings at local eateries with knowledgeable commentary on Newport's history and architecture.
You'll visit some Newport historical sights, such as Old Colony House, Great Friends Meeting House, and the Jane Pickens Theater.
The tour lasts a little over 3 hours and you'll want to come hungry!
EXPLORE FORT ADAMS STATE PARK
Fort Adams State Park sits at the entrance to Newport Harbor and is known for hosting the Newport Folk Festival and the Newport Jazz Festival, two very popular Newport events.
Historic Fort Adams was built between 1825 and 1838. It was active on and off until it was deeded to the state in 1965.
Take a guided tour of the fort for a much enhanced experience. Tours are offered hourly every day between 10 a.m. and 4 p.m. You'll visit many areas of the fort, from the top of the walls to the underground tunnels.
The guided tours last about 75 minutes and you can wander around on your own after the tour to take photos if you wish.
Be sure to walk the Fort Adams Bay Walk, a 2.5 mile trail that loops around the perimeter of the park. You will get stunning views of Newport Harbor, Newport Bridge, and Narragansett Bay as you walk. Sunset is a lovely time to do the walk.
Other popular activities in the park include boating, fishing, sports such as soccer and rugby, and saltwater swimming. There are boat launches and public sailing docks here. Bring a picnic to enjoy in the park if you plan to spend a few hours here.
Fort Adams State Park is open from sunrise to sunset. There is plenty of parking at the main entrance. Dogs on leash are permitted.
At the time of writing, adult admission costs $7.00 per person.
VISIT BRENTON POINT STATE PARK
Just about a 10-minute drive south of Fort Adams State Park is another beautiful state park to visit when you are in Newport: Brenton Point State Park.
Located where the Narragansett Bay meets the Atlantic Ocean, Brenton Point offers sweeping water views. You'll find the Portuguese Discovery Monument, a tribute to navigators, here.
It's incredibly windy here, and a popular place to fly kites. You may find a truck selling kites if you want to try it, but it's as much fun watching!
There are benches to sit and enjoy the views. Bring a picnic meal and spend a couple of hours being mesmerized by the surf breaking over the rocks. If you enjoy birding, bring your binoculars.
The park is a great place to enjoy sunset.
Brenton Point State Park is open between sunrise and sunset, and free to enter. Leashed dogs are allowed.
TOUR THE NATIONAL MUSEUM OF AMERICAN ILLUSTRATION
The National Museum of American Illustration is a must-visit in Newport, not only for its collections but also for the building in which it is housed, and the grounds.
Vernon Court, modeled after a French chateau from the 18th century, is a Gilded Age mansion built in 1898. It is considered one of the most impressive mansions in the country.
The grounds of the adjoining mansion, Stoneacre (the mansion was demolished in the 1960s), were designed by Frederick Law Olmsted, a famous New England landscape architect. The park and arboretum are part of the complex.
The museum's collection includes masterpieces of American illustration, with works by Maxfield Parrish, Norman Rockwell, Howard Pyle, and N. C. Wyeth among others. More than 150 artists are represented in the American Imagists Collection.
The museum exhibits 125-150 works at any given time, in Vernon Court.
There is parking available at the museum. General adult admission at the time of writing is $20.00.
At the time of writing, the National Museum of American Illustration is closed for renovations. Check the museum website for current hours of operation.
VISIT ROUGH POINT MUSEUM
One of Newport's Gilded Age Mansions, Rough Point is now open to the public as a museum. The summer home of heiress and philanthropist Doris Duke, Rough Point is built in English manor style.
Rough Point features gorgeous ocean views, and looks a lot like it did when the Dukes lived in the home. Ms. Duke was an avid collector of art, and collections include Flemish tapestries, ceramics from China, and 18th century decorative art objects.
The grounds and gardens are worth strolling as well. Walk the formal gardens and the kitchen garden, admire the green expanse of lawn, and snap a photo of the Cliff Walk Bridge.
You can visit the house and gardens on a self-guided tour. Docents are available to answer questions.
Rough Point Museum is open Tuesdays through Sundays, from 10 a.m. until 5 p.m. General adult admission at the time of writing is $20.00.
ADMIRE THE TOURO SYNAGOGUE
If you enjoy history and culture, visiting the Touro Synagogue National Historic Site is one of the best things to do in Newport. Built in 1763, it is the oldest synagogue in the USA.
The earliest Jewish immigrants arrived in Newport in the second half of the 17th century. They formed the Congregation Nephuse Israel, later known as the Congregation Jeshuat Israel.
Construction of the synagogue started in 1759. It has a beautiful exterior, inspired by Palladian architecture.
Your guided tour through the synagogue includes a history presentation and interactive exhibits. You can also wander the gorgeous grounds.
Tours are generally offered Sundays, Mondays, Tuesdays, Thursdays, and Fridays. Tours begin every 45 minutes, starting at 10:00 a.m., with the last tour starting at 2:30 p.m.
General adult admission at the time of writing is $14.00.
The synagogue also offers hour-long Colonial Jewish walking tours, which takes you through the Touro neighborhood. Reservations are required, and the tour is $15.00, or $10.00 with a tour of the synagogue.
SNAP A PHOTO OF TRINITY CHURCH
Historic Trinity Church is located on Queen Anne Square. The church was founded all the way back in 1698, and the building was completed in 1726.
Early settlers in the area had moved here to get away from the Church of England, but by the end of the 17th century, there were enough Anglicans to form the congregation and the church was born.
The graceful spire of the church soars up into the sky, making for a classic New England photo. Stop by to admire the beautiful building and snap a few photos!
TOUR OTHER HISTORIC HOMES IN NEWPORT
Newport is a treasure chest for history and architecture lovers. Here are some other historic homes to add to your itinerary for the city!
Hunter House is a great example of Georgian Colonial architecture. While the northern half of the home was built between 1748 and 1754, the southern part and an additional chimney was added later to make it a Georgian mansion.
Hunter House is a National Historic Landmark, with its interior restored to the second half of the 18th century.
Kingscote is an ornamental cottage built in the Gothic Revival style. The interior contains much fine detail, and Kingscote is a National Historic Landmark.
The Samuel Whitehorne House, now open to the public as a museum, is a Federal style mansion. The home, with its brick exterior, was built in 1811. it houses an impressive collection of early American furniture.
WALK THAMES STREET
The heart of Newport's lively downtown, Thames Street is a must stroll. It is the main thoroughfare that runs parallel to the water, and it is several blocks long.
Thames Street offers many boutiques if you enjoy shopping, and numerous restaurants and pubs.
Love shopping? You'll be spoiled for choice on Thames Street, with many boutiques, specialty shops, gift stores, and galleries.
If you have a sweet tooth, definitely plan on stopping at The Newport Fudgery! Lots of flavors of fudge, and it's fresh: you can see them make it! Try the triple chocolate: it's decadent!
Public parking is available, both free and in paid lots.
ENJOY THE WATERFRONT AT BOWEN'S WHARF
Lively Bowen's Wharf is a must-visit waterfront destination in Newport, with the marina, eateries, shops and galleries, and fun things to do. You'll find fun events to attend through the year.
From oysters and chowder to Mexican cuisine, Southern comfort food, and crepes, you'll find a wide variety of dining options at Bowen's Wharf.
Stop for ice cream at Sprinkles or warm cinnamon buns at The Cookie Jar.
Shop the stores and galleries: from apparel boutiques to fine art, you'll love browsing the stores at Bowen's Wharf!
ENJOY BEACH TIME
If you visit Newport in the warmer months of the year, set aside some time to enjoy the beaches!
Easton's Beach, also known as First Beach, is the largest beach in Newport, and the most popular. It's located on Memorial Drive, at the start of Cliff Walk.
The stretch of sand in 0.75 mile long, and there's a boardwalk.
Lifeguards are on duty here during the summer, and you'll find restrooms, showers, and lockers. There are picnic tables if you want to bring a meal, and concession stands.
The Fort Adams Beach is small, but it's great for saltwater swimming. There are showers and restrooms, and plenty of parking.
GO SAILING OR BOATING
Newport is famous as a sailing venue. A fleet of America's Cup l2 Meters are available here for private charters and ticketed sails. You can join the action (no prior experience needed!) or just enjoy the experience!
Cruising is another way to enjoy the water. Cruises generally take you around Newport Harbor or Lower Narragansett Bay. It's a relaxing way to enjoy the breezes on a nice weather day!
This highly-rated and super popular cruise is aboard an open-air, restored lobster boat. You'll enjoy a 90-minute narrated tour of the harbor and the bay. Pick from a morning mimosa or afternoon sightseeing cruise.
ADMIRE CASTLE HILL LIGHTHOUSE
No matter where you go along the coast of New England, you will find some picturesque lighthouses to admire. And so is the case with Newport, where you will want to snap photos of the charming Castle Hill Lighthouse.
The lighthouse is a granite tower that stands thirty-four feet tall, and it was first brought into operation in 1890. It has since guided ships through Narragansett Bay, and even had a fog bell at one time.
Castle Hill Lighthouse is listed in the National Register of Historic Places.
The lighthouse is especially picturesque at sunset. You cannot visit the lighthouse itself, but you can visit the grounds. Park at the Castle Hill Cove Marina and follow the signposted path to the lighthouse.
Or you can visit Castle Hill Inn, and walk the paths through the grounds to get up close views.
VISIT THE NEWPORT ART MUSEUM
Housed in the John N.A. Griswold House and the Cushing Gallery, the Newport Art Museum focuses on American art and contemporary art, in particular the art and artists of Rhode Island.
The Griswold House is a fine example of American Stick Style architecture, set amidst tranquil grounds. The architecture and details of this fine home were as interesting to us as the art! The Cushing Gallery is right next door.
The museum is small. It has a permanent collection of about 3,000 works of art (and it's growing!), and the galleries showcase a selection from the collection at any given time. Temporary exhibitions are also offered.
You can admire art in a variety of mediums here, from paintings to prints, drawings, stained glass, sculptures, and textiles. Look for works by Warhol, Whistler, Chihuly, and many more artists.
The Newport Art Museum is open Tuesdays through Saturdays from 10 a.m. until 5 p.m. and Sundays from noon until 5 p.m. There is parking in the front. General adult admission is $15.00.
EXPLORE SACHUEST POINT NATIONAL WILDLIFE REFUGE
Less than five miles from Newport you will find Sachuest Point National Wildlife Refuge, a must-visit if you love nature walking and the outdoors, or you enjoy birdwatching.
The refuge is an important stopping and wintering area for many migratory birds, from harlequin ducks to loons and gannets. several dozen species can be spotted here, depending on time of year.
The refuge features several types of habitats, with over three miles of walking trails. The gravel trail is a wonderful walk from spring until fall, with views of the ocean, and wildflowers in season. Also look for deer, rabbits, and coyotes.
Sachuest Point National Wildlife Refuge is open from sunrise to sunset everyday. Dogs are not allowed.
BROWSE THE MUSEUM OF NEWPORT HISTORY
The Museum of Newport History is housed in the historic Brick Market building, built in 1762. The museum showcases the area's rich history and fabulous architecture.
One of the exhibits you'll find in the museum is James Franklin's printing press. Franklin published the New England Courant, a weekly newspaper that came out from 1721 until 1726.
The museum's collections include furniture, photos, paintings, and objects of daily living. At any time, a percentage of the collection is on view.
The videos are informative, and there is a nice kids' area. The gift shop is well worth browsing!
The museum is open daily from 10 a.m. until 4 p.m. A donation of $5.00 per person is suggested.
GETTING TO NEWPORT, RHODE ISLAND
Newport is served by a statewide airport (Rhode Island T.F. Green International Airport / PVD) and a regional airport (Newport State Airport).
If you're flying in, Rhode Island T.F. Green International Airport / PVD, the closest international airport, is about a 40-minute drive from Newport.
You'll find direct flights from many major US cities to T.F. Green International Airport, and car rentals are available at the airport as well.
Newport is within reasonable driving distance of many major cities in the Northeast, including Boston, Hartford, New Haven, and even New York.
With a drive of just about 1.5 hours, Newport is one of the easiest and best weekend getaways from Boston.
If you are planning a New England road trip, be sure to put Newport, Rhode Island, on your itinerary!
Looking for a rental car for your Newport trip? Check out Discover Cars: they search across a wide range of local car rental companies for availability for your dates, and you can compare prices, reviews, and other details to make the best choice.
WHERE TO STAY IN NEWPORT, RI
HOTELS IN NEWPORT, RHODE ISLAND: LUXURY
The Chanler is the only Newport hotel located on the renowned Cliff Walk. It is a historic New England hotel, with gorgeous gardens and spectacular ocean views.
The hotel offers 20 beautifully-furnished rooms, each depicting a historical period or decor theme. The location is close to shopping and dining.
HOTELS IN NEWPORT: MID-RANGE
Beech Tree Inn and Cottage is housed in a historic 1880s building. Rooms are bright and well-appointed, with air-conditioning and private baths.
The inn is located in a quiet historic neighborhood, walking distance to the town center. Parking is free. Breakfast is very highly rated.
HOTELS IN NEWPORT: BUDGET
Melville House offers value and convenience for your Newport stay. The bed and breakfast offers air-conditioned rooms, with free parking and wifi.
The B&B is located convenient to shopping and dining, as well as major attractions like the Cliff Walk.
THE BEST TIME TO VISIT NEWPORT, RHODE ISLAND
Spring (shoulder months of March – May) and fall (September – November) are ideal times to visit Newport.
In late spring and early fall, with daytime highs in the 60s and low 70s and not much rain, you'll find the weather perfect for exploring outdoors. Plus, gardens at Newport mansions are likely to be in bloom at this time.
Summer offers great weather and swimming at area beaches, but expect crowds and high prices on accommodations, since Newport is an extremely popular summer New England getaway.
More New England Travel Inspiration
Planning a trip to New England? Also check out our article on the best things to do in Stowe, Vermont!
We also have a round-up of the best places to visit in New England, from vibrant Boston and Portland to charming little towns and natural areas like Acadia National Park, and a guide to the best places to go in Vermont.
Looking for more travel inspiration for the US East Coast? Check out our article on the best East Coast weekend getaways, from big cities like Miami to smaller charmers like Savannah and Charleston!
And if you are looking to do a road trip, we have an article on the best East Coast road trips you can take, from the Blue Ridge Parkway to New England in the fall.
Did you find this article informative? Pin it for later reference!