A day trip from Jasper to Mount Robson Provincial Park should definitely be on your Canadian Rockies trip itinerary!
Just about 54 miles from Jasper Township, the beautiful provincial park is part of the Canadian Rockies UNESCO World Heritage site. Yes, it's that gorgeous!
Read on to discover what to see and do in one day in Mt. Robson Provincial Park.
Mount Robson Provincial Park is located in British Columbia, and its major attraction is majestic Mt. Robson. At 12,972 feet, Mount Robson is the tallest peak in the Canadian Rockies. But it's not just its height that makes it such a picture-postcard sight.
The Texquakallt, early inhabitants of the region, called it Yuh-hai-has-kun, which translates to "The Mountain of the Spiral Road," because of the rings that run around the face of the mountain.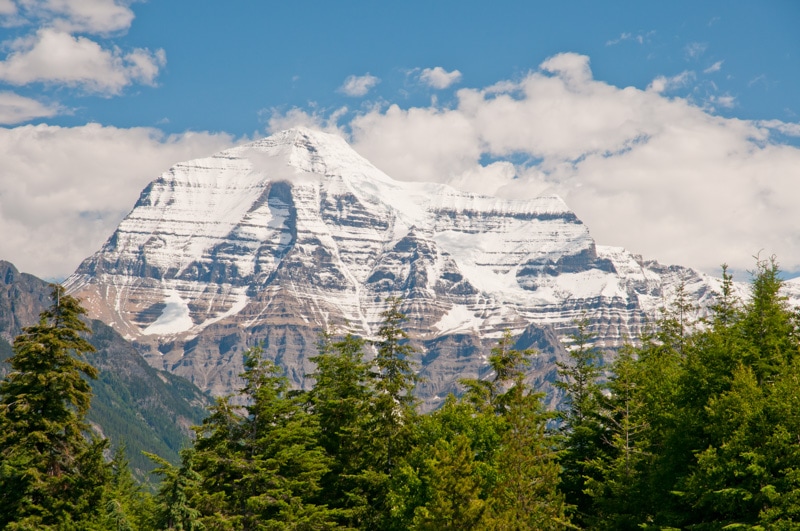 Some links on this page may be affiliate links. If you click an affiliate link and make a purchase, we may receive a small commission, at no extra cost to you. For more details, refer to our disclosure.
You should visit just to gape at this picturesque peak, but the park (and the route) offer a lot more, making it very worthwhile to do a full-day excursion to Mt. Robson Provincial Park from Jasper.
WHAT TO DO ON A DAY TRIP FROM JASPER TO MoUNT ROBSON PROVINCIAL PARK
Protecting the headwaters of the Fraser River, Mount Robson Provincial Park encompasses some of the most stunning scenery you will find anywhere.
Starting with Mount Robson, the "giant among giants," the grandeur of the mountains here is breathtaking. Just driving along the highway is a fabulous experience, with beautiful vistas opening up on either side as you travel.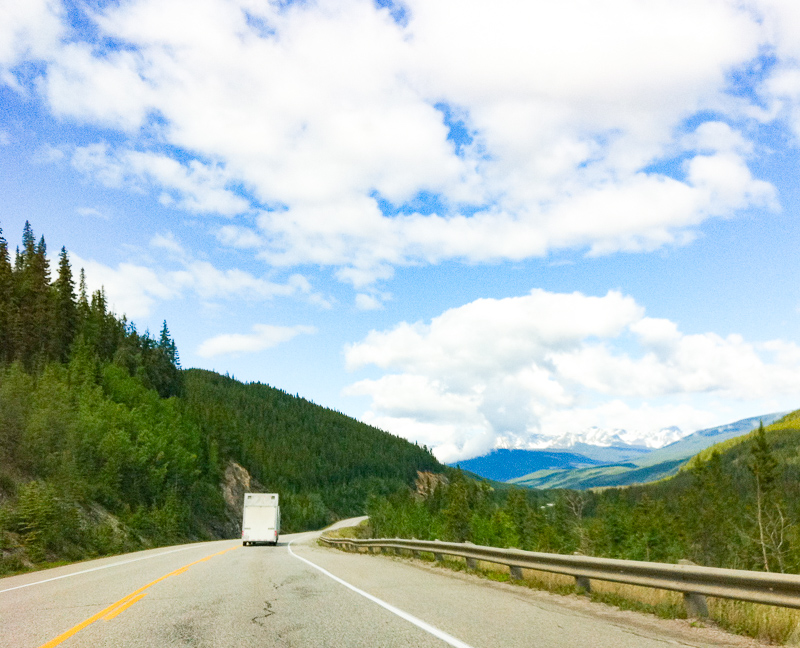 While there are tons of things to do in Jasper National Park, it's worth considering this day trip if you have more than a couple of days in Jasper, especially if you visit in the early summer, when wildflowers are in bloom in the Rockies.
Here, then, are the best things to do on a day trip from Jasper to Mount Robson Provincial Park and the Mount Robson Corridor:
#1 Take in the views at Yellowhead Pass Historic Site
Your first stop on scenic Highway 16, also called the Yellowhead Highway, is the Yellowhead Pass Historic Site, located just under 6 miles west of Jasper.
The Yellowhead Pass is one of the lowest elevation corridors across the Continental Divide in Canada. It stretches from Jasper National park in Alberta on the east to Mount Robson Provincial Park in British Columbia on the west. Both the railway and the road run along this beautiful stretch of country.
Yellowhead Pass was designated a national historic site in 1971, and you can view the commemorative plaque at the pullout. From here you have great views of the surrounding mountains and forests. A wonderful place to make a quick stop and take some photos!
#2 Relax at Moose Lake
Moose Lake is a really long lake that is right off the highway. It seems to go on forever. The lake is formed by the mighty Fraser River, which enters the lake at one end and flows out the other!
On the day we visited, Moose Lake did not have the surreal turquoise color we had come to expect from Canada's alpine lakes, but it still looked gorgeous.
The rail tracks run along the lake, as does the highway, and if you happen to be there when a train is passing, you can get some lovely photos of the water, the road, and the railway, all disappearing into the horizon.
Look for the pullout where you can stop to stretch your legs. We walked down to the rocks on the edge of the water and sat for a few minutes, savoring the quiet of the morning and the beauty all around us. This is another quick stop for photos.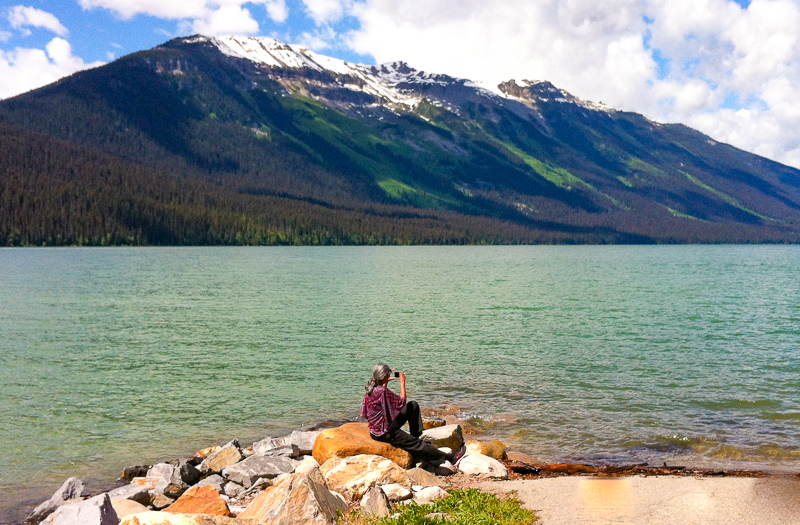 #3 Do the hike to Overlander Falls
The waterfalls of the Canadian Rockies are beautiful if you visit in the early summer. Overlander Falls is one of two stunning waterfalls along this route, about 30 feet tall and 100 feet wide.
Overlander Falls is named for the Overlanders Expedition of 1862. This group of about 150+ men and one woman (and her three children!) passed these falls on their way across the Rockies by land.
They were on their way from Ontario to British Columbia, after gold was discovered in the Cariboo region.
You can get to the falls one of two ways. There is a pullout along the highway with a signpost for the falls in both directions. Going west, it is just past Mount Robson and about a mile before you reach the Visitor Center.
This is the short route to the falls, about 0.2 mile walk one way, but all downhill, so know that you will have an uphill trek on your way back. Allow about 45 minutes to get to the upper falls and back, allowing for some time at the overlook.
The longer route is about 1.5 miles one way, and will take about 1.5-2 hours round trip at an average steady pace. The trail starts from the Robson Meadows campsite, across the highway from the Mt. Robson Visitor Center.
The walk is beautiful. You can hear the roar of the Fraser River as you walk, and the rock formations of the canyon are gorgeous. There are some sections on this trail with steep drop offs so it's not recommended if you have a fear of heights.
#4 Enjoy Mount Robson Visitor Center
Your next stop on your day trip to Mount Robson Provincial Park is the main act: Mt. Robson in all its glory!
The Visitor Center is a great place to admire the magnificent mountain, view exhibits and learn more about the park, and take photos. At the foot of Mt. Robson, just behind the Visitor Center, is a large meadow that is filled with wildflowers in the summer.
When we visited in late June, we saw lots of purple, pink, yellow, and white wildflowers blooming as far as the eye could see. It is a breathtaking sight!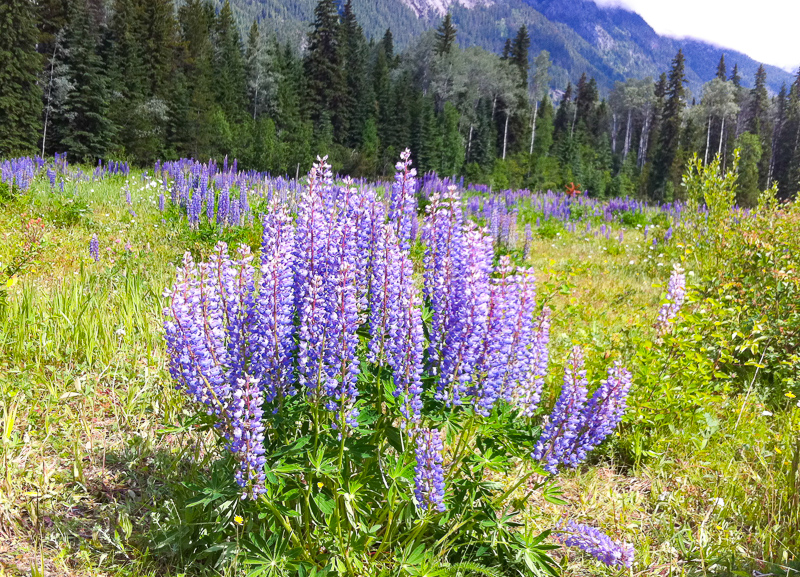 Even though the meadow is hugely popular when the flowers are in full bloom, it is so large that it isn't difficult to find your own little piece of paradise here.
Mt. Robson is known to be very moody, often sulking behind a curtain of clouds. If you are looking for Mt. Robson etched against a clear blue sky, pick a day with a clear sky forecast.
Check the peak on a webcam before you leave, and hope that the weather doesn't change by the time you arrive!
We had a brief spell during our visit when the peak was visible, but otherwise Mount Robson stayed pretty much shrouded the entire time we were there. Even so, I love our photos from our visit.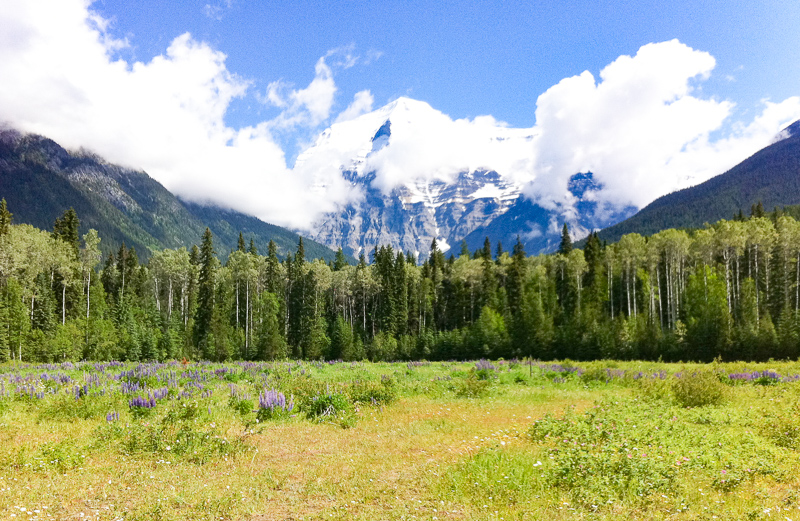 While on the subject of photos of Mount Robson, you can also get stunning shots from Highway 16, particularly on your approach back from points beyond the Visitor Center.
If you enjoy plants, you will find lots to keep you engaged in the area around the Visitor Center. Keep your eyes open for wildlife: we spotted a black bear busily eating in the meadow!
Good to know
The Visitor Center is open from May through October. You can still visit to see Mount Robson.
You'll find restrooms, a cafe, and a gift shop in the Visitor Center.
If you plan a longer visit specifically to hike the famous multi-day Berg Lake Trail, the Visitor Center is where you will register to do the hike. Consider this amazing experience if you are an outdoor enthusiast. You can heli-hike to the top and then walk down, or you can hike both ways.
If you go: Mount Robson Visitor Center, BC-16, Mount Robson, BC V0E 2Z0, Canada
#5 Do the spectacular Kinney Lake Hike
It wouldn't be a day out in the Canadian Rockies without a hike. The Kinney Lake hike is 5.6 miles round trip and will take you about 2.5-3.5 hours depending on your speed and how often you stop.
The trail starts at the Berg Lake Trail parking lot on Kinney Lake Road, about 2 miles south of the Visitor Center. The forested trail follows the Robson River to Kinney Lake, and is considered easy to low-moderate.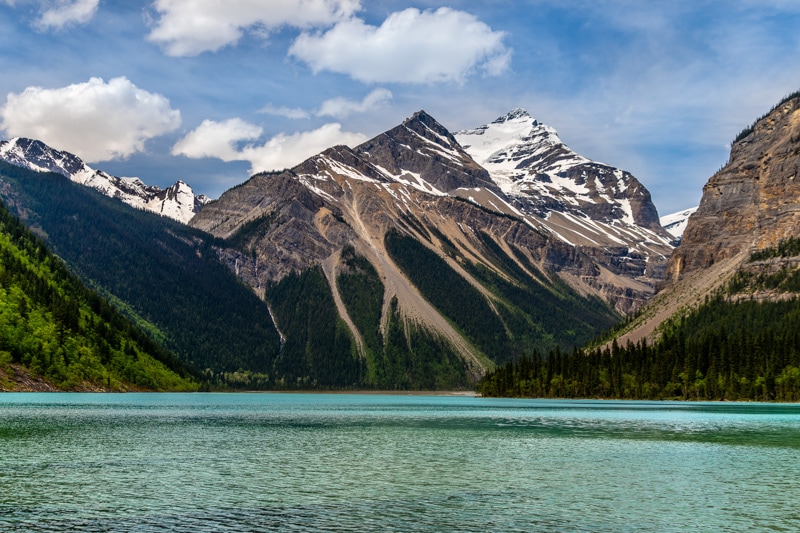 You'll be awe-struck by the beautiful views, especially at Kinney Lake, from where you can see the Valley of a Thousand Falls and the mountains beyond. There are picnic areas along the lakeshore, where you can rest for a bit with a drink and a snack before heading back.
#6 Gape at the beauty of Rearguard Falls
Rearguard Falls is the second of the two waterfalls you will see today. Also formed by the Fraser River, the falls are located in Rearguard Falls Provincial Park.
If you visit in the late summer, you can witness an awesome annual phenomenon: the running of the Chinook salmon. Rearguard Falls is the last point on the river the salmon travel.
And only the strongest make it to this final point, a little under 800 miles from their starting point in the Pacific Ocean!
You can see the fish jumping in the churning water, trying to reach the spawning areas at the top of the falls. Some of the salmon are four feet long!
Rearguard Falls is signposted on Highway 16, no matter which direction you are traveling. From the highway, drive to the parking lot and then walk the short downhill trail to the falls.
Boardwalks and decks allow you to take great photos. Allow about 45 minutes, unless you linger to watch the salmon.
#7 Have lunch at Valemount
Valemount is a pretty town in the Robson Valley, and a great place to have lunch if you did not pack a picnic. Try The Gathering Tree, a cafe that offers soups, salads, and sandwiches.
Valemount also has a variety of accommodation options if you are planning a longer stay in the Robson Valley.
Valemount is also another great location to see the Chinook salmon run in late summer.
If you visit Swift Creek, a short walk from the Valemount Visitor Center, you can see female salmon digging nests in the creek bed to lay her eggs. Interpretive displays at the visitor center provide information on the salmon run.
We visited in June, so we did not see the Chinook salmon, but if you are in the area, you must go. It is fascinating to see salmon at the end of their life cycle: we saw the Kokanee salmon run at Lake Tahoe and it was an amazing experience.
#8 Keep your eyes open for wildlife
As everywhere else in the Canadian Rockies, Mount Robson Provincial Park is a wonderful place to spot wildlife and a variety of birds. Because the region in mainly wilderness, every type of creature that calls the western slopes of the Rockies home can be seen here.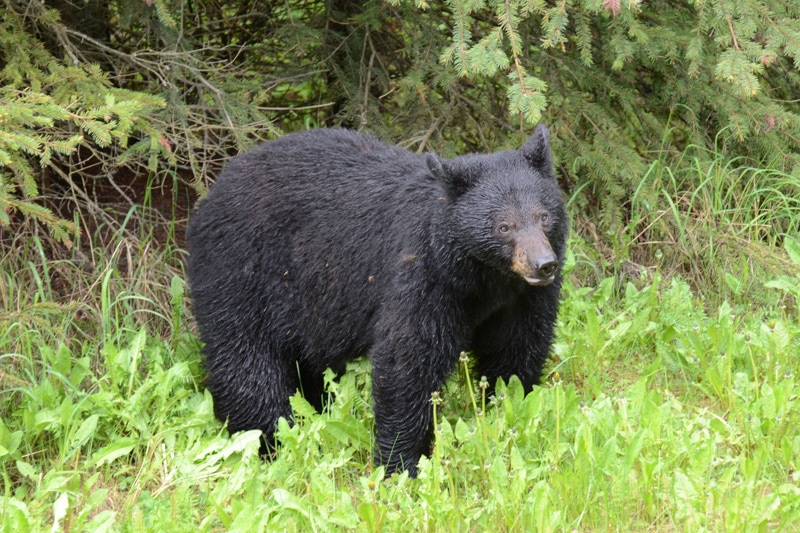 Several dozen species of birds have been seen in Mount Robson Provincial Park, so make sure you bring your binoculars or zoom lens! You may see golden eagles soaring in the sky, rufous hummingbirds darting in and out of flowers, or Hammond's flycatchers looking for insects.
If you are a birding enthusiast and visit in June, check to see if the annual "Bird Blitz" is occurring the day of your visit. It's a time when bird lovers congregate at the park to observe and catalog birds.
We saw mule deer, elk, and black bear when we visited in late June. You may also see moose (I was hoping I'd spot one, but no luck!) or whitetail deer, or even mountain goats or grizzlies if you train your glasses on higher slopes and cliffs.
Keep your distance from all wildlife to maintain their safety and yours. Follow park regulations and guidelines.
A sample itinerary
There are several ways to organize your day trip to Mount Robson Provincial Park, depending on your interests and when you visit. Here is a sample itinerary that includes most of the points of interest I have described in my post:
SAMPLE ITINERARY
8.30 a.m. Depart Jasper Township
9.30 a.m. Mount Robson Visitor Center
10.15 a.m. – 2 p.m. Kinney Lake Hike with Picnic Lunch
2.15 – 3.15 p.m. Rearguard Falls
3.30 – 4.15 p.m. Overlander Falls (short route)
4.45 – 5.15 p.m. Moose Lake
5.30 – 5.45 p.m. Yellowhead Pass Historic Site Pullout
6.00 p.m. Arrive back Jasper Township
A
The best time to visit Mount Robson Provincial Park
Unless you enjoy winter sports and wish to visit for that reason, I would suggest visiting any time between late spring and early fall, when hiking trails and roads are open.
In late spring and summer you will see beautiful wildflowers everywhere. Waterfalls will be at their roaring best. In late summer, you may be able to see the Chinook salmon run.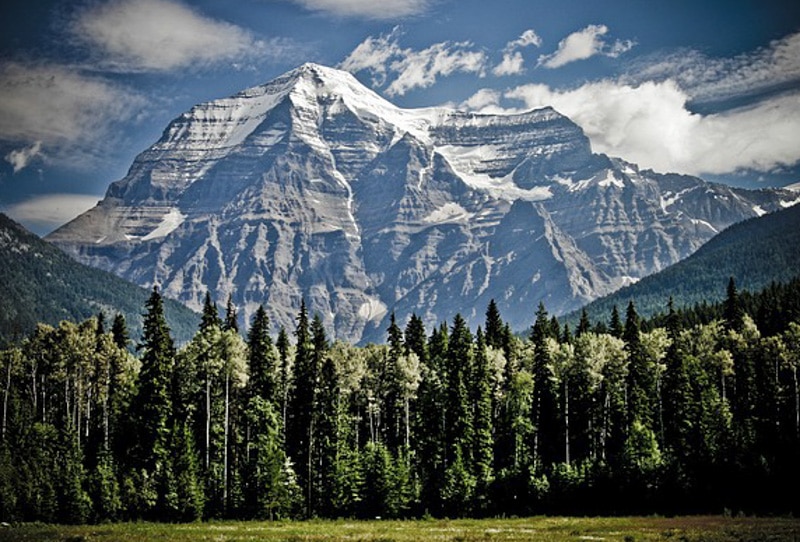 Tips for your visit to Mount Robson Provincial Park
There is no cell coverage in Mount Robson Provincial Park, although there is wi-fi at the Visitor Center. Download any maps you need prior to your visit or keep printed versions on hand. You can also obtain maps and brochures at the Mount Robson Visitor Center.
Call ahead just prior to your visit to check about possible closures. The Visitor Center is open from May through October, and you can contact them by phone at (250) 566-4811.
Dress in layers. Carry a waterproof windcheater. Waterproof footwear suitable for hiking is recommended.
Take plenty of drinking water and stay hydrated through the day. Pack a picnic lunch if you want to maximize your time in the park.
Pack sunshades, a wide-brimmed hat, and sunscreen. Also pack bug spray.
Follow park regulations and read up on safety information before you visit.
*****
So there you have it: the best things to do in one day in Mount Robson Provincial Park! Have you visited this beautiful part of the Canadian Rockies?
If you have, I'd love to know if you have other recommendations for things to do here! If you haven't, I hope you add it to your itinerary for the Canadian Rockies!
Looking for accommodation in Jasper? We stayed at the Patricia Lake Bungalows, and loved it! The units are right on the lake, so pick a unit with a view of the mountains and/or the lake. We had a one-bedroom suite and it was spacious and very comfortable. The property is about 3 miles from Jasper Township. Check prices and availability!
If you are planning a visit to the Canadian Rockies, consider adding a day trip to Yoho National Park while you are in Banff or Lake Louise. You will be awe-struck by the beauty of Emerald Lake in Yoho National Park…and it is just one of several stunning alpine lakes you can visit in and around Banff.
And plan on at least a few days in the little hamlet of Lake Louise in Banff National Park. You will want to enjoy all the amazing activities and experiences on offer around Lake Louise, including driving the Icefields Parkway, one of Canada's most scenic roads to Jasper National Park.
MORE AMAZING DESTINATIONS IN NORTH AMERICA
British Columbia: 10 Best Things to Do on Your First Visit to Vancouver
California: 10 Fun Things to Do in Joshua National Park in One Day
Nevada: 25 Best Things to Do in Las Vegas (That Aren't Gambling!)
Alberta: The Best Lakes in Canada in and around Banff
California: Lakes of the Eastern Sierra You Must Visit
Alberta: 3 Days in Banff National Park
PLACES TO EXPLORE IN EUROPE
Spain: The Best Things to Do in Seville in 3 Days
Norway: 10 Best Things to Do in Stavanger
Italy: Tips for Visiting the Borghese Gallery in Rome
Sweden: How to Spend One Amazing Day in Stockholm
Italy: 10 Best Day Trips from Sorrento You Must Do
Did you find this article informative? Pin it for later reference!