Planning a visit to Banff National Park and looking for that perfect 3 days in Banff itinerary?
Three days in Banff is the perfect amount of time to spend exploring the highlights of Canada's oldest, and most visited, national park.
A UNESCO World Heritage Site, Banff National Park is located in the scenic Canadian Rockies in the province of Alberta.
Within the park lie the vibrant mountain township of Banff and the picturesque village of Lake Louise, either of which makes an excellent base from which to explore Banff National Park and beyond.
There are many exciting things to do in Banff, from admiring electric blue lakes to enjoying amazing viewpoints, incredible hikes, and stunning mountain landscapes.
Banff National Park is of course a paradise for outdoor enthusiasts and nature photographers, but Banff has something to offer every type of traveler, from Canadian cuisine for foodies to museums and cultural sites for history and culture buffs.
You could spend weeks exploring Banff and still not exhaust everything there is to do in the park.
But since most of us have a limited amount of time to vacation, in this article, we'll explore how to spend 3 days in Banff!
The Ultimate 3-Day Itinerary for Banff National Park
This Banff itinerary is focused on things to do in Banff during the summertime.
In summer, there are more hours of daylight to explore and you'll have more time to visit each place before it gets dark out.
During the winter, the sun sets a lot earlier, and some roads are closed due to avalanche risk once the snow falls (like the road to Moraine Lake!).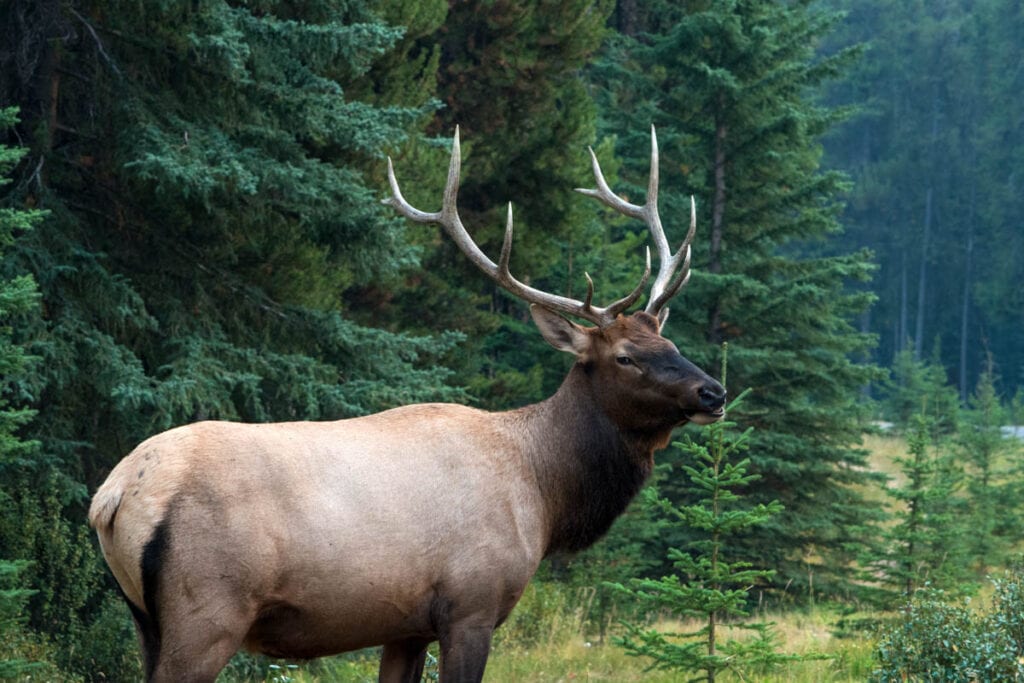 Day One of Your 3 Days in Banff
Your first day is spent exploring some of the lakes that are close to downtown Banff, as well as a trip to Sulphur Mountain and riding the Banff Gondola for an amazing bird's eye view of the national park.
Finish your day off by exploring downtown Banff and enjoy some of the free activities that Banff has to offer.
To fit everything in and to try to avoid some crowds, you'll want to get an early start to your day!
Visit Johnson Lake
Around a 10-minute drive from the Town of Banff is the Lake Minnewanka Scenic Drive, a road that loops around with multiple lakes to visit on the way.
Johnson Lake is the first stop to make on this drive!
A popular lake in Banff for swimming, Johnson Lake is the perfect spot to spend a hot summer day. There are picnic tables, a sandy beach, and even a small hike around the lake that offers really nice views for not a lot of work!
The small hike is about 2.9 km (1.8 miles) with 69m (226 feet) of elevation gain, and takes most people around 45 minutes to complete.
If you enjoy a brisk walk to start your day, you can complete the entire loop, or you can just stroll a small portion of the hike as well.
If you only want to do part of the hike, start the trail in a clockwise direction, going left instead of right. This will take you up a small hill and you'll get some really nice views of the lake and the surrounding mountains.
Then you can decide if you want to continue and complete the full loop, or turn around and head to the next lake on the itinerary.
The section of the trail on the right side of the lake will take you mostly through a forested area, with fewer views (although it's still nice!).
Facilities at Johnson Lake:
Pit toilets
Picnic tables
Bear-proof garbage cans
Small, sandy beach
Admire Two Jack Lake
Six minutes down the road from Johnson Lake is Two Jack Lake. Make sure you head to the day use area, not the campgrounds! The day use area is just a little farther down the road than the campgrounds.
Two Jack Lake is a beautiful place to stop for pretty views, especially of Mount Rundle reflected in the lake. It's one of the most popular photo spots in the Canadian Rockies!
The parking lot at Two Jack Lake is smaller in size, meaning that it can fill up in the summer. If it's full, you can continue on to Lake Minnewanka and try to stop at Two Jack Lake on the way back.
At Two Jack Lake, there is a small lakeshore trail you can explore to try to get away from some of the crowds that may be at the main beach area.
The lakeshore trail doesn't loop the entire lake though, and it's a long-ish trail if you do the full hike.
Make sure to keep an eye on the time while exploring to ensure you have enough time to visit everything else planned for today!
Facilities at Two Jack Lake:
Pit toilet
Picnic tables
Bear-proof garbage cans
Small pebble beach
enjoy Lake Minnewanka
When you're finished at Two Jack, drive another 6 minutes to the Lake Minnewanka parking lot.
Lake Minnewanka is quite a popular place to visit in Banff, and the parking lot is quite big in order to accommodate the number of visitors.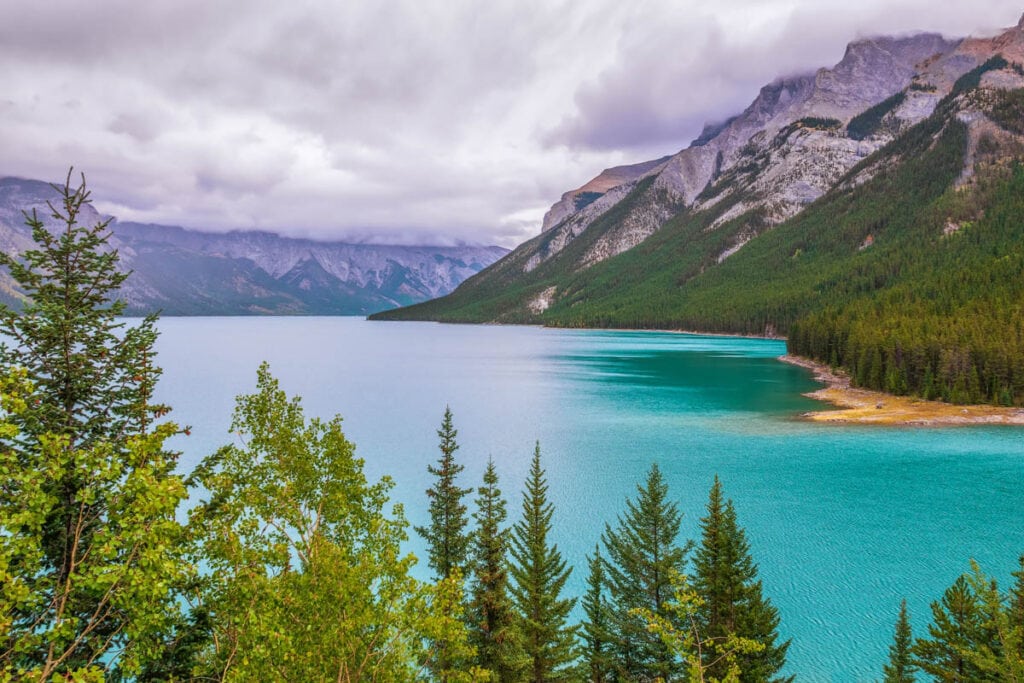 The largest lake in Banff, Lake Minnewanka offers a bunch of fun things to fill your time here.
This is the only lake in Banff that allows a motor on a boat, so you can rent a small motor boat here, or a canoe or kayak at the Lake Minnewanka boat house (these are first come first serve).
You can also sign up for a Lake Minnewanka Cruise! Just be sure to book in advance because it does sell out in the summertime.
>> Check prices and availability on the Lake Minnewanka cruise now!
At Lake Minnewanka there is a picnic section with tables where you can enjoy a meal, a snack shop, and a few hikes as well. This is also a popular spot in Banff to come during the night to stargaze or gawk at the Northern Lights if they are out!
Hikes at Lake Minnewanka
Lake Minnewanka Lakeside Trail: This is a long hiking trail along the shore of Lake Minnewanka that will take you to various backcountry campsites along the lake. The entire out and back trail is around 15.6km with 505m of elevation gain.
Stewart Canyon: A moderate route, this hike is 263m of elevation gain over an 8.2 km out and back trail. It takes around 2 hours to complete the entire hike. This hike starts on the Lakeside Trail but branches off quite early into the canyon trail.
Aylmer Lookout: 23.2km out and back trail with 1,093m of elevation gain. It takes around 8 hours to complete, meaning you most likely won't have time to hike to the lookout. A lot of this hike follows the Lakeside Trail, until it branches off uphill to the lookout.
C Level Cirque: The trailhead for this trail doesn't actually start right at Lake Minnewanka, but instead starts at the ​​Upper Bankhead parking lot (a 5 minute drive, 30 minute walk from the Lake Minnewanka parking lot). This 9.3km out and back trail has around 759m of elevation gain, and does give awesome views of Lake Minnewanka below. Depending on your skill level, it can take about 3-4 hours to complete.
If you really want to hike in the Lake Minnewanka area, spend less time at Johnson Lake and Two Jack Lake, and get to Lake Minnewanka as early as possible to start hiking.
Or, you can plan to hike part of the Lakeside Trail and leave time to hike one of the most popular hikes in Banff, Sulphur Mountain, which is the next stop on the itinerary!
Limiting your hiking at Lake Minnewanka will also leave you more time to explore Downtown Banff in the evening.
Facilities at Lake Minnewanka:
Boat rentals at the boathouse (canoes, kayaks, and small motor boats)
Snack shop with coffee, icecream, and snacks
Pit toilets
Picnic tables
Bear-proof garbage bins
Banff Gondola + Sulphur Mountain
After completing your exploration of the Lake Minnewanka Scenic Loop, make the 24-minute drive over to the base of Sulphur Mountain.
Here, you can choose to take the Banff Gondola up to 7,486 feet for absolutely incredible views of Banff National Park.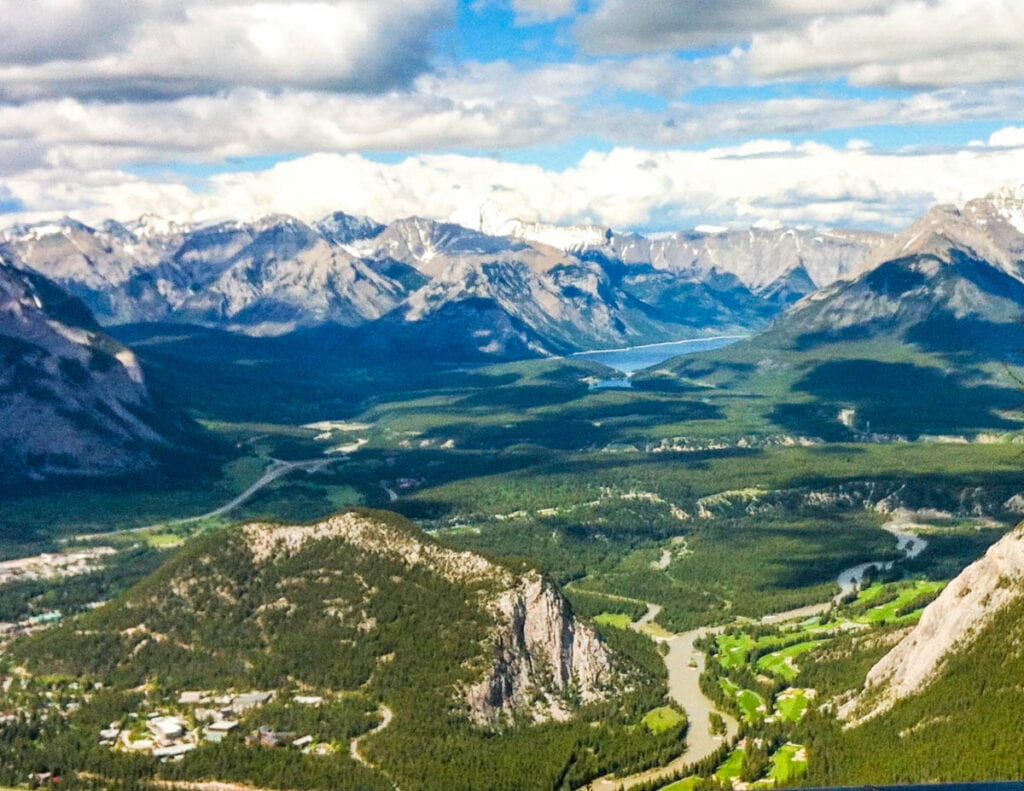 If you're looking for a great (but challenging!) hike to complete, you can choose to do the 10.8 km (6.7-mile) out and back Sulphur Mountain hike instead of taking the gondola.
Or, hike up Sulphur Mountain and ride the gondola down for half the price of a regular ticket.
Note: If you want to ride the gondola up and hike down, you will still need to pay the full ticket price.
At the top of Sulphur Mountain, you can explore the boardwalk for different viewpoints of the scenery down below.
There are also restaurants at the top as well as a coffee bar, and a 360-degree rooftop observation deck.
>> Check prices and availability for the Banff Gondola now!
Explore Banff Town
After a jam-packed day of lake hopping and mountain tops, head back to downtown Banff.
Grab some food from Three Bears Brewery or The Maple Leaf Grill, and then start exploring Banff Ave and other free sites you're interested in exploring.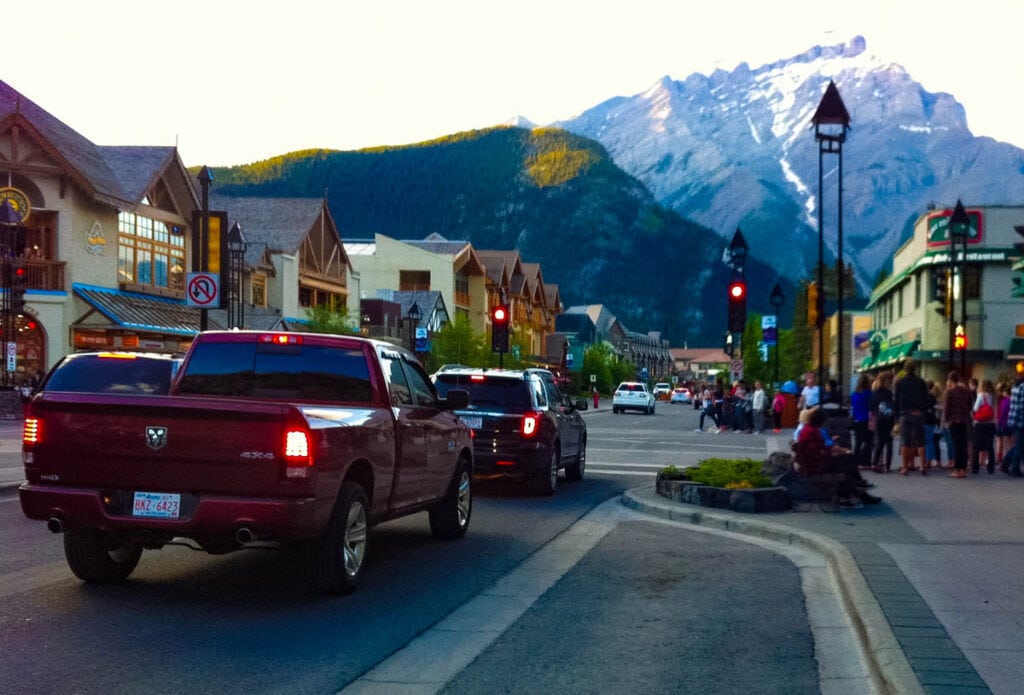 Things to see in Banff Town:
The Banff Sign (101 Mt. Norquay Road)
Banff Avenue
Cows Ice Cream
Beavertails
Cascade of Times Garden
Bow River and Bow Falls
Surprise Corner and the Fairmont Banff Springs
Day 2 of Your 3-day Banff Itinerary
Your second day in Banff is spent visiting some of the national park's most popular sites: Johnston Canyon, Lake Louise, and Moraine Lake.
These sites are popular for a reason: they are absolutely spectacular and cannot be missed during your 3 days in Banff!
Admire Lake Louise
A visit to Banff isn't complete without visiting Lake Louise.
Lake Louise is one of the most photographed lakes in the world. It's fed by a glacier, which gives it that renowned electric blue color and is icy cold if you try to go for a swim!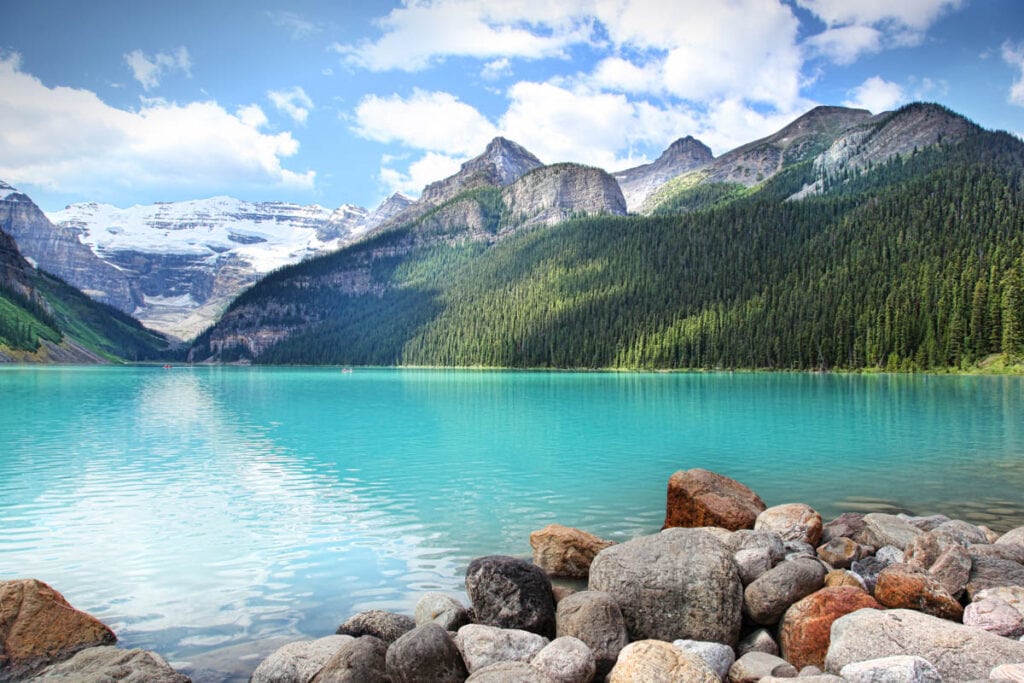 There are multiple hikes at Lake Louise, including the Lakeshore Trail, Plain of 6 Glaciers, Fairview Lookout, and a trio of hiking trails that can all be combined into one big hike: Little Beehive, the Lake Agnes Teahouse, and Big Beehive.
One of Banff's most expensive hotels is also on the shore of Lake Louise: The Fairmont Chateau Lake Louise. For an extra special stay, book a night here and have an experience you won't forget!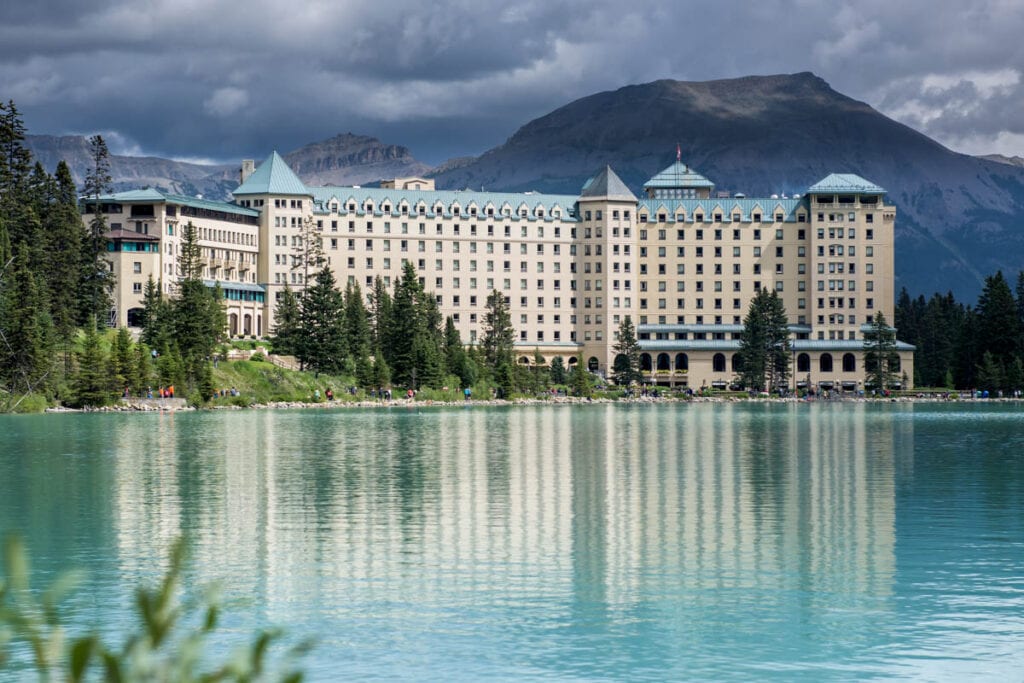 Other things to do at Lake Louise include renting a canoe or dining at the Fairmont Hotel's restaurants. You can also ice skate on Lake Louise during the winter!
There is also a Lake Louise gondola that you can pay to take to the top of Mount Whitehorn, for access to more hiking trails and viewpoints.
The parking lot for the gondola is about a 12-minute drive from the Lake Louise lakeshore parking lot. In the winter, this is the Lake Louise ski resort.
Getting to Lake Louise:
You can park at Lake Louise for a fee
Book a spot in advance on the Parks Canada Shuttle Bus (it goes to both Lake Louise + Moraine Lake)
Book a tour that includes Lake Louise as a stop
Take ROAM transit to Lake Louise – you can reserve this in advance
Visit Moraine Lake
Near Lake Louise is another world famous lake: Moraine Lake! This lake was once featured on the Canadian $20 bill, and is one of the most stunning lakes in the world.
There is a hotel on the lakeshore, the Moraine Lake Lodge, and a boathouse where you can rent canoes.
There are a number of hikes that leave from Moraine Lake, including Consolation Lakes, Eiffel Lake, and Sentinel Pass via Larch Valley.
The two easiest hikes you can complete relatively quickly are the Moraine Lake Lakeshore Trail, and the Rockpile Trail, which will give you a great view of Moraine Lake.
Getting to Moraine Lake:
Personal vehicles are no longer allowed to park at Moraine Lake!
Book a spot in advance on the Parks Canada Shuttle Bus (it goes to both Lake Louise + Moraine Lake)
Book a tour or commercial vehicle to Moraine Lake
ROAM transit bus usually has a bus route to Moraine Lake during the fall larch season
Drive Bow Valley Parkway and Hike Johnston Canyon
Finish the day off by driving the Bow Valley Parkway to Johnston Canyon.
Bow Valley Parkway is known for animal sightings, and by going later in the day you're more likely to be able to spot some!
In the spring and fall, part of the Bow Valley Parkway is closed to vehicles to reduce disturbance to animals, but you are still able to cycle the Bow Valley Parkway when it is closed to vehicles.
On the Bow Valley Parkway is one of Banff's most popular hikes, Johnston Canyon. By going later in the day, hopefully you'll avoid some of the crowds and the trail will be less busy.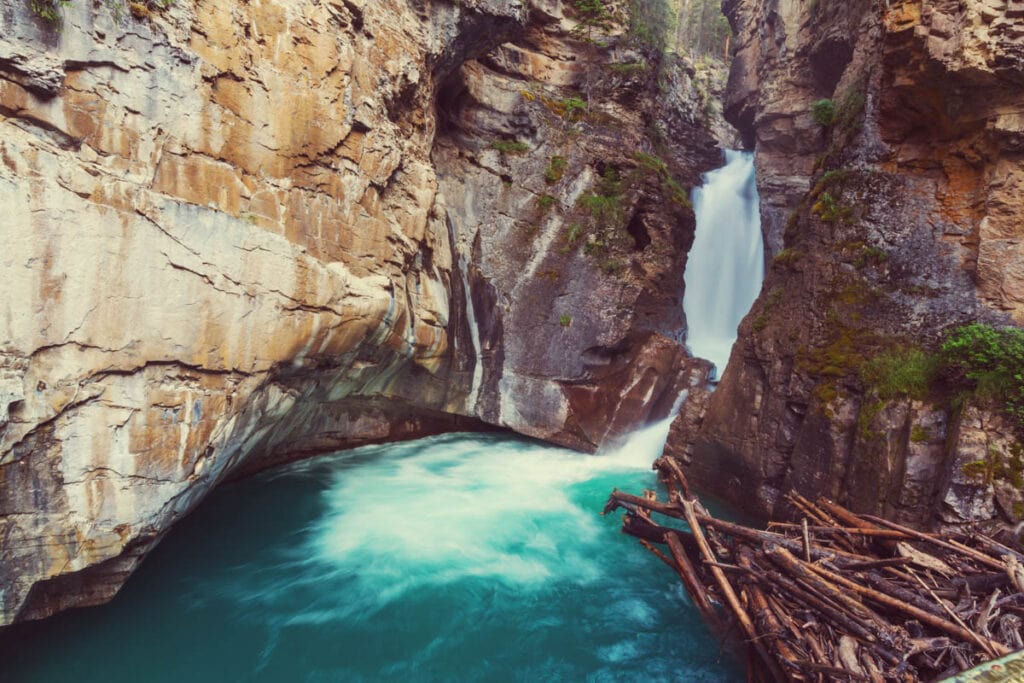 This hike will take you through an amazing canyon with different waterfalls. If you find you still have some time once you make it to the Upper Falls, consider continuing on further and hike to the Ink Pots.
Just make sure you have enough water and snacks to keep hiking, and always have bear spray while exploring the trails during your 3 days in Banff!
Day 3 of Your Three Days in Banff
Your last day in Banff is spent on one of the most scenic drives in the world, the Icefields Parkway!
The highway that connects Lake Louise to the Town of Jasper, the Icefields Parkway is an amazing drive, with a ton of stops along the way.
By budgeting a full day for the drive, you'll have plenty of time to explore and be able to stop at every viewpoint, and you may even have the time to squeeze in a hike as well!
Although there are many stops to make, some of the most notable stops on the Icefields Parkway are Bow Lake, Peyto Lake, Mistaya Canyon, and the Columbia Icefield.
Bow Lake
Stop at Bow Lake during your Icefields Parkway drive for amazing views, amazing pictures, and even a small hike!
The hike to Bow Glacier Falls does take around 2.5-3 hours to complete, and will take you along the shore of the lake, through the forest, and to a nice little waterfall.
If you're not interested in hiking all the way to the waterfall, spend some time exploring the shoreline and taking photos until you're ready to move on to the next viewpoint, Peyto Lake!
Peyto Lake Viewpoint/Bow Summit
About 5 minutes down the road you'll turn off for the parking for the Peyto Lake Viewpoint. This is one of the most popular stops on the Icefields Parkway, and does require some hiking to get to it from the parking lot.
The trail to the viewpoint is mostly paved, making it really easy to follow, and is wheelchair/stroller accessible. Because it is so popular, there is usually a steady stream of people going to the top and coming down.
The earlier you get here the better, because as the day goes on, the viewpoint gets more and more crowded. While you're at the viewpoint, be sure to admire the shape of the lake – it's shaped like a wolf!
Mistaya Canyon
Another unmissable stop on the Icefields Parkway is Mistaya Canyon, where you will do the Mistaya Canyon hike. It's more like a short walk from the parking lot.
After a few minutes of walking through the forest, you'll come to a bridge that overlooks a canyon, with a beautiful waterfall and mountains in the background. It's a great spot to take a photo and is a lot of fun to explore!
There is less fencing in this area though, so be sure to stay on the trail and keep a close eye on young children near the edge.
Columbia Icefield
The largest icefield in the Canadian Rockies is the Columbia Icefield, and here you'll have a chance to see a glacier up close: the Athabasca Glacier!
Sign up for one of the Ice Explorer Tours to be able to ride on a huge ice buggy and walk on the glacier, or do the free hike to the Toe of the Athabasca Glacier.
On the hike, you can't actually walk on the glacier, but you can get close enough to get a good look at it.
Near the Columbia Icefield parking lot is the Columbia Icefield Glacier Skywalk. This is a glass-bottomed walkway that juts out from the side of a mountain for incredible views of the icefield and surrounding landscapes!
>> Check pricing and availability for the Columbia Icefield Adventure now!
Athabasca and Sunwapta Falls
Although technically they're located in Jasper National Park, the Athabasca and Sunwapta Falls are still a part of the Icefields Parkway!
These two waterfalls are powerful, amazing waterfalls, and each just a short walk from the parking lot, meaning they're super easy to access.
If you have time, continue your drive on the Parkway to these two waterfalls and you won't be disappointed!
Other Places to Visit in Banff if You Have More Time
Are you planning a longer visit to Banff? There are plenty more things to see and do in and around Banff if you have more than 3 days!
Visit the Cave and Basin National Historic Site
If you enjoy local history, plan a visit to the Cave and Basin National Historic Site, a place of significance for indigenous peoples for centuries.
You can choose from a number of fee-based tours, or explore on your own.
Try the natural history tour to learn more about the landscape here, and the flora and fauna. Or the lantern tour, held after dark.
Or the Cave and Basics Tour, where you will learn about how the discovery of hot springs here led to the formation of national parks in Canada.
Look for the Parks Canada red chairs at Cave and Basin, or walk the trails in the area.
There is an admission fee for the site. You can also buy a combination pass for Cave and Basin plus the Banff Hot Springs.
Take a wildlife viewing tour
One of our favorite things to do in Banff (or Jasper) is an evening wildlife viewing tour.
On this 2-hour guided excursion, you'll drive various back roads to spot a variety of wildlife, from elk to coyote and black bear.
Evening and dusk are a time when wild animals are active, and your likelihood of spotting some is high.
Your vehicle has large windows for safe viewing and photo taking, and while sightings aren't guaranteed, we've seen some on each of the three times we've taken the tour, in Banff or in Jasper.
>> Check price and availability on this Banff evening wildlife safari now!
Try the Sunshine Meadows Hike (+ Gondola!)
Sunshine Meadows offers a viewing deck and great hiking in the summer. Visiting Sunshine Meadows is a wonderful family activity in Banff!
The Standish Viewing Deck offers spectacular views of three lovely alpine lakes: Laryx, Grizzly, and Rock Isle.
Take the Sunshine Sightseeing Gondola from the base station to the upper terminal, and then ride the Standish Chairlift to a viewpoint at 7,825 feet for breathtaking 360-degree views!
Try a Sunshine Meadows hike to enjoy the views and the beautiful landscape.
There are a number of trails from which to choose, and you can even string two or three trails together for a longer hike.
>> Check pricing and availability for the Sunshine Gondola and Standish Chairlift now!
Take in the sunrise at Vermillion Lakes
If you are okay with waking up early on vacation, visit Vermillion Lakes at sunrise. You will not regret it!
The lake is located at the base of Mount Norquay, just outside the town of Banff.
Other than the colorful skies, you'll see Mount Rundle perfectly reflected in the glassy surface of the lake on calm mornings.
Also keep your eyes peeled for wildlife: animals are apt to be active early in the morning.
Vermillion Lakes is also a spectacular sunset spot, if you don't like early wake-up calls.
But we think sunrise here, with few to no people, is a close-to-religious experience!
Enjoy a relaxing soak at Banff Upper Hot Springs
Banff Upper Hot Springs is a great place to have a relaxing soak at the end of a day of hiking and adventure!
Located near the top of Sulphur Mountain, these thermal baths are the highest operating hot springs in the world. The indigenous peoples believed that the waters here are therapeutic.
The water is heated inside the earth's crust and bubbles up to the surface at varying temperatures through the year.
The hot springs are open everyday from 10 a.m. until 10 p.m. There is an admission fee, and you can only purchase tickets in person.
Admire Cascade Ponds
Located off the Trans-Canada Highway before Two Jack Lake and Minnewanka Lake, Cascade Ponds make for a lovely stop, especially on a warm summer day.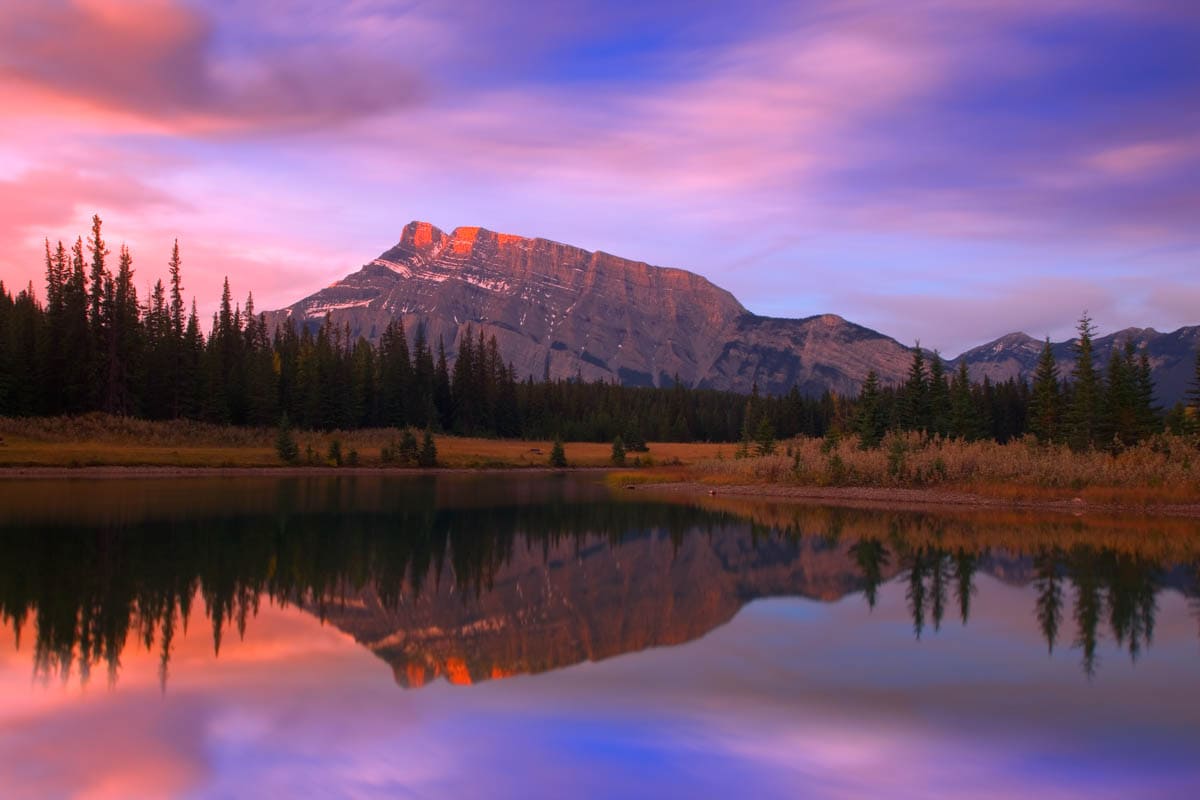 The ponds are nestled at the base of Cascade Mountain, with picturesque bridges that make for awesome photo spots in every season.
Bring a picnic to enjoy at the picnic tables, or visit early or late to try to spot wildlife!
Do a day trip to Yoho National Park (Emerald Lake and Takakkaw Falls)
With just one extra day in Banff, you can add a whole new national park to your Banff itinerary!
Yoho National Park, part of the Canadian Rockies UNESCO World Heritage Site, is located across the border in British Columbia, but it is close enough to Banff and Lake Louise that you can visit on a day trip!
One of the top places to visit on a day trip to Yoho National Park is stunning Emerald Lake, whose waters are a gorgeous aqua green.
Go boating on the lake, or walk the tranquil lakeshore trail.
Takakkaw Falls are one of the tallest falls in Canada, and make for an awe-inspiring sight. You will definitely get drenched by the spray if you get somewhat close!
Note that some roads in Yoho do not open until later in the season: on our first visit, we could not drive to Takakkaw Falls because the road was still closed toward the very end of June.
Explore Canmore
Canmore is just under a 30-minute drive from Banff and makes for a great day of exploration.
Downtown Canmore is perfect for strolling, with boutique shops and galleries and lots of eateries.
There are several walking trails and day hikes if you want to spend an active day enjoying the scenery around the town.
Quarry Lake is great not only for a walk but also for a picnic. The Grassi Lakes Trail is popular and super scenic: it's a family friendly trail too!
The Bow River Loop Trail can be accessed right from downtown Canmore and it's fun to cross the steel bridges over the river and take in the views of the Three Sisters, a trio of postcard peaks.
Go hiking in Kananaskis Country
If you enjoy hiking and the outdoors, Kananaskis Country offers lots of choice.
The region, which stretches from just east of Calgary to the front ranges of the Rockies, includes several dozen provincial parks and natural areas.
Troll Falls is an easy and popular trail, with a lovely waterfall as the payoff and beautiful scenery along the way.
For a more challenging trail, try Smutwood Peak, which features stunning scenery every step of the way. It's considered one of the best hikes in the Rockies.
Tent Horseshoe Ridge is another gorgeous hike that's moderate to challenging. It features superb views of the surrounding mountains and lakes. The trailhead is about an hour's drive from Canmore.
Getting to Banff
Banff is located on the Trans-Canada Highway. The closest international airport is Calgary, 127 km (79 miles) away.
Many airlines fly to Calgary and most major US cities are connected to Calgary by direct flights.
You can pick up your rental car at the airport and drive from Calgary to Banff in about 90 minutes in normal traffic.
There is also a shuttle bus that you can take from the airport to Banff or Lake Louise.
Getting Around in Banff
Banff has a great public transportation system called ROAM Transit.
You can easily reach most of the places on this 3-day Banff itinerary with the public bus system.
Another option is the Hop On Hop Off bus, which covers points of interest in Banff and Lake Louise, such as Johnston Canyon, Lake Louise, Moraine Lake, and the Lake Louise Gondola.
But renting a car will give you more freedom, so if it's in the budget, rent a car.
Public transportation does not run on the Icefields Parkway, so this part of the itinerary will require a car or a booked tour.
>> Check prices and availability on rental cars now!
Where to Stay in Banff
You can spend your entire stay in Banff, or split your base between Banff and lake Louise.
Canmore is located just a few miles from Banff and you may be able to score cheaper accommodations in Canmore compared to Banff or Lake Louise if you are okay with the little extra driving.
Hotels in Banff Township
Moose Hotel & Suites is located on Banff Avenue, in the thick of all the action. Rooms are well appointed, and each unit has a patio or a balcony. The hotel offers a spa and an onsite bar.
>> Check prices and availability now!
Canalta Lodge is located along Banff Avenue. The hotel has an onsite coffee shop. Air-conditioned rooms are comfortably furnished. A complimentary breakfast is offered each morning.
>> Check prices and availability now!
Hotels in Lake Louise Village
The Fairmont Chateau offers gorgeous views of Lake Louise and Victoria Glacier. The resort property has an onsite spa and a heated indoor swimming pool. Rooms feature traditional furnishings and the onsite dining is excellent.
>> Check prices and availability now!
Baker Creek by Basecamp is located about 20 miles out of Lake Louise in Banff National Park. Chalets and suites are designed as log cabins and are spacious, offering mountain views.
>> Check prices and availability now!
Hotels in Canmore
Blackstone Mountain Lodge by CLIQUE offers air-conditioned rooms and an outdoor pool and hot tub. It is located a few minutes from downtown Canmore. Select rooms have full kitchens.
>> Check prices and availability now!
The Malcolm Hotel offers an outdoor swimming pool and hot tub. The hotel also has an onsite restaurant and bar. Units are well-appointed and feature a river view or a quiet street view. The hotel is just 11 miles from Banff.
>> Check prices and availability now!
The Best Time to Visit Banff National Park
Banff is a four-season destination, with things to do year round.
This itinerary is focused on the summer, when lakes are thawed, roads and hiking trails are open, and there is a wide variety of activities to keep you engaged.
Late spring and early fall are also great times to visit, though some trails may not be possible to hike due to snow.
Winter in Banff is beautiful, with frozen lakes and waterfalls, and lots of snow on the ground.
But unless you are interested in winter sports, you'll want to visit in the summer!
Other Things to Know Before Visiting Banff National Park
Banff National Park Admission
Visiting a Canadian National Park requires you to purchase a Parks Pass. You can buy this at the booths you drive through when entering Banff National Park.
Wildlife Safety
Animals in Banff National Park are wild. Remember to drive the speed limit and give animals plenty of space if you come across them while hiking.
Cell Reception
Cell reception in Banff or Lake Louise is usually good but it may be spotty to non-existent in other parts of the park.
Download any maps or brochures you need prior to your visit.
WRAP-UP: 3 Days in Banff Itinerary
Banff National Park is a bucket list destination for travelers that love the nature and outdoors.
With its spectacular scenery, many hiking trails, scenic drives, and other things to do, Banff is an enticing destination in the summer.
Hopefully, this 3 day Banff itinerary has helped you plan your trip to this amazing Canadian national park!
*****
This article was written for us by Kat, an Alberta resident, avid traveler, and travel blogger at Endless Wonder.
MORE INFORMATION FOR YOUR CANADIAN ROCKIES TRIP!
Lake Louise: The Best Things to Do in Lake Louise
Banff: The Best Lakes in (and near) Banff National Park
Banff: The Best Things to Do in Banff
Yoho: A Day Trip to Yoho National Park
Jasper: What to Do in Jasper National Park
Mount Robson: A Day Trip to Mount Robson Provincial Park
Icefields Parkway: The Best Stops on the Icefields Parkway Drive
Did you find this article informative? Pin it for later reference!