Looking for the best things to do in Murano, Italy?
If you are going to be spending two or more days in Venice, Italy, consider a day trip to one or more of the smaller outlying islands.
Just a vaporetto ride away, the island of Murano makes for an amazing full or part day trip from Venice, either alone or in conjunction with the neighboring islands of Burano and Torcello.
Read on to discover what to do in Murano in one day!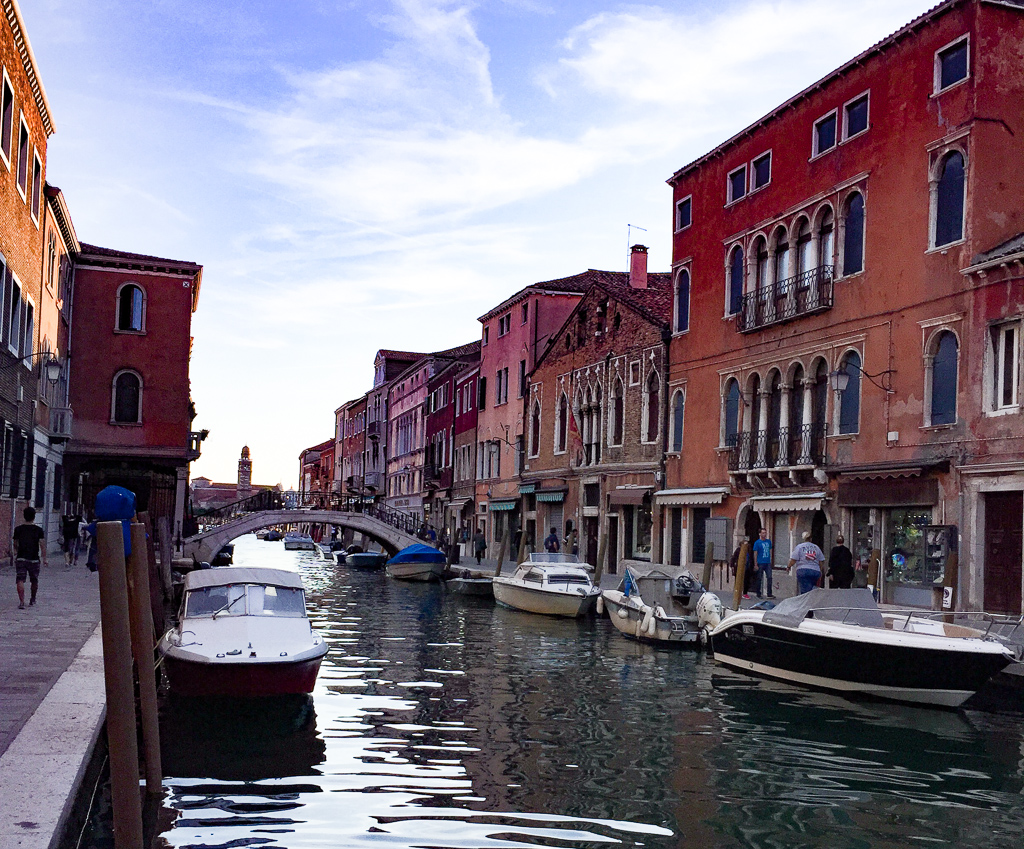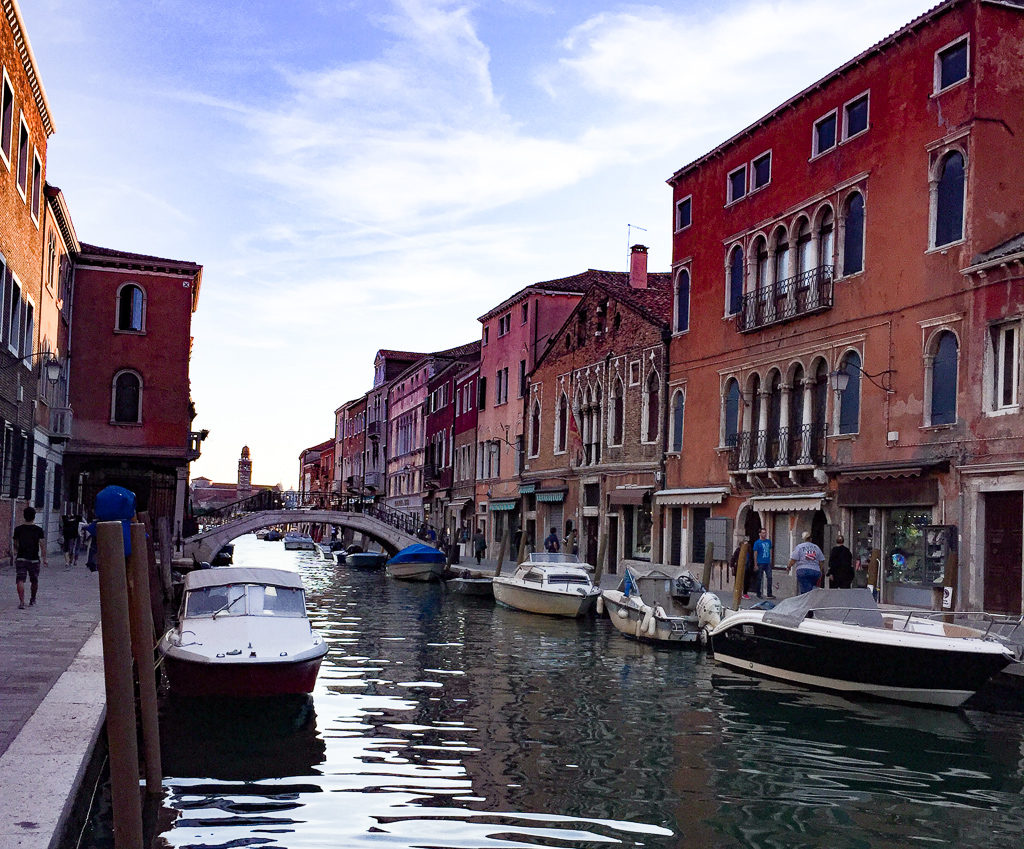 Some links on this page may be affiliate links. If you click an affiliate link and make a purchase, we may receive a small commission, at no extra cost to you. For more details, refer to our disclosure.
Isola di Murano is compact, with an area of just over 1.75 square miles. It's actually an archipelago, made up of seven small islands set close together and linked by bridges.
In one day, you can wander around Murano, watch a glass blowing demonstration, browse the glass stores on the island, pop into Murano's Duomo, and see the exhibits at the glass museum.
If you plan to visit Murano along with one or both of its neighbors Burano and Torcello, pick the things you most want to do, because you may not have the time to do everything!
Murano's History
Murano is famous for its beautiful blown glass. Murano glass is very beautiful and very expensive.
Since Murano's past and present are so inextricably linked with glass, to appreciate Murano, you have to know a little bit about its history, and how it developed into the glass-blowing capital of the world.
Murano was originally a fishing port and salt production center. As with other outlying islands in the Venetian lagoon, Murano came under under the rule of Venice, a trading powerhouse whose tentacles spread all through Europe and even beyond.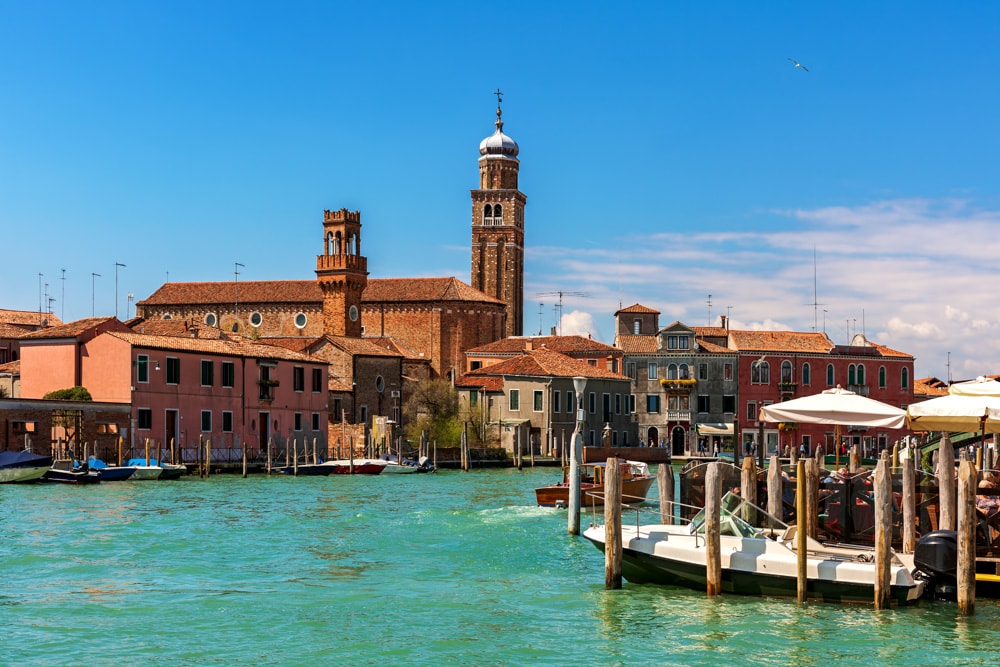 HOW GLASS-MAKING CAME TO MURANO
Around the end of the 13th century, the Venetian government determined that it was too dangerous to have glass-blowing furnaces continue to operate in Venice proper.
They feared a fire caused by a furnace would sweep through the city with its mostly wooden buildings, destroying everything it had taken centuries to build.
And so the glass-blowing furnaces were banished from the city to the nearby island of Murano.
In Murano, the glass-blowers of medieval Venice flourished, honing and perfecting their art such that eventually Murano glass became renowned the world over.
The island's masters of glass-blowing enjoyed a privileged status and much prosperity.
By cloistering them on Murano, Venice was also able to protect the traditional processes and trade secrets of Murano glass, to continue to rake in the riches from sales of the unique creations.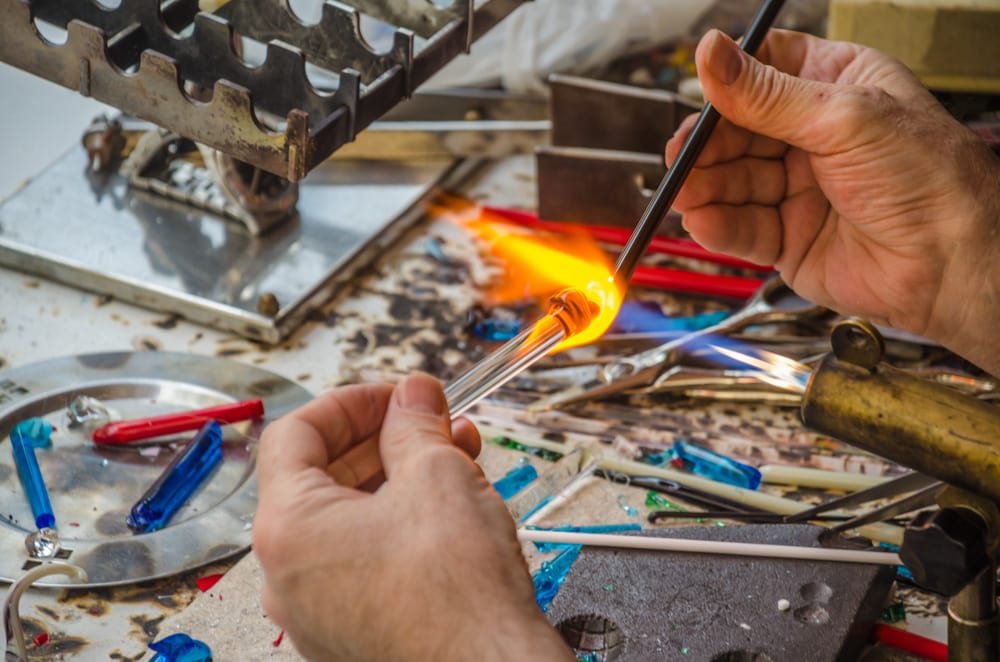 For a period of time, Murano was the main glass-making center in all of Europe.
By the end of the 16th century, however, some Murano glass-makers left for other parts of Europe, and the industry spread to other countries.
Murano's position and prosperity took a hit.
But in the 20th century, Murano glass-making traditions were revived and new factories opened. Today, glass making is back in the limelight in Murano.
Major glass-makers in Murano have banded together and developed a trademark that certifies glass made in Murano using traditional techniques, to distinguish it from copies made elsewhere in the world.
The Best Things to Do in Murano
If you are interested in exploring Murano's connection with glass making, you can easily spend a productive full day on the island.
If you don't wish to delve deep into glass, you can opt for a combined full or part day tour of Murano, Burano, and Torcello.
All three islands can be visited independently, or on a guided tour. You can also visit just Murano and Burano on a well-reviewed small-group tour.
Here are the best things to do in Murano in one day!
#1 Wander around Murano
Start by taking a walking tour of the island. Murano has a Grand Canal, and much like Venice, part of the charm of visiting Murano is to just wander around.
It's less easy to get lost in Murano, since it's such a small island, but move away from the main tourist drag and explore some side streets and alleys.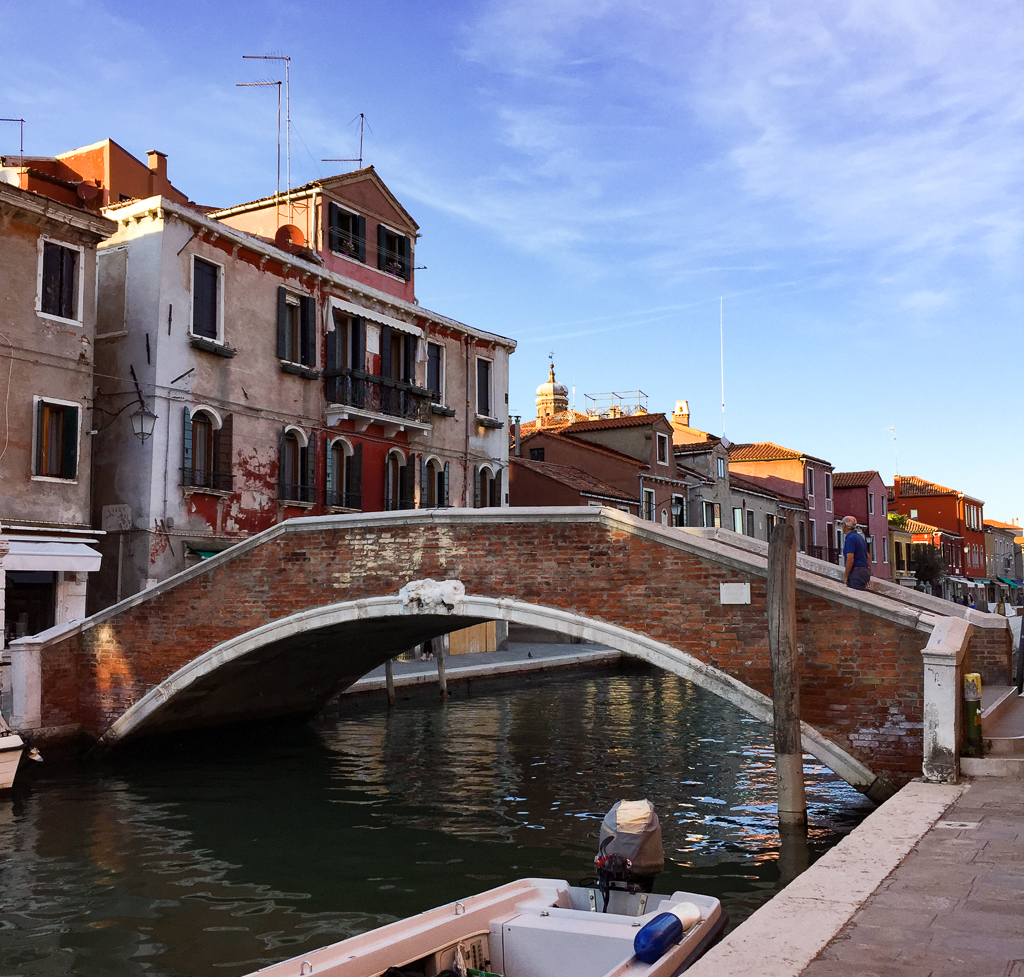 You can start your tour at the Faro di Murano, the lighthouse that was first opened in 1912 and continues to function as an active lighthouse today.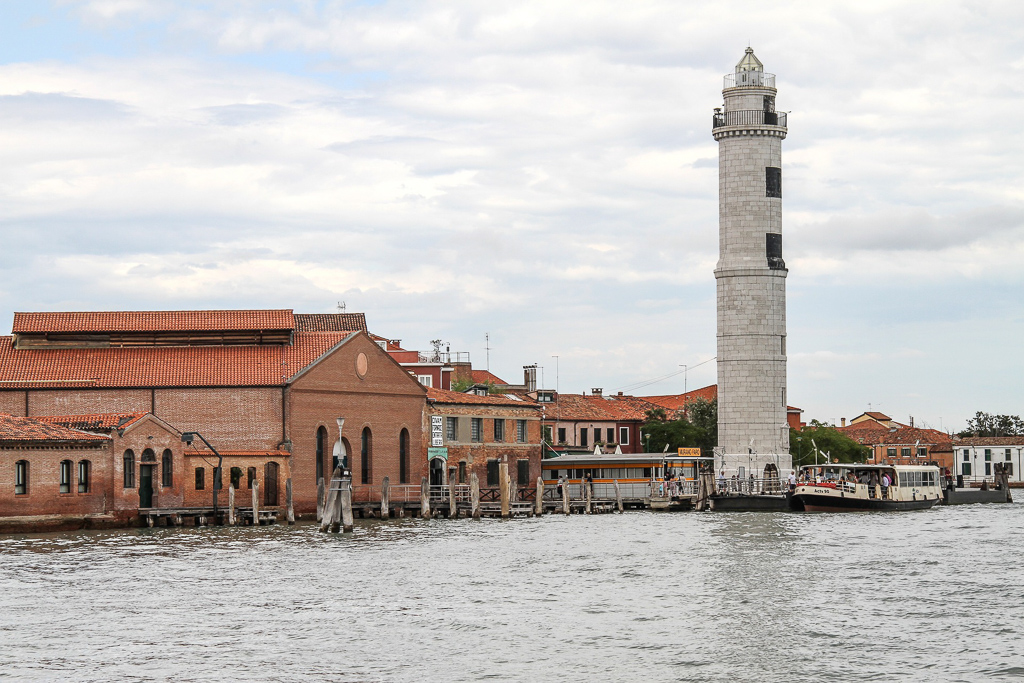 Then walk to the Grand Canal and explore on both sides of the water.
The area is somewhat reminiscent of the quieter parts of Venice, but the pavements are much wider on Murano and the water not as busy.
You will see glass showrooms and shops on both sides of the water. There is no question this island is all about glass!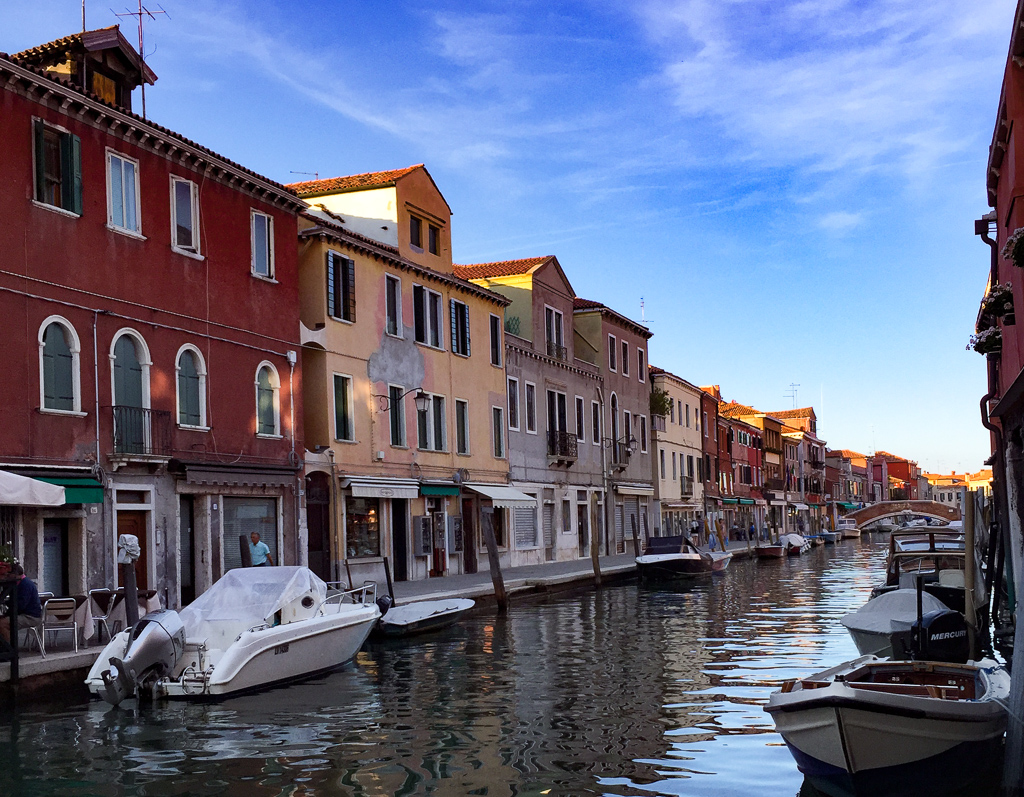 Then head to the Long Bridge. Make a little detour to see the Palazzo da Mula, a beautiful example of Venetian Gothic architecture, before you cross over the bridge to explore the area by the Glass Museum and the Duomo di Murano.
In this area, you will find smaller glass showrooms, and possibly craftsmen with storefronts.
#2 Browse the Murano Glass showrooms and shops
Even if you don't plan to buy, browsing the showrooms and shops is one of the most interesting things to do in Murano. After all, this is where the world's showiest glass pieces are created.
You will be awe-struck by the delicate colors and shapes of the objects on display, from huge chandeliers and vases to tiny beads and earrings.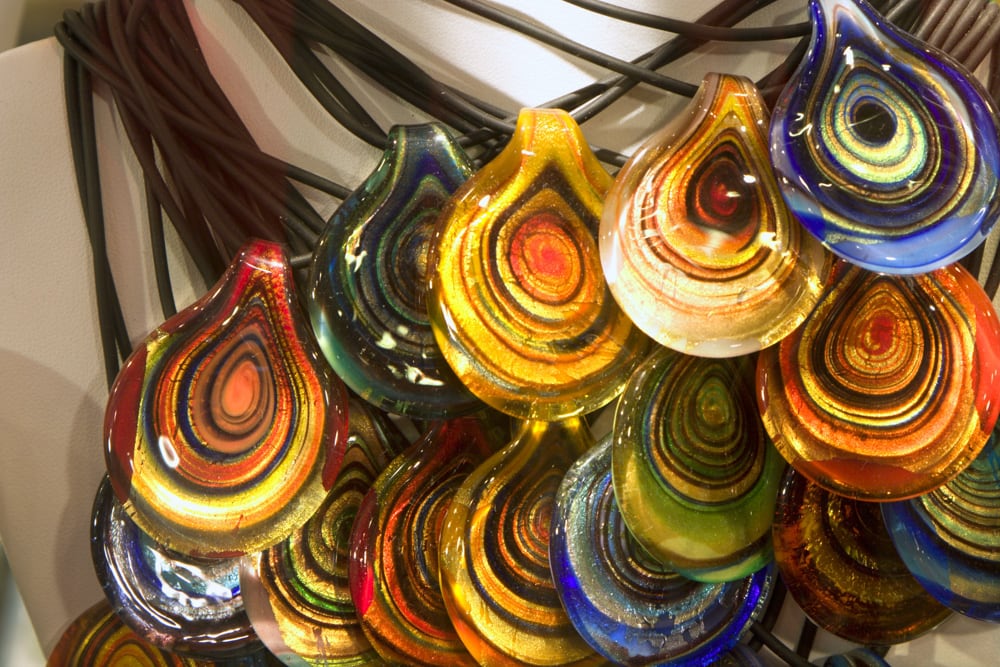 Look for pieces made with different techniques that originated or were honed to perfection in Murano. Avventurina glass, for example, showcases metallic particles in clear or translucent glass for a bright shimmery gold appearance.
All'avventura means "by chance," and Avventurina glass was the result of a happy accident when a worker dropped metal shavings into the glass mix!
Millefiori is another famous Murano glass technique. Millefiori means "thousand flowers," and the technique is complex, with multiple steps.
The end product is stunning, consisting of florals in different colors. I bought a pair of millefiori earrings during our visit to Murano!
You'll find pieces made using other techniques: gold and silver leaf, colored striping, glass that looks like porcelain, and beautiful layered pieces.
Isn't it fascinating that the Murano masters were able to do so many brilliant variations of glass?
BUYING MURANO GLASS
Murano glass is expensive, and the price of a piece can also depend on the materials used in the decoration, like 24K gold or platinum.
If you plan to buy anything of substance, do due diligence beforehand. Sadly, shops in Murano (and Venice) can carry cheap wares from elsewhere, to cater to tourists.
Look for showrooms that are part of the local consortium, or have a solid reputation and a history of excellence, or a small store or craftsman that will sell you signed pieces.
If you are buying a very expensive piece, it may even be worthwhile to get it expertly evaluated, much like you would a solitaire.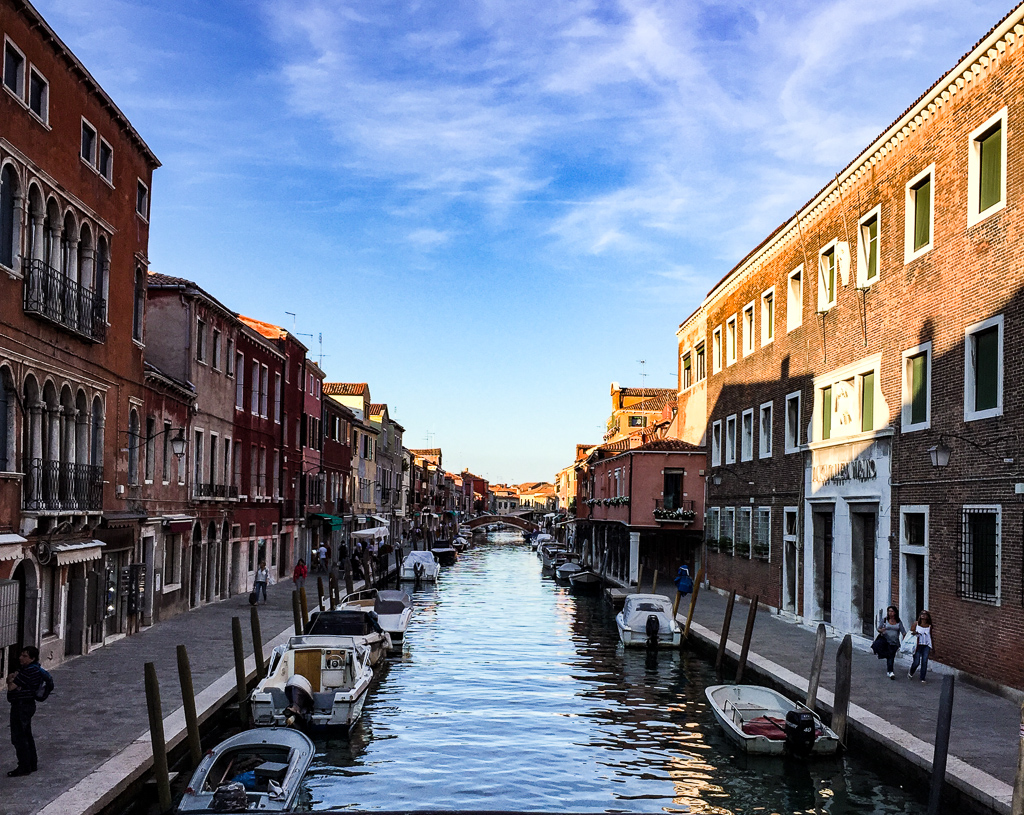 #3 Admire the Comet Star Sculpture
Walk to Campo San Stefano to view the gorgeous Comet Glass Star sculpture created in 2007 by Simone Cenedese, one of the glass masters of Murano. He has a factory and showroom on Murano, if you want to view the collection, and a website as well.
The sculpture is at the base of the clock tower, so if you walk towards the tower, you will eventually come to the little square.
The huge blue sculpture is visible from afar, but gorgeous up close. It has been made from several hundred pieces of spiky glass shards of different sizes. It is a must see when you visit the island! If you stay late enough, you can see it lit up at night.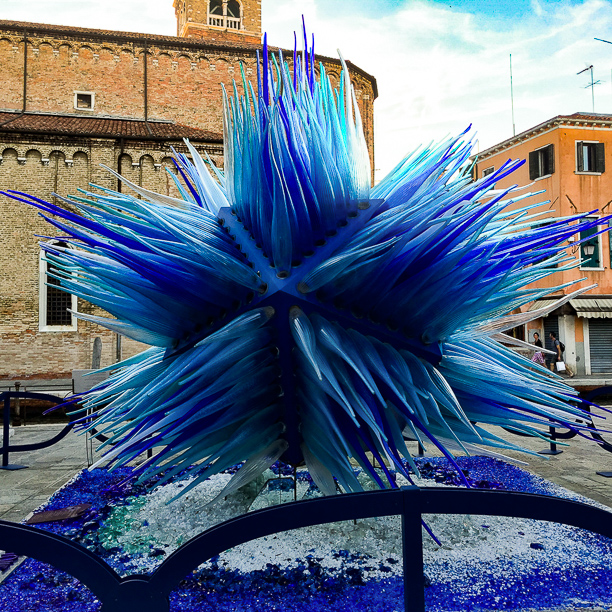 #5 Pop into the Chiesa di San Pietro Martire
If you like churches, take a look at the interior of the Chiesa di San Pietro Martire. This church is located near the Campo San Stefano.
The first church building on the site burned down in the second half of the 15th century, and the current structure was opened in the early 1500s. In the early 19th century, many of the paintings in the church were transferred to the Accademia Gallery in Venice.
But you'll see works here by some famous masters, including Veronese, Bellini, and Tintoretto. The Baptism of Christ on the right wall is by Tintoretto.
The works on the walls of the Cappella Maggiore are by Letterini. Admire the many large Murano chandeliers hanging from the ceiling!
If you go: Chiesa di San Pietro Martire, Fondamenta dei Vetrai, 30141 Venezia VE, Italy
#6 Attend a glass blowing demonstration
Many glass factories on Murano allow you to view glass being blown in their furnace. It is fun to watch the craftsman use heat and sculptural techniques to expertly shape and mold the glass.
Your best chance of a non-touristy experience is in the area by the Duomo and the Faro. Many smaller factories in that area will permit you to watch a 20- to 30-minute demonstration of an object being made.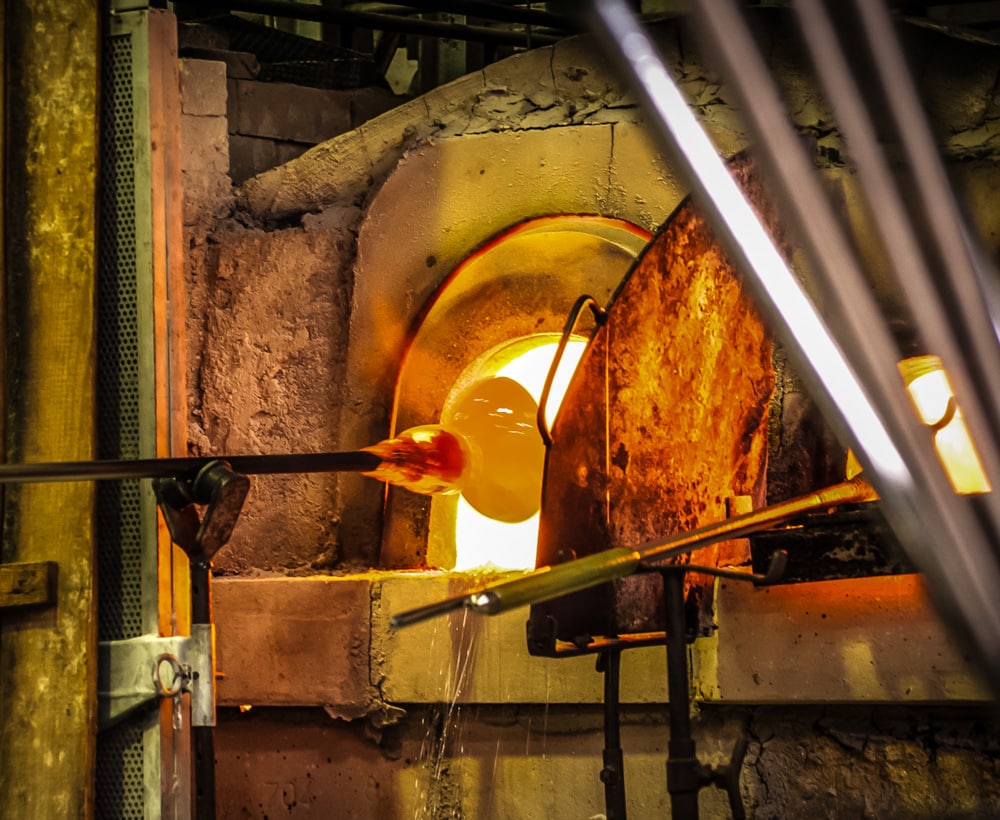 Most will have a sales pitch, but if you are not interested, you can decline, thank them, and leave.
Pro Tip: Call ahead if you have factories in mind for the demo, to make sure they are open on the date you will visit, and will allow you to watch a demo on that day.
At some places, you may be able to book your visit online, or you can do a guided demo. For a one-of-a-kind demonstration, attend the Seguso experience, which can be booked online. It's expensive, but worth the money and we loved it!
#7 Explore the exhibits at the Glass Museum
The Museo del Vetro is small, but it will round out your experience on the glass island. The museum has been open since 1861, and depicts the history of glass through the ages.
The collections are chronological, and there are several pieces from each significant period in Murano's history. You can also see examples of some of the techniques used by the glassmakers of Murano.
It is fascinating to see the ups and downs of Murano glass through the centuries, and innovations that helped it recover from each setback. Don't miss the contemporary innovations, especially the glass with wrought iron by Bellotto, and Carlo Scarpa's techniques.
There is an entrance fee. The Murano Glass Museum is included in the Venice Museum Pass.
If you go: Museo del Vetro, Fondamenta Marco Giustinian, 8, 30141 Venezia VE, Italy
#8 Visit the Duomo di Murano
Murano used to have lots of churches, but many were torn down to be replaced with glass factories. Only four are left, and among them, the Duomo di Murano, also called the Basilica dei Santi Maria e Donato is the most important.
Exploring this gracious old church should definitely be on your list of things to do in Murano.
The exterior of the church is relatively simple with warm brick tones of brown and rust and a separate bell tower. The facade that faces the canal is more ornate, but we didn't know that when we visited and missed the chance to see it.
The inside of the church is stunning, especially the marble floor from the 12th century inlaid with Byzantine mosaics. The dome in the apse is also made of mosaics, and depicts the Virgin Mary against a gold backdrop.
The church also houses the relics of St. Donatus of Arezzo. Hence the name: St. Mary and St. Donato. Look behind the altar: you'll some some long rib bones hanging from wires. Story has it that they belong to a dragon killed by the saint.
All in all, the church makes for a great break from glass-related activities, and a haven of quiet.
If you go: Duomo di Murano, Calle S. Donato, 11, 30141 Venezia VE, Italy
How to Get to Murano from Venice
To get to Murano from Venice, take a vaporetto or a water taxi. A water taxi is much more expensive, but worth considering if you have very limited time. Otherwise, the vaporetto is very convenient. You can take the vaporetto from one of many stops in Venice.
FROM FONDAMENTE NOVE
Murano lies to the north of Venice. Depending on where you are in Venice, walking to the vaporetto stop at Fondamente Nove might be your best option.
The lines for the boats may be non-existent or short, and the ride to Murano from this stop is just 10 minutes. This is what we did. From Fondamente Nove, you can take vaporetto line 12, 4.1, or 4.2.
FROM SAN ZACCARIA
If you happen to be at the Piazza San Marco, on the other side of Venice, you can take vaporetto line 4.1 or 4.2 (plus line 7 during the peak months) to Murano from the San Zaccaria stop.
From the Piazza San Marco, walk towards the water and then along the Grand Canal promenade to the vaporetto stops. From here, it will take you about 45 minutes by line 4.2 and about an hour by line 4.1. Be warned, lines for the vaporetto at the San Zaccaria stop can be really long.
FROM SANTA LUCIA TRAIN STATION
You can also board a vaporetto for Murano at the Santa Lucia train station stop in Venice. Line 3 from this stop goes directly to Murano and takes less than 20 minutes. You can also board the regular line 4.1 or 4.2 from this stop.
VAPORETTO TICKETS
If you plan to hop on and off the vaporetto multiple times during your stay in Venice, consider buying a time limited ticket (daily pass) instead of a single ticket. It's much cheaper, and you don't have to wait in line for tickets each time you want to ride the vaporetto.
We bought a 48-hour pass and planned our Venice itinerary such that we used the vaporetto extensively during the two days. Remember to validate your pass each time you board.
VAPORETTO STOPS ON MURANO
You can choose to get off at one of several stops in Murano, and then walk around. If you wish to start at the lighthouse, alight at the Faro stop. The Museo stop is near the Glass Museum and the Duomo. And the Colonna stop gets you near the glass factories.
Visiting Murano on a guided tour
Of course, you can also join a guided tour, for a hassle-free way to visit Murano, in conjunction with Burano, or Burano and Torcello.
This popular half-day tour visits all three islands in 4.5 hours. It is a good option if you have limited time in Venice but want to get a peek at the smaller islands. You get a little more time in Murano so you can shop for glass.
Book this tour now!
This highly-rated half-day tour visits just Murano and Burano, and might be the better option if you want to spend more time shopping in Murano. A visit to a local glass factory is included, with a discount on purchases.
Book this tour now!
Pro Tip: Be wary if you receive offers of free trips to Murano in Venice. You may be taken to specific glass blowing factories and be subjected to high pressure sales tactics following the factory tour.
Far better to travel on your own to Murano, so you can see and do what you want, and buy, if you so choose, from any store of your choice, or go on an independent guided tour with a known company.
Where to eat in Murano
Just like in Venice, you can find both great food and atrociously bad food on Murano. You should do some research ahead of your trip if you plan to have a meal on the island. Check out these choices for lunch or dinner:
TRATTORIA BUSA ALLA TORE DA LELE
Known just as much for the warm personality of the owner as for the quality of its food, Trattoria Busa alla Tore serves local seafood and classic pasta dishes.
Piazza seating is great for people watching, and you get to sit under the shade of an umbrella. We ate lunch here and loved our meals.
Osteria al Duomo
A collective owned by multiple families from Murano, the Osteria al Duomo is the place you should pick if you love pizza. The pasta and seafood dishes are just as good, so you really can't go wrong here. Snag an outdoor table in the garden if the weather is nice.
OSTERIA LA PERLA AI BISATEI
Casual ambience and a simple menu, but superb quality. Try the mixed fried fish (frittura mista), or the risotto of the day. La Perla is very popular with locals, so you know it's good!
When to visit Murano
Sadly, Murano can be just as crowded as Venice in season.
Time your visit to Venice and the outlying islands of Murano and Burano for the shoulder season: April and May, and September and October.
In the winter months, be prepared for the possibility of acqua alta (high water).
Start early in the day to get in a few hours on Murano without crowds. Stores and restaurants won't be open early, but you can walk around and take all the photos you want.
Or stay later in the evening to enjoy the island in relative quiet.
What's Nearby?
The island of Burano is just 30 minutes from the Murano Faro stop by vaporetto. Burano is popular for its bright colorful facades and lace making tradition.
Walk around the island and you may see women sitting in the sun and making the Burano lace by hand. There is also a lace museum on the island.
And if you love seafood, snap up the opportunity to dine at Al Gatto Nero, the famous trattoria on Burano.
A 5-minute vaporetto ride from Burano is Torcello, the last of the three outlying islands popular among visitors to Venice. Torcello is the least tourist-oriented of the three.
The most visited sight on Torcello is the Basilica di Santa Maria Assunta, famous for its Byzantine mosaics. Also visit the Museum of Torcello if you are a history lover: the museum houses Roman and Byzantine archaeological items found on the island.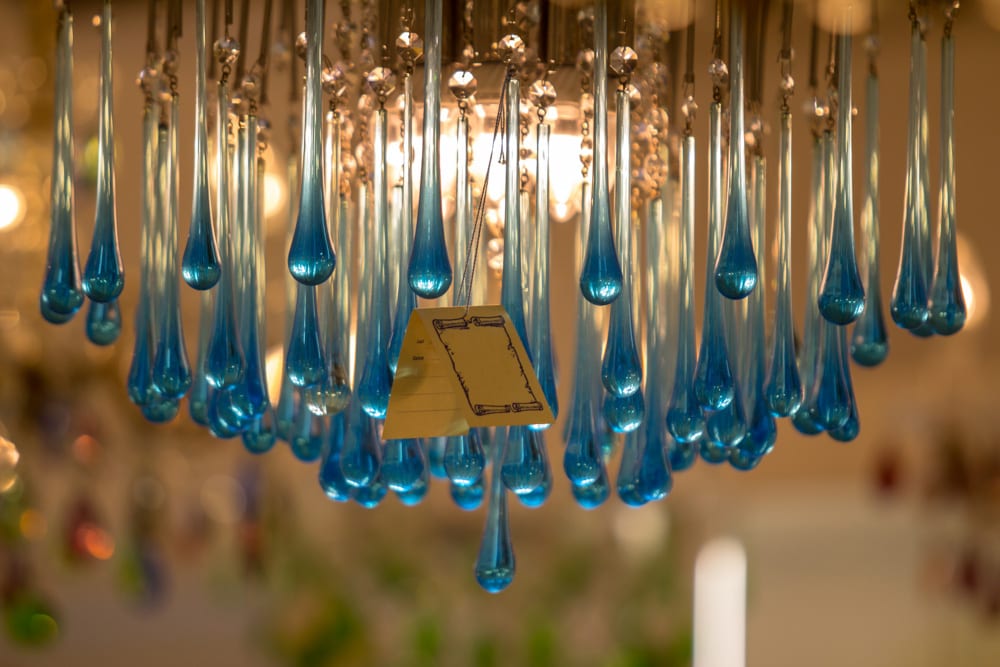 Where to Stay in Murano
You can actually make Murano your base when you visit Venice: hotels are cheaper than in Venice, and the vaporetto offers easy access for sightseeing in Venice.
NH Collection Murano Villa offers air-conditioned rooms and a shared terrace. The hotel is housed in an old glass factory! A buffet breakfast is offered. Rooms are well-appointed, with contemporary furnishings.
Book a stay here!
The Hyatt Centric Murano overlooks Murano's Grand Canal. It offers soundproofed, air-conditioned rooms, and is also housed in a renovated glass factory. The property offers an onsite spa and restaurant, and a shuttle from and to the airport in Venice.
Book a stay here!
Murano or Burano?
Both islands are beautiful. Each is interesting in its own way. So my suggestion is that you try to visit both!
Our day trip to Murano and Burano was one of the highlights of our two days in Venice. But if you can only visit one, whether you choose Murano or Burano depends entirely on your interests.
Murano is focused on glass. So you would want to pick Murano if you wish to see a glass blowing demo, or browse showrooms full of gorgeous glass objects.
Of course, as you saw from my list above, there are other things you can do here as well, but if you think delving into the history and techniques of glass blowing are not for you, pick Burano.
Especially if you think you'd love viewing and photographing the colorful facades on Burano.
*****
So there you have it…the best things to do on the island of Murano in one day! Have you visited Murano? What did you love about this little island in the Venetian lagoon?
If you haven't visited, add it to your itinerary for Venice: it's one of the easiest day trips from Venice you can do!
And if you are planning your first visit to the country, discover the perfect 3-week Italy itinerary!

MORE FUN DESTINATIONS FOR YOUR TRIP TO ITALY
CAPRI: One Day in Capri: What to See and Do
ORVIETO: One Day in the Charming Umbrian Hill Town of Orvieto
FLORENCE: 10 Best Things to Do on Your First Visit to Florence
ROME: 25 Best Things to Do in Rome for First-Timers
AMALFI COAST: Driving the Spectacular Amalfi Coast of Italy
SIENA: One Day in the Stunning Tuscan Town of Siena
OTHER FABULOUS PLACES TO EXPLORE!
NORWAY: 10 Best Things to Do in Stavanger, Norway
CALIFORNIA: A Day Trip to Joshua Tree National Park
CANADA: The Top 10 Things to Do on Your First Visit to Vancouver BC
POLAND: A Self-Guided Walking Tour of Gdansk Old Town
GERMANY: One Day in Rostock and Warnamunde
Did you find this article informative? Pin it for later reference!