Planning a visit to Modena? From sampling fabulous food to admiring sports cars and discovering amazing art and architecture, you'll find many eclectic things to do in Modena.
Located in the Emilia-Romagna region of northeastern Italy, Modena is a historic city that was settled since before the Etruscans. It was an important city under the Romans.
In medieval times, Modena came under the rule of the Este family, who held power until the mid-19th century, when Modena became part of the Kingdom of Italy.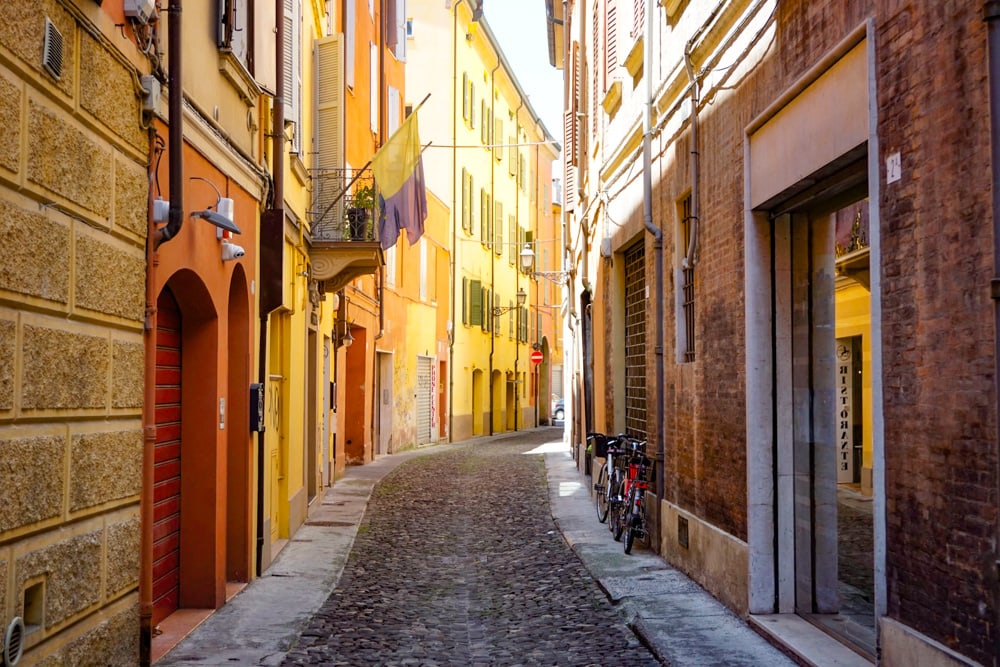 Modena is easy to access from Venice, Milan, or Bologna, and you can visit for the day, although you'll want to plan on two or three days if you want to do a car showroom tour or savor the excellent dining options at leisure.
Let's dive right into the best things to do in Modena, Italy!
Best Things to Do in Modena
Admire the Modena Cathedral
Visiting the beautiful cathedral is one of the best things to do in Modena.
Built in the Romanesque style by Lanfranco, the impressive Duomo di Modena is designated a UNESCO World Heritage Site, in conjunction with its bell tower and the piazza where it stands.
Two churches stood at this site earlier and they were destroyed to build this cathedral when the burial site of San Geminianus, the patron saint of Modena, was discovered. The saint's remains rest in the crypt.
Construction started in 1099 and was completed just a few years later, and the saint was laid to rest here in 1106.
The facade was decorated later, mainly by Wiligelmo and the Campionese Masters. The rose window was added in the 13th century. The two gorgeous lions at the main entrance are believed to be from the Roman era.
Inside, you will find three naves. Various works embellish the interior of the cathedral, including nativity scenes by two renowned artists from Modena. Painted wood panels date back to the 14th century.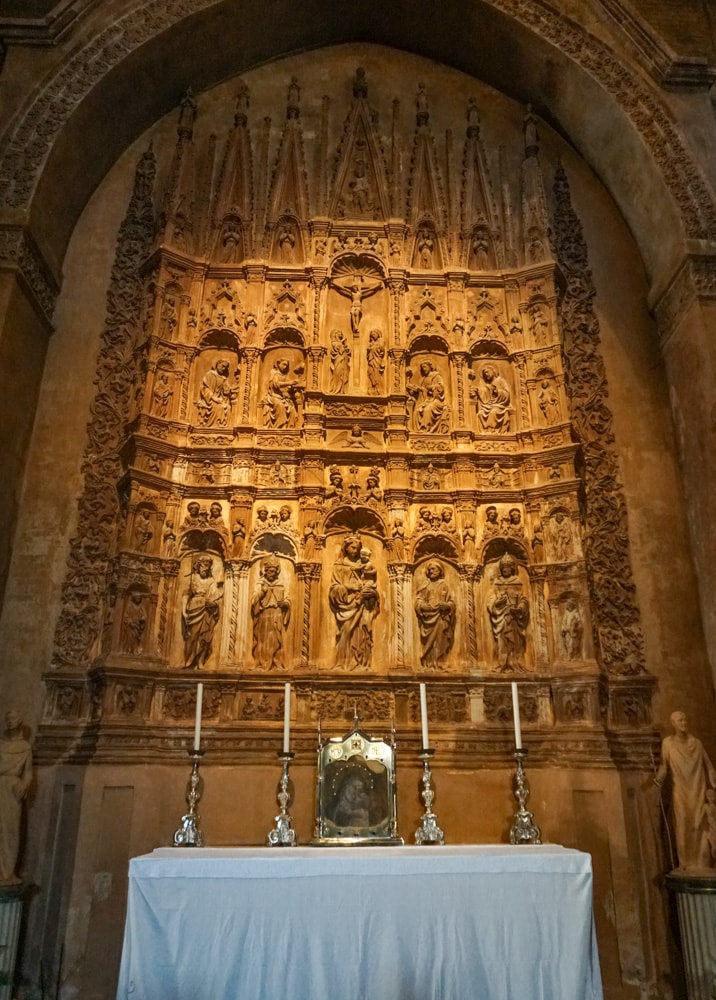 Admission to the cathedral is free, but at the time of writing, you have a book a time slot in advance.
Consider a walking tour of Modena that includes the Modena cathedral. With a knowledgable guide, you will learn a lot about the art and architecture as you tour Modena's stunning cathedral outside and inside.
Book this tour now!
Climb the bell tower of the Modena Cathedral
The bell tower of the Modena Cathedral, the Torre della Ghirlandina, is about 282.5 feet tall. The slender graceful tower is an iconic Modena landmark, one you must definitely visit when you are here.
The five bottom floors of the tower, in Romanesque style, were likely completed in the 12th century.
The top floor, which is topped with an octagonal structure, is Gothic, and was built in the 13th or 14th century, but the tower was only formally finished in the late 16th century. At the top, there are marble balustrades, ghirlande, which give the tower its name.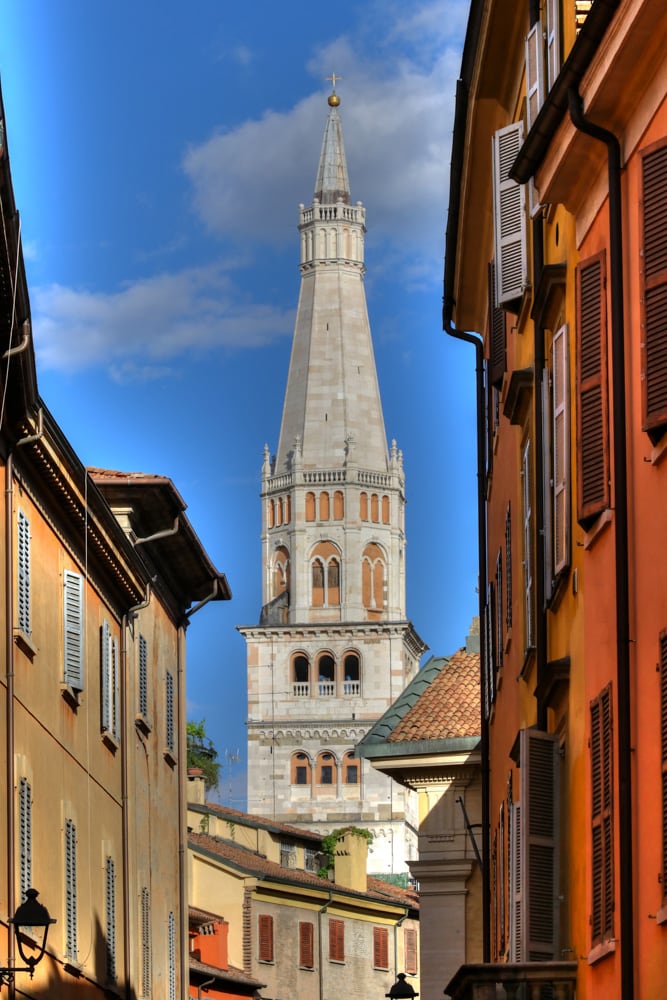 The tower has five bells, from the Renaissance period, and a stand for the famous bucket from the 1325 War of the Bucket between Modena and Bologna. The bucket was taken as a trophy by the Modenese.
Climb the 200 steps to the Stanza dei Torresani at the top for spectacular views over Modena. Taking photos is a bit of an issue though, because of an iron grille and glass windows, presumably in place for safety.
At the time of writing, you have to reserve an admission slot in advance, and then purchase your ticket when you visit.
Visit the Musei dei Duomo di modena
If you enjoy history and architecture, you'll want to add the Duomo Museum to your visit to the Modena Cathedral.
The Lapidary Museum is one of the two sections of the museum, and here you'll find sculptures and architectural bits and pieces found when the cathedral was being restored in the late 19th and early 20th century.
The Duomo Museum holds many artifacts, all the way from Romanesque times until the 19th century. There are two stunning Flemish tapestries depicting the Stories of Genesis, part of a series of twenty that used to hang in the cathedral until a few decades ago.
Stop by the bookshop, where you can pick up books about the duomo, or a souvenir to take home.
Stroll the Piazza Grande
The Piazza Grande is part of the UNESCO World Heritage Site. It is an impressive square, the beating heart of Modena.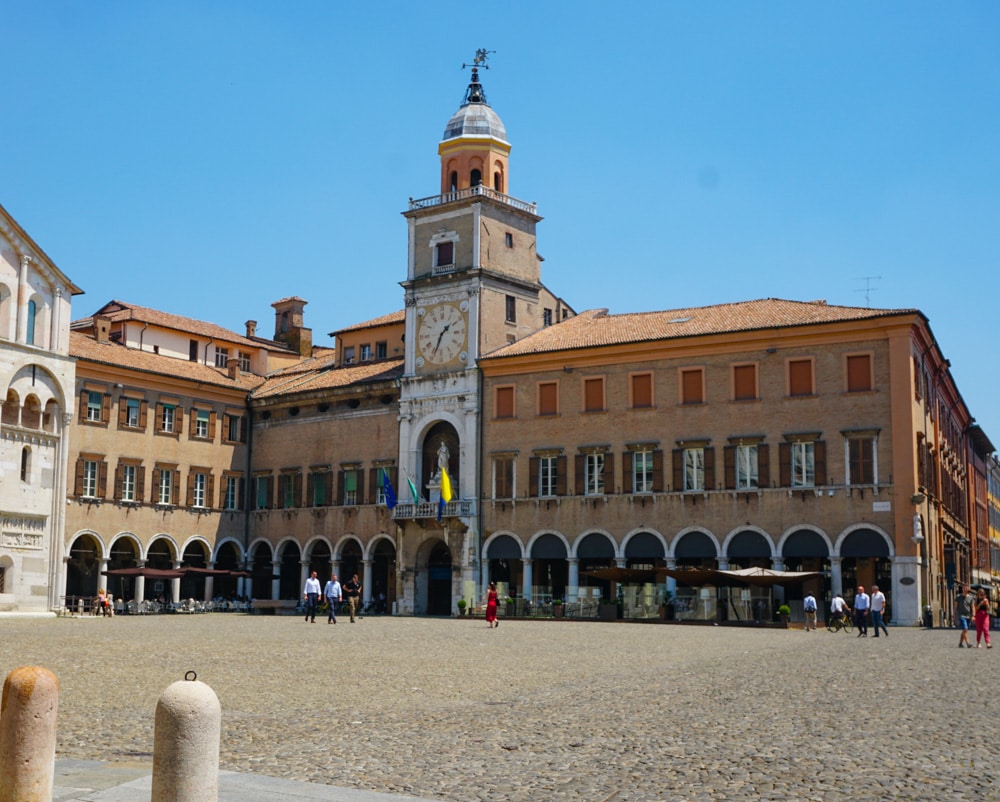 The piazza has seen many events of import through Modena's history, and continues to host public events today.
Other than the cathedral and its bell tower, you'll also find the Palazzo Comunale (Modena's Town Hall), with its clock tower, here.
Along the periphery of the square you will find shops to browse and many restaurants and cafes with outside seating, if you want to enjoy a drink and some people watching.
Wander the Streets of Modena
Modena's streets are charming, and strolling the historic center is one of the best things to do here.
The colors of the facades, in shades of yellow, orange, and red, reminded us of Bologna. You will also find porticoes in Modena, similar to Bologna.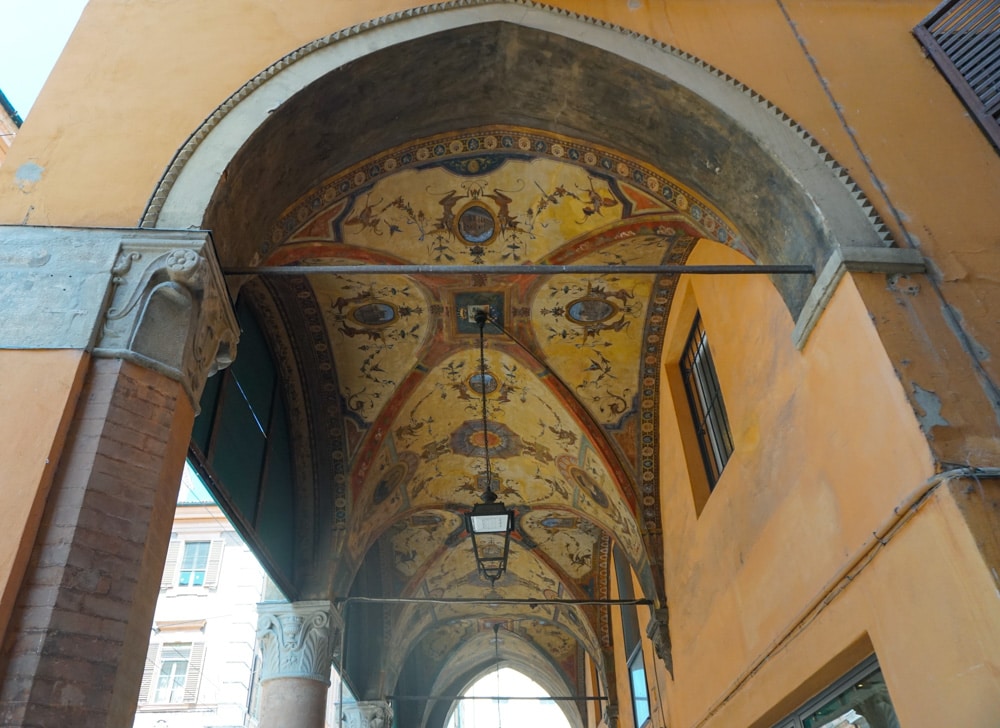 As you walk, admire the beautiful architecture, snap photos of the beautiful churches and palazzi, and browse the little shops in the cobblestoned alleys.
Admire the Palazzo Ducale
The Palazzo Ducale is a majestic baroque palace that used to be the residence of the Estes, who were the dukes of Modena from the mid 1400s to the mid 1800s.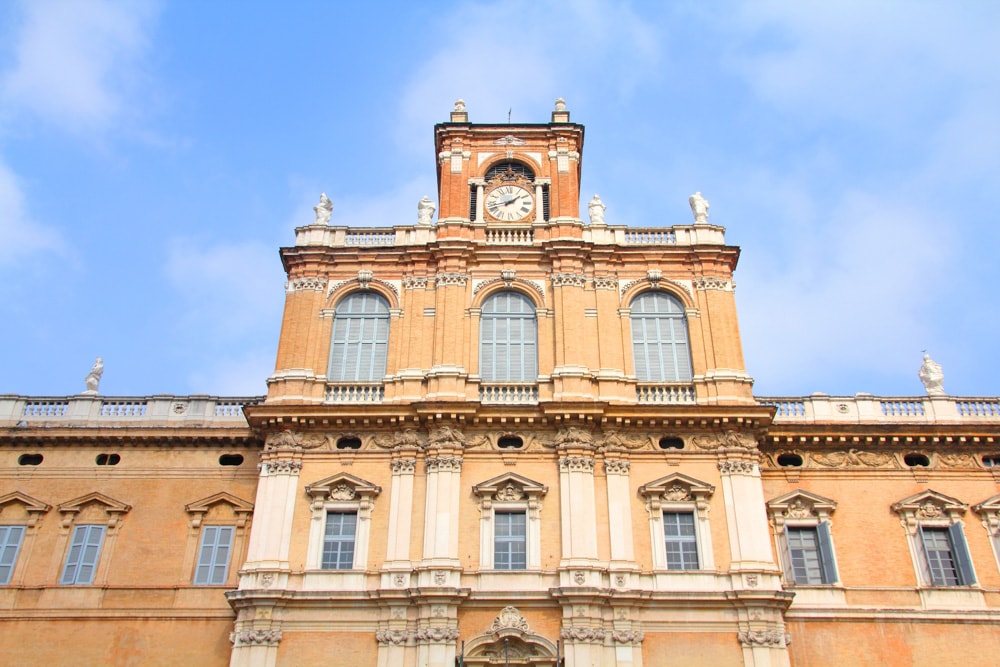 The Estes moved to Modena after Ferrara, their previous capital, was taken over by the Pope.
Built at the site where a castle built by the Estes once stood, the Ducal Palace has features designed by Gian Lorenzo Bernini (the grand staircase and some of the windows) and his rival Borromini is said to have contributed as well.
Today the palace, located in the Piazza Roma, houses the Italian Military Academy, and can only be visited on a guided tour on the weekends, with advance reservations.
Visit the Mercato Albinelli
Browsing the delightful covered Mercato Albinelli is definitely one of the top things to do in Modena! The market has been operating at this space since 1931.
Built in the Art Nouveau style, the market has been painstakingly restored. There is a beautiful fountain topped by the sculpture of a girl with a basket of fruit.
In the main hall, you'll find stalls of fresh produce, fruit, and flowers. Along the periphery are the shops that sell cheeses, meats, pasta, fish, bread, and other prepared foods.
The Mercato Albinelli is a great place to look for regional food products, including aceto balsamico and parmigiano reggiano. There are several restaurants here as well.
And keep an eye out for famed chef Massimo Bottura: he reportedly visits often to buy produce for his famous restaurant, the Osteria Francescana.
Enjoy the Art in the Galleria Estense
Located in the Palazzo dei Musei, the Galleria Estense is a must for art lovers.
Featuring the significant and eclectic art collection of the Dukes of Este, who ruled Ferrara from the 13th to the 16th centuries, and Modena and Reggio till the end of the 18th century.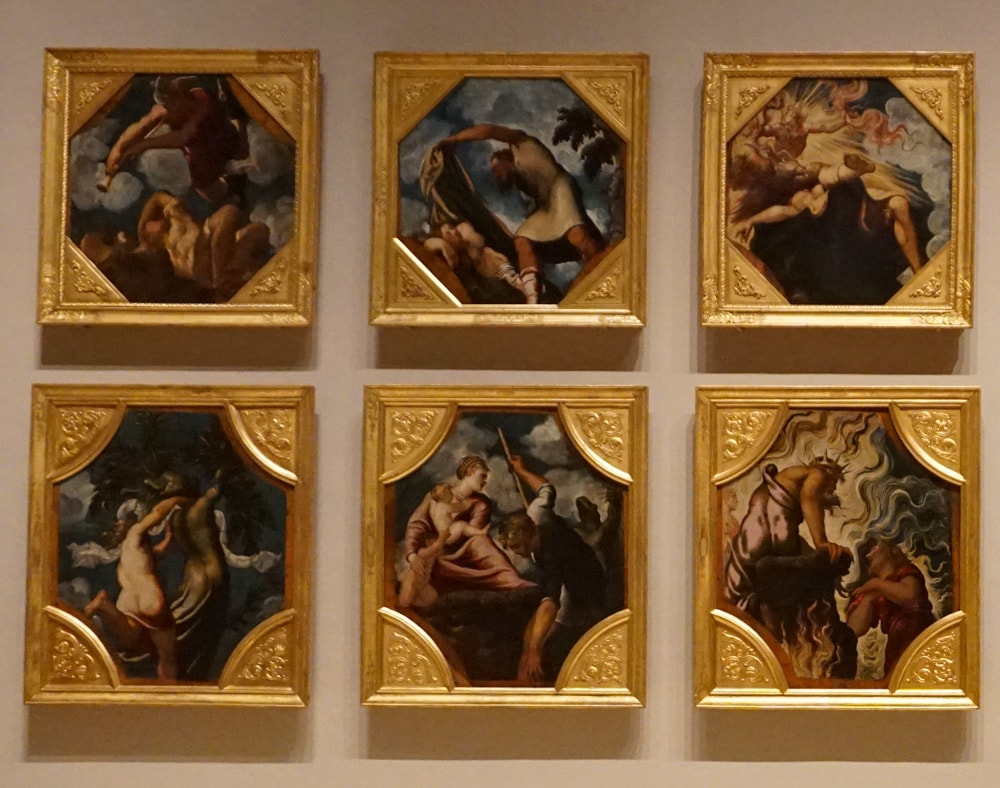 You'll find a stunning collection of Italian paintings here, including such works as Correggio's Madonna and Child, Modena Triptych by El Greco, and Conegliano's Pietà.
There is a Tintoretto wall, with more than a dozen canvases by the master.
Other than paintings, the gallery contains many sculptures (look for Bernini's bust of Francesco I d'Este), musical instruments, coins, and decorative art objects.
Tour the Casa Museo Luciano Pavarotti
Opera great Luciano Pavarotti was born in Modena. Pavarotti lived and entertained in his Modena home, and died here at the age of 71.
The Casa Museo Luciano Pavarotti, his home, is an incredible glimpse into his private collection of memorabilia, including letters from cherished friends, photos, and costumes.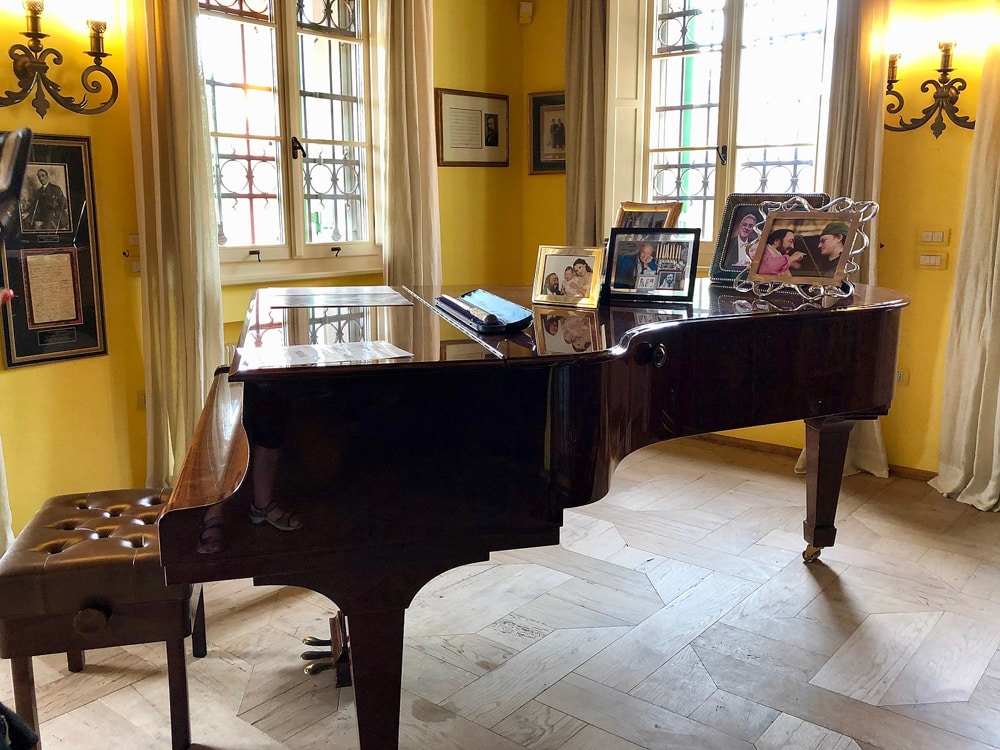 The light-filled home is a must-visit when you are in Modena, whether you are a fan of Pavarotti or not.
The home, set in the serene countryside outside the city center, has been kept as it was at the time of his death, and you feel his presence (and his music!) as you walk through it.
The Pavarotti Museum is located just about 6 miles from the Piazza di Duomo, so if you do not have a car, a taxi is the best way to get there. We asked our driver to get us after 90 minutes: it was very convenient.
Visit the Museo Casa Enzo Ferrari
Featuring the home where Enzo Ferrari was born, along with a yellow-roofed contemporary museum, the Museo Casa Enzo Ferrari will thrill car lovers.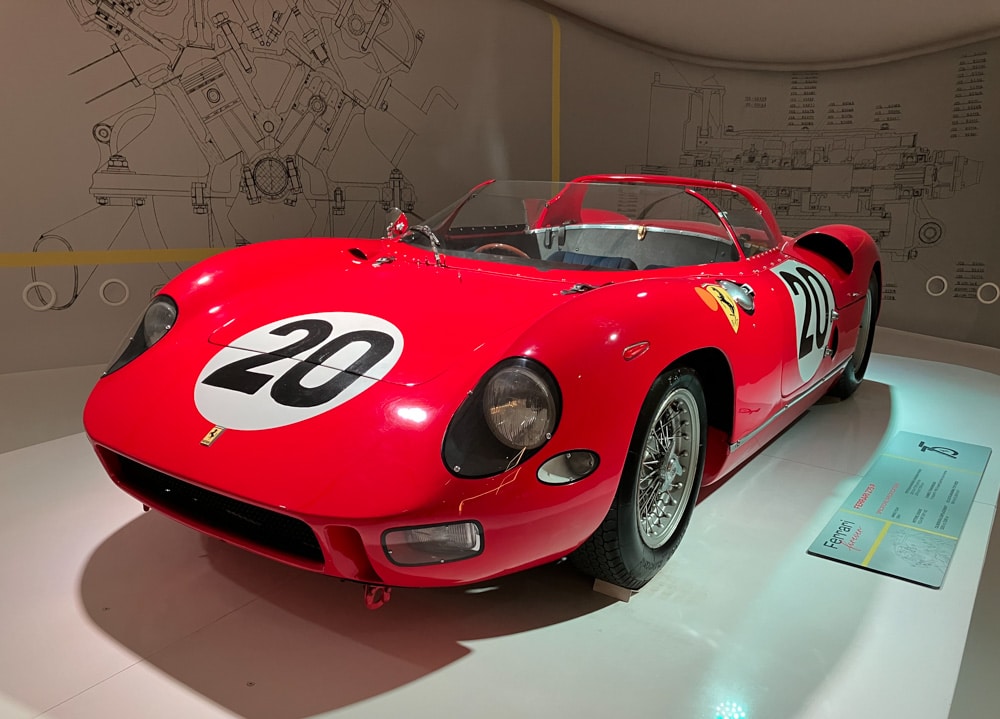 Watch a movie that shows the founding and history of Ferrari, walk around and admire the extraordinary cars on the exhibition floor, view the different engines, and try the GT simulator for an additional fee.
There is a gift shop, if you want to pick up a souvenir.
If you plan to visit both Ferrari museums (Modena + Maranello), remember to buy a combined ticket!
Visit the Maranello Ferrari Museum
There are two Ferrari museums you can visit in Modena. The Maranello Ferrari Museum is located about a 20-minute drive from the city center, and you'll need transport to visit.
Ferrari offers a combination ticket and a paid shuttle service to the Maranello location.
The Maranello location has more racing cars on display, along with trophies, while the Modena location has historical models.
For an extra fee, you can try the F1 simulator, and also for an extra fee, you can join a bus tour of the factory and the race track.
If you plan on buying a souvenir, the store at the Maranello location is bigger than the one in Modena.
Gawk at the Interior of the Chiesa di Sant'Agostino
The Chiesa di Sant'Agostino has a modest brick exterior, but if it is open, be sure to step inside to gape at the magnificent baroque interior!
You will find many decorated altars, numerous frescoes and paintings, stucco, a beautiful organ and more to admire.
There are many statues of Este family members: this church is unique in that the funerary decorations done for the funeral of Duke Alfonso IV in 1662 were retained permanently instead of being removed after the ceremony.
Among the masterpieces in the church is the Lamentation in terracotta by Antonio Begarelli from the 16th century, and part of a fresco of the Madonna and Child by Tommaso da Modena.
Eat!
Some of the must-eat foods when you visit Modena include the renowned aceto balsamico, tortellini and tortelloni, and parmigiano-reggiano. Also try Lambrusco, the local red wine.
A food tour led by a local is a great way to sample local products. This 3.5-hour highly-rated tour includes five tastings, including aceto balsamico tradizionale di Modena DOP and parmigiano-reggiano cheese.
Book this tour now!
Modena is home to the renowned Osteria Francescana, which boasts three Michelin stars and twice was declared the best restaurant in the world.
Reservations are extremely difficult to come by, so much so that friends of ours built their entire trip to Northern Italy around their meal here when they were lucky enough to get a table!
Chef Bottura also offers tasting menus at Casa Maria Luigia, the Botturas' country house that's been painstakingly restored. This experience also tends to get booked months in advance.
He also owns a casual restaurant in Modena, Franceschetta58, where both a tasting menu and a menu à la carte are offered. Reservations are easier to get for the bistro, and the food is excellent.
Hosteria Giusti is another delightful Modena foodie experience. There are just four tables in this incredibly intimate restaurant, so you'll need to reserve well ahead of time. You can't go wrong with either their tasting menu or the à la carte options.
Ristorante de Danilo offers many Modena classics like tortellini en brodo and gnocchi friti. Their pumpkin tortelloni was delicious.
Enjoy Gelato
We have to try gelato everywhere we go in Italy, and based on our research before our visit, we chose Gelateria Bloom in Modena.
And we weren't disappointed!
Featuring fresh natural ingredients, the gelato at Bloom was so delicious that right after we finished, we walked back and got seconds!
They have the classics like pistachio and fior de latte but they also have many seasonal fruit flavors. You can also choose to have your gelato in a brioche bun.
Visit an Acetaia
Want to see how aceto balsamico di Modena is produced? To get DOP (Denominazione di Origine Protetta) status, the vinegar has to be produced in Modena, using traditional methods.
Modena DOP vinegar is pricey, but when you taste it, you'll see why!
Many acetaias (traditional vinegar producing facilities) in Modena allow visitors with advance arrangement. However, since they are not typically located in the center, you'll need a rented car or other transport to visit on your own.
A hassle-free way of visiting an acetaia or a cheese producing facility is to join a guided tour. Most tours typically take you to more than one place, and some tours include lunch as well.
This popular tour takes you to one of the oldest balsamic producers in Modena, where you can tour the vineyards and observe all the stages of production, from the pressing of the grapes to the aging of the barrels. You will enjoy tastings of the vinegar, plus lunch and a bottle of wine produced onsite.
Book this tour now!
Getting into Modena
Modena is well connected to larger Italian cities such as Venice, Milan, Bologna, and Florence.
Modena is doable as a day trip from any of these destinations, so if you enjoy history, art and architecture, and great food, be sure to add it to your itinerary for northern Italy!
DRIVE
If you have a car, you can drive to Modena.
The driving distance to Modena, and the driving time in normal traffic, is as follows:
Venice to Modena: About 125 miles, around 2 hours and 8 minutes
Milan to Modena: About 111 miles, approximately two hours and 10 minutes
Bologna to Modena: About 29 miles, around 45 minutes
Florence to Modena: About 97 miles, around one hour and 45 minutes
If you drive, park in one of the city parking lots and then explore the historic center on foot.
Planning to rent a car in Italy? Consider Discover Cars! They scour multiple providers to get the best price for you, including brands like Hertz, Enterprise, Alamo, Budget, and Sixt.
Check prices and availability on rental cars now!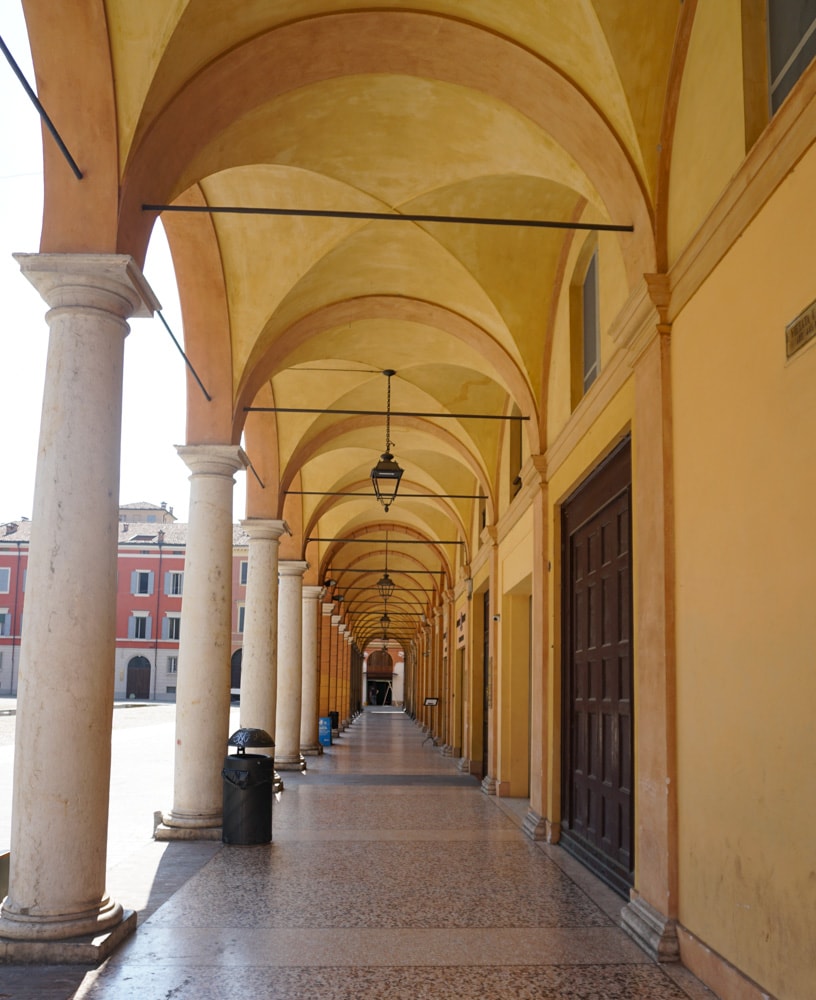 BY TRAIN
A fast train from Florence to Modena takes about one hour and 30 minutes, with a transfer in Bologna. Regional train times vary, but you can pick one of the faster choices, which takes about 2 hours and 30 minutes. There are multiple departures each day in both directions.
A fast train from Venice to Modena takes about 2 hours and 10 minutes. There are numerous departures in both directions each day.
You can get from Bologna to Modena by regional train in about 30 minutes, with multiple departures each day in both directions.
A regional train from Milan takes a little over 2 hours to get to Modena.
It will take you about 15 minutes to walk from the train station in Modena to the Piazza Grande. You can also take a local bus to get into the city center.
To book bus (and train) tickets for Europe in advance, consider Omio. I found the booking experience easy and hassle-free. They do charge a small service fee but I thought it was well worth the convenience!
Book train tickets for Modena now!
Getting Around in Modena
You can walk to all the major sights in the historic center of Modena, because they are not very far apart from one another, and strolling the streets of the city center is a joy.
If you plan to visit sights or food producers outside the city center, a rental car affords the maximum flexibility. Guided tours are your next best option.
Where to Stay in Modena
Hotels in Modena, Italy
B&B Le Noci de Feo offers well-appointed rooms with garden views, a shared lounge, and a garden. The property features free parking and wifi. The breakfast is very highly rated. The host is rated extremely helpful.
Book a stay here!
Vittorio Veneto 25 offers elegantly appointed air-conditioned rooms with contemporary furnishings. The bathroom has a large shower. The property is located just a short walk from the Piazza Grande.
Book a stay here!
Apartments in Modena Italy
La Campanella is a two-bedroom air-conditioned apartment, located just 0.3 mile from the center. The apartment has a fully-stocked kitchen and a washer. Breakfast is offered.
Book a stay here!
La Casa del Centro has an excellent location in the city center. The apartment features air-conditioning and a full kitchen, and a washer. You'll have free parking and free wifi.
Book a stay here!
The Best Time to Visit Modena
From a weather perspective, spring and fall are ideal times to visit Modena. Daytime temperatures are in the 60s and 70s Fahrenheit, making walking outdoors pleasant.
Summer daytime temperatures tend to be in the high 80s, and it's humid as well. And winters are cool, with temperatures in the mid 40s, so you'll want to dress warm to explore outdoors.
*****
So there you have it: the best things to do in Modena! Have you visited this iconic city? I would love to hear your thoughts: comment below to respond!
If you have not yet visited Modena, I hope I have inspired you to consider adding it to your itinerary for your next trip to northern Italy!
Planning a visit to Italy? It's one of our favorite destinations in Europe, and we've visited multiple times!
We have a detailed 3-week itinerary for Italy, or different ways to structure 10 days in Italy.
Browse our Italy guide for lots of ideas on where to go and what to do.
From large historic cities like Florence, Venice, and Rome to small towns like Siena and Orvieto, we've covered quite a bit of Italy.
You'll find detailed insights on what to see and do, itineraries, and suggestions for where to stay and eat.
Other Destinations in Northern Italy
Did you find this article informative? Pin it for later reference!