Croatia is spectacularly beautiful, and the eight national parks in Croatia are some of the best places to experience the natural beauty of Croatia in all its magnificence.
Spanning the gamut from captivating coastline and idyllic islands to wonderful waterfalls and majestic mountain massifs, Croatia's landscapes are a big reason to visit the country, especially if you love nature and the outdoors.
While Plitvice National Park and Krka National Park are high on the list for most visitors to Croatia, you may want to look at some of the other parks as well if you are planning a longer stay in Croatia.
We've visited four of the eight national parks in Croatia so far, and can't wait to return to explore the remaining four. Croatia's national parks make wonderful additions to any nature lover's itinerary for Croatia.
Some links on this page may be affiliate links. If you click an affiliate link and make a purchase, we may receive a small commission, at no extra cost to you. For more details, refer to our disclosure.
Some Quick Facts About Croatia's National Parks
Which is the best national park in Croatia?
Plitvice Lakes National Park is considered the crown jewel of the Croatia National Parks system. It is the most visited national park in Croatia.
How many national parks are there in Croatia?
Croatia has eight national parks: Plitvice Lakes, Brijuni, Mljet, Kornati, Paklenica, Krka, Risnjak, and Velebit.
Which is better: Krka or Plitvice Lakes?
Both Krka and Plitvice Lakes are popular Croatian national parks that feature waterfalls. Plitvice Lakes is a UNESCO World Heritage site. The park is larger and has many more lakes and waterfalls than does Krka. Plitvice Lakes is definitely the park to choose if you have the time.
More About Croatia's National Parks
The national parks of Croatia protect about 384 square miles, of which 91 square miles is water. Among Croatia's national parks, Plitvice Lakes is the largest and most famous (and justly so!). But we found every one of the parks we visited beautiful.
You can visit all of these parks on day trips, but you can also stay overnight or for a few days at several of them. Amenities tend to be fewer at the mountain parks, with smaller adjoining towns and modest accommodation and dining options.
Read on to discover what to see and do in each one of Croatia's beautiful national parks!
Plitvice Lakes National Park
Croatia's most famous national park and a UNESCO World Heritage Site, Plitvice Lakes National Park should be a must on your Croatia itinerary. It is one of the top places to visit in Croatia!
Plitvice Lakes is one of Europe's best national parks, and its cascading waterfalls and beautiful lakes will leave you awed and delighted.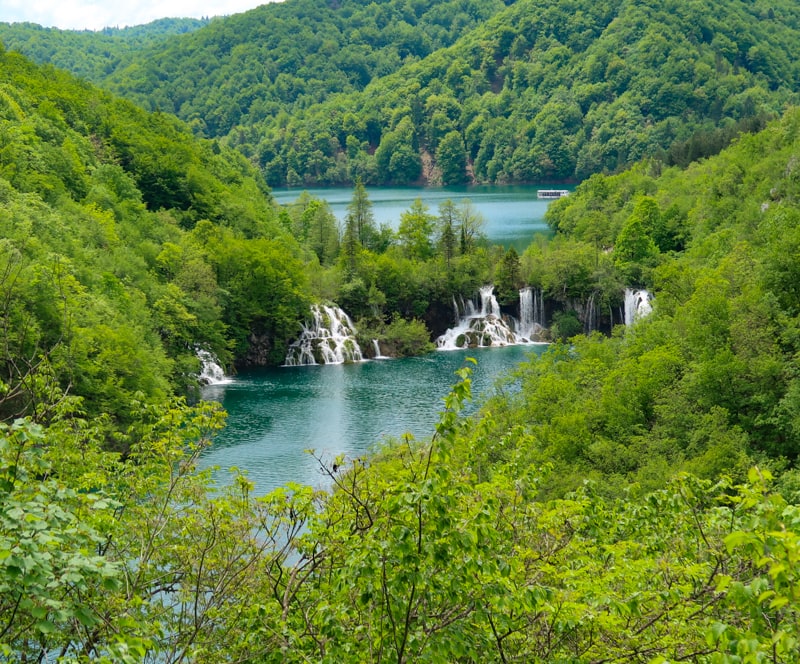 There are 16 interconnected lakes in the park, on two broad levels, lower and upper. Numerous waterfalls, ranging from the magnificent Veliki Slap (the tallest falls in the park) to little dribbles that tumble a few inches, are everywhere.
A network of boardwalks and trails connects different parts of the park, and you can choose to walk different routes, depending on the amount of time you wish to spend. You can choose a route that takes as little as 2 hours, to one that can take 8 hours!
Keep an eye out for wildlife as you walk the park: we spied a fox early in the day! There are also lots of birds, so if you enjoy birdwatching, take your scope or zoom lens along.
You will find lots of accommodation options in nearby communities if you choose to spend a night or two.
How to get to Plitvice Lakes National Park
Plitvice Lake National Park is located in central Croatia, and it is easy to access from many major cities, including Zagreb, Split, and Zadar.
If you do not have a car, you can opt for a guided excursion from any of these cities. The park is one of the most popular day trips from Split.
Here are some highly rated day excursions to Plitvice Lakes National Park:

From Zagreb: This full day small group guided tour combines a visit to Plitvice Lakes with a stop in picturesque Rastoke and the price includes the park admission fee.
From Split (or Trogir): Consider combining a guided tour of Plitvice Lakes National Park with a transfer to Zagreb to save money and time! You can also do this tour in the reverse direction.
From Zadar: Plitvice Lakes is one of the most popular day trips from Zadar. This 8-hour guided tour helps you see the best of the park in an efficient manner.
You can also choose to visit Plitvice Lakes National Park independently from any of these cities, driving there if you have a car, or via bus or private transfer.
For hours and admission fees, visit the park website.
Looking to rent a car for your Croatia trip? Discover Cars offers you the ability to compare availability and prices across many major car-hire companies. Pick the car that best meets your needs!
Brijuni National Park
Located off the Istrian coast in the northwest part of the country, Brijuni National Park is an archipelago of 14 islands. They look like green gems scattered about in the beautiful blue Adriatic.
Visit the islands of Brijuni National Park for their natural beauty but also to observe the local flora and fauna and to tour the remains of historical sites, some dating back to Roman times.
You can even see dinosaur footprints! And of course, spend some time relaxing on the beautiful beaches or swimming in the turquoise waters.
Veliki Brijun, the largest island, is the one most often visited, although day excursions to a couple of the other islands are allowed. The remaining islands can only be viewed from the sea.
Veliki Brijun offers accommodations if you wish to spend a few days soaking in the tranquil beauty of the island, and a tourist train that takes you to the major sights on the island.
How to get to Brijuni National Park
The easiest way to visit Brijuni National Park is by organized tour. Tours depart from many places on the Istrian coast: Pula, Rovinj, Umag, or Poreč. Different tours are available, so you can pick the one that appeals to you the most.
You can also visit Veliki Brijun independently: drive to Fažana, from where you can take a boat to the island. At the island, do the organized tour or the train, or rent a bike or electric car and explore on your own!
For hours and admission fees, visit the park website.
Mljet National Park
Mljet is one of the southernmost of Croatia's multitude of islands, and also one of its most beautiful. I drooled over aerial photos of Mljet long before our first visit to Croatia!
Mljet National Park is located on the northwest portion of the island, bordering two pretty saltwater lakes, Veliko Jezero and Malo Jezero. In the larger lake, you'll find a adorable islet, on which stands a 12th century Benedictine monastery.
The monastery is now a restaurant, and you can hop over to the islet by way of boat from either side of the lake.
In the park, plan on walking one of the lakeshore trails: the paths are shaded and the scenery spectacular. You can also explore on bikes, swim or snorkel, or take a kayak out onto the lake
You'll find accommodations on Mljet Island is you want to spend a few days here.
How to get to Mljet national Park
If you wish to visit Mljet National Park on a day trip, consider this highly rated full day excursion from Dubrovnik. You can also visit independently by taking the daily catamaran in season. On the island, you can rent bikes or use the local minibus.
If you have a car, you can also visit Mljet from Prapratno on the Peljesac Peninsula, from where car ferries depart for the island. Ferries from Split also call on Mljet, by way of Hvar and Korcula.
For hours and admission fees, visit the park website.
Krka national Park
Located in central Dalmatia, Krka National Park is named for the Krka River. It features a number of waterfalls and beautiful scenery.
You can visit Krka on a day trip from Split, Zadar, or Sibenik. After Plitvice Lakes, Krka is the most visited national park in Croatia.
Skradinski buk, the largest set of waterfalls in the park, is the most popular attraction, with its multi-tiered cascades and Instagram-worthy plunge pool.
If you arrive at the Lozovac entrance, you can walk a boardwalk trail that culminates at Skradinski buk.
Roški Slap, a bit further away, features a lovely walking trail. The best way to visit this waterfall is via the boat tour from Skradinski buk, available in season.
Also on the boat excursion, you will see the tiny island of Visovac. There is an old Catholic monastery on the island. It is actually better to see Visovac from the viewpoint high above the island.
Krka National Park is also home to diverse flora and fauna: lots of lavender grows in the area, so watch out for bees if you visit in bloom season.
In the spring, you will see lots of wildflowers. If you enjoy birdwatching, Krka is home to several hundred species.
How to Get to Krka National Park
Krka National Park has several entrances, but the most popular entrances are Lozovac, and Skradin, which is only open from April to October.
You can drive to the park if you have a car: it is easily accessed from Split, Trogir, Zadar, or Sibenik. If you do not have a car, arrive by bus or private transfer, or choose a guided excursion.
Guided tours are available from Split or Zadar.
For hours and admission fees, visit the park website.
Kornati National Park
Lying off the coast of Zadar, the Kornati Islands National Park is an archipelago that consists of dozens of islands, islets, and rocks. It is one of the most scenic parts of the coast and we were blown away by the beauty of the area.
The Kornati islands are largely uninhabited, vegetation is sparse, and the craggy rocky landscapes on the smaller islands feel otherworldly. On Kornat, the largest island, you'll find groves of olives, figs, and citrus.
On a trip to the park, you can enjoy a variety of water activities: swimming, diving, and snorkeling. And you can go hiking as well. The hike to the top of Metlina on Kornat is challenging but offers a panoramic view of the archipelago.
There are no hotels in Kornati National Park. Although a few rentals are available on Kornat, expect very basic accommodation. There are restaurants that are open in season, but we took along a picnic lunch and snacks.
How to Get to Kornati National Park
You can charter your own boat and visit Kornati National Park independently. Boat rentals are available in season on the island of Murter, about a one hour drive south from Zadar or a 1.5 hour drive north from Split.
Otherwise, you can visit on a guided excursion, from Zadar or from Murter. This highly rated 8-hour tour by speedboat includes hiking, swimming, and snorkeling.
Or a very small group full day sailing trip from Zadar that includes Lake Mir, the gorgeous saltwater lake that sits between Telašćica Bay and the open sea.
For hours and admission fees, visit the park website.
Paklenica National Park
If you are looking to do some epic hikes, put Paklenica National Park on your itinerary for Croatia. It reminded me a little of Pinnacles National Park in California!
Located on the southern slopes of the Velebit Mountains, the park features stunning the canyons of Velika and Mala Paklenica and gorgeous mountainous landscapes.
In the park, hiking, climbing, and biking are popular activities. You can pick from really challenging hikes, or gentler walks along shaded trails. It's also fun to watch the professional climbers!
Keep your eyes peeled for eagles and falcons, and enjoy the waterfalls and streams as you walk.
Visit Manita Peć, the only cave in the park that is open for public tours. While not as spectacular as Slovenia's Skocjan Caves or Postojna Cave, this cave does contain some nice stalactites and stalagmites.
The Manita Peć cave is a long uphill trek of about 90 minutes from Entrance 1. It is only open between April and October.
How to get to Paklenica national park
If you have a car, you can drive to Paklenica National Park: it is about 40 minutes from Zadar. If you do not wish to drive, you can take the bus from Zadar to Starigrad Paklenica.
For hours and admission fees, visit the park website.
Risnjak National Park
Located in Gorski Kotar, a mountainous region of Croatia near Rijeka, Risnjak National Park features beautiful landscapes with mountains, hills, meadows and valleys, and is great to visit in the spring, summer, or fall.
Walks, challenging hikes, mountain biking, and mountain climbing are some of the activities you can enjoy in Risnjak. The Leski trail and the Kupa River trail are popular hiking paths.
If you love epic uphill hikes, you can climb to the top of Mount Risnjak, the highest peak in the park at about 5,000 feet high, or try to summit one of the other peaks. You will get fabulous panoramic views from the top!
Risnjak is home to many species of birds and wildlife, and a large number of butterflies. In the spring, look for wildflowers, and in the fall, enjoy the changing leaf colors. Summers are lush and green. In winter, you can ski here.
How to Get to Risnjak National Park
The town closest to the park is Delnice. A car is the best way to travel to Risnjak National Park. From Rijeka, the drive takes about one hour, and from Zagreb, it takes a little under two hours.
If you plan to use public transport, you can arrive by bus from Rijeka or Delnice. The bus will drop you off about one mile from the park entrance, in the village of Crni Lug.
For hours and admission fees, visit the park website.
Sjeverni Velebit National Park
Located along the northern slopes of the Velebit mountain range, Sjeverni Velebit National Park is the newest national park in Croatia. You'll need a car to get here, but the Northern Velebit National Park is rewarding for those that make the effort.
With mountainsides covered in forests of fir, spruce, and birch, grassy meadows that are covered with wildflowers in season, and craggy peaks offering panoramic views, Northern Velebit is perfect for visitors that enjoy pristine wilderness.
If you are an active outdoor enthusiast, consider putting Northern Velebit on your Croatia itinerary. You will enjoy the numerous walking and hiking trails of varying lengths and difficulty.
Other activities you can try at Northern Velebit include mountain biking and mountain climbing. You can also try to spot wildlife and birds: numerous species of animals, birds, and insects call the park home.
How to Get to Sjeverni Velebit National Park
You can drive to Northern Velebit from Rijeka in about 2 hours, and from Zadar in about 2.5 hours. Public transport options to the towns around the park do not really work for day trips.
For hours and admission fees, visit the park website.
*****
So there you have it: my suggestions for the best things to do in the national parks in Croatia. If you are planning a trip, I do hope you will consider putting some of these incredible natural areas on your Croatia itinerary.
More Information for your trip to Croatia
Croatia Coast: The Best Croatian Coastal Towns to Visit
Dubrovnik: 2 Days in Dubrovnik
Day Trips: The Most Incredible Day Trips from Zagreb
Split: What to Do in Split, Croatia!
Zadar: The Best Things to Do in Zadar
Zagreb: What to Do in One Day in Zagreb
Day Trips: The Best Day Trips from Zadar
Trogir: One Day in Trogir, Croatia
Rovinj: The Best Things to Do in Rovinj
Varazdin: What to Do on a Day Trip to Varazdin, Croatia
Day Trips: The Best Day Trips from Split
Krka: A Complete Guide to Krka National Park
Did you find this article informative? Pin it for later reference!