Known for the majesty of its waterfalls, Krka National Park is one of Croatia's most popular national parks and a must on any Croatia itinerary.
While Croatia's coast is legendary for its beauty, you'll find breathtaking scenery inland as well, whether you visit Plitvice Lakes National Park or Krka National Park, or both!
Krka National Park is worth visiting solely to admire the power and beauty of Skradinski buk, the park's most famous network of waterfalls. But the park also boasts six other waterfalls on the Krka River, picturesque historic sites, and serene landscapes you'll love to explore.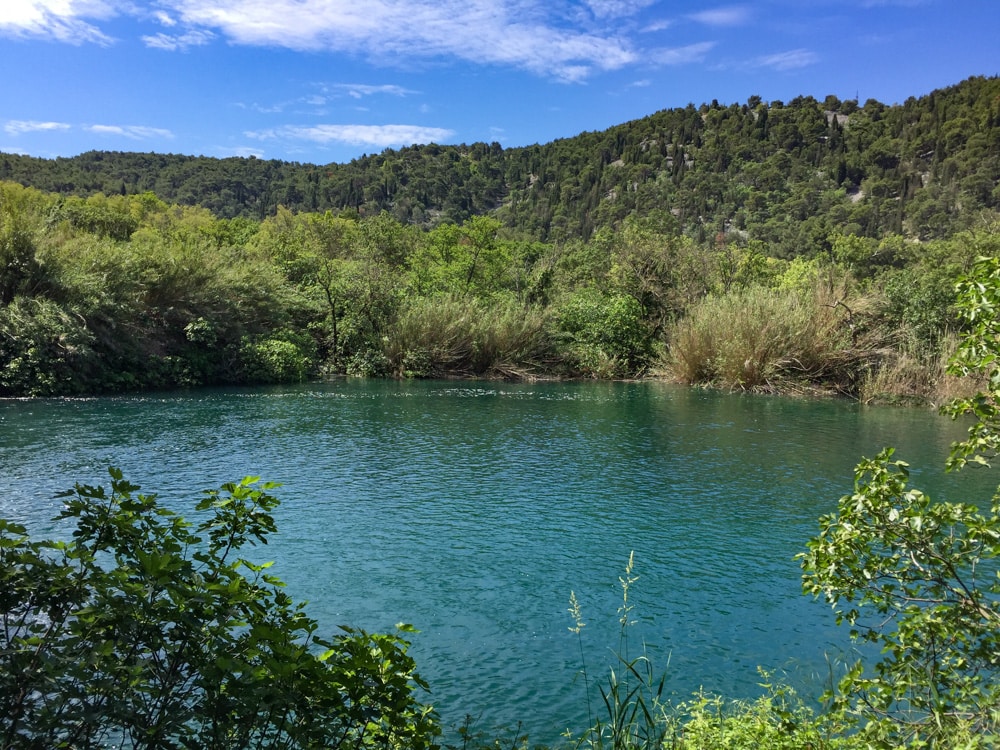 Some links on this page may be affiliate links. If you click an affiliate link and make a purchase, we may receive a small commission, at no extra cost to you. For more details, refer to our disclosure.
The water color is surreal, and in season, you'll find color from many varieties of wildflowers.
The park is easy to access from cities along the Dalmatian Coast, and you can visit for the day from cities like Split, Zadar, or Sibenik, if you are short on time.
But Krka National Park is so beautiful that if your itinerary allows, you will want to spend more time here!
Excited? Discover the best things to do in Krka National Park, plus our complete guide to visiting the park.
An Overview of Krka National Park
Located in central Dalmatia, near the historic city of Šibenik, Krka National Park ranks among the best national parks in Europe.
The park was formed the protect the Krka River, and came into being in 1985.
About 42 square miles in area, Krka National Park is home to several waterfalls and lakes, and splendid scenery. It is one of the top places to visit in Croatia!
The park is home to a wide variety of flora and fauna.
More than 850 species of plants have been identified at Krka National Park. In season, you can see many flowers in bloom, from chimney bellflowers and stone bellflowers to Adriatic violets and Dalmatian pellitories.
Birdwatchers will love Krka: more than 200 species of birds have been spotted here. Look up to see if you can see raptors like osprey, peregrine falcon, and Bonelli's eagle.
Some of the bat species in the park are endangered, and there are several fish endemic to the park. You may see amphibians and reptiles in the park as well.
The park also features sights of historical interest, and there are archaeological ruins of old fortresses in the area.
So there's a lot to see and do in Krka National Park if you have the time!
Krka National Park Entrances, Hours, and Fees
Entrances to Krka National Park
Krka National Park has five entrances, but most visitors arrive either at the Lozovac entrance or the Skradin entrance.
Here is what you need to know about the various entrances into Krka National Park:
Lozovac Entrance
The Lozovac Entrance is the main park entrance via road. There is a sizable parking lot, with free parking for park visitors.
You'll find a ticket and information booth here, if you haven't already purchased tickets online.
Between April and November, park shuttles are available to transport individual visitors from the Lozovac entrance to the Skradinski buk waterfall.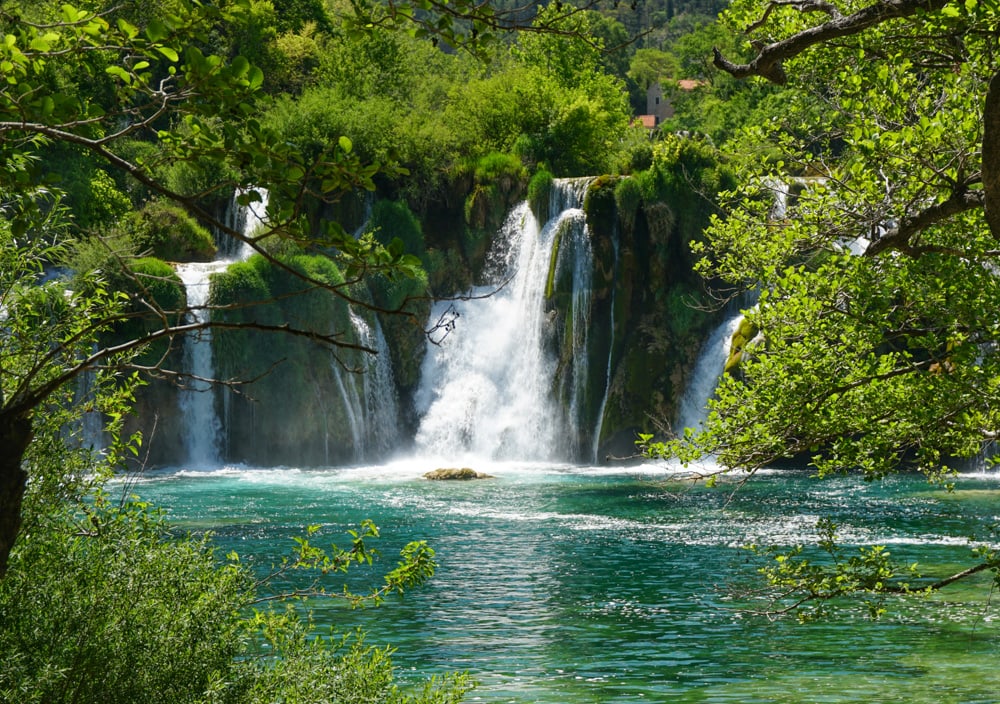 If you have the time, you can hike the gravel trail down to the waterfall: it's a distance of about 0.54 mile one way.
On a nice weather day, this trail is quite pleasant, and you'll see the point at which the Čikola River rushes to join the Krka River.
Plus, if the shuttle is waiting to start until it's full, and you've arrived early because you want to view Skradinski buk without other people (or with just a few others), you may beat the bus by walking down!
You can always take the shuttle back if you do not wish to trudge uphill on the way back.
In the winter months, park shuttles do not operate, and you can drive your car down to the lot near the waterfall.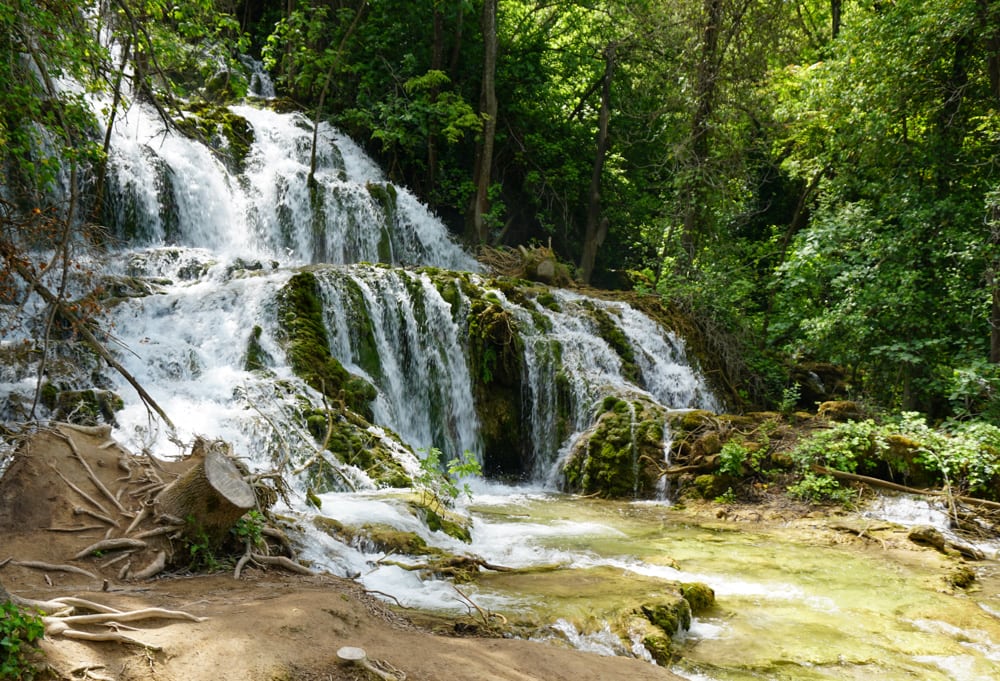 Skradin Entrance
The Skradin Entrance is the other popular entrance to Krka National Park.
There is an official Krka parking lot at this entrance, but it's not large like the lot at Lozovac.
If the official parking lot is full when you arrive, you'll have to use one of the private parking lots. Fees vary.
There is a ticket office here as well, if you did not buy your tickets online.
From the Skradin entrance, you'll visit Skradinski buk by boat: the entrance fee includes the boat ride both ways.
Boats run between April and mid-November.
There's also a hiking/biking trail from the Skradin Bridge to Skradinski Buk. The trail is a little over 2 miles each way, so if you're walking, you'll have to assess if you want to spend the time on this hike.
Roški Slap Entrance
You can arrive at the Roski Slap Entrance by road from Drniš, Knin and Skradin.
There is parking, and you'll likely not have trouble finding a spot as not too many visitors arrive at this entrance.
You can buy tickets here for the park, as well as boat tickets for the Krka Monastery, and boat tickets for Visovac Island.
Burnum Entrance
The Burnum Entrance offers year-round access to the archaeological site high above the river.
Burnum can only be visited by road, and you'll find parking by the entrance.
Krka Monastery Entrance
You can visit Krka Monastery by boat, but you can also visit by road year round.
From Kistanje, follow the signs and descend via the winding road to the monastery, where you will find parking.
Krka National Park Hours
Krka National Park has varying hours through the year, and different hours for different parts of the park.
The park is completely closed on December 25 and 26 each year. On December 24 and 31, it is open until noon, and on January 1, only the Lozovac entrance is open to the public.
Here are the hours for the major sights in the park through the year:
Skradinski buk is open from 9 a.m. until 4 p.m. from November through February, 9 a.m. until 5 p.m. in March and October 16-31, 8 a.m. until 6 p.m. in April and October 1-15, 8 a.m. until 7 p.m. in May and September, and 8 a.m. until 8 p.m. from June through August.
Roski slap is open from 9 a.m. until 4 p.m. from November through February, 9 a.m. until 5 p.m. in March and October 16-31, 10 a.m. until 6 p.m. in April, May, and October 1-15, 10 a.m. until 6.30 p.m. in June and September, and 8 a.m. until 8 p.m. in July and August.
We recommend visiting the official park website prior to your visit, for current information on hours and prices.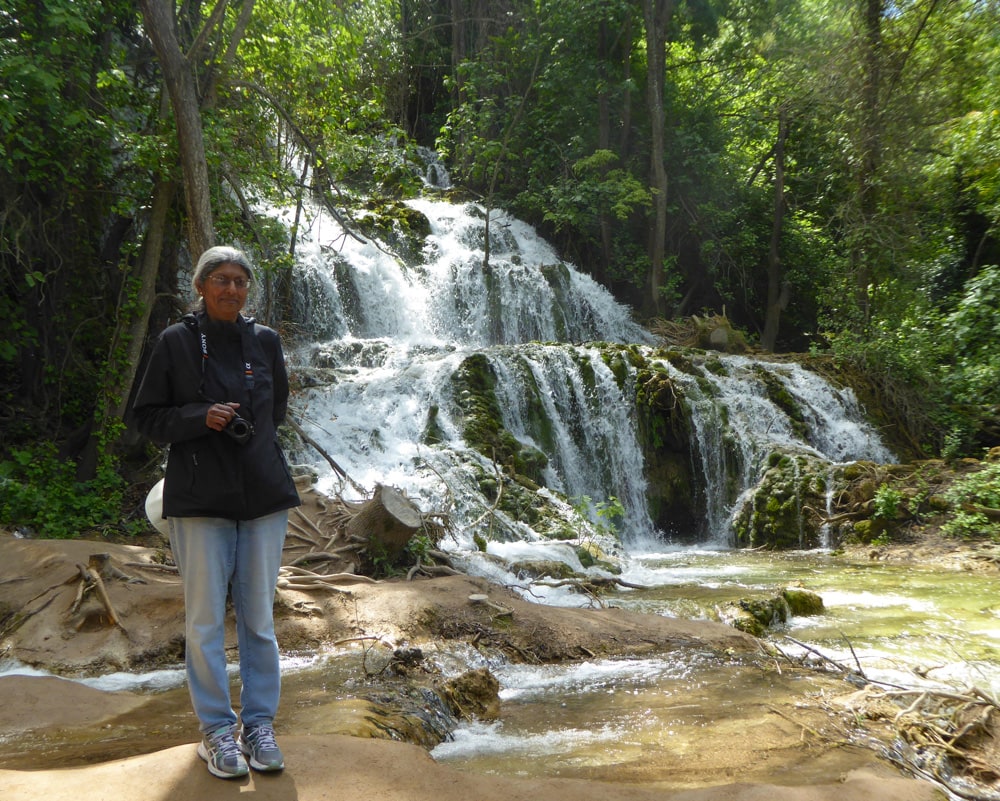 Krka National Park Admission Fees
Entrance fees to Krka National Park vary depending on the time of year and the parts of the park you visit. It's definitely cheaper to visit off-season!
Ticket prices are highest in the summer, which is high season for Krka National Park. For example, adult admission to all areas of the park for 2022 costs 200 Kn from June to September, 100 Kn in April, May, and October, and only 50 Kn from November through March.
You can get current admission price information and buy tickets online at the park website.
Getting to Krka National Park
By Car
For the greatest flexibility on your trip to Krka National Park, rent a car and drive yourself to the various sights in the park.
If you just plan to visit for the day, having a car means that you can arrive early (at opening time is great!), to avoid the crowds at Skradinski buk.
Having a car also allows you to take in some of the secondary sights with ease and accomplish more sightseeing than you can with public transport.
Here are the driving distances to the Lozovac entrance to Krka National Park from major cities along the Croatian Coast:
Sibenik: 14 km (8.7 miles)
Split: 86.6 km (53.8 miles)
Zadar: 83.1 km (51.6 miles)
Dubrovnik: 278 km (172.7 miles)
The Lozovac entrance is the best entrance to pick for arrival, since there is lots of parking, and it's the entrance that's closest to Skradinski buk.
If you are looking to rent a car for your Croatia trip, consider Discover Cars! They scour multiple providers to get the best price for you, including brands like Hertz, Enterprise, Alamo, Budget, and Sixt.
By Bus
You can travel by bus to Skradin from major cities in Croatia like Šibenik, Split, Zadar, and Zagreb. The bus stop in Skradin is less than 500 feet from the park entrance and about 0.1 mile from the boat departure point.
Remember, you have to take the boat to get from the Skradin entrance to Skradinski buk.
From Split, the journey takes about one hour and 20 minutes one way. During the season, there are several departures each day in both directions.
The direct bus journey from Zadar to Krka National Park takes about one hour each way. In season, there are plenty of departures in both directions.
In winter, or if you want to arrive at the Lozovac entrance, travel by bus to Sibenik, and then take a regional bus from Sibenik to the park. The journey time each way is just 15 minutes.
Some regional buses will drop you off right at the Lozovac park entrance. If not, the walk from the main road is about 0.9 mile.
Book bus tickets for your Croatia travel online on Omio! Their website, in English, is easy to navigate, and their customer service response is great.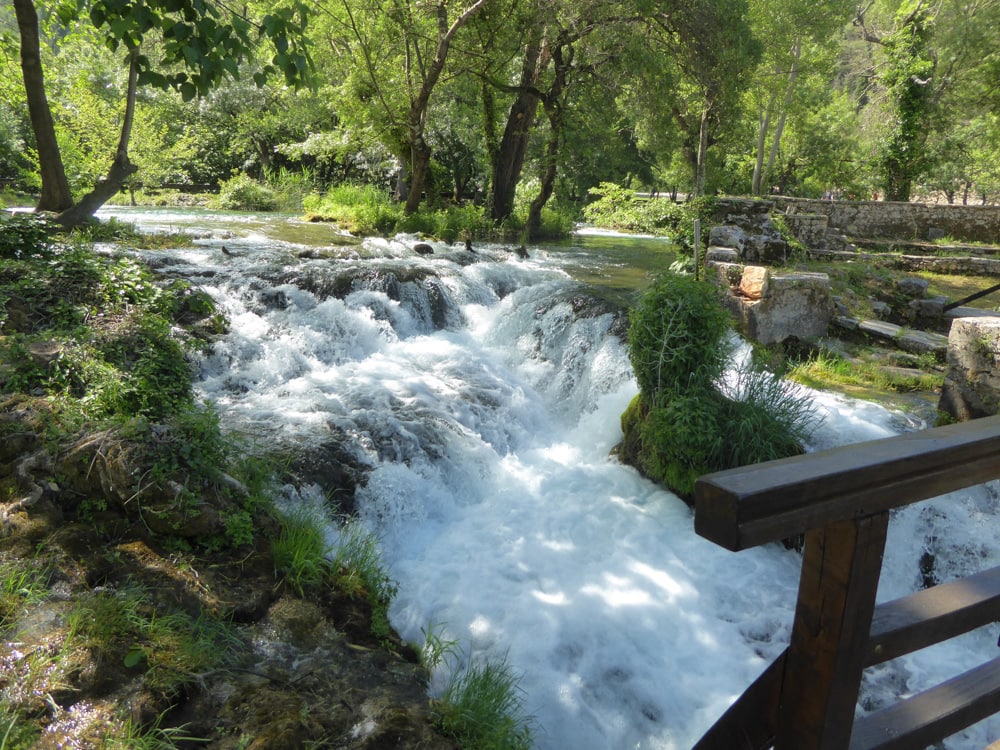 By Guided Tour
If you prefer the structure of a guided tour, there are choices from Split or Trogir or Zadar. A guided tour may be the efficient option if your time in Croatia is limited and you do not have a car.
Note that tour prices do not include the cost of admission to the park.
Guided Tours to Krka National Park from Split
From Split, this highly-rated full-day tour combines Krka National Park with Sibenik. In Krka National Park, you get to see Skradinski buk, Visovac Island, and Roski slap, three major sights. The historic city of Sibenik makes a nice addition.
Book this tour now!
Or consider this popular 10-hour tour from Split that combines a visit to Krka National Park with a visit to a winery for wine tasting. You have three hours at the park, which allows you plenty of time to enjoy the natural beauty without feeling super rushed.
Book this tour now!
Guided Tours from Zadar to Krka National Park
This highly-rated Krka National Park tour from Zadar allows you 3 hours to enjoy Skradinski buk, followed by a visit to the town of Skradin and the option to take a dip in the Krka River. The tour lasts about 9 hours.
Book this tour now!
Things to Do in Krka National Park
Admire Skradinski buk
For most visitors, Skradinski buk is enough reason to visit Krka National Park. Not surprising, because the sight of it takes your breath away.
Skradinski buk is the longest travertine waterfall in Europe. It is not a single waterfall, but a network of 17 karstic waterfalls, almost 330 feet wide and more than 1,300 feet long.
It makes for an amazing sight!
Seeing the powerful curtain of water drop into the gorgeous emerald green plunge pool is one of the best things to do in Krka National Park. The flow is most powerful in the winter and early spring.
Most visitors walk the trail, mainly over wooden walkways, through the museum village, to Skradinski buk. The trail is a loop, about 1.2 miles long.
The trail is very scenic. Along the way, you'll pass little burbling cascades, a few small falls, and diverse flora. Stop to see fish in the water, and look for birds in the vegetation. In season, you'll see many varieties of wildflowers.
Look for dragonflies: several dozen species have been recorded in the park. When we were viewing the cascades, a dragonfly alighted on the hand of a visitor right next to us!
Good to know: You can no longer swim in the plunge pool at Skradinski buk. Swimming at this stunning location was a big draw for many visitors, but the park prohibited it effective January 1, 2021, to preserve the process of travertine barrier creation.
Tour the Ethno Village at Skradinski buk
The ethno village offers a look at the rich cultural heritage of the area, and if you enjoy learning about local history and culture, take the time to tour the presentations on the walk to Skradinski buk.
Here you will see water mills from the 17th and 18th centuries, before the era of industrialization, and you can watch the process of wheat being milled into flour.
The village also showcases traditional arts and crafts such as fabric weaving, washing and softening textiles, and a blacksmith, and items of everyday use, from tools to home goods. You can also view some buildings, such as the miller's home and a barn.
Visit Roski slap
Roški slap is the sixth waterfall on the Krka River, and only next in popularity to Skradinski buk when it comes to sights in Krka National Park. You can arrive by road or on a boat excursion.
The powerful waterfall plunges about 74 feet, and while it is not a picture postcard like Skradinski buk, it is a majestic sight nevertheless. You can swim in the lake here, downstream from the falls.
Walk the easy and flat loop around the necklace cascades at the top: they are as scenic as the actual waterfall!
You can also climb the 500+ steps to the Oziđana pećina Cave, where evidence of early human settlement have been found. The views from the top are beautiful.
There is also an ethno village at Roški slap, with a water mill.
Snap a Photo of Visovac Island
Visovac Island is a small picture-postcard island in the Krka River. It is best appreciated from above.
You can get the perfect view of Visovac Island from a viewpoint near the monument to Croatian King Petar Svačić, just before the road makes a series of hairpin bends to descend to Stinice, the dock from where boats depart for the island.
Other than the view of the island, the views of the river and its lush banks from the overlook are also stunning.
You can visit Visovac Island by boat.
On the island are the Franciscan monastery of Our Lady of Mercy, and the Church of Our Lady of Visovac.
Tour the small museum: its treasures include an illustrated copy of Aesop's Fables from 1487. The gardens are beautiful.
Visit the Krka Monastery
A Serbian Orthodox monastery, the Krka Monastery is dedicated to the Archangel Michael. The monastery is located on a bay of the Krka River, a couple of miles from Kistanje.
The monastery, which dates back to the 14th century, has a beautiful bell tower, built in the Romanesque style. The interior is richly decorated with frescoes and icons.
A Byzantine style church is located next to the monastery. There are Roman-era catacombs beneath the church. The place is very serene, and the views of the Krka River beautiful.
You can arrive either by road from Kistanje, or, between April and October, on a boat excursion from Roski slap.
Admire Other Waterfalls at Krka National Park
While most visitors to the park only see Skradinski buk and Roski slap, there are five other waterfalls you can admire in Krka National Park.
Of these five waterfalls, two stand out, if you have the time.
Manojlovac slap drops 65 feet, making it the tallest waterfall at Krka. It is the third-largest waterfall in the park, and also one of its most beautiful. The falls may be dry in the summer.
Bilušića buk is the first waterfall on the Krka River. It flows year round and is located a little over 2 miles from Radučić.
Stop by the Burnum Architectural Ruins
The ruins of Burnum, an ancient Roman military camp, are protected as part of Krka National Park. The site is located at Ivosevci, a few miles from the town of Knin.
The military amphitheater, which had four entrances, is well preserved. It is supposed to have accommodated over 6,000 spectators.
The site is worth a stop if you enjoy history and old architecture.
Walk around Skradin
Other than the sites in the park, the picturesque little town of Skradin is worth a wander if you have the time. The town is surrounded by vineyards and wineries, if you want to enjoy tastings.
Admire the Baroque facade of the Church of the Nativity of the Blessed Virgin Mary, and snap a photo of the clock tower, which is the bell tower of the church but located away from it.
Hike to the Skradin Fort for great views over the rooftops of the town, and stroll the pretty marina.
Getting around Krka National Park
By Car
Arriving in your own car is the best option if you want to explore several sights in the park, because you can drive to all the sights year round.
Driving offers maximum flexibility for exploring the park in terms of how early you can start and how late you can leave, and it helps maximize sightseeing time if your time at the park is limited to just one day.
By Boat
The park does offer boat excursions at additional cost, if you arrive by public transport and want to see more than Skradinski buk. The boat excursions are offered between April and October, and there are five routes:
Skradinski buk to Roski slap: This excursion is four hours total, and includes a stop at Visovac Island for a 30-minute guided tour. You get 1.5 hours at Roski slap.
Roski slap to Visovac Island: This is a 2-hour excursion, and includes a 30-minute guided tour at Visovac Island.
Roski slap to Krka Monastery and the medieval fortesses of Trošenj and Nečven: A 2.5-hour excursion, this boat trip includes a 30-minute guided tour of Krka Monastery. You view the fortresses from the boat.
Skradinski buk to Visovac Island: This is a 2-hour excursion, and includes a 30-minute guided tour at Visovac Island.
Skradinski buk to Čikola River/Torak Lake Spring: A one-hour excursion, this boat ride takes you to the Torak Lake spring, and features Ključica, the best preserved medieval fortress in the park, and Čekinac Cove.
Where to Stay When Visiting Krka National Park
Want to spend more than one day in Krka National Park? The picturesque town of Skradin, considered a gateway to Krka National Park, makes a great base, with ample accommodation and dining options.
Hotel Bonaca is a 4-star hotel in Skradin, with an outdoor swimming pool and a garden. Rooms are spacious with sitting areas, well appointed, and air-conditioned. Some rooms have balconies.
Book a stay here!
Hotel Skradinski Buk offers air-conditioned rooms and suites, and is convenient to the beach as well as to the park. The onsite restaurant serves Dalmatian cuisine, including lots of fresh seafood.
Book a stay here!
Boutique Rooms Mirabilis offers units with patios and air-conditioning. Breakfast is included and there is a shared terrace for relaxing. Rooms are spacious and well appointed.
Book a stay here!
The Best Time to Visit Krka National Park in Croatia
Krka National Park is located in an area that has mild temperatures in the winter, so it is a year-round destination.
That said, summer is high season in the park, and popular sights like Skradinski buk get extremely crowded during the day. If you want to swim in the river at the permitted locations, then summer is still your best bet.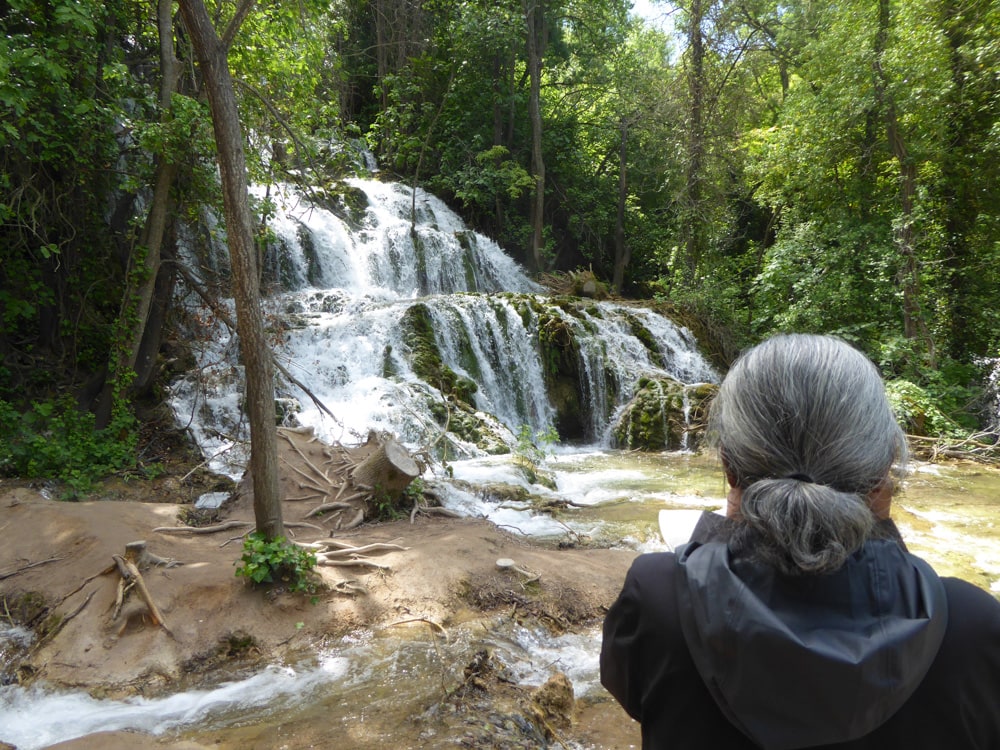 The shoulder months of April-May and September-October are, in our opinion, the best times to visit Krka National Park. Boat services are still open, the weather is pleasant during the day, and the park is less crowded than in the summer.
When we visited in the spring (in May), the waterfalls were flowing powerfully and we saw many varieties of colorful wildflowers along the trails.
If you visit in the winter, it is best to drive, or join a guided tour, unless you are okay with hiking from the entrances to sights in the park.
Tips for the Best Experience at Krka National Park
Visit outside the summer months
After Plitvice Lakes, Krka National Park is the most visited of Croatia's national parks. During the summer months of July and August, and to some extent, June, the park can get excruciatingly crowded.
Although the park has reportedly set limits on the maximum number of visitors permitted at Skradinski buk at a given time, we've visited since, and during the day, it still gets crowded enough that it can impact enjoyment of this beautiful place.
If you have the luxury of visiting outside of summer, you will have a much more serene experience at the main waterfalls of Krka National Park. The weather in spring and fall also tends to be more pleasant.
Schedule Skradinski buk for early or late in the day
Unless you are planning to visit Krka National Park on a guided tour, plan to arrive as early in the day as you can (opening time is ideal!), and visit Skradinski buk first, to enjoy the beauty of the majestic falls either on your own (a surreal experience!), or with very few other visitors.
Your other option, if you visit independently, is to arrive at Skradinski buk late in the afternoon, when the bulk of the crowds has dissipated.
Allow enough time
Unless you are going to visit on a guided tour, allow yourself a full day to enjoy the park.
Arrive early in the day to make the most of the sightseeing time, since tickets do not carry over.
At a minimum, you'll want to do the trail at Skradinski buk, visit the Visovac Monastery, and see Roski slap.
Bring Food, Snacks, and Drinking Water
Krka National Park does have concessions, but the food in the park is just your average park food, so we recommend bringing along a picnic meal to enjoy in nature.
Also carry snacks and enough drinking water to last you through your visit.
Wear Comfortable Shoes and Dress for the Weather
We recommend comfortable walking shoes with good grip, especially if you plan to walk trails other than just the boardwalk trail to Skradinski buk.
Dress for the weather: it can get pretty hot in the park between late spring and mid fall, so light loose clothing works great. If you visit in the cooler months, wear layers. You may need rain gear in the winter and early spring.
Bring your swimsuit!
You can no longer swim at Skradinski buk, but if you have your heart set on swimming in Krka National Park, don't despair! Bring your swimsuit for dips in designated areas of the park.
At the time of writing, you can swim in the "lake" downstream from the Roski slap, and at Stinice, Remetić – Pisak.
Book Park Tickets in Advance for High Season
If you plan to visit Krka National Park between May and September, you may want to purchase park tickets online in advance of your visit, to make sure you can enter the park on the date you want.
Especially if your itinerary in Croatia is tight, you should ideally not wait to purchase entrance tickets in person.
Book Bus Tickets in Advance in High Season
If you plan to visit the park in high season and you plan to arrive by bus from another city to Sibenik or Skradin, it is advisable to buy your tickets in advance, to make sure you have a seat on the bus you want.
Tickets for the local bus from Sibenik can be purchased on the day of your visit.
Book bus tickets for Croatia travel on Omio! The site is in English and purchasing tickets is a hassle-free experience.
*****
Planning a trip to Croatia? Check out some of our other articles!
Did you find this article informative? Pin it for later reference!