Winter in Europe is nothing short of magical. If you are looking to do a winter Europe trip, we've rounded up the best winter destinations in Europe from which to choose!
Whether you're looking to browse Christmas markets, enjoy winter sports like skiing and ice skating, or explore warmer places in the south of Europe, we have options for you.
Europe's Christmas markets are a huge draw for winter travelers to Europe, but even outside of the markets, you'll find lots of festivities and cheer leading into the holidays.
Some links on this page may be affiliate links. If you click an affiliate link and make a purchase, we may receive a small commission, at no extra cost to you. For more details, refer to our disclosure.
Many wintry European cities look wonderful in winter, and don't experience many closures. While you do have to bundle up, you can visit popular sights without elbow-jostling crowds, and there are indoor options if you want to get out of the cold for a bit.
While many small towns and villages in Europe are fairytale-beautiful in winter, you may run into closures or shorter opening times, so bear that in mind when planning where to set up base.
And if you are trying to escape the cold, there are several warm weather destinations in the south of Europe where you can explore in short sleeves during the day!
Excited? Let's get started discovering the best places to go in Europe in winter!
Seville, Spain
Looking for sun in Europe in winter? You can't do much better than Seville, the flamboyant capital of Andalusia in Southern Spain.
With daytime highs in the low 60s (and nighttime lows in the mid 40s) Fahrenheit, all you'll need to pack for winter in Seville is a light but warm jacket for early and late in the day.
You can still have lunch outside while basking in the Spanish sunshine, and enjoy a drink in the evening at an outdoor cafe.
Seville's many magnificent sights are blissfully uncrowded in the winter. Take a leisurely tour of the splendid Royal Alcazar of Seville, gape at the enormous interior of the Seville Cathedral, and walk up to the top of La Giralda, the bell tower, for panoramas over Seville.
Wandering the alleys of Barrio Santa Cruz is especially delightful in the winter, without the elbow-room-only tourist throngs of high season. Take a food tour to sample the delicious tapas!
Visit the massive Plaza de España, and take a cruise along the Guadalquivir.
If you visit in the weeks leading up to Christmas, Seville is decked out in lights and decorations. There are Christmas markets to browse, and holiday-themed concerts to attend.
If you are in Seville on New Year's Eve, join the merriment at Plaza Nueva, where you can et twelve grapes at midnight, one at each stroke, to ring in the New Year Spanish style.
And of course, sampling tapas is one of the best things to do in Seville any time of year! Try spinach with chickpeas or pork cheek stew.
And be sure to take in the exciting rhythm of a flamenco show.
Hotel Colon Gran Melia is located in the city center, a 10-minute walk from the Alcazar and the Cathedral. Rooms are stylish and the hotel offers a hammam.
Suggested by us
Rovaniemi, Finland
What could be more magical than a winter wonderland in Finland? Lapland is known for its stunning natural landscapes, and Rovaniemi is the perfect base for exploring them.
You can visit Santa's workshop, go on a reindeer sleigh ride, and even cross the Arctic Circle. Rovaniemi is also a great place to see the Northern Lights.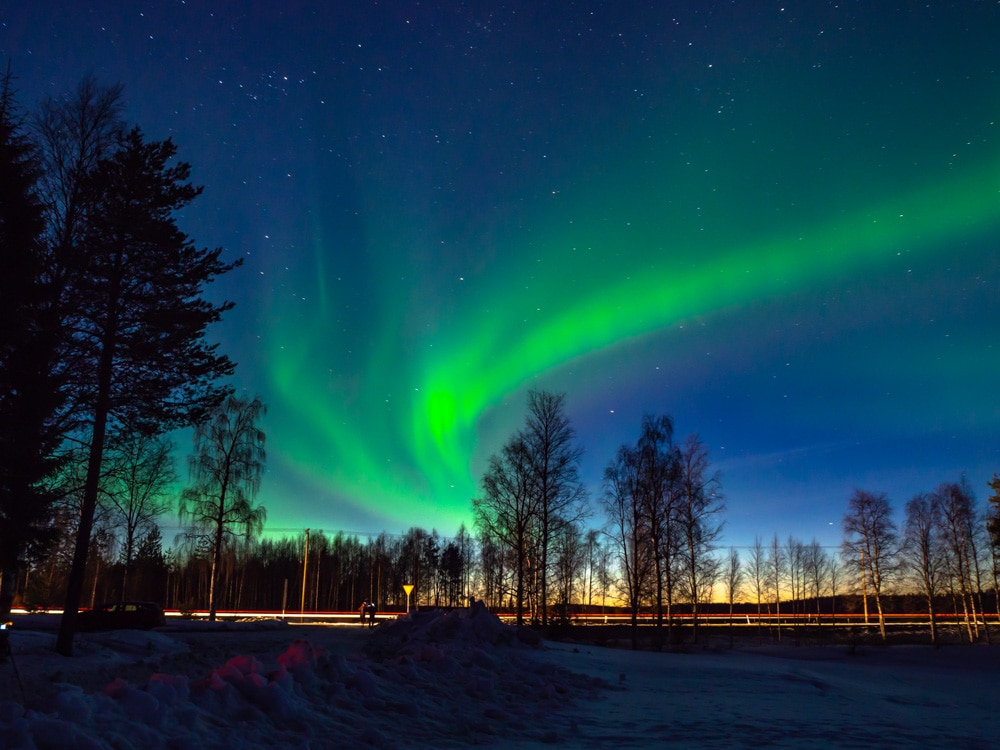 Winters in Rovaniemi are cold, with temperatures typically ranging from -20 to -5 degrees Celsius (-4 to 23 degrees Fahrenheit).
However, the town is located right above the Arctic Circle, so you can expect some truly magical winter days with lots of snow and Aurora Borealis sightings.
One of the best ways to experience the wilderness of Lapland is on a husky safari. It is a great way to see the stunning landscapes and get close to some adorable huskies.
Rovaniemi is one of the best places in Europe to see the Northern Lights, and there are plenty of ways to experience them.
You can go on a Northern Lights snowmobile safari, a reindeer- or horse-drawn carriage, or in a more modern mini bus.
No trip to Rovaniemi would be complete without a visit to Santa Claus Village. Located right on the Arctic Circle, Santa Claus Village is home to Santa's workshop, where you can meet Santa Claus himself and have your photo taken with him.
For a truly unique experience, you can stay in a glass igloo at Santa Claus Village and watch the lights from your bed.
For a more traditional stay, consider Arctic Light Hotel, where rooms are spacious and well-furnished. Some rooms even have a sauna!
Suggested by Fiona of The Travelling Thirties
Vienna, Austria
The Austrian capital is among the most magical places you can visit in Europe in the winter months.
Check out our 3-day Vienna itinerary if you are considering a visit!
Vienna is all about mulled wine, Christmas markets, and fairytale decorations during this time of the year, which is why so many people decide to visit the city in the colder months.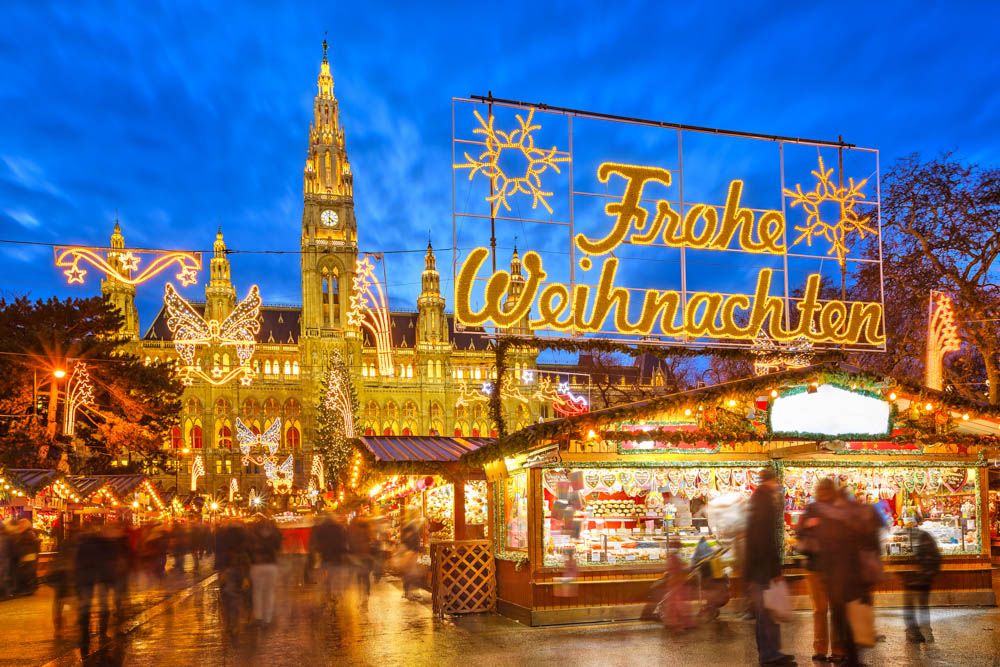 Vienna is located in Central Europe and therefore can get quite cold in winter but not too bad, as temperatures rarely go below 0°C (32 degrees Fahrenheit). A warm winter jacket is a must, of course.
There are over 15 Christmas markets in Vienna, though some are quite small. Visiting one to three of the bigger ones is enough to get into the Christmas spirit and try some delicious food and drinks.
The most beautiful markets are the one in front of the Rathaus (City Hall), the one in front of St. Charles' Church, and the one in front of Schönbrunn Palace.
If you find yourself in Vienna after the end of December (when all Christmas markets are closed), find the magic at the Vienna Ice Dream, a wonderful ice skating rink, located in front of the City Hall, replacing the biggest Christmas market.
It's best to come here when it starts getting dark, so you can enjoy the fairy lights on all the trees around the rink.
To warm yourself up, visit the Schönbrunn Palace and the Belvedere Palace, two of Vienna's biggest attractions.
The Schönbrunn Palace has a wonderful interior, which has been preserved since the time of the Habsburgs. The palace was used as their summer residence.
Belvedere Palace is an art museum, where you can see the famous painting by Gustav Klimt – The Kiss.
One of the best hotels in Vienna is The Leo Grand, located right in the heart of the city.
Suggested by Lyubomira of Bulgarian On The Go
Strasbourg, France
If you are looking for charming Christmas markets to visit this winter in Europe, look no further than Strasbourg, France.
The UNESCO World Heritage city of Strasbourg is a self-proclaimed Capital of Christmas.
With the lively atmosphere and the scent of mulled wine and candied almonds in the air, you won't even notice the average winter temperature is close to 0°C (32 degrees Fahrenheit). Regardless, bundle up, and bring an umbrella just in case!
Grab a cup of a hot tea or mulled wine to keep you warm, and start your day in Strasbourg with a visit to picturesque Petite France.
It is the most charming quarter in the historic city center, with its colorful half-timbered houses and cobblestone streets decorated for Christmas.
Browse through one of the many Christmas ornament shops for a unique souvenir from Strasbourg.
Cross the Ponts Couverts, a 13th-century defense system, and climb the viewing platform of the Vauban Dam for a panoramic view of La Petite France.
You will find a magnificent Christmas tree in the historic central square, Place Kleber. Visit after dark to see it lit up!
The city's most renowned landmark is the majestic Strasbourg Cathedral. To see the Astronomical Clock in action, visit just before noon, and don't miss the climb up to the viewing platform for a spectacular view of the whole city!
On a clear day, you can see the Vosges mountains in the west and the Black Forest in Germany in the east.
Spend a few days in Strasbourg and you can do day trips to two fairytale villages in the Alsace: Colmar and Eguishem. Both villages are known for their Christmas markets!
Le Grand Hotel is a modern hotel in Strasbourg, right across from the train station and just a brief 10-minute walk to Place Kleber.
Suggested by Natalie of She's Abroad Again
Cologne, Germany
Cologne is a great city to visit year-round, but winter is by far the best time to visit the city. After all, it is the season of festive Christmas markets as well as the Carnival season.
As you explore Cologne in winter, you can visit seven Christmas markets that are among the best Christmas markets in Europe. The ones on the Alter Markt (Old Market), Neumarkt (New Market), and Rudolfplatz are the most popular ones.
Stroll through the festive markets and buy some of the local crafts, before grabbing a mulled wine and eating delicious Christmas Market treats, including printen from Aachen.
Additionally, you should visit the Cathedral of Cologne. Climb its tower to see the snow-dusted city from above. In winter, you can visit between 9 a.m. and 4 p.m.
If you want to do more sightseeing and have not had your fill of sweets at the Christmas markets, visit the Chocolate Museum. Join a tour to learn more about how chocolate is made and sample the chocolate.
Cologne's carnival season begins on November 11 and ends on Veilchendienstag, the day before Ash Wednesday.
The last week of the "session" is the most exciting and marks the peak of the celebrations. Don a costume and join the celebrations on the streets.
The biggest celebration takes place on Rosenmontag (Carnival Monday). Watch the massive carnival procession and collect the candy and flowers thrown to the spectators.
While heavy snow is not too common, Cologne often sees a light snow cover in winter. The temperatures can drop below 0°C (32°F) and the average high is 5°C (41°F). Be sure to pack a thick coat when visiting this winter destination in Europe!
Stay at the Excelsior Hotel Ernst am Dom, located across from Cologne Cathedral and only a two-minute walk from Cologne Main Station.
Suggested by Steph of A Nomad's Passport
Malta
With daytime highs in the low 60s Fahrenheit and lows in the high 40s and low 50s, Malta makes the perfect vacation destination if you are looking for sunshine and mild weather in winter in Europe.
Along with balmy weather and lots of sunshine, enjoy lower prices on accommodations and reduced crowds when you visit Malta in winter!
The island is one of three in the Maltese archipelago that is inhabited. It's located south of Sicily, and many low-cost airlines fly to Malta, making it easy to visit (or connect) from another place in Europe.
Ferries connect the island of Malta with the two other inhabited islands: Gozo and Comino. You can either road trip your way through Malta (but be warned, the roads are narrow and you have to drive on the left), or you can rely on public transport to get around: it's pretty good.
Valletta, the capital, offers stunning architecture: admire the many palaces and churches, and linger in the squares. There are many beautiful gardens to stroll, and museums to visit. Don't miss St. John's Co-Cathedral and the Upper Barrakka Gardens!
Take the boat to one the Three Cities for the views of Valletta. Birgu (now Vittoriosa), the largest, is home to the Malta Maritime Museum and Fort St. Angelo. Visit Mdina, the old capital, and Rabat, famous for the St. Paul's Catacombs.
If you are in Malta for a few days, do a day trip to Gozo: ferries run from Valletta or Cirkewwa.
Victoria (also called Rabat) is the principal city in Gozo. Here you must definitely visit the Cittadella, a fortified complex with views over Gozo. Ggantija, a megalithic temple complex, is part of Malta's UNESCO World Heritage Site and a must-visit.
On a good weather day, take a boat tour to Comino and Malta's Blue Lagoon. Winter is a great time to visit this usually super crowded attraction. Comino also has some beautiful sea caves.
Suggested by us
Copenhagen, Denmark
Copenhagen, the capital city of Denmark, is a must-visit winter destination in Europe.
Boasting a myriad of charming Christmas markets, twinkly lights, hygge, and the joyful Danish holiday spirit, it is a beautiful place to travel to come winter.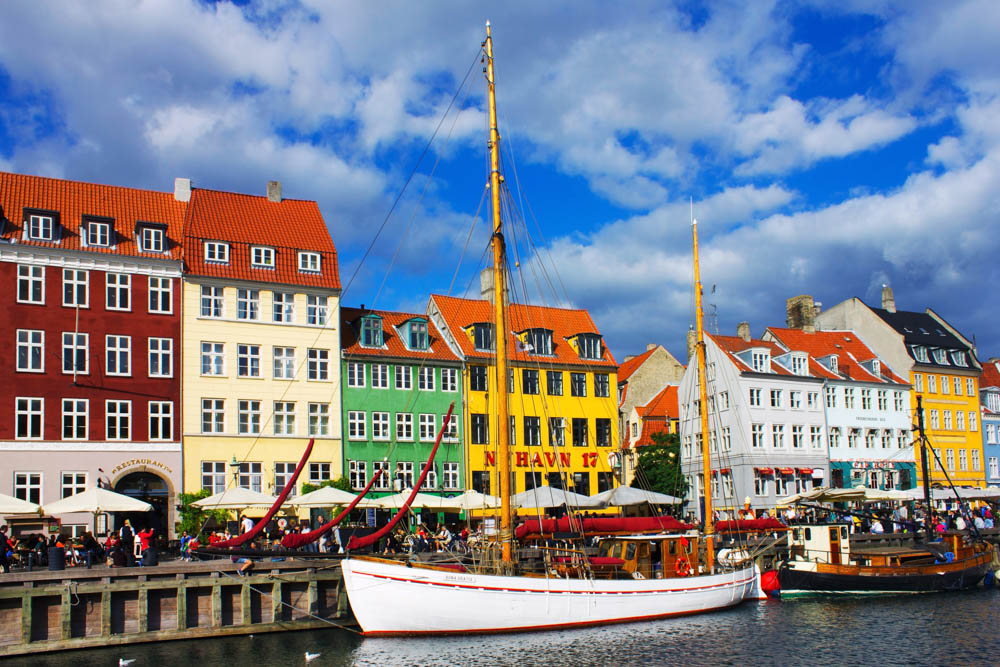 Although winter temperatures in Copenhagen can be freezing (highs usually in the high 30s Fahrenheit), and the sun sets pretty early at that time of the year, the magic comes alive at dusk when the holiday decor is at its best.
Spend your time strolling around the city center and warming up with a glass of gløgg and hot pancakes at the many Christmas markets. The stalls by Nyhavn, Copenhagen's old waterfront, are particularly lovely.
For another perspective, head to the Tower at Christianborg Palace at sunset and admire a 360-degree view of the city and the Christmas markets in Strøget.
Rundertårn, the oldest working observatory in Europe, is another beautiful spot for a panorama of Central Copenhagen.
Lastly, no visit to Copenhagen during Christmas can be complete without visiting the Tivoli Gardens! Make sure to buy your tickets in advance because it's an extremely popular Copenhagen attraction.
Being the inspiration behind the Walt Disney World, this amusement park is a must any time of the year, but even more during the winters, when it is adorned with over half a million lights.
The Best Western Hotel Hebron is located only a 5-minute walk from Tivoli Gardens and is a central location to base yourself in Copenhagen.
Suggested by Charu of Travel with CG
Barcelona, Spain
Barcelona is an excellent European winter destination for travelers that want to explore outdoors without needing to bundle up.
Due to its location on the Mediterranean coast, winter temperatures are mild. Expect highs near 60 degrees Fahrenheit (15 degrees Celsius) and lows in the upper 40s Fahrenheit (about 9 degrees Celsius).
There are lots of fantastic things to do in Barcelona year-round, but you'll find some special extras in the winter.
The Fira de Santa Llúcia, Barcelona's largest Christmas market, runs from the end of November until just before Christmas. Held since 1786, the fair is a great place to buy traditional Christmas items, such as nativity scenes.
Don't miss the Three Kings Parade, held on January 5. In Spain, it's the three kings who bring presents, not Santa Claus!
The three kings arrive in Barcelona's port and hand out sweets and gifts during their procession through Barcelona.
No trip to Barcelona is complete without taking in some of the incredible architecture of Antoni Gaudí.
Visit whimsical Parc Güell, where the buildings feature flowing curves and brightly colored mosaics. Admire Gaudí's masterpiece, the magnificent basilica of La Sagrada Familia. In winter, these famous sights are less crowded.
Another must-see Barcelona attraction is La Rambla. This pedestrian boulevard stretches from Plaça Catalunya to the port. It's filled with shops, cafés, hotels, museums, and the not-to-be-missed market, Mercado de La Boqueria.
Stay at the Hotel Jazz, perfectly situated near Plaça Catalunya and just moments from La Rambla. Be sure to visit the rooftop bar and terrace and enjoy a bird's-eye view of Barcelona at night.
Suggested by Lisa of Waves and Cobblestones
Lucerne, Switzerland
Featuring medieval architecture lining narrow cobbled streets, breathtaking alpine scenery in winter and legends of mountain dragons, Lucerne is one of the best winter destinations in Europe — even for those who don't ski.
This gorgeous location is a must when planning a 7 day Switzerland itinerary.
Although summer may seem like the best time to visit Lucerne, the winter months create their own magic.
The snow season means most visitors are up in the ski fields, making it the perfect time to visit attractions such as the Lion Monument, Chapel Bridge, museums and art galleries.
Cafes and boutiques in the Old Town are also blissfully devoid of crowds, so you can enjoy them at your leisure.
In the weeks leading up to Christmas, enjoy holiday lights and decorations, as well as the Lucerne Christmas and Crafts Market and other Christmas markets.
At New Year's, admire a fireworks display. In February, the Lucerne Carnival is the largest annual event in the city.
Overlooking the town below, Mt. Pilatus is the city's jewel and visiting its summit by cable car is a must during winter.
The cable car journey is a fun experience, while a view of snowcapped mountains to the horizon will leave you speechless at the summit. Enjoy a meal with unforgettable vistas at Bellevue or Panorama Grill, or grab a snack at the Ibex Bar.
It's possible to stay at the summit of Mt. Pilatus, but if you pick a place in the Old Town, it's easy to explore on foot. Hotel des Balances is centrally located in the Old Town.
Suggested by Alyse of The Invisible Tourist
Budapest, Hungary
Some cities are certainly more beautiful in winter. One such city is Budapest, the capital of Hungary.
And if you are lucky enough to visit when snow has settled on its streets and buildings, you'll feel as if you are stepping into a fairy-tale land.
With or without the snow, the Christmas markets in Budapest are magical and offer a good reason to visit Budapest in winter.
Mulled wine, traditional Hungarian dishes, and various ornaments are on offer at stalls in several locations in the city.
The two best-known markets take place in Vörösmarty Square and at St. Stephen's Basilica.
From November to January, let the festive atmosphere create an experience you'll never forget.
Love winter sports? Put your ice skates on and hit the City Park Ice Rink, right in front of Vajdahunyad Castle. It's one of the oldest and largest skating rinks in Europe, open from November to February. The rest of the year, you'll find a lake on the very same spot.
Feeling cold after the time spent in the crisp air? There are a lot of spas to check out. Széchenyi Baths is the most popular, especially in winter. With ten indoor pools and various massages available, you'll feel relaxed in no time!
Budapest is also known as one of the best party cities in Europe. A little bit of cold weather won't put a dent on anyone's bar hopping experience!
The ruin bars are found in interesting locations that have been turned into a bar or restaurant. Keep your eyes open for the seasonal offers and discounts available throughout the winter!
Stay at the Central Hotel 21 and Apartments for its excellent location, close to the Blaha Lujza ter metro stop.
Suggested by Cris of LooknWalk
Munich, Germany
If you want to soak in the festive atmosphere at magical Christmas markets, consider Munich for a winter vacation in Europe!
Not only are the city's own markets enchanting, you can also do day trips to Rothenberg ob der Tauber, Nuremberg, and even Salzburg in Austria, for more dreamy markets!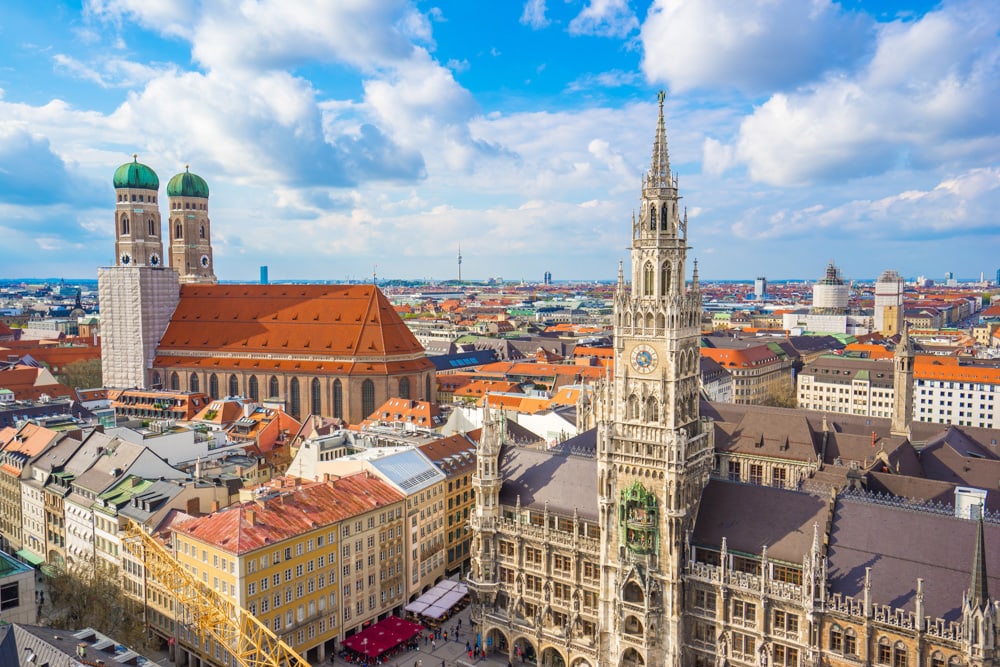 Daytime highs in Munich in the winter tend to be in the high 30s or low 40s Fahrenheit, with lows in the high 20s. Pack warm clothing so you can enjoy the markets in comfort. It does snow in December and January, so you can hope for a white Christmas!
In Munich, the traditional Christmas market at Marienplatz has been happening since the 14th century! You'll find a Christmas Village in the courtyard of the Residenz, the Munich city palace, well worth a visit on its own.
There are numerous other markets in Munich, so you'll find one almost around every corner. Browse the stalls for gifts and souvenirs, sip gluhwein, and sample traditional treats, from gingerbread to stollen and chocolate in fun shapes.
If you want to get in out of the cold, Munich has many museums worth touring, from modern art to Egyptian history and beer. Want to work off some calories? Climb the 300 steps to the viewing area of the tower at St. Peter's Church for panoramic views.
Plan on taking a few day trips from Munich to enhance your Christmas market experience! Rothenburg ob der Tauber, which looks like a fairytale town any time of the year, should top your day trip plans.
The Christmas market in Rothenburg features lots of holiday music and colorful decorations. Lights come on after dark, so plan on staying until then. Shop for beautiful Christmas ornaments and taste lebkuchen, German spiced gingerbread cookies.
The Nuremberg Christmas market is one of the oldest markets in the world. It is held in the Hauptmarkt, the town's central square, spilling over into adjacent streets as well. And if you want to see Neuschwanstein Castle with snow (and less crowds!), this is your chance!
In Munich, stay at the 25hours Hotel The Royal Bavarian, right across from the train station and very convenient for day trips!
Hallstatt, Austria
If you're looking for the quintessential Christmas town, Hallstatt should be on your bucket list, thanks to its gingerbread houses, frosted pine trees, and the towering Alps.
Temperatures in the wintertime here are chilly but moderate, occasionally getting below freezing during the daytime, especially in December and January.
If you're hoping for a winter wonderland, you have a decent chance of getting one during this timeframe, with Hallstatt receiving approximately 30 days of snowfall annually.
There are lots of things to do in Hallstatt, especially if you happen to visit in December.
Every year, the town puts on its Christmas market, complete with traditional music, mulled wine, and vendors with handmade ornaments and mittens.
Hallstatt is one of the best Christmas markets in Europe for kids, thanks to the many activities organized for the kinder.
Additionally, you'll find plenty of amazing snow sports here. In fact, Hallstatt is home to three ski resorts, where you can enjoy the famed Alps powder with an absolutely stunning backdrop.
To get out of the cold for a bit, you can pop into Salzwelten Hallstatt, the world's first known salt mine!
While salt mines may not sound that thrilling, this one is actually pretty interesting, thanks to quirky elements, like a 64-meter wooden slide (the longest indoor slide in Europe) and a salt mummy from the 1700s.
Seehotel Gruener Brun is an excellent place to make your base during your trip, with balconies overlooking the lake and an onsite coffee shop for a hot drink to warm up afterwards!
Suggested by Jessica of Uprooted Traveler
Paris, France
Paris is known for being a fantastic destination in the spring and the summer, but visiting Paris in the winter is magical.
With fewer crowds, crisp but chilly air, and winter-specific events, wintertime in Paris offers a unique perspective on this eternally-popular city.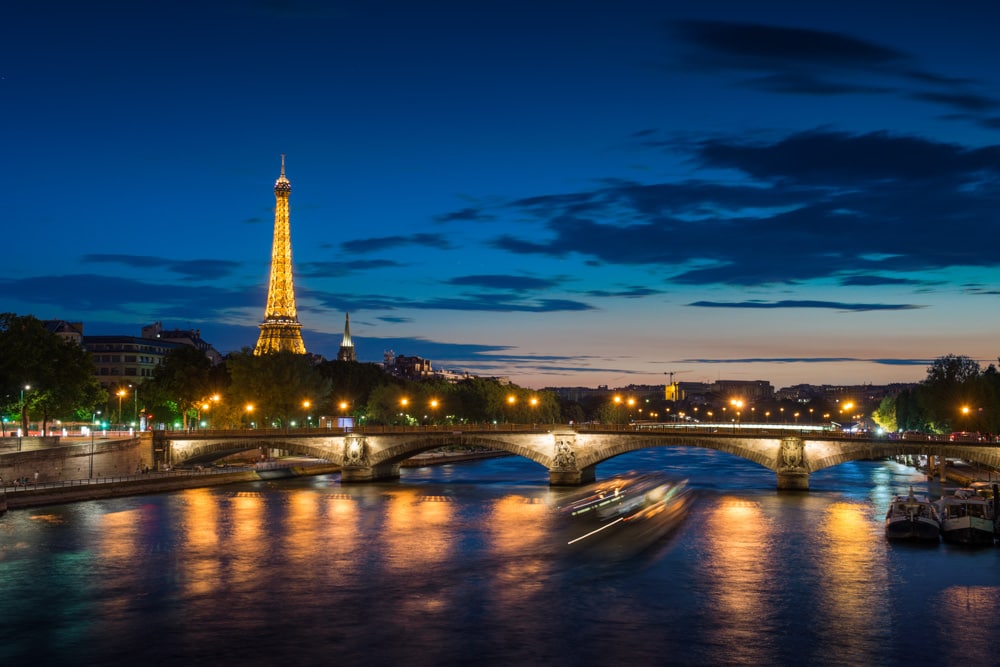 Don't expect to have a warm escape in Paris! With low temperatures dipping into freezing and high temperatures in the 50s, you'll need somewhere between a parka and a peacoat.
French cuisine really shines in wintry weather. Slip into a bistro and savor some French onion soup, beef bourguignon, or duck confit to warm up.
Les Deux Magots is a fan favorite. If you're interested in an up-and-coming restaurant, Le Christine cannot be beat.
In the winter, nothing hits better than hot chocolate and Paris does hot chocolate the best.
Known as "chocolat chaud," Parisian hot chocolate is thick and decadent – almost like a ganache, really – and can be found throughout the city. There's no shame in enjoying a cup (or two!) every day.
If you're visiting during the holiday season, there are many unique things to experience.
Shop at one of the many Christmas markets sprinkled throughout the city. The markets near either the Louvre or the Eiffel Tower are the best ones.
For more shopping, check out the Galeries Lafayette. They go all out at this mall, with a massive Christmas display occupying the center of the multi-story department store.
Definitely take a stroll along the famed Avenue des Champs-Élysées after dark: the thousands of lights on the trees here create a magical sight.
If you're visiting in early January, enjoy a "Gallete des Rois." It is the French version of a King Cake and is traditionally served on January 6.
Paris offers many great experiences indoors, too, that are even better in the winter, mostly because the crowds are gone! The Moulin Rouge, and the Louvre, are great ways to beat the cold.
Stay in Saint Germain, one of the best neighborhoods in Paris to base yourself. Hotel Saint Germain is a beautiful boutique hotel within walking distance of much that the city offers, but even better, it won't break the bank.
Suggested by Gabby of The Office Escape Artist
Tallinn, Estonia
Tallinn in Estonia is a wonderful city to visit in winter in Europe.
The medieval old town is picturesque year round, but in winter the snow truly transforms it into a winter wonderland.
Tallinn is at the same latitude as Stockholm and Oslo, so there is a good chance that you will see the city covered in a big blanket of snow when you visit during the winter months.
Walking around the cobbled stone streets of the medieval old town is one of the best things to do in Tallinn, especially in the winter, when there aren't crowds of visitors.
Around Christmas, there are lovely Christmas markets to browse. Tallinn claims to be the first city to display a Christmas tree in public. It remains a yearly tradition at the medieval town hall square, where you can also find a lively Christmas market.
On cold and misty days, you can find warmth in the city's restaurants: try elk meat soup or other Estonian delicacies! Tallinn has an on-point restaurant scene and many trendy bars.
Other indoor activities, if you want to come in from the cold, include some interesting museums.
Even if you are not a city person, Tallinn is well worth a trip. The capital of Estonia is surrounded by wonderful nature. It might be dark and cold, but if you dress warm, getting outdoors is well worth the effort.
Not far from Tallinn you will find the Jägala Waterfall, that will likely be frozen if you visit in winter. It is a spectacular sight! Or you can go hiking at the nearby frozen Viru bog.
The Hestia Il Marine is a great hotel near the Tallinn Old Town where you can base yourself for your adventures in and around Tallinn.
Suggested by Ellis of Backpack Adventures
Rome, Italy
If you want to escape the crowds of tourists, the best time to visit Rome is actually winter.
While Rome knows all seasons, winter in the Eternal City is never too harsh. The occasional cold front brings temperatures down and there are higher chances of rain, but on a typical day you'll enjoy lots of sun and be able to explore all the incredible attractions the city has to offer.
If it is your first time in the city, you can't miss the most important landmarks in Rome.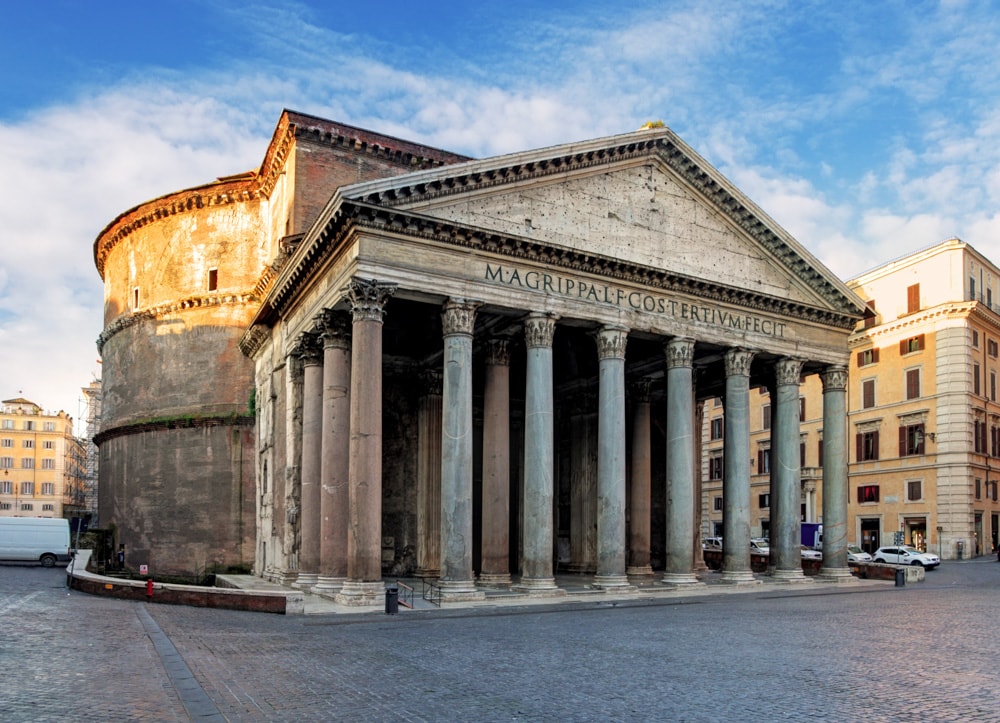 One of the best things to do in Rome for first-timers is a guided tour of the Colosseum. Also plan to visit the underground and the arena for the most complete experience. Swing by the Roman Forum and the Palatine Hill to be immersed in Rome's ancient history.
Head to the Vatican to marvel at Bernini's and Michelangelo's works inside St. Peter's Basilica. Then walk up to the top of St. Peter's dome for one of the most beautiful views of Rome.
Finally, head to the Vatican Museums to be awed by the Sistine Chapel. And for the best views of St. Peter's Basilica, walk up the terrace of Castel Sant'Angelo.
For more art, spend time in the Borghese Gallery and the Doria Pamphilj Gallery, and in some of Rome's churches.
Make sure to also explore Trastevere, where some of the best restaurants in the city are located. This is also one of the most popular nightlife hubs, with plenty of bars, pubs, and excellent enotecas.
The best area to stay in Rome for first timers is the historic center. 9Hotel Cesari is an excellent boutique hotel, close to the Pantheon and Trevi Fountain. Breakfast is served on a terrace with incredible views!
Suggested by Claudia of Strictly Rome
Tromso, Norway
When you hear "Tromsø," you immediately think of the Aurora Borealis, but Tromso in winter is cool for many other reasons as well.
Between the end of November and mid January, the sun doesn't rise here at all, so be prepared for the uniqueness of the ambience!
The Northern Norway city is one of the best spots to hunt Northern Lights, and tourists come here primarily for this purpose. You need dark clear skies, and even then they aren't a given, but it's definitely worth booking a tour or two to try.
The city itself offers various attractions. The old town, the harbor, the Polar Museum, Polaria, the old town cathedral, the Arctic Cathedral, the Hurtigruten ship, and the local Mack brewery are all must-sees.
The Arctic Cathedral (it's not really a cathedral!) is known for its distinctive modern architecture in concrete and steel. Admire the gorgeous glass mosaic on its eastern side, and step inside to view the organ. Tromso's wooden cathedral is a must-see as well.
Polaria is a family-friendly Arctic experience center, and includes a museum, an aquarium, and an Arctic information center. It is one of the most popular tourist hotspots in the city.
The Polar Museum showcases the history of polar expeditions over the past two centuries. It's not a large museum, but it's interesting to learn how the hunters handled the adverse conditions.
Tromso has the largest port in the north of Norway. The harbor is worth a stroll, to see the fishing boats and ships. The harbor looks especially beautiful at sunset!
The Fjellheisen is by far the most popular attraction in Tromso: it's a cable car that connects the city's lower reaches to beautiful vantage points on Storsteinen, or the "Great Rock," which rises more than 420m (close to 1,400 feet) above sea level.
A winter fjord cruise is another must in Tromso. Tour companies usually include warm clothing on polar cruises, and you can choose to stay inside the cabin or venture out onto the deck to spot birds and marine life.
Suggested by Magdalena from Beyondexpatlife
Zagreb, Croatia
Zagreb is a must-visit destination if you're looking to immerse yourself in a winter wonderland without excessive amounts of snow.
During the winter, the Croatian capital has an average temperature of 29°F and receives about 2.5 inches of snow a month. These conditions are ideal for experiencing a white winter while still being able to partake in the holiday festivities.
Every year, you'll find 25 individual Christmas markets across the city, forming one giant Christmas market known as Advent. Attending the month-long city-wide event is one of the most popular things to do and attracts visitors from everywhere.
Plus, a fun fact about Zagreb is that Advent was named the Best Christmas Market in Europe by European Best Destinations for three consecutive years (2016-2018)!
Another favorite local activity is listening to live Christmas music. Most evenings, visitors are treated to a free outdoor concert at the pavilion in Zrijevac Park, and can admire the colorful light displays.
Meanwhile, anyone interested in winter sports can head over to Zagreb's largest park, King Tomislav Square. Each year, the city transforms the park into a massive ice skating rink.
Should you want to escape the cold, walk through the Museum of Broken Relationships. Here, you'll find items and stories of failed relationships, donated by people from around the world.
To get the most out of your winter stay in Zagreb, be sure to check out Hotel Dubrovnik, located above Zagreb's main square!
Suggested by Kristin of Global Travel Escapades
Bruges, Belgium
If you are looking for a fairytale ambience for your winter trip to Europe, consider Bruges! The town looks gorgeous no matter the season, but in the winter, Bruges takes on an added dimension of beauty.
Wander the cobblestone streets of Bruges, stopping to admire the picturesque canals and guild houses. On misty winter days, the scenes resemble picture postcards, and you'll be stopping every few steps to snap photos.
If you visit in the weeks leading up to Christmas, Bruges has two Christmas markets you must definitely visit. The larger market is located on Grote Markt, the main square, where you can also visit the Bruges Belfry and the Bruges Historium.
While you are here, climb to the top of the tower for spectacular panoramic views over Bruges. You do have to climb 366 steps for the views though!
The second Bruges Christmas market, also worth a visit, is on Simon Stevinplein, another Bruges square. Make sure you sample waffles, chocolate, and mulled wine. And browse for souvenirs to bring home!
Unlike in Germany, the Christmas markets in Belgium stay open until the first week in January!
Generally, Bruges also has a big ice skating rink open during the time the Christmas market is open. Rent a pair of skates and enjoy the rink after dark.
Also walk to Burg Square after dark, to admire the large lit Christmas tree. Burg Square is home to the 14th century City Hall and the Basilica of the Holy Blood. Minnewater Park is made for strolling, with lots of swans and a romantic ambience.
No matter when in winter you visit Bruges, make sure you enjoy hot chocolate: it's decadent and delicious! And take a cruise of the canals for a different (and romantic!) perspective on the town.
Hotel Dukes' Palace makes for a luxurious stay in the heart of the UNESCO World Heritage city of Bruges.
Suggested by us
Lisbon, Portugal
Lisbon is an incredible place to visit in the winter months. In the summer months, the temperatures can reach a searing 40°C/ 104°F, but in the winter, you'll find much more comfortable temperatures: 15°C/ 59°F – 20°C/ 68°F.
Plus, Lisbon in winter is much less crowded – you won't need to queue for attractions or deal with sweaty public transport! While it can be slightly rainier in the winter months, you'll likely still have plenty of clear days with bright blue skies.
There are so many incredible things to do in Lisbon, and most of these are accessible in the winter months too.
Walk around the winding streets of Alfama, the oldest area of the city, where there are plenty of cafes, bars and restaurants.
Explore museums like the Museu do Aljube, which focuses on the Portuguese dictatorship in the 20th century.
Hike up to one of the many beautiful Miradouros – the Castelo de Sao Jorge is one of the best.
Take a tram out to Belem. This is where many Portuguese explorers left the city and it remains a place with fascinating naval history.
It's also worth visiting Pasteis de Belem, which is where the famous Portuguese egg custard tarts (called Pasteis de Nata) were created!
Get lost in Sintra, where you will find Pena Palace, a real fairytale palace! Sintra is just a short drive or train trip away from Lisbon city center.
All of these areas are accessible in the winter, without the crowds of summer. The only thing that you can't do is swim in the sea at Lisbon's local beaches!
If you are planning a December visit, you'll find lots of decorations in the city center, with trees and lights in major squares, and Christmas markets where you can sample mulled wine and local treats.
Suggested by Claire from Europe in Winter
Malaga, Spain
Malaga is well-known for being a summer holiday spot, but it is a fantastic destination to visit in winter too. If you want to escape the cold, you will love visiting Malaga in winter.
Malaga has a very mild winter, as the average maximum temperature is 18º degrees Celsius (64 degrees F), and the minimum temperature is 8º degrees Celsius (46 degrees F). In addition to this, there are few rainy days, so you are likely to enjoy blue sky sunny days.
One of the main things to do in Malaga is to visit the Alcazaba, a beautiful Moorish fortress palace that dates back to the 11th century.
Wander its Andalusian courtyards, learn about the Muslim period in the city and contemplate some of the most beautiful views of Malaga. Next to the Alcazaba, you can also visit the Roman Theatre and the Gibralfaro Castle.
If you visit Malaga in December, you will be surprised by how many events are going on. The Christmas light show is spectacular! It takes place in Larios Street, Malaga's main street, and many travelers come to the city just to see the lights.
Another great activity to do in Malaga in winter is hiking. Some of the most popular hikes near Malaga are in Montes de Malaga National Park, but there are many scenic hiking trails across Costa del Sol.
And if you do happen to have a rainy day during your visit to Malaga, tour one or more of the many interesting museums in the city, from the Picasso Museum to the Carmen Thyssen Museum.
If you are looking for accommodation in Malaga, Room Mate Valeria is an excellent choice. The hotel offers comfortable and beautifully decorated rooms, and it has a rooftop terrace bar with stunning views of Malaga.
Suggested by Cristina of My Little World of Travelling
Amsterdam, The Netherlands
Winter in Amsterdam is a sight to behold. Whether you plan to spend just one day in Amsterdam or a few days, you'll find plenty to do in Amsterdam in winter!
Although it is chilly, daytime highs are generally in the 40s, and you can still walk around to explore the city as long as you are dressed warmly. The city is much less crowded, making it a joy to wander.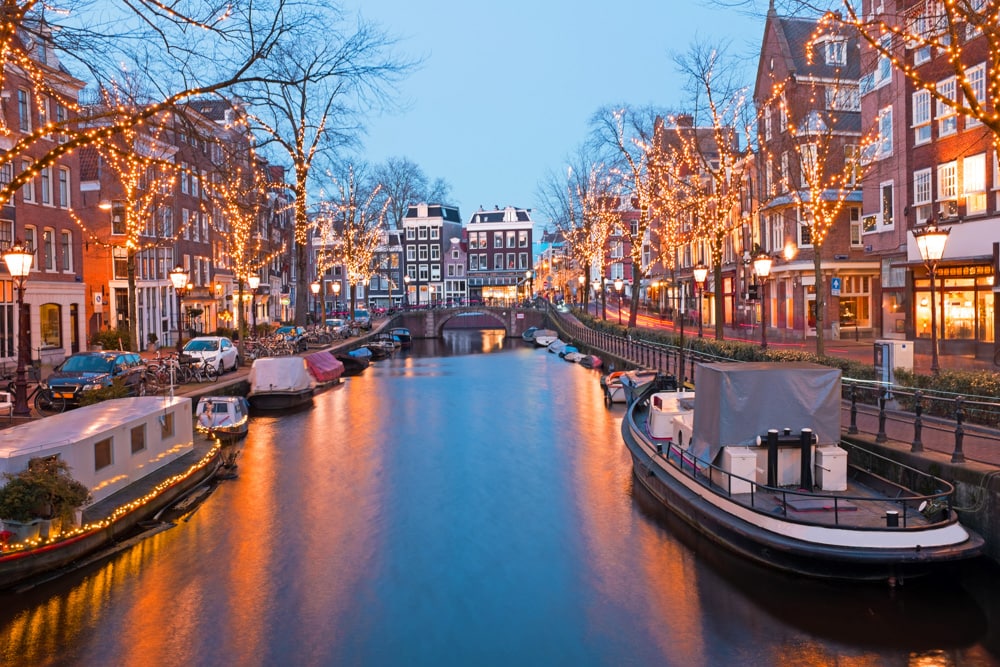 The Christmas market in Amsterdam is a great place to browse, with a cup of gluhwein to warm you up. You'll find the largest market right in the middle of Dam Square, with rides and a Sinterklaas and booths packed full of Dutch treats.
The canals are lit up with festive lights, and there are Christmas trees everywhere!
One of the best ways to see Amsterdam is by taking a ride through the canals. The Amsterdam Light Festival during the winter is exceptionally beautiful from the water, so be sure to take an evening cruise!
Ice skating takes on a life of its own in the winters of Amsterdam. Skate on one of the pop-up rinks around the city, or jump right onto a frozen canal like the locals do!
And the famous Rijksmuseum is a great rainy-day option: it's a sizable museum with am impressive collection, so you can easily spend several hours admiring the art.
One must-see place regardless of season in Amsterdam is the Anne Frank Huis. Go back in time as you explore the hiding place that held a teenage girl and her family during the Holocaust. Book well in advance!
Stay at the cozy and perfectly-located InntelHotels Amsterdam Centre.
Suggested by Taylor of Traverse with Taylor
Lake Bled, Slovenia
A fairytale destination in any season, Lake Bled is simply magical in the winter, especially when snow lies thick on the surrounding mountains. It's a picture postcard!
Although the beauty of Lake Bled in winter is enough reason to plan a visit, accommodations are cheaper and you'll find Bled much less crowded than in the summer, when the serenity of the setting cannot be really experienced because of the throngs of tourists.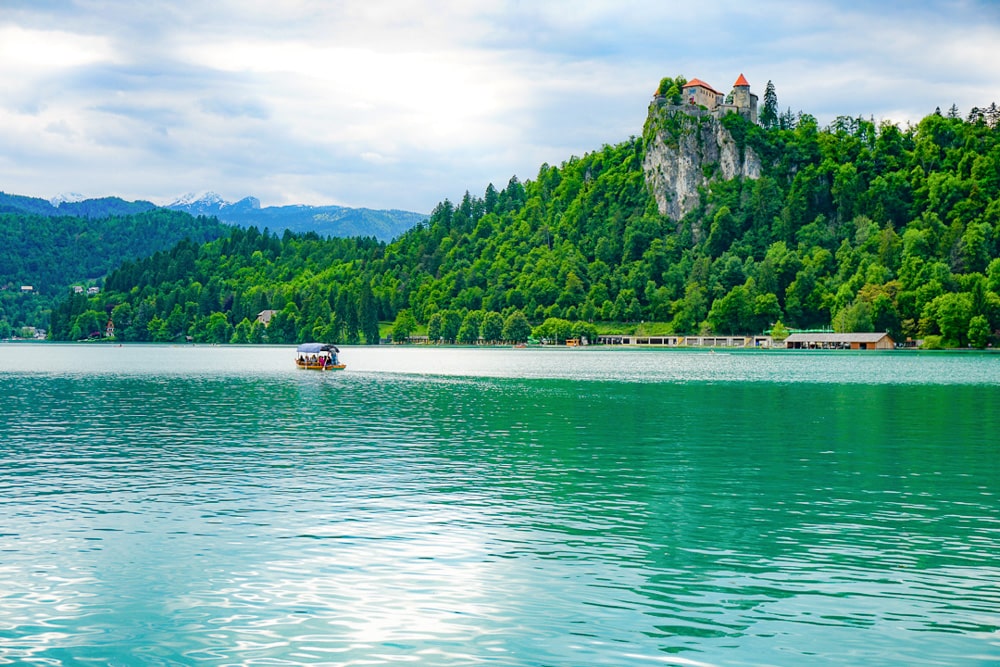 December is a particularly wonderful time to visit, because of the enchanting Christmas lights and decorations, and the Christmas markets. You'll find stalls along the lakeshore, with traditional artisanal wares if you want to pick up souvenirs.
Enjoy mulled warm, or decadent hot chocolate, as you stroll the market. Sample Slovenian potica, a sweet nut roll , or medenjaki, Slovenian honey spice holiday cookies.
One of the best things to do in Lake Bled, regardless of season, is a visit to Bled Island, the picturesque little island in the middle of the lake. Take the traditional pletna boat, and climb the 99 steps to the church, where you can pull the bell-rope and make a wish!
You can also visit Bled Castle, at the top of the hill, for gorgeous views over the lake. For a meal with a view, dine at the castle restaurant!
Although sadly the lake hasn't frozen over in recent years, you can still go ice skating at the rink at Hotel Park. Other winter activities to enjoy in the region include snowshoeing, skiing, or cross-country skiing.
If you are in Bled for a few days, plan a day trip to beautiful Lake Bohinj, or to Ljubljana, the charming capital of Slovenia. Buses are an excellent way to do these day trips if you don't want to drive.
Suggested by us
Innsbruck, Austria
Innsbruck is the regional capital of Tyrol in Austria, a region known for its skiing resorts and the beautiful Alps.
Expect snow fall and temperatures ranging from +5 degrees Celsius (41 degrees Fahrenheit) to -15 degrees Celsius (5 degrees Fahrenheit) in winter.
The old town of Innsbruck is charming, with its medieval colored buildings and tight pathways. Visit the Imperial Palace and the Cathedral of St. James, and snap photos of the Triumphal Arch and the colorful houses by the river.
In the weeks leading up to Christmas, Innsbruck's Christmas markets will charm you. The traditional Christmas market in Innsbruck is the market in the historic center, right below the iconic golden roof.
Do not miss the Christmas tree at Swarovski Crystal Worlds: the tree is hung with Swarovski crystals in changing colors for a unique sight.
The cable car up to the Nordkette will take you from the city center directly up to the mountain peaks within 30 minutes and the view is well worth it!
Innsbruck was a host of the Winter Olympics, making it a prime location for all winter sports lovers. You can go ice skating, cross country skiing, downhill skiing, ski touring, sledging and snowshoeing in Innsbruck.
You can also visit the Bergisel ski jump, designed by Zaha Hadid, and you must definitely dine at the restaurant at the top, with its fabulous view of the city!
Touring the Ambras Castle is one of the best things to do in Innsbruck for those looking to learn more about the complicated local culture and history. Enjoy a winter walk through the large fairy tale castle gardens, located right next to the castle grounds.
Stay at the Hotel Innsbruck, located by the river in the heart of the Old Town.
Suggested by Paul of Paulmarina
Reykjavik, Iceland
If you're looking for the best winter destinations in Europe then you can't beat Reykjavik, Iceland.
Just be sure to bundle up, since daily highs hover around 14 degrees Fahrenheit and 32 degrees Fahrenheit, depending on where you are in the country.
Days also get exceptionally short so this is a great time of year to see the Northern Lights! Catch them in the city, or book a magical day trip to top northern lights viewing spots like the Blue Lagoon or Thingvellir National Park.
Alternatively, head to Grundafjörður and see if you can spot killer whales, since they come close to shore here between November and April.
Warm up at one of the best Reykjavík hot springs. Sky Lagoon is the city's coolest new geothermal pool, but you also have the perennially popular Blue Lagoon.
For more Iceland hot spring choices, consider Hrunalaug, a natural hot pool located along the Golden Circle, or Reykjadalur, a thermal river located less than 30 miles from Reykjavik.
In you are in Reykjavik on December 23, join the hunt for Icelandic Santas! Every year, locals (and visitors!) search for thirteen Santa-inspired holograms hidden in the downtown area.
December is a festive time in Iceland's capital, with Christmas decorations and lights. It's a wonderful time to stroll the streets. Try a Reykjavik food walking tour. It's a great way to sample the hearty festive cuisine that will help keep you warm all day long. Book your spot well in advance!
Stay at the luxurious Hilton Reykjavik Nordica with its very own full service spa and high-end restaurant serving classic Nordic cuisine.
Suggested by Victoria of Iceland Trippers
Prague, The Czech Republic
Prague is a fabulous city at any time of year, but it can get very busy during the peak summer periods. Plan a winter visit instead!
In December, Prague transforms into a winter wonderland, with Christmas markets popping up around the city. Wander the markets to buy unique souvenirs and sample tasty warming treats.
If you visit Prague in winter, not only will you get to enjoy the city without the crowds, you may also be able to score lower prices on accommodation in the winter months.
It does get cold in Prague though, so be prepared for temperatures to drop below freezing, especially in January. While it doesn't often snow in Prague, a dusting of white makes the city even more magical.
Aside from the Christmas markets (you'll find excellent ones in Old Town Square and Wenceslas Square, among others), ice-skating is another popular winter activity in Prague.
Or, just hit the streets and explore the UNESCO-listed Old Town on foot: the architecture is simply stunning.
Don't miss the Astronomical Clock which offers a musical performance every hour during the day. While you're here, head up to the Old Town Hall clock tower for magnificent views overlooking the square and the Gothic Church of Our Lady before Týn.
Walking across the river on Charles Bridge to Prague Castle is another must-do, and if you need to warm up, Prague has some splendid museums where you can escape the weather.
Prague Golden Age Hotel is right in the center of the Old Town, and a great place to stay, with the best of the city right at your doorstep.
Suggested by Claire of Tales of a Backpacker
Sibiu, Romania
Sibiu, Romania is a highly underrated winter destination in Europe. Surrounded by thick forests and the snow-capped peaks of the Carpathian mountains, Sibiu is a magical place to visit in winter.
There are many incredible things to do in Sibiu, from lingering in its pretty squares to admiring the architecture. Wander the cobblestone streets to snap photos of the colorful facades, and duck into one of the many museums to escape the cold for a spell.
The holiday season makes this city particularly special. The Sibiu Christmas market is the most famous in all of Romania. It is set in the main square, Piata Mare. Vendors from all over Romania come to take part in the Sibiu Christmas Market.
There is a huge ice skating rink, projections on the buildings around the square, and a large ferris wheel, not to mention a plethora of activities for kids (and parents!) to enjoy, like a mini train.
The Sibiu region is also a great destination for winter sports, from skiing and snowboarding to cross country skiing and snowshoeing. And there is an ice hotel at Balea Lac, about 80 km (50 miles) away.
Sibiu is also a very affordable place to visit. Hotels and other accommodations are relatively inexpensive, and there are many budget-friendly activities to do.
The weather in Sibiu is brisk and cold, with frequent snowfalls, only adding to the holiday magic. The outdoor terraces all have space heaters so that you can watch the snowfall and the surrounding festivities as you dine!
A perfect place to stay in Sibiu is the Hotel Imparatul Romanilor. It is the oldest hotel in the country!
Suggested by Jade of The Migrant Yogi
Sicily, Italy
With its relatively mild coastal climate and stunning scenery, Sicily is a hidden gem that makes for a relaxing winter vacation destination in Italy.
The largest island in the Mediterranean, Sicily boasts miles of beaches, tall mountains, authentic south Italian cities, and Italian coastal towns.
With average daytime highs in the high 50s and low 60s Fahrenheit, Sicily has a much milder winter when compared to much of Europe. Pack your rain gear, but you may have sunny days to explore as well.
Water temperatures in December are still in the 60s, making it still possible to swim in the sea! Sicily's towns and cities look festive, dressed for the holidays. Visit the Christmas markets, and sample local dishes like zabaglione and buccellati (yum cookies with nuts and dried figs).
In January and February, winter sport enthusiasts can go skiing on Mount Etna and the Madonie mountains. Ski resorts in Sicily tend to be less expensive than elsewhere in Europe. After a day on the slopes, relax in a hot spring or at a bathhouse. Carnivale is a festive time to visit.
Winter is an excellent time to explore the magnificent Greek and Roman ruins scattered about the island. Check out the Valley of the Temples in Agrigento, or the beautiful mosaics in Villa Romano del Casale. Enjoy sunset at the salt flats of Trapani.
The benefits of "winter Sicily" include zero huge crowds, no crippling Italian summer heat, and no surcharges on hotels or transportation.
In Palermo, stay at the Grand Hotel Wagner, walking distance to the historic core. In Syracuse, the Hotel Borgo Pantano offers views over the countryside.
Suggested by Mariana of Road Trip Euro Guide
The Canary Islands, Spain
The Canary Islands are an archipelago belonging to Spain. They are located just off the coast of North Africa, making them some of the warmest places you can visit in winter in Europe.
Boasting daytime highs of almost 70 degrees Fahrenheit (21 degrees Celsius), and lows of about 60 degrees Fahrenheit (16 degrees Celsius), the Canary Islands offer the perfect winter weather for outdoor activities you normally associate with summer.
In Tenerife, enjoy stargazing at the Teide National Park, a UNESCO World Heritage Site. The park is also stunning by day, with richly-colored volcanic formations.
You can also relax at the beach, enjoy water sports like windsurfing or go on a cruise to spot whales or dolphins. Rent a car and explore the small towns on the island: San Cristóbal de La Laguna, with its UNESCO-designated historic center is a must-visit.
Stay at the Iberostar Heritage Grand Mencey in Santa Cruz de Tenerife.
In Gran Canaria, enjoy warm and sunny days at the southern beaches, or walk the beautiful sand dunes of Maspalomas. Go snorkeling or scuba diving, or take a dolphin-spotting cruise. Attend Carnaval in February.
Stay at the Radisson Blu Resort & Spa in Puerto de Mogan.
In Fuerteventura, relax on the beaches, or go surfing or windsurfing. Walk the sand dunes of Parque Natural de Corralejo, or ride a camel. Take a trip to the picturesque Isla de Lobos. Celebrate Carnaval at Puerto del Rosario.
Stay at the Hotel Boutique TAO Caleta Mar in Corralejo.
Lanzarote is another popular Canary Island winter vacation spot. Go hiking at Montaña Roja, explore Timanfaya National Park, and enjoy the beaches.
Stay at the Oasis Lanz Beach Mate in Costa Teguise.
Suggested by us
Renting a car for your Europe trip? Discover Cars offers you the ability to compare availability and prices across many major car-hire companies. Pick the car that best meets your needs!
Athens, Greece
Athens may not come to mind immediately as a winter destination, yet this centuries-old city offers boundless opportunities for a memorable winter getaway.
Athens enjoys year-round mild temperatures, with the coldest months being December, January, and February with average temperatures of 10 °C or 52 °F. It is also a city blessed with abundant sunshine, even on the cooler winter days.
There are plenty of reasons to visit Athens in winter, and less crowds is definitely one of them!
It is the perfect time to immerse yourself in history. Visit the Acropolis, and enjoy a leisurely stroll through the historic center of one of the oldest cities in the world.
Enjoy dining in the local tavernas, in an ideal setting of comfort, with breathtaking views of Athens and the Acropolis. Spend a relaxing afternoon sipping coffee and engaging in small talk, just like the locals do.
Athens offers an array of entertainment options, from world-class bars to international concerts and performances. This city truly never sleeps.
For a breath of fresh air and a relaxed atmosphere, head over to the shores of the Athenian Riviera, located a mere 30 minutes from the city center, where you can enjoy the beachside aura, waterfront dining, and great shopping.
For those who wish to discover more of Greece, you can venture off on several exciting day trips, like visiting Delphi or the nearby Saronic islands of Hydra or Aegina, which are actually quite enjoyable in winter too.
For a home away from home experience stay at the cozy Herodion Hotel, located near the Acropolis and the Acropolis Museum.
Suggested by Elena of The Athenian Riviera
Zermatt, Switzerland
Located at 1,620m (about 5,275 feet) above sea level in the Swiss Alps, Zermatt makes for an amazing winter getaway in Europe, whether you are into skiing or not.
Strolling the town is a must. The car-free village is incredibly picturesque on a sunny winter day, especially when covered in a mantle of snow.
Zermatt is of course a skier's paradise. Take the funicular to Sunnegga, where you can ski whilst enjoying fabulous views of the iconic Matterhorn.
The Sunnegga-Rothorn sector accommodates all levels of skiers. Want to learn to ski? You can take a beginner lesson or two. And be sure to visit Chez Vrony, the renowned traditional mountainside restaurant, for lunch.
If it's a clear day, take the cog railway from Zermatt to Gornergrat for amazing views of the Matterhorn without the need to ski or hike! Find a restaurant with a terrace so you can enjoy the views as you sip a hot beverage.
Also be sure to take the gondola to Klein Matterhorn, the highest peak station. The views from this station are superb! Tour Glacier Palace, an ice museum, and have a meal or a drink at the summit restaurant.
Snowshoeing and cross-country skiing are other popular activities in Zermatt. There are numerous hiking trails in the area that will let you soak in the natural beauty of your surroundings. Go on your own or join a guided winter hike.
If you are looking for more winter sports to enjoy, try ice skating, curling, or sledding. And adventurous visitors can enjoy a helicopter ride over the scenic Swiss Alps. The views are breathtaking!
The Omnia offers a terrace and mountain views, plus an onsite spa.
Suggested by us
*****
We hope you enjoyed this round-up of the most exciting places to visit in winter in Europe. Which one will you pick for your next visit?
MORE EUROPE TRAVEL INSPIRATION
Did you find this article informative? Pin it for later reference!