If you visit San Luis Obispo (a beautiful Central California town and the "happiest place on Earth" per Oprah), reserve two or three days to explore equally beautiful nearby places. Among the best day trips you can do from SLO is a visit to Cambria, a delightful little coastal town just a 30-minute drive away on scenic California Highway One.
To my mind, Cambria is the quintessential California coastal town. Not so big that it loses that quaint seaside village feel; not so small that all you see on Main Street on a Tuesday morning is a black tabby sunning herself on a bench. We have done numerous day trips to Cambria, and a couple of longer stays as well, and we've enjoyed both types of visits. Here are my top five things to do on a day trip to Cambria:
Go for a morning walk along the boardwalk on Moonstone Beach:
This ridiculously scenic boardwalk offers up stunning views of the Pacific Ocean and the surrounding countryside, and is a great place to get your metabolism revved up for the day. It's popular with locals and visitors alike, so the earlier you go, the better your chances for some solitude on your walk.
The boardwalk runs parallel to the Moonstone Beach Drive, and we found parking easily in the morning at the start of the trail. There's access to the gorgeous beaches via stairs at points along the trail, and lots of benches to sit and take in the views if you so desire. It's flat and a very easy 1.5-mile walk from end to end.
Bring along a light jacket or sweater; it's sometimes cool and breezy and you'll need an extra layer until you warm up. You can see sea otters, whales and dolphins in season, and there are living tide pools to explore.
In the spring, you get the added bonus of wildflowers adding pops of color on both sides of the boardwalk. During our last visit in the spring, we saw wildflowers in many shades of purple, as well as orange California poppies and yellow and white wildflowers of different kinds.
You can see lots of sea birds on the beach, and the odd rabbit or squirrel scurrying across the boardwalk. If you're lucky, the local fauna will even pose for you!
Pop in for a pastry and coffee at the French Corner Bakery on Main Street:
After working up an appetite with your morning walk, head over to the French Corner Bakery for breakfast. Their baked goods are fresh and delicious, and their coffee strong and aromatic. We also almost always pick up one of their loaves of specialty breads to go. Rosemary/olive and pumpkin bread (seasonal) are my favorites.
If you go: The French Corner Bakery
2214 Main Street
Cambria, CA
Website: http://frenchcornerbakery.com
Browse the stores and galleries on Main Street:
Downtown Cambria along Main Street is charming. On one end there are little homes with lovely cottage gardens. On our last visit, I stopped several times to inhale the sweet fragrance of climbing Cecile Brunner and other antique roses adorning the gates and fences.


Also at our last visit in the spring, the gardens of the Cambria Historical Society were ablaze with color. We haven't been inside to tour the little museum yet, but I have read that it is worth a visit.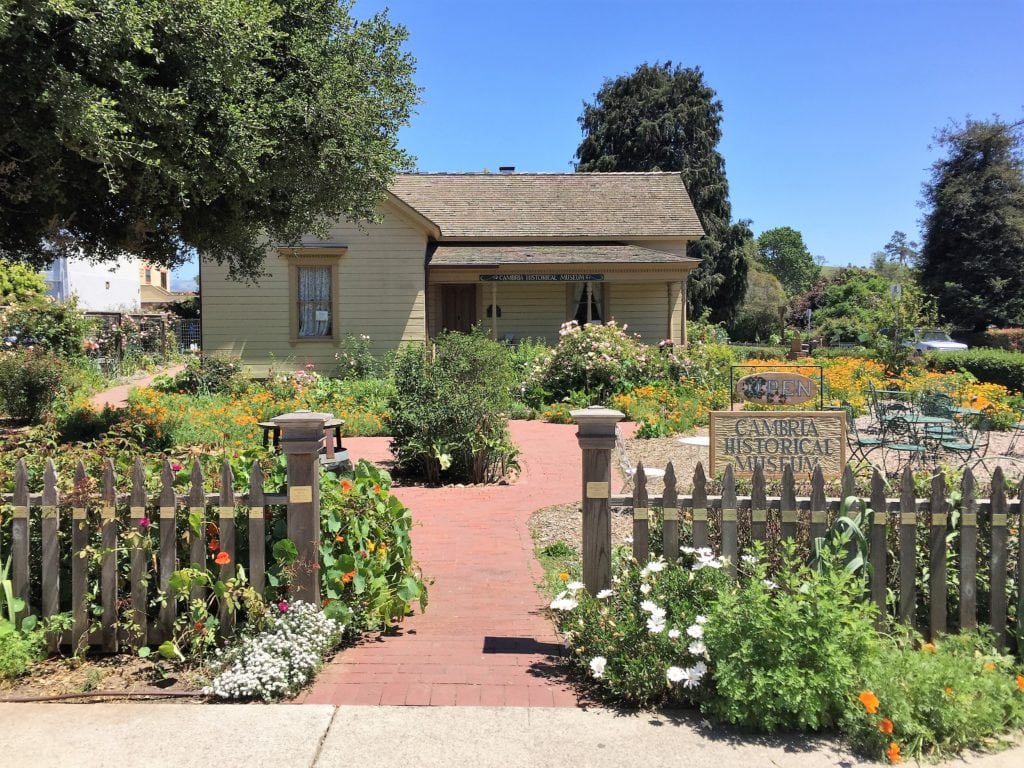 The commercial section of the street is home to numerous restaurants, cafes, wine tasting rooms, and one-of-a-kind stores and galleries. There's lots of parking. We generally spend the rest of the morning browsing the stores along Main Street, admiring art and antiques.
Have lunch at Robin's:
No visit to Cambria would be complete without a meal at Robin's Restaurant. Deservedly popular, this Central Coast icon serves up an eclectic menu with excellent fresh ingredients.
My lunchtime favorite is the falafel sandwich with the shoestring fries. The patty has great flavor and texture, and a just-right bread to filling ratio.
If you go: Robin's Restaurant
4095 Burton Drive
Cambria, CA
Website: http://robinsrestaurant.com
Hike the Ocean Bluff Trail at the Fiscalini Ranch Preserve:
For more stunning ocean views and coastal flora/fauna, head over to the Fiscalini Ranch Preserve and walk the dramatic ocean bluff trail. Parking is a bit tight, so you may have to circle around a bit if it's a beautiful day and lots of people are out walking the trail.
This is a truly spectacular high ridge trail, and, if you're lucky, you can see whales spouting in the ocean. There are lots of sea birds, and we've seen sea otters bobbing up and down playfully in the waters below the trail. In the spring, you'll see lots of wildflowers as well.
The trail is about a mile long along the shore. It then loops inward, but we generally turn around and retrace our steps, to enjoy more water views on the way back. The trail is relatively flat and easy.
So those are my recommendations for the top five things to do on a day trip to Cambria! I hope I have inspired you to visit this pretty California coastal paradise. Do you have a favorite coastal town? Comment below to tell me about it!
And here's a pin to save for later: