Looking for the best things to do in Malaga, Spain? The lively coastal city offers historic landmarks, beautiful beaches, and a great dining scene.
The Andalusian city of Malaga, with its enviable location on the Costa del Sol, is a great place to base yourself while you explore the region.
We build in day trips from Malaga when we visit, but we also make time to explore the fun city. Although it is often underrated as a destination unto itself, we've found lots of fun things to do in Malaga, Spain!
Malaga has transformed itself in recent years into a vibrant, happening place, well worthy of time in your Andalusia itinerary.
The city also hosts a number of festivals, so check to see if there is one happening when you plan to visit.
And best of all, Malaga is very affordable!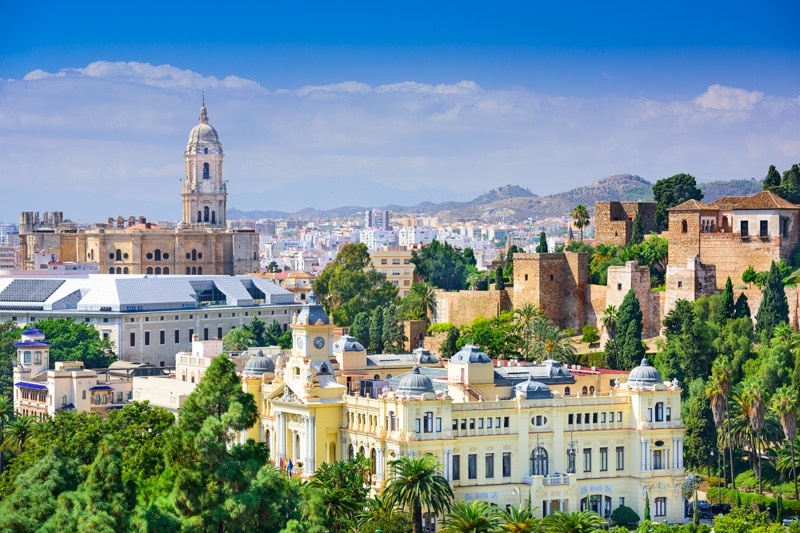 Some links on this page may be affiliate links. If you click an affiliate link and make a purchase, we may receive a small commission, at no extra cost to you. For more details, refer to our disclosure.
Unmissable Things to Do in Malaga, Spain
As the capital of the Costa del Sol, Malaga is of course known for its waterfront. But it also has a rich history, art and culture (Pablo Picasso was born here!), and great food and drink.
And if you exhaust everything there is to see in Malaga, the best of the Costa del Sol awaits!
From museums to Moorish forts and beaches to gardens, there are plenty of awesome places to visit in Málaga. And around Malaga, you'll find some beautiful natural areas to visit as well.
Whether you plan to spend one or two days in Malaga, or you are looking to stay longer, you're guaranteed to have a fun-filled time.
Let's get started discovering the best things to do in Malaga!
Visit the Alcazaba of malaga for a Trip Back in Time
At the top of your list of must-visit Malaga attractions should be its historic palace-fortress, the Alcazaba of Malaga.
Malaga's Alcazaba is not ornate, like Seville's Royal Alcazar or Granada's majestic Alhambra. But it makes for a lovely afternoon of exploring nevertheless: and it's usually much less crowded.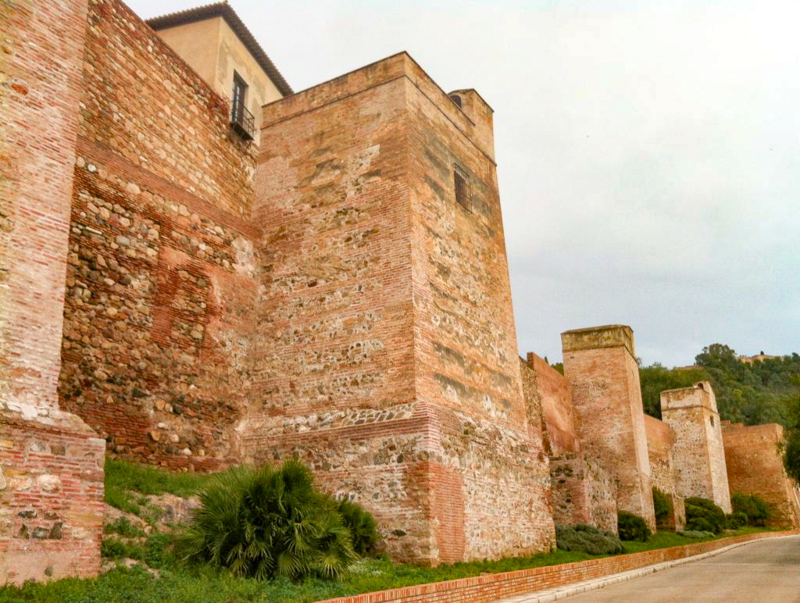 The Moorish palace-fortress was built in the 11th century. Its hilltop location in the middle of the city is stunning, offering marvelous views over the city and the port of Malaga.
The remarkably well-preserved complex is a symphony in brick, stone and tile. We visited in the evening, and the golden light from the setting sun made the rustic colors glow.
You will love wandering the courtyards and patios. There is a reflecting pool in a courtyard, and a small walled garden area where you can stop to enjoy the quiet beauty.
You will be pleasantly surprised by how much there is to see and appreciate in the unassuming Alcazaba. It is definitely one of the most awesome things to see in Malaga!
Want to learn about the Alcazaba and the Roman Theater as you explore? Consider this modestly-priced 90-minute guided tour! Priority entrance is included.
Allow 2 to 3 hours to explore the fortress and take photos. There is an admission fee.
If you go: Alcazaba de Malaga, Calle Alcazabilla, 2, 29012 Málaga, Spain
Enjoy the Views from the Castillo de Gibralfaro
Another must for your Malaga sightseeing itinerary is the Castillo de Gibralfaro, one of the city's most historic old structures.
If you think the views from the Alcazaba are beautiful, you will be awe-struck when you experience the panoramic views from the Castillo de Gibralfaro.
Set on a much higher hilltop, the castle has a fascinating history. It was built in the 10th century at the site of a Phoenician lighthouse.
In the 14th century, the Sultan of Granada added to the structure. He also ordered the construction of the double wall going down to the Alcazaba below.
In 1487, during the Reconquista, the Christian monarchs Ferdinand and Isabella laid siege to the Gibralfaro. It took three months, but the Christian monarchs ultimately won. Ferdinand spent some time in the city, and ordered the Gibralfaro be made a symbol on Malaga's coat of arms.
If you're up for a hike, you can walk up to the top. We took a taxicab up and walked down. There's also a bus that goes to the top from the city center or port.
At the top, walk the walls of the fort and admire the 360-degree views of the city and harbor. From here you get great aerial views of the hexadecagonal bullring of Malaga, as well as the port of Malaga, and the city.
Allow about 2-3 hours, depending on whether you choose to walk or take transport. There is an admission fee, and you can buy a combined ticket for the Alcazaba and the Castillo de Gibralfaro.
If you go: Castillo de Gibralfaro, Camino Gibralfaro, 11, 29016 Málaga, Spain
Stop by Malaga's Roman Theater
When you visit the Alcazaba, don't forget to stop by the Roman Theater, another one of Malaga's historical points of interest. It is located right at the foot of the fortress.
The theater is reported to have been built in the first century, under Emperor Augustus, and was used for performances for many decades thereafter.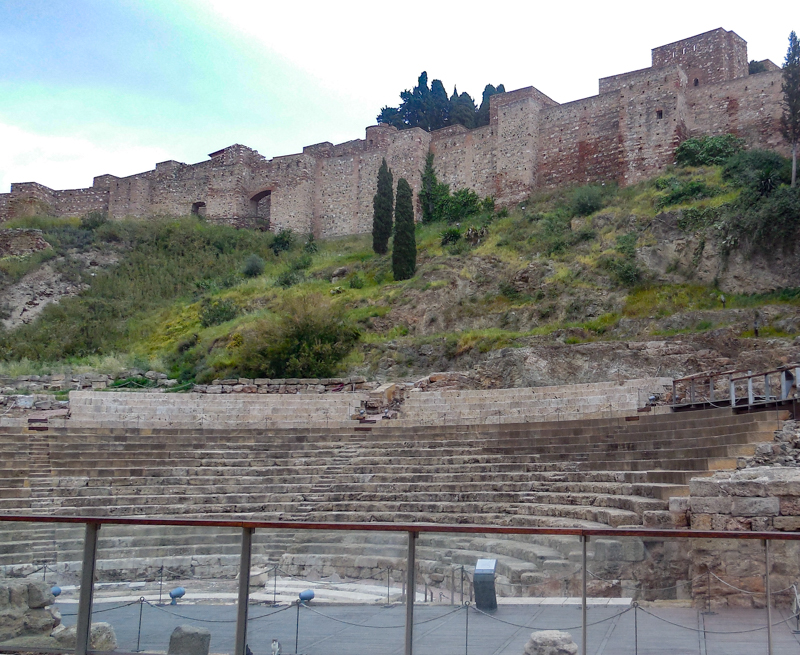 Eventually, however, the theater fell into disuse, and was buried under dirt until the Moors discovered it and quarried some of the stone to build the Alcazaba.
In the modern era, the theater was uncovered as recently as 1951. Today, concerts and performances are staged in the restored ancient theater.
Allow 30 minutes to 1 hour. There is an admission fee and you can buy a combined ticket for the Alcazaba and the Teatro Romano.
If you go: Roman Theater of Malaga, Calle Alcazabilla, s/n, 29015 Málaga, Spain
Admire Picasso's Works at the Museo de Picasso
Did you know that Malaga is the birthplace of Picasso? The Picasso Museum is located just a short distance from his actual birthplace in the city!
You can see more than two hundred of Picasso's works in this museum. In 2017, the works were reorganized into a chronological layout, making it easy to see how Picasso's talent grew over time.
Among the famous works you'll see here are The Three Graces, Restaurant, and Head of a Bull, a sculpture made from the seat and handlebars of a bicycle.
As visit-worthy as the collection is, the building in which it is housed, the Palacio de Buenavista, is just as stunning. A gracious mix of Renaissance and Mudéjar architecture, the building features beautiful arches, columns and courtyards.
The Museo de Picasso is located in the heart of the old town, so you can combine a visit to the museum with a stroll through the town. Allow about 2 hours. There is an admission fee.
Get your ticket and audio guide for the Picasso Museum here!
If you go: Museo Picasso de Malaga, Calle San Agustín, 8, 29015 Málaga, Spain
Take a Walk on the Promenade at the Port of Malaga
You'll love Malaga's revitalized port, especially at sunset when the rays of the setting sun make the buildings gleam like gold.
With palm trees, fountains, and a lovely promenade, Malaga's waterside walkway could give any of the towns along the Costa del Sol a run for their money.
Malaga's port is one of the oldest in the Mediterranean. It's still in use as a port by cruise ships, ferries and cargo vessels.
But now, with the harbor having been revamped, the area is home to a number of excellent restaurants, cafes and shops. It's a beautiful place for an evening walk, followed by dinner. Great for people-watching as well!
Go shopping at Calle Larios
Next on your list of the most awesome things to do in Malaga: shopping! Calle Marques de Larios and Plaza Constitución are bustling hubs in the city of Malaga.
Calle Larios is lined with trendy stores and paved with marble. It's a pedestrian-only street, and in the evenings it can seem like all of Malaga is out here, enjoying the hustle and bustle.
It's an excellent place for a stroll, window shopping, actual shopping, and people watching.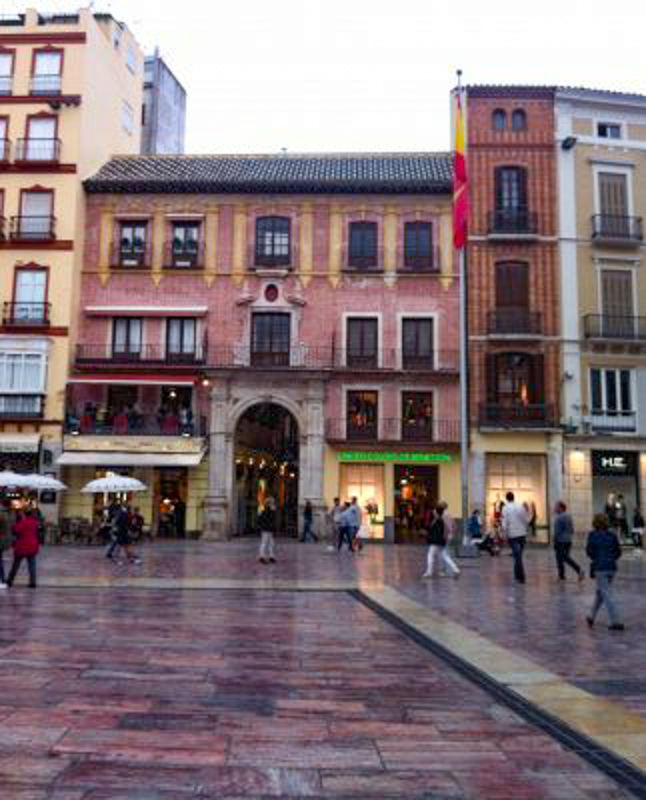 I loved the architecture of Calle Larios. The buildings are all of uniform height, making it pleasing to the eye. The street was opened to the public in 1891, so it's been around for a while!
If you visit in the holiday season, you'll love the lights. But it's a nice place for an after-dinner stroll any time of the year.
Get some ice cream, or some almendras tostadas (toasted almonds from the town of Alfarnate). You'll see lots of street vendors hawking them on Calle Larios. They are fresh, warm, and crunchy…delicious!
Visit the Cathedral: Another Awesome Thing to Do in Malaga!
Malaga's cathedral is located in the middle of the old town. You'll hear locals sometimes refer to it as La Manquita, the one-armed lady, because only one of its two towers was completed!
Story has it that the money reserved for the second tower was diverted to fund supplies for the Spanish Army in America. Regardless, the unique cathedral is a must-visit sight in Malaga.
Like other cathedrals in the region, the Cathedral of Malaga stands on the remains of older buildings, including an early Almohad mosque.
The architecture of the cathedral is stunning, as are the gardens, with many fountains and lots of palm trees. Don't miss the two magnificent organs inside! They are still played in concerts.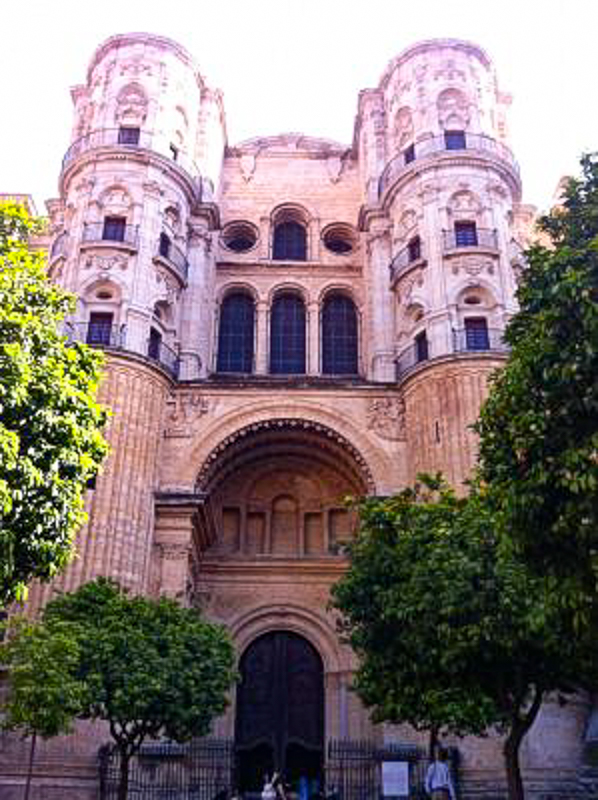 Allow about 2 hours. There is an admission fee.
If you go: Catedral de la Encarnación de Málaga, Calle Molina Lario, 9, 29015 Málaga, Spain
Get Your Art on at The Carmen Thyssen Museum
There are close to two dozen museums in Malaga, but the two you shouldn't miss, if you love art, are the Picasso Museum and the Carmen Thyssen Museum.
Housed in the gorgeous restored 16th century Palacio de Villalón , the Carmen Thyssen Museum is worth visiting just to stroll the building. The lovely interior courtyard, lush with plants, is a haven on hot summer days.
The collection is made up of several hundred pieces of mainly 19th century Spanish art, including contributions from the likes of masters like Goya and Picasso.
But here you will also find lots of works of Andalusian artists with Andalusian themes, so the museum is a great look into historical Andalusia as well.
Allow at least 2 hours. There is an admission fee.
If you go: Museo Carmen Thyssen Malaga, Calle Compañía, 10, 29008 Málaga, Spain
Visit a beach (or Three!)
If you plan to spend a couple of days or more in Malaga, pack your swimwear, because there are over a dozen stunning beaches in Malaga where you can catch some rays.
Playa de la Malagueta is the beach closest to the city, and getting here is a breeze. You can lounge on the sand, pose for a photo by the Malagueta sign, or take a stroll.
You can rent umbrellas and loungers at La Malagueta, and there are lots of restaurants and beach bars.
You may find Playa de la Caleta, the beach beyond La Malagueta, less crowded. With clean (albeit dark) sands and the azure waters of the Mediterranean, this beach is perfect for lazing or for water sports.
For a more fishing village feel, head to Playa de el Palo. Popular with locals, Playa de el Palo is great for a few restful hours in the sun.
And enjoy a snack of espetos!
If you enjoy seafood, don't miss a stop for a snack of espetos!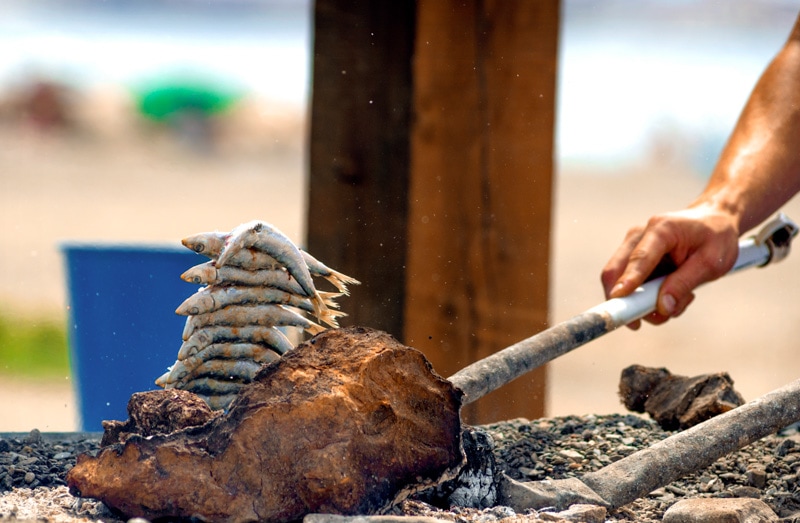 The simple snack consists of six fresh-caught sardines, skewered and grilled with olive oil and salt over a bed of coals.
The best place to enjoy them is on the beach, at a chiringuito. And yes, use your fingers!
Soak your cares away in the Arabic Baths at Hammam al Andalus
If you want to inject a bit of pampering into your Malaga city break, consider a session at the luxurious Arabic Baths at Hammam al Andalus.
Step into the aromatic steam room or soak in one of the thermal pools, followed by a rejuvenating plunge into the ice pool. Finish with a deep tissue massage to release all those knots!
Sip refreshing mint tea before or after your session, and take in the beautiful architecture of the hammam!
Enjoy the calm at

La Concepción Botanical Gardens
The Jardín Botánico Histórico La Concepción is an oasis of tranquility in Malaga, and a must-visit if you enjoy strolling through gorgeous gardens!
Created in the middle of the 19th century, the gardens house a large collection of tropical and subtropical plants from all over the world.
The picturesque Mirador offers views out over the city of Malaga and the Mediterranean Sea.
With beautiful architectural elements and fountains, the gardens are a joy to explore. For an unforgettable experience, visit in the spring when the wisteria arbor is in peak bloom!
The gardens are located about 5 miles from the city center, a short drive if you have a car. Or you can take a bus or a taxicab.
Allow about two hours, more if you enjoy plants. There is an entrance fee.
If you go: El Jardín Botánico Histórico La Concepción, Camino del Jardín Botánico, 3, 29014 Málaga, Spain
Stroll the Atarazanas market
If you enjoy browsing food markets, you'll be in heaven at the Mercado Central de Atarazanas in Malaga.
Located just a 5-minute walk from the Malaga Cathedral, the market is open Monday through Saturday, from 8 a.m. until 2 p.m.
Bring your appetite: with lots of colorful fresh produce and tasty treats and drinks, you'll want to sip and savor your way through the stalls.
The stalls are passed down from one generation to another and many have been in the same family for centuries!
Allow an hour, more if you want to eat here.
If you go: Mercato Central de Atarazanas, Calle Atarazanas, 10, 29005 Málaga, Spain
Wander the historical core of Malaga
Strolling the streets and alleys of the historical center of Malaga is a must. The Alcazaba, the Picasso Museum, and the Malaga Cathedral are all in the historical center.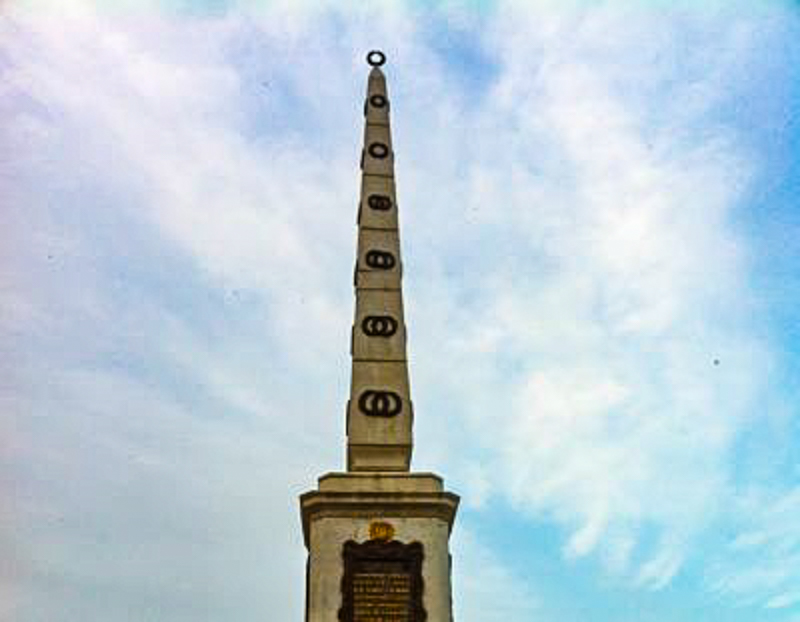 The streets and alleys are lined with restaurants and tapas bars, and the squares invite lingering, with outdoor seating at eateries and great people-watching opportunities.
For an even more special experience, consider an evening wine and tapas tour, where a local will guide you through some of the region's culinary delights as you enjoy the ambiance of the historical center.
Or, check out this guided walking tour for an overview of the major sights on a walking tour of the center in the evening, when the monuments are lit.
Feel the energy of a flamenco performance
You can't visit an Andalusian city and not take in a flamenco show! Even though Malaga isn't a known flamenco destination (as Seville is, for example), you can definitely find authentic flamenco in Malaga.
The Picasso Museum occasionally hosts flamenco performances in an intimate setting with first-rate artists, so check to see if a show is set to happen while you are in the city.
Otherwise, the Kelipé Centro de Arte Flamenco is a good place to catch a show. Classes are offered as well, so sign up for a flamenco workshop if you want to pick up a few moves!
If you go: Kelipe Centro de Arte Flamenco, Calle Muro de Puerta Nueva, 10, 29005 Málaga, Spain
Take a tour to Caminito del Rey
Want an incredible adventure when you visit Malaga? Join a guided tour to Caminito del Rey, where you can hike the dizzying historic path that hugs the walls of the canyon carved by the River Guadalhorce.
The pathway was originally inaugurated in 1921. Extensively restored, the most famous part of the walk features boardwalks (extending a little under 2 miles) offering thrills and spectacular views.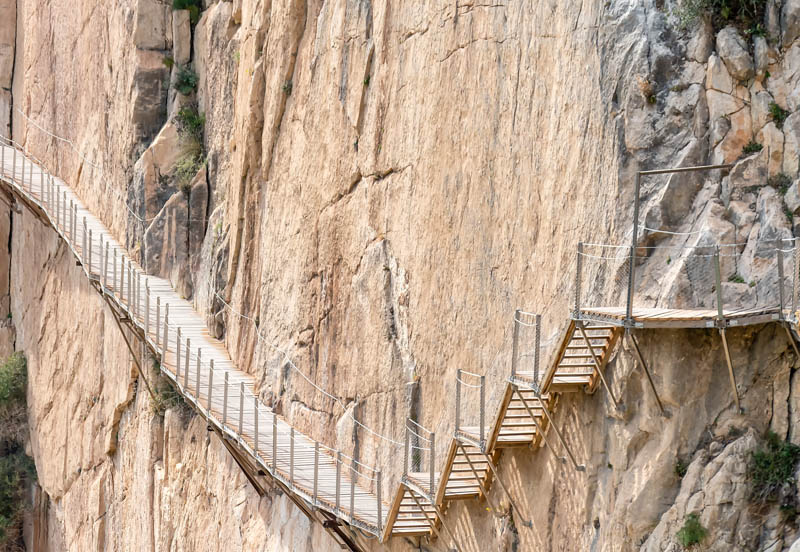 While you can do the trip independently, it might make sense to opt for a guided tour, especially if your time in Malaga is limited. The path is one way only, and if you visit on your own, plan on having to return to the start point on foot or by shuttle.
This highly-rated half-day excursion to Caminito del Rey includes an English-speaking tour guide. Book your tour now!
Explore the Montes de Malaga Natural Park
Just a couple of miles north of the city of Malaga is the amazing Montes de Malaga Natural Park, in the heart of the mountain range of the same name.
You can drive through a part of the park, hike, or bike. There are many viewpoints where you can stop, and wildflowers in season.
Observe the local flora and fauna, and take in the beauty of your surroundings. Keep your eye out for birds of prey: eagles, kites, and owls reside in the park. Take picnic fixings along, and enjoy a meal in the park.
You can drive or bike to the park or even walk if are up for a longish, gentle uphill climb via a path that leads up from the Botanical Garden.
Enjoy Day Trips from Malaga
Especially if you have a car, you can explore the surrounding regions very conveniently from Malaga, returning to the city each evening.
From the famous white villages of Spain to the sparkling resort towns of the Costa del Sol, many beautiful destinations are just an hour or two away.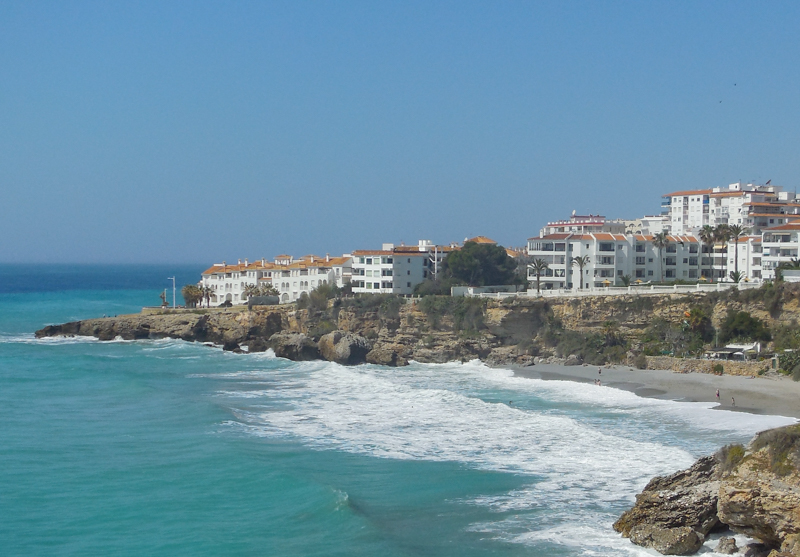 Consider the white villages of Frigiliana, Mijas, Nerja, Antequera, or Casares, all of which can be accessed by public transport.
Explore Gibraltar, with its views across to Africa, or even venture into Africa with a day trip to Tarifa in Morocco.
We didn't have a car in Andalusia, but even just using public transportation, we did day trips to Ronda, Frigiliana and Nerja, and Estepona and Casares.
Read more: The Best Day Trips from Malaga
Looking to rent a car for your Europe trip? Discover Cars offers you the ability to compare availability and prices across many major car-hire companies. Pick the car that best meets your needs!
Getting to Malaga
High-speed trains connect Malaga with many large Spanish cities, including Seville, Madrid and Barcelona.
You can buy tickets in advance at Renfe.
If the Renfe website doesn't work well (it can sometimes be a frustrating experience), consider Omio. I found the booking experience easy and hassle-free.
They do charge a small service fee but I thought it was well worth the convenience!
We took a bus from Granada to Malaga. The bus was comfortable, and it took a little over two hours to get to Malaga. Buy tickets in advance at Alsa.
Where to Stay in Malaga
We stayed at the Vincci Selecion Posada del Patio, located in the historic center. With a rooftop pool and stunning contemporary rooms, this hotel makes for a lovely home base when in Malaga.
Book a stay here
An equally wonderful alternative is the Gran Hotel Miramar, a palatial property set right on the beach. It's on our radar for our next visit to Malaga!
Book a stay here
Where to Eat in Malaga
In recent years, Malaga has developed quite a reputation as a gastro-destination. Whether it's tapas bars you're looking for, or food markets bursting with quality products, or chic fine-dining destinations, you'll find them in Malaga.
Jose Carlos Garcia's Michelin-starred restaurant is located at the port of Malaga. The multi-course tasting menu is an experience, each plate carefully crafted and presented. Reservations are recommended.
If you go: Jose Carlos Garcia Restaurante
Puerto de Malaga, Plaza de la Capilla, 1, 29016 Malaga
For traditional tapas, try Tapeo de Cervantes. The ambiance is casual, and it's a bustling space with great-tasting food.
If you go: Tapeo de Cervantes
Calle de Carcer, 8, 29012 Malaga
As a vegetarian, I found that of all the places we visited in Andalusia, Malaga offered the best options. Vegetariano El Calafate is hugely popular and always crowded. They offer soups, stir-fries and curries, with a couple of vegan options.
If you go: Vegetariano El Calafate
Calle Andres Perez, 6, 29008 Malaga
Where to Next in Andalusia?
If you fly into Malaga's international airport, and it's your first stop, then after you are done exploring Malaga and the surrounding region, you have choices on where to go next.
You can take a train or bus to Granada, to see the world-renowned Alhambra. Or you can take a fast train to Seville, the jewel of Andalusia.
Our itinerary had us flying out of Spain from Madrid, so after Malaga, we traveled to Córdoba, our final destination in Andalusia, where we spent two days before heading back to Madrid. You can also see quite a bit of the city in one day in Cordoba.
If you have only 3 days to visit Andalusia, click here to see the top five monuments in Andalusia you must visit!
*****
So there you have it: my list of the most awesome things to see and do in Malaga. I hope you include Malaga on your itinerary for Andalusia: it's a fun destination with lots to see and do.
More Information for Your Trip to Andalusia
Seville: 3 Days in Seville – The Ultimate Itinerary!
Granada: What to Do in 3 Days in Granada
Cordoba: The Best Things to Do in Cordoba
Real Alcazar: Visiting the Real Alcazar of Seville
Day Trips: The Best Day Trips from Seville
Ronda: Things to Do in Ronda
Andalusia: The 5 Must-See Monuments in Andalusia
Day Trips: The Best Day Trips from Malaga
Itinerary: The Ultimate Andalusia Itinerary
Seville: One Day in Seville
Did you find this article informative? Pin it for later reference!